Crochet Applique Patterns are popular for decorating items like home décor, clothing, and accessories. There are many reasons for this trend: people love the idea of integrating an active hobby like crocheting with a more passive one like sewing and crafts. Also, crocheting is a fun way to express your creativity in a simple, easy-to-understand form. Crochet applique adds a unique touch to any decor and can be accomplished with various stitches depending on the look you want. You may want your work to be more intricate to match the design or like the effect of using different thread colors. Check out these patterns if you want some inspiration for your appliques.
Easy Crochet Applique Free Patterns

Crochet appliques are a great way to add a little flair to your next project. They're easy to make and help pull together an in-progress design or add a bit of color to something that would otherwise be plain. The best part is that you can use yarn scraps since they don't require much. Today, We'll show you some adorable crochet applique patterns you can make with any skill level. Whether you've already got some experience crocheting or this is your first time picking up a hook, you'll find something here for your next project.
Benefits Of Unique Crochet Applique Patterns
Crochet applique patterns are another great way to add extra detail to your crochet projects. Not only can they be used on clothing and accessories, but they can also be added to home decorating projects.
The following are some of the benefits of applique patterns:
They can add texture and interest to a project.
They can help make an item more durable by adding strength to seams or areas with potential wear and tear.
You can use them in any project, from clothing to home decorating items.
Tiny Yellow Flower
Are you a beginner crocheter? Or maybe an expert looking for a new project? This easy crochet pattern is just what you're looking for. This tiny yellow flower works quickly and makes the perfect embellishment for your next crochet or knitting project. Tiny yellow flowers to decorate your home, clothes, or photos. Quick and easy, they are a cute decoration for any season. Add them to a spring wreath, put some on the branches of your Christmas tree, or give them as handmade gifts.
Halloween Vampire Lips Applique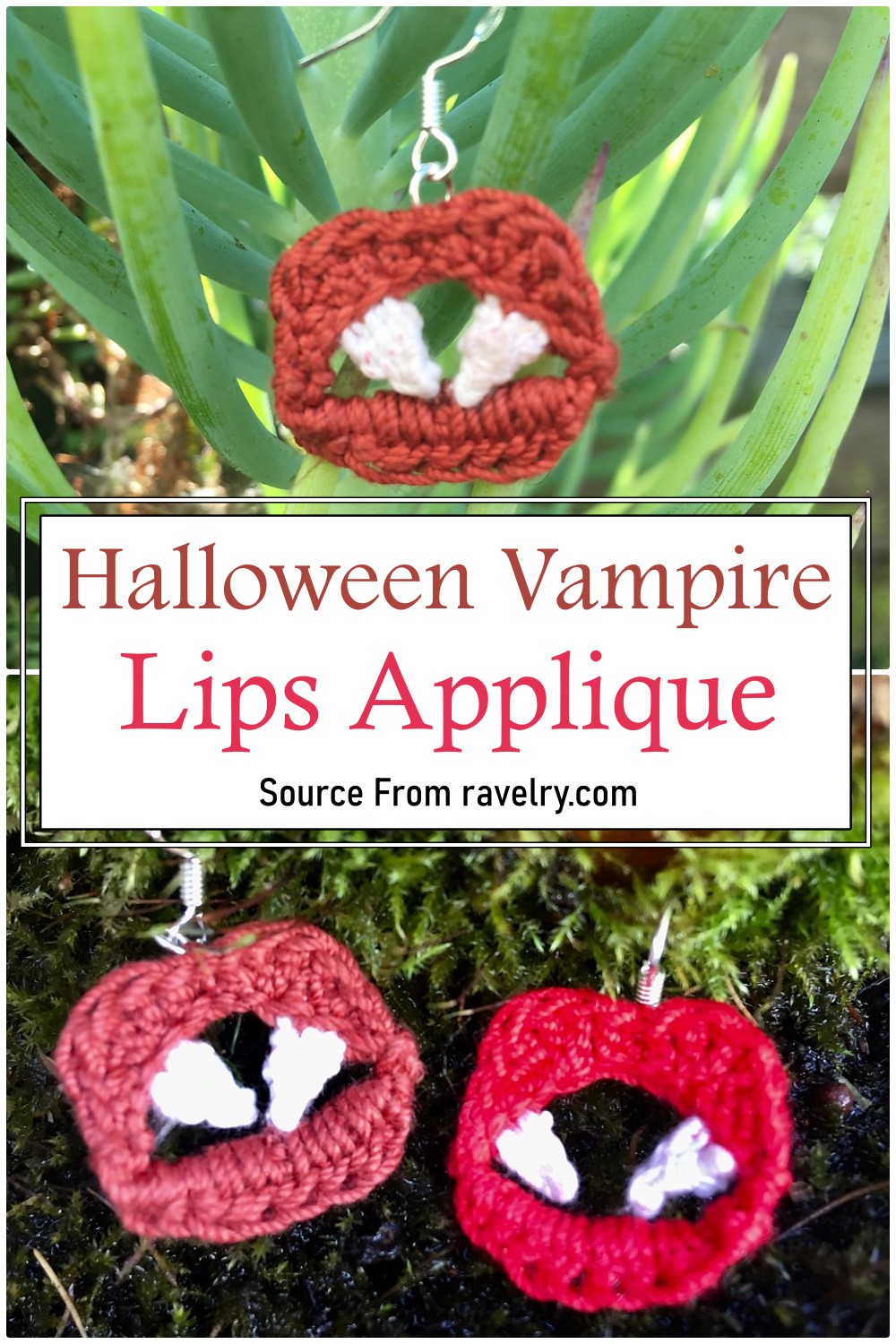 Every October, people go nuts for Halloween. If you don't costume crazy, you could try to spruce up your home with some decorations. Or you could make some of your clothes for the season — or at least practice your hand at some Crochet Applique Patterns. This is a tutorial for crochet vampire lips appliqué. It will be perfect for decorating any garment, from a t-shirt to a bag or even shoes. Other fabulous options are to use it as earrings, embellishment for pillows, and blankets.
You can also see: Crochet Earrings Patterns
Quick Pumpkin Leaf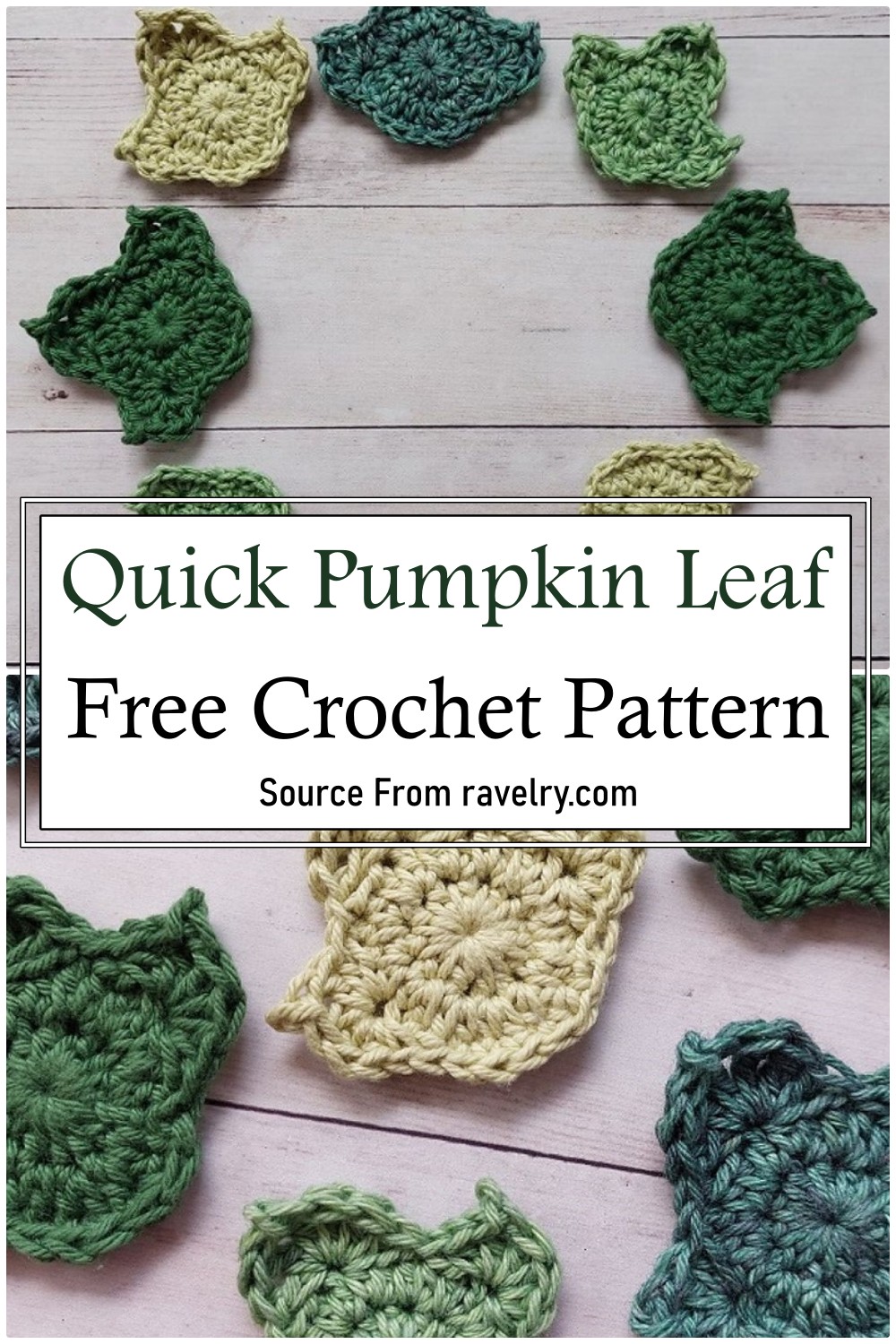 Crochet applique patterns make a fun change to traditional crochet patterns. They're also great for using small pieces of yarn left over from other projects. You can create tons of different appliques, which are relatively easy to make once you've got the hang of it. This simple leaf pattern can be used for more than just appliques. It can be used for toys, bowls, or garden decor. Let's get started.
The Maybelline Flower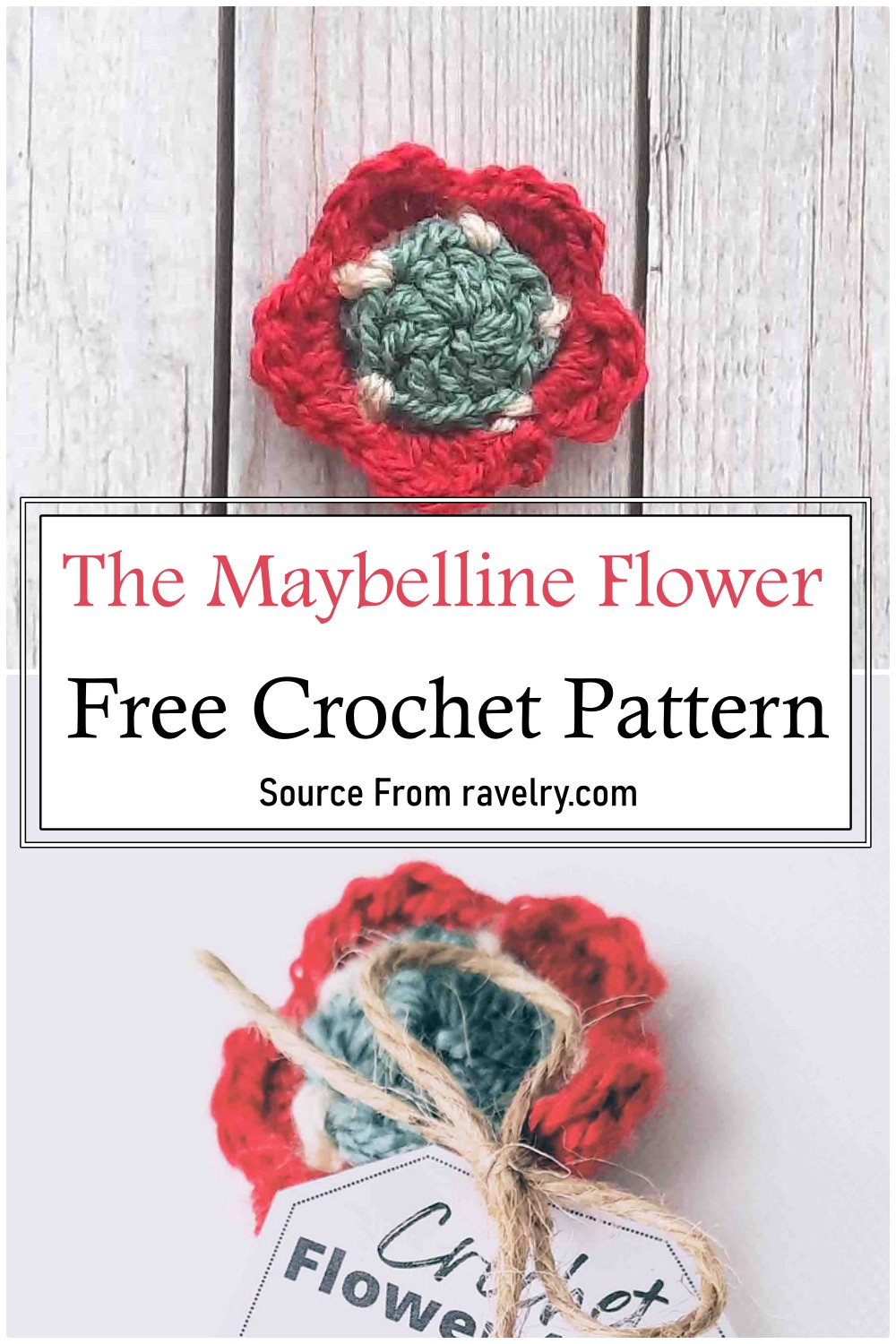 The Maybelline Flower is a neat little design with a large "flower" part and a smaller "center" that looks like it's opening up into petals. It's so pretty! You will love looking at these flowers – they're fuzzy and cool. The Maybelline flower is a classic design that will never fade out of style. Whether you make it in the shades of bright, sweet pastels or fun and funky hot colors, this fun and easy project will put a smile on your face!
Easy Little Fish Applique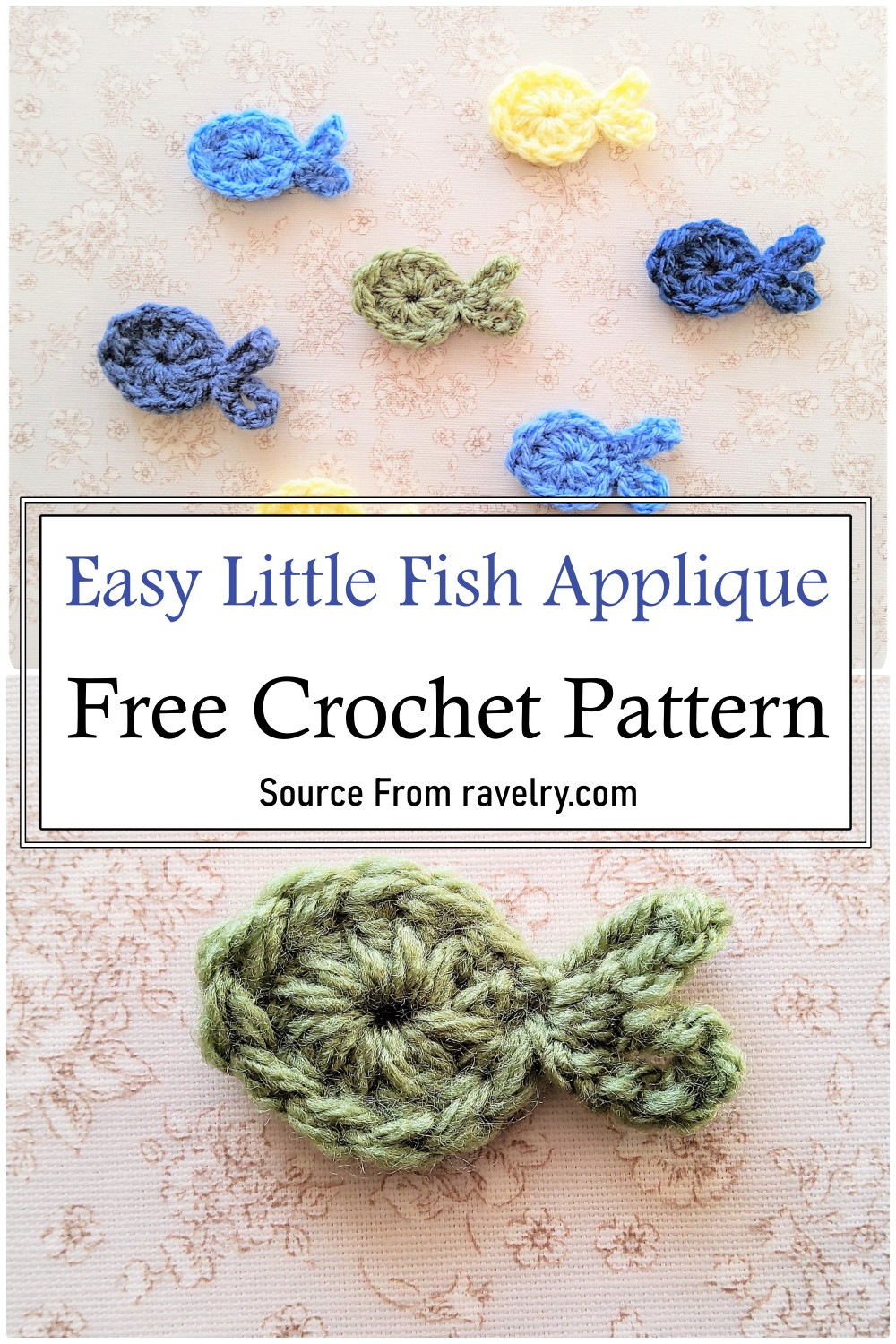 Here's a simple little fish applique for you to use on your next project. The fish face is adorable; you can use this pattern on baby items, kitchen towels, and other items. These little guys are super easy to crochet and make great decorations for the home or a gift for someone special. You can even attach them to a hat or bag if you have not mastered sewing yet. It's super easy to whip up and will look amazing when finished!
Pumpkin Applique
Fall is here, and with it comes cooler weather, colorful leaves, and …pumpkins! These deliciously fun crochet pumpkin appliques make great fall decorations on jackets, pillows, cupcakes, and more. And if you're bored making the same old jack o'lanterns every year, these would look fabulous on an autumn-themed tablecloth or cake. The great part about these ornaments is that they're made using simple crochet stitches that beginners can master in no time. So grab your hook and yarn, then dive into this pumpkin patch of appliques!
Cute Ghost Applique
Do you love Halloween? Who doesn't? The colors orange and black, pumpkins, and the weird weather are fabulous times of the year. So get to stitching and make this cute ghost for your Halloween decor. A crochet ghost is sure to scare up some Halloween spirit, whatever your colors and tastes. This ghost is easy to make, and it works up fairly quickly. It's also fun for or for adding a little spookiness to your fall decorating!
Little Sunflower Applique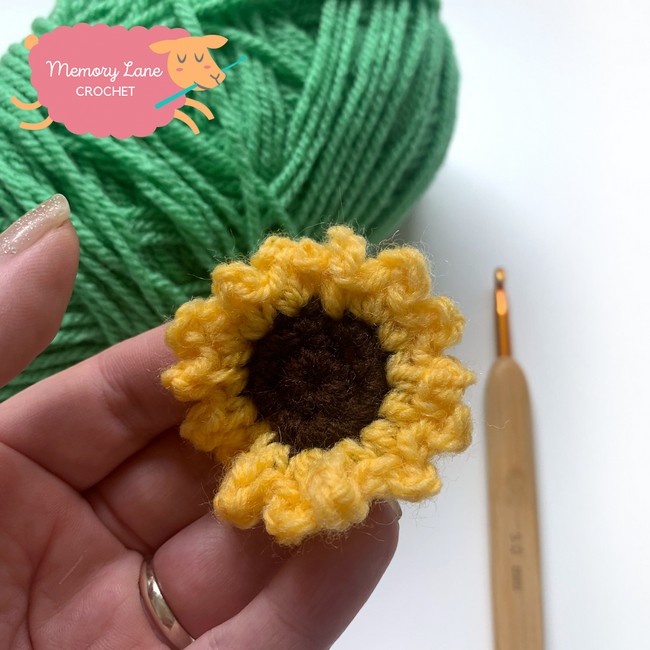 Sunflowers are beautiful flowers that brighten the garden on hot summer days. This article describes a crochet applique pattern of a sunflower. The crochet pattern will be written so you won't get lost in the directions. It is comparable to sewing patterns made with step-by-step instructions. A fun and easy applique project with a pretty little sunflower. This is a great beginner crochet project, using only simple stitches. When you have finished working on the project, you will have a cute little sunflower. Why not arrange if you want to make more of them? It will be so lovely!
Applique Bear Hat
If you love the bear hat and want to know how to make the applique bear, then this post is for you! This free crochet bear hat pattern is perfect for applique but can also be stitched on a flat fabric. There's an egg-shaped peeking out of your little one's bear hat! Its little button eyes and nose add a clever touch to the sweet bear-knitted medallion. Such cuteness will surely smile on your baby's face from morning to night! In the photos, bear hats can be worn in different ways. All thanks to this beautiful pattern with easy-to-follow instructions.
Applique Viking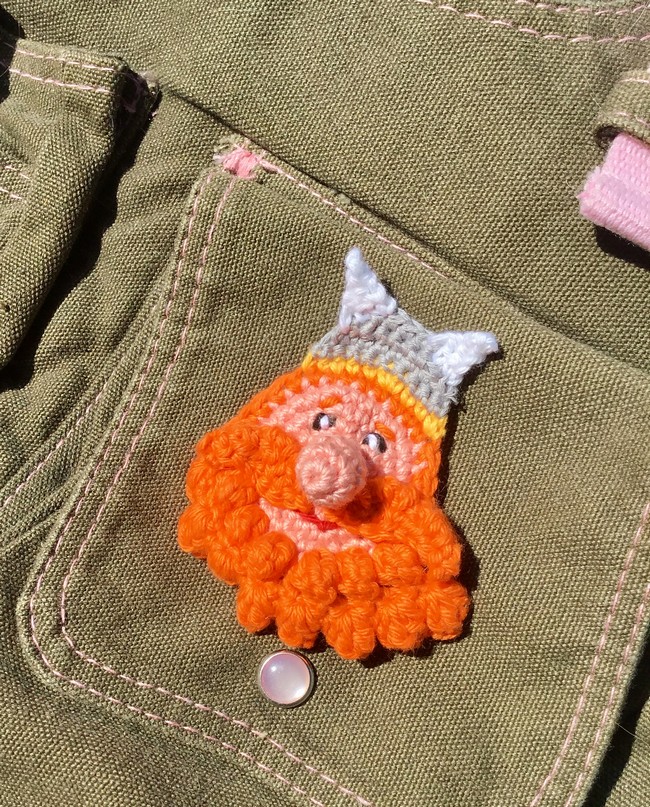 Adorable boys or girls Viking doll wearing braids and hats. This is a wonderful project for someone with an intermediate to advanced skill level in crochet. This crochet applique pattern teaches you how to make a Viking. You must know how to crochet in the round with single and treble stitches, change colors, and use a magic ring. This Viking amigurumi is perfect for the explorers in your life.
Applique Letter A
If you are enthusiastic about crochet and want to start making unique appliques for your clothes, then this is the best place to start. This guide will teach you how to make a crochet applique letter A. The letter A is a great starting point for many crochet appliques. This pattern will teach you basic crochet, how to read a pattern, and valuable tips on applique. You can also apply what you learn to any other letters in the alphabet. You can do this! Follow these few simple steps, and you'll create a piece of art that will last many years.
Applique Giraffe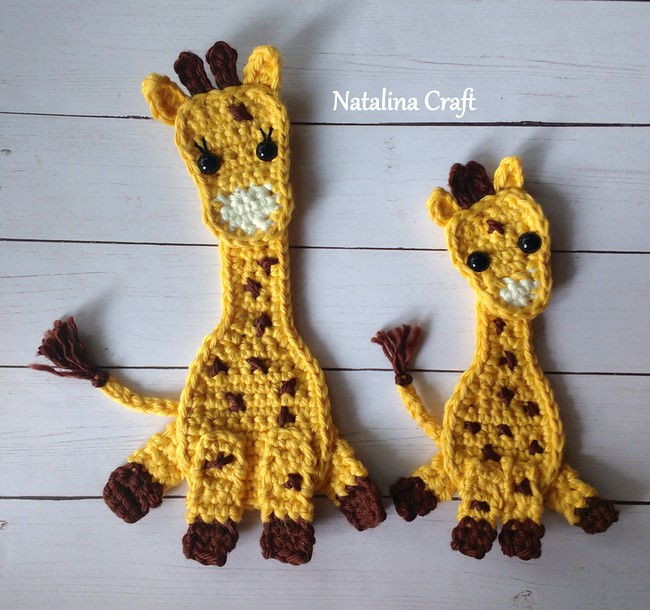 Suppose you love the jungle and animals; this applique pattern is for you! The applique Giraffe crochet pattern is a lovely way to showcase your love of animals. Giraffes are usually peaceful animals, so there's nothing to worry about when following this pattern – aside from making sure the giraffe doesn't fall over, that is! Add this authentic-looking crochet applique to any outfit, bag, or hat. Make it big or small – the applique Giraffe pattern can be easily adjusted to suit your needs and preferences.
Applique Bee
This crochet applique pattern is great for using up scrap yarn and makes a really pretty addition to almost any type of blanket! This pattern uses the satin stitch, which is knitted in many similar ways. Even if you're not a crocheter and still want to give knitting or crocheting blankets a try – this one is perfect! All you need is a needle and yarn! This pattern is for an adorable bee applique for clothing and more. Use the bee to create a cute kid's summer tee, or perhaps sew on flowers to finish a pretty summer dress!
Spider Granny Square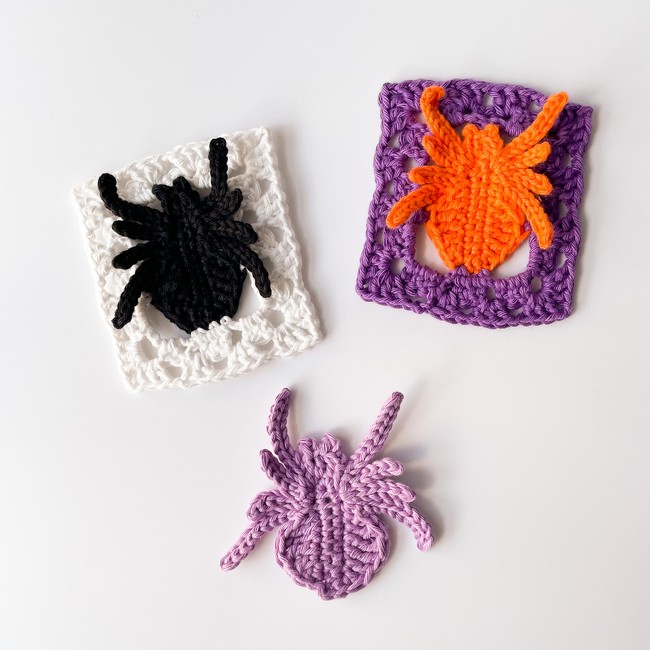 This spider granny square does not contain any special stitches, so navigation of the pattern should be easy for beginner crocheters. It's also been created with worsted-weight yarn, which takes less time than other patterns. You could change the color scheme if you wanted to get extra fancy. The Spider Granny Square Crochet Applique pattern is spectacular and a treat to make up. It is colorful, fun, and, when complete, looks like a spider web.
Cat Applique
Cats are cute, adorable, slightly psycho, and fun to be around. This Crochet Applique Pattern is a step-by-step instructional with many photos showing exactly how the cat ears are made. Create a creatively designed critter with basic crochet stitches. This applique pattern is perfect for beginners ready to crochet something cute using the most basic stitches. You'll create a one-piece cat applique using different yarn colors you can easily find at craft and fabric stores near you.