The spooky season is upon us, and there's no better way to celebrate the spookiest night than by crocheting one of these adorable Free Crochet Vampire Patterns. Crochet vampires aren't all red capes and fangs—these sweaters, hats, and pincushions will make you wish it was January all year long. If you have basic crochet skills and know how to follow a pattern, you can make a vampire! These amazing Crochet vampires are a fun project for Halloween. You can make them for yourself, your friends, and your family or sell them. So let's get started.
Crochet Vampire Patterns Free

Vampires have captivated us for centuries, and now you can crochet your vampire! These creepy crocheted vampires are truly original designs. You could even make them into a collection. Create your own bat-like companion with this collection of ten crochet vampire patterns. These are great for Halloween and the creepy bits of the year, but you can also hang out with these crochet vampires when you're bored or feeling neglected! With easy stitches and classic styles, these vampire puns will surely be a hit at your next spooky party.
Tips For Crocheting Vampire Patterns
Crocheting a vampire pattern is an excellent way to keep busy during Halloween. If you are looking for new patterns, here are some tips to help you have fun with your crochet hooks and yarn.
Choose the right yarn: The first step to crocheting a vampire pattern is choosing the right type of yarn. You should look for something soft, durable, and washable. This will ensure that your garment will last for a long time, even after repeated washing cycles.
Crochet hooks: You must also choose the right-sized crochet hook for your vampire pattern. The hook size will determine the size of the stitches in your project. Use a larger hook if you want bigger stitches, and vice versa if you want smaller ones.
Read through the instructions carefully before starting on your vampire pattern so that you don't get confused while working on it later on down the road when it comes time to follow them closely every step of the way through each row until completion of this unique creation being made by hand by someone with an artistic flair!
Baby V the Vampire Bat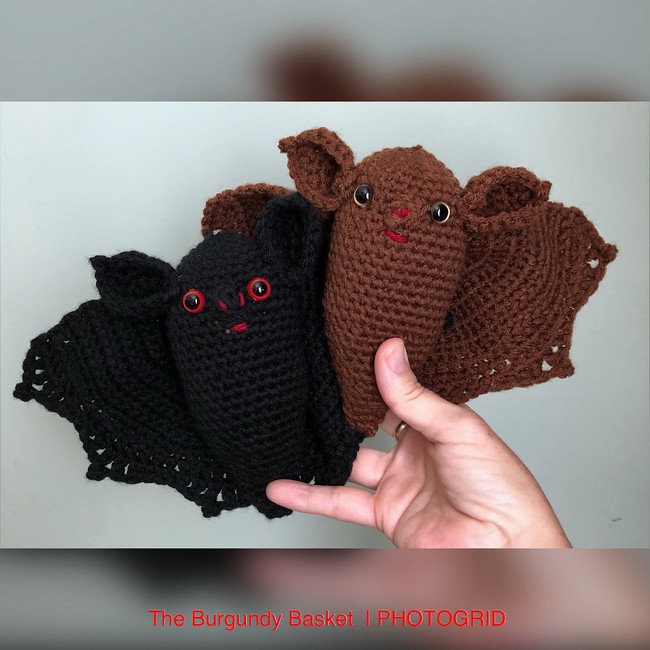 Baby V is a very cute, sweet, and friendly bat who loves to eat bugs. But don't worry - he loves them cooked and on a plate! This crochet baby blanket pattern is available from Etsy, where you can buy the pdf pattern to create this one-of-a-kind bat-themed blanket. The blanket features a cute little vampire bat, which could be a Halloween or holiday decoration for your little one to cuddle in. This baby vampire bat is ready to hang out with you all night. Because who wants rest when there are bats to chase?!
Materials
Yarn: any 4-ply worsted weight yarn like Caron or Red Heart.  You won't need a lot of yarn for this project.  For my brown bat, I used a ball that had 165m/50g (this is 180yds), and I have plenty left over.
This would also be super fun to do in Halloween colors like purple.
-Hook: I've used a G/4mm hook for this pattern.
Abbreviations
Chain: Ch
Single Crochet: SC
Inc Sc: make two single crochet stitches in the same stitch as indicated
Invisible Decrease: inv. Dec. – this is an invisible single crochet decrease
Hdc: Half double crochet
Dc: double crochet
Tr: treble crochet
Picot: chain 3 and slip stitch at the base of chain 3 or where your chain 3 starts.
Slip Stitch: sl st
FO: finish off
Vampire Bat Baby Booties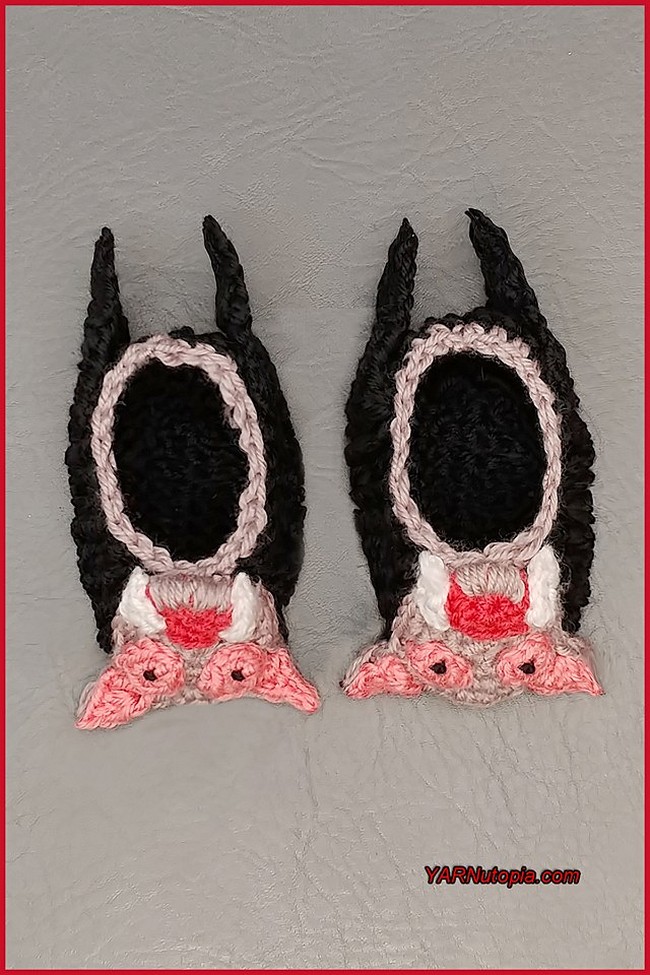 Who says baby booties have to be boring? These adorable little vampire bat baby booties will keep your little monster warm and cozy all year round. Crocheted with high-quality, 100% soft, and fluffy wool, these booties are truly unique! These adorable baby booties warm your little one's feet in cooler months. The crochet's vampire bat design makes them even more fun to wear! These crochet baby boots will keep your baby's feet warm this winter. Makes a great gift for their first Halloween.
Materials
–Red Heart Yarns Chic Sheep Yarn in the colors Stiletto, Linen, Suede, Sunset, and Mai Tai
–Size I-5.50mm crochet hook
–Size H-5.00mm crochet hook
–Stitch Marker
–Yarn Needle
–Scissors
Abbreviations
Ch(s): chain(s)
YO: Yarn Over
St(s): Stitch(es)
BLO: Back Loops Only
Sl st: slip stitch
SC: Single Crochet
HDC: Half Double Crochet
SC2TOG: Single crochet decrease
DC2TOG: Double Crochet Decrease
DC3TOG: Double Crochet 3 Stitches together
DC: Double Crochet
BT21 Vampire Shooky Plush
The Vampire Shooky plush is a fantastic gift for the BT21 fan in your life. It's soft and light so that it can be carried around easily. Because it uses synthetic fibers, you don't have to worry about it getting dirty or wet. The first BT21 plushie in this series, the Vampire Shooky features the spooky vampire rapper's signature hairstyle and backpack, a perfect gift for any BT21 fan. Add some cuteness to your collection with this Vampire Shooky Plush. This cute plushie is made of high-quality acrylic fabric, soft and squishy fabric stuffed, perfect for cuddling.
Materials
– H/5.00 mm crochet hook (my favorite hook)
– G/4.25 mm crochet hook
– Orange worsted-weight yarn
– Red worsted-weight yarn
– Black worsted-weight yarn
– Polyfil stuffing
– Black felt
– White felt
– Slanted tapestry needle (I use these)
– Glue (this is my favorite no-sew glue)
– Scissors
– Sewing pins
Abbreviations
ch(s) – chains
st(s) – stitch(es)
slst – slip stitch (same as join)
sc – single crochet
hdc – half double crochet
dc – double crochet
flo – front loop only
blo – back loop only
cc – color change
dec – decrease (same as sc2tog) (single two st together)
inc – increase (make 2sc in a single st)
(x_) – repeat (_) amount of times
[x_] – repeat everything inside the [_] times amount of times
Buffy The Vampire Slayer Amigurumi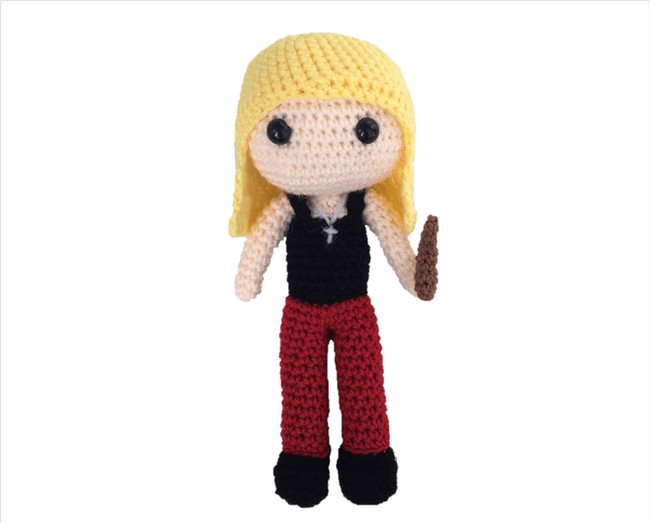 Crochet your own Buffy the Vampire Slayer Amigurumi! This listing is for the instructions and pattern, not a finished product. The crochet patterns are easy to follow and written in American English crochet terminology. The show featured Buffy Summers, a high school student who learns she is a vampire slayer and protects her town against creatures like vampires and demons. Make your own Crochet Buffy the Vampire Slayer Amigurumi with this crochet pattern. This is a complete crochet pattern for an accurate doll inspired by everyone's favorite slayer.
Materials
Yarn in
flesh, black, light grey, light yellow, red and brown (see note below)
Crochet hook
Safety eyes 12 mm (optional, can be embroidered instead)
Stuffing
Abbreviations
sc – single crochet
dec – decrease
inc – increase
blo – crochet through back loops only
sl – slip stitch
dc – double crochet
tr – treble crochet
ch – chain
Vampire Amigurumi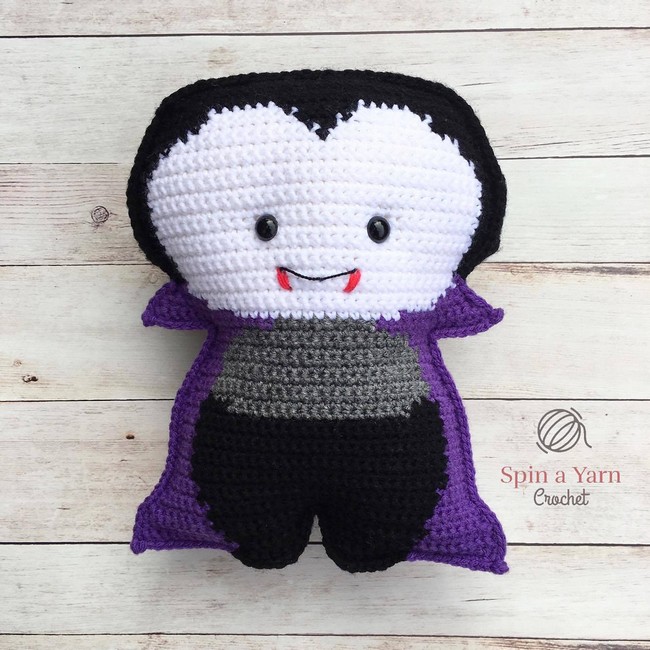 Little vampires need toys too, but they aren't like ordinary dolls. This vampire amigurumi is the perfect accessory for your nighttime monster play! This cute little vampire will be a great Halloween decoration for your home, but his batty wings make him an adorable toy. Add your own personalized touches, and you have a unique custom gift that is sure to please. This kit includes all the materials you need to crochet the doll, including some extras for making a unique creation. The step-by-step tutorial is easy to follow, and you can easily create a sweet little monster.
Materials
3.5mm hook (I use THESE hooks!);
Red Heart Super Saver in Black;
Red Heart Super Saver in Grey Heather;
Red Heart Super Saver in White;
Bernat Super Value in Light Damson (purple);
Black crochet thread for mouth (I use THIS kind!);
Lightweight cotton yarn in red for fangs;
12mm Safety Eyes;
Stuffing;
Tapestry needle
Vampires Trick Or Treat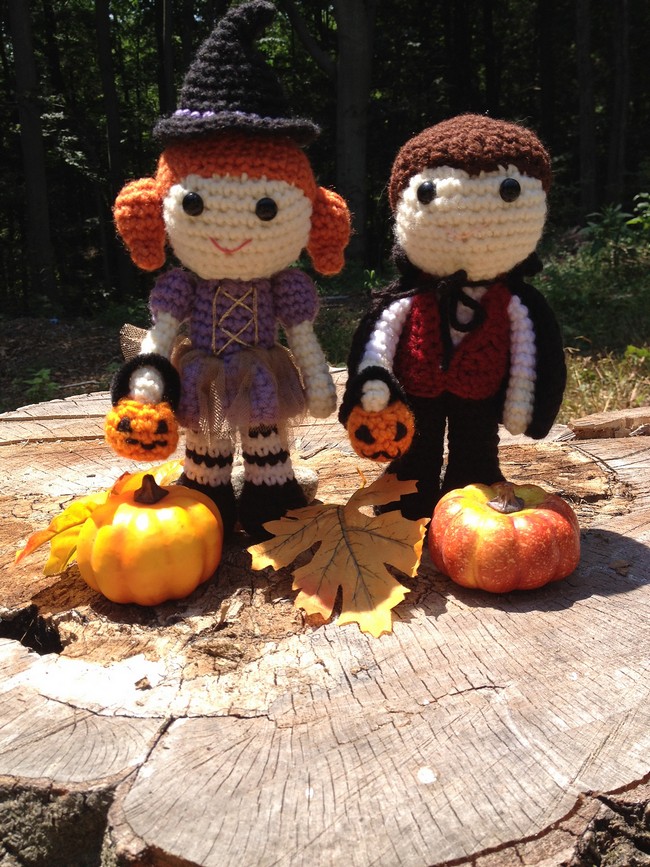 Who's scary enough to scare the vampires? Meet these sweet little crochet vampires! They are so cute and will look great in your Halloween decor! These cute little crochet vampires can be made to sit or stand. They come in all rainbow colors, and with a little imagination, they can be made as baby vamps, teen vamps, and even old vamps who like to sleep all day and don't get out much. These vampires are looking forward to your Halloween party. The pattern is written for the red vampire, but you could use other yarns and color combinations to make as many as you like. And they're made with only one piece!
Materials
G-hook
Worsted weight yarn in any color you choose. You will need skin tone, a small amount of white and clothing colors.
Yarn needle
Safety eyes or felt for eyes
Poly-fil stuffing
Tulle ( optional )
Abbreviations
ch – chain
hk – hook
sc – single crochet
st – stitch
inc – increase ( 2sc in the same stitch )
dec – decrease ( sc two stitches together )
hdc – half double crochet
dc – double crochet
tr – triple crochet
Vampire Jack O Lantern Bowl Cover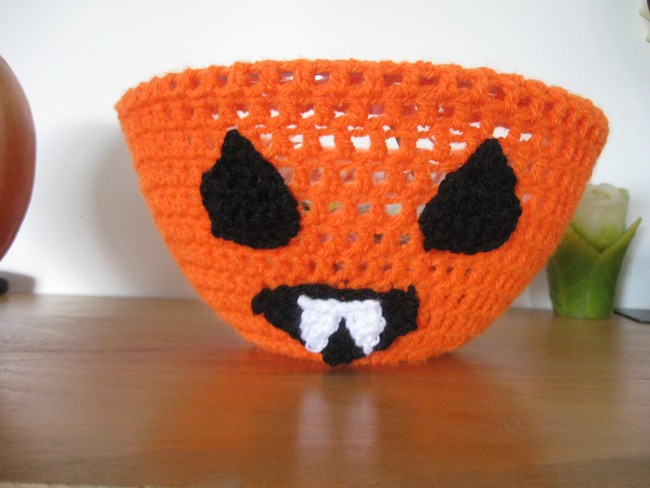 A jack-o-lantern cover that is super easy to make. This is a great project for beginners. It is fast, and you will be amazed at how beautiful the crochet pattern looks. The pumpkin bowl cover can serve chocolates, chips, nuts, pretzels, and more. These are perfect for placing around the house during Halloween, or they would make great gift ideas! This adorable crochet jack-o-lantern will be a great addition to your Halloween decorations. Your kids will love him, and you can use him as a candle holder on the table or hang it on the wall.
Materials
5 mm hook or size H hook for the US and a 3.5 mm / E hook
YARN: 1 skein of orange yarn and a bit of black to create the eyes and mouth. And a bit of white to make the fangs.
Worsted weight yarn 4 ply US / 10 ply AU
A tapestry needle
A bowl
Abbreviations
ch = Chain
sl st = Slip Stitch
st = Stitch
sk = Skip
dec = decrease
beg = beginning
HDC = Half Double Crochet
Sc dec = single crochet decrease
You can also see: Crochet Duck Patterns 
Little Vampire Bat
This little crochet bat pendant is so cute and easy to make! Worked in a worsted weight yarn; you can whip this up in no time! It's also a great project to practice your magic loop if you are new to it. This adorable little bat is the perfect accent for any Halloween space. His cute little fangs and large eyes give him a sassy, playful look that will make your friends smile. This is a fun and silly little project to do with kids!
Materials
– Worsted 4/medium black, or charcoal yarn
– 2.75mm crochet hook
– Felt, black, red and white
– *Goggly eyes
– glue gun, or fabric glue
– Fiberfill for stuffing
– Yarn needle
Abbreviations
– Rnd = rnd
– sc = single crochet
– inc = increase
– dec = decrease
– st = stitch
Bunnicula The Vampire Bunny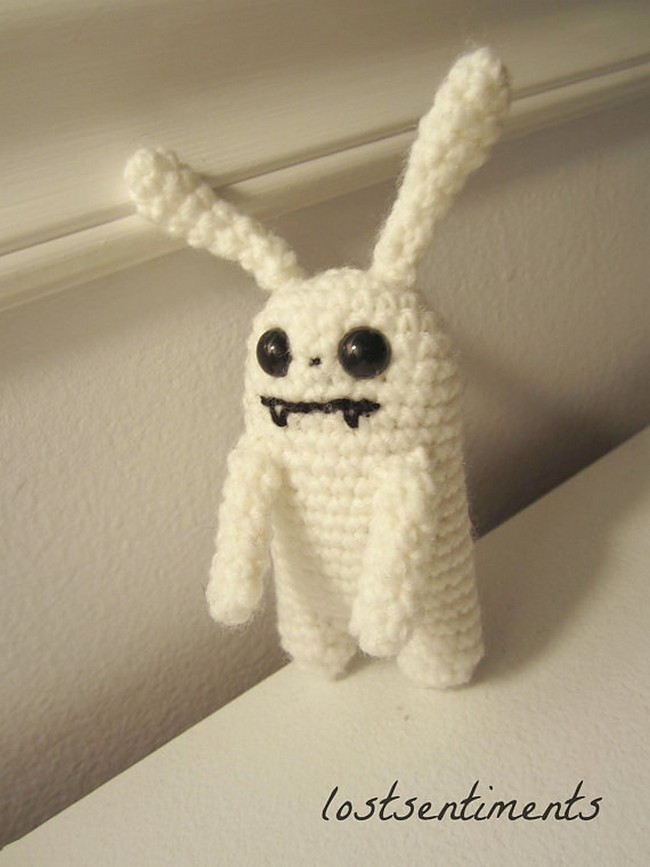 Bunnicula is a vampire bunny, the pet of Dracula and his dog Bruno. This is a crochet pattern to make your own Bunnicula the Vampire Bunny. It's not just for Halloween; it can also be something other than a pumpkin neckerchief. Crocheted vampire bunnies are the perfect Halloween scare! Your little one will love this fun vampire bunny. Crochet Bunnicula is cute and playful and will bring big smiles to your child. This is a quick and easy project, but beware: he's very addictive!
Materials
White worsted-weight yarn
1 Pair 10 mm Safety Eyes
Tapestry needle
H hook (size 8- 5.00MM)
Black worsted-weight yarn for the mouth
Abbreviations
Sc = Single Crochet
X = times
Dec = Decrease
Inc = Increase
Vampire Cupcake
Your favorite cupcake is now available in the form of a crochet vampire! The super easy pattern allows even the most inexperienced crocheters to create these vampire treats. This adorable Crochet Vampire Cupcake is a wonderful addition to your Halloween party. This little vampire will make your guests smile and add to the fun of any Halloween gathering. Terrify your friends and family with this Crochet Vampire Cupcake! With this crochet pattern, you can make a cupcake that looks just like a vampire! You'll have your very own Skelanimals' Crochet Vampire Cupcake in mere minutes.
Materials
Size G crochet hook

Stuffing

Safety eyes or black beads

Black and clear or white small beads

Black thread

Yarn needle

Needle small enough to fit through beads

Stitch marker (optional)
Abbreviations
Sc = single crochet

Inc1sc = crochet two single crochet into one single crochet to make an increase.

Dec1sc = single crochet two single crochet together to make a decrease

Hdc = Half double crochet

Slst = slip stitch

Ch = chain