Ducks are easily one of the most popular animals in crochet patterns, and for a good reason too! They are an excellent option for little kids (who might not be able to handle more giant animals), and they're also a popular choice for those who love to give handmade gifts. Just as ducks are easy to find in stores at this time of year, there's no shortage of free duck crochet patterns online. Check out these astonishing Free Crochet Duck Patterns for some ideas to make these adorable waterfowl even more precious! These duck toys are mostly made with worsted-weight yarn, and you can use a basic chain stitch. Crochet the head and body separately and attach them later.
Easy Crochet Duck Patterns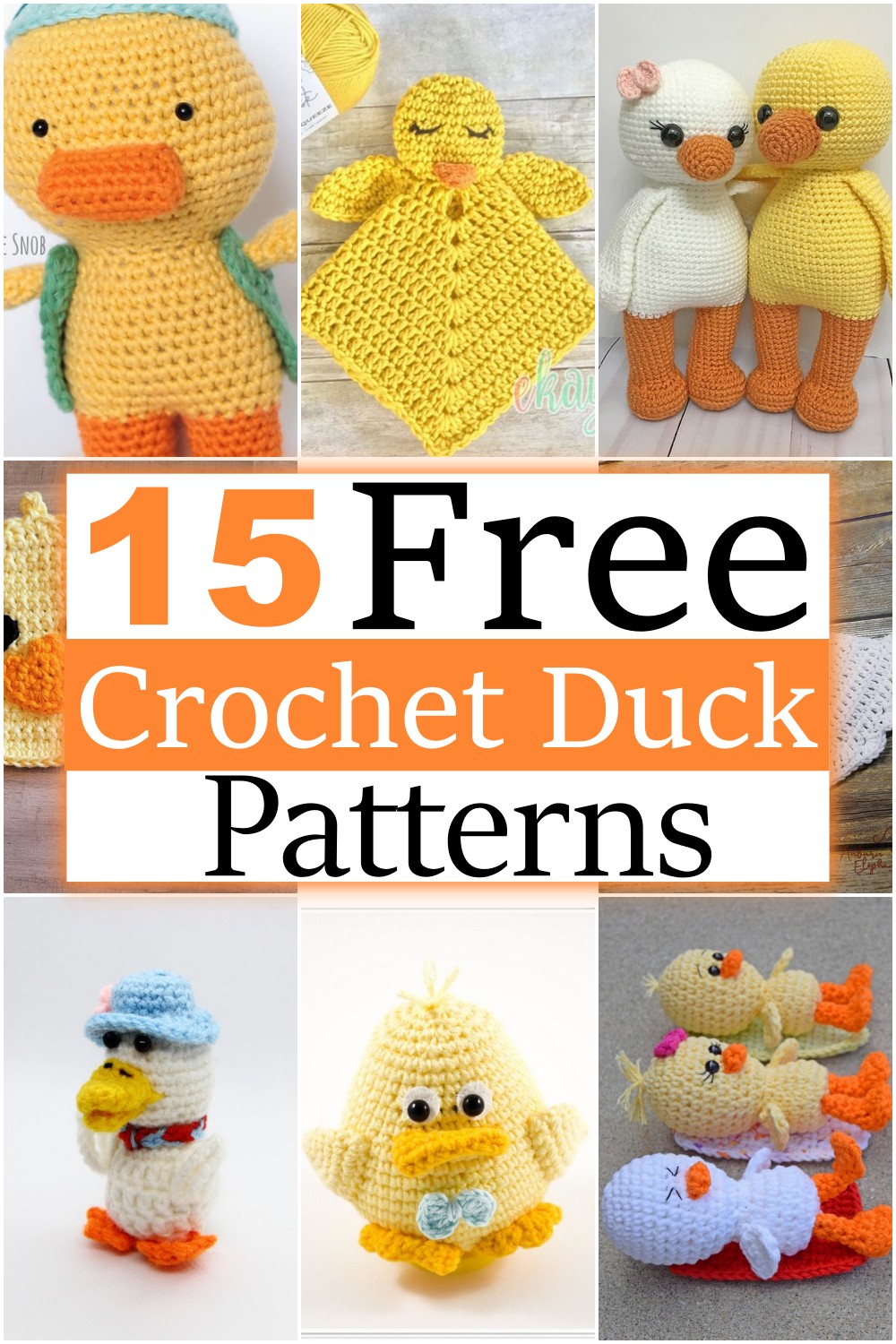 Are you ready for spring? These adorable baby duck designs will help you welcome new additions to your family. This 15 charming crochet duck pattern collection creates a soft, mischievous ducky. These cute friends are the perfect project for beginner crocheters and kids who love making gifts. These duck Crochet Patterns are perfect for using up your yarn stash and will be great additions to your home! These free crochet duck patterns will surely please the crafter who loves ducks. You'll find many ideas for making fuzzy stuffed friends for your home or a new addition to your collection, from toy ducks to blankets. One of the best things about crochet is that you can use any of your extra yarn to make cute ducks!
Tips For Crochet Duck Patterns
Crocheting ducks is a fun and easy project. You will need to know how to single-crochet and double-crochet. Below are some tips to help you make your duck crochet pattern come out perfectly.
Chain two (or three) stitches at the beginning of each row. This gives your work a nice straight edge when you single crochet across the bottom of the duck's body.
Don't cut your yarn when you start a new color! Instead, just let it hang down the side of your work so you can continue crocheting without having to weave in any ends later.
Don't forget about using stitch markers! They're great for keeping track of where you left off with each crocheting round (especially if you have multiple colors).
If you're using multiple colors, ensure that all of your yarns are consistent in size to blend well once finished! The best way to do this is simply by ensuring that all strands are approximately the same length before starting on any new color(s).
Crochet Donald Duck and Daisy Duck: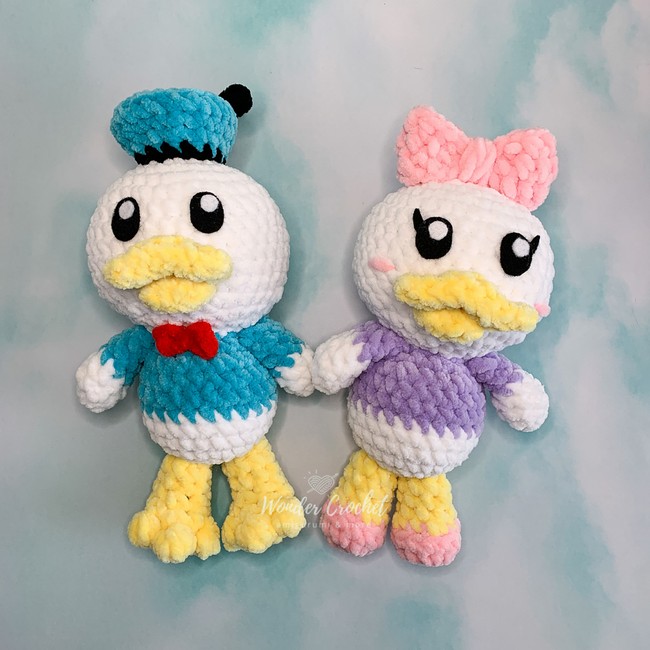 Crochet Donald and Daisy Duck are the perfect gifts for any occasion, mainly themed parties or baby showers. They are so cute that you can even use them as toys for children. This crochet pattern brings home the loveable cartoon relationship between Donald Duck and Daisy Duck. You'll enjoy creating this fun project, and your friends will love receiving this unique gift. This crochet pattern set has all the details you'll need to create two of your favorite Disney characters.
Materials
Yarn: Premier Parfait Chunky (Size 6) For Donald (white, yellow, blue, black, red) For Daisy (white, yellow, pink, purple)
Crochet hook (Size 7.0 mm)
Polyfil – fiberfill stuffing
Felt for face details – black & white
Fabric glue
Yarn Needle
Scissors
Stitch marker
Sewing pins
Abbreviations
CH – chain
SC – single crochet
INC – single crochet increase (2 SC in each stitch)
DEC – decrease (I use the invisible decrease in all of my creations for a cleaner look)
HDC – half double crochet
DC – double crochet
BOBBLE – bobble stitch
FO – fasten off
Magic ring – Make a loop, leaving a long tail to work with. Insert the hook in the center of the loop, yarn over it, and draw up a loop. Yarn over and pull through to make the first chain (this does not count as a stitch). Continue to crochet over the loop and tail with the number of stitches called for. There are many wonderful YouTube videos on how to make a magic circle if you are a visual learner! Always move your stitch marker to the last stitch in the round.
Duck Frog Amigurumi: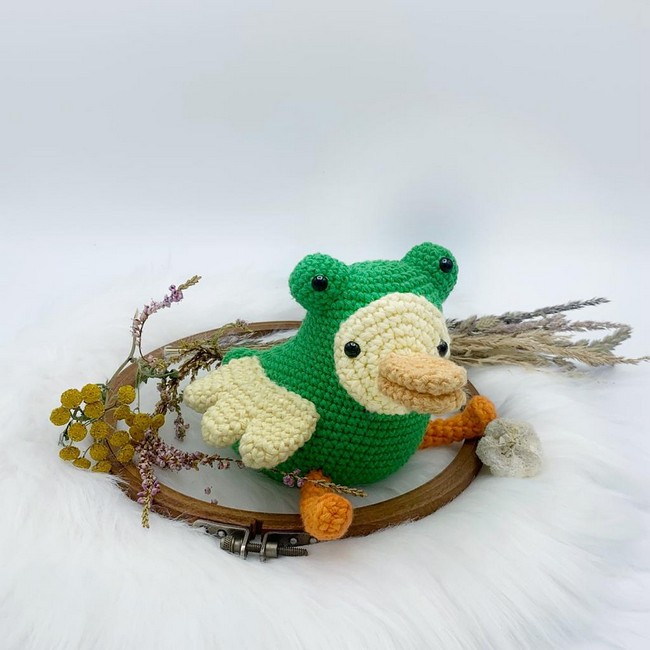 This Crochet Duck is perfect for a bath or as a toy for a baby. It's easy to make and so much fun that you won't be able to stop making them! This pattern will make an excellent gift if you have one minor child or six grandchildren. This pattern is for a cute duck you can crochet with basic skills! Learn how to make a whole family of baby ducks that are slightly smaller than the full-grown ones. This is an easy pattern that anyone can follow, and it works quickly! Some sewing is involved, but nothing too tricky. You'll need to know how to single crochet, double crochet, slip stitch, half double crochet, increase and decrease.
Materials
Any yarn in colors:  suggested colors are frog green, light yellow, light orange, and orange
Crochet hook (in size corresponding with chosen yarn)
2 pairs of 7 mm safety eyes
Polyfill, scissors, yarn needle
Abbreviations
SC – Single Crochet (x-stitch)
Sl st – Slip stitch
Inc – Increase
Dec – (invisible) Decrease
FO – Fasten off or invisible fasten off (easy to follow tutorial:
BLO – Back loop only
FLO – Front loop only
MR – Magic Ring
Smiling Duck Potholder: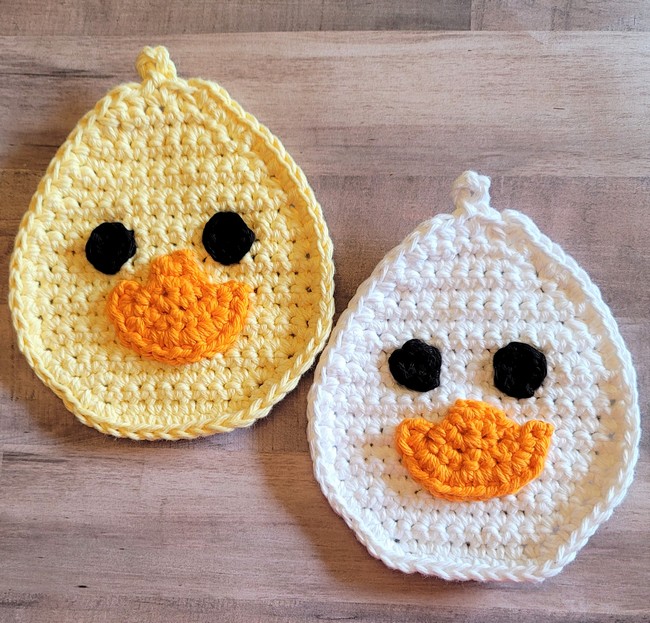 This happy little duck is ready to guard your kitchen! It's not just a potholder, it's an excellent hostess gift! These little ducks will keep your hot trays from burning. This crochet duck potholder makes a cute and unusual hostess gift, or make it a fun decoration for your kitchen. The pattern makes two potholders, so you can tuck them away in a drawer with their matching cozy and use them frequently. This potholder is simple to make and great practice for beginners or anyone who wants to learn how to crochet.
Materials
I Love This Cotton yarn –
1 oz. yellow or white
6 yards orange
4 yards black
Size I (5.5 mm) crochet hook
Yarn needle
Duckies:
An excellent gift for a baby shower or just because. These duckies are handcrafted and are made of cotton yarn. They are soft, cuddly, and super cute! These cute crochet duckies make a fun addition to any nursery or playroom. They're simple enough for beginner crocheters, yet each piece has its own personality that will add some fun to any toy collection. The details are small and easy to make, so they're great for beginners, but the result will surely delight young and old alike! Each duckie can quickly be completed in less than an hour.
Materials
Bernat Handicrafter Cotton Yarn (50G/1.5 OZ) - less than one skein per color Black thread for the eyebrows and mouth
Furls Odyssey Crochet Hook size E/3.5mm
8mm safety eyes
Stuffing
Scissors and a sewing needle
Abbreviations
Ch-chain
Sc-single crochet
Inc- increase
Dec-decrease
Fo-fasten off
Rupert the Duck Lovey:
Crochet is a quick and easy duck lovey for any baby. This is a great beginner project; no reading is required; follow the step-by-step instructions in this fun new pattern! Crochet your own Rupert the Duck Lovey in white or pink to match your little one's nursery decor. Grab your hook and make Rupert the Duck lovey! This sweet crochet duck makes the perfect gift for your favorite baby. The body of the lovey is crocheted using a soft, bulky yarn, and then you can add on optional features. You can leave Rupert as is or make him cuter by embellishing him with feathers or adding a little bow tie around his neck!
Materials
Big Twist Value Yarn, Medium Worsted Weight 4 (100% Acrylic, 371 yds, 6 oz) White, 1 skein- approx. 200 yds, Gold, 1 skein- approx. 20 yds
G/6 4.25mm hook
J/10 6.0mm hook
Polyfil Stuffing
Needle, for weaving ends
Abbreviations
Ch- Chain
St(s)-Stitch(es)
Sl st- Slip Stitch
SC- Single Crochet
DEC- Single Crochet Decrease, Using the Invisible Decrease method, insert hook up through front loops of next 2 stitches, yarn over, pull through front loops, yarn over, pull through to finish decrease
2SC- Single Crochet Increase- 2 SC in the same stitch to increase
DC- Double Crochet
2DC- Double Crochet Increase- 2 DC in same stitch to increase
Shell- 5DC in same stitch
HDC- Half Double Crochet
Violet the Duck:
Violet is about a foot tall and just adorable. She's perfect as a mother-daughter project or as a last-minute gift! You can hook Violet in an afternoon - she's super fast to make! These little ducks are the perfect gift for springtime. They are quick and easy to make, with a fun bobble stitch that makes them extra adorable! Collect them all! You can make your own crochet duck using this pattern and choose any colors you like for her back and belly.
Materials
I used a 4.5 mm crochet hook for this duck.
Tapestry needle
Stitch marker
Scissors
Fiber fill
Abbreviations
ch        chain
dec        decrease
inc         increase
Rd        round
rep        repeat
sc        single crochet
Jemima Puddle Duck Amigurumi: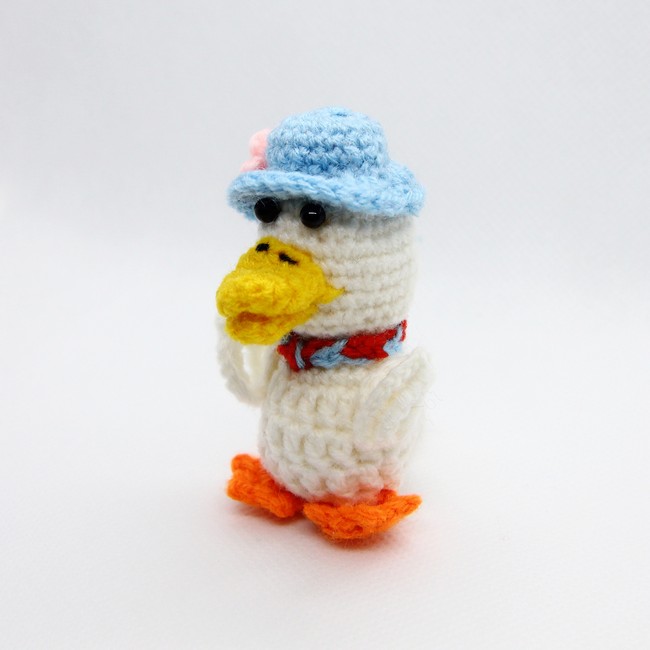 Jemima Puddle-Duck is a classic British children's story, and this Amigurumi pattern is designed to create a cute stand-up display of your own Jemima Puddle-Duck. She's a perfect addition to any child's playroom, nursery, or family room. A crocheted Jemima will make you smile and bring back memories of childhood. She is a very graceful duck with a curvy profile, and you can make her in any color to match your bathroom decor. The crochet construction makes her very easy to customize depending on your needs - make her bigger or smaller, change the color, or maybe even add some other duck friends.
Materials
2.0mm Clover crochet hook
Orion Top Deluxe Yarn, Crown Yarn (or any equivalent acrylic yarn)
White, yellow, light blue, red, orange, light pink
Darning needle
Stitch markers
Filling – use leftover yarn or polyester fiberfill
Scissors
Abbreviations
Ch = chain
Sc = single crochet
Sl st = slip stitch
St = stitch (refers to the number of stitches in one round)
Hdc = half double crochet
Dc = double crochet (yarn over 1x)
Tr = treble crochet (yarn over 2x)
Dtr = double treble crochet (yarn over 3x)
Ttr = triple treble crochet (yarn over 4x)
Qtr = quadruple treble crochet (yarn over 5x)
Sc2tog1 = single crochet decrease
2sc = single crochet increase (2 single crochet in same st)
FLO = front loop only
BLO = back loop only
Duck Lovey Puppet:
This Crochet Duck Lovey Puppet is the perfect toy for your little one to snuggle up with. The instructions are easy and fun for children of all ages to make! Make this lovey for your favorite little one, or make a gift for someone special. Crochet Duck Lovey Puppet Pattern is a gorgeous amigurumi designed to create a cute duckling to snuggle and love. A sweet, colorful bill and pretty green eyes will melt your heart and tug at your soul. So cuddle up with this adorable crochet dolly.
Materials
The Hook Nook, Main Squeeze – Mustard Yellow – 1 skein, 3.5 oz, 175 yds
The Hook Nook, Main Squeeze – Marigold Fields – 2 yds
The Hook Nook, Small Stuff – Tattoo Ink – for eyes and nostrils
Crochet Hook, I – 5.5mm, from The Hook Nook Designer Interchangeable Hook Set
Tapestry Needles
Scissors
Abbreviations
magic ring
rnd, rnds – round, rounds
ch, chs – chain, chains
sp, sps – space, spaces
st, sts – stitch, stitches
sl st – slip stitch
sc – single crochet
hdc – half double crochet
dc – double crochet
inc – make 2 sc together into same st (only used about sc sts)
Herbert the Duckling: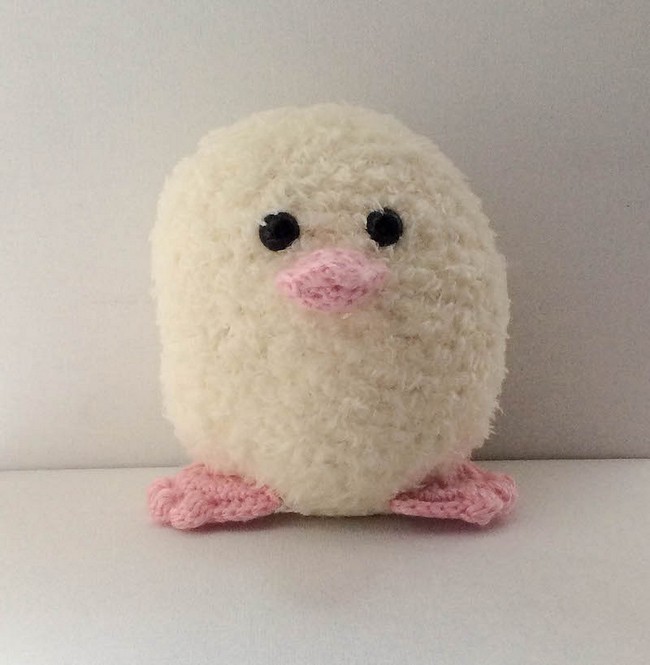 Herbert, the duck, is an adorable new friend for children and adults alike. He likes to cuddle with you any time or hang off your neck like a necklace when you go on vacation. An accessory that fits your hands and helps you relax with its soft texture is always an excellent idea for anybody. This Duckling Crochet Pattern is perfect if you are a beginner crocheter looking for a simple project. This pattern can be crocheted in less than 30 minutes and, once done, makes a great gift for any occasion! Perfect for Easter baskets and other times of the year.
Materials
King Cole Truffle yarn (100% polyamide, 3.5 oz/100 g, 196 yd/180 m) – 1 skein in 4371 Vanilla (CA), or approximately 60 yd (55 m) in CA in any medium weight or fur yarn.
King Cole Paradise Beaches yarn (70% acrylic, 30% polyamide, 3.5 oz/100 g, 278 yd/255 m) – 1 skein in 3007 Pink Gin (CB), or approximately 25 yd (23 m) in CA in any lightweight yarn.
NELSONWOOD US Size G-6/4 mm crochet hook, or any size needed to obtain gauge.
NELSONWOOD US Size F-5/3.75 mm crochet hook, or any size needed to obtain gauge.
12 mm black safety eyes – 1 pair.
Locking stitch markers.
Fairfield Poly-Fil Crafter's Choice Dry Packing Fiber Fill, 10 ounce bag.
Yarn needle.
Abbreviations
BL – back loop only –
bob – 5-repeat bobble
CA – Color A
CB – Color B
ch – chain
rep – repeat
Rnd(s) – Round(s)
sc – single crochet
sc2tog – single crochet 2 stitches together (decrease)
sl st – slip stitch
st(s) – stitch(es)
yo – yarn over
Repeat instructions after asterisk as indicated.
[] Repeat instructions between bracked as indicated.
() Stitches in parentheses are worked into same stitch or space.
Pocket Duck: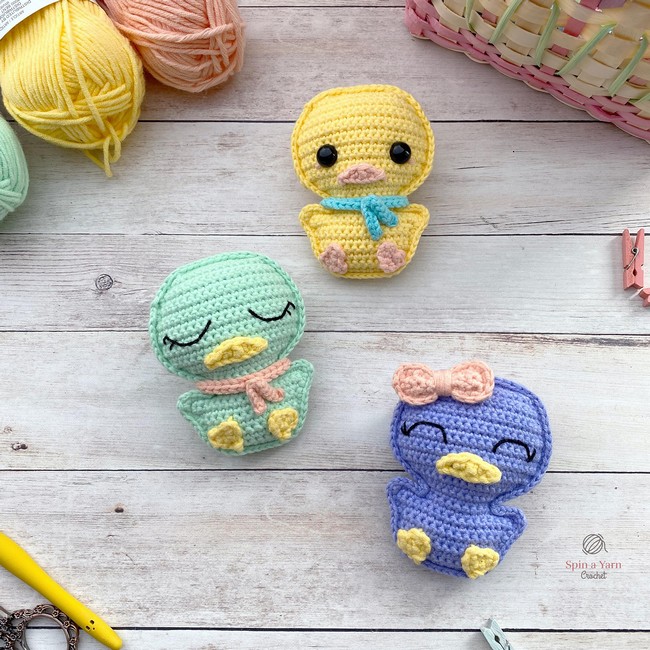 Pocket Duck is a quick and easy crochet project that all will adore. This adorable crochet pocket duck is a huggable beach buddy for all ages. It's the perfect addition to your child's collection of stuffed animals. This cute little duckie keeps your keys, coins, and lip balm handy in your pocket. Crocheted in a striped color that looks great as a keychain too!
Materials
2.75mm hook (I use THESE hooks!);
Loops & Threads Capri in the following colours (or any light worsted):
For the yellow duck: Yellow, Apricot, Turquoise (less than 50g of each);
For the purple duck: Purple, yellow, and Apricot (less than 50g of each);
For the green duck: Mint, Apricot, and Yellow (less than 50g of each);
12mm Safety Eyes or black crochet thread;
Stuffing;
Tapestry needle.
Abbreviations
Ch – Chain
Slst – Slip stitch
Sc – Single Crochet
Inc – Increase. Work a regular sc increase
Dec – Decrease. Work a regular sc decrease
Sc3tog – Single crochet 3 together. Work a decrease across 3 stitches.
Baby Duck:
This crochet duck is the perfect baby shower gift or newborn present. Crochet this baby duck for a lovely and playful addition to your baby's toy collection. This crochet duck is quick to make and fun on its own. This is a crochet baby duck pattern that you will fall in love with! As you bring this baby duck home to your children, they will be delighted. It is an excellent gift for children who love animals. Your kids will be entertained for hours as they play with this adorable little creature.
Materials
I recommend using cotton yarn for this project. Using cotton yarn will allow you to use this as a dishcloth or potholder. I used Lily Sugar 'n Cream.

-color 1 (light yellow : Lily Sugar 'n Cream Yellow)

-color 2 (black : Lily Sugar 'n Cream Black)
-color 3 (Red or orange : Lion Brand Yarns, Re-Up Red)

-4.5 mm crochet hook (or any other yarn and hook combination to fit your gauge)

-yarn needle

-scissors
Abbreviations
Approx- approximately

Ch- chain

Dc- double crochet

Dcin- double crochet increase

Mc- magic circle/ring

Sc- single crochet

Sc2tog- single crochet two together

Sl- slip (commonly used as slst...slip stitch)

St- stitch

*- repeat whatever follows the * as indicated

#x- repeat that many times

()= stitch count Ch 3 counts as dc
Derek the Duck: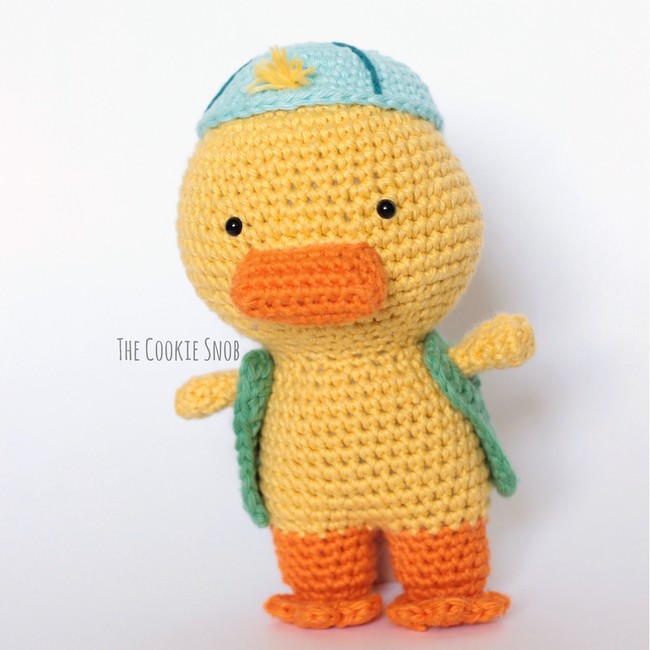 Crochet Derek the Duck is a fun little project you can complete in under an hour. This adorable duck can be made as a decoration for your home, but it also works well as a special gift for your child's friends and family this Easter time. It is an easy, in-the-hoop project that is perfect for anyone who wants to try something new. This is a fun and whimsical project that makes an adorable keepsake to give as a gift or can be used as an ornament on your own Christmas tree.
Materials
About 90-110 yds of I Love This Cotton! Yarn (or other aran weight yarn) in the main color and accent color
Size E (3.5mm) crochet hook
Fiberfill stuffing
6mm safety eyes (2)
Tapestry needle
Optional: Stitch marker
Abbreviations
st(s) = stitch(es)
ch = chain
ss = slip stitch
sc = single crochet
inc = sc increase (work 2 sc in the same st)
dec = sc decrease (decrease over 2 sc sts)
hdc = half double crochet
dc = double crochet
Amigurumi Baby Duck: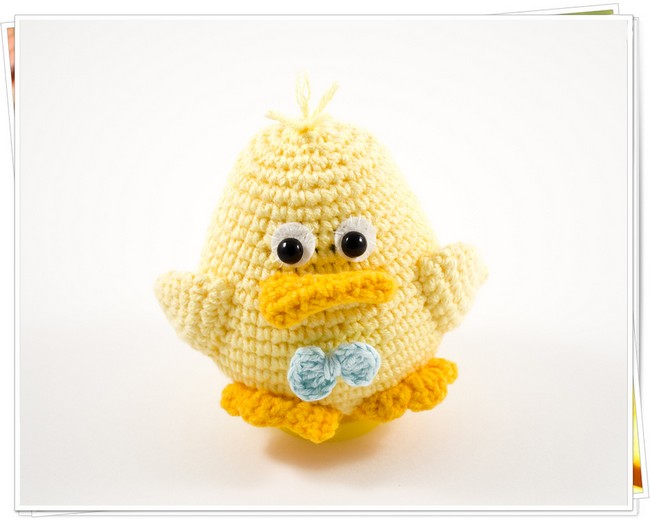 Amigurumi Baby Duck is made in a soft yarn, which makes it a perfect gift for your small cute friends. These little ducks are crocheted from a material that can be made in any color combination, and they can make the most beautiful decoration in any room. This crochet amigurumi pattern is perfect for beginner crocheters looking to grow their skills and build confidence. With its beak and feet, the simple design of this duck allows you to practice new stitches with a quick and easy project.
Materials
Cotton and Acrylic mix yarn (Alize Cotton Gold Hobby, YarnArt Jeans; weight: Sport/Fine);
Colors: Yellow, Light orange
2 black safety eyes (6 or 8 mm), white felt for the eye patches
Crochet hook size 2,5 mm
Stitch marker
Polyester fibrefill for stuffing
Darning needle for sewing the parts together
Bubble Pins
Scissors
Abbreviations
Mr – Magic Ring
Rnd – Round
Ch – Chain
St – Stitch
Sc – Single crochet
Dc – Double crochet
Inc – Increase
Dec – Decrease
Sl St – Slip stitch
[] – Repeat everything in the brackets for the round
Mallard Duck:
It's a duck, a dog; it's a Crochet rabbit? No, it's Mallard!! A cute little duck would make an excellent toy for your dogs or cats. Fun to crochet and even more fun to give away 🙂 This is the perfect gift for any duck lover. With the body, beak, and feet easily sculpted from a chain of crochet stitches, this Mallard duck can be created in just a few hours. All ducks in the world need a home, and this Mallard may be just what you are looking for. Crocheted from worsted-weight yarn, this duck is perfect as a companion for your little one.
Materials
A crochet hook (I used 2,5mm)
4ply or Fingering yarn (brown, white, yellow, and green)
Safety eyes
Filling
Amigurumi Duck: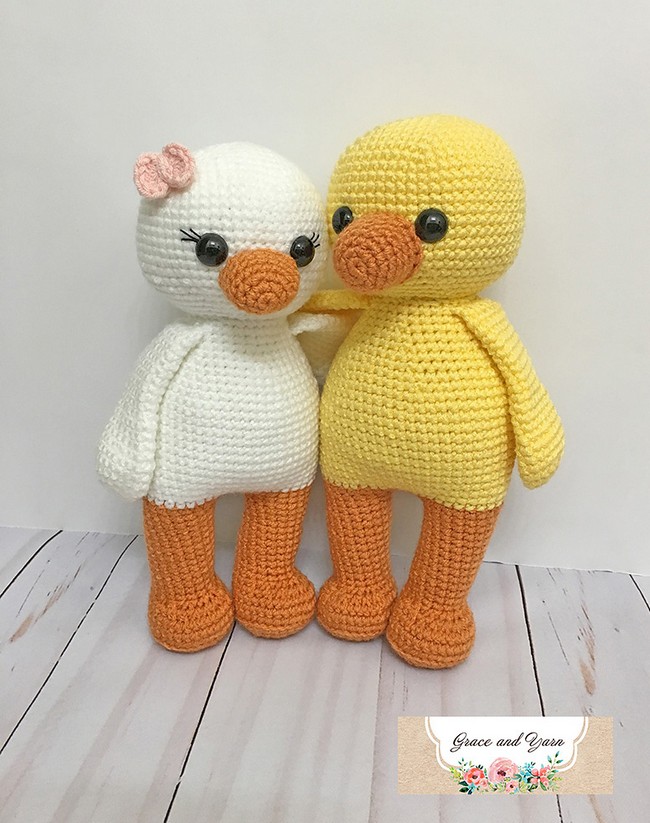 Waddle to your craft room and pick up this crochet duck pattern. This adorable friend will be the talk of your sewing group and the envy of all your friends. Make one for each family member, or keep them all for yourself! This is a crochet pattern to make a baby duck. It is a perfect gift for Easter or any time of the year. The crochet amigurumi duck can be used as a toy at home or made as an ornament to decorate your house. This duck pattern is an easy-to-follow crochet project that anyone can make! This would be an excellent gift for a child and a decoration around your home.
Materials
Size 4 worsted weight yarn (100g of white or yellow yarn for the body, 25g orange)
3.5 mm crochet hook (these are my favorite to use!)
15mm safety eyes
Black crochet/embroidery thread for eyelashes/small amount of choice color for bow   (optional)
Scissors
Tapestry needle (these work wonders for amigurumi with their bent tips)
Stuffing (Poly-Fil and Morning Glory are my top favorites!)
Stitch markers
Abbreviations
MC- Magic circle
SC- Single crochet
SC INC- Single crochet increase
INV DEC- Invisible decrease
DC- Double crochet