Whether you're a child or not, it's hard to resist the adorable face of a stuffed animal rabbit. Many adults enjoy collecting rabbit toys and decorations. However, if you want to add more rabbits to your collection without spending any money on them, check out this collection of 15 free crochet rabbit patterns. Putting aside the question of whether you want to make these items as gifts for others or yourself, it's important to note that all of them are made with yarns that can be purchased at most craft stores. Since none of the patterns call for specialty materials or difficult stitches, even beginners can easily tackle the projects.
Crochet Rabbit Patterns Free

This collection will have a stunning selection of crochet rabbits. From small baby bunnies to large toy versions of the animals, these patterns will delight crafters, young and old. Dress up your favorite Easter basket with a soft, cuddly bunny or use them for party favors for kids of all ages at school or church carnivals." Crochet rabbits add a touch of whimsy to your home. Make a cute Easter Bunny or a lovable bunny to brighten any day with this list of 15 free crochet rabbit patterns. These patterns will help you to make a handful of sleepy, sweet, and cuddly bunnies. Crochet along with us to create these adorable bunny toys.
Tips For Making Realistic Crochet Rabbit Patterns
Rabbits are very popular in crochet patterns. They are adorable and easy to make but can be challenging to crochet. Rabbits have many parts, including ears, eyes, noses, mouths, and paws. Here are some tips that will help you crochet a bunny successfully:
Use the right yarn for your project. The wrong type of yarn could cause the Rabbit to come out looking different from what you intended it to look like. For example, if you use fuzzy yarn for the body of your Bunny, it will look more like an animal than a toy. On the other hand, if you use smooth yarn, it will look more like an art piece than an animal toy.
Make sure that all your stitches are tight enough so that none fall out while washing or playing with children or pets!
Make sure your pieces fit together properly before sewing them together! If they fit together properly, they will look right when finished and put together!
Cooky Pink Rabbit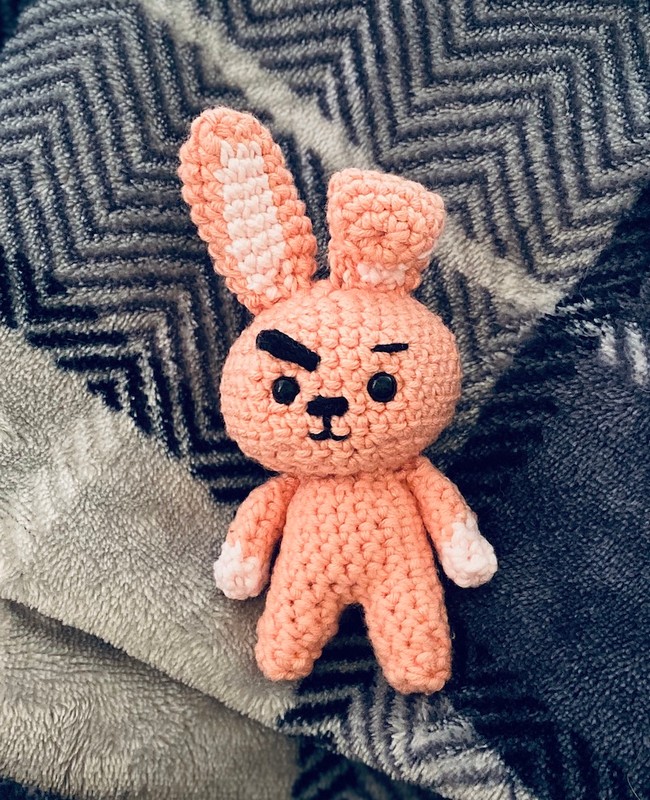 Crochet Cooky Pink Rabbit is a great gift for the little one in your life. The 3 and 4-year-old girls will love their new buddy, and you can take comfort in knowing that it's made with quality materials and has been carefully tested by professionals so that they are safe. The perfect crochet doll just for your little one! Crochet Cooky Pink Rabbit will surely become a favorite toy that'll be enjoyed for years. The pink color and soft floppy body make it a delightful plaything for kids and adults alike. She is also great as a pillow, decorative piece, or birthday gift.
Materials
3.25mm hook
Pink and white DK weight yarn (less than 50m needed for each color)
Pair of safety eyes
Black embroidery thread
Yarn needle
Stitch marker
Fiber fill stuffing
Abbreviations
SC - single crochet
St/Sts - stitch/stitches
Inc - 2 sc in stitch
Dec - single crochet invisible decrease
Sl st - slip stitch
CC - invisible color change
BLO - sc into back loops only
Magic Hat Rabbit Amigurumi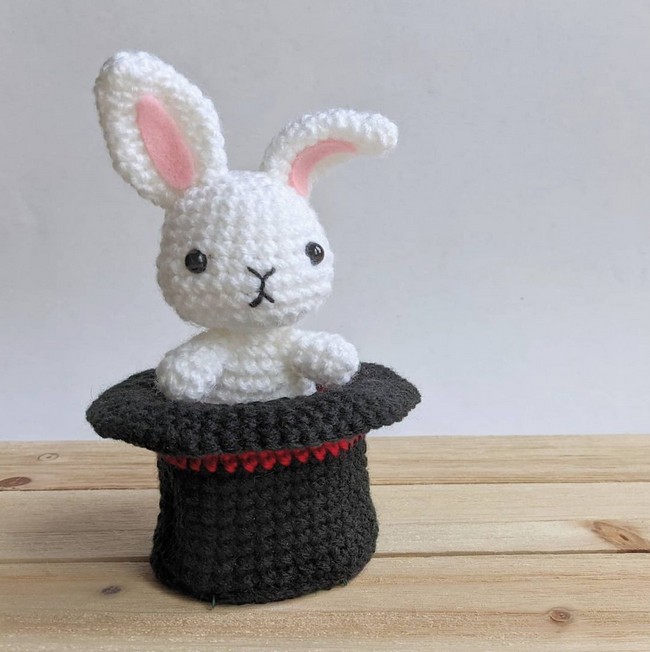 The Crochet Magic Hat Rabbit Amigurumi is a soft, fluffy, and lovingly handmade crochet kit. It is made of carefully chosen and high-quality materials so you can enjoy it after assembly as decoration in your room or as a gift. Crochet Magic Hat Rabbit Amigurumi will be a nice gift for your children or friends who like to crochet. This pattern is easy to follow and fun to make. This lovely amigurumi crochet rabbit is simple to make and looks adorable.
Materials
Worsted weight yarn – white (W), black (B), red (R)
Crochet hook – size 8 (5.0 mm)
Other notions/tools – scissors, yarn needle polyester fibrefill, two 8.0 mm safety eyes
Felt – pink
Abbreviations
ch = chain
st = stitch
sc = single crochet
sl st = slip stitch
inc = single crochet 2 into the same stitch
dec = decrease over next two stitches (single crochet 2 stitches together or use invisible decrease)
Easy Little Bunny Rabbit Ami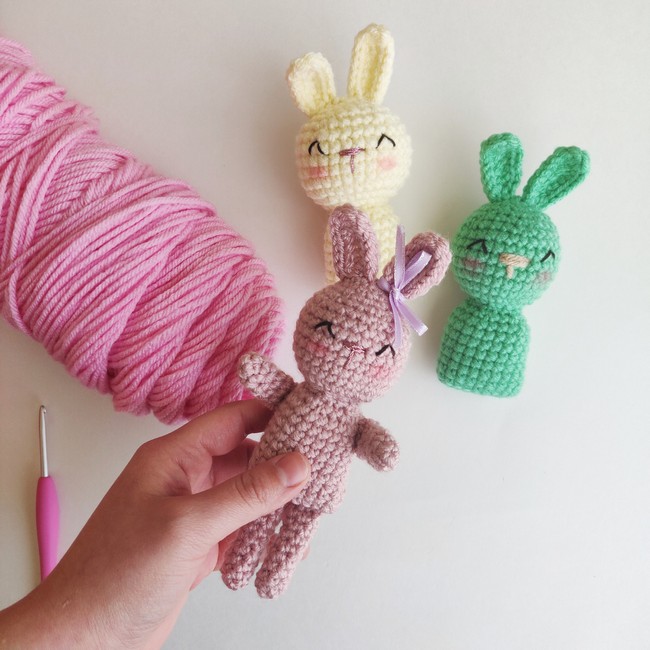 Crochet this super cute little bunny rabbit. It's easy enough for beginners, but your finished project's charm and cuteness will make it a great addition to any collection! This pattern includes instructions on how to make both child and adult-size bunnies. To make this Bunny, you must know basic crochet skills such as chain stitch and single and double crochet stitches. This is a beginner-level pattern, great for children or adults who are new to the world of crocheting.
Materials
F – 3.75 mm crochet hook

Medium Worsted weight (#4) yarn

I used :

Hobby Lobby – I love this yarn solid – in the color Rosy Cheeks

Black/Brown Embroidery Floss for the eys

Amethyst Metallic embroidery floss – for the nose

Yarn needle

Scissors

Stitch markers (highly recommend this extra piece of yarn works great)

Poly-fil – I use the one for doll making

(Optional) Pins to help with ears and arms placements.

(Optional) Blush or paint for the cheeks. Add a little at a time.
Abbreviations
CH

 – 

chain

ST 

– stitch (stitch space)

Sl St

 – 

slip stitch

SC

 – single crochet

SC INC

 – single crochet increase (2 sc in the same st)

INV DEC

 – invisible SC decrease ( decrease using FLO)

FLO – front loop only
Amigurumi Spring Bunny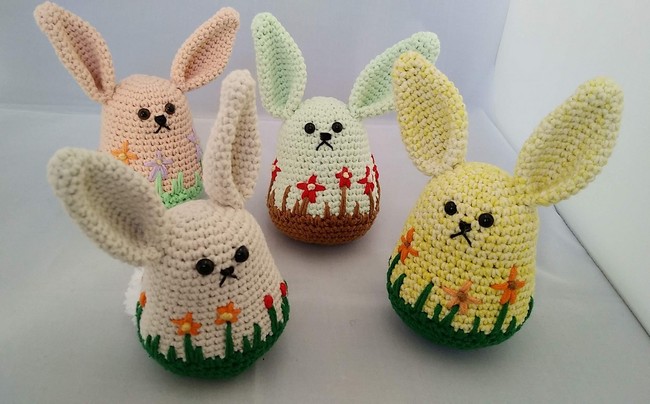 A soft and cuddly Amigurumi spring bunny that makes a great spring decoration for Easter, a baby shower, or a birthday party for a little girl. Create a Crochet Amigurumi spring bunny amigurumi and have fun making it. You can easily accentuate the softness of the crochet fabric and the softness of its wool on a spring day. It's easy to take out your creative side again. This egg-shaped Bunny can be a great decoration for Easter and any other spring holiday, but also as a gift for children 3 years old and older.
Materials
Yarn: 5 colors of DK / 8 ply weight cotton (Rico Design Ricorumi DK: 25 g / 57.5 m) – beige, green, pink, brown, white
Crochet hook 2.5 mm
Stitch marker
Polyester fiberfill
Safety eyes (Ø 6 mm)
Thread for the nose
Darning and embroidery needle
Pompom maker (Ø 35 mm)
Abbreviations
Slip stitch (sl st), chain (ch), single crochet (sc), spike single crochet (SPsc), French knot
Peter Rabbit Amigurumi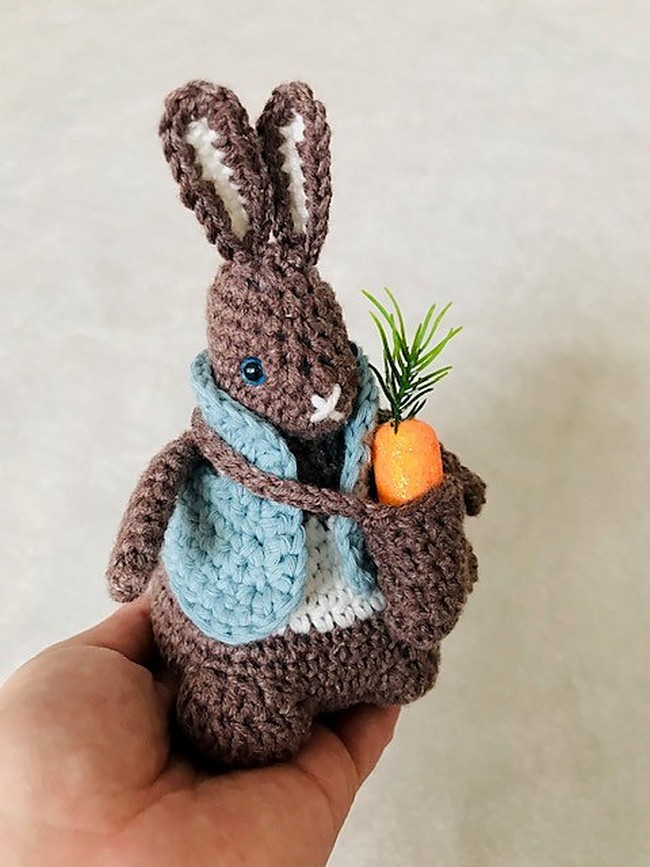 The cute wiggly nose and sweet face of the Peter Rabbit Amigurumi will delight children, while the simple construction makes it easy for kids to make themselves. Crochet Peter Rabbit Amigurumi is a straightforward crochet pattern that is easy to understand and follow. This pattern will guide you through each step of making this cute little Rabbit in an adorable pose. He can be made using any yarn of your choice; the instructions are written for worsted weight yarn but can easily be adapted using something lighter or heavier.
Materials
Cotton Fair Yarn in Cocoa, Cream and Baby Blue; Weight – Fine 2
Medium 4 weight yarn in a dark brown for the garden
3mm crochet hook
6mm Safety Eyes
Darning Needle
Ivory or White Embroidery Thread
Craft Carrots or other veggie
Small Bunny Amigurumi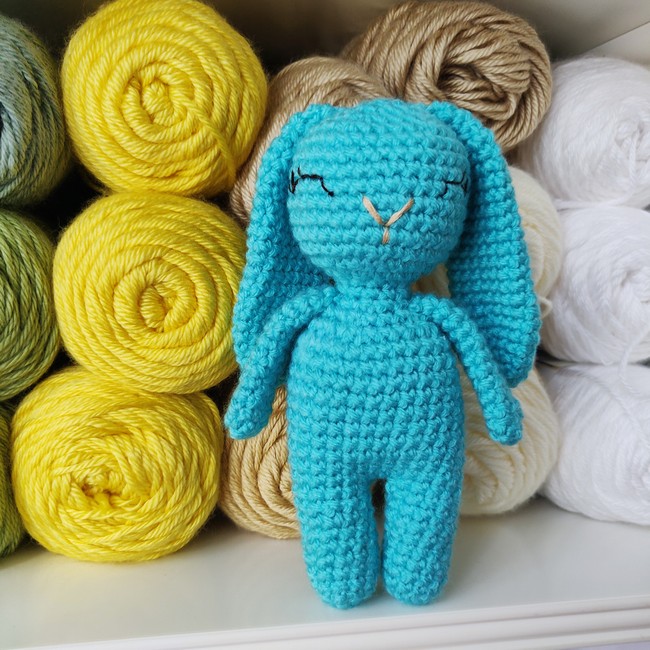 Are you looking for a simple crochet pattern for Easter? If so, then this is the perfect pattern for you! This small bunny amigurumi will make a delightful addition to your Easter decorations or to give as a gift. This unique and adorable little crocheted Bunny is just the right size for sitting in your hand or desk. With big button eyes and a cute floppy ear, this will surely bring a smile to anyone who spots it. She is small enough to keep in your handbag, car, or work desk. Her ears and arms are fully movable, so she can cover her eyes if she gets scared.
Materials
 F – 3.75 mm

 crochet hook

Medium Worsted weight (#4) yarn

Yarn needle

Scissors

Stitch markers (highly recommend this extra piece of yarn works great) X2

Poly-fil

(Optional) Pins to help with ears and arms placements.

(Optional) Blush or paint for the cheeks. Add a little at a time.
Abbreviations
CH

 – 

chain

ST 

– stitch (stitch space)

Sl St

 – 

slip stitch

SC

 – single crochet

DC – double crochet

FLO

 – front loop only

SC INC

 – single crochet increase (2 sc in the same st)

SC DEC

 – single crochet decrease

INV DEC

 – invisible SC decrease ( decrease using FLO)
Snuggle Bunny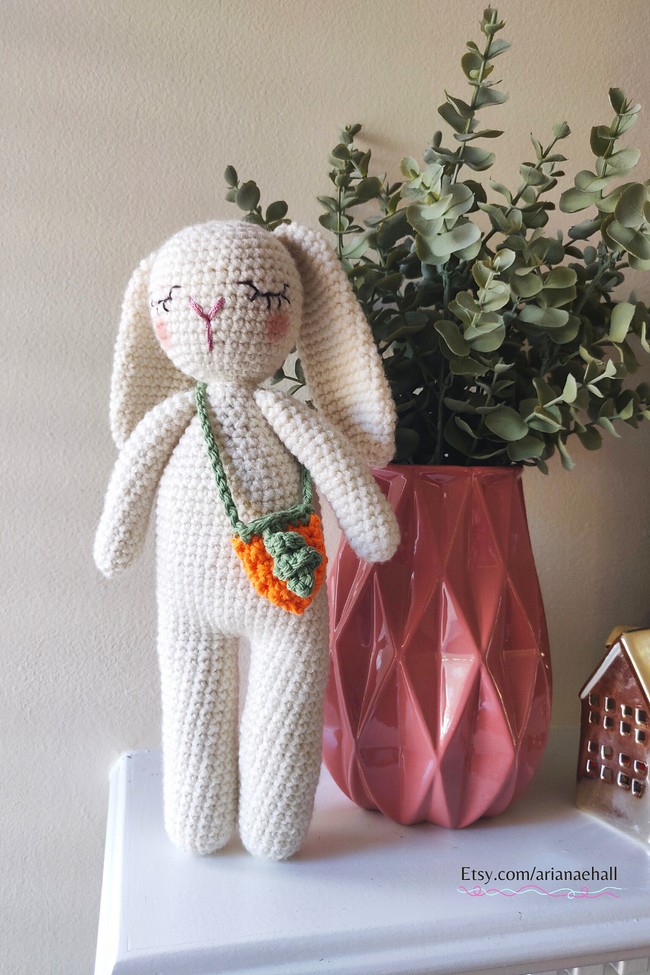 This snuggly little creature will make a great friend for your child or to give as a baby shower gift, Christmas present, or birthday present. The pattern allows you to make your Bunny as big or small as you'd like by modifying the size of the stitches and yarn used. This crochet snuggle bunny is made with care, not only to make it cute but to make it last. The cotton yarn washes well and stretches out, making it perfect for cuddles all night long. Incredibly soft, this crochet toy will quickly become a favorite of any child who will love snuggling with this lucky Rabbit.
Materials
G

 

6/ 4.00mm crochet hook

Medium Worsted weight (#4) yarn

Yarn needle

Scissors

Stitch markers (highly recommend this extra piece of yarn works great) X2

Poly-fil

(Optional) Pins to help with ears and arms placements.

(Optional) Blush or paint for the cheeks. Add a little at a time.
Abbreviations
CH

 – 

chain

ST 

– stitch (stitch space)

Sl St

 – 

slip stitch

SC

 – single crochet

FLO

 – front loop only

SC INC

 – single crochet increase (2 sc in the same st)

SC DEC

 – single crochet decrease

INV DEC

 – invisible SC decrease ( decrease using FLO)
Boucle Bear and Bunny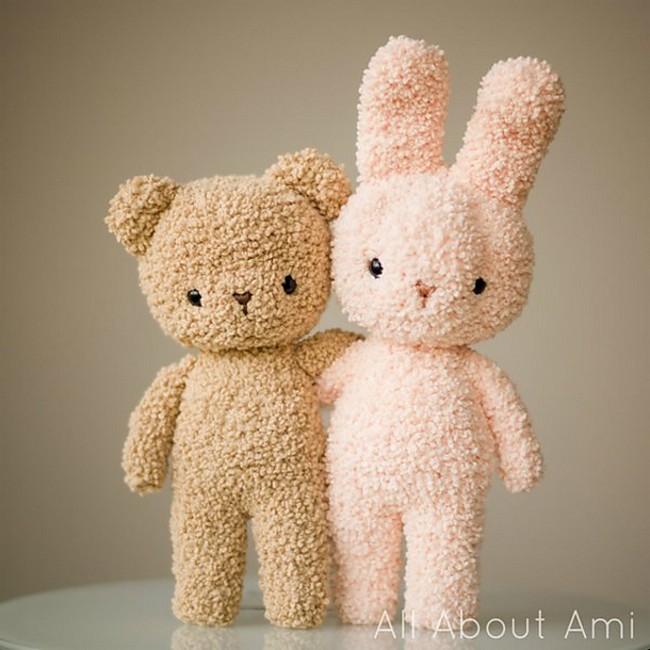 Crochet your darling teddy bear and Bunny using our special boucle yarn. These sweet softies are completely adorable and make great gifts for you or your loved ones! Add a dose of cuteness to your home with this soft and huggable crochet teddy bear! He's just the thing for cuddling when you're feeling blue. Crochet your own Boucle Bear and Bunny using this fun pattern. When completed, these two cuties will be soft and cuddly, and adorable to display. The pattern includes detailed instructions and photos, so you can easily crochet these lovely stuffed animals.
Materials
Baby Soft Boucle Yarn by Lion Brand (level 5 bulky) in "Tan" (for bear) and "Peach" (for Bunny) – you will need less than 1 skein of yarn for each animal; 70 g/84 yds for bear, 80 g/96 yds for Bunny (note that the "Peach" color is very difficult to find right now, but the Ballet Pink is also an appealing option); You can find this yarn through Lion Brand, LoveCrafts, Amazon, and Herrschners (they have the Peach in stock).
4.50 mm Clover Amour Hook
Yarn needle (bent tip helpful for attaching amigurumi parts- see HERE)
Fiberfill
12 mm safety eyes
Lock Ring stitch markers
Brown embroidery floss for Bear's nose, Deep rose embroidery floss for Bunny's nose
Sunny The Baby Bunny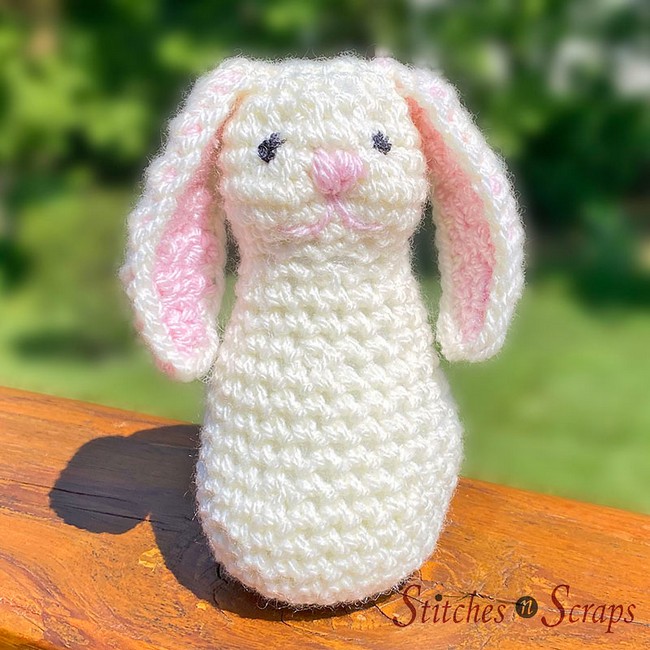 Bright, fun, and cute Crochet Sunny the Baby Bunny. Crochet this adorable Bunny for a friend's new baby. Sunny the Baby Bunny lives in a beautiful field of flowers. She likes to doze in the sun, then wakes up and hop away. Your little one will love this bright and cheerful Bunny. Hand-made from premium acrylic yarn that is easy to care for and sturdy enough to last through many playtimes passes from mama's arms to baby's hands.
Materials
Yarn: Worsted weight yarn
75 yds main color (A – shown in white)
15 yds accent color (B – shown in pink)
Hook: Size H/ 5 mm crochet hook or size needed to match gauge.
Notions:
Fairfield Poly-Fil Premium Polyester Fiber Filling
Yarn Needle
2 Stitch Markers or scraps of yarn to use as markers.
1 yd black or dark brown embroidery floss
Abbreviations
ch = chain
sc = single crochet
hdc = half double crochet
dc = double crochet
inc = increase (see Special Stitches)
dec = decrease (see Special Stitches)
sk = skip
st(s) = stitch(es)
sl st = slip stitch
sp = space
ch-sp = chain space
rnd = round
RS = right side
Dinky Little Rabbit
Dinky is already proving to be a top seller within the range of little animals. This little Rabbit has a big personality in her small body and looks fantastic dressed in any outfit you can dream up! This lovely little Rabbit is easy to make and doesn't take long. It's great for beginners, not just children. The pattern shows you how to make the body, ears, and eyes and combine them to sew them up. After that, it's just a bunch of stuffing, finishing off, and adding stuffing around the edges for extra fluffiness.
Materials
6mm hook
4mm hook
King Cole timeless – stash end
Specific yarn – No idea – but use light grey DK (light worsted weight)
Abbreviations
Ch – chain
DC – Double crochet
FHDC – Foundation Half Double crochet
FPDC – Front Post Double Crochet
HDC – Half Double crochet
SC – Single crochet
SS – Slip Stitch
Bunny Rabbit Applique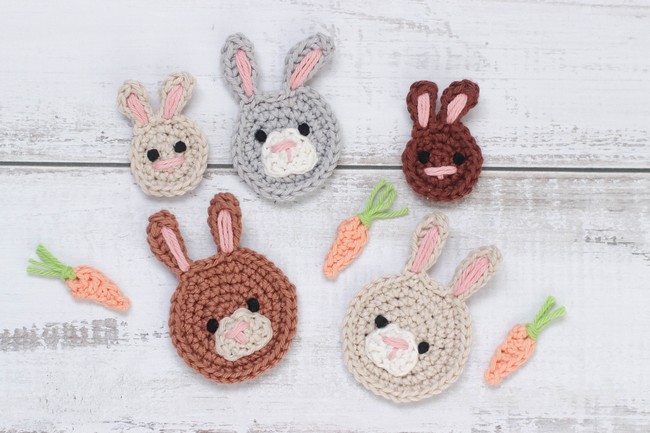 Crocheted bunnies are so cute! Crochet Bunny rabbit applique: Adorable bunny rabbit applique is easy to work up with simple colorwork. Use it as a blanket or pillow front, or add it to your apparel for fun and extra detail. This is a crochet rabbit applique you can use to decorate your hats, pillows, or anything you want to add some cuteness too. This is a great pattern to work on in the spring. A perfect Easter craft for toddler size. They are just as adorable when sewn as awls, so you can also make them for your clothes! It is a very easy and fast crocheted rabbit applique with a simple color scheme.
Materials
C / 2.75mm crochet hook
Yarn (DK cotton, such as Paintbox Yarns)
Main color (MC), such as brown, grey, or cream.
Contrast color (CC)
Scrap black embroidery cotton or yarn
Scrap pink embroidery cotton or yarn
Yarn needle
Babble The Bunny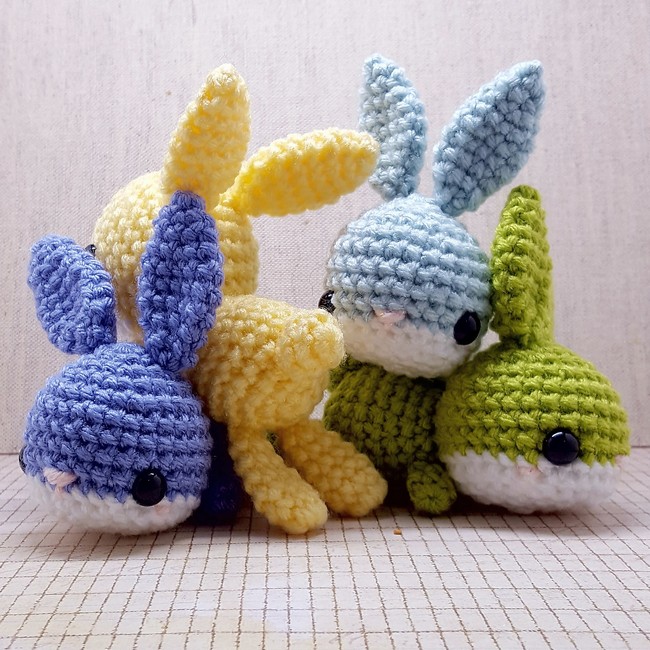 Get ready for a cute and cuddly addition to your Easter festivities! This crochet bunny will delight kids of all ages - from the youngest to the oldest. Everyone has a soft spot for these little fuzzballs, as they are so adorable, furry, and fun! This pattern is the perfect addition to any young child's Easter basket. It works quickly and comes with a doll-sized version if you want a quick project or a small gift.
Materials
Hook : 2.75mm\ C
Worsted weight yarn in two different colors,in the pictures I used a light blue and white
Fiberfill
10 mm safety eyes
Yarn needle
Stitch marker
Abbreviations
Sc = single crochet
CC = Yarn color change
Inc = Increase, 2 sc in same st
Dec = Decrease, next 2 sts crocheted together
Sl st = Slip Stitch
Ch = Chain
St = sticth
[…] = repeat instructions for entire round or as specified
Bruna, The Bunny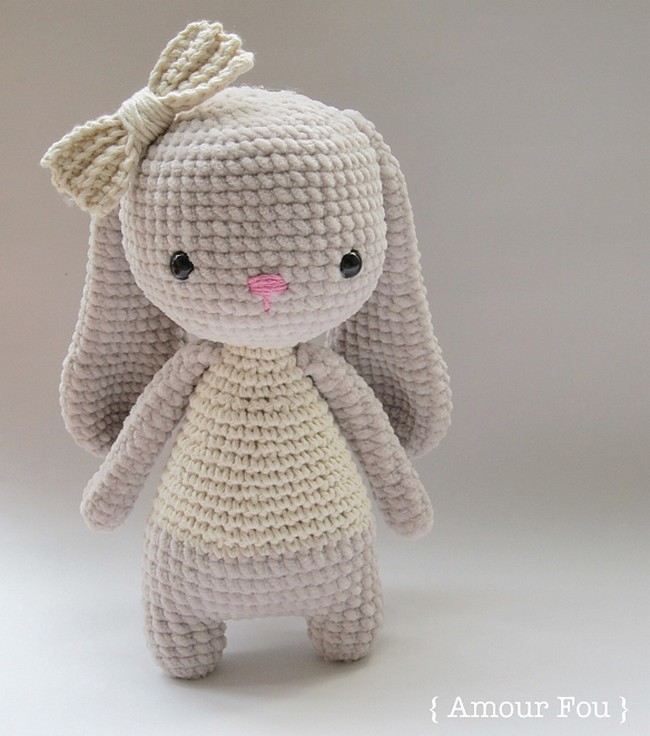 Busy hands will love making Bruna! She is cute and soft to cuddle with. This crochet pattern for a rabbit doll is suitable for beginners. The Bruna bunny is made of a cotton blend, reducing the chances of allergies. She has plastic eyes and ears, making her safe for children to play with. Her body is made of soft material, so your child can snuggle with her when the tears come. She has a beautiful pom-pom tail and loves to show off her beautiful pink dress. Make Bruna and her adorable friends as you follow this step-by-step guide with easy-to-follow instructions and no fiddly bits.
Materials
- 4 mm crochet hook (US G)
- 100 % cotton yarn for a 4 mm hook
- Fluffy yarn, like chenille (I used two of Katia Bambi)
- A pair of 12 mm safety eyes or yarn to embroider them
- Tapestry needle
- Polyfiber fill
Abbreviations
st = stitch
ch = chain
sc = single crochet
Winnie The Pooh Rabbit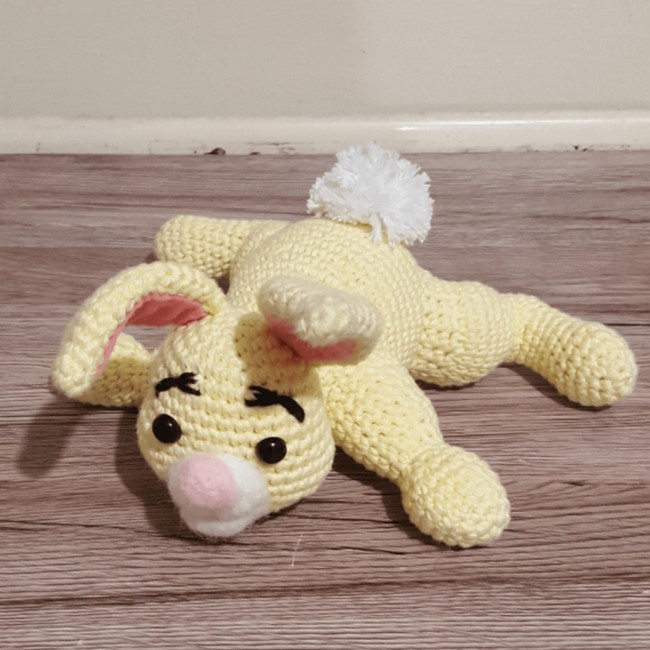 This is a pattern to make a crocheted Winnie the Pooh Rabbit. This creative and sweet toy can also be used as a decoration piece in your home or as a gift. This adorable crochet project is perfect for crocheters of all skill levels. With this pattern and your own imagination, you'll be able to create a cute little rabbit that looks just like Winnie the Pooh. The Rabbit is constructed using easy-to-follow, step-by-step instructions, with a few easy techniques that anyone can learn.
Materials
Cotton aran yarn. I used Scheepjes Cahlista 101—Candlelight (I needed roughly 80g), 238—Powder Pink, 106—Snow White and Jet Black—110
4 mm crochet hook
Two 10mm safety eyes
Yarn needle
Fire retardant Fibrefill
Scissors
Pink felt
Felt glue
Sewing pins (optional)
Stitch marker (optional)
Abbreviations
MR#—MAGIC RING WITH A SPECIFIED NUMBER OF SINGLE CROCHETS (E.G. MR6)
SC—SINGLE CROCHET (DOUBLE CROCHET UK)
INC—INCREASE
DEC—DECREASE
SS—SLIP STITCH
CH# —CHAIN SPECIFIED NUMBER OF STITCHES (E.G CH1 OR CH5)
*_______* X# — REPEAT SEQUENCE WITHIN THE ASTERISKS THE SPECIFIED NUMBER OF TIMES  (E.G. *SC, INC* X6)
CH#T—CHAIN SPECIFIED NUMBER AND TURN YOUR WORK (E.G. CH1T)
3IN1—3SC IN ONE STITCH
BLO—BACK LOOP ONLY
ST—STITCH
FLO—FRONT LOOP ONLY
FO—FASTEN OFF
Vola The Bunny Rabbit
Vola is the perfect friend for your little one. This sweet little Bunny has many personalities and will be a great companion in the car or on the plane. Easter is almost here! This cute little bunny rabbit will make a great addition to your plans for the holiday. Crochet him up in no time with our easy pattern, and then have fun decorating him for Easter! The Bunny's body is crocheted from the middle outwards, so there are only two seams to sew up. This makes for quick and easy assembly!
Materials
2.25 mm crochet hook
Worsted weight yarn, main color
Bee Cloud 9 or the equivalent to a fur yarn and a lightweight yarn of similar color, fluff yarn
12 mm safety eyes
Yarn needle
Fiber fill
Yarn of the pink variety for nose and blush
Stitch markers
Abbreviations
MC = Magic circle
Sc = single crochet
St = stitch
Sl st = slip stitch
Rnd = round
Sc rnd = single crochet in each stitch of the rnd
CC = yarn color change, counts as the first stitch of the rnd and is followed by a sl st
Inc = increase
Dec = decrease
[…] = repeat instructions within brackets as specified