A crochet bunny is an excellent choice for Spring and Easter seasons; It's good to give as a gift, especially for children. A crochet bunny is not just a toy but also an accessory. You can use it as a decoration in your house or a gift for someone special in your life. If you're looking for some cute crochet bunny patterns, this list contains 15 free crochet bunny patterns that you can use as inspiration for your next project. The best thing about these patterns is that there are many different styles and techniques to choose from. Whether you want something simple or more detailed, we've got it all here!
Crochet Bunny Patterns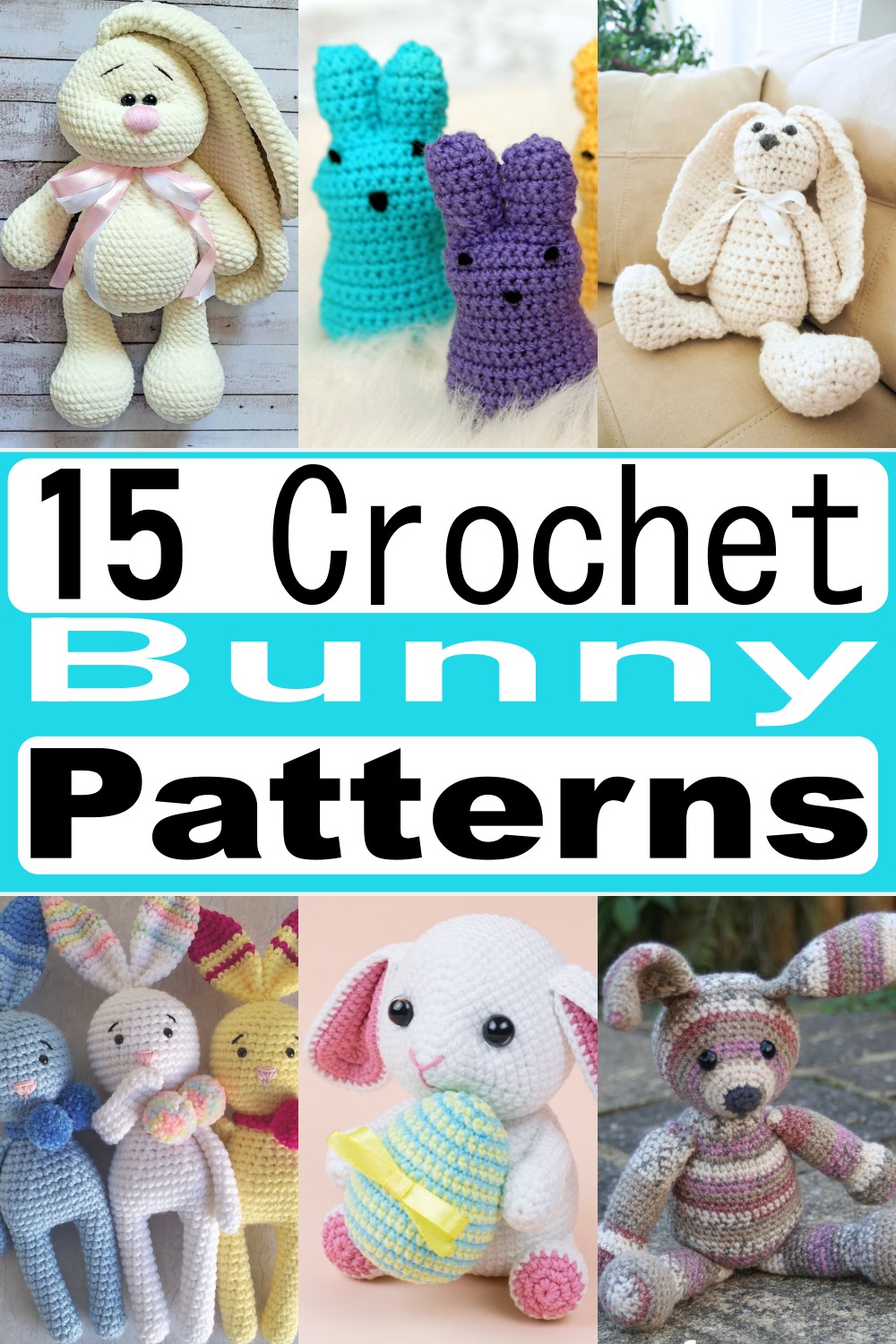 Easter is coming, and you need something creative to crochet for Easter. Crocheting a basket or a blanket is always a good idea, but you can do something different this time and leave these pre-made items aside. And try these free crochet bunny patterns to give your hooks something creative to crochet after blankets, sweaters, and cardigans. Grab your hooks and some yarn in different beautiful colors, and scroll down this list to watch unique bunny patterns. here are 15 free crochet bunny patterns for you to try; if you haven't tried making one yet.
Crochet Bunny Headband Pattern: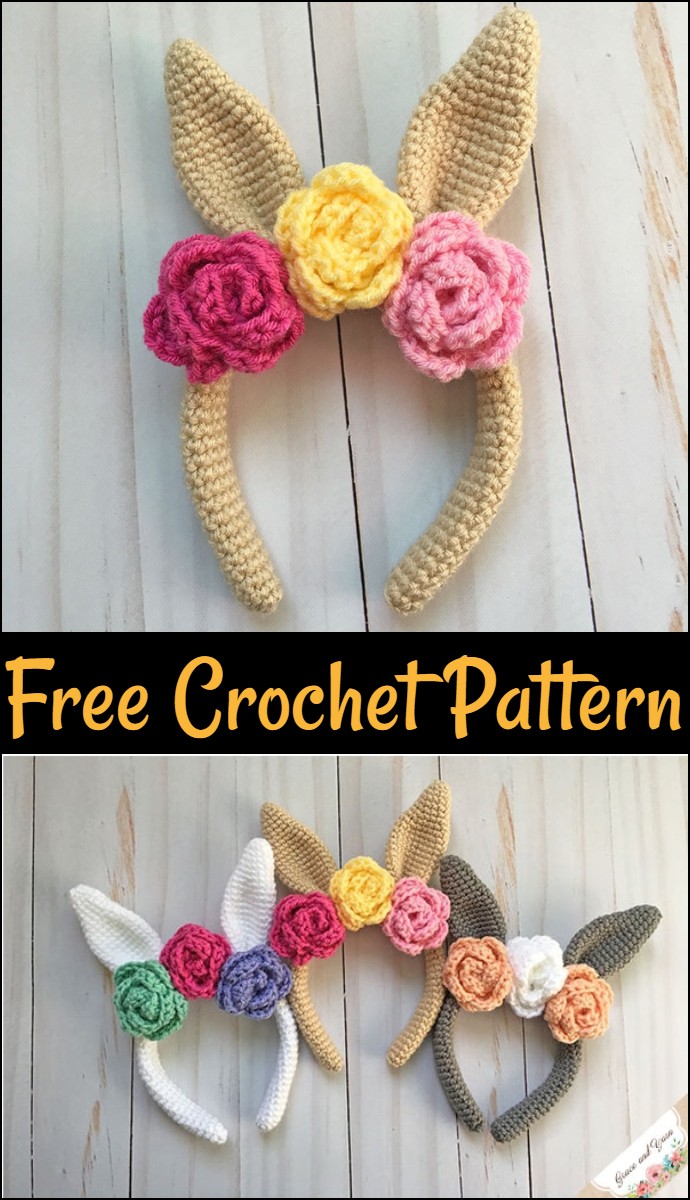 The bunny ears headband is one of the cute things you can make. This item is trendy among many women and girls, especially if they love animals. The pattern of this headband is straightforward to follow. You do not need special skills and techniques to crochet this beautiful pattern. You need to have basic crochet skills like single crochet, increase, decrease and slip stitch. Your friends would be so happy if you gave them this crochet bunny headband.
Simplified Cute Bunny Amigurumi: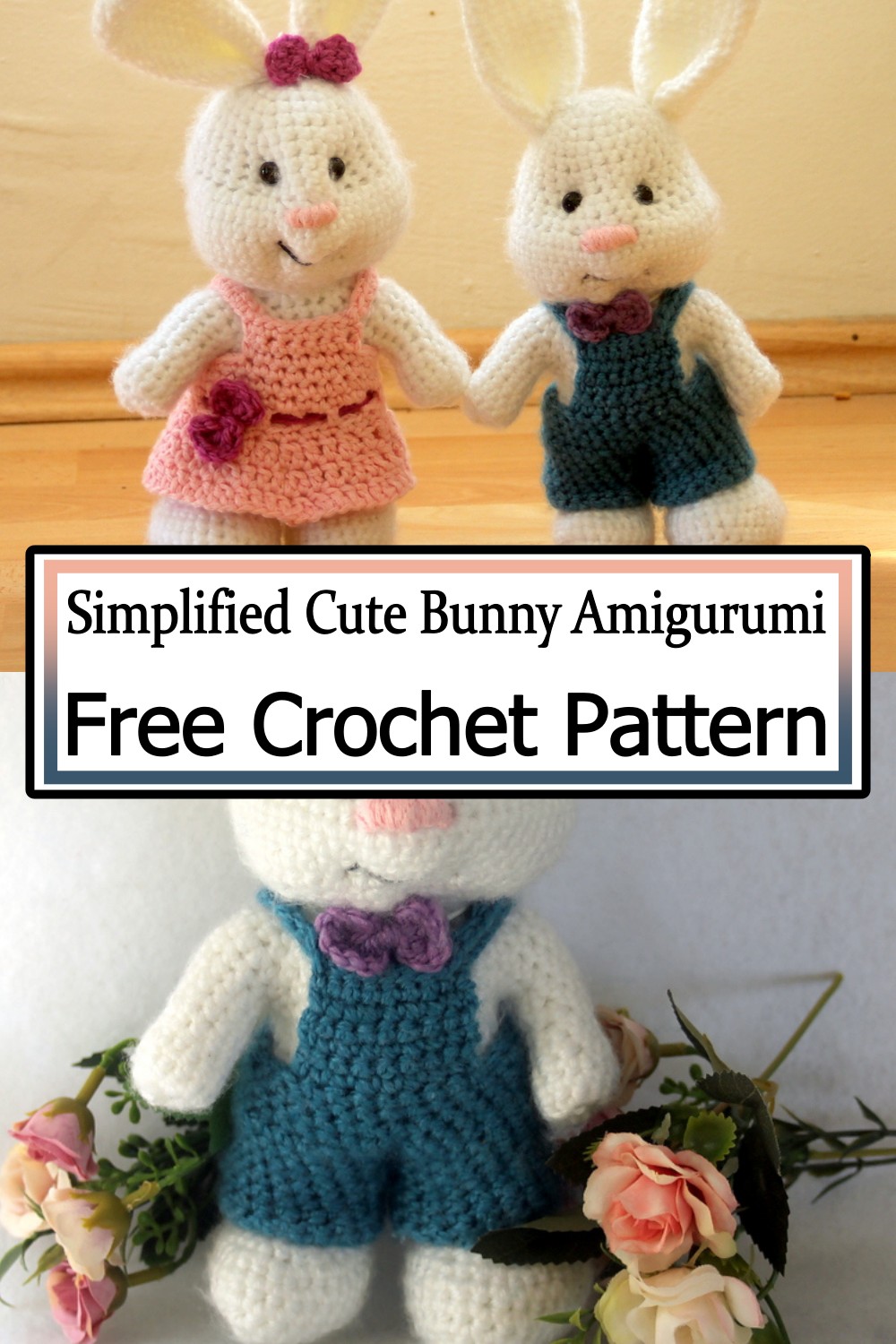 Making this simplified cute bunny amigurumi is a fun and happy time for you. This is a straightforward way of giving happiness to your babies with toys. Suppose you have time and want to do a few exciting things for your babies. Then you can do this easily by following the method of making this simplified cute bunny amigurumi, which is easy to crochet. It looks like a little teddy, which makes the baby happier. Pieces are made up of simple stitches; no complex stitches such as chain stitch or slip stitch are used to be suitable even for an absolute beginner in crochet.
Easter Bunnies Amigurumi Pattern: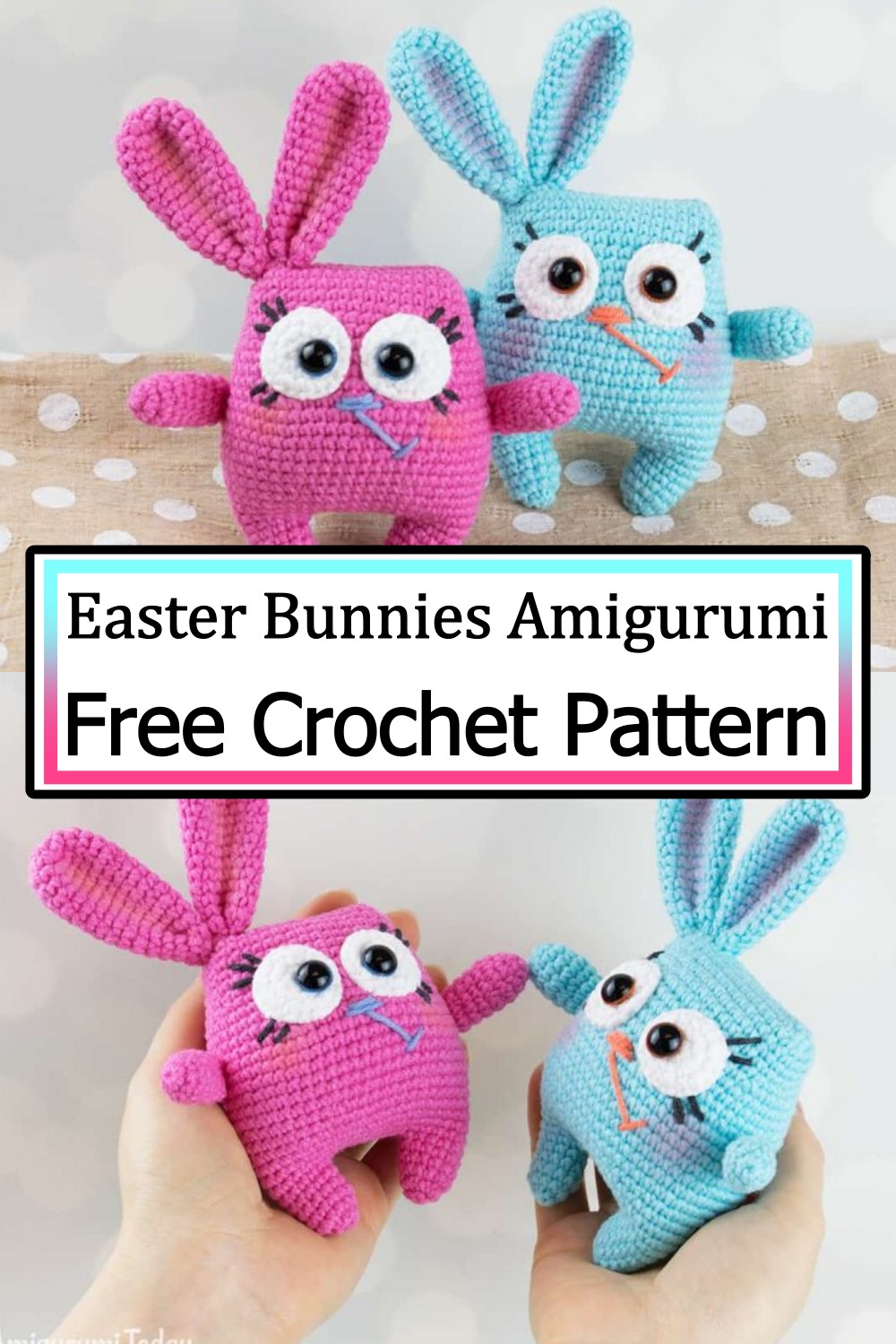 This Easter Bunny Amigurumi is a lovely and cute crochet Easter project. It comes with great designs that can make anyone smile. The best part of these easy-to-crochet amigurumi is that they are so quick to do since they only use basic crochet stitches and techniques, making them perfect to create in any spare minute you have! Color has used pink and sky blue, but You have to choose the color you want and crochet it easily.
You can also see: Crochet Bird Patterns 
Pretty In Pink Bunny Dress: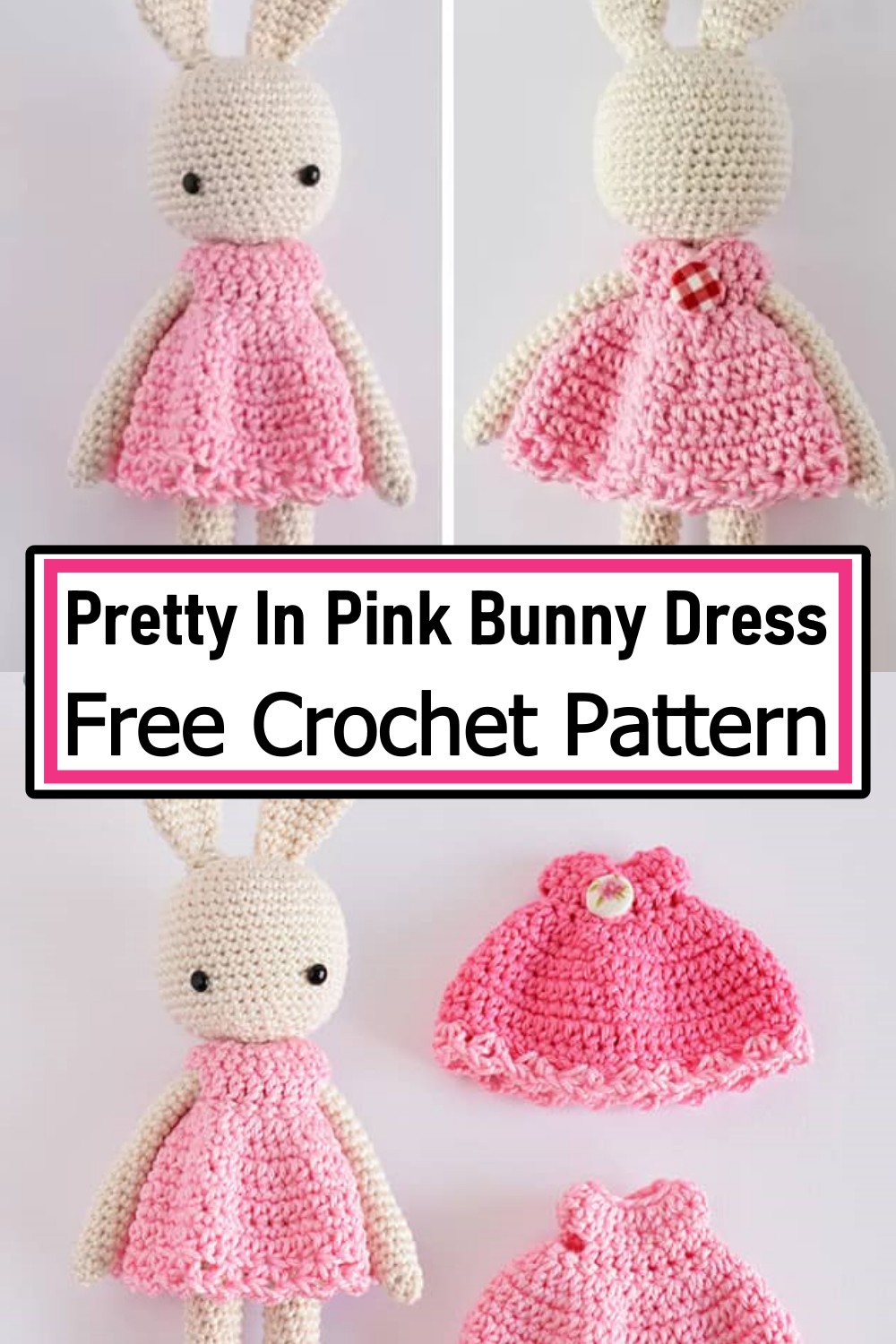 One of the cutest and sweetest Easter dresses for your little one. This bunny dress will make any child look so adorable, which you can make yourself. The pink color is used to make it perfect for Easter dresses. You can knit this dress with cotton yarn, and you can change the color if you want. This one is the best project for beginners trying out crochet by their hands; you should try this one first and then go for other types of patterns.
Amigurumi Soft Bunny Pattern: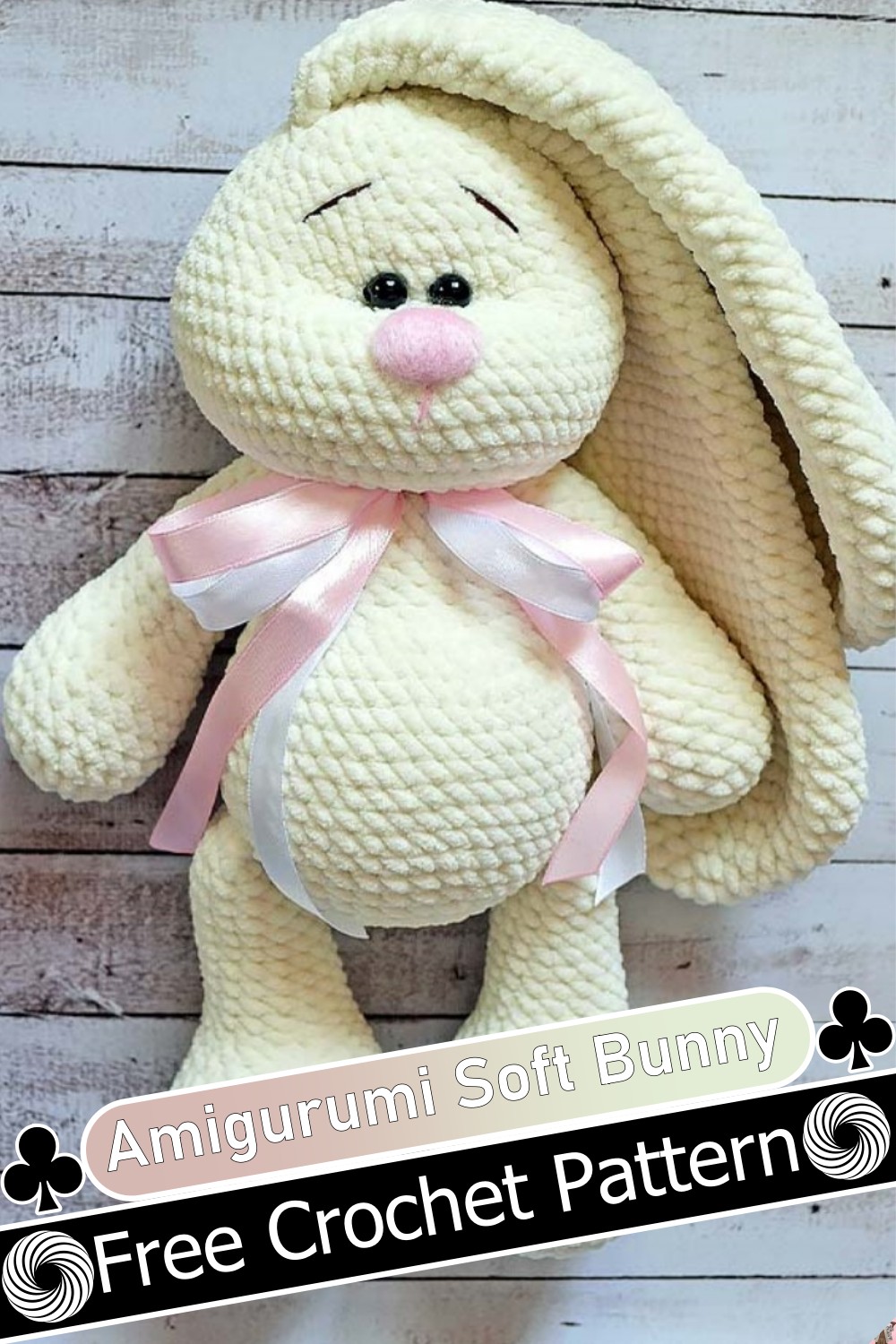 This is a great pattern to learn how to crochet Amigurumi; it is the art of knitting and crocheting small stuffed animals and adorable creatures and requires basic knowledge of the stitches used in these crafts and minimal sewing is needed. It is soft and cuddly, with a lovely face made in various colors. The finished product will be a beautiful soft toy for your child or anyone in your life that you would like to make memorable.
Bunny Pom Pom Amigurumi Crochet Pattern: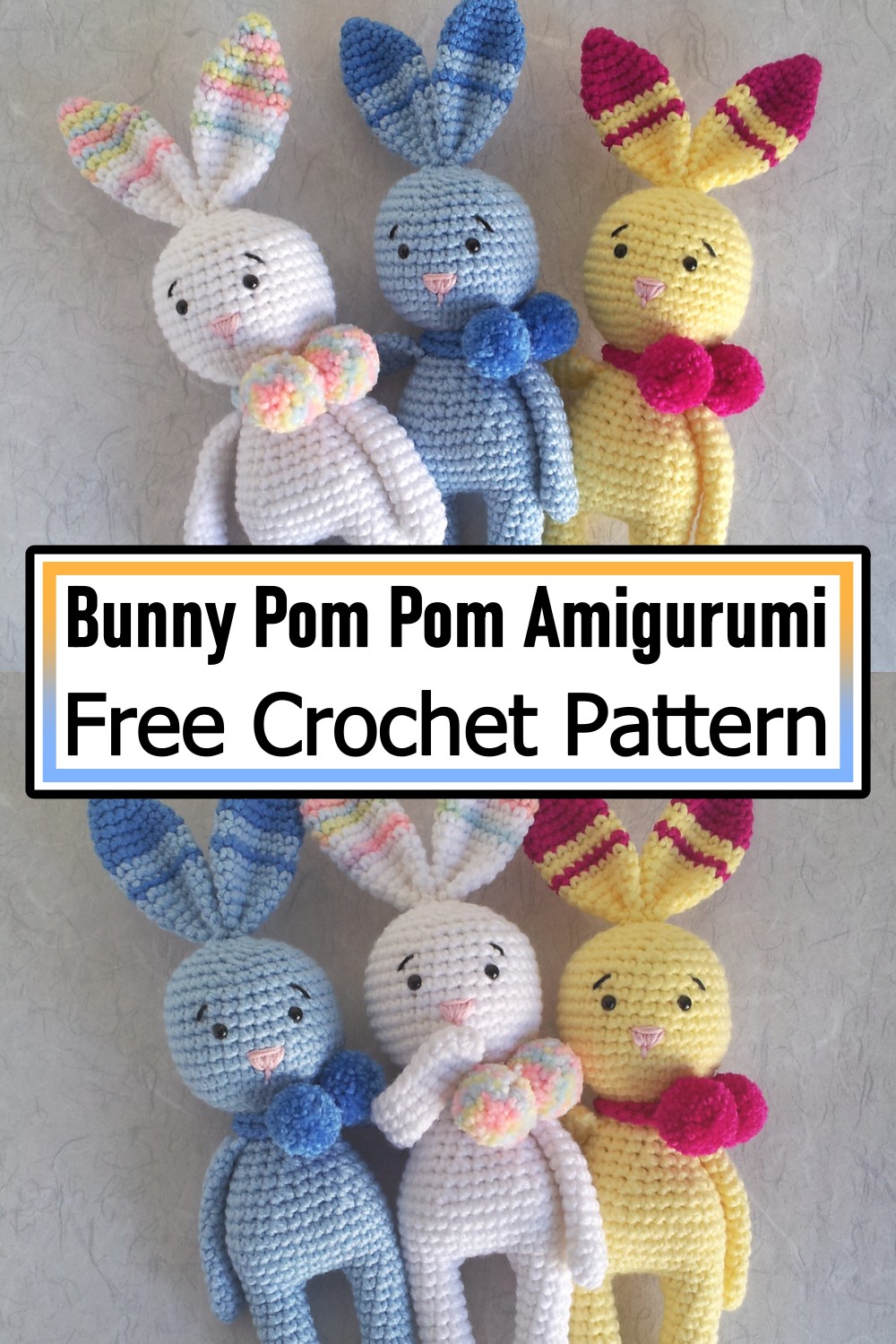 You will love this adorable bunny pom amigurumi crochet pattern if you like crocheting. This easy-to-crochet toy is excellent for beginner crocheters and can be made without much effort and expense. You have to need cotton yarn of different colors which you want. You can make this bunny as much as you want because it wouldn't harm the baby at all, so after making one, you may want to make more ones for your friends or family members' babies.
Lovely Bunny Pattern:
Love your baby and crochet this lovely bunny for your baby. It looks like a rabbit, and you can crochet this for your baby with the help of cotton yarn. Especially for the children who love animals, this pattern is adorable. This design pattern is easy to remember, and you can complete it within a few hours. With the color selection, you have to decide which one you need. The material used in these toys is safe for babies and machine washable in cold water and mild detergent.
Pocket Bunny Pattern:
Do you want to crochet a cute pocket bunny with an elegant look? If yes, then you're in the right place. You need cotton yarn for crocheting this cute bunny, and the color choice depends on your choice. You can take this in your pocket and carry it when you visit someplace. This tiny pocket bunny is so cute, which gives an elegant look. You also can crochet this for your baby's room and give it a beautiful look overall.
Snuggle Bunny Crochet Pattern: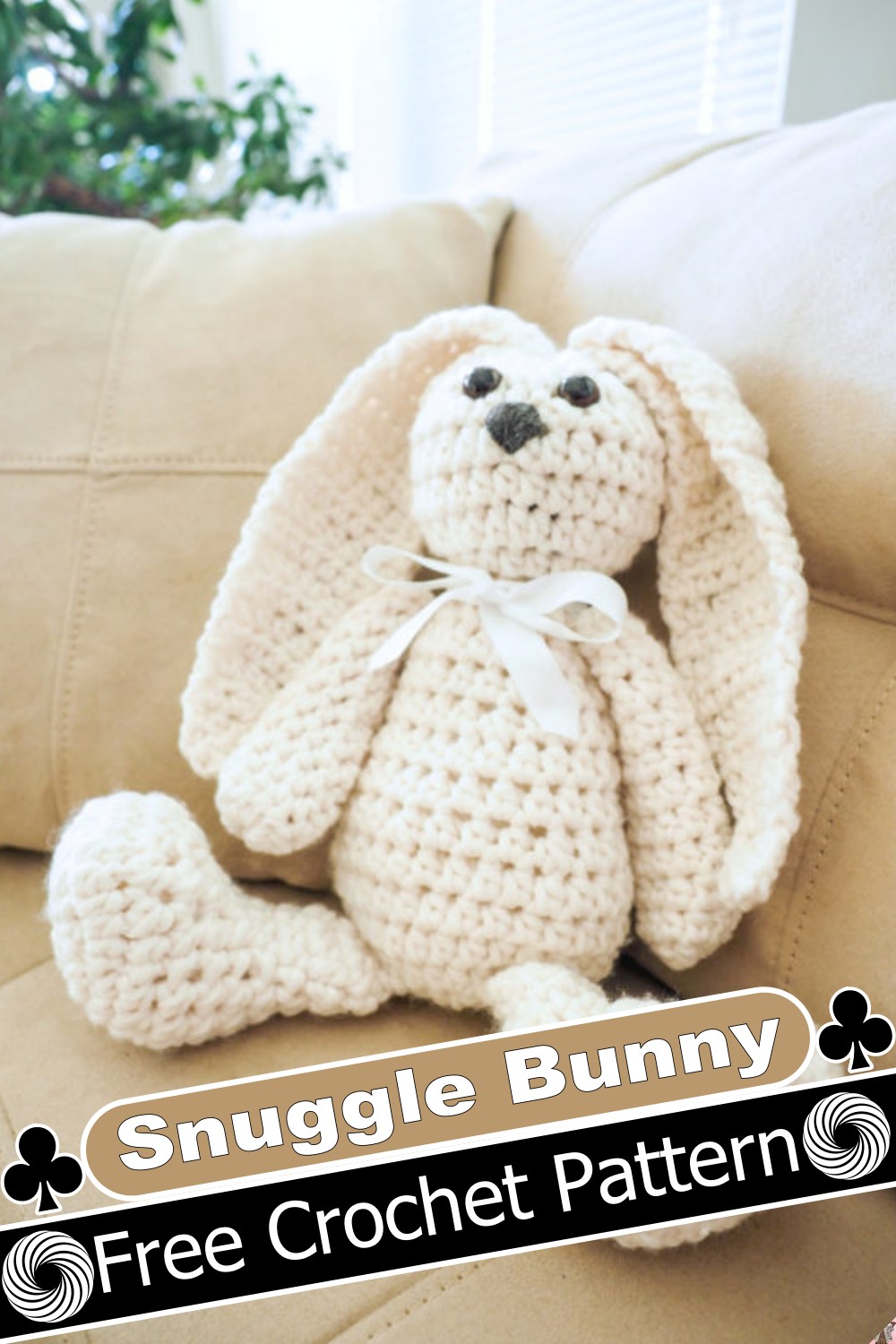 This snuggle bunny crochet pattern is a beautiful project made cutely. It will be a good project if you are a beginner and would like to create something for a baby or child. You will need cotton yarn; the color selection depends on your choice, although white is likely the most popular. You can knit this Easter bunny with knitted cotton yarn and use the basic crochet stitches; The result will be a cutie bunny that you can cuddle with.
Free Crochet Bunny Pattern:
You can crochet this bunny pattern and make your baby happy when you have nothing much to do. It's adorable and easy to make, perfect for springtime and Easter. This bunny is made with soft cotton yarn, so everyone can touch and feel the smoothness. In addition to the soft texture, it has a lovely face that always makes people smile, especially kids. You can crochet it for your baby or give it as a present to someone who needs cheering up.
Easter Bunny With Egg Crochet Pattern:
The Easter Bunny is ready to bring joy and happiness to your Easter brunch, dinner, or dessert table. This fun-to-make bunny has a cotton cover with the egg tucked under the arm. The colors used are bright, and the combo of these bright colors is excellent and gives an attractive look. You have to need skeins of different colors in cotton yarns. It will be a good project if you are an expert and can be made by a beginner.
Bunny Flo Crochet Pattern:
Bunny Flo Crochet Pattern is a home decor idea that you can DIY with your own hands. This pattern will guide you through the process of making an adorable little crochet bunny, and You have to crochet with your free hands, and It will take you a few minutes to make it. You don't need any other tools; a hook and yarn are enough for this job. You can use your creativity and make this doll in any color. It's an easy crochet pattern suitable for all skill levels, and it's suitable for both beginners and advanced crocheters who want to learn how to crochet toys.
Easter Peeps Pattern: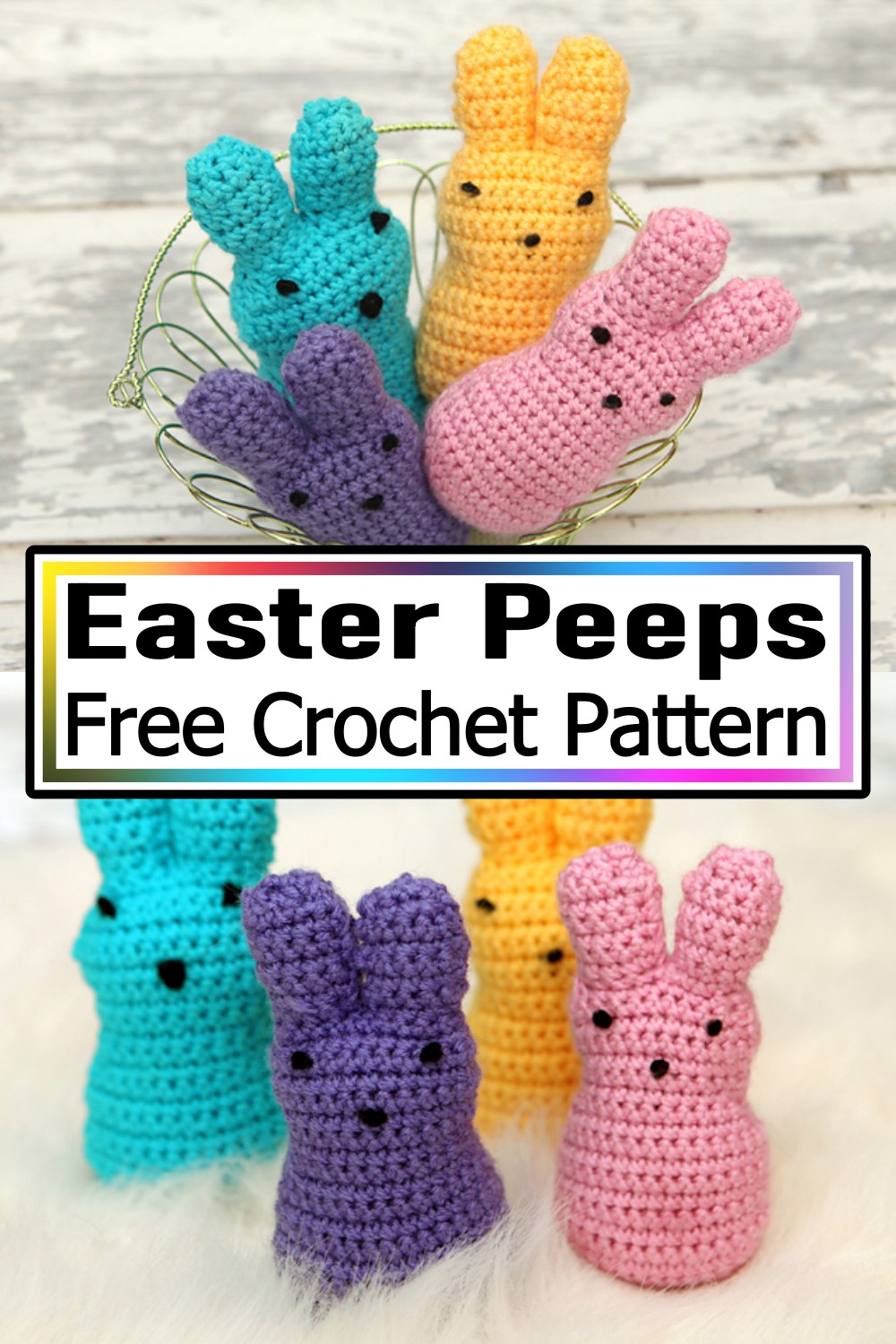 The Easter Bunny is one of the pleasant holidays to celebrate. It's a time with family and friends, full of fun new traditions, bright-colored springtime decorations, and delicious treats. This fun crochet pattern is perfect for making your own Easter bunny to enjoy all year long. Try making some of these cute little peeps for even more fun! There are many color choices, so you can make them in any shade that suits your decor. Add tiny black buttons for each peep's eyes and beaks for an extra special touch. Your family will love having these adorable bunnies around year after year!
Spring Bunnies: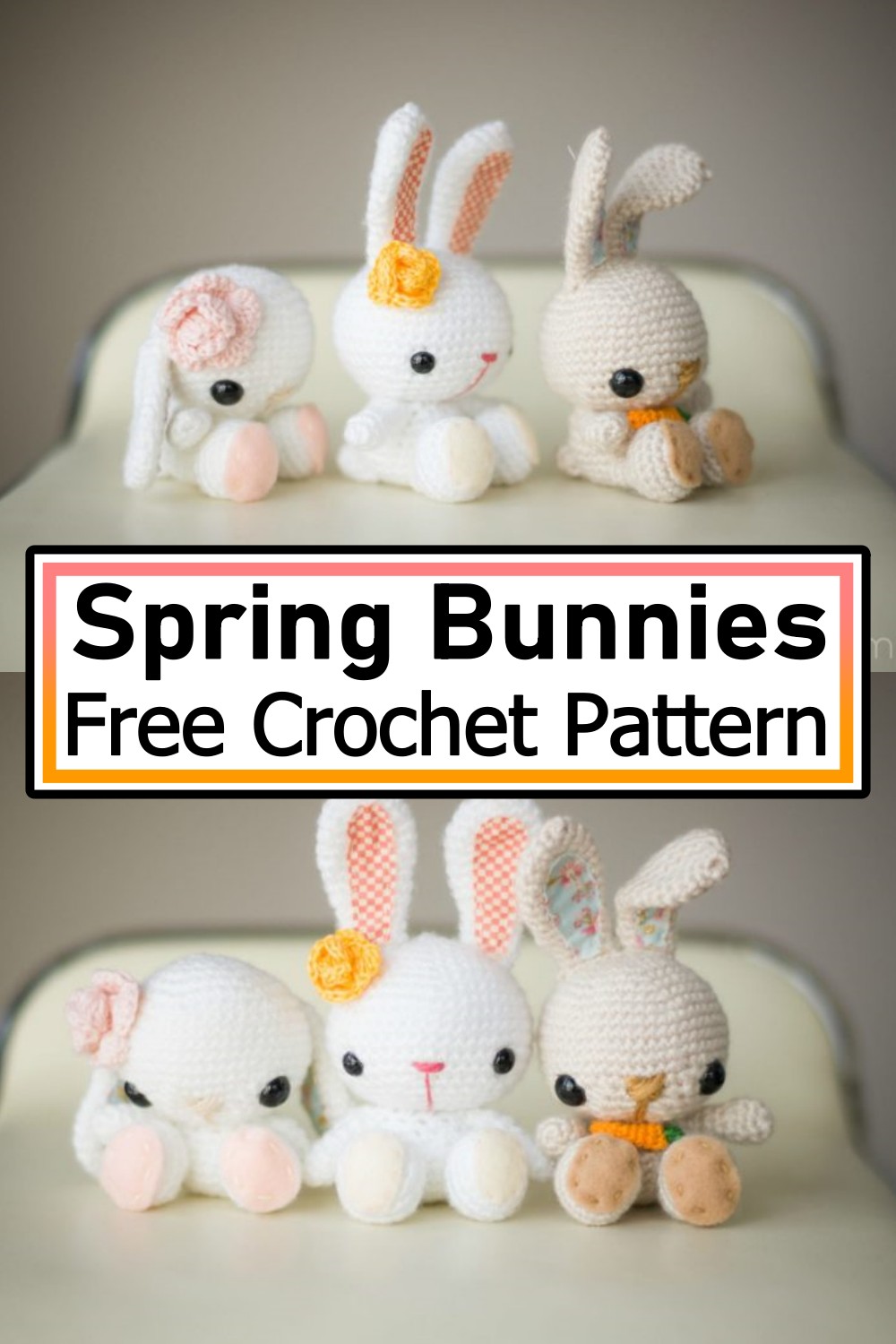 The bunnies are adorable and innocent; you can make a pair of these bunnies to decorate your rooms. Moreover, they look pretty lovely perfect for keeping you company when you get bored. The crochet supplies you need for making these bunnies are not very difficult to find; you will need some cotton threads, knitting needles, and a white and beige yarn. The pattern is straightforward and especially suitable for beginners in this art field, but it's beautiful enough that even an experienced crocheter can make it. The time needed to finish these baby bunnies depends on your speed.
Ollie Loop's Spring Bunnies Pattern: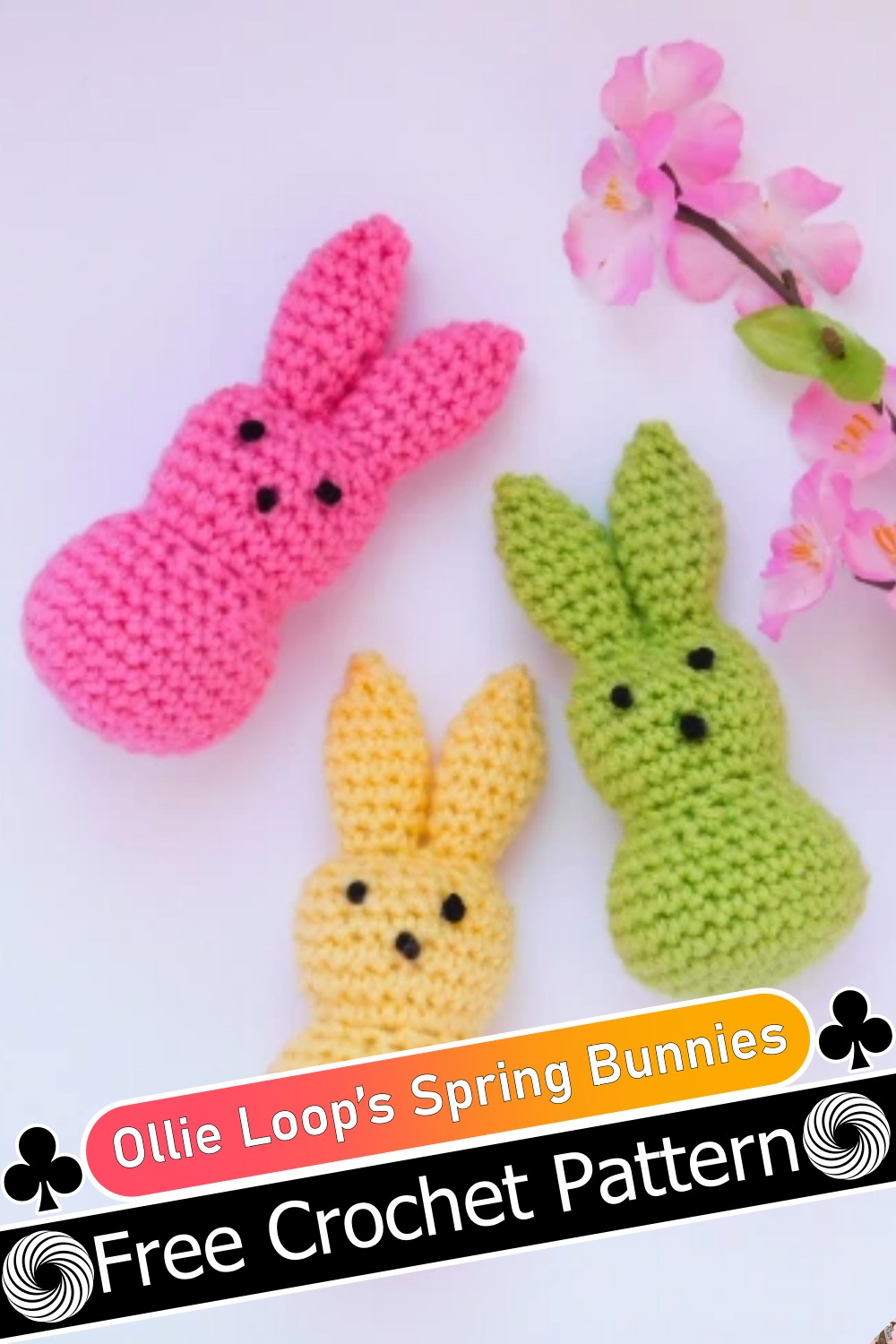 Now your children can have a bunny of their own! This cute bunny is a great toy for any little one, and they'll love the sweet face and soft cotton body. This project works quickly, so it's perfect for gift giving or making a few to put in your nursery. It's easy to crochet this spring bunny because it has only some simple stitches of single crochet, double crochet, and half double crochet. It will also increase your expertise in crocheting, for these simple stitches are not difficult to try.