It is the most amazing feeling to have a bird relaxing in your garden or home, but everyone doesn't afford to keep a bird because it's a daunting and time-consuming task but wait, wait, wait. Crocheters always come up with the best possible solutions for every problem. So, if you are looking for a perfect place to put your feathery friends, these crochet bird patterns will surely help you. We provide some creative ideas that help you make adorable and perfect birds for your garden or home. Look at them and choose the one you want to make for your home, office, or other places.
These latest crochet bird patterns include the best collection of beautiful and colorful birds. It is a perfect choice for crocheters who want to create a cute set of their favorite birds in their yard or homes or enjoy the striking beauty of these sweet creatures from the comfort of their couch. Most of these patterns can be made quickly and are suitable for beginners. You have to get some time out of your busy routine, and these amazing crochet bird patterns will surely help you.
Crochet Bird Patterns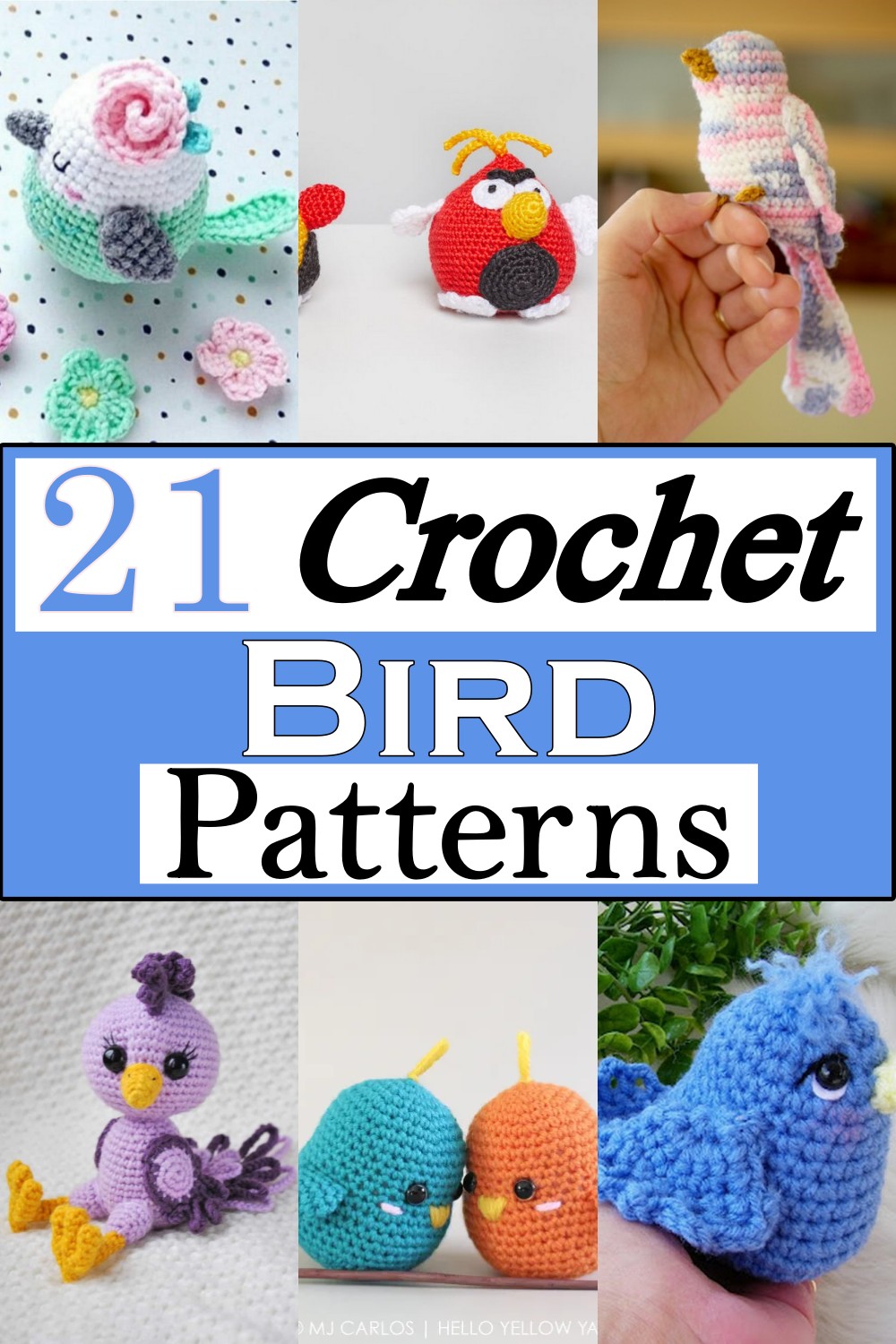 The birds are meant for decoration and can be made in any shape, size, or color. They can be placed on top of your entryway table and will decorate your shelves, bookcases, and mantels. You can even place them on top of tree branches to make a bird's nest! So, Show off your love for birds with these crochet bird patterns. You can make any piece you feel like, such as a Christmas tree centerpiece or even some cute hanging decoration.
Bubba Bird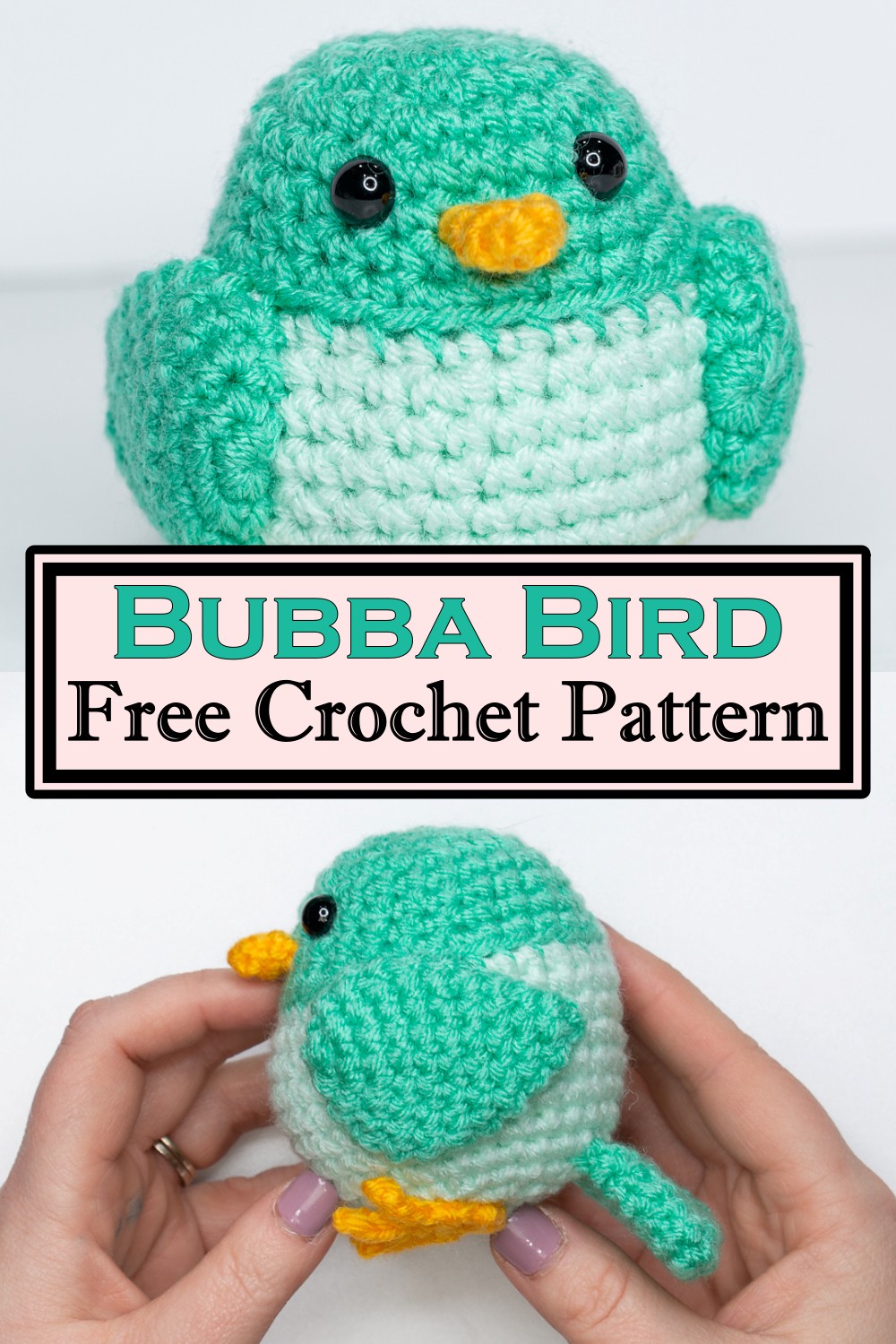 This fun and inventive DIY bag is easy to crochet and is a great alternative for carrying essentials. It's small enough to carry around in your purse or used to organize jewelry and makeup in your luggage. Make one for yourself or a friend! This pattern is a great project for crocheters who are comfortable with amigurumi (or know how to make one). Easy instructions and clear directions make it an ideal crochet project for beginners or anyone looking to take their stitching skills to the next level.
Bird And Birdhouse
Ami with Jackie Laing and Furls will allow you to crochet the Birdhouse set this March. The design features a birdhouse with a cute little bird on the roof, ready for its spring flight. There is also a little birdie sitting in his nest on the doorstep with his beak wide open! This project is designed to help you master the techniques needed to create a beautiful, dimensional work of art. The pattern includes complete written instructions and helpful illustrations, so even if you're new to amigurumi, you'll be able to follow along. The birdhouse is made using basic crochet supplies that can easily be found at any local craft store - no special threads required!
Woodland Bird Amigurumi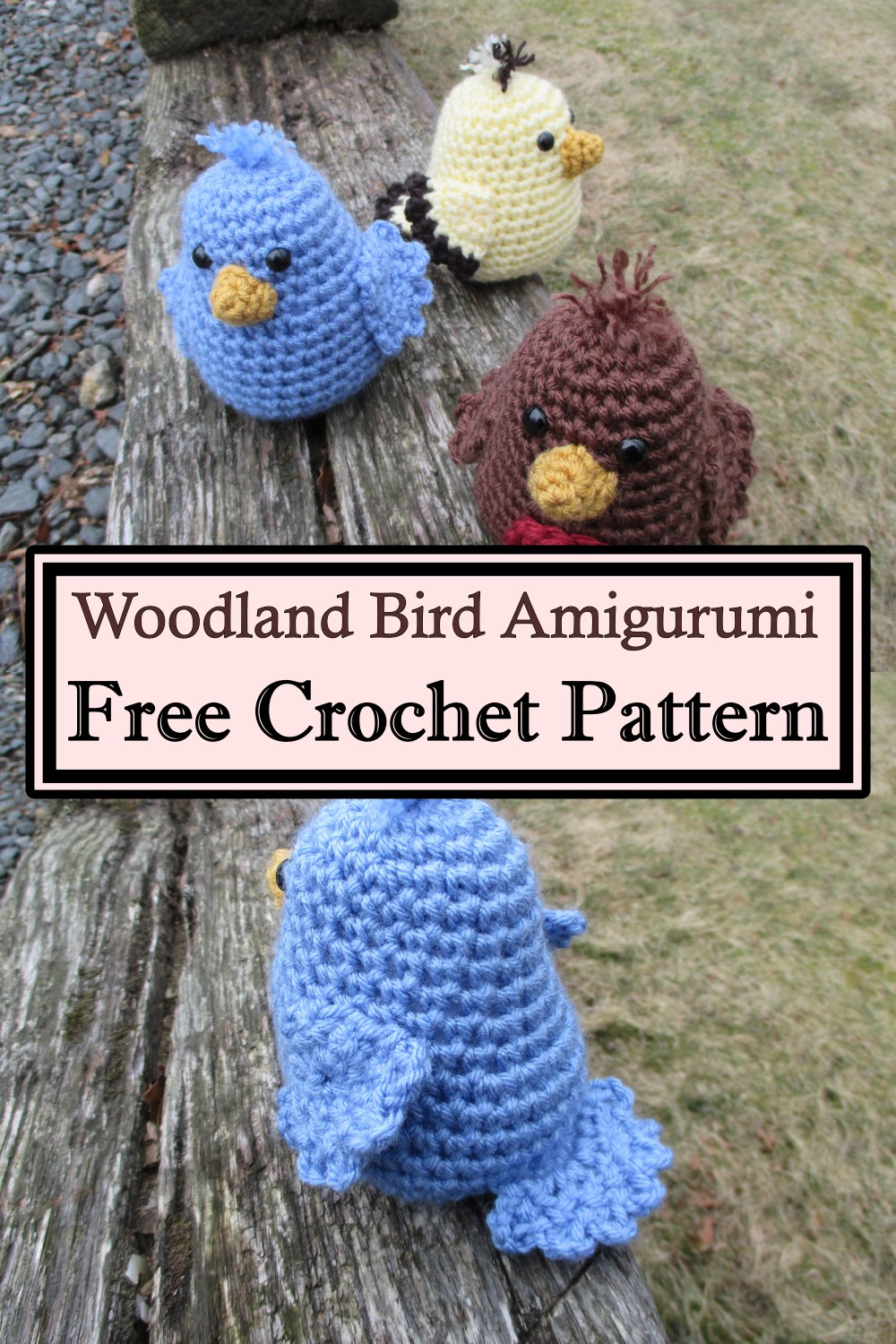 Make crochet toys for your little one with this easy Woodland Bird amigurumi pattern. It features a butterfly and two small birds with leaves on their wings surrounding the main body of the butterfly. They are cute, playful, and colorful! The pattern includes detailed instructions for all three animals in all sizes: small, medium, and large. You will learn how to make an easily adjustable pattern that can be used to create all sorts of woodland creatures; the sky is the limit!
Tulla The Bird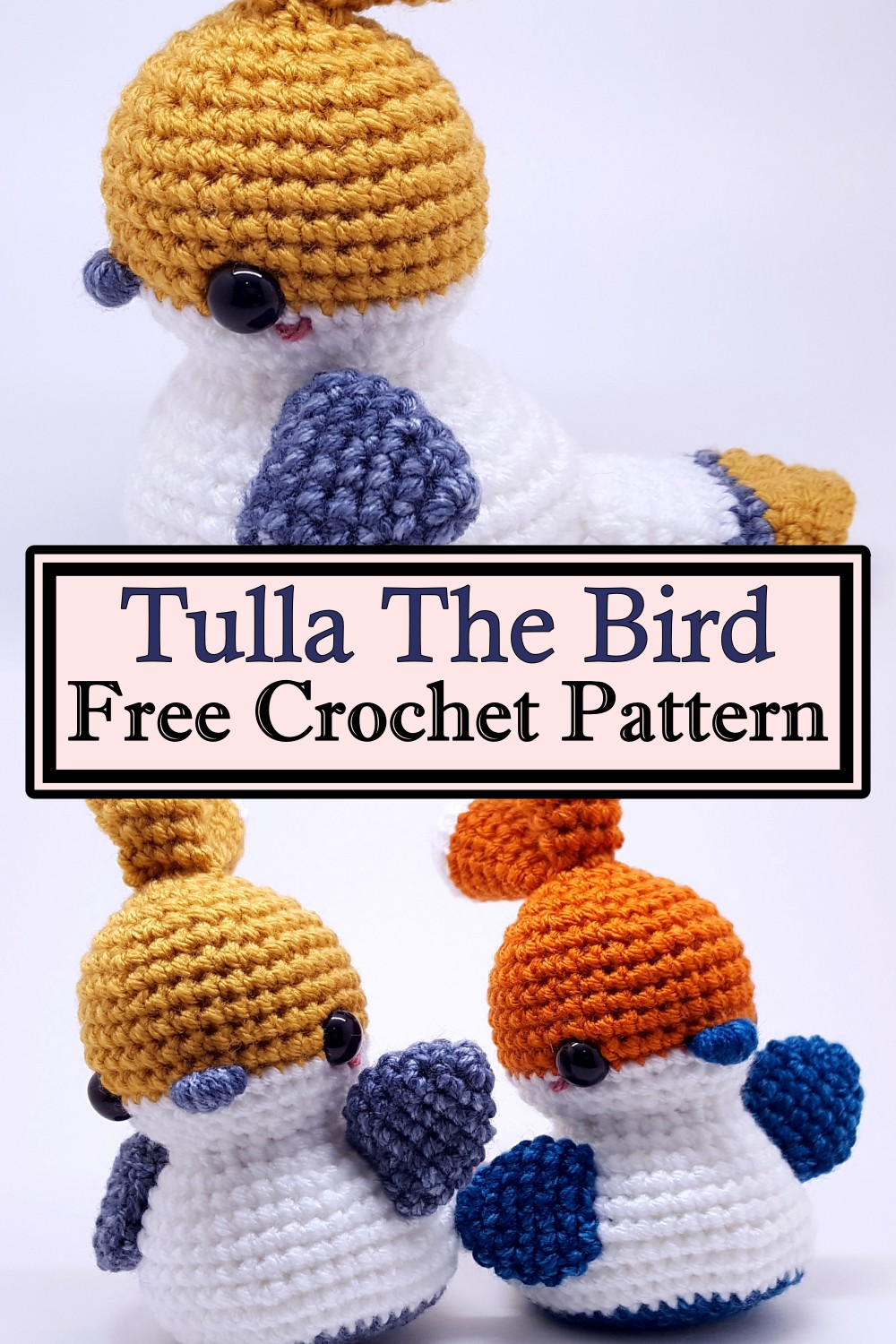 Crochet this adorable Tulla The Bird pattern with a simple design and only two color changes. Make it for yourself or as a gift for your mom, girlfriend, or wife - everyone loves having a cute little birdie to hang on the wall. The Tulla the Bird pattern is a simple crochet pattern that features one color of yarn for the head and body, with two color changes to make your unique little bird. It's perfect for beginners who want to learn new crochet skills and stitch patterns, and advanced crocheters looking for something easy but fun!
Crochet Bird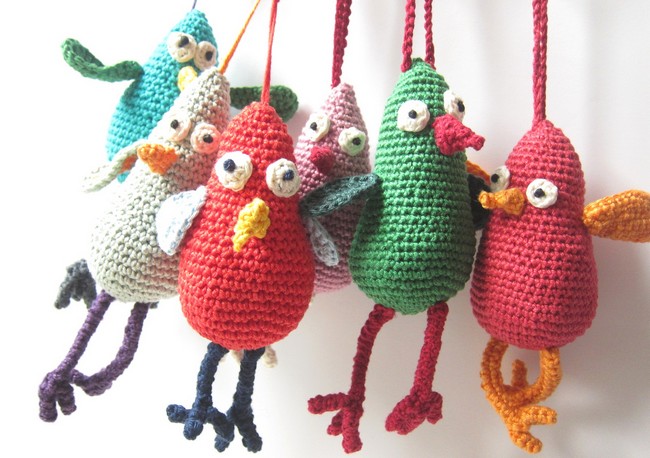 This crochet bird pattern will be a part of your crochet toy collection, so don't miss the chance to make this cute little bird. It's the perfect gift for children and adults alike! The bright colors and detailed wings make it a perfect toy for children. It's also a great idea for the teacher to give as a gift to her class or it can be used as the decoration of your house or in the nursery. This crochet bird pattern is a wonderful way to introduce yourself to the amigurumi world, and I hope you'll love making it.
Little Birds Crochet Pattern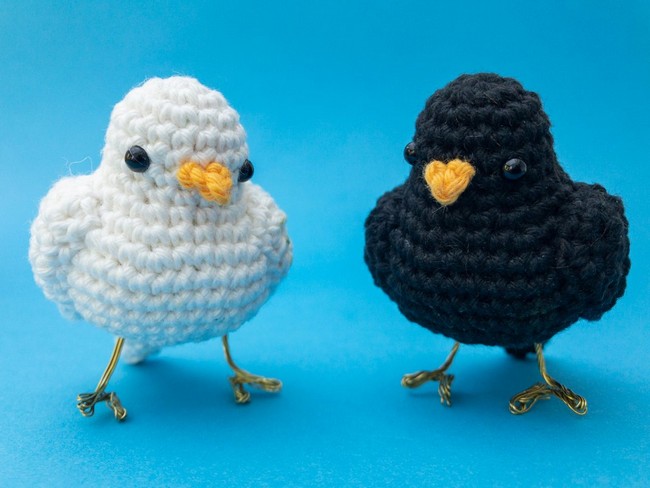 Make your little bird friend with this easy-to-follow crochet pattern. This little bird can be made using any size crochet hook and any yarn of choice. It's a great project for beginners to intermediate crocheters or someone looking to finish a yarn stash! You can create your little bird with this pattern and use it to learn how to make basic crochet features, such as increases and decreases, and how to sew in ends. Use this crochet pattern to create any bird of your choice, using different colors to give them their personality.
Cutie Blue Bird Hat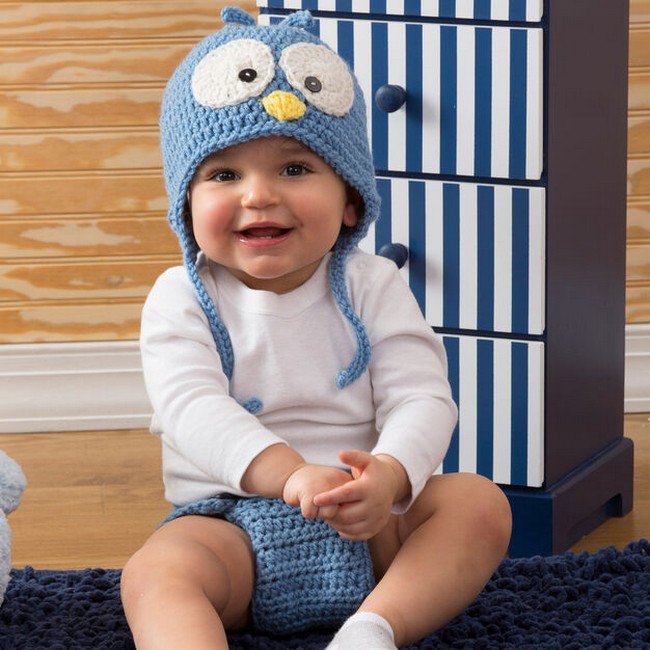 The crochet hat and diaper cover set are designed to be layered as the baby grows. The body and sleeves of the hat are sized to fit a newborn, while the leg holes on the diaper cover will grow with time. The crochet hat features a soft, colorful bluebird print with white antennae. The matching diaper cover is a vibrant red with a bluebird print and cream trim. Tones of Red Heart With Love are used throughout this set, each piece making a unique addition to any baby shower gift.
Crochet Bird Keychain Pattern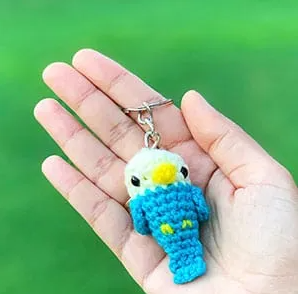 Looking for a cute, quick, and easy project you can make in a few hours? This crochet bird keychain pattern is the perfect go-to craft when you need something cute and fast. Crochet this little bird and use it as a charm, a bag charm, or attach it to a sewing machine! The possibilities are endless. Make it part of a set for your friends/family and make a whole bunch of them for gifts and yourself because you will want them in your life.
Benedict And Bertie Crochet Bird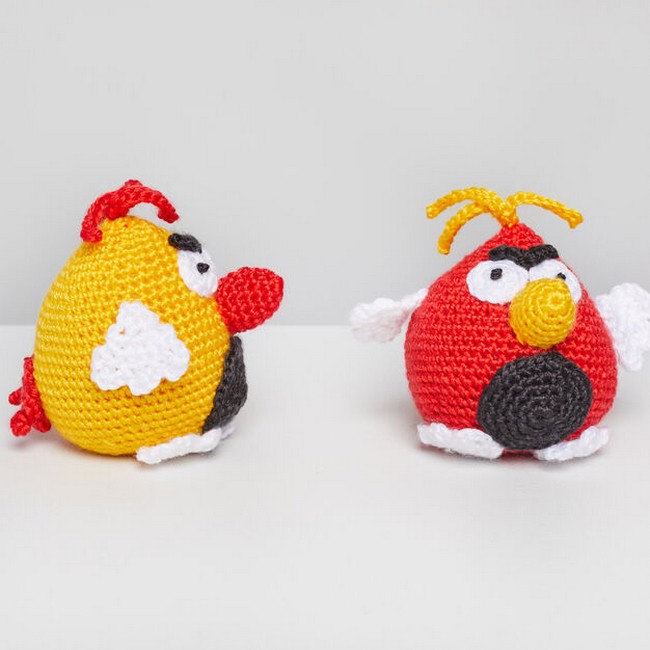 If you love crochet birds and quirky characters, then this pattern is for you! This set of two grouchy birds will steal your heart, so add them to your collection of crocheted critters. Red Heart Amigurumi makes them cute, and one ball will give you all the colors needed to complete your project. Their grumpy looks and colorful stripes make them suitable for any room. Make them display on your desk or shelf, or add them in with other characters to create an adorable scene! These birds are great for gift giving or displaying fun home decor on a shelf.
Crochet Birdie Decoration
Crochet this adorable birdie decoration with our FREE pattern. It is a perfect gift for those who love birds and would make a great decoration for the home or office. This charming crochet toy will bring joy to your space and provide a cozy place for a small pet to play. Once the birdie is done, you can color the bird's wings red. It will look more appealing if you make it a bigger size. To make it a little more special, you can add beads on their heads or beads to cover the hole of their beaks.
Simply Cute Blue Bird Crochet Pattern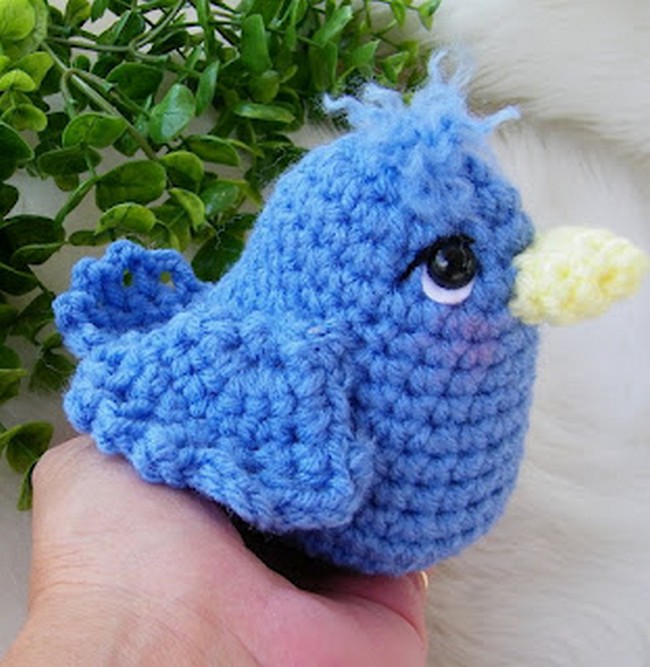 The Simply Cute Bluebird amigurumi crochet pattern is a wonderful addition to any home, nursery, or kids' room. It can be used as room decor or as a gift to your kids. You can easily make this lovely bird with simple crochet techniques but with a little patience and care. This free pattern will help you to crochet small cute birds made of 100% acrylic yarn in three different sizes. The pattern comes with color, diagram images, and all the necessary materials for making these simple birds.
Free Crochet Bird Pattern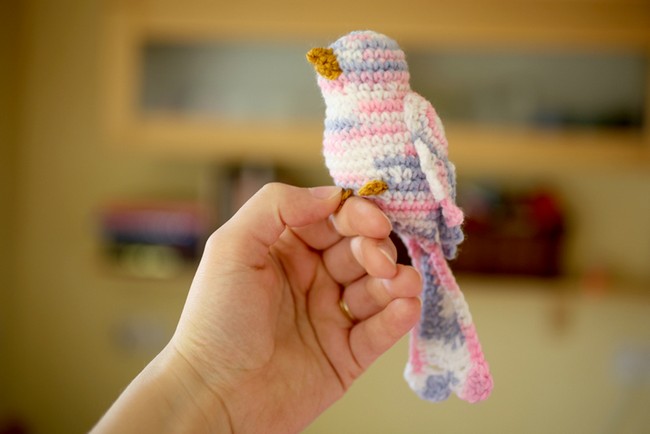 Do you want to make something fabulous for your baby's room? If yes, then the free crochet bird pattern is perfect for you. You can easily make this adorable little birdy with a simple crochet hook and some yarns. All you need to do is follow the pattern below, make all the required stitches, change colors and sew them together. It's as easy as anything! So what are you waiting for? Just get started and start crocheting right away!
Lovebirds Amigurumi Pattern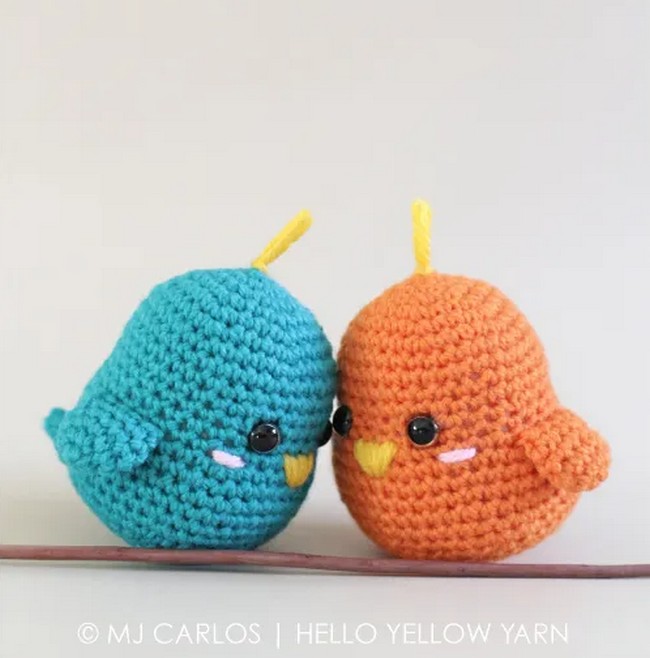 Amigurumis are becoming one of the most popular crafts for home decorators everywhere because of their simple design, easy-to-follow instructions, and great results. Create a stunning crochet lovebird pattern that you can use to show your love and affection. This amigurumi bird couple is also known as the parrots. They are excellent additions to any house or office, where they can be placed on a table, shelf, or desk. These birds might seem tame, but actually, they are very shy.
Crochet Bird Pattern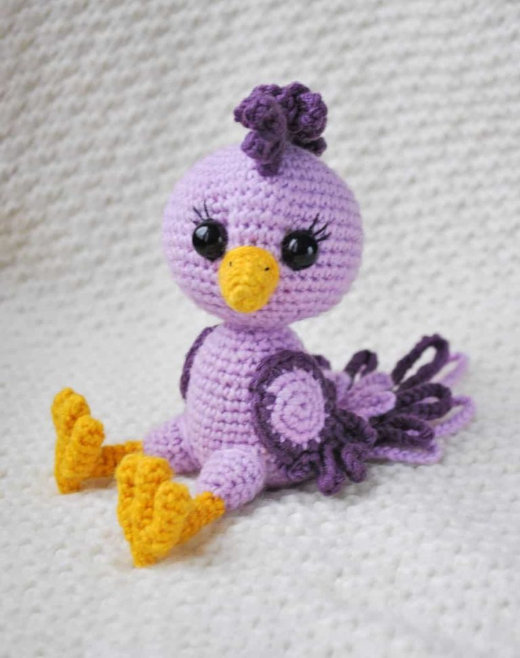 The bird crochet pattern is an important part of the child's life. The child does not consider this as just a toy or a puppet. It becomes his imaginary friend who supports him in every step of his life. When children are small, they want to keep things in their hands. Instead of giving them dolls or toys, you should give them some crochet puppets they can take wherever they go because it keeps them busy and makes them happy. You can select any color and start doing this amazing project. You will feel happy if you make this because of its cuteness.
Spring Bird Pattern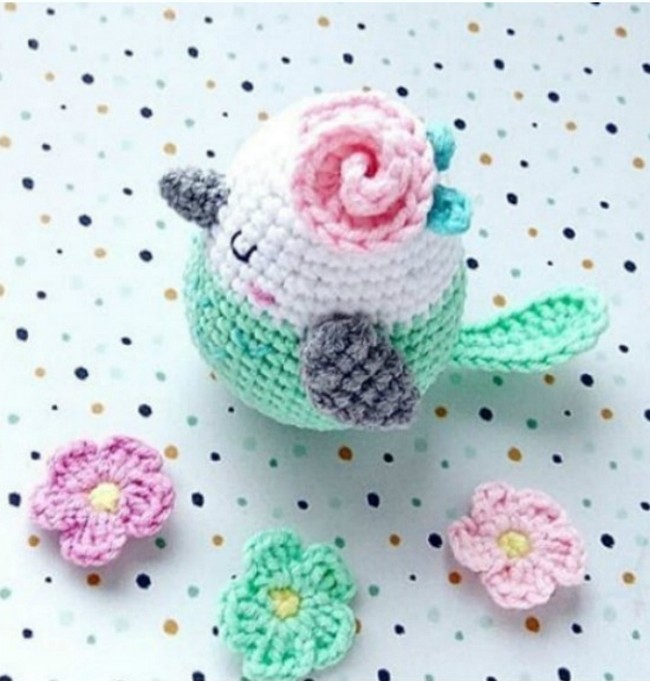 Amigurumi spring bird pattern crochet, Amigurumi crochet, Amigurumi Bird Crochet. The product is a great option for your baby, who takes it in their hands to play with it, or you can give it as a present to your friends and relatives who have babies. This amigurumi spring bird crochet is a super easy pattern and quick to complete. It makes an awesome gift for new moms and baby showers, so be sure to crochet one for yourself! It measures about 4 inches high and 19 inches in diameter; however, you can change the dimensions up to your will.
Amigurumi Rainbow Birds Pattern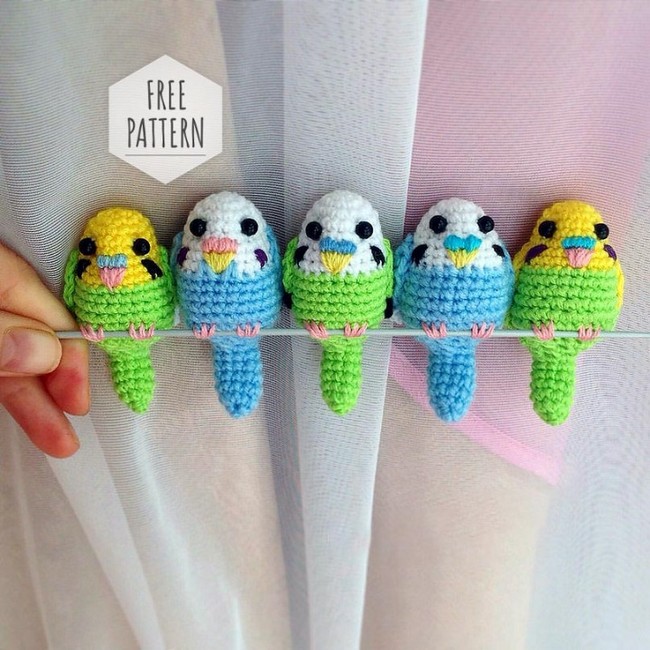 Amigurumi Rainbow Birds is a beginner-friendly crochet pattern that uses simple stitches and requires only minimal sewing to complete. They are finished as stuffed toys and can be hidden in the garden, hang on your Christmas tree, or displayed on a shelf. The Amigurumi Rainbow Birds Pattern is a set of three different colored birds sitting on twigs. You can make these birds from any color yarn you like, and the birds are sitting in curvy positions and look very elegant. The sitting arrangements of these crochet birds give an attractive look to their whole personality and stand out from other similar birds. This designer has given a nice eye-catching touch to these elegant crocheter birds using the crochet technique.
Crochet Brendan Bluebird
Brendan Bluebird is a handmade crochet bird toy that inspires endless hours of imaginative playtime. This crocheted toy features bright colors and textures that help stimulate the baby's senses, while the soft cotton yarn is perfect for cuddling and snuggling. Because this is a crochet item and all materials used are natural, small color variations may occur. It will be a great gift for a kid's birthday, and I hope everyone will admire making them.
2 Birds Crochet Quiet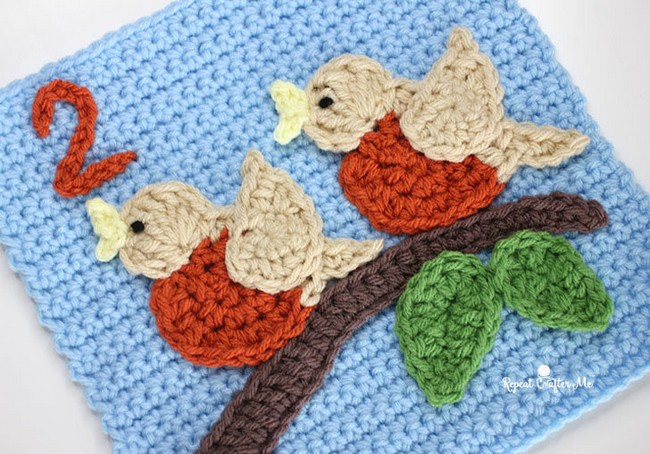 The crochet birds are very beautiful and adorable. They have a beautiful sitting pose, which looks very cute. It comes with the whole body, beak, and legs. You can make this adorable little bird with any color of your choice. This set is perfect for learning and practice too. You can also gift it to others on occasions like birthdays or festivals. The pattern has instructions for five sizes: small, medium, large, extra-large, and jumbo; follow your desired instruction for the best possible results.
Bluebird Of Happiness Amigurumi
Make a super admirable and unique pair of crochet birds for your home decoration and kid toy collection following this easier pattern. The bluebird of happiness amigurumi pattern is a sweet and colorful design that gives this simple bird a unique personal touch. This crochet doll is quick and easy to make with only two skeins of yarn. She can be used as an accent piece or given as a gift! Making this pattern will surely boost your crochet skills, and you will come to know a bunch of experience crocheting this pattern.
Crochet Little Kooky Bird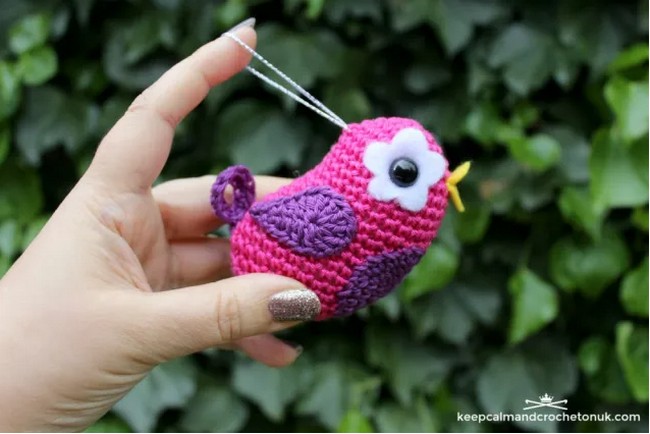 Are you a fan of the birds? Do you want to crochet a lovely little kooky bird bedside lamp that glows in the dark at night? These cute and colorful birds accompany your child to bed at night. This is a great gift for your baby and gives them comfort. The little bird is made with merino wool yarn and cotton stuffing. All colors are vibrant and beautiful; you can use any color for the appearance of this charming creature.
Crochet Bluebird Pattern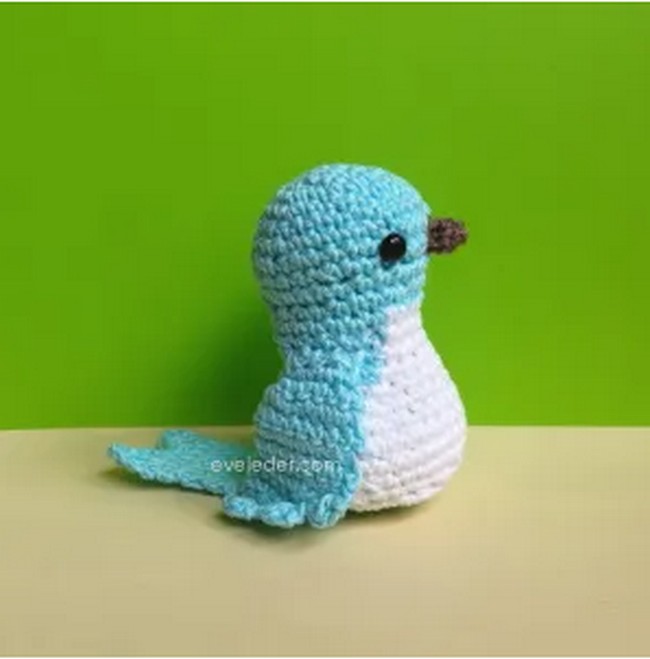 This crochet pattern teaches how to make a lovely bluebird. This crochet bluebird pattern signifies love, happiness, and luck. You can be used as decoration in your home or office also. It looks very elegant; you can make it in an hour easily. A stuffing of white yarn will be used while making the bird's eyes, mouth, and wings. You can change the color according to your choice. It is a perfect size; you can use it on your patio or garden as decoration. You can make this using cotton yarn and hook size 2 mm or 3mm.
Crochet Bird Pattern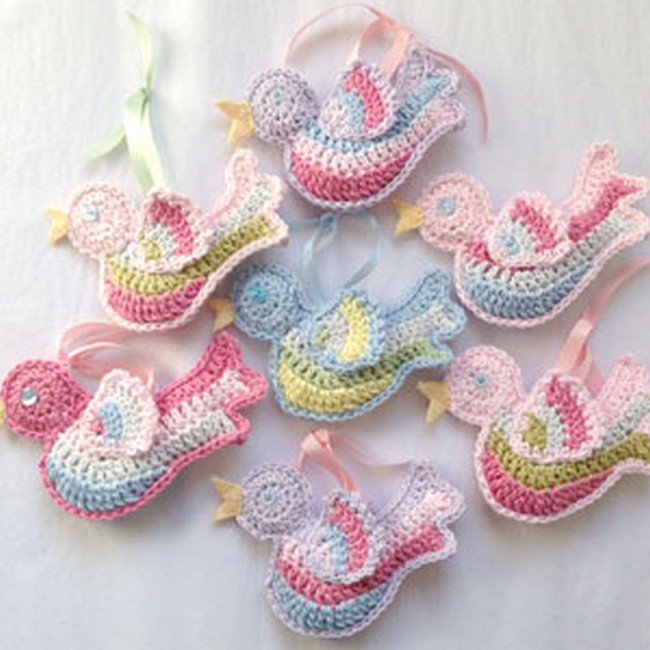 This is an easy-to-crochet pattern you can use as a gift for your close ones. The beautiful colors and lovely design will enhance the beauty of your room. When we need to decorate our house, wall art comes first to our mind. It gives a lot of light to your home. Especially during nighttime, when all lights are off, this beautiful crochet bird will make your eyes happy and bring joy to your heart. You can use it as a nursery mobile or hanging on the wall as table decor.