40 Free Crochet Basket Patterns For Home Storage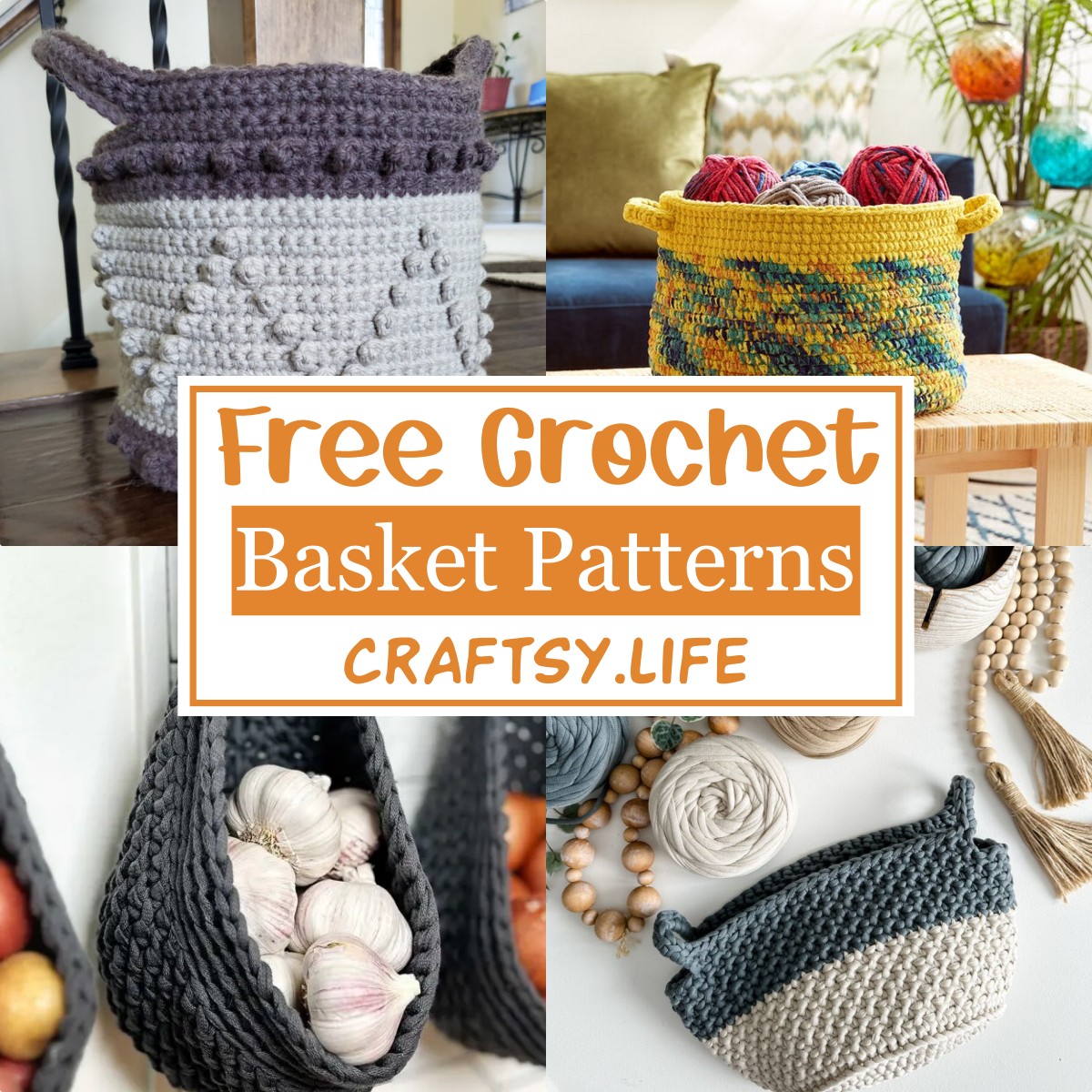 Crocheting a basket is one of the easiest ways to get started with crochet. It's a great project for beginners because they can work up quickly, and they don't require much yarn. If you are starting out, you should look at some easy crochet baskets that are perfect for beginners. If you have been crocheting for a while, try one of these more advanced basket patterns. Some of these patterns use unique stitching and will help you expand your skills as a crocheter. There are plenty of different styles, so there is something for everyone. Everyone loves baskets because they are so versatile. These Free Crochet Basket Patterns can be used for storage or decoration and are made in almost any size imaginable. You may even want to make multiple baskets that all match.

Crochet Baskets
You may love these crochet flower baskets that are cool for pretty storage and make a bold statement on your seasonal home decor. These crochet basket patterns are easy to make and perfect for anything from household items to fruits! You can also add some handles to these baskets to make them portable. The list will give you the most useful ideas, containing the basic basket pattern crocheted using a single crochet stitch and then embellished with different flowers in the crochet. This collection is a round-up of basket designs; they are great organizers and work up quicker than you think. So, whether you need a gift basket, seasonal home decor, or even somewhere to store your yarn, there will be something here for you! Now, look at this list and choose the best one you like!
Benefits Of Crochet Basket Patterns:
On the off chance that you have a couple of hours to save, it's an extraordinary time at that point. Think about how much cash you can save and put something aside for one thing by making your own crochet basket patterns.
So, what are the benefits of making your own crochet basket?
Easy to make.
Affordable.
Great for beginners.
Lots of patterns and tutorials are available.
Easy to store.
They're Pretty.
They Make Great Gifts.
You Can Use Them For Almost Anything.
How To Crochet Basket
Crochet baskets are one of the most popular patterns to be made. You can use them for storage or as decorative items to decorate your home decor.
Crochet baskets are the perfect project for using up scrap yarn. They're also a great way to practice crochet colorwork.
If you want to find more ways to use your crochet skills, try making some of these beautiful crochet baskets!
Before we learn how to crochet basket, let's talk about what materials you will need:
Yarn and hook: Crochet baskets are usually made with worsted weight yarn and a size I/9-5.5mm crochet hook.
Other than that, you'll also need a tapestry needle and scissors for finishing touches.
If you want to find more ways to use your crochet skills, try making some of these beautiful crochet baskets!
Two-toned Crochet Basket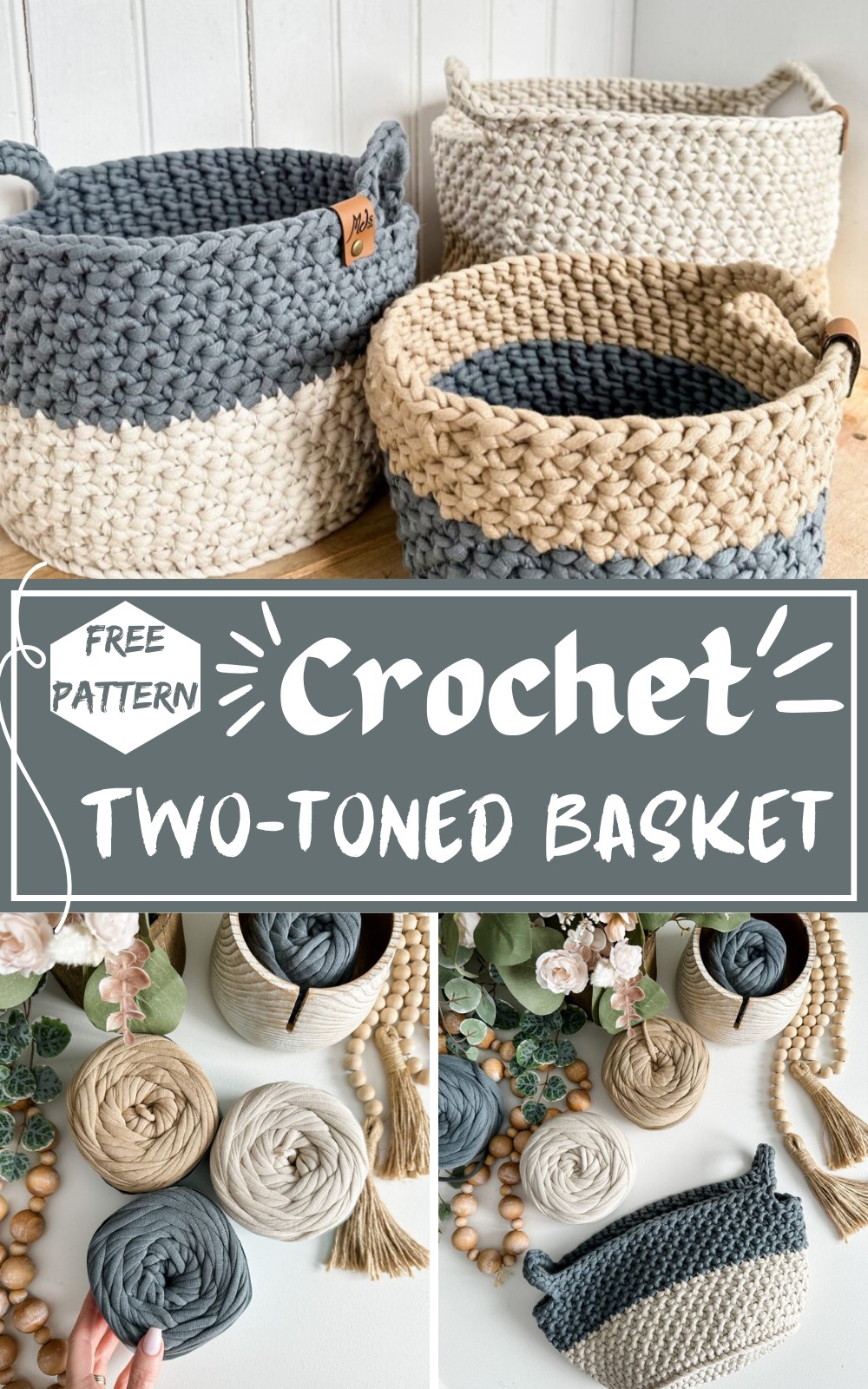 Update your home decor and storage with Bulky and two-toned Crochet Baskets! They also serve as exceptional gift containers for Easter by including items like tea towels, a spatula, rustic farmhouse Carrots, and a coffee mug. The presence of a handle allows easy transportation of the basket, and its sturdy texture maintains the shape, even when filled with heavy items!
Crochet Hanging Baskets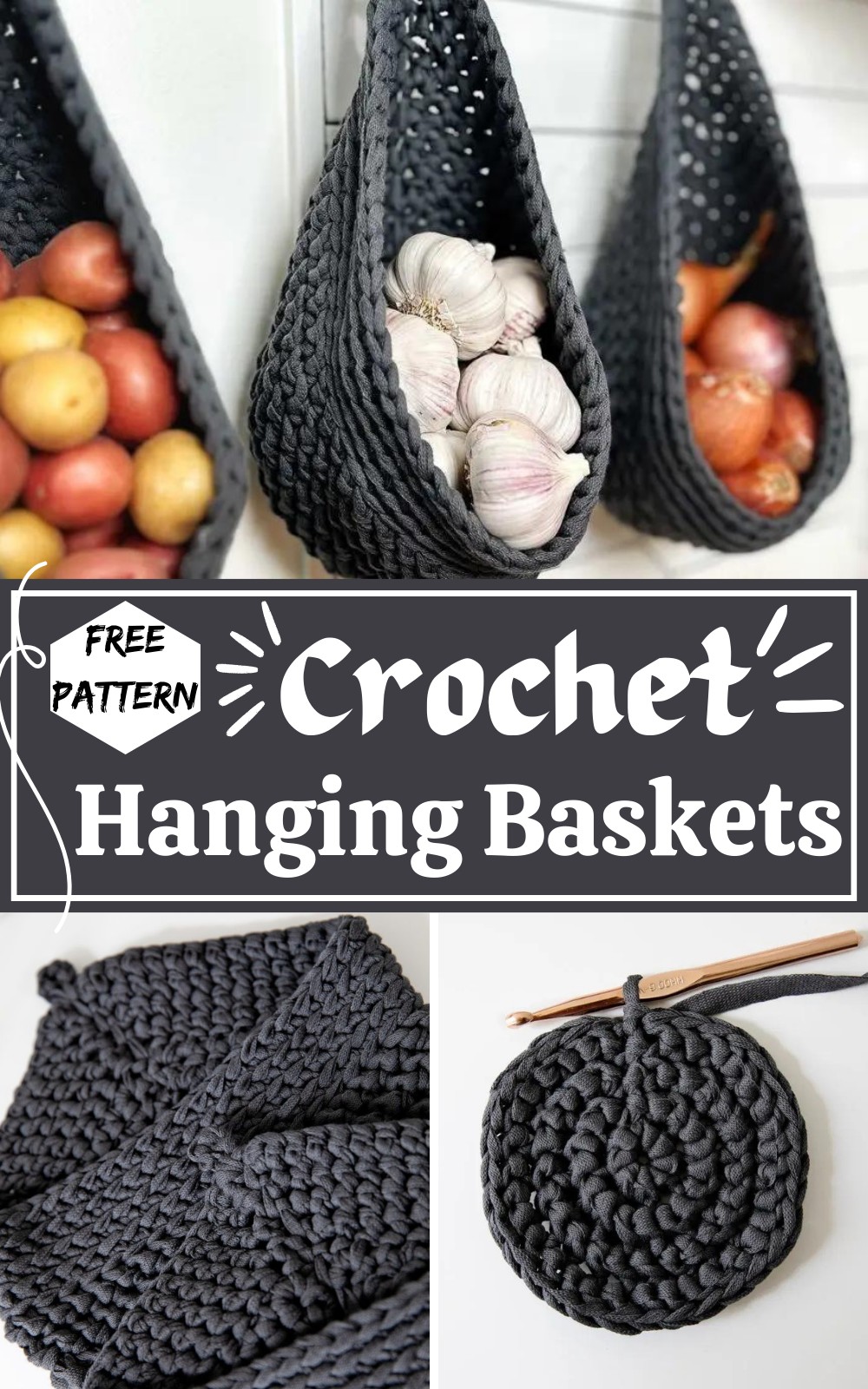 This free crochet pattern for hanging crochet baskets will help declutter your space while adding a unique charm. The artistic basket can store potatoes, garlic, or onions, which is perfect for the kitchen. Alternatively, in your hallway or mudroom, they can easily hold winter essentials like mittens, scarves, and other domestic items, depending on the need. Plus, Made in a dark color, it does not get dirt.
Beginner Crochet Round Basket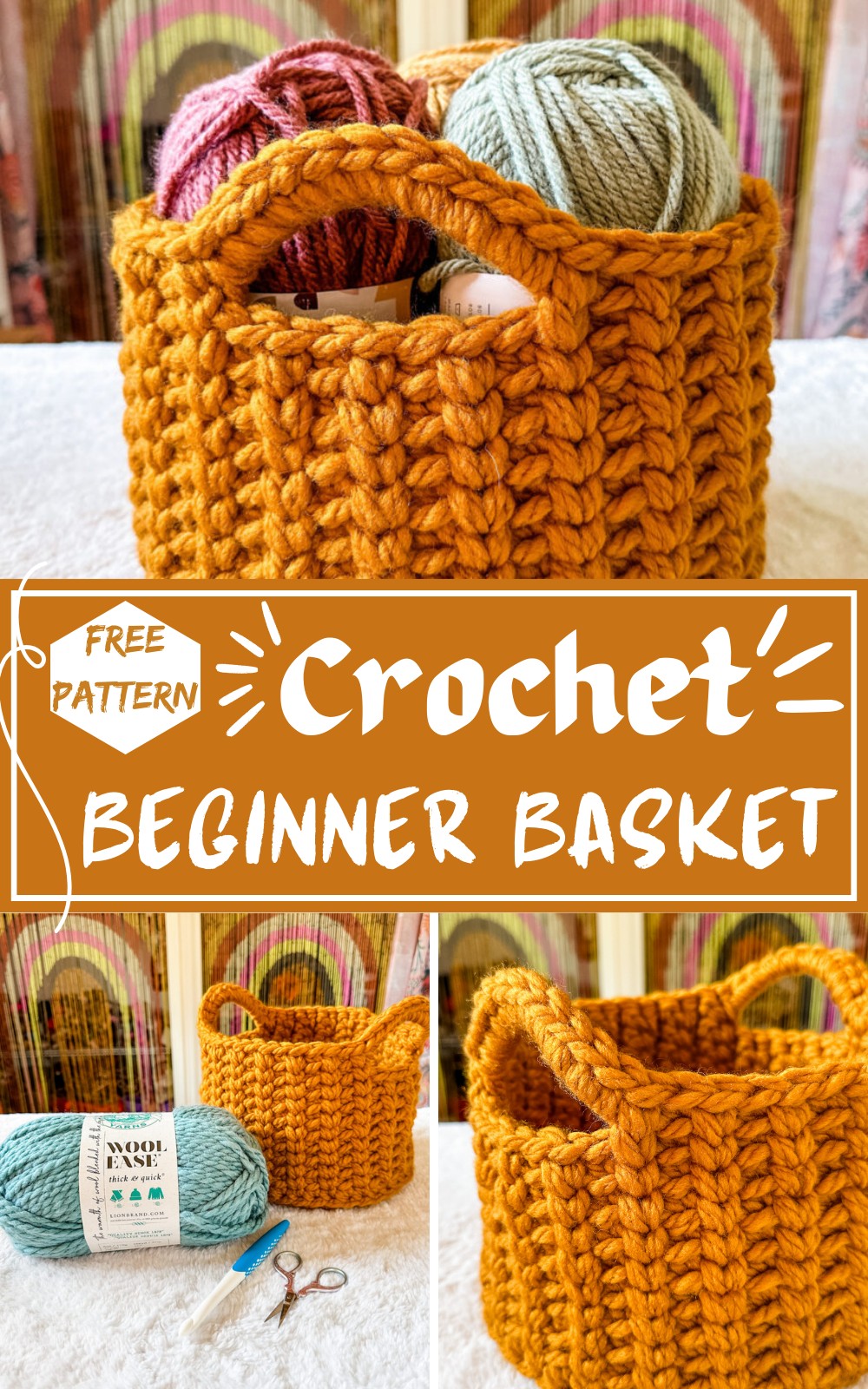 This beginner crochet basket is both practical and easy to make. Sturdy handles can be used for storing everything from toys to kitchen utensils. As its colors is orange this crochet basket is perfect for making a Halloween or autumn gift for your loved ones. The great thing about this basket is that because it's made of thick and bulky yarn, it works quickly, even for beginners.
Crochet Berry Stitch Baskets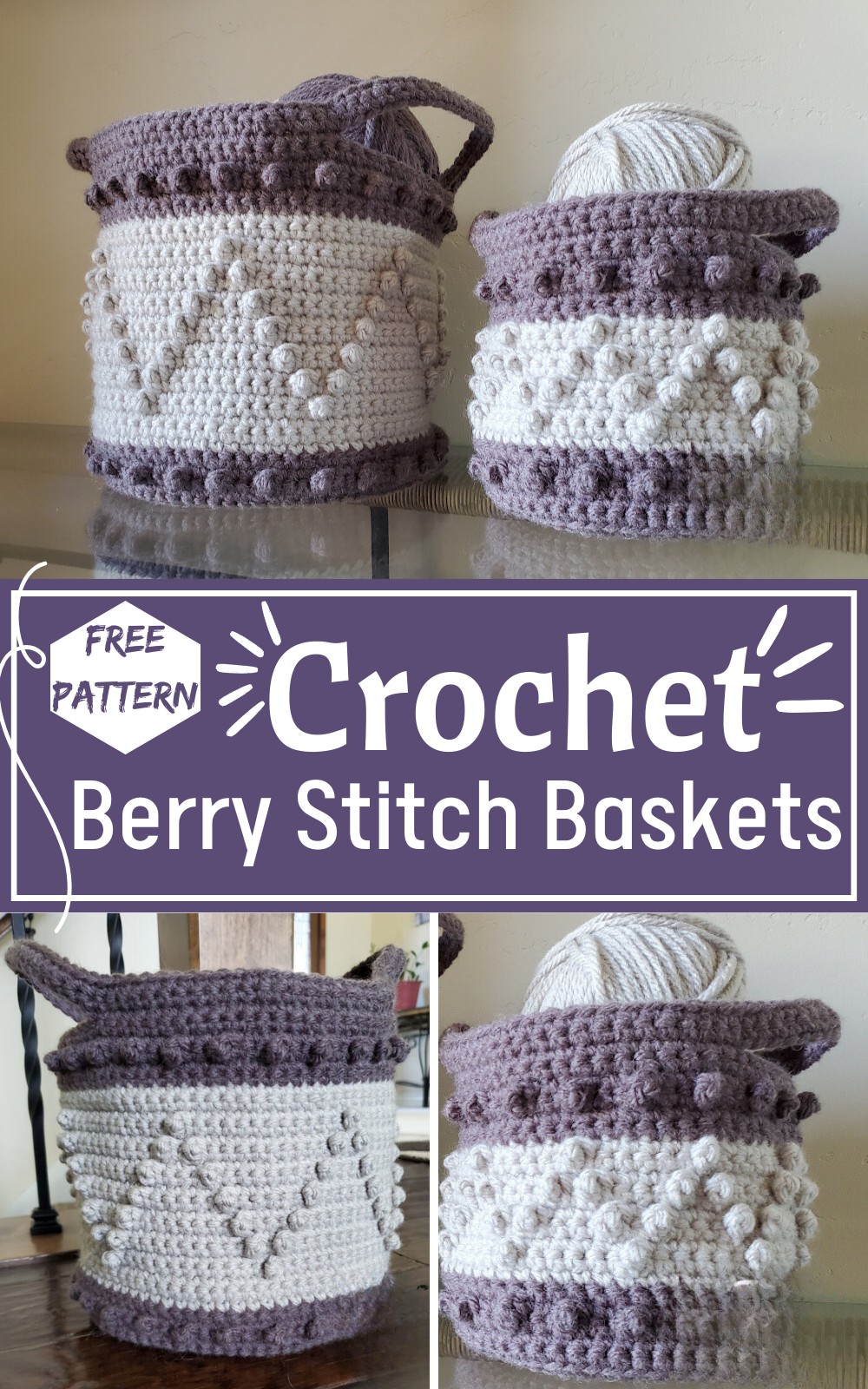 Do you strive for style in everything, then this pair of crochet baskets is ideal for you to try. The delightful harmony between the berry stitches and the color blocks creates stunning chevrons, giving the baskets a unique charm. You can use these beautiful vessels for storing your yarn balls, hooks, and more. Plus, the addition of handles ensures easy transportation a stylish and practical accessory indeed!
Granny Heart Crochet Basket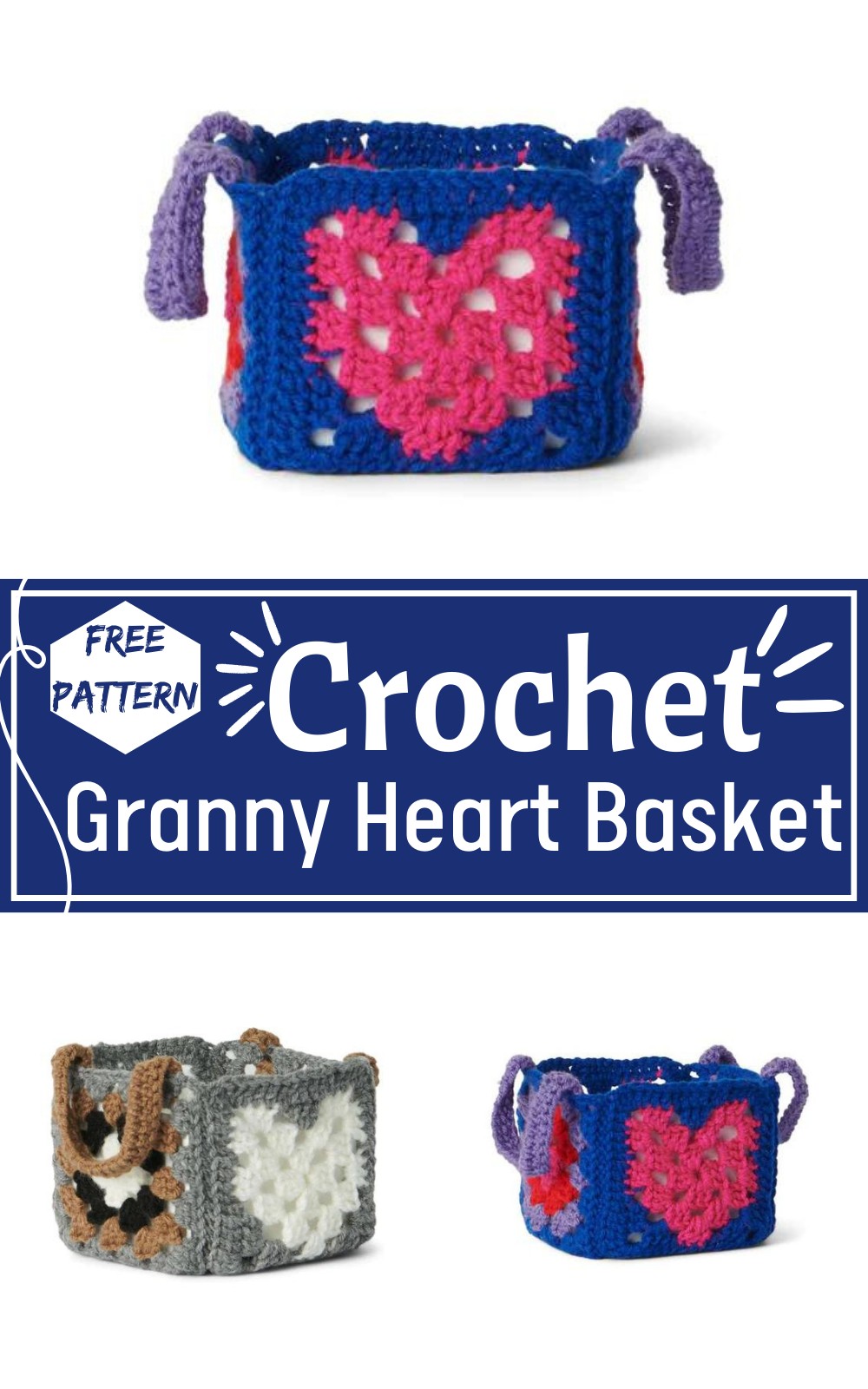 This cute crochet basket is great for keeping small items. Using a Red Heart Super Saver 50g pack, you'll make 2 heart designs and 3 simple designs. Then, join them and add 2 handles to finish. Place this crochet basket in the room or fill it with chocolates for a lovely gift to express your affection. Moreover, this easy pattern helps you learn to chain, double crochet, slip stitch, and more!
Crochet Oval Basket Pattern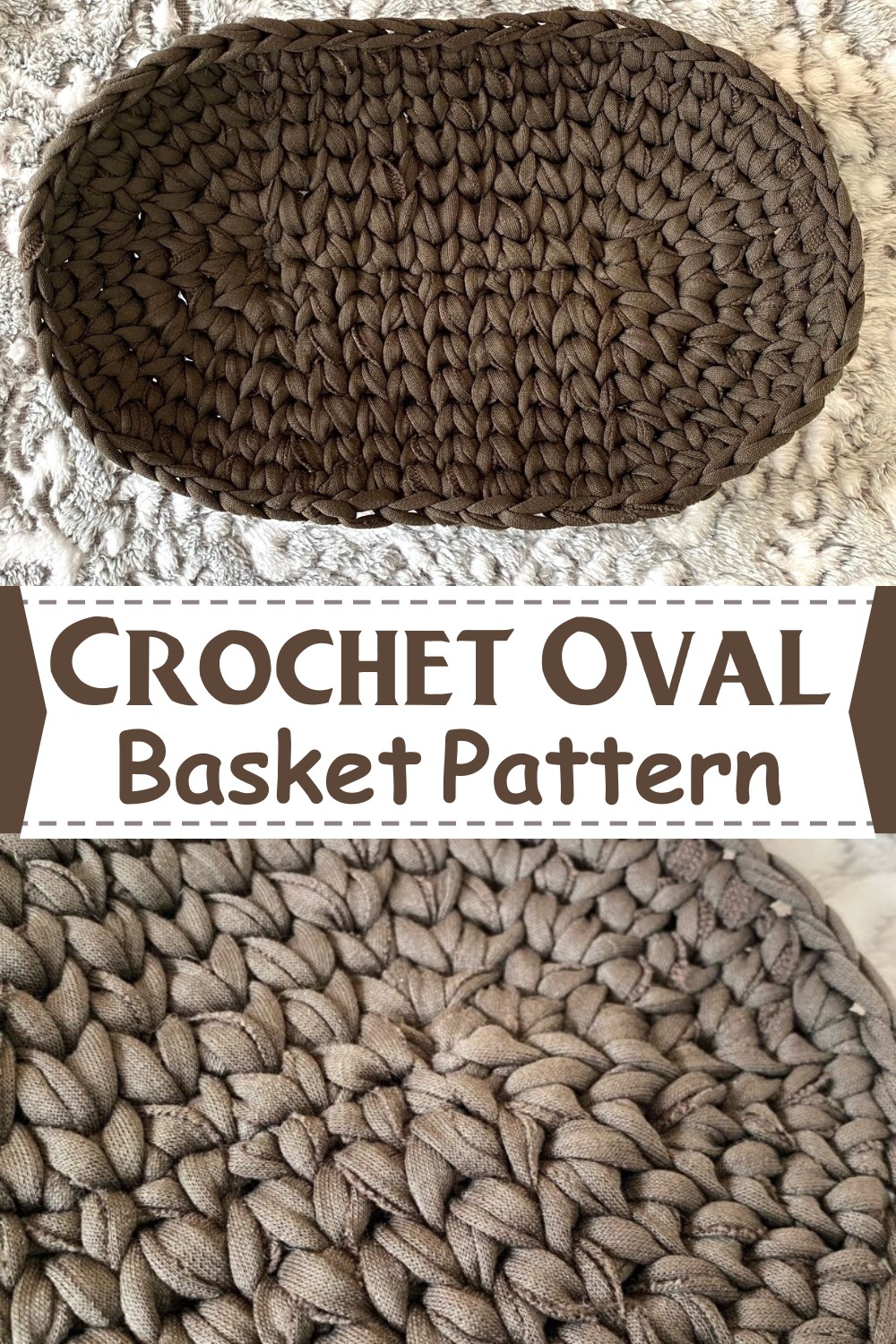 This beautiful and versatile basket design is perfect for adding a touch of handmade charm and practicality to your home and is an excellent storage solution for any room. Use it to organize your crochet supplies and corral toys in the playroom or keep your bathroom essentials neatly in one place. Its easy design fits easily into any decor, making it an ideal gift for family and friends. The pattern recommends using high-quality cotton or acrylic yarn, ensuring a durable and long-lasting finished product. The sturdy construction ensures you can experiment with different color combinations and textures that will maintain its shape and functionality for years!
Suggested Yarn: T-shirt yarn
 Hook Size: 8 mm
Crochet Easter Basket Pattern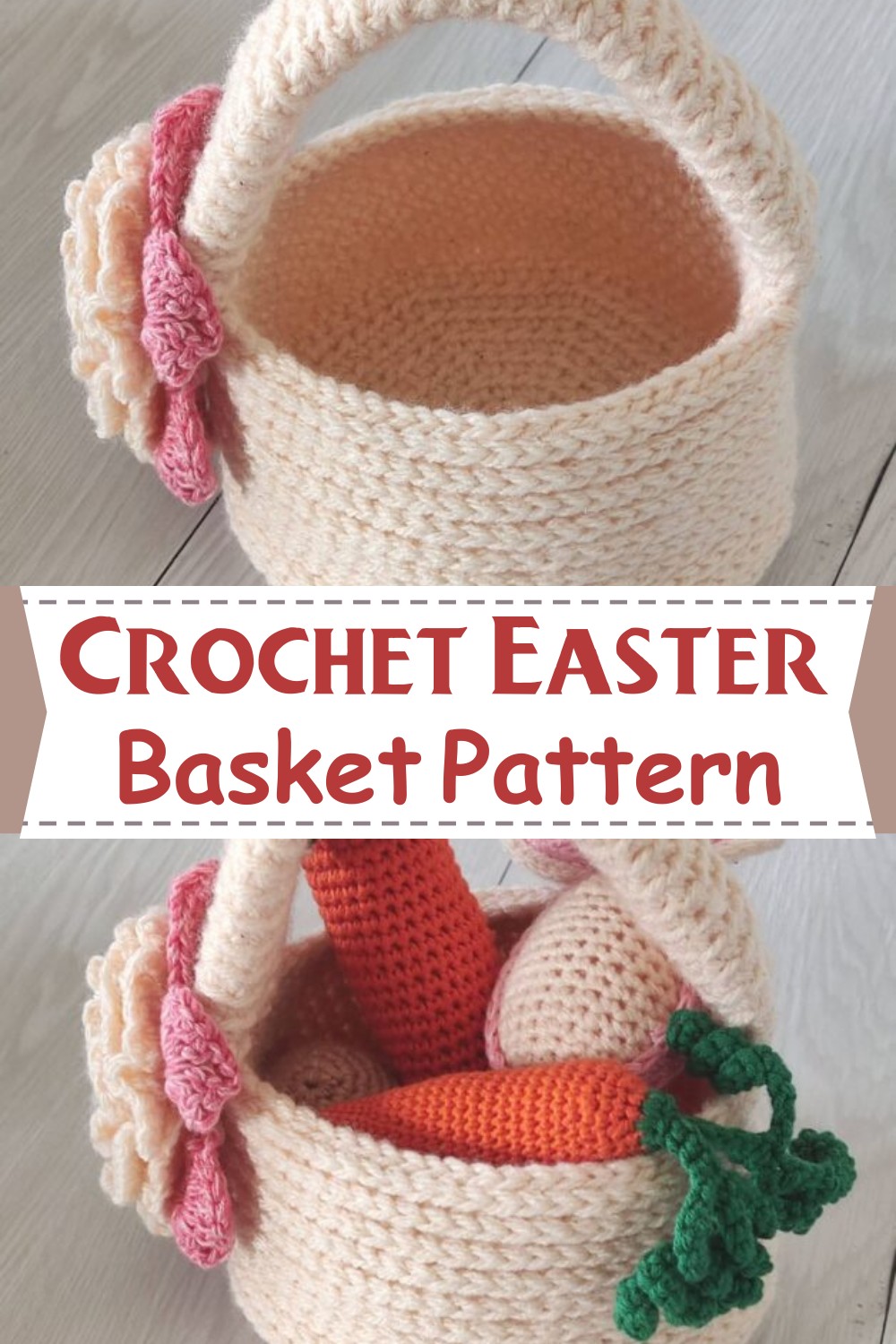 Celebrate the joy of spring with our delightful Charming Crochet Easter Basket Patterns, as it is a delightful way to collect Easter eggs during a hunt, display festive decorations, or gift sweet treats to loved ones. Its playful design and bright colors capture the essence of springtime, making it a beloved keepsake for years to come. It means if you're an experienced crocheter or a beginner to learn, this free crochet pattern will guide you through creating a lovely, practical piece that will bring a smile to the faces of young and elders alike. So, Why wait? Choose from various color mixes and decorations to create a crochet bag that reflects your creativity in a unique style!
Suggested Yarn: lightweight yarn
Hook Size: 4.0mm
Crochet Rectangle Basket With Dividers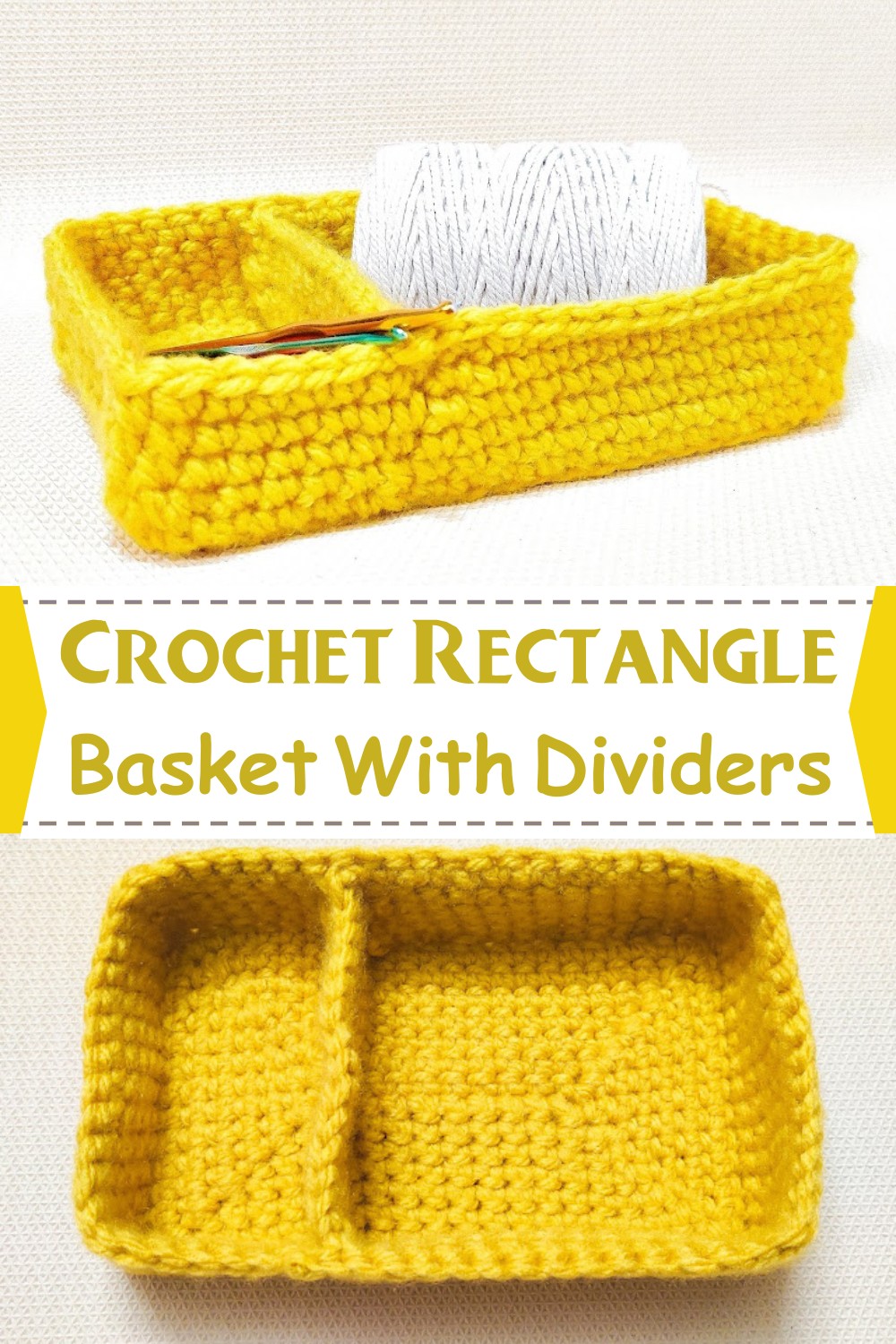 This Versatile Crochet Rectangle Basket with Dividers is an ideal storage solution for any room in your home. Use it to organize your craft supplies, sort office stationery, or store remote controls and chargers in the living room. Its customizable dividers provide a tailored approach to organization, making it a valuable addition to your home or a thoughtful gift for friends and family. And the best part? This pattern includes comprehensive step-by-step instructions with clear illustrations, ensuring that even novices can efficiently complete this crochet pattern!
Crochet Storage Basket Using The Basket Weave Stitch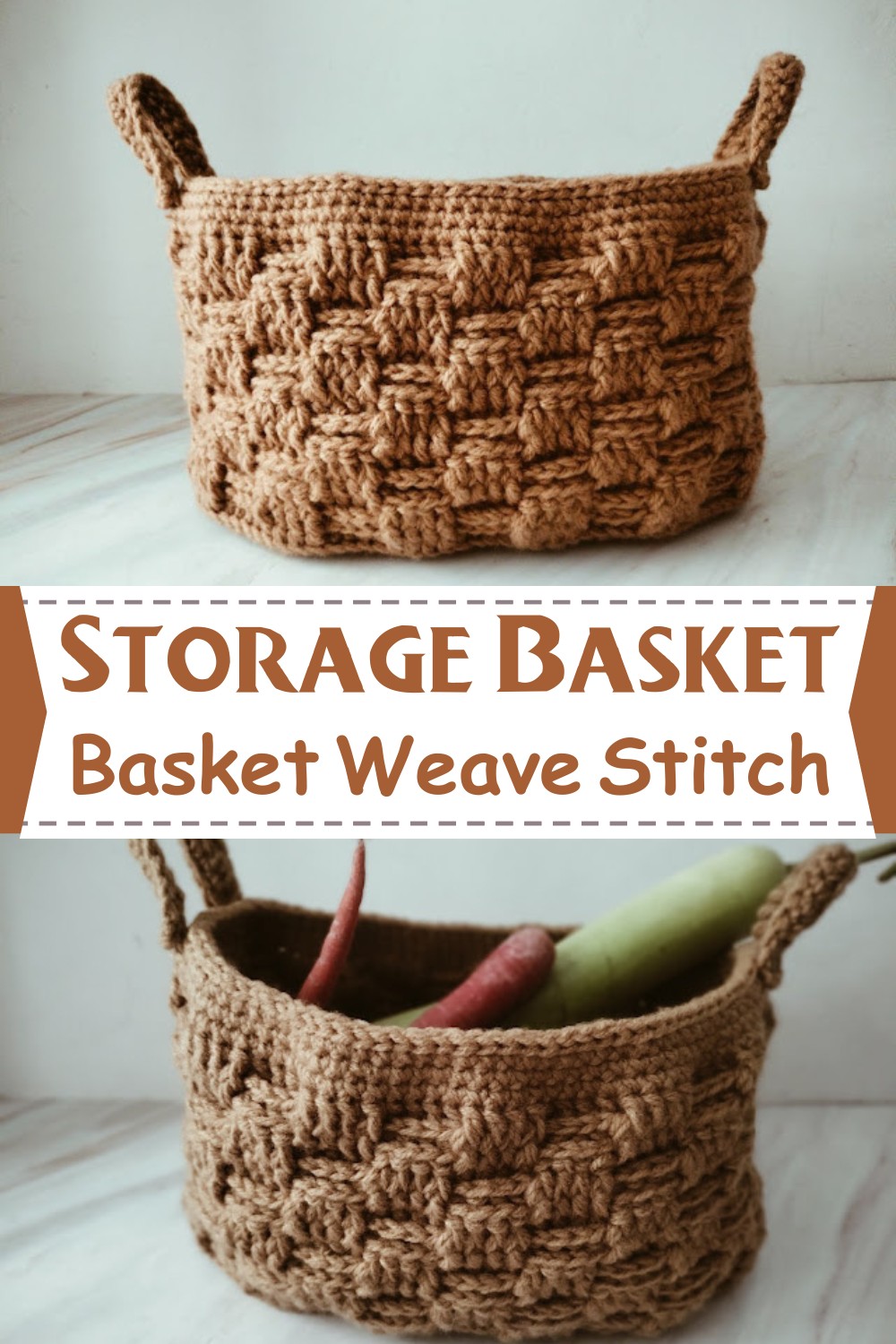 Embrace the beauty of texture and functionality with the Rustic Crochet Storage Basket using the simple Stitch pattern. This free Crochet Basket is a versatile storage solution used in various settings, from keeping your yarn stash organized to storing fruits in the kitchen or holding magazines in the living room. Its distinctive basket weave stitch adds depth and texture, making it an attractive piece as practical as beautiful. So, make this exquisite design today and embark on a crochet journey that will reward you with a one-of-a-kind piece to be proud of for years to come!
Suggested Yarn: DK weight/category 3 yarn

Size:12 inches long, 7 inches wide, and 7 inches high
Stash Basket To Crocheting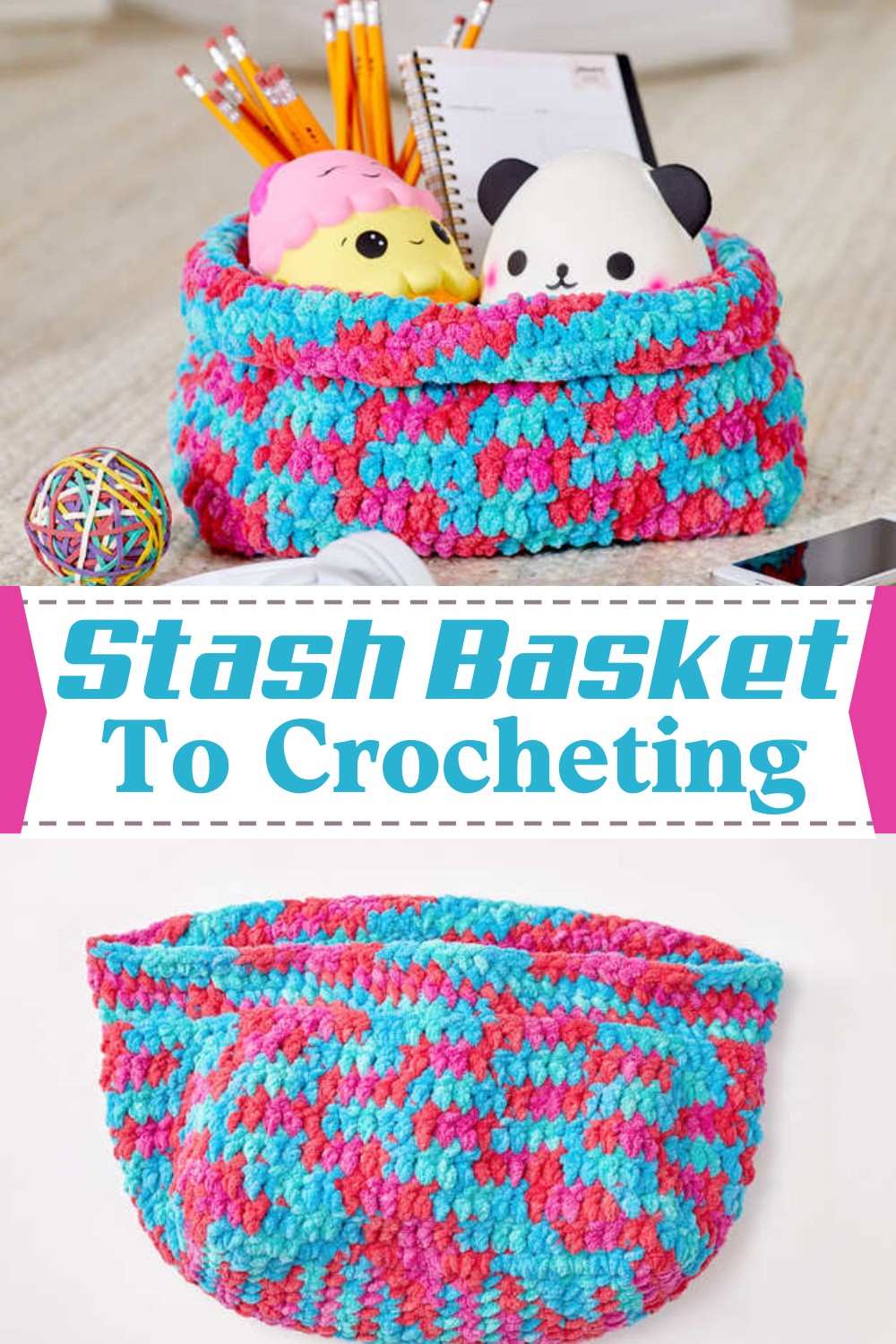 Presenting a colorful and practical crochet creation – the Stash Basket for Crocheting! This lively and functional pattern is perfect for those who want to keep their crafting supplies organized and easily accessible. This Basket for Crocheting is designed to hold your yarn, hooks, scissors, and other essential tools, ensuring your supplies are always within reach. Its compact size and cheerful design make it an entertaining addition to any crafting area, and its sturdy construction ensures it will stand the test of time. Whether you're an experienced crocheter or a beginner searching for a helpful storage solution, this pattern will guide you through creating a charming, functional piece that will brighten up your crafting space.
Berry Best Hanging Basket Pattern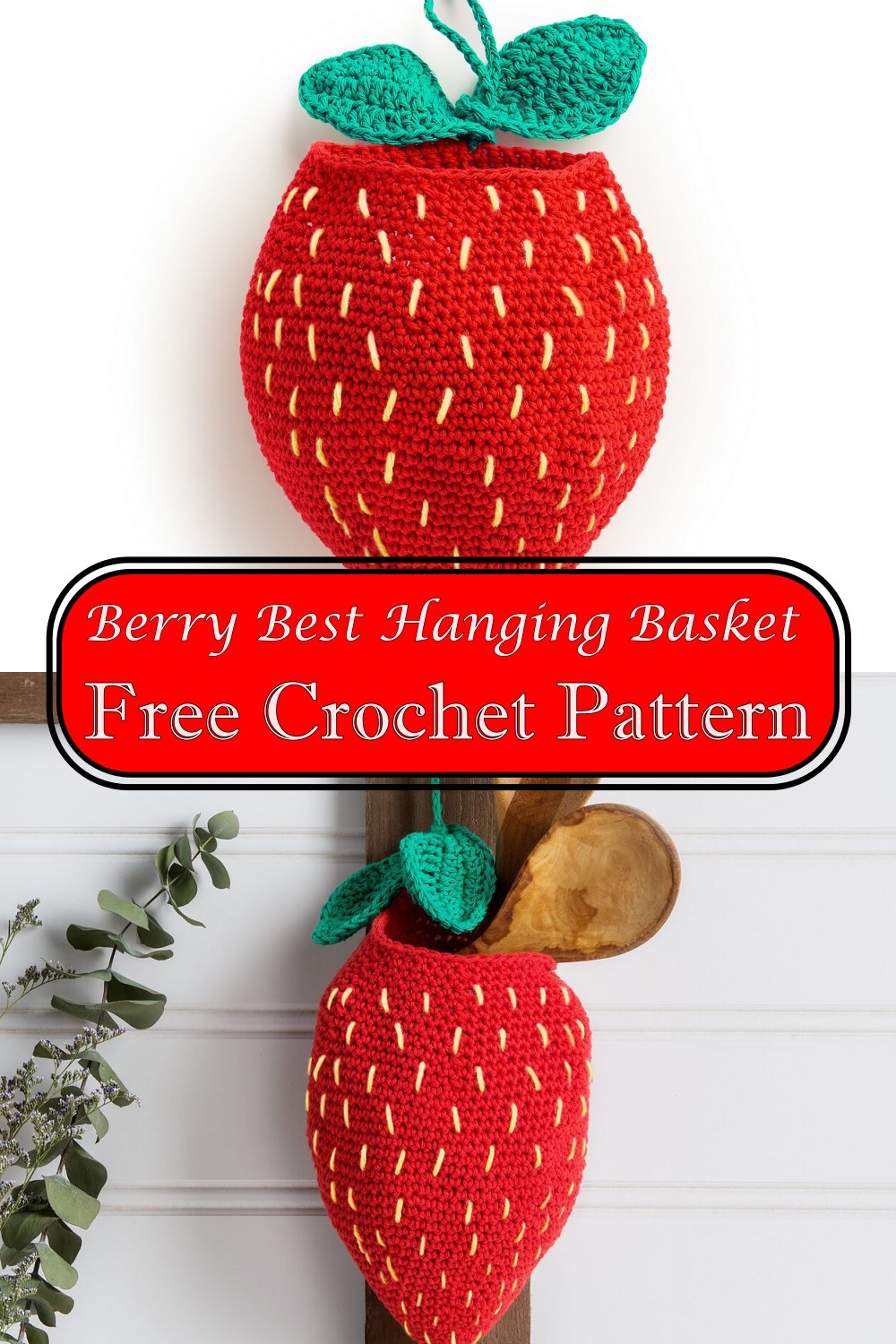 If you're looking for a fun, cute way to display your jewelry and other knickknacks, this crocheted basket is exactly what you're looking for! With its sweet berry colors and cheerful embroidered seeds, this precious project makes a great gift for a friend or loved one. Hang it from a doorknob or place it on a drawer knob or cabinet handle for storage in any room of the house." Full of character and easy to make, it will be a fast hit with crafters of all experience levels. You can make it any color you like and embroider any expression. Can it get much better?
rochet Lila Basket
"The Lila Basket is a perfect little basket to corral the clutter in any room of the house. Whether in your bathroom, bedroom, or family room, this easy round pattern uses textured stitches and bulky yarn for a sturdy basket that works quickly." The Lila basket is worked in the round with simple stitches and combines folded post stitches to create a beautiful texture. Add this handcrafted piece to your living space to give your room a cozy touch.
Basic Basket
This beautiful and durable yarn is perfect for any crochet project. Crochet Basic Basket adds a soft elegance and texture to any blanket, throw, or décor item. It is a great way to add storage or decoration to your home. It contains three skeins of super soft self-striping yarn and will make roughly a medium basket. You'll love this super-soft self-striping yarn's blend of durability and convenience. It's perfect for creating baskets, blankets, and beautiful home décor projects. They are perfect for throwing toys, art supplies, shoes, or anything that needs a home.
Split SC Colorwork Crochet Pattern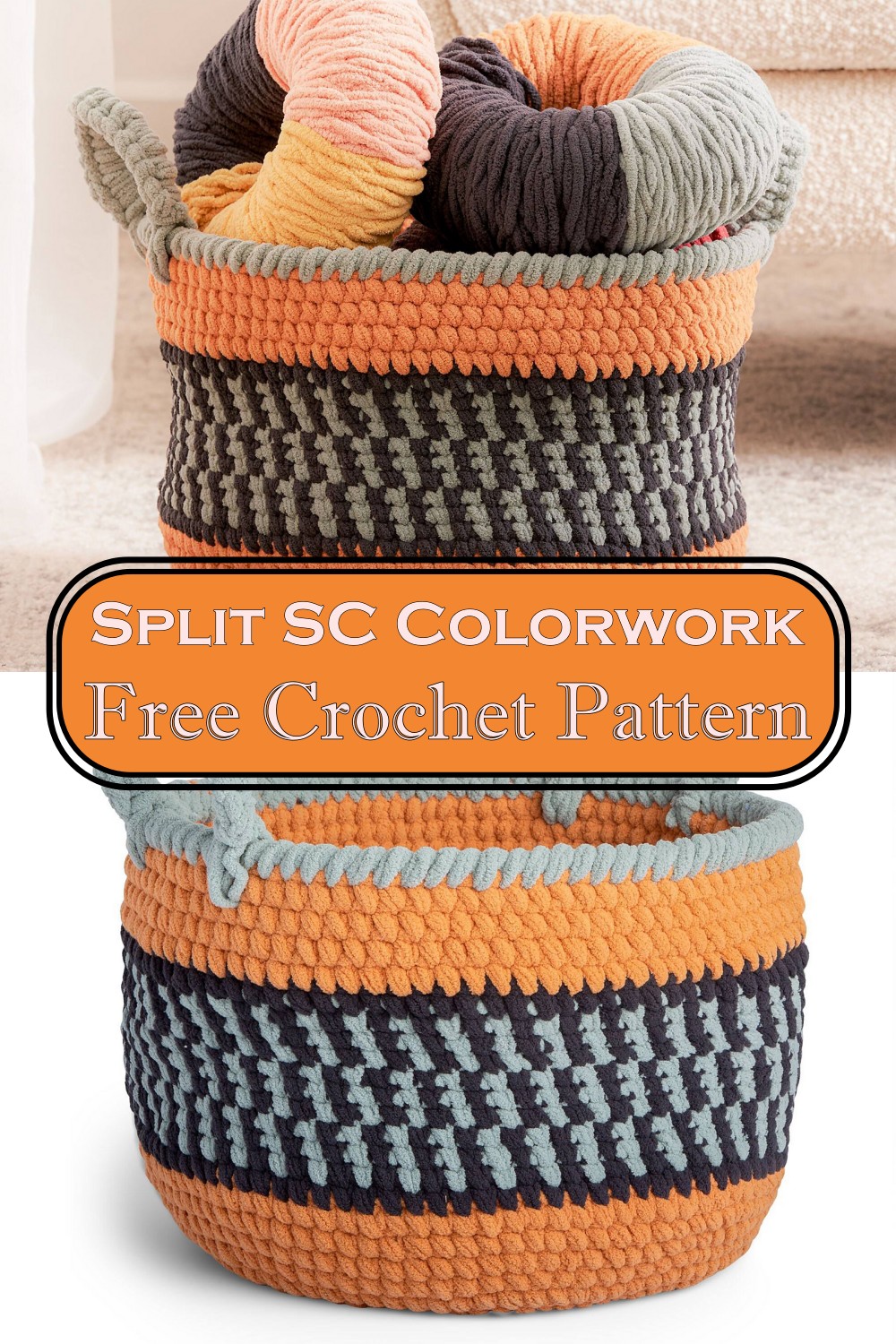 Add a gorgeous pop of color to your home with this Ultra Decorative Basket! Featuring the lovely texture of split single crochet, this basket is made by working with 2 strands of yarn held together, adding durability and making it stylish yet sturdy. The two-tone base of this decorative crochet basket is worked in rounds of Bernat Blanket, then Stitched in the split single crochet technique to create a gorgeous colorwork effect throughout the body. It's a fun way to combine function with style and an opportunity to try out this interesting technique that is perfect for showcasing your favorite colors.
One And Done Fancy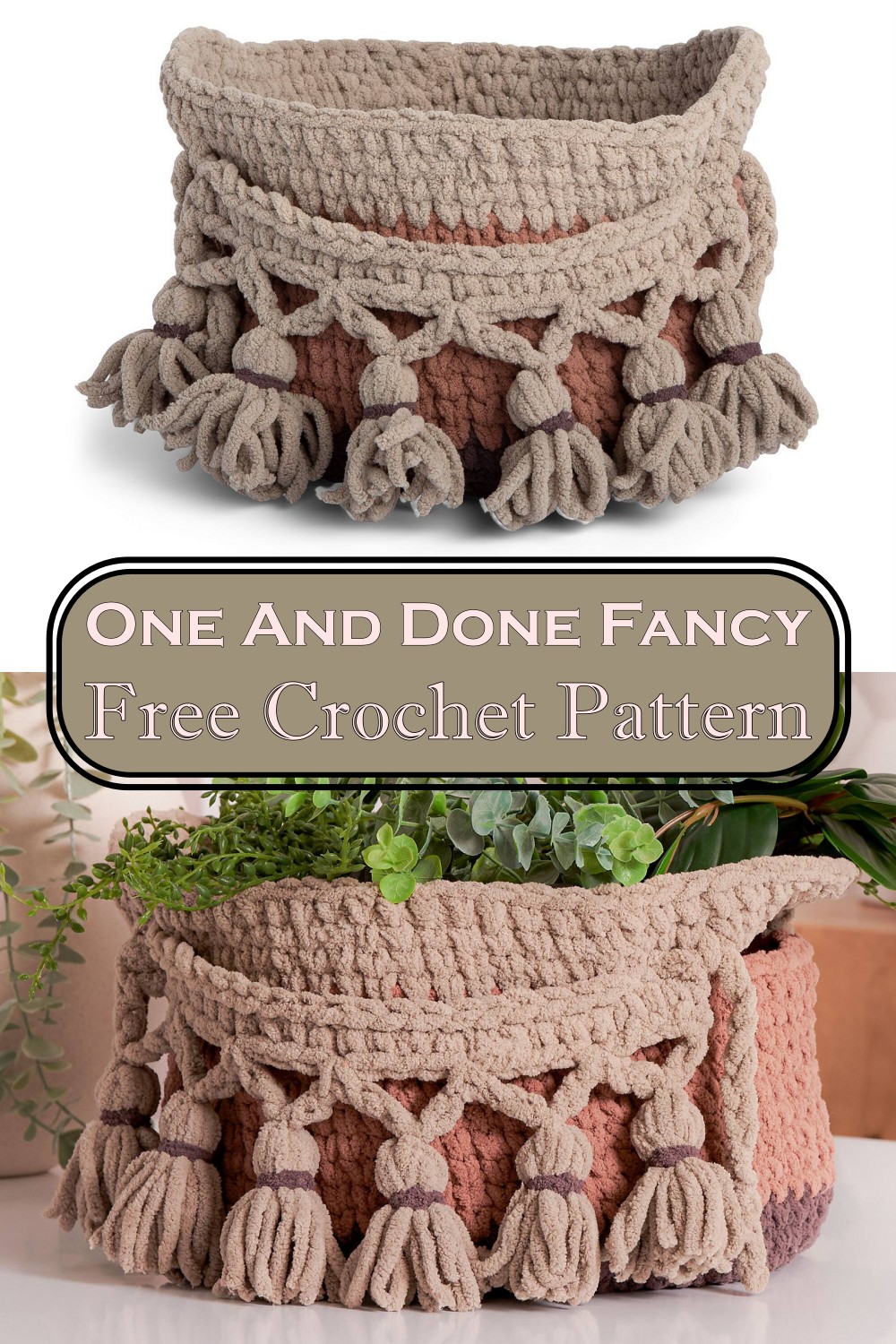 Whip up this easy-care crochet basket in just two simple steps: Crochet a long striped strip, then coil it and join with slip stitches to form the base. This crochet basket is the perfect size for organizing and stashing, or for putting up a plant pot. Worked in the round using single crochet and chain stitch techniques, it's sized to store all of your supplies and finished with a fun tassel garland for a trendy accent. It is perfect for organizing and stashing while bringing a decorative pop to your home. Try using it to hold mail, keys, small toys, and any other of life's little things.
Treatise The Bunny Basket: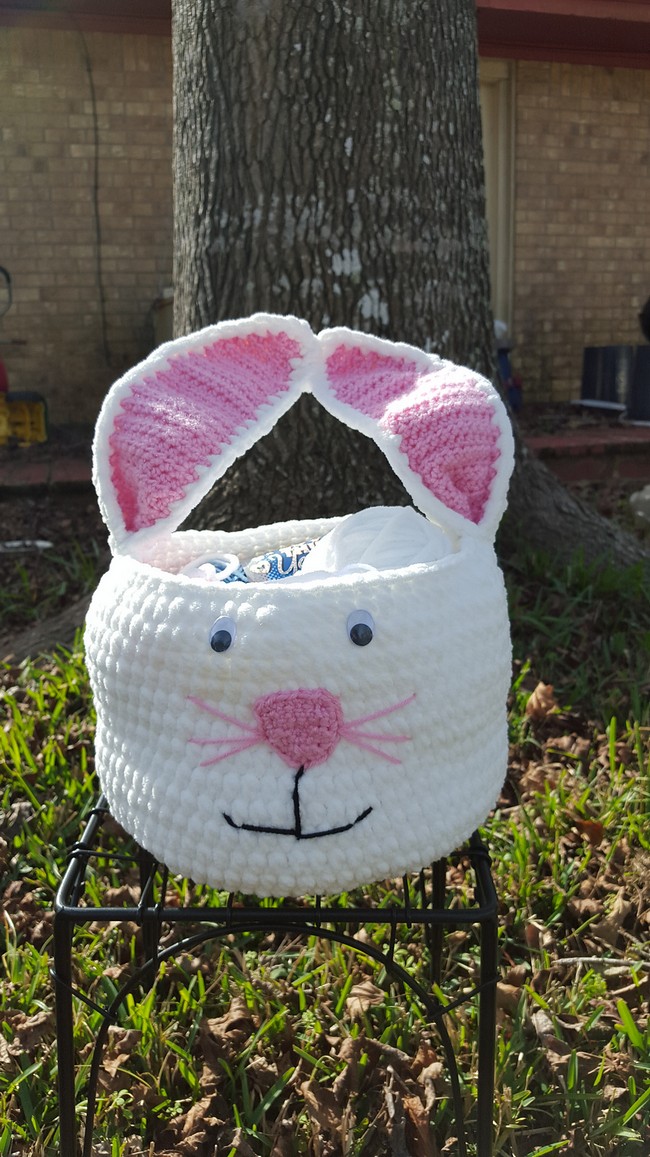 Treatise The Bunny Basket can be used as a front door basket. You can use it to exchange gifts or decorations. It has a lovely appearance and is easy to make. You need cotton yarn and black buttons. It is useful as a garden or kitchen storage basket, kids toy organizer, or fruit holder. You will enjoy this adorable basket that you will use in your home; you can easily see that it is comfortable and unique. It is a unique and cute way to store children's Easter candy, paper towels, kitchen goodies on the counter, or trinkets in the bathroom! These baskets are also an adorable way to collect Easter eggs.
Crochet Easter Basket: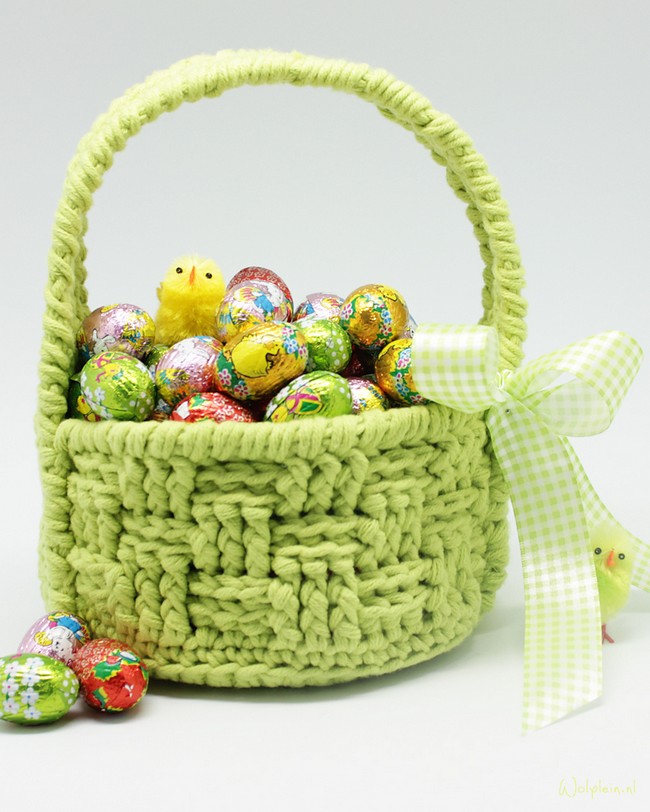 This beautiful Easter basket is a great addition to your home decor. It's very easy to crochet and great for beginners who want to learn or polish their skills. The three-dimensional shape, beautiful color of yarn, and easy-to-follow stitching instructions make this the perfect crochet project. They are the best way to hold your colorful eggs during the Easter weekend, and what's more awesome than this handmade crochet Easter basket. The size is customizable and easily made within a day. This basket will look adorable in your home decoration or as a gifting option on any festive season.
Lily Sugar N Cream Bunny Egg Basket Blue: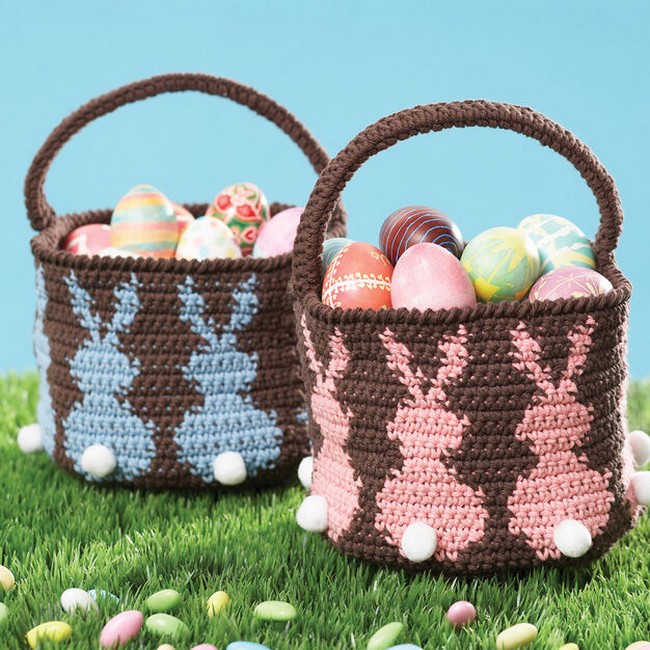 Are you searching for a good crochet pattern for Easter gifts? This basket is so fun and easy, so cute. It is a great gift idea. You can easily make this beautiful item using Lily Sugar's Cream. The color used in this pattern is Blue, but you can make it any color that your loved one likes best. Crocheted egg baskets are always fun to do, but it is even more enjoyable if you are able to use them as an Easter table decoration. They are also enjoyable and easy to color-coordinate, such as in this case
Crochet Simple Home Basket: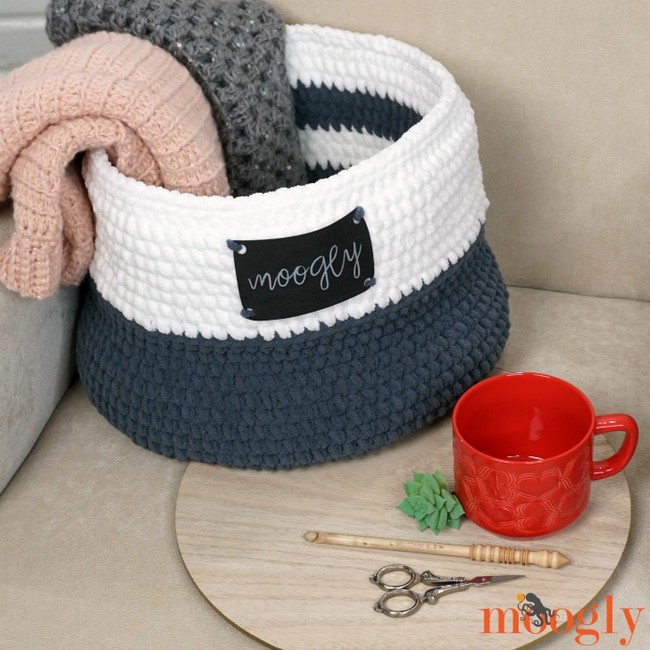 If you want to make something easy, beautiful, and soft. Then, this basket pattern is the best choice for you. The pattern is simple, and you can make it easier. You can enhance the beauty of your home with any color you like. This crochet basket pattern is perfect for your living room or anywhere in your home. The tutorial makes a large and small basket, but you can chain any number of stitches to make your basket any size. These crochet baskets are perfect for holding yarn, small accessories, or anything else. These baskets will really organize your home and may be used for storing yarn, fruits, veggies, toiletries and so much more!
Crochet Pattern Neon Touch Baskets: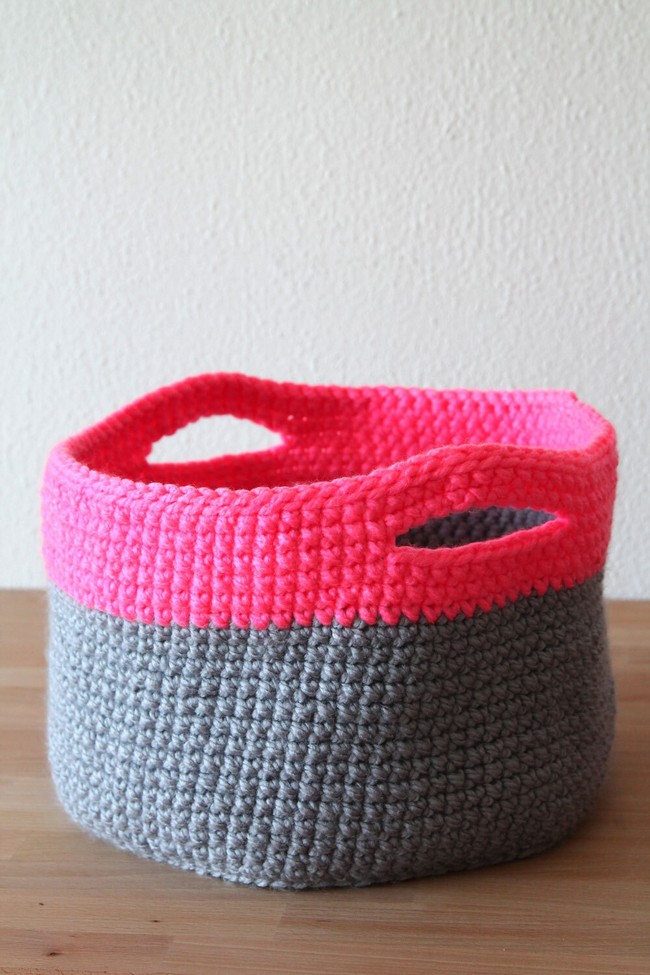 The Neon Touch Basket is a cheerful basket that can be used all over the home. Filled with a potted plant, it makes a great welcome gift for a guest or hostess. Pick your favorite color combo and make one for everyone in your family to use in their bedrooms. You can even crochet several baskets and use them as part of your party table centerpieces or use them to carry out treats and games to your next family gathering outside. Made with cotton yarn, this basket will last for years as long as you take care of it.
Color Block Basket Pattern: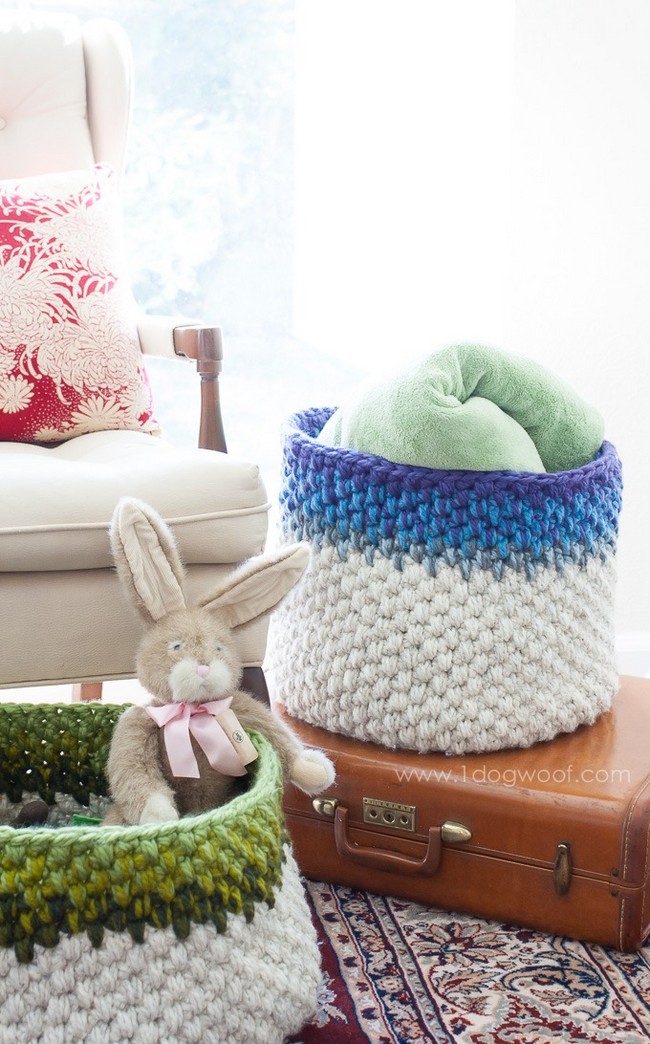 Crochet this lovely color block basket pattern for your home. This basket is one of the best patterns of crochet baskets. It has a unique style that will suit your place and make it more dazzling for viewers. You can make this stunning piece for your home with simple crochet stitches. The basket looks great for using this for a gift purpose. You can gift this to your neighbor, teacher, colleague, or even more. The size of the basket is very much capable to take a lot of stuff on every occasion.
The Jacqueline Easy Basket Pattern: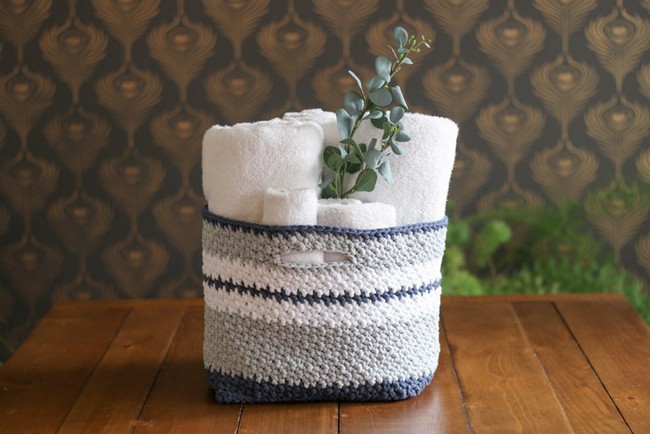 Decorate your home without spending a lot of money and time with this easy DIY crochet basket. It is a beautiful combination of colors with gorgeous textures. You can use it as home decor or as a storage basket. The pattern has full instructions along with a tutorial on how to make the complete basket from start to finish, so even if you are quite new to crochet, you will be able to make these easy crochet baskets in no time. It will be a great gift for your loved ones.
Crochet Desktop Stacker Baskets: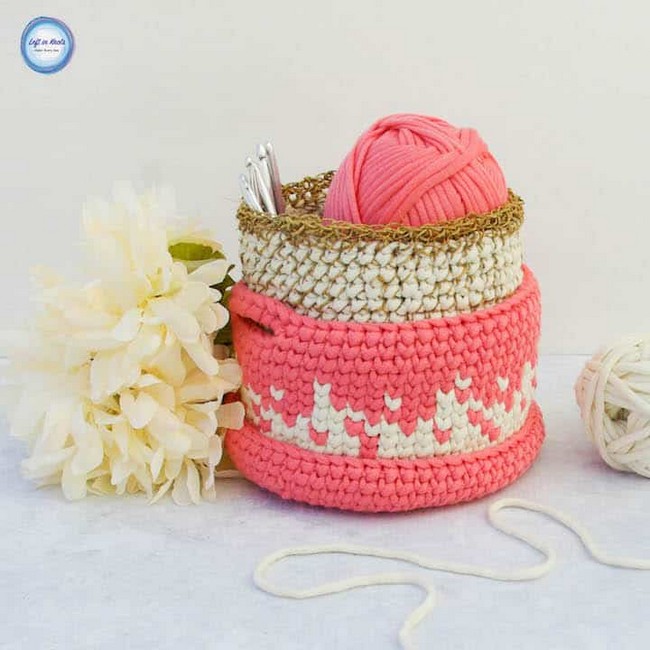 Place plants or flowers in this crochet desktop stacker basket to give your home a fresh new look. This is a handmade item and is made with the best quality yarn. The single and double crocheter methods are used for crocheting this basket. This set of crochet desktop stacker baskets will organize your desk or home office in no time! Stack them together, line them up side by side, or stagger them on your desk to create a custom look. Super sturdy and easy to crochet. This is the perfect size for keeping keys, phones, wallets, and other small essentials neatly stored together.
Simple Mini Basket Pattern: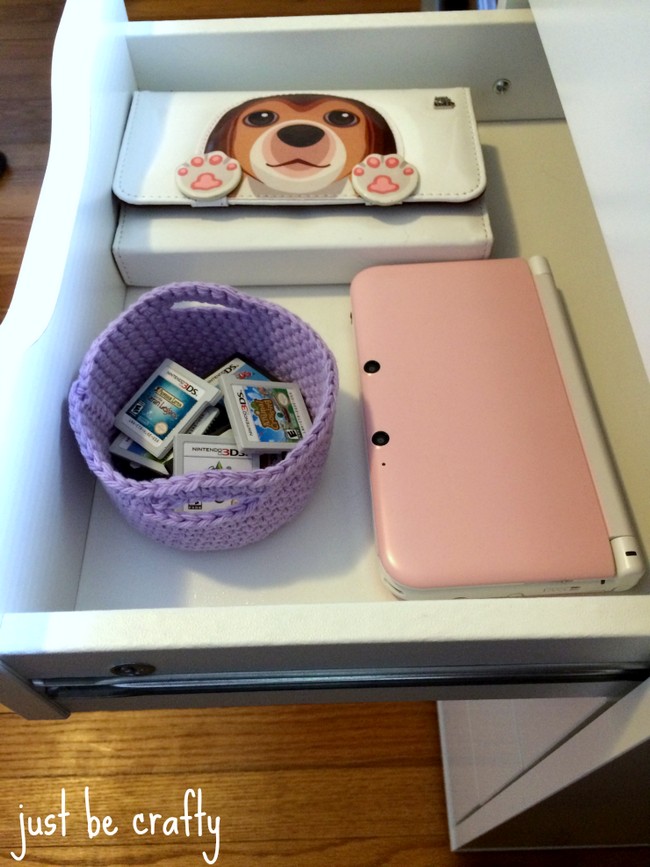 Regardless of their age, most people can make use of a basket. The mini basket is especially useful for the office or a shared desk. You could fill it with candy and other snacks to share or fill it with your personal stash. Even beginner crochet enthusiasts will enjoy making this simple basket, which is perfect to keep your baby's toys and your nighttime accessories organized. They make wonderful gifts for co-workers or when filled with gourmet food items, are great to serve as hostess gifts.
Rustic Farmhouse Style Basket: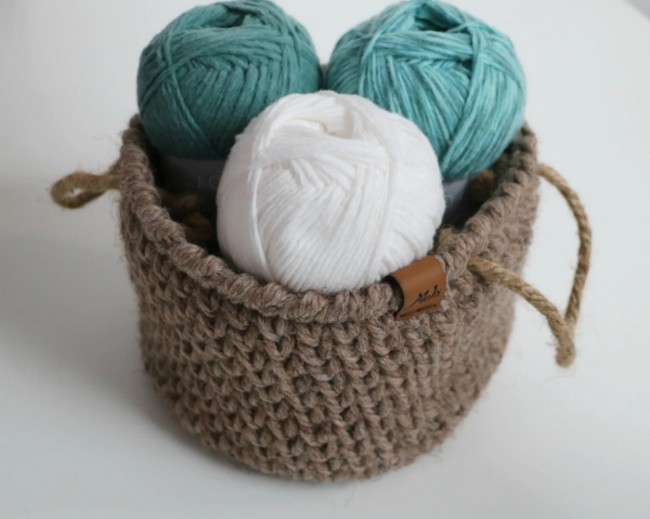 This rustic basket is unique and beautiful, handy, and farmhouse style. Use it for storing yarn or extra magazines. Place it next to a chair in the living room and toss those extra blankets in it. Pick a color of your choice and make this in no time! It's so easy to use and you can carry it anywhere with you. You can choose any color to your liking because this pattern is very funny, you can make many different patterns at the same time, varying only the colors of the threads. This would make a wonderful housewarming or wedding gift and holds enough yarn to crochet some small projects like washcloths, facecloths, and dishcloths.
Stash Basket Pattern:
Crochet this elegant basket and use it for storing magazines or other essentials. This basket can also be used for holding gift items for a person close to your heart. The author has discussed the features of this basket. It will also give a good finishing look to your home decor. The combo of both colors is outstanding and gives a perfect look to your home. It will be a good project if you are a beginner. This can also be used to hold magazines, baby toys, office supplies, or anything you need to get organized. A great project for beginners!
Color Block Crochet Baskets: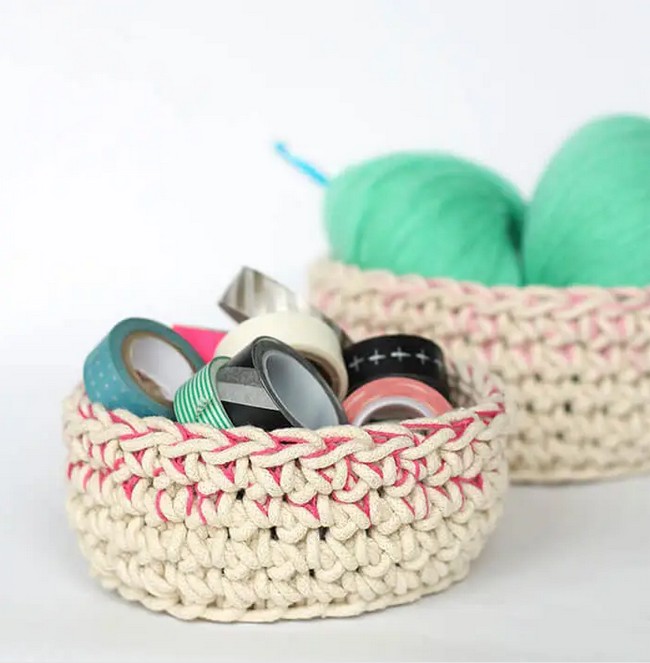 Looking for an attractive way to organize your home? The Color Block Crochet Baskets are perfect for holding toys in the playroom, cleaning supplies in the bathroom, or producing in the kitchen. With a unique basketweave design and fun color contrast, these beautiful baskets are functional and fashionable. You can use this basket for organizing your home or bathroom. Your children can also use the basket to put their toys and books inside. You can also use it in the kitchen to hold fruit or as an elegant place to keep your spare keys by the front door—wherever you choose, it will help keep your family more organized!
Geometric Basket Pattern: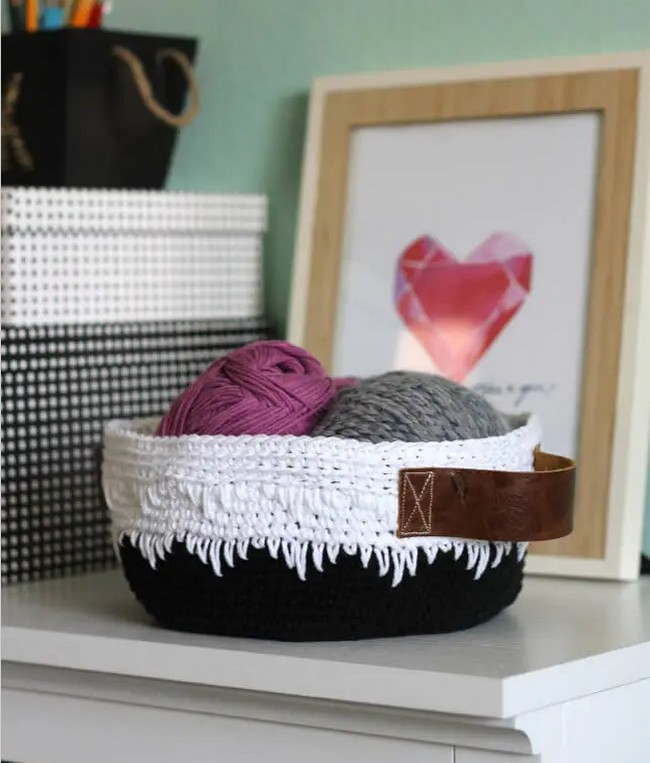 This pattern is useful for you. You can create it easily; its makeup is also suitable for your home and gives it an attractive look. This cozy basket is a perfect decoration piece for your home and every gift to your friends. It uses this cute geometric basket as a container for holding your clean clothes or stuff, or you can also use it as a flowerpot. They will come in handy around your home to hold anything from odds and ends to towels. And the leather straps or handles elevate them from ordinary baskets!
Crochet Basket Pattern: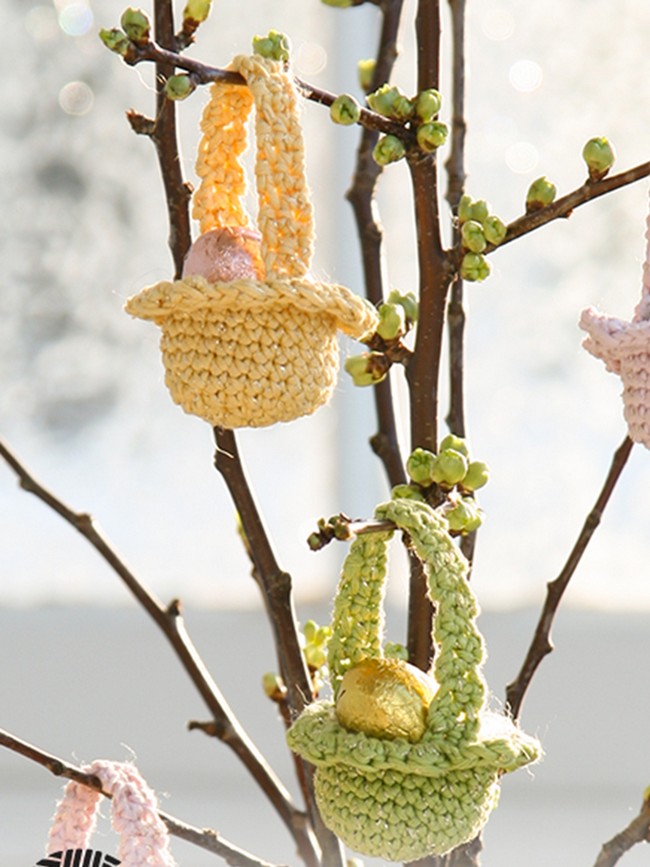 This stunning crochet basket is the perfect addition to adorn your living space! This pretty basket can be made in various sizes allowing you to create a basket for any purpose. Add this pattern to your list of crocheting projects and make one for yourself or as a gift. Simple yet elegant, it could be used in any room to store daily essentials and can also be used as a plant holder. The larger size baskets make great storage baskets while the smaller sizes are perfect crochet nesting baskets around the home.
Sweet Little Easter Baskets Pattern: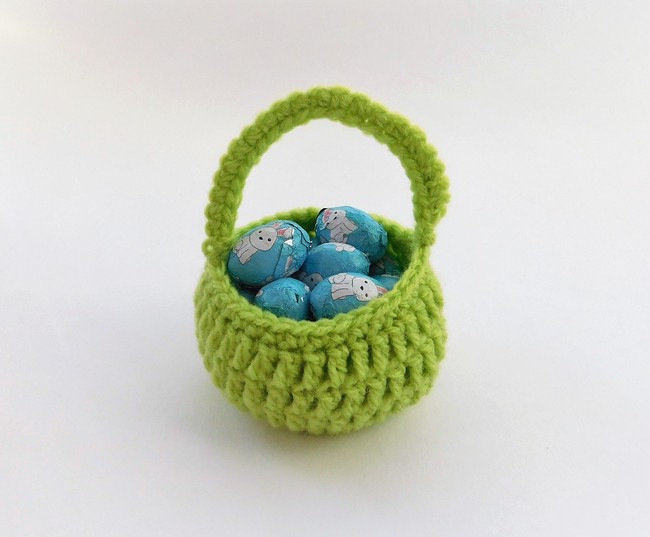 These cute little Easter Baskets would be a great addition to your decorations at home or any Easter gathering. Fill them with mini easter eggs or other sweet treats for a special gift. These cute little Easter Baskets are quick and easy to make, with basic crochet stitches. To personalize each basket even further, add a cross-shaped applique of your own making. This crochet pattern includes complete instructions to make three different sizes of each Easter Basket, to suit your needs. A perfect little gift for family and friends.
Free Crochet Easter Bunny Basket Pattern:
The holiday is coming! This cute little bunny is an easy and fast Easter project, perfect for those who love making toys or home decorating. Ideal for quick yarn stash busting or leftovers from other projects. You can hand them out as gifts or Easter baskets – so versatile! Easy to crochet, it will bring your child a smile in no time! This free pattern is absolutely fast and easy to make. You can do it within a few hours or even less (depending on how fast you crochet). It will be perfect for the Easter decoration of your home or add it to your Easter basket with all things you can find around your house.
Hoppy Easter Bunny Basket Pattern: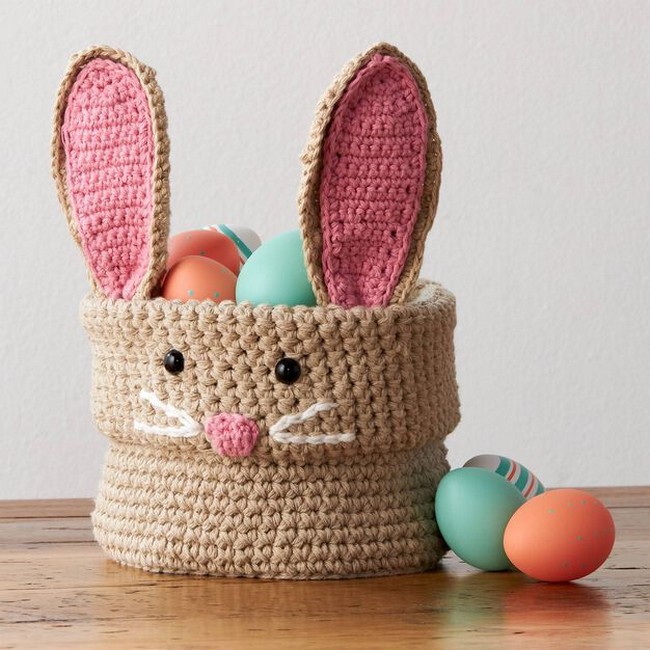 With this cheerful crocheted Easter basket, the kids will be hoping to get their Easter treats. Get ready for a hopping good time with a crochet basket that doubles as a fun Easter decoration and an adorable toy your kids are going to love. This cheerful crochet rabbit with perky ears and a friendly disposition will surely bring springtime fun to your home! Worked in single crochet, this basket will surely be a hit at the annual Easter Egg hunt. Let's hop to it, sturdy enough to carry all the eggs for the big hunt!
Crochet Dip Edge Basket Pattern: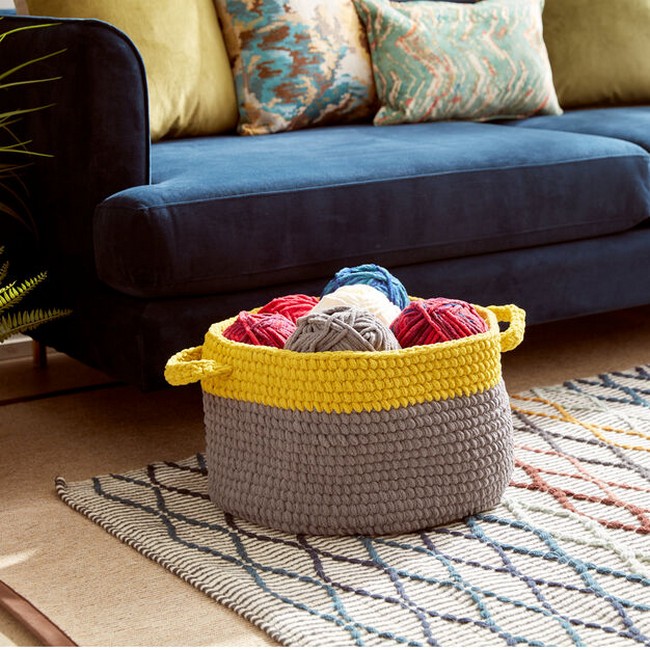 Everyone loves a great basket, and this one is no exception. While it looks simple, it's a pretty clever piece of work with all the shaping created by changing up where you insert your hook. You'll have this beautiful basket completed in just a couple of nights. Easy crochet baskets are a dream come true for anyone who struggles with keeping a tidy household! This Free Crochet Dip Edge Basket Pattern is simple enough for beginners, but also produces an elegant final product that looks great in any home. It uses double-stranded cotton yarn to produce a beautiful basket that feels sturdy and looks adorable too.
Fringe Basket Pattern: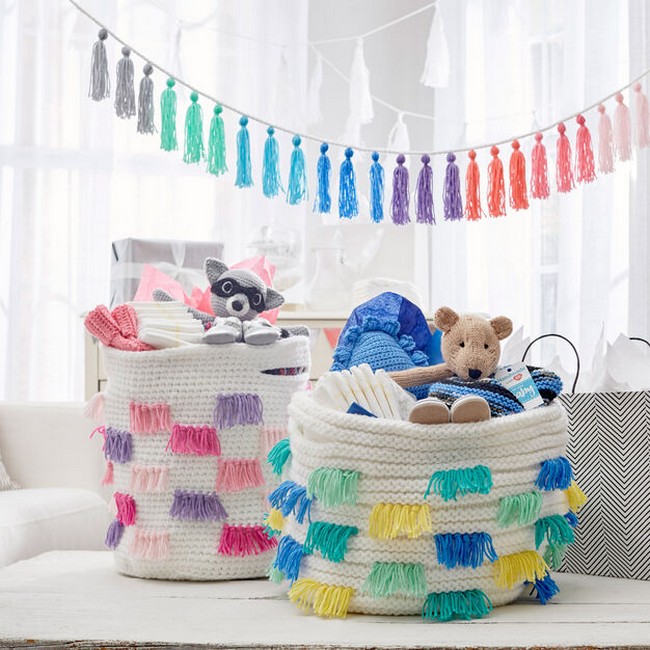 Create a playful crochet basket that mom can use in the nursery to hold all of the baby's precious goodies. This design shows a cute assortment of colors, but you can change things up with a single shade or use leftovers from other projects for even more creative color combinations! This basket is fun to make and even more delightful to present a baby's gift in. The fringe speaks to the retro trend seen today in crochet, but this "new vintage" look fits perfectly with the nursery theme. Knitting mom will be thrilled to use it for baby essentials as well!
Carrot Basket Pattern:
This super cute carrot basket is perfect not only for Easter but all Spring as well. Crochet a few in different sizes to make a statement piece on your table or to give as gifts. Quickly and easily make this darling little crochet carrot basket filled with chocolate eggs, for a cute way to celebrate Easter. This little basket is just the size to hold a few Easter goodies. It is great for your friends and family living in the country. This tutorial includes lots of pictures and step by step instructions plus the pattern is easy enough for beginners and quick to work up.
Easy Easter Basket Pattern: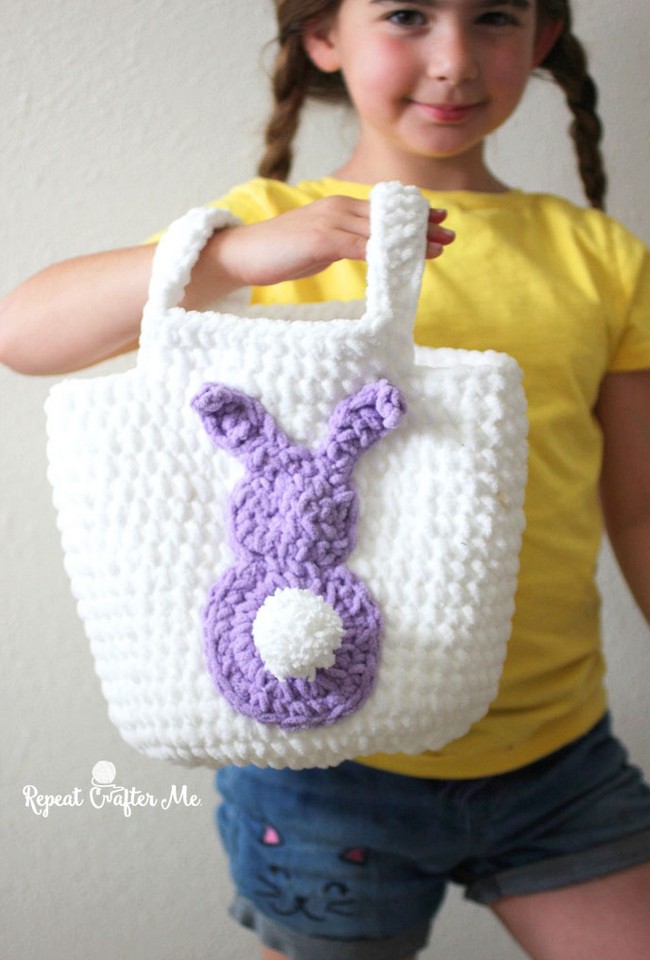 This crochet Easter basket pattern is quick to work up. Made with Bernat Blanket yarn and very simple stitches, this basket will be completed in a couple of hours. Large enough to hold plenty of candy and small toys, these Easter baskets would make wonderful gifts! This project is great for all skill levels and can be changed to fit your decor. Just use any yarn you have on hand and the color of your choice. Change up the bottom band and top edging, too if you want more of a challenge. Have fun with this one and keep smiling. You can crochet this basket in a color that coordinates with your home decor for use year-round! Use the suggested colors or get creative with your own choice of yarn colors.
Handy Storage Basket Pattern:
Interior design lovers and crafters know how well-made baskets can add flair to any room. Whether you're looking for a way to organize your yarn collection or want a creative housewarming gift idea, this crochet basket pattern is ready to impress. A gingham-style basket or bowl can be made in any size to help organize multiple rooms of your home. Beginners will love stitching this easy gift to keep their crafting, sewing, or knitting supplies at hand. A clever way to keep your stash organized or to decorate a corner of your room, this easy basket is ideal for yarn, towels and more.
Dip Edge Basket Pattern: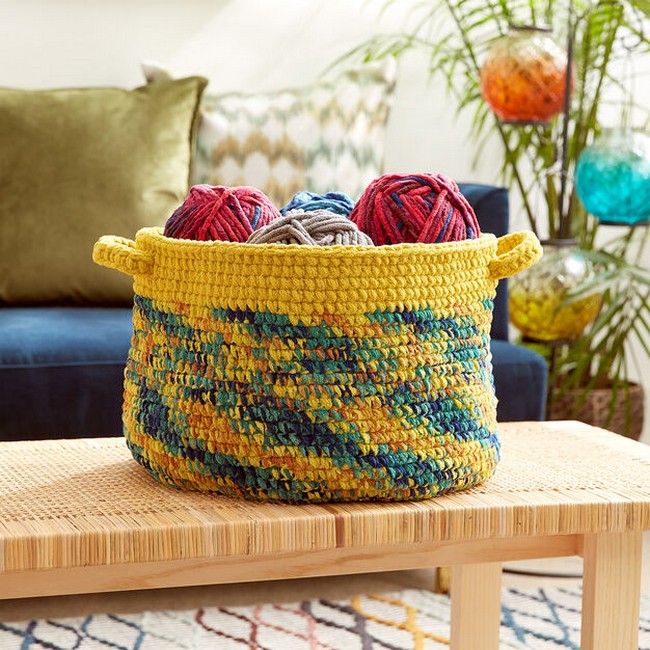 This crochet basket pattern produces a multi-colored basket with a little dip for added texture and interest. A beginner crochet pattern perfect for home storage, this easy basket is worked in the round in single crochet stitches with two strands of yarn held together. With these chenille baskets, your home will be more organized than ever! Use Bernat Blanket Yarn or any other chenille yarn to make these beautiful baskets. Great for storing smaller items like toys, toiletries, or personal care accessories, this easy crochet basket would look great in a variety of colors to match any room décor.
Jenna Stash Basket Pattern: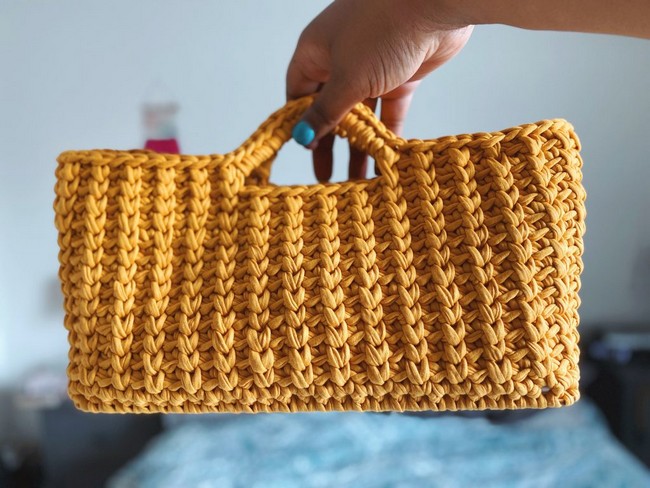 The Jenna Stash Basket is an all-new free crochet pattern, brought to you by the collaboration of small business owners! Stash away all of your loose items, including yarn and crochet hooks, with the Jenna Stash Basket. This modern basket is a versatile piece that fits in any room. Crochet it in one color for a minimalist look, or customize it with stripes, textures, and tassels for the perfect match to your home decor. This gorgeous basket was made with incredible yarn. A perfect combination for a beautiful and durable stash buster project!.
Crochet Basket Pattern: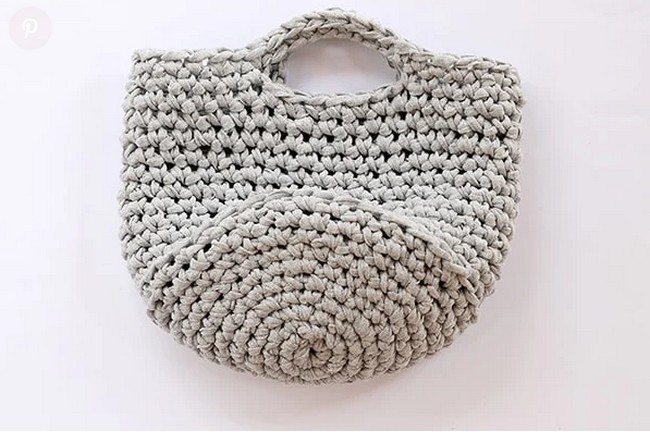 The Crochet Basket Pattern is a fun and easy-free crochet pattern that is perfect for beginners to learn how to make a crochet basket. You can use the crochet basket for so many things including storage, to keep your current project in or even as a gift holder. There are so many different ways to use this gorgeous crown stitch crochet basket. Add your own personal touches on the basket by changing the color or size so you can make it unique to you. Use the basket as storage in your home or as a gift for Mother's Day, Christmas, or any occasion.