Crochet plant pot patterns are a great way to have fun and create something wonderful. They are simple to stitch and can make any plant or flower look spectacular. You can also save money by crocheting your pots rather than going for the store-bought kind. So, get those creative fingers in gear and stitch something to make all those plants look very happy!
Best Crochet Plant Pot Patterns

These Crochet plant pots are a great way to add color and life to your balcony, patio, or windowsill this spring. Enjoy a little greenery indoors with these fun plant pots! Crochet yourself a cute set of plant pots to add spring and summer style to your balcony, windowsill, or patio. They are perfect for beginners, and intermediate crocheters who want to learn a few new stitches to make new project ideas come to life!
While you have your crochet hooks and favorite yarn, why not make crocheted plant pots? These crochet plant pot patterns are just the thing your house needs. These fun projects can be adjusted and personalized for any home or garden. They are a great way to keep your plants warm, cozy, and decorative. They are easy to make and can be made in any color or size. You can hang them on your wall as decor or give them as gifts to family and friends. You can make them any size or add personal touches like decorative flowers or paint.
Crochet Large Plant Pot Basket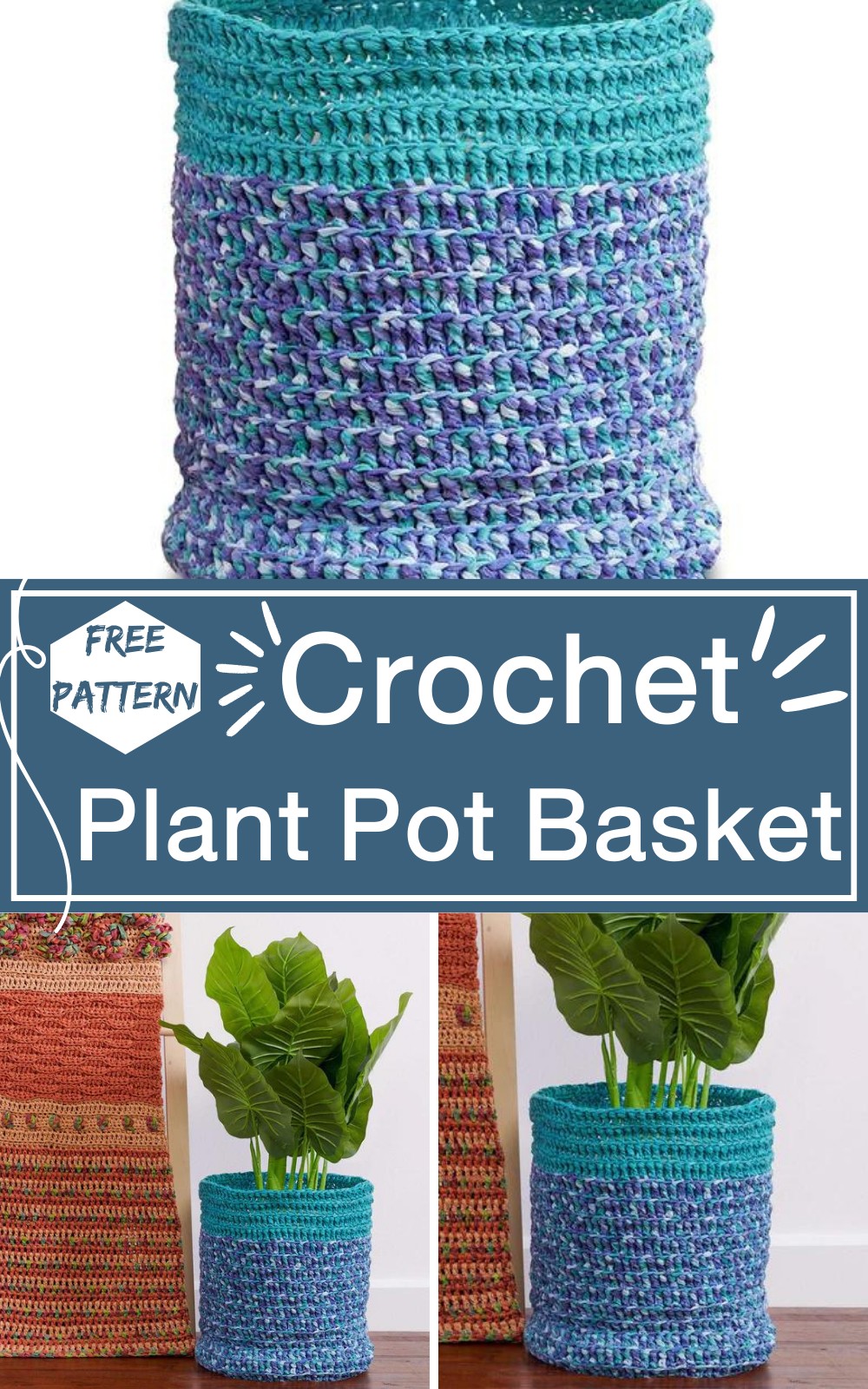 It is a fun, unique, and high-maintenance plant pot basket made with variated shade yarn. The crochet waves make the pattern more special, so you can enjoy it more by installing it in your garden or terrace. This unique crochet pot basket is perfect for various large plants and small trees.
Large Potted Plant Crochet Cozy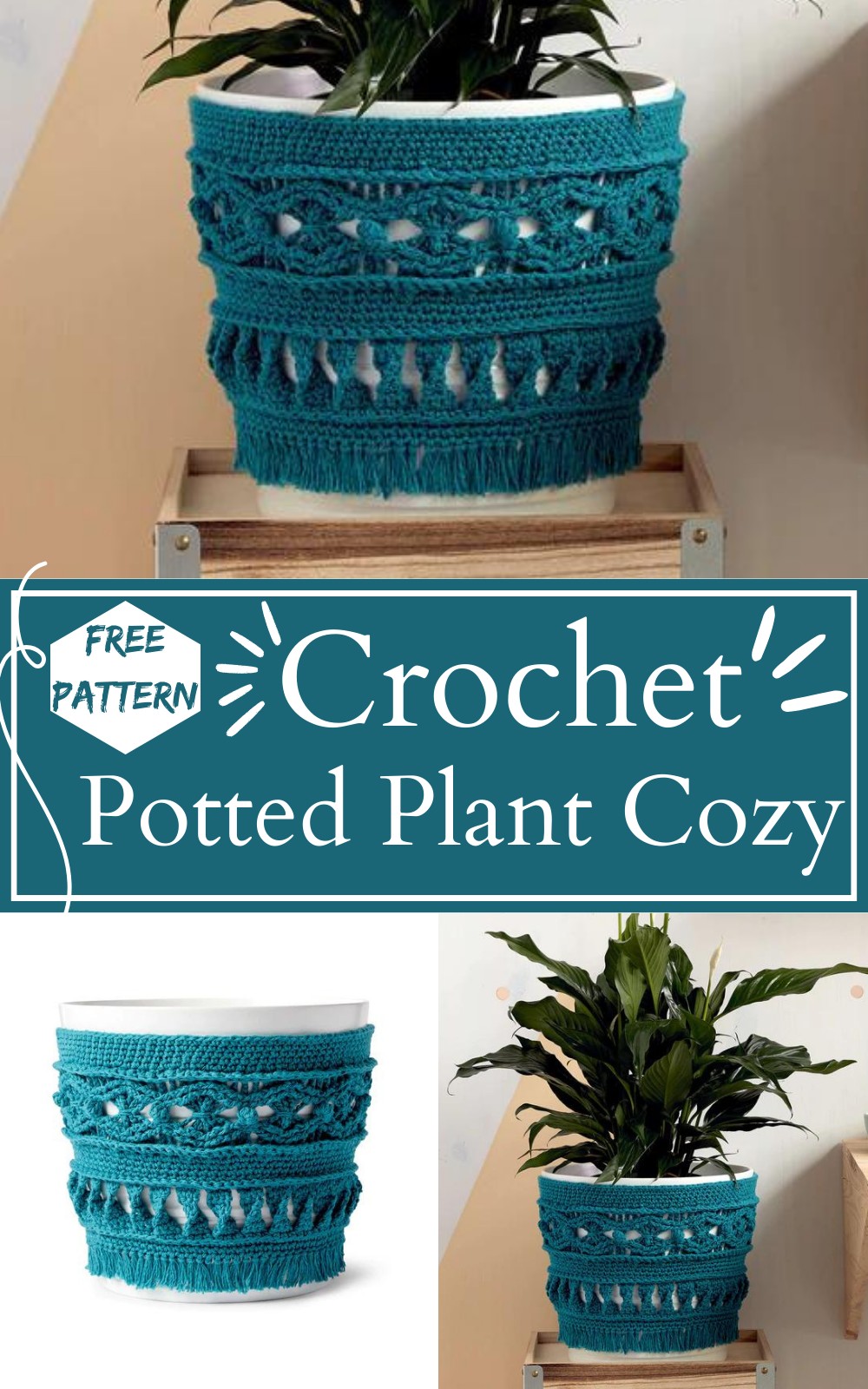 Featuring picot and bobble stitches, this light and airy crochet potted plant adds an elegant touch to any home. It is cozy for your plant and will keep it warm and protected for those cold winter nights. This beautiful crochet potted plant is easy to make, so don't let this project intimidate you! You can easily customize the pattern by using different colors, making a larger pot cover, or even adding different flowers or greenery to the pot cover.
Crochet Peppermint Twist Plant Pot Cozy​
Add a sweet touch to your home decor with this adorable peppermint twist plant pot cozy. The plush, striped stuff is filled with fluffy stuffing to provide a soft and comfortable resting place for your plants. This design works in the round, so you don't have to worry about finishing your project's top and bottom edges.
Crochet Tiny Terra Cotta Pot: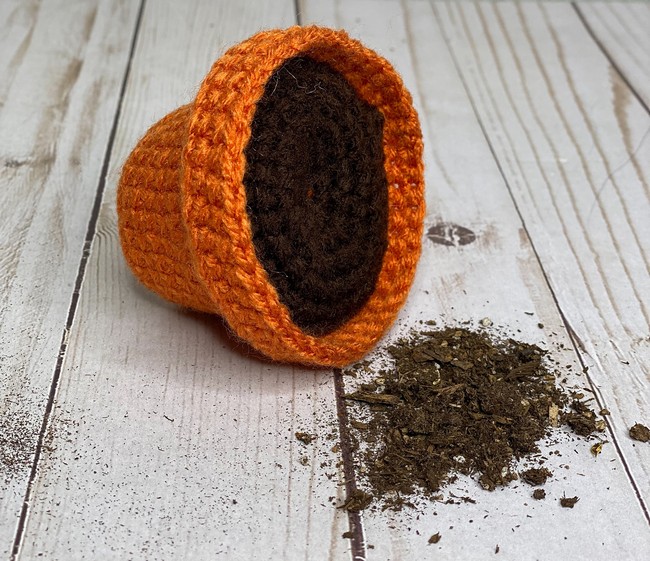 Tiny Terra Cotta Pot is a colorful clay pot of a tiny size. This is an excellent crochet pattern for anyone who wants to make something unique but has no time for prolonged projects. A fun and easy project for beginners! You will love to add these yellow and green plants to your indoor or outdoor arrangements. This tiny crochet pot is the perfect way to customize a small space where you want to create an illusion of abundance.
Materials
-Worsted weight yarn (size 4), I used Red Heart Super Saver in "Carrot" for the pot and Red Heart Super Saver in "Coffee" for the dirt. You can use whatever colors you prefer; these are just the colors I had on hand!

-Polyester Fiber Fill
-3.75mm crochet hook
-Yarn needle
-Scissors
-Stitch markers
Abbreviations
Mr- magic ring

St- stitch
Sc- single crochet
Inc- increase (sc twice in one stitch)
BLO- back loops only (sc only in the back loop of each st)
FLO- front loops only (sc only in the front loop of each st)
FO- finish off
Striped Moss Plant Pot Cover: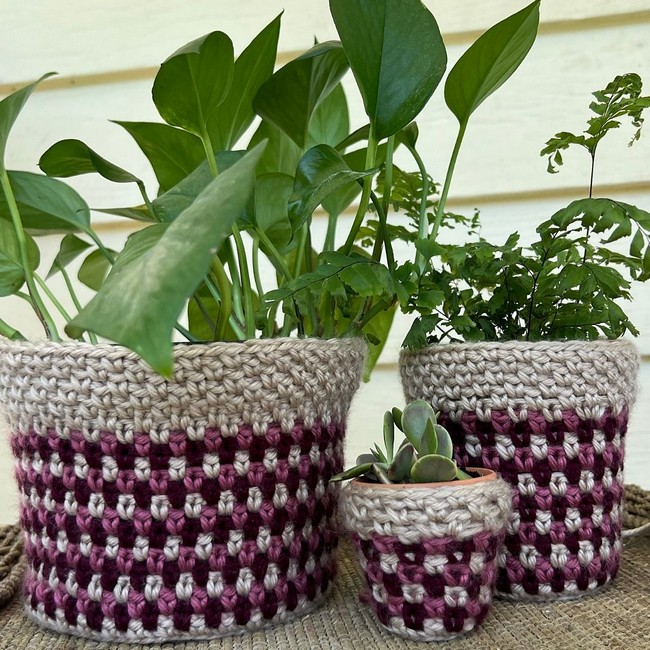 This Crochet Plant Pot Pattern is perfect for spring, summer, and fall. A quick and easy pattern to crochet and would make a lovely gift or home decoration. You can quickly and easily customize this pattern by changing the colors and textural elements to suit your style! So, Create a cheerful, soft, beautiful crochet plant pot cover from moss. It'll keep your plants warm and protect them from the cold and rain.
Materials
Yarn: Furls Wander 100% Acrylic, Worsted weight yarn (100g (3.5oz), 120 yds (109m)/skein)- or any other worsted weight yarn in 3 colors
Color A - Sandbar - 10, 35, 70 yards (S, M, L)
Color B - Velvet - 2, 5, 10 yards
Color C - Dragonfruit - 2, 5, 10 yards
Hook H/6 - 5.00 mm
Yarn needle
Scissors
Abbreviations
ch – Chain
sc - Single Crochet
sk - Skip
sl st - Slip Stitch
Cozy Alpine Plant Pot Cover: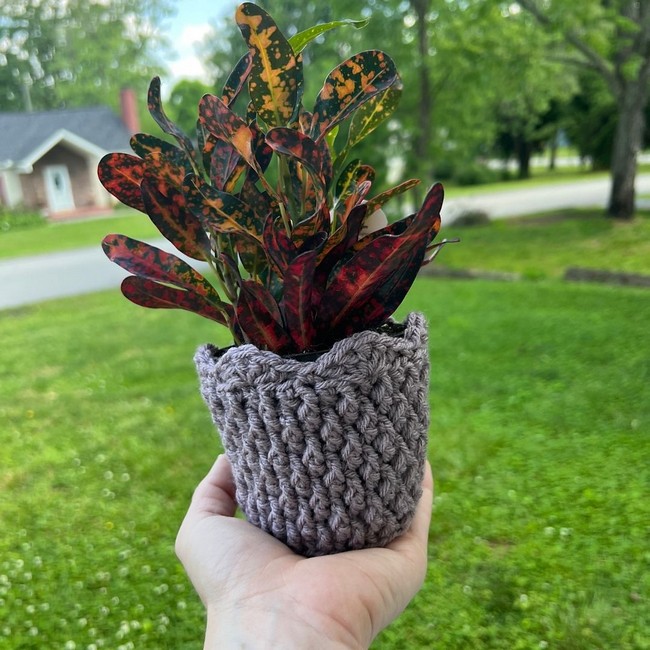 This cozy Alpine plant pot cover will keep your plants friendly and safe from the cold. You can use purple or white yarn to make the little spots or choose a single color for a less busy look. It's a simple pattern that would do an excellent project for beginners looking to expand their crochet skills. This quick and easy pattern is appropriate for all skill levels. These make great gifts!
Materials
Yarn: Brava Worsted Mini skein from We Crochet
50 yards of worsted weight yarn
Hook H/6 - 5.00 mm
Yarn needle
Scissors
4" Plant Pot - Mine was the ones that house plants are sold in at Walmart.
Abbreviations
BLO - Back Loop Only
ch – Chain
Dc - Double Crochet
Fpdc - Front Post Double Crochet
mc - Magic Circle
sc - Single Crochet
sl st - Slip Stitch
sk - Skip
Lobelia Plant Holder Basket: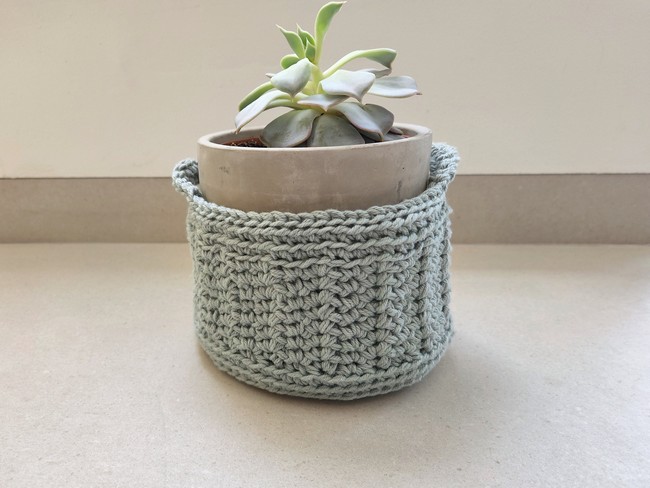 The Lobelia Plant Holder Basket is a great way to add color to indoor or outdoor spaces. This pattern includes written instructions for making the base; You can crochet this basket using any yarn that you prefer – try using variegated yarn! It's great to take advantage of your leftover yarn scraps and colors. This plant pot will help you add color and beauty to any outdoor space.
Materials
– 5 mm / H & 6 mm / J crochet hooks (I use Tulip Etimo Hooks)
– Worsted (#4) weight cotton yarn (I used Knit Picks – Dishie in Inlet)

Total amount of yarn needed: 130gr/225m/247yds
* The pattern is worked with 2 strands held together.
Abbreviations
blo – through back loop only
ch – chain
inc – increase: 2 single crochet in same stitch
sc – single crochet
ss – slip stitch
st – stitch
sp – space
V-sc – [1sc, ch1, 1sc] in same stitch
Boho Crochet Plant Pot: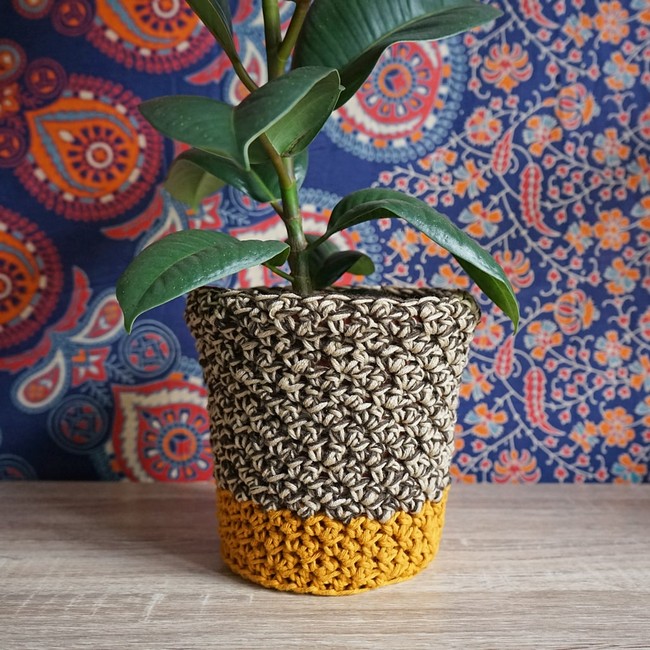 Do you love crochet plant pots? This is a simple pattern that can be made with a variety of different crochet stitches to make your unique pot. Add a little color and texture, and you will have a magic boho plant pot! You can make a beautiful embellishment for your home or give it as a gift to a friend! This Boho Crochet Plant Pot is the perfect addition to any room in your house, kitchen, entryway, and more.
Materials
Category 4 Yarn (Aran or Worsted) or two strands of category three yarn (Sport Yarn or DK) held together
I've used some scrap yarn, leftover from other projects
Hook 10 mm
Yarn needle
Scissors
Tape Measure
Abbreviations
Ch= Chain
Sl St= Slip Stitch
Sl Kn= Slip Knot
Sk= Skip
Ch-sp= Chain Space
Sc= Single Crochet
Scblo = Single Crochet Back Loop Only
Dc= Double Crochet
The beginning ch doesn't count as a stitch.
Cozy with Christmas flowers: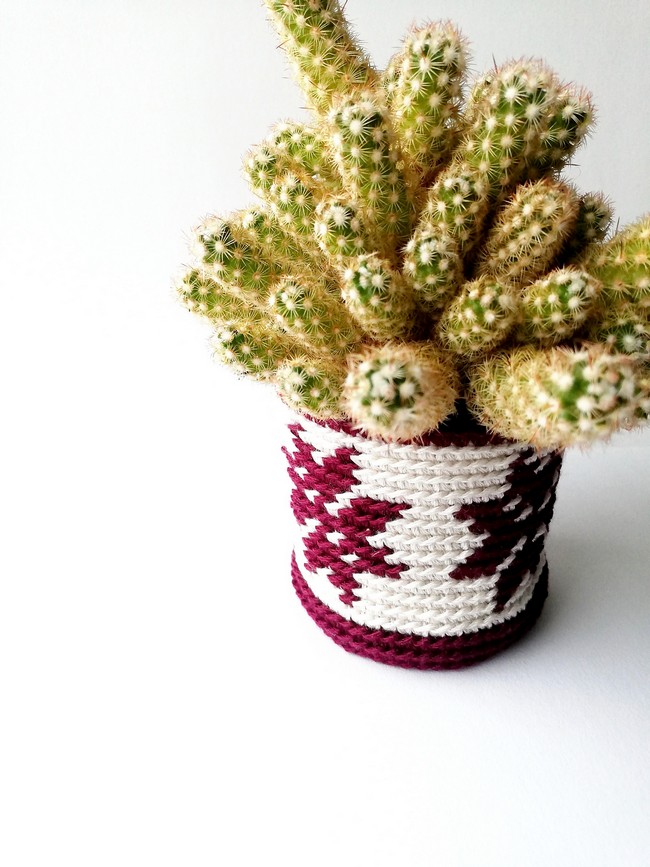 Christmas is coming, and you need to decorate your home and garden. So why not make Crochet Plant Pot Patterns? This will also be an excellent gift for Christmas. This pattern is easy to follow and will give you lots of satisfaction when finished. It would look gorgeous in any part of your house or garden. So, Make your home cozy this winter with these crochet plant pot patterns. Adorable, stylish, and easy to make, they bring the outside in. They also make great gifts for friends and family during the holiday season.
Materials
Yarn: any thin yarn will work (mercerized cotton works great in tapestry crochet projects). I used Tencel 100% lyocell, 50 g = 141 m, colors: red (318291) and white (318290).
Hook: as suggested on your yarn label. I used hook size 2.0 mm.
Abbreviations
ch: chain
sl st: slip stitch
sc: single crochet
msc: modified single crochet
prev: previous
st: stitch
Mini plant pot cozy Molly: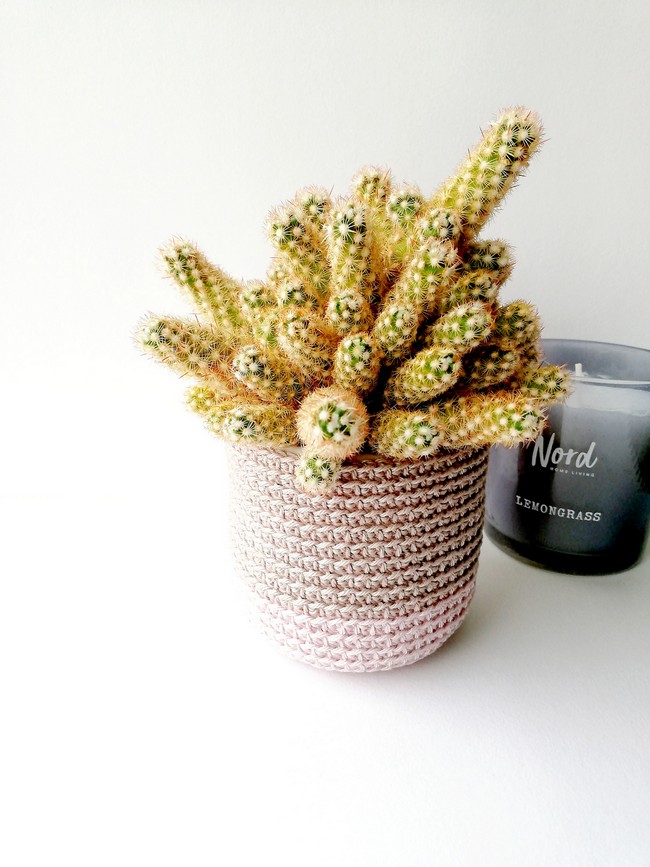 Crochet a mini pot cozy to protect your plants from the elements and make your outdoor space more appealing. This pattern makes the perfect gift for your favorite green thumb! This crochet plant pot cozy is a quick, easy, and fun project. You can create a welcoming planter pot cozy in under an hour with the suitable yarn, hook, and basic stitches!
Materials
Yarn: any thicker yarn will work. I used DIAMOND 8/4 mercerized cotton 100% 50 g. Colors: 3803 (light lilac), 4950 (linen).
Hook: as suggested on your yarn label. I used hook size 2.0.
Abbreviations
st: stitch
sl st: slip stitch
ch: chain
sc: single crochet
sc-blo: single crochet back loop only
sc-blo inc: single crochet back loop only increase
esc-blo: extended single crochet back loop only
prev: previous
rep **: repeat from * to *
Potted Plant Cat Toy:
This crochet potted plant cat toy is the perfect project to make for any cat. The pot is made using a simple stitch that makes it easy to work up in big or small quantities. If you've never worked with plant pots before, don't worry! These patterns are so fun; they will create interest and care for even the most indifferent of green thumbs! This cute plant pot would look great as a gift or on your countertop.
Materials
Hook size: 2.5mm / C / 2

Yarn size: Sport weight (12 wpi) and worsted weight (9 wpi)
Pot = Orange from Beach pack, Lion Brand, Bonbons (sport)
Soil = Dark Brown from Nature pack, Lion Brand, Bonbons (sport)
Leaves = Grass, Lion Brand, 24/7 Cotton (worsted)
Abbreviations
MC = magic circle / magic ring

st = stitch
slst = slip stitch
sc = single crochet
BLO = back loop only
BUBBLY Plant Pot:
This crochet plant pot pattern is excellent for beginners and works quickly! Make a set as gifts for Mother's Day or other Birthdays, or take them to your local farmers' market! Great for beginners who want to learn how to crochet. Easy to follow pattern with very detailed instructions and photos along the way! The finished plant pot will look like the one pictured, but you can customize it by changing color choices or using different yarn altogether.
Materials
Yarn: 1 roll of natural twine yarn (however, this can change if you want to make a bigger or smaller size )
I bought mine from my local crafts store. However, I Linked a few options that are very similar to the one I used KINGLAKE 300 Feet Natural Jute Twine, Katzco Heavy Duty All Natural Jute Twine, TIAMALL 300 Feet Natural Jute Twine, Natural Jute Twine 2 Pack 
One skein of Alize cotton gold (Code 67) candlelight. Or any sport weight (2) cotton acrylic blend yarn of your choice.
Hook: 3.5 mm, Stitch markers, Scissors, Measuring tape. Here is a set with one of my favorite hooks sets along with stitch markers and needles
Abbreviations
ch – chain
sc – single crochet
ss -slip stitch
Inc – 2 stitches in the same stitch
bo- Bobble stitch: Yarn over, insert hook into the next stitch and pull up a loop. Yarn over and pull through two loops. As if you are doing the first part of double crochet (DC) (2 loops on the hook), Repeat it until you have 5 HDC on your hook and one initial loop (a total of six loops on the hook). Yarn over and pull through all six loops. (1 loop on the hook – pull pretty tight, so your bobble pops up). And sc in the next stitch.
Amigurumi Flower Pot: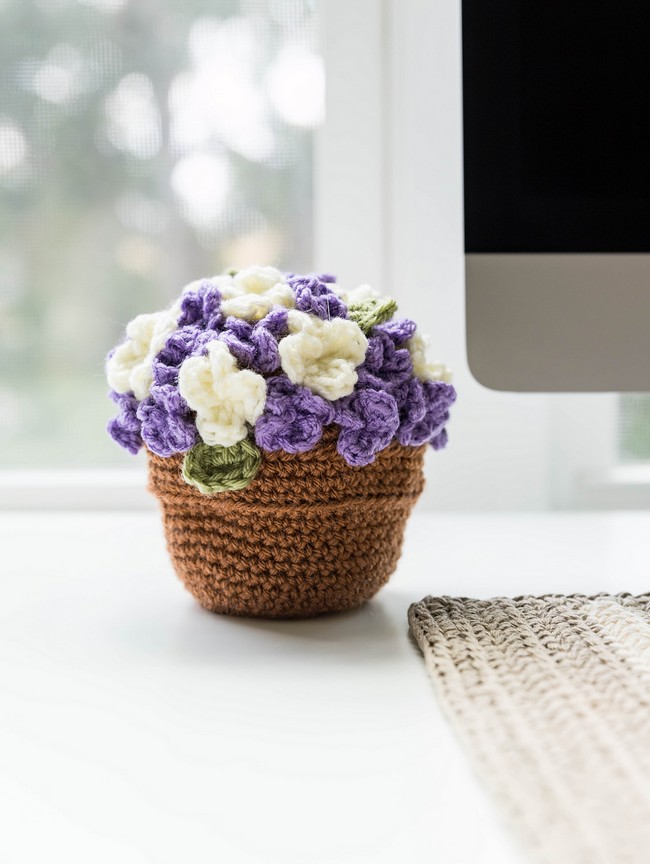 A flower pot that is adorable and so easy to make! The flower pot has different sizes, and the beginner-level crochet pattern makes it simple, fun, and exciting. Everyone loves plants and flowers. These flower pots are an excellent way to decorate your home or give as gifts…they make excellent teacher gifts, wedding centerpieces, or Christmas presents. Go through this guide and crochet your own; you will love this crochet plant pot at the end!
Materials
–1 skein Lion Brand Vanna's Choce in Toffee (Weight: 4/Medium, 3.5 oz, 170 yds)
–1 mini skein each of DIYarn in Purple, Cream, & Grass (Weight: 4/Medium, 1.05 oz, 65 yds)
–Size G 4 mm crochet hook
–Tapestry needle
–Polyfil stuffing
Abbreviations
ch – chain
sl st – slip stitch
sc – single crochet
hdc – half double crochet
dc – double crochet
rpt – repeat
Tassel Plant Pot Rim Cover: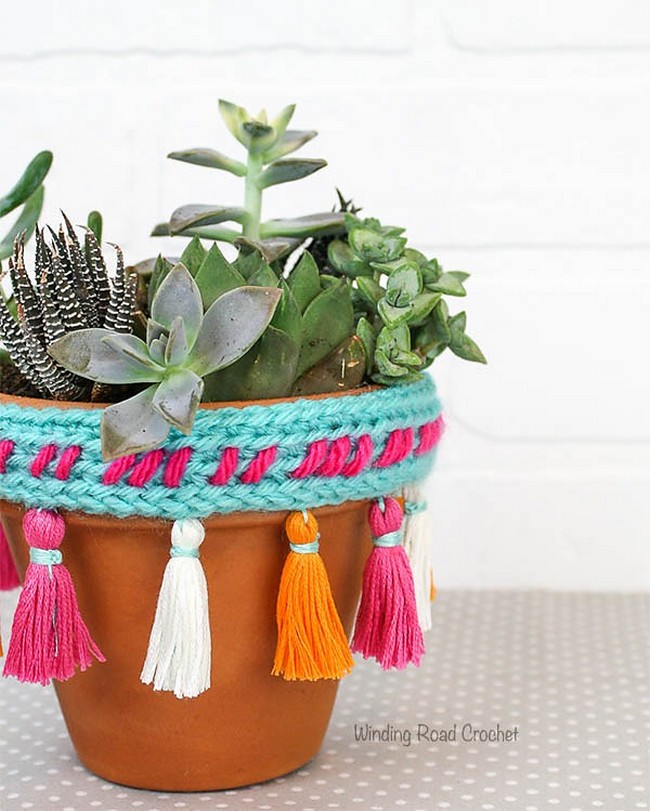 Tassel Plant Pot Rim Cover is a beautiful cover that adds a floral touch and makes your house colorful. The cover will help your plant absorb more water and air and grow faster. It is straightforward to make and takes less time. This tassel plant pot rim cover is super easy to crochet and makes a great gift! It's also a great way to make your unique planters.
Materials
Skein of Embroidery floss (Each Skein makes 4 tassels)
Skein of Contrasting Embroidery Floss
Scissors
Needle
Abbreviations
Sc – Single Crochet
Slst – Slip Stitch
Ch – Chain
Blo – Back loops only
R – Row or Round
Plant Pot Covers: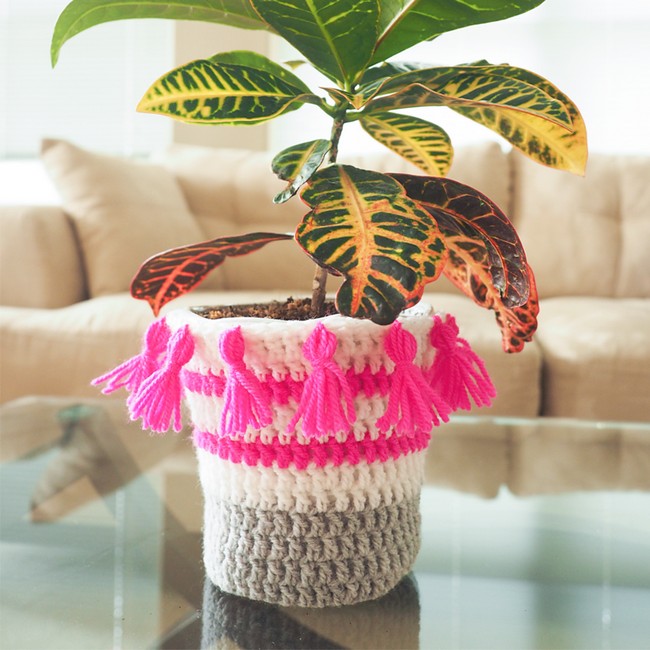 These cute crocheted plant pot covers are the perfect way to dress up your favorite plants. The entire item can be made in one evening and is big enough to fit most watering cans and flower pots. These crochet plant pot covers are an excellent gift for any plant lover or gardener! This plant pot cover is perfect for your patio, deck, or balcony. You can make it using acrylic yarn in a cool shade of green that will complement your decor.
Materials
Hook(s) size: 5.5mm
Yarn weight: Worsted (we suggest Plymouth Encore Worsted)
Preferred type of yarn: Acrylic/wool blend

Yarn Yardage: Color A – 30 yds, Color B – 40 yds, Color C – 40 yds

Tools – scissors, tapestry needle

Approx. finished dimensions: Diameter at the top – 8.5" Diameter at the bottom – 5" Height – 6"
Abbreviations
Ch – chain, sl/st – slip stitch, st(s) – stitch(es), dc – double crochet, sc – single crochet
Twine Plant Pot Cozy: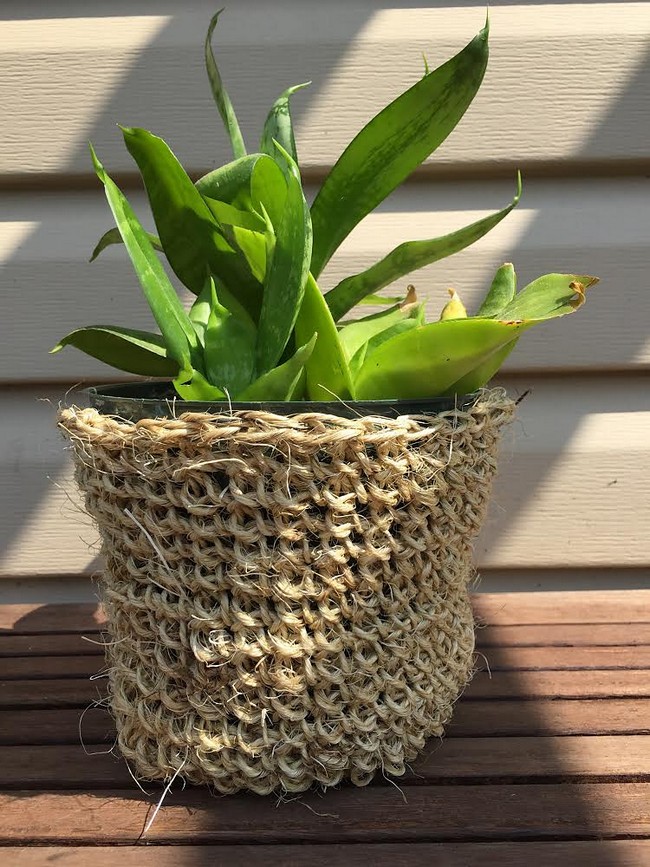 This twine plant pot cozy pattern is perfect for the patio, deck, or garden. Crochet a set of these cozy's to keep your plant on display while protecting them from the elements they grow! This Cozy is easy to crochet and keeps your plants warm and cozy. You could make it to fit a wide variety of plant pots. The cozy can be made in any colorway and size to fit your plant pot needs!
Materials
Finished Sizes Designed to fit standard green plastic grower pots:
4 inch pot: 4.5 inch diameter at top, 4 inches tall
6 inch pot: 6.5 inch diameter at top, 5 inches tall
8 inch pot: 9 inch diameter at top, 6 inches tall
Yarn: Household twine, medium duty. Approximately 40 yards for a 4-inch pot, 58 yards for a 6-inch pot, and 100 yards for an 8-inch pot.
Hook: 7.00 mm or 8.00 mm hook.
Notions: Yarn Needle
Abbreviations
Blo – Back Loop Only
Ch – Chain
Rpt – Repeat
Sc – Single Crochet
Sk – Skip
Sl st – Slip stitch
Yo – Yarn over
Crochet Plant Pot Covers: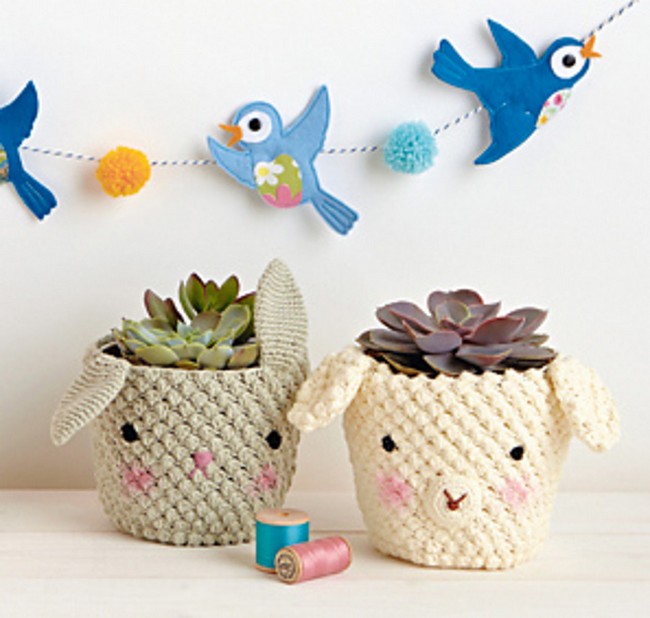 These are quick and easy crochet pot covers. They make an excellent gift for anyone - even yourself! Crochet beginner-friendly, these pot covers have double check boxes to help you through the process and easy step-by-step instructions. So, Make these fantastic, cute, and creative plant pot covers for your plants. Below are patterns to choose from, with many design options to suit your taste! It will make an excellent addition to any green-thumbed gardener's collection.
Materials
DMC Natura Just Cotton, (100% cotton, 50g/155m), or alternative 4 ply cotton yarn, one ball each in
Nacar (N35)
Ambar (N04)
Black, brown and pink embroidery thread
Small piece of scrap fabric and red coloured pencil
3mm (UK 10, US D/3) crochet hook
Stitch marker
Tapestry needle
Embroidery needle
Scissors/snips
Abbreviations
dc2tog double crochet 2 together – (insert hook in next st, yrh and draw loop through) twice, yrh and draw through all 3 loops on hook.
Clover In Pot:
Get your green thumb ready! These crochet plant pot patterns are the perfect way to add color to your decor or garden. Whether you're making them for yourself or as gifts, these projects will surely delight any gardener or plant lover you know. You can crochet it in any color, making it ideal for personalizing your space. This pattern uses different types of stitches and is suitable for any level of proficiency.
Materials
Yarn: DK/Light

Hook size: 3mm (hook size conversion chart)
Stitches used: sc, ss for pot, dirt and stem; tr, hdc for clover
Finished size: around 3in high(8cm)
Colors: Different colors for the pot, dark brown for the dirt, green for the clover.
Abbreviations
ss - slip stitch
sc - single crochet
mc - magic circle
hdc - half double crochet
dc - double crochet
tr - treble/tripple