Trailer dollies are a great way to move a trailer or a camper from one place to another without relying on tow trucks. If you wanna make it by yourself, follow this amazing DIY Trailer Dolly Projects series to assist you.
DIY Trailer Dolly - Homemade Trailer Dolly Plans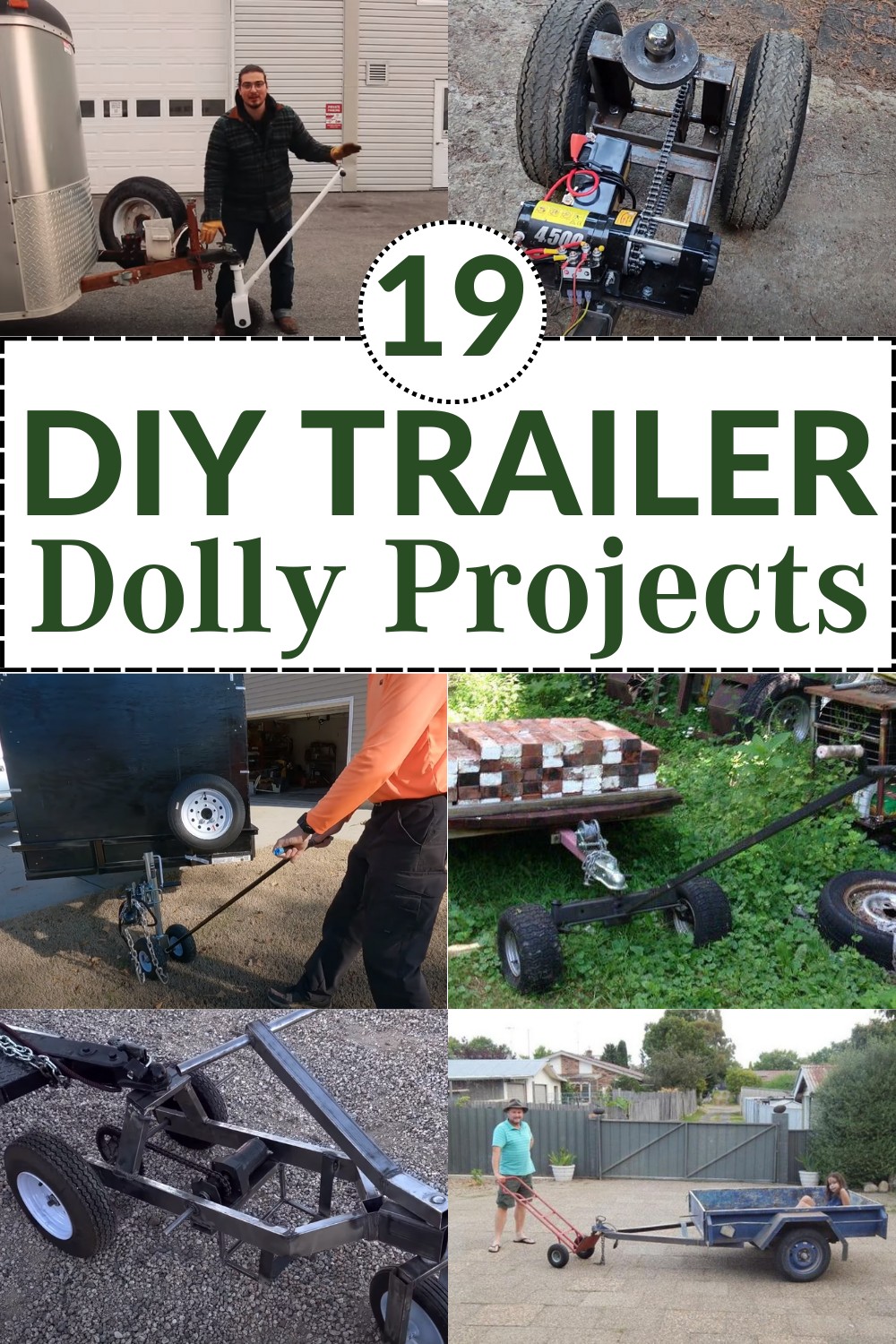 Do-It-Yourself (DIY) Trailer Dolly projects are excellent opportunities for individuals interested in creating a cost-effective, customized solution for moving trailers. These projects involve assembling a portable vehicle that helps tow or haul trailers and other heavy items easily and precisely.
You can use different materials to go with the number of creative ideas we presented below and have a decent, multi-functional, extremely cheap trailer doily made by yourself. So why wait? Pick one idea from the list, and head on to DIY a masterpiece with less effort and expense.
See More: Homemade DIY Car Air Freshener Projects
DIY Electric Trailer Dolly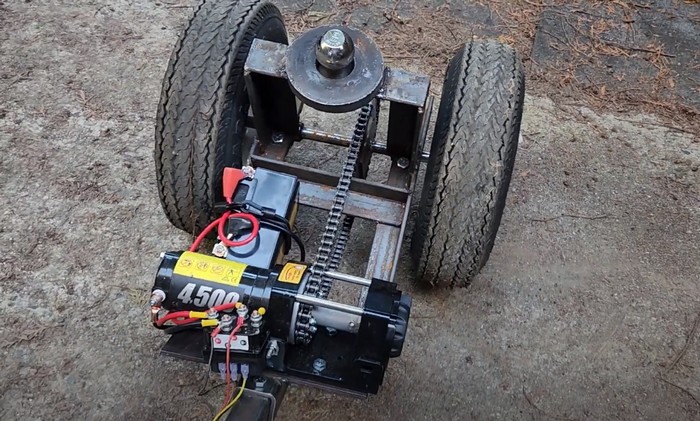 The DIY Electric Trailer Dolly is an excellent, economical solution for all your moving needs. Cheaper materials make it perfect for effortlessly shifting heavy items such as boats. This dolly can be a powerful tool for any household task, simplifying moving things around your home or garage.
Turn Your Trailer Jack Into An Offroad And Trailer Dolly Combo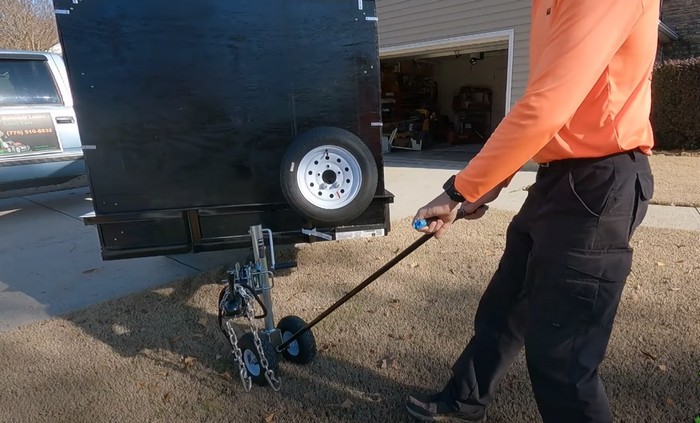 Transform your trailer jack into a versatile Offroad and Trailer Dolly Combo and take your towing capabilities to the next level! Upgrading your jack with this dual-purpose addition allows you to navigate various terrains and improve your maneuverability confidently. This innovative solution saves space and time while ensuring a hassle-free experience for boats, RVs, or other large equipment tasks.
Electric Trailer Dolly For Boats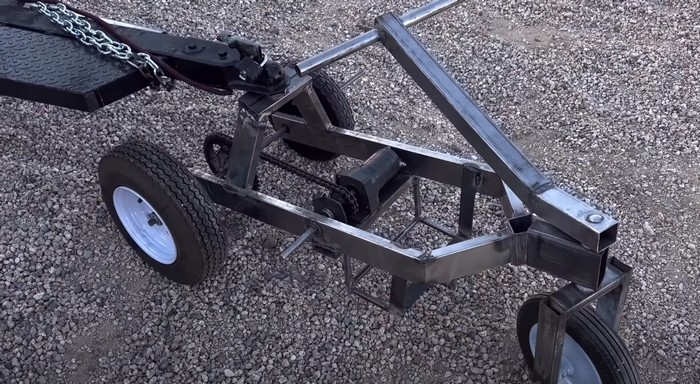 The Electric Trailer Dolly for Boats will be a useful piece of equipment to enhance your boating experience. Specially made to haul pontoon boats and other loads seamlessly, this dolly excels in useability and power. Fitted with strong electric motors, it simplifies the struggle of towing and helps you deal with tight spaces or tricky terrains.
DIY Motorized Trailer Dolly
Quickly and easily transform your trailer into a motorized dolly with this DIY Motorized Trailer Dolly. The pneumatic tire design allows smooth movement across uneven terrain, while the lightweight aluminum construction will last through years of use.
It is easy to assemble and features a swivel caster and an adjustable front wheel to push your trailer in any direction. The DIY Motorized Trailer Dolly is the best way to move your trailer effortlessly, and you'll be able to do it in half the time! This kit includes everything you need to get started - all you have to supply is the tools. You can expect hours of fun and years of worry-free use from this easy DIY project.
How To Make A Trailer Dolly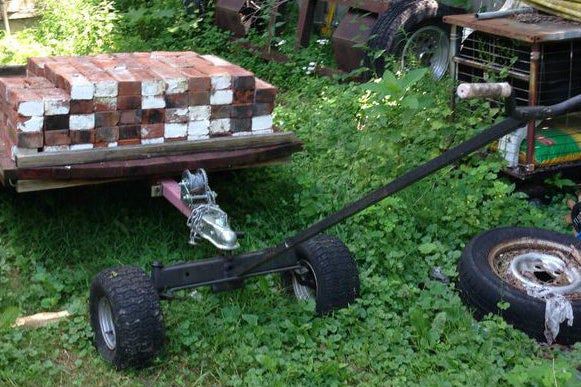 If you want to move a trailer by yourself, this is the tool for you! The step-by-step tutorial includes everything you need for this big Dolly. It's made from old garden tractor parts and uses only a few supplies. Create a trailer dolly that is perfect for maneuvering your trailer.
You will need a front axle from a garden tractor, a handlebar, chain, and bolts, among other supplies. There are only five easy-going steps to follow, and you will be on your way to an excellent trailer maneuvering dolly. This Dolly is big and perfect for people looking for a big trailer dolly.
Making A Simple Trailer Dolly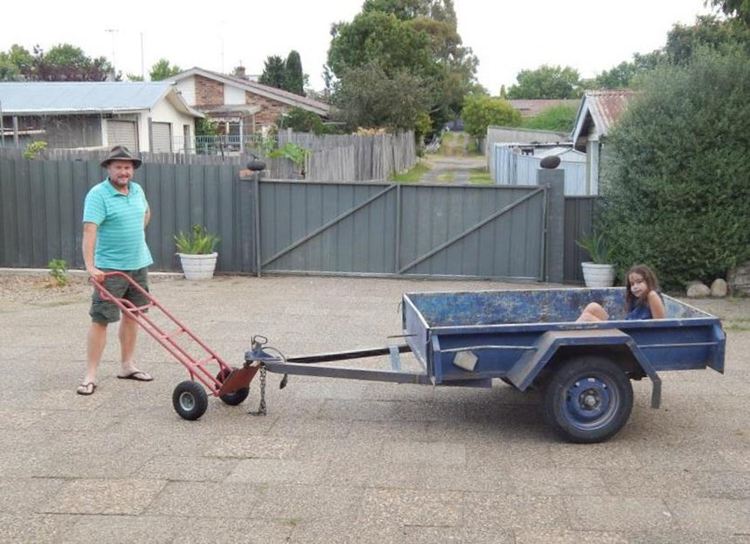 A trailer dolly is a simple addition to any tow vehicle that allows you to move a towed item in and out of storage or around your property. This design uses axles from one or more push lawnmowers as the main parts, with the wheels removed and replaced by a chain and sprockets. The chain holds up the item without interfering with its weight, allowing easy movement around its center of gravity. Building a trailer dolly is a simple project in your shed, garage, or basement. A trailer dolly helps to keep your vehicle on an even keel and prevents it from falling off its wheels.
How To Build A Tow Dolly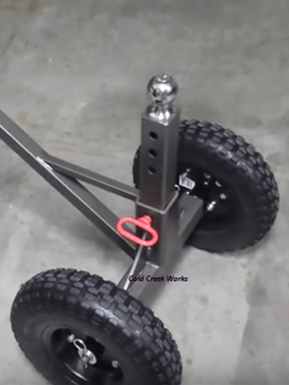 This Do-It-Yourself project is a great solution for those who want to move their own vehicles around the driveway or for routine maintenance. Your Tow Dolly makes it easy to get your vehicle close to the work area with little effort and without damaging its finish. You'll easily position it at any height needed and pivot it as desired without having to struggle with heavy equipment. Build a tow dolly that can be used to tow your vehicle from a garage to the highway. This is a very easy homemade project which can easily be completed in less than two hours.
DIY Power Trailer Dolly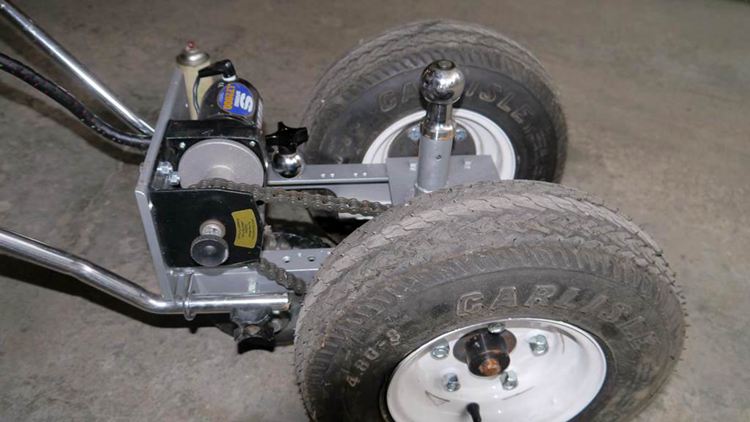 This DIY Power Trailer Dolly will allow you to transport your trailer wherever you choose, even if it is not a designated parking lot. The trailer dolly has hydraulic jacks that can raise and lower your trailer's wheels. It also includes a separate control unit that raises and lowers the entire Dolly by remote control.
An electric motor/gearbox combination powers each unit to operate on any terrain, including gravel and sand. It's easy to transport and will extend the life of your investment while saving you money on fuel costs. It also makes finding the perfect spot for hauling your toys around easier!
Trailer Dolly From Scrap
Building a trailer dolly can be challenging and time-consuming, but with this simple DIY guide, you will have the perfect creation in no time. The focus is on building a sturdy dolly that has good traction and rolls easily while also being simple to build yourself. Use a welding kit and some scrap material to learn how to make it from scratch.
This DIY Trailer, Dolly from Scrap, is designed for people who need a more robust but also meaningful project to work on. It is easy to follow and will take less than half a day to build. The bigger tires require tougher materials, so the Dolly can carry heavy loads smoothly and safely.
DIY Trailer Dolly
Add more versatility to your trailer with the DIY Trailer Dolly. Easily installed onto your existing trailer, this kit allows you to convert it into a flatbed trailer in less than 10 minutes. And with three different lowering positions, you can use it for flatbed or low-load hauling.
The Dolly's sturdy construction means you can haul loads, even watercraft and ATVs. This DIY trailer dolly will allow you to move your trailer around easily and quickly. Great for taking full advantage of the available space in your driveway.
How To Make A Trailer Dolly Under $250
Do you need to tow your trailer across a long distance? If so, you'll need something to create a smooth ride for the vehicle and save your energy and time. You should be aware of the uphill and downhill slopes when building them. The trailer dolly is a light-duty trailer that can easily be towed by any vehicle. The project will cost only $248, is affordable for most people, and can be handled by DIY enthusiasts. Trailer dollies are a must-have for any vehicle owner and help transport your car from one place to another. It can be very expensive to buy one, but if you are on a budget or do not need to move your trailer around often, making your own trailer dolly is the best option.
How To Make A Trailer Dolly From A Handtruck
This video shows how to make a trailer dolly from the front end of a hand truck. A trailer dolly is much lighter than a 2-wheel barrel, and this method yields an even more stable dolly than the other end. Converting it into a trailer dolly is easy if you have a hand truck.
A trailer dolly can tow a trailer that is too heavy for the vehicle or tow multiple trailers simultaneously. You can also buy this ready-made if you don't want to spend the time putting one together yourself. It's pretty simple, so even if you don't have any carpentry skills, we're sure this would be a project you can handle.
How To Build A Trailer Dolley Using Scrap Materials
If you are taking a trip and want to bring your vehicles, you need a good trailer dolly that can fit a lot of weight and travel smoothly. This video guide shows you how to make a trailer dolly using the things around your home. The materials are from scrap. Hence, there are no extra costs involved in making it. The only thing that may be expensive is probably tires for the dollies that hold up multiple vehicles. These cost about $130, which was worth it since they handled all the weight.
Powered Trailer Dolly
This is a simple DIY project that you can try out. It is easy and doesn't require much effort. This will be the perfect project to remove your trailer from the wheel and drag it around easily. All you need is to gather the material list: a bottle jack and battery, drive gears, chain and tires, winch, swivel casters, and so on.
The creator of this video guide will be building a powered trailer dolly easily. You may have seen similar products in your local store, but the great thing about DIY videos is that they allow you to try out your ideas and cut costs!
Towable Trailer Dolly
The perfect solution to moving your towable trailer, the DIY Towable Trailer Dolly makes it easy to move your boat or other equipment at the campground. A strong, solid design and pre-drilled holes allow you to easily and safely move your boat on land, through the pool, around obstacles, and for other transportation purposes. This DIY towable trailer dolly lets you easily tow a lightweight trailer behind your car, van, or SUV.
How To Make An Electric Hand Truck
Ever wanted to make your electric hand truck? This guide shows you how to build a complete electric hand truck. This project is fast and easy — in no time, you'll be moving loads around your shop or garage with ease. This hand truck can handle a load weighing up to 100 pounds, but if you need something that can handle heavier loads, increase the truck's weight by adding weights (bolted or welded) or welding a wider base plate to the frame. With a few basic tools and parts you probably have on hand, this project costs just $40 — less than most electric hand trucks cost new!
How To Make Electric Dolley
This electric trailer dolly is a great idea for those who want to easily move heavy things around their home or work site. This Dolly is made from recycled steel, turning your wheelbarrow into a portable vehicle enabling you to move different materials anywhere you need them.
It's simple: Attach your wheelbarrow or another cart to the Dolly and go wherever you need it. A DIY electric trailer dolly is a must for every home. It helps you move your motorcycle trailer around with ease, and it can save you time as well. This particular project is easy to build, affordable, and efficient.
Motorized Trailer Dolly
Are you looking for a motorized trailer dolly that can move your car and truck trailers? We have just launched the 2-in-1 Motorized Trailer Dolly that can do this. It includes a strong winch, a plate at the front, and wheels on all four corners that allow easy maneuverability. Here is an easy DIY guide to follow if you're an experienced engineer or simply good at building things mechanically. You can also apply spray paint, like the creator did, to give your Dolly some beauty and proper finishing.