Whether you're celebrating Halloween or hanging these cute little guys around your home all year round, there's no denying that they're adorable. They even make great toys for kids who are really into the holiday spirit. Crochet ghost patterns make great decorations because they're easy to customize—pick a pattern and add whatever face you want to give it personality! Whether you're looking for spooky cuteness for your baby or a treat for your home, you'll find plenty of options among these 20 templates. The patterns are free, so you don't have to worry about spending money when making your new look.
Easy Crochet Ghost Patterns

The free ghost crochet patterns all have different looks so you can find the perfect one. No matter what kind of shape or size you want your ghost to be, there's probably a pattern out there that will help you get what you want. Also, the ghosts can fit almost any occasion on Halloween night. You could go as scary-but-cute at a children's party, or go in a different direction entirely and wear something more elegant if you're attending a fancy masquerade ball or an adult party with dancing. If you want to be creative, why try making multiple ghosts and wearing them as a group? With 20 crochet ghost patterns available, there's plenty of inspiration for whatever spooky style you want to create.
Tips For Crocheting Ghost Patterns
There are many different ghost patterns available on the internet. The best way to learn how to crochet a ghost is by watching some YouTube videos and following them step by step.
There are a few things to keep in mind when crocheting a ghost, though:
You should use a thicker yarn for the body of your ghost. Thicker yarns will make getting your desired shape easier and make your project last longer. You can also use several strands of thinner yarn together if you need it thick enough.
You should use thinner yarns for your ghost's face, arms, and legs. This will help give your project more detail and make it look more realistic.
Ghost Dishcloth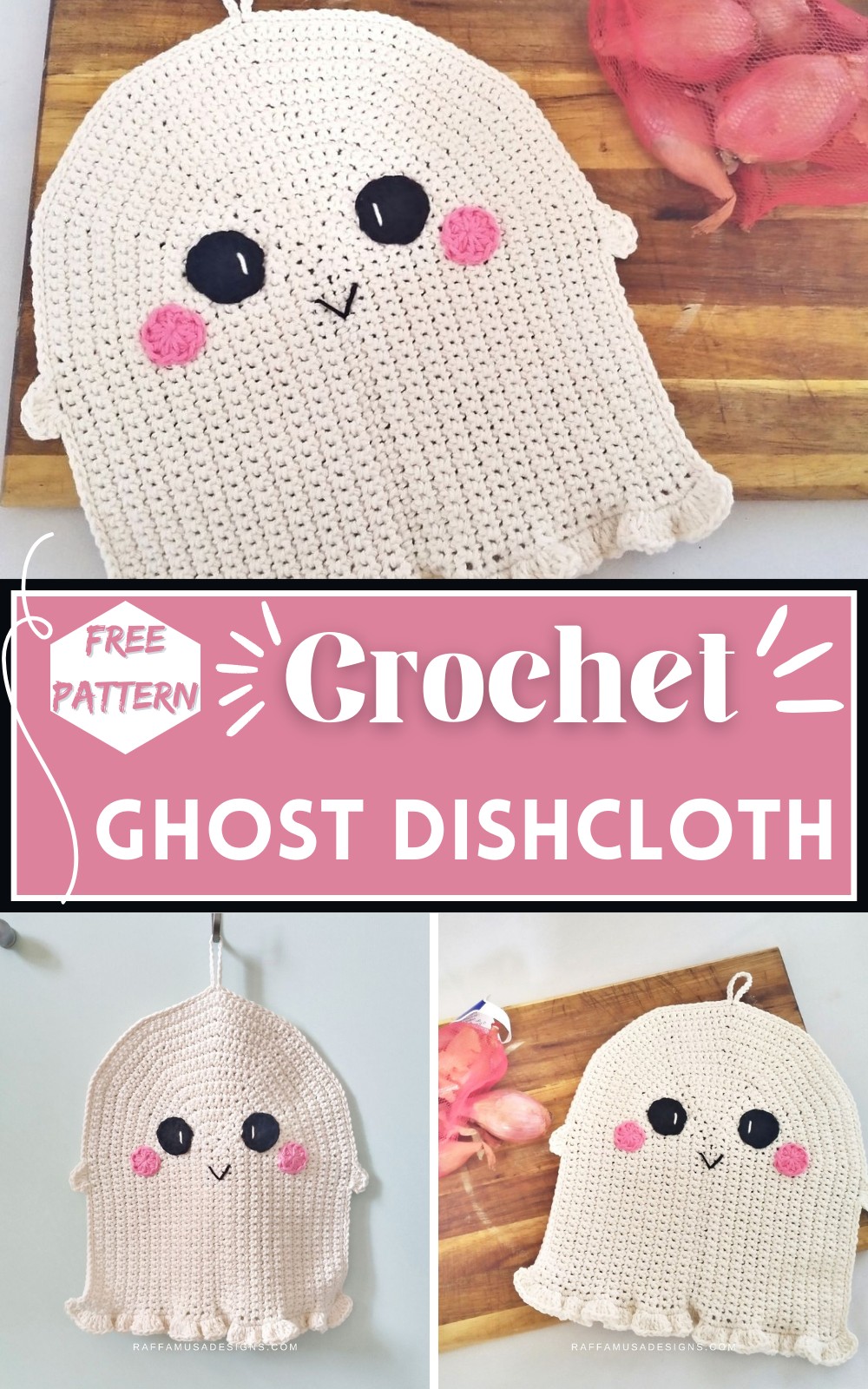 Hang this crochet Dishcloth in your kitchen to make your Halloween party extra scary and fun! The dishcloth features a cute ghost with fun expressions and rosy cheeks. It has a decorative edge and a hook for easy hanging. Besides its cute and appealing look, it is durable, and its yarn is absorbent, lasts for years, and is perfect for removing stains and wiping counters.
Glenda Ghost Bag
Whether for spook-filled celebrations or everyday use, this practical, fun bag injects ghostly charm into your life! The bag uses multiple granny squares, each featuring a fun ghost design connected together with orange yarn. Its sturdy straps are made to rest comfortably on your shoulders and handle weight effectively. It has ample room for all you need to carry. You can even add a zipper to its open top for extra security and ease of use.
Ghost Worry Worm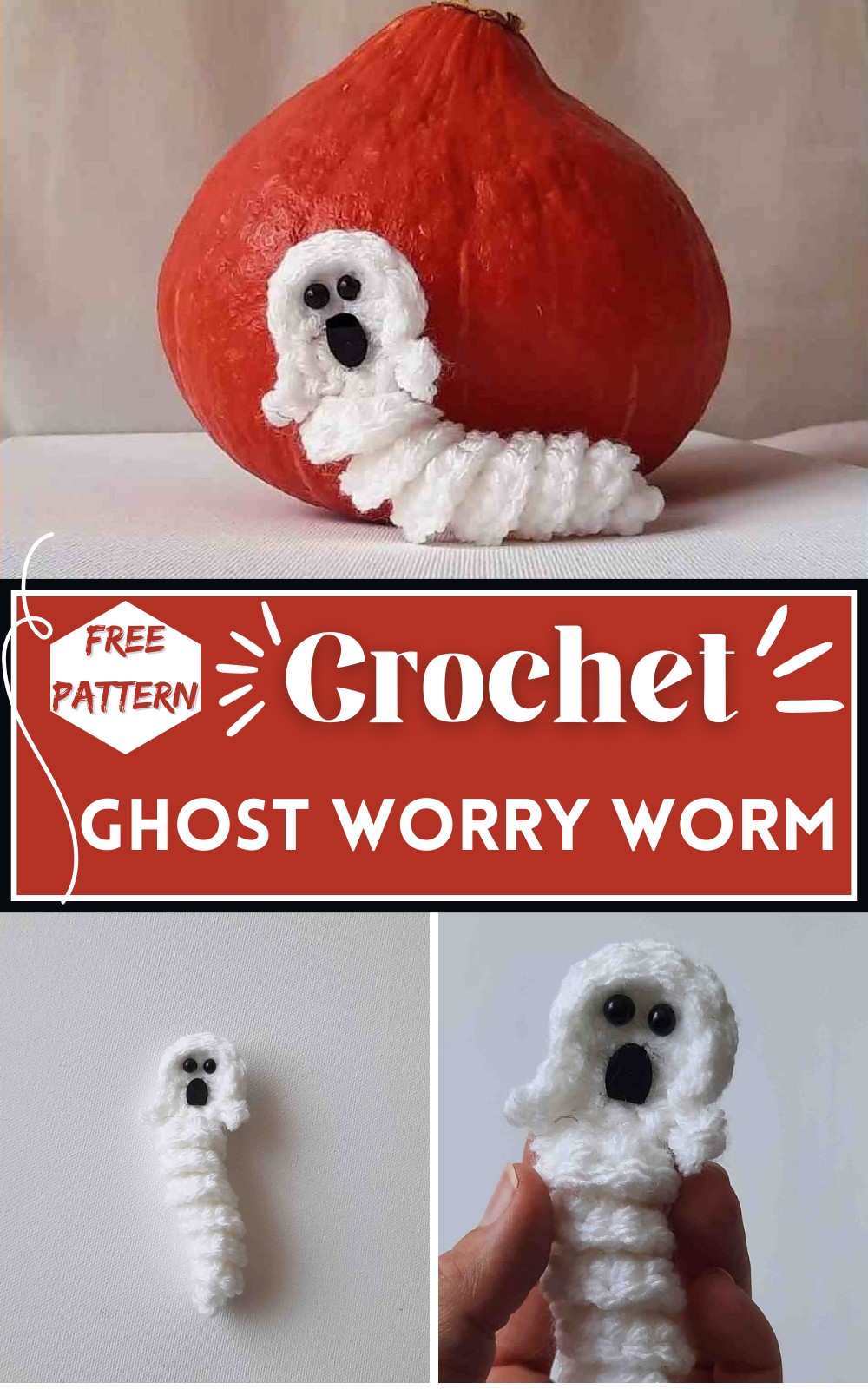 Say hello to Hug-a-Boo Worm! Hailey is a charming, non-scary friend designed to keep children engaged and stress-free this Halloween. Perfect as gifts, classroom calming tools, trick-or-treat handouts, or fun surprises hidden for others to find. It takes only 10 minutes to make, yet hugely adored by kids, this little Ghost Worry Worm is the ideal embellishment for your Halloween festivities!
Spooky Boo Ghost Garland
Enhance your Halloween decorations with a ghostly crochet garland, perfect for adding a touch of spooky charm to your home. Display it on shelves or walls to create an enchanting atmosphere with a hint of spectral allure. These crocheted ghosts come to life with button eyes and googly eyes. Create a garland using multiple appliques or transform them into necklaces, headbands, and gift toppers to spread the Halloween spirit!
Ghosts Of The Blue Lagoon Wall Hanging
Elevate your Halloween ambiance with this creepy crochet wall hanging, showcasing spooky ghosts among mushrooms and magical blue illusions. Uniquely adorned with vibrant stars and long fringes, it charms viewers. Moreover, It also makes a perfect gift for those with a penchant for the ghostly and supernatural.
Ghosty Tunisian Ghost
Crochet Ghosty Tunisian Ghost is an easy and fun stitch that can be mastered in just one evening. It makes a great gift for friends and family, or why not make one for yourself? It is a fun Halloween crocheted project. This little guy turns from ghost to pumpkin with the flip of his head! You can make this crochet ghost in any color, with any size hook and yarn combination you choose. This little guy is so fun to make and works up super fast. He will be the perfect decoration for any Halloween party or a good scare.
Materials
Size K 10.5 6.5 mm crochet hook –
Yarn needle
Scissors
Pair of safety eyes
1 solid black safety eye or black yarn for embroidery
Polyfil stuffing
Abbreviations
Ch: Chain
Tss: Tunisian simple stitch
RetP: Return Pass -Explained above
Tss2tog: Tunisian Simple Stitch 2 Together
Yo: Yarn over
Halloween Ghost Jellyfish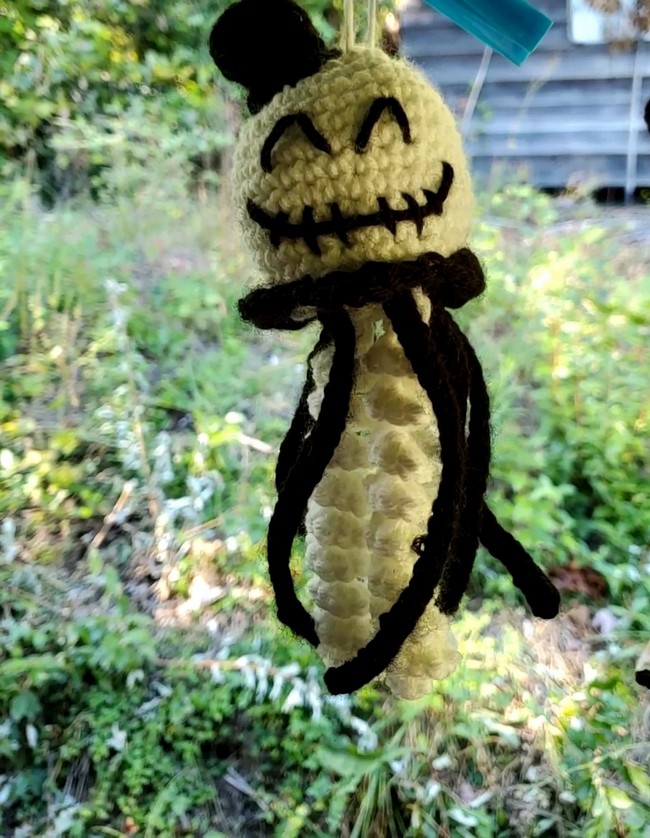 A crocheted ghost jellyfish to use as a decoration for Halloween. This ghost jellyfish makes a great gift for anyone who loves the ocean. This crochet Halloween ghost jellyfish is great for beginners and works up quickly! It's made from simple and more complex stitches, making it a fun project to challenge yourself with. A fun project for kids and adults alike, this pattern includes instructions for making an adult-sized jellyfish and a child's jellyfish. This is a unique style jellyfish, with a new twist on the typical ghost that might float through your dreams.
Materials
>Worsted weight (#4) acrylic yarn in Black and White (I used Red Heart Super Saver yarn)
>Boye 3.75 mm (F) Crochet Hook
>Polyester Fiberfill
>Stitch Marker
>Scissors
>Tapestry Needle
Ghost in the Mushrooms Wall Hanging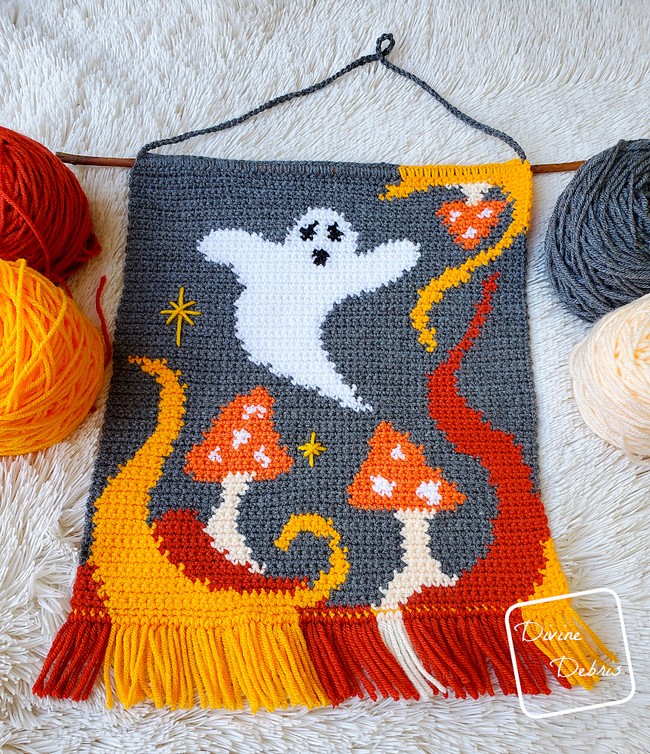 The crochet Ghost in the Mushrooms Wall Hanging is a great way to decorate your home or office. This Wall Hanging is unique and easy to make! This crochet ghost in the mushrooms wall hanging will add a fun and spooky touch to any room. Invite the ghosts and goblins of Halloween night into your home with this cute and cuddly crocheted ghost. Hang it on a wall above your fireplace, doorway, or mantel for an extra dose of Halloween spirit! This crochet ghost in the mushrooms wall hanging is the perfect addition to any room.
Materials
US G (4.00 mm) crochet hook
Worsted weight/ size #4 yarn
I used Brava Worsted from WeCrochet , but you can use literally any worsted-weight yarn you have on hand
7 colors
D: 2.2 oz/ 136 yds
Others: 1 oz/ 62 yds ea (or less)
Notions: scissors, measuring tape, yarn needle
Wooden dowel/ stick (more than 14″ across)
Abbreviations
Ch: Chain
St: Stitch
Sc: Single crochet
RS: Right side
Amigurumi Glowing Ghost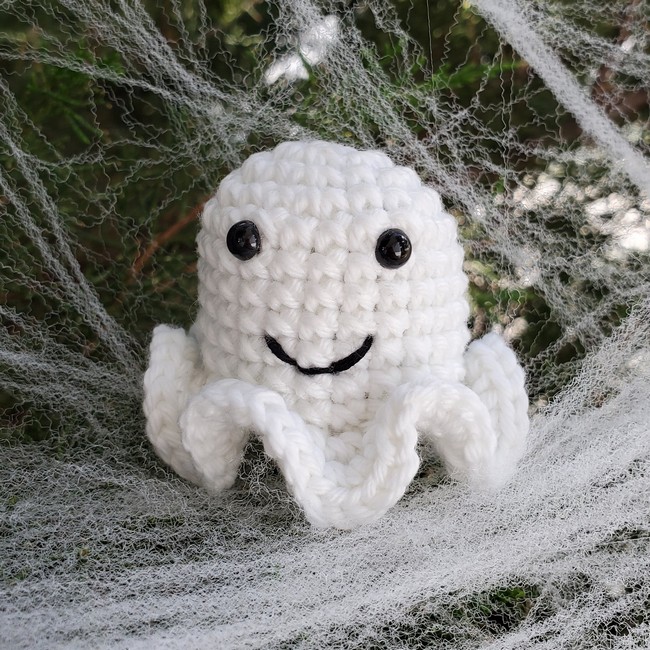 This crochet Halloween amigurumi Glowing Ghost amigurumi is a cute little tombstone ghost. It is easy to make and quick, making it a great last-minute gift idea for any occasion. The pattern includes step-by-step photos for each round and detailed instructions. This easy crochet pattern makes an adorable little character toy to charm everyone who sees him. The ghost is glowing, but don't be afraid! This little ghost will make your home more festive this holiday season. It doesn't move, but the red light under its fabric makes it look like it's floating around the holidays. No need to install an outlet in your Halloween tree this year when you can hang these cute crocheted ghosts from your branches.
Materials
1 skein Lion Brand DIY Glow yarn in "Natural."
Black embroidery thread
Crochet hook size F
Black safety eyes: 2 – 6mm
Yarn/Embroidery needle
Fiberfill
Scissors
Abbreviations
sts – stitches
sc – single crochet
inc – increase (2 stitches in next stitch)
dec – decrease (crochet next 2 stitches together)
Classic Ghost Buddy
What do ghosts love more than scaring people? You guessed it—being friends! Add a little spook to your Halloween decor with this Crochet Classic Ghost Buddy! The perfect addition to any Christmas tree, or adorn your house as decoration year round. This Classic Ghost Buddy is a crocheted ghost that makes the perfect companion for kids of all ages. The ghosts are available in various colors and sizes, so there is one for every kid of any age. Give your child an adorable companion to protect them from those pesky monsters under their bed at night!
Materials
yarn, 100% acrylic, worsted weight, 380 yds/6 oz/170 g, White (WHT), 1 ball; Black (BLK), < 1 ball.
G (4.00 mm) Furls Odyssey hook
Polyfil stuffing
Tapestry needle
Straight pins
Stitch markers
Ghostly Mushroom Wall Hanging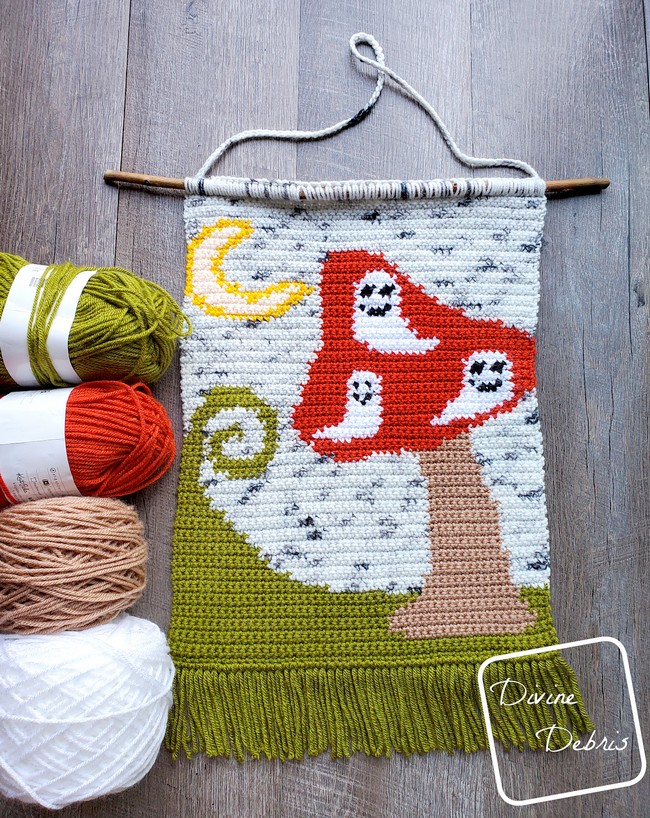 Include some fun to the walls of your home with this crochet Ghostly Mushroom Wall Hanging. It is perfect for any room and adds a bit of spooky flair to any dark space. This crochet Ghostly Mushroom Wall Hanging, crocheted in lime green, white and black spider silk, is the perfect addition to any room. This crochet ghostly mushroom wall hanging is perfect for bringing a little Halloween spookiness into your home. Featuring an adorable little ghost, this mushroom will surely add fun and humor to any room in your house!
Materials
US G (4.00 mm) crochet hook
Worsted weight/ size #4 yarn
I used Brava Worsted from WeCrochet , but you can use literally any worsted weight yarn you have on hand
8 colors
Less than 1 oz/ 62 yds each color
Notions: scissors, measuring tape, yarn needle
Wooden dowel/ stick (more than 13″ across)
Abbreviations
Ch: Chain
St: Stitch
Sc: Single crochet
RS: Right side
Ghost of Christmas Present Hand Puppet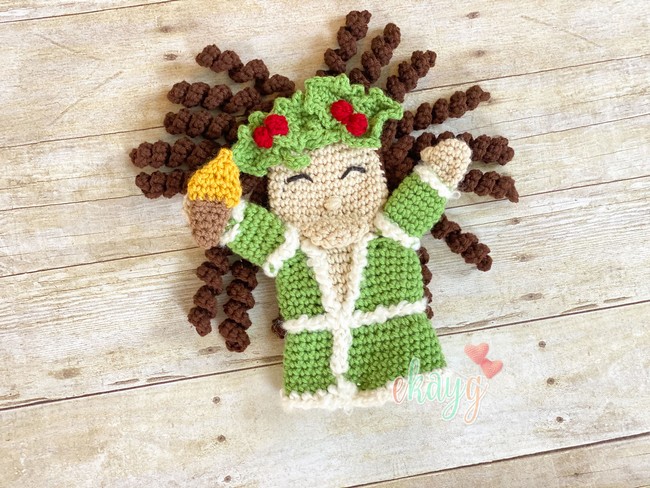 Crochet your ghost of Christmas Present! A cute crocheted Ghost of Christmas Present Hand Puppet is the perfect gift for holiday decorating and ghost stories. This soft, adorable little ghost can become an imaginary friend, a decoration, or even a companion to a lonely child. This pattern is easy to follow and makes a perfect last-minute holiday gift. The kids will love it too. This ghost was made using 100% cotton yarn. It's a great gift for kids and adults. Don't forget to crochet with love!
Materials
Big Twist Value – Cream (A) – approximately 32 yds
Red Heart Super Saver Yarn – Spring Green (B) – approximately 50 yds
OR Caron One Pound – Grass Green
Lion Brand Homespun Thick & Quick – Dove (C) – approximately 20 yds (this is the trimmings of his robe, you can use a white worsted yarn if you don't have Thick & Quick on hand)
OR a thinner Faux Fur yarn might also work!
Caron One Pound – Espresso (D) – approximately 104 yds
OR Red Heart Super Saver – Coffee
Red Heart Super Saver Yarns in Cherry Red, Cafe, and Gold, in small amounts for the berries and torch
Small amount of black worsted yarn for the eyes.
Crochet Hook, H-5mm
Stitch marker
Tapestry needle
Scissors
Abbreviations
magic ring
rnd, rnds – round, rounds
st, sts – stitch, stitches
sl st – slip stitch
sk – skip
sc – single crochet
hdc – half double crochet
inc – increase, 2 sc sts in same st
invsc2tog – invisible single crochet 2 together; this is essentially a decrease, but done in such a way as to make the continuous stitching smoother, and the decrease not as noticeable.
Mini Amigurumi Ghost Ornament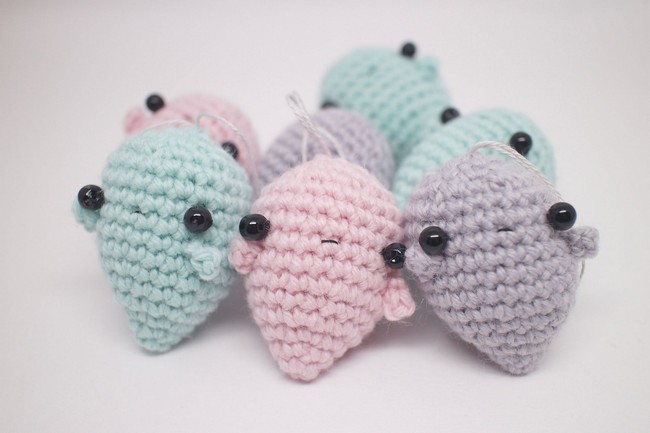 A sweet little crochet ghost ornament that is sure to become your favorite! The crochet mini amigurumi ghost ornament is small and cute, perfect for decorating your home. This mini amigurumi ghost makes the perfect little addition to your Christmas decorations, gifts, or tree this holiday season! This cute amigurumi ghost is the perfect ornament for a Christmas tree or to give as a gift. Its small size makes it an adorable decoration, and isn't that what the holidays are about?
Materials
 Medium (worsted) weight yarn in ghost colour - about 20 m (22 yds)
 3.5 mm (E) crochet hook
 Toy stuffing
 6 mm black beads for eyes
 Black sewing thread
 Yarn needle
 Sewing needle
 A keychain or extra thread for a hanging loop (optional)
Abbreviations
R - round
ch - chain
st - stitch
sts - stitches
sc - single crochet
sc2tog - single crochet 2 together
The scary ghost Buhu
The scary ghost Buhu is a very strange and funny crochet project. It will be a great decoration for your home, nursery, or garden. It's a perfect gift! This little crochet hat will be perfect for your little ones. With a ghost on top and skulls all over, this hat will surely be a hit with the kids! Perfect for an upcoming Halloween costume party or parade! The pattern is easy to understand so you can crochet this ghost in no time! Buhu is a very strange and funny crochet ghost. He will be a great gift for any occasion.
Materials
Crochet hook 3.0 mm
Yarn: Worsted weight.
Color: white
A small amount of thinner, black yarn for the nose and mouth for the facial features.
Tapestry needle
10 mm safety eyes
Stitch marker
Stuffing materials
Abbreviations
Ch – chain
R – round
St – stitch
Sc – single crochet
Sc dec - single crochet decrease
Sc inc – single crochet increase
Mr – magic ring
Sl st – slipstitch
Hdc – half double crochet
Gentle Ghost Softie
A perfect little friend for Halloween and beyond, this gentle ghost softie will keep you safe. This pattern works up quickly and is a great stash buster, too! This cute crochet doll is just waiting for you to bring it home. The crochet gentle ghost softie, named after the author/designer of this pattern and inspired by all things cute and cuddly, is a great project for beginners looking to learn the basics of crocheting amigurumi. This crochet Ghost is sure to get a lot of attention on Halloween! It makes a great fall decoration or a gift for someone special.
Materials
Lion Brand Basic Stitch Anti Pilling yarn (100% acrylic, 3.5 oz/100 g, 185 yd/170 m) – 1 skein in 98 Ecru (CA), or approximately 170 yd (155.5 m) in any medium weight yarn. 
1 yd (1 m) pink yarn or embroidery floss (CB).
US Size F-5/3.75 mm crochet hook, or size needed to obtain gauge.
Fairfield Poly-Fil Premium Polyester Fiber Fill – 16 ounce bag.
Clover Quick Locking Stitch Marker Set.
Clover bent-tip yarn needle.
30 mm comical safety eyes – 1 pair.
Friendly Ghost Gnome
This crochet-friendly gnome is the perfect Halloween decoration, guaranteed to make your home more festive! This crochet-friendly ghost gnome makes an adorable gift and is perfect for any garden or home. You can give it as a hostess gift, take it on a special trip to remind you of the trip and where you visited, or add it to your home decor. This Crochet Friendly Ghost Gnome is a friendly, fun, and Halloween-ready gnome! He's crafted from the finest materials and ready to join you on your adventures. Let him guard your doorstep or follow you around in the car.
Materials
Crochet Hook, Size E, 3.5mm
Polyfil
Yarn Needle
Scissors
Locking Stitch Markers
Paint Pens or Marker
Hot Glue and Applicator
Abbreviations
CH – Chain
SC – Single Crochet
SC2TOG – Single Crochet 2 stitches together
BLOSC – Back Loop Only Single Crochet
FLOSC – Front Loop Only Single Crochet
DC – Double Crochet
SLST – Slip Stitch
ST(s) – Stitch(es)
MC – Magic Circle
Cute Ghost Coaster
This little ghost coaster will keep your tablecloth from getting wet. Crocheted with wool and cotton yarn, it makes a great gift for autumn entertaining. This coaster is made of cotton yarn, and its print is high quality. It's great for keeping your drinks cold or maybe to use as decoration around your house. This cute ghost coaster is in the form of a ghost with large eyes. It is a fun crochet pattern that will look great on your coffee table. This little crochet ghost is so cute and easy to make! No sewing is required, just simple crochet stitches. You can get this cute coaster for your DIY office decor. Also ideal for a Halloween party.
Materials
Amour Crochet Hook G (4.00 mm) – Art. No 1045/G
Worsted weight/ size #4 yarn
4 colors
Less than 1 oz/ 62 yds ea
Notions: scissors, measuring tape, yarn needle
Abbreviations
 RS: Right side
Ch: Chain
St: Stitch
Sc: Single crochet
Little Ghost
A little bit spooky, a little bit cute, and a whole lot of adorable. The Crochet Little Ghost is the perfect adornment for your Halloween-themed decor! Use them as place settings at the table or scatter them throughout your home to give it the right touch of creepiness. Add a little fright to your home. This little crochet ghost will add an extra spooky touch to any room. He is made from various recycled and repurposed materials and is friendly and fun but not very scary! This little ghost is so cute you'll be tempted to keep him around.
Materials
DK Weight Yarn in white, orange, and dark brown (I used 

Paintbox Yarns Cotton DK

 in Paper White, Blood Orange, and Coffee Bean)
2.5mm crochet hook
9mm safety eyes
Polyester fiberfill
Black embroidery floss
Stitch marker, yarn needle, scissors
Abbreviations
ch – chain
sc – single crochet
inc – single crochet increase
dec – decrease
invdec – invisible decrease
hdc – half double crochet
dc – double crochet
tr – treble crochet
BLO – back loop only
FLO – front loop only
sl st – slip stitch
st/s – stitch/es
(…) – indicates stitch count at end of round
[…] – repeat the instructions in brackets
Ghost Kitchen Towel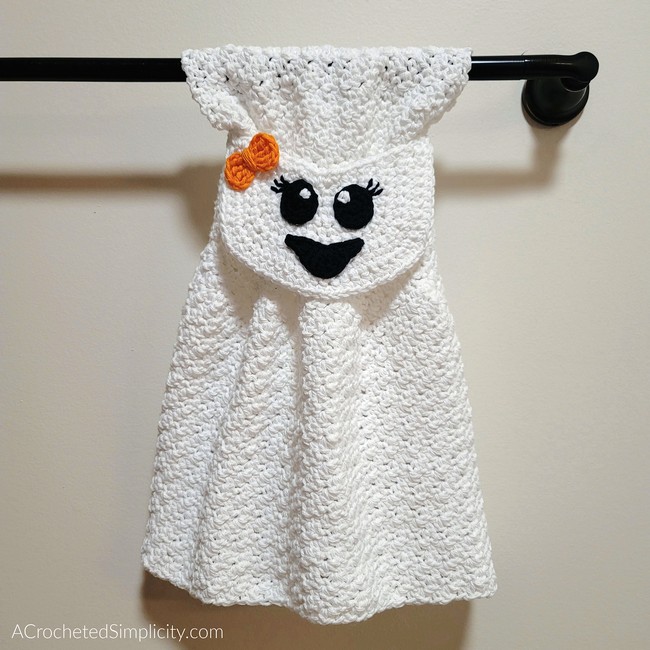 This perfect spooky accessory for your kitchen will make you smile whenever you see it. The crochet ghost kitchen towel is perfect for decorating your kitchen and adding fun. It makes a great gift for all occasions! This colorful, natural cotton kitchen towel will brighten up your kitchen. Crocheted in 100% cotton using a medium-weight yarn to achieve the nice stitch definition, this towel is absorbent and sturdy. The unique design is sure to make it a favorite among your family and friends! This kitchen towel is the perfect addition to any kitchen. This cloth will last and be a great decoration as well. It's also a great gift idea!
Materials
Yarn: Yarn I used for my sample is Lily Sugar n' Cream; 4 / Worsted Weight Cotton Yarn; (100% cotton / 120 yards / 70.9 g / 109 m / 2.5 oz )
Crochet Hooks: H/8/5.00mm;  J/10/6.00mm; G/6/4.00mm (my favorite hooks are Clover Amour Hooks, I've never had an ache in my hand since switching)
Measuring Tape
(2) 18mm Black Safety Eyes (optional)
Scissors
Tapestry Needle
Abbreviations
ch(s): chain
st(s): stitch(es)
sl st(s): slip stitch(es)
sc: single crochet
dc: double crochet
tr: treble crochet
RS: right side
Rep: repeat
Pumpkin Patch Ghost
Looking to dress up your front porch or entrance with a bit of Halloween spirit? This Pumpkin Patch Ghost will make a wonderful accent piece. Add a spooky touch to your Halloween decor with this Crochet Pumpkin Patch Ghost! This Crochet Pumpkin Patch Ghost is a great addition to your holiday decor. It works quickly to display a large collection of squishy stuffed ghosts around your home. This super fun crochet Pumpkin Patch Ghost will add greatly to your outdoor decor. He's sure to be the talk of your next Halloween party!"
Materials
Sports Weight Yarn (white)
2.5mm crochet hook
Scraps of black felt for the mouth
Pink yarn or embroidery thread for cheeks
Stitch markers and pins
Yarn needle
Stuffing
Abbreviations
Sc = Single crochet
Slip st = Slip stitch
Invdec = invisible decrease
Sc2tog = single crochet decrease
Ch = Chain stitch
** = a repeating stitch pattern