18 Free Crochet Spider Patterns – Halloween Decorations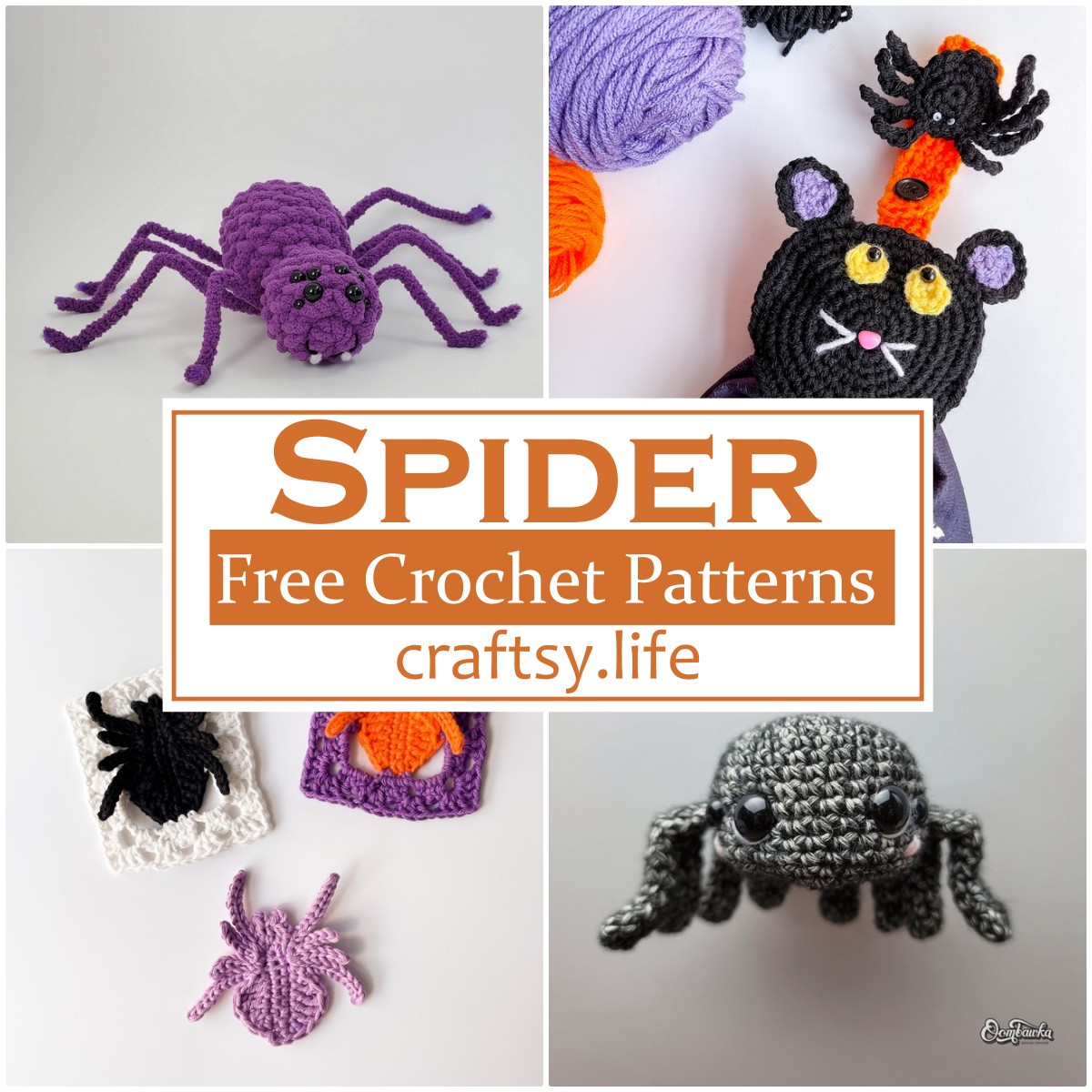 Spiders are a classic Halloween motif, and they're also great for people who love spiders. Show your arachnid appreciation with this list of crochet spider patterns. They're all cute in their own ways, and some even have fun quirks—like the crochet spider with a face! The patterns call for various yarns and hooks, so there's something for everyone on this list—even if you don't know how to crochet!
Free Crochet Spider Patterns

As Halloween approaches, it's time to adorn your home with spooky decorations like spiderwebs and other eerie accents. For those with a crafty streak, why not create your own charming spider decorations? Fear not; these crochet spiders are friendly and adorable, making them perfect for kids and crochet beginners alike.
Our assortment of free crochet spider patterns has something for everyone, from cute little critters to delightful spiderlings. These quirky arachnids offer a quick and easy way to enhance your Halloween display with a touch of handmade charm. Catering to all skill levels, our patterns have you covered, whether you're a novice or an experienced crocheter.
Dive into a world of creative fun and add a dash of whimsy to your Halloween festivities with these endearing crochet spiders. From cuddly companions to playful monsters, these enchanting creatures are sure to become a treasured part of your seasonal decor.
Crochet Spider Patterns
Crochet spider patterns are fun and great for using up some scrap yarns. These are easy to make, and you can use any yarn you have. There are many benefits to crochet spider patterns, including:
You can use any yarn.
It's easy to create your pattern.
You can create any size that you want.
You can make them in any color combination you desire.
Spider Web Scrubby Crochet Pattern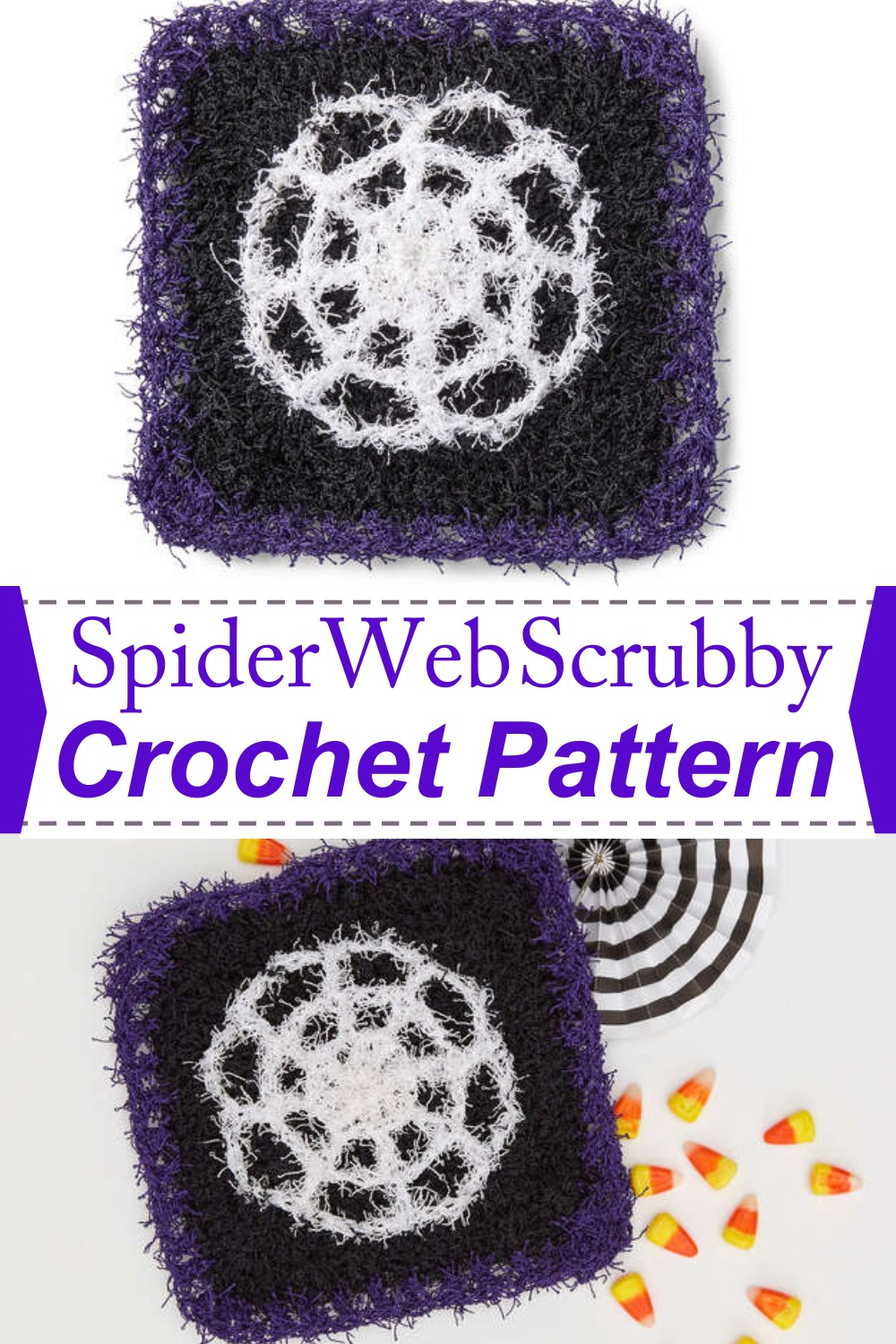 Are you looking for a fun and spooky way to clean up this Halloween season? Then you'll love the Spider Web Scrubby Crochet Pattern! This dishcloth is perfect for easily getting rid of dirt and grime while adding a touch of Halloween spirit to your home. Made from high-quality yarn, this scrubby is tough enough to tackle the toughest cleaning jobs, while its spider web-inspired design makes it both stylish and practical. Plus, with easy-to-follow instructions, even beginners can create a unique and impressive dishcloth, and your guests will be impressed by your creativity!
Easy Spider Web To Crocheting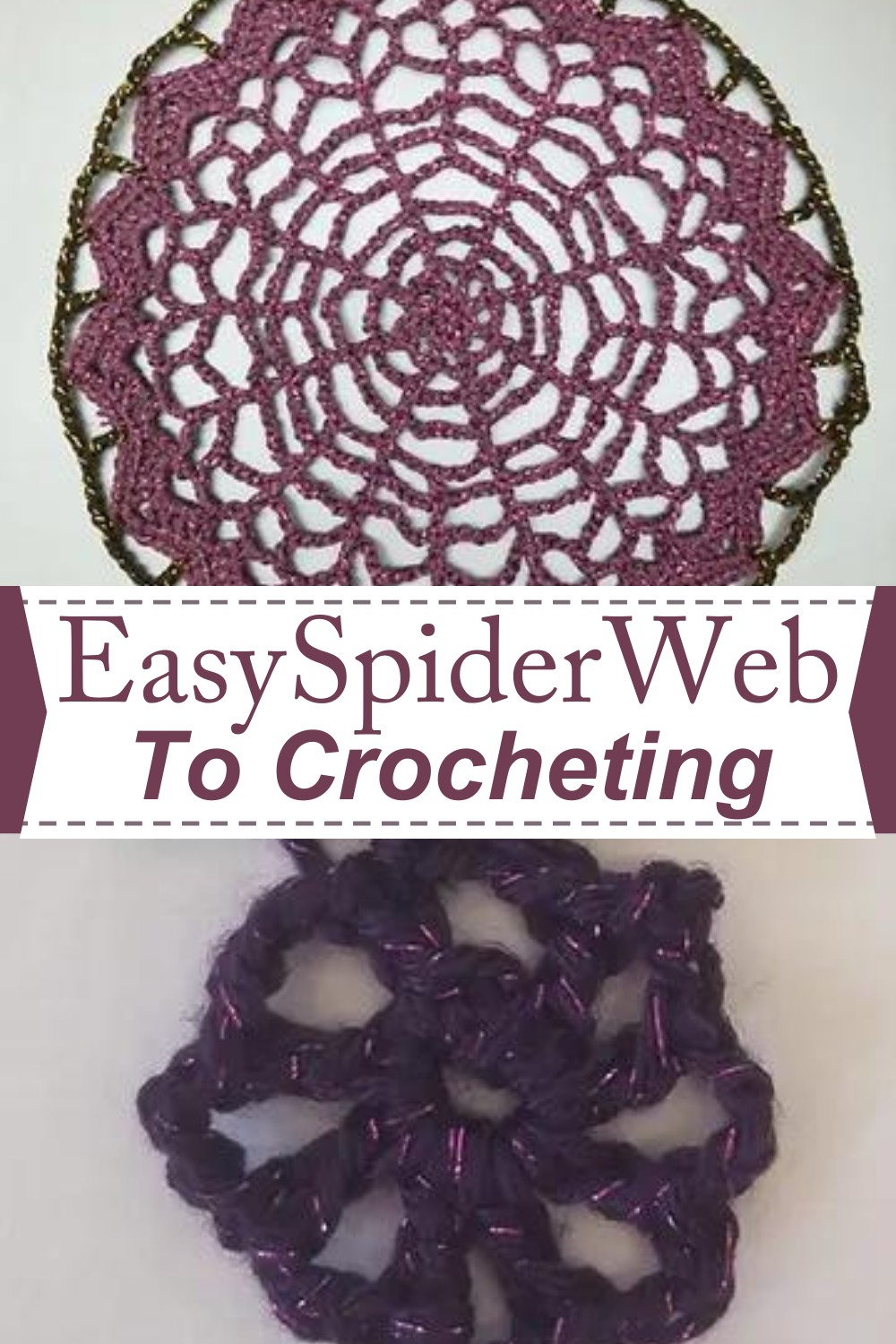 Get ready to spin a web of creativity with this Crazy Crochet Lady's Easy Spider Web Pattern! This super simple crochet project is perfect for Halloween decorations or adding a spooky charm to your home. With no need to worry about gauge, you can create this crochet scrubby of any size to suit your decorating needs. This pattern requires basic crochet knowledge, including chain (ch), single crochet (sc), double crochet (dc), half-double crochet (hdc), treble crochet (tr), v-stitch (v-st), and slip stitch (sl). So, Unleash your inner crochet enthusiast and have fun creating spider webs for a spooktacular effect!
Crochet Pumpkin Spider Amigurumi Pattern
Celebrate the arrival of fall with this delightful Crochet Pumpkin Spider Amigurumi Pattern, created especially for Halloween or other seasonal decor homes! Inspired by the fun and festive spirit of the season, this unique design combines a pumpkin's charm with a spider's fancy, resulting in an adorable Halloween amigurumi creature you'll love to display or gift. And the best part is that this pattern is perfect for crocheters seeking a creative and satisfying project to welcome autumn. Enjoy crocheting your very own Pumpkin Spider and adding a touch of seasonal cheer to your home. Have Cheerful Crocheting!
Crochet Hook: 4.5mm
Suggested Yarn: Red Hear
Crochet Amigurumi Spider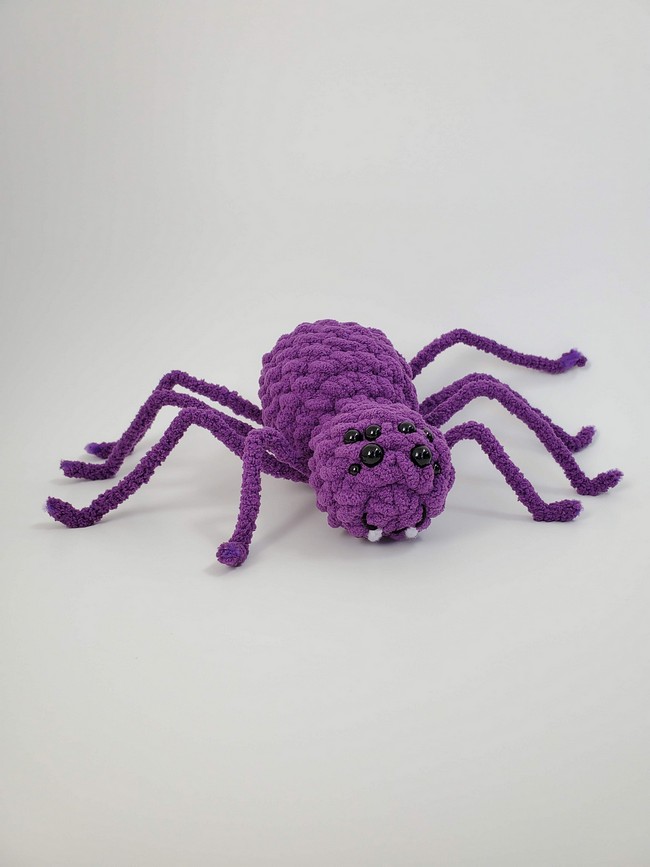 This crochet amigurumi spider is big, fluffy, and cute! It has a big spider body covered with colorful yarn. This lovely little friend would be perfect for any room in the house, even outside, if you live in a warmer climate. A crochet amigurumi spider is also perfect for Halloween and the fall holidays. This toy will entertain kids of all ages and keep you hooked on crochet for hours. It's fast, easy, and fun – why not make your own?
Materials
Bernat Blanket Yarn in Pow Purple
I Love This Cotton Yarn in White (or any medium-weight yarn)
Black embroidery thread
Crochet hooks size N and H
Black safety eyes: 2 – 6mm, 4 – 8mm, and 2 – 10mm or any mixture of 8 total eyes
seven pipe cleaners (it works best if they are the same color as the main yarn)
Yarn/Embroidery needle
Fiber fill
Scissors
Abbreviations
ch – chain
sts – stitches
sc – single crochet
inc – increase (2 stitches in next stitch)
dec – decrease (crochet next 2 stitches together)
Spider Granny Square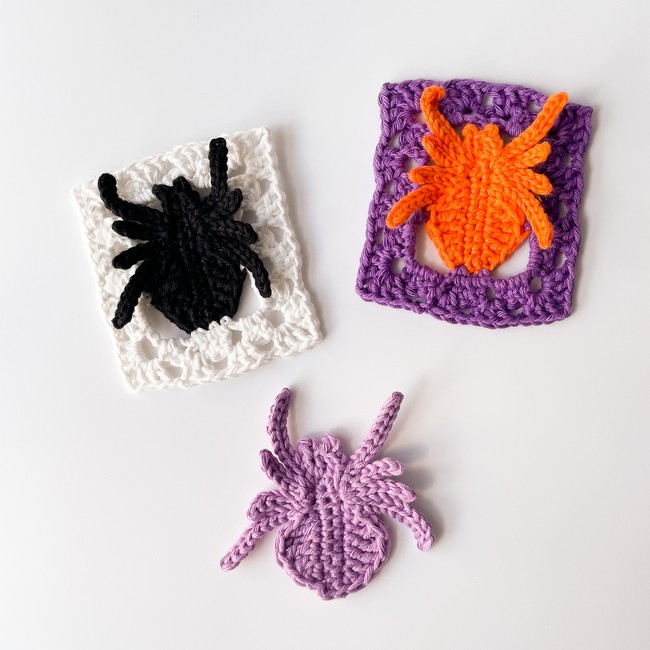 Crochet a colorful Granny Square. Each square takes only a few minutes to crochet and looks great in any color combination. The finished project makes for a fun, colorful, easy Halloween wall hanging. You can use any yarn or color you prefer to create your project. This is a fun, easy, and inexpensive way to crochet this cute little item for yourself or someone special. You'll love learning the technique; they're so quick to make! Just follow the guide below.
Materials
3mm crochet hook
Rainbow Cotton 8/6 – less than 5gr for the Granny Square part (less than 3gr for the Spider) – You can use the yarn you want; I'm just indicating the yarn I used for this specific project
stitch marker
darning needle
Abbreviations
CH = Chain
SS = Slip Stitch
SC = Single Crochet
DC = Double Crochet
TC = Treble Crochet (only for the spider)
DTC = Double Treble Crochet (only for the spider)
BLO = Back Loop Only
st = stitches
Crochet Spiderweb & Spider Applique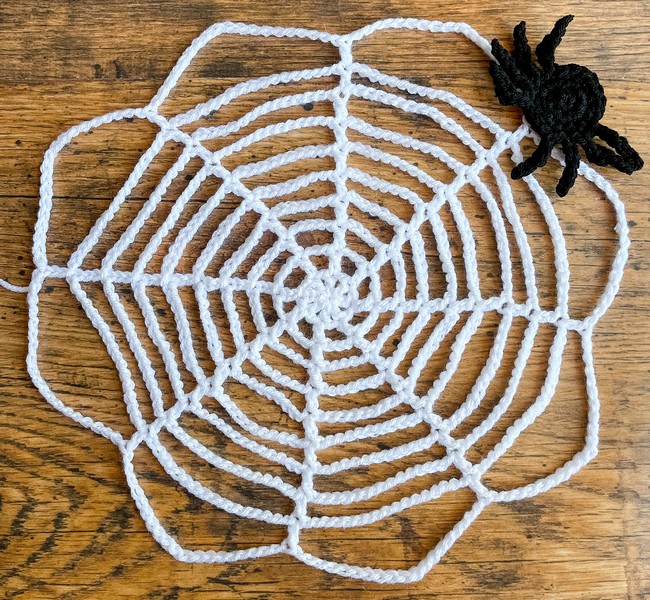 This crochet spiderweb is so easy to make and looks great draped over a door or curtain in your home. Spiders are always fun, whether it's Halloween or any time of year! This adorable spider applique makes a great addition to your spider web motif. This is the perfect quick touch for all little boys and girls who love creepy crawlies.
Materials
Red Heart With Love Weight 4 Medium (100% acrylic, 7 oz / 370 yards)
White 0.01 oz / 1 yard (White)
Size J (6.0 mm) crochet hook
Scissors
Tapestry Needle
Abbreviations
RS = right side
MC = magic circle
ch(s) = chain(s)
sl st = slip stitch
st(s) = stitch(es)
dc = double crochet
sp(s) = space(s)
Black Cat Spider Towel Topper
Your kitchen is ready to pounce on Halloween this year with our Black Cat and Spider Crochet Pattern. This toy crochet pattern features a black cat ready to pounce on a fun and playful Spider. It's a great way to celebrate the spookiest time of the year. Great for decorating your home during Halloween or a party, this towel topper can also be used as an invitation to your next cat party. It's a lightweight project and is a super easy pattern!
Materials
Size J (6.0 mm) crochet hook
1 – 3" plastic ring
1 – 3/4" button
Embroidery floss for sewing on button
2 – 8 mm safety eyes
1 – 13 mm pink safety nose
2 – small wiggle eyes + glue to attach if not self-adhesive (optional)
Scissors
Tapestry Needle
Stitch Markers
Abbreviations
WS = wrong side
RS = right side
MC = magic circle
ch(s) = chain(s)
sc = single crochet
sl st = slip stitch
st(s) = stitch(es)
sk = skip
hdc = half double crochet
dc = double crochet
Bitsy The Spider
Bitsy, the Crochet Spider, will add a touch of cuteness to Halloween. Make her a Halloween decoration or give her to someone special. She's crocheted in Sport Weight Yarn, which makes her very soft and huggable. So, what are you waiting for? Crochet your own Bitsy the Spider and hang her around your house, or give her as a gift. This little amigurumi spider can be crocheted in various colors to suit your home decor.
Materials
Yarn: Scheepjes Stone Washed. (affiliate link) 50 g and 130 m. 78% Cotton, 22% Acrylic. Sport Weight Yarn [2]. Machine wash and dry.
Colors: 1 skein of Black Onyx (803) and a small amount of Rose Quartz (820) and Smokey Quartz (9070) (affiliate links).
Crochet Hook: 3.50 mm (E) Clover Amour (affiliate link)
Finished Project: Bitsy the Spider: Black Onyx (23 g) and (59.8 m); a small amount of Rose Quartz and Smokey Quartz.
Scissors, Tapestry Needle (yarn needle), Stitch Marker, 2 x 12 mm black safety eyes, and 2 x 8 mm black safety eyes.
Abbreviations
ch – chain
DMR – double magic ring
m – meters
oz – ounces
Rnd – round
rem – remaining
sc – single crochet
sc2tog – single crochet 2 stitches together
sk – skip
sl st – slip stitch
st/sts – stitch/stitches
* to **– Repeat the instructions between the asterisks the number of times indicated. This repeat will contain multiple instructions.
[] – at the end of the row – the total number of stitches
() – important notes AND sets of stitches to be worked within one stitch or space
Crochet Jumping Spider
This adorable crochet jumping spider is the perfect Halloween decor for your front porch or windows. Kids will love him hanging from the ceiling; he makes a great Halloween costume accessory! This adorable jumping spider will bring a smile and loads of fun. Crocheted with wrapped stitches, each body segment is worked separately and added to create the illusion of movement when jumping around! Make one as a gift in any color combination you like!
Materials
yarn in preferred colors
6 safety eyes, 2 smaller than the others
stuffing
yarn needle
Yarn: 4/worsted, velvet
Hook: H/5mm
Abbreviations
ch: chain
sc: single crochet
mc: magic circle
st: stitch
inc: increase
dec: invisible decrease
double chain
( )*#: repeat instructions the number of times stated
(#): number of stitches in the round
FO: finish off
Spooky Spider Halloween Hanging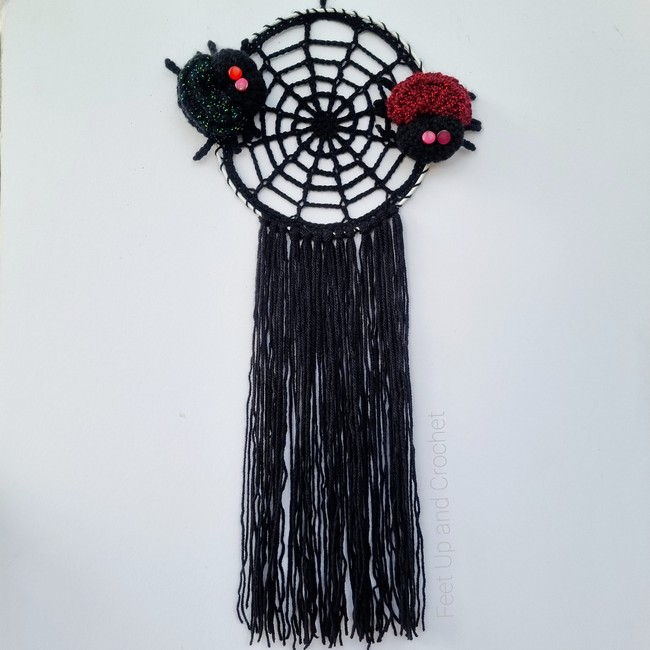 This Spooky Spider is the perfect decoration for your home this Halloween! This crochet pattern uses very little yarn so that you can make a bunch of them at once. They are super easy to make and can be finished in just an hour or two, depending on how quickly you work up the spider web. This crochet pattern will guide you through making a set of Halloween decorations. Whether you want to hang these spiders around your home or give them as an extra spooky gift, you'll have no trouble putting them together.
Materials
DK black yarn – approx 40g if doing tassels (I used Stylecraft Special DK)
Sparkly or contrasting colour yarn (optional)
4mm hook
20cm metal craft ring
Tapestry needle
Scissors
A small amount of stuffing/yarn ends/fabric scraps.
Spare buttons for the spiders eyes
Abbreviations
Ch – Chain
Bptr – Back post treble crochet
Dc – Double crochet
Fptr – Front Post treble crochet
Rnd – Round
Ss – Slip stitch
Tr – Treble crochet
Yrh – Yarn round hook
Stanley The Spider
This easy crochet pattern uses very little yarn, making it a perfect stash buster! This pattern is perfect for beginners who want to move beyond single-colored squares and learn to use different stitches in their projects. So, Give your Halloween goblins and ghouls a jump scare with this adorable crochet spider! It works in less than 15 mins and can be made from any yarn in your stash.
Materials
Approx. 30 yards of WW (#4) black yarn for the body and legs
G/4mm hook for the body and H/5mm hook for the legs
Very little white for the eyes or safety eyes(optional)
Darning needle
Tape measure
Scissors
Stuffing
Abbreviations
MR – Magic Ring
ch – chain
st – stitch
sl st – slip stitch
sc – single crochet
in the – increase (2 sc in the same st)
( ) – repeat the section in brackets
Spooky Spider Crochet Mug Rug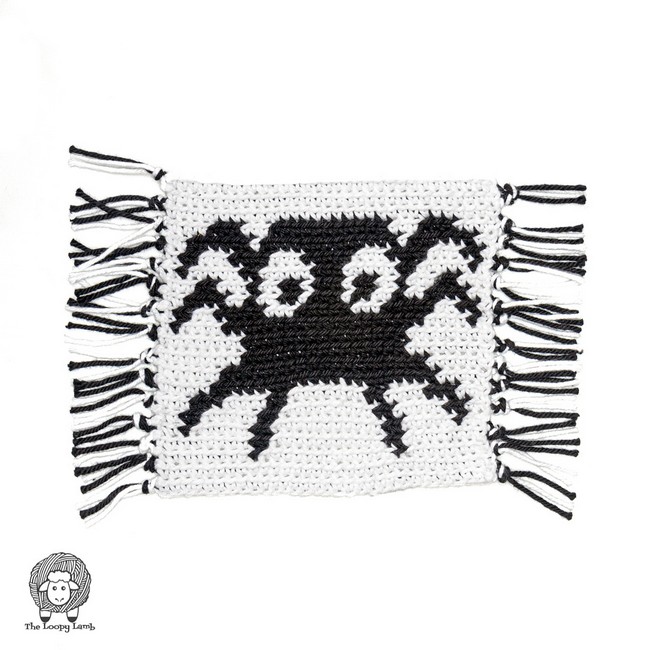 The Spooky Spider Mug Rug is the perfect addition to your Halloween decor. It's also a great gift idea! You can create your very own Crochet Spider Mug Rug using this pattern. The entire mug rug is done in single crochet stitches, so if you know how to do the single crochet stitch and change colors, you are ready to go! Once complete, it can easily be used as a coffee mug holder or trivet for hot dishes.
Materials
3.5 mm (E) Furls Crochet Hook (or size needed to obtain gauge)<– Save 15% off Furls Hooks when shopping through this link and using the code LOOPYLAMB15 at the check out (#furlsinf1021)
38 yds/35 m (0.71 oz/20g) of WeCrochet Dishie in White
23 yds/21 m (0.42 oz/12g) of WeCrochet Dishie in Black
Scissors
Tapestry Needle
Abbreviations
BLO = Back Loop Only
CH = Chain
ST = Stitch
SL ST = Slip Stitch
SC = Single Crochet
FO = Finish Off
You can also see: Crochet Rug Patterns
Spider Fridge Magnet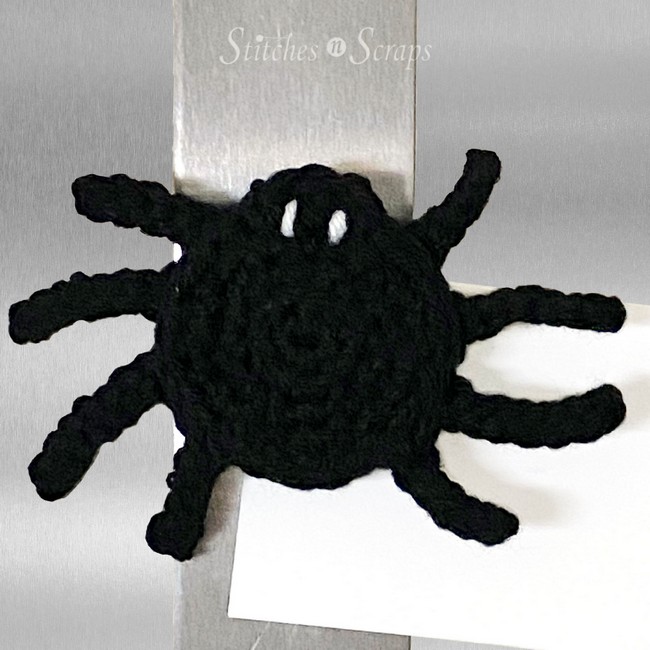 Are you looking for fun Halloween treats to make? Or maybe you need to add some creepiness to your kitchen? This Spider is guaranteed to be your favorite new addition! The Crochet Spider Fridge Magnet is a quick and easy project that looks great on your fridge or as a party favor. Stuck on an old web, these look especially spooky. This easy-to-make spider fridge magnet is perfect for Halloween or any time you want to give a gift that's just a little creepy! Great for party favors, kid's crafts, and home decor.
Materials
Yarn: Lion Brand DIY Yarn (100% acrylic, worsted weight, 65 yds / 30g per ball)
50 yds black
1/2 yd white, OR white embroidery floss
Hook: Size H / 5 mm crochet hook or size needed to match gauge.
Notions: Yarn Needle
The strong, flat magnet that will fit inside the spider (sample shown is 1 inch diameter)
Xyron hot glue gun and glue stick
Stitch marker (optional)
Abbreviations
ch = chain
dc = double crochet
inc = increase (see Special Stitches)
RS = right side
sc = single crochet
sk = skip
sl st = slip stitch
st(s) = stitch(es)
WS = wrong side
Leo The Crochet Spider
Leo the Spider is a quick and easy Halloween project! All his body is worked in one large piece, with no fiddly bits to make. This guy worked up in fur yarn and has a bulky-weight feel, making for a quick and fun project. This makes him an ideal project for beginners to crochet and more experienced crocheters seeking a quick and fun make. The pattern includes photo tutorials for sewing the pieces together, embroidering the eyes, and adding spots to his body.
Materials
Jumbo (7) Fur Yarn, Sample Uses Lion Brand Go For Faux Thick & Quick yarn in "Black Panther," 3 skeins or 60 yards of a similar yarn.
Super Bulky (6) Blanket Yarn, Sample uses Lion Brand Cover Story in "Ebony," 1 cake or approximately 100 yards of similar blanket yarn.
N/9.00mm Crochet Hook
Q/16mm Crochet Hook (a P/15mm hook will work too)
Polyfil Stuffing
Safety Eyes
16 Chennile Stems
Large Plastic Yarn Needle
Stitch Marker
Abbreviations
ML- Magic Loop
Ch- Chain
Sc- Single Crochet
Inc- Increase (work 2 Sc in same St)
Sc2tog- Single Crochet 2 Together (decrease)
FLO- Front Loop Only
St(s)- Stitches
Spider Tissue Box Cover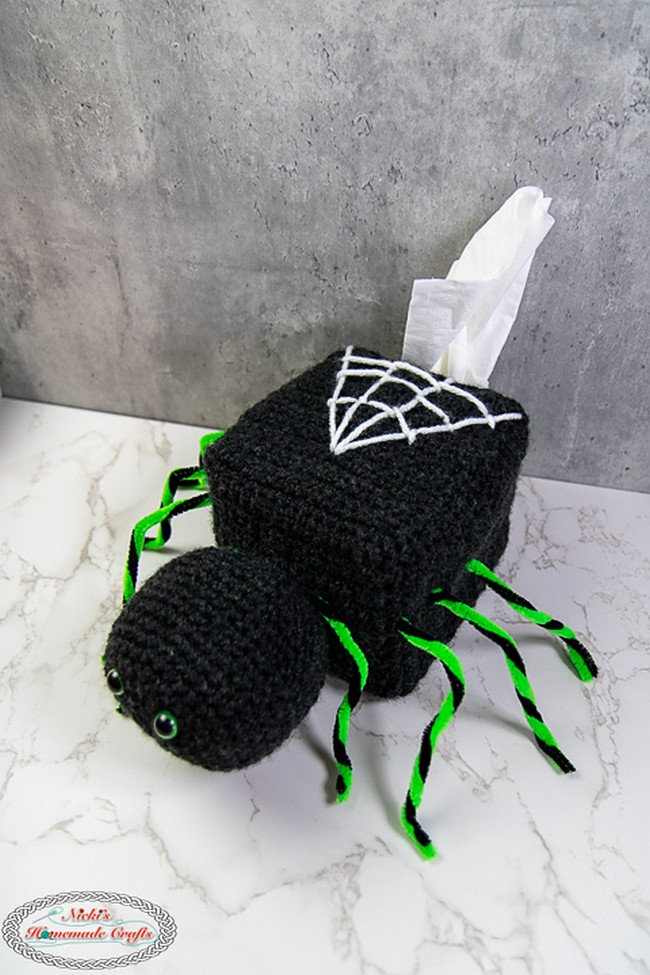 Does your tissue box need some spooky spirit in the bathroom? If so, this crochet spider tissue box cover is perfect! This pattern is quick and easy to make and uses only a single crochet stitch. This Spider Tissue Box Cover is a fun way to store your tissues and make the bathroom a bit more festive. This pattern is easy to follow, using single crochet stitches and Brava yarn.
Materials
crochet "Brava" Yarn (1 skein/ 100g/ 218yd) in the colors:
Charcoal (1 skein)
white (for the spider web)
4.00 mm hook
scissors
tapestry needle
polyfill
neon green and black pipe cleaners (4 each)
green eyes
Abbreviations
sc = single crochet
sl st = slip stitch
inc = increase
dec = decrease
ch = chain
fsc = foundation single crochet stitches
mattress stitch
invisible sc dec
Crochet Little Spider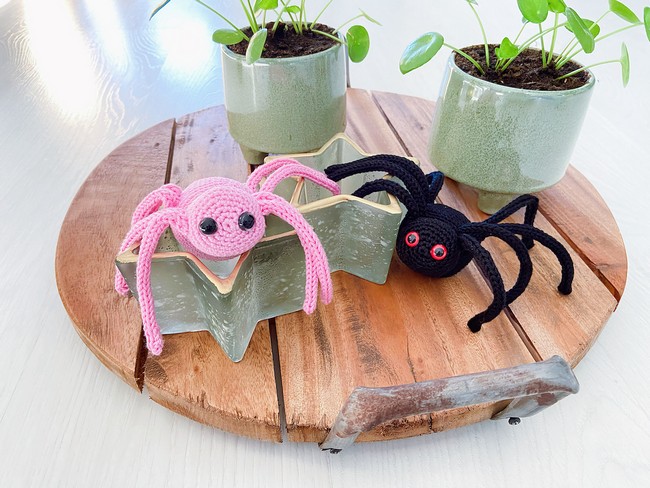 This is an adorable and easy spider crochet pattern. Make some to add to holiday decor as they are quick to make. If you're afraid of making amigurumi, this little guy is a great place to start, as it doesn't use any shaping techniques. Use this free pattern below! These little spiders will smile on everyone's face, especially those scared of spiders! Make several and string them together with a piece of yarn. Or make one hang your doorknob as a doorstop – it might scare away unwanted guests!
Materials
one skein of Schachenmayr Catania cotton (or any other yarn that goes with a 2.5 mm crochet hook)
1 pair of safety eyes 8 mm
fiber fill
crochet hook size 2.5 mm
knitting spool
Abbreviations
mr = magic ring
ch = chain
st = stitch
sc = single crochet
sl st = slip stitch
inc = increase (2 stitches in 1 stitch)
dec = decrease (2 stitches together)
Friendly Spider Amigurumi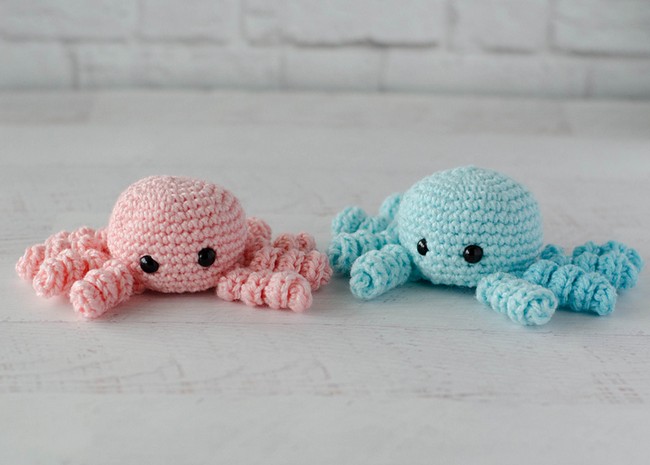 Do you love the idea of having a spider as a pet? But are you also terrified of an actual, physical thing crawling around? If so: meet your new friend. This cute crochet spider is not nearly as scary as his relative–and he can even help keep your home free from spiders! Your child will love this Friendly Spider amigurumi. This friendly Spider is easy to make and comes together quickly using worsted-weight yarn.
Materials
US F5/3.75 mm crochet hook (these are my absolute favorite hooks; I recommend them to everyone!)
1 oz Worsted Weight Yarn, I used leftover Red Heart Ombre Yarn from this afghan, and this one
Fiberfill stuffing
9 mm safety eyes
Tapestry needle and scissors
Sharlotte The Crochet Spider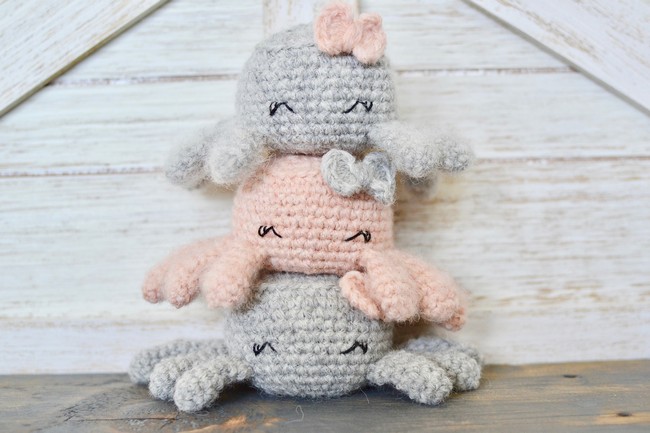 Charlotte The Spider is a cute, cuddly, and chubby spider that takes less than an hour to make.  She is great as a toy to hang on the wall in children's bedrooms or as decoration for any room of their house. This darling can be made in various colors and is the perfect little gift for crafters who need a little bit of something cute to brighten their day. Use the below guide to learn more!
Materials
Worsted-Weight Yarn

Pictured Yarn is in Silver

  

(~47 yards)
Pictured Yarn is in Pink

  

(<1 yard)
or stuffing of your choice
(optional)
(optional)
Abbreviations
sc – single crochet

st/sts – stitch(es)
inc – increase (add 2 single crochet into a stitch)
dec – decrease (join 2 single crochet into 1)
dc – double crochet
sl st – slip stitch
R1- round 1
(

  

) – repeat this group of stitches