Granny squares are everywhere, from coats and sweaters to blankets and bags. And if you're hooked on their versatility like we are, you'll love this roundup of crochet granny square cardigan patterns. These superb cardigans will quickly become your go-to wardrobe staples for fall, from simple single squares to big projects with multiple squares sewn together.
The crochet granny square is one of the most versatile projects used in so many different ways. Once you get used to making them and come up with your style, your imagination is the limit on how you can make them look! This guide will take you through some of our favorite crochet granny square cardigan patterns that will inspire you today!
Crochet Granny Square Cardigan Patterns

Cardigans are the perfect way to add a pop of stylization and color to an otherwise plain outfit. They're great for layering in cooler weather or worn on their own during warmer months when you want something light on top. There's nothing like a handmade cardigan that was lovingly crafted with your own two hands. So what are you waiting for? Get the yarn and hook in your hands and start making some impressive fashionable accessories for your wardrobe with minimal effort.
One Color Granny Square Cardigan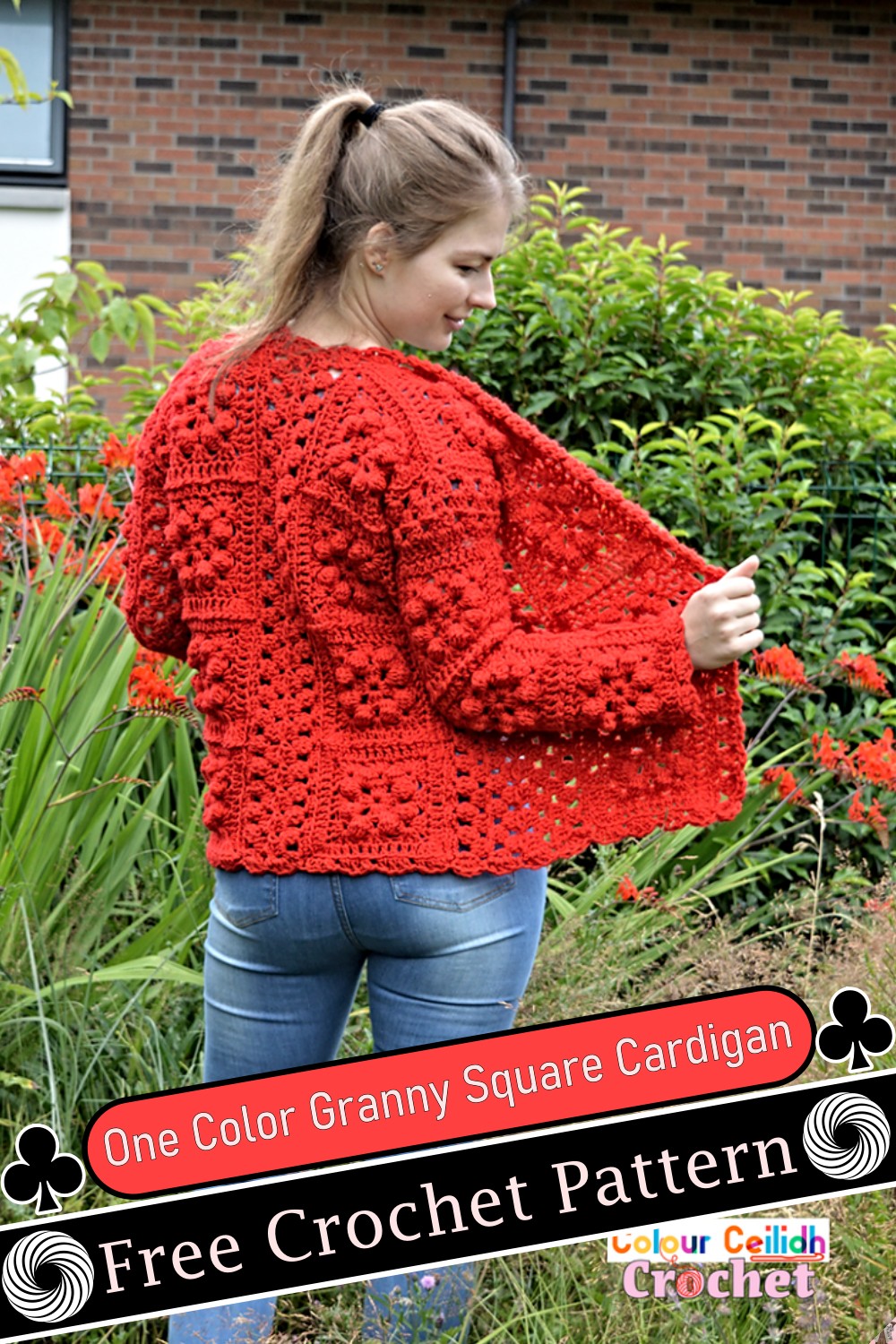 A beautiful cardigan with raw edges, the One Color Granny Square Cardigan is worked all in one color for a seamless look. You'll love this easy crochet granny square cardigan; this versatile pattern includes nine sizes and is perfect for any outfit. The bobble stitches add interest and make this a great choice for all your favorite colors. This crochet cardigan makes the perfect addition to your wardrobe that you can wear with everything. A simple design, this granny square cardigan is easy to make, and the pattern uses basic stitches so that beginners can tackle this project too!
Granny Square Shrug Sweater Cardigan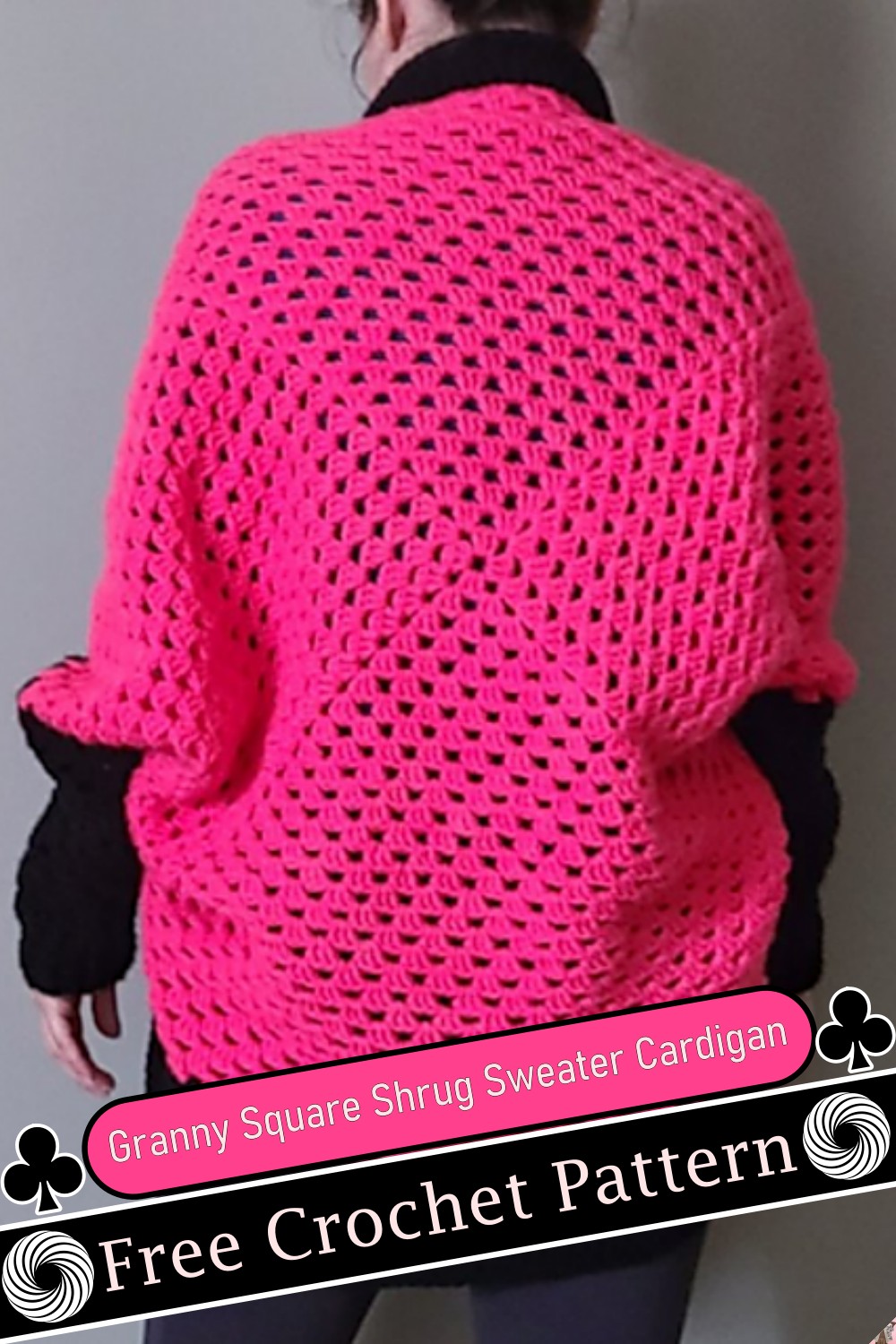 This Granny Square Shrug Sweater Cardigan is a must-have for your wardrobe. It's a fun project to transform a beautiful blanket you already have into a fashionable garment or use this pattern to create your design! This shrug sweater cardigan is the perfect addition to any wardrobe. It's made with a crochet granny square and keeps you warm all winter long. Plus, it's stylish and versatile to wear it with just about anything.
Simple Granny Square Cardigan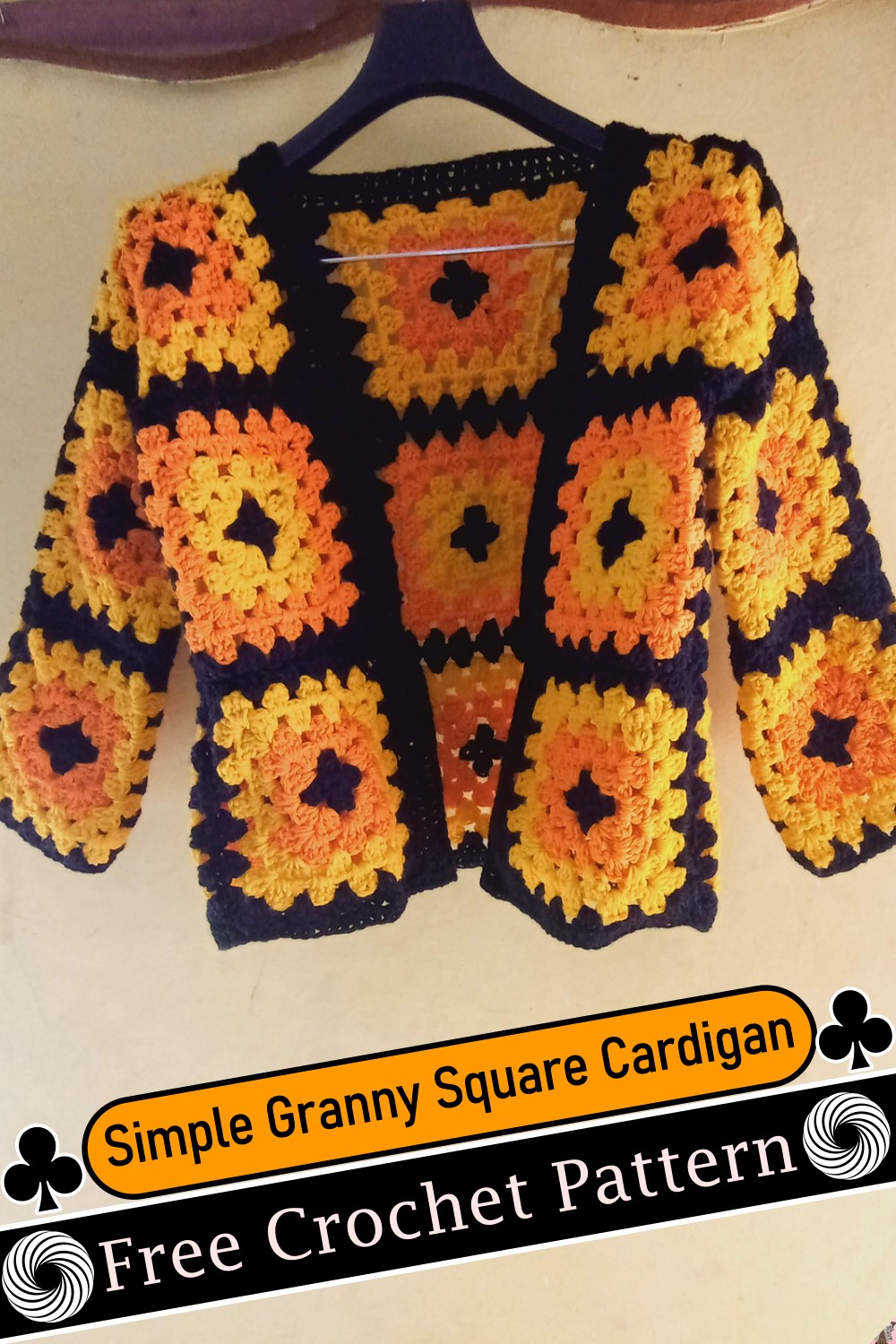 Are you looking for a simple and elegant crochet cardigan pattern? Look no further than the Crochet Simple Granny Square Cardigan! This lovely cardigan features a classic granny square motif, perfect for any season. The light and airy yarn used in this pattern make it ideal for spring and summer, while the squishy and cozy feel will keep you warm all winter long. So whether you're looking for a light cover-up or a cozy layering piece, this cardigan will become a staple in your wardrobe. This cardigan will be perfect for beginners looking for a simple but fun project.
Granny Cardigan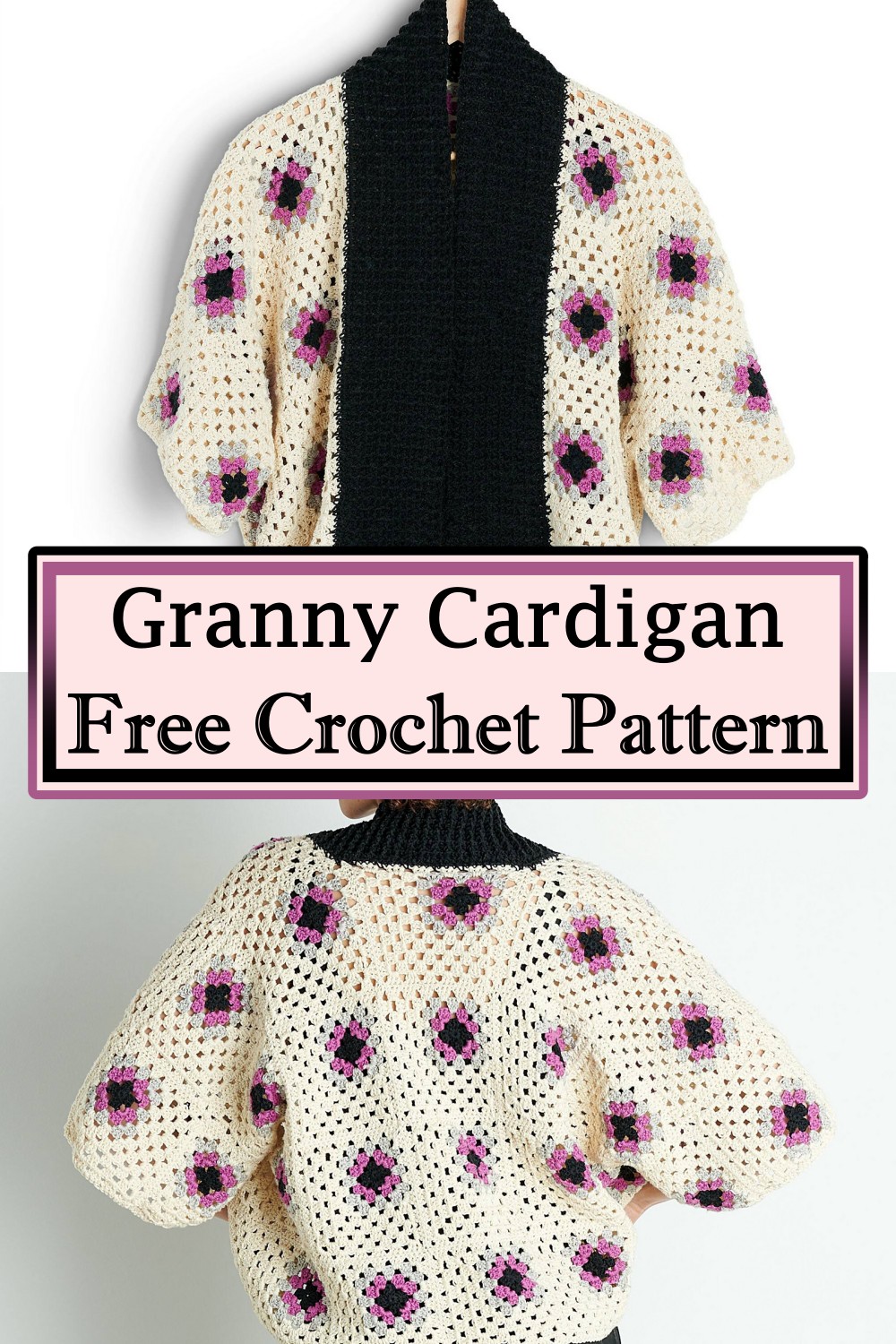 Are you looking for a stylish and modern take on the classic granny square cardigan? Look no further than this Crochet Granny Cardigan! This cozy crochet cardigan is a modern take on a vintage design. Stitched in our easy-care Patons Grace, it features off-center stitches and front post/back ribbing to keep you looking stylish! Made with our comfortable cotton Patons Grace yarn, this cardigan features off-center granny square motifs for a fashionable twist. So if you're looking for a great first garment project, this Crochet Granny Cardigan is perfect for you!
Tulip Square Cardi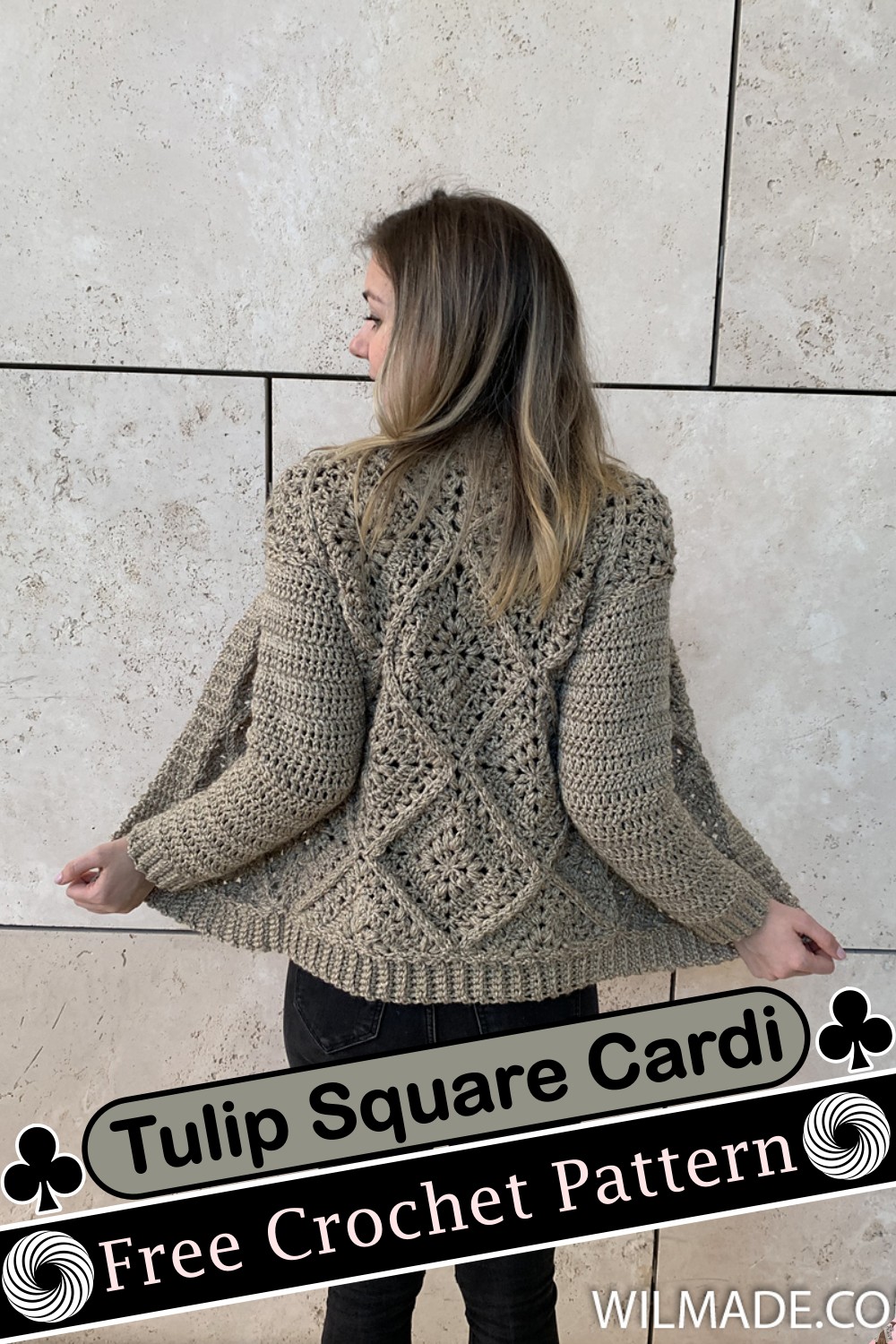 This Tulip Square Cardi crochet pattern is perfect for a stylish, trendy look. The cardigan can be made in any size, perfect for anyone. With this easy-to-follow crochet pattern, you'll have your very own Tulip Square Cardi! This sweater is perfect for a cool spring day! This cardigan is worked from the top down and has optional cuffs, collar, and pockets. It features a lovely scalloped detailing on the front and back panels. The corners of each square are shaped with decreases to keep your shape flattering as you wear it.
Daisy Granny Square Cardigan
Are you looking for a cute and easy-to-crochet cardigan for beginners? Look no further than the Daisy Granny Square Cardigan! This cardigan comes in 9 different sizes, so you're sure to find the perfect fit. It works well with medium-weight yarn and a large hook, and the daisy granny square works almost the same as the traditional simple granny square. The bobble stitch provides the rounded shape of the daisy flower petals, making this a fun and easy project for any level crocheter. So don't wait; get the hook and follow this decent Patten.