14 Free Crochet Granny Square Cardigan Patterns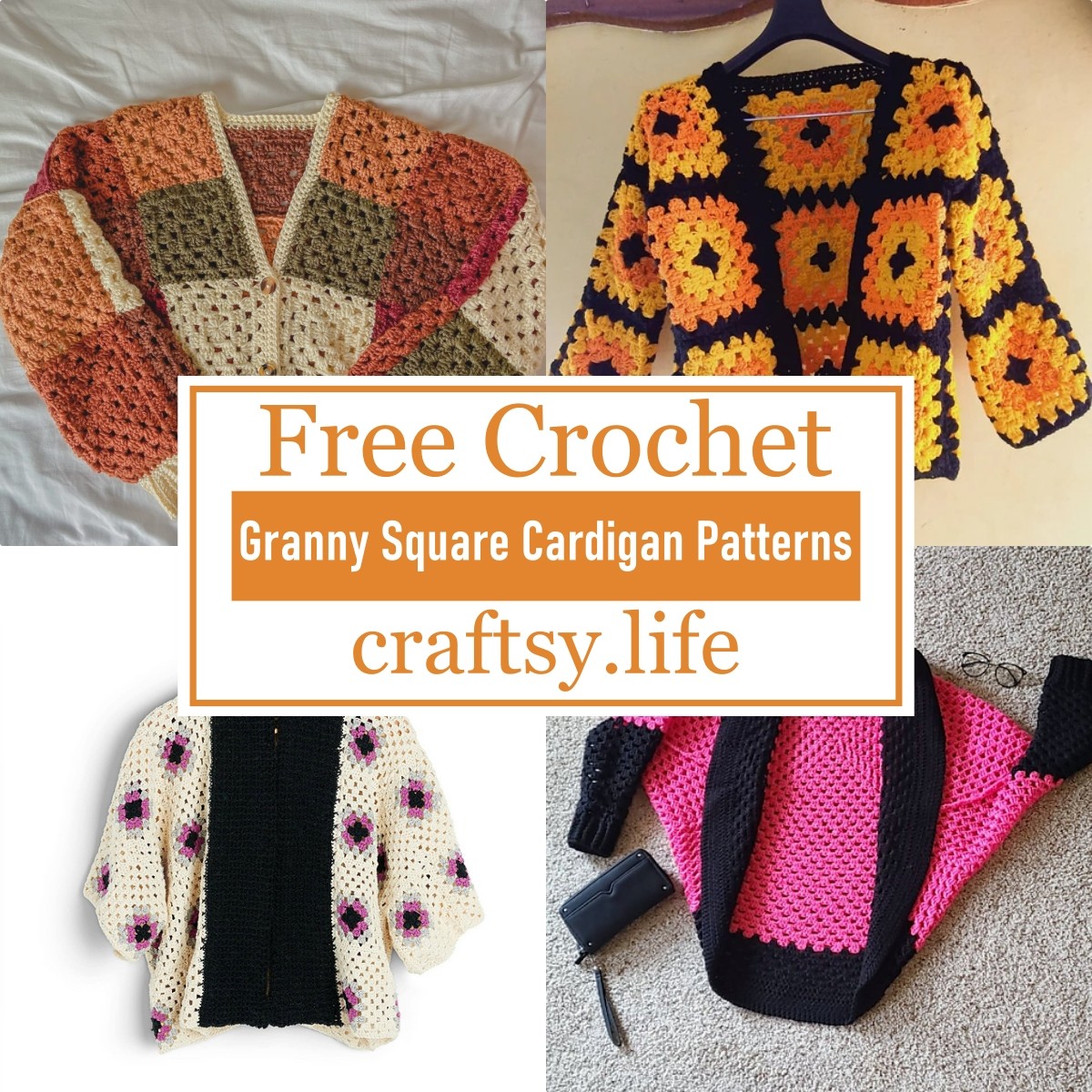 Learn how to crochet granny square cardigans with our easy and beginner-friendly patterns! These cardigan designs are perfect for those new to crochet, offering simple instructions and plenty of inspiration. With various styles and designs, you'll find the perfect easy cardigan to suit your taste. There's something for everyone from open-front to circle and hexagon granny square cardigans.
Granny Square Cardigan Crochet Patterns

Granny square techniques offer a unique approach to creating crochet cardigans, combining style and functionality. These techniques involve crocheting small, individual squares, which are joined together to form the cardigan's body, sleeves, and other design elements. The beauty of crochet granny square cardigan patterns lies in their customizable nature, allowing you to mix and match colors, textures, and designs for a truly personalized garment. These cardigan styles are flexible enough to fit all body shapes, making them a great crochet piece for everyone. Using granny square techniques, you can create stunning crochet cardigans that are versatile, customizable, and beginner-friendly.
Crochet Granny Square Cardigan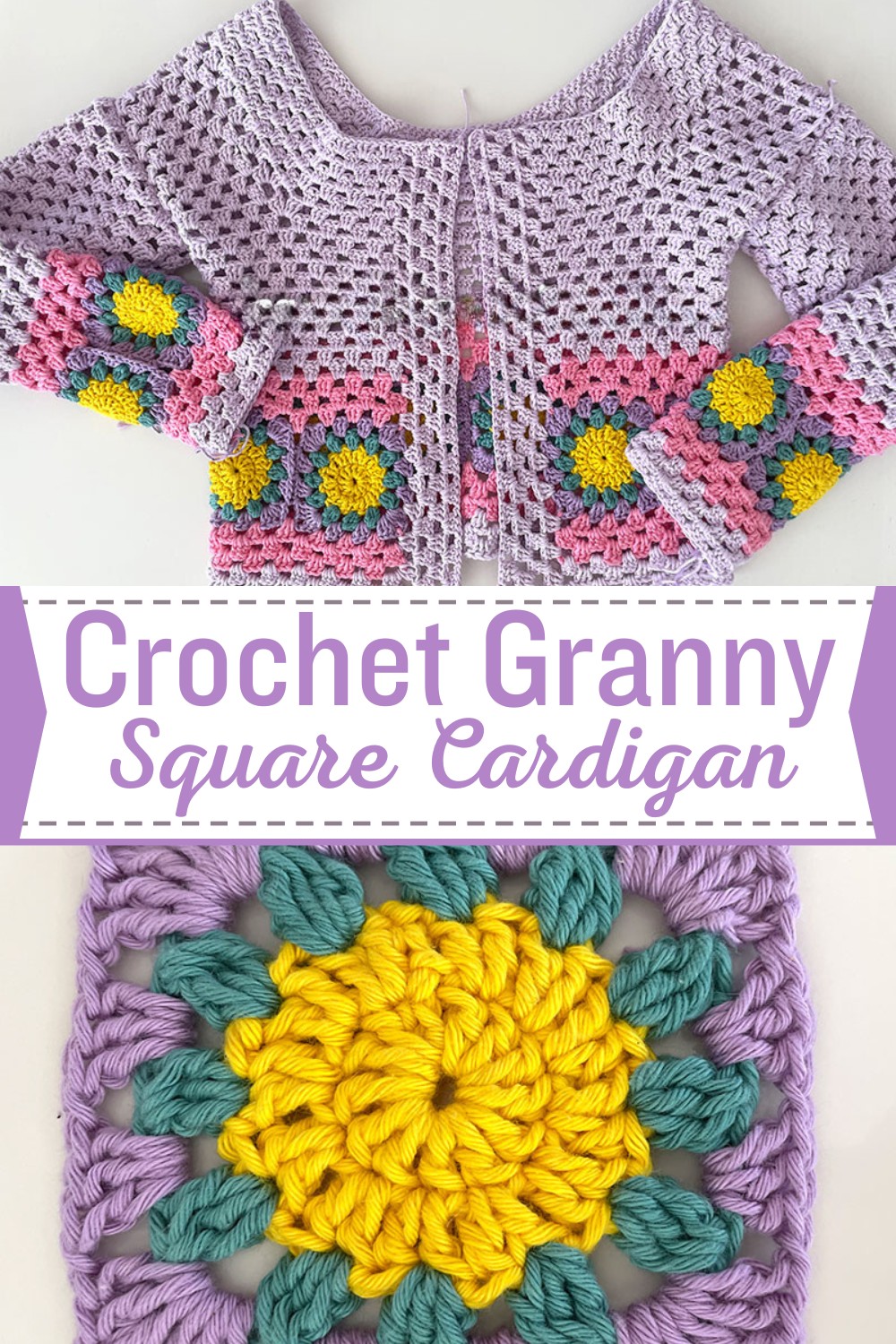 Crochet a striking, vibrant, granny square cardigan that's perfect for any season with this beginner-friendly crochet pattern. Its design highlights a broad neckline, elegant draping, and extended sleeves adorned with floral accents at the edges and lower section. Transform this versatile piece by switching cotton yarn to wool for a warmer variation.
Cozy Granny Square Cardigan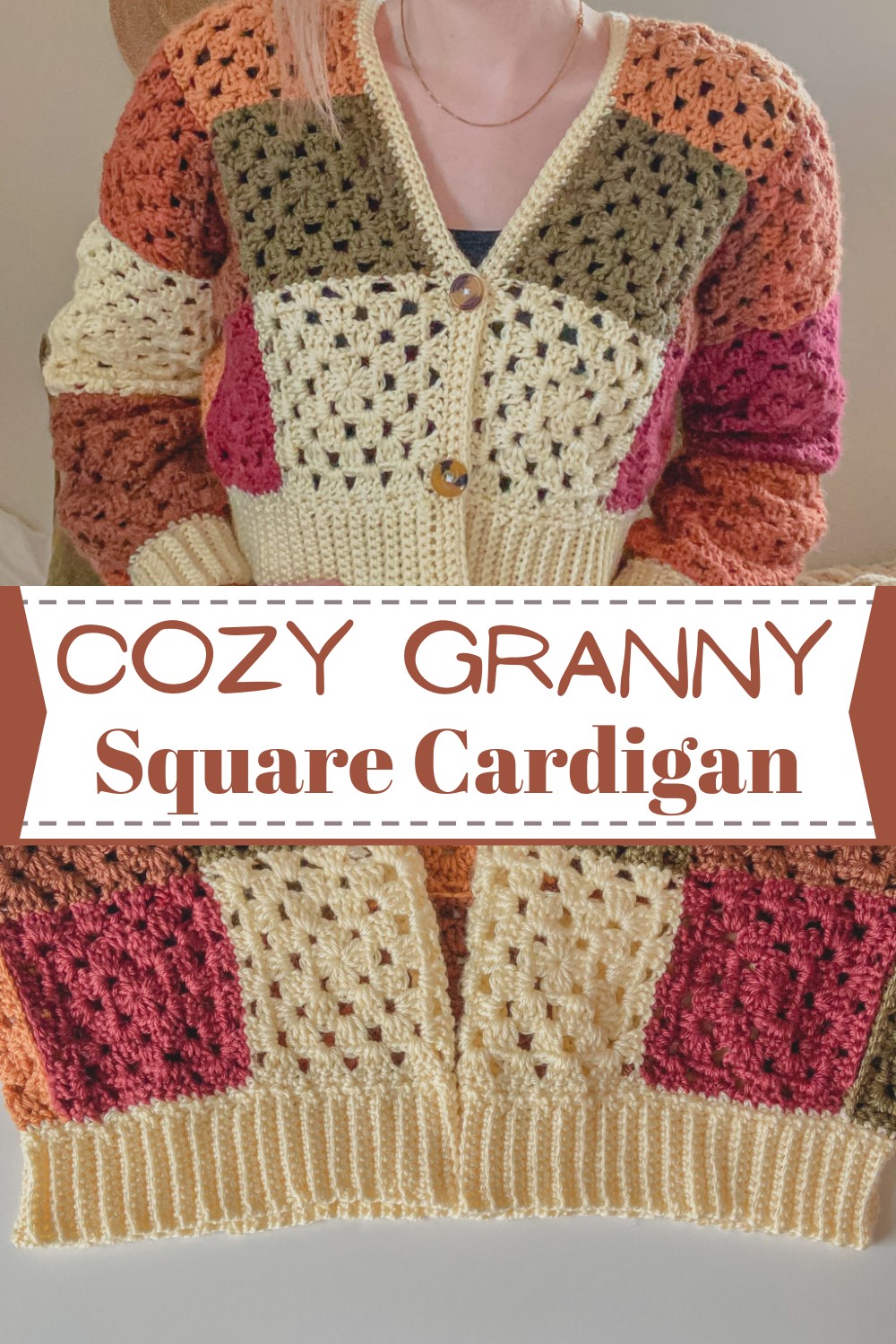 Influenced by fall's warm hues, this crochet cardigan is equally suited for winter wear. Featuring a cropped length, elongated sleeves with ribbing, and a V-neckline, it's the perfect addition to elevate any outfit, be it casual or formal. Personalize this versatile cardigan by adapting the colors to match any season or your preferred color scheme, making it a true creation that enhances your wardrobe.
Halloween Granny Square Cardigan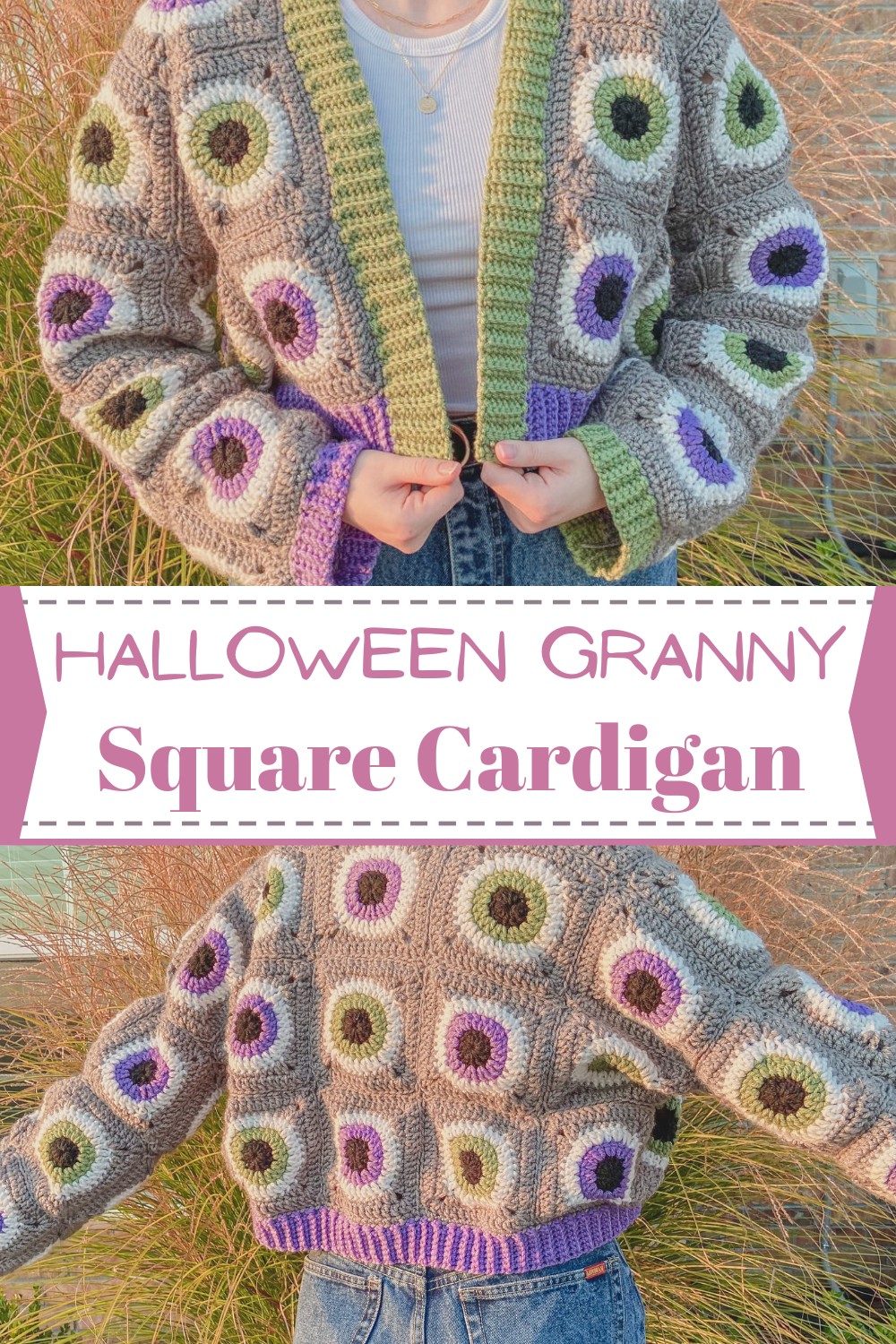 Celebrate this spooktacular season with this unique and captivating Halloween Granny Square Cardigan, as the granny squares resemble those eyes. It uses lightweight yarn that gives you warmth and coziness without putting too much bulk on your shoulder. Whether paired with pants or other outfits, it will impress every eye!
Unique Granny Square Cardigan Idea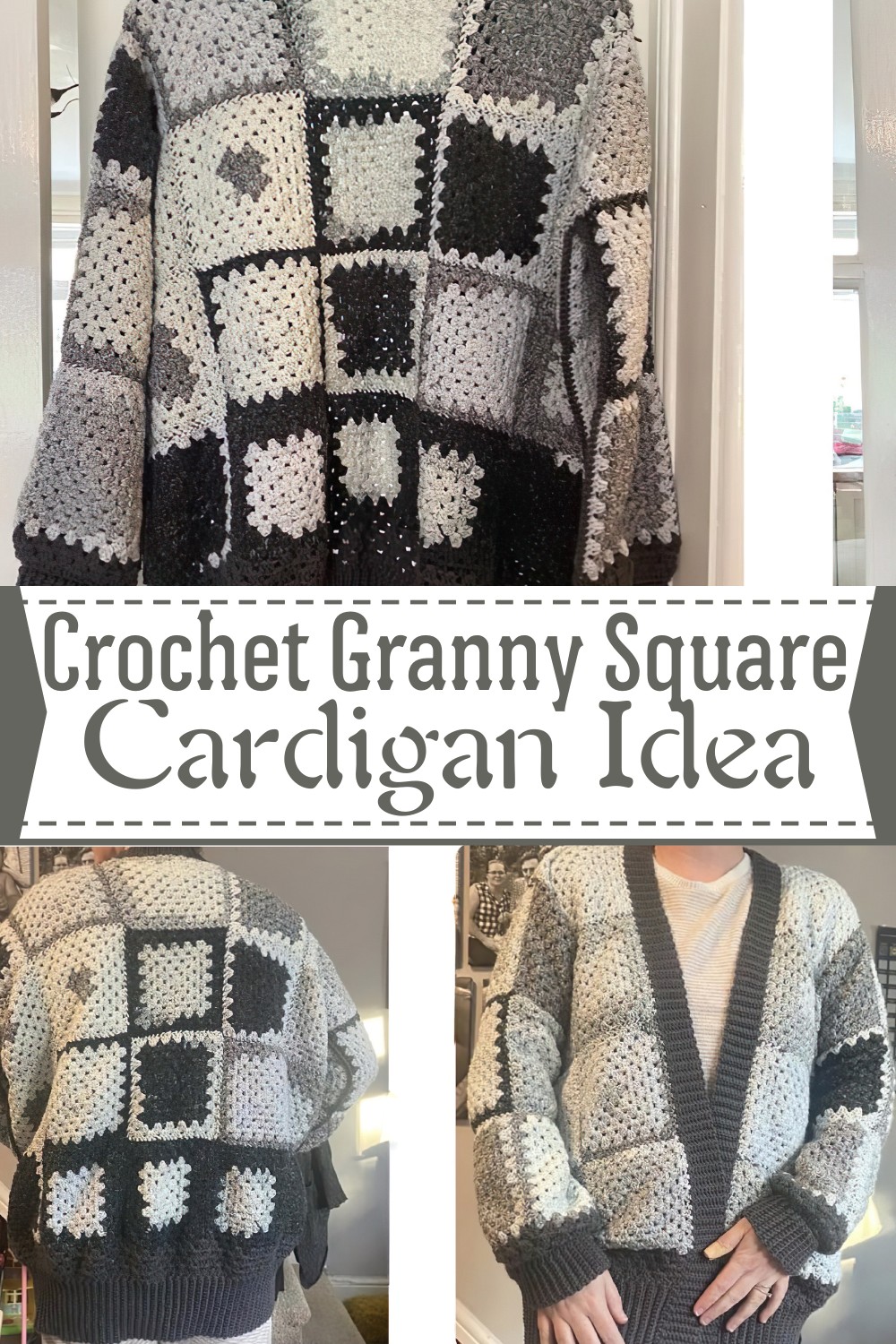 If you want to add unique and excellent flair to your winter style, then be inspired by this crochet granny square cardigan idea. This granny square piece will have a sunshine impact on your wardrobe due to its attractive design. Thus, This cozy and delightful garment provides comfort and celebrates the beauty of uniqueness with every stitch.
Crochet Acrylic Granny Square Cardigan Idea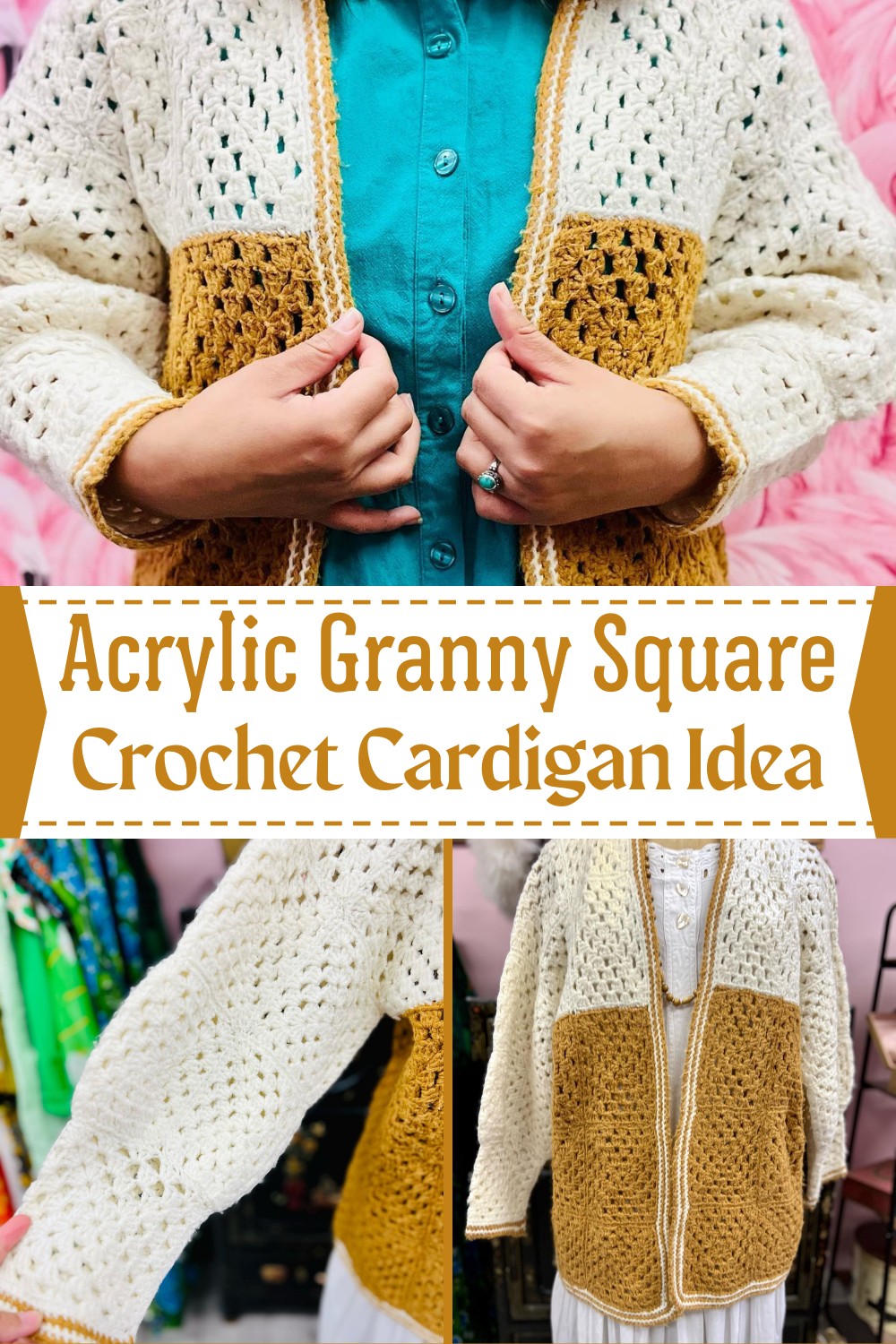 Consider creating a versatile and comfortable crochet granny square cardigan with a neutral color and open design. The cardigan idea features slightly flared lantern sleeves and fits well for sizes S-L, measuring 36″ across and 30″ in length.
Crochet Long Granny Square Cardigan Idea With Shawl Collar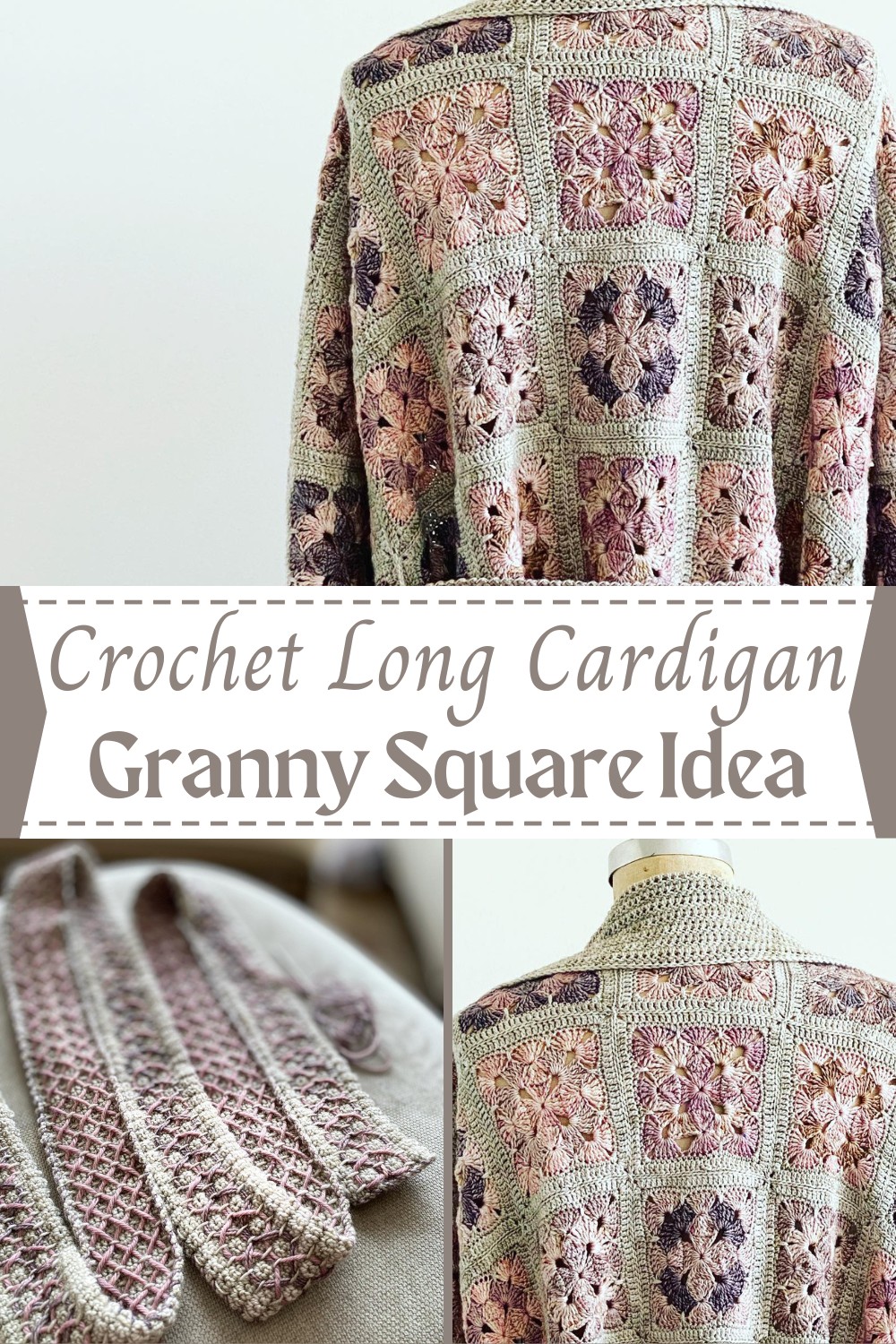 Crochet a cozy, long, granny square cardigan featuring a stylish shawl collar. This crochet piece is ideal for those new to crochet seeking a trendy and fashionable project.
Gorgeous Crochet Granny Square Crochet Circle Cardigan Idea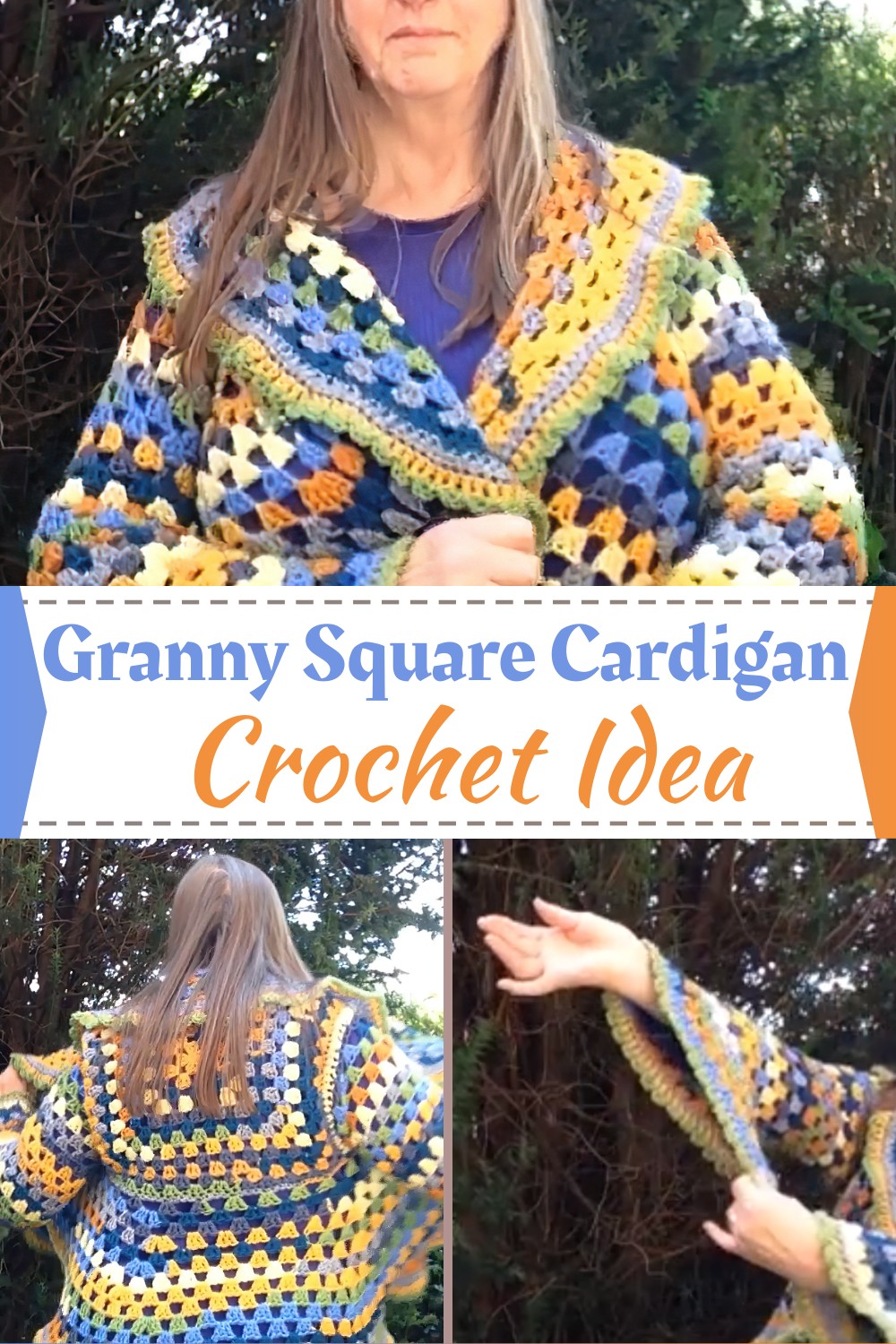 Crochet a one-of-a-kind circle cardigan with a large granny square back and flared sleeves. This loose, open-front design fits sizes 12 to 18 and features a shawl collar and picot stitch edges.
Crochet Hexagon Granny Square Cardigan Idea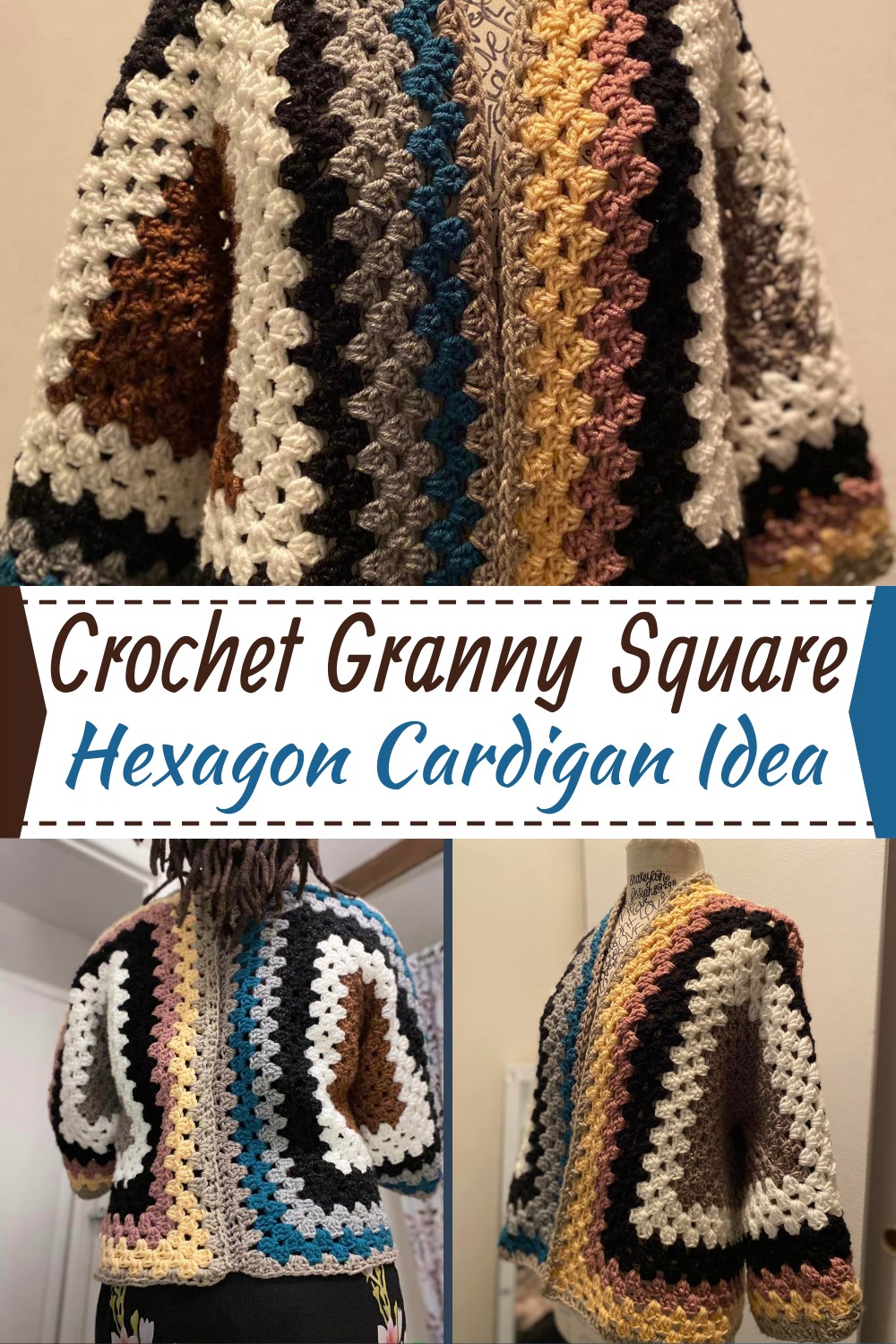 Explore a unique crochet project by creating a cardigan using hexagon granny squares. Perfect for beginners looking to expand their skills and create stylish garments.
One Color Granny Square Cardigan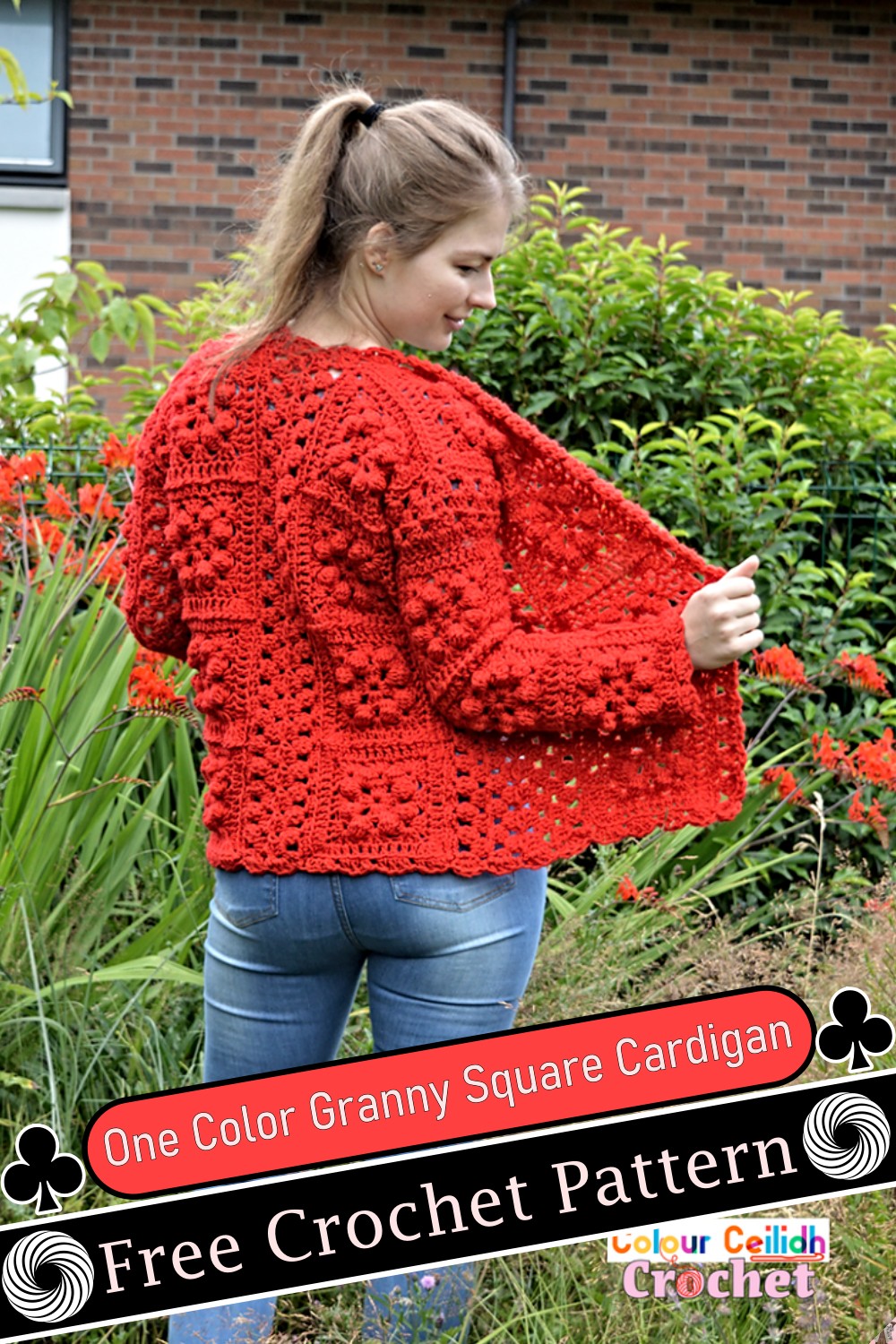 A beautiful cardigan with raw edges, the One Color Granny Square Cardigan is worked all in one color for a seamless look. You'll love this easy crochet granny square cardigan; this versatile pattern includes nine sizes and is perfect for any outfit. The bobble stitches add interest, making this a great choice for your favorite colors. This cardigan pattern makes the perfect addition to your wardrobe that you can wear with everything. This granny square cardigan is simple and easy to make, and the pattern uses basic stitches so beginners can tackle this project too.
Granny Square Shrug Sweater Cardigan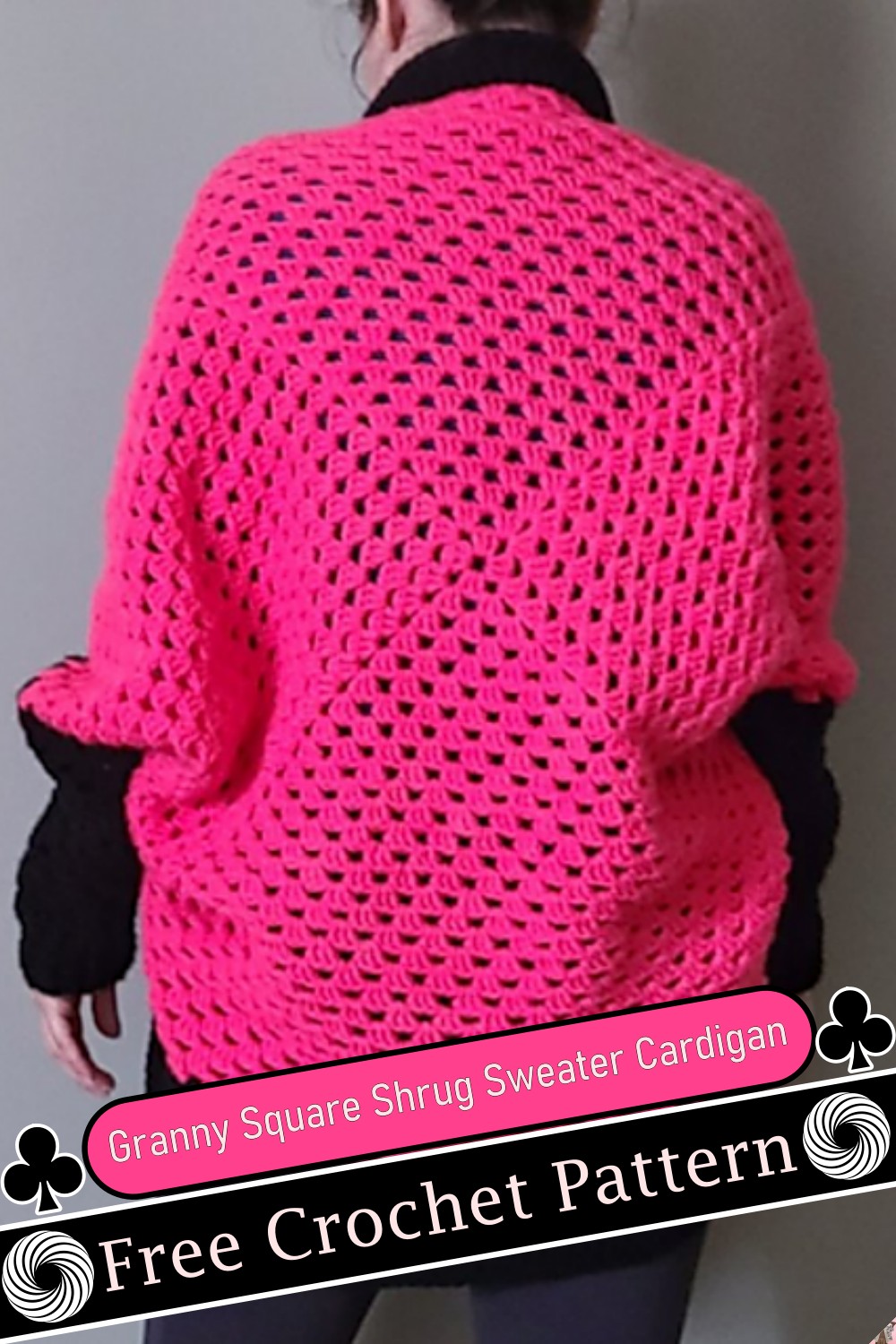 This Granny Square Shrug Cardigan is a must-have for your wardrobe. It's a fun project to transform a beautiful blanket you already have into a fashionable garment or use this pattern to create your design. This sweater cardigan is the perfect addition to any wardrobe. It's made with a crochet granny square and keeps you warm all winter.
Simple Granny Square Cardigan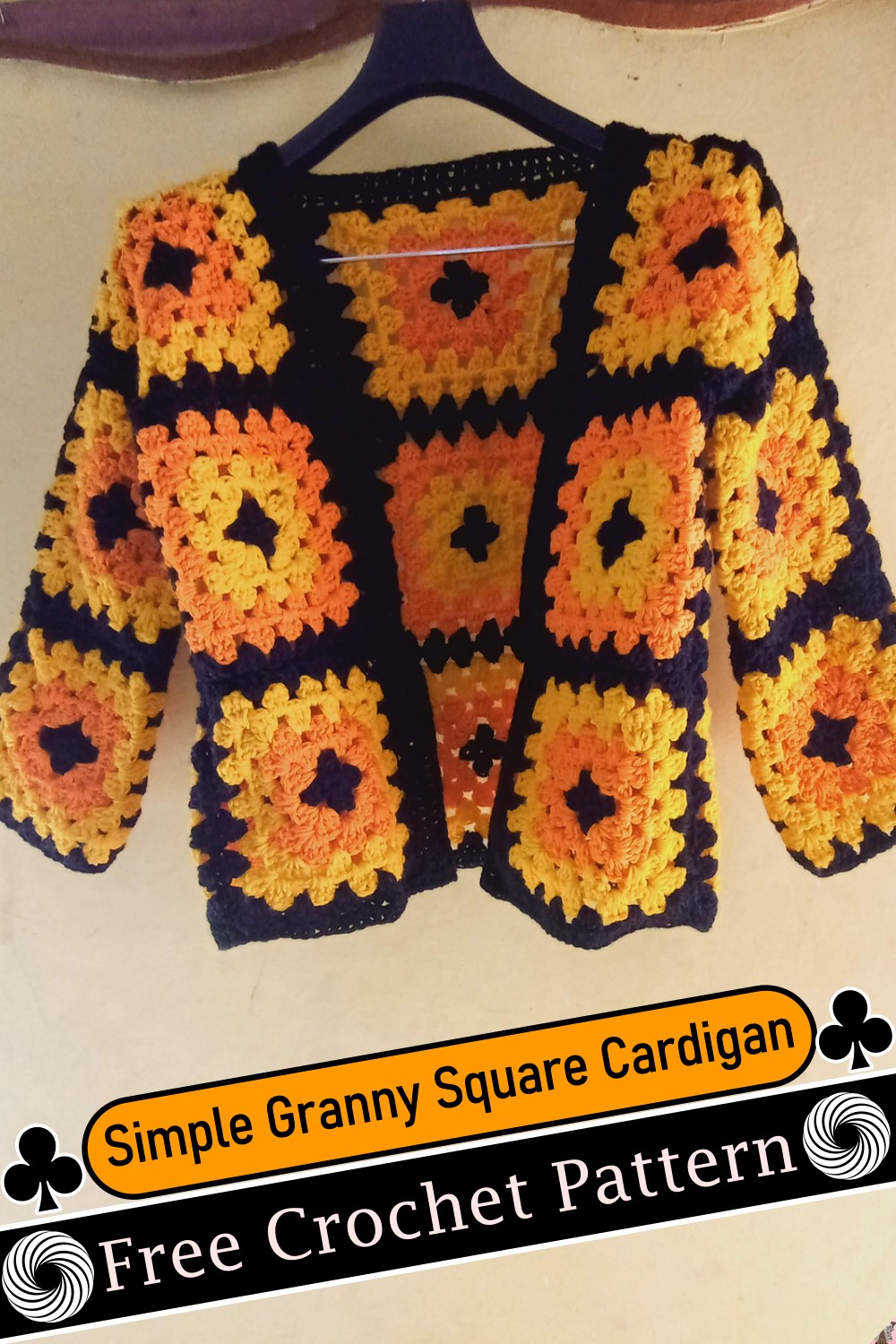 Are you looking for a simple and elegant crochet cardigan pattern? Look no further than the Crochet Simple Granny Square Cardigan. This lovely cardigan design features a classic granny square motif, perfect for any season. This pattern's light and airy yarn makes it ideal for spring and summer, while the squishy and cozy feel will keep you warm all winter. This cardigan will be perfect for beginners looking for a simple but fun project.
Granny Cardigan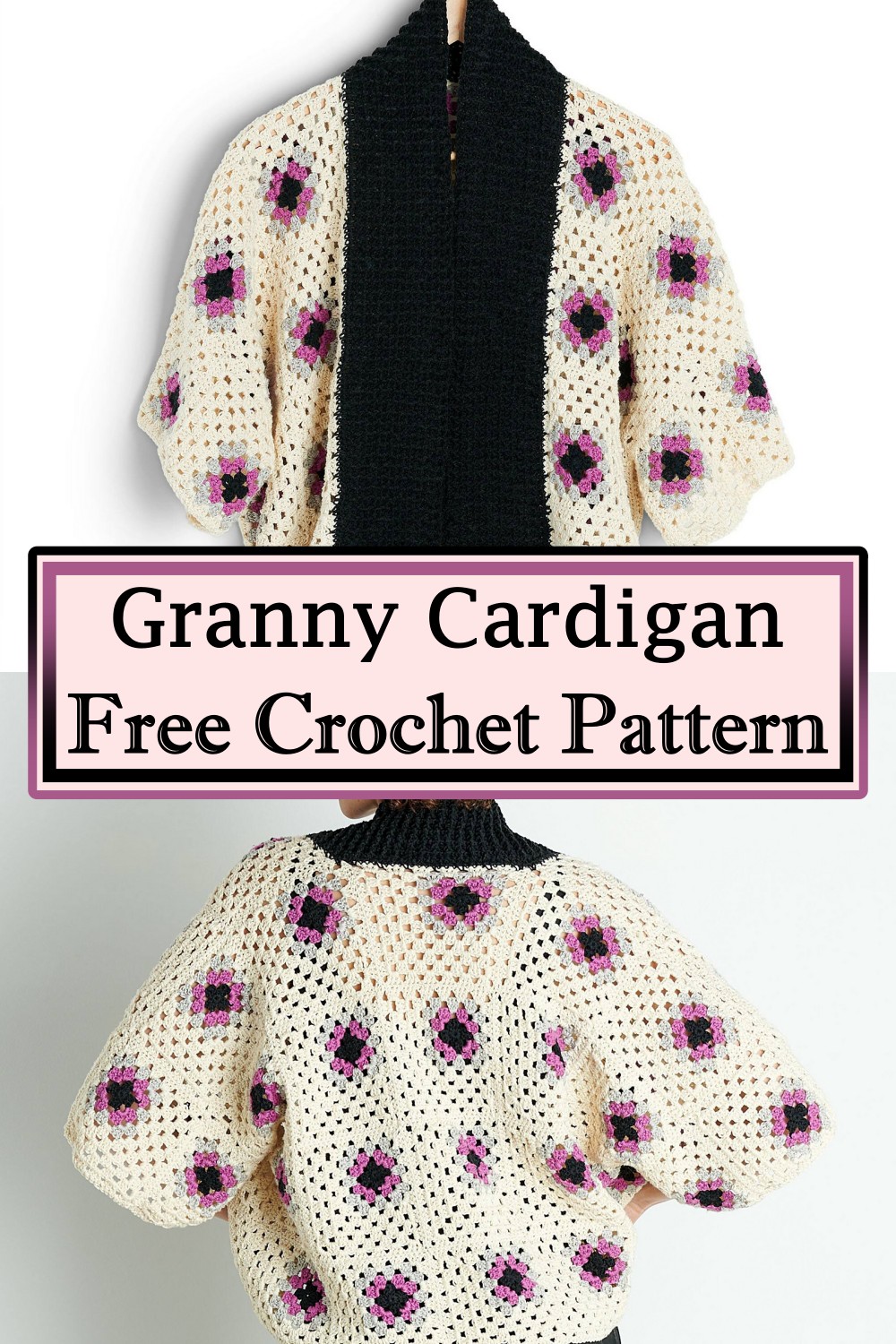 Looking for a stylish and modern take on the classic granny square cardigan? Look no further than this Crochet Granny Cardigan! This cozy crochet cardigan is a modern take on a vintage design. Stitched in our easy-care Patons Grace, it features off-center stitches and front post/back ribbing to keep you looking stylish! This cardigan is made with our comfortable cotton Patons Grace yarn and features off-center granny square motifs for a fashionable twist.
Tulip Square Cardi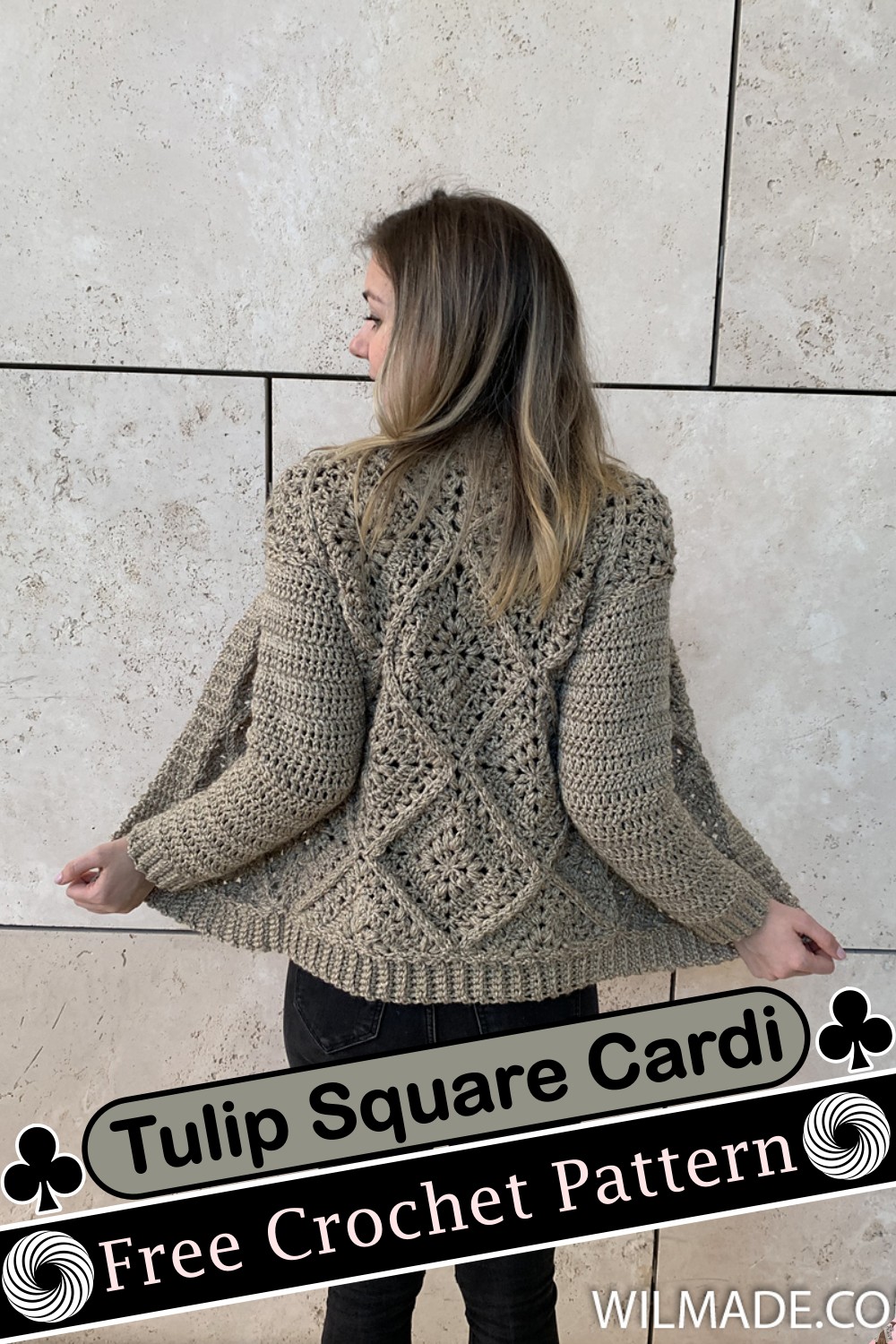 This Tulip Square Cardi crochet pattern is perfect for a trendy look. This crochet cardigan can be made in any size, perfect for anyone. With this easy-to-follow crochet pattern, you'll have your own Tulip Square Cardi. Work this cardigan from the top down and add optional cuffs, collars, and pockets. Beautiful scalloped detailing adorns the front and back panels. Shape the corners of each square with decreases to maintain a flattering appearance as you wear it.
Daisy Granny Square Cardigan
Are you looking for a cute and easy-to-crochet cardigan with a unique design? Look no further than the Daisy Granny Square Cardigan! This cardigan comes in 9 sizes, so you'll find the perfect fit. It works well with medium-weight yarn and a large hook, and the daisy granny square works almost the same as the traditional simple granny square. The bobble stitch provides the rounded shape of the daisy flower petals, making this a fun and easy project for any level crocheter.