Crochet cocoon cardigans are a stylish take on classic sweaters. Whatever the season, these soft cardigans wrap you in effortless elegance. They look gorgeous with jeans or dressed up with a pencil skirt and stilettos. Whether at work or out on the town on the weekend, our crochet cocoon cardigan patterns will star in multiple roles this season as work cardigans or the perfect wraps for your casual evenings or workouts. Work is more bearable with one of these modern silhouettes over your shoulders, or grab a cardi to keep cozy while you enjoy your downtime. Add the finishing touches with a pair of boots and scarf, and complete your look!
Crochet Cocoon Cardigan Patterns

Update your closet with some stylish, affordable, and easy-to-crochet cocoon cardigans. Cocoon cardigans are a must-have this season from the office to the weekend. Are you looking for a perfect fit and simplicity? We have you covered with our amazing crochet cocoon cardigan patterns. These high fashion looks are finished with a sassy wide or short hemline, from classic one-shoulder styles to trendy kimono sleeves. They are soft, lightweight, and easy to wear. Cocoon cardigan patterns are perfect for beginners and advanced crocheters alike.
Corner To Corner Cocoon Cardigan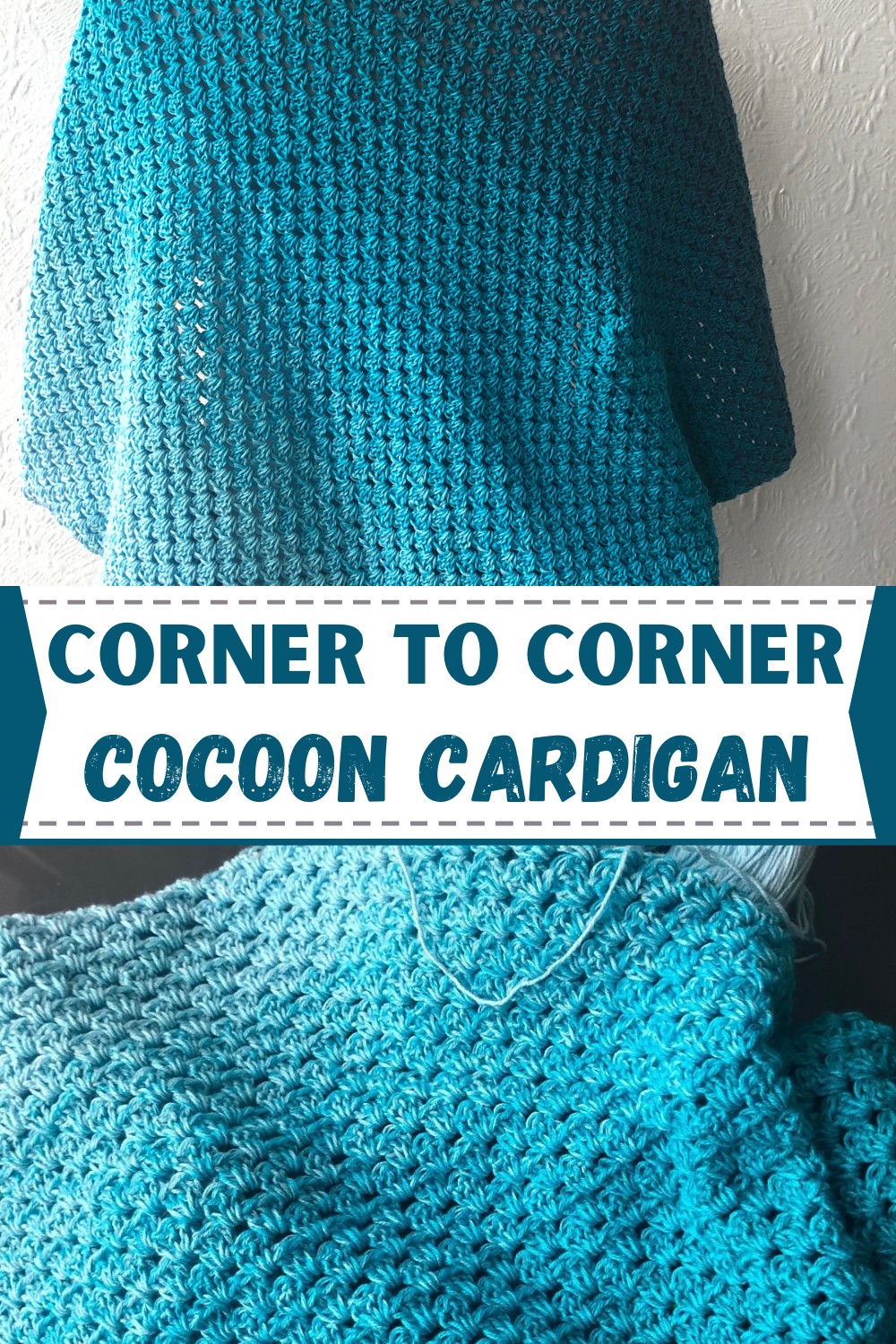 Searching for a simple yet stylish crochet cocoon cardigan pattern? Look no further! Nain Cocoon is a beginner-friendly corner-to-corner cocoon cardigan pattern perfect for all skill levels. This versatile piece is the ideal addition to your wardrobe or a heartfelt handmade gift. With a dazzling array of colors in the Twister collection and matching hues in the Twister Solid range, you'll have endless possibilities to customize your beautiful cozy, airy crochet cardigan. Embrace the charm and versatility of this splendid yarn choice for your next crochet masterpiece!
Sizes: XS – 5X (28 – 62 in the bust)
Skill level: easy, beginner
Hook Size: 4mm Clover Amour
Tunisian Crochet Cocoon Shrug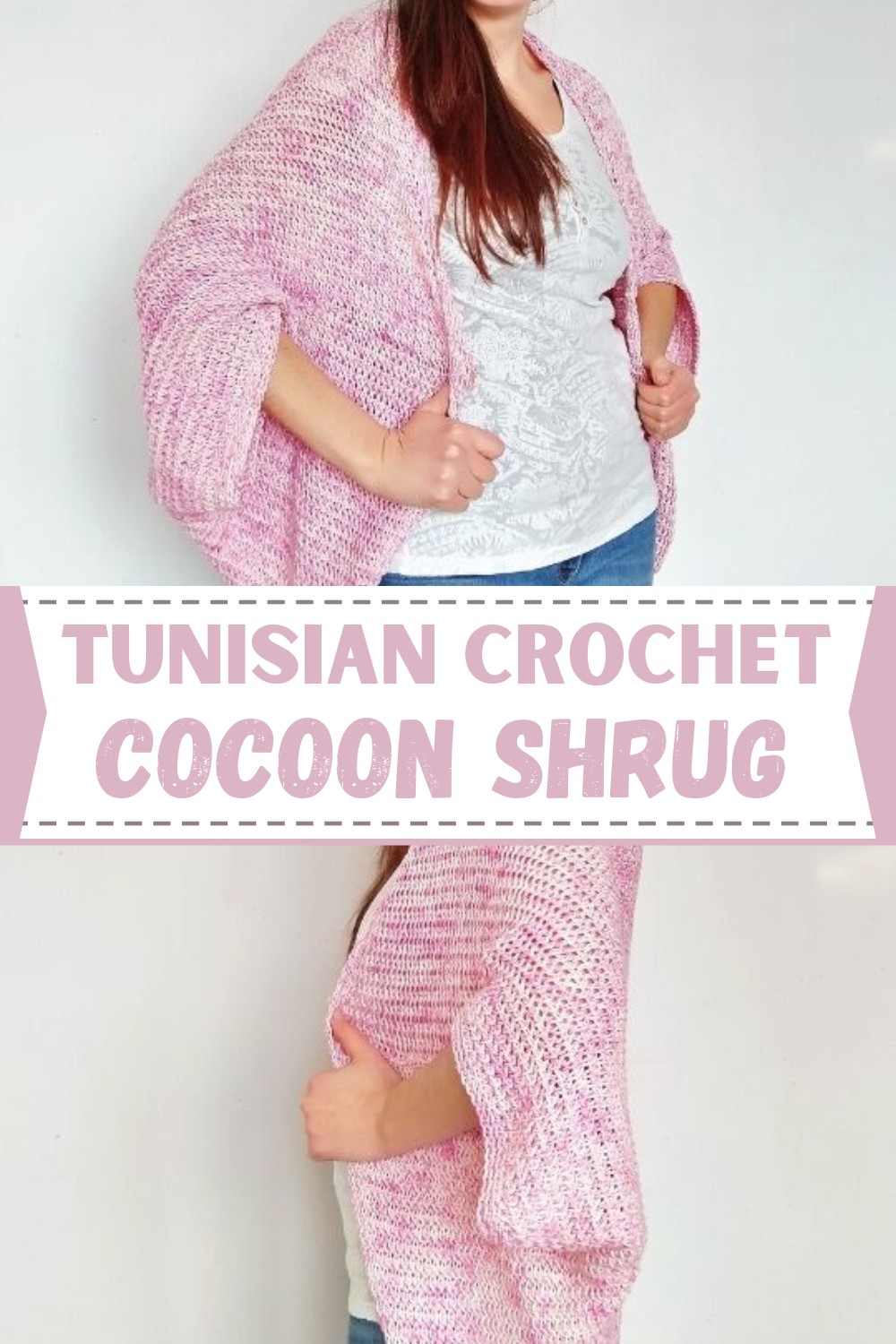 Welcome to the delightful world of the Tunisian Crochet Cocoon Shrug! This versatile and stylish garment is perfect for those looking to explore the captivating realm of Tunisian crochet. With its unique construction and cozy fit, this free Crochet Cocoon Shrug is an ideal project for beginners and experienced crocheters. It is recommended to use the Tunisian Top Loop Stitch (Ttls) for a lightweight and less flexible look; a perfectly draped shrug is ideal for spring. So, Embrace the magic of this charming design as you embark on a creative journey to craft a stunning, wearable piece that blends coziness, comfort, elegance, and the fascinating crochet technique!
Crochet Lacily Cocoon Cardigan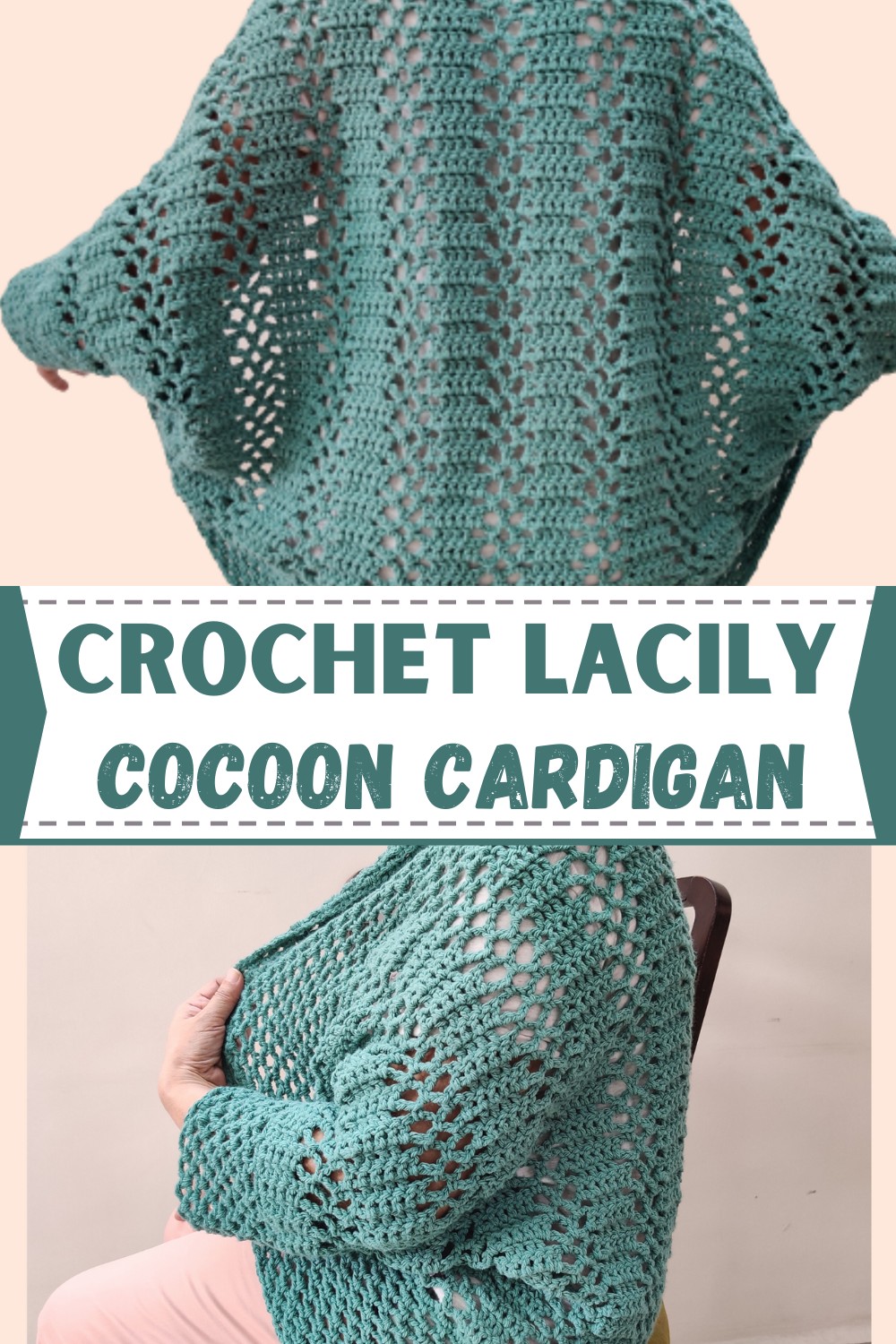 Step into the enchanting world of the Crochet Lacily Cocoon Cardigan, where elegance meets comfort in a stunning, resulting in this awesome wearable work of art. This super airy and cozy cardigan showcases intricate lace patterns and a cozy, flowing silhouette that'll elevate any outfit, making it the perfect versatile addition to your wardrobe—pair it with pants or a dress for a stylish boho flair. Crocheted with comfort in mind, this 2-row repeat pattern works quickly, ensuring you'll have a stunning, wearable piece in no time. For those who prefer a visual guide, here's a link to a detailed YouTube tutorial that ensures a seamless and enjoyable crocheting experience!
Lion Brand Pound of Love
6.0 mm
Crochet Periwinkle Cocoon Cardigan With Video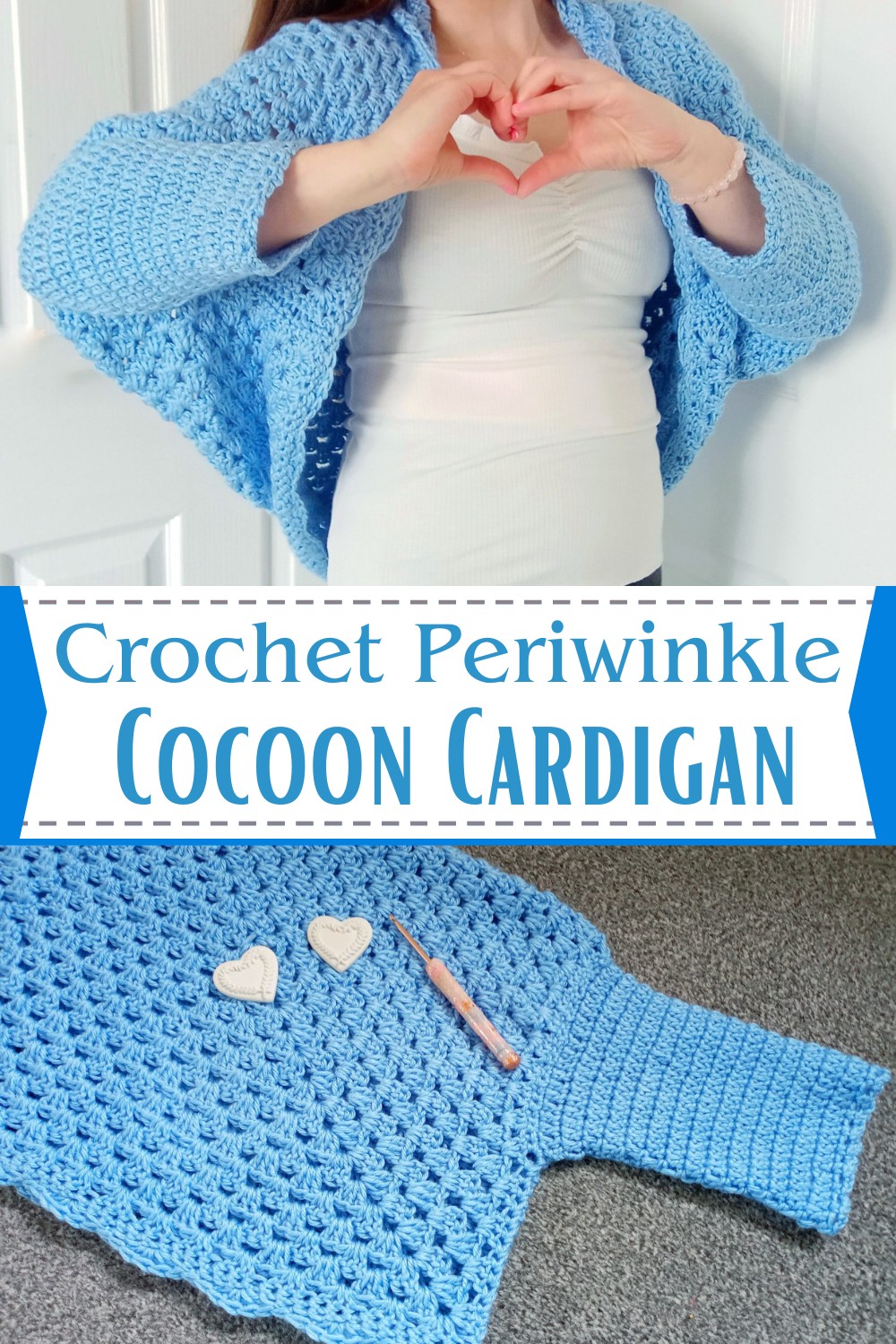 Embark on a crochet adventure with the Crochet Periwinkle Cocoon Cardigan, a captivating and cozy creation that seamlessly blends comfort and style. Inspired by the soft shades of periwinkle flowers, this lovely free crochet cardigan is perfect for crocheters of all skill levels eager to add a touch of grace to their handmade wardrobe. Our blog post will guide you through the enchanting process of crafting this stunning piece, which features a warm, inviting fit and a charming yet simple granny square design. Dive into the Periwinkle Cocoon Cardigan world, and discover the joy of weaving a timeless, fashionable garment that will elevate your everyday outfits with grace and beauty!
Suggested Yarn: Red Heart Soft Baby
Fireside Cocoon Cardigan Pattern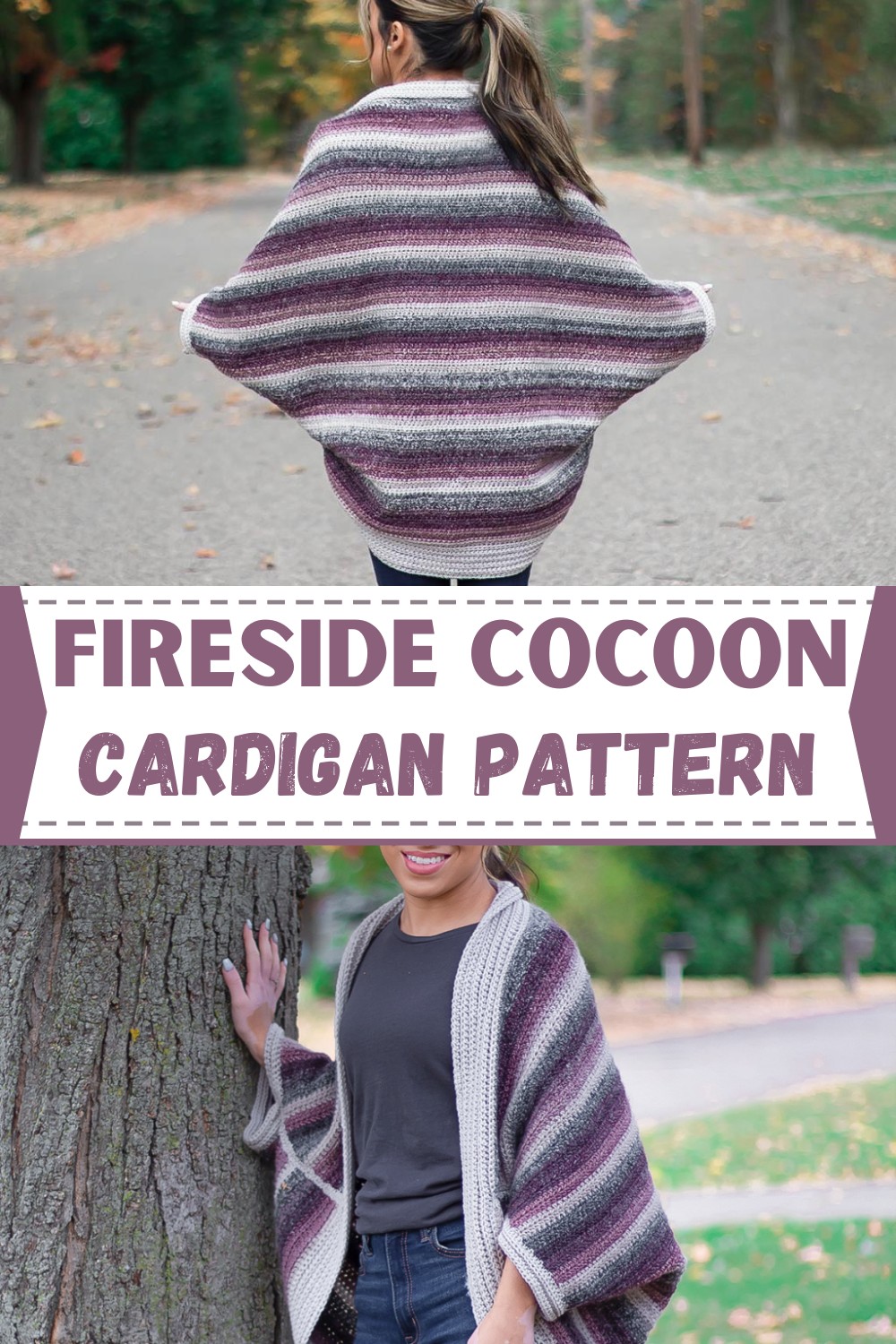 It's astonishing how a simple rectangle can create such a warm and soothing silhouette, right? Indeed, it's a fact! Whether you're a crochet novice or a snug, inviting piece to wrap yourself in as you enjoy the warmth and style during those cooler evenings or crisp autumn days, it is perfect! For this free crochet pattern, it is best to choose Premier Yarns Coffee Shop in the delightful "Sandstone" shade that provides an acrylic/wool blend and features subtle, gradual color transitions that add a unique touch to your creation. So, Embark on a crochet journey of style with this Cocoon Cardigan, and experience the joy of creating a timeless, comfortable addition to your wardrobe!
Finished Size: Pattern is written for sizes XS/S/M, L/XL/2XL, and 3XL/4XL/5XL
Hook Size: 5.0mm
Comfy Spring Cardi Crochet Pattern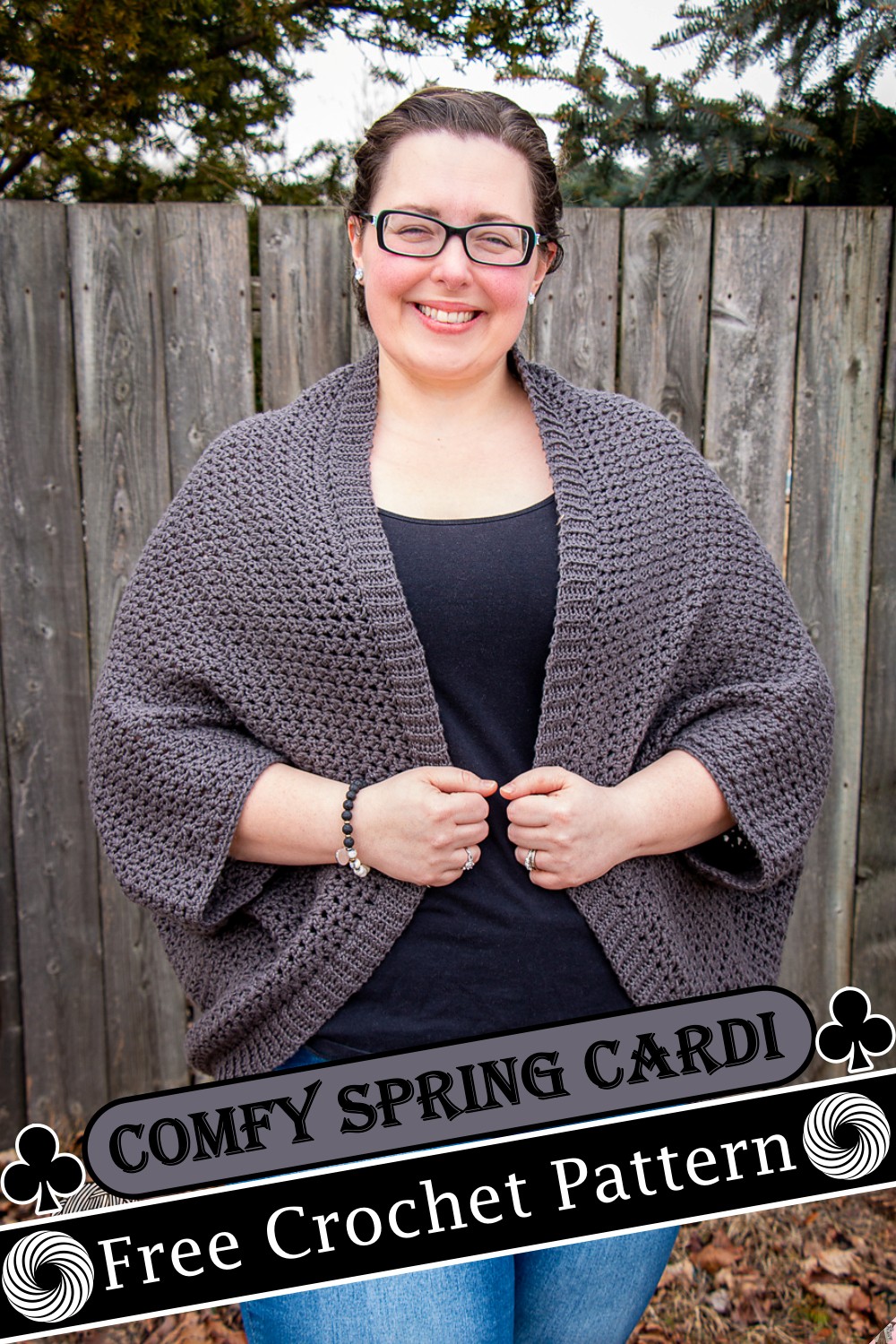 The Comfy Spring Cardi is a tunic-length, oversized sweater that looks great on everyone. This size-inclusive design is as relaxing to make as it is comfy to wear. This drapey sweater is worked from the top down in one piece. It's worked in pieces and seamed together at the end, making it easy to adjust if you want to make it longer or shorter. Made in one piece, this size-inclusive cardigan is as easy to make as it is comfy to wear. And because it comes in so many beautiful colors, you're sure to find the perfect one to match your style. So go ahead and add the Crochet Comfy Spring Cardi to your wardrobe today. You won't be sorry and will surely want it in every color!
Elegant Cocoon Cardigan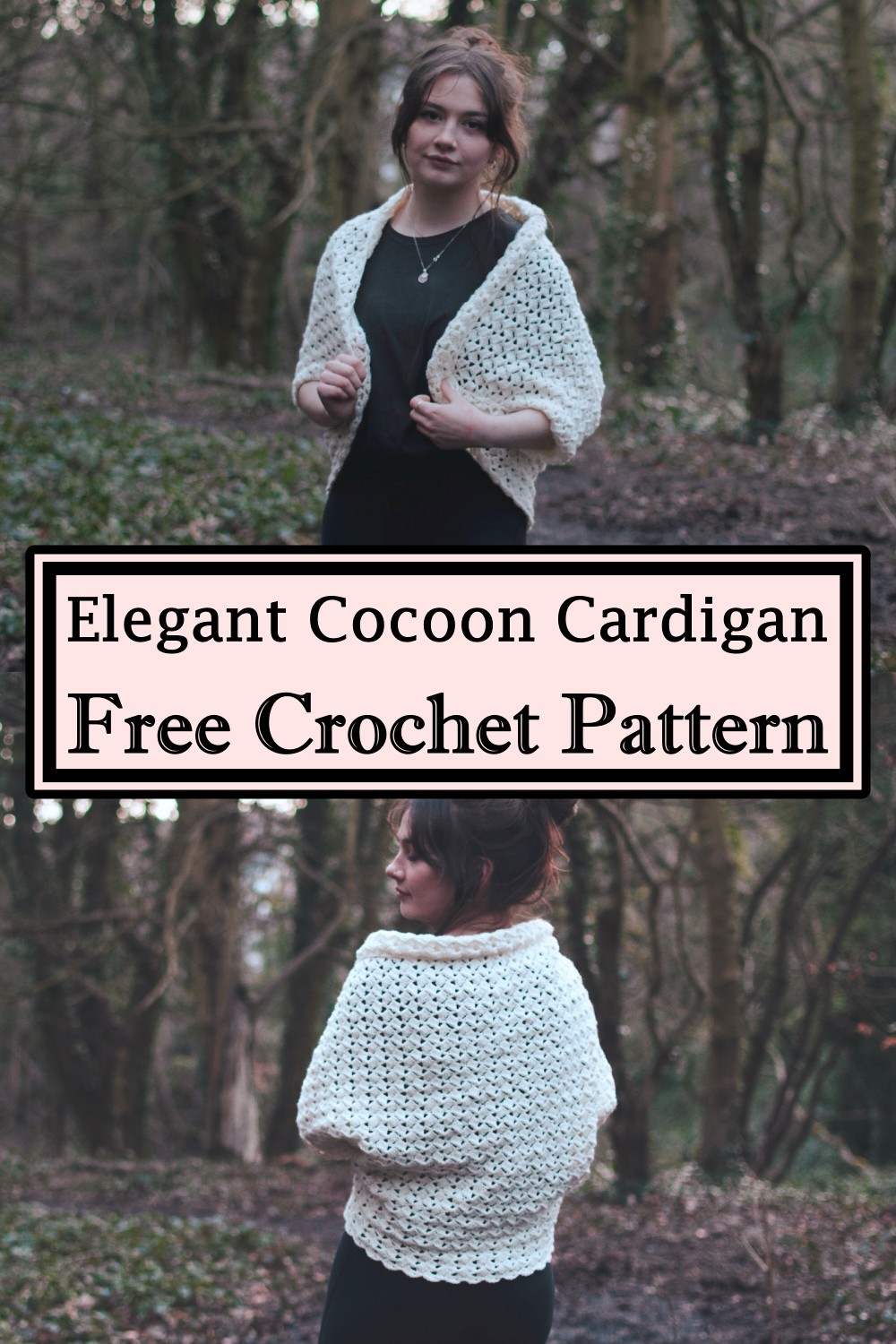 The Elegant Cocoon Cardigan is a thicker weight pattern, so not for the summer months! This beautiful and easy-to-wear cardi is perfect for any occasion, whether you're dressing up for a night out or relaxing at home. Made from soft and luxurious yarn, this cardigan will become your new go-to piece. It's also size-inclusive so that everyone can enjoy its cozy comfort. Add the Crochet Elegant Cocoon Cardigan to your wardrobe today and experience the difference! However, it looks fabulous with jeans and boots during the autumn months or over a dress with tights and Uggs on those freezing winter days. Wear it to work or on a night out. Enjoy!
4Granny Cocoon Cardigan
This unique cocoon cardigan is crafted from four granny squares sewn together at the sides, leaving a pretty opening in the front. This cardigan is perfect for any occasion, whether you're dressing up for a special event or want to add a touch of style to your everyday look. It's sure to turn heads and get compliments wherever you go! Plus, it's super cozy and comfortable, so you'll want to wear it all the time. The finishing of the sleeves and cardigan opening is made of red and black yarn strands held together, which has greatly highlighted the border. It can be worn to keep you warm during cold winter days and nights. This unique design has the look of a crocheted sweater but with the ease of a cardigan since it opens in the front.
Daphne Cocoon Cardigan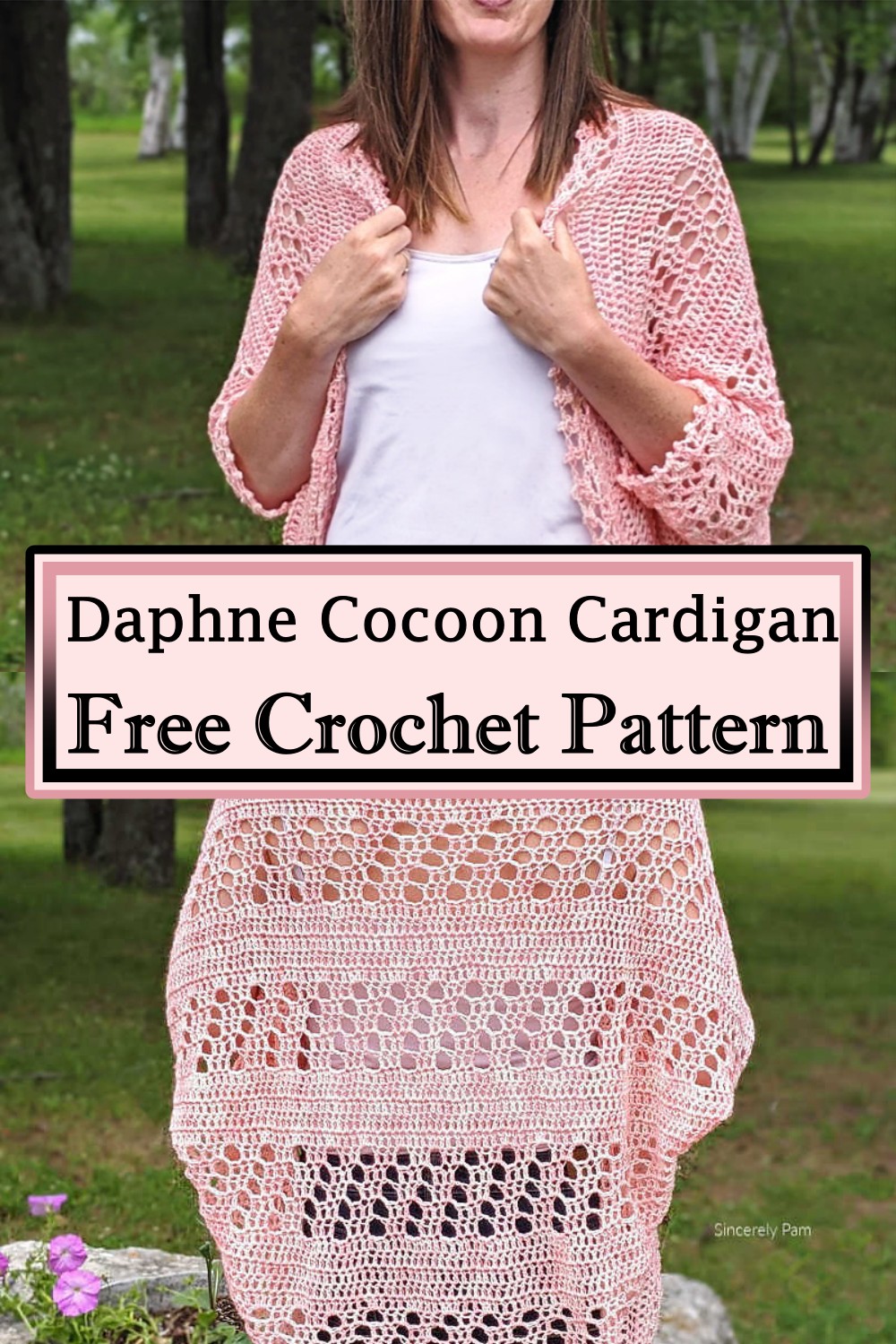 Designed to be worn over a blouse or dress, the Daphne Cocoon Cardigan Crochet Pattern is a lightweight summer design using fingering weight yarn. This striking design features a light filet crochet body with a simple picot edging, perfect for those hot summer days. The delicate yet bold colors of the fingering weight yarn used in this design will turn heads, while the easy-to-wear cocoon silhouette will keep you comfortable all day long. Whether you're exploring a new city or just enjoying a sunny day at home, the Crochet Daphne Cocoon Cardigan will become your new go-to piece. So don't wait – order your own today!
Handkerchief Cocoon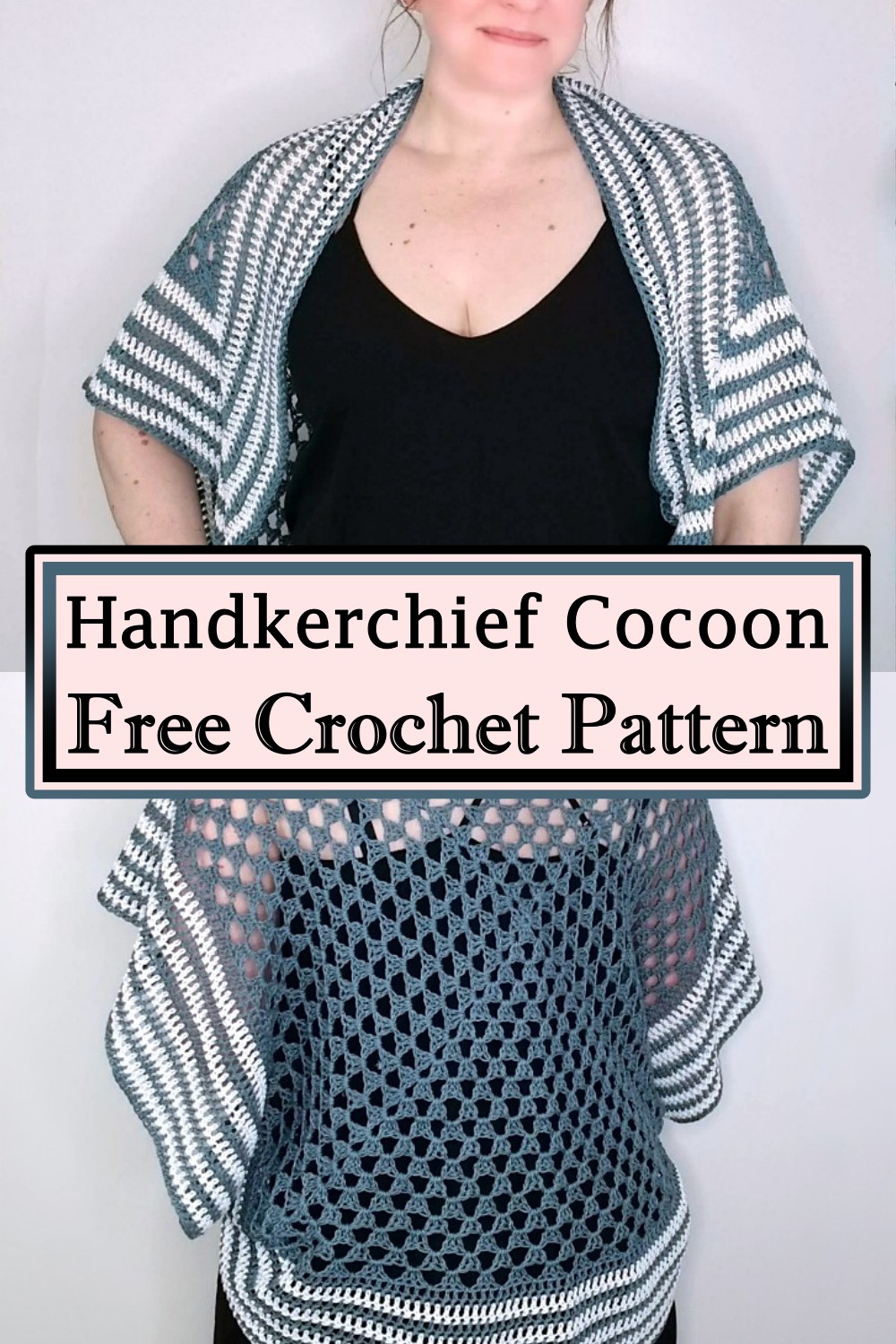 This super easy-to-crochet topper is perfect for those hot days when you need a little something extra to throw on. The graphic, modern design is made with traditional stitches, so it's both stylish and timeless. This Handkerchief Cocoon is the perfect summer topper and easy to make. The crochet stitch works up quickly but looks more complicated than it is. A simple shell pattern creates a graphic and modern look with a traditional stitch. If you prefer a looser fit and are using a yarn that won't grow much, consider going up a size as it hangs beautifully loose on the body due to its drapey nature.
Marni Cocoon Cardigan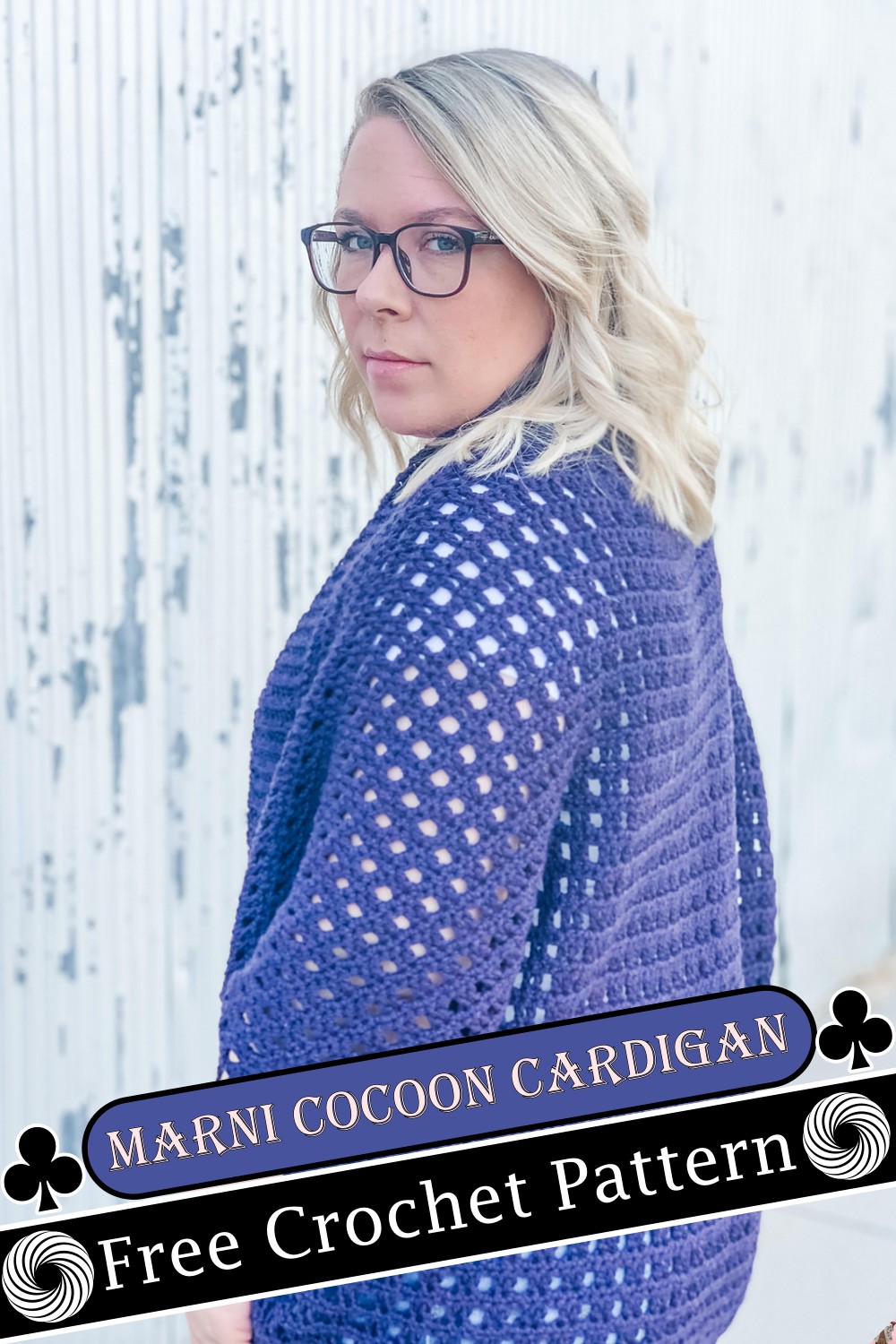 This cozy cardigan has a classic cocoon shape that can be worn with anything. It's a simple rectangle that you seam together specially and add a ribbed border. The best part about this project is that it's a crocheter-friendly pattern – so it can be made by anyone who knows how to hold their yarn or single crochet! The finished garment will become a staple in your wardrobe that you'll reach for repeatedly. Dress it up or down - the possibilities are endless! Whether you're looking for a cozy layer to throw on over your jeans and a t-shirt or add a touch of elegance to your fall dresses, the Crochet Marni Cocoon Cardigan is perfect for any occasion. Don't miss out on this must-have.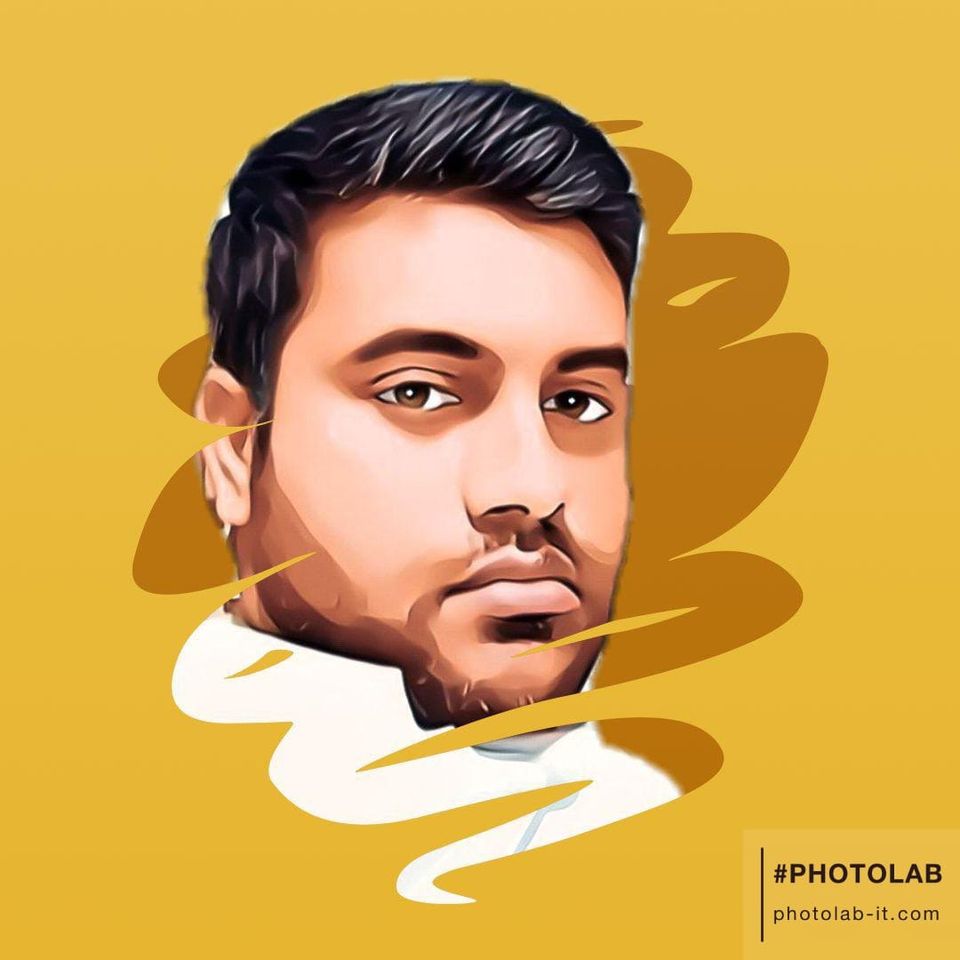 I am Raza, a crafts expert with 6 years of experience. I run this site for DIY lovers to provide the most exciting projects and ideas for your home, office, and everyday life. See More