30 Free Crochet Rug Patterns To Style Your Home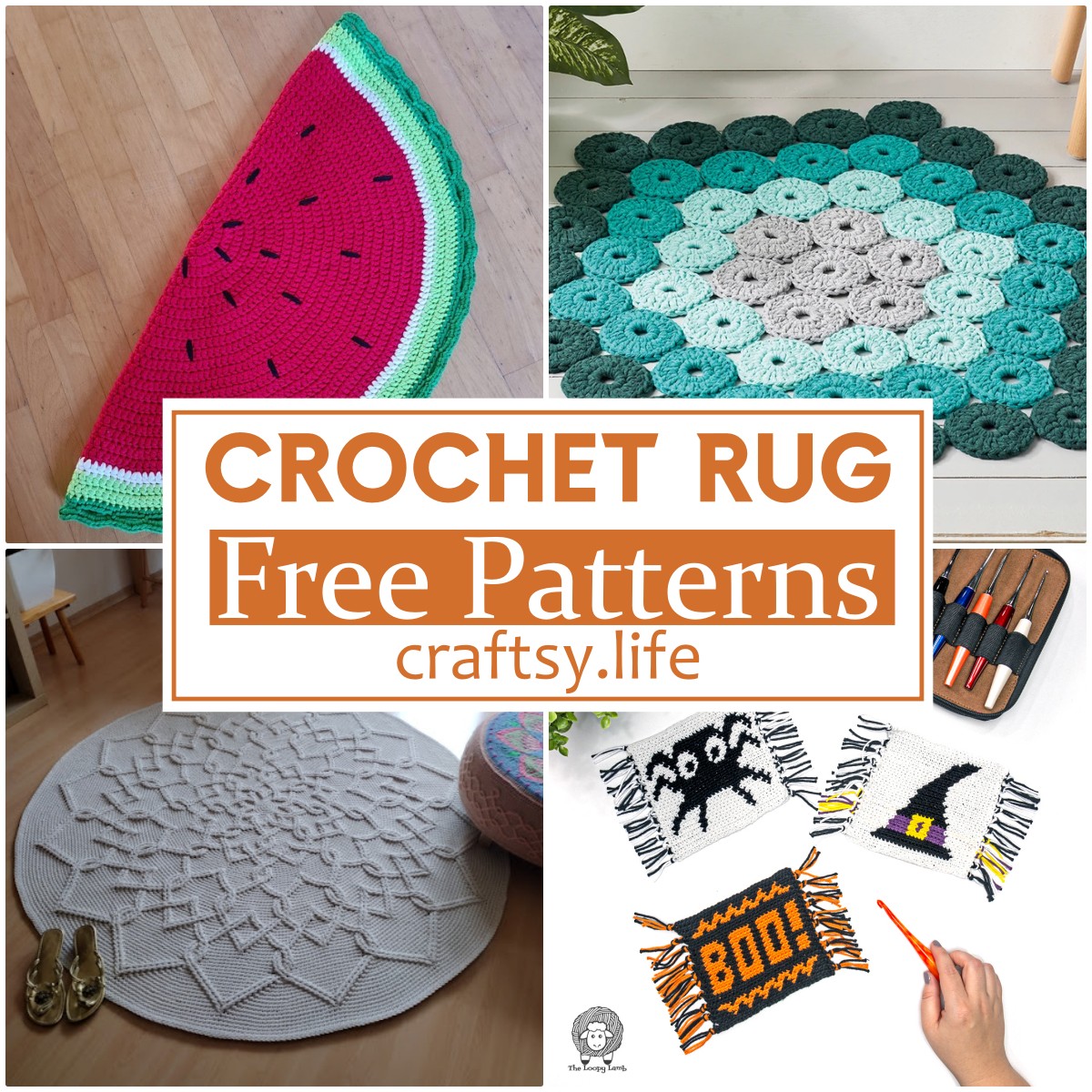 Crochet rugs are usually great items to add a bit of décor and style to your home. They can be made in various styles and sizes and also in different colors. You can place these crochet rugs on your floors, sofas, chairs, couches, or even on the table as well. Also, these crochet rug patterns will protect your feet from cold furnishing in winters and make a protective layer in winter to avoid your feet from hot days too. There is no rule that you only have to use these crochet patterns for your floors; you can use them just to decorate your home in various places while they will also protect you from cold and hot weather as well. These 30 crochet rug patterns really catch the attention of anyone who visits your homes and offices.
Crochet Rug Patterns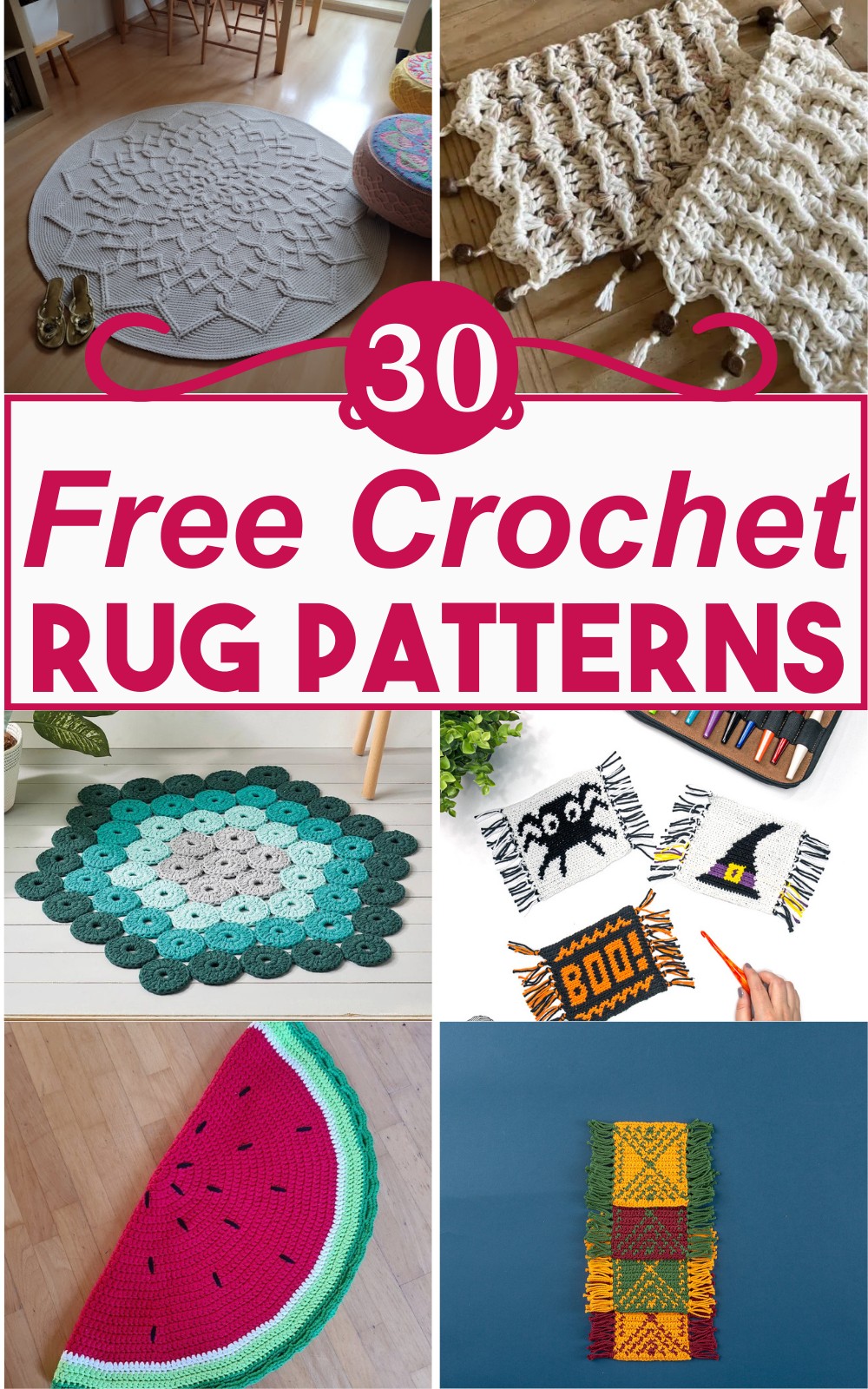 These crochet rug patterns are amazing because they will not only keep you warm and cozy but also give a contemporary look to your home as well. It doesn't matter how much experience you have with crocheting because these free crochet rug patterns are so easy and beginner-friendly that anyone can easily make them at home without any difficulty. Their making is not time-consuming at all; even if you are making them. You can find 25 different patterns for every skill level, from easy to complicated.
This article contains the most beautiful and unique crochet rug patterns for you to create and make your home more beautiful.
Tips to Crochet Rug Patterns
If you thought crochet rugs were a thing of the past, think again! Making a crochet rug is a great way to customize your home decor and give a handmade touch to any room. There are plenty of crochet rug patterns to choose from, and with these tips, you'll be well on your way to creating your very own masterpiece.
Tip 1: Size matters
When making a crochet rug, it's important to understand the size of the rug you wish to make. Measure the area where you want your new rug to be before even beginning the project. If you want something extra large, you can use multiple balls of yarn and stitch them together.
Tip 2: Yarn options
It's recommended that you use 100% cotton yarn when crocheting your rug. Cotton yarn is especially durable and will hold up over time. You can also use synthetic yarn or wool yarn, but cotton is the most popular option.
Tip 3: Crochet hook options
You'll need an appropriately sized crochet hook for your project—it's recommended that you use a J-hook or an H-hook. These hooks are typically used for worsted weight cotton yarns, which are often used in crochet projects. A J-hook is 10mm and an H-hook
Benefits Of Crochet Rug Patterns
Crochet is easy and relaxing
The most beautiful crochet rug patterns are in the sale section
You can even make your own crochet rug patterns
You can make a handmade crochet rug to use as a decorative piece.
Crochet rugs are soft, comfortable, and durable, so they can be used anywhere in the home.
You can make a crochet rug as a gift for holidays and birthdays.
Any color is perfect if you want to make your own rug.
You can use crochet to improve your art skills
When you add a rug, you can create a beautiful pattern of how it will look on the wall, in the space, and in the bedroom.
March Arabesque Crochet Rug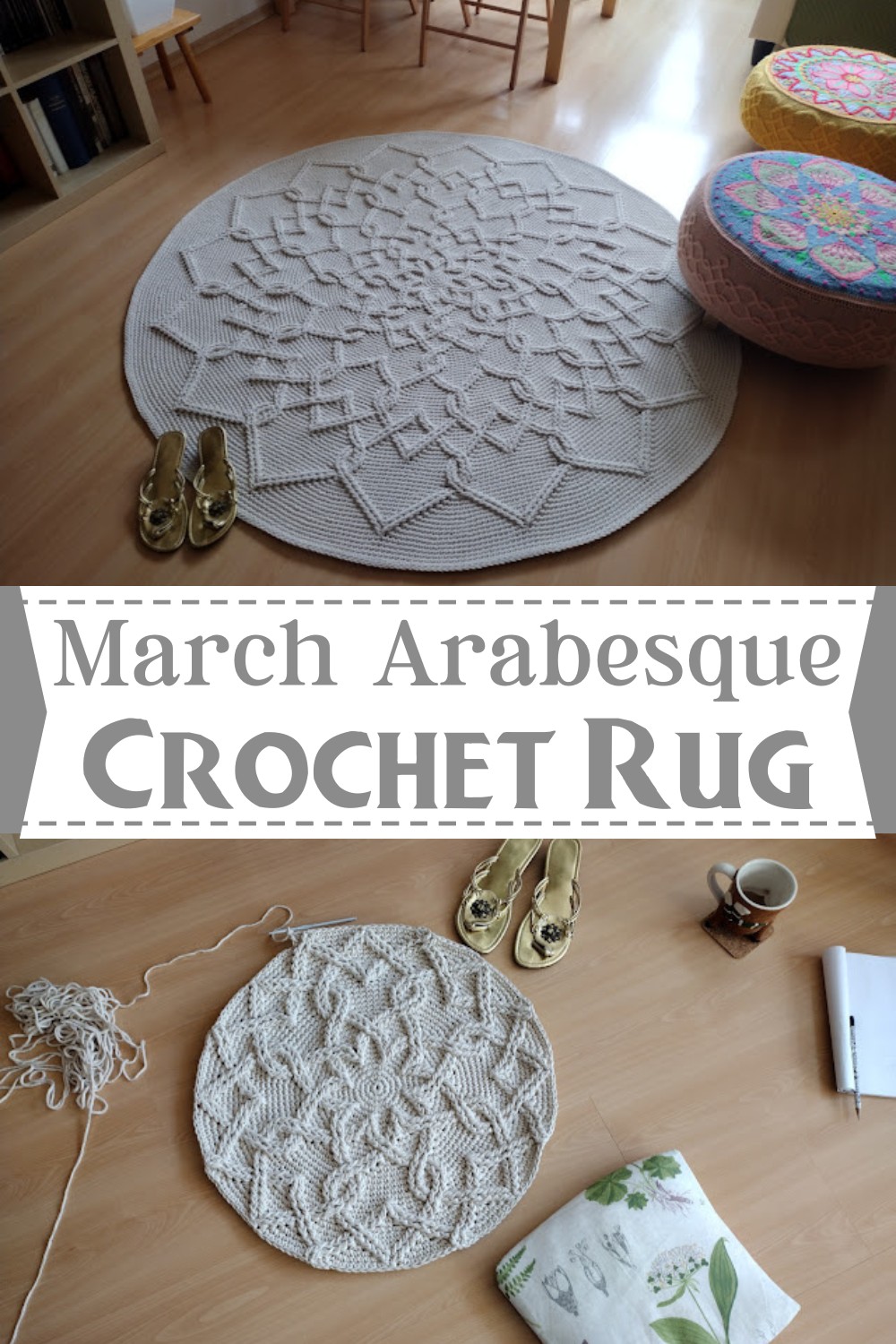 Create a stunning centerpiece for your living space with the March Arabesque Crochet Rug. This intricate and textured rug features a whopping 77 rounds, reaching 160 cm (63 inches) in diameter. Made with 3mm thick cotton string and a 5mm crochet hook, this project requires patience and dedication, resulting in a beautiful and unique piece for your home. The spiral construction ensures a seamless finish, while the relief fragments add visual interest and depth!
Materials:
3 km (1.86 miles) of 3mm thick cotton string in your choice of color(s)
Size H/8 (5mm) crochet hook
Scissors
Yarn needle
Fringe Diamond Rug Crochet Pattern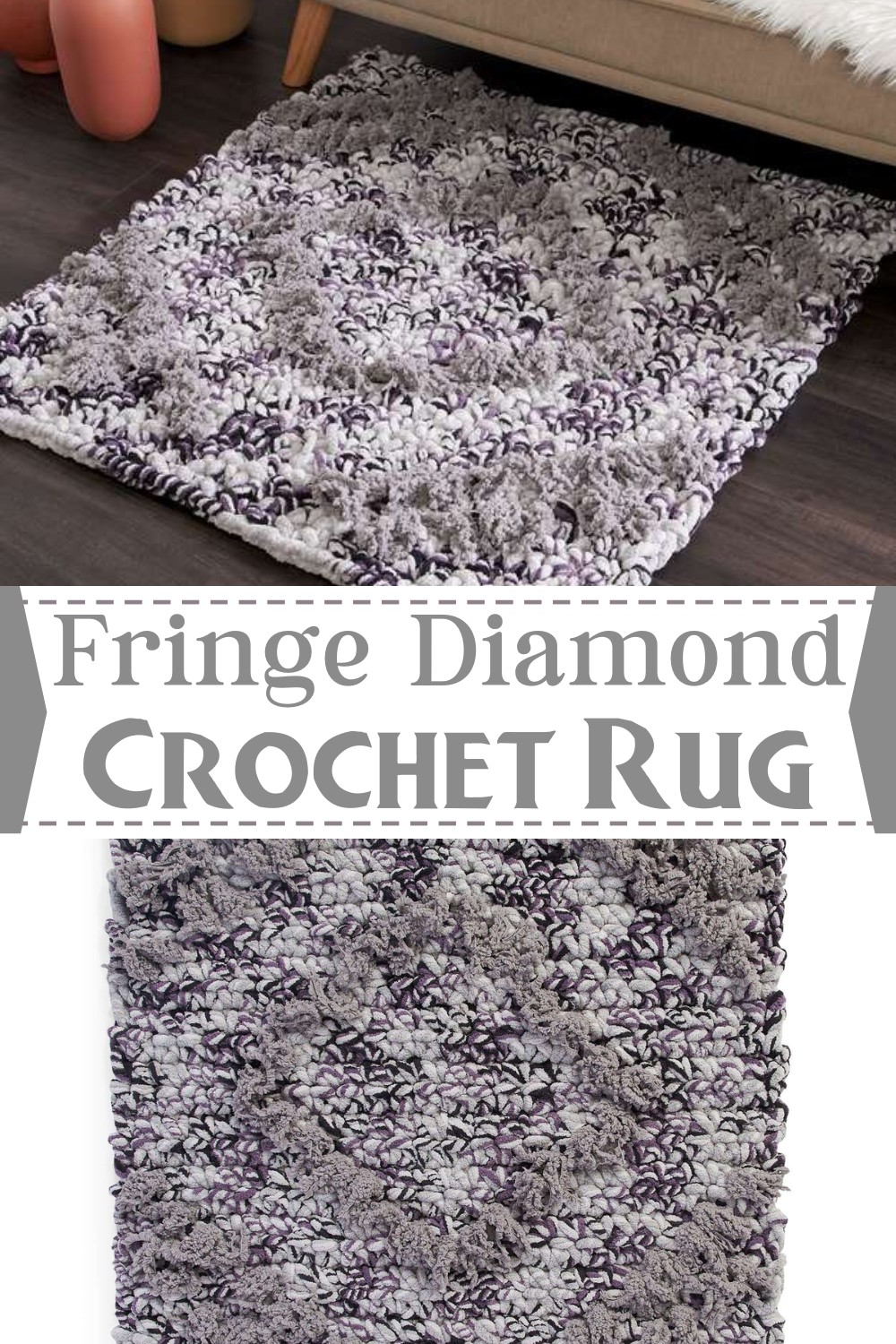 Looking for a crochet rug that is both beautiful and practical? Look no further than the Bernat Blanket. Made with super soft materials, this rug combines the cozy texture of Bernat Sheepy with the plushness of Bernat Blanket.  The contemporary fringe diamond design adds visual interest and style to any room. This crochet rug features single crochet, chain, fringe, single crochet in front loop, and single crochet in back loop only techniques. So, Enjoy the plush feeling underfoot and enhance your space with this gorgeous and practical crochet rug. Have Cheerful Crocheting!
Suggested Yarn: Worsted Weight
Making Waves Mug Rug
Enjoy making this stunning wavey Mug Rug, which adds a touch of luxury and warmth to any table in your room. This mug rug was designed with a unique wave pattern and high-quality yarn to provide a comfortable and stylish surface for your favorite mug. It's the perfect size for any table or desk and adds a trendy touch to your home decor. Use it as a standalone decorative piece or pair it with the Making Waves Table Runner and Placemats for a complete set. The Making Waves Mug Rug is easy to clean and maintain, making it a practical choice for everyday use. Upgrade your home decor with the Crochet Making Waves Mug Rug today!
Abbreviations:
ch: chain
sc: single crochet
dc: double crochet
st(s): stitch(es)
sl st: slip stitch
Diamond Lattice Crochet Tapestry Rug Pattern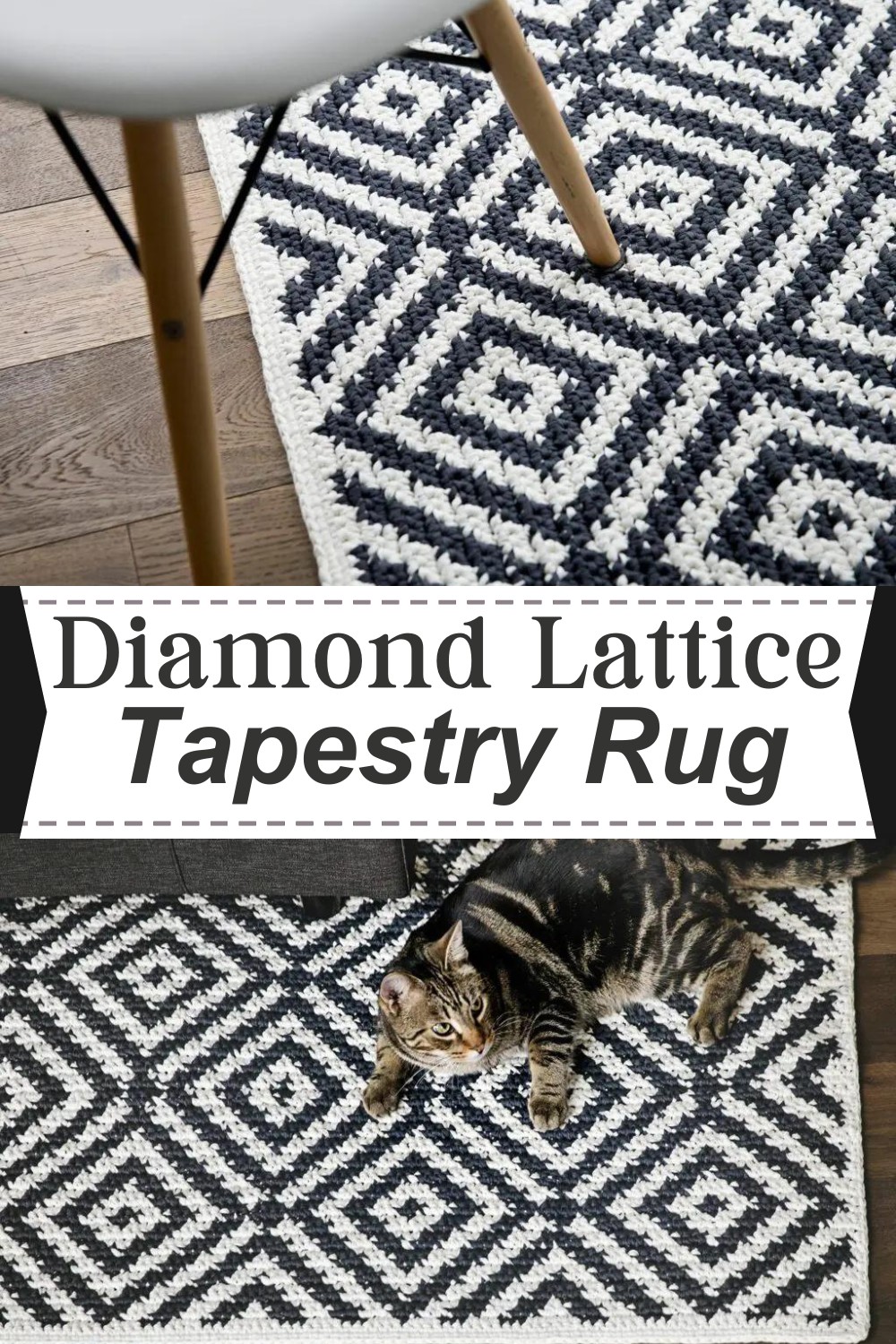 Add a touch of elegance and style to your home with the Diamond Lattice Crochet Tapestry Rug Pattern. This beautiful crochet rug features a timeless diamond lattice design that complements any decor. Made with tapestry crochet techniques, the pattern creates a visually impressive yet sturdy and durable rug perfect for high-traffic areas in your home. This free crochet pattern combines form and function, ideal for intermediate crocheters, making it a stunning addition to your living space. Thus, Transform your home with the Rug Pattern and experience the perfect blend of style and durability!
    Suggested Yarn: Hobbii Ribbon yarn
Crochet Hook: 6.50mm
Ombre Style Crochet Rug Pattern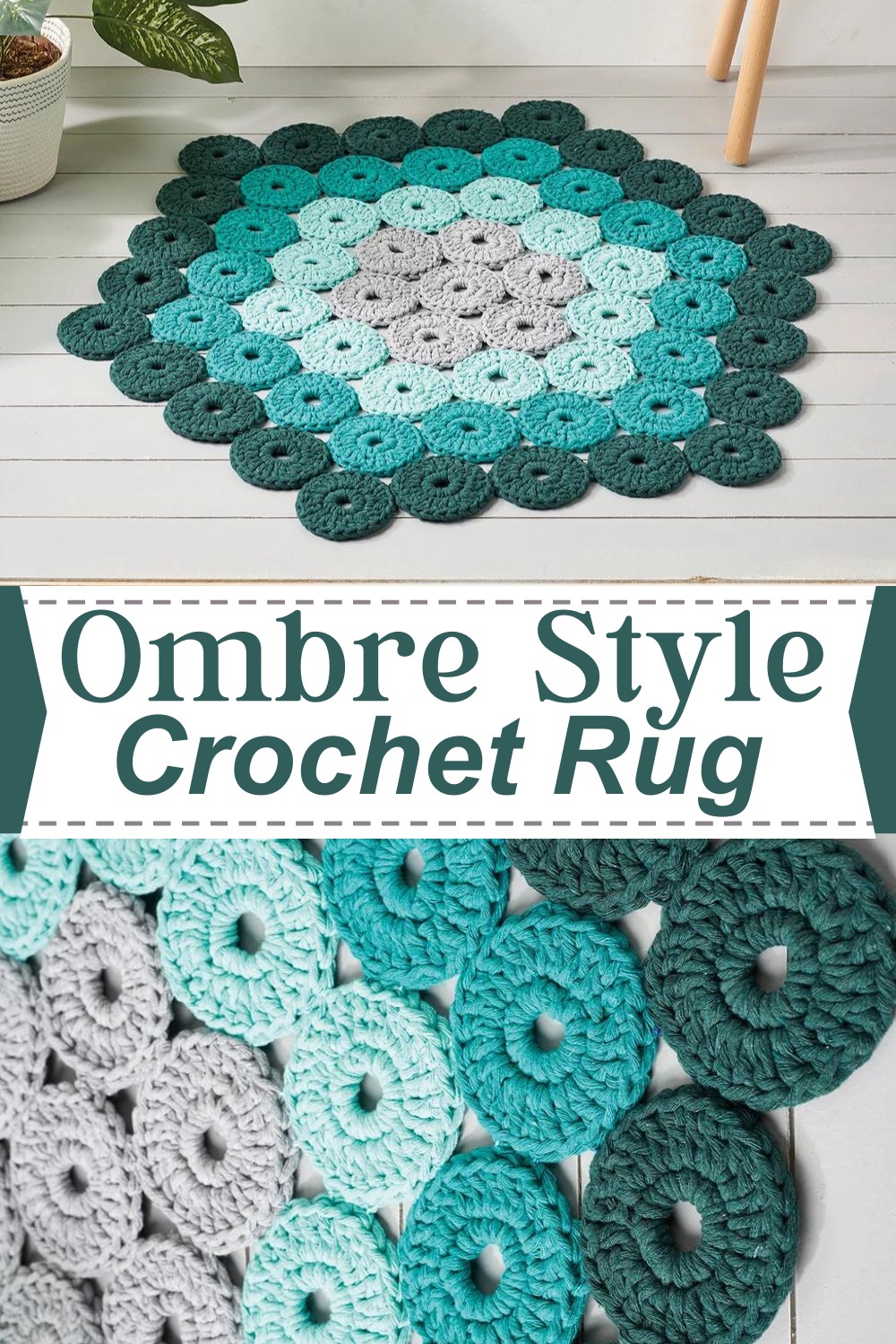 Elevate your home decor with the captivating Ombre Style Crochet Rug Pattern. This pattern has a beautiful ombre color strategy that transitions smoothly from one color to the next, making a spectacular visual effect that is lovely, soft, and comfortable underfoot. This crochet rug is made with high-quality yarn and a simple yet elegant stitch pattern, making it a perfect project for beginner and skilled crocheters. Lighten up your living space with this chic, modern, and adaptable rug that is perfect for adding a touch of color and culture to your home. Have Fun!
Measurements: Each Motif measures approx 12cm (4¾in) in diameter
 Suggested Yarn: Hoooked Spesso Chunky Cotton
Hook Size: N
Crochet Witch Hat Mug Rug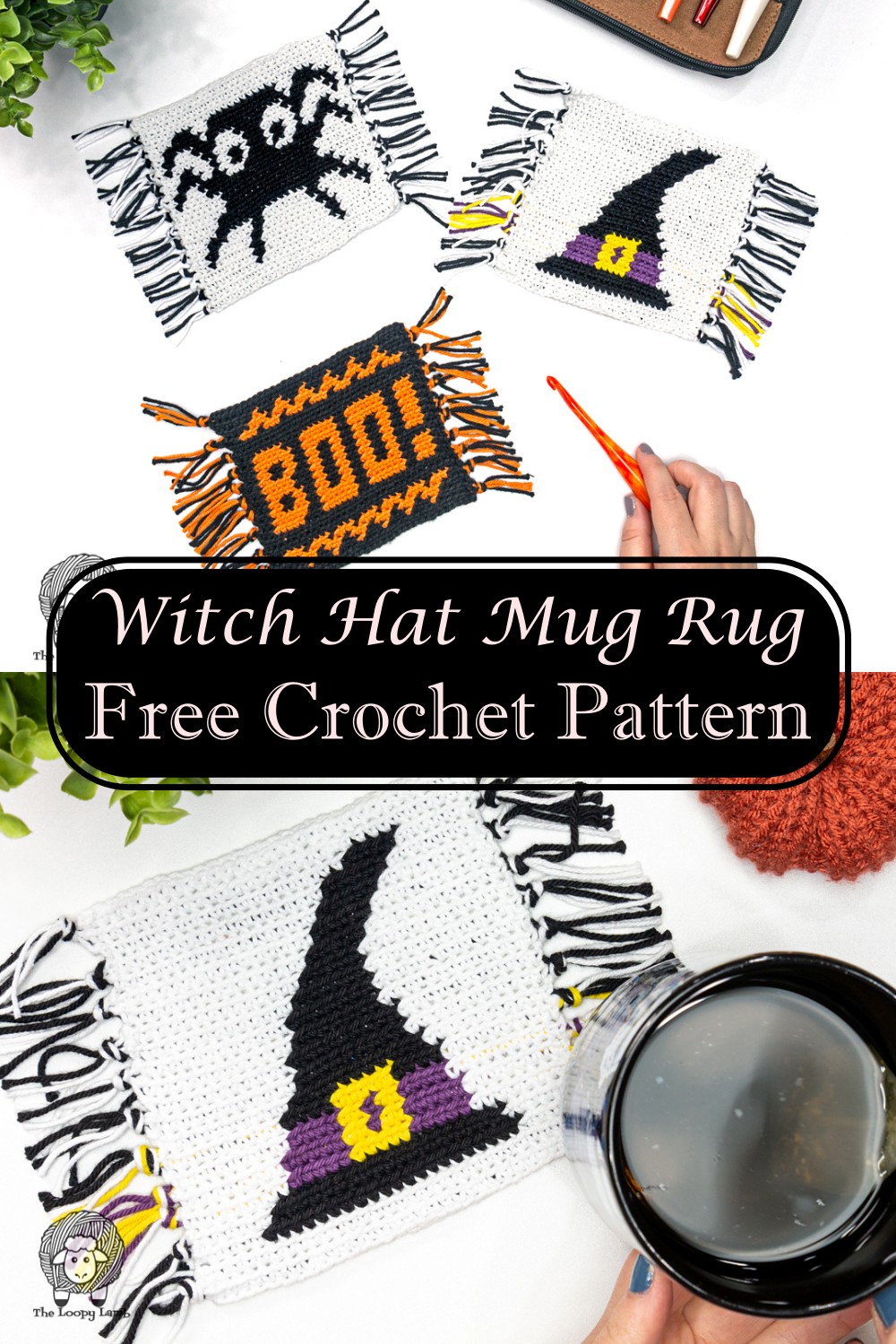 A great beginner-friendly colorwork crochet mug rug project, the Crochet Witch Hat Mug Rug pattern is a fun addition to your Halloween decor! Add a spooky and festive touch to your Halloween decor with this easy-to-make mug rug! This adorable design uses three different colors, making it a great way to practice colorwork crochet with ease. Since the color changes are made using tapestry crochet techniques, there are only two ends to weave in when you finish, making it a great project for on-the-go crocheters.
Room For Two Mug Rug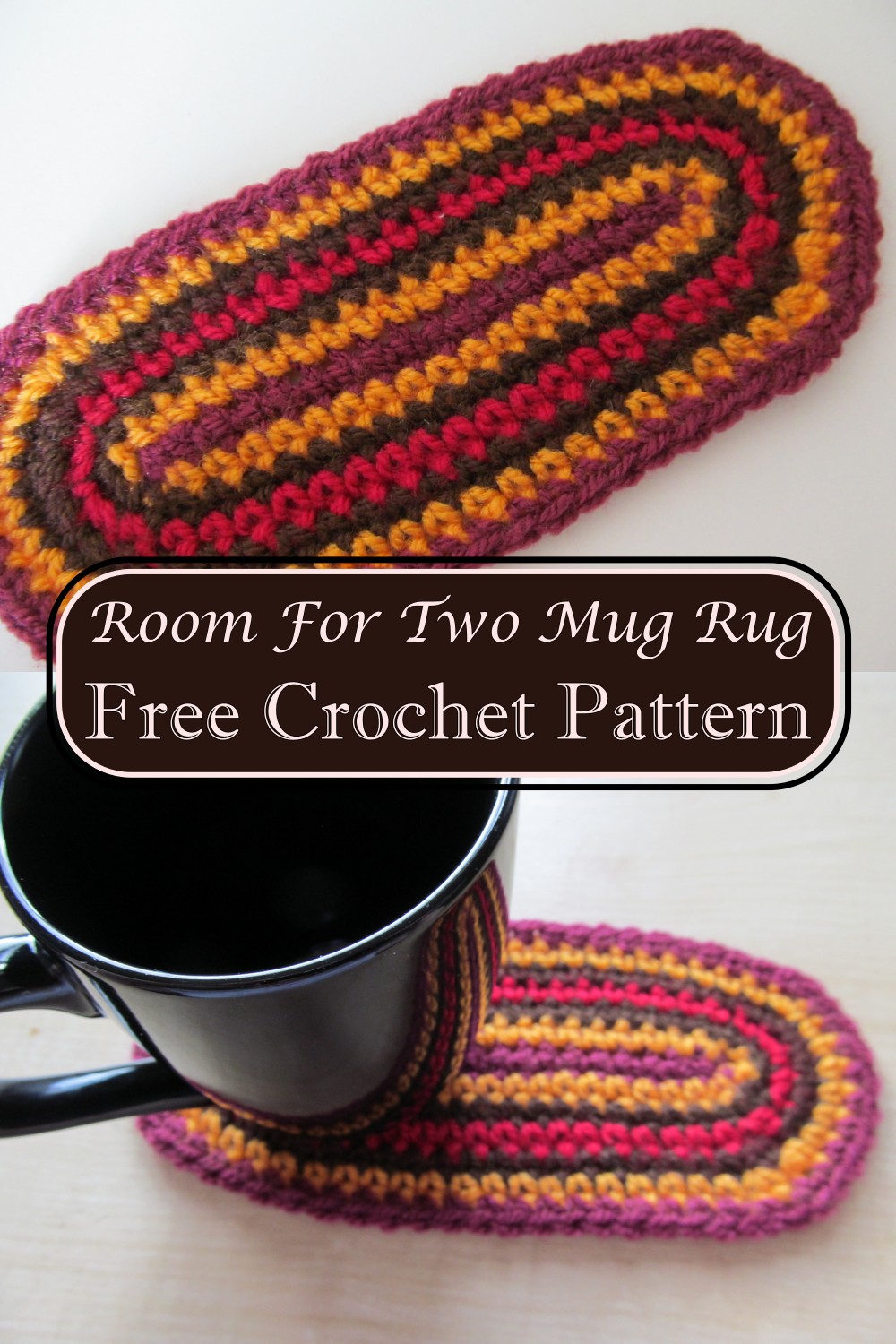 Calling all coffee and tea lovers! This stripy rug is big enough for two mugs, so you can make it with a friend, or just have a super-size drink. The chunky yarn means that this is a quick make, so perfect for coffee tables or end-of-the-day projects. It is big enough for two mugs! (Or a mug and a mix of biscuits!) Crochet it in just one yarn color to coordinate with your kitchen or give it a liquid stripe effect so its colors change & flow as you make it. If you are looking for a pretty gift for a friend or a family member this might be just the thing. The pattern is easy to follow and would suit a confident beginner.
Kuumba Mug Rugs
The Kuumba Mug Rug is a bright and modern-looking crochet coaster, perfect for a quick last-minute gift. Whip up a set in whatever colors you have in your stash! Decorate your living room or kitchen and give your mug a nice place to rest with these bright mosaic crochet coasters. These eye-catching coasters are the perfect last-minute gift for the coffee or tea lover in your life. Each coaster is worked from the bottom up in rows, with the last two rows of fringe.
Watermelon Rug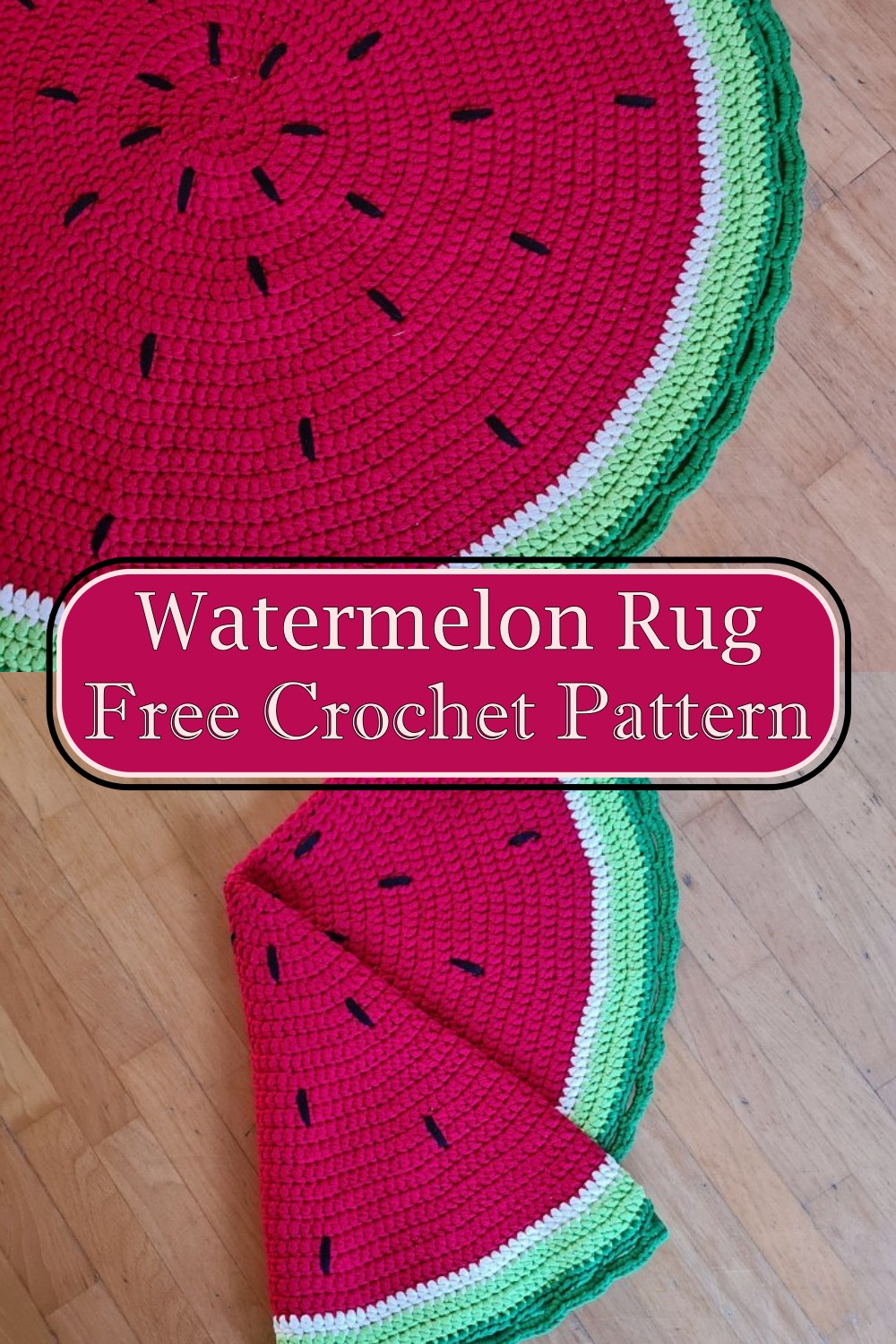 This watermelon rug is just too adorable! Show your inner summer with this rug in your house, everyone will love it! Add a touch of home-style to your favorite kitchen, bathroom, or deck with this pretty crochet rug. The beautiful watermelon motif is sure to bring style to any room and the giant blanket stitch edging will make it last for years. Enjoy this colorful rug that is an ideal piece of home decor for those who enjoy watermelon. It is made of a machine washable material for easy care and cleaning, and it can be customized to fit virtually any space as desired.
Heart Stitch Mug Rug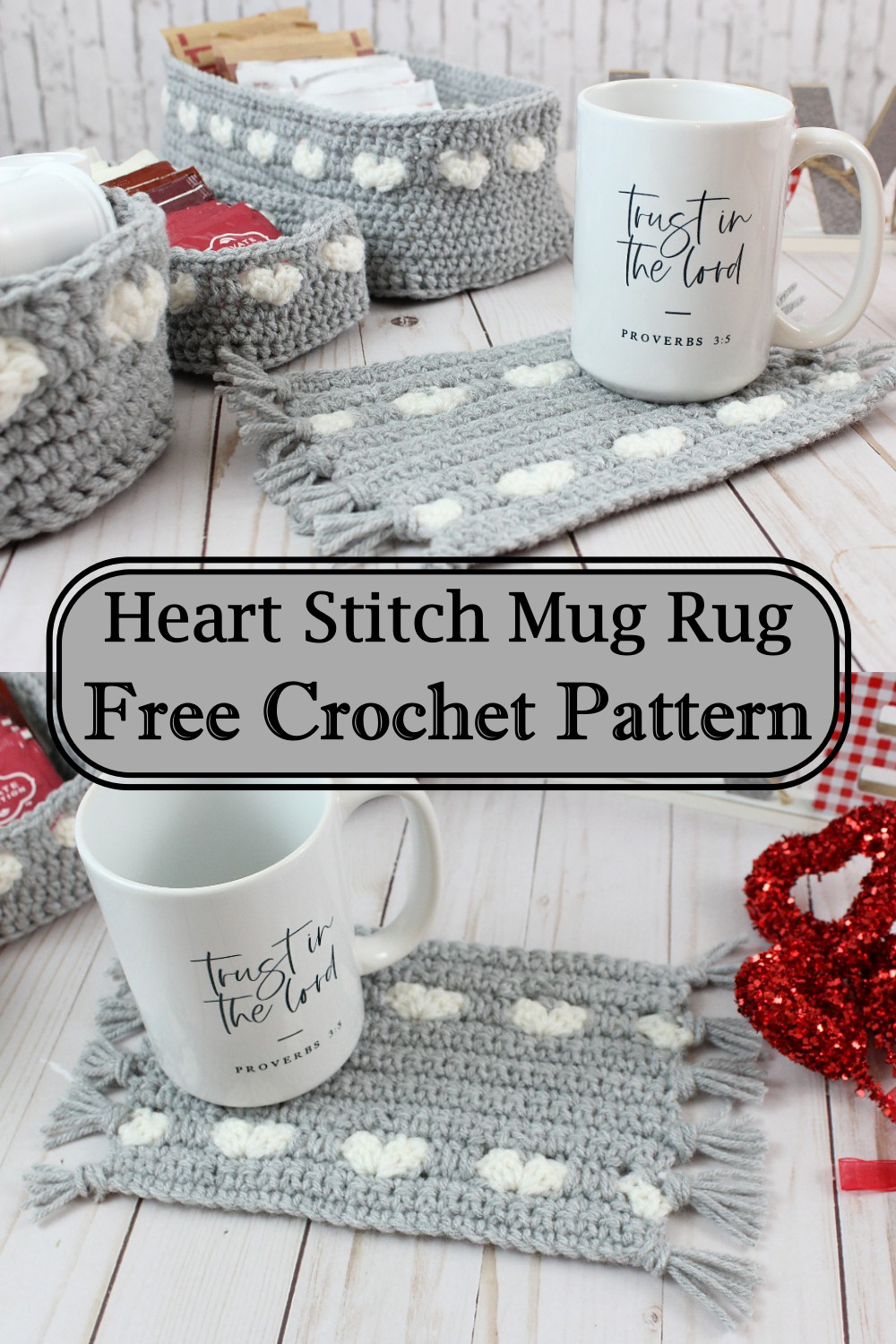 Make a love-themed crochet project with the Heart Stitch Mug Rug. This quick and easy mug rug works up fast, so you can make them for all your loved ones! It's a little heart-shaped mug rug to keep your hot drink from making a mess on the counter or table. This mug rug features the heart stitch (a variation of the single crochet stitch) which is perfect for stitching hearts onto a project in honor of love. Try this food-safe pattern as a trinket dish, coaster, or mug rug.
Black Bear Rug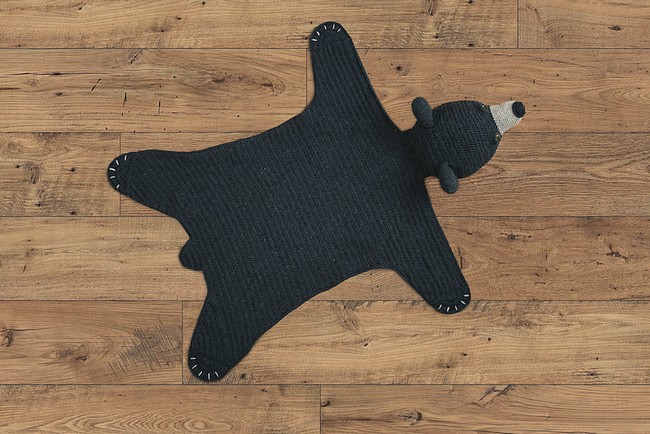 Great rug or wall hanging for the cabin! You'll want to use your favorite shades of brown yarn to crochet this beautiful bear rug. It's an easy project suitable for beginner crocheters. This crochet black bear rug is perfect for any woodland-themed family room. Children will love playing on these rugs. Just make sure you measure the length carefully so it fits your space, and you'll be pleased with the result. You found your perfect rug! A rug you can cuddle up next to in front of the fireplace, or sit on while playing games. The possibilities are endless with this timeless piece.
Seven Point Star Carpet Rugs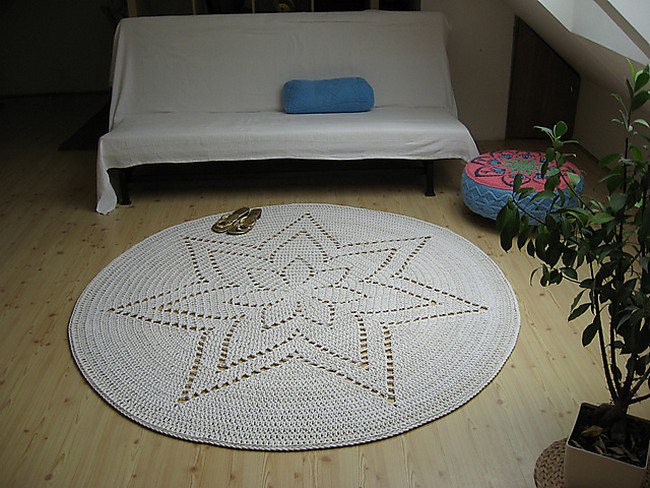 This is a fun and easy crochet pattern. Use thick yarn and a larger hook to make a rug of any size. Highlight your room with the beautiful and exotic Seven-point star crochet patterned carpet. Bring the charm of nature to brighten up your living space with our natural fiber carpets. Beautifully handcrafted and elegant, durable and unique Crochet rug. This rug can be used as a bedside decor, to decorate your living room, dining area, and more. These rugs can be used as a bathroom mat, a bath mat, kitchen rug, bedroom rug, indoor carpet, and more.
Viking Shield Carpet Rugs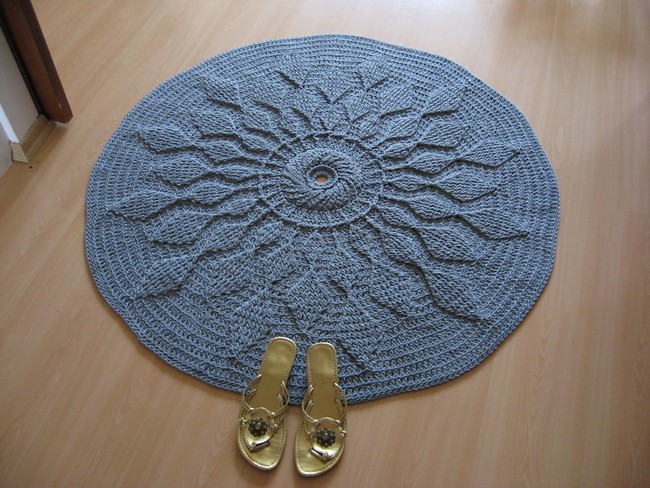 Knit up these fantastic round textured carpets that look like embroidered Viking shields! The Viking Shield Carpet Pattern is fun to crochet, made with single crochet, half double crochet, and slip stitches. The extra details are achieved using bobble stitches and it is trimmed with a picot edge. It is solid natural cotton and is crocheted in tight circles with a large hook and chunky yarn. The circular stitches create a little pocket, filled with the previous round's stitches, creating the textured shield shape.
Crochet Diamond Motif Rug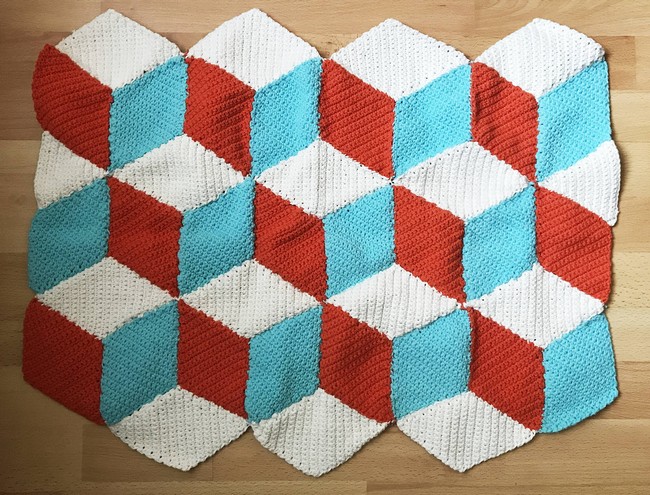 Embrace the comfort of a handcrafted rug made with love. A cheerful, geometric design inspired by the sunburst granny square. This durable, machine-washable rug is hand-crocheted in the shape of hexagonal motifs, then stitched together to form a dense diamond pattern. Each one is unique and beautiful, this rug features an intricate pattern, making it an instant heirloom. Incredibly decorative, it makes for a perfect housewarming gift.
Vintage Flower Mug Rug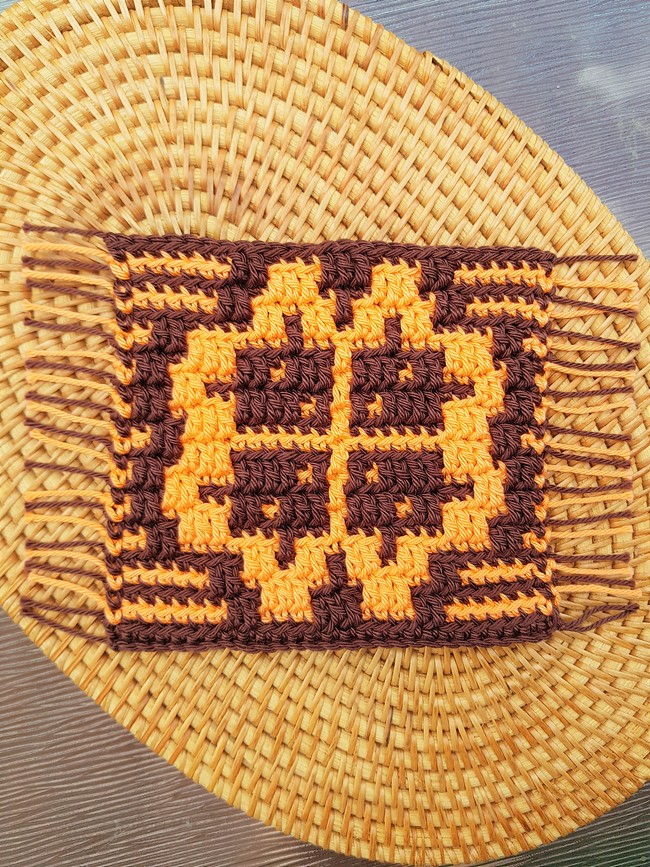 If you're new to Mosaic Crochet, this is a cute little project that can be done on its own or as a quick gift. It also makes a great coaster or anywhere you need a splotch of color! A delightful design that is perfect for your mug rugs and blankets. Contains a significant number of pictures to guide you every step of the way. Such a cute little mug rug pattern which is perfect for trying Mosaic Overlay Crochet if you are new to it.
Racetrack Play Rug
For your little race car driver, this crochet play rug is a fun take on the classic road trip game. The simple crochet pattern makes it easy to stitch up yourself and doubles as a fun decor item for your child's room. With the ability to be customized in terms of colors and exact size, this pattern is perfect for anyone wanting to make something unique and personal for their little one. This is a great pattern to make as a decoration or toy for your child's room! You can use one color or many and would be perfect to give as a gift as well.
Festive Mug Rugs
Add a pop of color to your kitchen table with these festive crochet mug rugs. Each mug rug features a different stitch pattern that is easily worked up in one afternoon. Pretty, festive, and most importantly practical, these Crochet Festive Mug Rugs are just the thing for your next holiday gathering. Crocheted in great seasonal colors, with a fun texture pattern, they are perfect for a holiday party or to send as a hostess gift (and don't forget you can use them all winter long!).
Crochet Circle Time Rug: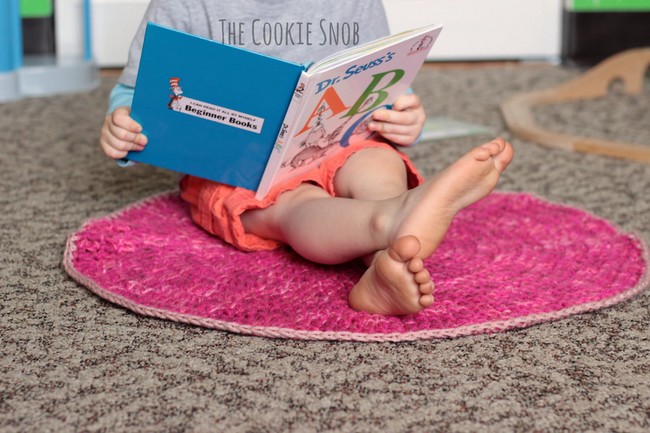 Decorate your home yourself by crocheting it with the help of a crochet circle time rug. To make a home centerpiece rug, you need to create many circles that make a beautiful design of the centerpiece rug. For this, take the cotton yarn of different colors and crochet it in any shape or form. You have made a remarkable design and now place it in your room as a mat or center table cover it. It has many uses, such as a doormat, and can also be used on shelves. Make it in your desired size and put it in any place in your house
Crochet Bubble Gum Accent Rug: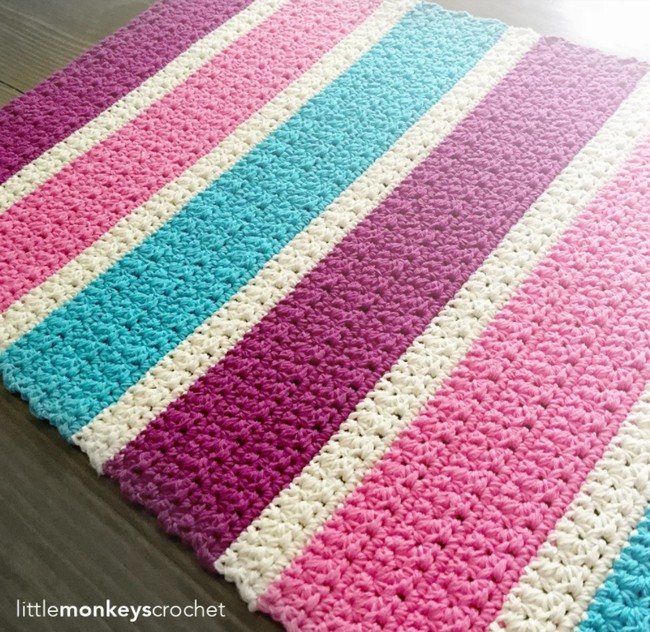 Colorful, handmade yarn rugs or accent pieces are a wonderful way to bring a bright spot of your personality into your home. The attractive design is also used as an area rug in the living room, in the bathroom as a decorative rug, and at the doorway to welcome your guests. This rug will not take much time to make, and it is a great way to use your leftover yarn. It's a perfect project for home decor lovers. It is designed to be extra tough and durable, yet still soft to the touch. This accent piece will hold its own against heavy foot traffic and its nonslip backing will keep it firmly in place.
Crochet A Round Sunflower Rug: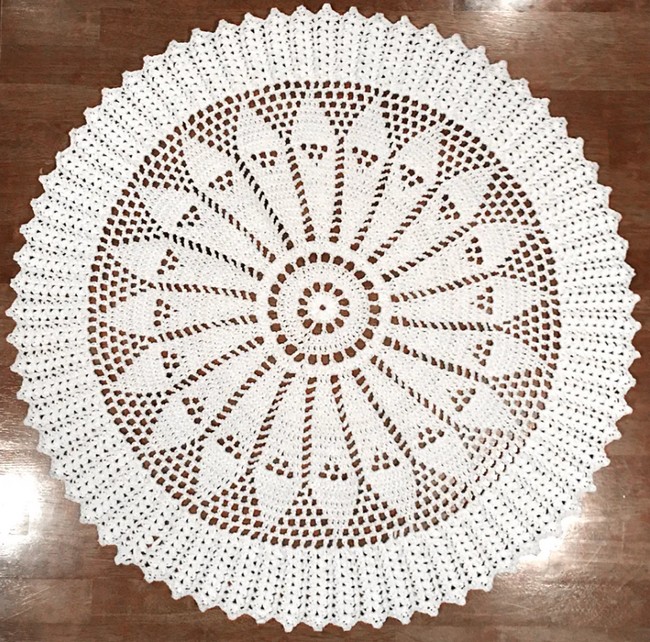 If you want to work the sunflowers that are never seen before, then this is the right choice. And you will enjoy working with it. A very easy and quickly made with a sunny motif is ready for your under-the-glass table. Moreover, it will look gorgeous at any place in your home out of all rooms. You will love this colorful and soft rug as a decor piece for your house. It would be a beautiful accessory for any home. This gorgeous rug will be perfect for your living room, bedroom, kitchen, or bathroom.
How To Crochet Rug: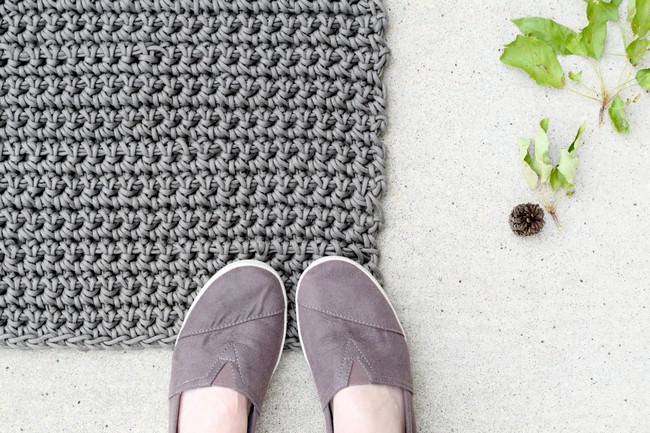 If you're looking for a creative and unique gift idea, this crochet rug pattern is exactly what you need. You can make this crochet rug for your home. If you have good knowledge of the double crochet method, it would be like a small task for you. You can make this in different textures and colors, but you must use cotton yarn because it is very soft and cozy. It is a beautiful rug for your home and dormant. You can make your home more beautiful with the help of these amazing rugs.
Basketball Rug:
You can make a fantastic floor rug or doormat for your home. Made with 100% cotton which will give you warmth and comfort in your feet. It is also a wonderful gift idea for people who enjoy unique decor in their homes. This Crochet Basketball Rug is great for use in front of the door, in the kid's room, or even in your living room. This is also a very quick and easy project that you can make in no time. It will be a great gift for any occasion. This handmade crochet item can be made in any color, size, and shape like square, oval, round, or any shape of your choice. This crocheted rug can give a stylish look to the interior.
Extreme Crocheted Rug: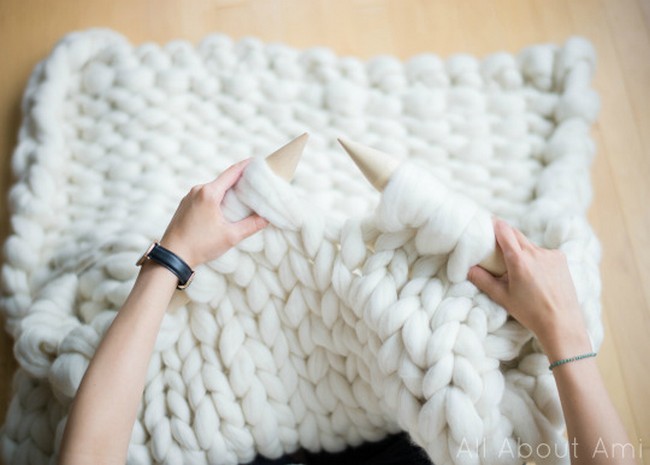 Extreme Crocheted Rug is the ideal combination of elegance and innovation. The rug is made by using wool yarn. The color used in this rug is white along with another light color that adds to its exquisiteness, though you can change it as per your requirement. The single crochet method is used in making this beautiful rug, which will make your home more magnificent. It is perfect for your home decorations. You can gift it to your friends or family members. This rug has made by using wool yarn, but you can change the color if you want. If you want to make this elegant rug, then you should have to use the single crochet method.
Crochet Plush Plus Rug: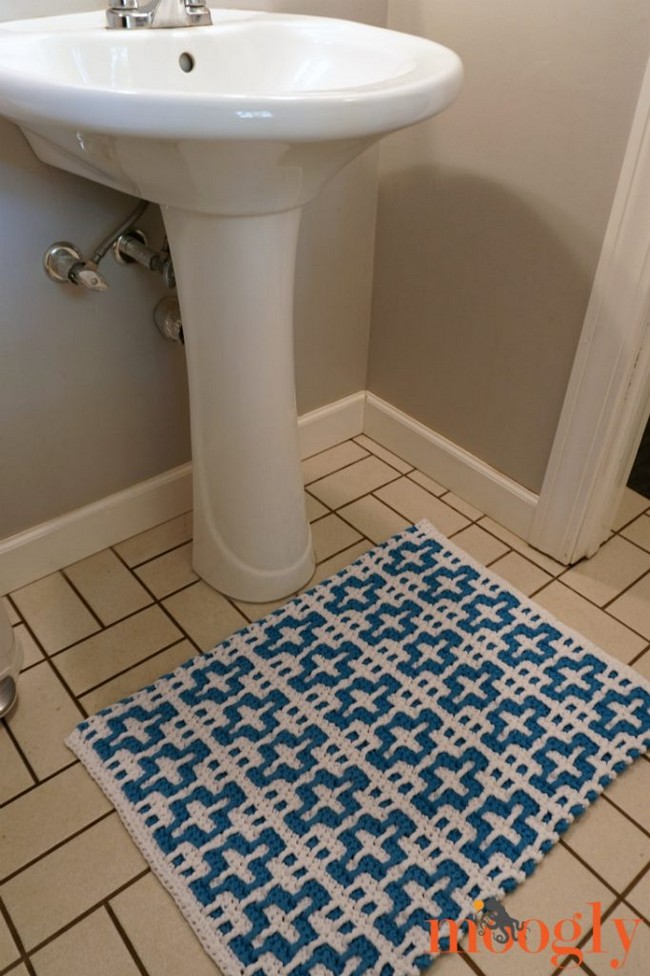 Are you looking for an easy-to-make and useful item? Here it is. It is so soft, beautiful, and delicate design that its homemakers will most like it and want to make it at home. This rug can be a great addition to your home. The rug is made using the double crochet method with two cotton yarn, white and blue. However, you can change the color if you want. You can use it as a gift as well. You can use this rug in your drawing room, bathroom or on the stairs, or wherever you want to place it.
Super Chunky Wool Rug: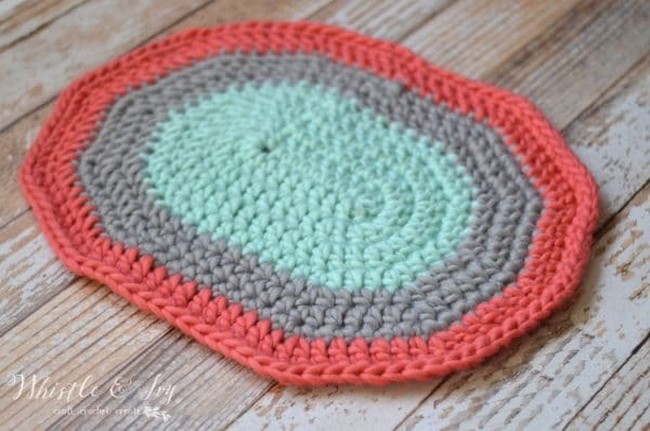 This super-chunky wool rug is not only beautiful but also easy to make! This rug adds a modern touch to any room and is functional too: protect your feet from cold if you aren't wearing slippers. And the best part? It's easy to make with large needles. Just use multiple strands of yarn held together and you can easily complete this project in a weekend. It is very easy to make and it's made from recycled wool fabric. Use this rug as a floor covering for your study room, bathroom, or anywhere you want to protect your feet from the cold floor.
A Simple Rug Pattern: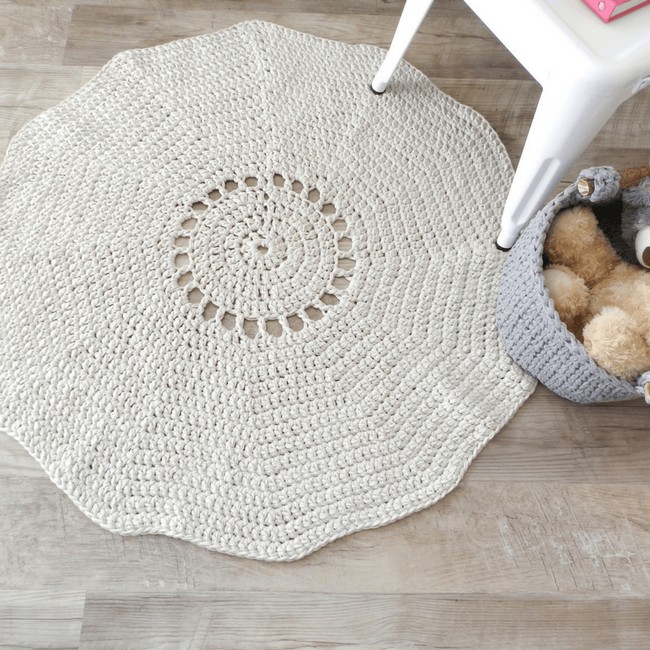 This wonderful rug is an ideal crochet project for beginners. It is a perfect gift for your family members or friends. This crochet-free rug is super easy to make! It adds a beautiful touch to any room, especially a baby's room. But it costs less and saves time! You have to need cotton yarn. The color has used white, but you can change the color if you want. It will keep your baby's feet warm in winter. This is the best rug for your baby's room. This pattern gives you very easy to make and gives your home a fresh look and feel.
Pink Doily T-shirt Rug: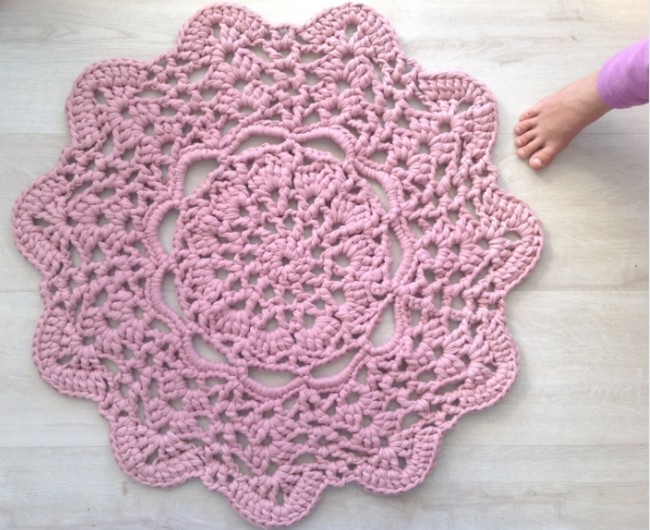 You can use it as a mat, carpet, or picnic rug. It is pure in its nature. You can wash it at home. But don't worry about the size of a rug because you can cut it according to your need. This Rug is made with recycled materials. So, you can save the environment by saving waste fabrics for this purpose. This rug will give a refreshed, new look to your home.  It is the best gift for Christmas and your lover's birthday. This pink doily T-shirt rug makes your home outstanding and special. So surely take it for yourself or for your loving one's home decoration.
crochetinpaternoster.wordpress.com
Giant Crocheted Doily Rug Pattern: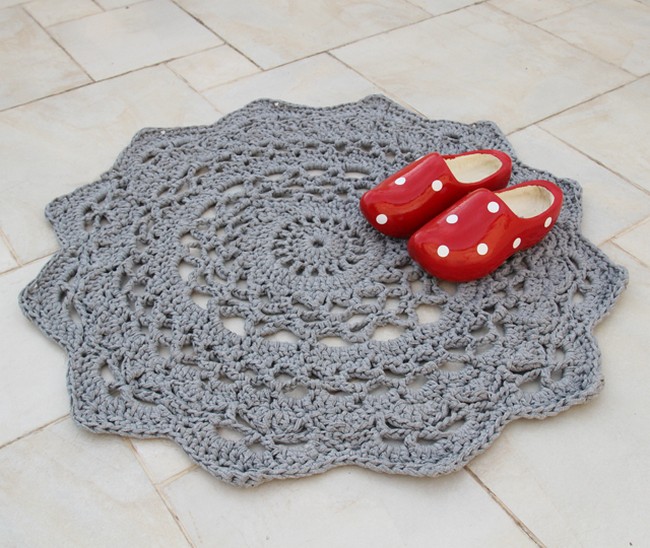 This Giant Doily Rug design is perfect for all lovers of vintage! A beautiful and spectacular, modern doily rug made in the shape of a huge doily with a delicate pattern in the form of a sunflower. If you've been curious about how to crochet a doily rug, this unusual pattern shows you how it's done. This is an amazing item for spring and summer home decorating that will inspire your creativity and create a unique look. It looks amazing with almost any home decor and is also soft enough that it's actually comfortable to walk on. This is really an amazing piece of work to be made. The pattern is very easy and effortless.
Free Crochet Rug Free Pattern: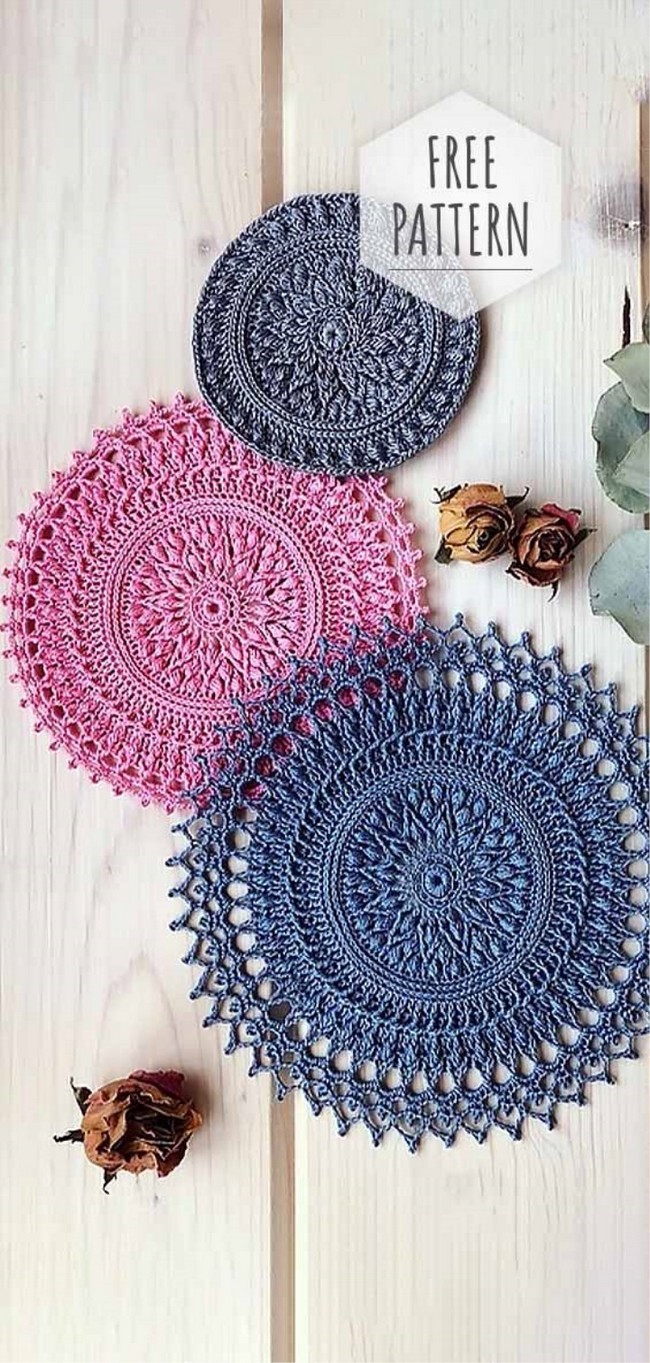 This square is a Free Crochet Rug so it will increase your home's beauty and make it more special and give an attractive look. Increase the beauty of your home and make it more special with this free crochet rug. It will give an attractive look to your room. You can complete it in a short time without spending a lot of money. This rug can be made in any size you want, by adding yarn or making shorter chains at the beginning. You can use up your leftover stash, or buy special yarn for the rug. The rug is worked in rows and will be an easy weekend project.
Orange Squeeze Indoor Outdoor Crochet Rug:
The Orange Squeeze Indoor/Outdoor Rug will make a bold statement on your patio or sunroom. This rug is just as comfortable outdoors as it is indoors and will give a bright and cheery accent to any decor. Make from 100% cotton yarn, the small rug can double as a doormat, while the large is big enough to create a centerpiece within an aisle or entryway. It's made using an orange squeeze stitch and comes in a fun orange hue, but colors can be adjusted to match your home.