Beautify your bathroom with these crochet bath mat patterns. These simple and pretty designs can fit in any space, whether you're looking for regular use or just a decorative display piece. The best part is that they're all made with our favorite fabric cotton! Make your bathroom pop with a handmade bath mat! These Crochet Bath Mat patterns are easy to make and add color, comfort, and style to your home. Some of these bath mats can also be made into beach towels. These amazing bath mats feature a unique crochet style and come in multiple sizes. They would be an excellent gift for any baby shower or birthday party!
How To Crochet Bath Mat For Beginners

Get ready to step into your bath mat and relax. Now you can crochet a bath mat to match any bathroom decor. Available in a wide range of colors, you don't have to sacrifice style for comfort. Explore crochet bath mat patterns and create a beautiful, fun, and practical bathroom accessory for yourself or your home. These projects are great for beginners who want to add an easy and valuable task to their collection of skills. These crochet bath mats will add style to any bathroom decor. They're easy to make and take no time to complete, making them perfect for a weekend project.
Advantages Of Crochet Bath Mat Patterns
Crochet bath mat patterns are popular as they can be made into beautiful, soft, and cozy mats. They can also be used as decorative items and even as rugs. The materials needed for making these bath mat patterns can be found anywhere. The following are some advantages of crochet bath mat patterns:
They are easy to make and do not require much time.
They can be made with recycled materials such as old sweaters or any fabric you may have to lie around in your home.
It is a great way to use old sweaters that you no longer wear or use.
You can make any mat size according to your needs and requirements.
These mats can be made in different designs and colors according to your choice and taste, which makes them an ideal gift for anyone who loves to crochet or knit!
Plush Ribbed Bath Mat: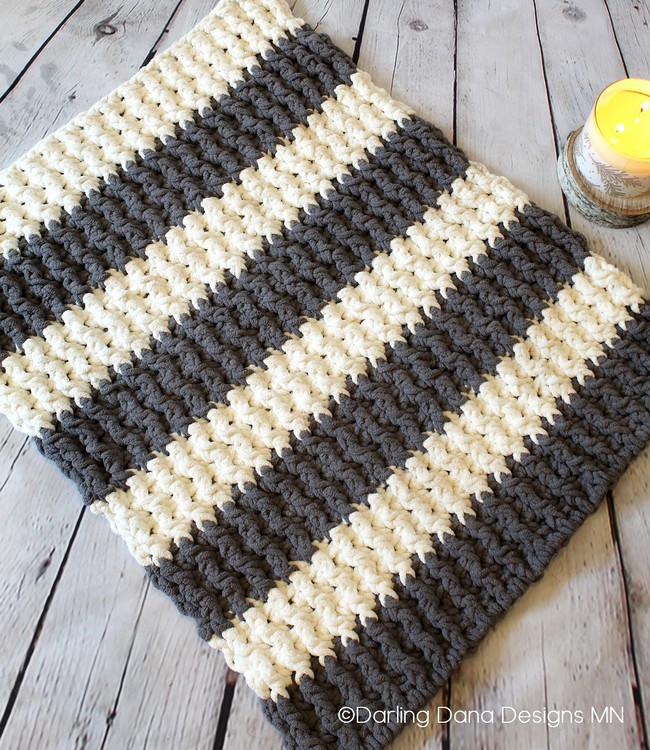 Complete your bathroom with the Ribbed Bath Mat, perfect for adding a tactile accent to your bathtime routine. Crocheted with soft merino wool in a simple basketweave stitch in warm shades of gray, this mat is finished with a subtle fringe at each end. Add a whimsy to your bathroom décor with this fun crochet bath mat. The plush design is soft and absorbent, making it perfect for wiping your feet. And the ribbed design adds an element of texture that makes it irresistibly soft to the touch!
Materials
Size 8 MM Hook
Bernat Blanket Yarn- I used "Vapor Gray", "Whipped Cream", and "Silver Steel"
Yarn Needle
Crochet Bath Mat: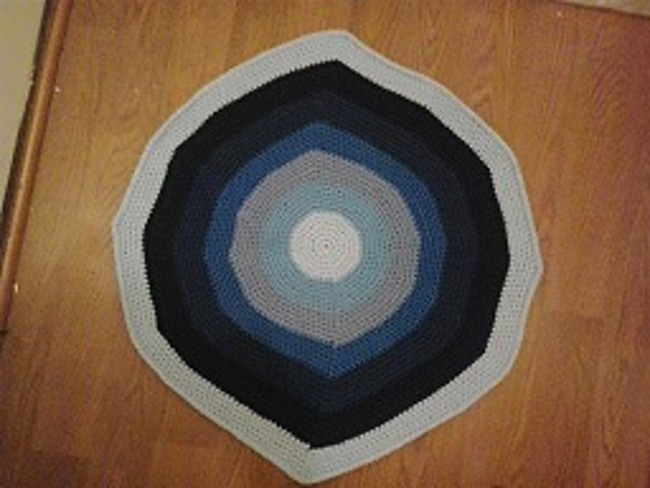 This bath mat is the perfect gift for anyone that needs a soft, absorbent mat to dry off after a long bath or shower. Its extra large size will help keep your floor dry and fit perfectly into most standard-sized tubs. The crochet bath mat is excellent for the bathroom, nursery, or anywhere you'd like to add a little fun. The soft texture of the cotton will keep you cozy in the tub, and the charming crochet edging will make this piece fit right in with any decor. This bath mat is perfect for those days when you want to relax and unwind or for everyday use around the house. It adds a touch of color and style to your bathroom décor.
Materials
Worsted weight yarn:  Light blue, clear blue (Impeccable—Michael's), light periwinkle, blue, royal, and navy blue.
J crochet hook
Tapestry needle
Thermal Stitch Bath Mat: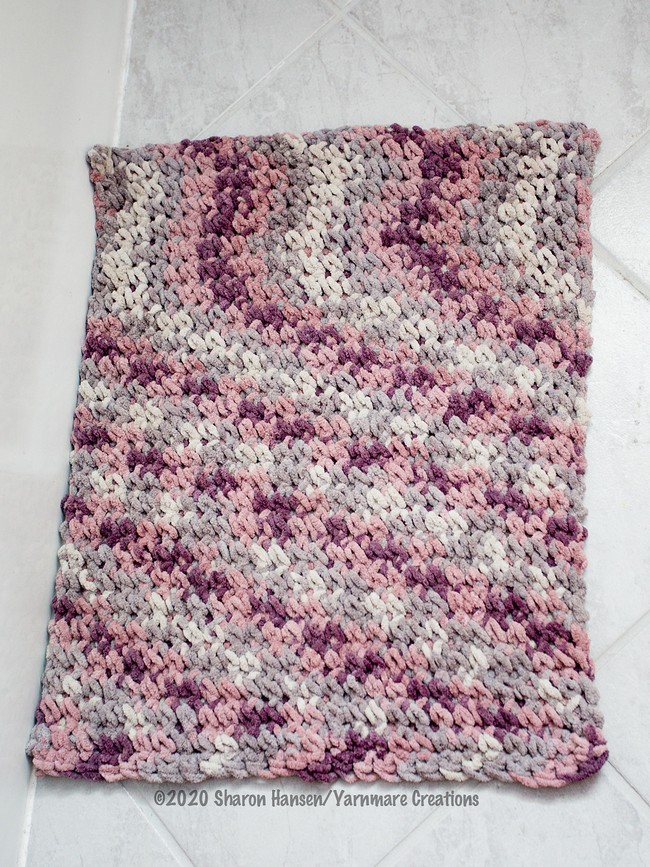 This crochet thermal bath mat is great for any room in your home. Made of 100% cotton yarn and a super-soft terry cloth backing, it's perfectly sized for bathrooms and kitchens. Keep your feet warm and comfortable with this luxurious yarn-dyed bath rug. The soft, heavy acrylic yarn is lined with plush cotton to provide a cozy, cushiony feel underfoot. Machine washable and dryer safe, this bath mat will last for years. This soft Bath Mat is made from warm, natural heat-retaining materials to make this bath mat comfortable and versatile kitchen and bath accessories.
Materials
1 Big Ball of Bernat Blanket yarn (10.5 oz./300 g; 220 yds/201 m) in Purple Haze (#10839) (note: I believe the color I used, Purple Haze, is a JoAnn's exclusive - but this bath mat will look
great in any color!)
Size Q (15.75 mm) crochet hook
Abbreviations
Ch - chain
Sc - single crochet
Flo - front loop only
Rainbow Splash Bath Mat: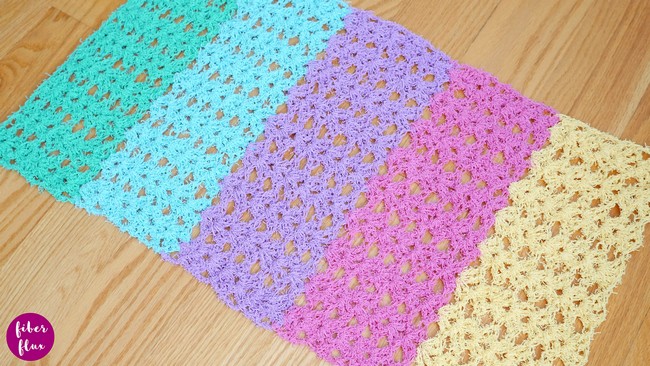 Give your bathroom a splash of color with this crochet rainbow bath mat, with a sturdy and absorbent waterproof backing that's easy to wipe clean. Add a splash of color to bath time with this Rainbow Splash Bath Mat. The enchanting crochet border features a rainbow of bright shades and makes cleaning up easier while adding extra flair to your bathroom décor. With this adorable crochet bath mat, your baby will feel like they're taking a bath in a rainbow. This unique and colorful bath mat is made of 100% cotton yarn, making it incredibly soft, non-slip, and easy to clean.
Materials
J (6.0 mm) crochet hook
Scrubby Cotton from Red Heart (I used Lemony, Tulip Pink, Lavender, Caribbean, and Jade)
Tapestry Needle
Scissors
Abbreviations
Chain (ch)
Double Crochet (dc)
Tribal Stripes Bath Mat: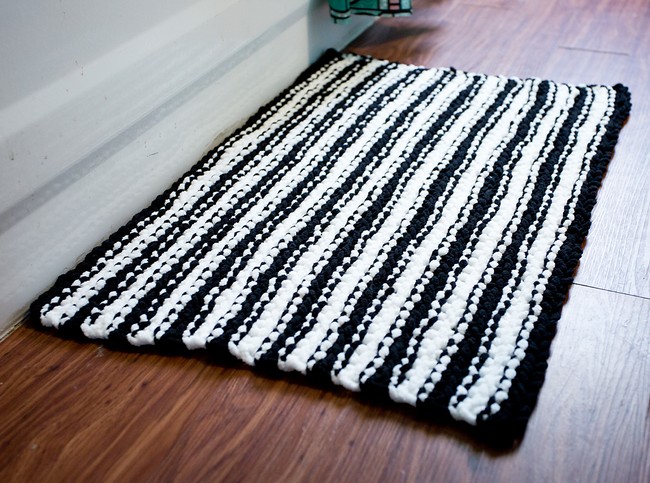 Choose this fun crochet bath mat to make a splash in your space! This bath mat features an all-over tribal stripe pattern with soft, chunky yarn. Sink into a bath that feels like a vacation with this crochet tribal striped bath mat. Made in Turkey and designed to last, this is a high-quality item with a comfortable non-slip backing that will protect your floors and add luxury to your bathroom. This towel is perfect for anyone who appreciates the beauty of nature! Or likes to be comfortable when they take a shower.
Materials
Bernat Blanket Yarn (10.5 oz/300 g; 220 yds/201 m): 1 skein of each color.
Color A: Coal
Color B: White
Size P/16 (11.5 mm) crochet hook
Abbreviations
Sl st - slip stitch
Ch - chain
Plush Poms Bath Mat:
The Bath Mat is a luxurious and graceful bath accessory that adds a touch of mid-century modern style to your bathroom. Crafted from synthetic fibers and featuring a plush weave design, this bath mat is soft and absorbent. A thick pile keeps you comfortable as you stand in front of the sink or sit on the side of the tub, making it ideal for both hot and cold rooms. Give your bathroom a final touch of style with our bath mat made from crochet plush and attached poms. Add a splash of color to your bathroom with this crochet plush bath mat. The gentle texture and colorful pattern make it the perfect place to rest your feet after a long day.
Materials
100% Chenille Yarn (Jumbo #7)
Color A – 6oz/77yds
Color B – 6oz/77yds
P/16/11.50mm Crochet Hook (a 12mm works just the same)
Large Tapestry Needle
Optional: Grip Liner
Abbreviations
ch = chain
Bobble = See Special Stitches
dc = double crochet
RS = right side
sc = single crochet
WS = wrong side
You can also see: DIY Yoga Mat Patterns
Öresund Sky Bathmat: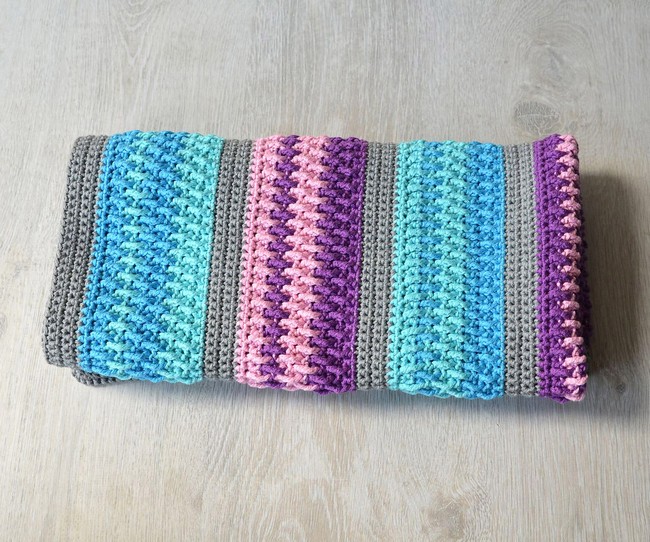 Put a contemporary spin on your bathroom with this patterned bathmat. The design features a cheerful blue and white pattern inspired by the famous bridge connecting Sweden and Denmark, known as the Öresund Sky Bridge. Create a cozy bath mat that will catch your guests' eye with this free crochet pattern. With a simple design and easy construction, you can recreate this stylish bath mat in any color or size to create the perfect accent for your bathroom. This classy crochet bathmat adds a touch of Scandinavian style to your bathroom. The neutral color palette and tasteful design will complement any décor and mix of colors.
Materials
Yarn in 5 shades. I used Bloom by Scheepjes in shades 417 (3 skeins), 419 (3 skeins), 421 (3 skeins), 403 (2 skeins), 409 (2 skeins)
Please, read my review about this yarn HERE. You can choose and purchase your shades via Wool Warehouse*, Deramores*, Paradise Fibers* (US) or in your local Scheepjes stores.
Crochet hook Clover Amour* 4.5mm
Scissors and tapestry needle to weave yarn tails in.
Abbreviations
st(s) - stitch(es)
ss (slip stitch) – insert hook in indicated st, yo, draw yarn up and pull 2nd lp through the 1st lp on hook.
ch - chain
sc (single crochet) – insert hook in indicated stitch, yo, draw up a lp, yo and pull through both lps on hook.
FPtr (front post treble crochet) - 

yo twice, insert hook from front to back to front around he post of indicated stitch, yo, draw up a lp, *yo, pull through 2 lps* 3 times.

RS right side

WS wrong side  
Textured Bath Mat CAL: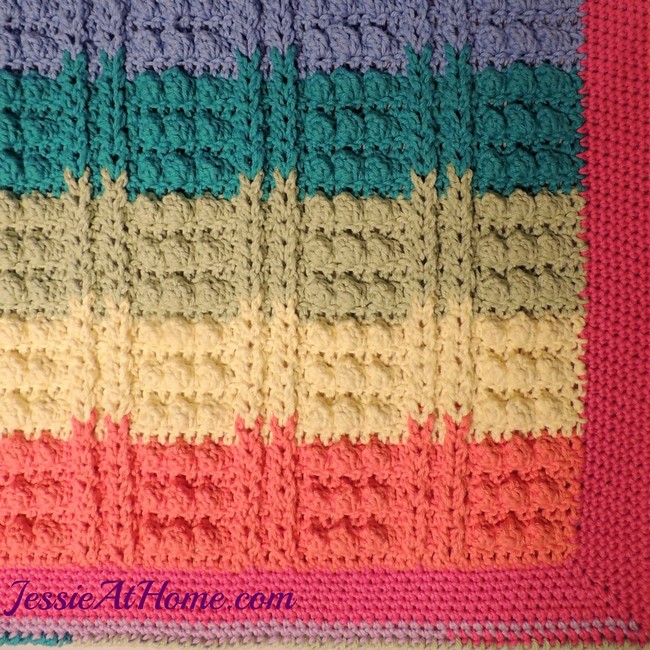 This Textured Bath Mat will warm up your bath time with a mix of textures and colors. Choose your favorite color combo, or make all three as shown and enjoy the coziness of this mat for years to come. This CAL is a fantastic introduction to beginner crochet skills or an excellent project if you're already comfortable with the hooks. The project is worked in the round, including slip stitches and chaining. The pattern includes instructions for instructions sizes 5-10 needles.
Materials
Gauge:
16 sts x 9 rows in dc = 4″ square
Other supplies:
yarn needle
Abbreviations
ch ~ chain
sl st ~ slip stitch
sc ~ single crochet
dc ~ double crochet
smpc ~ small popcorn (explained)
pc ~ popcorn (explained)
sp(s) ~ space(s)
st(s) ~ stitch(es)
Aggie's doily bath mat: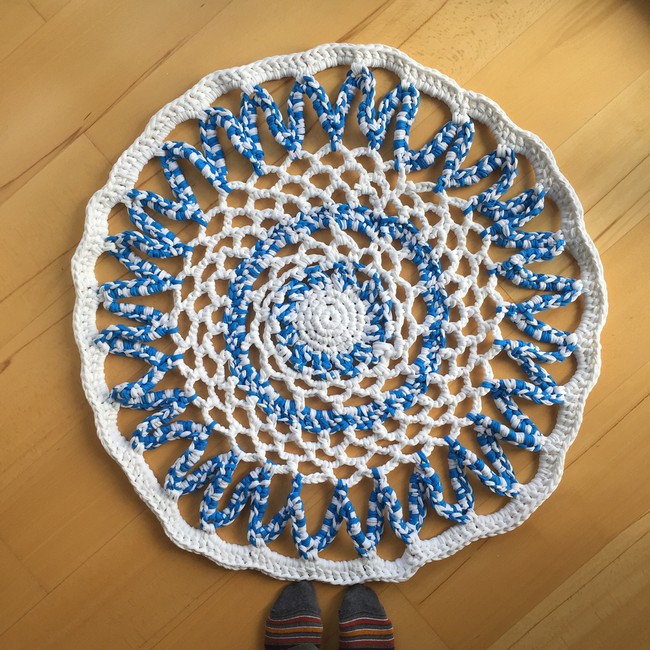 Crochet Aggie's doily bath mat is perfect for washing your feet on and off the shower. A luxurious crochet doily bath mat is ideal for those who prefer a non-slip grip on the bottom. This doily bath mat is a great accessory to help you relax after a busy day. Perfect for your bathroom, bedroom, or kitchen. Bathtime will be a little more fun and stylish with this fun, doily bath mat. The ideal addition for your bathroom, kitchen, and all around the house. It looks beautiful in any toilet and adds a bit of color to your room.
Materials
1 cone white Hoooked Zpagetti
1 cone blue mix Hoooked Zpagetti
12 mm crochet hook
Soothing Pebbles Rug: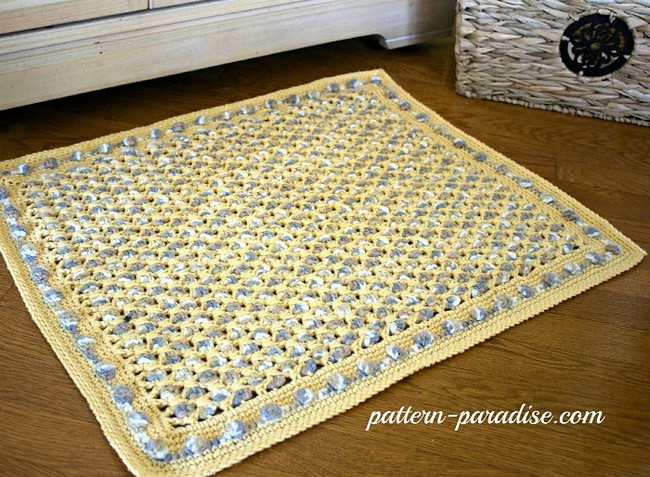 A great curated selection of the most popular colors and sizes to gift or keep. Knit a comfort-filled rug that will be the perfect place to curl up on the floor or beneath a favorite chair. This crochet soother is dappled with ombre-colored pebbles, making it ultra cozy and textural for any space. This crochet rug is made from thick and comfortable yarn, providing you with a soft surface to rest your feet on. It'll give your living room a warm, homey feeling for any family.
Materials
Worsted weight yarn in two colors (or as many colors as you like).
I used Purl Essence Rainbow in Oatmeal & Yellow ~1 skein of each.
Click the links below for some good yarn choices for this project:
Rainbow Classic Yellow  or Rainbow Classic Yarn, is the yarn I used
Red Heart Super Saver Yarn
Bernat Super Value Yarn
Lily Sugar n Cream Yarn, Ombre for a cotton option
Hook US J/6.00 mm
Abbreviations
beg- beginning
ch – chain
dc – double crochet
sc – single crochet
sl st – slip stitch
st(s) – stitch(es)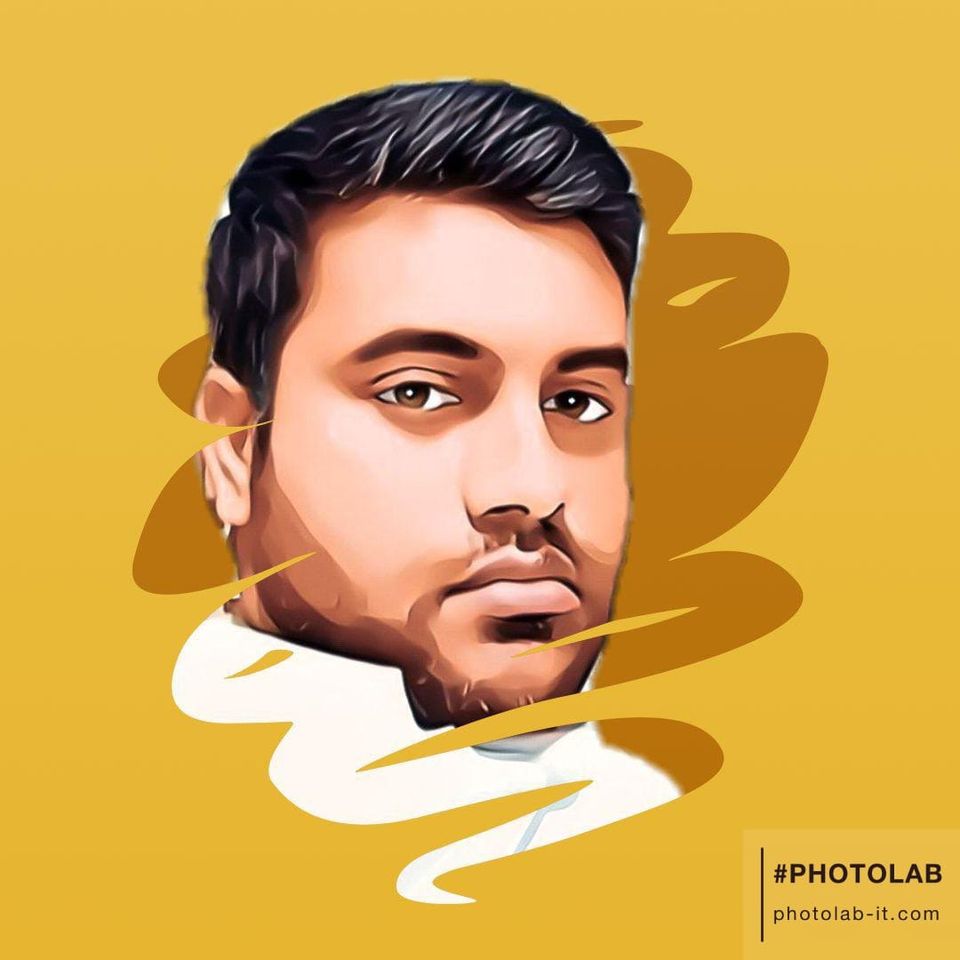 I am Raza, a crafts expert with 6 years of experience. I run this site for DIY lovers to provide the most exciting projects and ideas for your home, office, and everyday life. See More