Lampshades are the perfect way to add a bit of pizzazz to any lamp or light fixture. They are a fun and easy way to add a personal finishing touch to your home décor. The uses for these crochet items are endless and you can put on, not only table lamps but also regular light fixtures that are set in either ceiling or wall sconces; they will make all the difference to your space! Crocheted lampshades, especially ones made with the right colors and patterns, can make your room look more lively and evoke certain moods you want for your space." Create your own crochet lampshade patterns with this free pattern collection!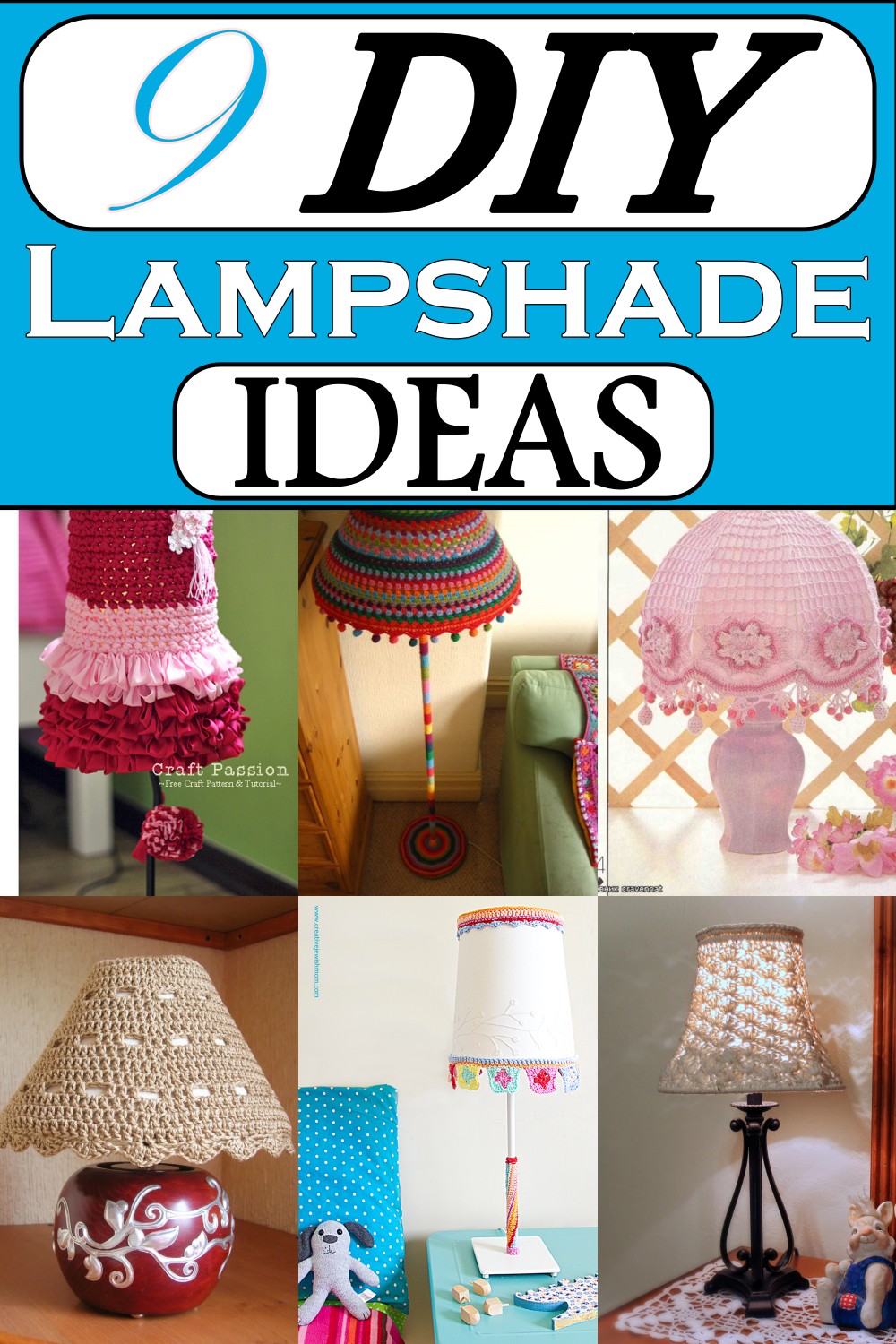 Make your table lamps even more interesting with a crochet lampshade. Choose your favorite yarn colors and stitches, and do the fun part of creating these easy patterns for crocheted lampshades. The 10 free crochet lampshade patterns here will help you turn your lamps into a bright focal point in your home with shades that are custom-made and unique to you. Each pattern is written for the number of shades you need, as well as how many yards of yarn you'll need. These crochet lampshade patterns are a great way to update your room decor. Include these projects in your decorating plan and enjoy the transformation of your space from drab to fab!
You Can See: 51 Free Crochet Coaster Patterns
Crochet Lampshade Again: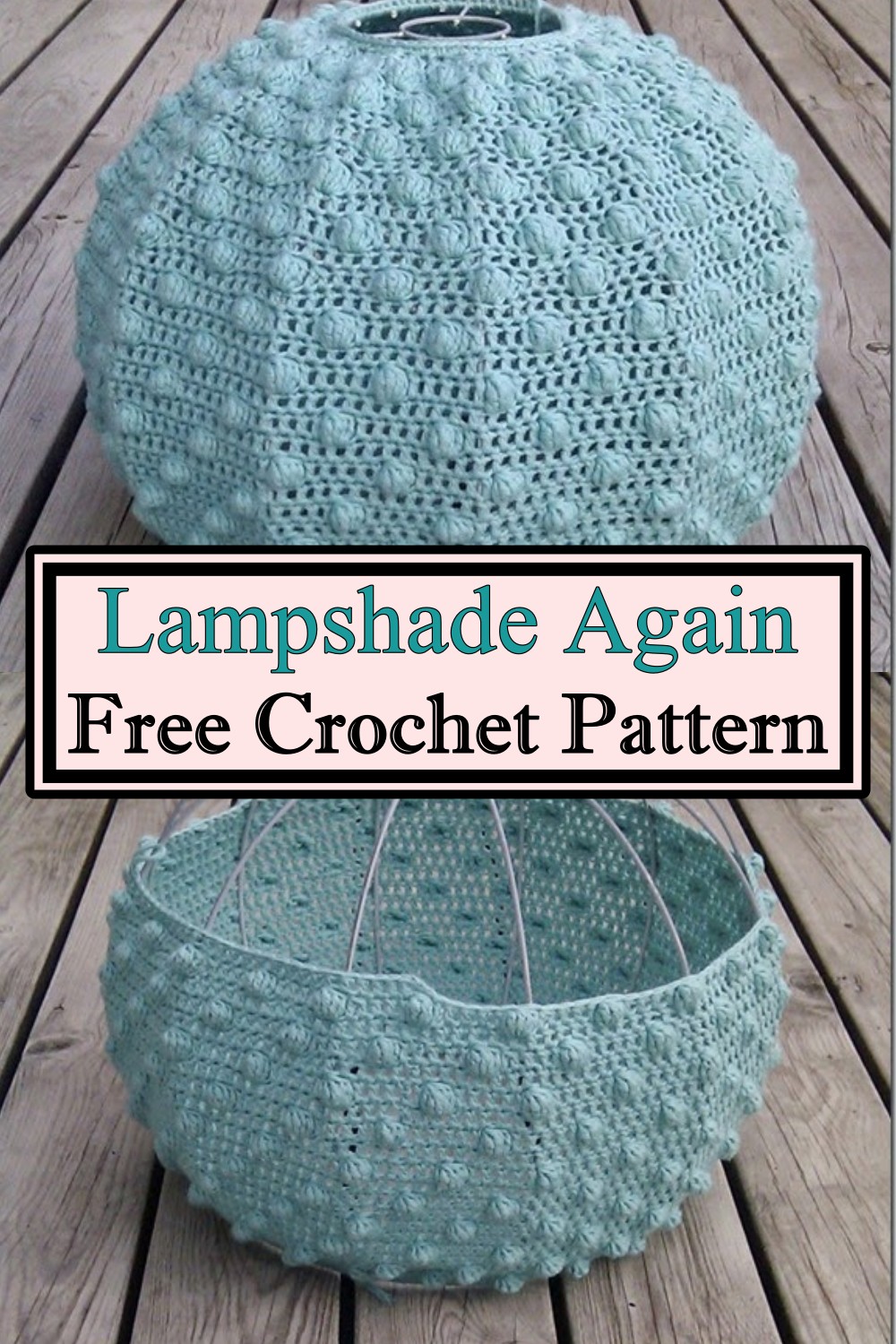 A crochet lampshade is a perfect way to create a cozy, homey atmosphere in your home. Once you get the hang of it, you'll be able to make one for all your rooms! If you have an old lampshade and want to give it a new life, then this project is ideal for you. Using the crochet bobble pattern, you can easily personalize your lampshade. In just a few steps, you'll have an impressive DIY project that perfectly matches your interior! The instructions are simple and the project is relatively quick. Pick up a hook that matches the weight of your yarn (something nice and thick!) and get creative with your favorite colors.
Crochet Lampshade Cozy Lamp Cover: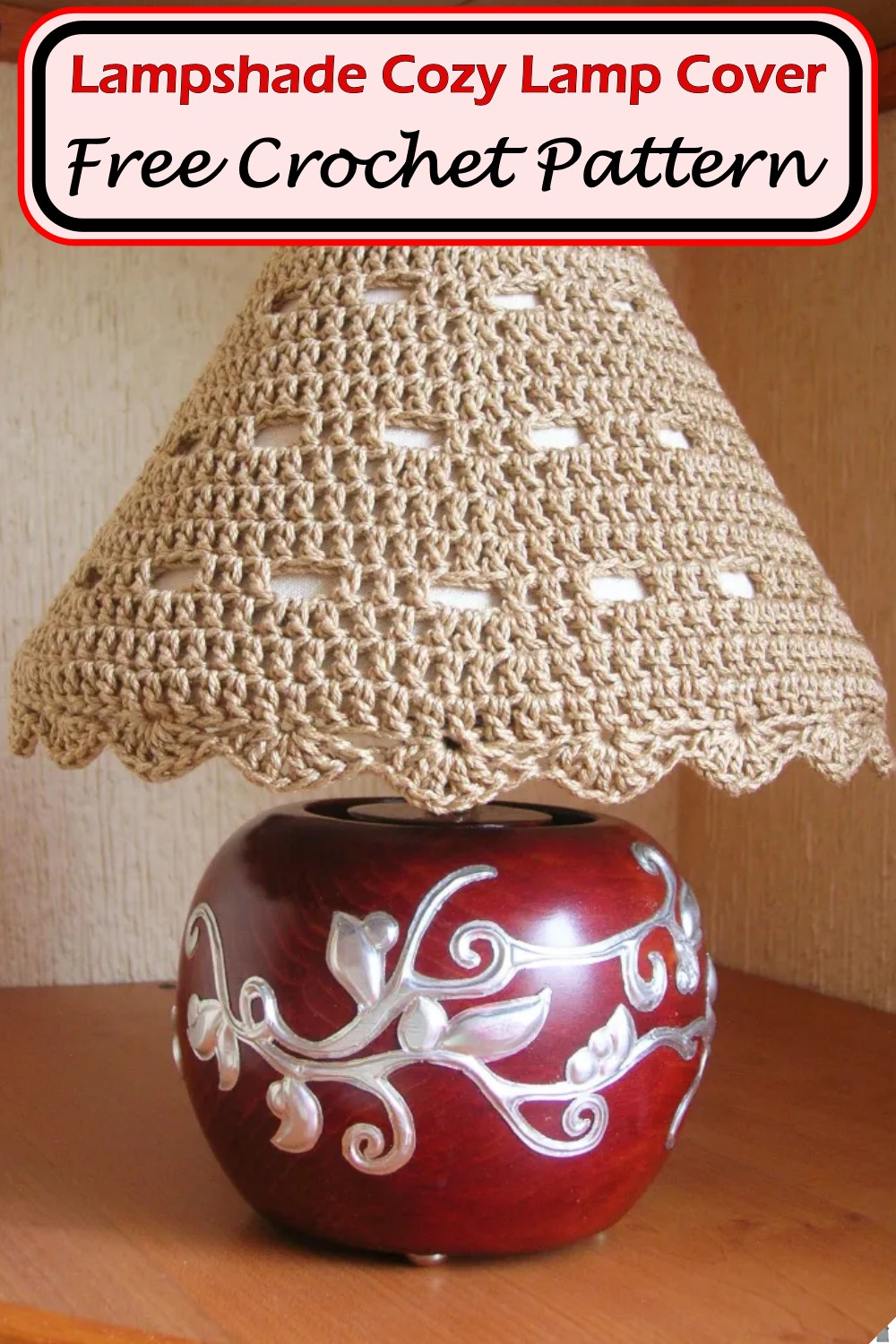 The lampshade cozy is a great way to protect your delicate lamp shades from dust and dirt. You can make it in a variety of bright, vivid colors or neutral ones, depending on your mood. This pattern is an easy-to-work hexagon pattern that you can crochet using only two stitches: the double crochet (dc) and the slip stitch (sl st). This makes it versatile in that you can use it for more than just this project – you could adapt it to any situation by using different yarns, changing the size of the hexagons, and so on!
This pattern is suitable for beginners or anyone who wants an easy pattern that they can make quickly while still creating something great! This handmade crochet cover is carefully crafted using high-quality 100% cotton yarn. It will fit most standard-sized table lamps. Designed to fit a standard lampshade, this cozy protects your lamp from dust and children's curious fingers. It is made to be clear so that it does not interfere with the light of the bulb.
Crochet Funky Lamp Yarnbomb: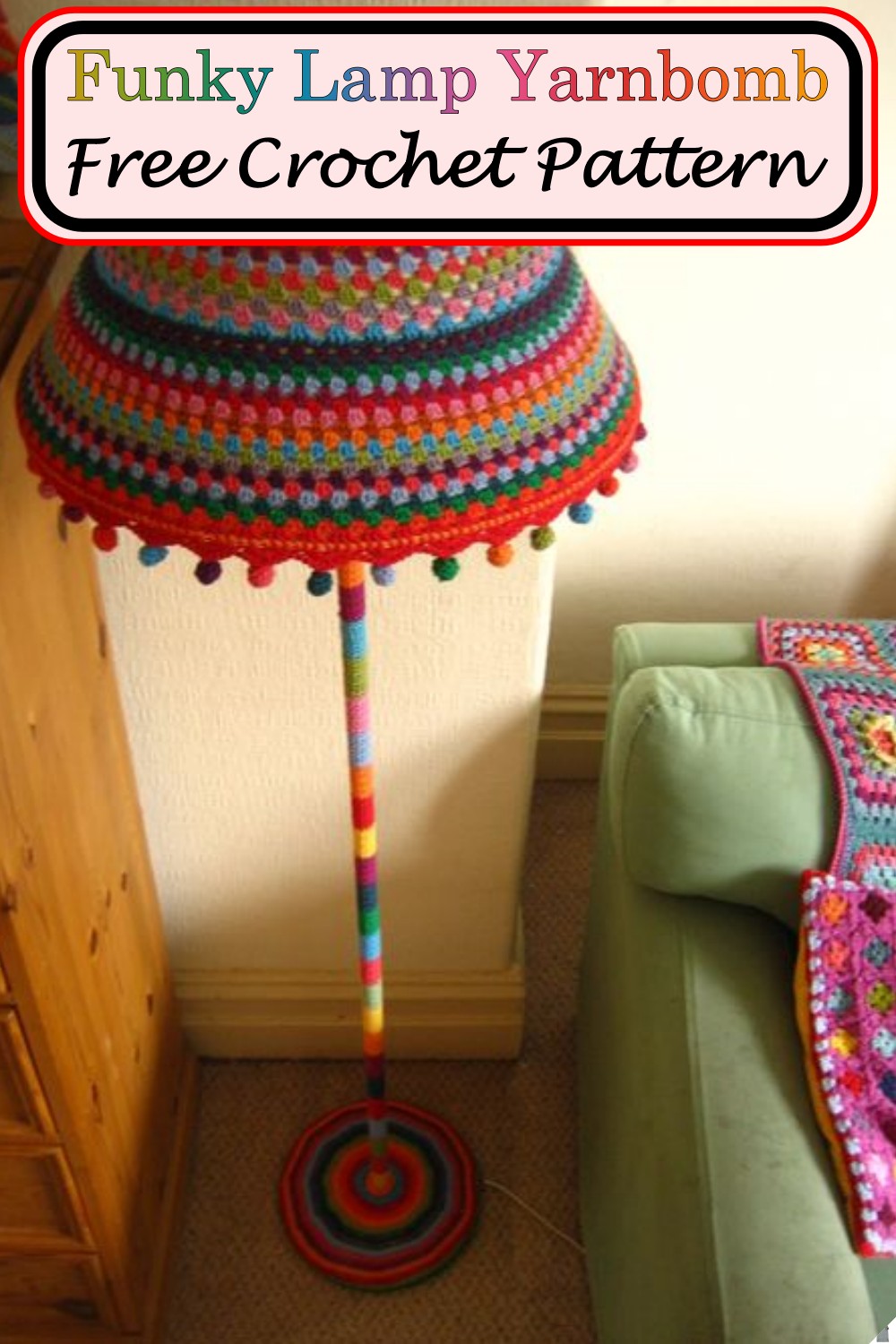 Bring a bit of drama to your home with this amazing crochet lamp. A trendy, funky, and stylish crochet lampshade with an amazing stand design is going to be a wonderful hit for your living room decor. The yarnbombing concept has been used to create this fantastic lamp which can be used as decorative light in the living room or bedroom. It is an apt idea when you are planning to bring some makeover changes to style up your living room decor.
It is amazingly illuminated with the help of dangling pom-poms on and around the lampshade. The lampshade is in multiple colors of yarns so that your dull and boring living space decor revives to life and freshness. This is a beautiful addition to any home décor accessories for better illumination.
Dolly Lampshade Cover Crochet Pattern: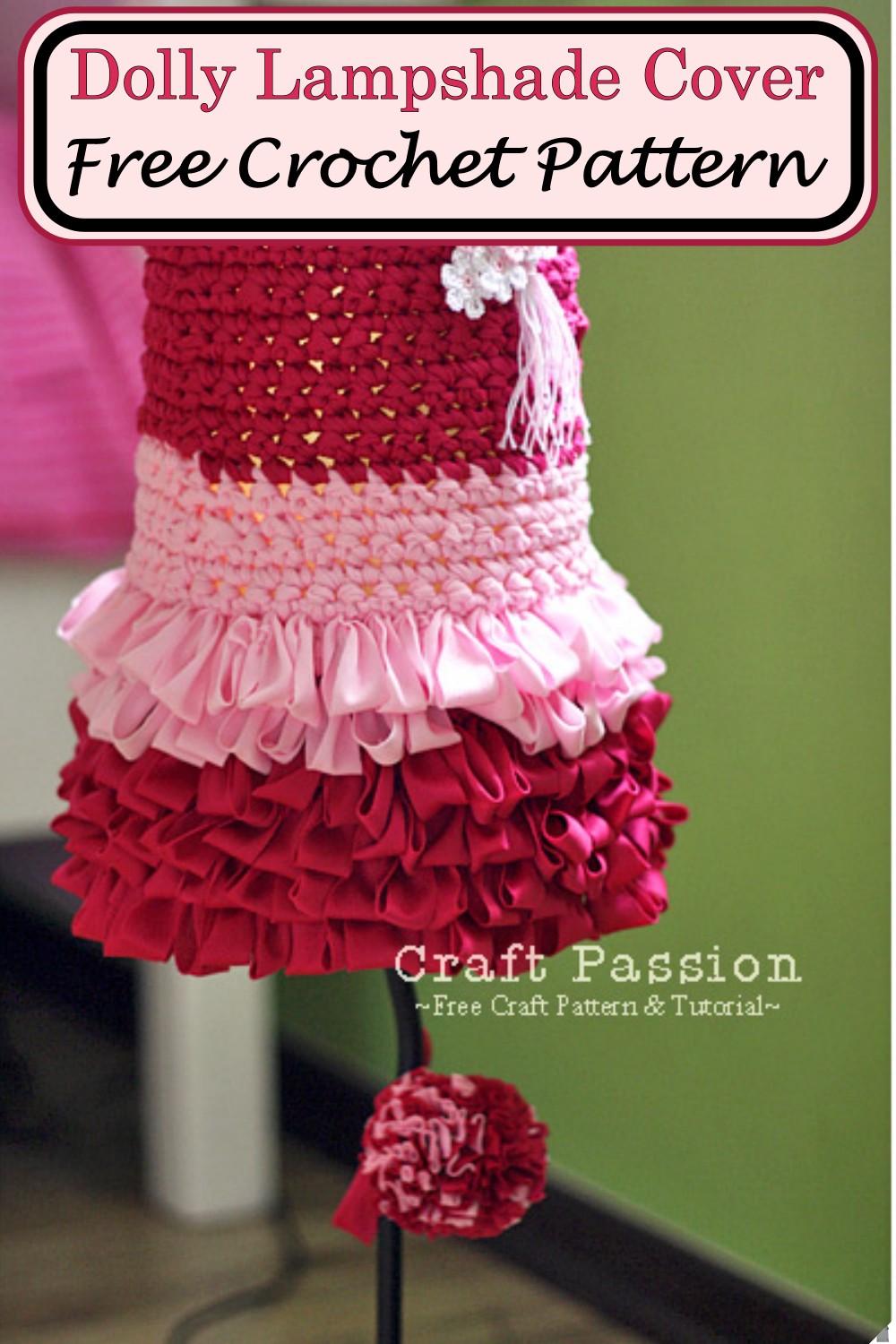 Looking for a simple yet very feminine way to dress up your lampshade? This dolly lampshade cover crochet pattern has got you covered! The beautiful soft pink and red stripes will help create a fresh and airy atmosphere in any bedroom or nursery. Girls just love to have everything be so elegant and classy so this bright and vibrant dolly lampshade made with crocheted flowers and ruffles would make a good gift for your girlfriend for their lamps. This pretty design can also be made for a baby shower/birthday as it adds cheerfulness as well as prettiness to the life of a girl. Make things a lot more fancy and beautiful for her room by crocheting this beautiful Dolly Lampshade Cover.
Lampshade Crochet Pattern: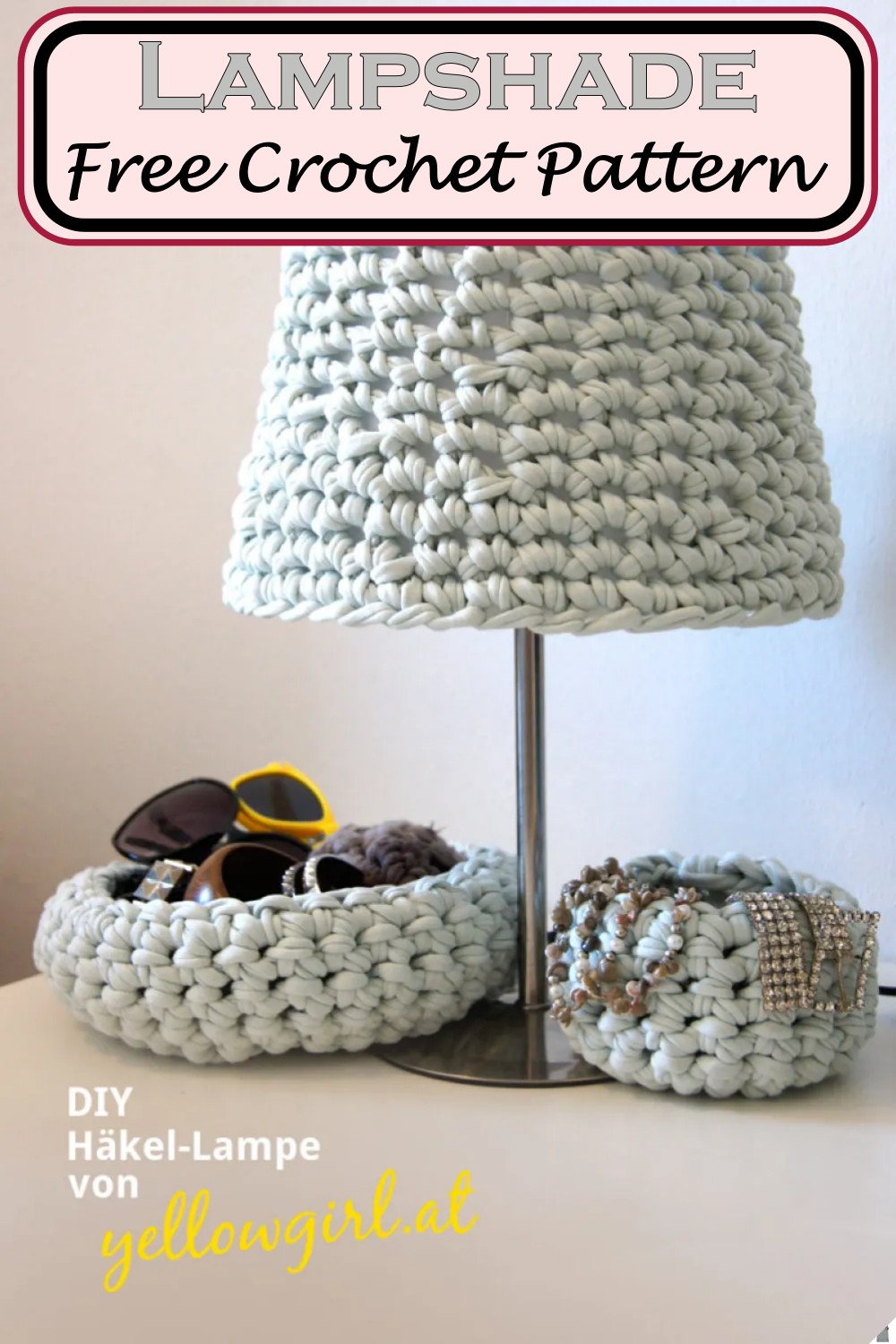 Makeover your bedroom and living room decor with this crochet lampshade. It is knotted with a beautiful design and maintains a trendy look. This lampshade would turn out to be the most gorgeous addition to your bedroom or living room makeover ideas. The Lampshade Crochet Pattern is here to fulfill any crocheter's desire for creating trendy, gorgeous, and stunning lampshades for their homes. This pattern is made using the soft and flexible thick zpagetti yarn along with a bigger crochet hook. You can easily make it in off-white color or in any color you like. This is one of the simplest ways of making your home look beautiful, elegant, and stylish! What about making a matching jewelry bowl to go with it?
Granny Collage Lampshade Pattern: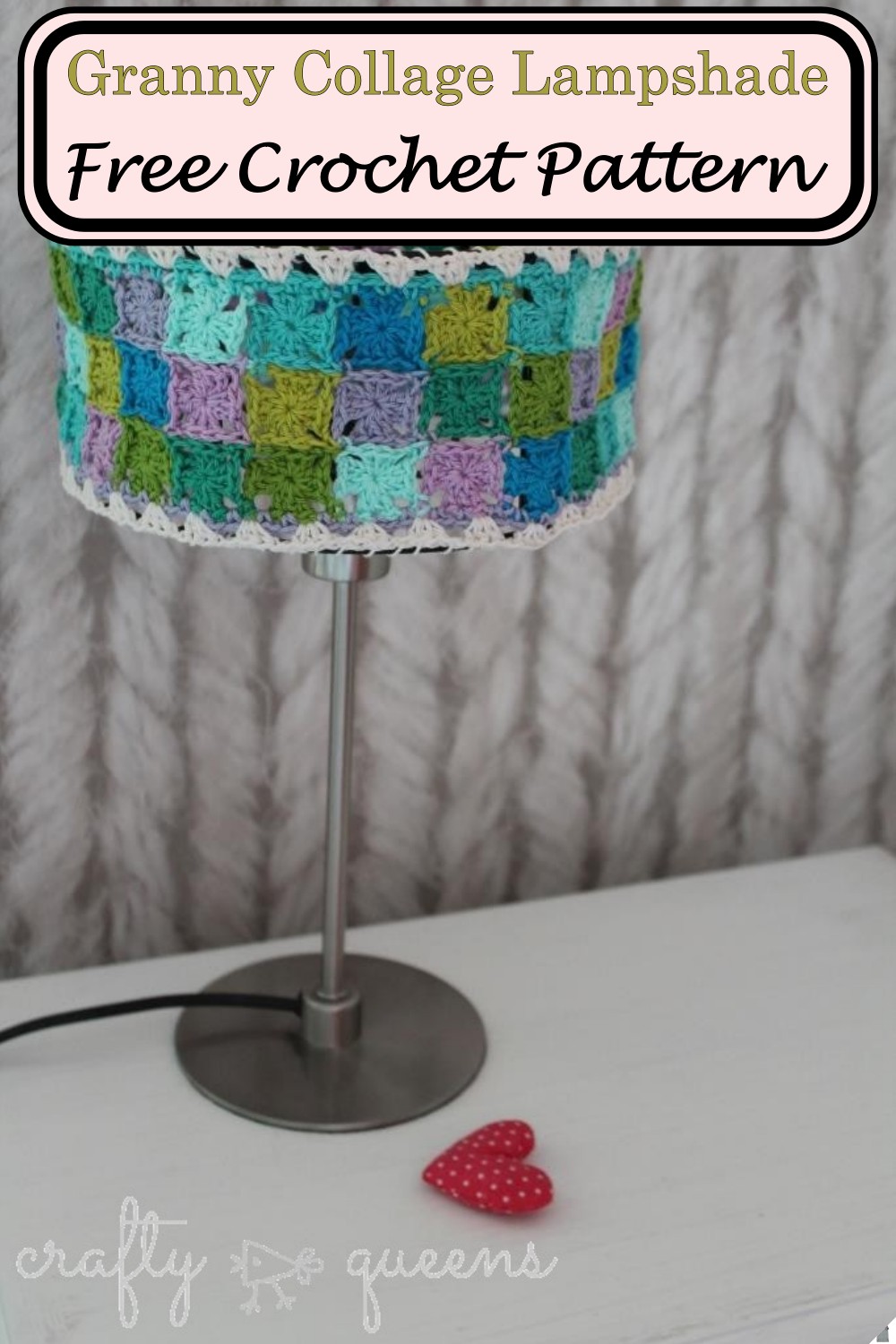 Are you in need of a new lampshade for your favorite lamp, or do you want to make a stylish DIY light cover? This is the pattern you've been looking for! The tutorial teaches how to crochet colorful and creative Granny Square Mosaics. The multicolored vibrant yarns are apt to bring in some cool summer vibes into the room. It adds a touch of summer vibes to your bedroom or living room decor. The granny squares are worked in stripes, so you can use whatever colors you fancy. This collage is also great for customizing a bare lamp frame or even adding some color to your outdoor space.
Pink Lampshade Pattern: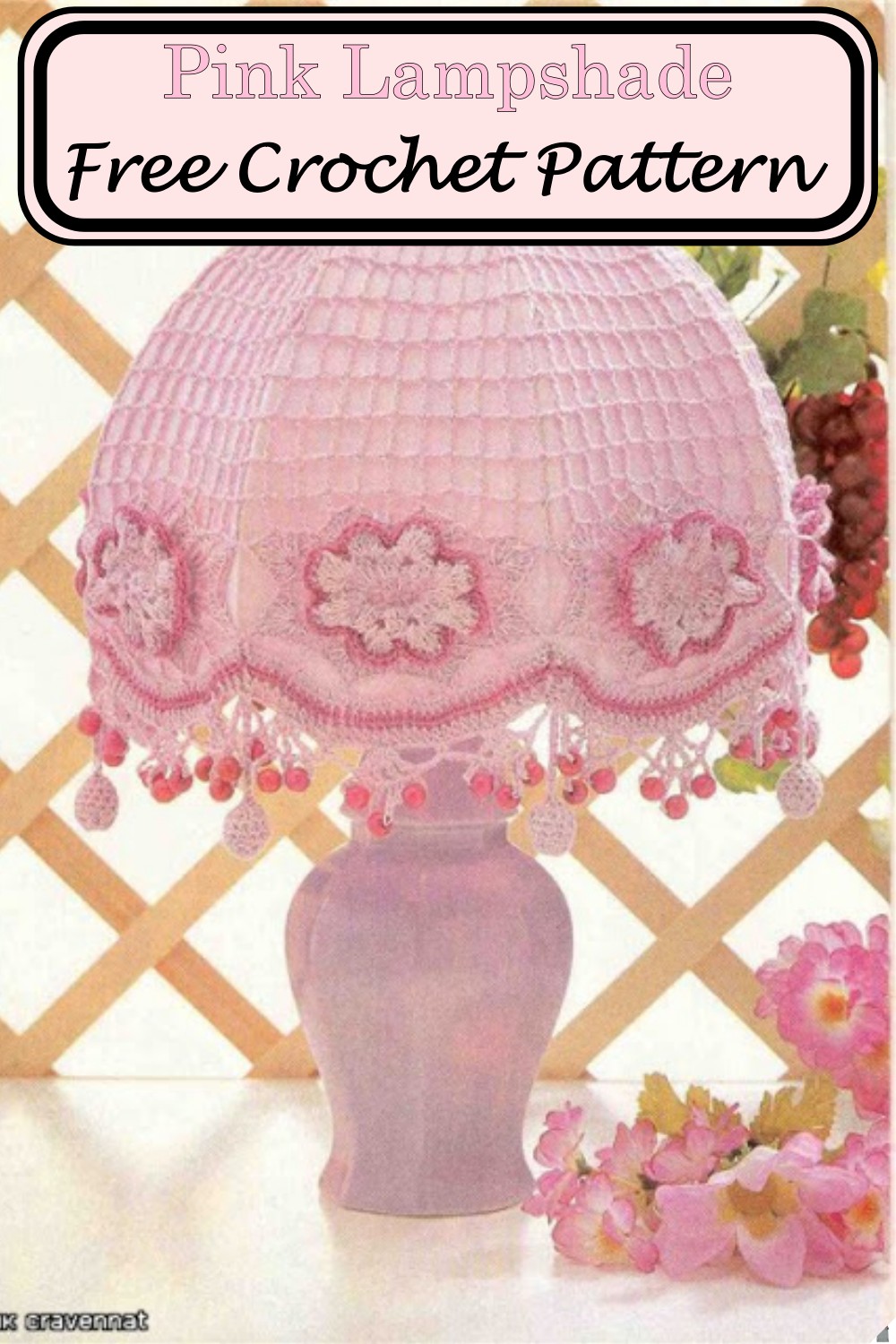 Perfect lampshade for your bedroom, living room, or wherever you need a sunny night lamp. Beautiful, delicate, and elegantly beaded country crochet pattern. Beads are on the outside of the shade and the lamp is unique and one of a kind. This beautifully hand-crafted lampshade is the perfect accessory for any country home, cottage, or cottage-style home. This lampshade is truly a one-of-a-kind piece of art that can be passed down from generation to generation. No two will be exactly alike! This lampshade will add warmth and style to any room in your home. This pink lampshade crochet pattern is easy to make and will keep your room shiny and bright.
Coastline Lampshade Cover Pattern:
This Coastline lampshade cover adds texture to an otherwise plain lampshade, adding a bit of texture while still allowing the lamp's natural beauty to shine through. The crafter has used a neutral color Red Heart yarn, but depending on the needs of your room. It is a simple, fun, and effective way to add a bit of texture to any room. The coastline is a light and airy lampshade cover that is perfect for adding a pop of color to any room. The neutral colors complement the fringed pattern for a harmonious look. But a different color scheme can be easily made by changing your yarn choice. The easy-to-follow pattern ensures that you don't have to worry about getting that perfect fringed look.
Simple Crocheted Trim Transforms A Basic Lamp: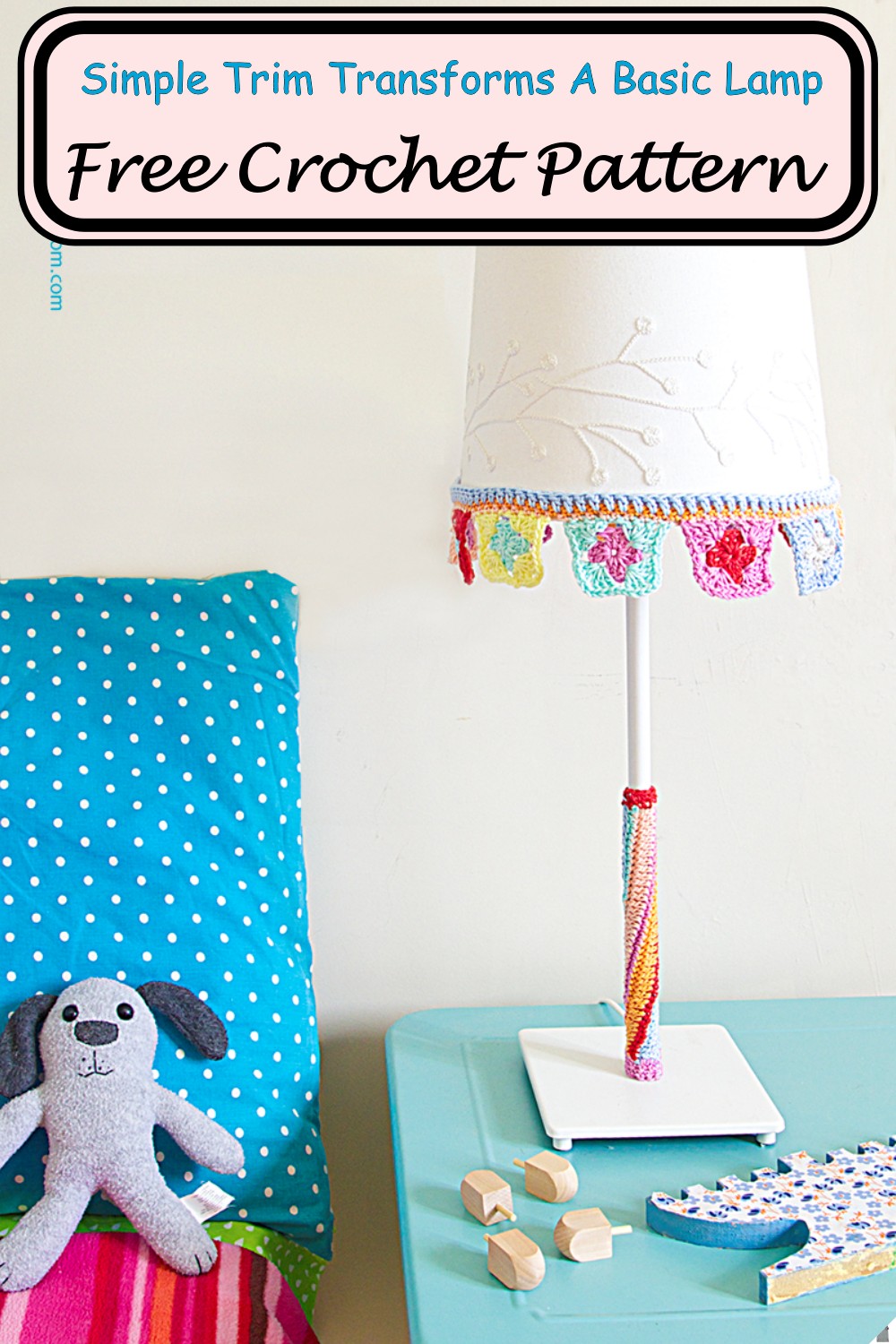 Add some color and texture to any lamp shade or base with a crochet granny square trim. This simple project is quick to make and creates a fun design you can use with any lamp shade or base. A simple crochet trim can completely transform a basic lamp, and it's a fun crochet project that you can do to help spruce up your home. This tutorial will teach you how to make crocheted trim for any lampshade, as well as some other projects to brighten up your home with color.
This simple crocheted trim can transform any simple lampshade into a showstopper. The added texture, color, and textural interest of a granny square pattern are just what you need to update your decor and add some color to an otherwise boring lamp. These trims are easy to make, but look like they took you all day to finish!
Crochet Lamp Shade: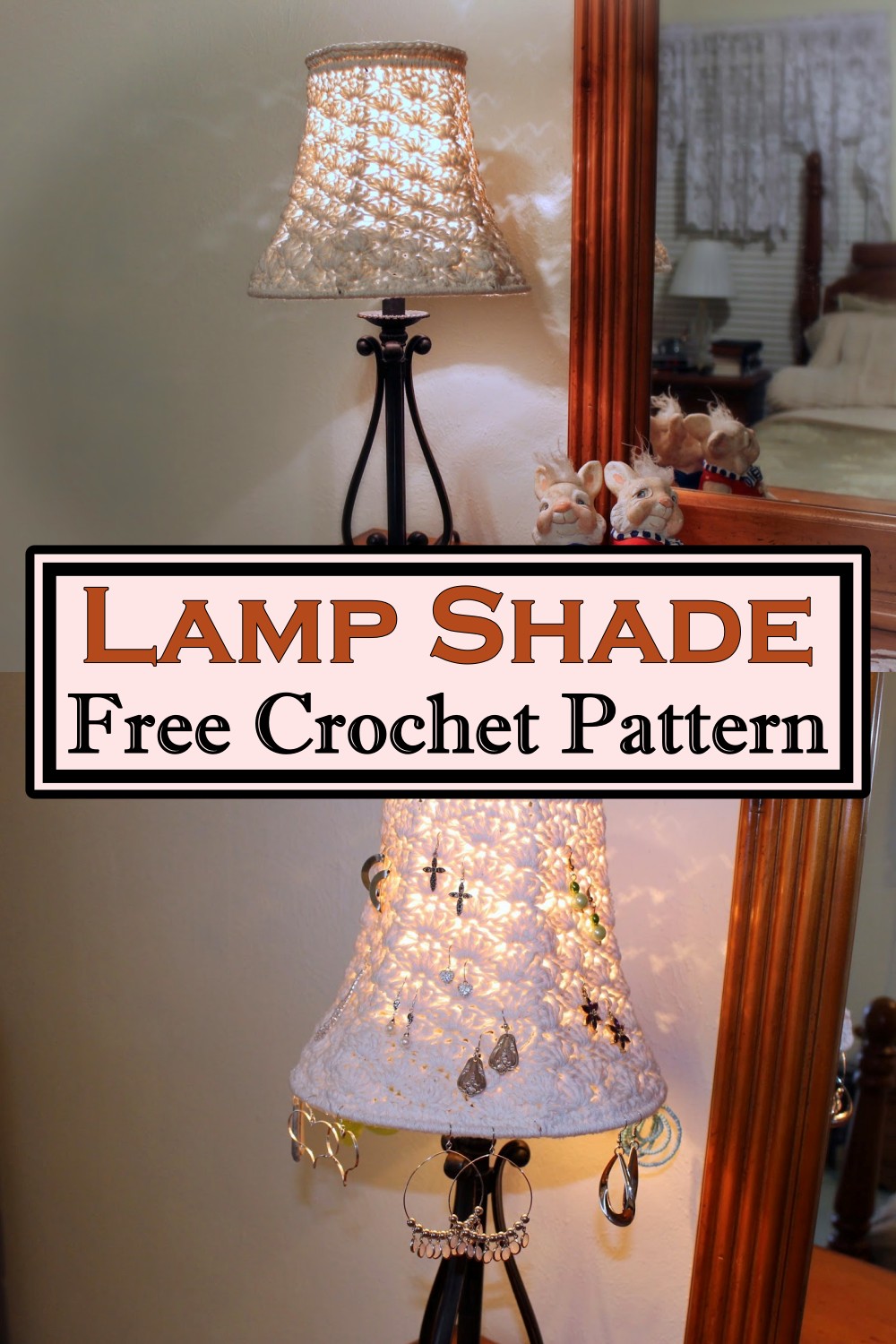 Matching the right lamp with the right shade can make all the difference in a room, adding personality and style. This lampshade is both decorative and functional. It's crafted from natural cotton material and designed with a flat top, allowing you to place it on your nightstand or other table surfaces as well. The crafter of this project has also shown us how she made her problem easy to organize her jewelry and keep it in front of her eyes. Your jewelry will be kept neatly within reach and in plain sight with this unique piece, which makes a perfect gift for any fashion or jewelry aficionado.
This crocheted lamp shade pattern is easy and pretty fast to make. The pictures included give a good visual for this pattern, so make sure you watch it closely. This will make a cute addition to your home decor -- especially if you're looking for something modern or shabby chic. This beautiful lamp shade will bring the perfect amount of light to your room. The wonderful colors and gentle design make it perfect for any decor style. Add a touch of whimsy to your space with this crochet lamp shade!