Coasters are an important part of our day-to-day life. They help us protect the furniture from moisture, spills, and other liquids from your favorite drinks. But not just that. They also add a bit of décor to your table by making them look more stylish and with a purpose. If you're a crochet enthusiast and looking to add some decorative addition to your home décor. In that case, these indifferent and simple designs or advanced and complicated crochet coaster patterns will be an excellent starting point for you. You can get kind from these coasters because many choices are available here; you can choose your desired coos sizes and yarn weight depending on your choice.
Crochet Coaster Patterns
If you are looking for an exciting way to let your creativity out and make the most out of your weekend, then free crochet coaster patterns are great. There are dozens of styles and skills to crochet coaster patterns. Free crochet coaster patterns are perfect for your home or as gifts because they are quick to make, beautiful, and come in different sizes and shapes. You can create these patterns with various yarn colors, so matching them with any décor in your home or office is easy.
These crochet coasters are really popular because they are simple and inexpensive but still can add an element of chic to any room. These designs are very easy to make and will impress you with how beautiful they are. Here we have collected all kinds of crochet coaster patterns to help you make a beautiful collection of coasters for your table or decors. All these coasters are made using different stitches and materials like cotton, linen, and yarns. The patterns are broken down step-by-step, so they are perfect for beginners who want to try their hand at crochet work.
Sweet Heart Coasters
Do you have leftover bits of yarn and want to make something useful with them? Crochet Sweet Heart Coasters Pattern is a great pattern for using small amounts of scrap yarn. They are edging with chaining loops and create an amazing look for your home. This coaster will be useful and decorative at the same time. This cute and quick-to-crochet pattern uses just one ball of cotton yarn, no sewing, and no worries. The finished product is four heart-shaped coasters with chain loops edge. You can make these four items in one night! They are the perfect gift idea for anyone who likes hearts or loves crochet.
Hearts Of Hope Coasters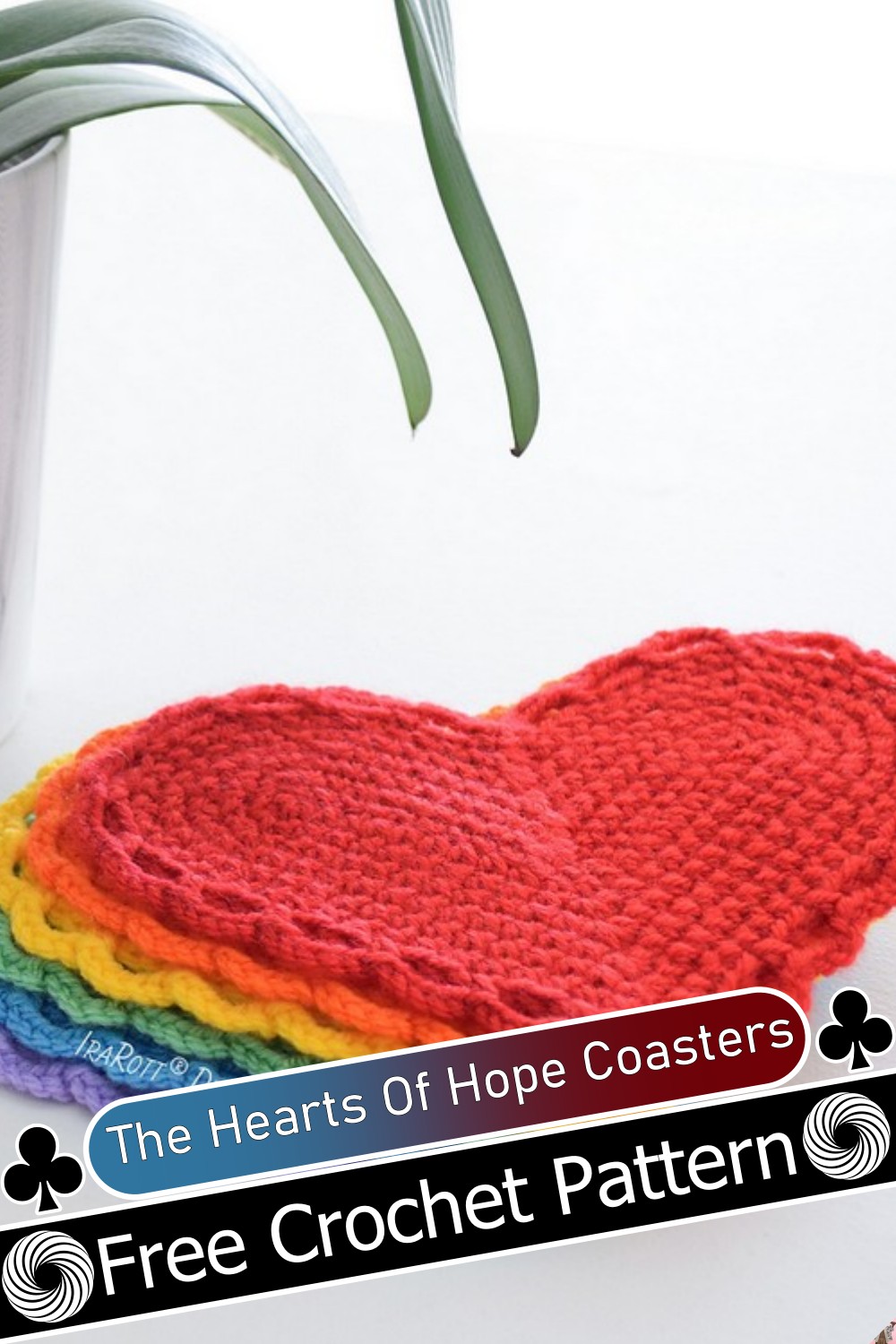 You will be able to create this fantastic coaster pattern in a fun and easy step-by-step guide below. This crochet pattern is free. The Hearts Of Hope Coasters are perfect for adding beauty and enjoyment to your home on any special day or event with their gorgeous shape, color, and texture. You can use the leftover yarn in a small amount to create this beautiful pattern to beautify the table of your room. You can fill it with some small floral arrangements or with some candies on any special day to make it more useful. One can also give these coasters as gifts on birthdays or anniversaries because they are not expensive to make at all.
Treble Flower Coaster Set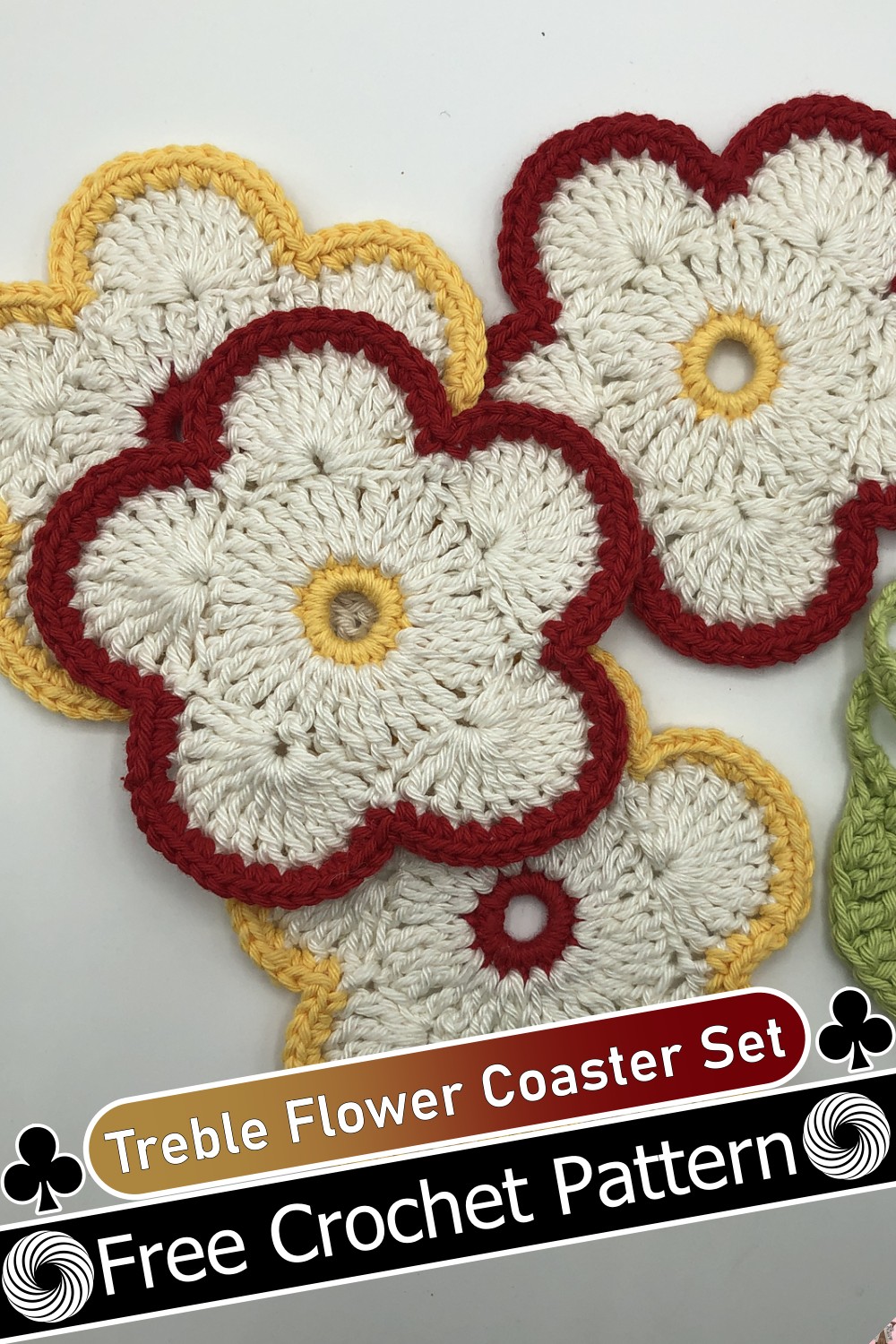 The coasters in this set are crocheted with treble stitches and are small in size but huge in functionality. They can be used for so many things in your home. You can lay gifts or mugs on them, use them as a holder for spoons and forks, keep small plants or flowers on them or use them to decorate your kitchen table and room. The pattern also contains instructions on making a coaster holder organize your work better while making this set. You just need a little time and dedication, and then you'll have a gorgeous set of coasters. You can also use them as pot holders or other decor pieces you might want to add pops of color with!
Lotus Coaster Pattern
Crochet Lotus Coaster Pattern is one of the most creative and attractive settings for your cups, mugs, etc. It has an elegant-looking structure on top of it as well. This Lotus coaster will help you to protect your table from drink stains. The stitch used in this pattern has a lot of color combinations so that you can make many colors of black or white at any time. You can add it to your favorite tea time to protect your table from drink stains and increase the decor. The pattern has been created using a size of 6 cm in diameter, but you can modify it according to your need.
Crochet Cute Snowflakes Coaster Set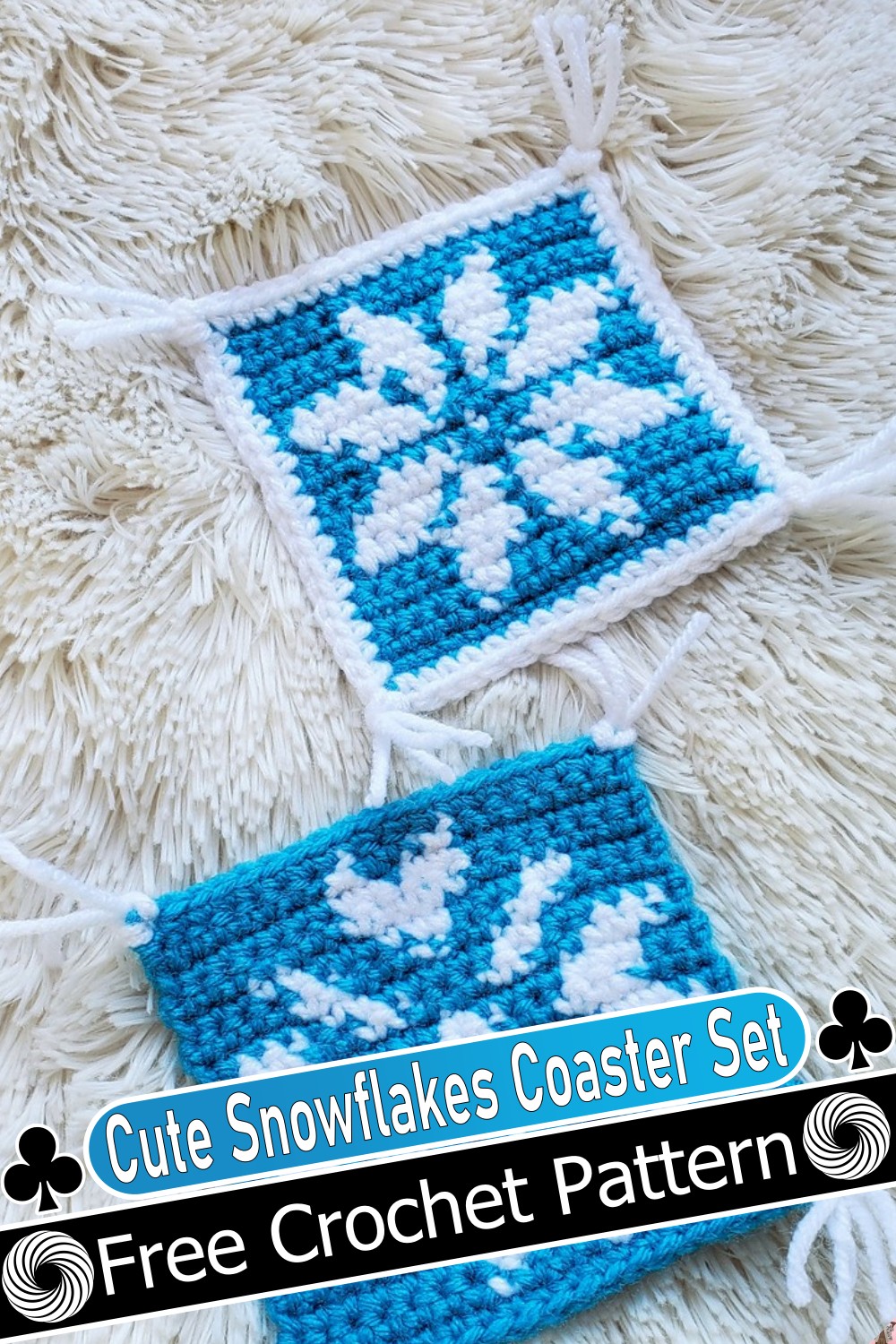 This Crochet Snowflake Coaster Set will add a charming and elegant element to your home décor. This Crochet Cute Snowflakes Coaster Set Free Pattern is a perfect gift for your loved ones. The coaster set is made of cotton material, and the snowflake motif gives it a stylish look. This crochet coaster set comes with four coasters designed so that they can be combined to create a beautiful snowflake pattern on your tabletop. It is simple to follow and requires basic crochet knowledge.
Crochet Coaster Trio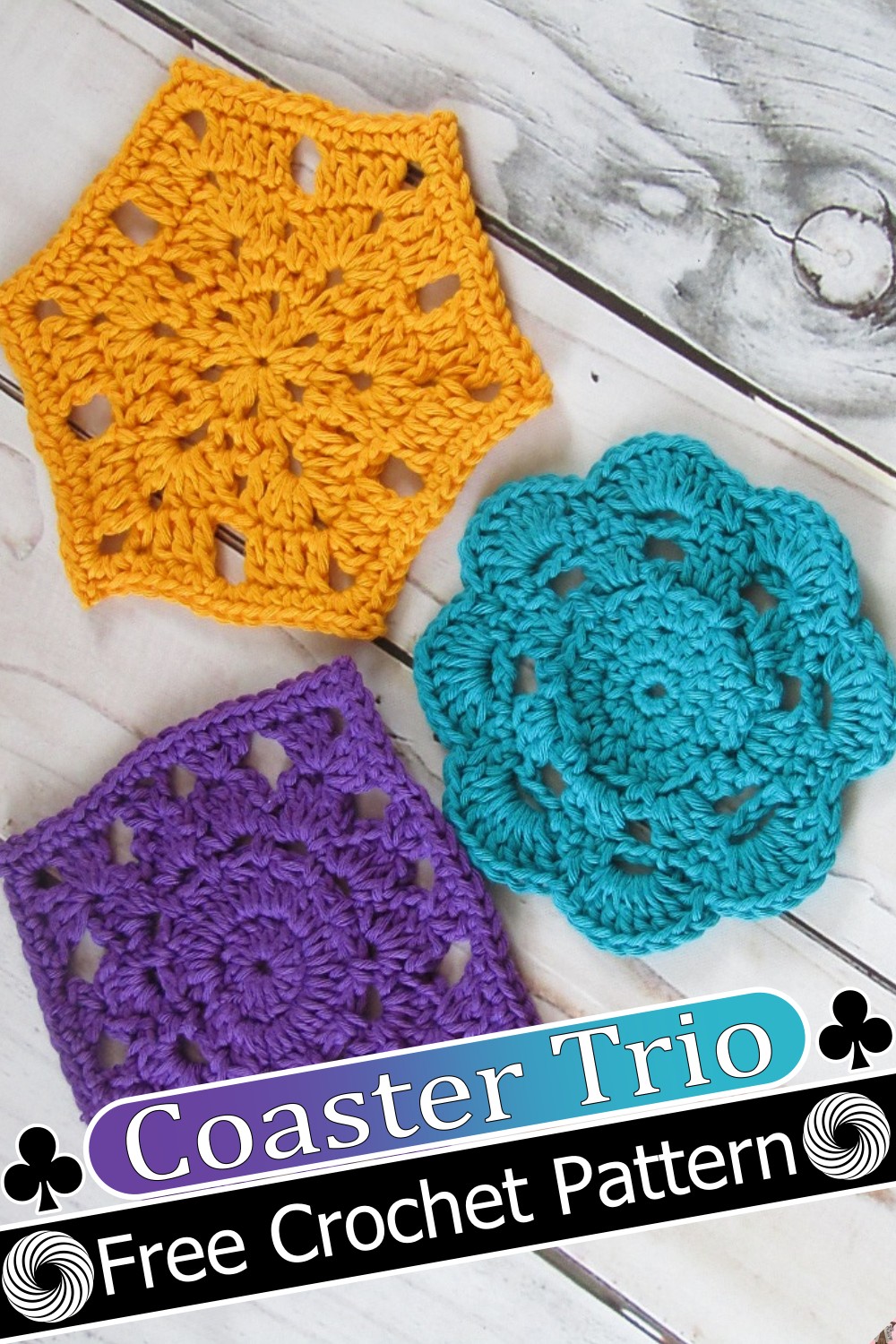 Crochet Coaster Trio is a simple and fun crochet project that is as elegant as they are useful. With three beautiful patterns included, you can create a set of colorful and practical coasters that will brighten up any table. The easy pattern includes a Raglan peplum stitch, the ZigZag stitch, and the Treble Cluster Lace stitch. Each coaster uses worsted weight yarn to complete making it an excellent gift for friends and family. You will be able to make your kitchen look more beautiful by using these coasters, whether it is wood or marble. You can gift them to your loved ones and make their house look more elegant and stylish.
Crochet Coaster For Beginners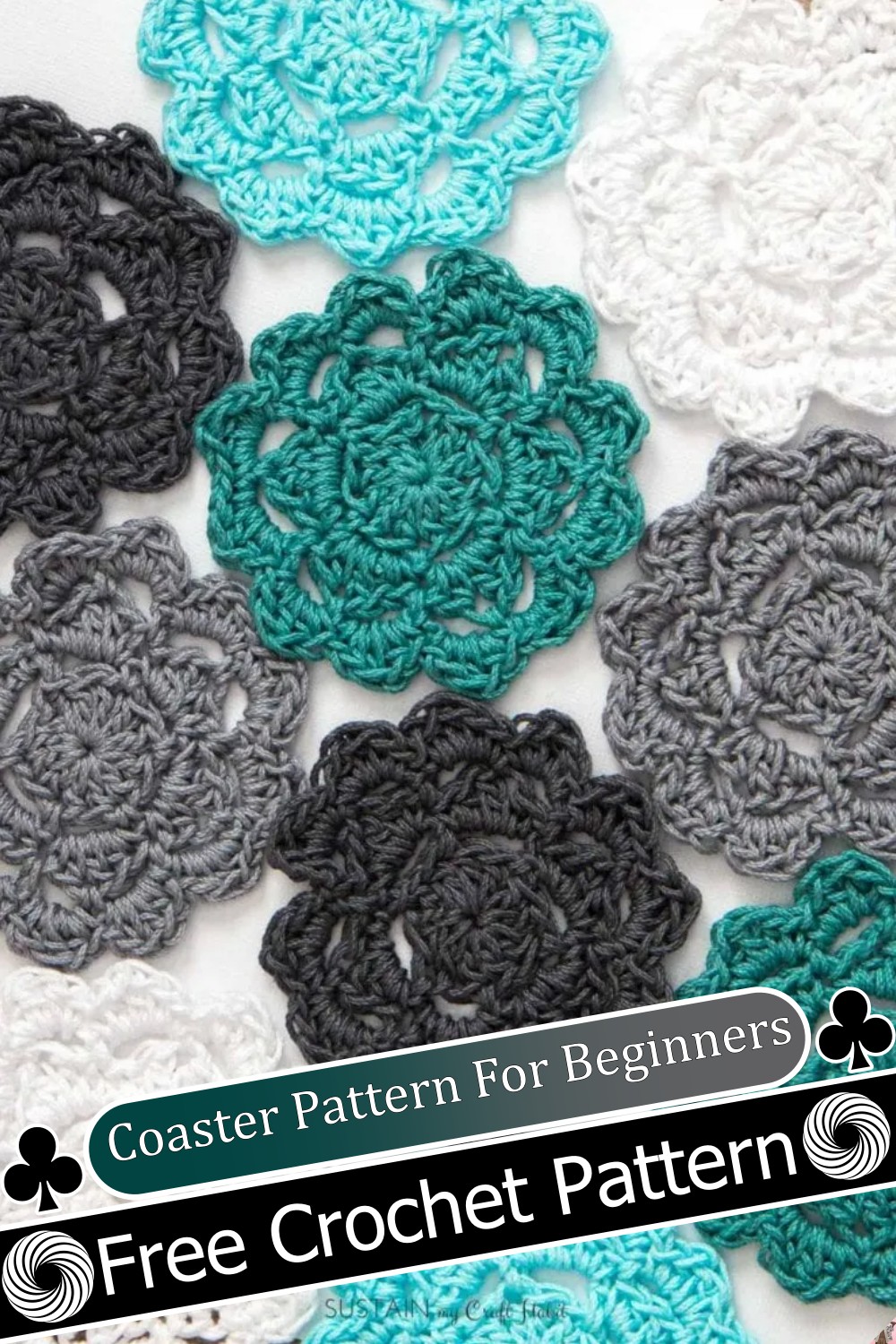 You will be surprised to see how easy it is to make these crochet coasters. Beginners can easily try this pattern and feel confident to give it a try. We have included written directions and photos of how to make the coaster in case you need any help. You can use them as gift ideas for Christmas or birthdays for your family, friends, or neighbors. The pattern is easy enough for beginners and experienced crocheters alike. Each coaster measures approximately 4 inches in diameter. You will need three strands of yarn simultaneously to do this project. You can have fun making a set in different colors!
Spring Blooms Coaster Pattern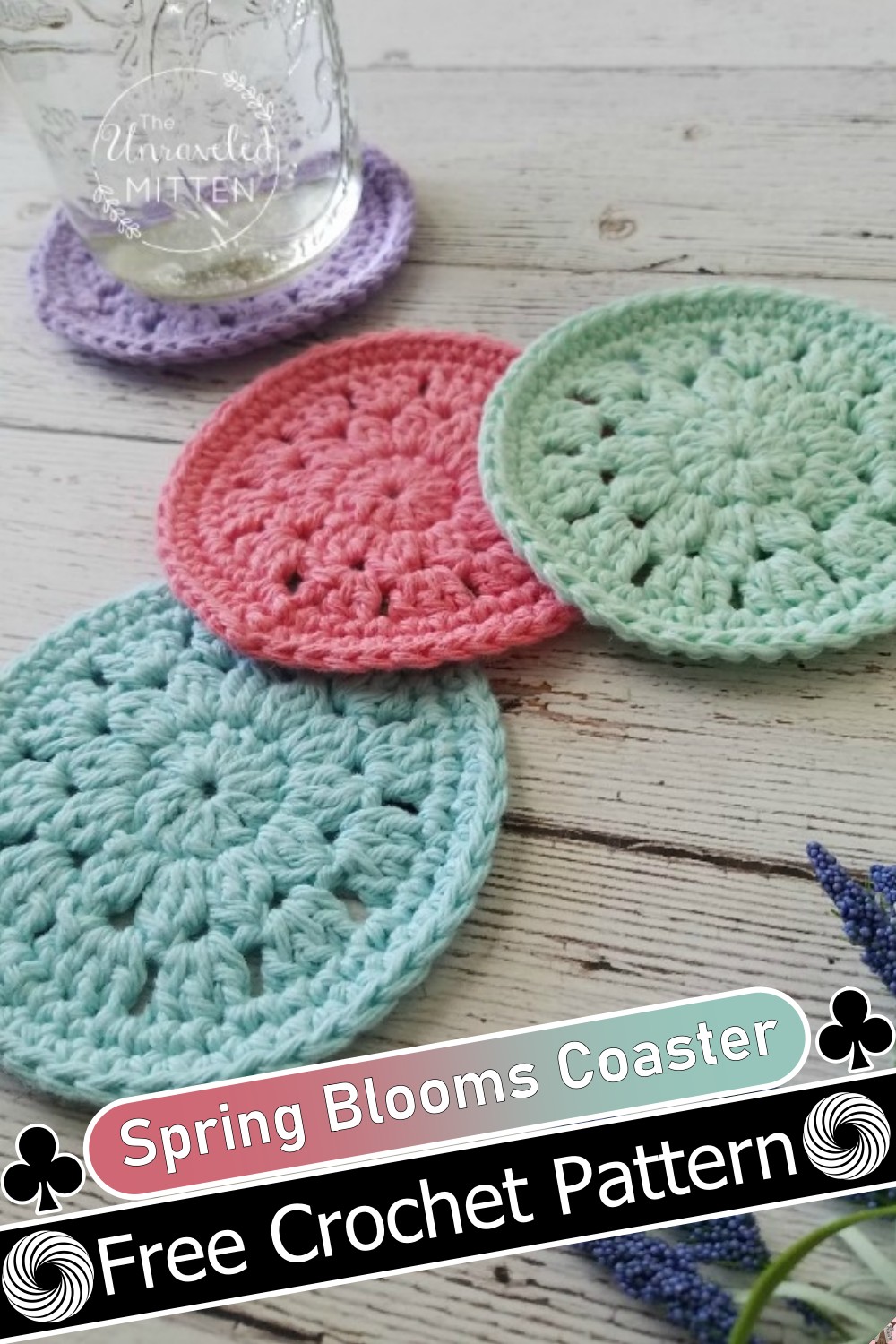 If you are looking for new and easy crochet projects, this is it! This set of spring blooms coaster patterns includes the perfect spring decor for your home at an affordable price. Using worsted-weight yarn, you can easily make a set of unique coasters using the included instructions that include pictures and instructions on how to work up this project. This will make your home spring-ready without spending too much and without any extra effort. If you were thinking about refreshing your home that must be budget-friendly, no other project would go perfectly.
Betty's Crochet Coasters
Crochet coasters make a great gift for anyone. In this set of free crochet patterns, you will be inspired to create your beautiful coaster collection for yourself or give a great gift to someone special. These delicate and feminine pieces will make a beautiful addition to any of your kitchen accessories. Designed with feminine colors and delicate patterns, this handmade crochet coaster makes a great gift for those special people in your life. Perfect for any kitchen or tea room table, these beauties are sure to please!
Easy Crochet Coasters
With this free pattern, you can crochet watermelon coasters that will be beautiful and cute on your table or desk. Crocheted with cotton yarn, they create a stunning effect underneath a glass or cup of coffee. The best part is that you can easily show your talent to people by creating fun little crochet accessories such as these free crochet watermelon coaster patterns. These fun, little accessories can be made by beginners, too, as their pattern is beginner-friendly. It is also easy to show off your talent in front of people by creating these gorgeous coasters.
Easy Peasy Pompom Crochet Coasters
Make a great craft project with your friends, and these coasters are so cute and stylish. The great thing about these crochet coaster patterns is that you could make it even within 15 minutes. These bright colored flower shaped coasters are easy to make yet stunning in their look. They're very trendy too! These easy peasy crochet coaster patterns are a great way to use up small amounts of yarn that you find at the bottom of your stash but still want to make something special.
Crochet Pokemon Ball Coaster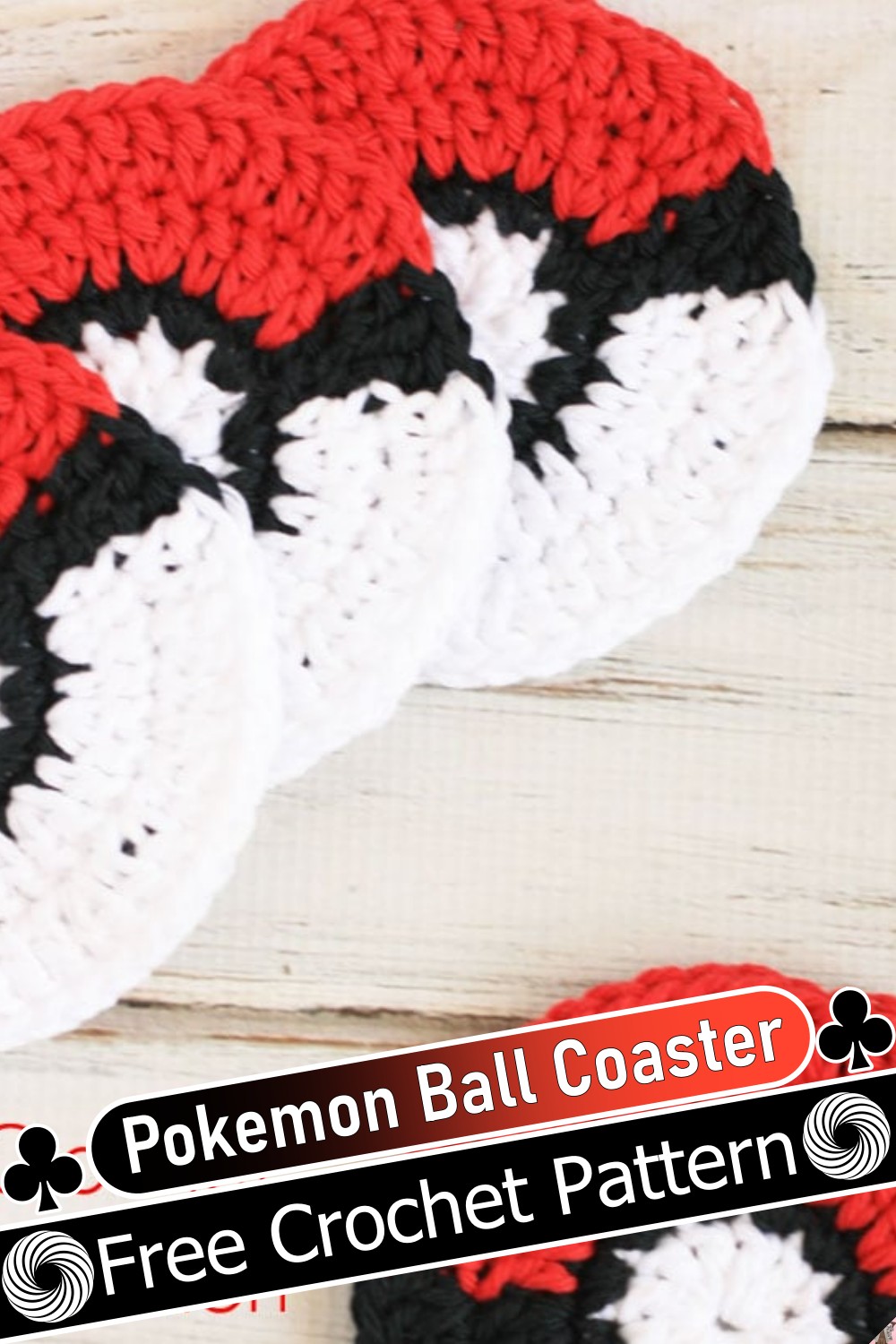 Do you or your kids' fan Pokemon or any anime games? Great! You can crochet them with these adorable coasters. These cute coasters are very easy to make. They would be a great addition to any Pokemon lover's kitchen countertop, coffee table, or wherever you choose to place them for decoration. If you or your kids are fans of Pokemon, this is a great way to bring it into your home. All you will need is yarn and a crochet hook. These coasters take about an hour to make each, so you will have 10 of them ready in no time!
Party Doily Crochet Coasters Christmas
The Beautiful Doily Crochet Coasters are a fun way to add a pop of color to your home. These coasters will be great to crochet coasters for Christmas or crochet them in colors that coordinate with the home décor that you can use all year round. The doily coaster is also an amazing way to remember your host or hostess for a long time. They will be happy to see you using their special gift when they visit! Motifs, color combinations, and edging can be varied to make the coasters look different each time you crochet. They are easy to make, so try them this season!
Prickly Pear Cactus Crochet Coasters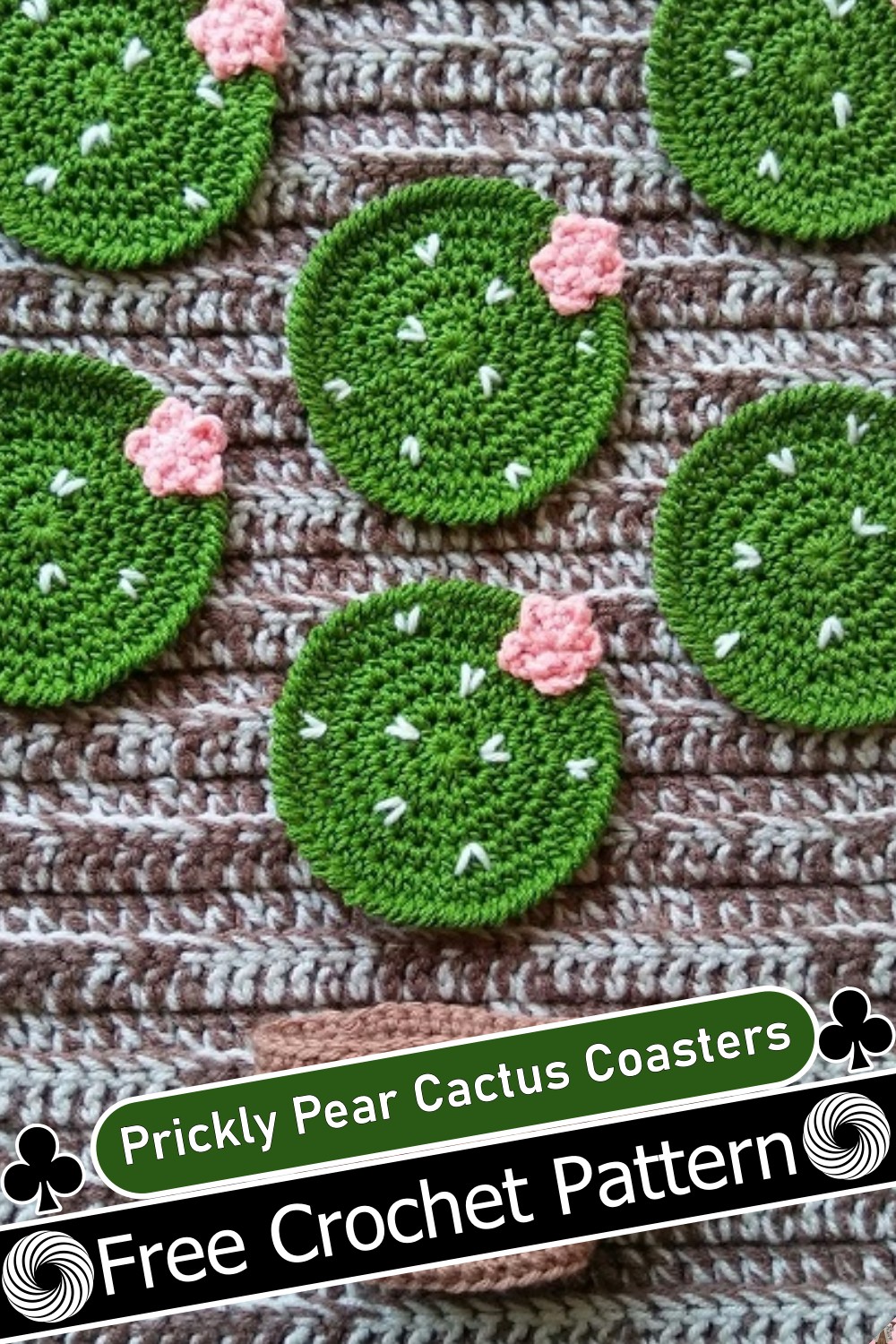 These crochet cactus coasters come in a set of four, with one tassel. They are very easy to make, so you can finish them quickly. These are perfect for your summer party and can be used as decoration or an accessory. This is a perfect way to decorate your table and make it more elegant. It will surely be a great addition to your home or office. It would look beautiful on any table. Made from 100% cotton yarn, these bottle-cap coasters are a quick and easy way to add color to your living space.
You can also see: Crochet Bottle Warmer Patterns 
Crochet Citrus Coasters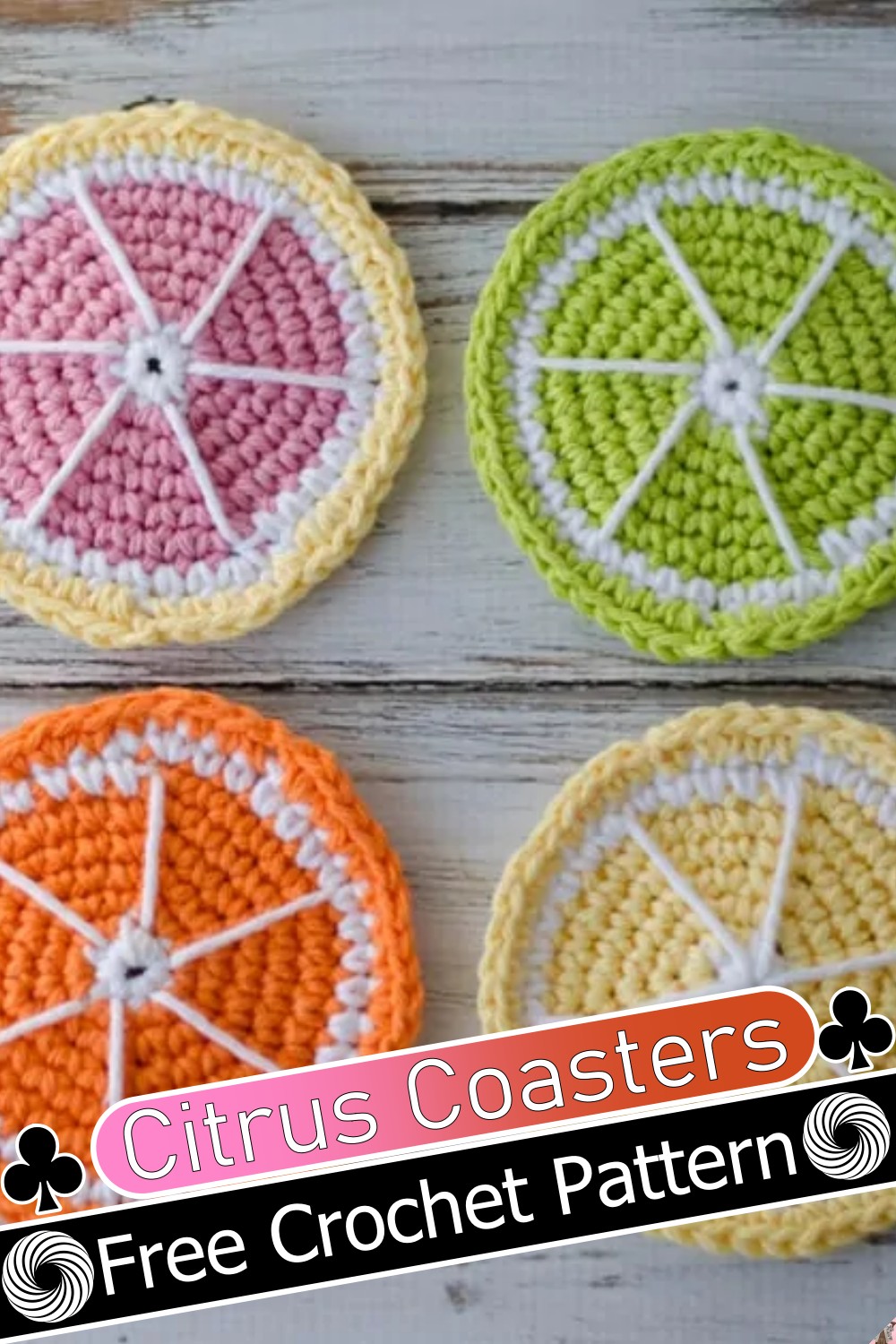 The citrus crochet coaster patterns are an enjoyable and interesting way to play with colors and learn basic to advanced stitches. They hold up well and absorb moisture from your glass while protecting your table. The crochet citrus coasters are perfect for a hostess gift or housewarming present. These beautiful coasters are cool, but they're so easy to make as well. They're perfect for using up the leftover yarn you have on hand, and in no time at all, you'll be making them in different colors and with different techniques!
Dancing Leaves Coasters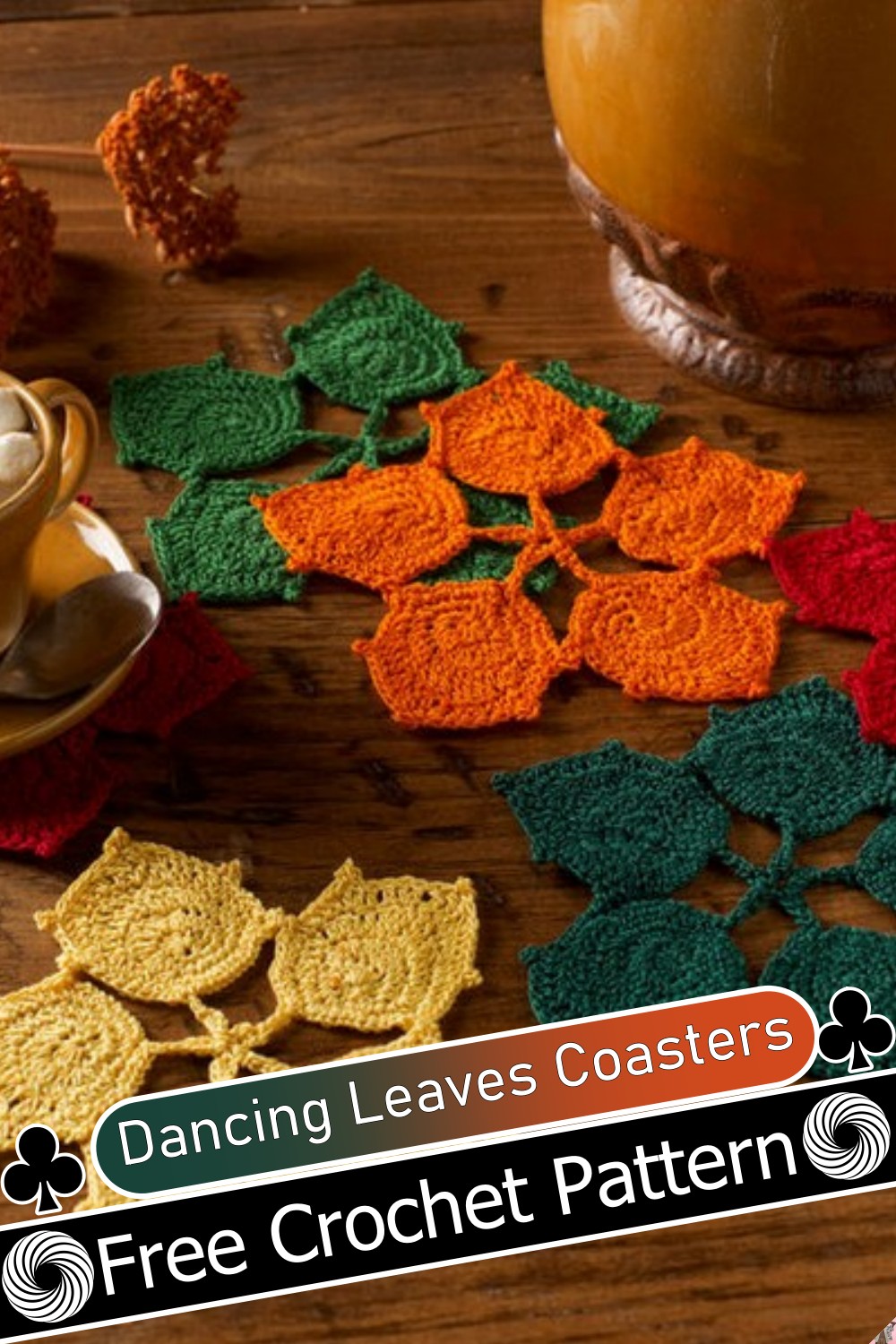 Get ready for fall with a DIY crochet project! These Crochet Dancing Leaves Coasters are perfect for all seasons and can also be used as place card holders and centerpieces. Made of cotton, they keep drinks cool while adding a festive touch to your table. Make them in any shade or many different shades by using this pattern and impress your friends and family while enjoying their favorite tea or coffee drink. These coasters are very useful for you, and they will also look great on your table on any occasion. You will be impressed by the beauty of these coasters that you make with this pattern.
Star Free Crochet Coaster
Star coasters are lovely and amazing patterns of crochet and can be made in a star shape. These coasters are perfect for Christmas because of their star shape, size, and color. The materials needed are all standard crochet equipment: Yarn, Crochet hooks, and Scissors. The sizes of the container cupboard stool will depend on your preferred choice. They are quick to make, easy to follow, and always beautiful! The star shape is a classic Christmas design that will never go out of style.
Citrus Slice Coasters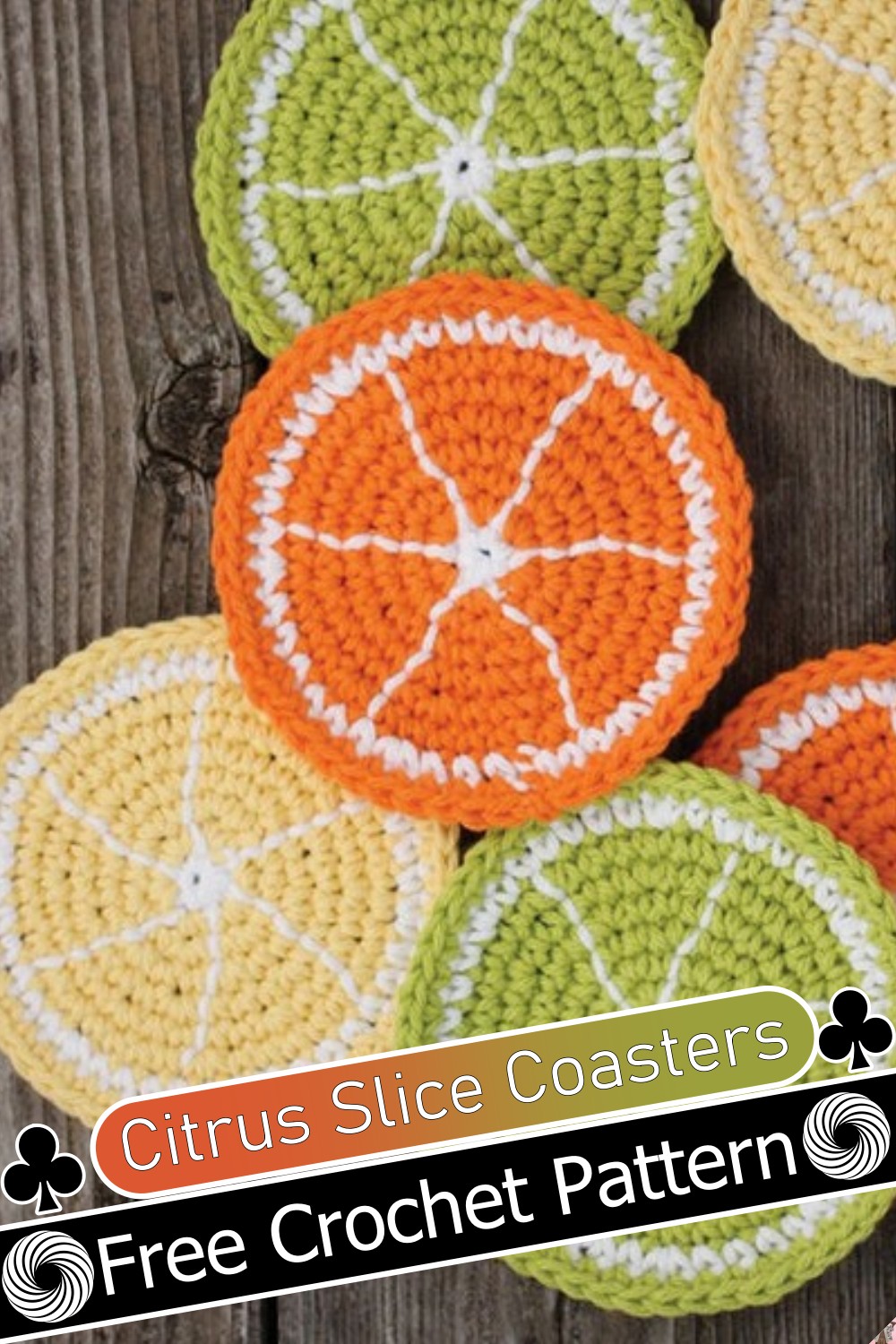 If you like to crochet and make great things for your home, this is a very useful tutorial. The Citrus Slice Coasters Pattern will allow you to make beautiful coasters using different shades of orange, yellow, and green colors. Moreover, these coasters are easy to make with our free pattern. These coasters use bright, vintage colors and fun designs, making them a great gift for anyone who likes oranges. This pattern uses different shades of orange, yellow, and green colors. It's easy to follow and is suitable for beginners, so let's begin!
Boho Crochet Coaster Quick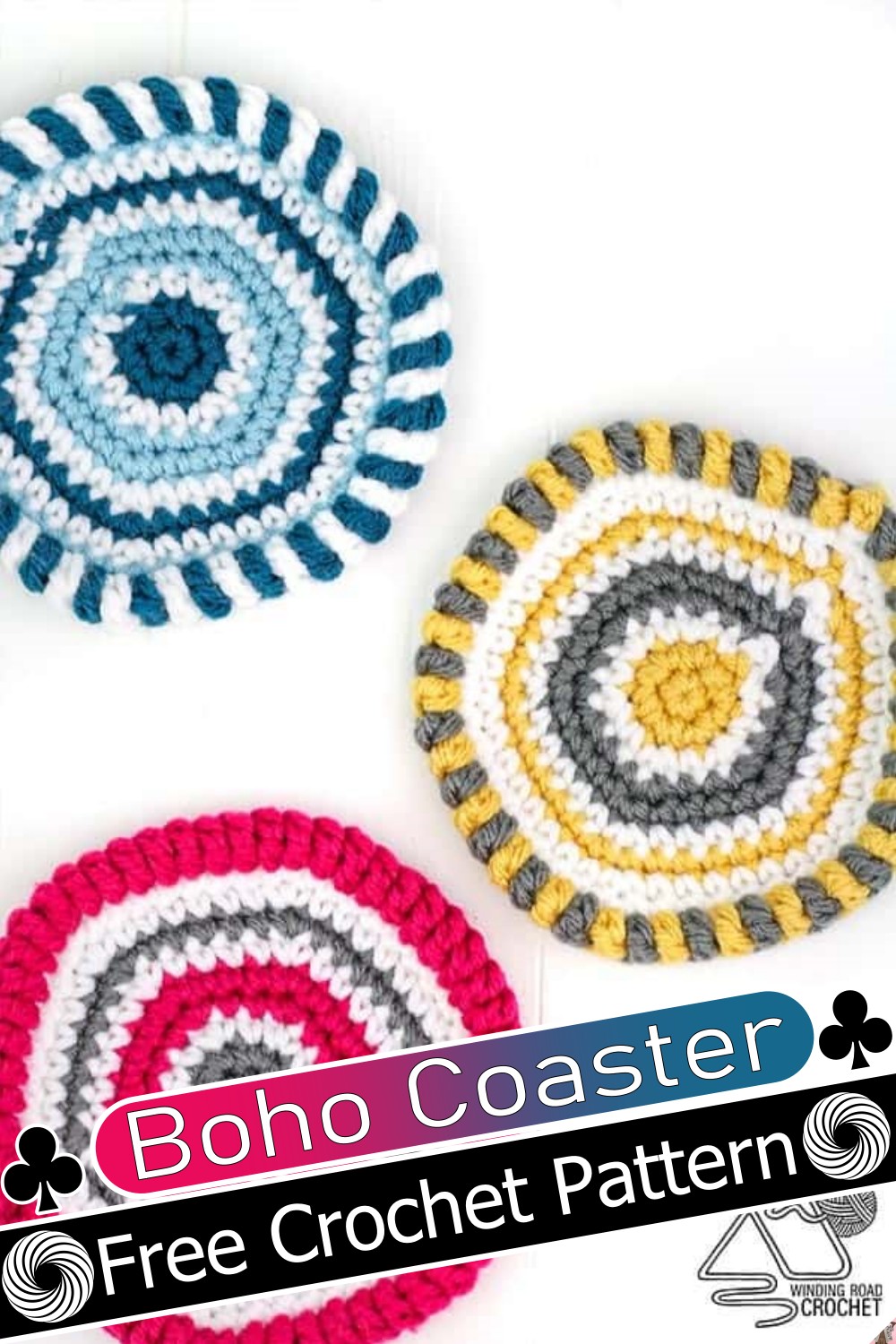 This boho crochet coaster quick is super simple to make. In addition, you will only need a few skeins of red heart super saver yarn in the colors of your choice, a crochet hook, and a yarn needle for sewing. The best thing about these coasters is that they are easy to make and add a little boho style to your life. Moreover, you can gift them on birthdays and any other occasion where something handmade makes an impression. Even better is that these coasters will protect your furniture from cups, mugs, and glasses.
Crochet Valentine Heart Coasters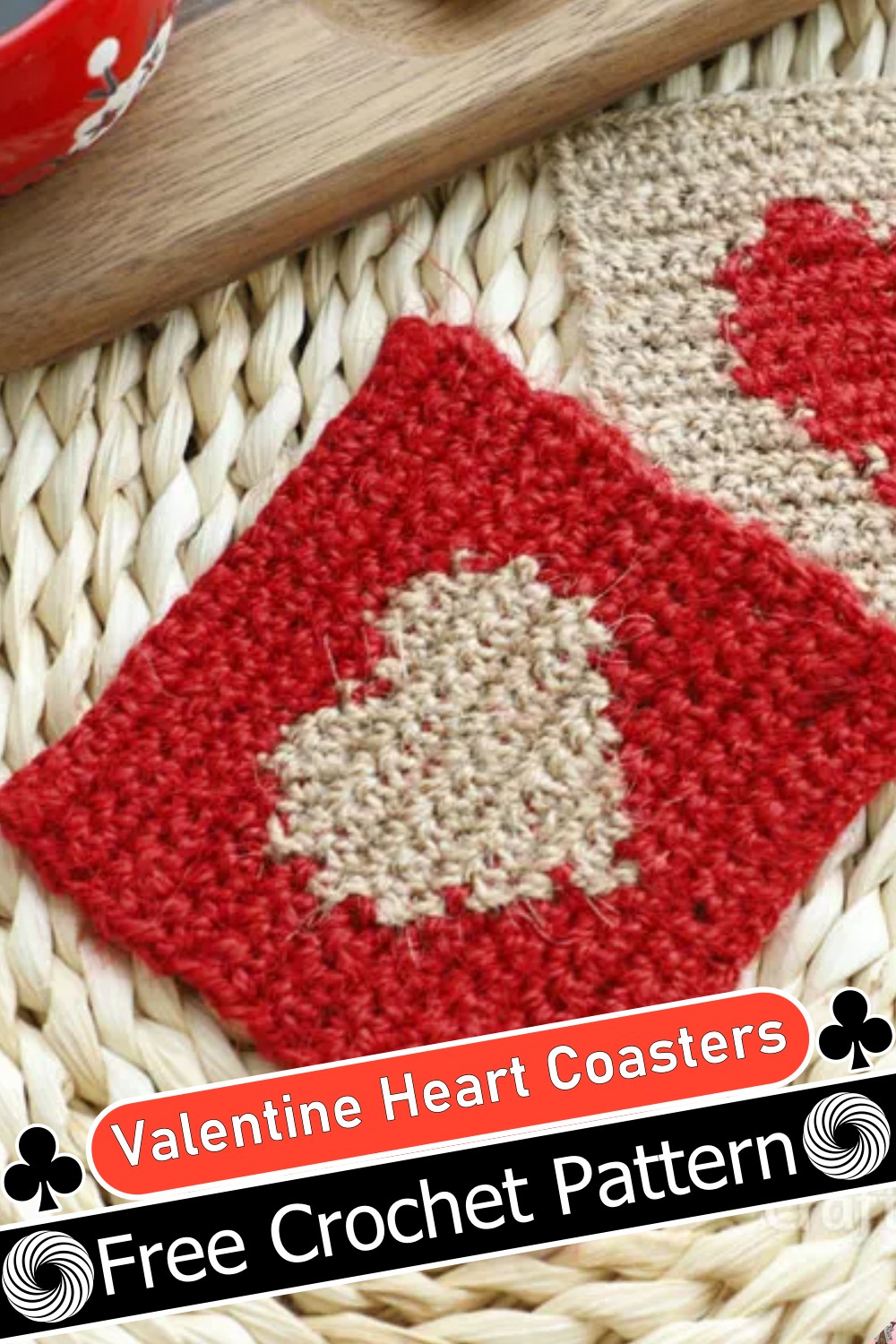 Coasters are one of the perfect gifts you can give to people on Valentine's Day. This crochet valentine heart coasters pattern is best because it allows you to make something special for the special day. This coaster is perfect to use at home. It will be highly efficient and won't leave any marks on the surface of the table or cupboard. This coaster is suitable for hot and cold beverages. Moreover, it has an excellent pattern that makes it one of the gorgeous patterns in our collection.
Crochet Coaster Pattern
This crochet coaster' is an adorable project that helps you learn more about how to crochet completely. This coaster's free pattern requires using single or double crochet stitches and working in the round. You will discover many techniques while making these coasters, and you can use your imagination by adding different motifs to them. These circular shape patterns are generally worked on double crochet stitches as the foundation chain that gives a texture to the coaster surface. Later, it will be completed with single crochet stitches. This tutorial will teach you how to create a flat circle by using a new technique.
Crochet Watermelon Coasters
If you love watermelons, then crochet accessories such as these beautiful and unique watermelon coasters may be perfect. This crochet watermelon coaster pattern is designed to add great color to your room or home. With a simple color combination and easy stitching process, this fun pattern adds versatility depending on the color combination used. This makes it a perfect summer or spring accessory for all of those barbecues and picnics you'll be attending.
Crochet Flower Drink Coasters Pattern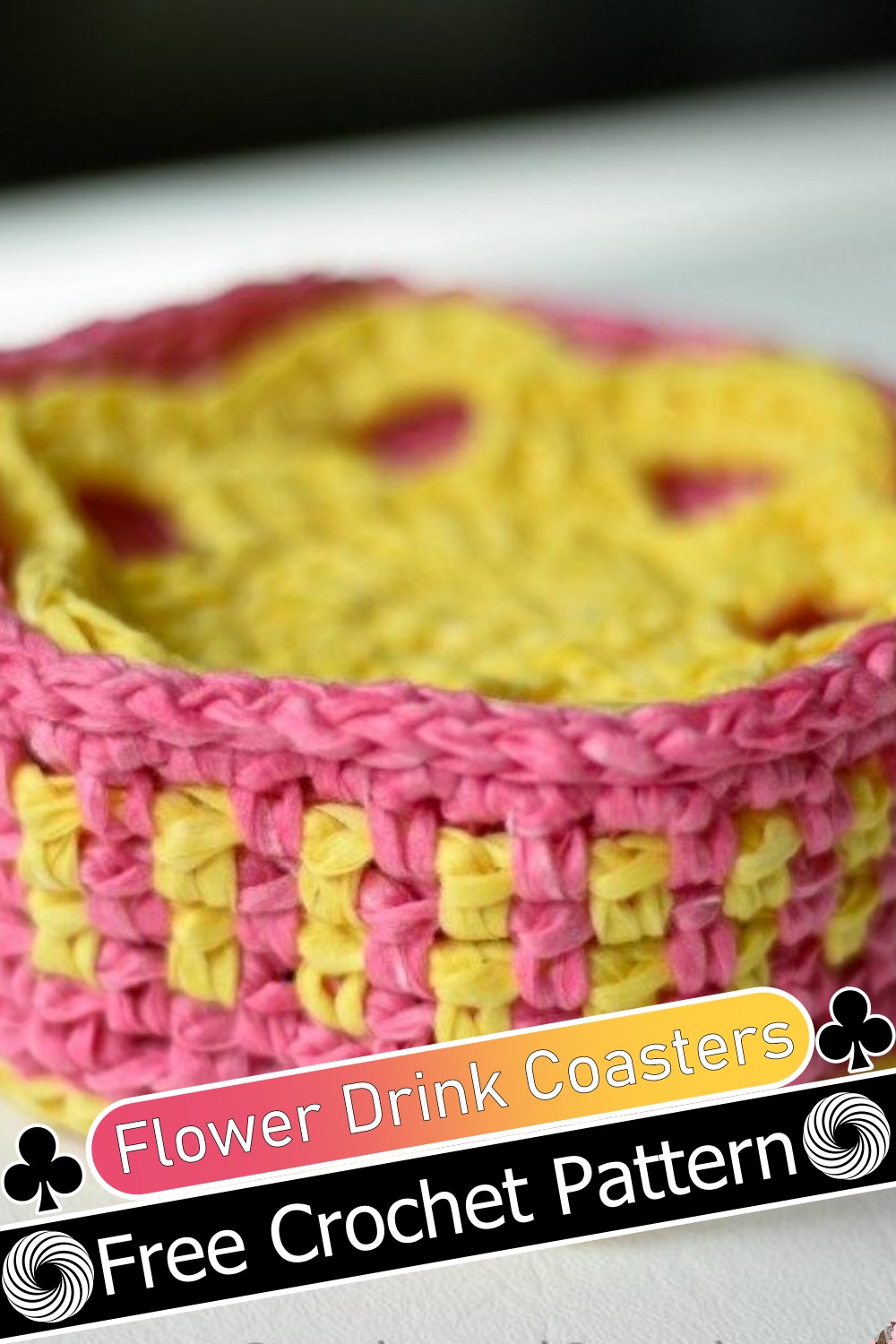 Want to add a little whimsy to your dining room with these incredibly fun Crochet Flower Drink Coasters Pattern? Are you looking for an adorable crochet pattern and design? This is your chance to get these Crochet Flower Drink Coasters Pattern. It will make your home much more stylish and adorable. Making these coasters will not take much of your time. Complete with a color chart, you can use this to make a set of 4 coasters in various colors and hues. This is sure to be your next favorite project!
Crochet Drink Coaster Pattern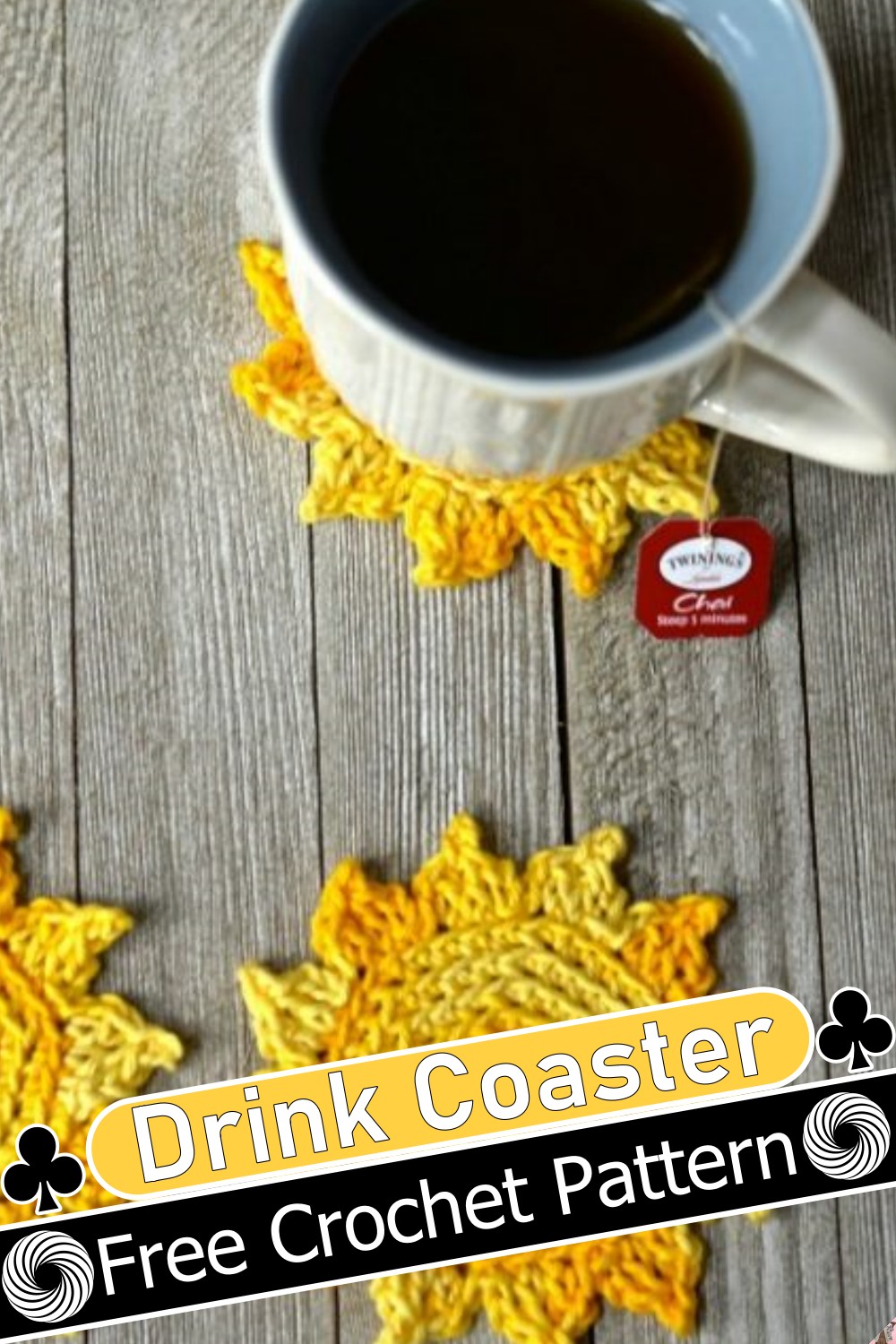 A Crochet Drink Coaster Pattern for every day of the year. This is a set of drink coasters that you can keep in your kitchen on your table, or in front of your couch. It's a great one to have during the holidays, especially this year! This set of 4 drink coasters is a fantastic addition, making it easy for you and your guests to enjoy drinks without worrying about stains. The Crochet Drink Coaster Pattern is made from cotton yarn, so you know it will last you a long time and be comfortable to use.
Leather + Crochet Coasters Pattern
Whip up a quick crochet gift with our Leather + Crochet Coasters Pattern. This soft and durable set of 4 coasters makes a great DIY gift for him and can be made in less than an hour. For readers who love working with leather, we also offer this pattern in leather! They look intricate but are very simple and quick to make. They are the perfect gift for him and do an excellent diy project for the crafty dad in your life.
Crochet Petal Perfect Granny Coasters
Crochet this square and add it to your next design. You'll love the results so much that we've included it as the base for our upcoming Not Your Granny's Tee and some pocket details on a new cardigan. This square is worked in three parts: one side with an edging, the center, and a separate edging. Once you sew the edgings to each other, you'll have a lovely petal perfect coaster! This pattern will work with any weight yarn and appropriate hook.
Ambrosia Placemat Coaster Pattern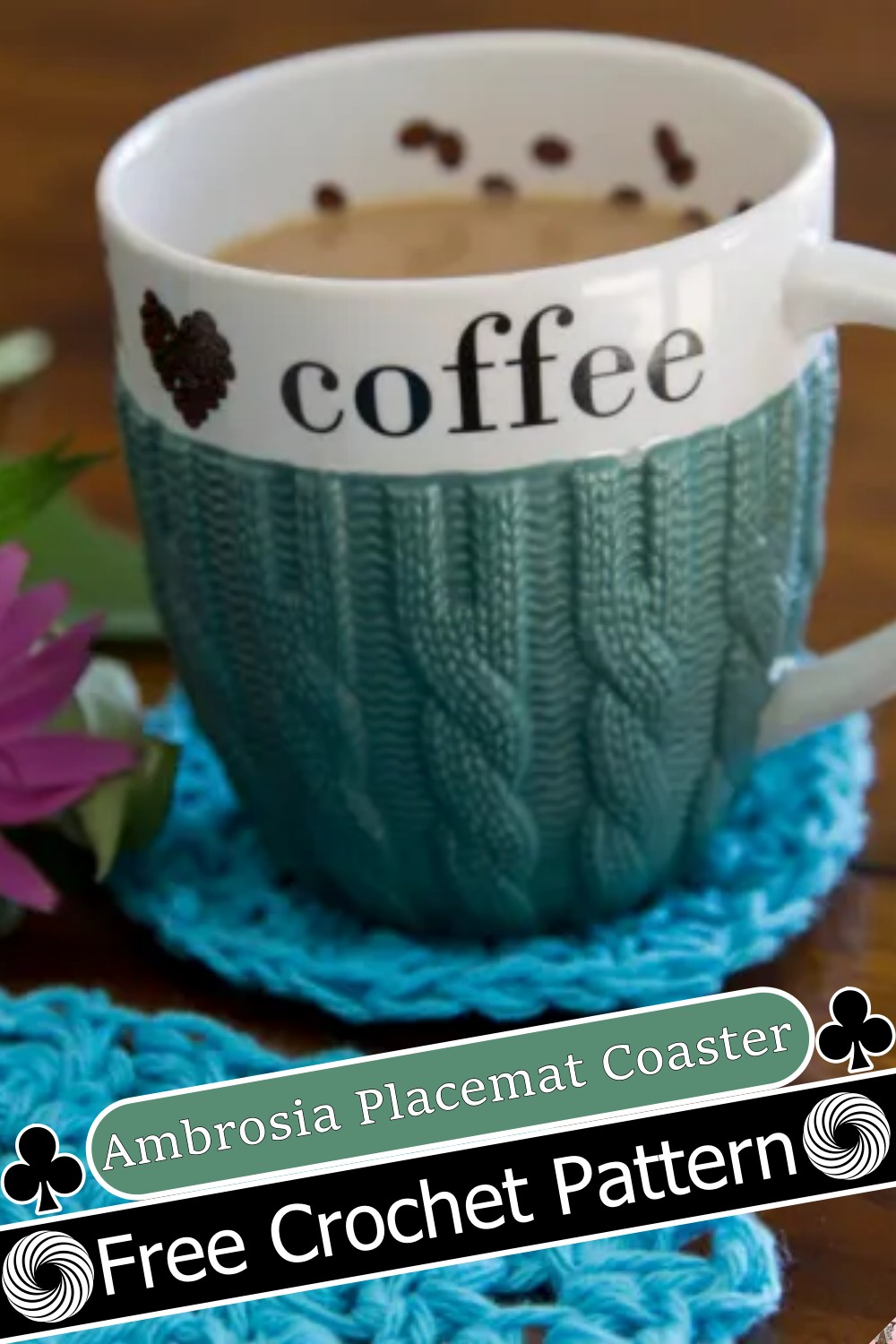 A quick and fun pattern to crochet, the Ambrosia Placemat, and Coaster set adds a touch of whimsy to your decor. This placemat and coaster set is sure to wow your friends. This quick and easy pattern is perfect for entertaining and will add a fun touch of crocheted style to your dining area. Whip up a few of these in various colors and use them around the house as well as on the table! You'll love this modern take on a vintage classic with soft hues and light texture. Ideal as a placemat or coaster - it's versatile enough to use around the house (or office) in any number of ways.
Citrus Crochet Coaster
Add personality to your tabletop with these colorful citrus coasters. Each coaster measures 5 inches in diameter and is made from crochet cotton; they are easy to make and the perfect addition to your home decor or as a gift. This citrus slices crochet coaster is super easy to make, and even it will take less than an hour to complete one coaster. This pattern is suitable for beginners. It's a great quick project and makes a lovely gift for a coffee or tea-loving friend.
Farmhouse Style Crochet Coasters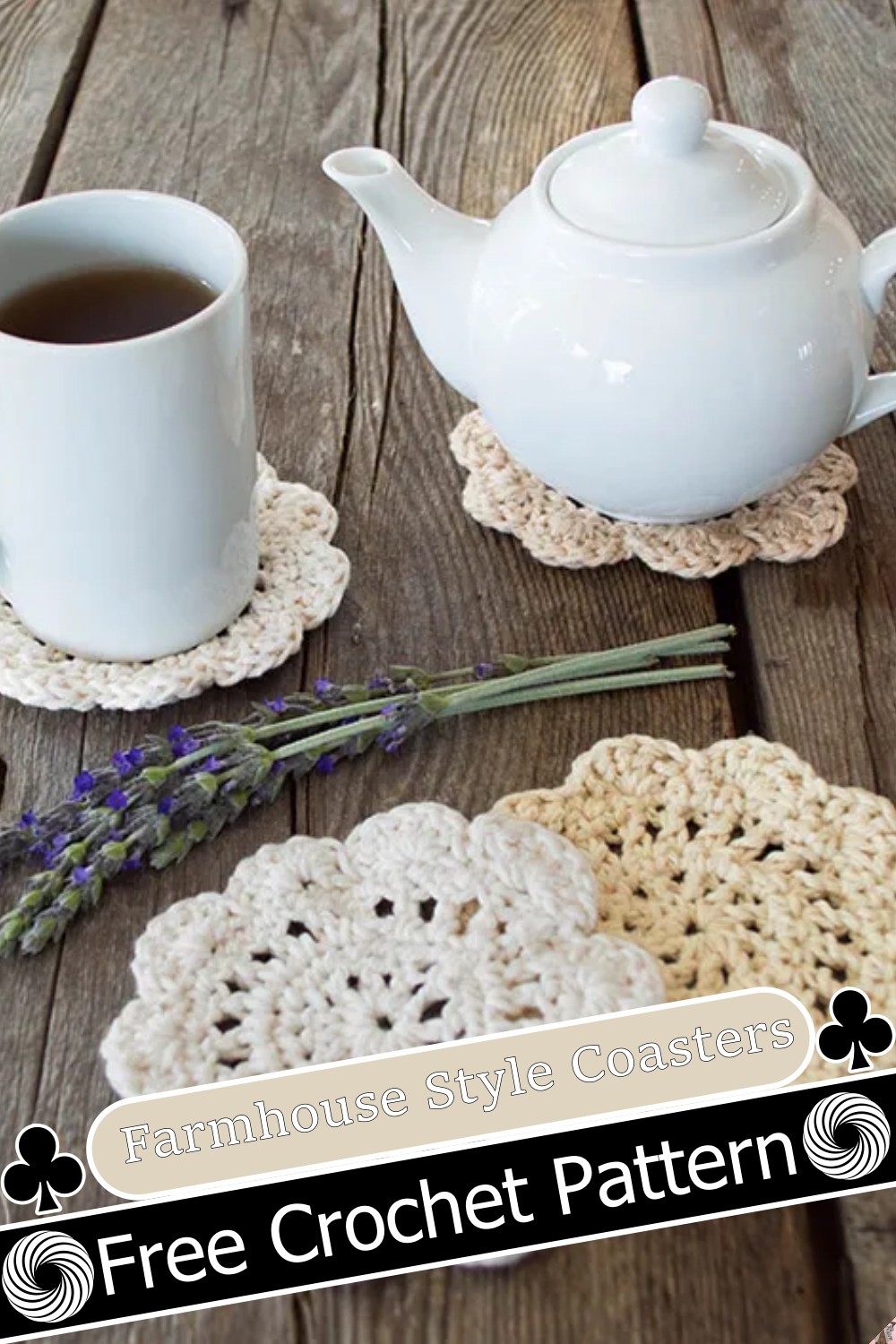 Bring the rustic vibe to your home using these farmhouse-style crochet coasters. They are easy to make, and it takes a few minutes to create these beautiful coasters. Use neutral colors so you can use them in multiple rooms without looking busy. Designed with the practicality of working up quickly, these beautiful coasters can adorn any table setting, whether it's used for formal or casual dinners. This collection features patterns that use a combination of basic crochet stitches and are worked in yarns that include worsted weight cotton, wool, and acrylic blends.
Crochet Pattern Roller Coasters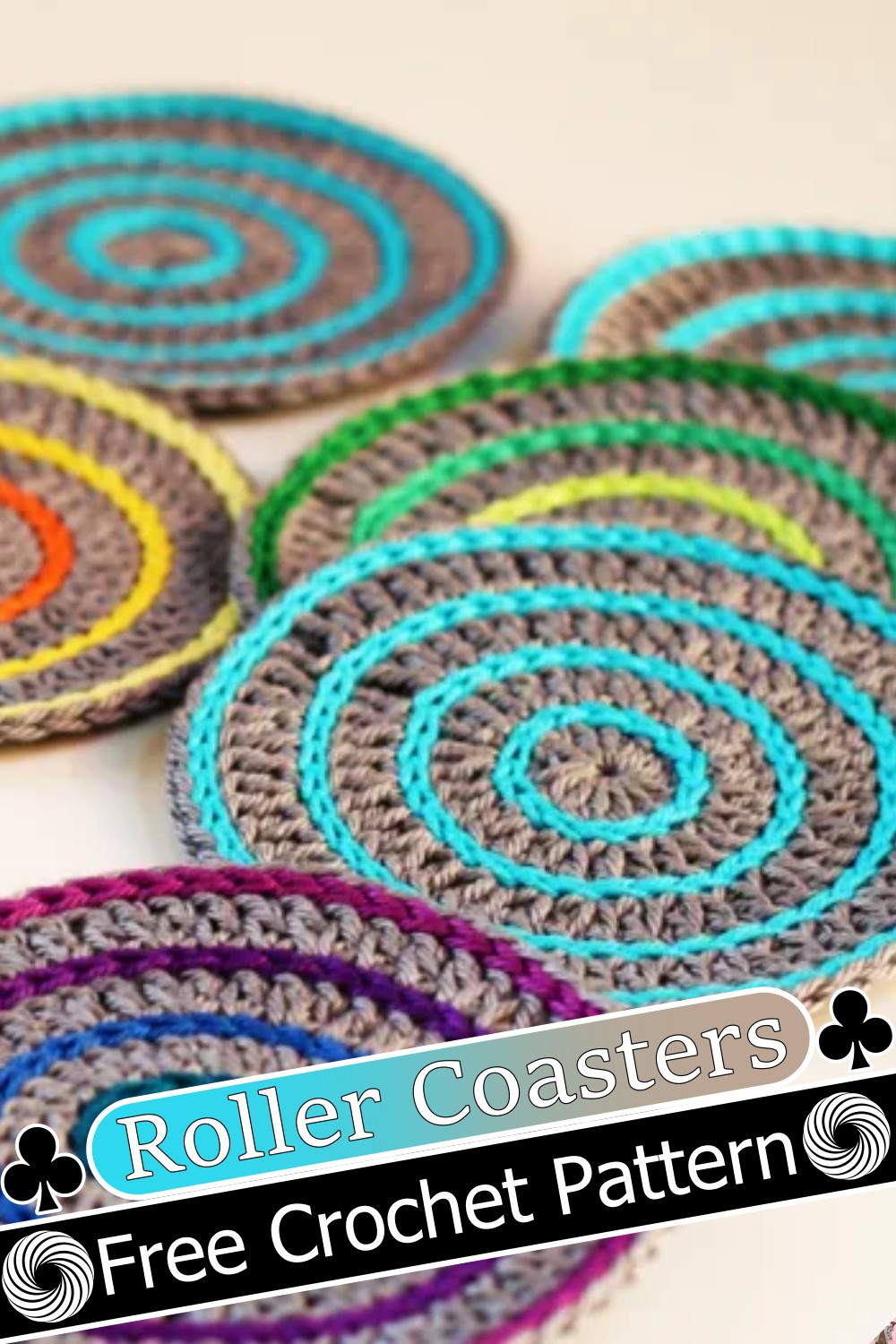 If you love to crochet, you'll love these round and round coaster patterns. These crochet circular coaster patterns are not only beautiful but have a high customization factor with beautiful color contrast. This set of four crochet coaster patterns can easily be customized to match your home decor. With these beautiful and bright color contrast, it's a beautiful way to add an extra touch of coziness to your living room or kitchen! You can get started with any yarn in your preferred color, crochet hooks, and follow the instructions given by our experts.
Jedburgh Crochet Coasters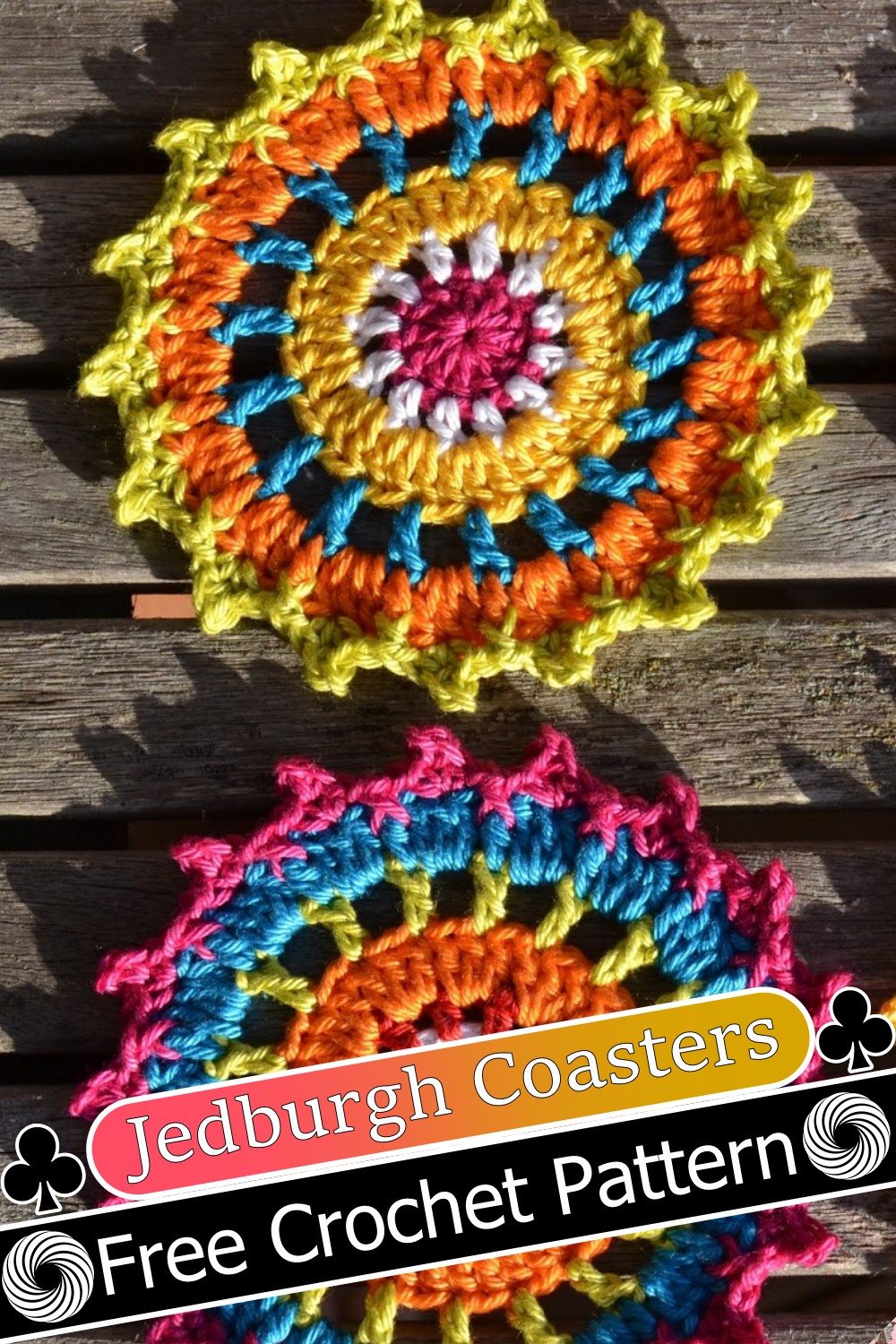 This crochet coaster pattern is the perfect gift for any stylish friend. The colorful mandala design with a chainless start gives it that modern touch. It's ideal for everyday use and won't get dirty or smelly. Even the edges are crocheted, making this crochet coaster suitable for those who live in tea-drinking countries like England. Crochet coasters can be used for hot and cold drinks alike, but you might want to consider using a hard rubber handle as there are no grips on these coasters themselves. You can easily purchase any grip material (e.g., silicone) that best suits your needs.
Crochet Sun Coasters
These sun crochet coasters are lovingly hand-crocheted from 100% cotton yarn, making a super-soft surface for your cold drinks. The granny stitch method is used for this design, which creates a beautiful texture and makes the coaster durable enough to hold any drink you like! The popcorn stitch creates a fun texture and design that can be made in patterns to fit any decor. The color is so cute and pretty, and I am sure you will love it. It can be used to serve beer, tea, coffee, and hot chocolate. The coaster can be a great gift idea for your friends.
Coffee Coasters
Coffee, coffee, and more coffee. We all know that these are the three most important things in your morning schedule, and without them, we feel incomplete. Our coasters are made from cotton with a crocheted design on the back that can be either variegated or solid, depending on what you choose. They are perfect for paying tribute to the one thing that keeps us awake during those long work days." It's beautiful and can be used daily, with an easy-to-clean finish.
Tea Cup Crochet Coasters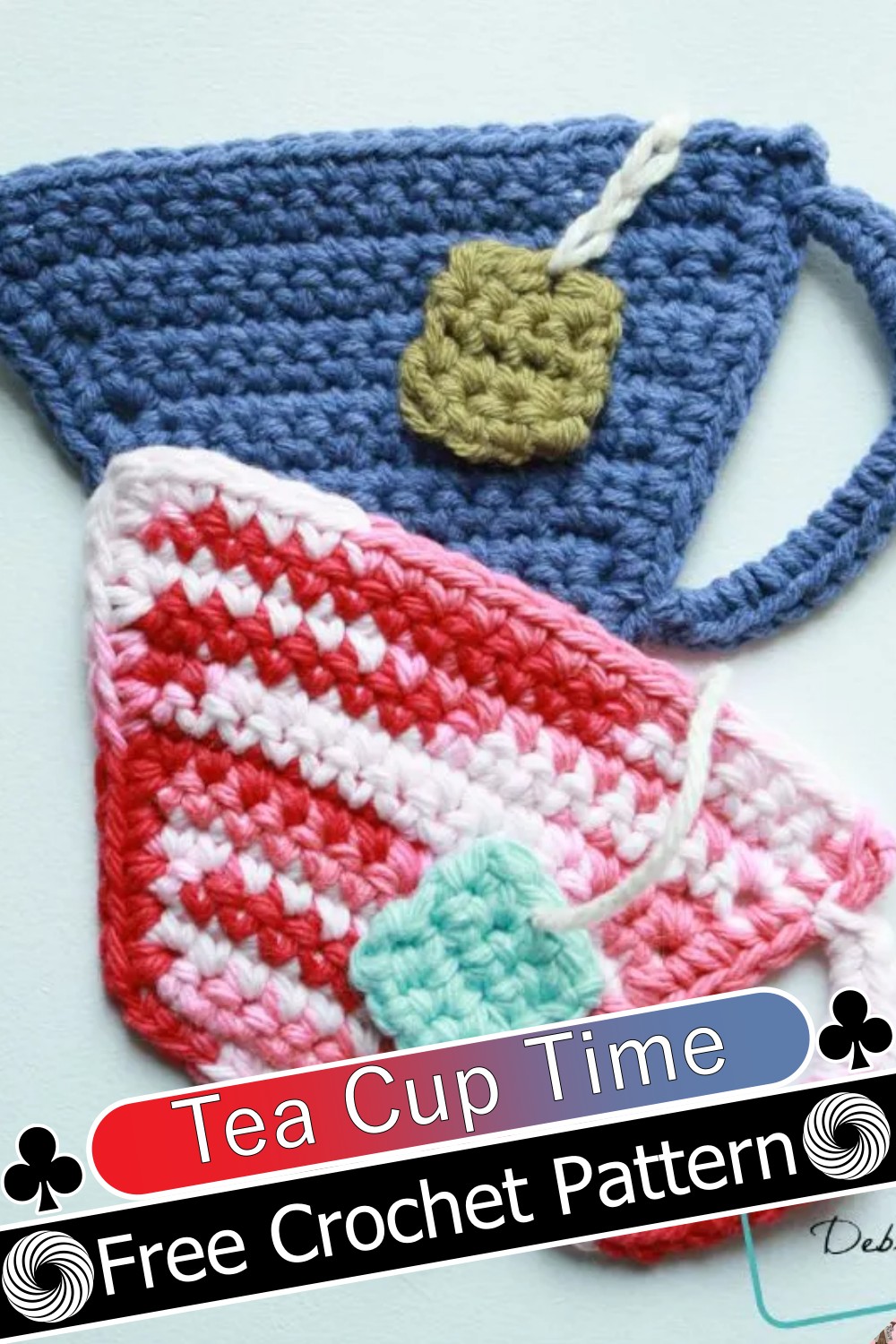 These crochet teacup coasters patterns are a great addition to your kitchen. The pattern uses only single crochet, double crochet, and slip stitch. You can make these gorgeous cork coasters as tea cup coaster patterns, or you can also use them as coffee coasters! These crocheted tea cup coaster patterns will add a personal touch to your kitchen decor. These handmade crochet cup coasters protect your tables from stains and spills. Since these are made from cotton yarn and felt bottoms, they are easy to clean.
Cozy Coaster Crochet Pattern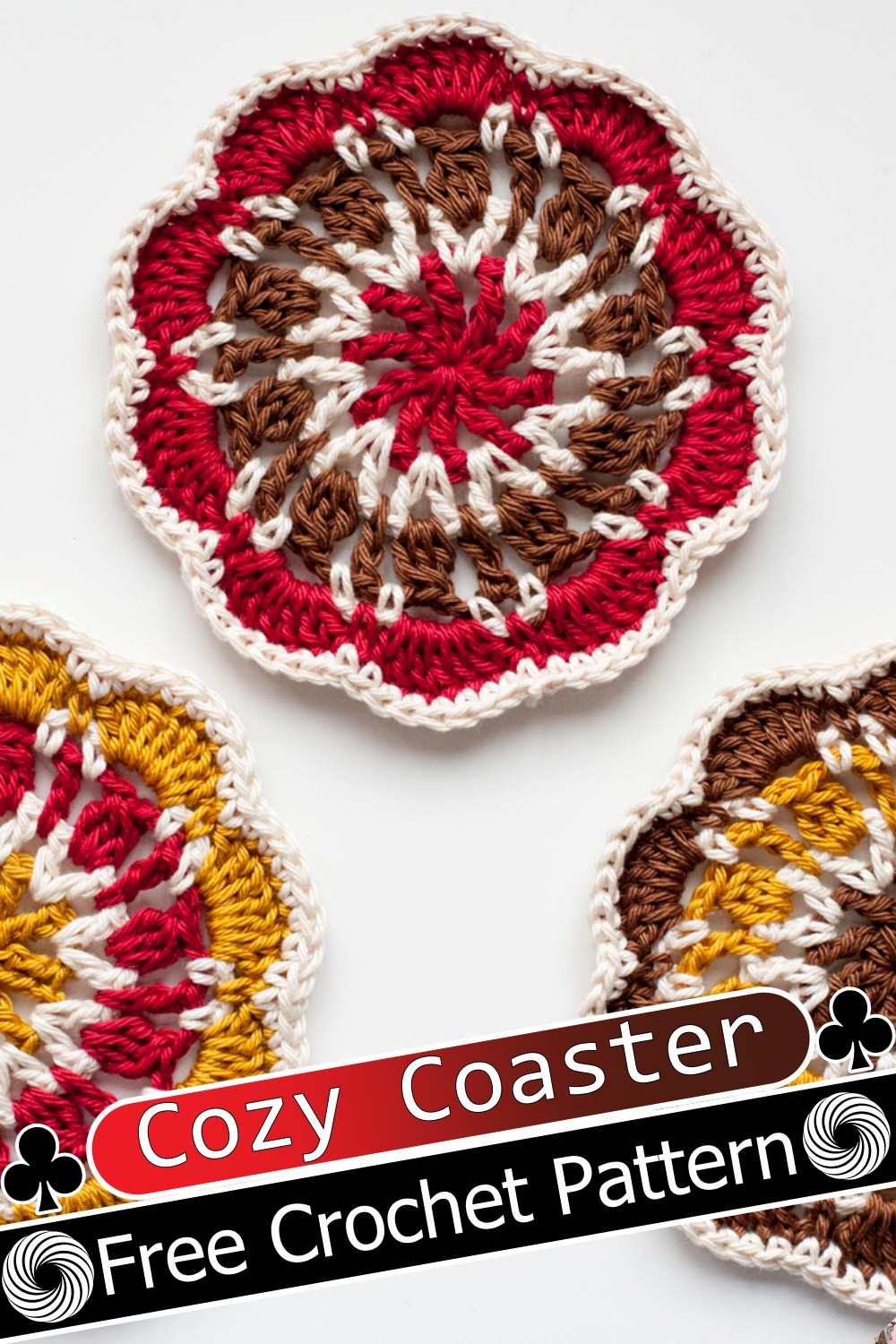 This coaster pattern is simple, fun, and perfect for beginners. The set includes three unique coaster designs—a colorful geometric pattern, a crochet pine cone, and a stamped coaster. You can use them individually or make all three the same color for a themed set that comes together in just one afternoon. You can make these cozies in any size and various colors. If you're looking for an easy pattern that will impress your friends and family, give this one a try!
Paw Coaster Crochet Pattern
Sometimes, the best way to show our love for our pets is not through worldly things but to bring happiness into their lives with love. Bring that smile on your dog's face by gifting this paw coaster crochet pattern to them. Paw coasters are crochet coaster patterns that you can use to add a touch of love and cuteness to your home decor. You can use any yarn or threads and make these cute coasters. The finished piece is handcrafted and will look great as part of a decorative display or a lovely gift for your pet lovers.
 Crochet Pizza Coaster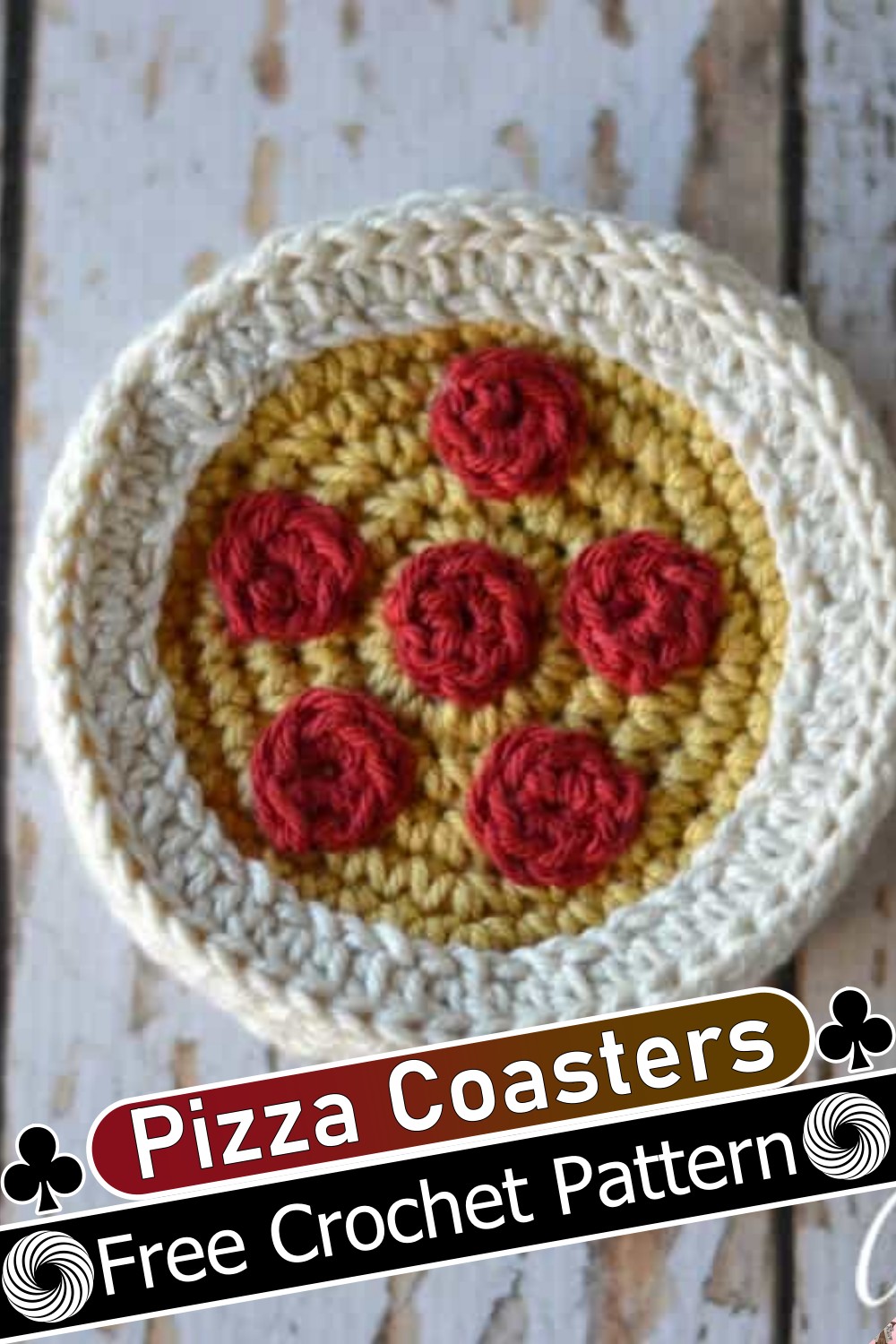 Bring some summer vibes to your spring days with these crochet pizza coasters. You can make them in any color you like, and they come with a decorative owl as a topping. These make excellent gifts, but you might want to hold off on gifting them to yourself. These crochet pizza coasters are perfect for any home to create a fun, practical, and unique gift. They are simple to make yet sophisticated enough for your family and friends or even as gifts for your summer barbecues.
Fabric Crochet Coaster Pattern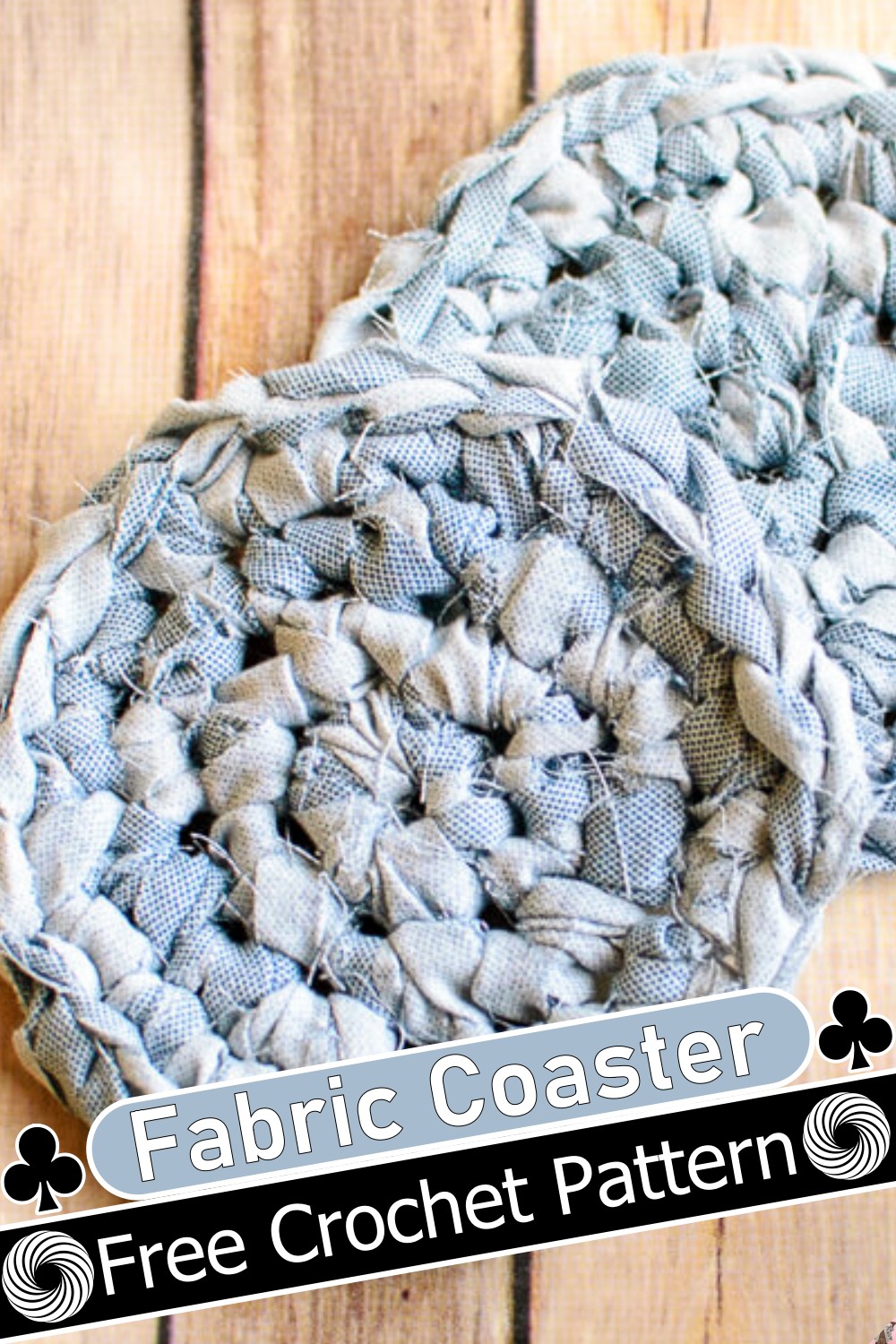 Are you looking for a simple but great idea to add some decor to your home and save money at the same time? Our fabric crochet coaster pattern is just what you need. This is a super easy and useful project, and it's also perfect for upcycling old fabric that may be lying around in your house. You can use this coaster round any table or desk, giving your place a cool look while saving money by re-creating old clothes. The coaster can be made with any color or pattern you would like! Try not to spill your drink on this one.
Flower Crochet Coasters
Add a little floral flair to any room with these crochet coasters. The set makes a thoughtful gift and is perfect for under a drinking glass, mug, or cup of coffee. Use them as facial scrubbies, hot pads for your cooking pots, or placemats for an everyday lunch. Whatever you choose to use them for, they're sure to add some color to your life! The coaster set works in four different colors, which can be used as an excellent gift for your friends and family members. It is suitable for both men and women and can be a great accessory for your kitchen table or dining room table.
Happy Doily Crochet Coasters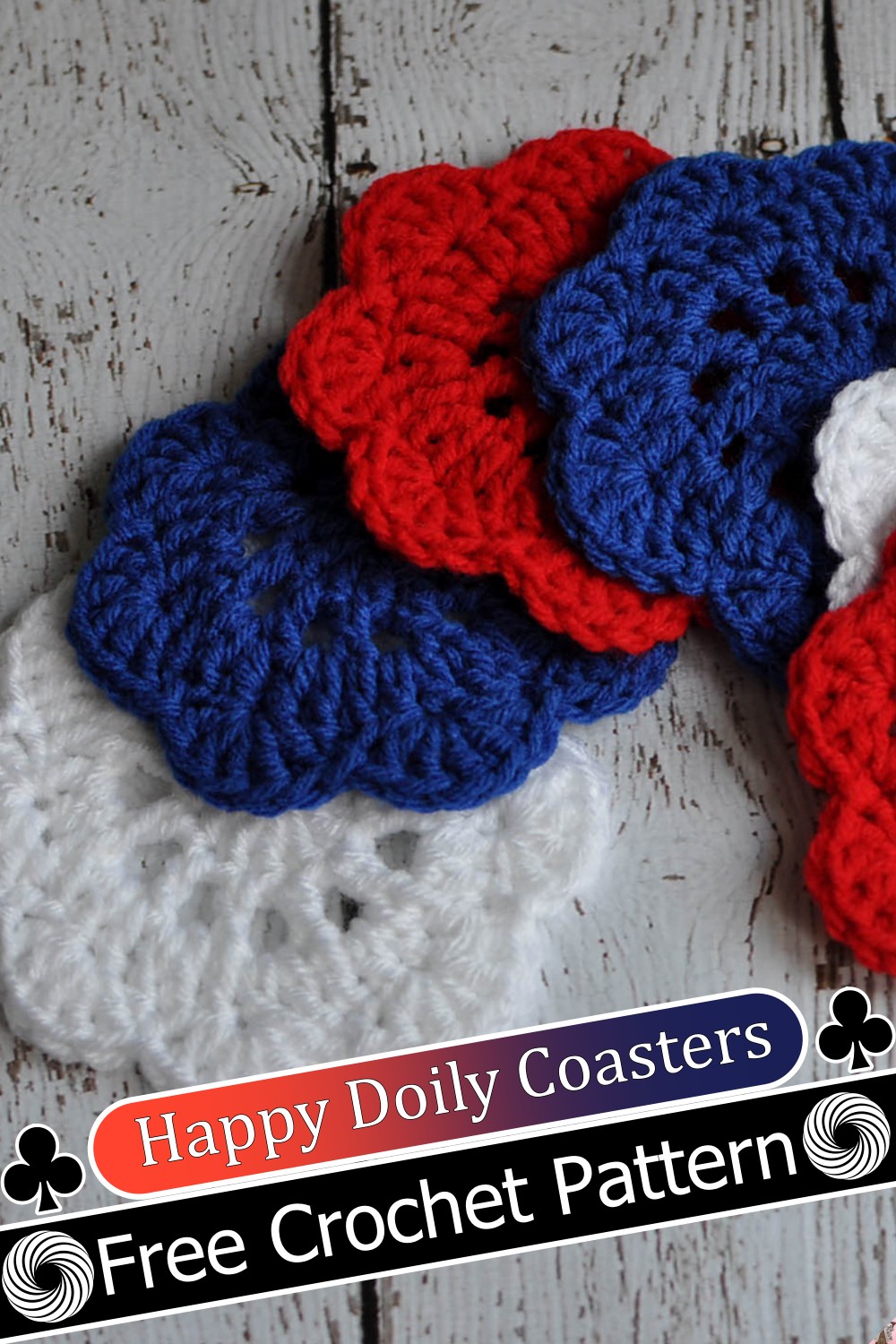 Make a set of these cute doily crochet coasters to enjoy when having drinks around your coffee table. The pattern is straightforward and enjoyable to make, and it will add a little personality to your home while protecting your tables from water rings. This crochet pattern is easy to follow, and the results are beautiful. This would be a great quick project to do while watching TV or waiting at the doctor's office! These doily coasters are a fun and enjoyable crochet project. The pattern is straightforward, and the finished product will be a great ornament on your coffee table.
Crochet Coasters Sets
These charming crochet coaster sets will be perfect for gifting. Each coaster has the same pattern, and soft colors have been used to give them a fresh look. These are adorable and stunning. Each coaster has the same pattern, and soft colors have been used to give them a fresh look. This set of six coasters will be perfect for gifting. Made with soft materials, these coasters are beautiful and durable—they won't fall apart on your table. These coasters have the same pattern and color scheme to create a consistent look.
Some Summertime Flip Flop Coasters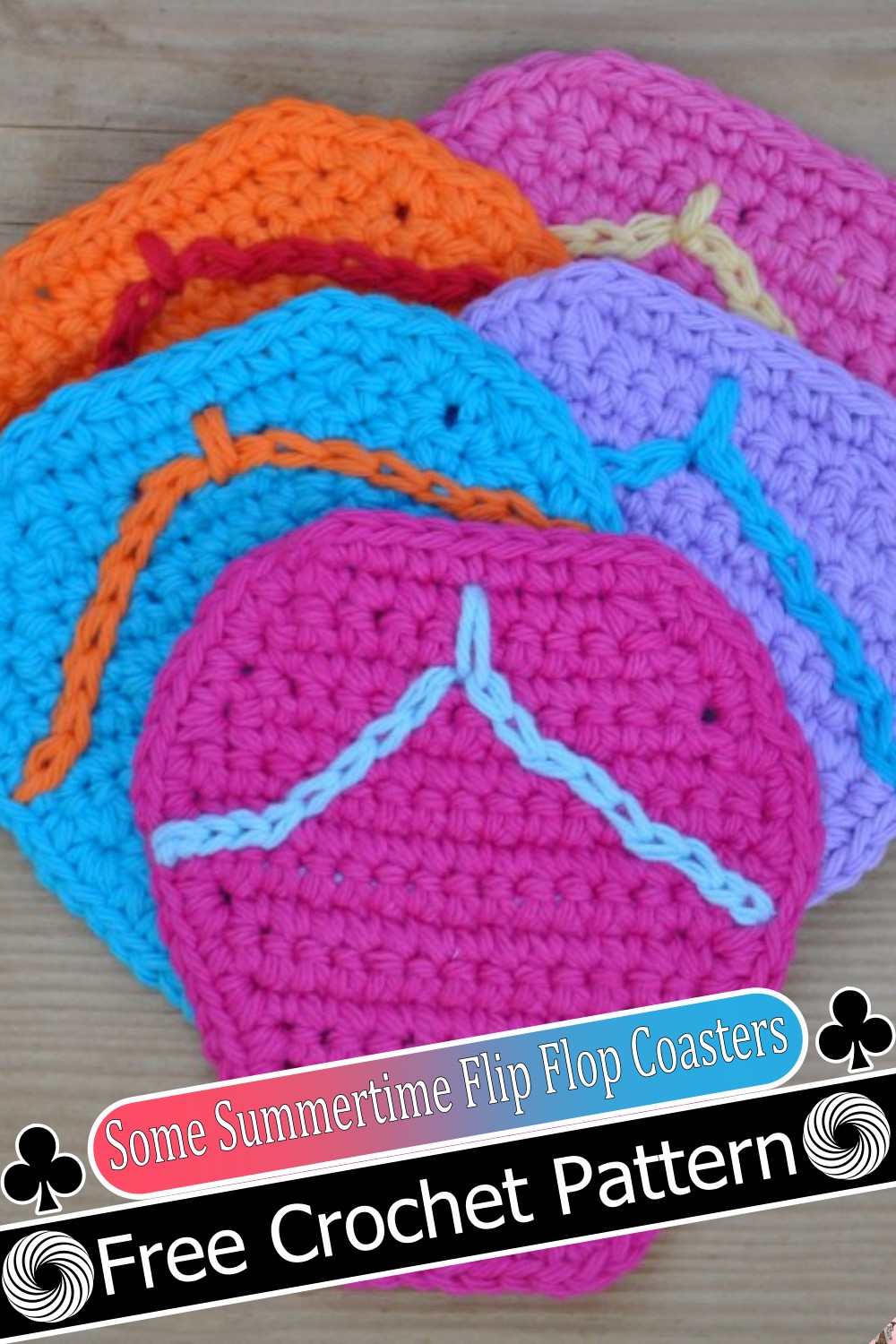 These crochet flip flop coasters are perfect for summertime decor. Crochet a set and place it on your coffee table or dining table when having guests over. They would also make a great gift for those who enjoy a good cocktail during the warmer months. We give you a free pattern and video tutorial link to help you along the way! Bright, colorful, and fun, they make a great gift for family and friends, too. You need some cotton yarn and a crochet hook, then follow the easy instructions.
Crochet Coaster – Flower Wheel
This pattern is really fun and easy to work up. You can make five colorful coasters for yourself or your loved ones using this pattern. Perfect for those who love color and want to crochet something cute but still useful. You can use simple stitches from the beginner level and make them look very impressive. These unique and stylish coasters have a flower look. You can use them as decor at home and office or give them a gift to your loved one. They also make a great conversation starter when entertaining your visitors at home or in the office.
Summer Rose Coasters
Spring, summer, and fall are all wonderful times of the year. These crochet coasters are made with five-color yarns to create the perfect summer timing. They are easy to crochet, so make sure you add a few rows at the end of your project. This pattern is great for beginners but also enjoyable for advanced crocheters. The materials needed to complete this project are affordable, and the fabrication process is simple. The result is beautiful, colorful coasters that will last for a long time!
DIY Simple Crochet Coasters
These easy crochet coasters will add a pop of color to your table while protecting surfaces from heat and moisture. They are great gifts too! Bright and bold, these coasters are the perfect addition to your coffee table. They will protect your table from spills, but they're also so fun to crochet you'll want to make an entire set! They are fast and easy to make, perfect for gifts! This pattern uses only basic stitches; most people that can do single crochet can make these.
Own Crochet Coasters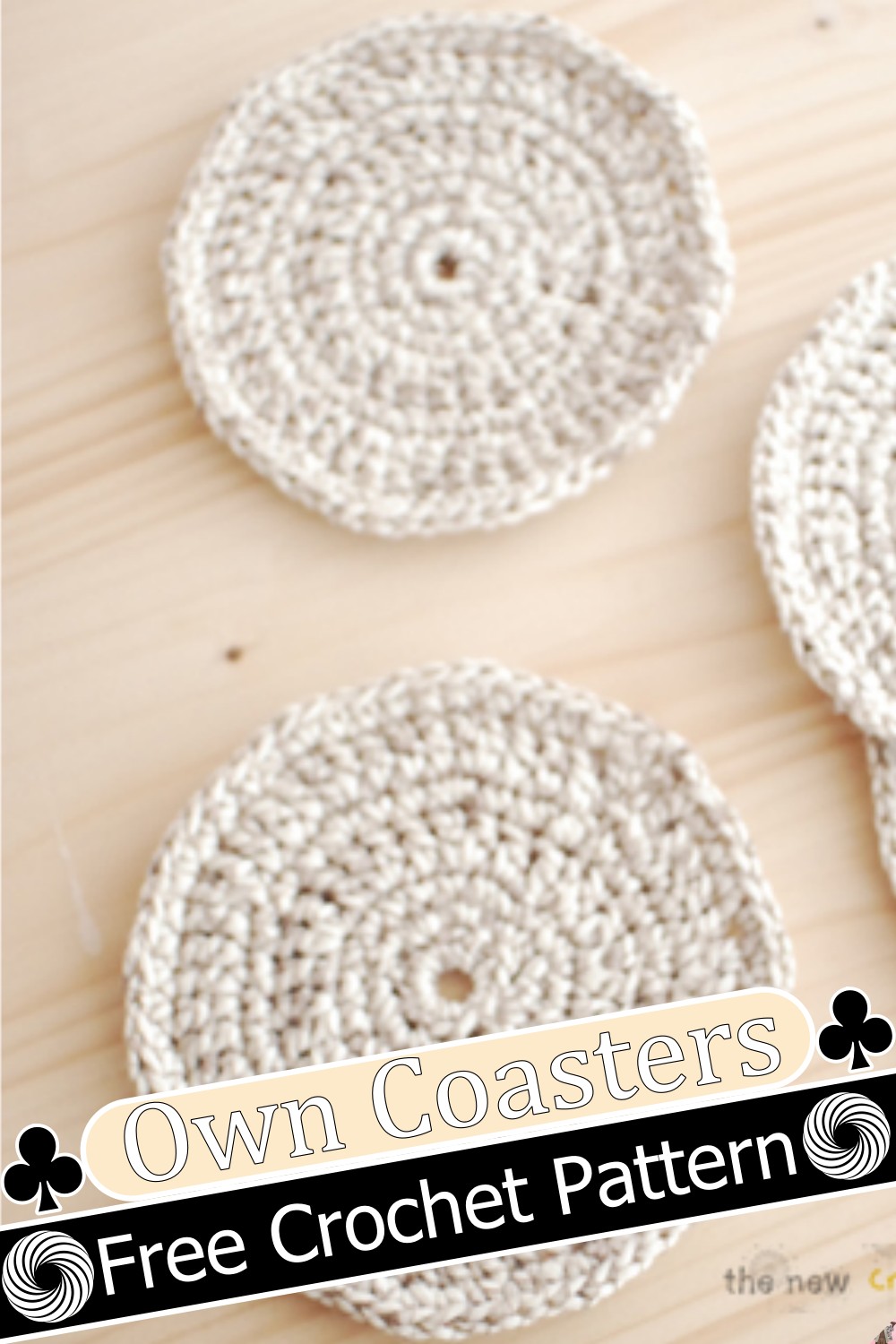 The perfect gift for a friend, co-worker, or family member. This handcrafted crochet coaster set helps you express your personality and style in your home. Each coaster is made of 100% cotton yarn, and the backs are lined with non-slip fabric so that your drink won't move around. These coasters will go perfectly for any special occasion to gain a modern and trendy look for your interior. They come in sets of 4, made from cotton and with a lovely pattern design on top. Thanks to the added elasticity of the yarn, they are very easy to handle!
Grapefruit Coaster Pattern
This grapefruit coaster is a fun and easy project for any beginner. Using only basic stitches and patterns, you can complete this as an afternoon project or make a collection of different fruit coasters to add a pop of color to your home. This coaster pattern is created in a grapefruit color scheme. It's a very quick and easy project that uses basic crochet stitches, perfect for beginners. The finished product makes a great gift or addition to any home décor.
Crochet Coasters Set – Japanese Flower Motif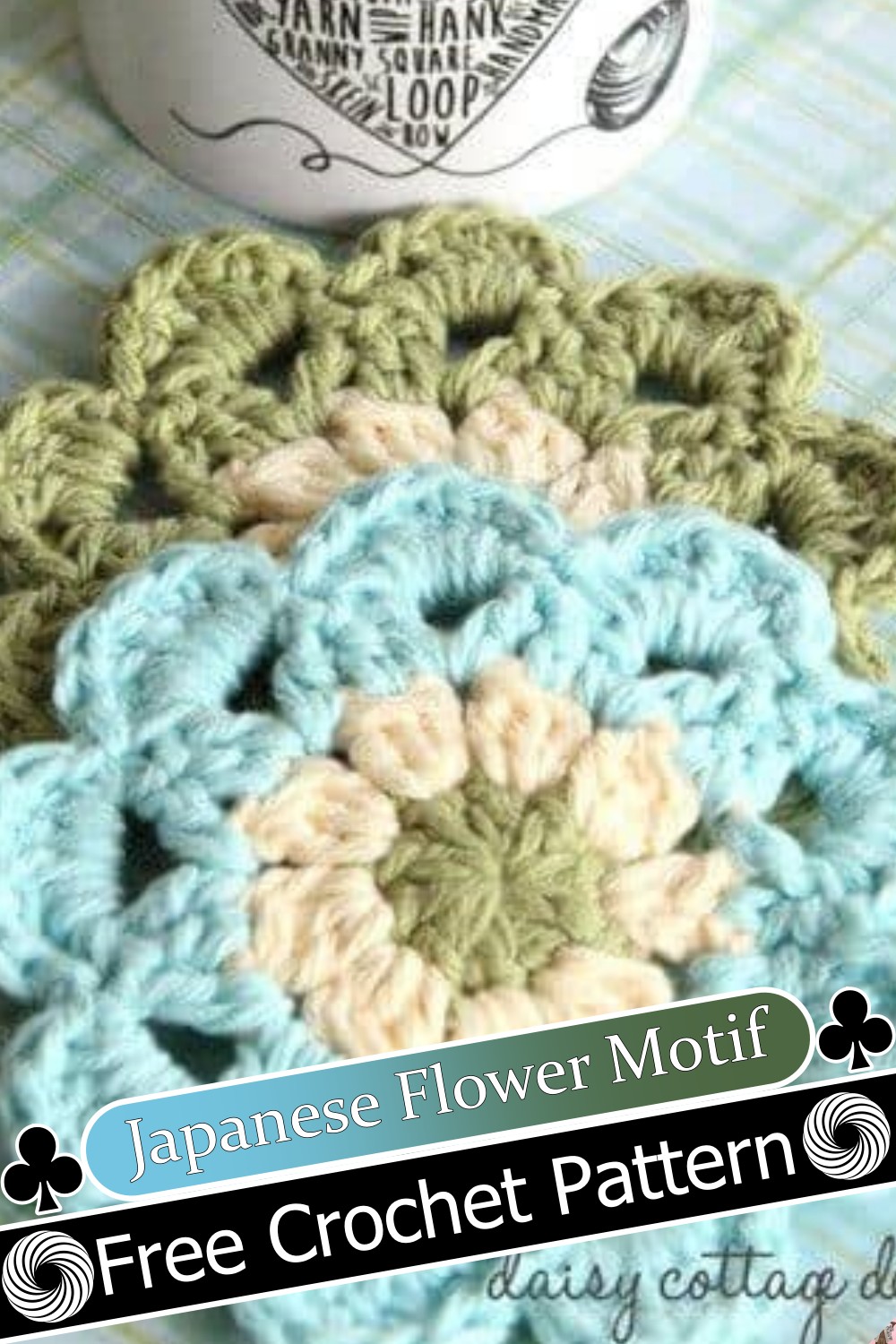 These crochet coaster sets are simple, elegant, and unique. Add a touch of tranquility to your table with this crochet coaster set. It is made with cotton, easy to care for, and colors won't fade over time. The coaster set is ideal for everyday use or special occasions alike. If you love the look of Japanese flower motifs and want something other than bright colors, these crochet coaster sets are for you. They are the perfect addition to your home décor, and I hope you will love them.
 Coasters Free Crochet Pattern
Make yourself a set of coasters to catch your drink drips. The best part is it's free! This pattern is simple enough for beginners and takes hardly any yarn at all - so I hope you'll make some for yourself or as gifts. These coasters are super easy to make, and the pattern can be used for any yarn weight with an appropriate hook. They look great in granny squares or half-double crochet stitches. Use them as a gift or sell them at a craft fair in your area. The recipient of these coasters will love you for making such a thoughtful present!
thegreendragonfly.wordpress.com
Crochet Coaster Pattern
If you want to learn how to crochet, this easy and fast pattern is good. It requires basic crocheting skills such as chain stitches and double crochets only. At the end of the project, you will be able to make more designs incorporating circles, such as hats, pom-poms, or regular circles. The coasters are made using only single crochet stitches that are joined together, increasing and decreasing to form a circle. A couple of bobbly stitches are used to finish the edging but don't worry, and you don't need to know how to make them.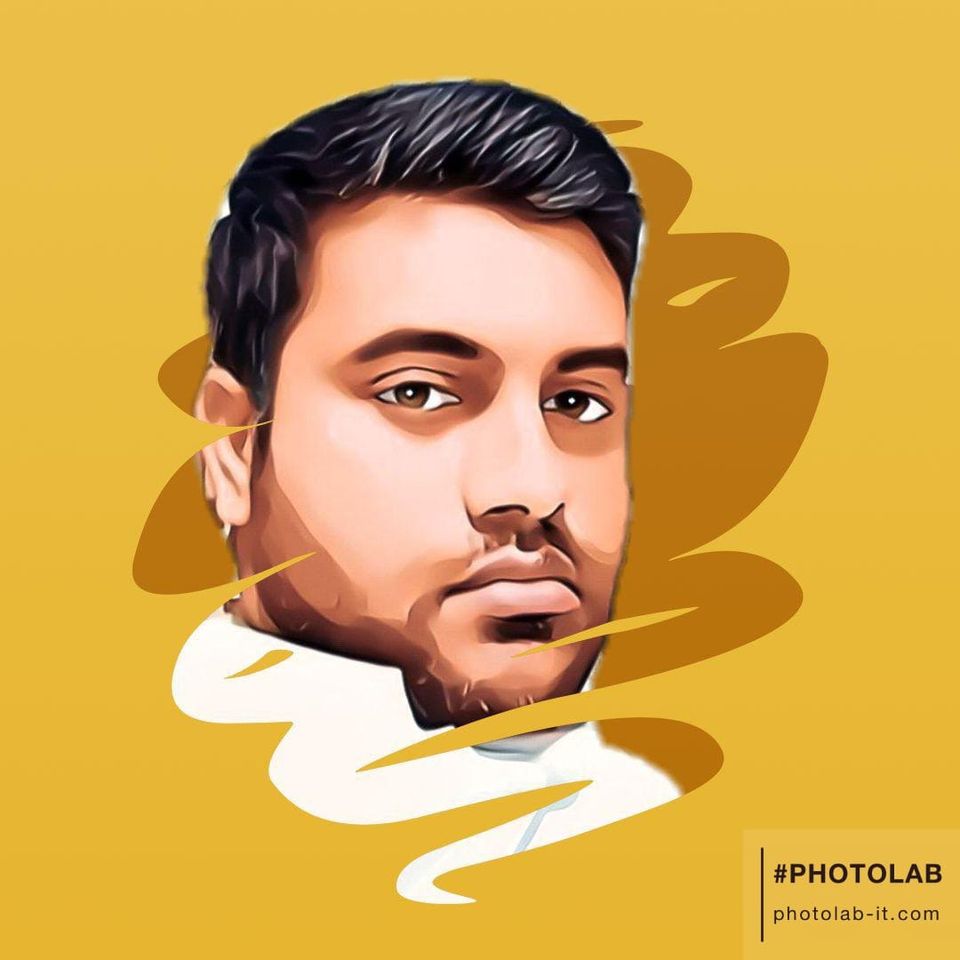 I am Raza, a crafts expert with 6 years of experience. I run this site for DIY lovers to provide the most exciting projects and ideas for your home, office, and everyday life. See More