Nothing is better than tea coasters to avoid annoying rings on the table. Traditionally, coasters are made of heavy cardboard with a felt layer in the base. But the modern tea coaster ideas have exceeded these traditional limitations. You can make delightful designs with a surprising variety of materials. You can even give a natural theme to your DIY coaster making by repurposing plant materials like pine cones or seashells or wood slices. So, get crafty and try one of these inspirational DIY coaster projects that will protect your beloved furniture from damages and stains of moisture.
DIY Woven Coasters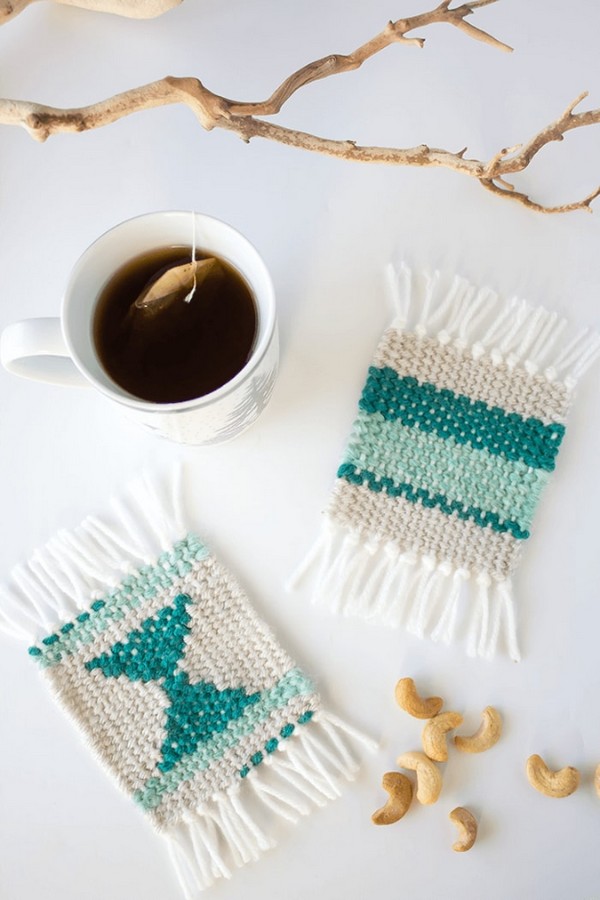 Learn how to make these adorable DIY Woven Coasters! We will share our step-by-step tutorial for weaving with a few materials and customizing your design to match your home decor. It couldn't be easier to learn—all you need is a loom, which you can pick up at a craft store or order online, plus yarn in various colors and textures, and you're good to go! Weaving is also very relaxing and unexpectedly meditative because it doesn't require your full attention. In other words, it can be done while bingeing through Netflix.
DIY Mason Jar Lid Coasters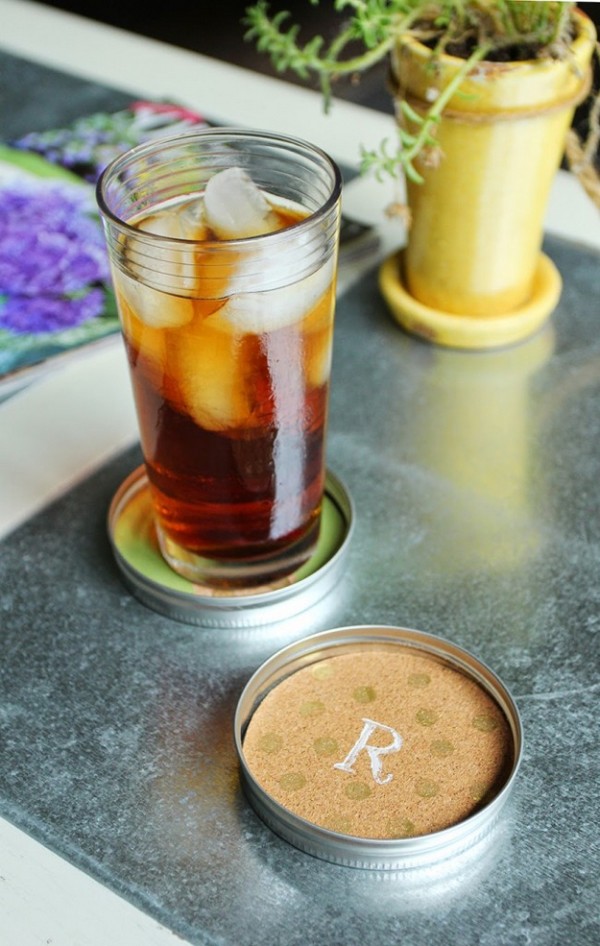 The Mason jar is a popular item these days, and people use it for many things besides canning. It's a fun project to do with kids or your friends over the summer. The coasters also make great hostess gifts when you visit your friends' homes! Using Mason jars as a vase or drinking glasses will protect your furniture and countertops from watermarks and unsightly stains. Use any paint to make them pretty in pink, blue, or yellow polka-dots. The process is the same for all of them. Just be sure to use acrylic or exterior paints to make your coasters durable and waterproof. Your imagination only limits you!
Natural Branch Coasters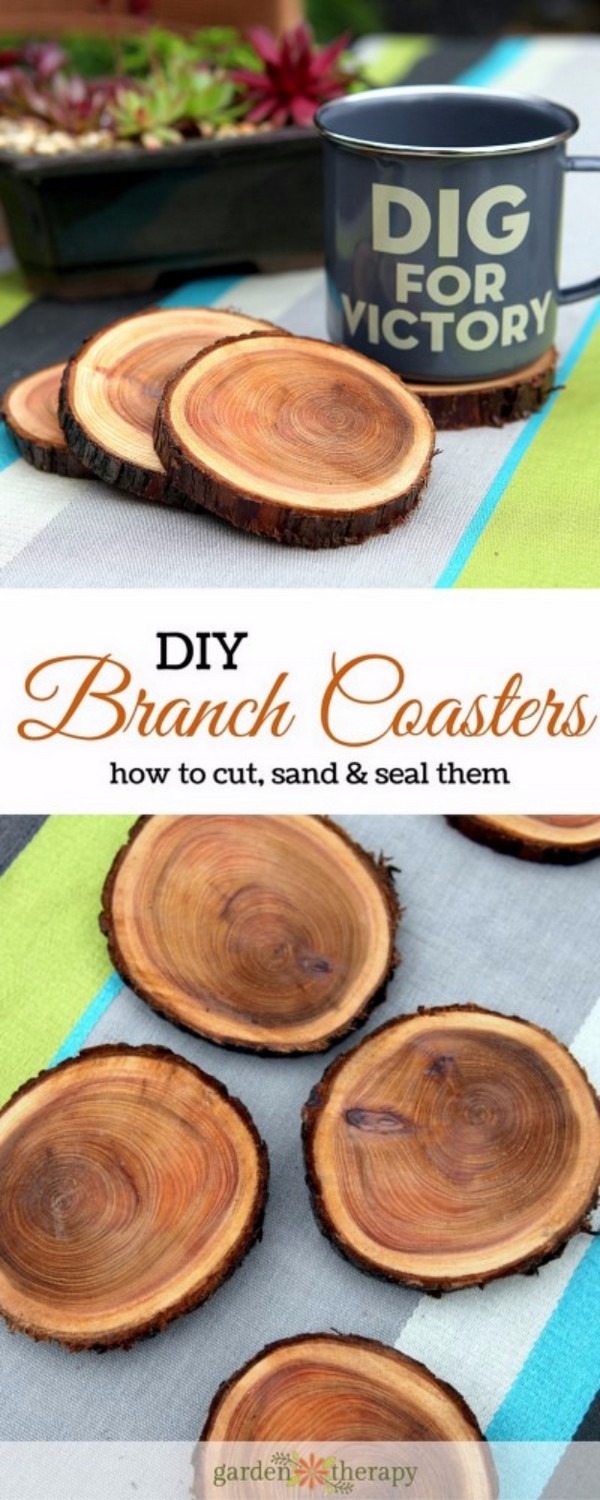 Transform excess wood slices into beautiful, one-of-a-kind DIY coasters to protect your furniture from water rings and spills. A quick, no-mess solution that will quickly become a conversation piece at any gathering. If you have a tree that needs trimming, a set of medium-sized slices from the trunk can be used to create beautiful, one-of-a-kind DIY coasters. The bark sides of these handmade coasters are a delightfully rustic touch to your drink service, while the concealed cork backing surface is sure to protect your tabletops and shelving from scratches and water rings. Perfect as gifts or beautiful additions to any home.
DIY Concrete Coasters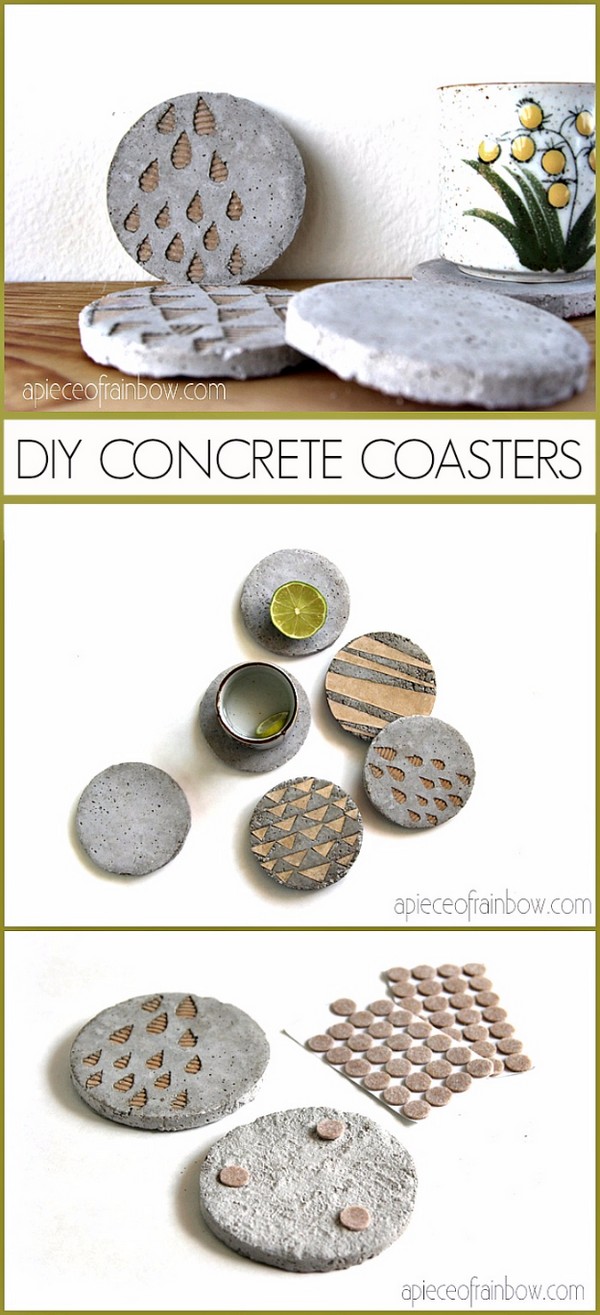 To create these modern and chic DIY Concrete Coasters, you must collect old cardboard boxes for the coaster molds. We found that broken-down cereal boxes worked best for this project as they were small and had relatively flat surfaces to ensure an even concrete level. The cardboard molds are removed after the concrete is cured and left overnight. Once dried, the coasters were painted with metallic paint to provide "aged" detailing to each one. This was a very easy and affordable DIY project!
Seashell Coasters Made With Resin
Seashells make great coasters. They are pretty and functional. They are also colorful, but it's easy to dip them in the paint if you can't find a color you like. We have a tutorial for painting seashells here. These gorgeous, glossy, DIY-style Seashell Coasters are made with resin and tacky tape. The beautiful seashells within shine right through with the clear resin. You can start using these coasters immediately since they are set up quickly in just a few hours. This is an easy beginner project, and the result looks stunning!
How To Mix Resin
DIY Coasters From Wood Slices
Learn how to make DIY coasters from wood slices. This tutorial shows you how to make coasters using an Aspen branch with just a few simple materials. These coasters would make a cool wooden addition to your home decor and great DIY gifts for family or friends. With a few simple supplies and some creative inspiration, you can make your own beautiful set of coasters. These DIY coasters are also a great present if you ever need to find something quick!
Clay Kitty Coaster DIY
One remarkable idea to decorate your home is DIY Clay Kitty Coaster, as it easily catches viewers' attention. It is especially popular among cat lovers who always use it in their kitchen. These Clay Kitty Coasters can be used as a gift for your beloved parents and could certainly bring love and affection to you. These are so easy to make that even a kid easily by following some simple rules.
Kiwi Drink Coasters
You can be the party's life by making these fun and easy kiwi drink coasters. They add a nice twist to any summer table and make a perfect gift for that hostess who loves to entertain. With a good set of drink coasters, you can help keep your summer parties tidy and clean in case anyone spills their drink. These DIY kiwi drink coasters are easy to make and perfect for chilling your favorite summer drinks. With these drink coasters, you can sip cool drinks inside or outside without making your table sticky.
Wooden Pallet Coasters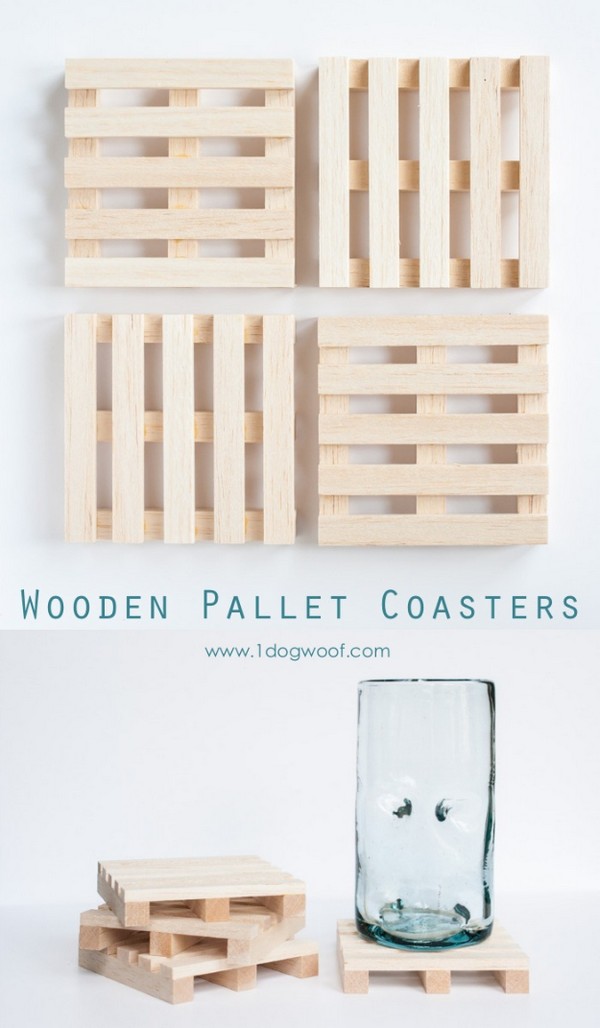 Make your modern geometric coasters with this easy-to-use kit. Everything you need is included in the box – add some finishing nails and a hammer. Whether you want textured embellishments or painted accents, these coasters make a great craft for adults. Finished coasters measure 38 x 40 cm. Build up your woodworking skills with this DIY project! This plan will teach you how to build a set of wood coasters, which are great as a personalized gift or simply for yourself to use at home. If you are looking for functional yet stylish projects to build, this is a good one to take on.
Chalkboard Ombre Coasters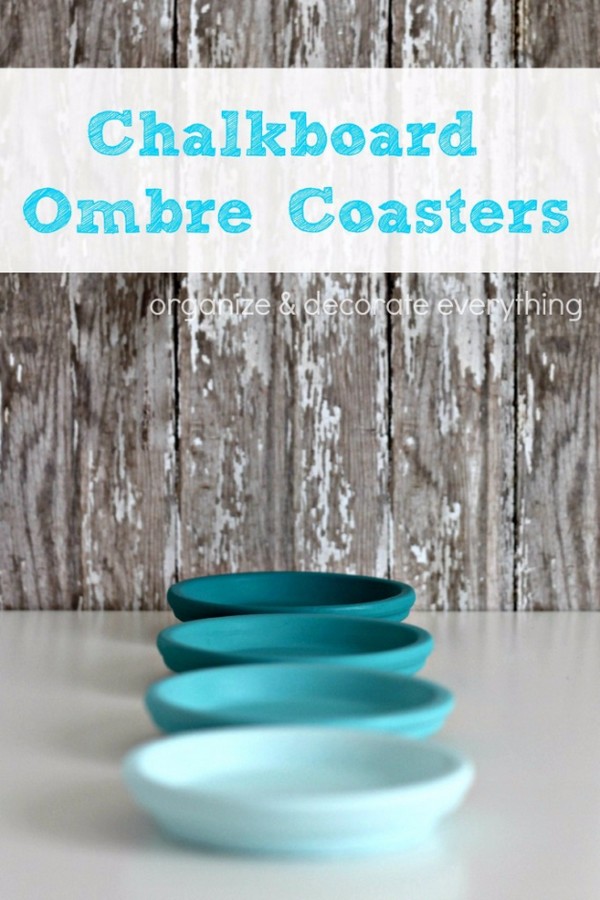 Make a bold statement with our unique Chalkboard Ombre Coasters. This set of six coasters has one of each color, red, orange, yellow, green, blue and purple. Their sturdy cardboard construction will protect your table from condensation, while their easy-to-clean surface can be wiped clean. Use these coasters to identify drinks or as a fun canvas for your friends' artistic talents. They also make a great housewarming gift. With each coaster made from ceramic and backed with cork & foam for durability, this is a set of coasters that you'll use for many seasons to come.
Terracotta Coasters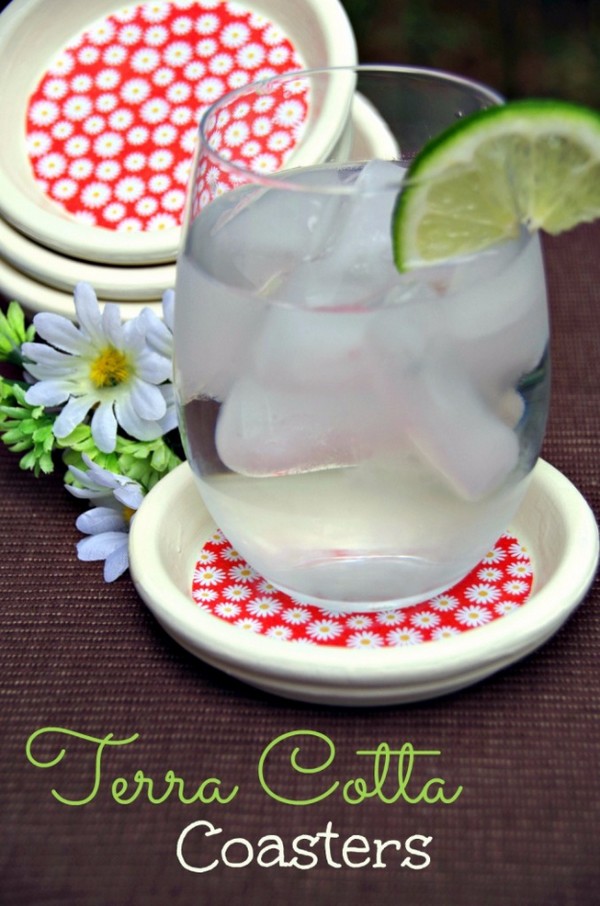 Have guests over for drinks or coffee? These cheery DIY terra cotta coasters are a fun way to protect your glass tables from water rings and stains. Chilly outside? Sneak in a little heat with my recipe for a cinnamony apple cider toddy. Since my outdoor table was pretty scratched up from the winter months, I decided to make a set of terra cotta tile table coasters. It was easy and inexpensive, and now I have beautiful new coasters that add a little color to my patio table!
DIY Wool Felt Ball Coasters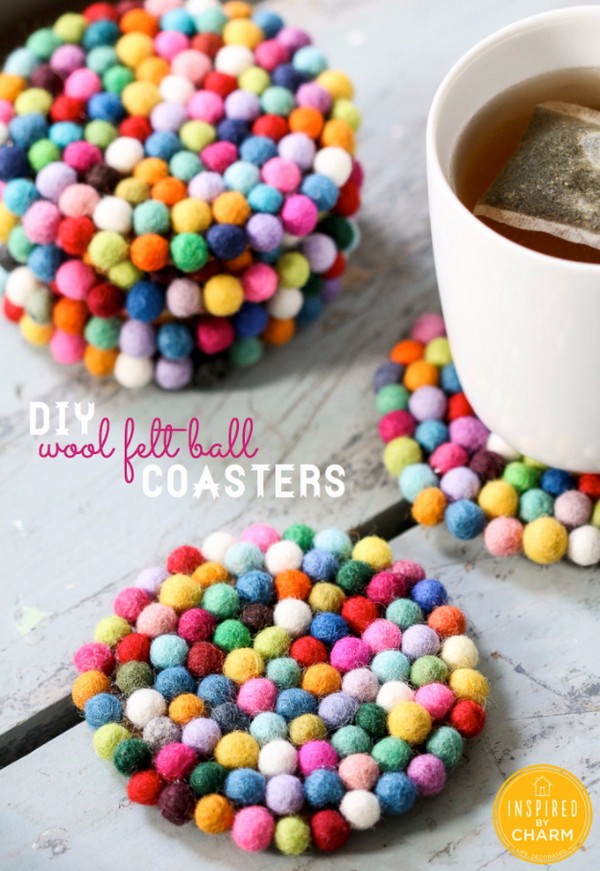 I have been on a mission to decorate my office, and this is where I came up with the idea to do more craft-based DIY projects. Although the felt ball projects I had seen in the past were very cute, I wanted to make something that could be used for more than decoration. Coasters are something that everyone needs, and it's always nice to have some as gifts available when needed - So colorful coasters were my first thought! These soft and colorful coasters with bouncy wool felt balls atop each make them pleasing to the touch. Perfect for any beverage or place setting, these coasters are designed so that water or condensation flows off the sides of the surface and into your sink.
Dreamy Watercolor Tile Coasters
Create beautiful coasters at a fraction of the price. Flaunt your unique style and personality with these easy-to-make DIY tile coasters. Head to the dollar store and pick up some inexpensive square tiles, clear floor-saver pads, and an assortment of permanent markers in various colors and finishes. Then, get creative! Express your inner artist or try out one of our suggested patterns to find the look that best fits you or your space. It's so easy, you need an afternoon to work on it, and you can bring these pretty tiles out at your next dinner party to show off. All it takes is some paint markers that you can find at the dollar store and some cushion pads to make them live a little longer.
DIY Painted Cork Coasters
Cork coasters are the perfect vehicle for your DIY stencil skills. With a bit of paint, you can make a set of beautiful personalized cork coasters for a fraction of what you'd pay for them in the stores. A simple set of cork coasters painted with chalk paint and a few other craft supplies can make a great handmade gift for friends. We made these sets in just a few minutes using cork coasters, chalk paint, and masking tape.
DIY Mini Cowhide Coasters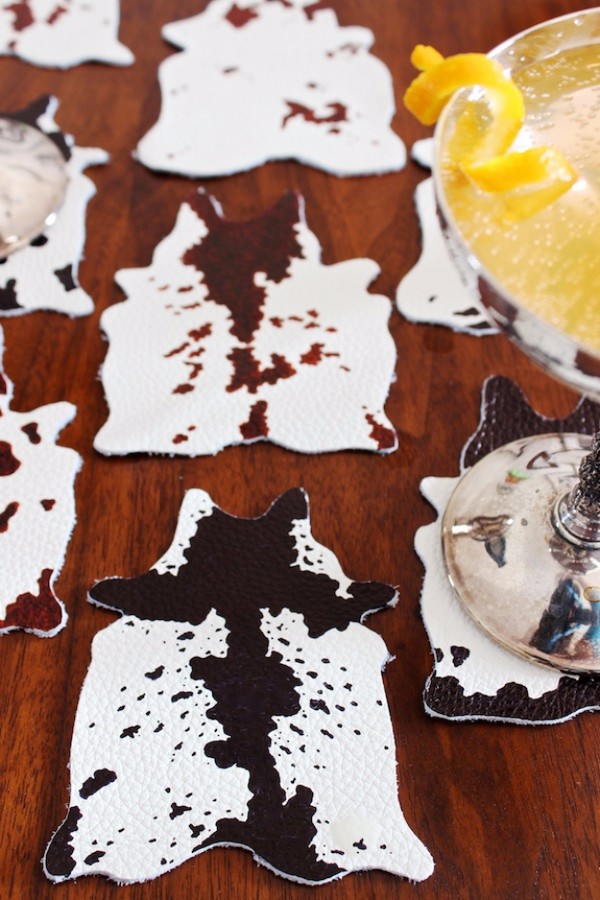 Thinking about surprising your guests with a sultry cocktail? Imagine how entertaining it will be to place each glass on a DIY cowhide coaster. This tutorial will show you exactly how to create coasters out of painted leather or vinyl. It's easy, and the results are so impressive that your guests probably won't believe you did it yourself. Today I'm sharing a ridiculously easy DIY that you all are going to want to make – and soon, too, because Spring is right around the corner, and these DIY mini cowhide coasters are perfect for the warmer weather that's right around the corner.
Crochet Watermelon Coasters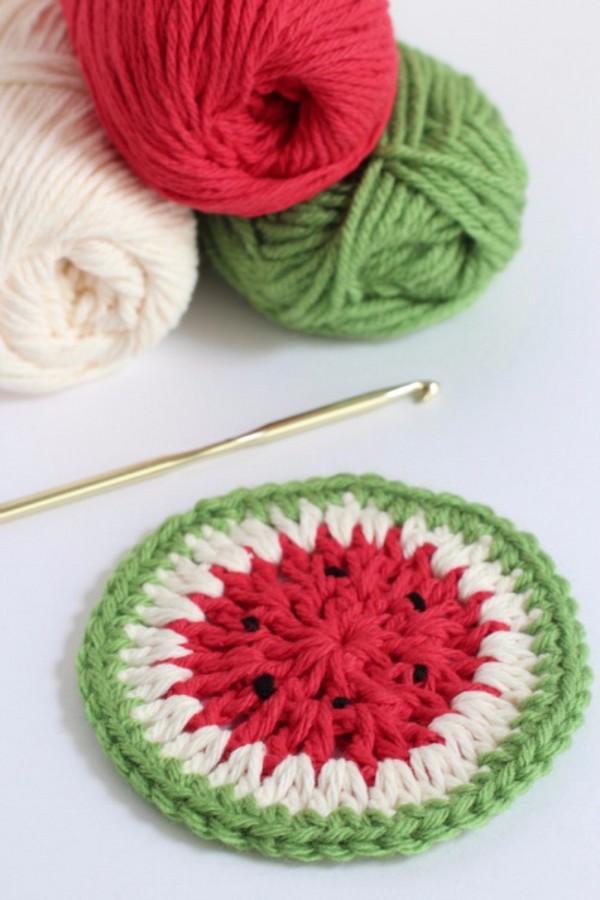 These watermelon coasters are made from cotton thread, making the pattern easy to crochet. The pattern can easily be adjusted to make any size coaster. You may use them for home decor or as part of a gift package for your favorite hostess or crafter enthusiast. You may use them on your coffee table, end tables, dining room table, bathroom, kitchen sink, you name it! This crochet melon will make you thirsty, whether filled with lemonade, watermelon, or margarita. Quick and easy to crochet, they will be a great addition to the summer barbecue get-together, picnic, or party inside or out.
Lacy And Sophisticated DIY Coasters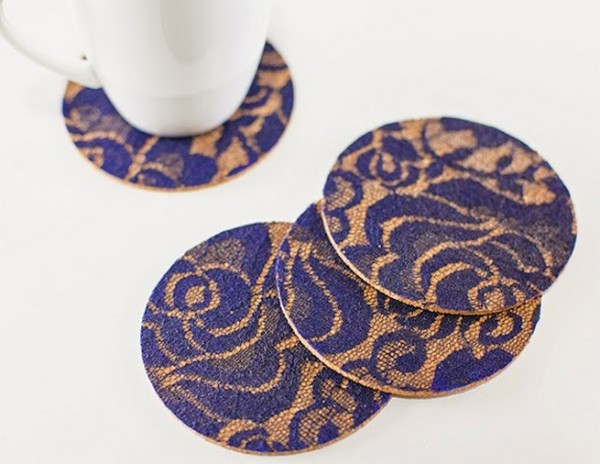 Add some homemade chic to the reception. With a few simple steps, you can make some lace coasters with your favorite materials. You can use your scrapbook paper or other decorative paper to create monochrome, multicolored, or ombre effects. This project is great for finishing leftover materials from other projects. But lace fabric and lace motifs are inexpensive paper products that can also create interesting patterns on the surface of these decoupage coasters.
DIY Holographic Coasters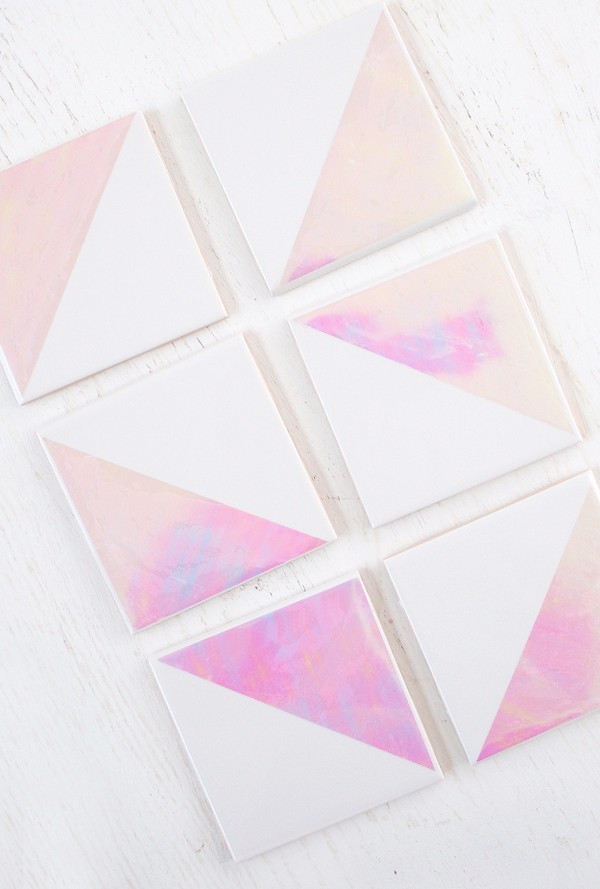 If you love the holographic trend, then you'll LOVE this DIY project. Follow along as we show you step by step how to create your very own holographic coasters. In just a short amount of time and just a few materials, you can make this unique piece of decor for any coffee table, dining room or living room space. You can make extras to gift these ultra-cool coasters or DIY favors that will be the night's talk. Put down your weird, patterned old coasters and try something new with this DIY.
DIY Copper And Burlap Coasters
To make these burlap and copper mug coasters, wear gloves, safety glasses, and a dust mask. Then cut six 4" rounds with scissors. The best way to cut burlap is against the grain. Turn your cutting mat over and use the backside because the burlap will probably leave fuzzy fibers on your cutting surface. This DIY copper and burlap coaster project is easy and inexpensive to make, but it looks so high-end; no one ever has to know your secret! The metallic copper looks great with our farmhouse-style wood table, and they are super easy to make
DIY Photo Coaster
I have some thrifty DIY projects coming your way, and this is the first one! These photo coasters were a project I made two summers ago to bring along with me when we traveled outdoors. SINCE THEN, these DIY photo coasters are waterproof and have been used on many of our family adventures. We love them to death, and I thought it was about time to make another set for our trip coming up. We suggested it as a gift for Christmas, and everyone raved about how great the DIY Photo Coaster looks. I'm sure everyone will love it as much as we did!
DIY Beer Coasters

Have you ever wondered what to do with the store cardboard beer carriers? Well, we have the perfect DIY gift idea for beer lovers and dads that you can make using just your PC, a printer and a few other materials. All you need to do is download your printable coasters, customize them with photos or text and then apply a finish or sealant to make them waterproof and durable. With these easy steps, you'll be able to turn those boring beverage carriers into customizable drink coasters! Better yet, they won't cost much (+1 for frugal!) Of course, if you aren't much of a beer drinker, then all it takes is some clever adjustments.
DIY Map Coasters
Looking for some fun, personalized gifts? These DIY map coasters are one of our favorites. Coasters are a great way to add some personality to your home and are also useful. Plus, they make great gifts! We love crafts that you can use around the house, and DIY map coasters are an awesome addition. All you need is a few simple materials, and these DIY cork coasters are a piece of cake to make. Customize your set with any design or pattern that suits your style, from words and shapes to maps and photos, and the options are endless!
DIY Glass Coasters

In a few simple steps and with just a couple of supplies, you'll be able to create these easy summer DIY Coasters. To make them, you'll need some clear glass candle plates and paint markers from the local hobby store. First, use the paint markers to trace an old coaster onto each glass plate. If you do not have a round coaster at home, it is easy to draw one on a sheet of paper and then trace around it with the sharpie on the glass plate. These DIY coasters are perfect for setting your summer drinks on. They have so many uses and make great gifts. You can also customize them with different artwork and sayings.
DIY Easy Coaster
Decorate your home or office with unique, easy-to-make coasters that you can be proud of. With a circle cutter, self-healing mat, and a set of 4 cork coasters, these lovely customized coasters can be made in no time. DIY Easy Coasters are suitable if you want to make a lasting impression or need a quirky way to keep your drinks in place. Made with self-adhesive shelf liner, these coasters add just the right color, personality, and flair to brighten any table setting. They're quick and easy to create so that you can start this project immediately.