22 Tiger Drawing Ideas For Kids Inspire
Tigers are the biggest cats on Earth and one of the world's most beautiful animals. Learn how to draw them with our guides, and show your creativity by creating a unique tiger drawing. This article's realistic and detailed drawings of tigers will help you create beautifully illustrated artwork with minimal effort. These easy-to-follow tiger drawing tutorials will help you master this art in no time. With every level, you become a better artist who can create amazing realistic animal drawings for your collection or as gifts for family and friends.
Easy Tiger Drawing

Today we are going to talk about tigers. If you have ever thought of drawing tigers, then today is your lucky day because we have come up with some of the best and most professional tiger drawing ideas. They are one of the most popular animals and have a lot of fans around the world. Very often, you can draw them on paper, nails, clothes or even make tattoos. A drawn tiger can be very useful if you want to attract attention. You can draw any number of drawings by taking inspiration from our article and trying to add your creativity to it. Let's get started with these awesome Tiger Drawing Ideas.
How to Draw a Tiger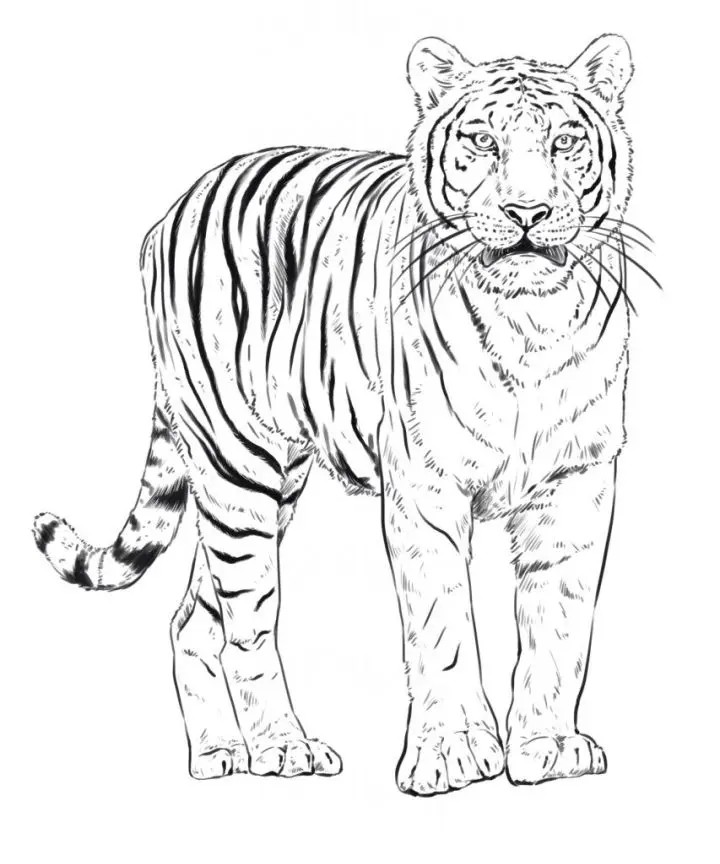 Tigers are some of the most beautiful animals in the world. They're also one of the most powerful, fierce and dangerous predators. Now you can learn how to draw a tiger with this easy step-by-step guide on drawing a tiger in only a few steps. First, draw a circle, then add the ears and next the mouth. Next, add the head, body and legs. Now start drawing small stripes around the face, neck and along its body. Then choose one or two colors to design your tiger by filling in shapes with that color. Finally, erase any extra lines that don't belong there; then you're done!
How To Draw Bengal Tiger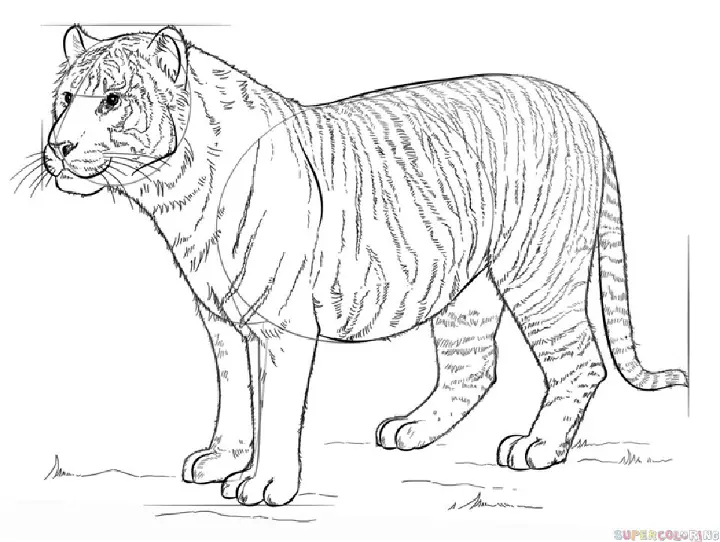 Learn How to Draw a Bengal tiger in this step-by-step drawing guide. This detailed and easy-to-understand tutorial will help you learn how to draw tigers. We'll show you how to draw a Bengal tiger's head, body, legs and tail so that your drawing is as lifelike as possible. You can quickly draw your own Bengal tiger with this simple tutorial. Follow the steps outlined in this guide, and you will learn how to draw a Bengal tiger easily.
Realistic Tiger Drawing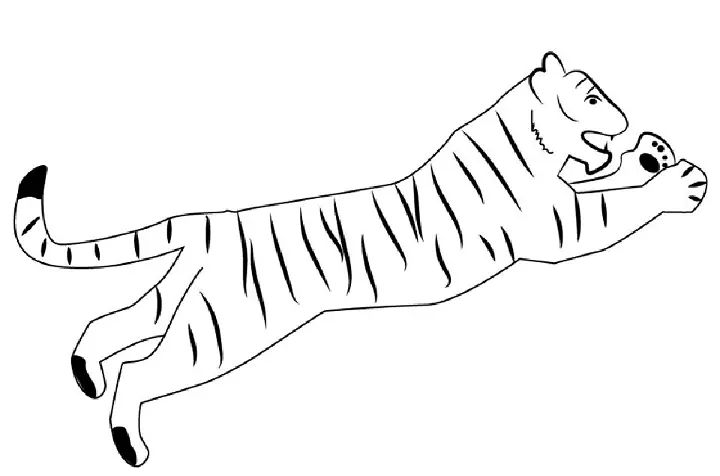 Drawing realistic tiger drawings like the one above is not hard if you first master the basics of drawing forms and then keep practicing. Begin by drawing the head with wide-open eyes, large round ears and a short nose. Once you have drawn the head, move on to draw the body, consisting of three vertical lines stacked on top of one another and an angled line at the bottom for feet. The attention to detail in our drawing makes it look almost like a photograph of a real tiger. The bright orange and black stripes go together perfectly, showcasing this majestic animal in all its glory.
Tiger Drawing In Just 8 Easy Steps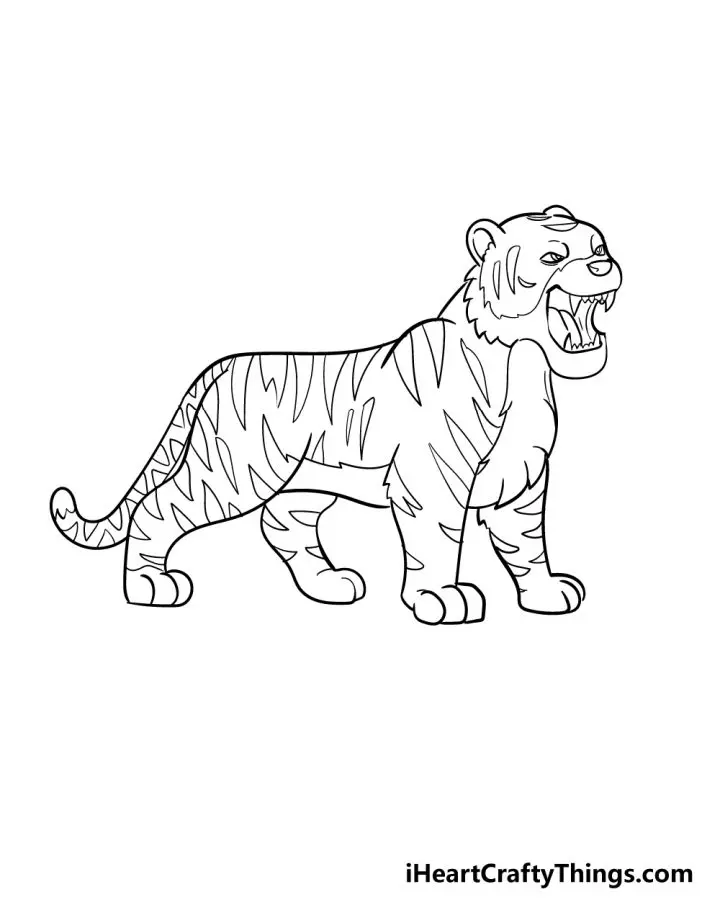 If you want to learn how to draw a tiger but are unsure where to start, this guide will be just what you need. This tutorial will take you step by step through learning and creating excellent illustrations, so you can be confident that even a child can follow along. With eight easy steps and helpful pictures, this guide is helpful for anyone who wants to learn how to draw better. It will teach you the basic shapes and lines that make up this beautiful animal and give you an understanding of how to draw it from memory.
Easy Way To Draw A Full-Body Tiger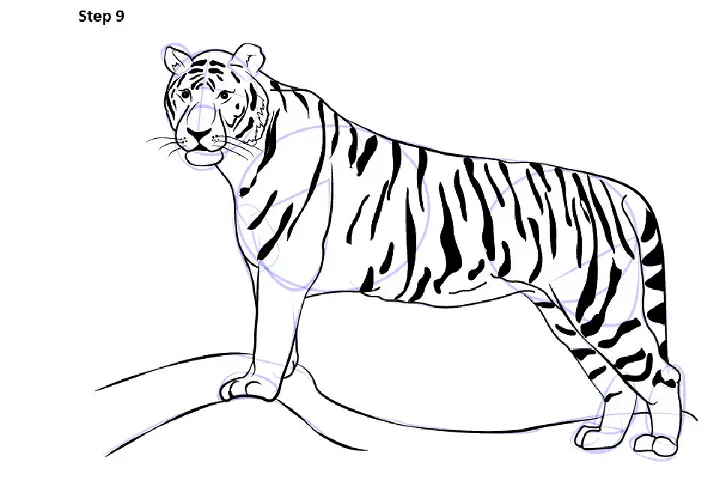 This tutorial will teach you how to sketch a tiger with essential drawing tools. It includes detailed photos and step-by-step instructions, making it the easiest and fastest way to draw a full-body tiger! This is an easy way to draw a full-body tiger that kids and adults will love. This guide shows you an easy way to practice drawing a lovely full-body tiger in single-line strokes. This lesson covers tips and tricks for producing clean lines that create an attractive image.
How To Draw A Realistic Tiger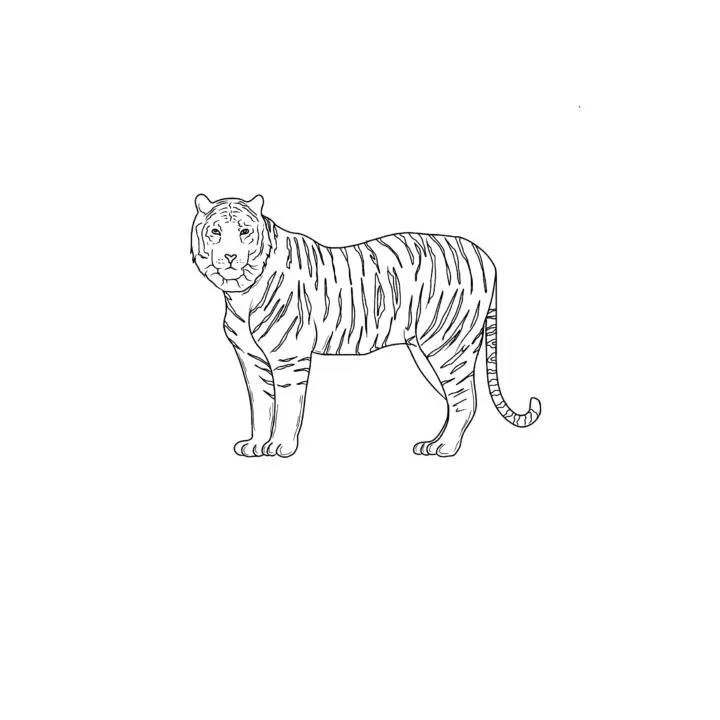 The tiger is a powerful, majestic and beautiful animal. It's sometimes hard to imagine that such speed and agility come from such a large animal. Drawing a realistic tiger can be an excellent opportunity to practice your drawing skills, especially if you want to improve your portrait drawings. This step-by-step tutorial will help you draw a realistic-looking tiger. If you follow these steps and use suitable materials, you'll be on your way to being able to draw an accurate picture of this beautiful creature in no time!
Nice Drawing Of A Tiger for Beginners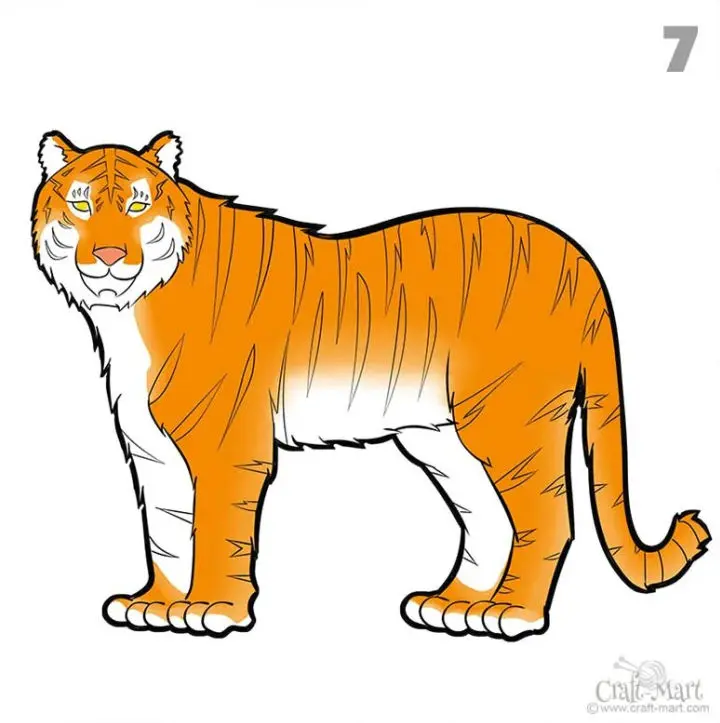 A cute drawing of a tiger for kids written by a professional artist. This tells you how to draw a tiger in easy steps so that kids can learn how to draw this beautiful animal excellently. Fun and easy step-by-step drawing lessons that a professional artist draws. This is what you will learn in this course: – Learn how to draw various people, animals and objects! – Complete your drawings with other materials such as pen, marker, colored pencils and more!
How To Draw A Roaring Tiger Face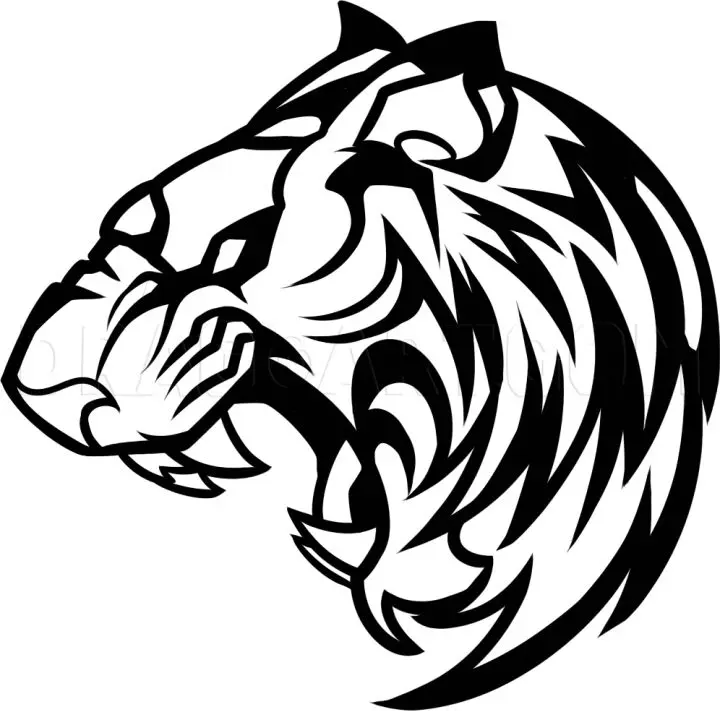 This step-by-step, simple drawing lesson teaches how to draw a roaring tiger. The first thing you want to do is draw a circle and fill it in. The shape should be simple, but you don't want it too big or too small. Next, you will draw the tiger's eyes, nose, and mouth. Pay attention to where you place them so they're not way off-center! Once your basic sketch is finished, erase all your construction lines, making sure you don't go outside your drawings. Now that we have our tiger face drawn out, we can work on shading and detailing!
Tiger Linework Drawing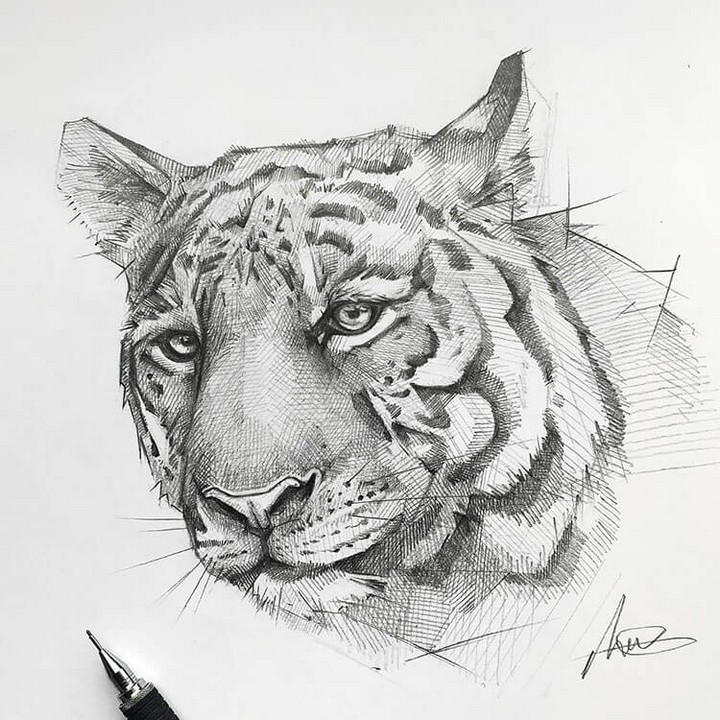 This linework-style tiger drawing is a perfect gift for anyone who loves tigers. It is made of many lines drawn to create a beautiful tiger silhouette in black. This creative illustration can be framed, hung on the wall, or used as a DIY canvas tote bag or mobile phone case. An actual eye-catching artwork, this tiger linework drawing is done with lines instead of paint. When you look at this art piece, you will see the jawline, nose, whiskers, and eyes of a tiger appear before your very eyes.
Pencil Shading Over Ink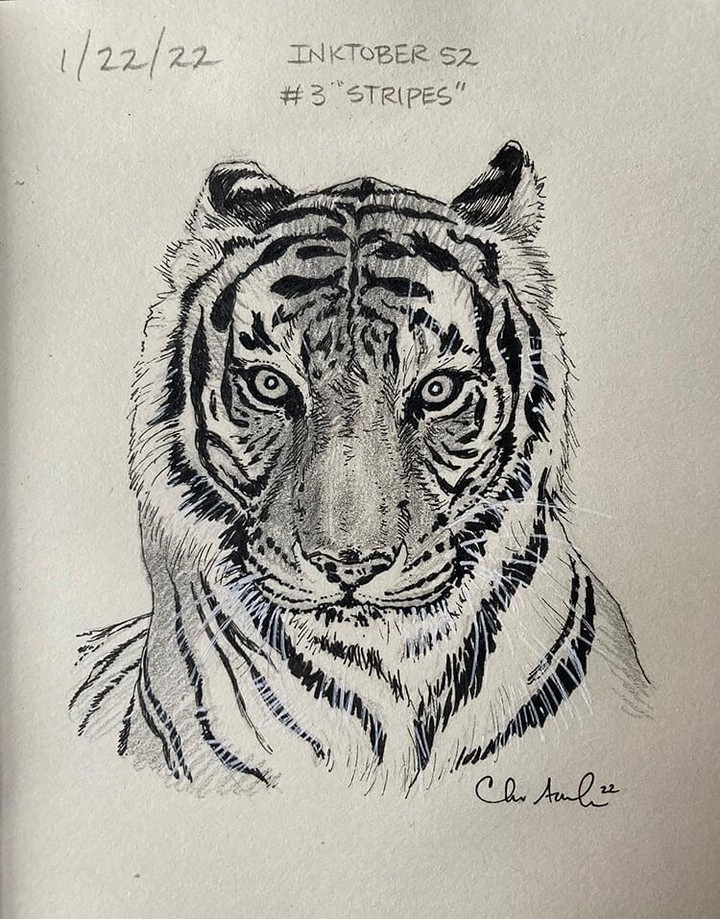 This portrait of a tiger is created by pencil shading over ink, so all of the details are nice and crisp. Shading with pencil over ink is a fun way to add more detail to your drawings. The tones and shadows allow the viewer to see the subject in greater depth, making it more realistic. The tiger stripes are straightforward to see here. This drawing would not have been possible without pencil over ink. This technique adds so much depth to the tiger's stripes, bringing them to life on the page.
Side Profile Of Tiger
In this drawing guide, you'll be able to practice drawing the side profile of a tiger using brush pens. The side profile of a tiger is probably one of the most challenging animals to draw. The artist has used brush pens to create a greyscale with ink, which makes a great reference if you would like to practice drawing the side profile of a tiger. This practice picture of a tiger is both fun and challenging. It is an excellent reference to help you with your penmanship and create beautiful art.
You can also see: Tree Drawing Ideas
Looking Straight Ahead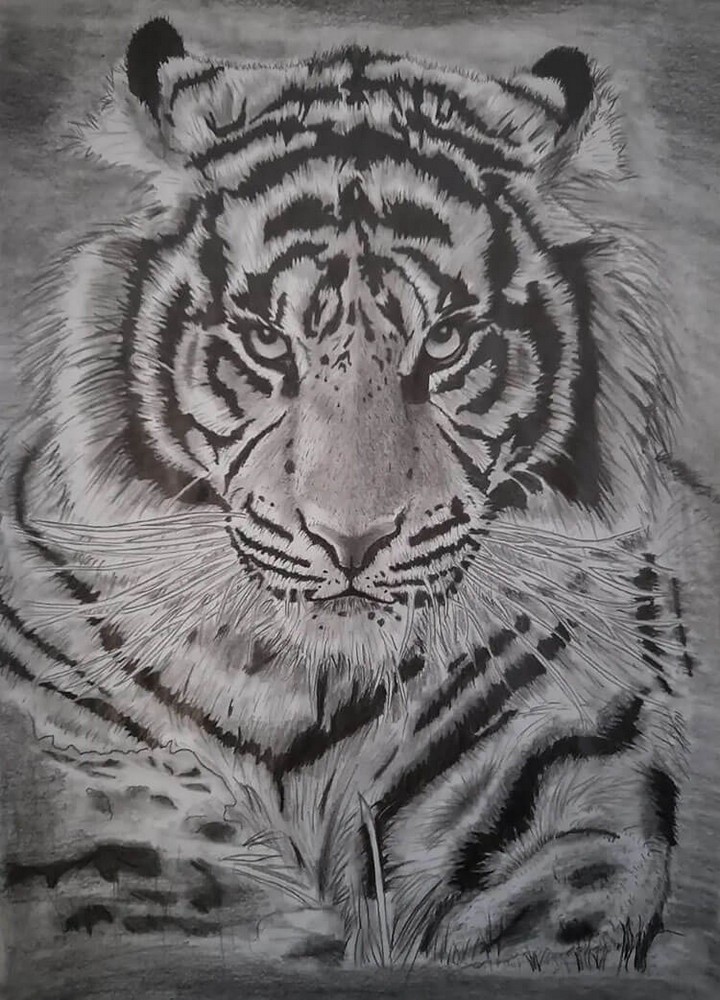 Looking straight ahead is a great way to communicate strength and confidence. Although this tiger might seem intimidating, we're sure he loves some cuddles too. The detail in his eyes and facial expression is impressive—you can see the fur on his face. You can see how it looks straight ahead and how fierceness is expressed in its eyes. This is the perfect piece to add to your home if you love art and animals.
Detailed Tiger Face
A skilled artist can draw with such realistic detail that they can create an image with a photo. This is true for this tiger design, which looks like it was photographed in real life. The stunning tattoo was done using procreate. Many different types of drawings can be done using detailed and straightforward Procreate. The artist here drew this one using Procreate, which took only a few minutes. The artist is super talented and used our app to create realistic imagery.
You can also see: Pokemon Drawing Ideas
Roaring Tiger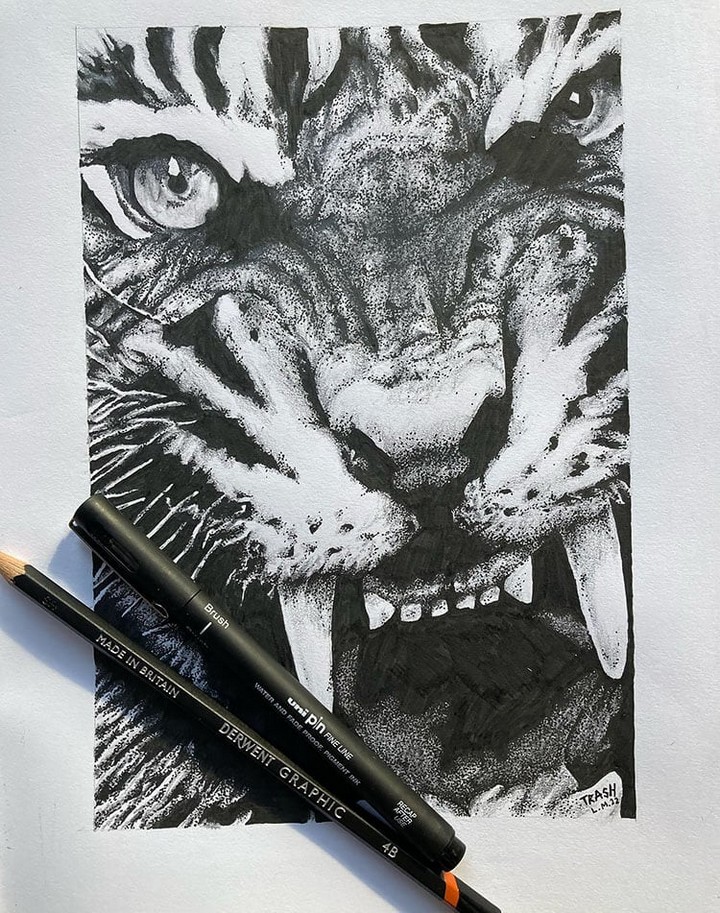 The uni-ball fine roller pen is perfect for anyone who loves to draw and create. With a 0.25mm point and liquid ink, it's ideal for blending, sketching and adding detail to your work. This classic design features a rubber grip that makes it comfortable to hold and easy to create unique artwork. The bright colors and bold strokes of the Uni Pin drawing pen and Derwent graphic pencil (4b) make this roaring tiger pop off the page. The artist used various colors and shades to capture every detail of this fantastic piece!
Realistic Tiger Drawing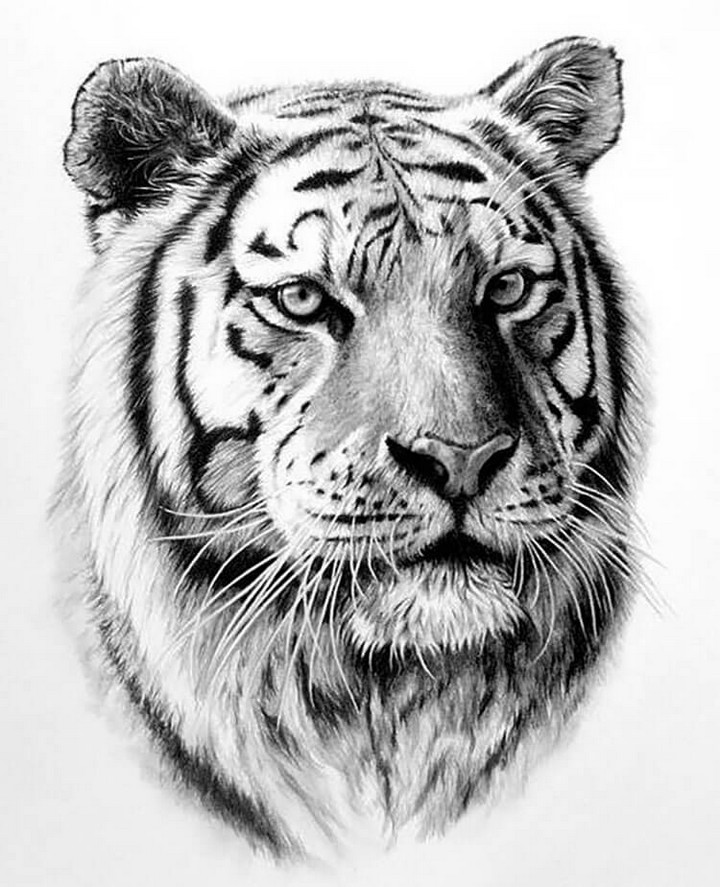 Learn to draw a realistic tiger in this step-by-step tutorial. With patience and practice, anyone can create a realistic tiger drawing. If you want a fun and challenging art piece to add to your collection, this realistic tiger drawing is the way to go. This piece is a fantastic and advanced skill-level piece. Even if you're new to drawing, you can still make this artwork as it has a few elements that you can quickly adapt to your drawings. We're sure the beautiful colors, perfect lines and overall skill of this drawing will inspire you!
Bengal Tiger
The Bengal tiger is a subspecies of the tiger, and it is said to be the most endangered species of the big cats. The Bengal tiger draws attention with its flaming orange-yellow coat. They have thick dark stripes on their side, back legs, undersides and faces. Their vertical stripes are unique to each tiger and help identify where they live, their age, and their sex. This Bengal tiger drawing will make your home or office more impressive and makes an excellent gift for friends and family. This beautiful illustration highlights the tiger's large head and brilliant orange coat.
You can also see: Easy Lizard Drawing Ideas
Dotwork Tiger Drawing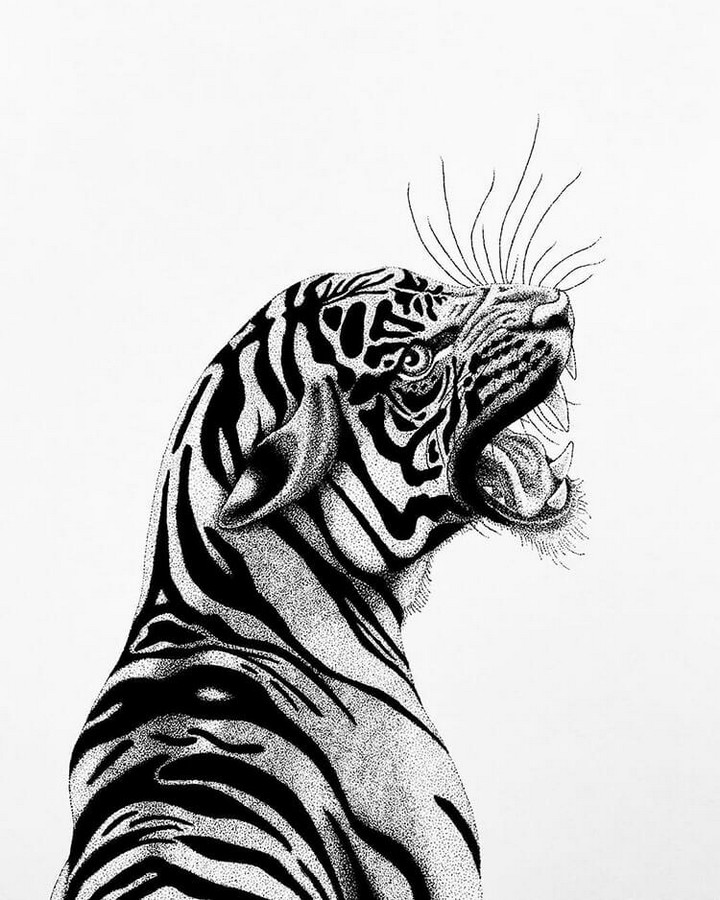 This tiger drawing is the perfect way to learn and practice drawing dots on a canvas. You'll get the hang of it in just a few minutes, so don't be discouraged! Practice with this animal over and over until you are confident enough to do your designs. This is your chance for anyone who wants to try a new style! With our dotwork tiger drawing, you can efficiently practice a new style. It won't be easy, but the results will be worth it.
Tiger Sketch with Colored Pencil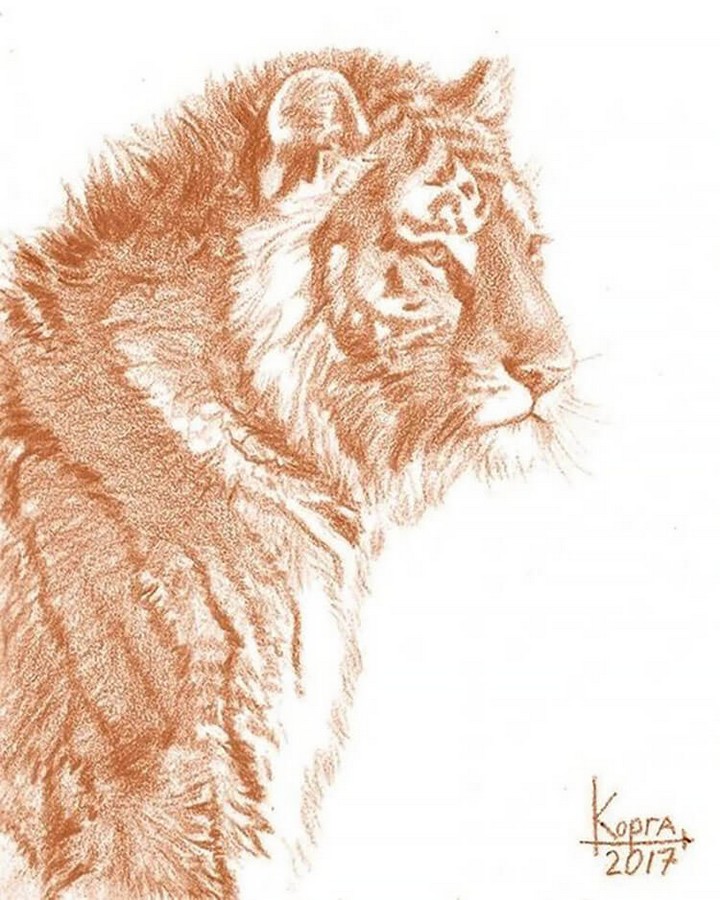 In this sketch of a tiger, the artist uses colored pencils to create a beautiful piece of art. It was featured on the Etsy blog for Artistic Painting & Editing, where you can find more fantastic art from the artist. This design is perfect as a decorative piece for your home or office or as a gift for friends and family. It makes a perfect addition to any room in your home, whether you are hosting company for the holidays or enjoying decorating for the seasons!
Work in Progress Drawing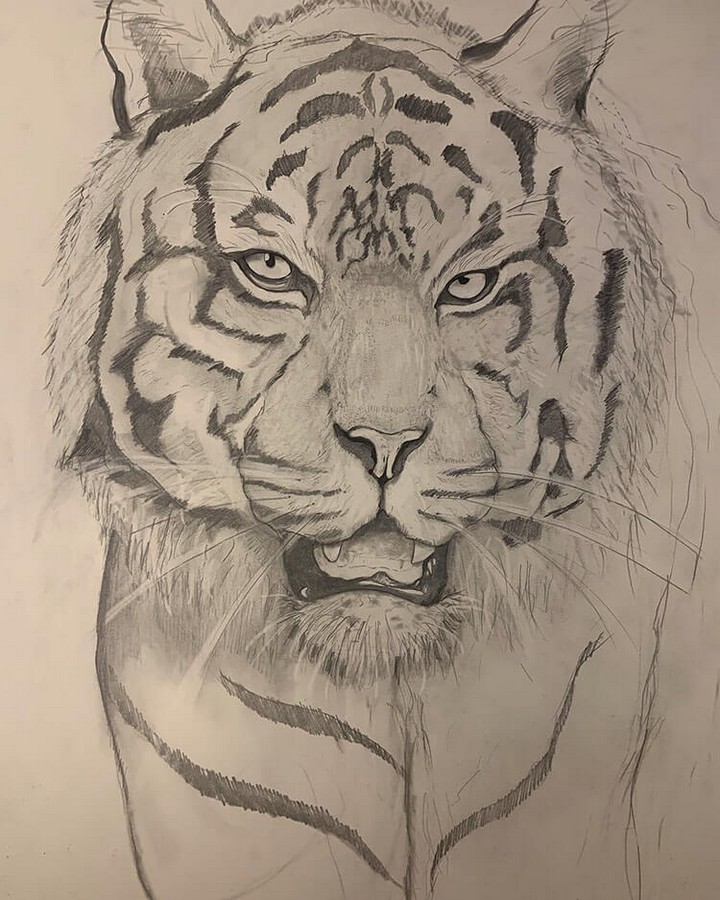 Here, you can see the process of how a digital drawing of a tiger goes from start to finish. This drawing shows the tiger's stripes and body shape but not how it will look when finished. The following steps add more detail by shading, shading and detailing the eye, teeth, nose and stripes. This is great for anyone who loves animals or knows someone who does!
Realism Tiger Drawing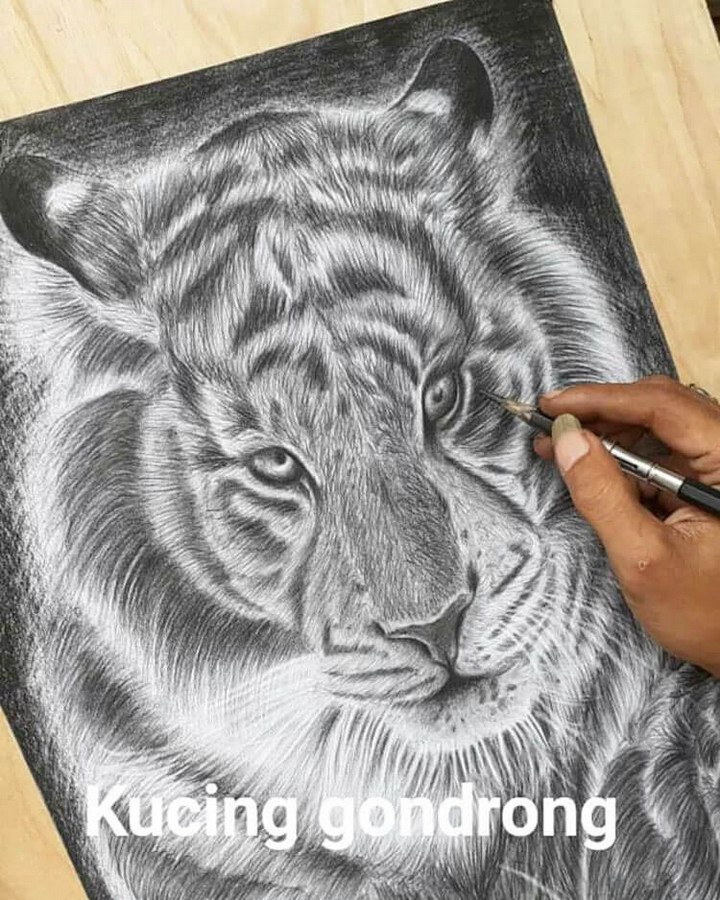 Create realistic drawings with this tutorial, which teaches you how to develop perspective and shading techniques. The artist is skilled at using brush strokes and shadows to create the fur patterns and textures of a tiger's coat and create an accurate eye that looks realistic. Use this realistic tiger drawing to hatch a plan to practice realism and create your art. The result is a stunning pencil drawing like this one!
Walking the Walk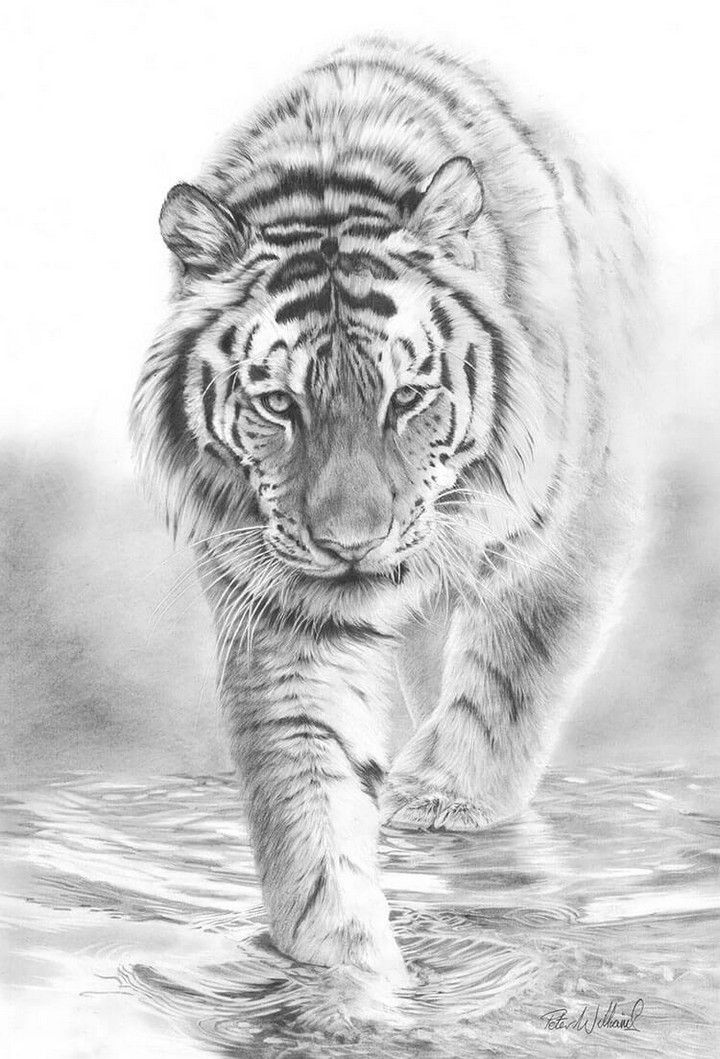 The "Walking the Walk" piece is a graphite pencil drawing rendered in a photo-realistic style. It uses bold and contrasting lines to create a strong sense of depth and dimension. Each step represents a stage of realization, with 'Walk the Walk' being the foremost one. It is created with minimal color to capture the subject's essence. This piece is an excellent example of the artistry you can create with graphite pencils!
Tiger Pencil Drawing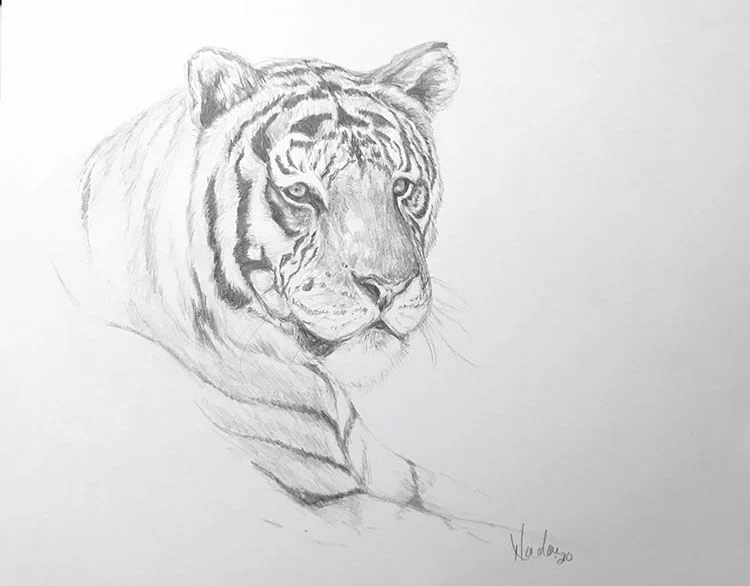 This tiger pencil drawing best uses our favorite professional-grade color pencils on Strathmore paper. The Prismacolor Premier Colored Pencils offer the richest, deepest color saturation and are ideal for acceptable art applications. This is a beautiful piece of fine art that you can display in your home as an original work of art or frame in your office to inspire your surroundings. It can be a great addition to your art collection or a gift.