Whether you're a beginner or just looking for a new challenge, there are plenty of things to draw and sketch in this list of lizard drawings. Start with a few simple lines on the paper and then build upon them by adding details in various colors or lining to create dimension. This collection includes lizards from all over the world, from all different colors, and with unique features. Made with pencil, marker, and ink, these lizards will leave a lasting impression on your mind. You can choose one or all of them and see what happens with them!
How To Draw Lizards On Your Own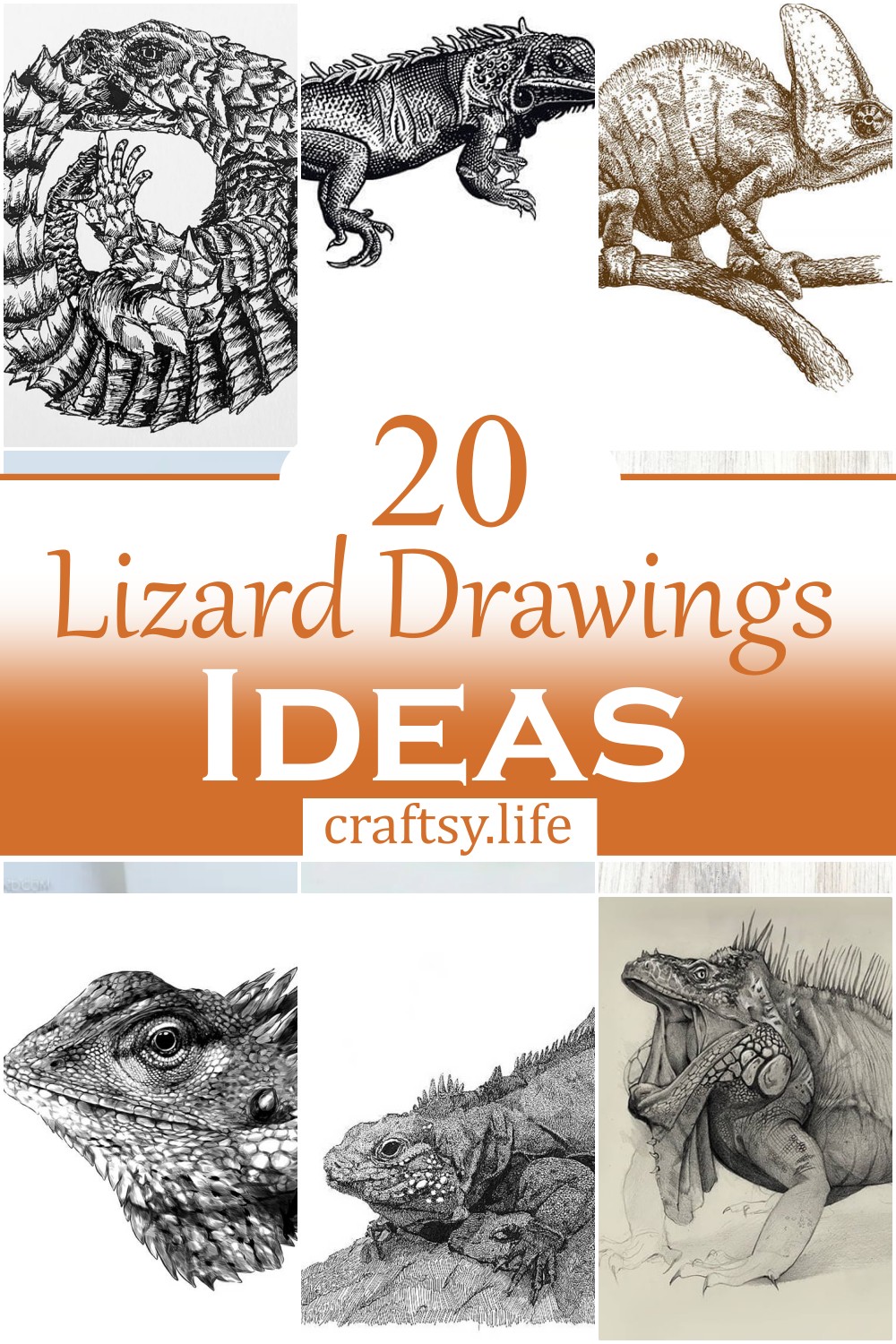 Learning to draw a lizard is easy when you are patient and dedicated. When describing lizards it is usually described as having scaly skin and a long tail that helps them move. This is a collection of the most beautiful and creative Lizard Drawings Ideas for making your lizard drawings. You will find the basics of drawing lizards step by step and some other stuff that can be helpful if you are looking for an exciting thing to do in your free time. Keep in mind, though, that these ideas can not only be done on paper but also walls and others surfaces.
Two Collared Lizards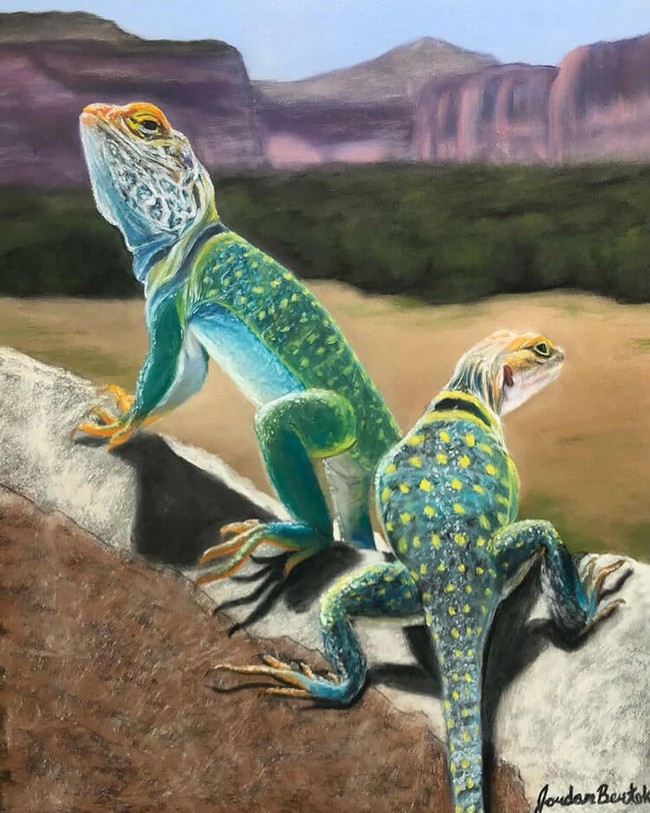 Who knew reptiles could be so cute? This illustration features two collared lizards, one sitting on the other. Collared Lizards are morphologically conservative, and their evolutionary history is generally considered well-understood. The artwork is hand-drawn and colored with watercolors. The composition includes some grass and a few other types of plants, as well as rocks. This aesthetically pleasing artwork will significantly add to your drawings, paintings and prints collection.
Also, see: Dinosaur Drawing Ideas For Everyone
Cross-Hatching Lizard Drawing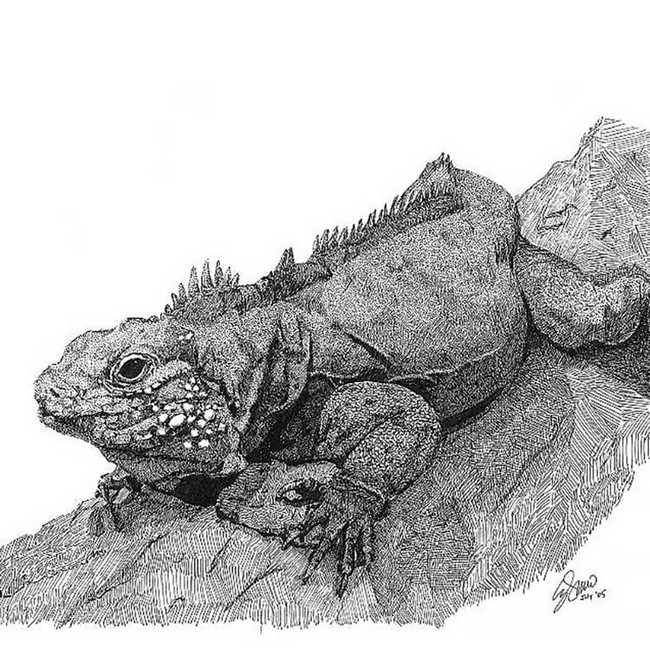 Lizard drawing is a fun, easy and quick art project at your birthday party. With our lizard drawing sheet, you can draw the scene of lizards in many different ways. How about trying cross-hatching lizard drawing? Cross-hatching is a form of hatching that creates a series of interconnected lines, forming a cross pattern. The lizard is drawn in black on a white background. In a realistic re-creation, the small details and cross-hatches of the reptile are visible with great clarity.
Lizard Made with Circles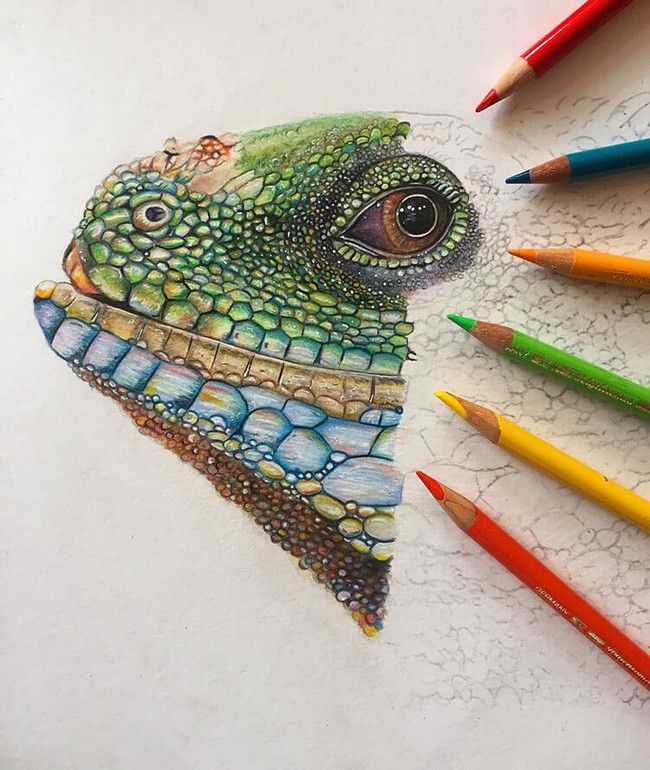 If you love lizards and have a knack for drawing them, here's a simple way to draw the lizard. This lizard drawing is the first step to learning how to draw reptiles, amphibians and other animals. Sketch with circles in this step-by-step tutorial to learn how to create a beautiful graphic design for this colorful animal. The step-by-step drawing guides you through the process of penciling and shading, allowing you to make a beautiful picture that anyone can do!
Armadillo Girdled Lizard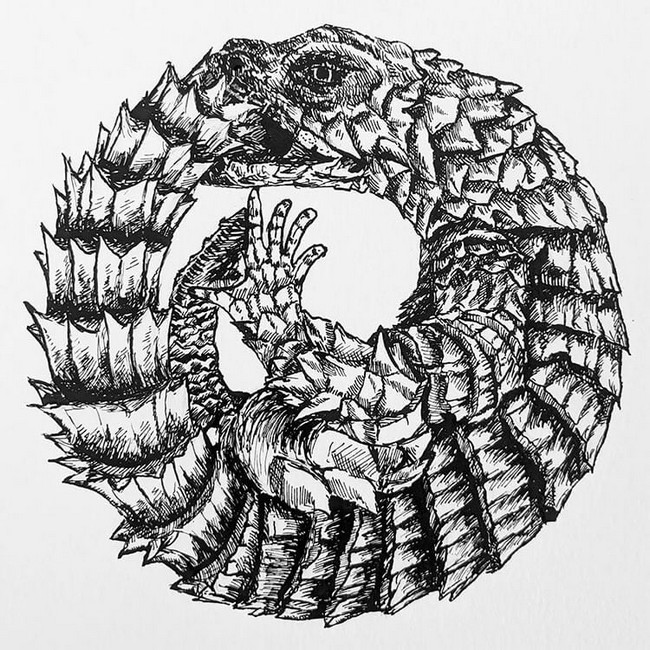 The armadillo-girdled lizard, including the Amazon rainforest, is a reptile in South America. This charismatic little lizard is very popular with kids and adults alike, making it an ideal subject for sketching and painting. Follow this quick drawing tutorial to draw the Armadillo Girdled Lizard step by step! This easy-to-follow lesson plan helps you draw this lizard with easy-to-follow instructions and references.
Realistic Green Iguana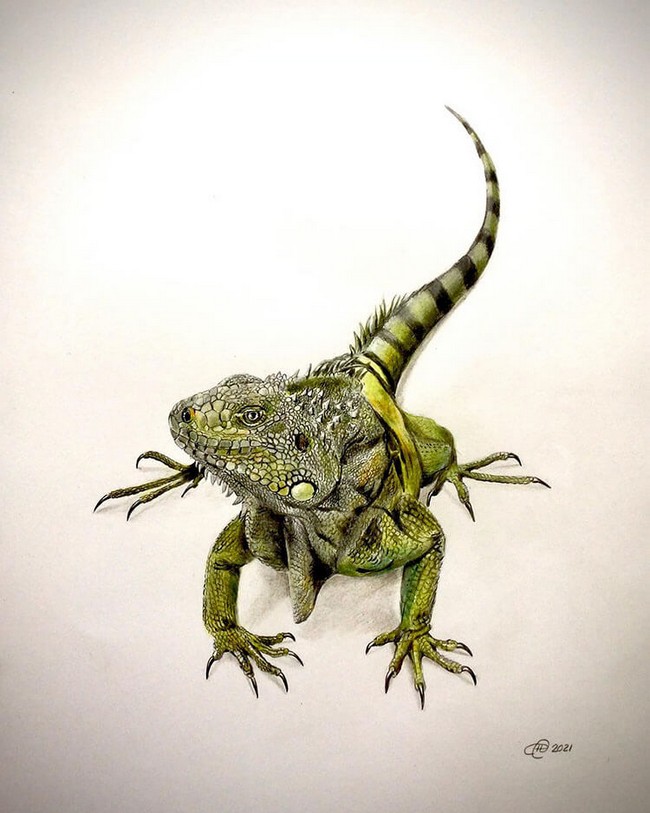 Drawing a realistic green iguana is fun, and this step-by-step lesson can help you add the final touches to your art. The Realistic Green Iguana Drawing is the perfect way to brighten up your room and make you smile. It's hand-drawn in softly colored pencils and has incredible detail, making it appealing to any iguana lover. The artist did a great job reproducing this green iguana's curves, scales, tail and eyeliners!
Ocellated Lizard
Looking for the perfect gift for a loved one who loves reptiles? This beautiful ocellated lizard drawing is a perfect choice. Ocellated lizards are found in rainforests and woodlands in southwestern Europe. They are small to medium-sized lizards, with adults reaching up to 2 feet in total length. Their coloration is highly variable; some individuals have orange and red stripes running down the back of their heads, while others have blue and white scales or green spots on the sides of their bodies. The drawing of this guy is a perfect addition to your collection!
Iguana Drawing
Looking at an artist's work in progress always helps to see what makes them unique. Each artist has their own style and their preferred techniques, so seeing their progress can help you learn about their preferences and how they create their artwork. There's still a bit of shading on this Iguana Drawing - so it's a good idea to look at the finished product for reference and then try drawing your version. There is so much detail in this little guy!
Crested Geckos
Step forward, and admire the beauty at hand. Crested geckos are some of the most stunning reptiles in the world, each with its unique color pattern. This crested gecko drawing is a colorful piece of art that would make a great addition to any room in your home. The artist has created a realistic depiction of this creature from nature. This drawing features different crested gecko colors in a vibrant piece you're sure to love. These reptiles are easily distinguishable from others because of their unique coloration.
You can also see: Tree Drawing Ideas 
Colorful Iguana
This realistic drawing of an iguana is colorful, eye-catching, and sure to be a conversation starter. With its flashing shades of green, red and blue, this hand-drawn piece makes for the perfect party decoration or gift. The hue of each color is vibrant and varied across the sketch. This piece of art could be hung in any room without clashing with other colors if you wanted to use it as an accent piece against a neutral wall, for example. From the reptile's scales to its eyes and the intricate patterns in its skin, this image captures all of the details.
Chameleon Drawing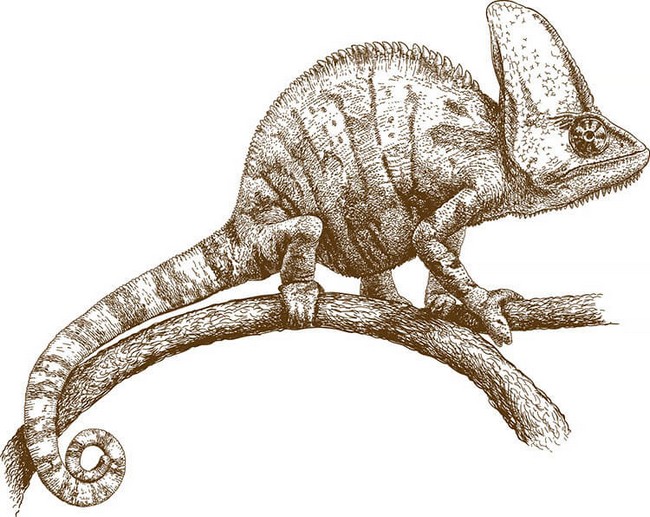 This chameleon drawing is one of a kind. The chameleon's details are intricate, and the artist has captured its characteristics with an exacting eye for detail. This chameleon drawing is an excellent example of a detailed and realistic depiction of a beautiful wild animal. The artist has created an exciting composition, showing the creature in its natural habitat on a leafy plant. The subject matter is interesting, and there is the text that provides information on the animal.
Gecko Drawing
The Gecko Drawing is a beautifully detailed depiction of a lizard drawn by hand with ink. The drawing shows the gecko's body, which is slender and covered with scales, as it looks in profile. The artist has rendered its long tail and long toe pads. From its sharp eyes to its long slender body, this little reptile looks beautiful and natural. This beautiful and realistic drawing of a gecko is done by a talented artist who carefully captures all the details of this reptile's body.
Iguana Pen Drawing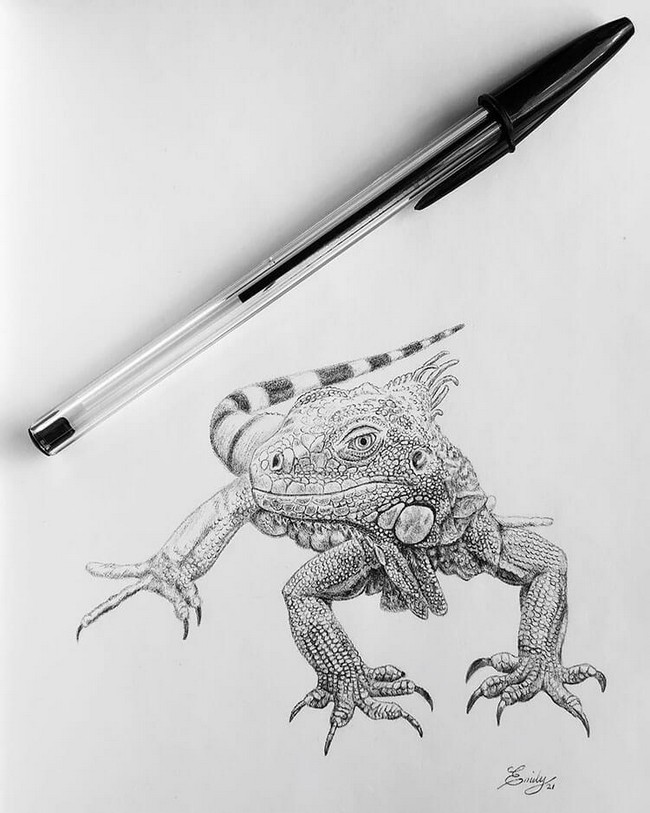 This is an unbelievable piece of art for all kinds of reasons, but the fact that every scale on the Iguana's body is visible, and the shading on its body makes it look like it could be real is incredible. This beautiful and highly detailed iguana drawing will add an exotic touch to your home. The artist's intricate work makes the Iguana look lifelike. This drawing pays attention to every detail, from the tips of its ears to the end of its tail. It is a complex work of art that any reptile lover will appreciate.
Black and White Reptile Drawing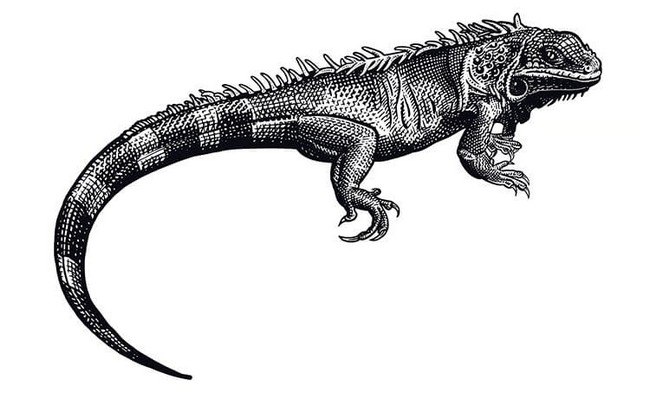 The Black and White Reptile Drawing features a striking iguana in gallery-quality black and white. If you look carefully, you can see the scales, bumps, and textures that make up this creature. This realistic rendition of a reptile will catch your eye with the textural detail that helps make up this creature's unique look. The artist used shading to create shadows that capture every curve of this reptile's body. With its detailed scales and bright eyes, this reptile will look great in any room.
Realistic Orange Iguana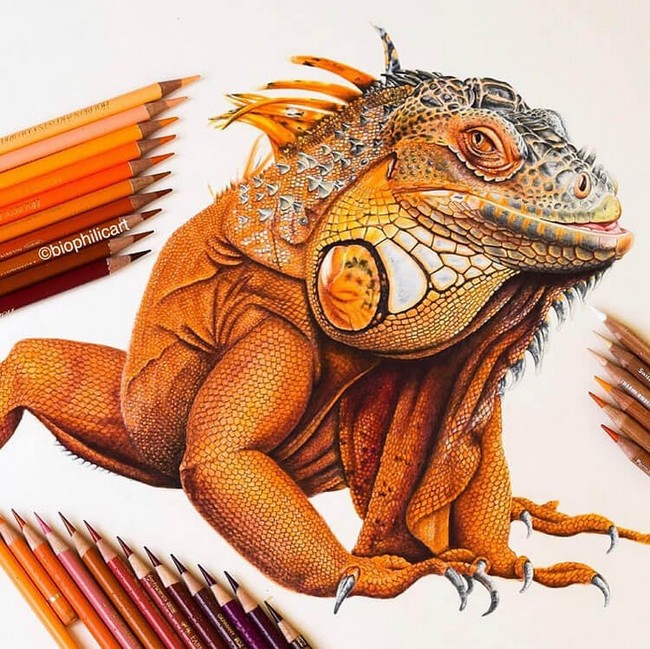 This orange Iguana features an adorable smile and is done using colored pencils on high-quality paper. It captures the essence of this lively creature with its eye-catching orange colors and fine details. An effort has been made to keep the original style intact so that you can admire the artist's workmanship with maximum detail. It would be a great addition to any home or office decor and will make a wonderful gift for family or friends who love animals.
Gecko from Above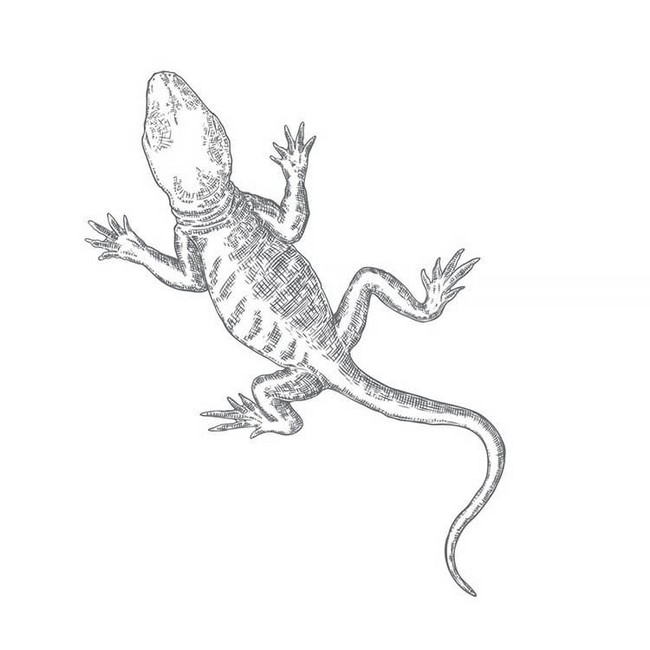 In this drawing, the gecko's intricate patterns are even more stunning when seen from above. Cross-hatching was done to add detail to the gecko's skin and depth to the drawing. The cross-hatching adds detail to the skin and makes it look more realistic. Could you take a minute to study it? Check out how the gecko's armor-like patterns become even more stunning as you view it from above. It's amazing!
You cna also see: Tiger Drawing Ideas
Komodo Dragon Drawing
The Komodo Dragon is the largest lizard species and can grow up to 3 meters (10 feet) in length. The Komodo Dragon is known for being aggressive, but most encounters turn out to be a mock attack before the dragon flees. This unique Komodo Dragon Drawing is an excellent gift for artists, art collectors, and wildlife enthusiasts. This original artwork features the front view of a Komodo Dragon from one of its native islands. You can hang it up for display in your home or office or show it to friends.
Chameleon Head Drawing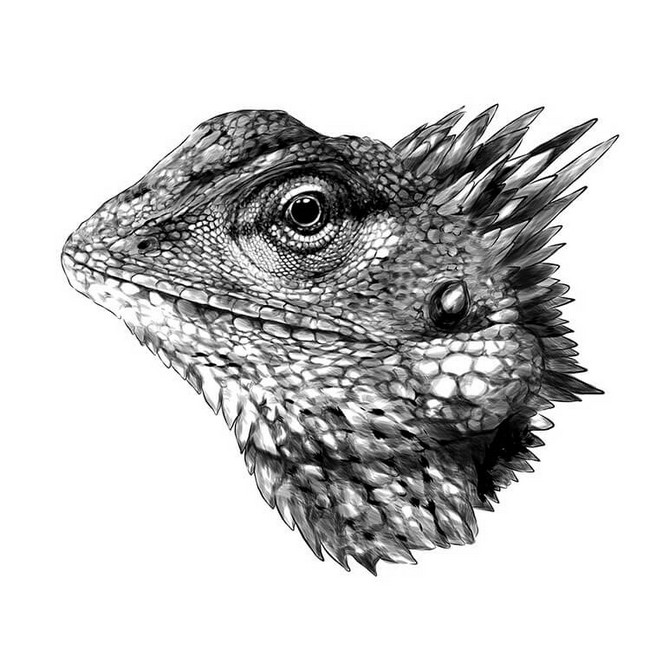 This head drawing of a chameleon is an excellent example of the detail and precision required to create a portrait of this unique reptile. The complex shapes, angles, and curves will render precisely with watercolor pencils. The beginner artist will discover how to create a three-dimensional effect, while the advanced art enthusiast will enjoy mastering first lateral than vertical shading. This realistic portrait of a chameleon demonstrates this medium's fantastic detail and realism.
Fun Lizard Drawing
If you've been craving a fun new drawing tutorial, this is it! Learn how to draw a lizard in just a few easy steps using colored pencils. It's great for kids and adults alike. You can use two or three colored pencils to create this cute lizard full of personality. The vibrant colors will surely get young artists excited about creating their illustrations. Make it easy on yourself, and follow our easy drawing tutorial to learn how to draw a cute and fun lizard.
Realistic Lizard Drawing
Drawing lizards is a lot of fun. They are just fascinating to look at and draw. They have lots of lovely shapes and textures, which can be challenging to get right at first, but once you do, it's satisfying. This tutorial takes you step-by-step through drawing a realistic lizard, including a simple shading method. Drawing realistic lizards can help you to understand how to draw other animals in a realistic style. It's ideal for children or adults of any age looking for fun nature art ideas.
Chameleon Outline Drawing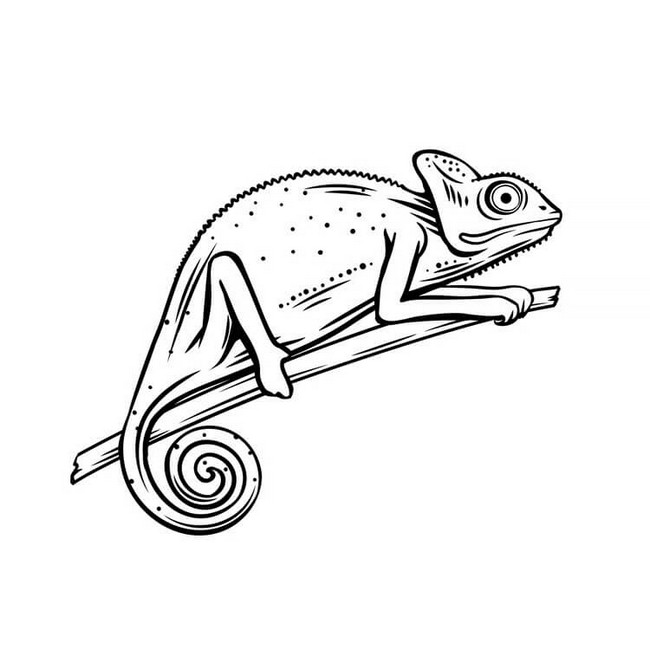 Chameleons are popularly for their ability to change color. They are primarily green but can change color to match their surroundings. This drawing tutorial will show you how to draw a chameleon in the most realistic manner possible. This tutorial will walk you through each step of creating the shape of each section of the chameleon and how to add depth and shading for realism. You could look at this little guy all day long!