17 Free Crochet Sun Patterns For Beginners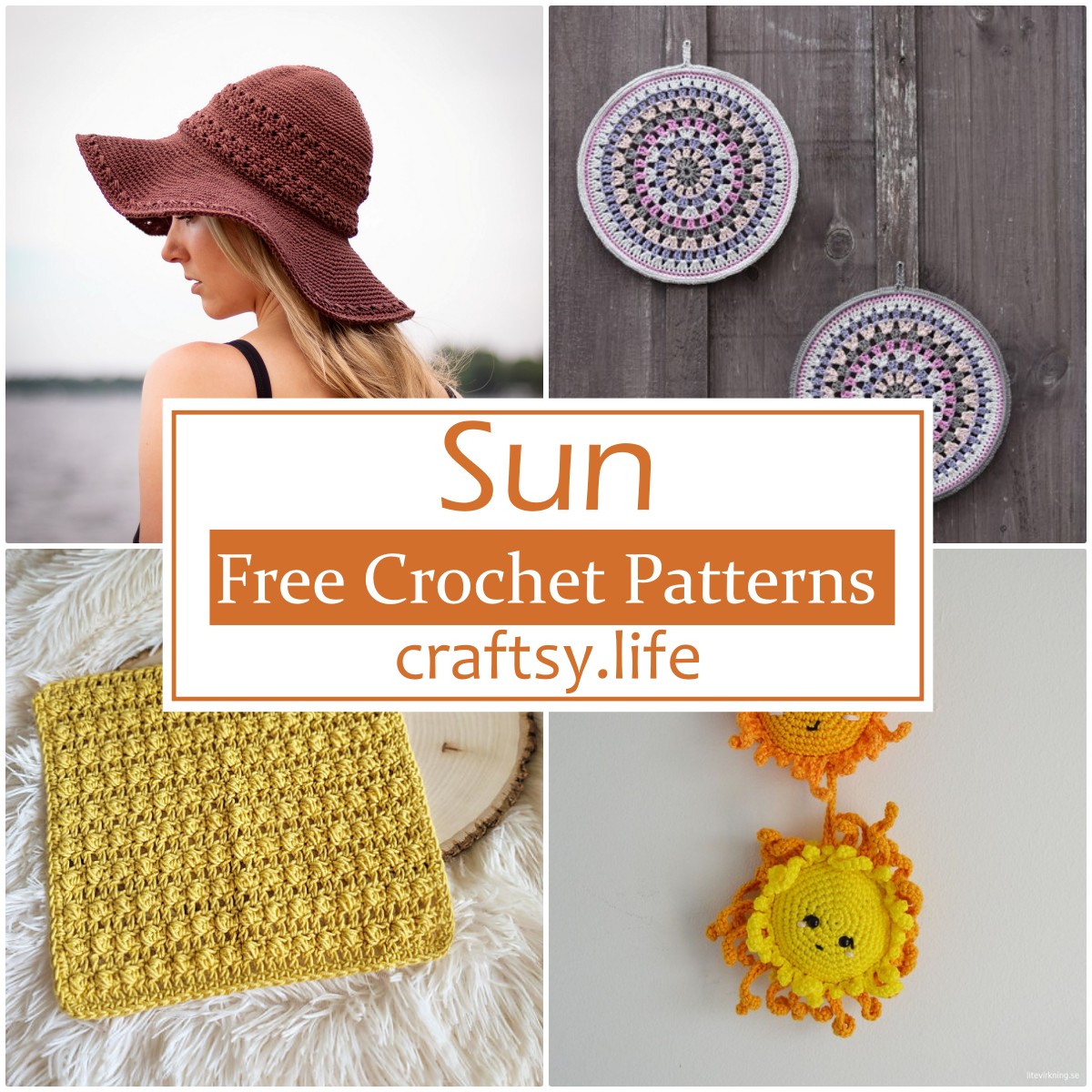 Now that we're into summer, it's time to think about warm days, outdoor fun, and the sun. It's also time to think about crochet patterns—crochet sun patterns, in particular. From a crochet sun hat to an entire crochet sun blanket, there are plenty of opportunities to show off your crochet skills and produce some lovely summery accessories. If you're looking for inspiration for your next project, check out these 17 crochet sun patterns. These crochet sun patterns are designed to be realistic and fun, perfect for a child's bedroom, summertime decor, or just hanging around the house wanting a smile or two!
Easy Sun Crochet Patterns

If you love the sun, you'll love this collection of crochet projects. Crochet sun patterns will help you to create picture-perfect suns to hang proudly on your wall or give as gifts for birthdays and other special occasions. Whether you want to escape the heat or add a burst of bright color to your home, these crochet sun patterns will brighten your day. These simple projects can be crocheted in just a few hours, making great last-minute gifts. Make these adorable crochet sun patterns for your home. They're sure to brighten up any space.
Benefits Of Crochet Sun Patterns
Crochet the sun and make your hands busy.
It's a great way to decorate your home. Crochet sun patterns are very colorful and beautiful. They will make any room more vibrant and cheerful!
They make excellent gifts! People love getting handmade gifts and valuable items like these crochet sun patterns!

They are easy to make! You don't need special tools or skills; all you need is some yarn and scissors!

You can use them anywhere around the house or garden! From hanging on the wall to being placed on the table, there are many ways to incorporate crochet sun patterns into your life!
Tuscan Sun Dishcloth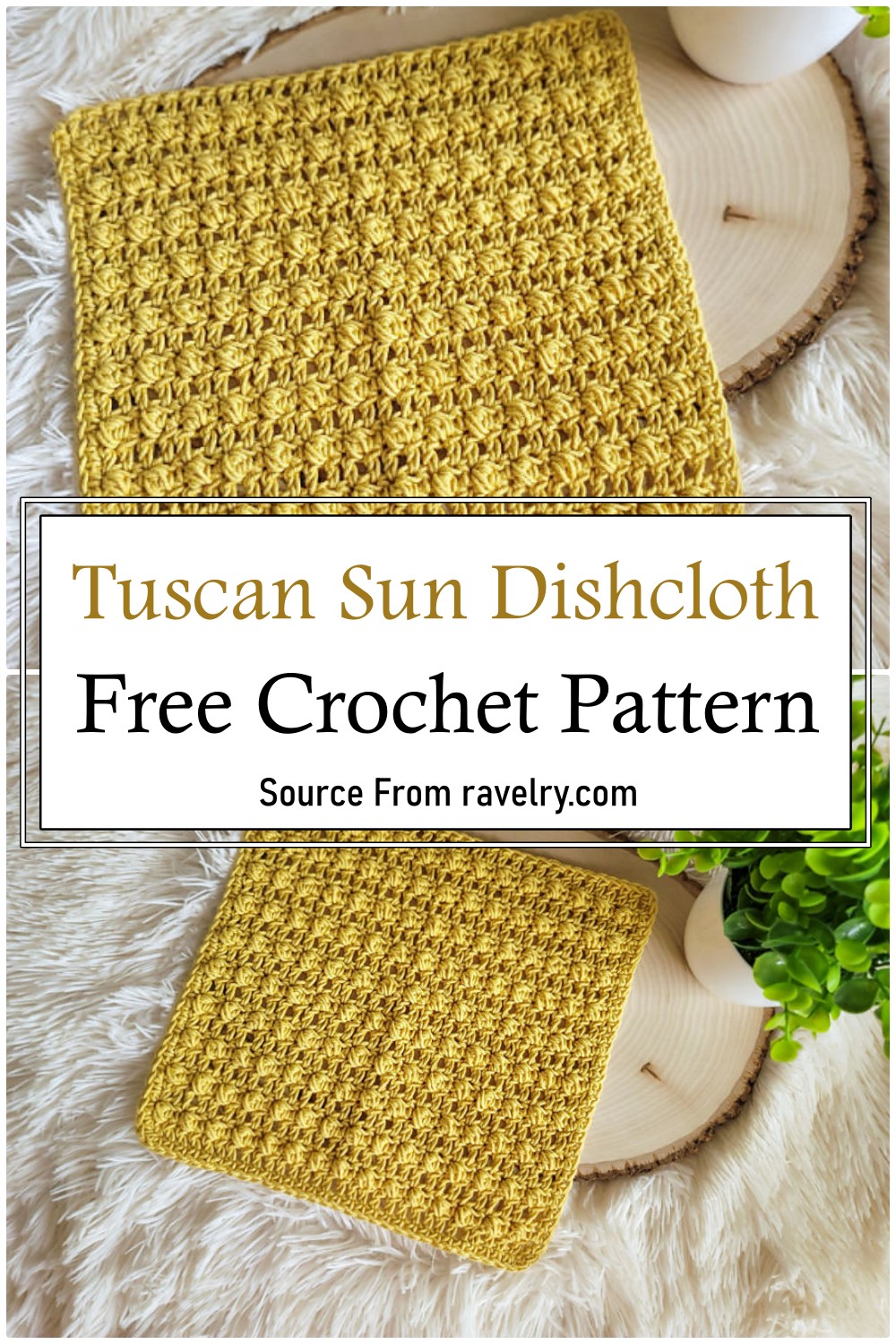 Update your kitchen essentials with this gorgeous crochet sun dishcloth. Lightweight and absorbent, it's the perfect kitchen tool to help you shine! This Crochet Sun Pattern is a modern twist on the traditional sun design. The result is a fun yet functional summer dishcloth. This project is easy to follow, with detailed instructions and helpful photographs. It knits up quickly using the worsted-weight cotton yarn. You will need one skein to make this dishcloth, and you'll have enough to make several more just alike!
Seaside Sun Hat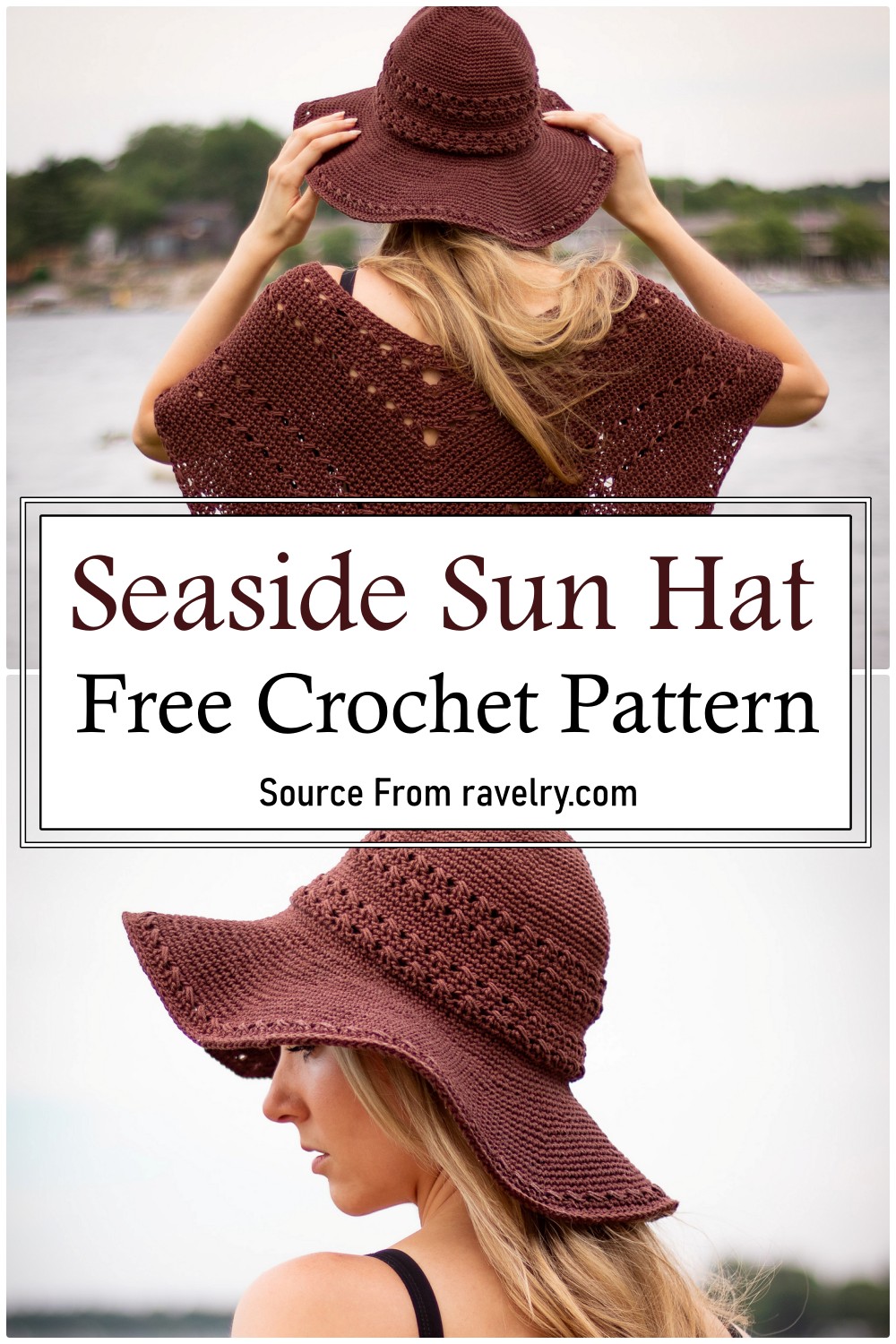 Seas sunset in the summer, comfort, relaxation, and harmony. This crochet sun pattern is perfect for those who like to relax near the beach or by the pool. It has a wide brim to protect you from the sun's glare, and the round shape will give you extra coverage. The shell pattern is easy to follow but gives this hat a pretty look. It makes a beautiful gift as it is easy to make and can be personalized by simply changing the color of the yarn you use.
Sun Blanket Square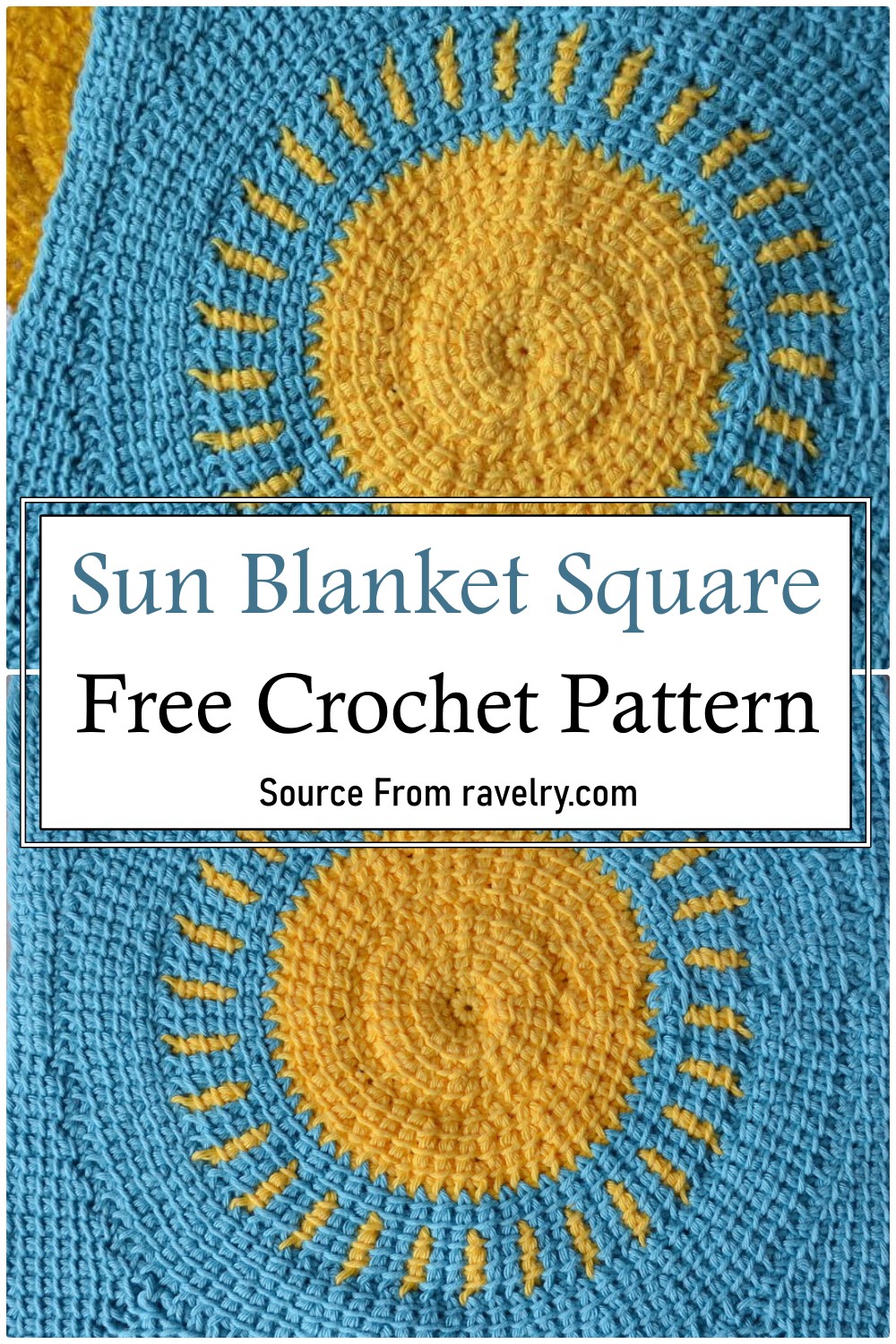 Crochet this deluxe sun square blanket as a reminder of summer fun and bright days. Follow along with this tutorial, and you'll cover crochet goodness in no time! You will love how the Sun Blanket Square looks, with a nice pop of color that creates a fun crochet blanket pattern. Featuring two different color combinations, you can mix and match to create your unique look for any room in the home.
Sun Dial Throw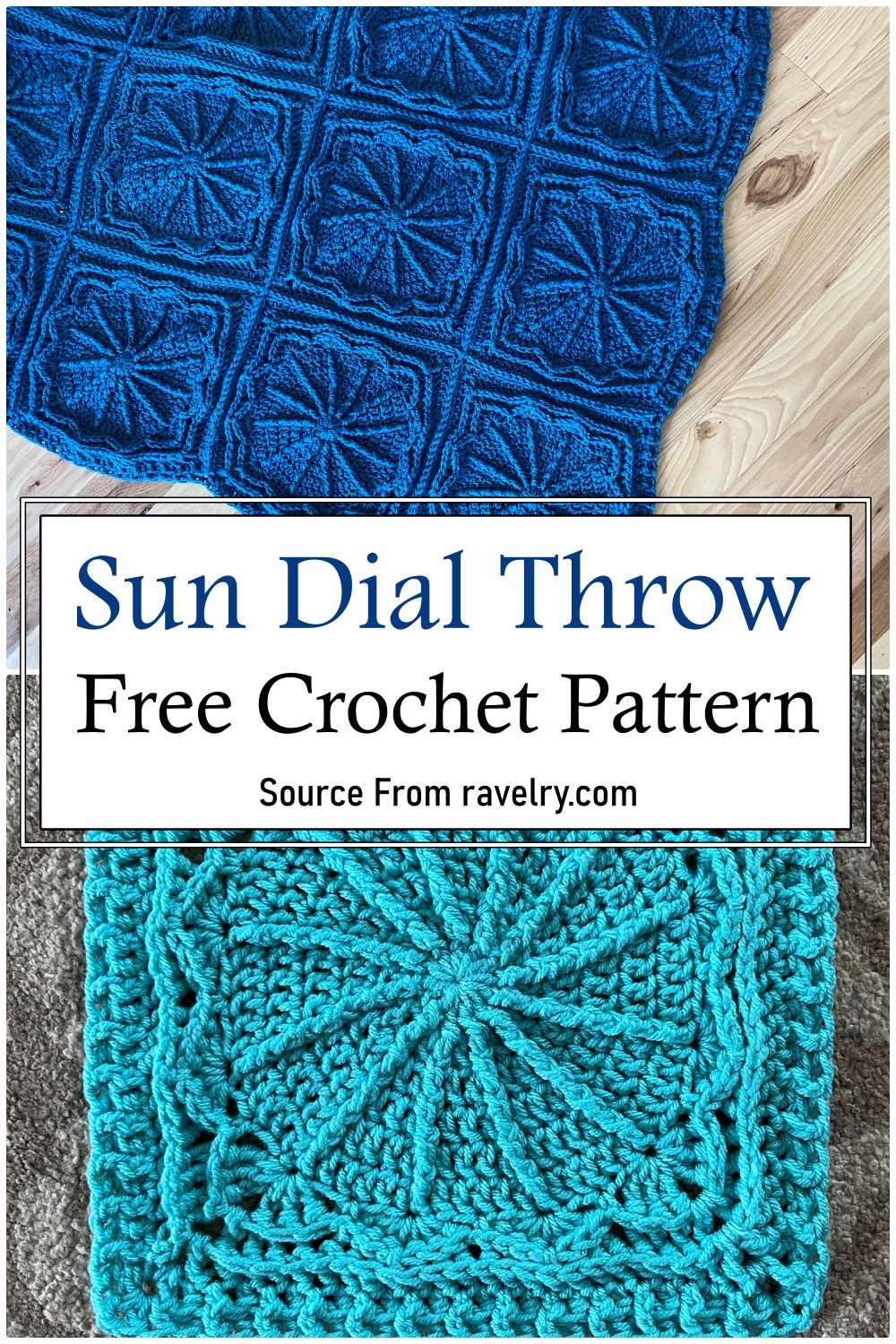 Get ready for summer in this throw. The crochet Sun pattern is made of bright colors and can be customized to fit your style. Featuring a simple crocheted sun design, this throw offers a beautiful accent piece but can also be folded up and easily stowed as a lightweight travel blanket. Follow the easy crochet steps and make one for yourself, or give it as a gift to someone special. The sun-dial throw will be their favorite on those summer days.
The Sun's Out Dishcloth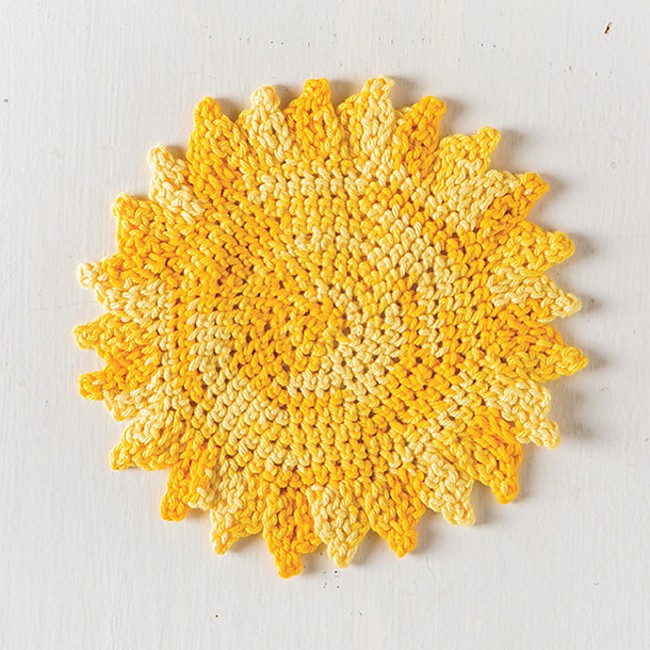 This dishcloth is inspired by the shape of the summer sun. The crochet stitch pattern is simple and quick to work up, so you can finish this dazzling dishcloth in no time. The Sun's Out Dishcloth works quickly and makes an easy, instant gift. It's simple, so it's perfect for beginners looking to try a new skill or someone who needs a quick project while traveling. It would also make a great companion project or dishcloth on display!
Spring Sun Hat
Celebrate the coming of spring with this free crochet pattern. The Crochet Sun Hat is the perfect project for spring and will surely brighten the day of anyone who receives it! This Sun Hat is the perfect project you'll want to work up in any color. You can even throw it on over a ponytail! This crochet sun pattern is so fun and easy. It works up quickly, and you'll have the perfect hat for warm spring days
Sun Daze Bucket Hat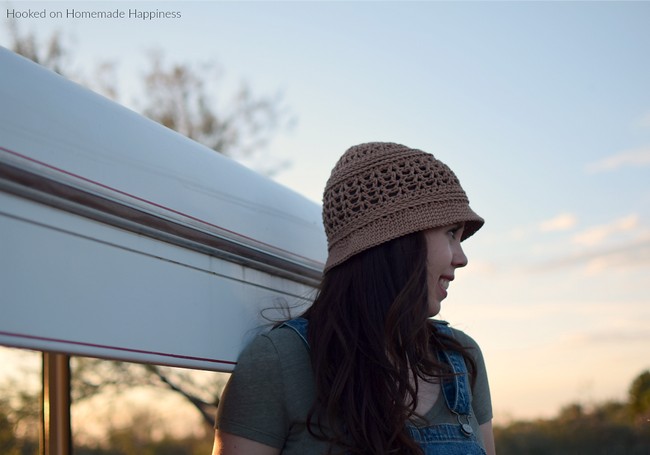 Sun Daze Bucket Hat is a simple but super cute crochet hat. Using only 1 color of yarn makes a perfect summer project! Whether it's a cloudy day or sunny, you'll be prepared to face the rays with this crochet bucket hat. Made from natural cotton fabric, this sunhat is just as fashionable in the summer as it is in winter. It will protect you from harsh UV rays and keep your head warm when the temperature drops.
Sun And Stars Granny Square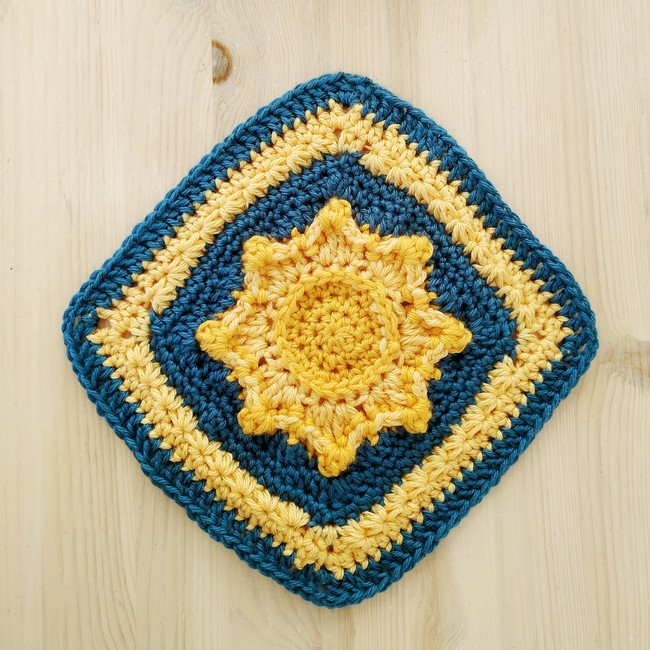 Sun And Stars Granny Square is a timeless crocheting pattern that combines the classic granny square with a beautiful sun and stars motif. Create a memory blanket for a new baby by starting with this beautiful sun pattern. The design is such whimsical children of all ages will love it. This pattern makes a vibrant, striped granny perfect for a summer blanket or wall hanging. This pattern has been designed to be made with either cotton yarn or an acrylic/polyester blend.
You can also see: Crochet Granny Square Cardigan patterns 
Desert Sun Hat
This crochet sun pattern is a quick and easy way to enjoy the beauty of nature. Crochet this design for a fun and stylish summer look. This pattern features an easy-to-follow sun design created using simple crochet stitches and worked up quickly in worsted weight yarn and an H/8 (5 mm) crochet hook. The crochet sun pattern looks real, but you can wear it anytime and anywhere! Because of its unique design, it also fits any size and shape of the head.
June Sun Hat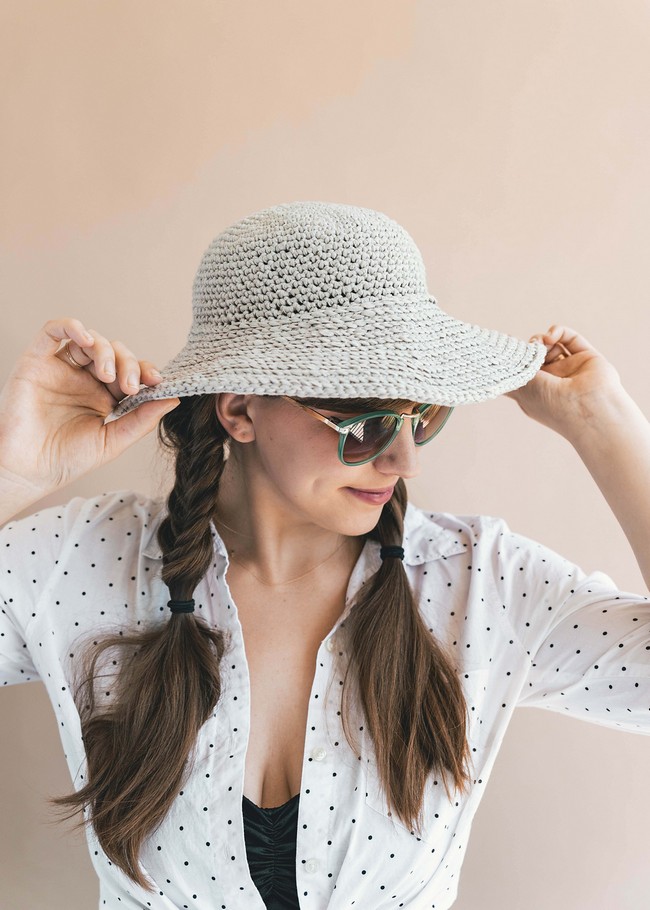 Keep your style on point with this crochet sun hat pattern. The crocheted brim gives you a nice edge, and the easy construction gives you a quick finish. This delightful June Sun Hat features a round, quick-to-work crocheted sun motif. Wear it as an accessory to your favorite casual outfit, or layer it under a winter hat for extra warmth. This sunny hat can change in any color to brighten anyone's day!
Sun Star Snowflake
It's a Sun, and it's a star, it's a snowflake! Worked in the round, this crochet sun pattern is easy to make and makes a great Christmas tree ornament or stocking filler. The crochet pattern includes instructions for making the sun and a star or snowflake. This crochet project would make a great home decoration or a pretty gift for your favorite friends or family members. This free crochet pattern is easy to follow and makes a perfect decoration for your home throughout the year.
Sun Of Eighteen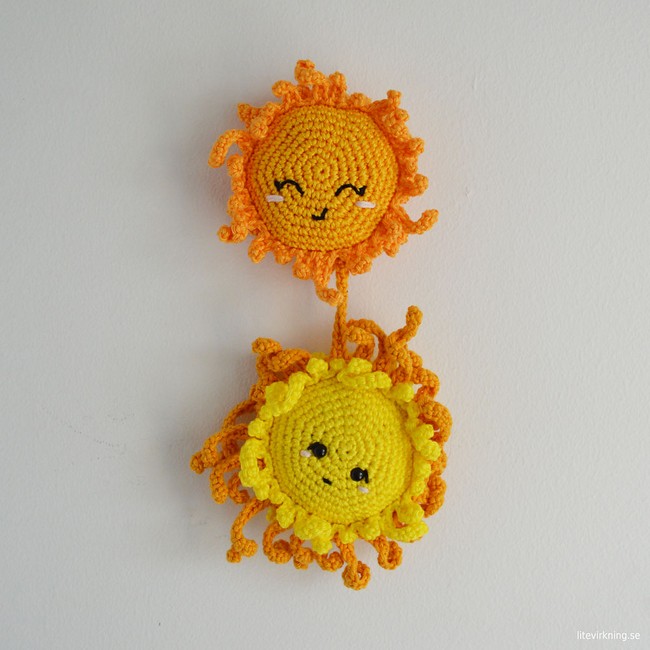 This elegant sun pattern will add a unique, charming touch to any room. Make it your own by choosing the colors and yarn that best match your window. This pattern is great for even beginners because the sun features simple stitches that can work in any order. You can make it using any medium-weight yarn in any color your heart desires. You can also use scraps of yarn or one strand of yarn per color.
Sun Shine Amigurumi Sun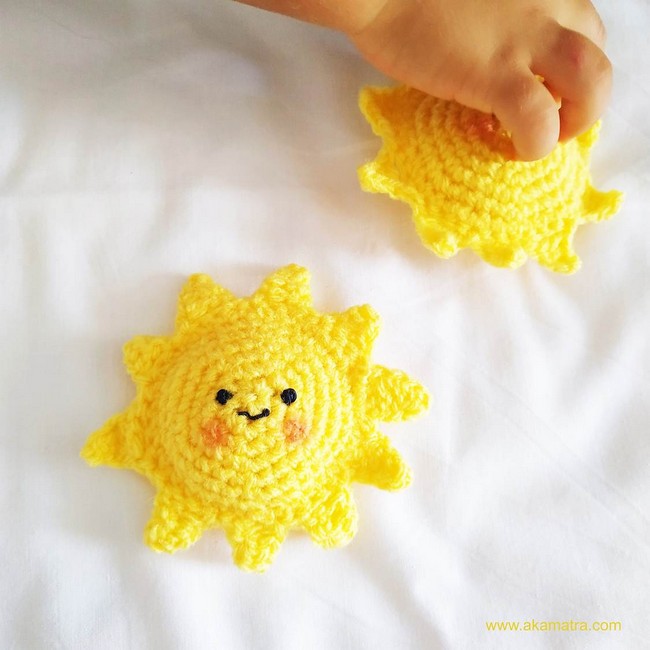 A crochet Sun Pattern is the material needed to create a Sun Amigurumi. Sun shining Sun. This guide on crochet the Sun will show you in full detail how to create this adorable sun-free pattern that anyone can follow. This crochet sun pattern is an easy amigurumi project that makes a lovely decoration for your home, nursery, or garden. It's incredible how much crochet you can do with one ball of yarn!
The Sun's Out Dish Scrubby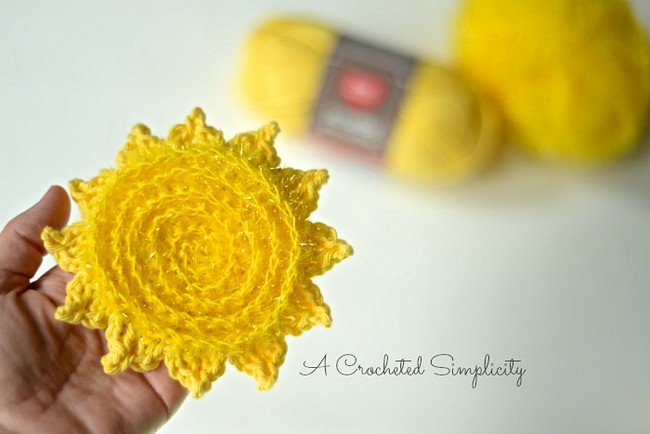 The Sun's Out Dish Scrubby is a bright and colorful scrubber that will brighten your kitchen. Make dishwashing more fun with this crochet sun pattern. This dish scrubby is made from yarn, so it doesn't scratch dishes as a sponge does. The crochet sun pattern is super easy to follow, making cleaning more fun. The pattern calls for only one skein of cotton yarn, so it's great for using up your leftovers! You can also use this pattern to create scrubbies that are great for cleaning indoor windows or outdoor patio furniture, not just the dishes!
Country Sun Catcher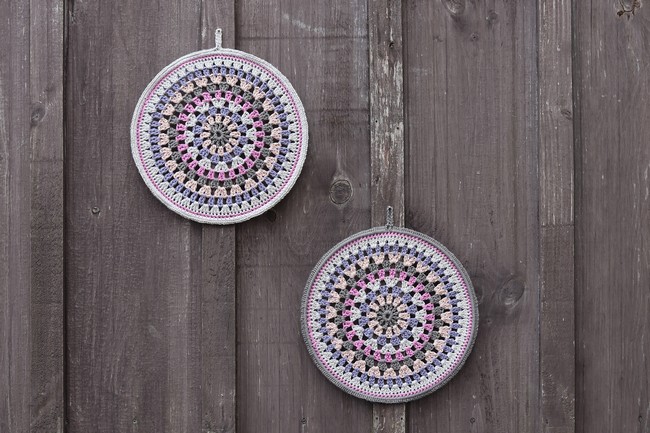 A great way to start a beautiful collection of suncatchers! This Country Sun Catcher is easy to crochet, using only one skein of worsted weight yarn and any one-size crochet hook. Learn how to use this vital technique that creates stunning results! This pattern is designed to make a sun in the shape of a country with an embroidered grid background. This sun catcher can hang inside or out, but it's more fun when displayed outside, where the sunlight sparkles through it!
Moon Mini Wall Hanging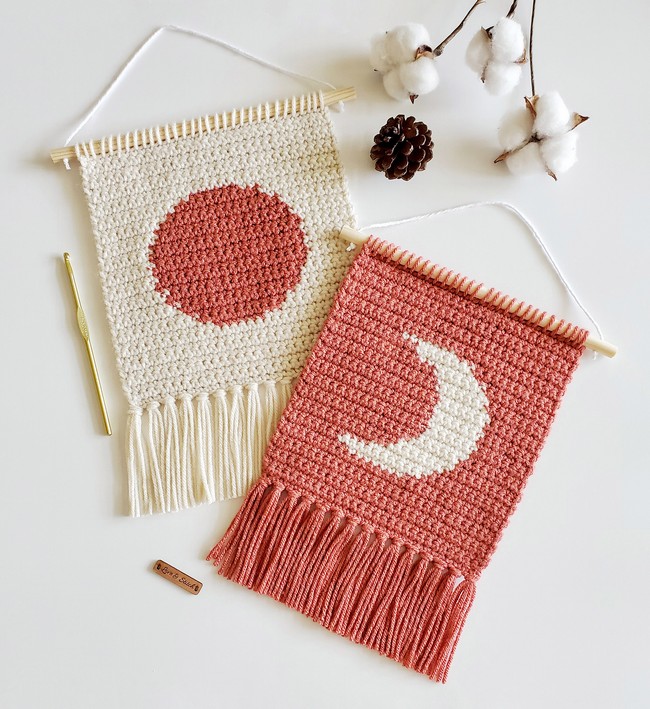 You will love this sun and moon mini wall hanging crochet pattern. The instructions are easy to follow, with photos throughout. If you have never tried crochet before, this is a great project as it doesn't take much yarn and makes a great beginner's project. The finished product would make a welcome gift to friends and family members who enjoy crocheting, or it could be hung on someone's wall for either decorative or religious purposes.
Sun City Bag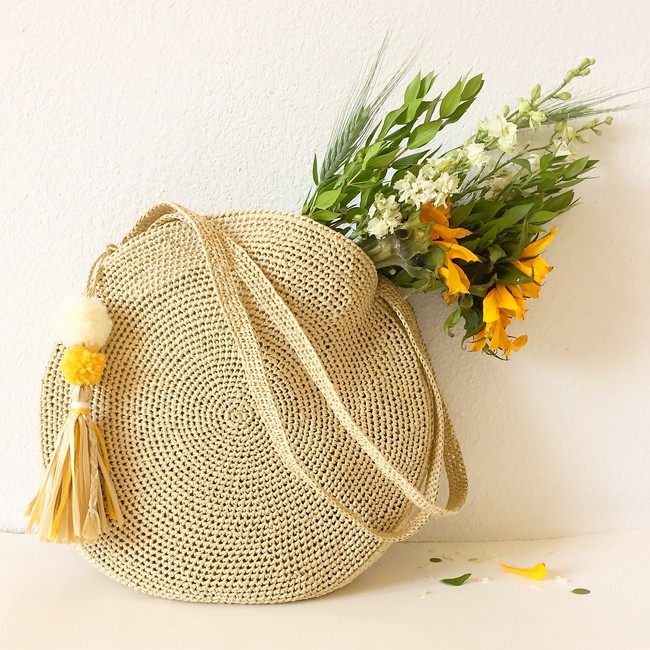 This sun bag is a warm-weather favorite! The City Bag pattern is easy to follow, quick to work up, and doesn't require any knowledge of advanced stitches. This Sun City Bag will let everyone know you're ready for summer while keeping your essentials safe and secure on a hot day. Use it for picnics, long walks through the park, or as a convenient grocery bag. The possibilities are endless! Perfect for keeping track of documents or accessories that used to fly out of your purse in your younger days.