13 DIY Hammock Stand Ideas For Your Garden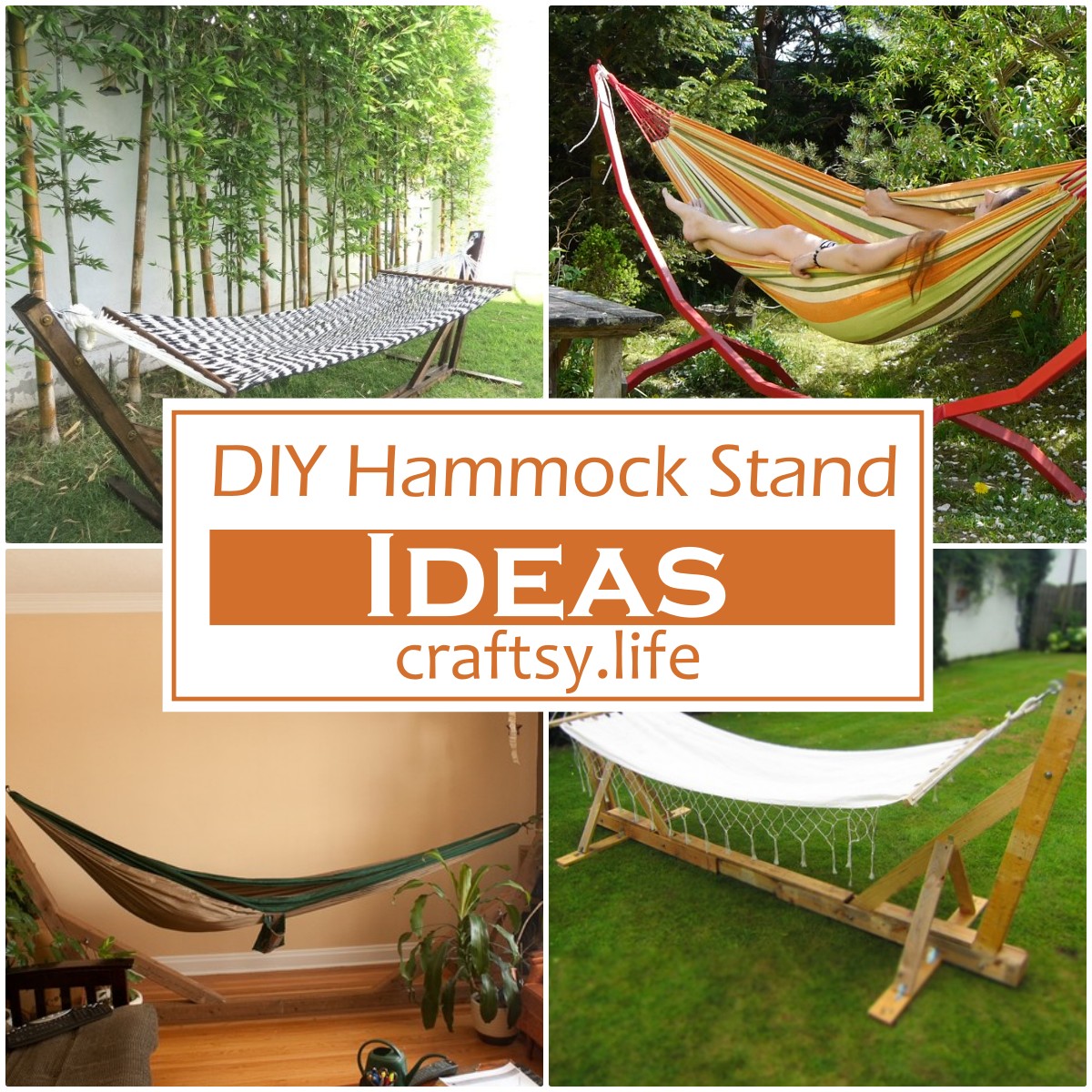 Laying down on a hammock is one of the best summer activities, but not all have trees in our backyard. Luckily there are many other ways to hang a hammock, so you can relax while hanging out. These 13 DIY hammock stand ideas are going to inspire your creation. Whether you're a DIY enthusiast or don't have a single crafty bone in your body, hammock stands are an excellent way to get outside and enjoy nature. These stands allow you to hang your hammock wherever you want to relax without all the hassle of finding the perfect tree branch.
Homemade DIY Hammock Stand Plans

A hammock is a fun and affordable way to sit back, relax and enjoy the outdoors. But you'll need a sturdy pole or a stand to hold your hammock up, so all you need to do is lie back and relax. Check out these DIY hammock stand designs that are easy to make with materials around the house or out in nature. Hammock stands are perfect for those who want to hang their hammock indoors and out. With these DIY hammock ideas, you can find one simple to make or adaptable enough to fit your space.
Benefits Of Having DIY Hammock Stand At Trips
DIY hammock stand ideas are an exciting way to add more comfort and style to your backyard, but they take some time to build. If you're not a handyman, don't worry! Here are some benefits of DIY hammock stands:
They're cheaper than buying them pre-made
You can customize them to fit your space or style
They're easier to install than you'd think
DIY Hammock Stand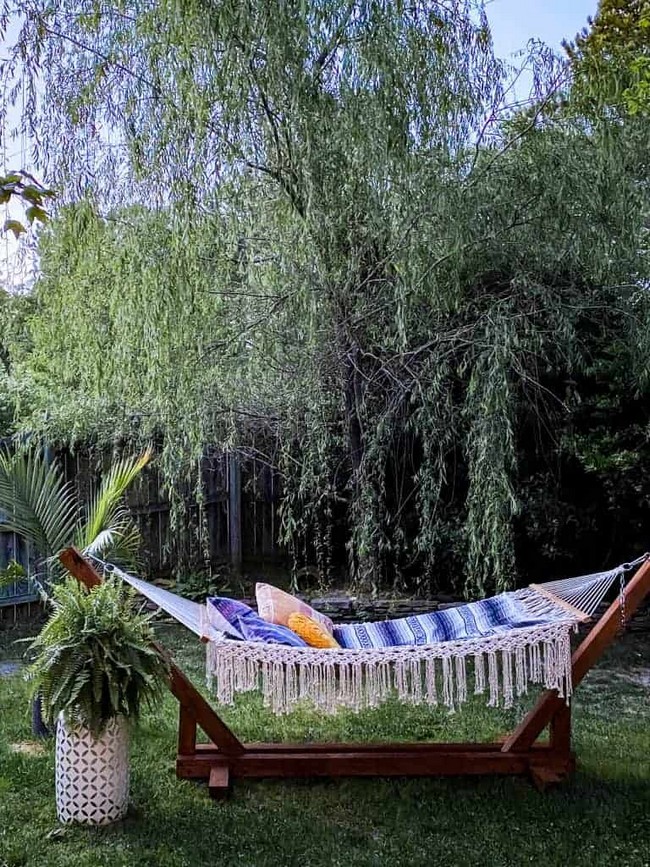 A hammock is a great place to nap, read a book and enjoy nature. You can buy one, but you can also make one yourself from things you already have at home. It takes about a day to make this DIY hammock stand. This DIY hammock stand is a simple guide on how to make your hammock stand for less than $10. It can be the perfect addition to your backyard, patio, or sunroom.
DIY Hammock Stand
You're here because you want the best outdoor hammock stand. Well, keep going with a cheap one. This is your backyard oasis. You deserve to relax in style with this DIY hammock stand. This DIY hammock stand is simple, elegant, and only takes a few hours to make. The design itself is fundamental and allows for the excellent flexibility of hanging it in any spot in your backyard, whether on a deck or freestanding poles on the ground. This project will grow your confidence if you've never made anything for yourself!
Easy DIY Hammock Stand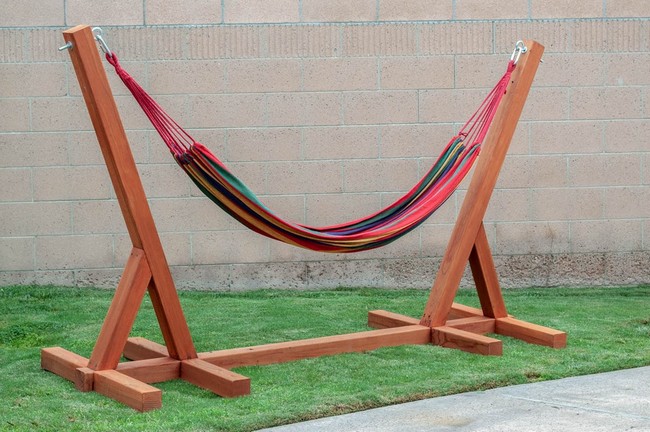 If you have the tools and parts in your garage, this easy and fun project will take less than an hour to complete. Set up a backyard hangout in a matter of minutes with this easy DIY hammock stand. With some help from your tools and one gallon of paint, this hanging hammock chair will be ready to go before you know it. Take your hammock from a relaxing hangout to a focal point with this DIY stand that makes it easy to set up anywhere.
How To Build A Diy Hammock Stand From Posts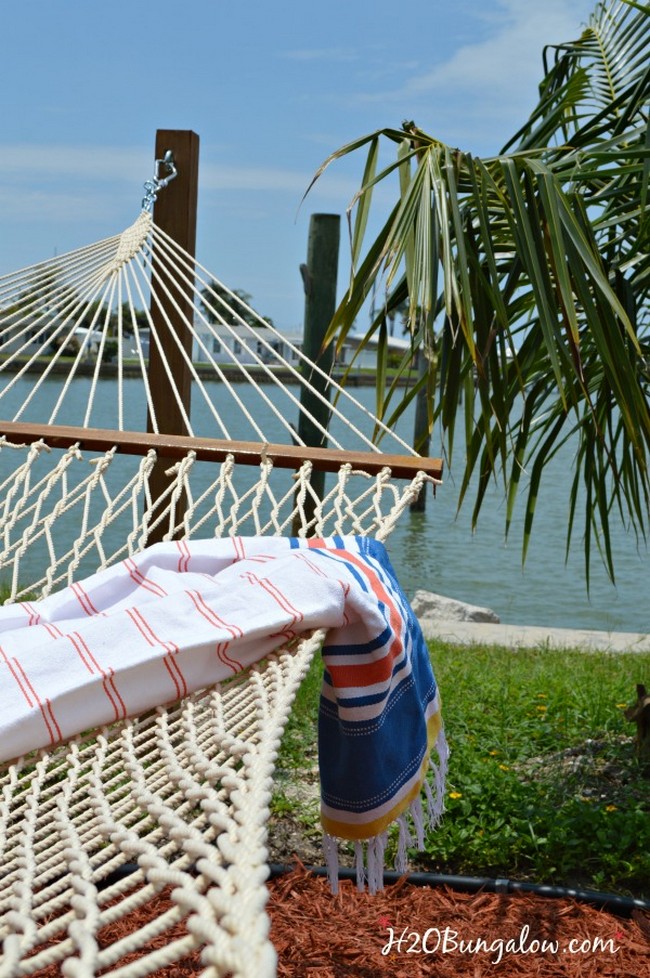 A Diy Hammock Stand is the perfect addition to your backyard. Create a relaxing place to read or hang out with friends and family. Build a sturdy hammock stand from posts and pipes to create your backyard hangout. Whether you need to accommodate children or adults, these instructions will help get you started. This DIY option offers a luxury of a backyard or patio hammock lounge. You'll learn how to make a simple, sturdy DIY hammock stand from posts.
Metal Hammock Stand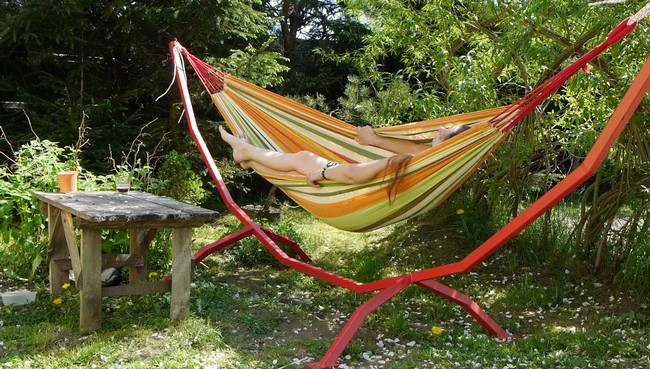 Make your hammock stand with a wooden beam and metal pipes. This is an easy DIY project that can be done to make your hammock rack. This hammock stand will hold any size of hammock and is sturdy enough to keep even the heaviest person in the family! This stand is lightweight enough to move around quickly and strong enough to hold up your hammock—perfect for people who like a little extra freedom during their sleepovers.
Pallet Hammock Stand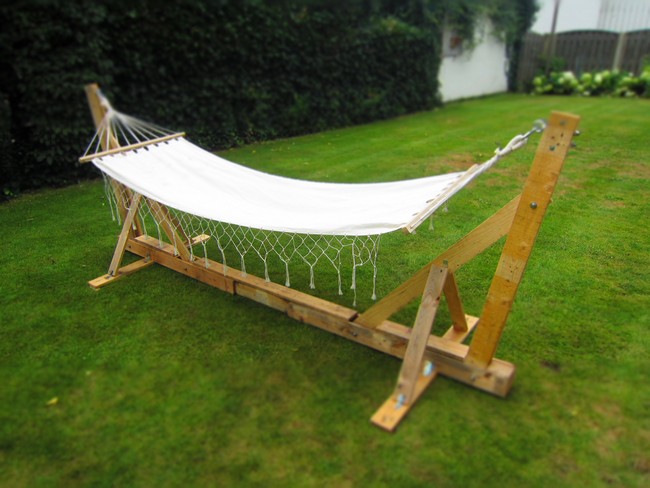 So you want a DIY hammock stand? You've come to the right place! This pallet hanging hammock is easy to make and will give you lots of space to relax. It only takes a few minutes, some wood, nails, and screws. You can hang it on your patio, deck, or anywhere you could imagine. This DIY pallet hammock stand is a simple and easy project to create using recycled materials. It provides a fantastic place to relax and enjoy the outdoors.
You can also see: DIY Lifeguard Chair Ideas 
How To Make A Free-standing Hammock Stand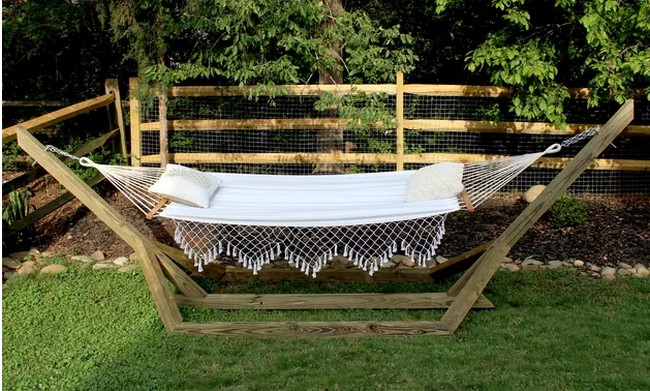 If you love to relax in a hammock, why not add a DIY hammock stand to your backyard? Hammocks are great places to read or nap. They can also be used as extra seating at parties or on the porch. This freestanding hammock stand is easy to build, sturdy, and inexpensive. This step-by-step guide teaches you how to create your DIY hammock stand. A hammock stand is made from simple materials found at your local home improvement store and will only take about an hour or two to complete. Just choose the size that suits you and get started!
Hammock Stand – Indoor & Outdoor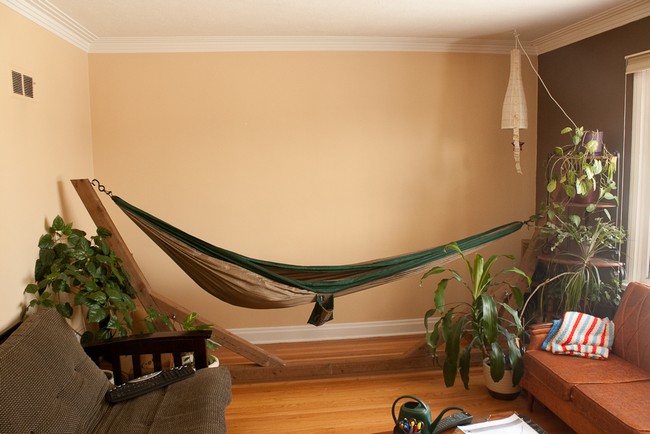 You can create this DIY hammock stand from scratch with just a few materials, including chains, ropes, and essential tools. With just a few materials and basic tools, you can construct an attractive DIY hammock stand for your backyard or patio. Whether you hang it in the shade for summertime lounging or on an indoor wall for year-round fun, this DIY project will have everyone begging you to make one of their own.
Metal And Wood Hammock Stand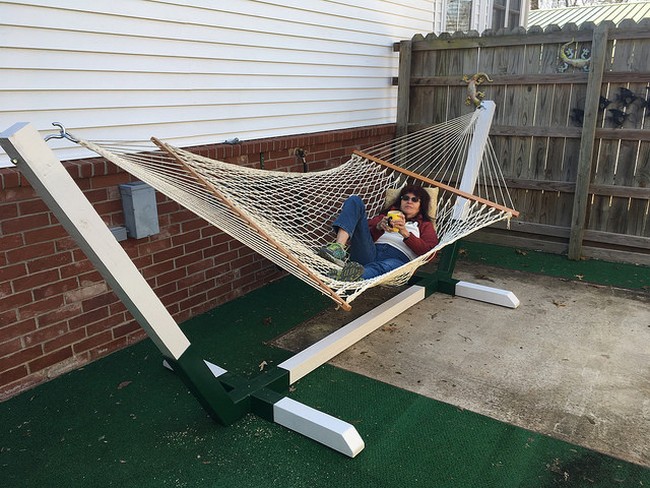 This DIY hammock stand is the perfect addition to any outdoor space. Made from metal and wood, it can be painted in any color to match your home décor or existing furniture. This DIY hammock stand is also ideal for outdoor furniture that needs a place to rest, such as rocking chairs or tables. The addition of a high-quality hammock makes the perfect spot for relaxing after work or for a bit of afternoon napping on the weekend.
DIY hammock stand
Here's how to build a DIY hammock stand. This one's great because, unlike some DIY hammock stands, this stand will hold pretty much any hammock design and size you can throw at it. You can easily adjust the height, and there is plenty of room to hang your hammock comfortably. This DIY hammock stand from Instructables is easy to assemble and install. It can be adapted to use several different hammocks, and you can even adapt it for indoor use.
Eno Hammock Stand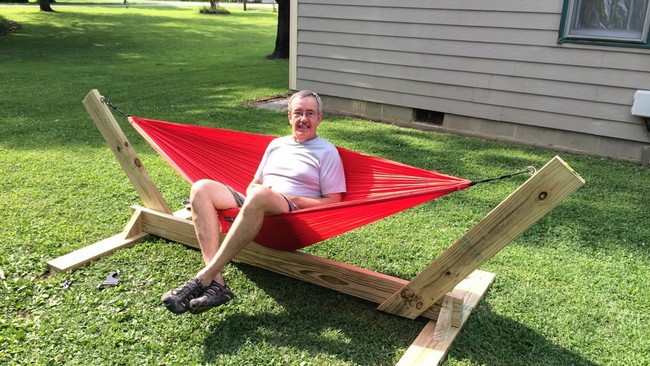 Instead of a traditional hammock, this DIY Eno Hammock Stand turns a regular old tree into a comfy place to nap. Hang from your favorite perch and listen to the sound of silence as you drift off into the great outdoors. This DIY hammock stand is quick and easy to build and works great for camping or hanging a hammock in your backyard or over a lake. It's designed to be portable and lightweight, so it can be easily set up wherever you want to relax.
Build A Backyard Hammock Stand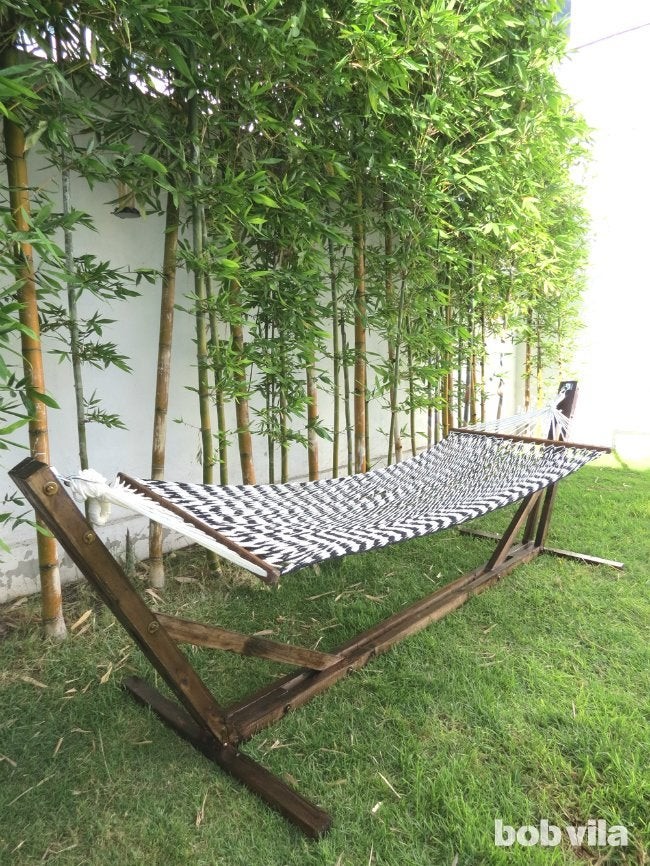 Building a homemade hammock stand is a simple way to get comfortable in your backyard. This DIY hammock stand will be the perfect addition to your outdoor space and is so easy to make you won't even need special tools! The easy-to-assemble Hammock Stand is constructed with coated steel and stainless hardware and includes all of the necessary parts for mounting in the ground or on an existing post.
How To Make A Hammock Stand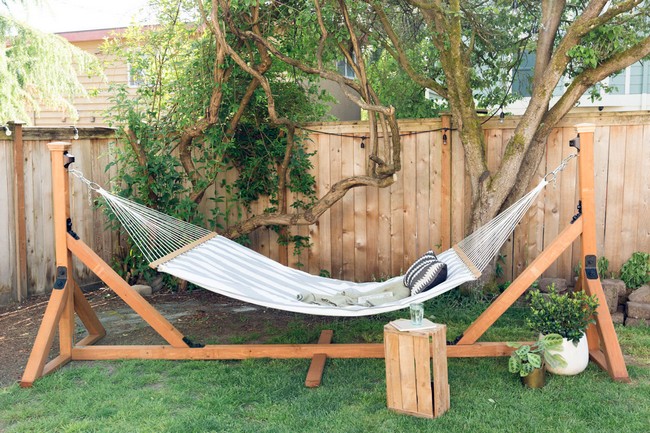 If you love to relax and enjoy the great outdoors, this DIY hammock stand can be used to create a new hangout spot. Check out this easy hammock stand design. To get started, you will need three or four wooden beams or branches, plant hooks, screws, and a few other supplies. This DIY hammock stand is perfect for hanging above your garden or patio area. If you like your hammocks to be more sturdy, check out the Sturdy Hammock Stand DIY!