Whether you're looking to hang out in your backyard or add extra seating to your home, a DIY hammock chair is a great way to get comfortable. Store-bought hammock chairs can cost hundreds of dollars, but these easy and cheap homemade hammock versions will have you lounging in no time. These hammock chairs are popular now because they provide a relaxing place to sit, read, nap, or chill out. Here are some unique DIY hammock chair ideas that will allow you to create your hammock chair easily!
Homemade Hammock Chair Plans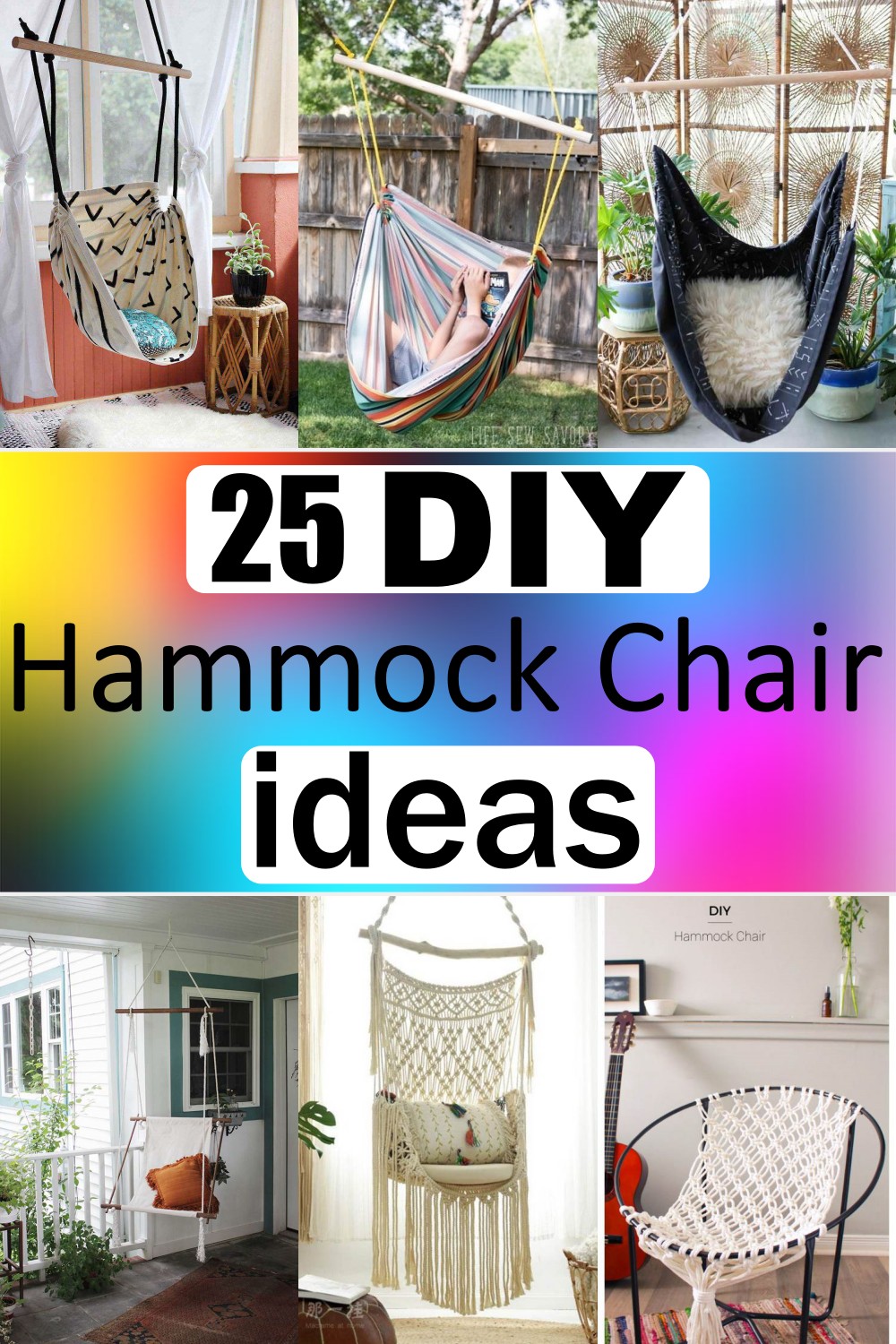 Hammock chairs are perfect for warm summer days and lazy evenings when you want to relax and read a book. They are also great for sunny patios, decks, or the pool. And they're not just for the outdoors! With some creativity, you can easily use them indoors as well! They are also fantastic for camping, backyards, patios, or the beach. They can be bought at stores for a lot of money, or you can make your own for much less. This article will give you some DIY hammock chair ideas to help you make your own!
Step By Step DIY Hammock Chair
Hammock chairs are very comfortable and relaxing to use. You can place them in your yard or patio and spend hours just relaxing in them. However, they are quite expensive, which is why many people cannot afford them. If you have some basic woodworking skills and tools, you can easily make one at home.
The hammock chair is a beautiful and comfortable addition to your backyard that you can make yourself. It's simple to put together and will last for years.
Here are some benefits of DIY Hammock Chair ideas:
It's easy to put together
You can make it fit any size space
It's portable and lightweight
Mud-cloth Hammock Chair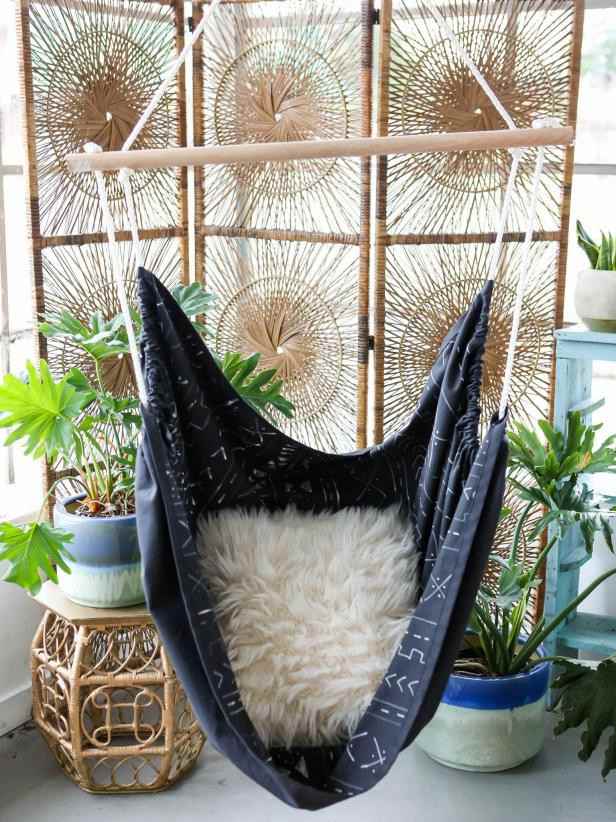 Have you ever dreamed of having a hammock chair in your home? But have you never been able to find one simple and elegant enough to match the rest of your decor? Then this DIY guide is for you! It will help you build a simple and attractive hammock chair. It'll not only look amazing but will be comfortable too because it can be made out of durable materials. You can even make use of your old clothes to decorate them!
DIY Hanging Chair For $37
If you love DIY jobs, then this project is for you. This hanging chair can be made much cheaper than buying one from a store, and it's a fun DIY project. This is a perfect idea if you want to add a focal point to your living room or chill in an area with more sunlight! This DIY hanging chair can easily be built for less than $37. It is super simple and easy to make, and its materials are easy to find. If you have some spare time and a few basic tools, you'll be able to finish it in just a few hours.
DIY Hanging Chair
This DIY hanging chair construction video is an easy way to make a simple hanging chair that you can use in your home or outdoors. It's an inexpensive project for the cost of materials, but it can be painted your favorite color and decorated with pillows or other accessories. You can add lights to turn it into a relaxing nighttime hangout spot! This chair is perfect for hanging in your office or anywhere in your home, hung from the ceiling. The hanging chair can be a sitting room and a comfortable place to relax.
DIY Hammock Chair
Let's make a hammock chair that is comfortable, durable, and made from materials you can find around the house. This DIY hammock chair is made with a fabric sling that hangs from rope and wood dowels. This DIY tutorial shows you how to make a hammock chair out of wood dowels, rope, and other materials. It's simple and effective but also durable. But the quality of the material you use only determines its durability.
DIY Wooden Outdoor Swing Chair
This swing chair is made of wood, and it's meant for outdoor use. Its simple design means that it's easy to make and durable. All you need is some wood pieces, screwdrivers, power tools, and lots of passion. You can make an elegant swing chair for your outdoor space. This hanging chair's comfortable and stylish design is perfect for backyard relaxation and the perfect addition to any patio, deck, or garden setting.
DIY Macrame Hammock Chair
With the macrame technique, you can create a hammock chair in your house. The best part is that it won't take you more than an hour to make this beautiful chair for your home. This DIY hammock chair is a great way to create comfortable seating in your yard or garden. Watch this video tutorial, and make this macrame hammock chair that is easy to assemble and can be made with simple tools.
Homemade Hammock Chair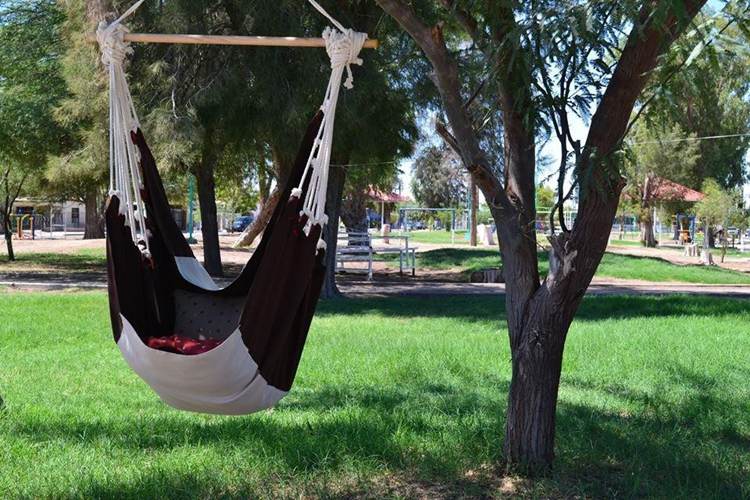 If you love hammocks but can't find the perfect place to hang them at home, why not make your own with this easy tutorial? You can easily make your hammock chair by following these instructions. You'll love the feeling of relaxing in your hammock chair and being surrounded by nature. It's easy and requires a few basic materials, but it will make your patio or deck feel like the beach. It can be used indoors or outdoors.
Hammock Chair From Old Swing Frame DIY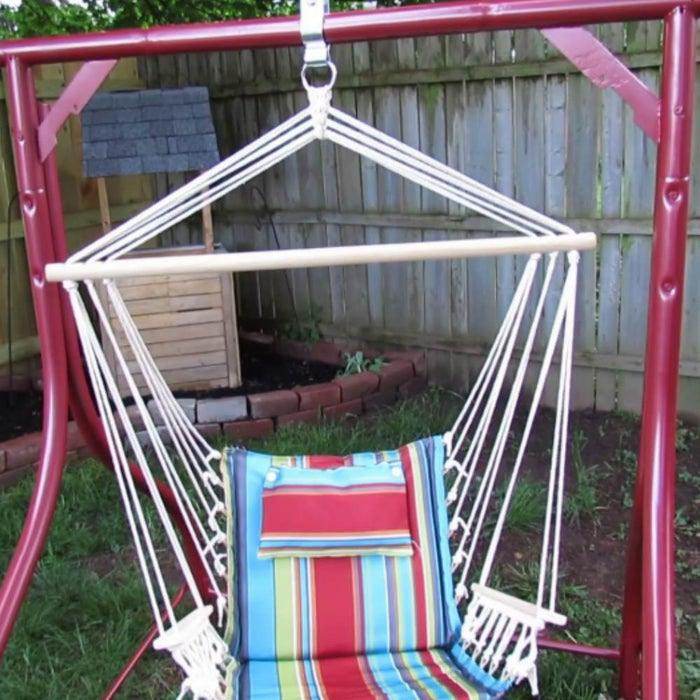 Creating a hammock chair from an old swing frame is a great way to use up spare materials you may have lying around the house. The process is simple enough for the novice builder, and the finished product is a beautiful piece of patio furniture that can be enjoyed for years. This easy DIY project is perfect for all skill levels. Dismantle the old swing frame and create a new structure to support your new hammock chair.
How To Make A Hanging Chair
If you are looking for an alternative way to relax or sleep, the hammock is just the right choice. Depending on the material used, Suspended hammocks can be indoor or outdoor. They are great for reading, watching television, and spending time with friends and family. Traveling with them is also a good idea as they are lightweight and very portable. Try this hanging chair tutorial that will teach you how to make your own in no time!
DIY Macrame Hanging Chair
This DIY Macrame hanging chair is a great craft, as it's relaxing and fun, and you can use your imagination to create your design. The video guide will help you get started and teach you the basics of this awesome DIY project. This hanging chair is an easy DIY project. It does not require much knowledge, and if you follow this video guide, you will be able to craft the chair for yourself.
DIY Hammock Chair
The hammock chair is a perfect addition to your backyard. This project is simple and easy to make; anyone can make it. You can hang it from a tree, porch, or deck railings. These chairs are great for relaxing outside with friends or enjoying fresh air and sun. This DIY hammock chair is just what you need to bring the relaxing outdoors inside. It's a great way to relax and enjoy your time.
Also See: Homemade Chairs
Hammock Chair DIY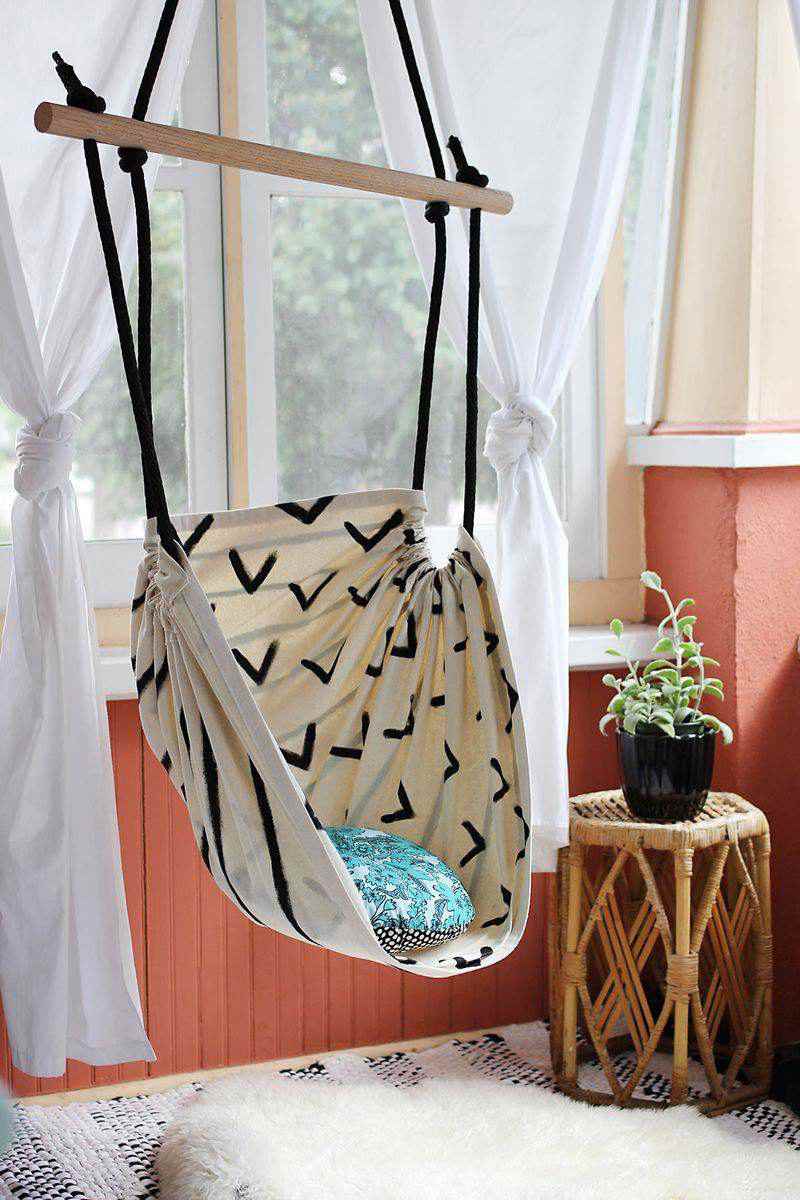 You can enjoy your backyard or patio more by making a hammock chair. This DIY project is easy to make and will provide extra seating and relaxation in your outdoor living space. This DIY chair is perfect for relaxing or reading a book. It's easy to make and can be customized with your favorite fabrics. Give it as a gift, or keep it for yourself! This guide will show you the complete procedure.
DIY Hammock Chair
This DIY project for a hammock chair is an easy way to make yourself a comfortable and relaxing place to relax. It can be done easily at home if you're handy with a sewing machine. With this guide, your hammock chair will be done in no time! This hammock chair is a simple yet cozy place to rest or read a book; This DIY guide includes clear instructions that anyone can follow.
DIY Hammock Desk
Are you looking for a relaxing chair to read in? The DIY Hammock Desk is made for you. It's easy to assemble, and when you are done, you will have a lovely chair that can be used as a desk chair or a reading chair. This guide will provide details on all the parts you'll need to build the chair, including cutting measurements and tool recommendations. It is easy to assemble and provides a nice relaxing place to work.
DIY Hammock Chair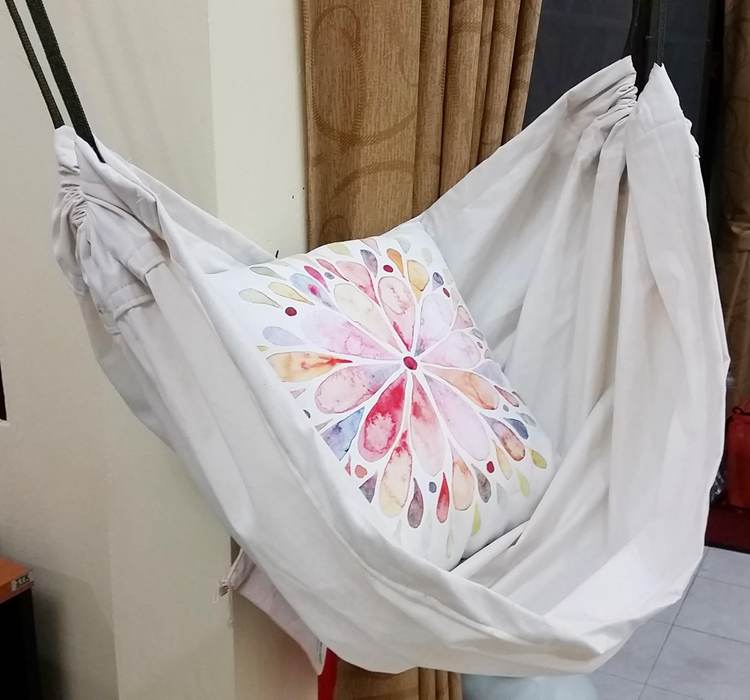 Hammock chairs are a simple and very comfortable way to relax. This DIY hammock chair is just what you need for your backyard getaway or even in the living room when you need a break from your daily routine. This DIY hammock chair is easy to make and comfortable, too! It's made of soft fabric, so it's perfect for hanging out in the backyard and reading a good book. This guide will show you the complete procedure.
DIY Aesthetic Hammock Chair
This hammock chair is perfect for relaxing after a long day at the office. The best part is you can make it yourself, and it doesn't involve too much effort. This DIY project is easy to follow and allows you to create a beautiful outdoor furniture piece. All you need are the right materials, DIY-friendly tools, and schematics from this video guide; this not only shows you how but also teaches you tips and tricks that make it easier, quicker, and better.
DIY Hanging Lounge Chair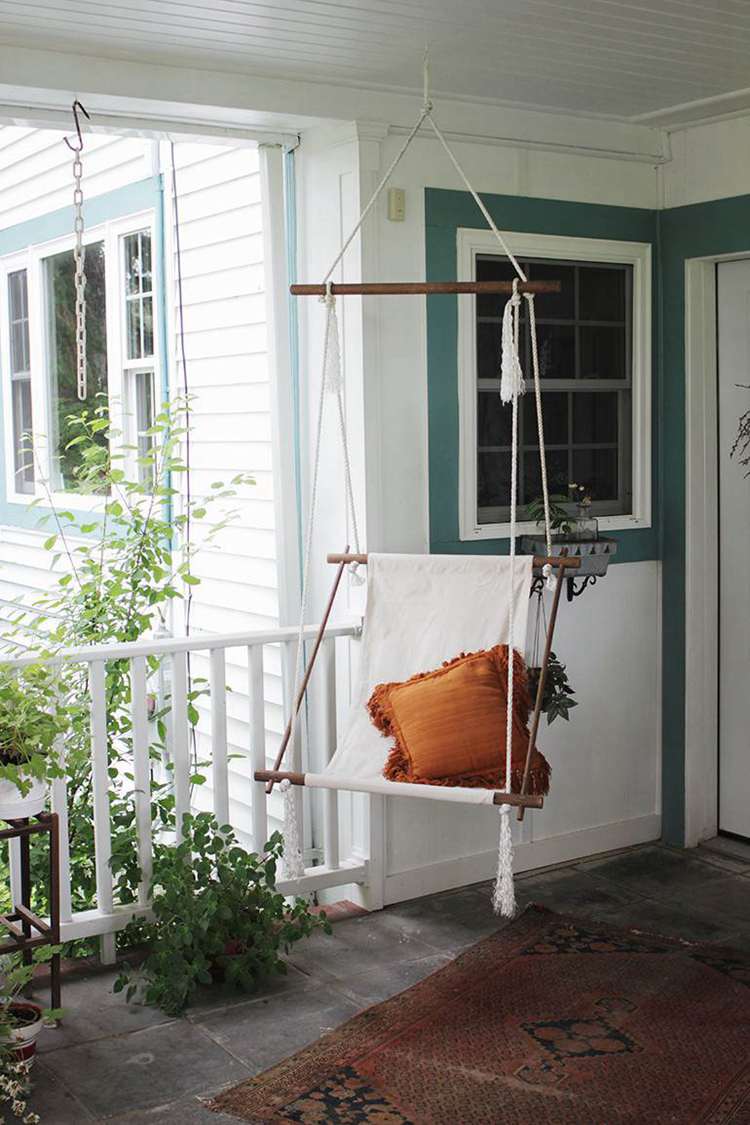 This DIY Hanging Lounge Chair is a great way to add seating and extra backyard space. It's easy to make, and you don't need any experience with DIY projects. This DIY project will be perfect for relaxing on the patio or at a campsite. Here is a step-by-step guide on making a Hanging Lounge Chair at home. With the help of detailed images, it would be easy to follow the making process and create your hanging lounge chair! With detailed instructions, you'll be lounging in no time.
DIY Macrame Hammock Chair Swing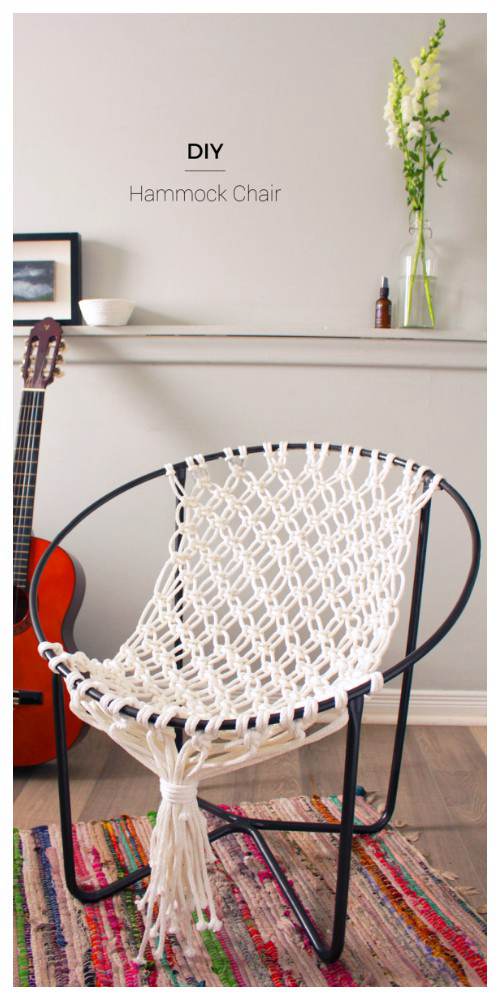 Are you already a fan of macrame? Here's a guide to making your macrame hammock chair swing! It's easy and inexpensive, and the materials are simple. This is the ultimate DIY project for lounging or hanging out. Make this swing chair in a few hours. Macrame is easy to learn and fun to make; this chair will be one of the most treasured handmade items you'll own. It has many step-by-step pictures to help you along the way.
DIY Macrame Hanging Chair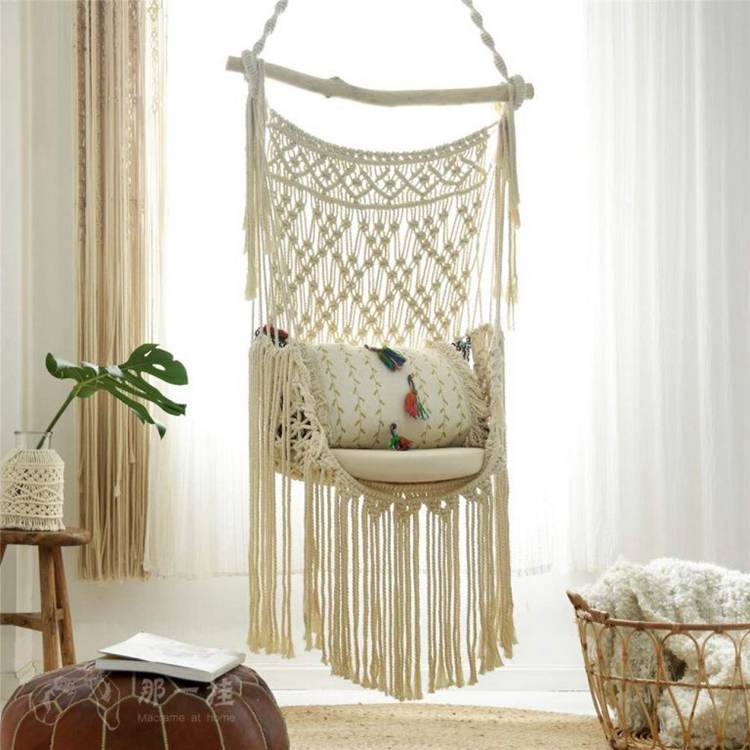 If you're looking for a macrame hanging chair that's easy to make; this DIY macrame hanging chair is perfect for you. Get creative with color and pattern choices, or use the materials used here to make your version. This project takes time and patience, but anyone can do it! So, Make a macrame hanging chair for indoor use today with this step-by-step guide. It's also excellent for your patio or garden.
DIY Hanging Hammock Chair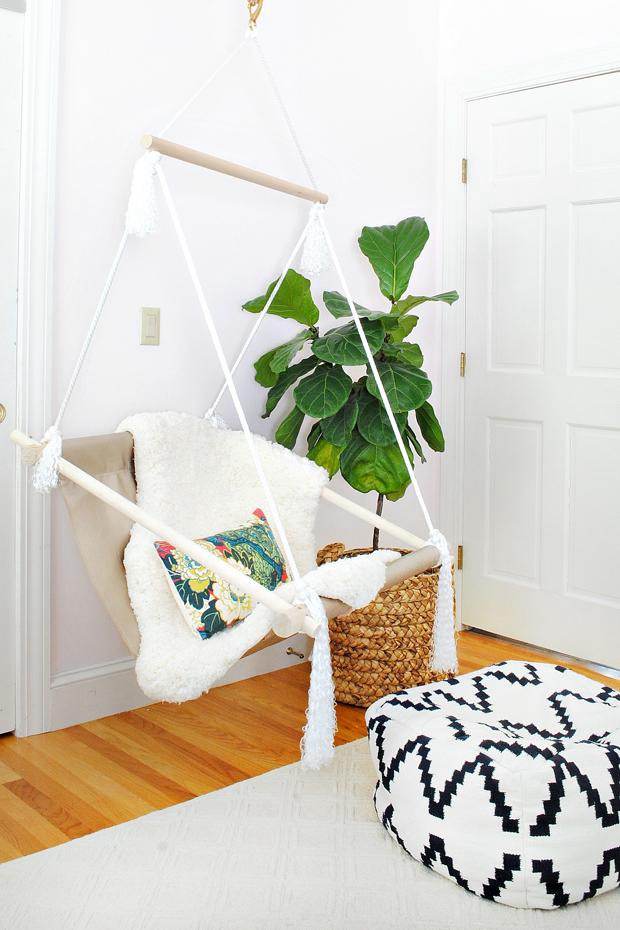 Are you tired of spending much money to furnish your living room? Then try this simple DIY Hanging Hammock Chair. It also makes a great piece of outdoor furniture for warm days by the pool or beach, or hang it in a playroom for kids. this DIY hanging hammock chair also will be your new favorite way to lounge outside. You can spend your day swinging in this cozy hanging chair with a few supplies and simple instructions.
How To Make A Hanging Chair
This hanging chair allows you to do more reading and relax outside while providing a better option than lying on the ground. With this DIY project, you can make a hanging chair out of any fabric. This is one of the easiest DIY projects around. The good news is that this hanging chair can be easily customized, so you can make the chair in any size and color you want.
DIY Hanging Chair
A hanging chair is one of the most relaxing and fun things you can have in your home. It's nice to hang out on it with your family or friends and enjoy some time off work or school. This hanging chair ensures everyone gets their share of hanging time, perfect for those lazy summer days. This DIY Hanging Chair is also the perfect way to spend quality time together and will be the envy of all your friends. Who knew creating something could be so enjoyable?
DIY Hanging Computer Chair
This computer chair is not only a comfortable solution for spending long hours at your desk, but it's also an easy way to customize your space. You can build this comfortable computer chair in no time. You can easily work from home through your computer with this easy-to-build computer chair with a few easy-going materials. The materials are easy to find and inexpensive, so you'll be able to afford this project with just one trip to the hardware store.