The wall hanging can change the entire look of your home. If you are looking for some amazing wall hanging patterns, then here you can find a complete range of Free Crochet Wall Hanging Patterns. These patterns will prove best for decorating your nursery, living room, and kids' room. You can also try multiple colors in each row to make these patterns more attractive and unique. The usage of shiny yarns in these Wall Hanging Patterns makes them special, but you can also use any basic yarns to make these crochet patterns. These Patterns use some easy stitches like single and double chain stitch, slip stitch that is best for beginners. You can also follow a step-by-step tutorial or video to learn some new stitching techniques to make these crochet patterns.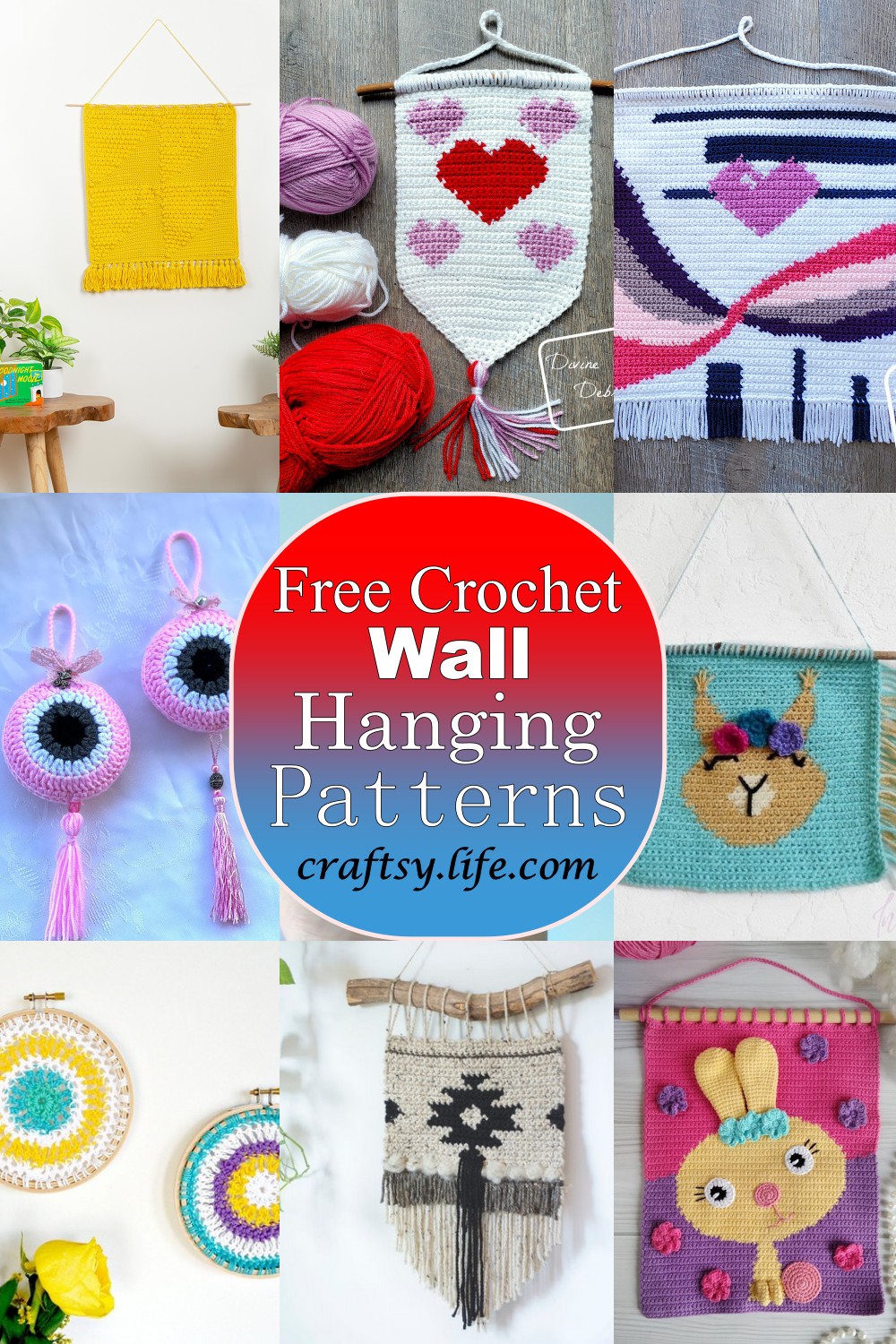 Add a touch of color and texture to your home with these crochet wall hangings. These crochet wall hangings are great for any room in your house! Crochet wall hangings make great accents, plus they are quick and easy to crochet and make wonderful Christmas or birthday presents and thoughtful housewarming gifts. It is the best and an impressive way to decore your home walls as well as make your room cute and adorable at the same time. Crochet hanging crafts are also great for decorating kid's rooms, nurseries, and many other areas of your house. Check out these 25 Free Crochet Wall Hanging Patterns that will beautify your walls gracefully and so easily!
With this curated collection of 25 crochet wall hanging patterns, there's never been an easier way to make a handmade statement in your home.
Tips To Crochet Wall Hanging Patterns
If you're looking for some fun craft ideas to do at home, you should try to crochet. Crocheting is an inexpensive way to help relieve stress and relax. But, if you're just learning how to crochet, you might need a few tips and tricks.
Here are some tips on how to crochet wall hanging patterns:
 The first thing that you need to do is to choose the right yarn.
Next, you need to select the right hook size.
Make sure that you use a proper crochet stitch.
When you are making a wall hanging, make sure that you use only simple patterns and stitches.
You can also add beads and other embellishments to your crochet wall hanging patterns.
Benefits Of Crochet Wall Hanging Patterns
Crochet wall hanging patterns are a great way to add color and texture to your room. You can make these beautiful designs with just a few simple tools and a bit of yarn, and the possibilities are endless. Learn how to make one of these amazing pieces yourself, or find out which pattern is best for you.
If you're looking for something different than your typical tapestry or rug, you might want to consider making a crochet wall hanging. These pieces can be used in any room of the house and are very versatile. Here are some benefits of crochet wall hanging patterns:
They add beauty: Even if you don't want something that's too fancy or intricate, you can still create a beautiful piece by using simple crochet stitches. You can even use different colors to create patterns on the wall or add decorative elements such as beads.
It's easy: All you need is some yarn and a crochet hook to get started! And if you're not sure what type of yarn to use, there are plenty of online stores that sell all kinds of different types. Just find one that suits your needs and start crocheting away!
They're inexpensive: The cost is minimal compared to other home decor items like rugs or tapestries. Plus,
Whatever style or design you prefer, we've got a free crochet wall hanging pattern that will look great in your home
They're beautiful
They're incredibly cheap
They make great gifts
They can be hung anywhere
.You can customize them to your liking
Evil Eye Charm
The best way to celebrate every new beginning is with a little charm. Crochet your own in 2 hours for your New Year, for your New Born baby, for every single new starting that you wish will be full of joy, and spread your love with this handmade Evil Eye Charm. It will be a great gift for everyone in your family and for always new situations. New Year, New Born Babies, Weddings, Friends Birthdays, and even for Christmas! Hand crocheted from scratch, this evil eye pendant will quickly become your favorite accessory!
Wall Hanging Bags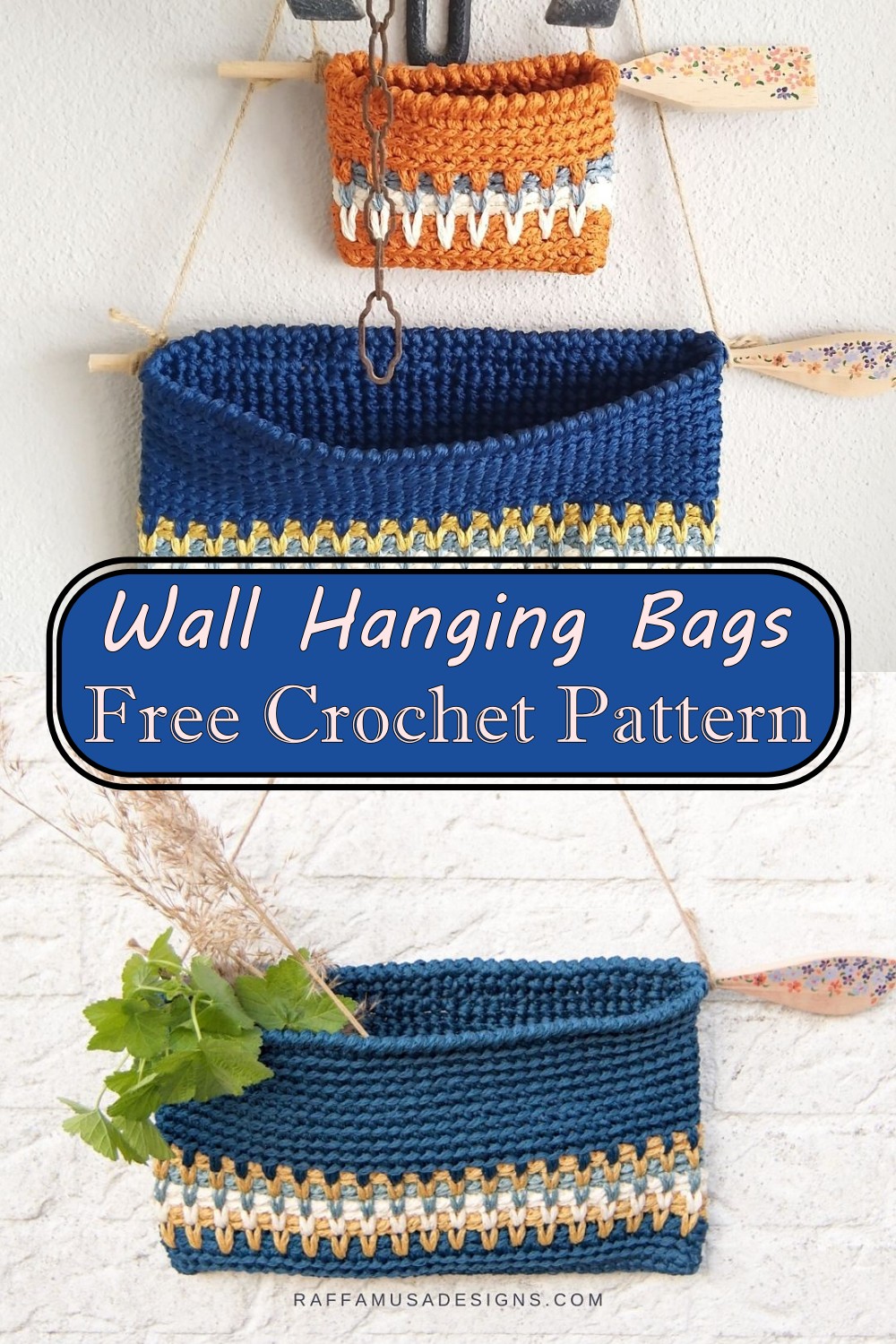 Wall hanging bag and Handmade kitchen storage accessories. Ideal for stylish storage. Great for craft supplies too! Crochet some beautiful Wall Hanging Bags, perfect for your kitchen organization and home décor! They are sturdy enough to hold anything from cooking utensils to makeup brushes and are easy to hang using a thick wooden or metal rod. The decorative bag can also be used as a basket to store your knitting projects, magazines, scarves, or socks. Not only are these bags perfect for keeping your kitchen organized, but they also make great decorations. Choose your own colors to match your décor!
Heart Wave Wall Hanging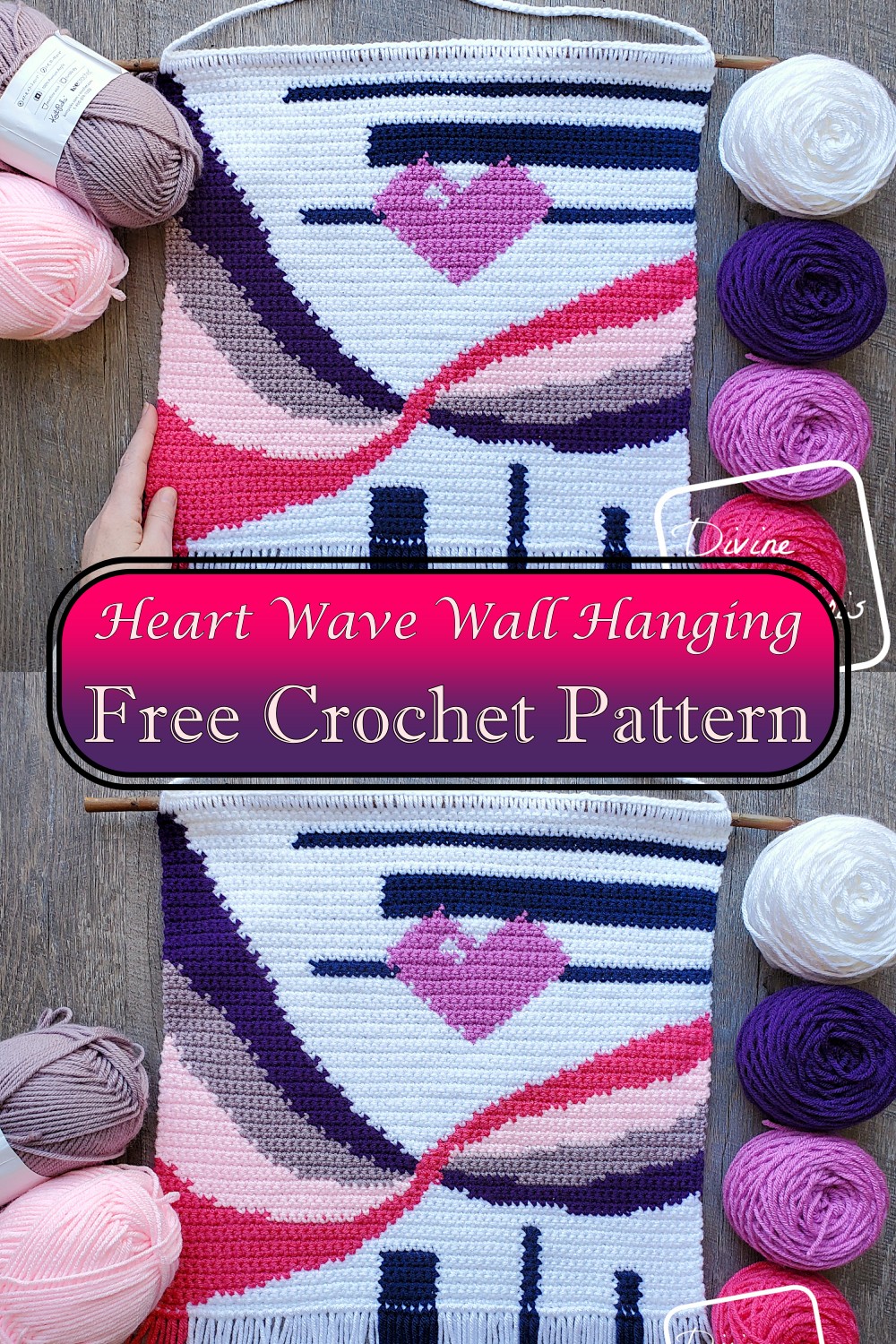 Crochet this lovable and completely customizable Heart Wave wall hanging and show your love for all things crochet. Featuring fun and unique color changes, it's easy to work up and is a great way to exercise your color-changing skills. This makes a great addition to any room, showcasing your love of crochet in a beautiful way. You can also use this graph and a fun array of colors to create a customizable wall hanging that's perfect for nurseries, bedrooms, and playrooms. Worked in all single crochet stitches, it's easy to make: simply change your color on the last pull-through of each stitch. It looks even better with fringe! The perfect Valentine's Day gift!
Cute Hearts Wall Hanging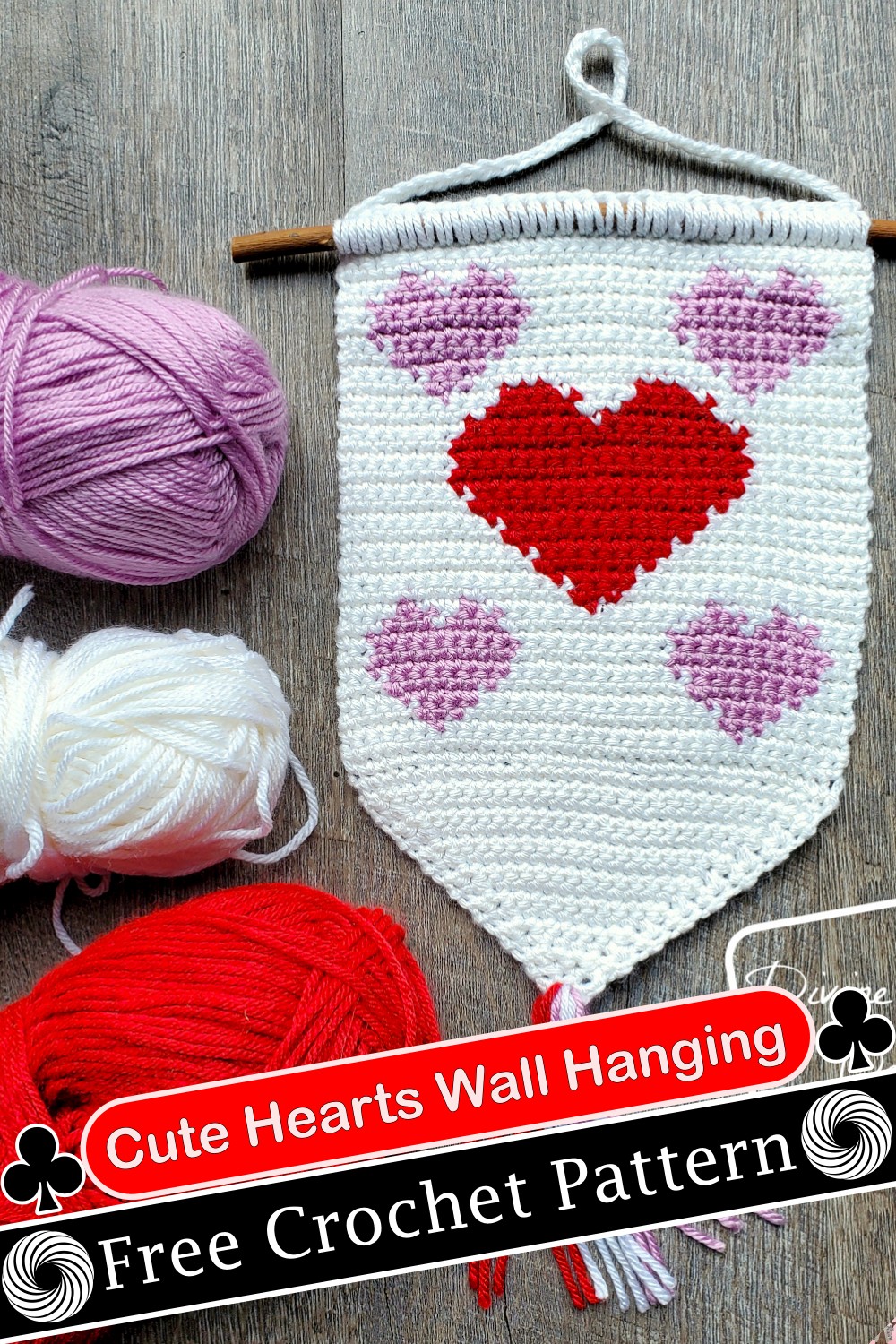 Are you ready for Valentine's Day? Grab your yarn and crochet hook and start making this cute wall hanging today. Great for anyone who loves simple crocheting, the heart motif can be made in an afternoon or weekend. Try it in traditional red or use fun rainbow colors like my pattern. You will love this pattern if you love learning to make tassels too! This is a fun and sweet crochet heart pattern that makes a great wall hanging, or even pillow! Easy to make and with an optional tassel - hang in just a few hours!
Tisket Tasket Wall Hanging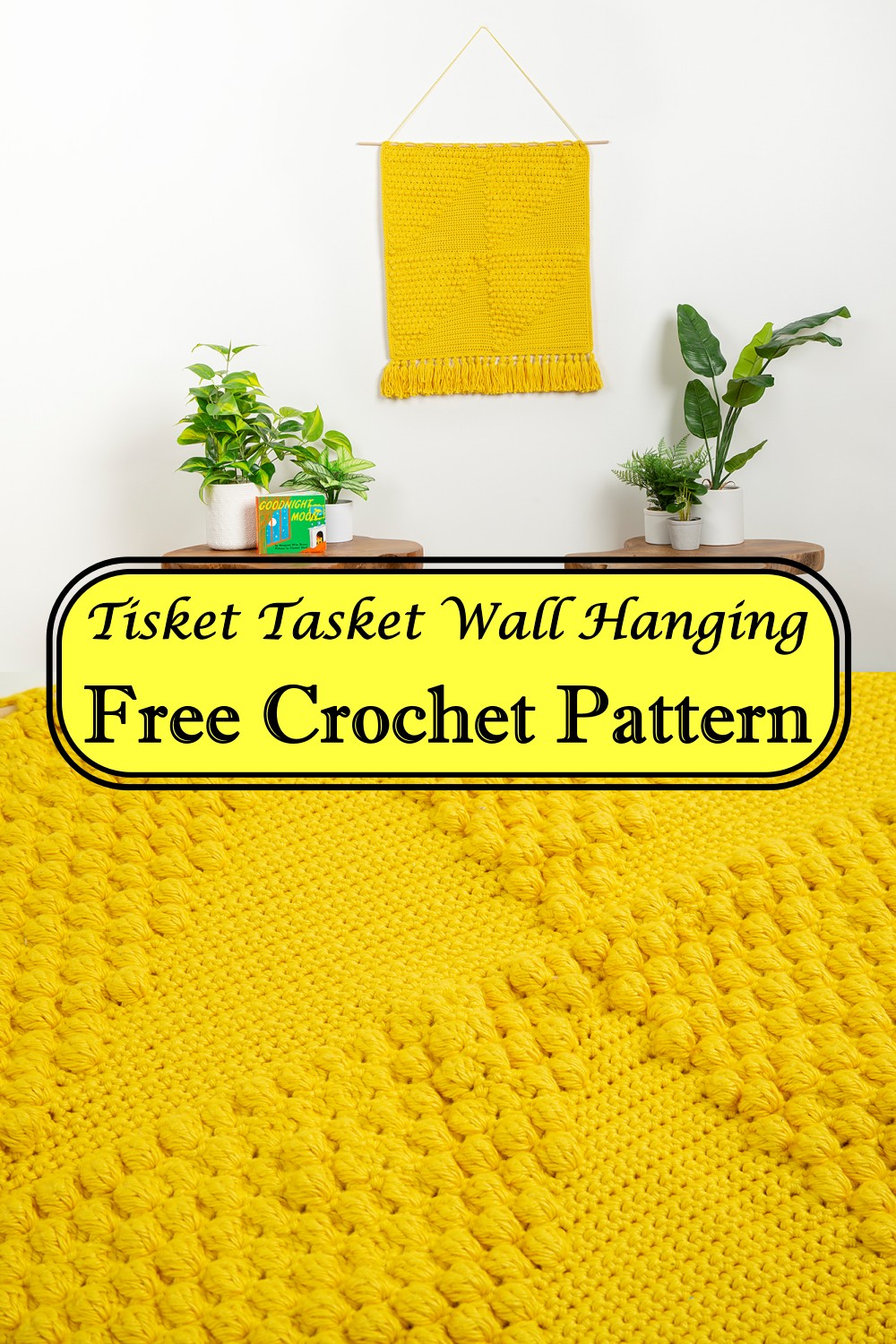 If you love bohemian-inspired design, then this crochet wall hanging is right up your alley. Weave in and out of the colorful bubbles and have a blast while doing so. A simple rectangle shape has never been more fun to work on. The Tisket Tasket Wall Hanging is worked flat from the bottom up. The border is created by working flat continuous rounds after the bobble details are complete. The dowel used to hold this project is secured to the project using a series of Half Double Crochet and Chain stitches
The Arabian Tone Wall Hanging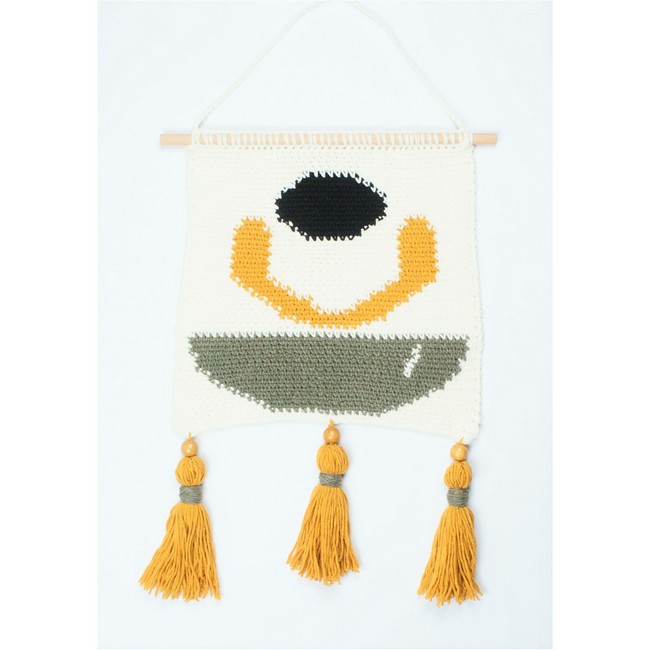 Crochet The Arabian Tone Wall Hanging is an intermediate crochet pattern that requires basic knowledge of crochet. It's a simple pattern that uses the tapestry technique. It's versatile in terms of the color palette, you can get inspired by nature or your home décor and mix your own colors.
Fall Vibes is here, and this wall hanging is what your space needs! Crocheted using luxurious and beautiful colors, this crochet wall hanging will completely transform your house decor. This piece will look great in any home or office. This pattern includes written instructions, materials, tools list, and pictures to help guide you through the making process.
Rainbow Showers Wall Hanging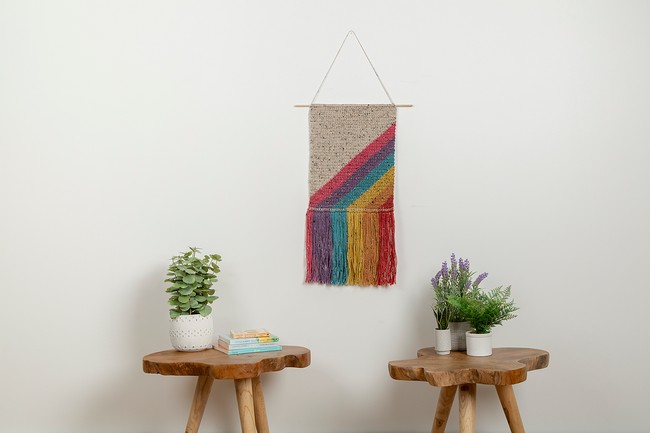 Give your walls a pop of color with this stunning Rainbow Showers Wall Hanging. This piece is so fun and easy to make, it'll quickly become a favorite go-to gift for any occasion! Make it in any color palette to match your room décor. A handmade tapestry is an excellent accent for any room and creates a warm, personal ambiance. The Rainbow Showers Wall Hanging is an easy make that will instantly brighten any room it is hung in! The perfect way to liven up your wall space. Choose a color palette that matches your room décor to create this fun crochet hanging.
Hearts for Ukraine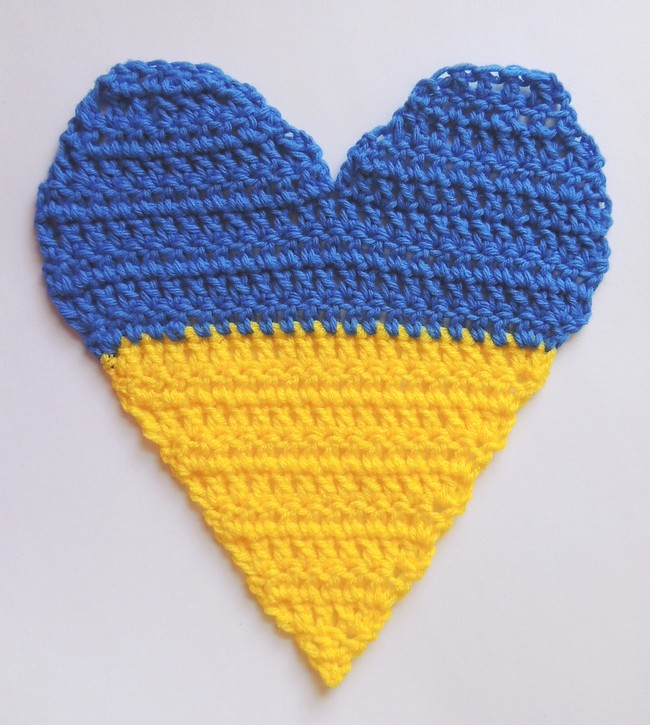 This is a simple pattern for crochet hearts. They can be used as appliques, sewn to clothing, or even made into a garland. Great way to show your support for Ukraine! Use any yarn you have in yellow and blue with the largest hook for that yarn. This is an easy pattern, suitable even for a beginner who can single crochet and double crochet. You can make as many or few hearts as you like. They are great to give as a token of support to people working in Ukraine or to raise funds at charity events and concerts.
Llama Wallhanging
What's better than an adorable llama to brighten up your day? Create a colorful decoration with this crochet pattern! Whether you keep it for yourself or give it as a thoughtful gift, this little llama will be sure to bring happiness to any space. It's beginner-friendly & an easy pattern that works up super fast. This crochet llama wall hanging makes the perfect accent piece for any room in your house. It is a simple pattern that works up quickly and uses basic stitches like single crochet, half double crochet, and double crochet.
Bunny Wall Hanging
A handmade wall hanging that can be hung around a door, mirror or any space that needs a little whimsy. This adorable Bunny Wall Hanging is perfect for decorating the walls of your little ones' room or nursery. Made to order, it is crocheted with a soft and chunky yarn. Each bunny is a little different since they are all handmade, no two will ever be exactly alike. This sweet handmade bunny is perfect for Easter! Great gift for any occasion!
C2C Wall Hanging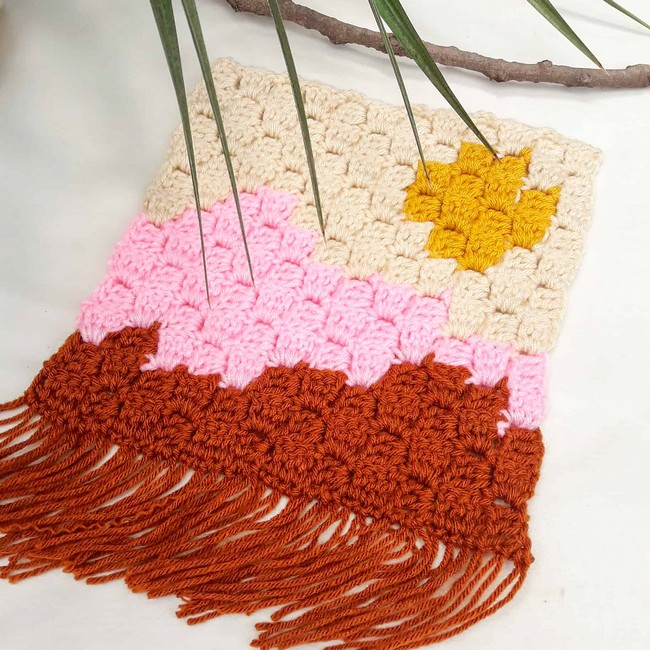 A C2C blanket is a great way to warm up any room, and the best part is that it can easily be transformed into a wall hanging. Basic knowledge of crochet or cross-stitch is helpful for reading the chart, but it's something that most people can pick up quickly with a little practice. This project is great for beginners as it uses only two basic stitches - chain and double crochet - to create a beautiful wall hanging. A step-by-step photo tutorial is included in the pattern showing you how to read the crochet graph pattern, change color, sew your pieces together and prepare the piece for hanging.
Spooky Spider Halloween Hanging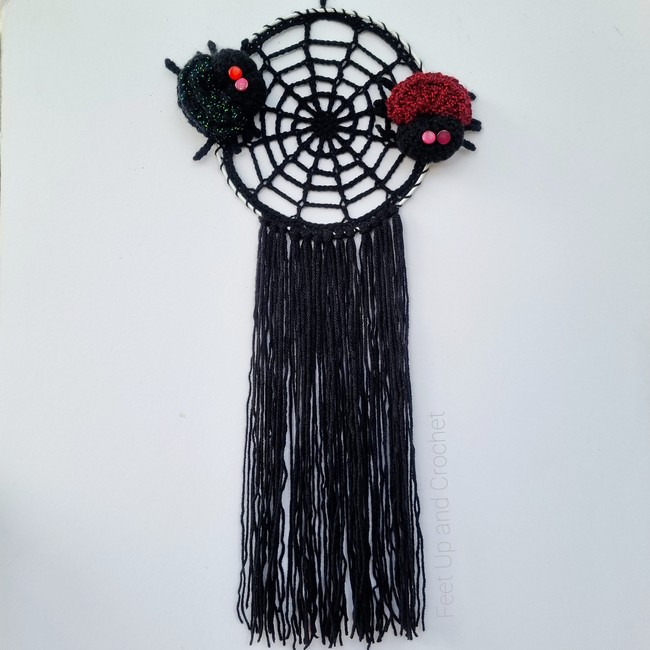 This Halloween decoration can be worked up really quickly and is perfect for using up small amounts of yarn! The spider is made by crocheting a flat piece and then constructed into shape. This decoration is really fun to make and adds a cute spooky touch to your home! These cute (and creepy!) spiders are very easy to make, and the web can be worked up in next to no time. The spiders' web is worked in the round and works up quickly and easily before being attached to a craft ring. The spiders are worked as flat pieces and then constructed into spider shape before legs are attached.
Follow The Moon Wall Hanging
The prettiest wall hangings and tapestries are crocheted, amiright? Well, this one is fun and bright, filled with movement, and is easy enough for beginners! It's worked as a single piece, with increasing colors and placement to create this awesome palette and "Follow the Moon" vibe. A cheerful, colorful movement is the star of the show in this fun and bright wall hanging. You can choose whatever colors you want to bring your own personality to this design. It's easy to make, as simple as single crochets and color changes, and it's worked in one piece.
Pansy Pizza
What could be more gorgeous than to have this beautiful wall hanging in your kitchen or dining room? Do you find yourself wishing there was a plant on your dining room wall? This beautiful crochet wreath would give it that punch of color. Pansy in the spring and summer, Crochet Pansy Pizza will add color and flair to any room. Take a bite of the freshest pizza you have ever seen! These vibrant multicolored flowers will get your attention and make you smile. Each flower is one continuous piece with leaves and berries attached, no breaks in the thread to destroy their beauty and strength.
Evil Eye Wall Art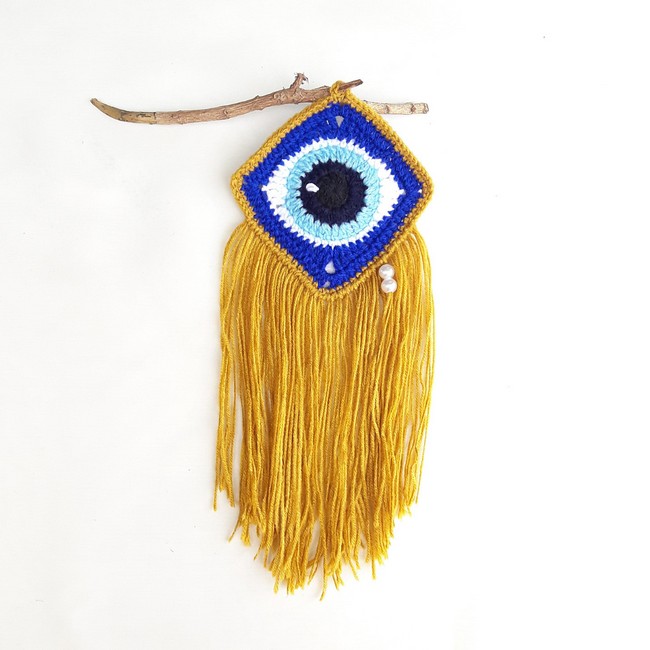 This crochet pattern is simple, fun, and looks lovely when added to a wall as an artful and decorative piece. A gorgeous piece of art that can hang just about anywhere! This crochet evil eye wall art pattern is fun to make and looks lovely when added to a wall for extra decoration. Made from crochet eye squares accented with gold yarn and pearl beads, this pattern requires intermediate experience of a few basic stitches. Take this DIY project to the next level by adding a gold chain to the top of your wall hanging!
Freeform Storm Cloud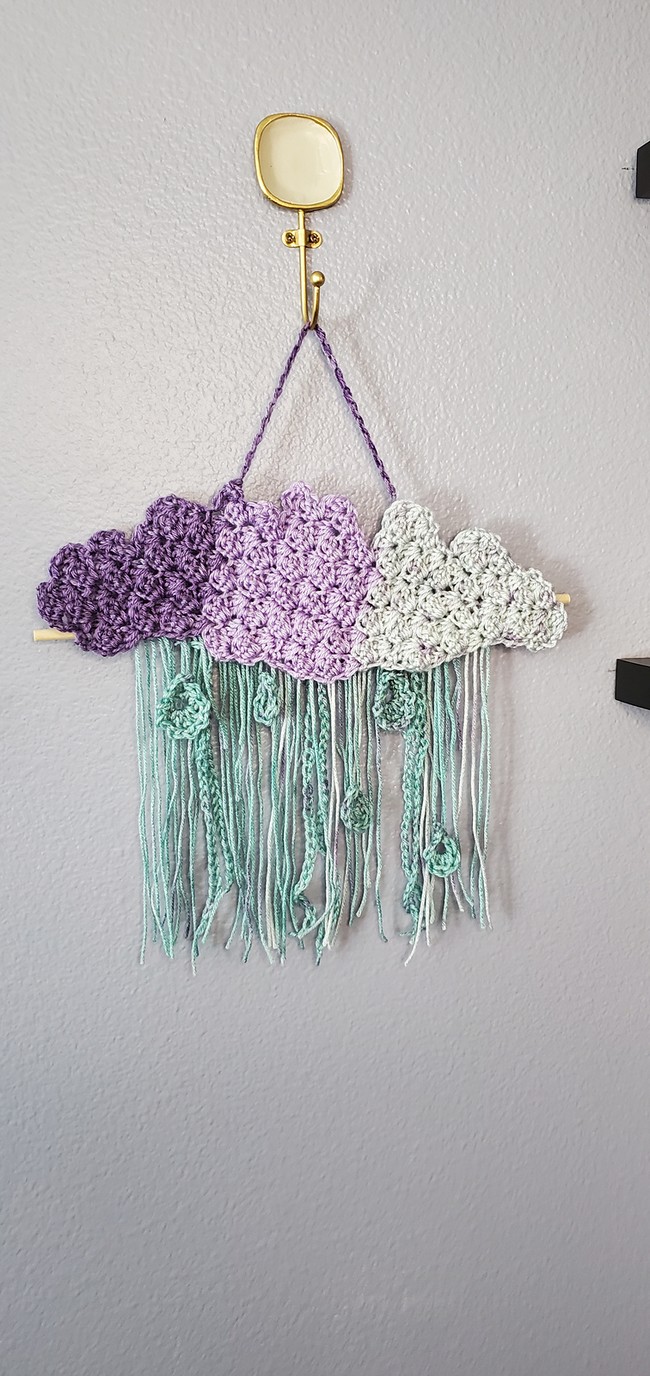 Freeform crochet is a fun and creative way to make home décor items such as this Storm Cloud. Would you like to learn how to make a unique storm cloud in the freeform crochet style? With only a ball of yarn and two crocheting tools, you can create your own masterpiece. It's very easy! You can use your storm cloud as a wall hanging or it could be used as an applique and attached to a blanket or a sweater. Make your own unique storm cloud in the freeform crochet wall hanging style. Natural materials and gorgeous colors come together to make this gift striking and special. Great for bedroom, nursery and all else. Enjoy!
Crochet Quilt Square Inspired Wall Hanging Pattern: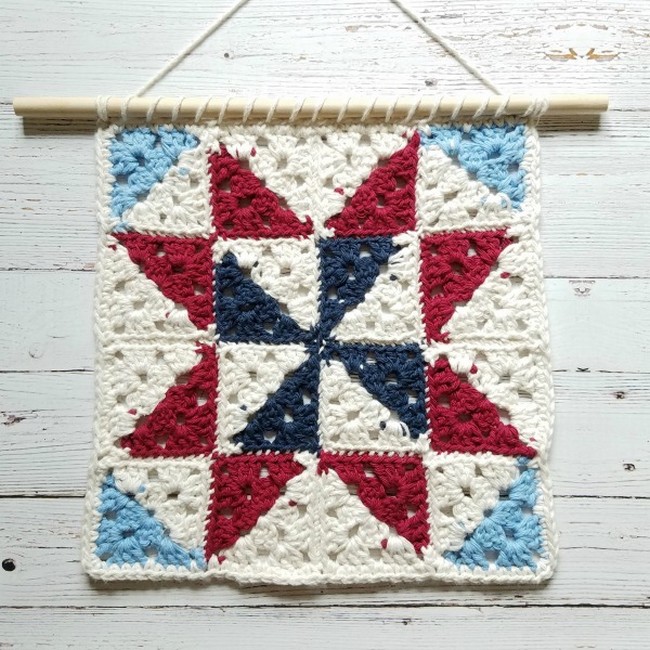 Looking for a unique way to update your wall? This beautiful quilt square-inspired crochet wall hanging is just the thing you need! The perfect addition to any room, this home décor pattern can be customized in a variety of ways. This Free Crochet Quilt Square Inspired Wall Hanging Pattern shows the unique color combination. The base of this wall hanging is way too pretty and the white one adds contrast to it. This pattern is best when you want to update the decoration of your home's wall with those things that are made with your own hands. This pattern is an easy way to add color and personal style to your home, while also making a statement.
Woven Wall Hanging Pattern: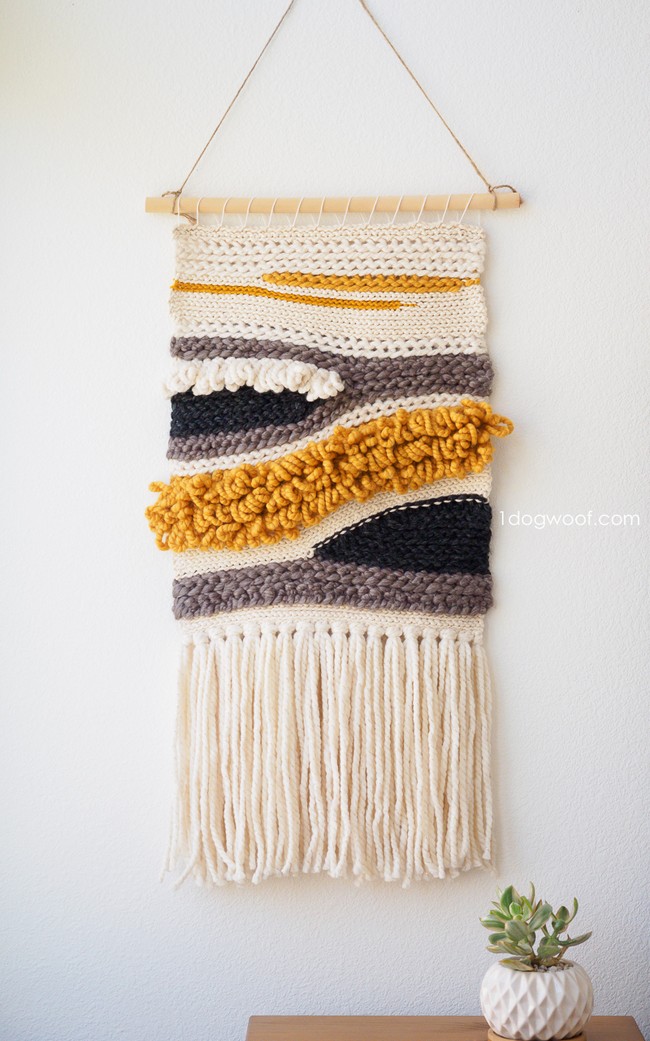 It's time to bring style and fun to your home with this woven wall hanging pattern. This pattern is really easy to make and best practice on basic stitches. You can use any color combination of your choice and also can adjust the size accordingly to your needs. Make this beautiful crochet decor pattern and add a little sparkle to your home's renovation budget-free. This pattern uses mustard, gray, white, and black colors but you can change them according to your taste. This Crochet Woven Wall Hanging Pattern is so cool for home decor.
Crochet Yarn Cuckoo Clock Wall Hanging Pattern: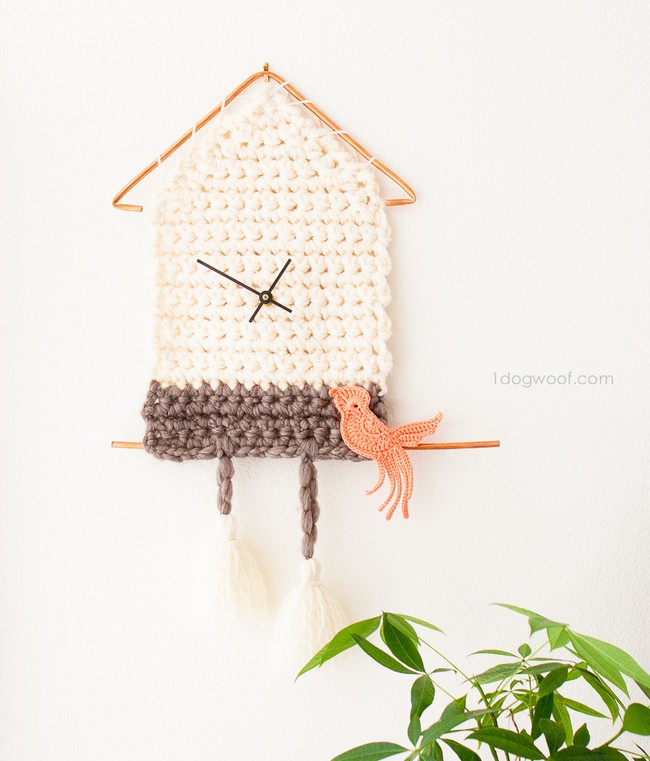 It will be a great time if you use your creativity to create something new and different by using the blue colors of yarn. Every crochet lover must follow this pattern because one can make this project quickly, in just a few hours you can finish it. This Free Crochet Yarn Cuckoo Clock Wall Hanging is best for increasing the beauty of your home's focal point that is easy to crochet. In the bedroom, hang it above the bed or proudly place it on top of your dresser. This beautiful piece will add an accent to any space in the dining room, like this in the library, or even grace the space in a child's nursery.
Bohemian Wall Hanging Pattern: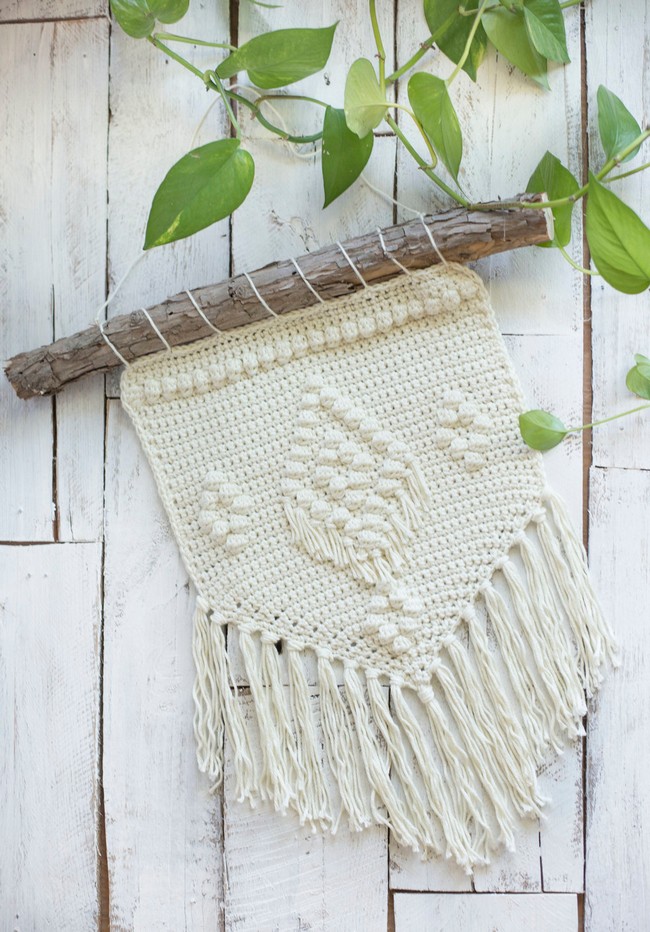 If you want to make some lovely changes in your home decoration then try this easy and free crochet Bohemian wall hanging pattern for this. You can hang it on the wall or on a lamp or anywhere in your home that you think will be best for its location. This Free Crochet Bohemian Wall Hanging Pattern is made for the beautification of your home as well as best for the last-minute gift too. You can make this crochet pattern when you think that you want to fill the colors in your home's decoration then this unique and simple pattern will be enough for you.
Geometric Wall Hanging Pattern: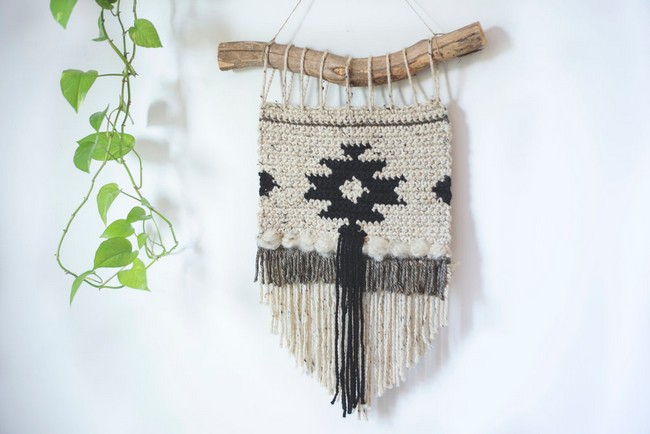 Geometric Wall Hanging Pattern is a combination of some geometric blocks that are amazingly joined together to try something unique for your home. The geometric pattern of this wall hanging will provide a great look to your room. It is a simple but effective design that is made of just a few basic stitches. It uses just one skein in each of the three colors, so you could complete this project from start to finish in one afternoon. The hanging is suitable for any style of home decoration. This beautiful wall hanging has a unique design and will look fantastic in your living room or bedroom.
 Woven Wall Hanging Pattern: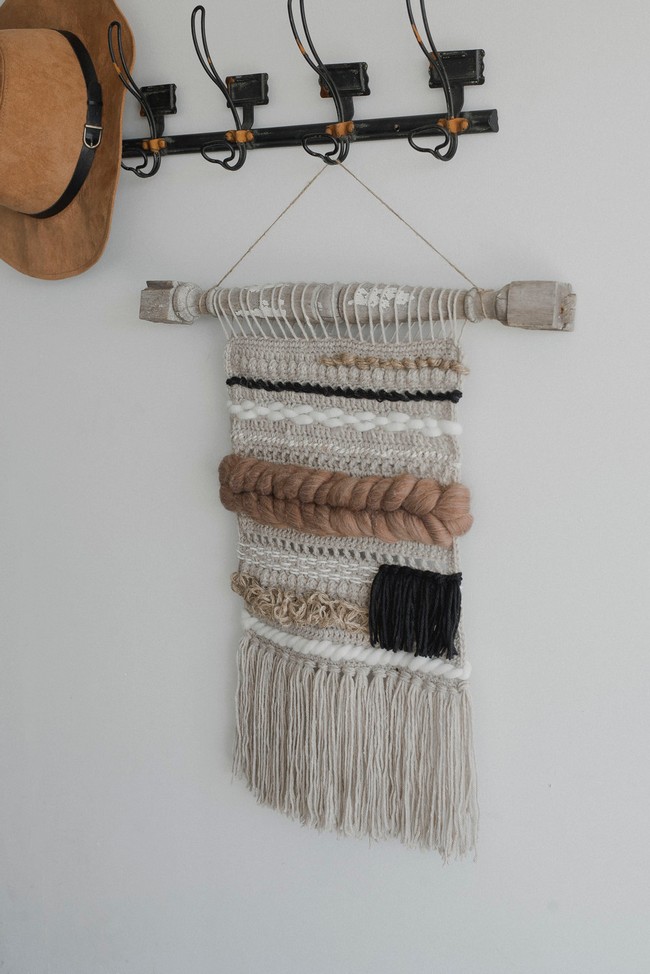 This Free Crochet Woven Wall Hanging Pattern is a beginner-friendly and quick summer project! This easy wall-hanging pattern was designed to incorporate a fun color-blocked effect. With the basic knowledge of crochet and weaving, you will be able to complete this modern wall art project in no time. It would be perfect for any home that needs a soft, relaxing bohemian touch. Simple stitches are used to create the weaving portion of the wall hanging, with a beautiful fringed border that gives it a little extra touch!
Mandala Hoops Wall Hanging Pattern: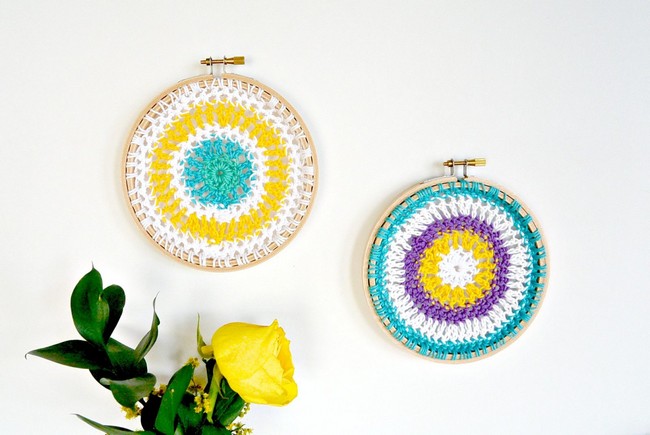 If your walls are looking a little boring these days, don't worry. You don't have to blow your art budget on something expensive in order to spruce up your space. Instead, you can make this Mandala Hoops Wall Hanging. This easy crochet pattern is a colorful way to add a pop of color to the wall. Plus, it uses all bright and bold colors so you can easily match it with any other decor in the room and create a cohesive look. It brings joy to any space. It will be a much-loved gift, and the unique design can be made in multiple colorways!
Crochet Lap Loom Woven Wall Hanging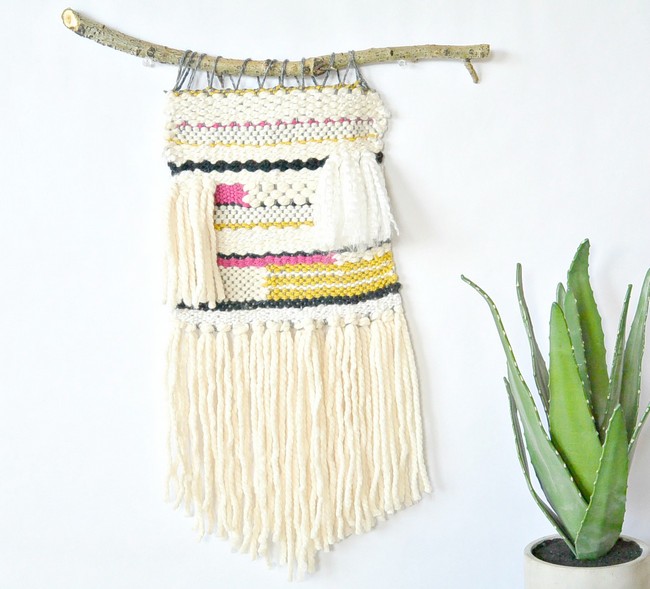 A large tapestry is a perfect way to cover up a hole in the wall and give your room some instant decoration. This crochet wall hanging is super easy, with most of it being completed on a loom! The yarn and colors used in this pattern make it an easy project to fit with any decor. Make a super cute and versatile woven wall hanging from scrap yarn! Hang it on the wall, lay it on a table as a runner, or use it as a bathroom rug. It's super easy to make and can be done in about an hour.
 Crochet Wall Hanging Pattern: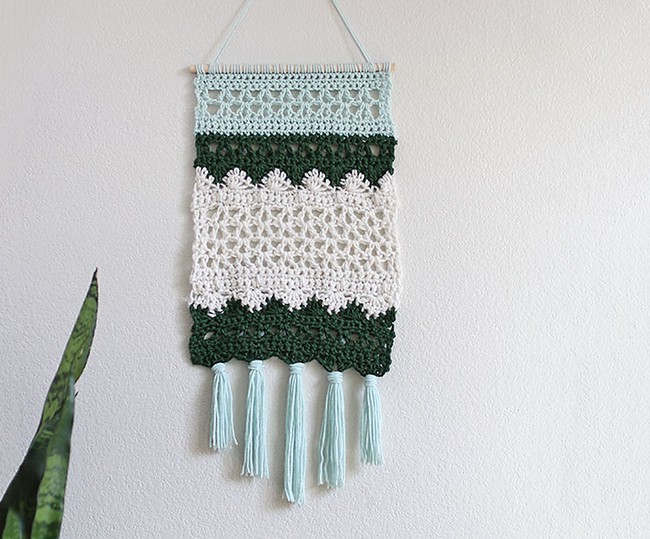 Bring sweet romance to your space with some effortless crocheting! This beautiful wall hanging pattern is so easy to make and will brighten up your interior in a quick fashion. The trendy geometric shapes are so fashionable right now, giving this free crochet pattern a very modern feel. The most adorable part of this project has got to be the fringes that you can add at the end of the project - it's so cute! You might have gotten into crocheting because you wanted to make something practical, but this free crochet pattern is all about style and decoration in your home.