Crocheters, it's time to get in the Halloween spirit! There are so many fun crochet witch hat patterns out there to choose from. I've got you covered whether you're looking for a classic black witch hat or something more colorful and whimsical. This blog post will share some of my favorite crochet witch hat patterns with you. So get your hooks ready, and let's start crocheting!
There are a few different hat styles that you can crochet to create a unique and adorable little witch hat. The hats are not only affordable and fun to create, but they'll turn any girl into an instant witch! If you plan to dress up as a witch this year or want your child to go as a witch, you may want to create your crochet witch hat to save money or just for fun. Create hats in different sizes and colors. No two will be exactly alike.
Crochet Witch Hat Patterns

Are you looking for the perfect finishing touch for your Halloween costume? Whether you're dressing up as a witch yourself or looking for a unique hat for your little one, our crochet witch hat patterns are sure to do the trick! We have a variety of witch hats, from simple to elaborate, from the classic cone-shaped hat to floppy hats and flower crowns. In addition to basic crocheted hats with ribbons, we also offer crochet patterns with embellishments, such as flowers, buttons, or feathers.
Chunky Sunflower Witch Hat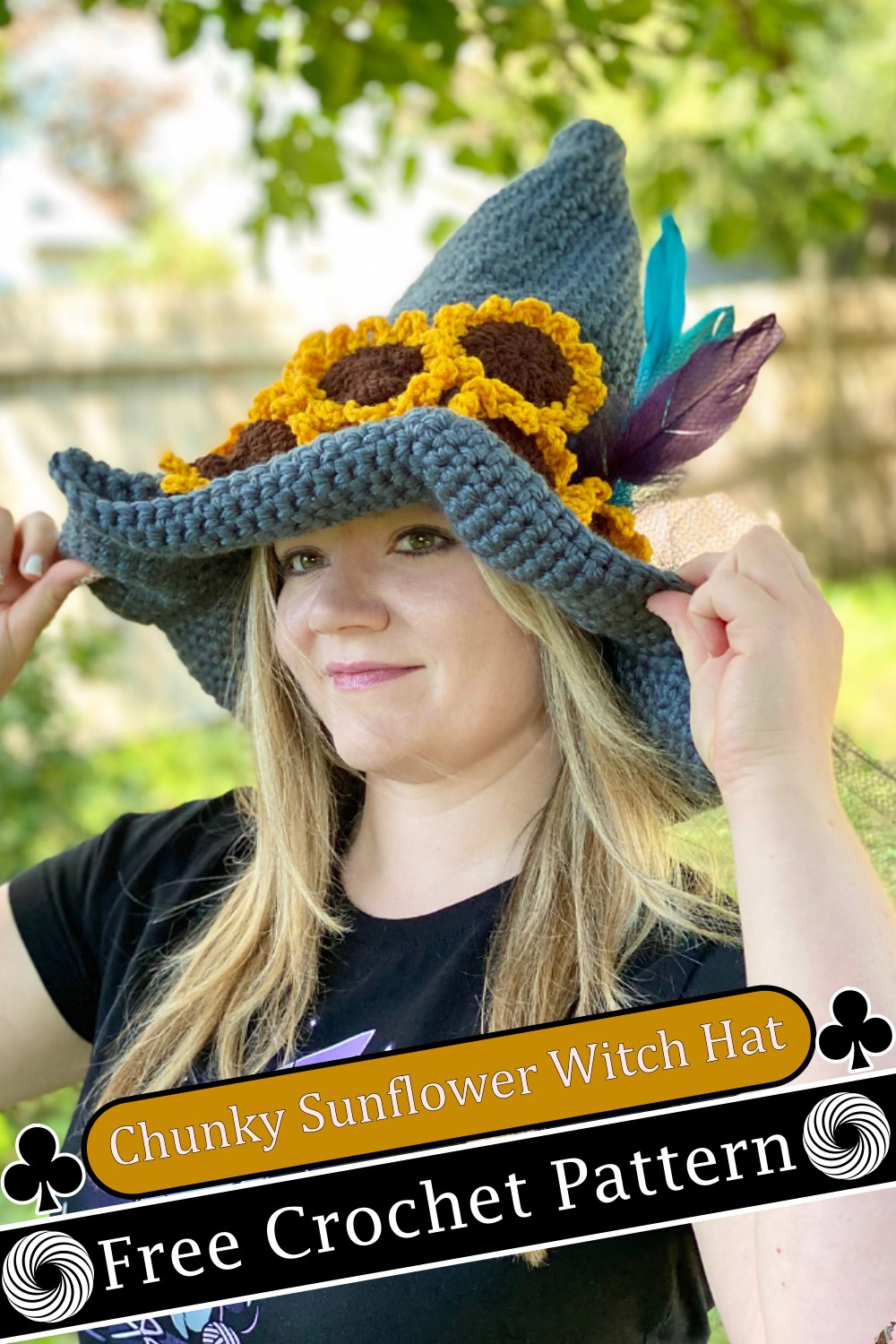 This creative and colorful hat is perfect for the witch, witchy, and their little helpers. This easy pattern combines two classic motifs of the season – sunflowers and witches – into one fun and festive hat that will be a hit at any Halloween party or gathering! The hat is made with chunky yarn for a touch of extra warmth and is adorned with a field of crocheted sunflowers – perfect for celebrating the end of summer and the beginning of autumn. You can also add other fun embellishments like netting or flowers if you please! And because it comes in Kids and Toddlers sizes for everyone in the family, This easy-to-follow pattern includes four sizes to fit everyone in the family!
Witch's Hat
This striking Crochet Witch's Hat is perfect for your next Halloween costume! The hat is worked in a continuous round from top to bottom, so there are no pesky seams to worry about. This crochet witch's hat is great for beginners looking for an easy and quick pattern. This witch's hat is perfect for the Halloween season or any time of year you need a stylish accessory that can be worn multiple ways. It comes in 4 sizes, from child to adult. The body of the hat is worked continuously without seams and is worked in single crochet (sc), so even a beginner can make it!
Ice Cream Witch Hat
Are you looking for a fun and festive Halloween costume? Why not try our Crochet Ice Cream Witch Hat! This adorable twist on the classic Halloween motif is sure to please. This sweet, vintage-inspired crochet ice cream witch hat is a fun and easy project for kids of all ages! It worked in two parts, starting with the brim and ending with the crown. You can create a unique costume by picking your favorite color palette and incorporating embellishments like plastic gems, bling, or even stuffed animals. Made with soft and comfortable yarn, this hat is perfect for kids or adults. And the best part is that you can get creative with the colors, sprinkles, and other embellishments. So have some fun and put your personal touch on your costume this year. Our Crochet Ice Cream Witch Hat is sure to be a hit!
Candy Corn Witch Hat For Kids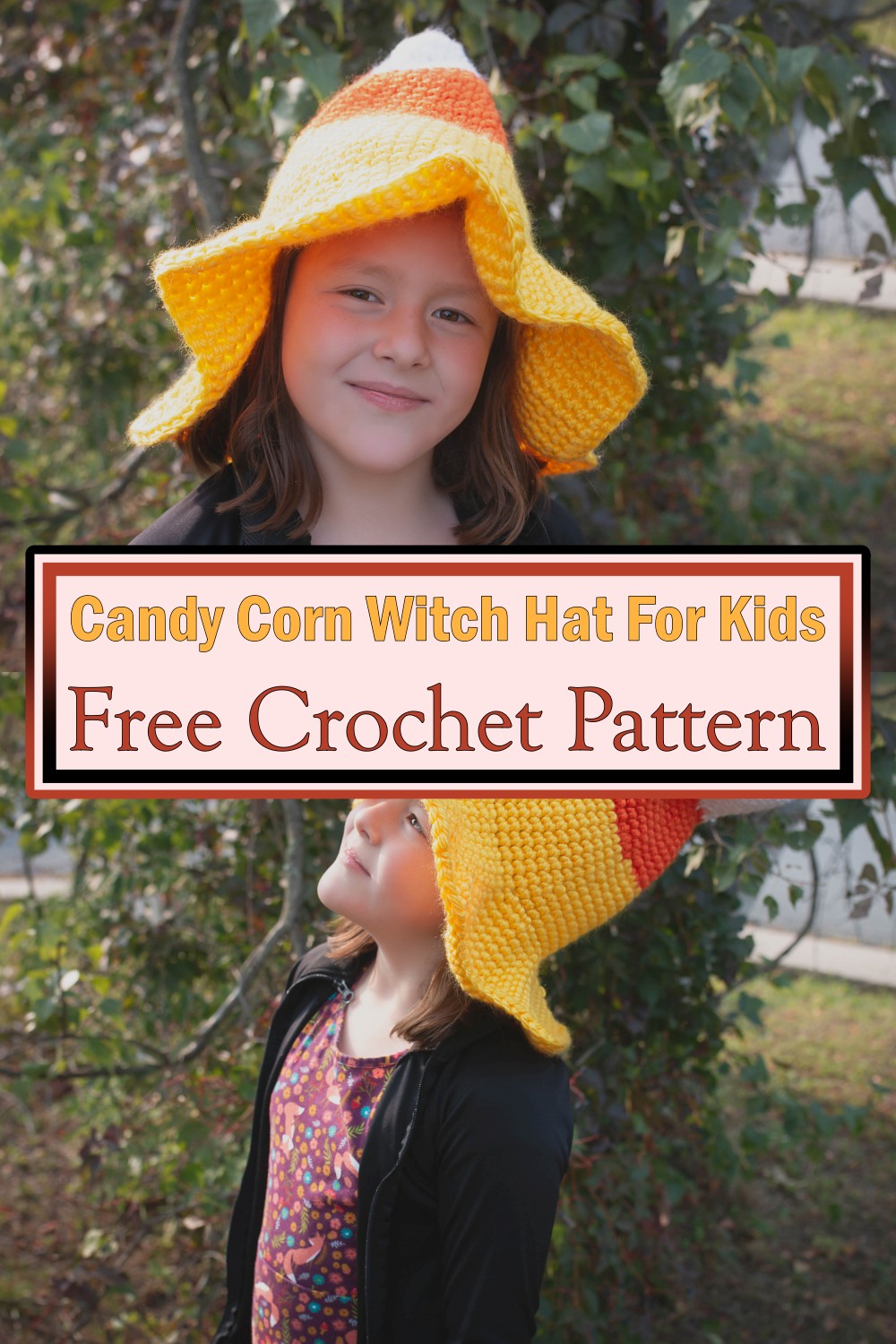 Halloween is a time for spooky decorations, cupcakes, and candy. But don't forget to put a hat on your little one! With this fantastic Candy Corn Witch Hat, you can combine two Halloween themes into one design. The bright colors and cone shape are perfect for customizing with the look of candy corn on top. Plus, it's easy to make and comfy to wear! It's made of soft, comfortable fabric and is easy to customize with the candy corn look. Plus, it's machine-washable, so you can keep it looking great all season long.
Wicked Stripes Witch Hat
Turn your witch hats into something special with this fun pattern. This is easy to make a hat that works up quickly and comes in 2 sizes - medium/child and large/adult. This Halloween, you can make one of these for each of your children (or their friends)! This witch hat is a super fast and simple pattern. The hat is worked up in the round and uses a single crochet stitch. It is written for super bulky weight yarn but can be adjusted to any size by using different weights of yarn and hook sizes. The SC, DC, HDC, SL ST, and chain stitches are the only stitches used.
Witch Hat For Cats
Whether you're looking for a cute costume for your cat to wear to a Halloween party or you want them to look festive at home, our Witch Hat For Cats is a perfect choice. Look no further than our Witch Hat For Cats! This easy-to-wear hat will get your feline friend into the Halloween spirit. Our witch hat features a black brim with an attached purple bow made from soft, comfortable fabric. The best part? It's easy to put on and take off, so your cat can enjoy their Halloween costume without fuss.