13 Free Crochet Long Cardigan Patterns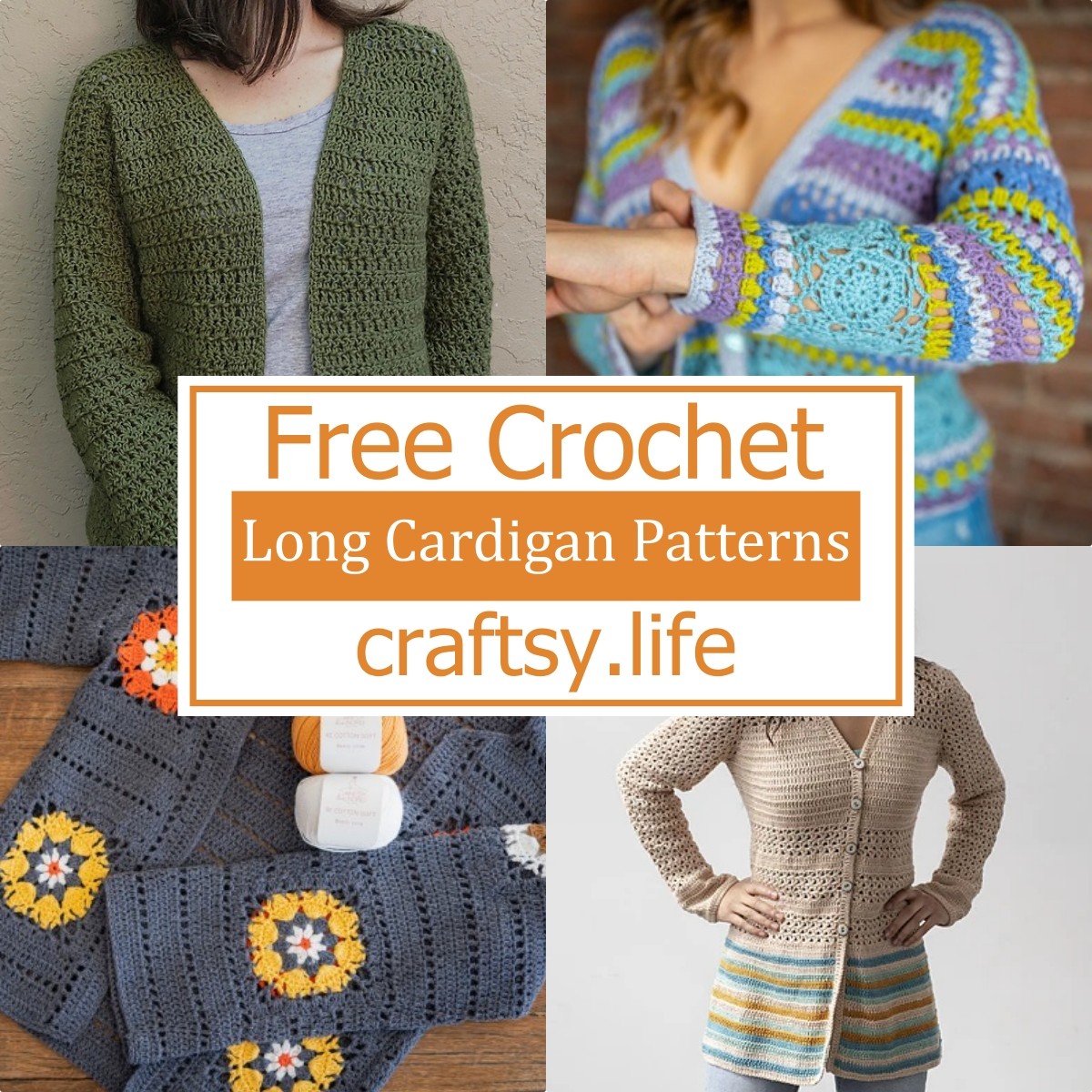 If you're looking for a new crochet project, why not try a long cardigan? Cardigans are a great way to keep warm, and there are many different crochet-long cardigan patterns to choose from. You can make them in all colors and styles to find the perfect one. Plus, they're a great way to show off your crochet skills. So, if you're up for a challenge, follow this list of free cardigan patterns; we've gathered some of our favorite patterns to get you started.

Whether you're looking for a long cardigan with buttons or one crocheted open down the front, there are plenty of options. Cardigans crafted from cotton, wool, and other natural fibers are ideal for keeping warm in the cooler months when outerwear is more necessary. Regarding design and styling, some ladies love classic elegance; others enjoy the casual look of a baggy garment. No matter what you desire and what you like, you will find the best options to select a fabulous and useful crochet long cardigan pattern.
Crochet Long Cardigan Patterns
Are you looking for new crochet cardigan patterns to try out? Check out these long cardigan patterns that are perfect for fall. These patterns are all unique and stylish, and you'll surely find one you love. So get started on your new favorite sweater today!
Tulip Square Boho Cardi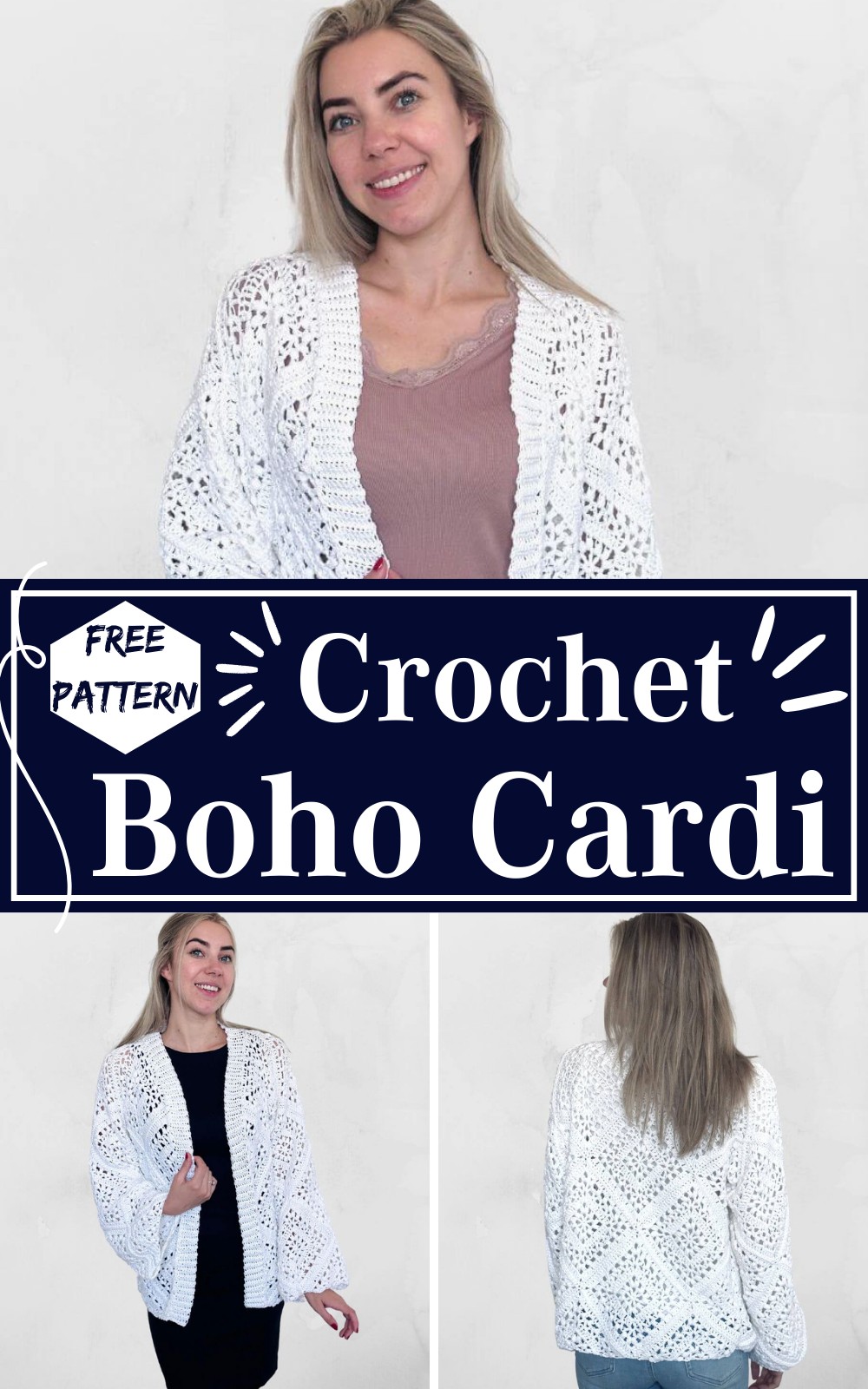 Make this crochet cardigan to give a boho flair to your personality! It is made in a white shade and uses a Tulip Square Boho Cardi design that easily combines squares and triangles joined together using slip stitches. Plus, with its oversized design and sleeves with an open drape, it is perfect to wear all year long!
Vanity Cardigan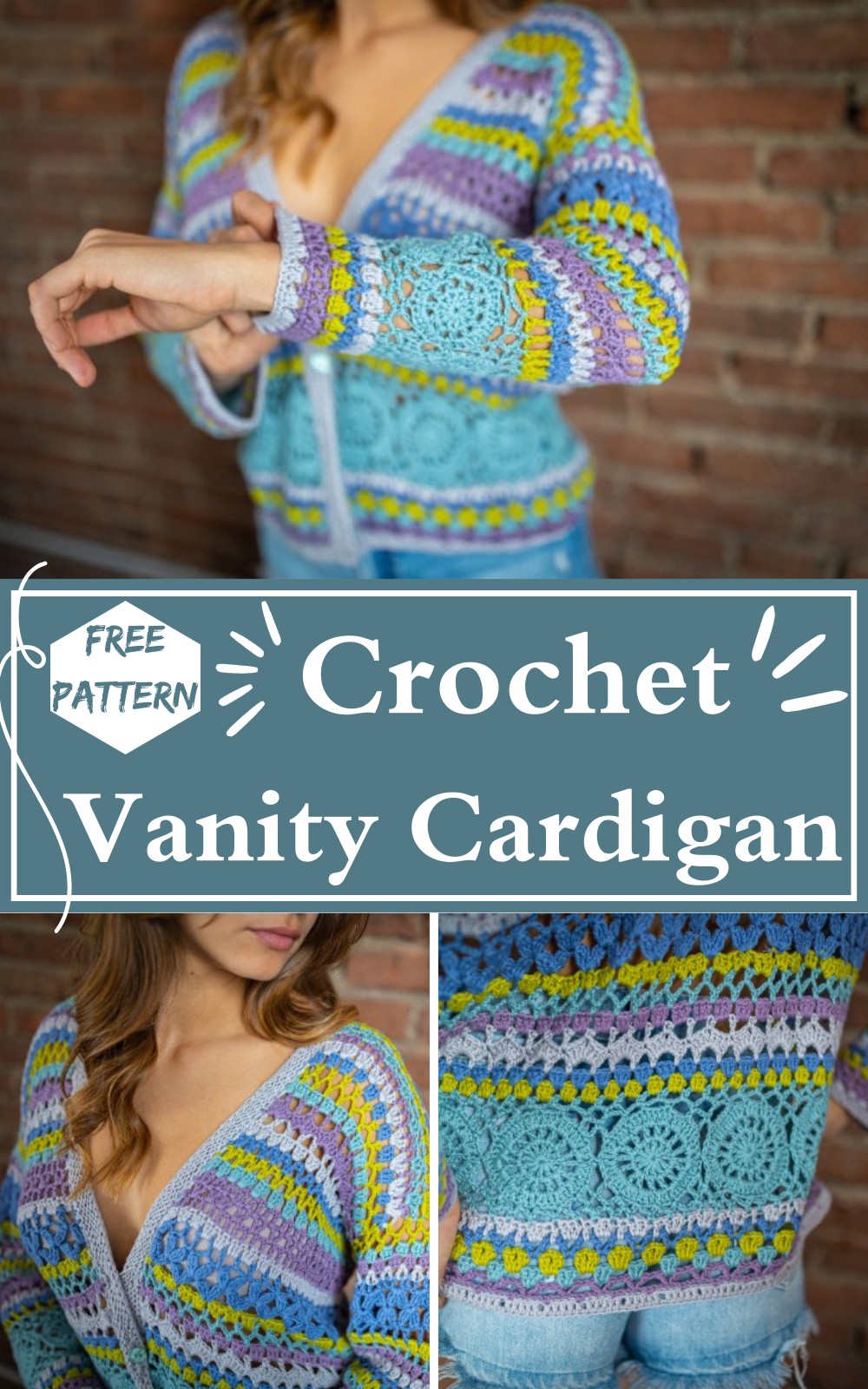 This chic, handmade cardigan is a fashion statement and an assurance of comfort. The crochet cardigan features a plunging V-neck and intricate, lace-inspired patterns in various bright colors. It's the perfect piece to layer over a casual t-shirt and shorts, adding a touch of handmade elegance that will catch the eye.
Granny Square Jacket
Experience the floral charm of the Granny Square Jacket! This trendy piece is primarily crocheted in a versatile grey with a harmonized array of granny squares. What truly stands out are the thoughtfully added flowers in a delightful orange, yellow, and white palette. This combination of cozy simplicity with a pop of color will surely add a touch of elegance to your daily attire.
Long cardigan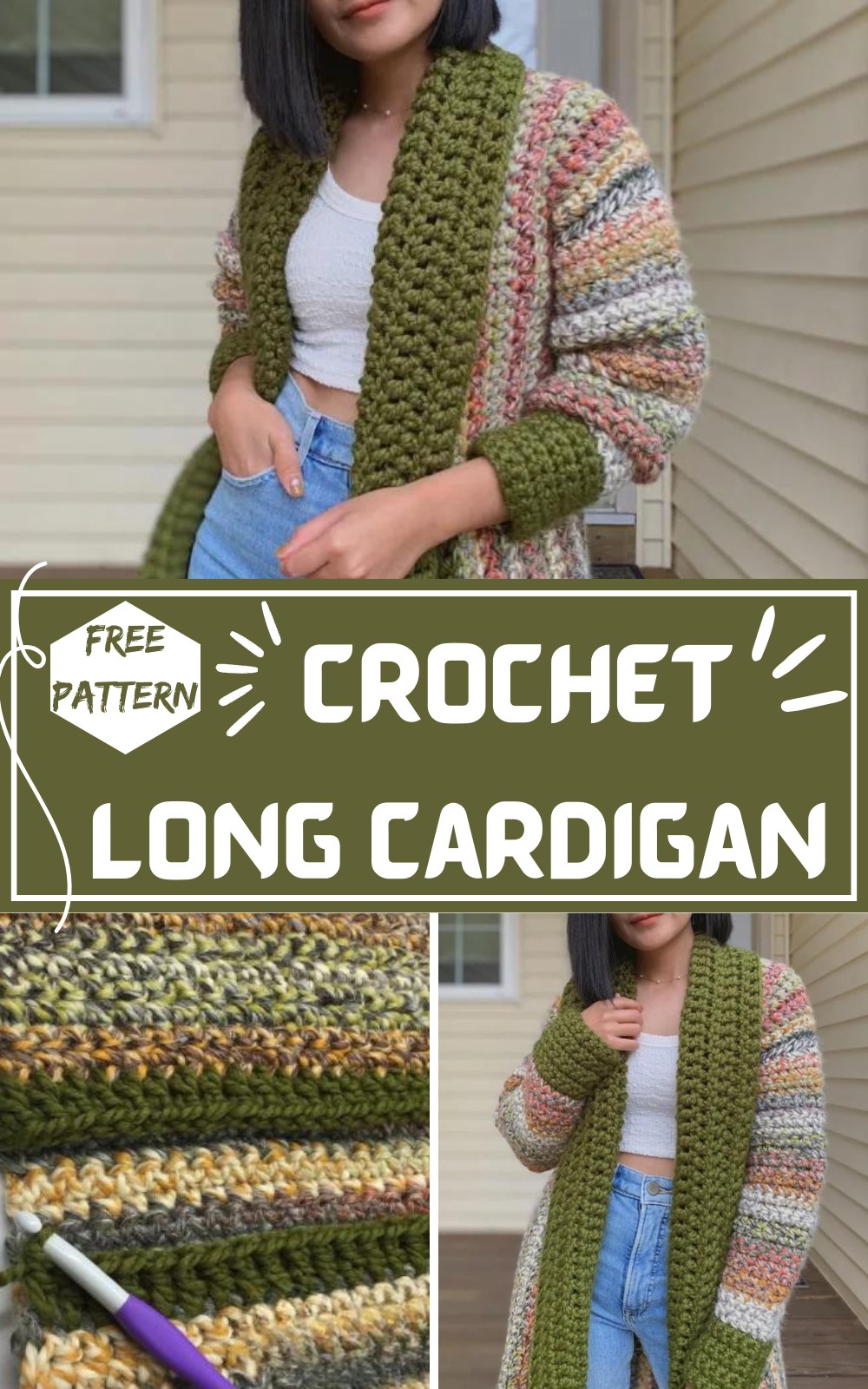 Get yourself ready for both casual and formal events with this luxurious cardigan. With its cozy, rich texture and woolen yarn, the cardigan showcases a refined, single-colored border combined with multicolored sleeves and torso design. Offering great warmth, it effortlessly marries style with comfort, making it essential for cooler seasons. Versatile enough, it can beautifully complement any outfit paired with a simple T-shirt or a fancy blouse.
Chelsea Cardigan
This cozy cardigan is perfect for daily wear, and with the added benefit of pockets, it strikes the perfect balance between style and practicality. Expertly made in one piece, this classic cardigan gets its finishing touches with sleeves and ribbing cuffs. Designed initially as a regular-length piece, it naturally stretched, inspiring a versatile stitch pattern to fit two distinct lengths, the upper thigh or just above the knee.
Phyles Long Sleeveless Cardigan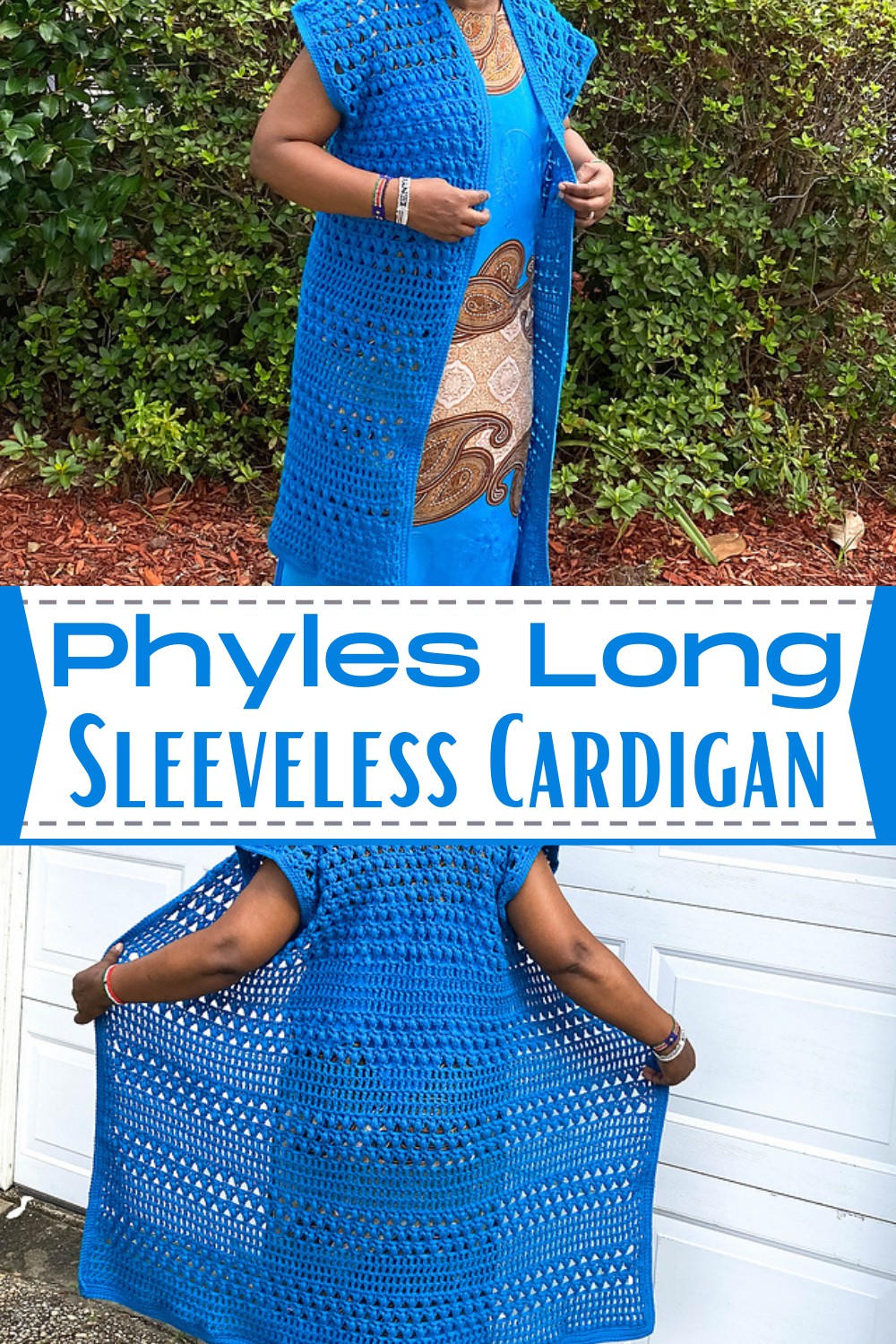 Welcome the warmer seasons with our versatile, lightweight, sleeveless crochet cardigan, ideal for spring and summer! It has a breathable bobble texture throughout the length and uses a striking blue color. Offering an inclusive size range from XS to 5X, this loose-fit cardigan you can customize the length, fully embodying elegance and personal preference.
Easy Crochet Long Cardigan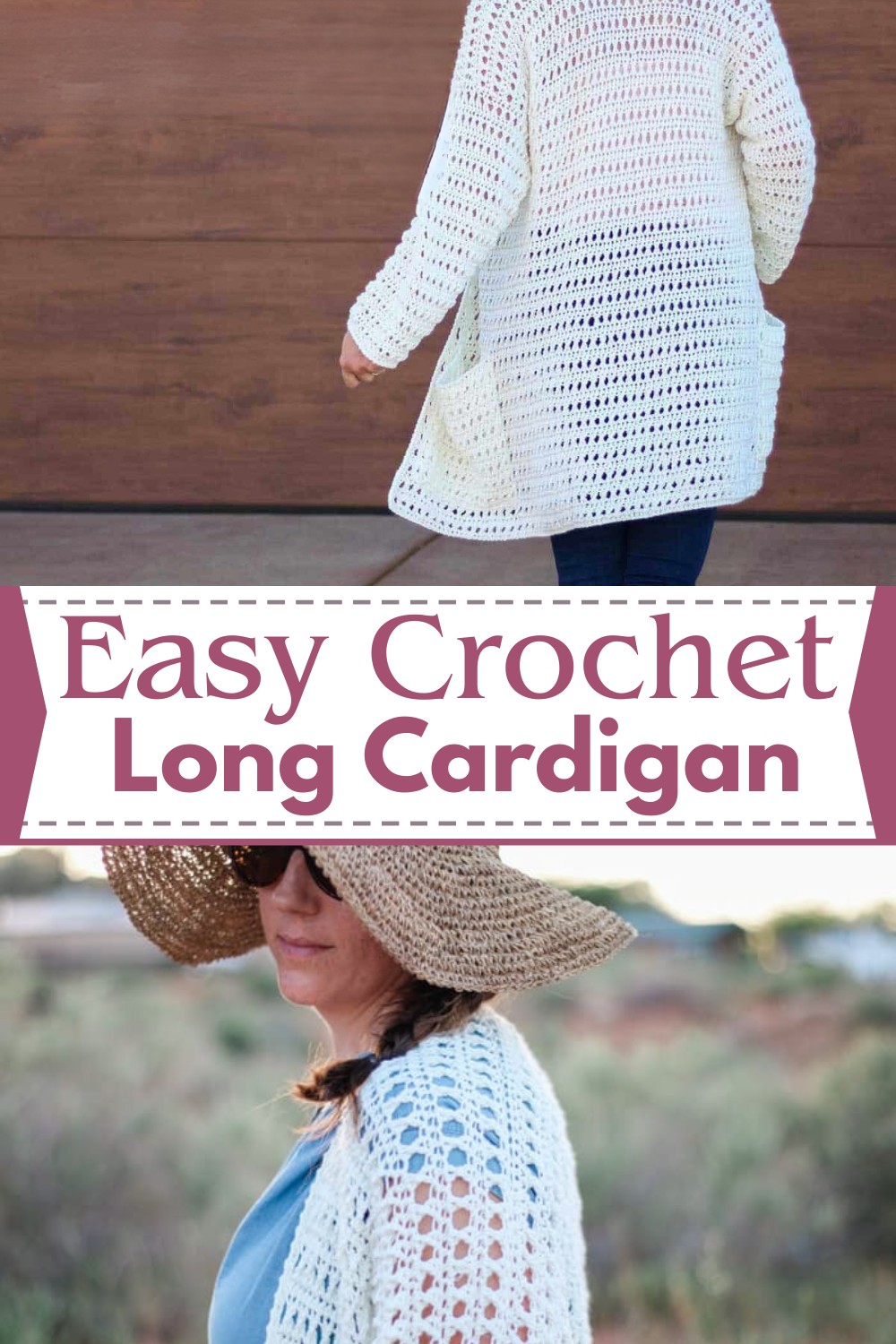 Hit the beach or prepare for other summer adventures with this lightweight cardigan. Made swiftly with treble crochet and supple worsted-weight yarn, this versatile cardigan is ideal for any stylish ensemble. Keep it simple and lightweight, or add lengthy fringes for a tinge of boho charm. So, Get the complete free pattern now and elevate your wardrobe effortlessly!
Librarian Cardigan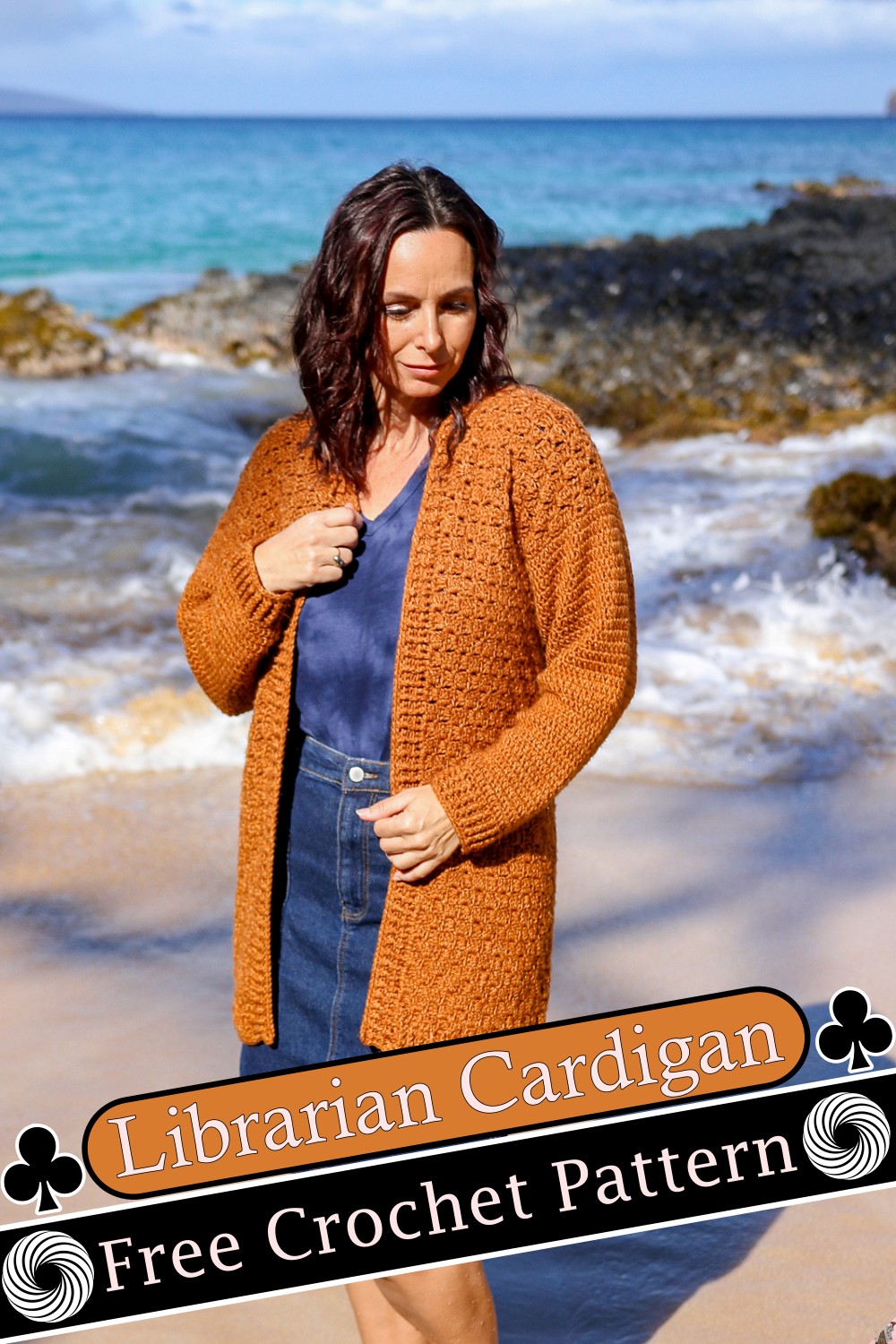 Are you looking for a stylish and professional cardigan that will keep you warm all winter? Look no further than the Librarian Cardigan! This Crochet Librarian Cardigan is perfect for anyone who wants to stay warm and look good at the same time. With its modern construction and comfortable fit, this cardigan will become a favorite in your wardrobe. This sweater was designed for women looking for a flattering, easy-to-sew, classic wardrobe staple.
The Mezzo Cardigan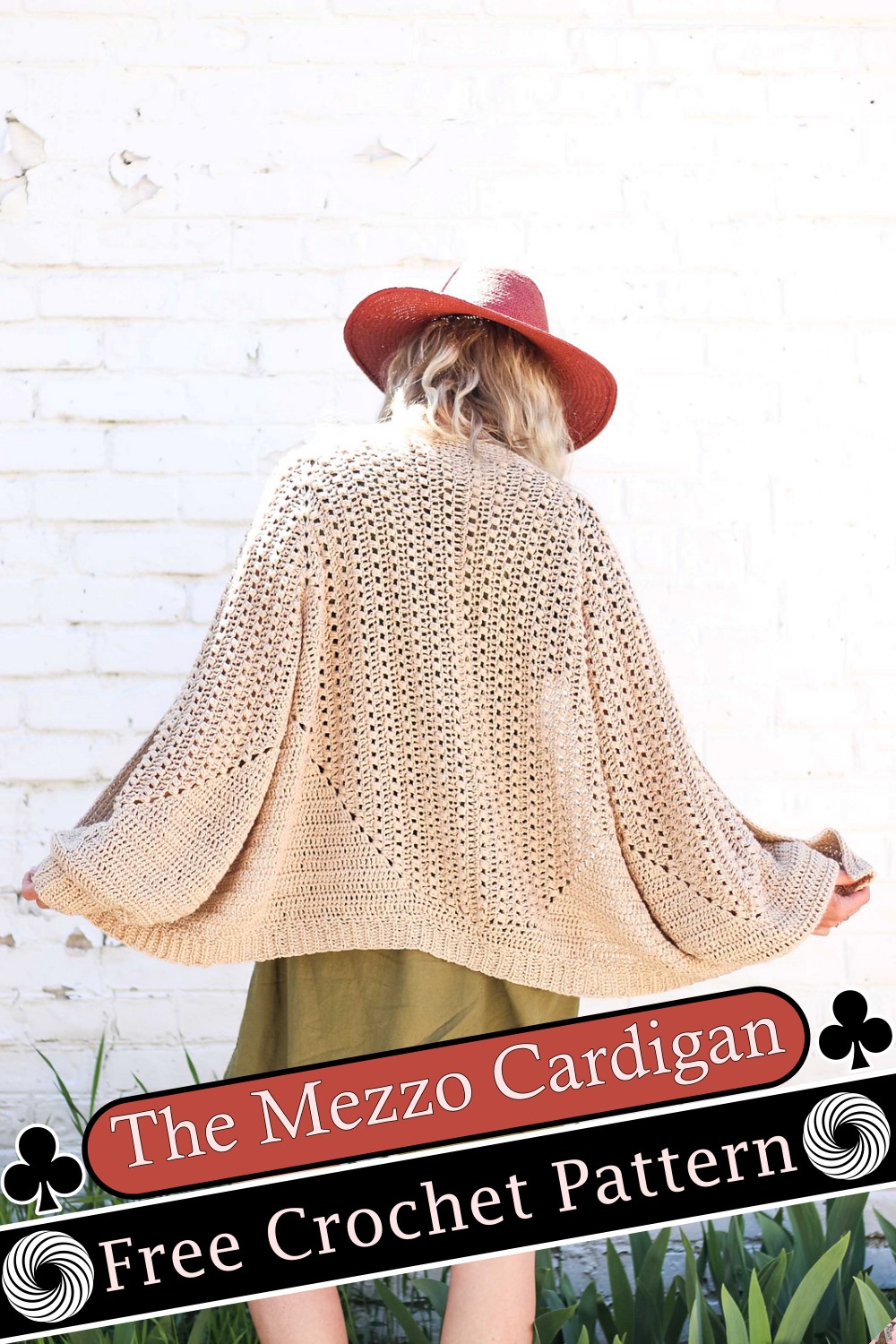 This is your pattern if you've ever dreamed of working along as your crochet projects assemble themselves. The GEO Mezzo Cardigan is a geometric masterpiece that will have you seeing possibilities in fashion and art everywhere you look! With its geometric hexagons, the Crochet Mezzo Cardigan is as fun to wear as it is to make. The two-part crochet transforms into a beautiful cardigan with relaxed sleeves and a cozy front. This sweater will turn heads whether you wear it to class or out in town.
Spindrift Cardigan
Add some fun to your professional wardrobe with this Crochet Spindrift Cardigan. Crochet this pretty cardigan to bring some ocean energy into your wardrobe. This stylish silhouette is designed to layer over tank tops, blouses, under jackets, or raincoats for extra warmth. With its playful stripes and lace detail, this cardigan is perfect for those days when you want to feel slightly more stylish. Made from soft, breathable materials, it's comfortable to wear all day. The yarn used in this design is lightweight and machine washable, making it an excellent choice for summer travel.
Becky Cardigan
This gorgeous crochet cardigan is made from rectangles and has a beautiful edging. It's the perfect pattern for women who want a size-inclusive and adjustable sweater. With this easy crochet cardigan pattern, you can always get the perfect fit. Whether you're dressing up for a special occasion or just looking for a cozy sweater to wear around the house, the Becky Cardigan will become your new favorite. So don't wait any longer; order your Crochet Becky Cardigan today! Our Becky Cardigan crochet pattern is designed to be longer than your average sweater, so it is unnecessary to add any length. It has a boxy fit with an oversized thick sweater feel – perfect for those who want extra warmth!
In The Clouds Cardigan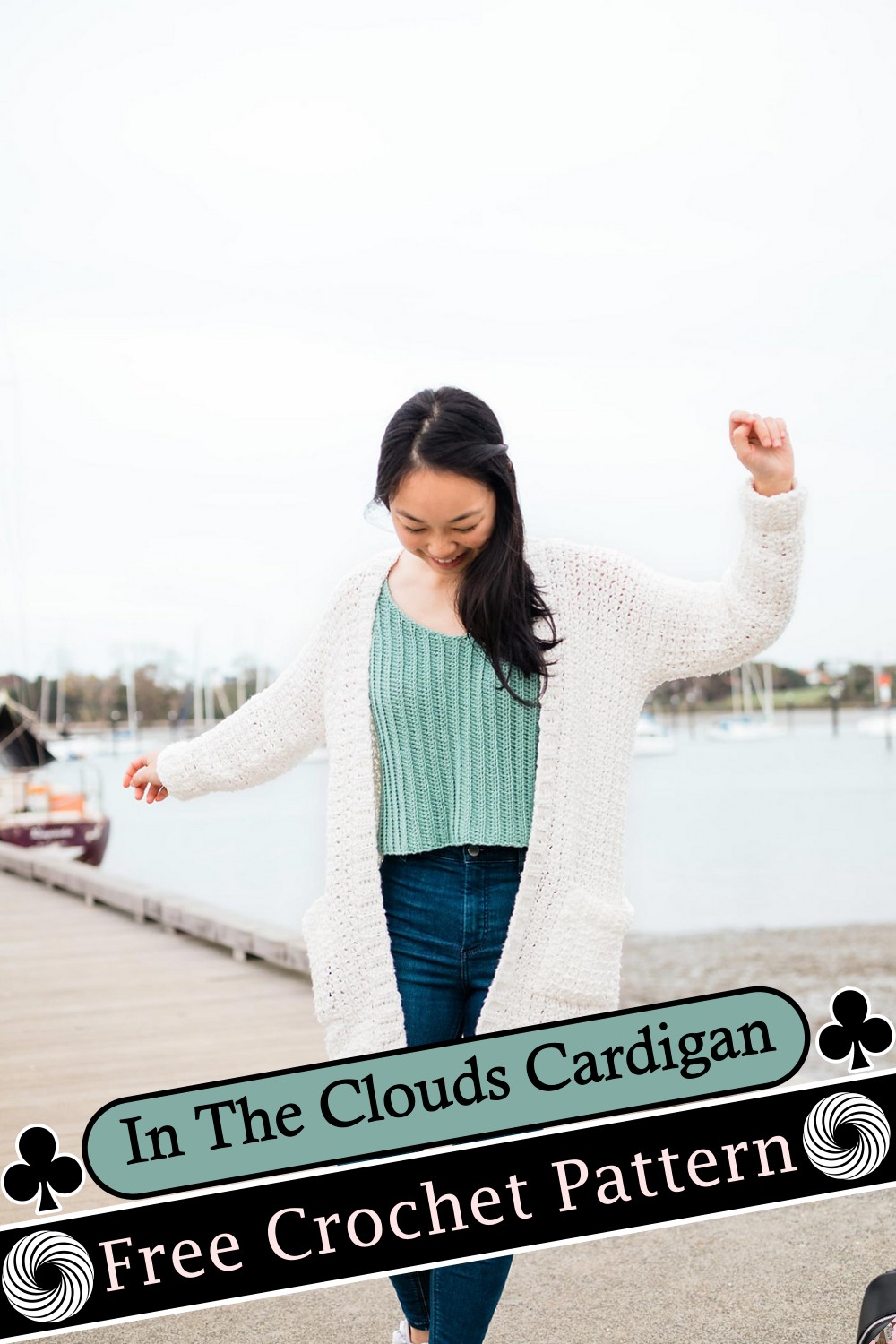 Are you looking for a stylish and comfortable cardigan? Look no further than the In The Clouds Cardigan! This easy-level crochet cardigan is perfect for any season, with its airy and light construction! The mix of single crochets and chains creates a lovely textured surface, while the loose, relaxed drape makes it the ultimate comfy staple. The Clouds crochet cardigan is the perfect layering piece for any season! The mix of single crochets and chains creates a textured surface, while the loose and relaxed drape makes it the ultimate comfy staple item in anyone's wardrobe. Pair it with dresses and sandals for a cute summer look or over jeans and a t-shirt for a casual everyday outfit!
Sera Cardigan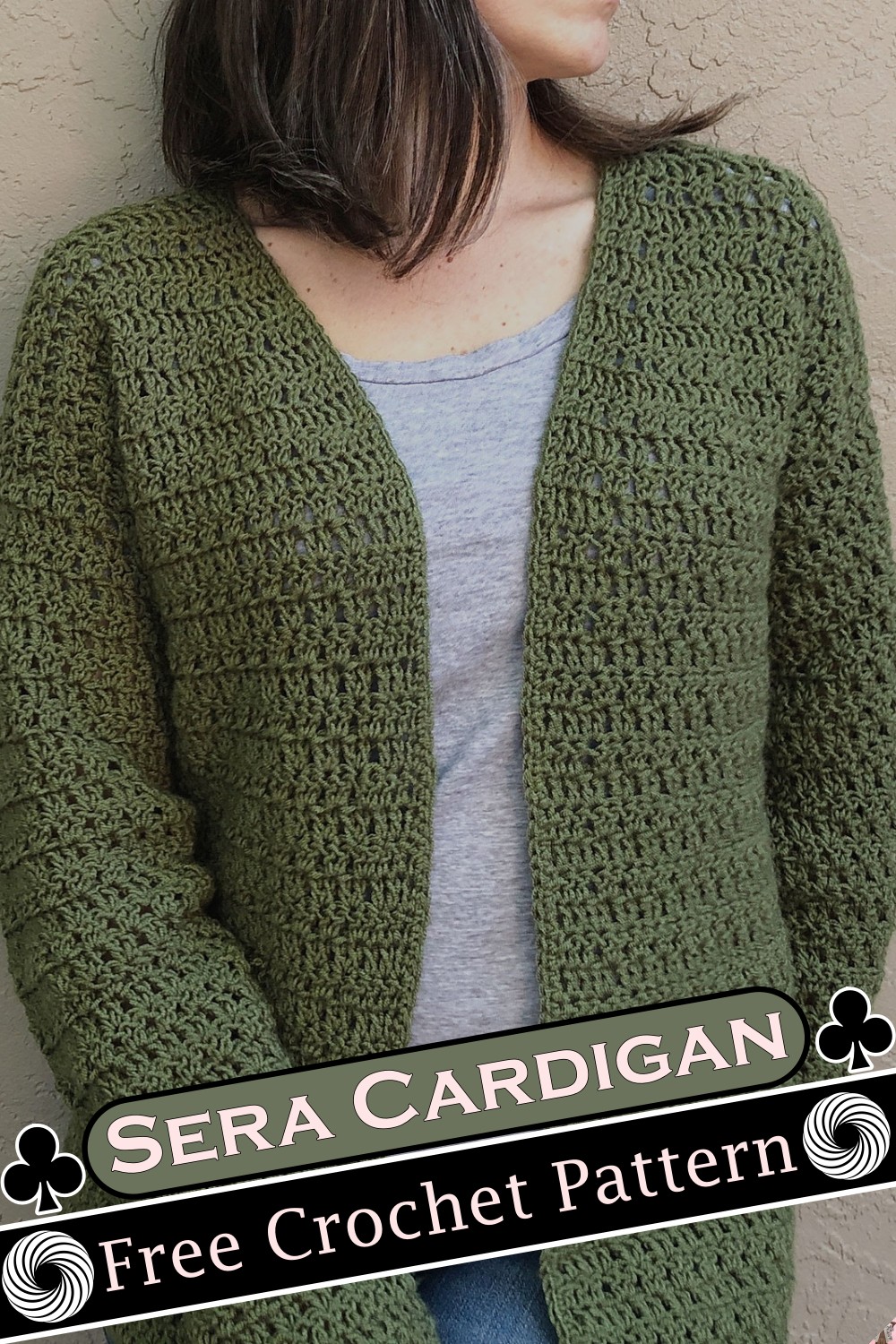 The Sera Cardigan is a classic crochet cardigan with a comfortable fit. This lightweight sweater is perfect for an evening or a day around town. The Sera Cardigan can be dressed up or down for any occasion with a versatile style. The crochet detail provides a feminine touch, while the easy drape makes it comfortable around the house or for a day out. This sweater works from fine-quality cotton, which gives it a light and airy feel. It features an unfinished hem, so you can roll or leave it as the final touch to your outfit.