The crochet hoodie is one of the most popular crochet patterns for winter. The trend is back in style, and many people are crocheting this classic design. If you want to learn how to make your crochet hoodie, here are some great instructions and patterns you can use.
There are various patterns, but we have listed the best crochet hoodie patterns online. Since these hoodies are highly versatile and you can use them all year round, you will never go wrong with a crochet hoodie. We've found the perfect crochet hoodie to keep us cozy and stylish during cold weather with this roundup of crochet hoodie patterns. Whether you prefer a graphic pullover or a more fitted shape, we've found plenty of chic designs to keep you warm through the breezy nights ahead.
Crochet Hoodie Patterns

These crochet hoodie patterns can easily make warm clothing for your winter or summer nights. The hoodie will provide warmth and protection for your head, neck, and throat. You can use any yarn, any color you like, and make a crochet hoodie as loose or tight as possible.
Crochet Baby Hoodie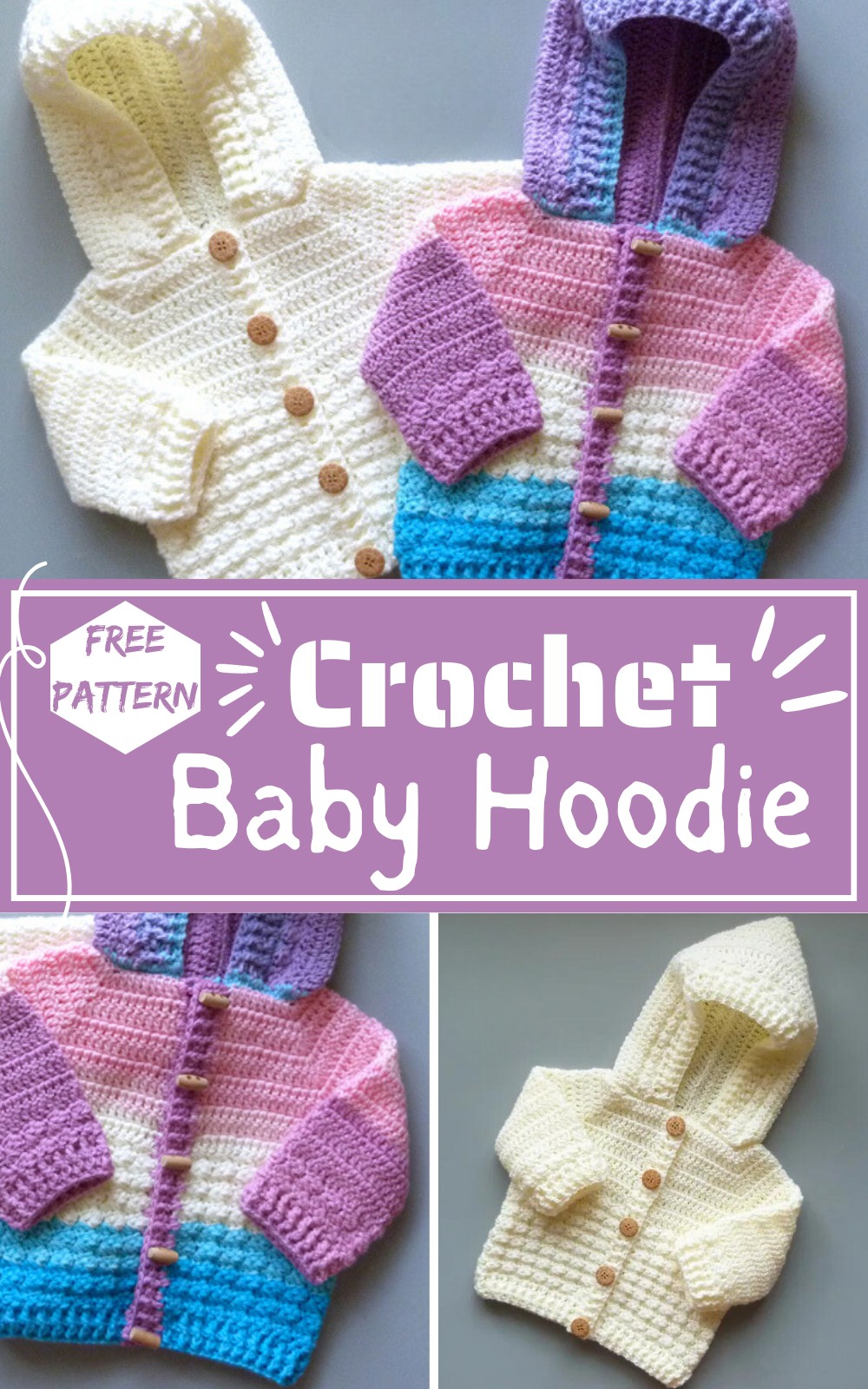 This lightweight, multi-textured baby hoodie will keep little ones warm without causing discomfort. With classic wooden buttons in any shape, you can conveniently close the open front, making it easy to wear and remove, especially for newborns. Make sure to add a long rib in the center for this purpose! Maybe you choose a single color for boys or a mix of many favorite yarn colors for girls to make it stylish; it is up to you. This adorable hoodie, with its variety of stitches, differs in bottom and rest, will be a special gift for a toddler.
Crochet Granny Hoodie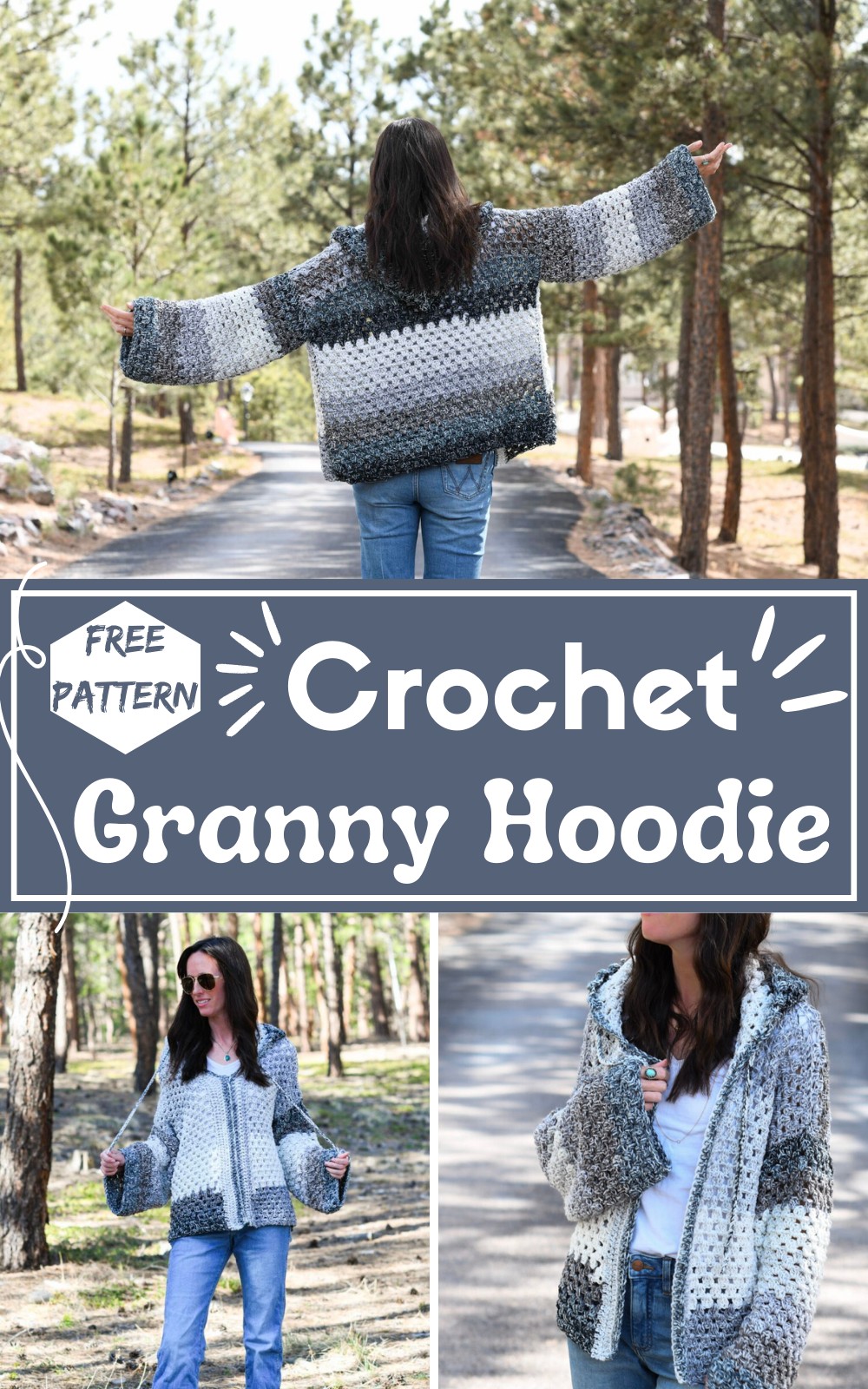 Not all hoodies are for winter. Make this classic, open-front granny hoodie for spring outings or traditional events. You can make this airy design that looks adorable by using only single and double crochet stitches. If you ever need a bit of warmth at night, zip it up. Thanks to its loose fit and kimono sleeves, you can wear this hoodie without discomfort. It's an adaptable, trendy addition to your wardrobe!
Crochet Baby Onesie Hoodie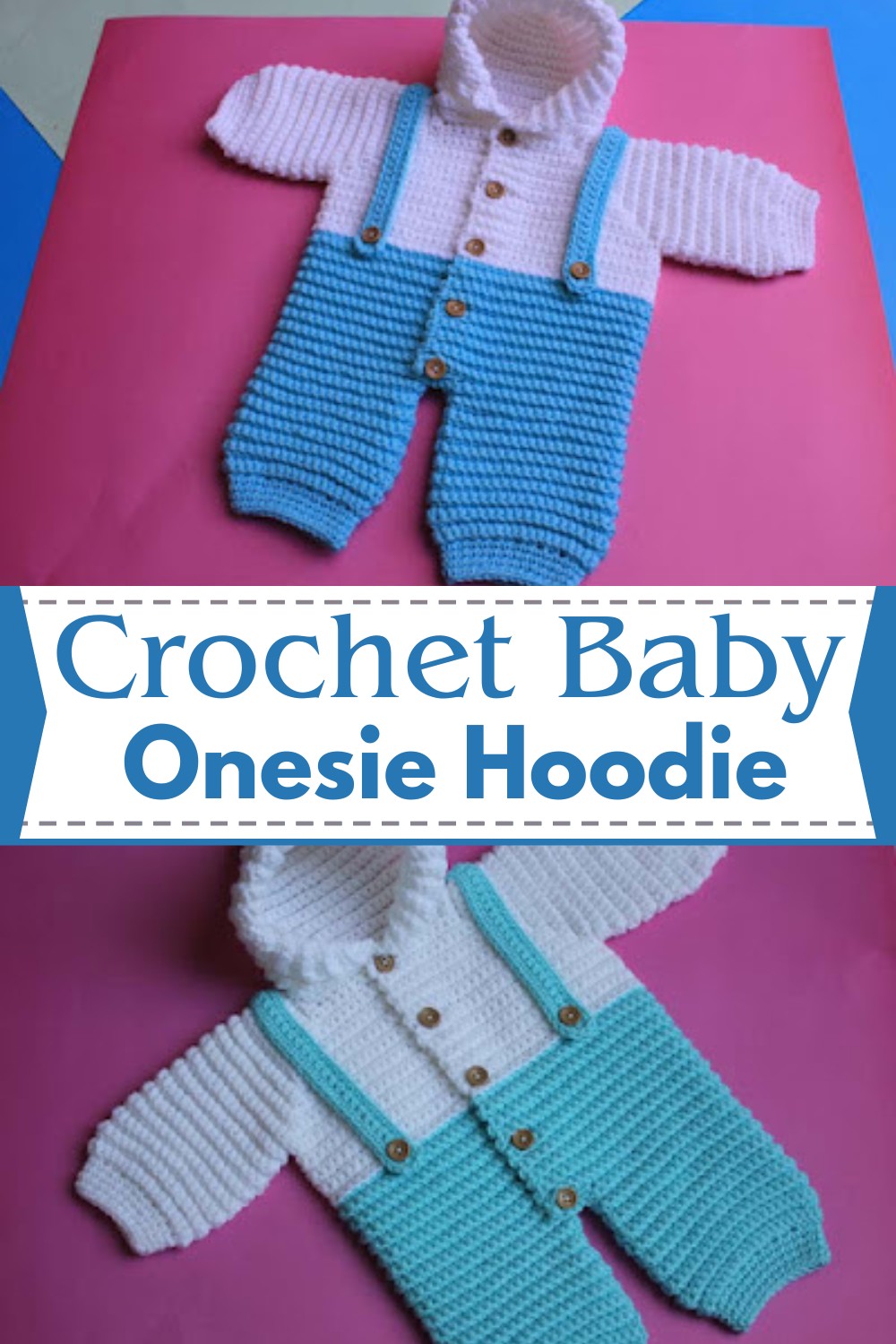 The Crochet Baby Onesie Hoodie is the perfect addition to your little one's winter wardrobe! Your baby stays cozy and snug throughout the colder months with the attached hood, mittens, and little booties that combine style, warmth, and comfort. The detailed pattern and corresponding video tutorial provided below allow for adjustments in size and color so you can crochet the perfect onesie to suit your little one's needs, which is suitable for both boys and girls. So, gather your materials and let your creativity flow as you embark on this delightful crochet project!
Suggested Yarn: DK Weight Yarn
Crochet hook size:  0-3 months- 4mm (G)/ 6-12 months -5mm (H)
Hawthorn Crochet Hoodie Pattern
This trendy hoodie boasts a chic design with a modern touch, allowing you to stay warm while making a fashionable statement. Ideal for casual outings or simply lounging around at home, this free crochet Hoodie pattern is a versatile garment you'll love to wear all season long. Its customizable size, color options, and variety of crochet stitches allow you to make a unique textured and visually appealing design to create a personalized garment that perfectly reflects your style! So, let's pick up our hooks and yarn and embark on this delightful crochet journey together!
Sizes: XS(S, M, L, XL, 2X, 3X, 4X, 5X)
 Suggested Yarn: Worsted Weight (4) Yarn
Rainbow Boys Crochet Hoodie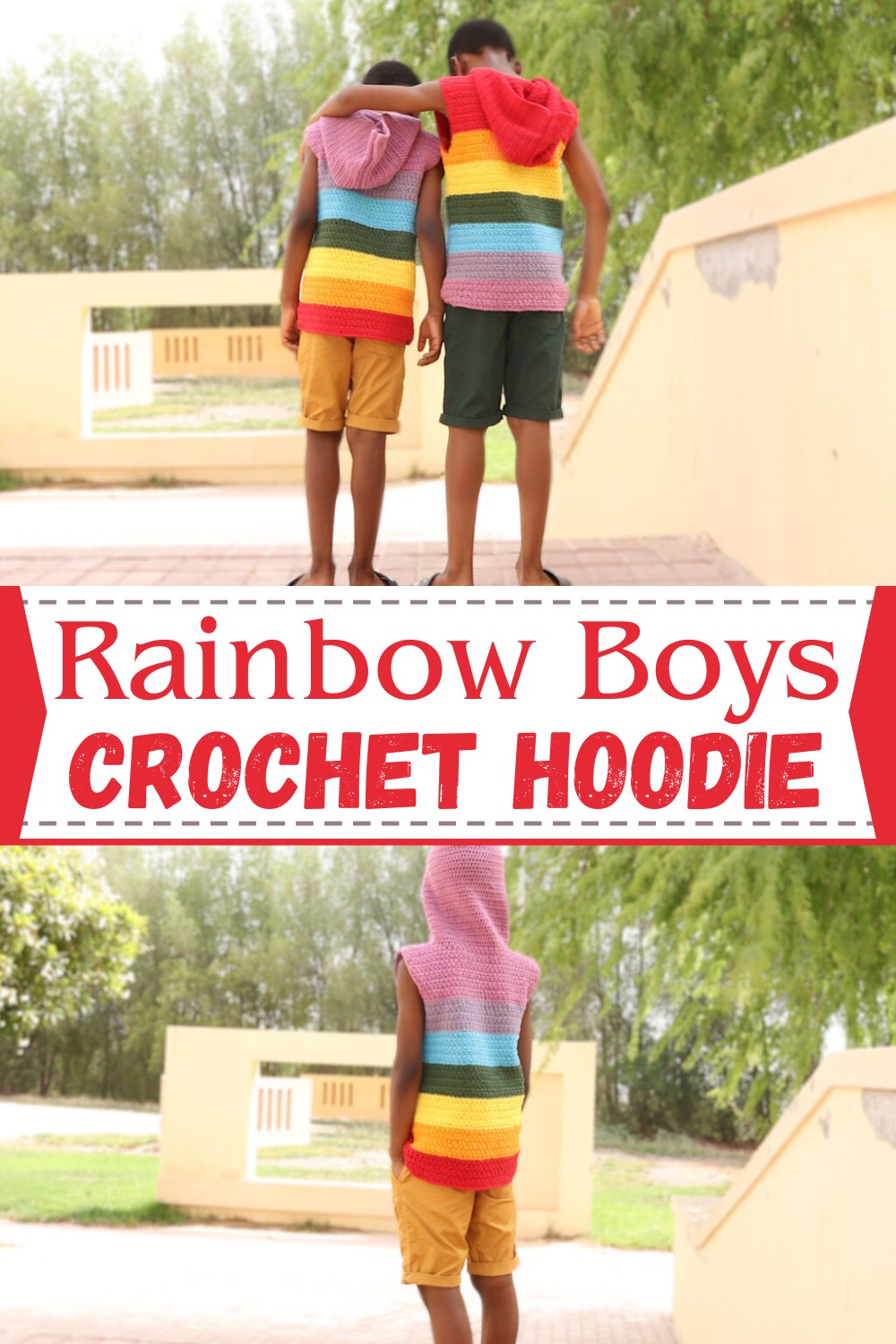 Make this Rainbow Crochet Hoodie inspired by the captivating colors of the rainbow; crocheted with high-quality, soft yarn, this cheerful and unique hoodie is a visual delight cozy and comfortable addition to your child's wardrobe.  Its texture is also impressive; it's gentle enough on the skin while maintaining durability, preventing it from becoming flat after washing or wearing. The easy-to-follow pattern primarily uses the Half Double Crochet stitch, with Single Crochet stitch trimming at the armhole and hood. With helpful tips and video tutorials below, the color transition process is a breeze, making this the perfect crochet pattern for beginners and experienced crocheters!
 Yarnage: 950-1350 mtrs DK weight yarn in 7 colors
Gauge: 12 Crossed HDC rows/ 20 sts across= 4 inches
Crochet Men's Hoodie Pattern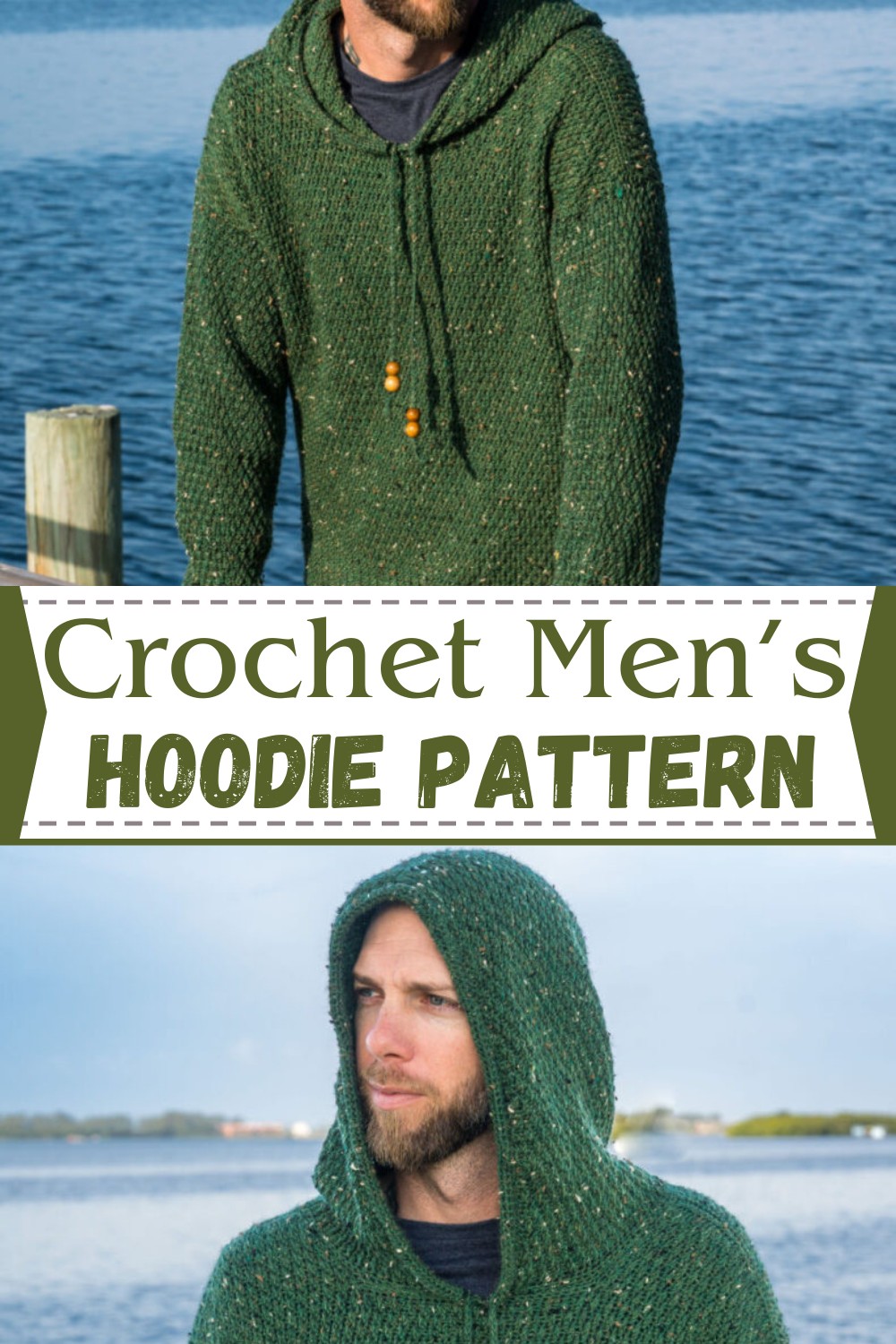 Crochet Men's Hoodie Pattern, a stylish and comfortable addition to any gentleman's wardrobe! This versatile hoodie is perfect for the colder months, combining warmth and fashion in a single, handcrafted garment that will elevate your personality and keep you snug throughout the season. As a gift, the Crochet Men's Hoodie is a thoughtful and unique present for friends and loved ones who appreciate handmade clothing. The adaptable design size and color customization ensure you can create the perfect hoodie tailored to one's preferences. From selecting the right yarn and hook to mastering various crochet stitches, the video tutorial simplifies the process and guarantees a successful project outcome!
 Suggested Yarn: fingering (#1) weight yarn
Patchwork Hoodie
Soft, cuddly, and cozy, it is the perfect hoodie for a cool evening at home or out with friends. With an easy beginner-level crochet pattern and instructions for personalizing your hoodie. You can use scrap yarn for this project, so this is a great stash buster! A cozy crochet patchwork hoodie is the perfect project for a beginner in crochet. This easy beginner project is a great yarn stash buster as each square uses a different loveable piece for your wardrobe; chances are you will make several of these at once, one in every color!
Oversized Hood Cardigan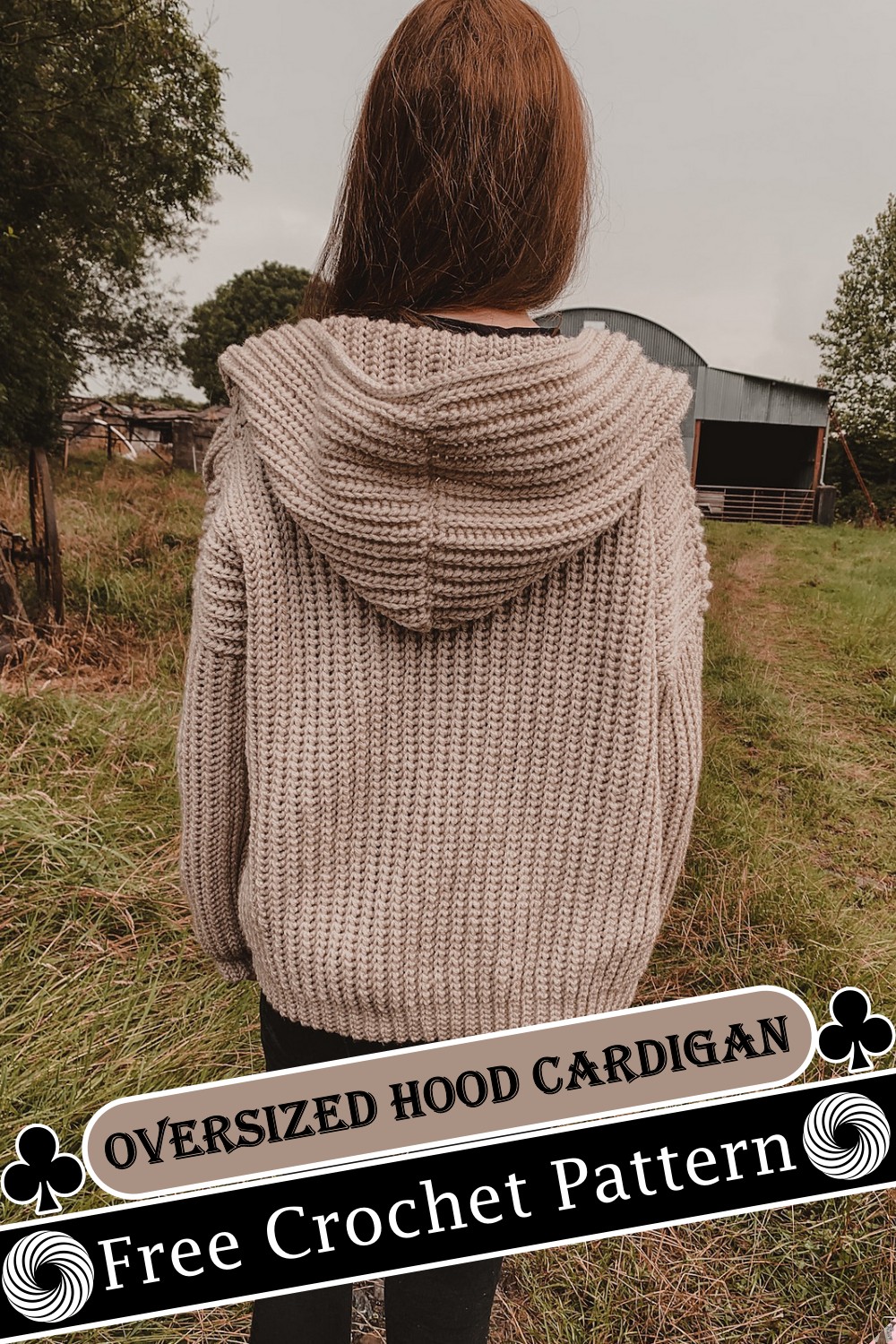 Crochet this chunky, oversized crochet sweater. This cardigan is made for all seasons, with a ribbed texture, oversized fit, and a beautiful hood. This piece is designed to have a ribbed texture and be easy to wear. Use whatever bulky weight yarn you would like, and customize the fit by choosing your favorite length of sleeves and your desired number of buttons up the front. The thicker weight yarn gives it a chunky look while still being cozy and warm. This would be great to wear out and about on chilly nights and at home while you watch TV.
Remix Hoodie Cardigan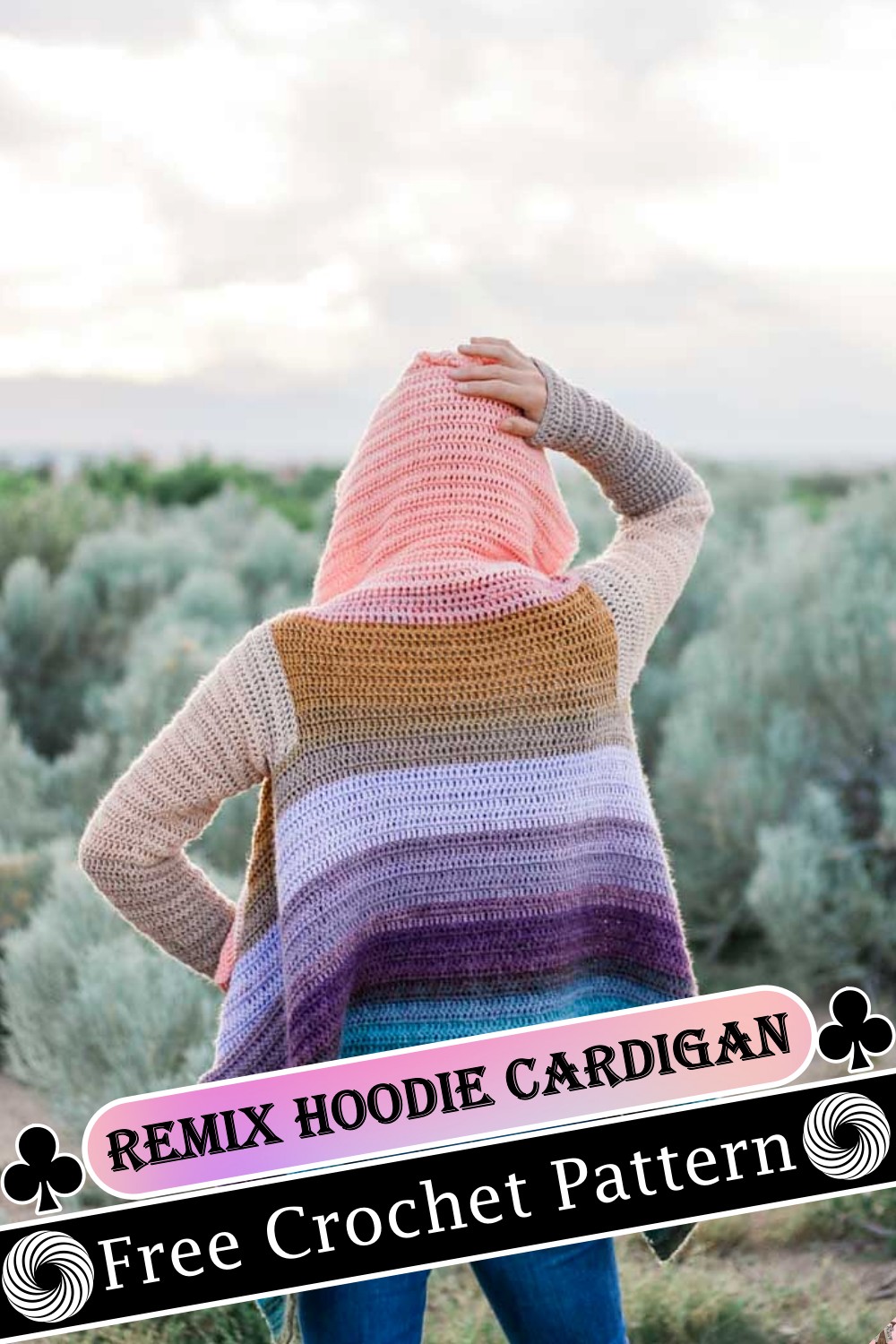 Let your creativity shine with the Crochet Remix Hoodie Cardigan. This easy-to-make sweater features a beautiful color gradient – the perfect stitch for letting your artistic side show through. With just one size and basic stitches, you can easily adapt it to fit all your friends who want one, too! Create your unique pattern by mixing colors from different Lion Brand Mandala yarns cake balls, or go with just the colors around you. The material you choose creates a beautiful piece of artwork for your wardrobe.
Sherpa Hoodie Sweater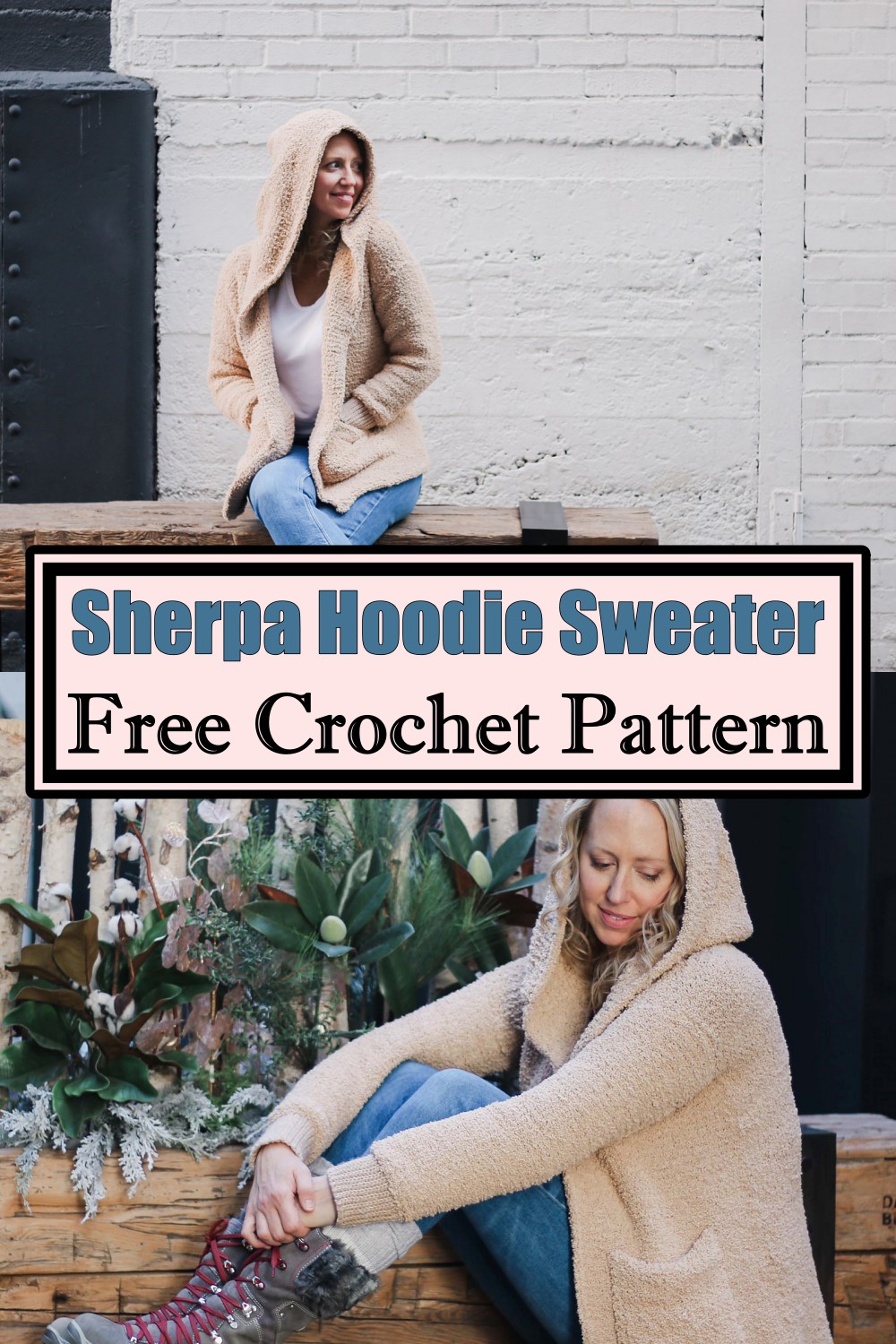 This cardigan is just like a teddy bear! This knock-off keeps you cozy with its sherpa-like fleece fabric and snuggly sleeves. If you've never been a Tunisian crocheted before, don't worry; we'll show you how in no time. Get the look of trendy Sherpa fleece without all the bulk. Make this crocheted hoodie cardigan using Tunisian crochet, which creates a fabric that looks knit but is crocheted. Cuffed sleeves are also crocheted to create a fun pop-culture reference to teddy bears.
Baby Bear Crochet Hoodie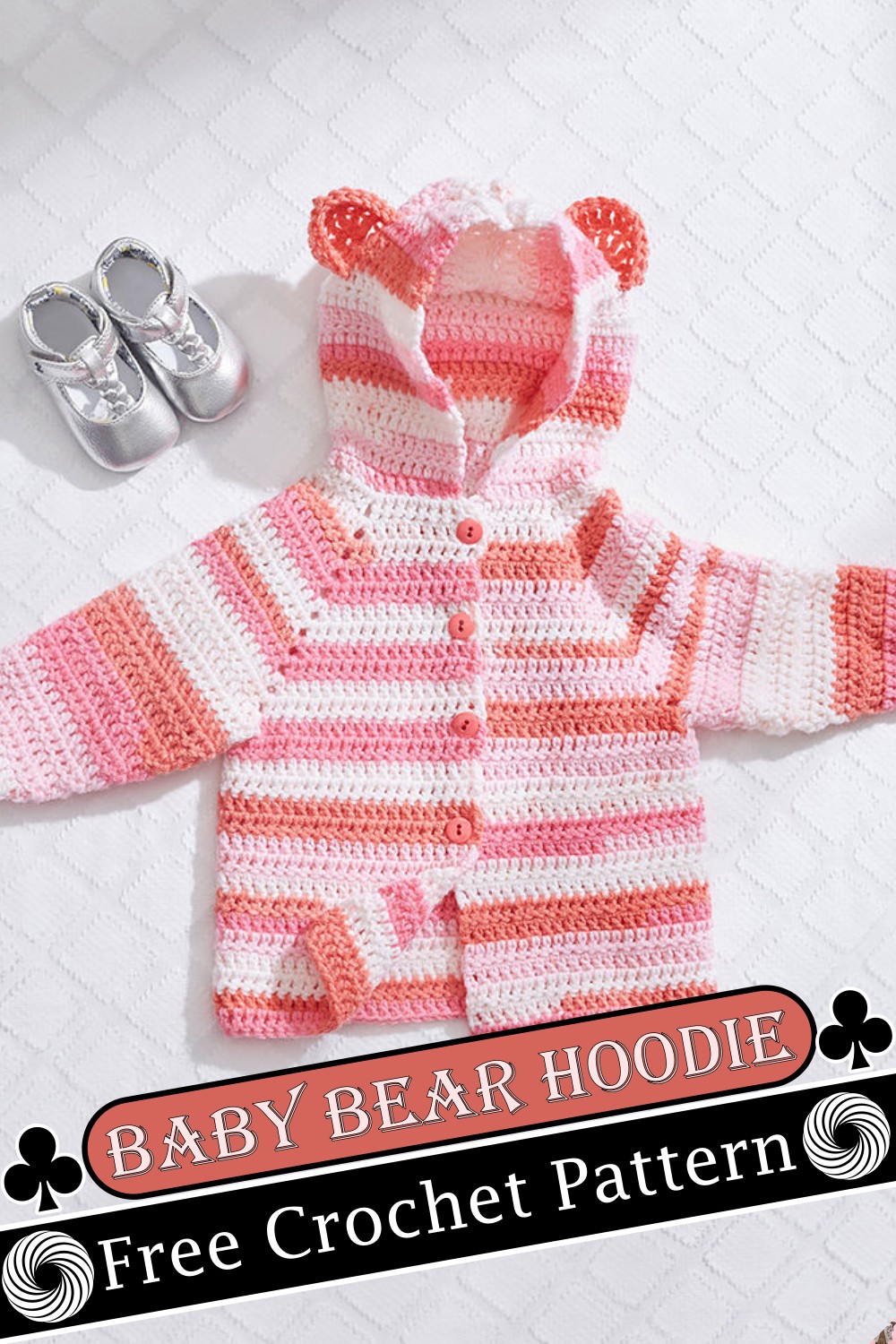 This cozy hoodie is perfect for when a baby's mama wants to keep the little cub warm. Crochet it with a single ball of Bunches of Hugs, and you'll soon have a cardigan sweater fit for any teddy bear. This trendy crochet hoodie is perfect for layering. It fits most babies, making it easy to use as a classic baby gift. You can crochet this adorable hoodie using only one ball, making it the perfect last-minute gift for the baby in your life!
Single Crochet Baby Sweater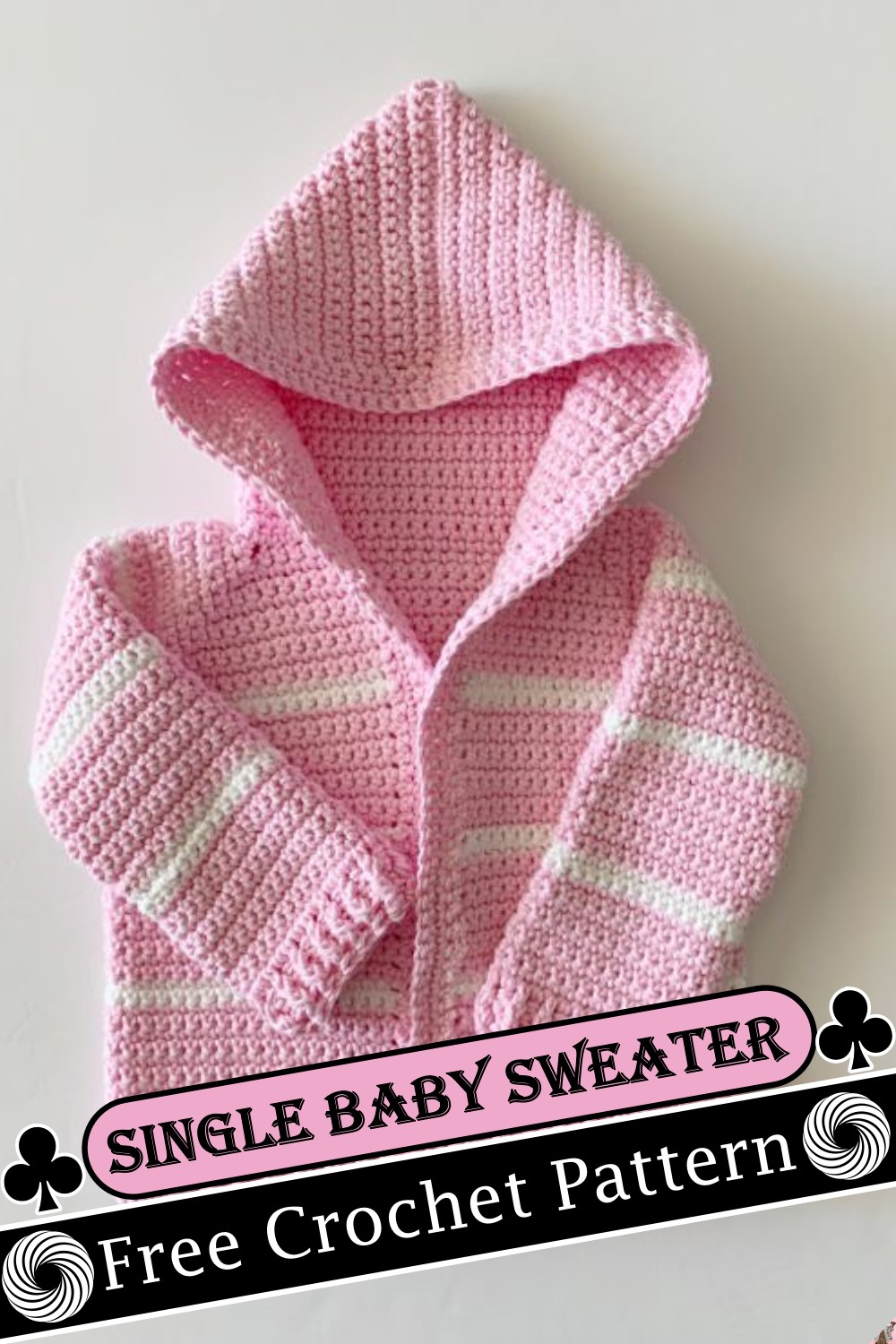 This single crochet baby sweater pattern will be your go-to for all your baby crocheting needs. Made with super soft and cuddly yarn, this sweater is great for wearing and layered under a longer cardigan or coat to keep tiny toes warm. Simple stitches and a quick project make it a great gift. The pattern includes instructions for sizes 0-3 months, 3-6 months, 6-12 months, and 12-24 months. The adorable cowl neck and traditional construction make a baby look like a darling wherever he goes!