Rainbows are a symbol of hope, joy, and happiness. These 'Free Crochet Rainbow Patterns' will be perfect for the kids who love to chase the rainbows and do not miss it at any cost. These crochet rainbow will be a great choice for making amazing gifts for the kids on the occasion of Christmas, Easter, and even birthdays. Not only for kids but these patterns are also equally liked by adults as they bring positive vibes to their homes.
If you have a toddler or baby girl at your home, then these crochet rainbow patterns can make an amazing gift for them! The little girls usually like colorful stuff and things with which they can play all day long. So, try to make these beautiful crochet rainbow patterns for them in some cute shades of pink and purple. You can even make these rainbow patterns more interesting by using some unique color combinations of yarns. For example, you can use purple-pink and yellow shades of yarns to make a beautiful rainbow pattern that would look stunning when hung in your living room. You can also attach beads or other embellishments to your crocheted rainbow patterns as well as bows or ribbons to give it a final touch-up!
The simplicity of these 25 Free Crochet Rainbow Patterns burst with bright hues that will lift up your spirits in no time!
Tips To Crochet Rainbow Patterns
There are some tips for crochet rainbow patterns.
Make sure to use the right yarn for your projects, such as DMC Natura Just Cotton or Caron Simply Soft.
Use single and double crochet stitches or a combination of both.
Use chain stitches to make loops; this will help create stripes on either side of each loop with no gaps between them. This technique is called "chaining off" because it chains together loops that form stripes as they're crocheted into one another.
When crocheting stripes, use a slip stitch instead of a chain stitch to join them together; otherwise, there might be an extra gap between stripes where the yarn has been pulled through without being secured by another chain stitch (or loop).
Use larger needles or hooks if possible. Because rainbow yarn has multiple color strands, it is a bit more difficult to work with than single-color yarn. You may need larger needles or hooks when working with rainbow yarn so that you can fit all of the strands through at once.
Work with shorter lengths of the yarn, rather than longer ones. If you try to work with too much of this type of yarn at once, it can become tangled and difficult to handle. To prevent this, wind smaller balls of the yarn as opposed to working directly from the skein.
Why Do You Need To Crochet Rainbow Patterns?
Rainbows are one of the most colorful and fun patterns out there, but why would you want to crochet them?
Here are some reasons;
Crochet rainbow patterns are a great way to add color to any project. Rainbows are a way to display the colors of the rainbow without the negative connotations associated with rainbows.
Many people associate rainbows with rain, lightning, and other weather-related topics. These types of associations can be harmful for children and adults who suffer from depression or anxiety. Crochet rainbow patterns can help dispel these negative associations from people's minds.
Crochet rainbow patterns can also be used to decorate a room or other items in your home. If you have an area that needs more attention than others, crocheting a small rug with a rainbow pattern can make the room look more inviting.
Another reason why you should consider crocheting is that it is an inexpensive hobby that does not take up a lot of time. You will never have to worry about running out of yarn or how much time you need to spend on your crochet project because you will always have plenty of yarn available.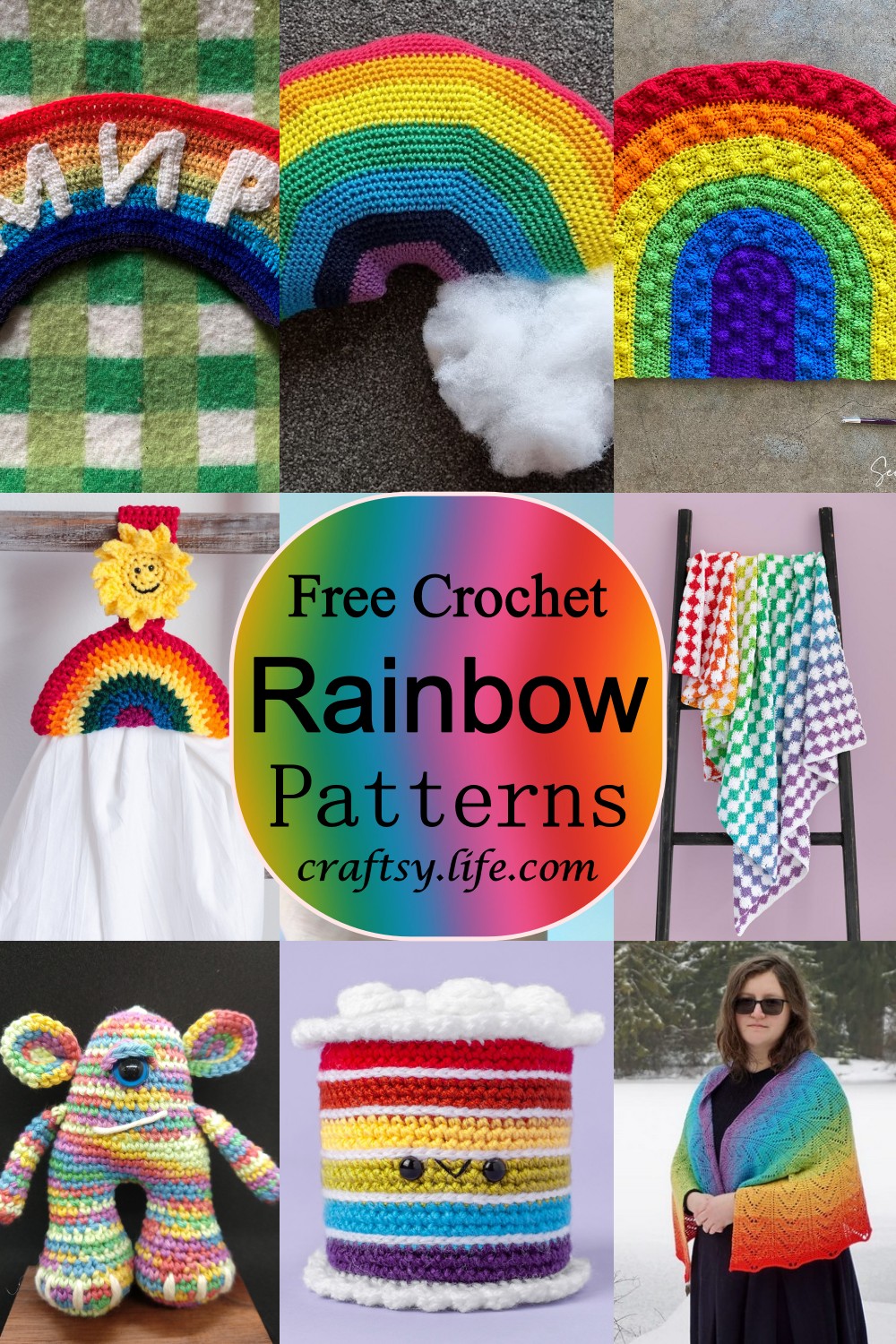 6 Color Rainbow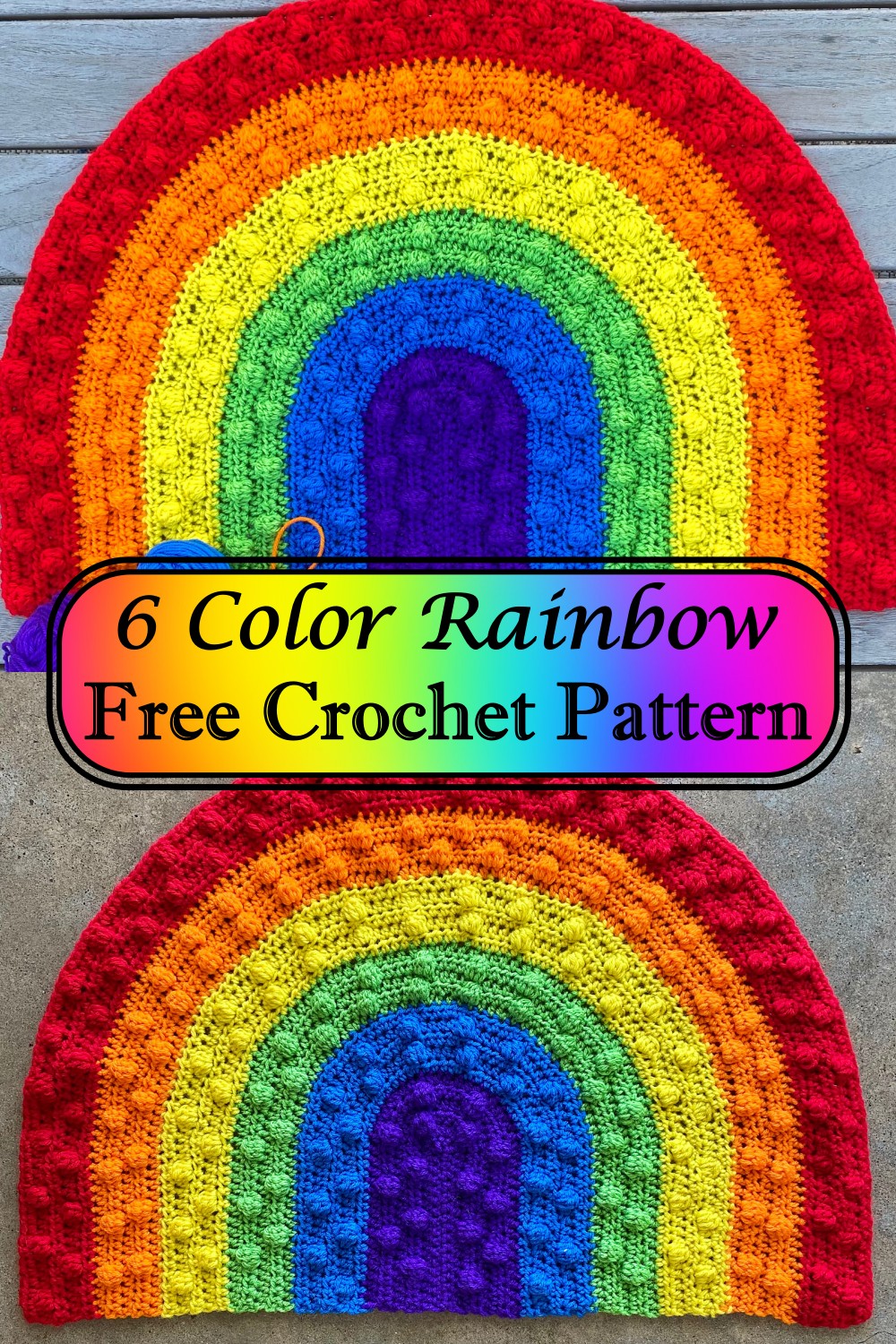 You will love making this fantastic crochet rainbow in 6 fun colors. This is a very fun pattern to work up! Crocheting bobbles of different colors are relaxing and lots of fun to complete! Use your favorite colors and enjoy the thrill of completing a simple project that you created on your own! Impress everyone who sees it! This super simple project is great for building up your self-confidence. Using only the double crochet stitch, and 6 Colors of your choosing this pattern is a great beginner project. The finished product will be used in a St Patrick's Day project!
Rainbow For Peace
Have you heard about the new trend of yarn bombing? Let's embrace the concept and use it for a good cause! It is time for us to crochet rainbows and display them in our neighborhoods in support of peace. This Crochet rainbow is made of 100% cotton and has a removable wooden dowel. Each one is handmade, so no two are exactly alike. Done in the colors of the rainbow, they're a beautiful accent to any wall, anywhere you need a touch of light. Use them as a backdrop for photos, over a bed or crib, or by an open window to see the colors dance across your walls.
Rainbow Catherine Wheel Blanket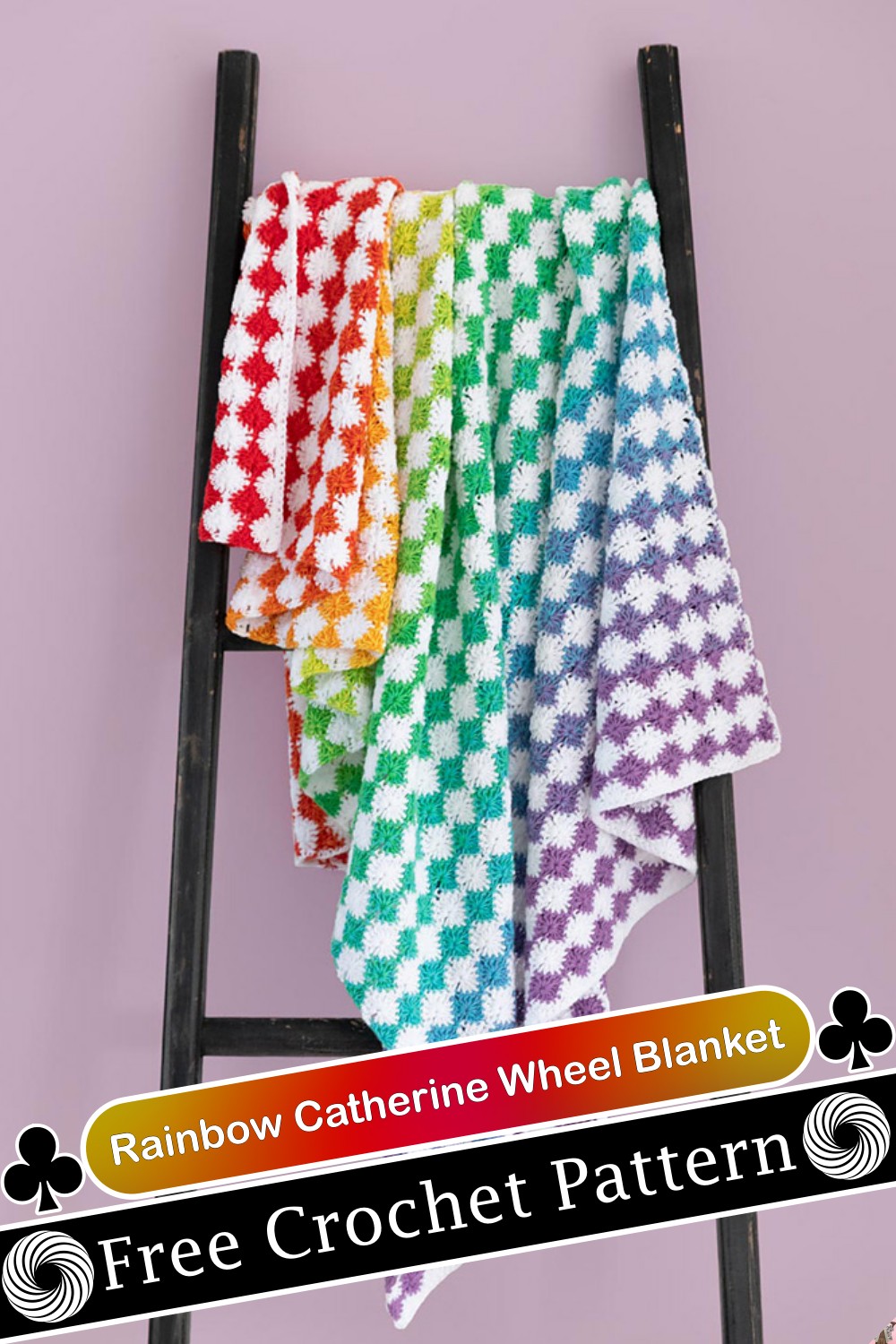 A rainbowed chevron stitch pattern and cozy yarn make this a special project. Whether you're just learning to crochet or have been at it for years, you'll love watching the patterns form as you hook your way through each color. This beautiful blanket pattern will keep you captivated! The smooth rainbow gradient of the Catherine Wheels is enough to bring a smile to your face. New colors keep popping up and incorporating these into the blanket is an absolute delight. As an added bonus, you barely have to weave in any ends!
Groovy Rainbow Monster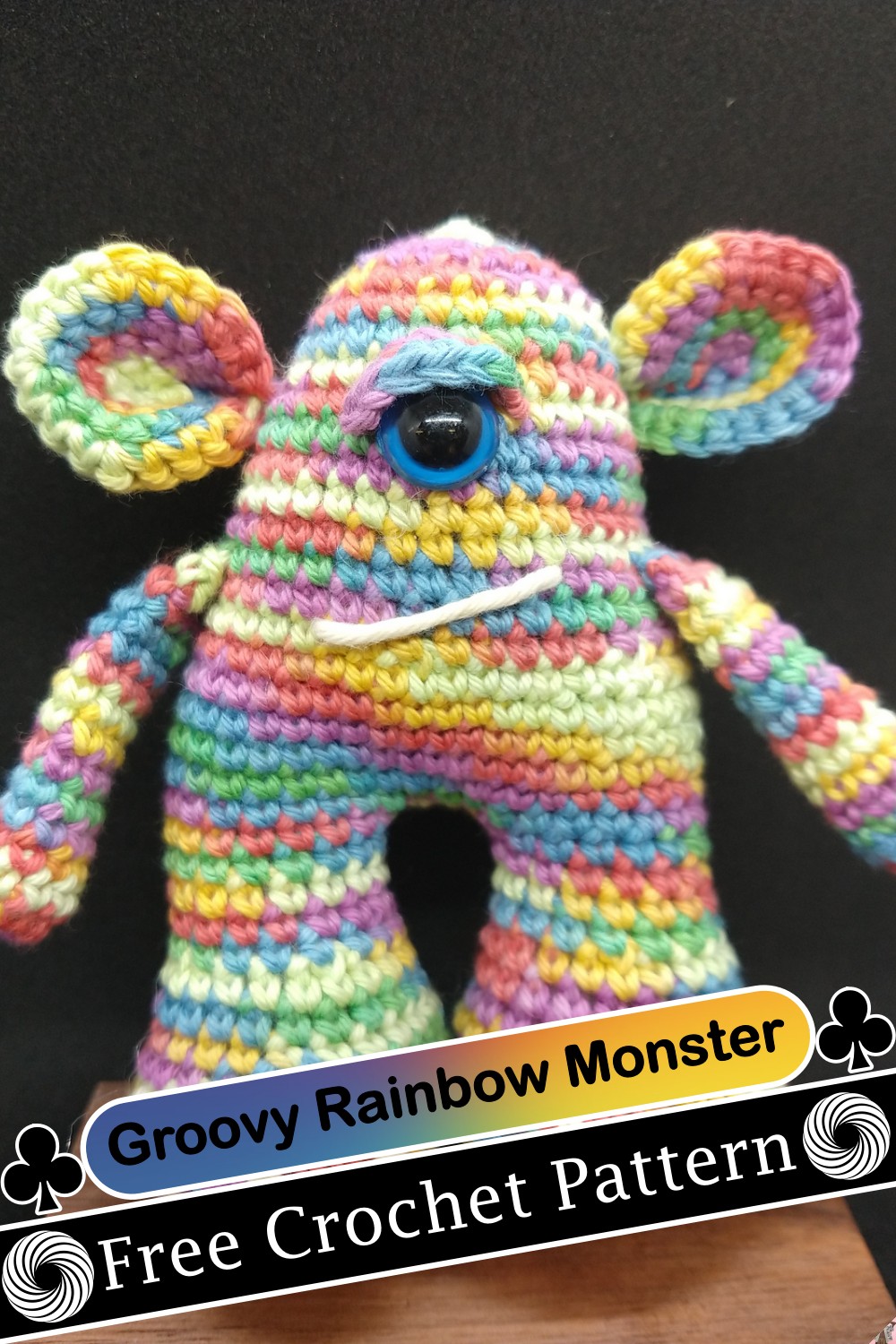 This plush monster is as colorful as it is fun. Crocheting this cute little monster is an easy project, even if you're new to crocheting amigurumi. Bring a smile to your face (and everyone around you) with this colorful stuffed monster toy, perfect for snuggling up with at nap time. This kit is great for beginner crocheters and brings together the perfect crochet hook size and yarn in a full kit that makes it easy to get started. One of the best things about this pattern is that you can use any leftover yarn you have laying around the house only using minimal amounts of each color.
Easy Rainbow Pillow
Bring a dash of color to your room with this easy-to-create Crochet Rainbow Pillow. This crochet project gives beginner crocheters a chance to use multiple stitches and work in the round while producing a unique pillow that will stand out in your home. Practice your crochet skills with this easy rainbow pillow! This fun and colorful pillow is a great way to add new patterns to your home. It's also a great gift for Christmas or birthdays, or simply to brighten up a friend's home. Choose 7 of your favorite colors and go with it!
C2C Rainbow Heart Pillow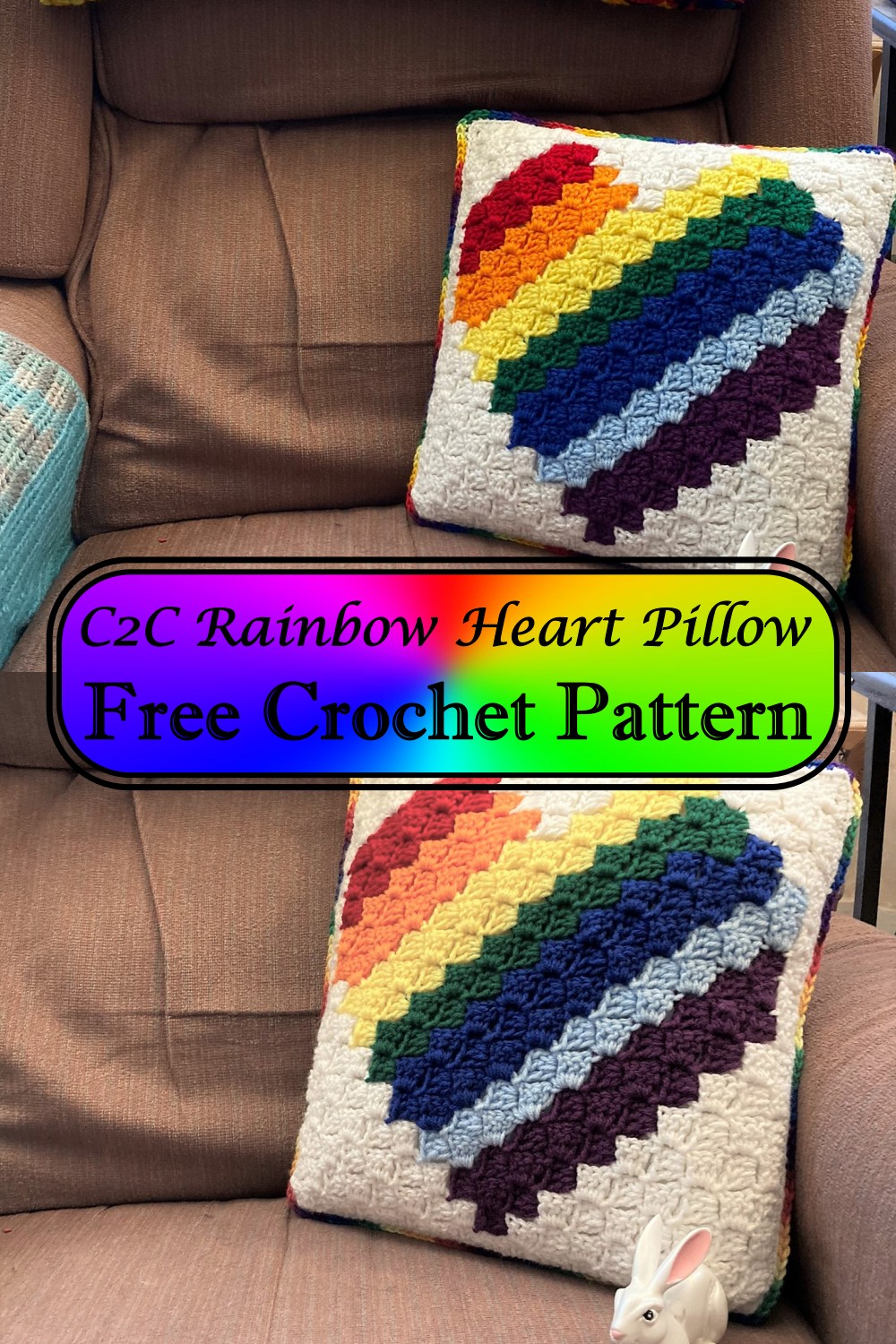 The Crochet C2C Rainbow Heart Pillow is a great gift for anyone! With either a solid panel back or a heart front and back, this pillow is easy to make and will brighten any room. This intermediate pattern is great for beginners who are looking to add another skill under their belts. It is a great addition to your home decor. You can also make matching blanket panels easily. It makes a great gift too. It makes a great gift for Valentine's Day or any occasion. The heart panels can be sewn together to make a matching blanket as well.
Rainbow Keychain
Who doesn't love a rainbow? This cheerful rainbow keychain is handmade from cotton yarn. It's sure to spread some joy. Perfect for adding some color to your keys, a backpack or a purse, or for gifting to someone special. This cheerful rainbow keychain is handmade from different shades of yarn, perfect for holding several sets of keys. It comes packaged in a cotton bag made with eco-friendly jute twine, making it a great gift or stocking stuffer. It comes with a sturdy metal clasp so you're not stuck fumbling around when it's time to get going.
Rainbow Amigurumi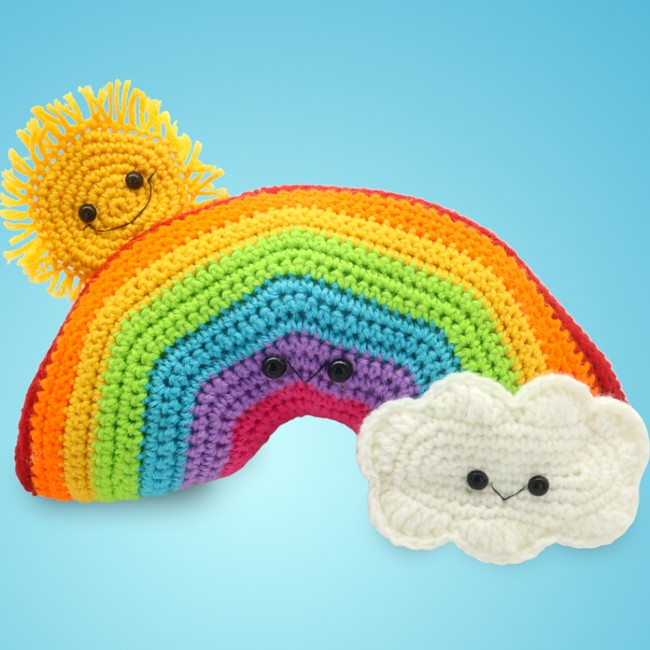 The perfect crochet project for beginners. This pattern will allow you to crochet a really cute and colorful amigurumi rainbow. It's a great project for anyone who knows the basics of crocheting in rounds. Simple, quick, and easy-to-follow a pattern. With this fun and colorful crochet pattern, you can make a cute Rainbow Amigurumi! This amigurumi is the perfect cuddly friend with the perfect size hand strap to play, hold and sleep. They bring a smile to the faces of most people and are the perfect way to cheer someone up. Why not make this crochet rainbow amigurumi and share the joy with others?
Rainbow Jellyfish
Choose your own colors and make this jellyfish entertain your child. The toy will help to develop fine motor skills and teach colors. This simple crochet pattern will let you create a cute and funny toy for your children. So easy to make. You can just send your children outside to play with these or hand them out to students at school Christmas gift-giving. It will be a wonderful present for your child, which you can make yourself. This toy will help your child develop fine motor skills.
Rainbow Love Wrap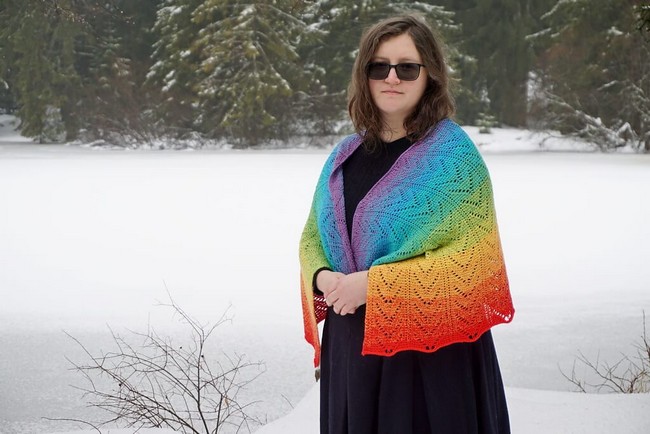 Make this gorgeous Tunisian crochet lace shawl to wear over your dress or shirt, or as a bridal wrap. The bright bold colors of the rainbow are perfect for wearing to Pride events, gay weddings or any occasion you want to show off your skills and your style. Plus, the wrap is made with single-color rows (no skipping around between colors), so it's easier than you think! Crochet this easy lace shawl pattern in the colors of your choice. It's perfect for a Pride celebration or any special occasion during the year, to keep you warm and elegant!
Rainbow Doily With Hearts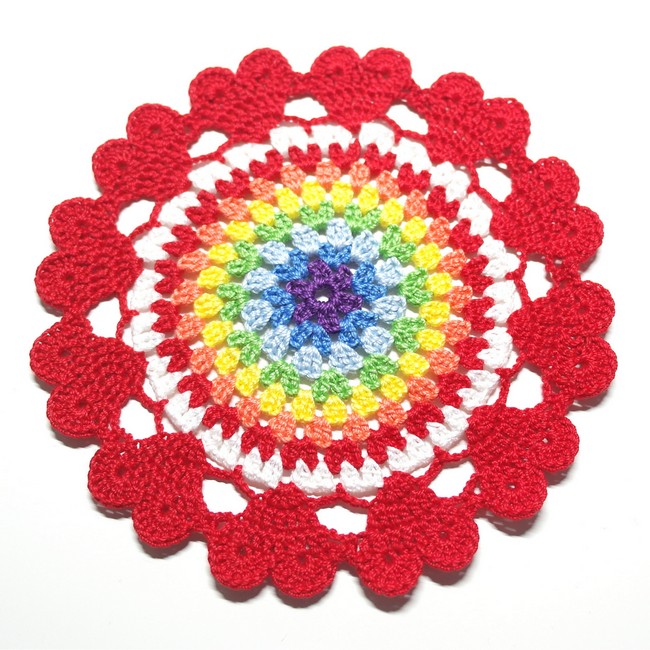 In this tutorial, you will learn how to make a cute rainbow doily with hearts. It is simply crocheted in the round by using a couple of stitches and once you get started it is fairly easy to make. This colorful doily will be a great addition to your home! You can make these lovely crochet rainbow doilies with hearts, in any size or color you choose. Great for a nursery, playroom, or bedroom, these bright and colorful creations bring a touch of the handmade, wherever they are placed. And what an amazing gift idea! In this step-by-step tutorial, you'll learn all the skills and stitches required to make your own crochet rainbow doily with hearts. This crochet rainbow doily with hearts is a versatile decoration that you can definitely wear all year round.
Rainbow Towel Topper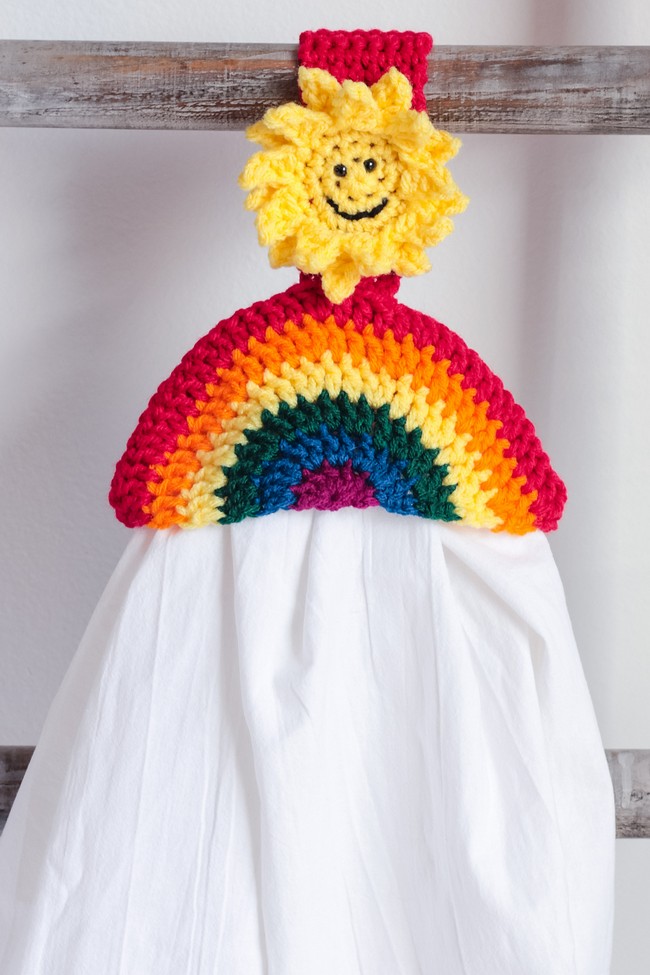 Brighten up your kitchen with a super easy and fun crochet rainbow towel topper! Great for beginners since it's worked with just single and double crochet stitches. Make it to fit your kitchen decor in any color combination you choose. This fun crochet pattern is perfect to welcome in Spring or celebrate the season of St. Patrick's Day! Add a pop of color and sunshine to your kitchen with this cheerful towel topper that works up quickly and easily with scrap amounts of yarn. Packaged in a great gift bag, it makes the perfect housewarming gift or shower gift too!
Rainbow Shawl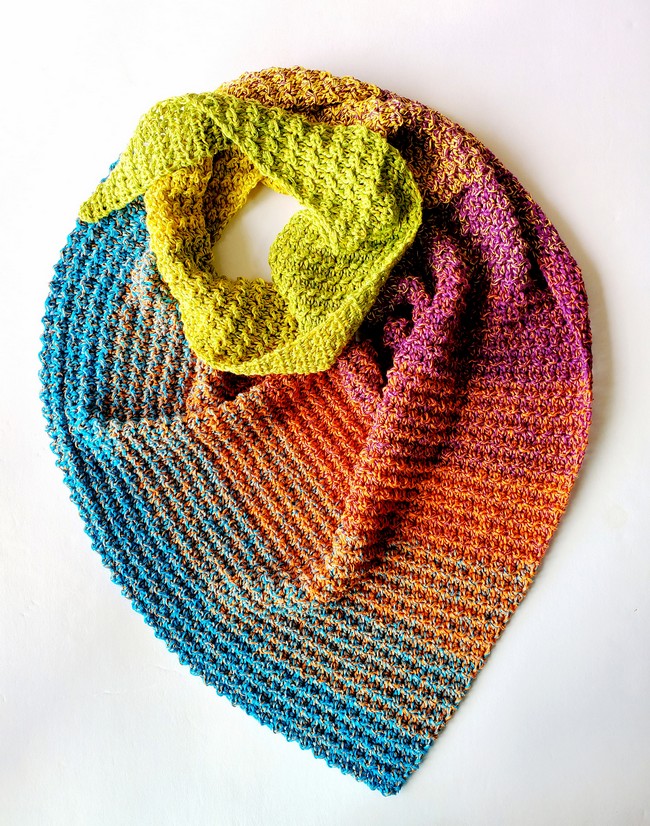 The rainbow shawl is perfect for an adventurous beginner or someone who's made a few basic crochet stitches and wants to try something new. The long scalloped edge gives it a soft drape, yet the acrylic and cotton blend yarn is sturdy enough for everyday wear. Once you understand how it works, the lace stitch pattern becomes easy to memorize, so you can make one in any color you like. You can work this up as a bright rainbow or as a pastel shawl, or maybe in shades of browns or blues. There are so many color choices!
Rainbow Waffle Blanket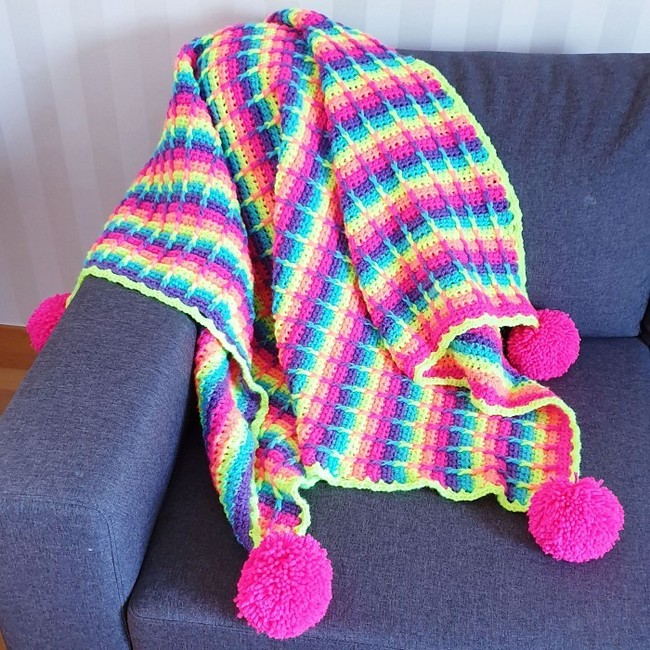 Who would not love a Waffle Blanket in lively colors? Wrap up and dream away among the colors of the rainbow. Stunning crochet waffle blanket – perfect for living room as a decorative throw or in kids' rooms as a blanket. These blankets will look gorgeous on any sofa, chair, or bed. Waffle Stitch is designed to feel textured and give a raised effect. Plus, it gives breathability to the blanket. Use it as decoration and throw it over your bed when you make it up each day.
Rainbow Cake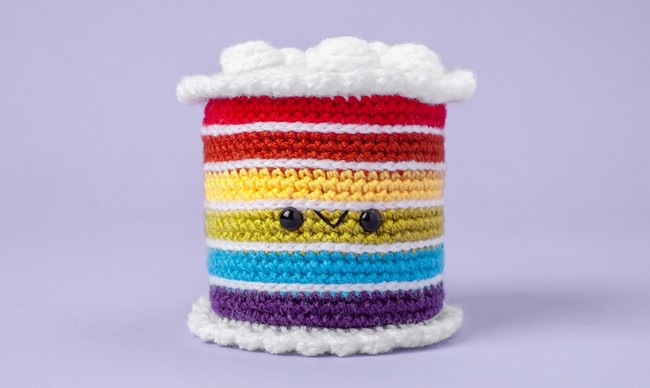 Set the dessert table ablaze with this tasty treat. Clever color changes make this fun cake a cinch to create. A delicious yarn cake with faux frosting! It's not a party unless there's cake, so make your next celebration a colorful one! This adorable crochet Birthday Cake is a playful plaything and the perfect decoration for any child's birthday party. Kids will have even more fun making their cake than eating it! Put down your fork and pick up your hook. Crochet a delicious rainbow cake for the knitter in your life—or knit a real one instead, if that's how you roll.
Rainbow Granny Square Cushion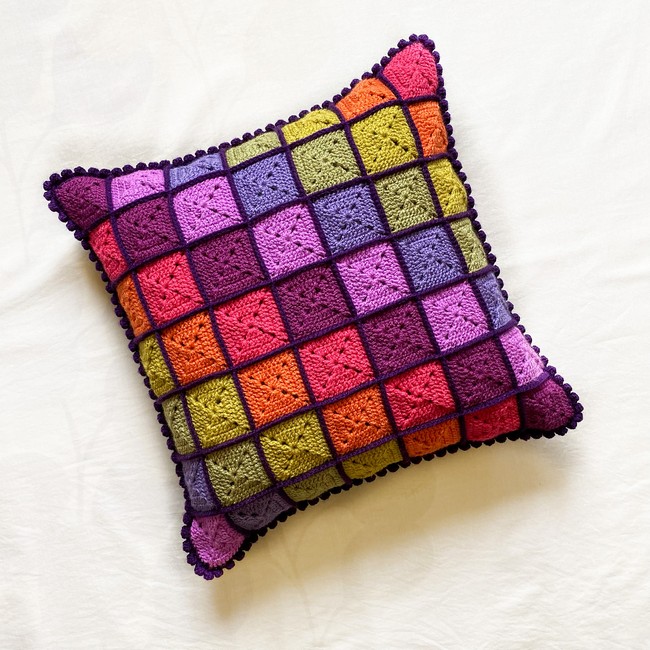 If you're looking to create a gorgeous cushion cover to dress up your living or bedroom, this is the perfect pattern. The Rainbow Granny Square Cushion Cover takes full advantage of color and form to create a dazzling piece that will be treasured by friends and family alike. Finished in a classic granny square pattern and embellished with six buttons, it's truly one-of-a-kind.
This delightful cotton cushion cover is made of a rainbow of granny squares. Designed as a softer alternative to geometric cushions, it is perfect for adding a splash of color to any room. The back panel is a classic granny square design and the buttons are perfect for accenting the pillow.
Rainbow Road Scarf
Add a pop of color to your outfit with this gorgeous crochet scarf. Stitched in an easy-care yarn that enjoys a rainbow of beautiful self-striping colors, this unique accessory features a keyhole that keeps your scarf riding high and in place. Whether you're adding style to jeans and a sweater, or giving your business suit a funky twist, it's the perfect addition to your wardrobe A trendy statement piece that easily slips over the head and is kept in place by an engaging keyhole. It's both stylish and super cozy!
Allegria The Rainbow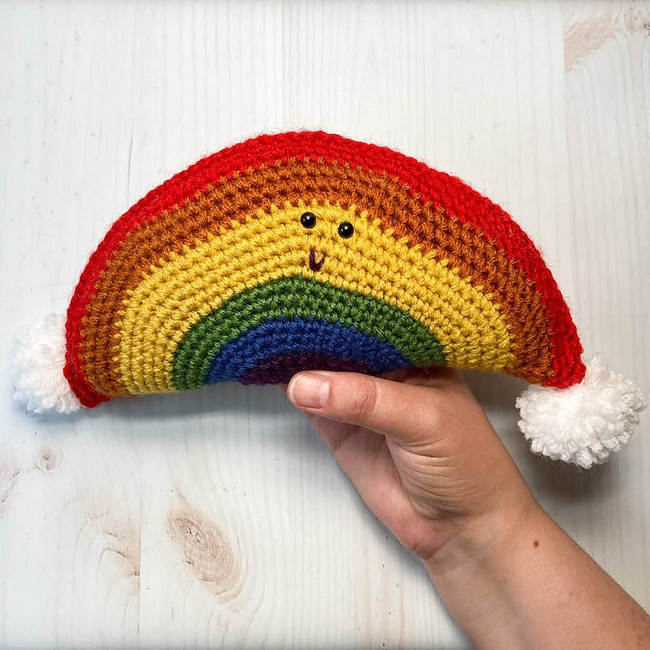 This kit is a great introduction to the delights of crochet. This simple, little softie is a sweet and cheerful companion for any child. Crafted in colorful yarn, this smiling softie face includes pom clouds at the end of its rainbow. It always brings a smile to your face when you see this happy fellow and it makes a fun, colorful decoration for your home. The large pom-poms at the end of the rainbow look so fluffy and soft, you almost want to take a nap right there.
Rainbow Tunisian Bag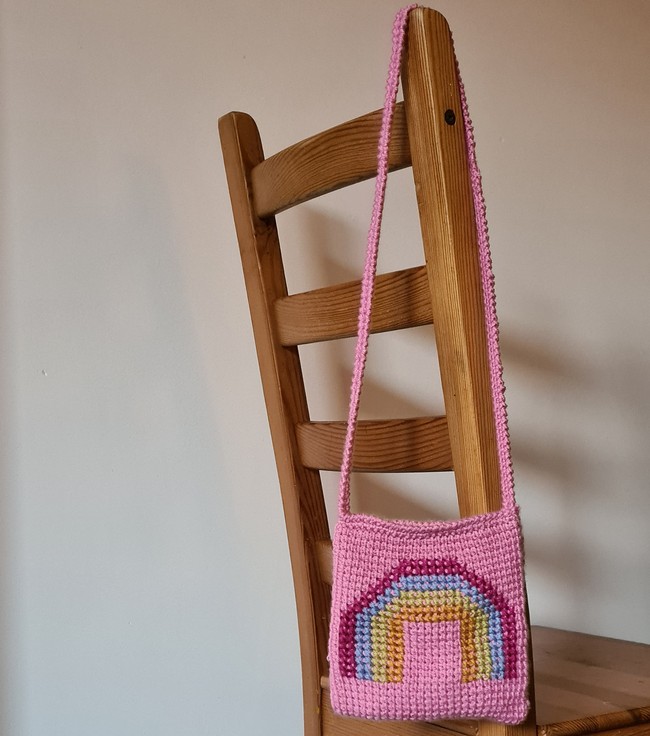 This fun Tunisian crochet bag has a colorful cross-stitch rainbow as the pocket flap. If you're interested in Tunisian Crochet this is a beautiful opportunity to make yourself a fun, summery bag. Crochet this fun Rainbow Tunisian crochet bag that everyone will love. Made with simple stitches and a cross-stitch effect, this crochet bag is not only easy to make but a fun rainbow pattern. A Tunisian crochet pattern for beginners to try! This is a fun rainbow bag made in Tunisian crochet and is perfect for beginners to Tunisian crochet, or for anyone who just fancies a quick fun make.
Rainbow Crochet Snuggle Sack: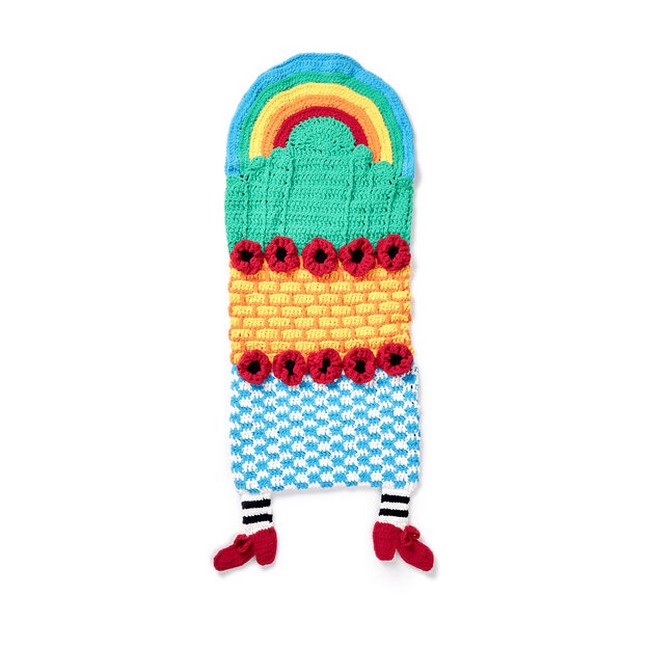 Make a snuggle sac for the dog, cat, or puppy in your life. Crochet it in your favorite colors to fit your pet's personality. How about an inside or outside pet? Snuggle Sacks are perfect either way – they give a soft protective covering while also giving your pet its own special place. Youll be over the rainbow when you finish this adorable snuggle sack. This pattern was designed to be a perfect stash buster or to use that leftover yarn you have laying around. You can customize the colors and even change the length if you want it to be a little longer — just keep in mind that will change how much yarn is required!
Crochet Rainbow Blanket: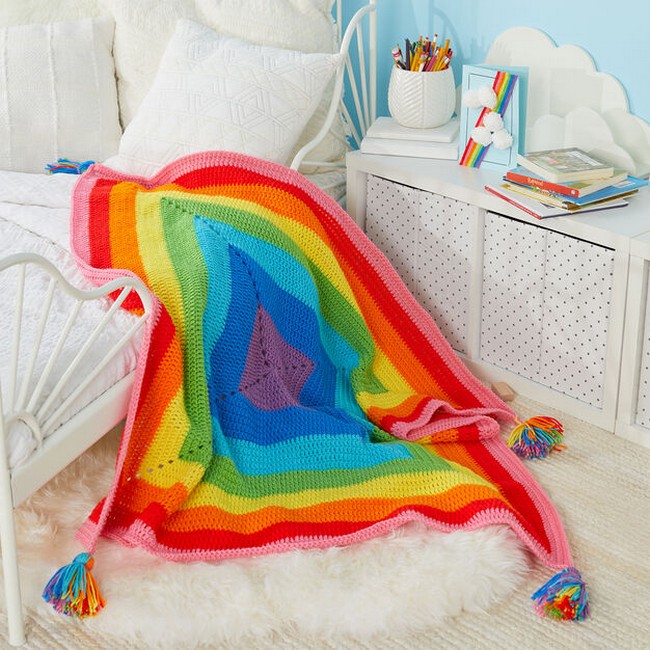 With this soothing granny stripe throw, you'll be looking on the bright side of life! Knit in bold stripes of cheerful rainbow colors. Use just one color, or choose as many as you like to suit your decor. It's easy to crochet in a rainbow of color using Red Heart Super Saver yarn! Make an eye-catching photography prop or a gift they'll never forget with this big, snuggly rainbow blanket. With a simple filet crochet pattern, create this beautiful design in any color you like.
Rainbow Crochet Hat: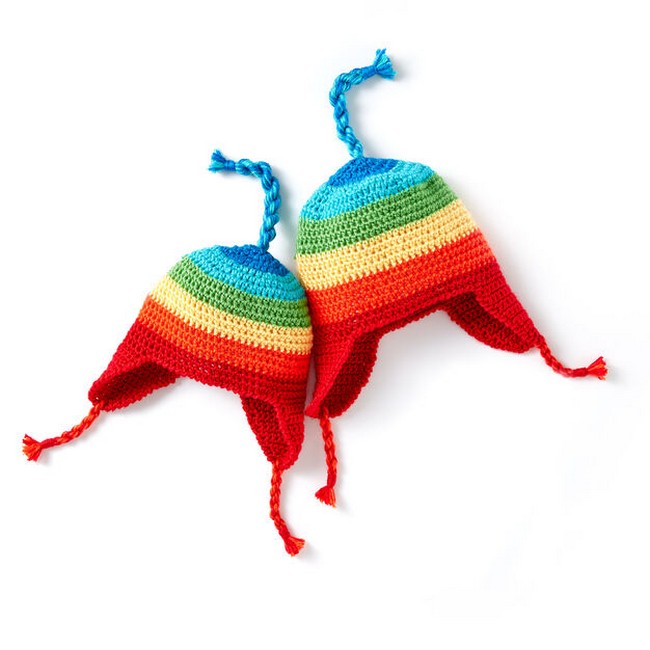 Winter fashion is all about must-have pieces that will keep you warm yet, unlike those boring winter staples, this hat is fun and colorful! The addition of earflaps to the traditional crochet hat pattern adds both warmth and style. This soft, cheery hat is bound to become a favorite. This is a cute and colorful hat that any child would be happy to wear. And, it's a handmade creation, which is so special! Your little ones will be keeping their heads toasty and warm with this colorful hat!
Crochet Rainbow Pillow: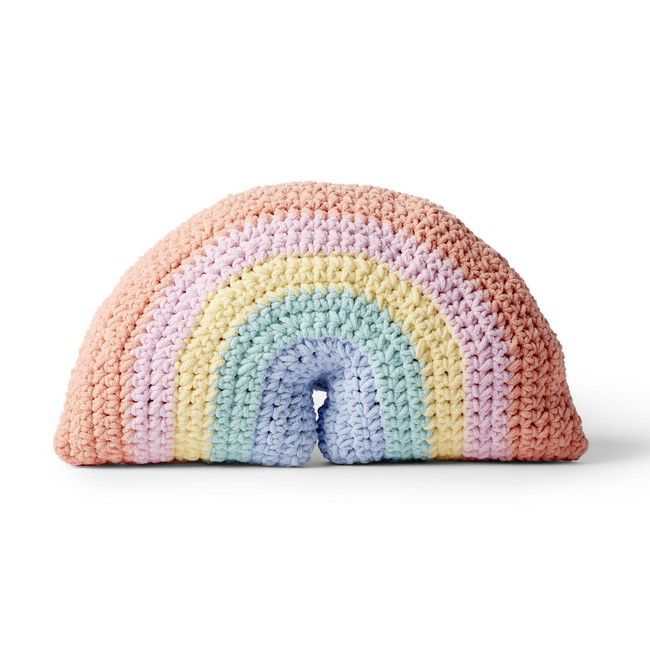 This adorable, colorful pillow would be the perfect addition to a child's room or playroom. There are rainbows in the clouds, rainbows in the sky. There are even rainbows hiding behind a sunny smile. Catch a rainbow every day with this colorful, crochet rainbow pillow. Bring some sunshine to little ones with a cute rainbow pillow. It's easy to stitch up and makes a great project for stitching gifts. The rainbow, a sign of hope and promise, is woven from yarn in this sweet crochet pillow. Soft tones & texture add to the appeal. Stitch up a rainbow for your little one!
Crochet Rainbow Snake: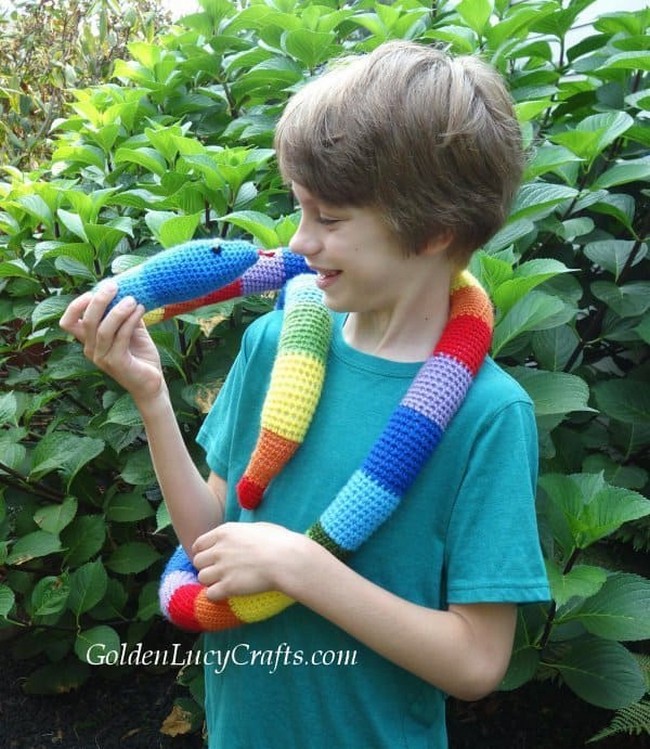 This adorable crochet Rainbow Snake is sure to bring a smile to any face. It will quickly become your little one's favorite toy, friend, and stuffed animal. A perfect gift for any loved one! This fun-filled snake is a wonderful addition to any household, bringing smiles to all. It's also the perfect gift for anyone who loves snakes and rainbows, but is warned: They may never want to part with it! It is really cute, and the colors can be changed, so you can make your friend something special.
Rainbow Storage Basket: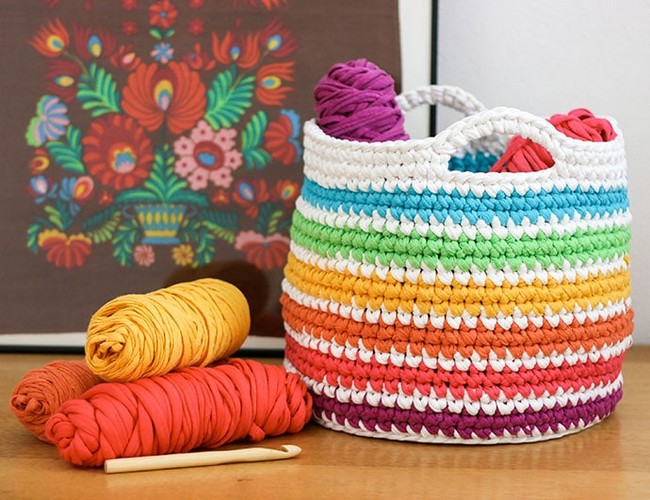 This storage basket is going to be a perfect addition to your home. Use it to store your yarn and crochet essentials neatly, or use it as a decorative piece and make it the centerpiece of your room. If you love rainbow colors and want to add some of them to your house, then this project is ideal for you. All you need is some basic crocheting skills to complete this easy pattern, so get started today! It is a perfect storage solution for your home. Its vibrant colors and felted look makes it a perfect decor piece to add to your walls. The size of the basket is perfect to store one large skein inside.