If you've seen many of the same old patterns for crocheted animals, you'll want to try some of the following snake patterns. The great thing about these Free Crochet Snake Patterns is that they can be different shapes and sizes. They can be long and slender or short and fat. They can be smooth or bumpy. There are no rules! It's a perfect opportunity to experiment with your hook and yarn and see what fun designs you can come up with. Just keep in mind, like with most amigurumi patterns, that you must have basic crochet knowledge to work on this project. You should know how to chain and single crochet.
Easy Crochet Snake Patterns

Crochet snakes are adorable and popular. They make great toys and home decor accents. Crocheting a snake is simple with this easy crochet snake pattern roundup. You'll also find a free tutorial on crocheting a snake round by round in the same stitch pattern. With only a hook and some yarn, you can create one of these 10 crochet snakes for the enjoyment of kids, young and old. They're great for decorating your home and adding color. These free crochet snake patterns are not only easy to make, but they make great gifts and toys for kids; crochet is the perfect Snake for any age or personality!
Tips And Tricks For Crochet Snake Patterns
Crocheting a snake pattern is a great way to practice your skills. It's also fun to make a unique gift for someone special.
The following tips and tricks will help you crochet a snake pattern.
Crochet the head first: Start by crocheting the head of your Snake. This will be easier than working on the tail first since you'll have more room to maneuver around when working with the head.
Use different colors if necessary: Crocheting a snake pattern can be tricky, especially when working with multiple yarn colors. If you find it difficult to track which color goes where, use different colored yarns for each section of your work (e.g., use green for the head and brown for the body). This will make it easier to tell what color belongs where and prevent mistakes from occurring as you work on your project.
Use stitch markers during your project: Stitch markers are handy tools that help keep track of rows and stitches while crocheting snakes and other projects requiring multiple colors of yarn. For example, if there's a particular row in which you want to place an additional stitch marker, place it.
Materials needed:
1 skein of worsted-weight yarn
Size H/5mm crochet hook
Tapestry needle for weaving in ends
Snake Scarf:
A chic snakeskin design lends a little edge to this scarf. Lightweight and cozy, it's essential for cooler temperatures. Snakes are associated with healing and protection; whether you're a witch or a wizard, this snake scarf is the perfect accessory. This cozy crochet scarf is easy to make and can be used as an outerwear scarf in spring/summer and an ordinary scarf in fall/winter. This scarf is beaded and decorative. It is easy to make with the instructions provided; you will love the combination of chain stitch, slip stitch, and other crochet stitches.
Materials
5.5mm crochet hook
Two colors of yarn
 Black yarn
Sibling Snakes: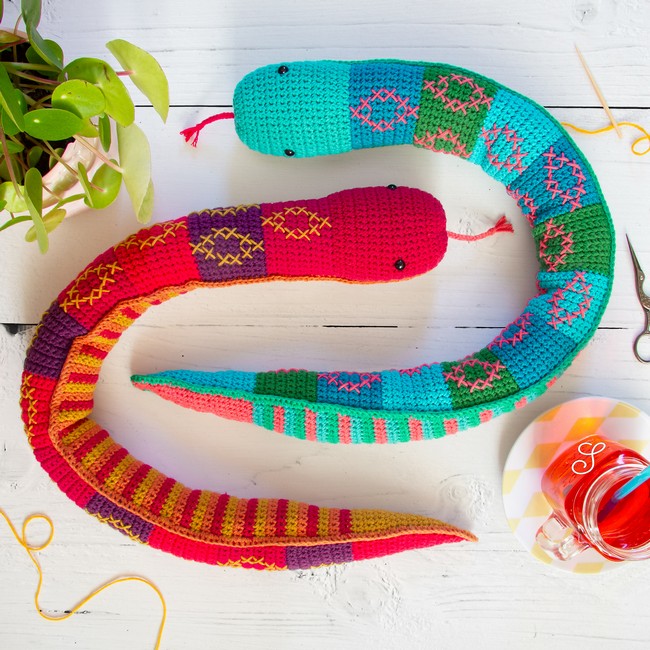 These Crochet Sibling Snakes are the perfect way for your kids to bond, share and have a good time together. It can also be a great gift for new or soon-to-be parents. This set of sibling snakes is cute and a great way to spend quality time with your little one. You will never get bored with this toy; it grows with your little one as the skill level does. A crochet snake is an option where you can hook your own snakes for endless fun! Each is designed with a contrasting color on one side and comes in multi colors so you can choose your favorites.
Materials
Scheepjes Softfun Minis Colour Pack 'Rich' (60% Cotton, 40% Acrylic; 50g/56m)
Yarn A: Magenta 2654 or Bright Turquoise 2423
Yarn B: Heath 2493 or Forest 2535
Yarn C: Cerise 2655 or Peacock 2649
Yarn D: Jam 2617 or Capri 2647
Yarn E: Mustard 2621 or Coral 2607
Yarn F: Clay 2431 or Jade 2648
3.5mm crochet hook
Polyester stuffing
4 x 9mm safety eyes, item no. 64511-09-000
2 x rattles, item no. 64064
Abbreviations
[ ] number of sts on a given row
ch(s) chain(s) or chain stitch(es)
dc double crochet
dc2tog double crochet 2 together to decrease by 1 st: (insert hook in next st, yoh, pull up loop) twice, yoh, draw through all loops
rep(s) repeat(s)
RS right side
ss slip stitch(es)
st(s) stitch(es)
WS wrong side
yoh yarn over hook
(…….) once/twice/3 times work the instructions between brackets the total number of times stated
Snake Plant:
A perfect gift for anyone who loves plants, this snake plant is a great way to add some greenery to any home. The Crochet Snake Plant is a beautiful and versatile addition to any room. It's made of high-quality metal, so it's sturdy and reliable. The perfect addition to any workspace, this handmade Crochet Snake Plant is just right for your desk. It's the ultimate in fashionable greenery and easily delivers a pop of color. It is the perfect house plant for anyone — from beginners to experienced growers. This unique plant grows quickly and has a beautiful shape.
Materials
-4 mm crochet hook
-Worsted Weight Scrap yarn- I used gray for the pot, dark brown for the dirt, and both light and green yarn for the leaves.
-Tapestry needle
-Stitch marker
-Scissors
pansexual snake: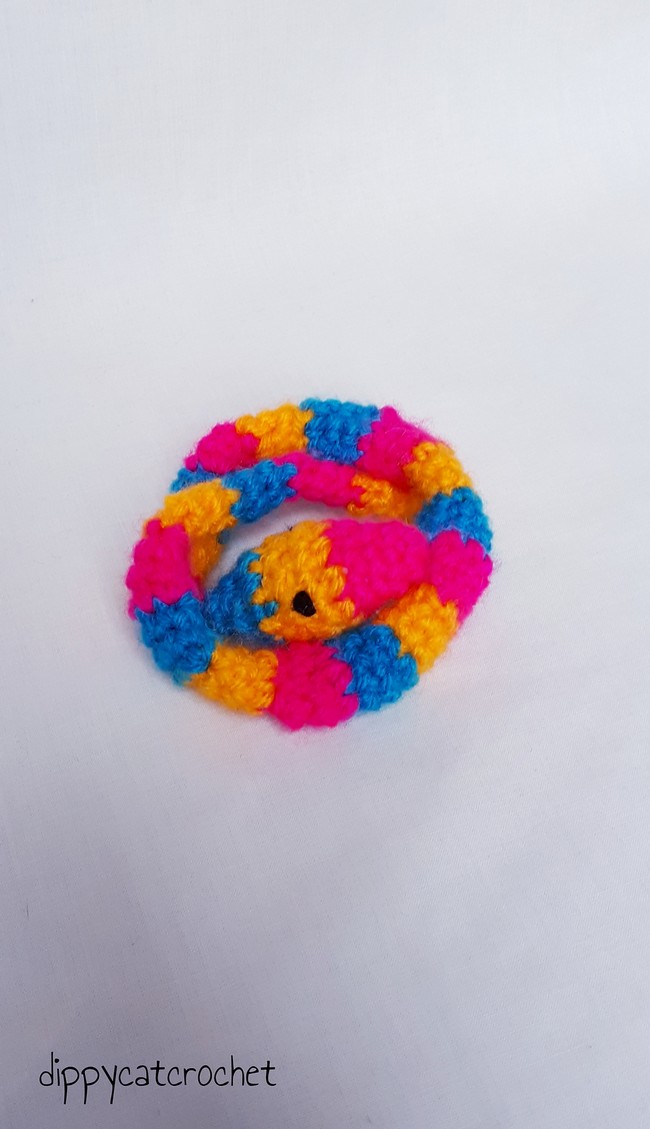 Meet this Pansexual Snake, a cute little pansexual snake in various colors. These crochet pansexual snakes are perfect for any collection or to give as gifts. They'll brighten up anyone's day! This crochet pansexual Snake is the perfect gift for the person who needs a discreet, dainty, and portable sharpie. Whether you're staying woke or simply working on your next masterpiece, this pansexual Snake will leave its mark on everything - including you.
Materials
A 2.5mm crochet hook
dk yarn in black, pink, blue, and yellow
A small amount of toy stuffing
A darning needle for sewing up
Kid's Snake Seat Cushion, Chair Pad: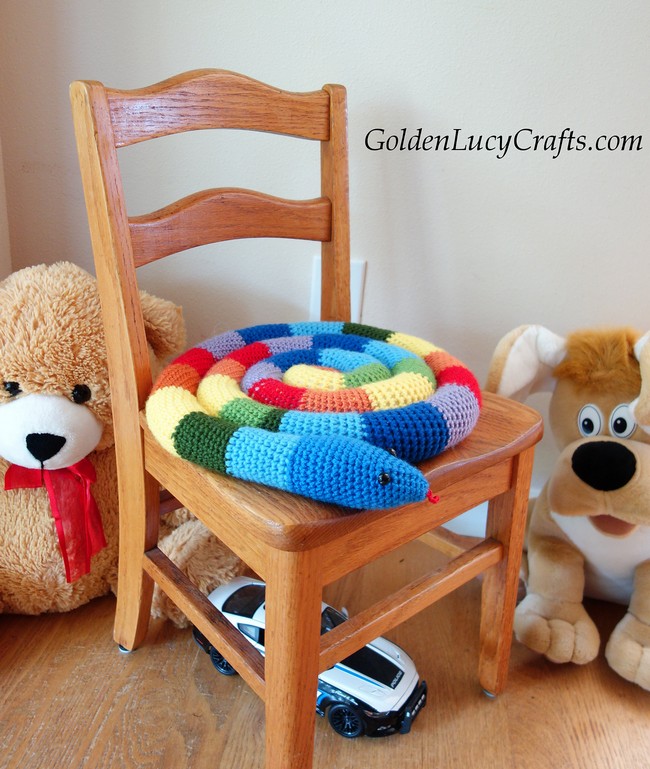 Create a cozy and comfortable space for your kids with Crochet Kid's Snake Seat Cushion Chair Pad. The cushions come in assorted colors with a white snake design and have soft fabric that is ideal for use at home or school. It is easy to clean and can be disposed of after usage if not required anymore. The beautiful design and the high-quality material will give you a delightful experience. The reversible pattern makes it more special than any other cushion, which can be used at the home, office, or anywhere you like.
Materials
Crochet hook G/6 (4 mm)
Crochet hook D/3 (3.25 mm)
2 safety eyes
Stuffing
Large sewing needle
Abbreviations
Ch – chain
Rnd – round
SC- single crochet
Sl St – slip stitch
St (Sts) – stitch (stitches)
Sneaky Temperature Snake: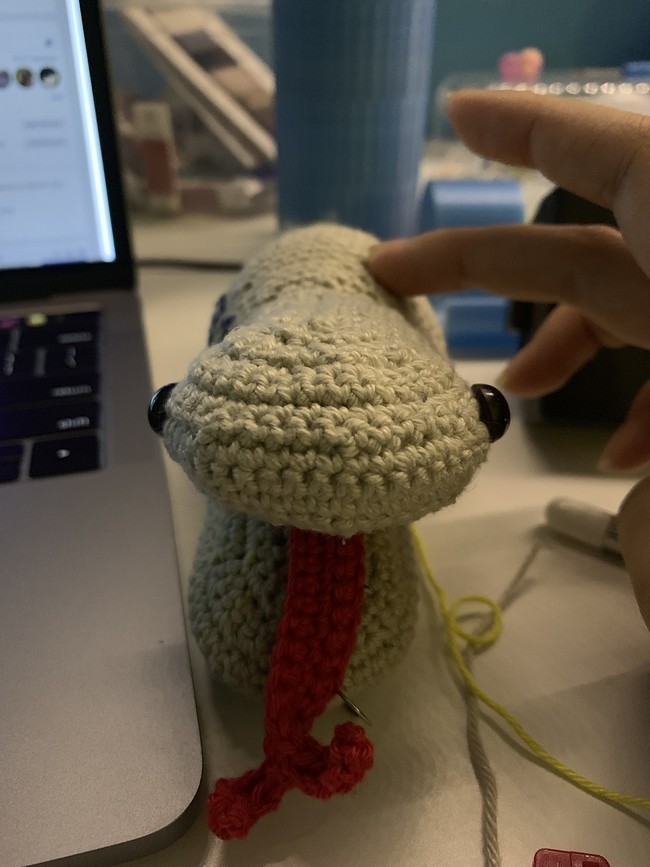 Snakes always sneaking around. Why not make it easier on yourself and clue them in on what they want to know: the temperature? This crochet sneaky temperature snake will do the job and look good. Little ones will love the tactile sensation of this adorable handmade Sneaky Temperature. It's perfect for keeping track of your child's temperature with a practical and fun product. Make a cute crochet snake with this easy pattern! It's soft but sturdy and can be used in many ways.
Materials
Catona:
50 g for the head and tail
scraps or colours of choice for the body.
1 pair of 10mm safety eyes
fiberfill
2,5mm hook
stitch markers
Abbreviations
| | | | |
| --- | --- | --- | --- |
| ch | chain | chain | ketting |
| sc | single crochet | double crochet | vasten |
| sc2tog | single crochet the next 2 together | dc the next 2 together | volgende 2 vasten samenhaken |
Snake Neck Warmer: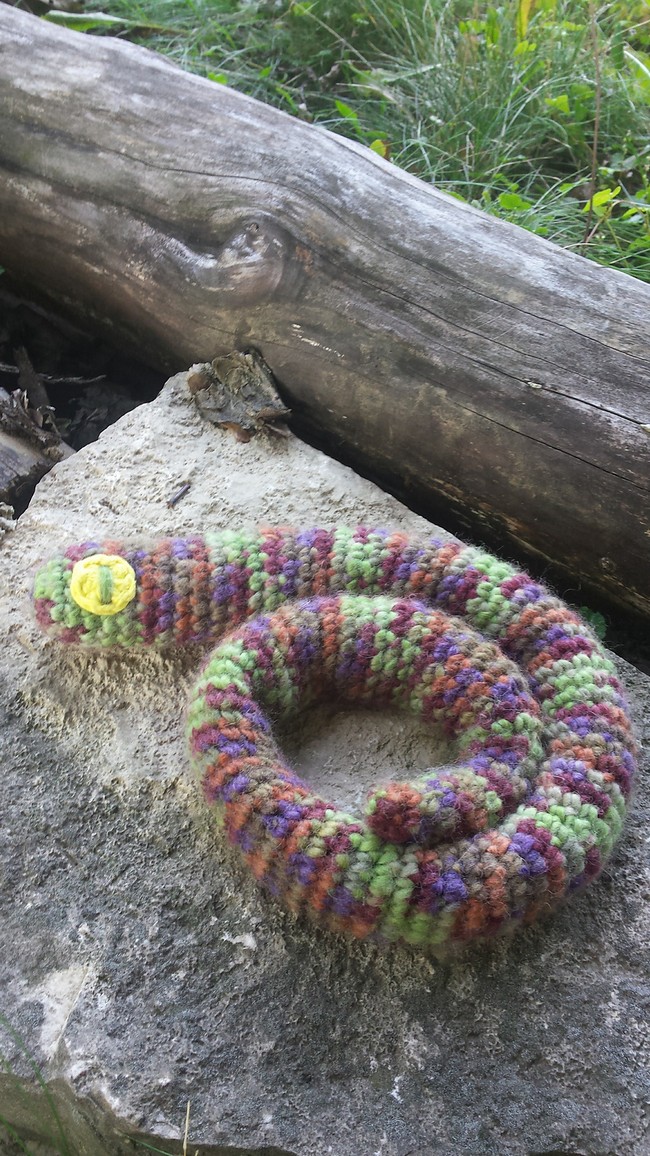 A cozy knit-look snake neck warmer with charming detail that's fun to crochet. The perfect accessory to wear on chilly evenings. This easy-to-make snake neck warmer is perfect for anyone who enjoys crocheting. Its simple mesh stitch creates a delicate and lightweight piece that can be worn annually. Ideal for both cold and windy days, this soft, lightweight fashion accessory is perfect for both adults and babies. The scarf is super soft; this item works up fast to ensure you have some great holiday gift items!
Materials
Any brand wool or cotton yarn in two contrasting colors, WORSTED or ARAN weight (i used slightly chunky variegated wool and yellow worsted cotton)
♥ 3.75mm crochet hook
♥ scissors
♥ blunt needle
♥ rice for filler
♥ essential oils (optional)
Abbreviations
sc - single crochet ♥
♥ mr - magic ring ♥
♥ sc-inc - single crochet increase ♥
♥ sc-dec - single crochet decrease ♥
♥ fo - fasten off ♥
Crochet Snake:
A unique crochet snake to decorate your home or office or even use as a toy! You can hang it wherever you like. When you feel bored with it, just cut the rope and tie or untie the knots to make different kinds of snake shapes. You will be proud to present this beautiful crochet snake to your loved one. Its unique design is cheerful and fun, yet the Snake is lightweight and soft enough for little hands to hold comfortably. This unique piece of art can be used in several ways. Crochet snakes are excellent display pieces and make an imprint wherever they are placed.
Materials
1.5mm Safety Eyes
2.75mm Crochet Hook
Red Heart Super Saver Yarn in Green
Polyester Stuffing
Scissors
Needle
Abbreviations
Ch-Chain
Sc-Single Crochet
Inc-Increase
Dec-Decrease
Fo- Fasten Off
Mr. Edison Watts- The Lightbulb Snake: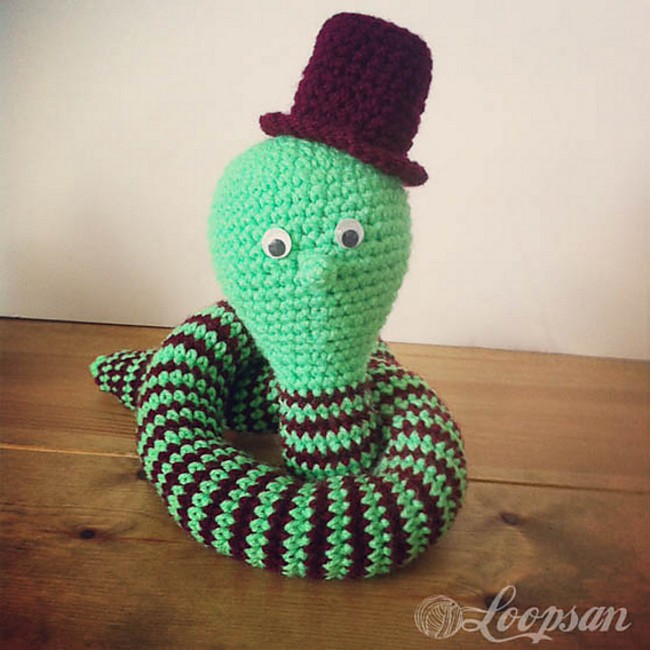 This guy is a lightbulb! Crocheted in classic colors, Edison Watts, is the perfect gift for any kid who loves to play with their toys. In any home, this Snake is sure to become a staple. This Snake is a great addition to your home or office. This plush lightbulb is a gift sure to delight everyone, especially science buffs, and teachers! He is perfect to be your child's favorite toy to play with. With a quick and easy detailed guide, you dont have to wonder how to make this snake pattern.
Materials
DK yarn in lime and red
4 mm hook
2 wobbly eyes in the size of your choice
polyfill
tapestry needle
Abbreviations
ch= chain
sc= single crochet (US term); double crochet (dc, UK term)
sc2tog= single crochet decrease (US term); double crochet decrease (dc2tog, UK term)
st= stitch(es)
In my patterns UK terms are always given in brackets.
Sis the Snake:
Need a new friend? Sis the Snake is more than just adorable; she also does tricks! But we won't tell you about those until you get your own Snake. Crochet your way to the party with this Sis the Snake children's crochet pattern! Start with a single magic loop, and then work through each round until you have reached the tail of your adorable Snake. Little ones will love dressing up their new toy in bright colors or keeping it simple in blue and white.
Materials
5.00 mm crochet hook
blue worsted weight yarn
white worsted weight yarn
yarn to stitch eyes
scissors
 stuffing material
yarn needle
Abbreviations
ch --- chain
sc --- single-crochet
st/sts --- stitch/stitches
sc2tog --- single-crochet 2 stitches together