12 Easy Crochet Duster Patterns To Stylize Your Wardrobe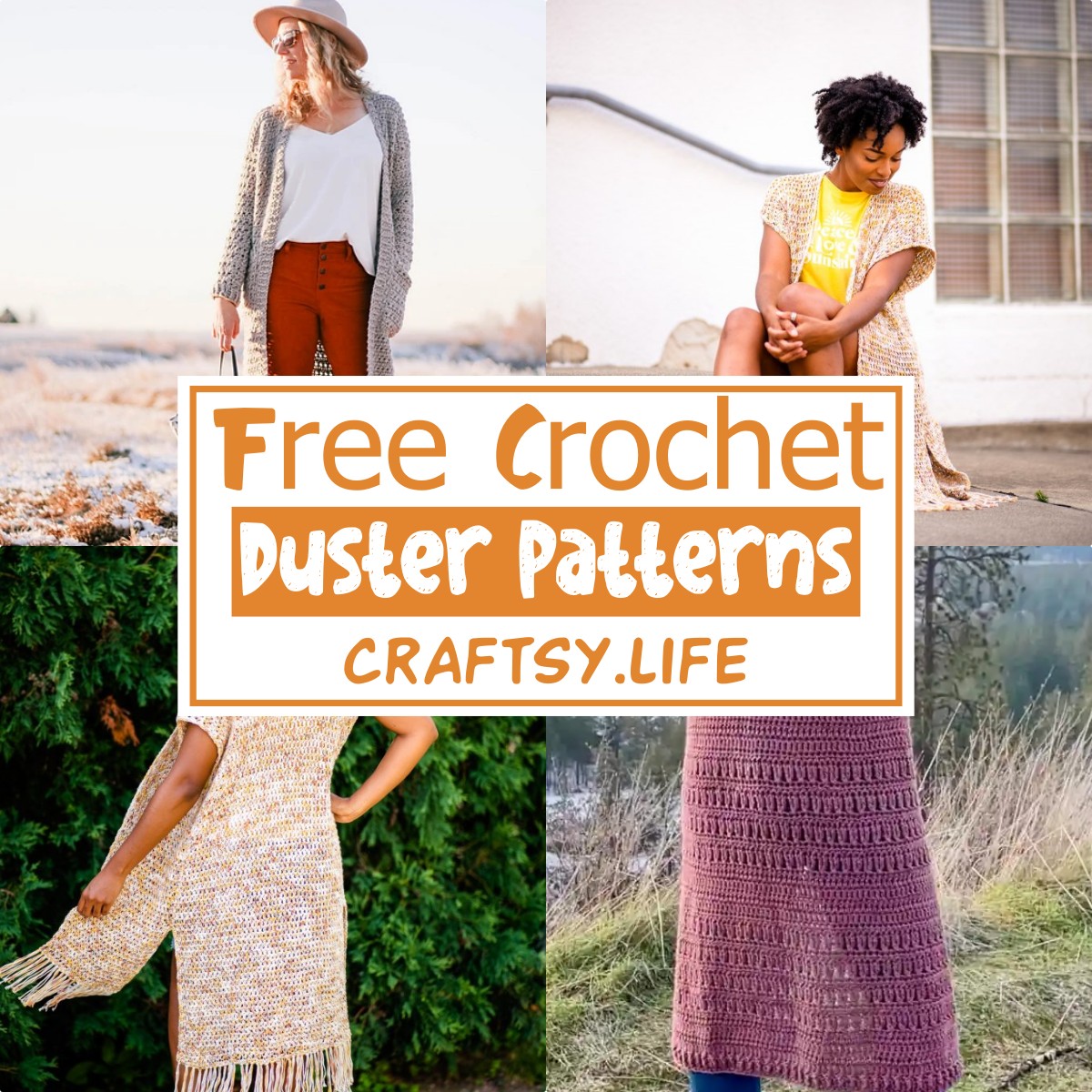 Our super exciting and unique Crochet Duster Patterns refer to a versatile and sophisticated array of designs that create eye-catching wearable dusters similar to cardigans or long open-front jackets. With their long-flowing elegance and graceful silhouettes, crocheted dusters are both stylish and practical additions to any wardrobe, ideal for adding an extra layer during transitional weather or to elevate a simple outfit.
Fun Crochet Duster Patterns

Our Crochet duster patterns are a delightful collection that caters to beginners and experts alike. These amazing patterns offer a range of designs, from simplistic elegance to intricate detailing. You can create airy, lightweight dusters perfect for summer or thick, cozy ones suitable for colder months.
Some patterns adopt classic, timeless designs, while others embrace contemporary trends with openwork patterns and daring fringes. This diverse assortment ensures every crochet enthusiast can find their ideal project, adding a personalized touch to their wardrobe or making a thoughtful, handmade gift for someone special.
Crochet Arkose Duster Cardigan
This duster cardigan's drape is a delight! It achieves a loose, luxurious style by using worsted-weight yarn, a larger hook, and a long stitch. The crochet cardigan offers warmth without the bulkiness of a jacket, 100% machine-washable, breathable cotton. However, You can add pockets for functionality or customize your duster with your preferred color using our free crochet pattern!
Crochet Sleeveless Duster Pattern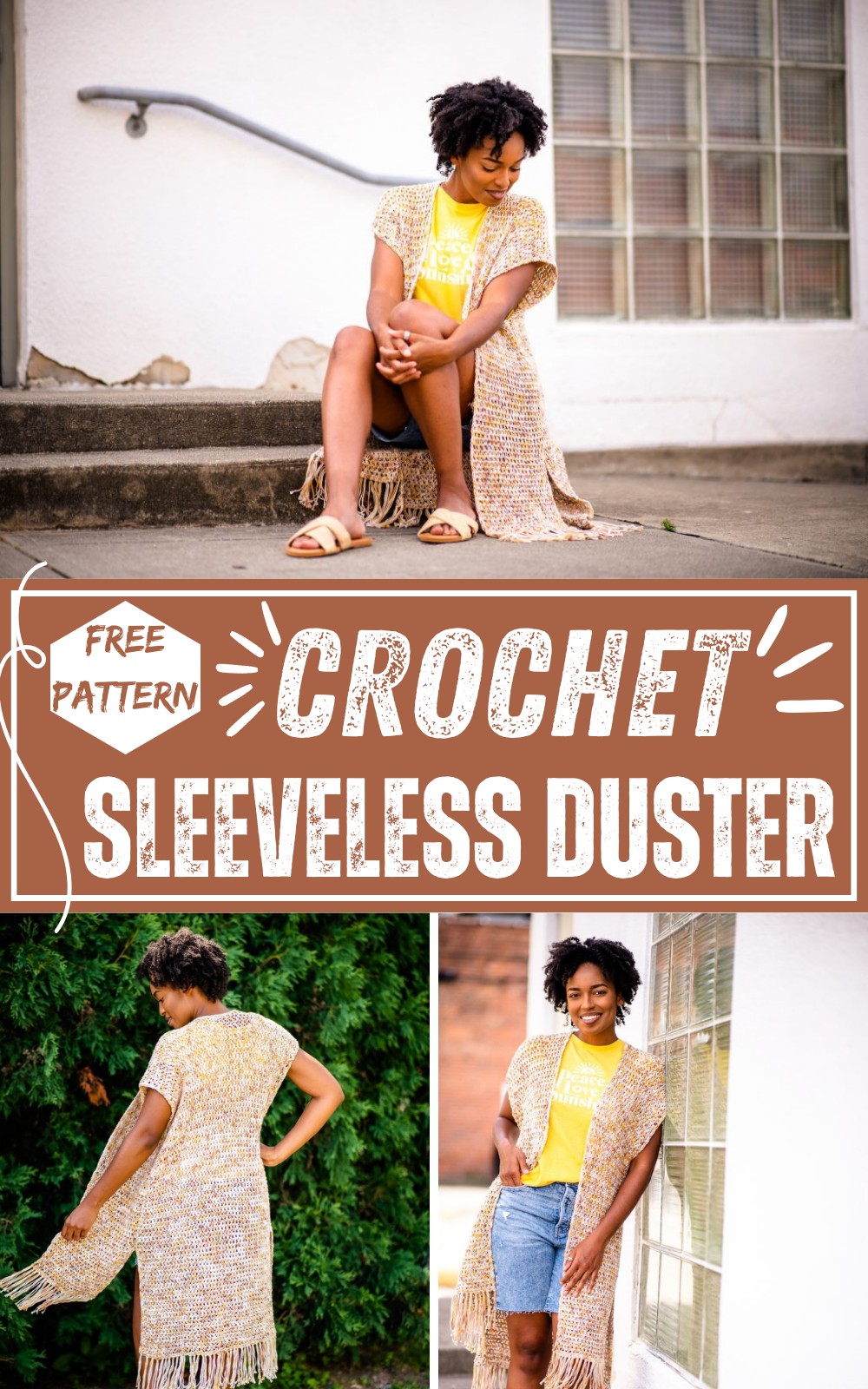 This half-sleeved vest is perfect for beach strolls, ice cream stand visits, and transitioning between seasons. It has minimal seaming and funky fringe accents and effortlessly elevates your casual jeans-and-t-shirt look. Plus, Creating this free Vest is easy to make as you start with the back, add the fronts, join sides, trim, and add fringe. Enjoy your creation!
Long Crochet Duster Cardigan
Elevate your outfits with this chic, comfortable cardigan that showcases a stylish open drape extending to your knees. Featuring handy pockets for toasty hands and storing essentials, the cardigan utilizes effortless stitches for a flattering flowy silhouette. Suitable for all body types, its length can be customized, making it a versatile must-have for your wardrobe.
Crochet River Walk Duster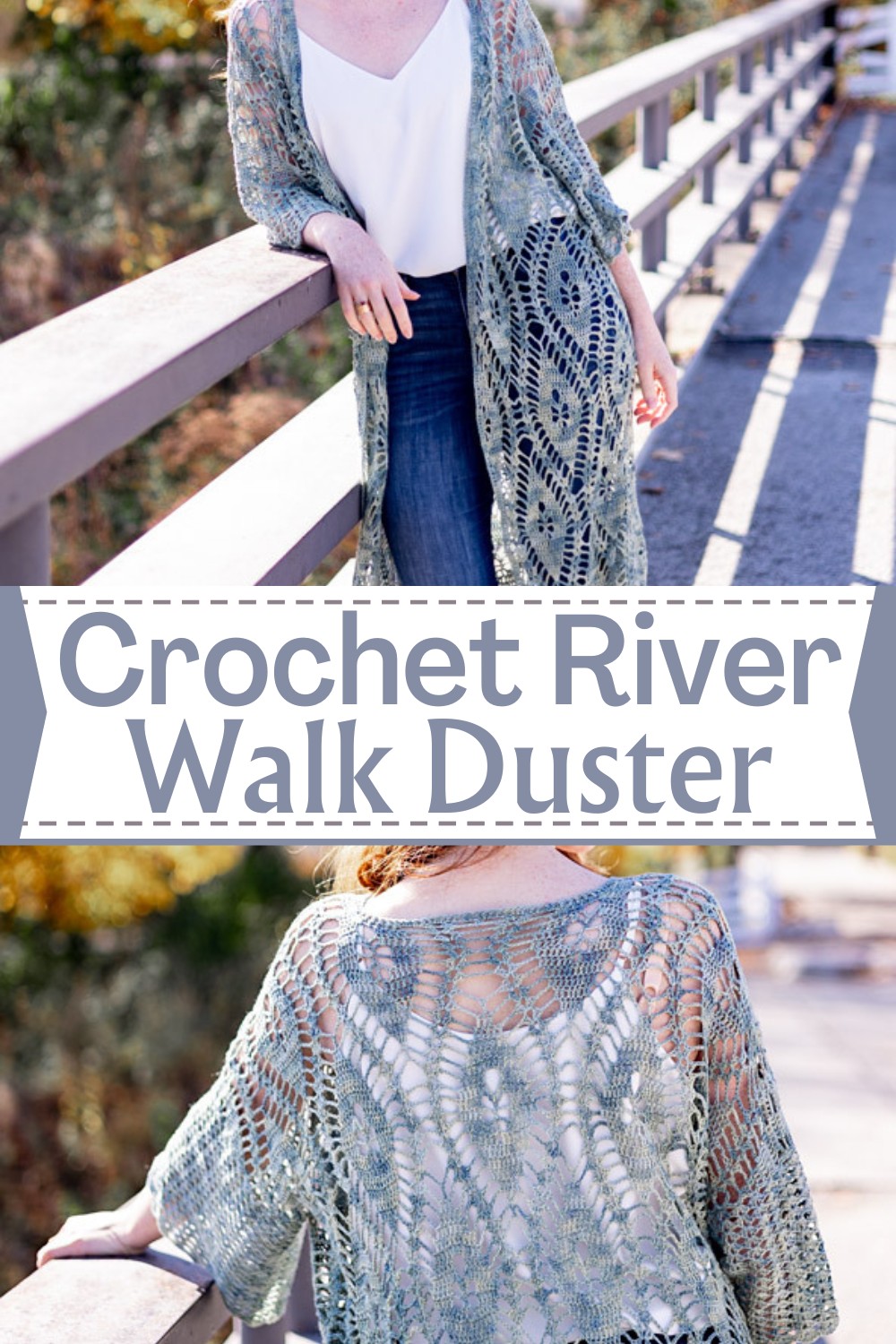 Here we came with an elegant and airy Crochet Duster, the ultimate layering piece for your wardrobe. With its all-over leaf lace pattern, composed primarily of double crochet and chain stitches, this free crochet cardigan is visually stunning and intuitive. Perfect for wearing over dresses or pairing with a simple tee and jeans, it adds a touch of enlightenment to any outfit, whether casual or for a party.
Skill Level: Intermediate
Crochet Dasypus Duster Pattern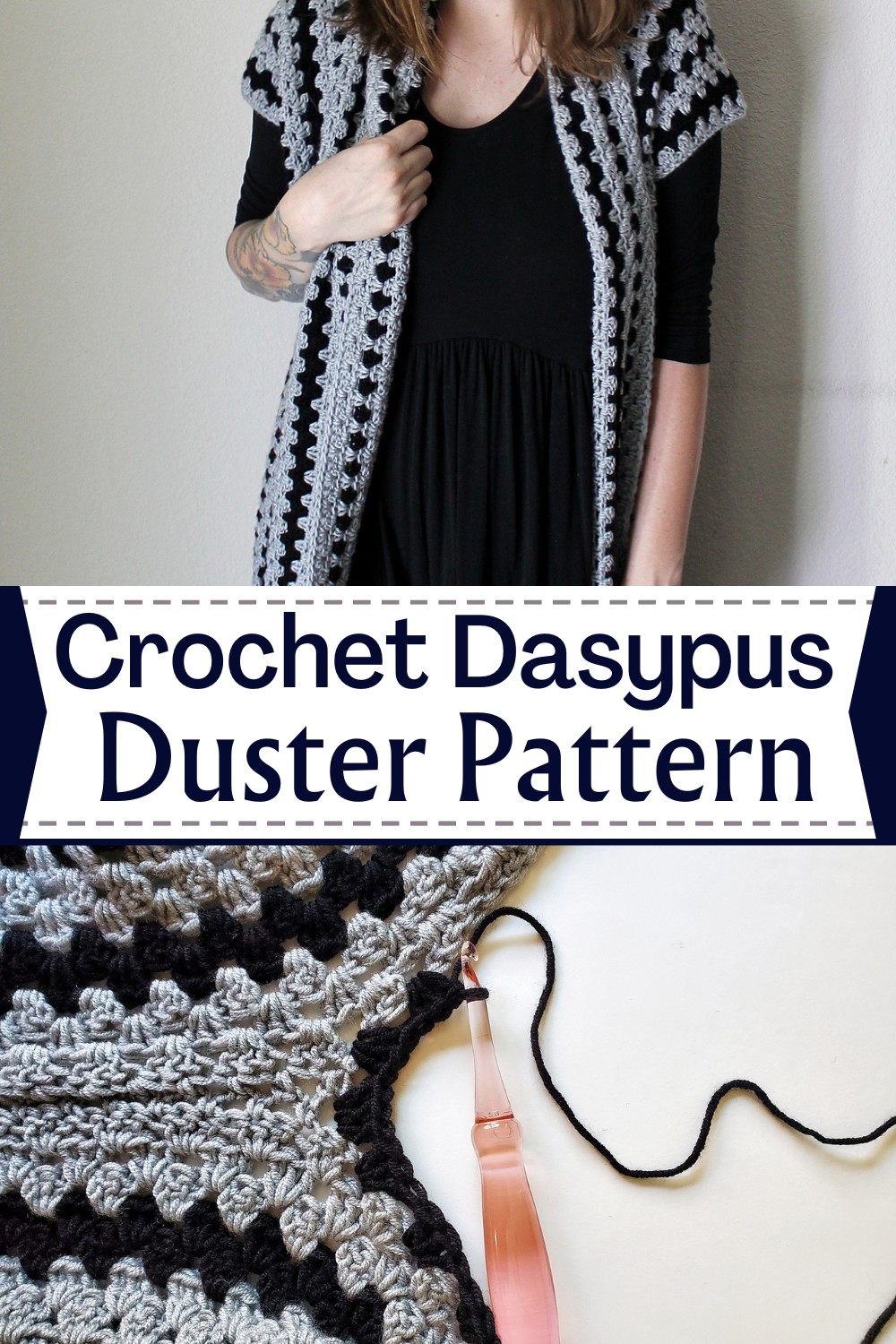 Take your warmth and style by crocheting matching crochet scarf and hand warmers with this versatile Duster Cardigan Crochet Pattern! Make this versatile dasypus duster pattern that offers a 3-in-1 design, allowing you to start with a basic vest-like accessory and then choose to add a collar and or sleeves for a personalized touch. Featuring the classic granny stripe pattern, this free crochet Duster is cozy and a perfect addition to your spring or fall wardrobe. You can use a single color, mix it with multiple hues, and even adjust the length to suit your style!
Abbreviations:
Chain (ch)
Single crochet (sc)
Double crochet (dc)
Optional: foundation half-double crochet (fhdc)
Stitch(es) (st/sts)
Duster Cardigan Crochet Pattern With Video Tutorial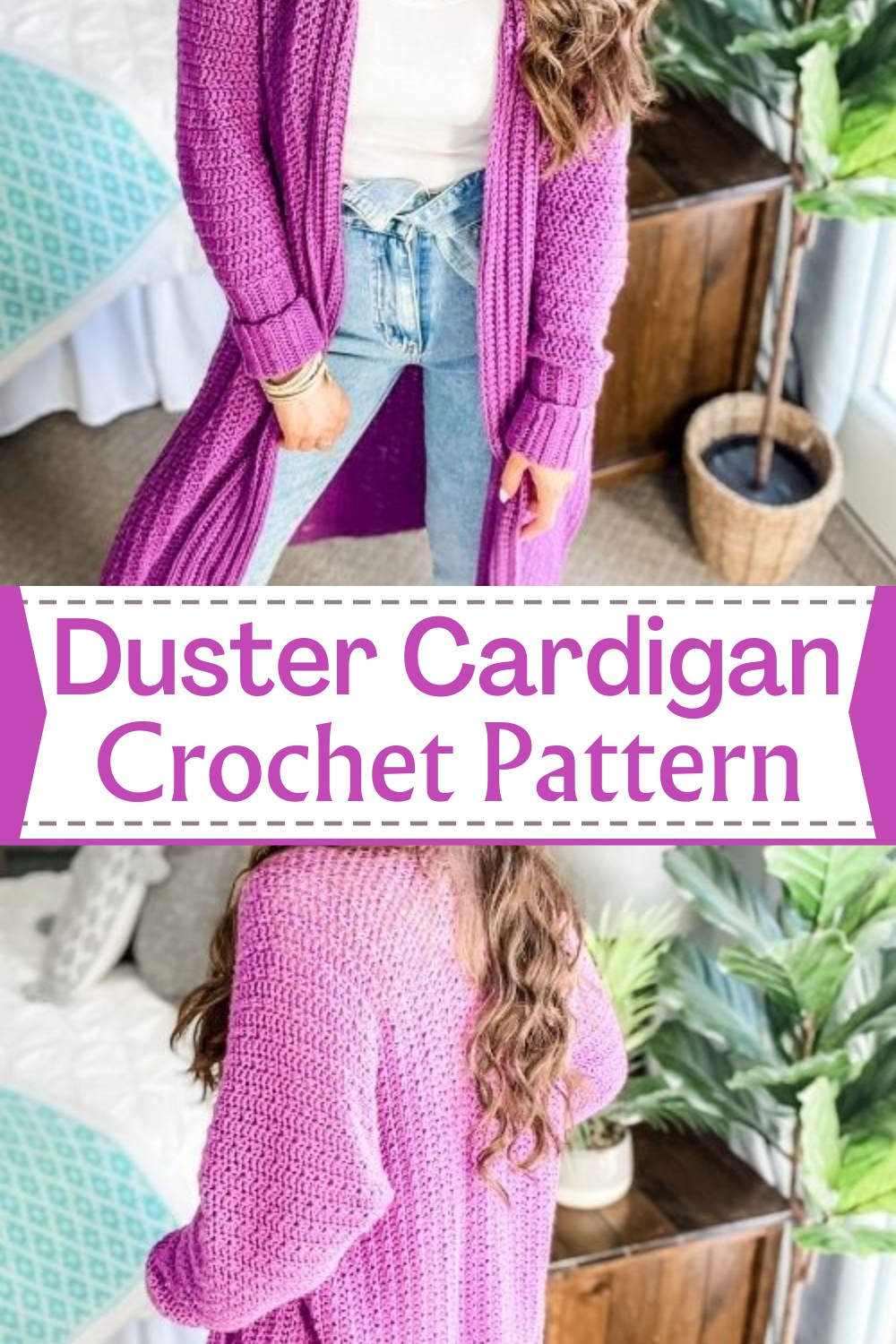 Upgrade your fashion game with the effortlessly chic Duster Cardigan Crochet Pattern. This simple and user-friendly guide allows you to create a cozy and fashionable piece to add to your wardrobe. This versatile free crochet cardigan is perfect for layering over various outfits, providing an extra touch of warmth and elegance to your look. Crocheted using straightforward crochet techniques, the pattern is designed to be accessible for various skill levels.
 Suggested Yarn: Ultra Mellowspun DK Yarn
 Hook Size: 4.5mm
Long Summer Crochet Duster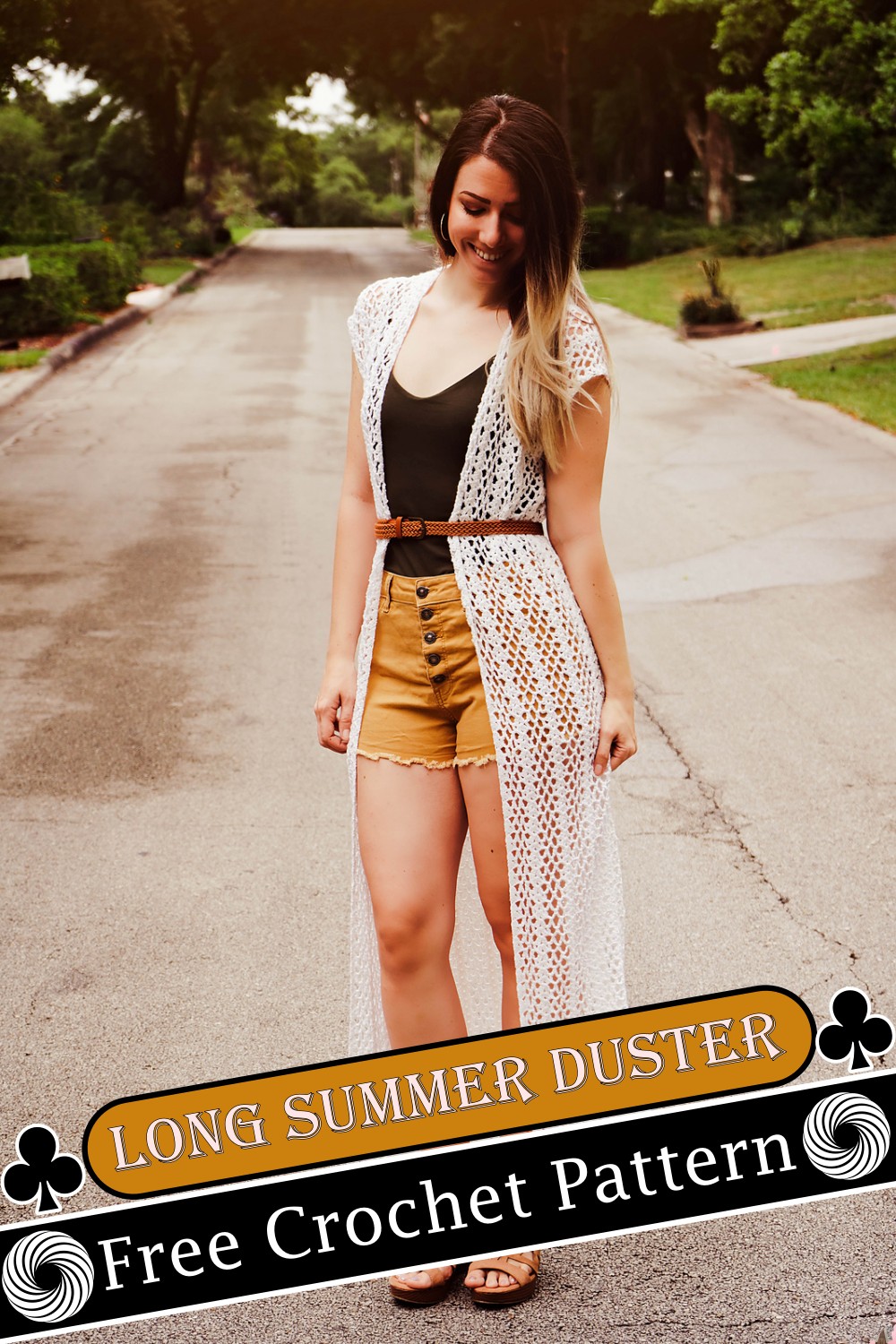 This stunning crochet duster is a masterpiece. The pattern uses an incredibly soft and bulky yarn, so it feels like you're wearing a cloud. It worked as one piece and then seamed on the sides; it's an easy project to take the chill off a summer evening or add some warmth when needed. This duster is worked as one very long piece and then seamed on the sides, making it a quick and easy project.
Elevation Duster Cardigan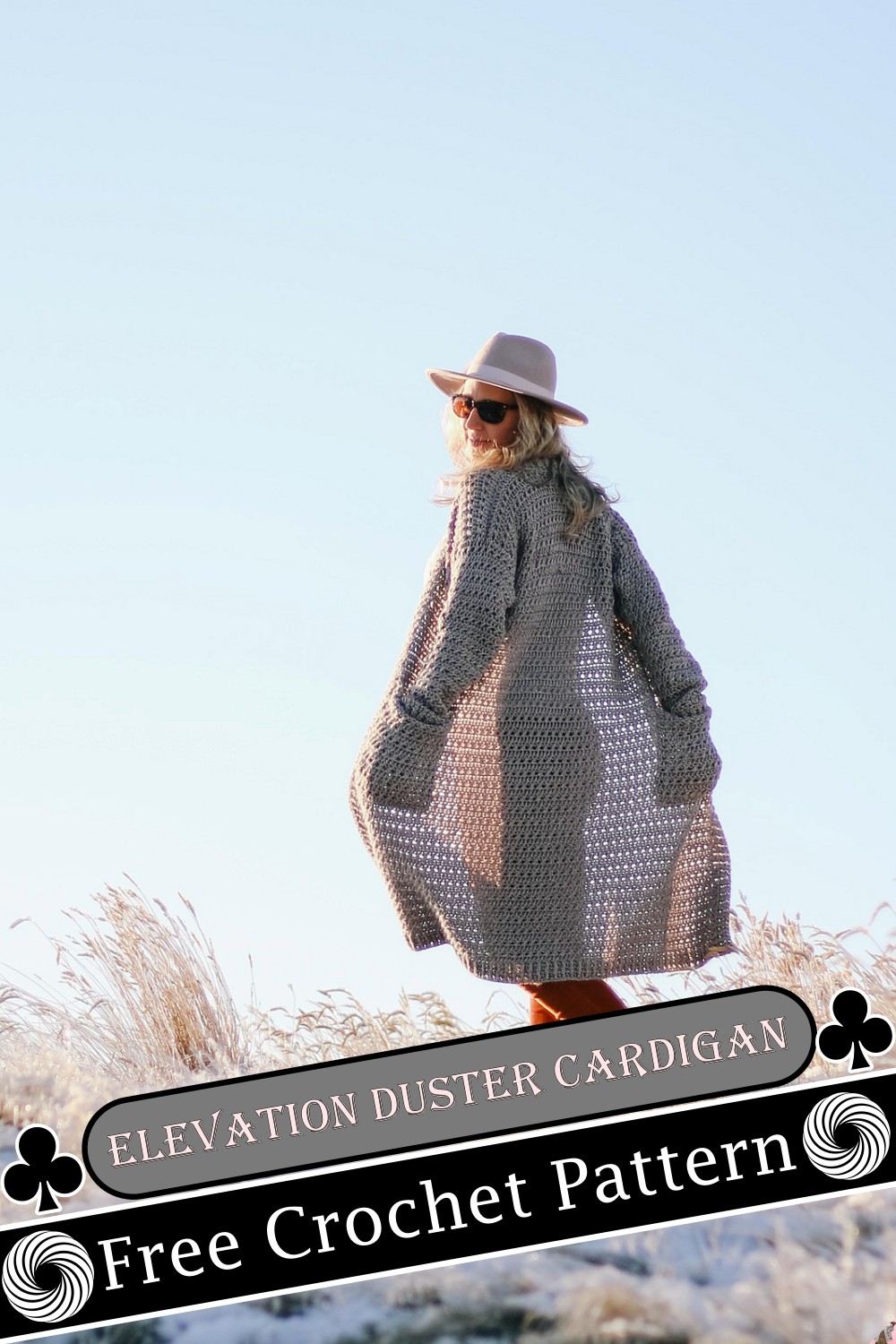 The elevation is a cozy poncho cardigan that will keep you warm and stylish throughout winter. The simple stitches work together to create an easy-to-make, almost seamless pattern. The drapey stitch used in this design gives it just enough body to hug your curves, while the peasant sleeves add the perfect coverage for those squishy sweaters underneath.
Crochet Quarry Duster Pattern
The Crochet Quarry Duster Pattern is a blend of elegance and style. This pattern, well-loved for its draped and flowy design, is a favorite among many women. It upgrades any outfit, providing a chic and intriguing look with its wavy texture. This easy-to-wear and adaptable Quary Duster Pattern will be great for every woman's wardrobe.
Flower Duster
The Flower Duster is a gorgeous crochet piece flattering on all body types. It's the perfect way to dress up any outfit. This pattern has been put together with beginners in mind. The back is crocheted first, followed by the front panels, then the sleeves are crocheted and attached to the armholes at the shoulder seams.
Autumn Duster Cardigan Pattern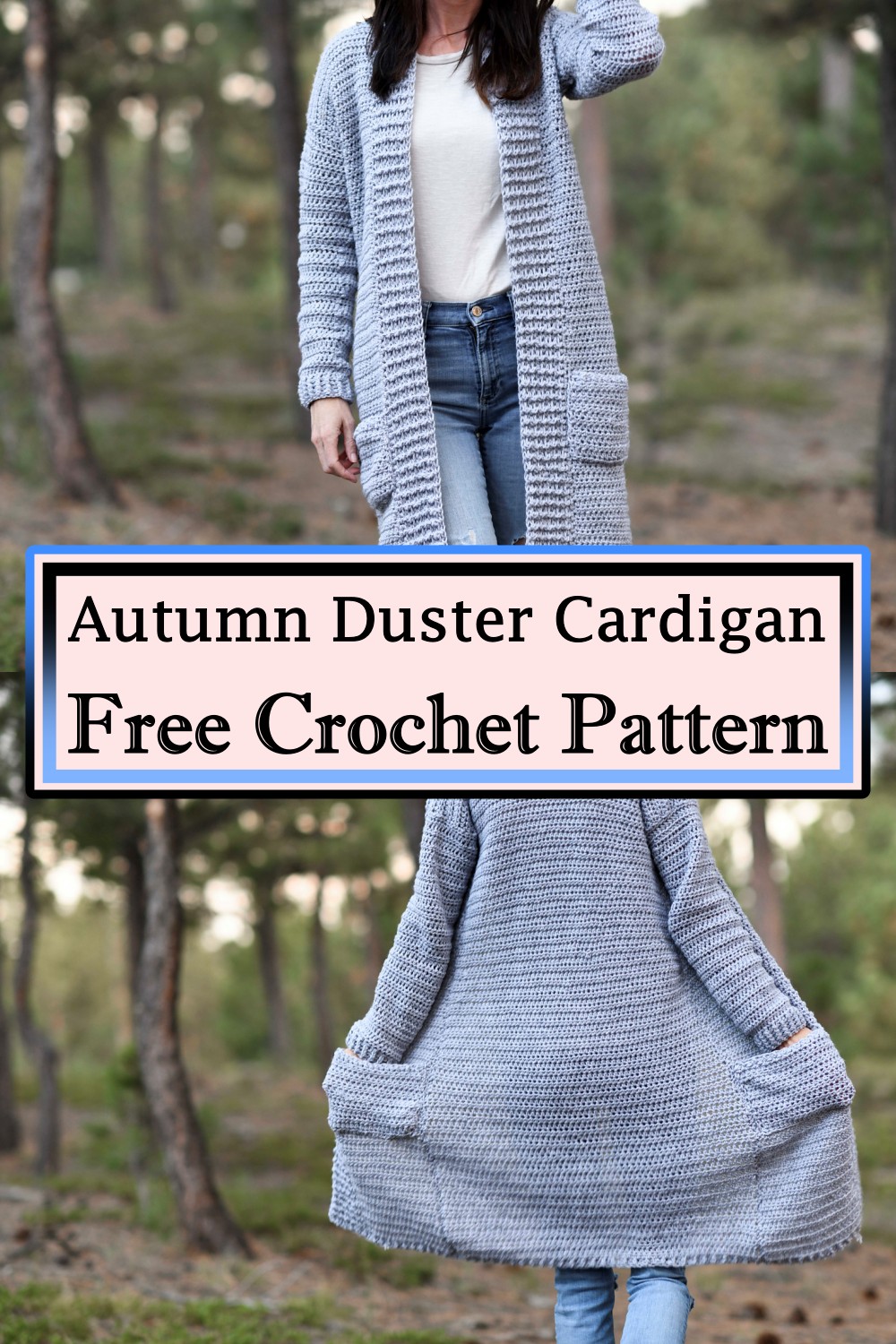 The Autumn Duster Cardigan Pattern is a fabulous blend of warmth and style. Its thick texture ensures it's perfect for those colder temperatures, making it the ideal companion for an autumn wardrobe. This amazing cardigan will surely become a standout piece, combining fashion and function with its cozy comfort and appealing aesthetic.
Retro Duster Vest
Add a classic touch to your wear with this crochet retro duster vest. This Crochet Retro Duster Vest keeps you stylish and warm all winter! With its retro style, this duster vest will turn heads wherever you go! With just one skein of yarn, this pattern works quickly and makes a fantastic addition to anyone's wear.
More Crochet Patterns:
Crochet Cocoon Cardigan Patterns: These Crochet cocoon cardigans are a modern twist on regular sweaters. No matter the time of the year, these comfy cardigans make you easily look classy.
Crochet Dress Patterns For Summer: These amazing Crocheted dresses, in particular, are brilliant as they are both versatile and cozy to wear and are a pleasure to create.