10 Crochet Cardigan Patterns For Ladies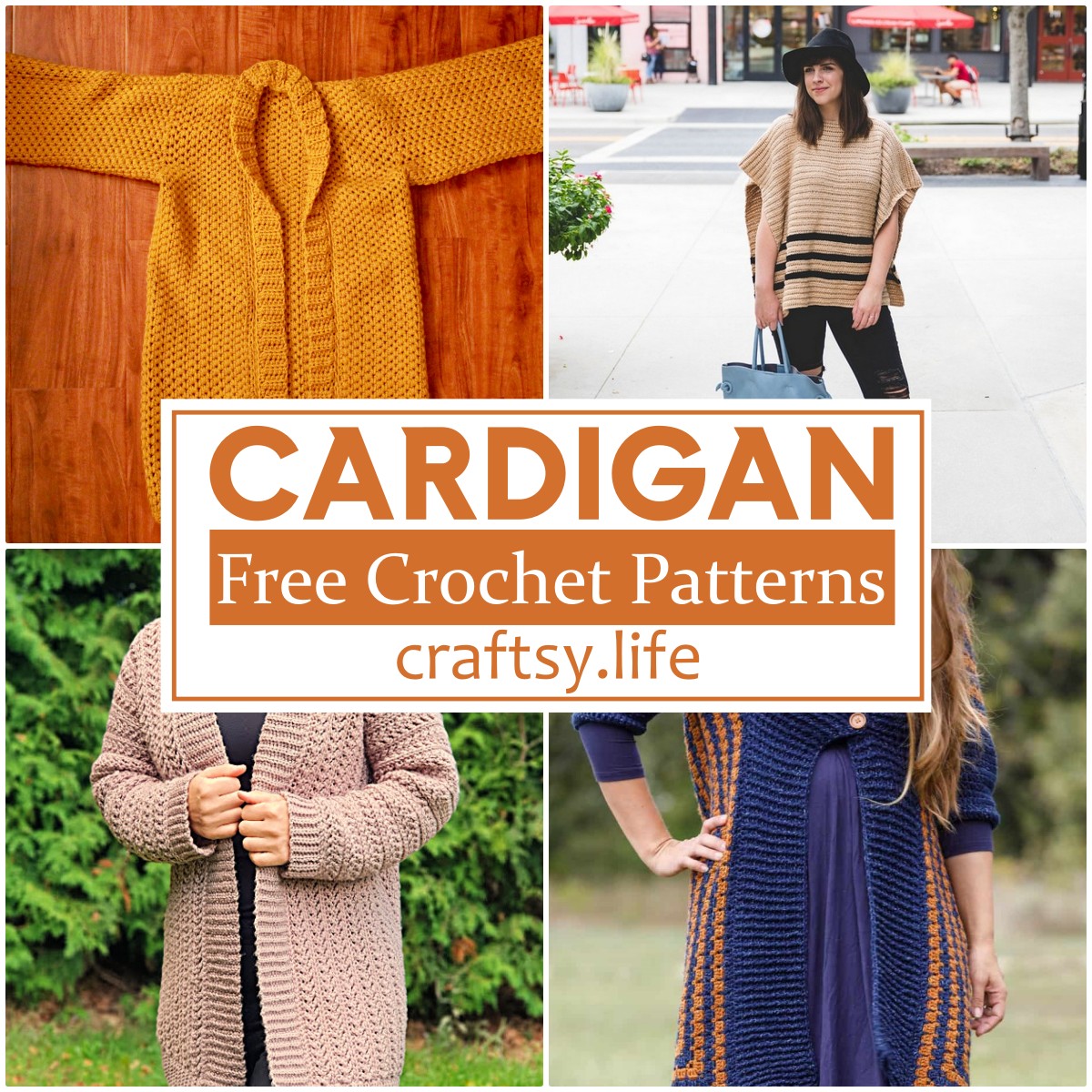 We have the perfect crochet cardigan patterns for chilly days to keep you warm. We've covered whether you prefer a pullover style or a button-front cape. Transform your favorite jeans or a simple t-shirt into a beautiful outfit with any of these crocheted cardigan patterns. From cozy knits to lightweight summer styles and everything in between, this list of the best crochet cardigan patterns includes something for everyone. This is a collection of 10 crochet cardigan patterns for all who love to wear this beauty! Crocheting a cardigan is easy and fun; follow the instructions and make your dream come true.
Free Crochet Cardigan Patterns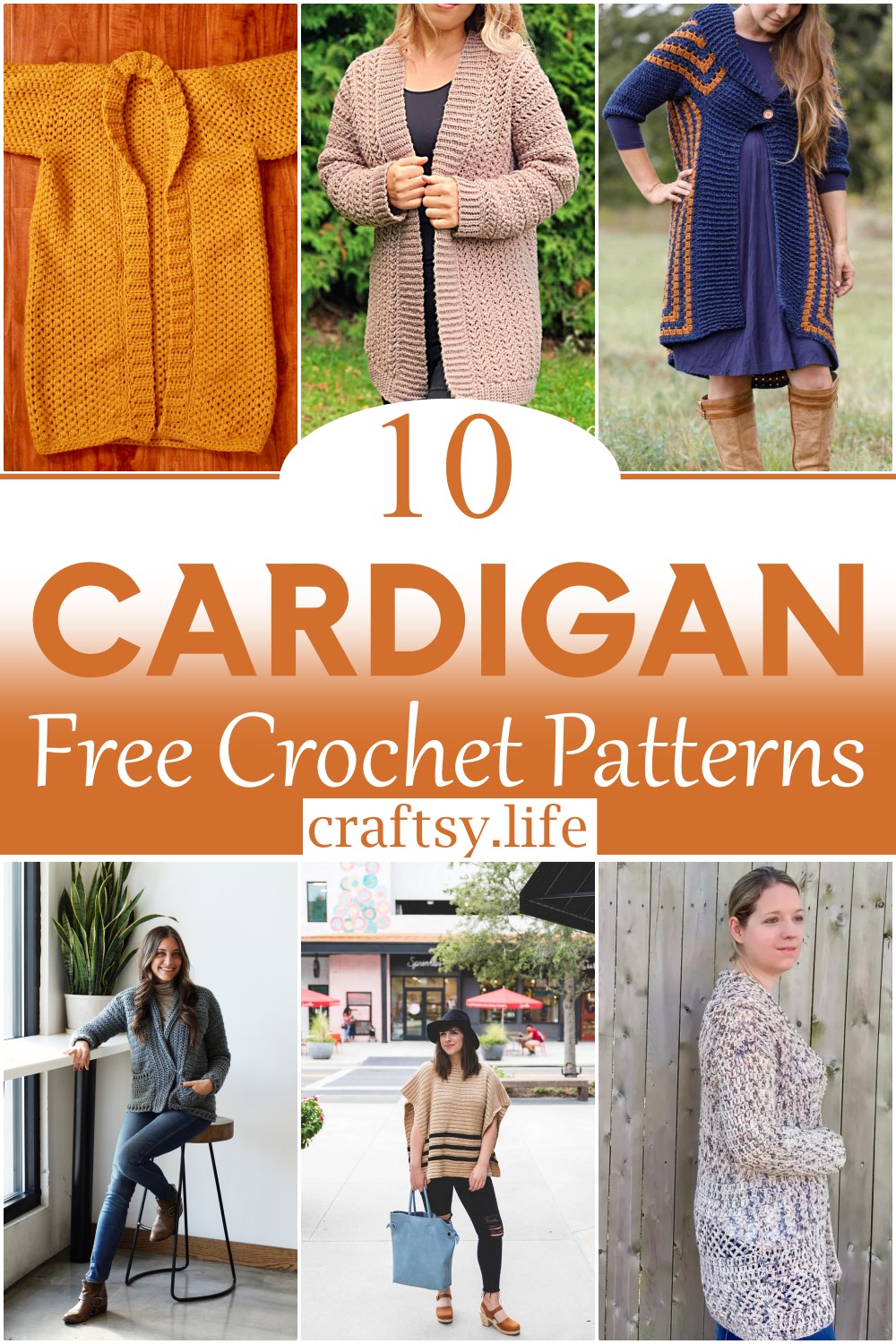 It's finally starting to feel like fall, and you're ready to wear sweaters. The only problem is that you start overheating after putting a sweater on. What if there were a way to be cozy without the heat? Will wonders never cease! Crochet cardigans are a fantastic way to keep warm without the accompanying discomfort of sweating through your clothes. Crochet cardigans are simple, fashionable, and super affordable—so there's no reason not to have one in every color! To get you started, here are 10 crochet cardigan patterns that will have everyone turning heads this fall.
Benefits Of Crocheting Cardigan Patterns
Crochet is one of the most popular crafts that has been around for many years. It is a fun and relaxing way to do a project that can be used for yourself or as a gift.
There are so many benefits to crocheting cardigan patterns, including:
Variety: There are so many different kinds of crochet cardigan patterns available for you to choose from. You can find designs that are simple and quick to make or more complicated patterns that will take longer but look great when finished. The variety allows you to create something that perfectly fits your style and personality.
Time: Crocheting takes less time than knitting because it uses fewer stitches per row.
Comfy Cozy Oversized Crochet Cardigan Pattern: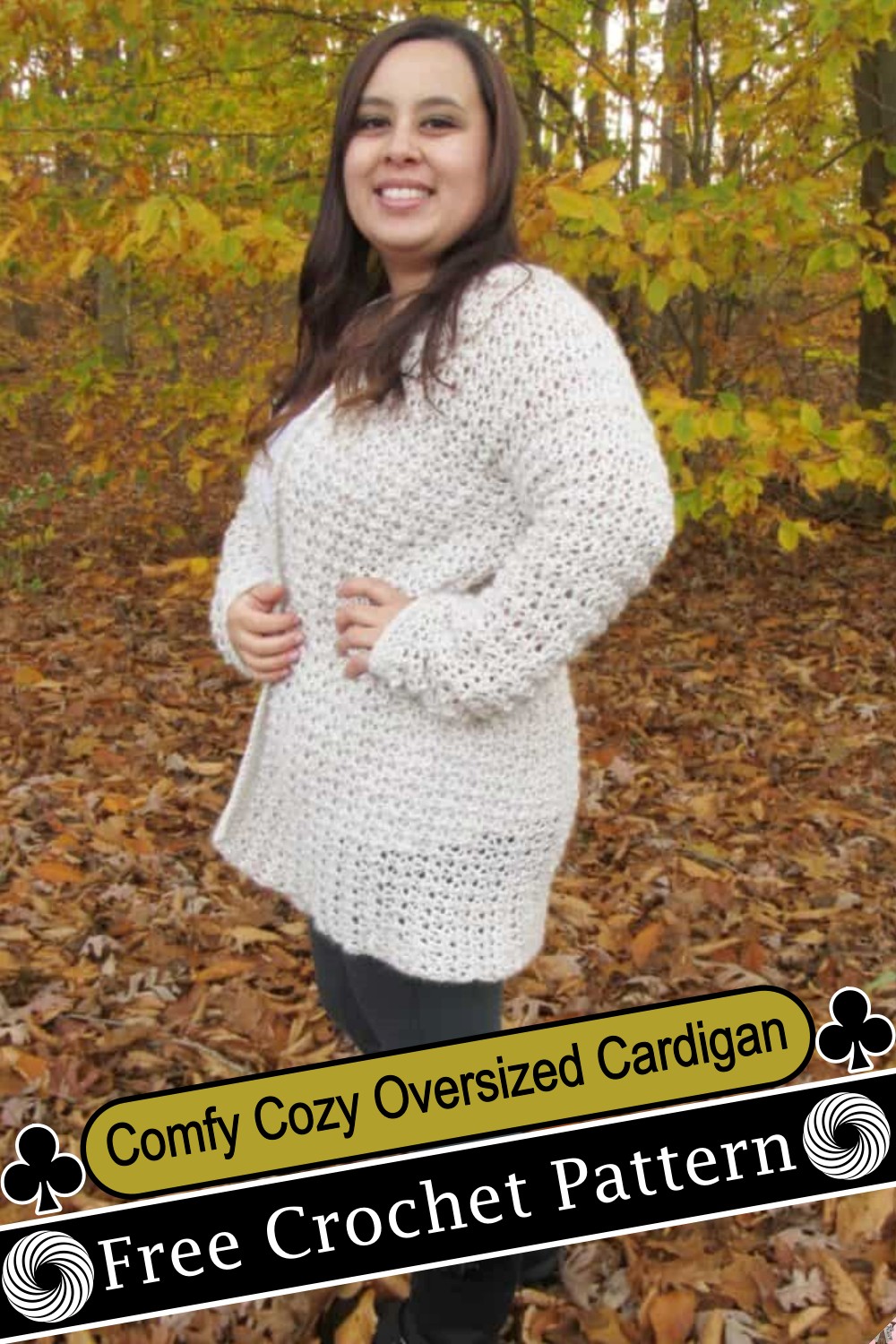 Whether you want to stay in your pajamas all day or want to add a layer of warmth, this crochet cardigan is just what you need! This stylish oversized crochet cardigan makes the perfect throw-on cover-up when you need to feel cute and cozy at home. It features an open front with a gathered neckline and is made with soft, chunky yarn that keeps you toasty on cooler days. The chunky garter stitch style makes this a great project for beginners who want to practice their skills!
Crochet Harold Cardigan: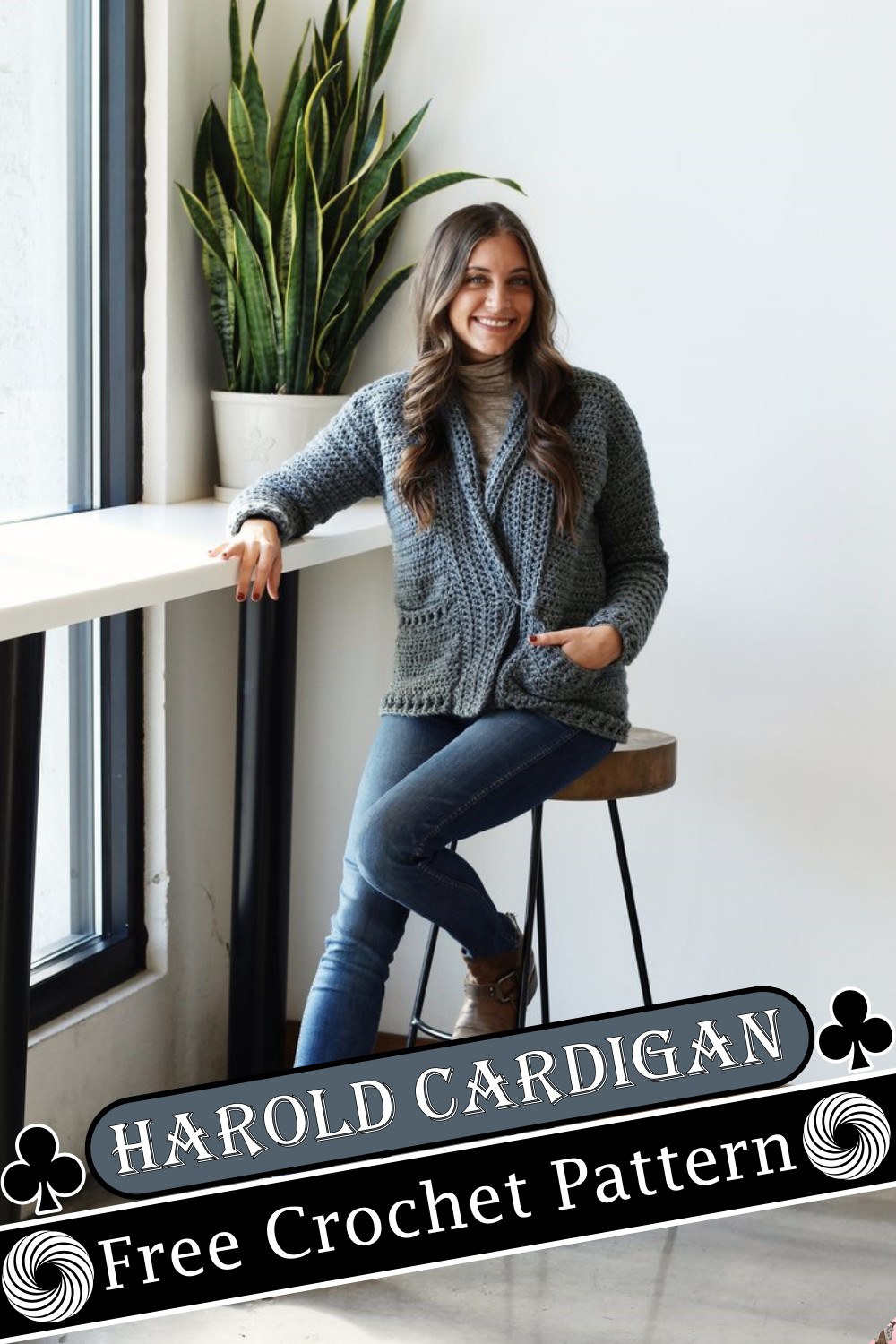 This very easy crochet cardigan is perfect for the beginner crocheter. This pattern can be worn over a dress or t-shirt and will keep you warm and cozy in winter. The Harold cardigan is a classic that never goes out of style. This beginner-friendly pattern uses only single crochet stitches, so it's easy to master. The simple design lets you mix and match different colors, making it the perfect sweater for men and women alike. The colorwork adds a fun dimension to the piece's overall look, which can grow as you change your wardrobe over time.
Comfy Kimono Blanket Cardigan: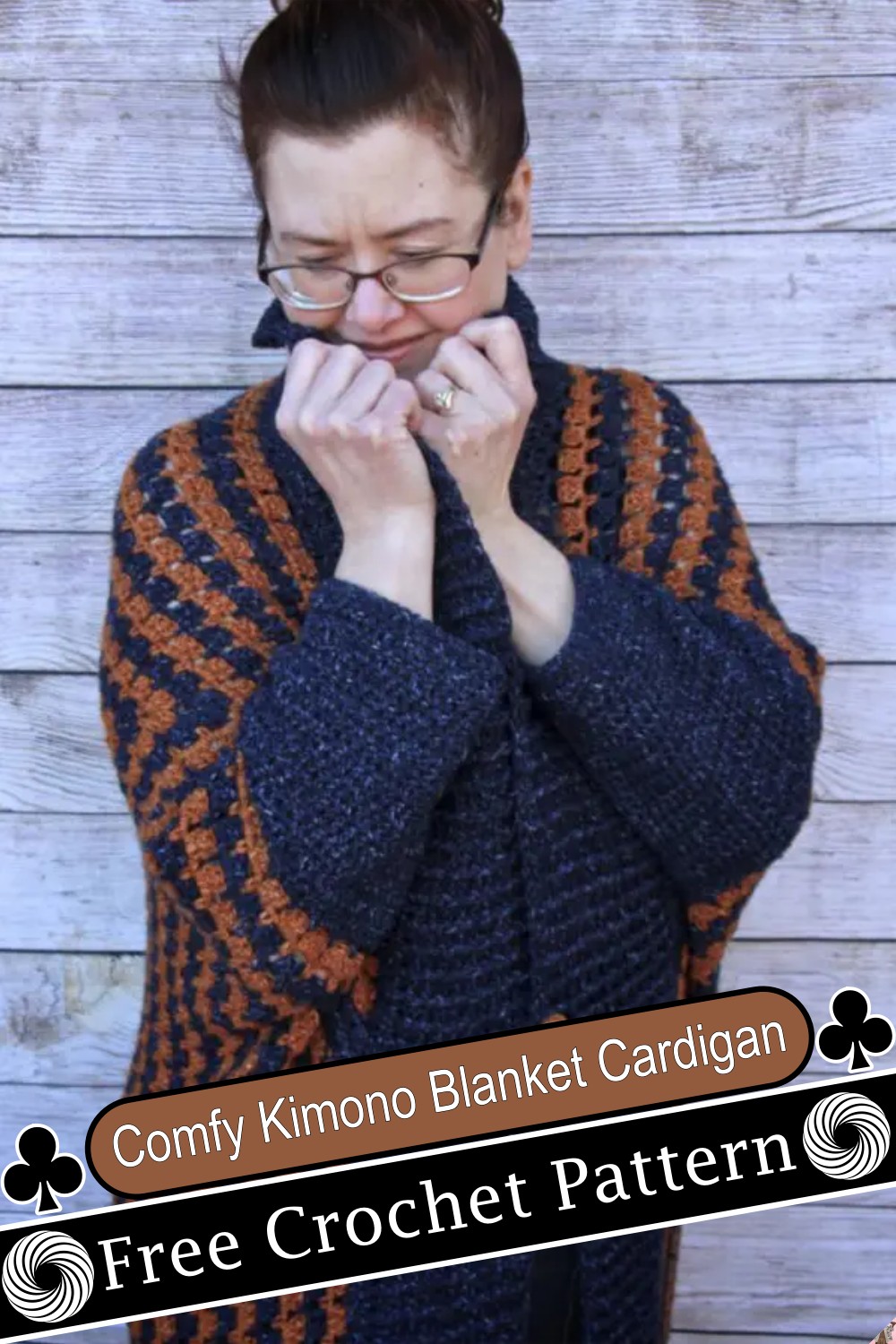 You love your family and want to stay with them on weekends. But, it could be tough to get out of the comfort zone of your home and go back into the cold. If you have no clothes with you that can stay warm, then this blanket cardigan crochet pattern is perfect for you. It keeps you warm and cozy, which is essential for any cold weather. The pattern has been made so that beginners can easily understand it. Therefore, this pattern is perfect for you if you are new to crocheting and want to try something different.
You can also see: Crochet Granny Square Cardigan Patterns 
Free Crochet Hex No Hex Cardigan: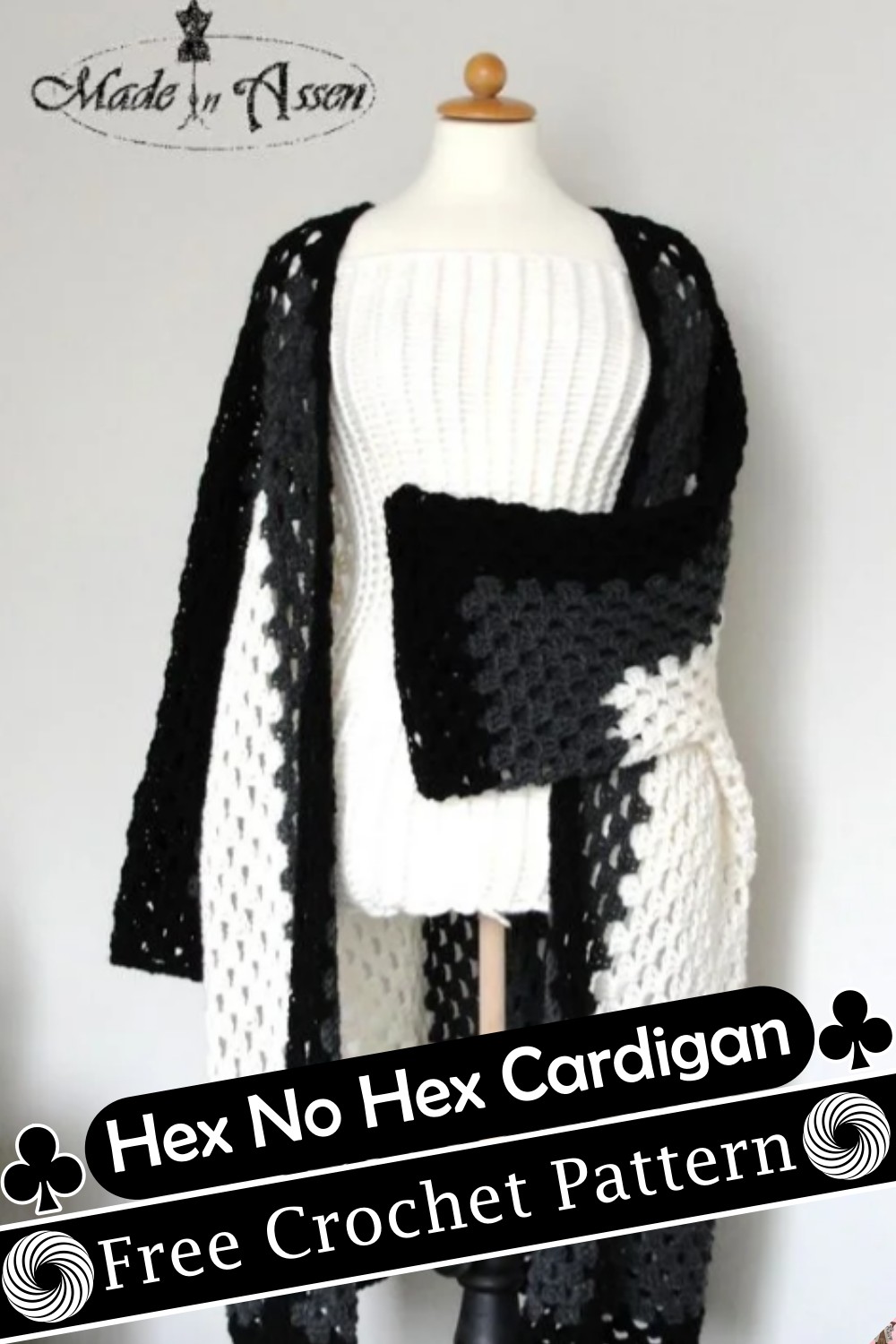 Jennifer Campbell designed this crochet cardigan, which would be a great gift to your loved ones. It is easy and fun to make, and you can work on this project whenever you have time. This is an effortless pattern that makes a great gift or keepsake. This pattern is easy to understand; a beginner can also crochet this. It is for women who love to wear fashionable clothes, and the best part is that this cardigan has no front opening. People usually don't like the front opening because it makes them uncomfortable. This cardigan is different from other traditional cardigans as it does not have a front opening but has a round neckline.
The Waffle Cardigan Crochet Pattern: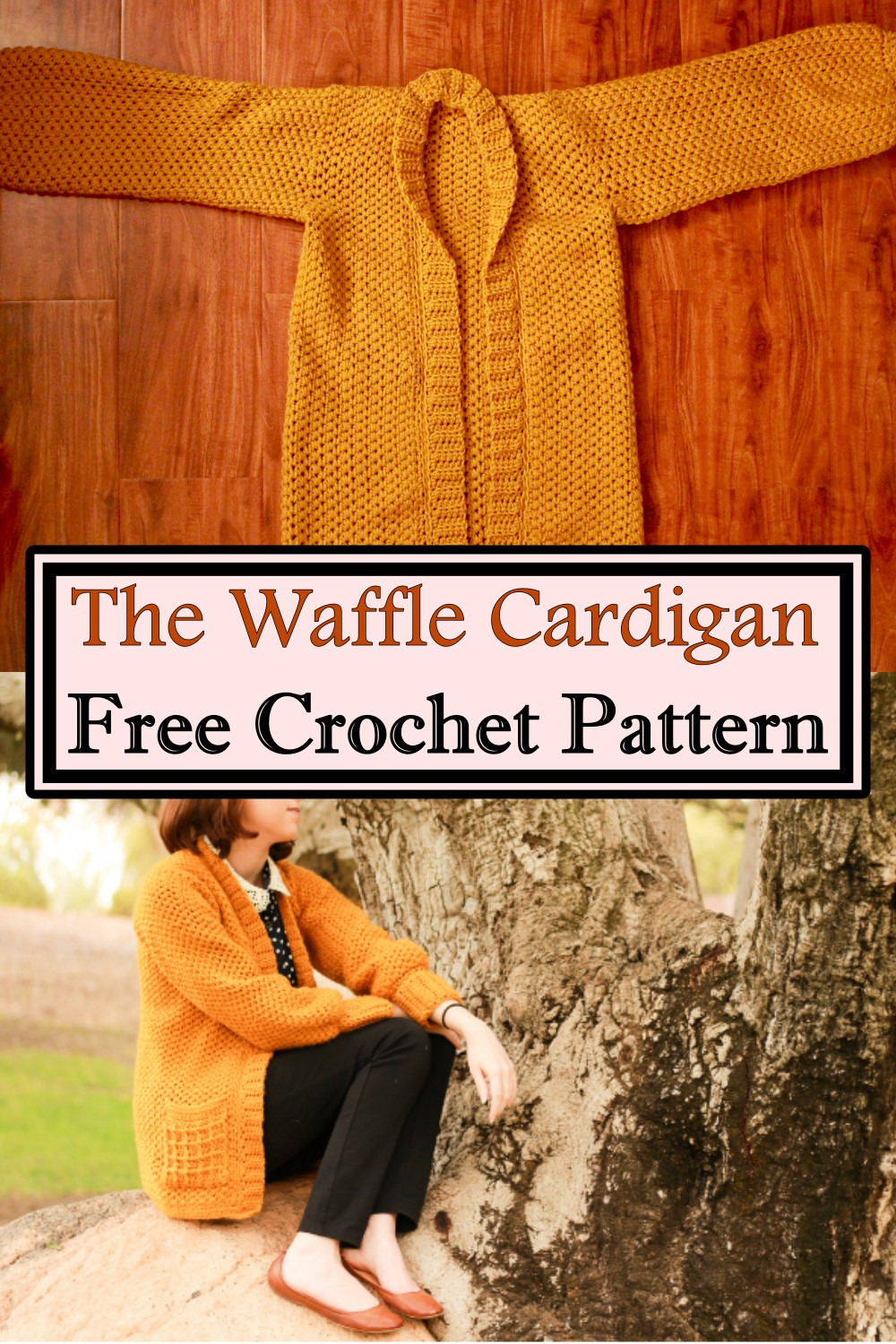 Are you looking for a cardigan to keep yourself warm in winter? Then this waffle cardigan crochet pattern is the right choice for you. It involves easy-to-follow instructions, meaning even beginners can make it easier. What makes it more special is that the color has used mustard, but you can change it according to your wish. It is simple to make and allows for many different color combinations. This pattern uses only cotton and light-weighted yarn, which makes it a great choice for beginners. The mustard color used in the sample has a beautiful, fall-like feel that is perfect for the season.
Chic Aran Cardigan Free Crochet Pattern: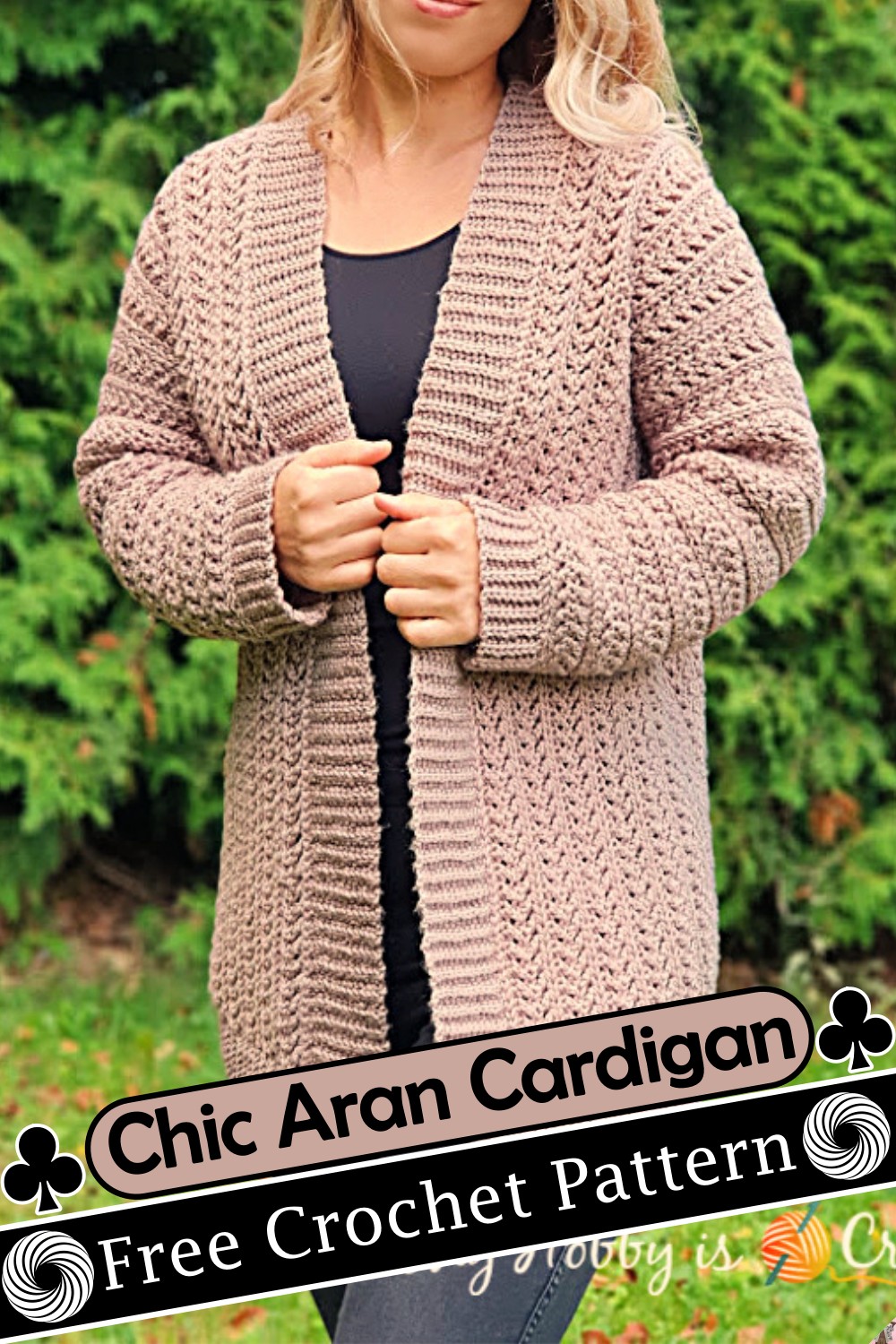 Free crochet pattern for my beloved readers, This chic Aran cardigan has a beautiful design and looks with a decent color selection. It will look gorgeous to wear in the winter season, and it keeps you warm during that time. A Chic Aran sweater can be the best gift for your loved ones during cold winter. To make this perfect sweater, you must purchase some yarn and a crochet hook. This is an easy pattern for all. Just follow the steps, and you will get a beautiful sweater.
Free Crochet Summer Nights Cardigan: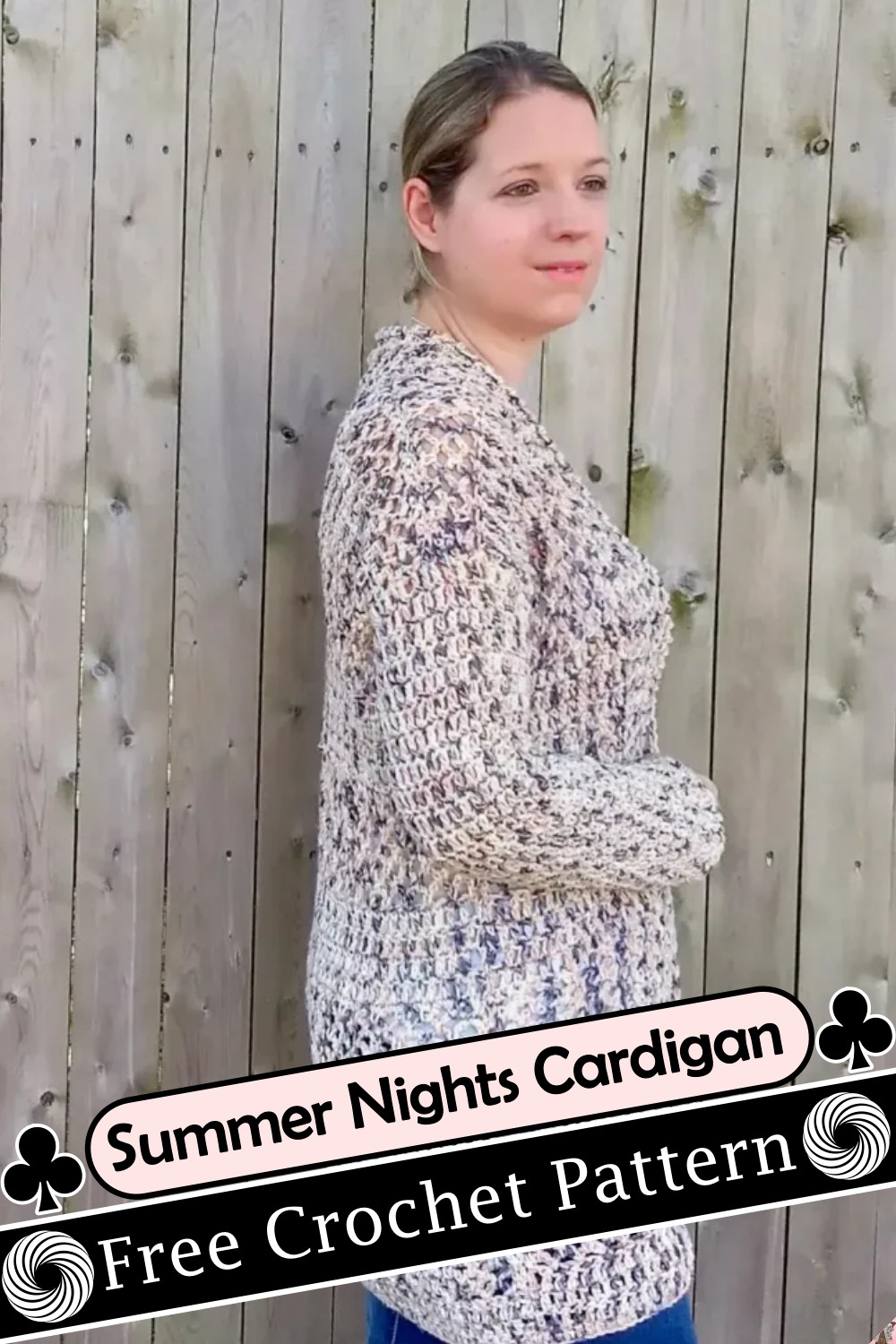 This cardigan can be used as a gown during the night. You can use any cotton yarn for this pattern. You can change the color and make it fit your body by adjusting the size accordingly. It is very easy to crochet, which will also be a good project for beginners! Crochet this comfy, breezy cardigan any time of year! This little summer night cardigan is a fast and easy crochet project made with cotton yarn. It can be worn alone or over a tank top, and because it's so quick to whip up, it's a great piece for any crocheter who likes to mix things up. With just one color or many in your wardrobe, it will be a versatile go-to for all seasons.
Up North Crochet Cardigan Pattern: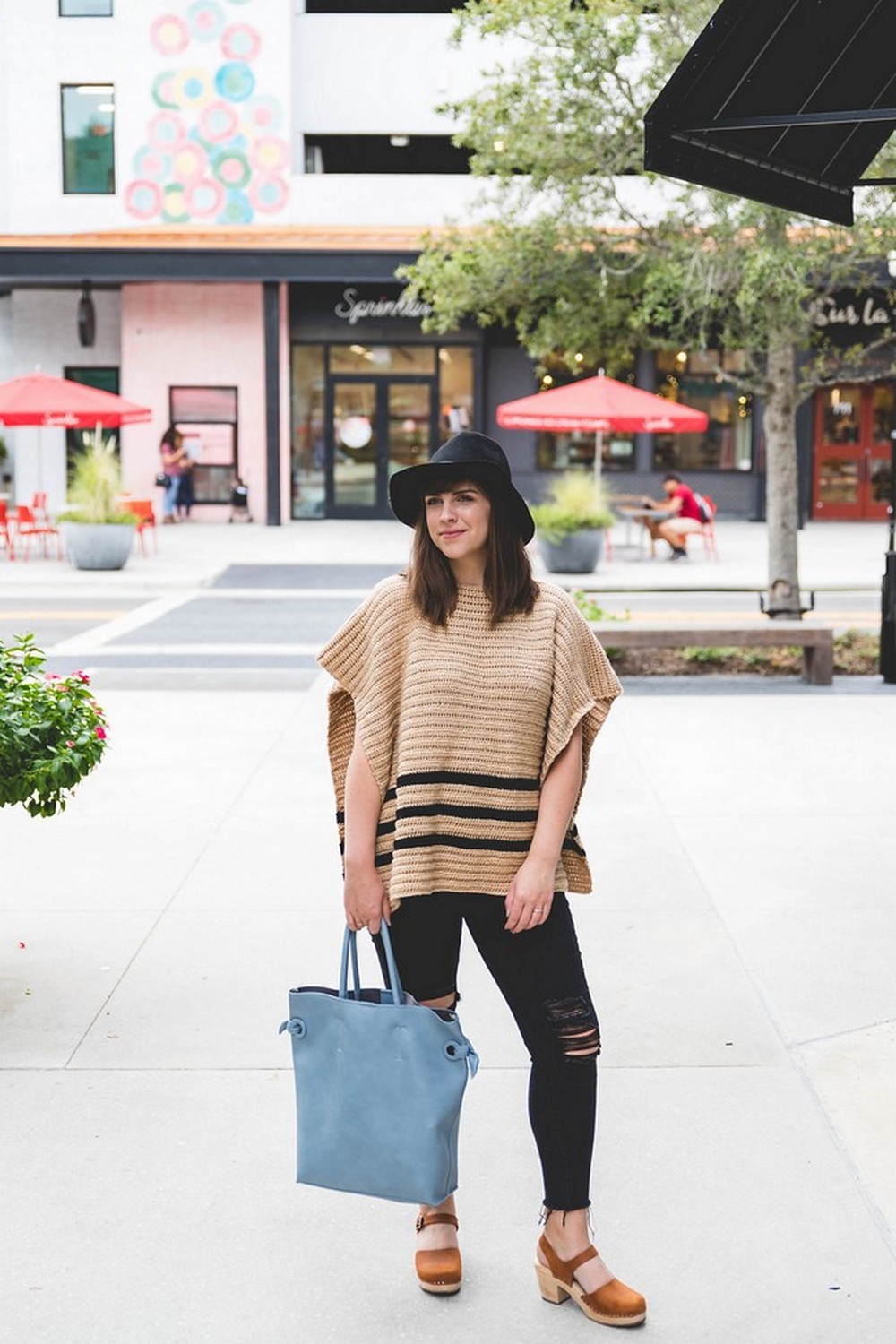 The Up North Crochet Cardigan is a versatile, lightweight cardigan that can be worn in any season. It features a beautiful lace pattern that is both feminine and stylish. This cardigan makes a great layering piece for any occasion, from casual to formal. This crochet cardigan is the perfect layering piece for transitioning your wardrobe from winter to spring. The Up North Crochet Cardigan is made of chunky, super soft wool, just in time for our Canadian winters.
Cardigan Shrug Crochet Pattern: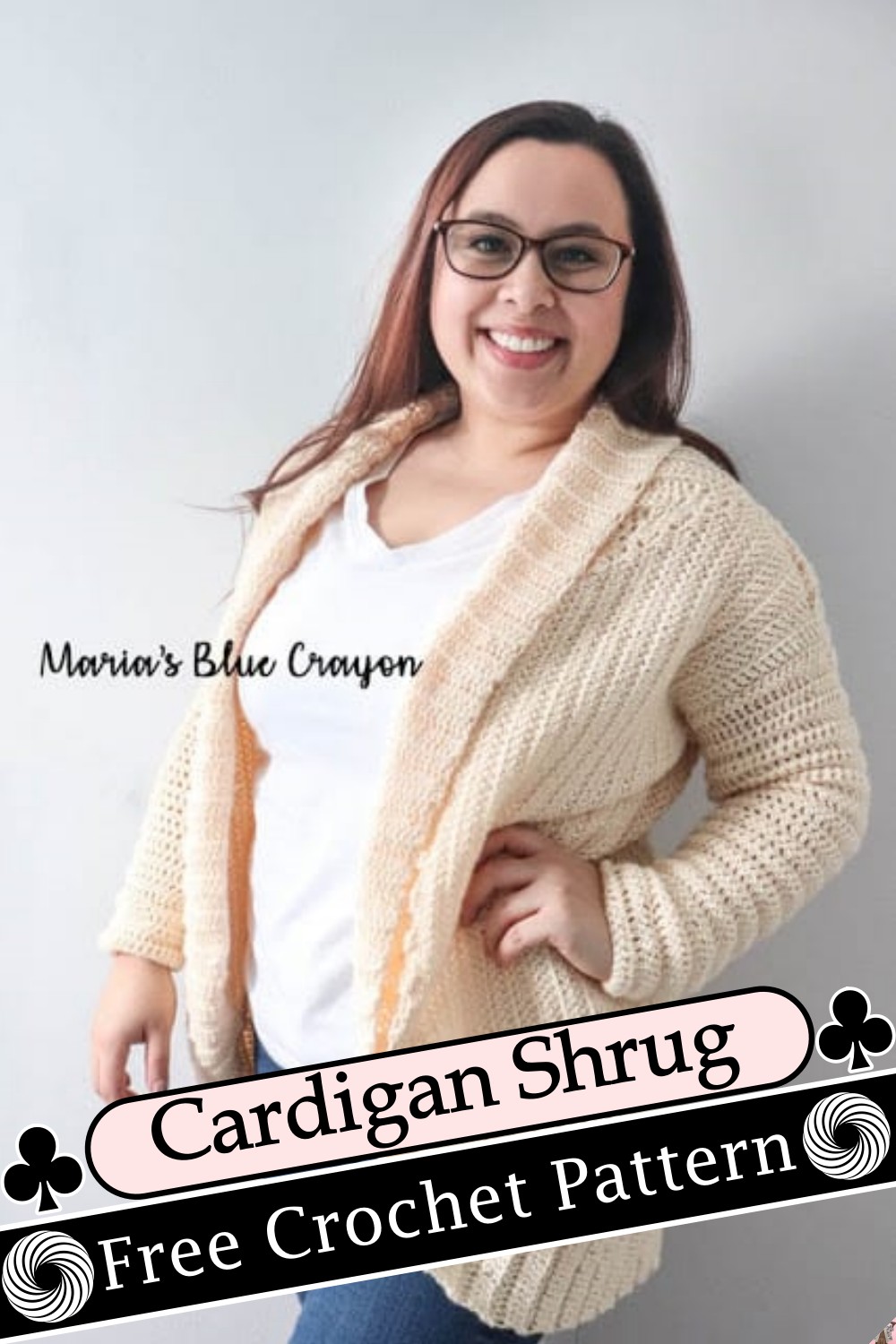 This crochet shrug is perfect for those who love cardigans and want to add a little comfort to their everyday style. Perfect for the new season, you'll love wearing this shrug while going out or around town. This great beginner crochet pattern is easy and fun to work up in any worsted-weight yarn. Make it in a solid color or stripe, and let your imagination run wild! The perfect pattern for layering over your favorite summer clothes or wearing with your favorite winter jackets.
You can also see: Long Cardigan Patterns
Mel's Cosy Cardigan