25 Free Crochet Poncho Patterns For All Age Groups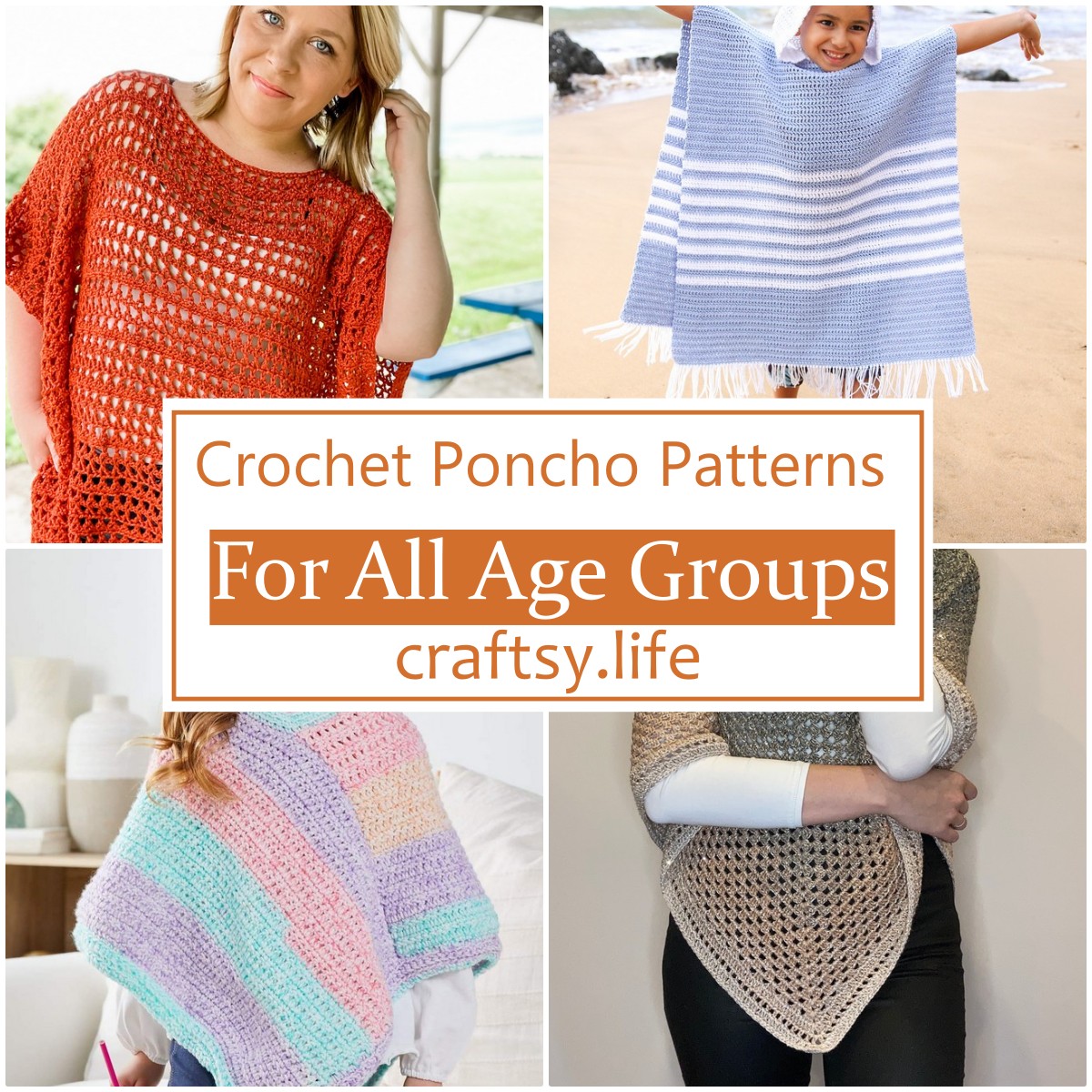 Are you tired of wearing heavy wool clothing in winters? Do you want to give your look a try with new and modern designs? If yes, then this roundup is for you. Here we have collected the best 25 Free Crochet Poncho Patterns that are here to keep you warm and cozy. Poncho is a cloak-like outer garment that has been worn since ancient times by both men and women. You can now rethink ponchos as they now come in many stylish designs such as sleeveless, short, long, half sleeves, etc. You can try each one of them to get a trendy look.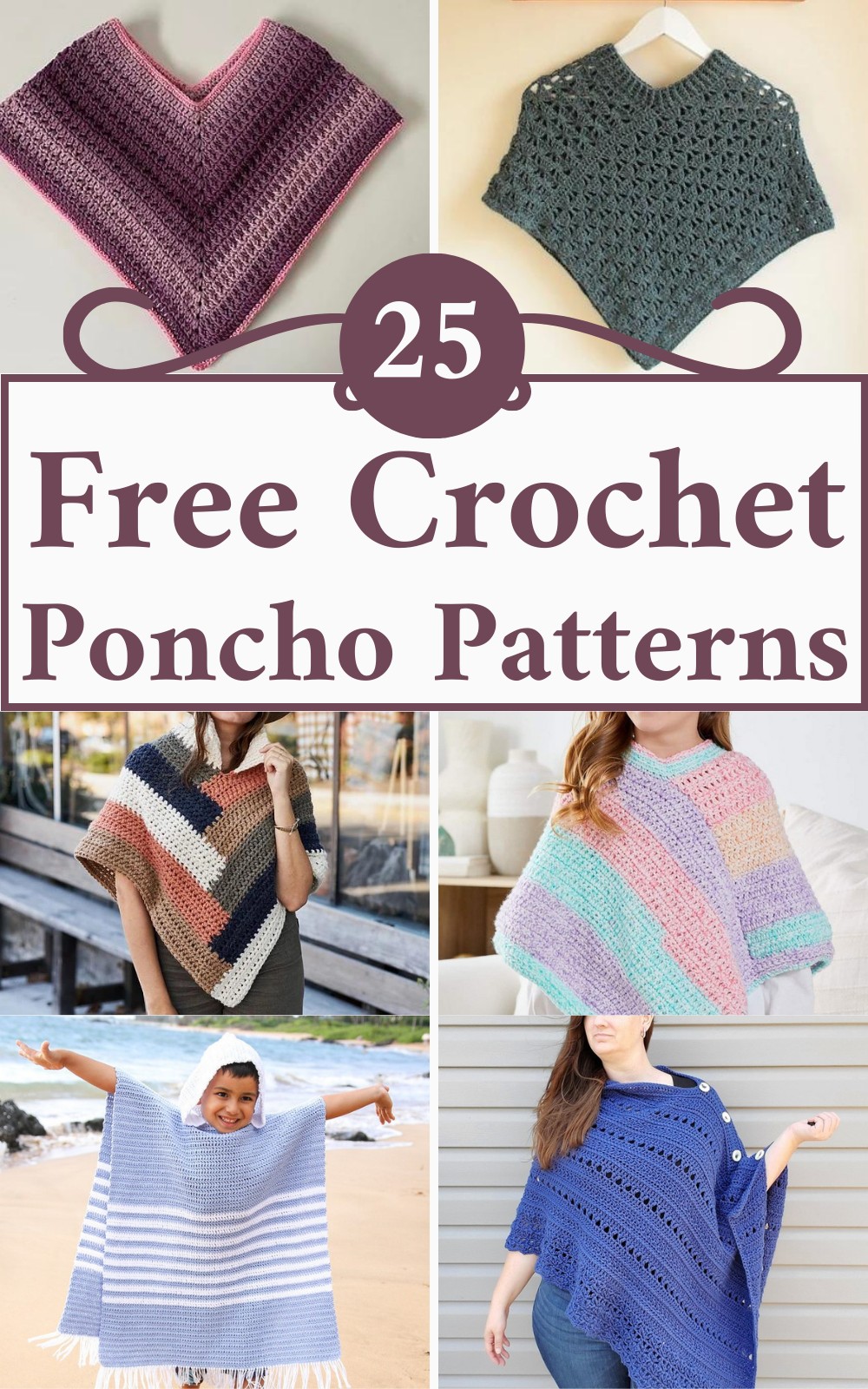 These patterns will help you to enhance your crocheting skills and make your winters warmer and more stylish as well, plus are a great way to stay warm and stylish! Here are free crochet poncho patterns that are perfect for every season. They can give you a little extra warmth when it's cold out, or they can be lightweight and airy for those warmer months. OUt amazing series of Crochet ponchos come in all different designs, styles, and colors for all ages!
Tips To Crochet Poncho Patterns
A poncho is a sleeveless garment with an opening in the center of the head. Ponchos are one of the hottest trends in fashion today, especially among celebrities. They are easy to make and can be worn in almost any outfit. This article will give you some tips on how to crochet ponchos.
Ponchos are great because they keep you warm while still being fashionable.
You can wear them over jeans or leggings and even shorts during summer.
Ponchos are usually made from wool, but many other fabric types can be used, such as polyester, cotton, rayon, spandex, and more.
The best way to learn how to crochet ponchos is by using patterns from books, magazines, or online.
If you're new at crocheting, then it might be better if you try out some simple projects first before moving onto more advanced patterns as they may seem intimidating at first glance, but once you get used to them, they become quite simple!
Crochet Poncho Patterns Everyone Love
We love crochet poncho patterns for many reasons:
It's almost time to put away the summer clothes and bring out the fall fashions. Sweaters are great, but you might want something a little more unique than your old cardigans, especially if you're going to be outside in chilly weather.
That's why we love crochet poncho patterns—you can customize them with whichever color yarn you prefer and make them any size you like.
They're also great for covering up your winter outfit if it's not quite cold enough for your coat.
They'll keep you warm and cozy while still letting you show off that cute winter outfit.
If you've never crocheted before, don't worry! We've got beginner patterns to help you start this fun new hobby.
You can wear them on a breezy spring day or even layered under your winter coat for extra warmth, the possibilities are endless!
They're the perfect gift for someone special in your life. Plus, there's nothing like seeing a loved one smile when they open up their handmade present from you!
Crocheting is fun and relaxing. It's a great way to spend some time with yourself or friends while being productive simultaneously!
Midnight Walk Poncho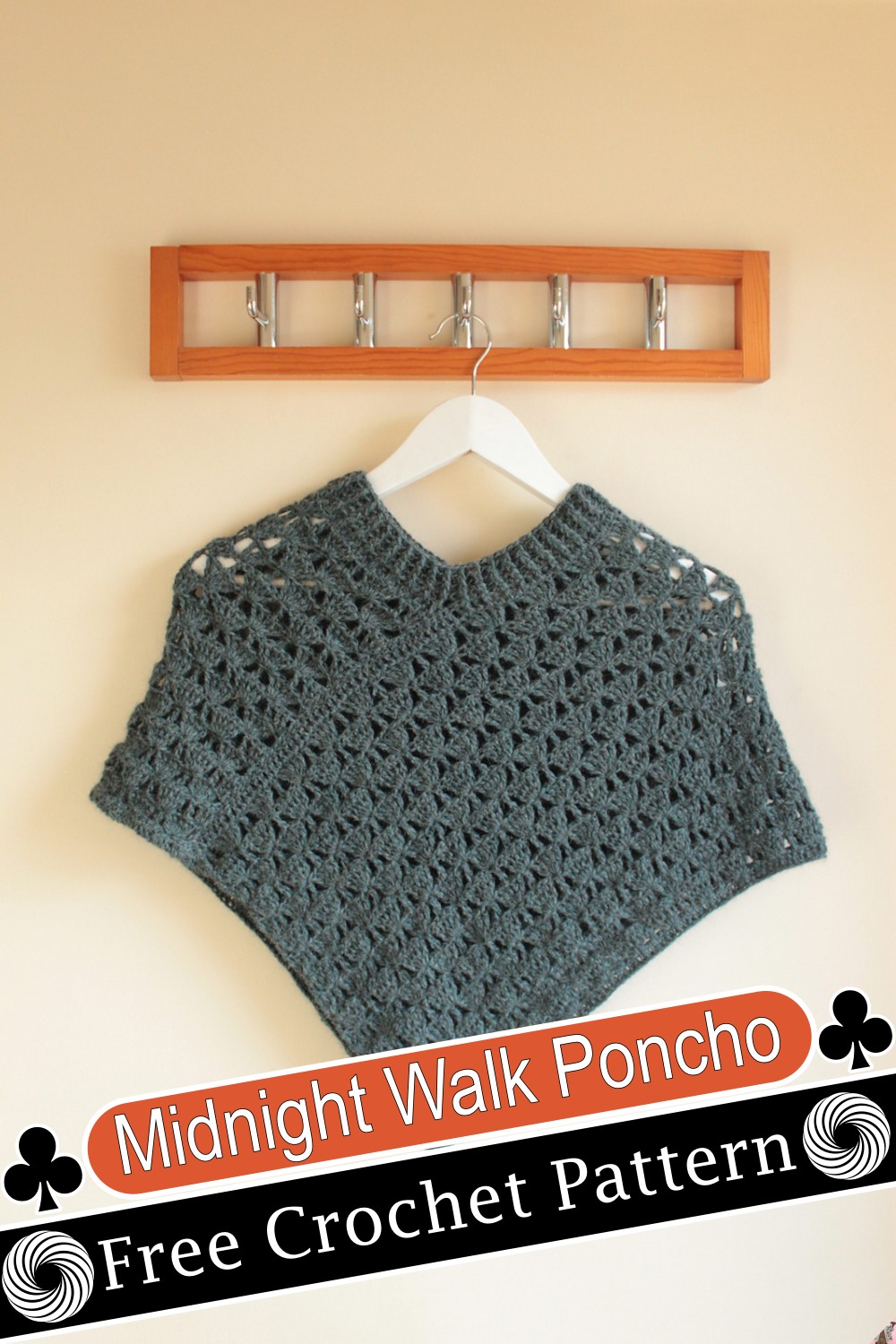 The Midnight Walk Poncho is a great layering piece for any season. It's cute and comfy, with a crochet texture that adds a bit of flair. Wear it in winter to add an extra layer or, in summer, over your swimsuit on a chilly evening. It's super easy to make and works quickly so that you can look fabulous in no time! The design is super simple, so it's easy to crochet up in just a few hours! Wear this lovely crochet poncho over sleeveless dresses, and wear it on top of your coat in winter. Or use it as a layer under your coat during the colder months.
Palomino Diamond Poncho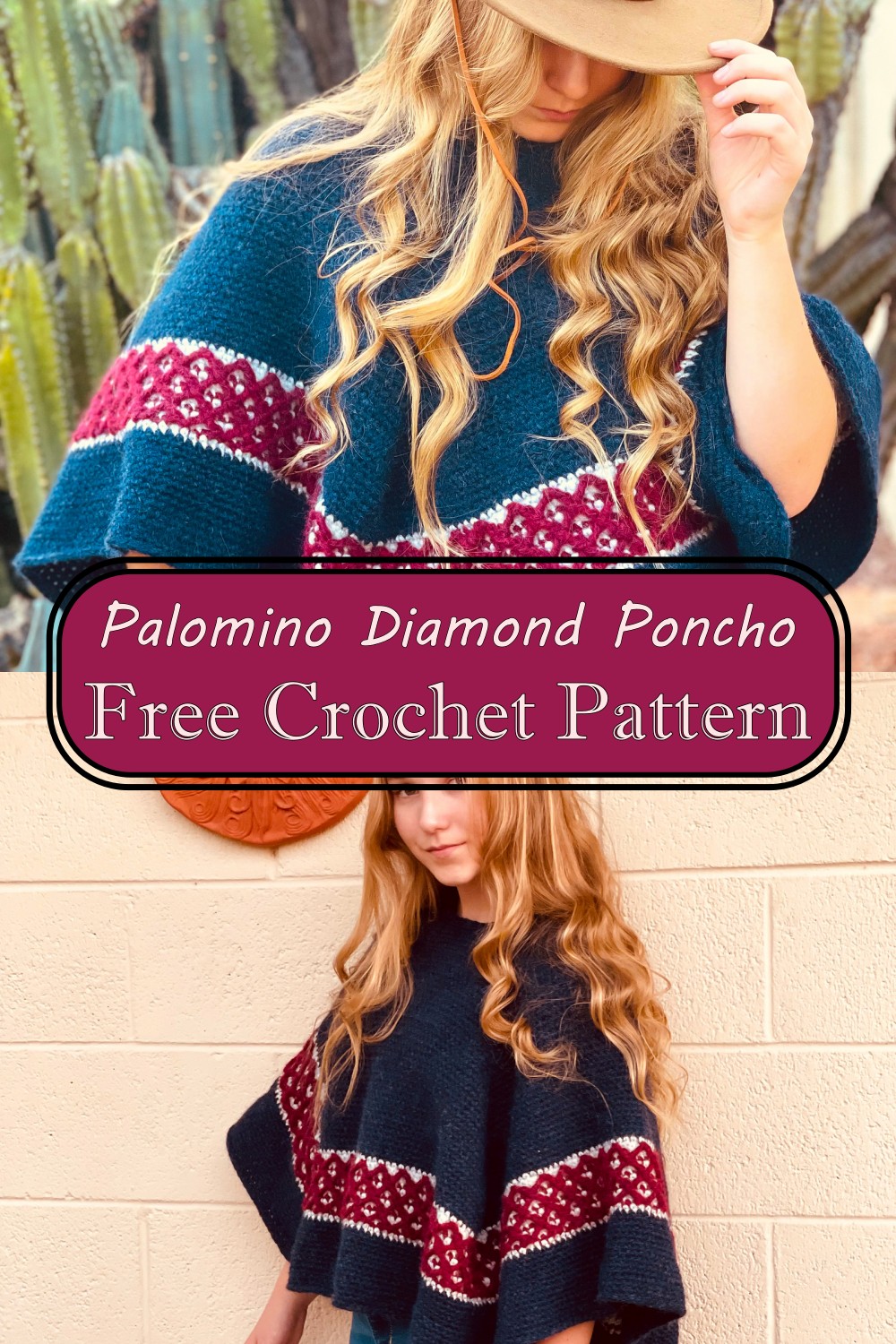 Stylish and sophisticated, this lovely crochet poncho is a perfect layering piece. The Palomino poncho is a cozy and lightweight layer perfect for cool weather. This tunic poncho is designed in bold colors and features a beautiful diamond cable trellis motif. It's the perfect piece for transitioning from the fall to winter seasons. This project is suitable for advanced beginners using only four basic crochet stitches. The poncho is worked from the neckline to the hem, so it can be easily adjusted to fit various shapes and sizes. It's an ideal project for anyone who wants a warm and fashionable accessory.
Poncho De Flores A Crochet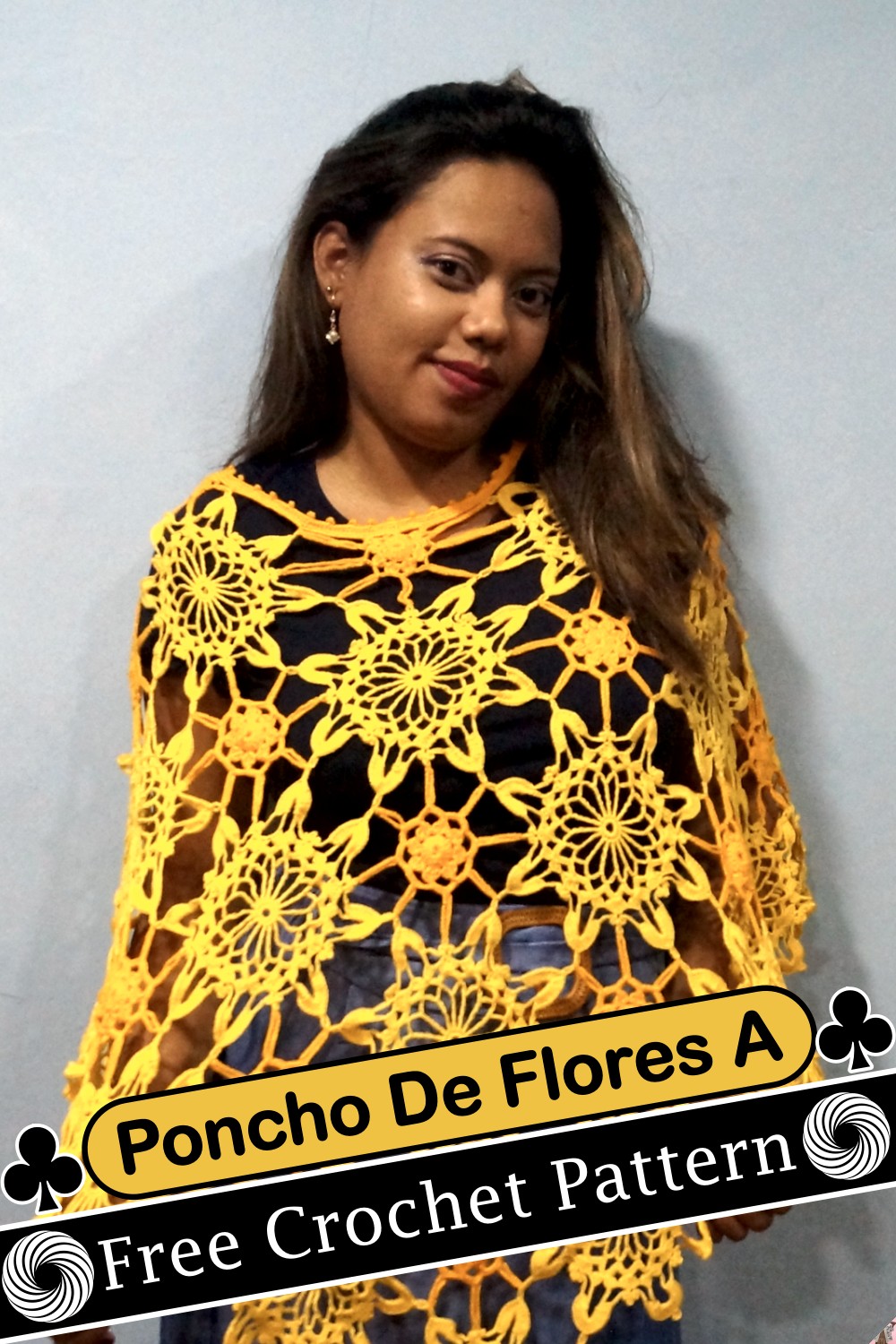 This gorgeous poncho is crocheted with 100% cotton. It is soft, lightweight, and oh-so-comfy! You can wear this any time during spring or summer. A unique statement piece that will brighten up any outfit. Feel the comfort of this breathable poncho and grace yourself with the ultimate style statement. The crochet pattern is stylish and timeless, giving it a special place in your wardrobe. A slight flowery motif gives this piece a feminine touch, making you look beautiful. This soft floral poncho makes a pretty layer over everyday outfits or beachwear. It features a crochet trim throughout, plus an easy pullover silhouette.
Spring Mom and Me Poncho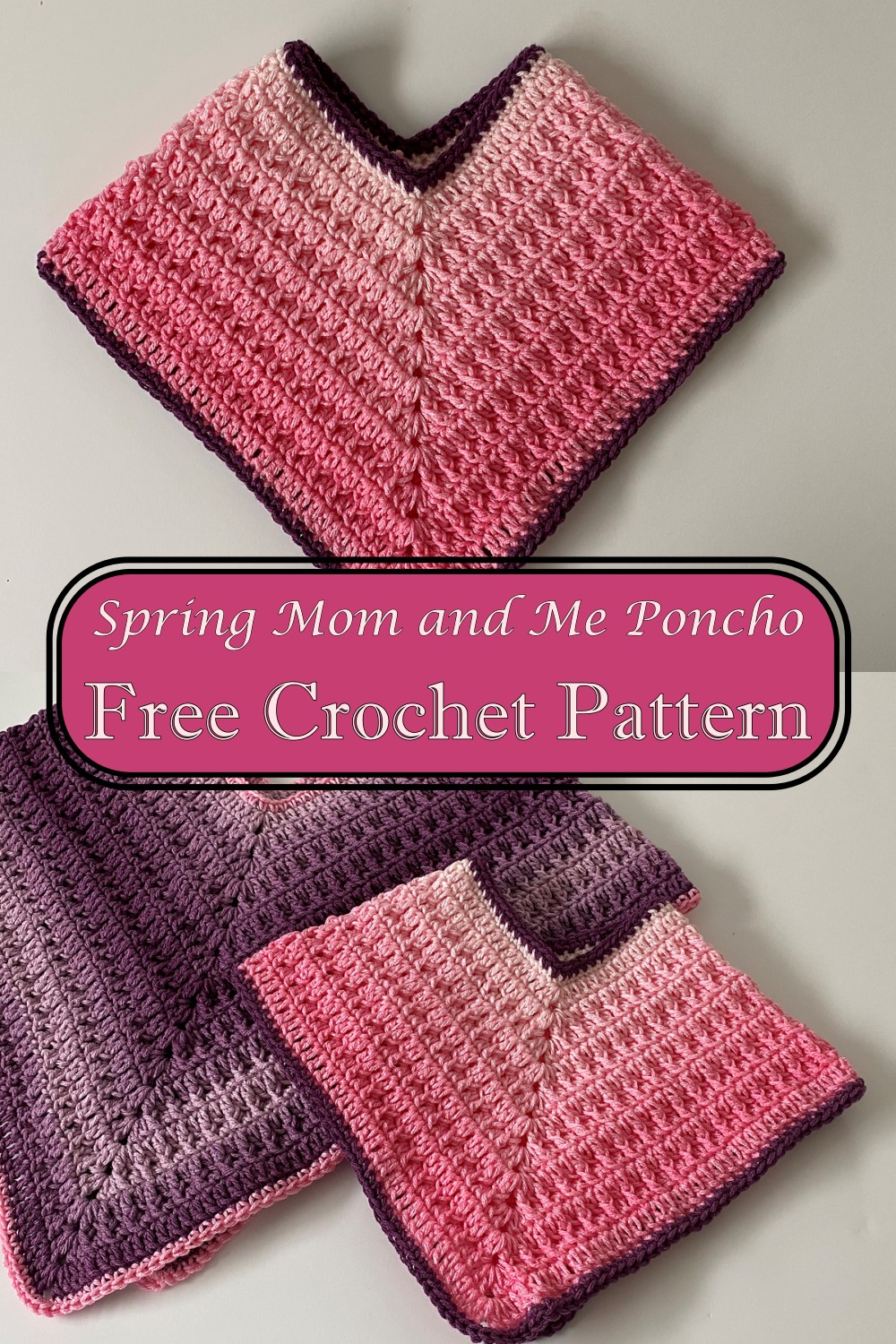 This Crochet Spring Mom and Me Poncho Design is a fun project to design and make a matching poncho for you and your baby. The yarn and color combinations can be changed to match the mom's fashion taste or perhaps tie in the poncho to their wardrobe.
Enjoy the entwining colors of spring with this crochet poncho. Using Red Heart Super Saver Ombre, you will let the colors play their own tune and create an easy repeating poncho with a texture that can be changed easily to either a baby or adult size. Length is a fashion-size poncho but can be made longer to suit your needs.
Kaleidoscope Poncho
Be the focal point of this fall season! Crochet detailing and a colorful kaleidoscope pattern keep this poncho on-trend. You'll turn heads in this classic poncho. This topper has a flattering silhouette that belies its ease as part of your popular crochet collection. Featuring bold, cascading stripes created with an easy log cabin technique, that'll be your favorite layer all season long. The bold cascading stripes are created using a simple log cabin technique, accenting the classic poncho silhouette for a striking look that is sure to be noticed. Complete with a cozy turtleneck, this topper is the perfect transitional piece for winter weather.
Simple Poncho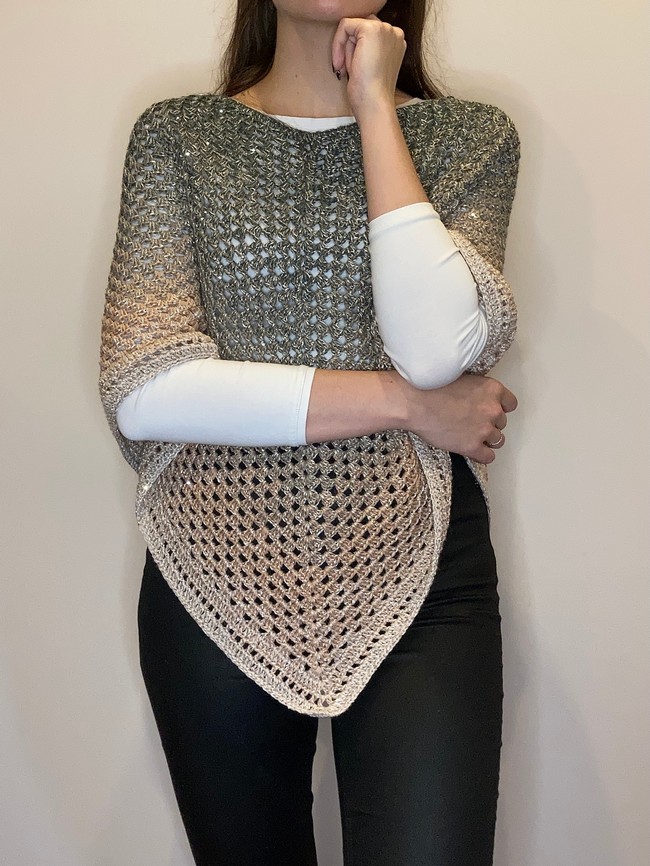 This easy poncho is the perfect little layer to throw on when it starts to cool down. Kickstart your fall wardrobe with this practical, versatile, and effortlessly stylish poncho. The classic shape is given a new dimension thanks to the tassel trim, and the single gauge design makes this a quick project for intermediate crocheters. Give as a gift to a teenager or adult. The simplicity of the design is great for your latest crochet adventure, whether you're an advanced beginner or a skilled crocheter.
The O Poncho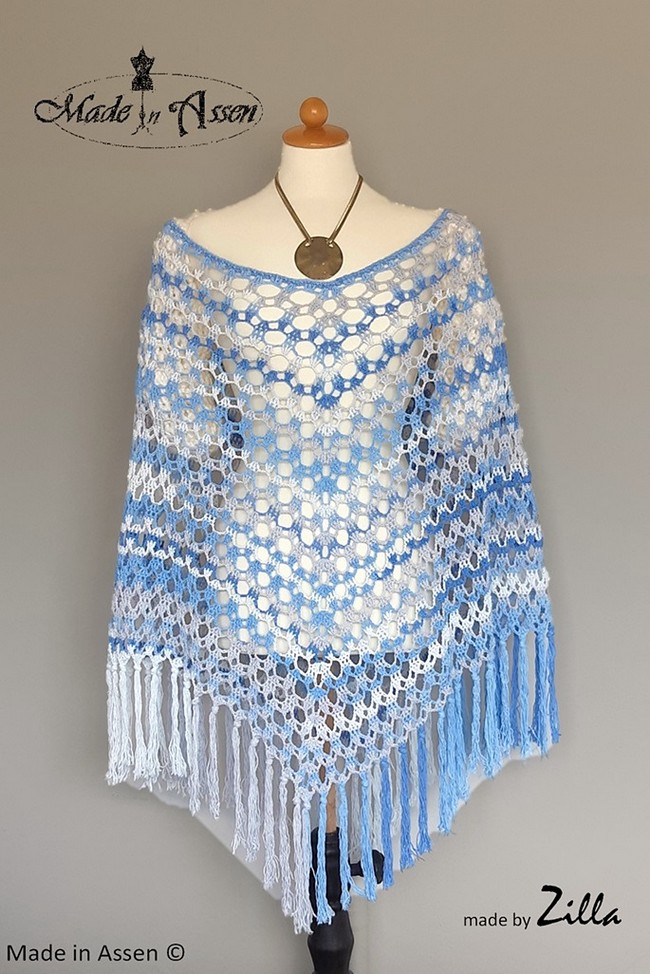 Add a pretty pop of color to your look with the O, our lightweight crochet poncho. This style keeps your arms free, so you can wear it as the weather warms up. The tassel ties on sleeves and rounded hem add extra interest to this perfect transitional layering piece. Cozy and cute, the O Poncho is your lightweight layer that's perfect for traveling. Pull it over you for an extra barrier against the chill of air conditioning in summer or to protect you against crisp spring and fall winds.
Jules Poncho
Take a summery stroll with the Crochet Jules Poncho. Featuring an open weave and loose fit, this top works as an everyday coverup in or out of the water. The drape gives it a luxurious feel, while the customizable size makes it a perfect fit for anyone. It is perfect for beginners. It features a simple pattern that makes it easy to stay on track and has been tested several times to ensure accuracy. The resulting poncho is cozy, lightweight, and can be dressed up or down depending on the colors used.
Sugarplum Poncho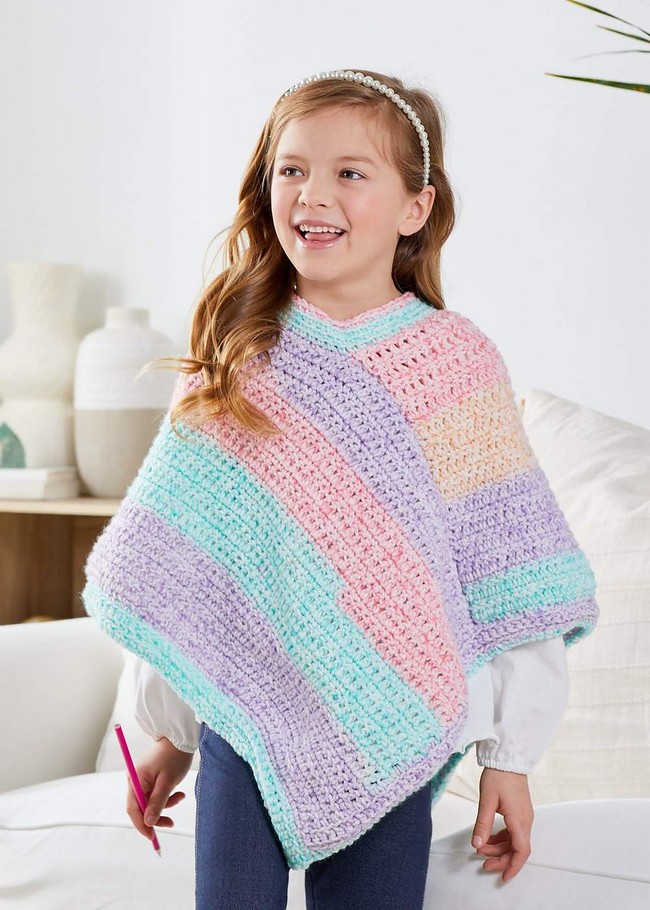 Little ones will dance with sugarplum fairies in this sweet wrap made from soft-yet-sturdy cotton. A delicate floral crochet stitch adds an ethereal touch to this poncho that's perfect for birthday parties, weddings, or everyday twirls. This poncho is made with a super soft, warm, and comfortable blend of yarn. Cozy, cute, and ready to wear, this crochet poncho sweater is the perfect addition to your fall wardrobe. Wear it as a versatile layer over your favorite tank, tee, or sweater—it's sure to keep you cozy when the weather gets chilly.
Kids Summer Poncho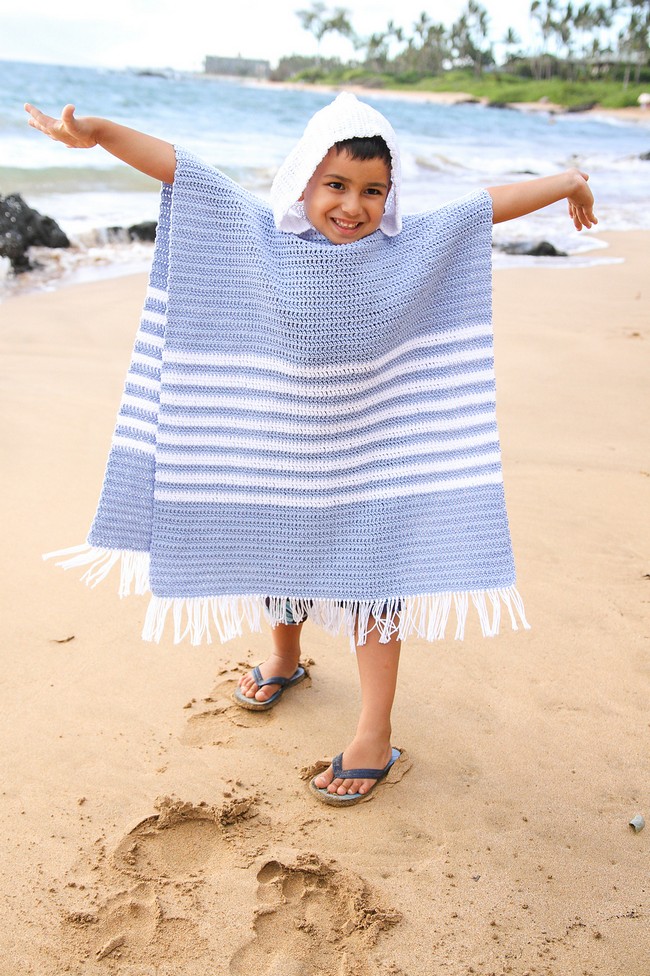 You'll love this Summer Poncho for your little one. It's suitable for a pool, beach, or park trip after water play or just as a fun outer layer during any outdoor play. With its convenient size, you can simply throw it over your shoulders and go! It is convenient, easy to throw on, and great for wearing after swimming or around the house.  Crochet kid's summer poncho is unique and one-of-a-kind, super soft, and luxurious crochet. This is completely handmade. Very cute to wear over leggings, shorts, or jeans.
Darla Asymmetrical Poncho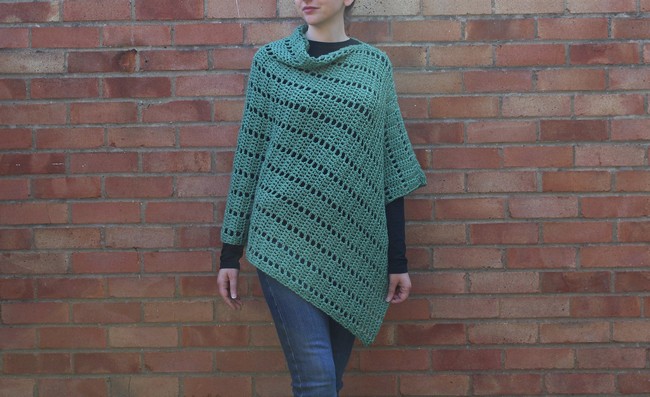 Cozy yet still stylish – you'll love wearing this Darla asymmetrical poncho this fall and winter. It's made with a beautiful crochet knit stitch that creates a soft, warm fabric. The Crochet Darla Poncho is the perfect go-to for chilly nights. Make it your next favorite with friends, or pair it back with jeans and a graphic tee for an easy weekend look. This asymmetrical poncho features fringe detail, sweater knit yarn, and ribbed cuffs at the neckline. The poncho is designed to be worn off one shoulder to create a look that's sexy and modern.
Bella Poncho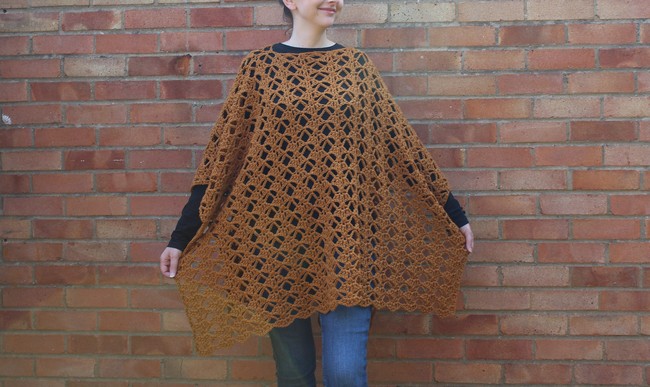 This one-size-fits-all design is breezy and lightweight, a fresh and modern take on the classic crochet poncho. Layer it over your favorite tank for a bohemian look, or wear it as a cover-up over your crochet bikini at the beach. The Crochet Bella Poncho is the ideal piece for both work and play. This super-soft poncho features a delicate crochet lace pattern that gives a beautifully bold look and ensures you stand out from the crowd. Layer over winter basics like t-shirts, leggings, and boots, or dress it up with a pair of jeans and heels for an evening outfit that truly shines!
Bella Asymmetrical Poncho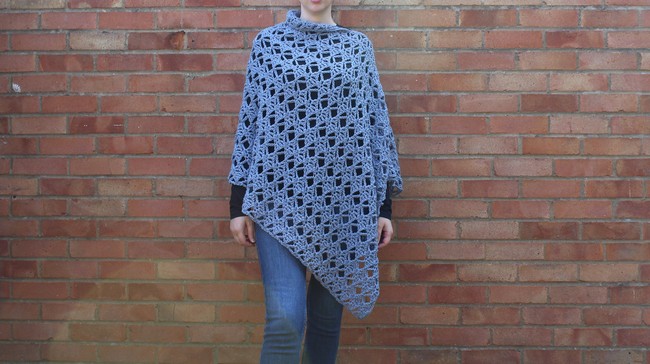 This stunning Crochet Bella Asymmetrical Poncho is sure to be a hit for the woman who loves to make a statement. It's beautifully made, with a gracefully hanging cowl neck that's extra long in the back. This is a beautiful poncho with a great style, so you can feel comfortable with whatever you are wearing and relaxed. You can wear this poncho in many different ways due to its loose fit and drape it over your shoulders or leave it open. This beautiful Crochet Bella Asymmetrical Poncho is the perfect addition to any wardrobe. This is an oversized asymmetrical poncho, so it can fit many sizes.
Transitions Poncho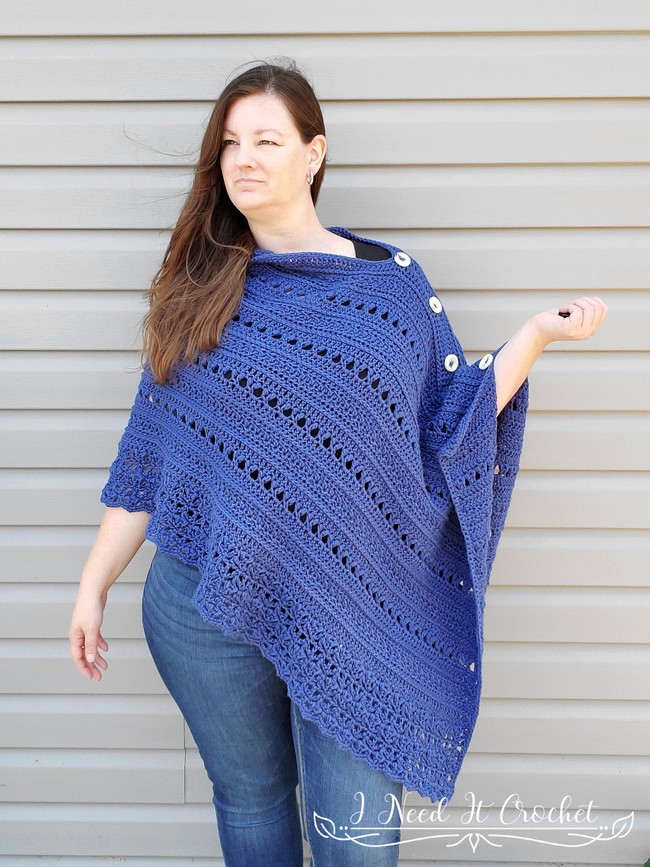 The transition from summer to fall is upon us, and this crochet poncho is the perfect transitional piece for those cooler days and nights. Comprised of a simple rectangle sewn together at the shoulder, The Crochet Transitions Poncho features two different combinations of stitches to create both depth and drape. Pair it with your favorite outfit to add a cozy fall vibe. Made with a solid section and lacy section with a diamond pattern, this poncho is sure to become a staple piece in your fall wardrobe!
Tulip Square Poncho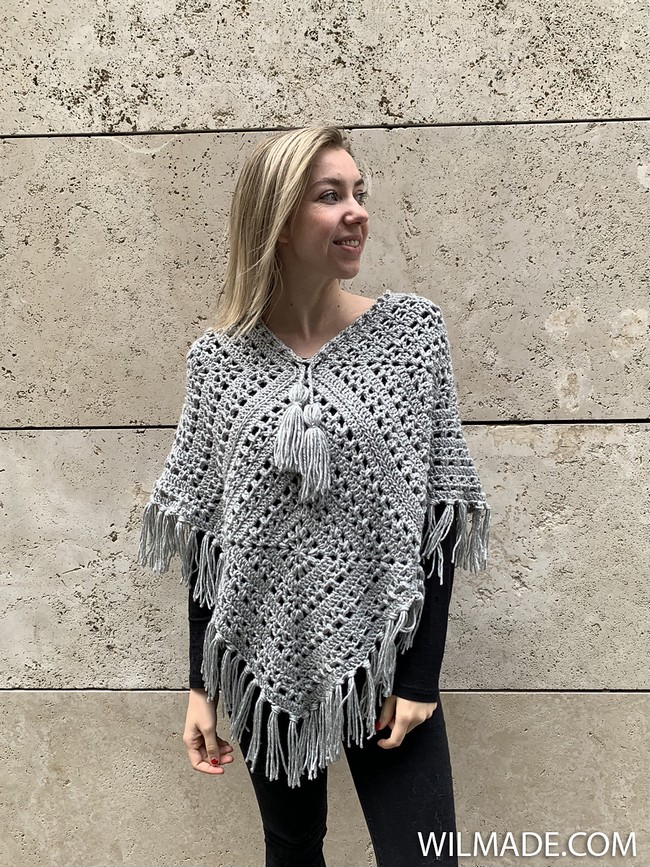 Create your own beautiful crochet poncho with this amazing crochet pattern! This poncho is elegant, lightweight, and breathable for warmer months. The back has a tulip-shaped design, adding lovely detail to this piece's back. With a V-neck, the design of this square poncho can be dressed up for an evening out or worn casually with jeans and trainers. With this crochet pattern, you'll soon be able to crochet your own 'Tulip Square Poncho'. It's very comfortable and can be worn for casual and dressy occasions.
Harmony Poncho
This pattern is for a hip poncho with a black back and a colorful front for the little girl who wants to stand out. This will be a one-of-a-kind addition to her wardrobe of knits. It is a pretty yet practical poncho that can be worn over a sweater in cooler weather. It is easy to make and lots of fun to wear. It's really easy to knit, too – only two stitches are used in the pattern, and it grows quickly. The bars of color are magic, and the yarn is a real pleasure to work with. This kit gives you enough yarn to make the 6-year-old size – just add needles!
Mariposa Poncho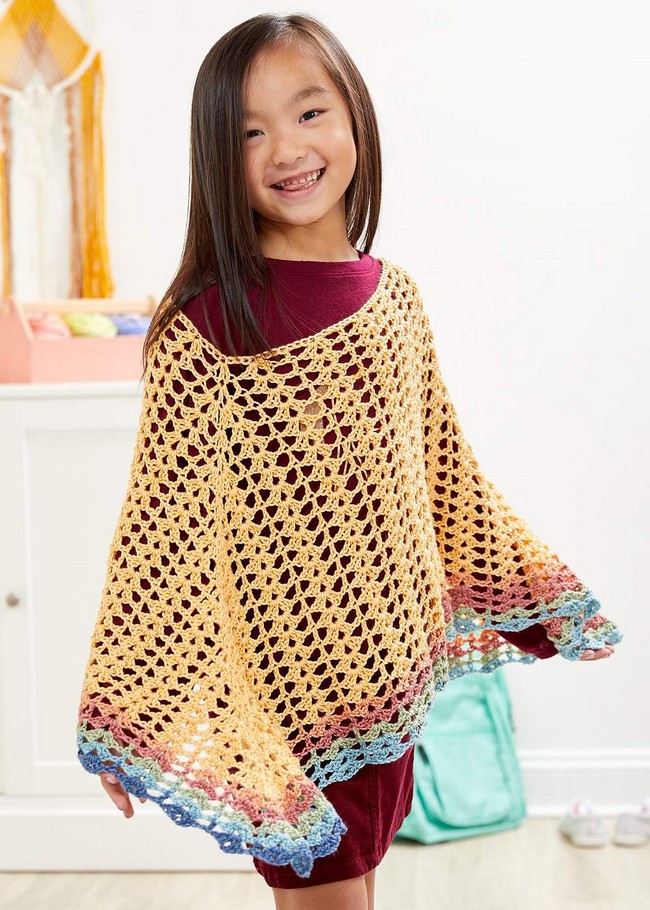 "This beautiful poncho is a great addition to any outfit. Wear it over a dress, jeans, or shorts for an eye-catching effect. It features a unique stripe pattern where approximately two-thirds of the cake is one solid color and the remaining third features a 5-color stripe." This lightweight poncho can be worn over a tank top, a long sleeve shirt, or nothing. It has a built-in hood to keep your head warm on those windy nights. It's so versatile you'll want to wear it year-round. Made with Caron Cakes yarn, this poncho will work up quickly and make you look like the stylish crafter that you are!
Harvest Poncho
Ponchos are a timeless fashion accessory. Get creative with the fun and colorful patterns of this Harvest Crochet Poncho. This versatile poncho can be worn on chilly summer nights or as a fashion statement. And it also makes a wonderful gift for a loved one or friend. You'll love how easy it is to crochet this versatile poncho! It works up super fast with nice big stitches. The best part is how many different ways you can wear it. Wear it as a vest, wear it over a blouse or t-shirt, wear it over a cami with spaghetti straps wear it however you like! It's like having a whole wardrobe in one pattern! Add a matching wiggle skirt or a pair of our favorite pants to complete the look!
Crochet Mesh Over Brook Poncho: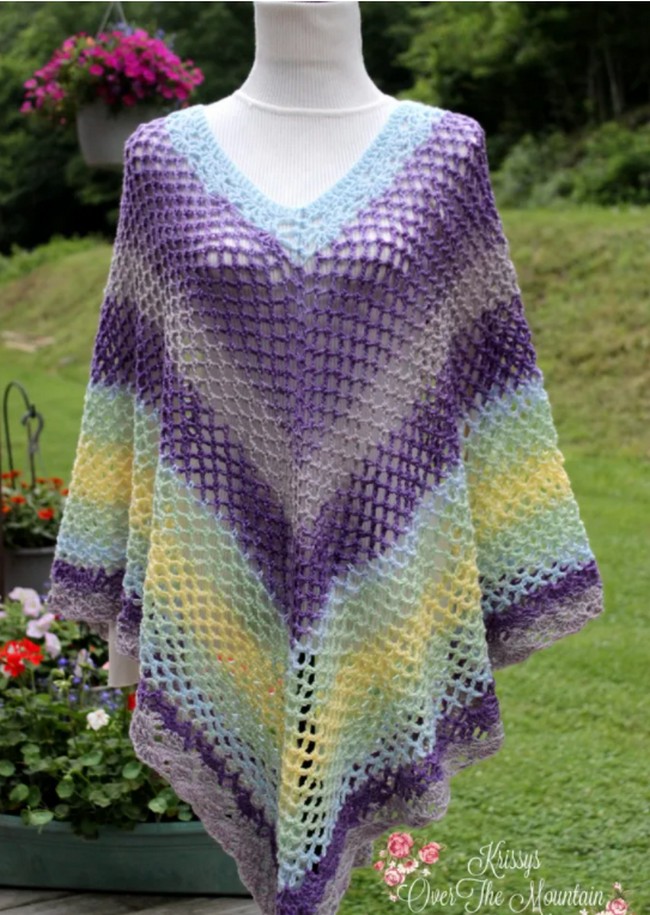 A simple yet stylish piece that you can wear in many different ways. This poncho is made with pure cotton yarn for a good fit and feel. Available in various colors, it's the perfect addition to any outfit. The poncho easily goes over your head and comes down to your knees. Armholes are on each side of the unit, so it won't slide off your shoulders when you move around. This beautiful and easy-to-make poncho is made from crochet mesh. A simple and beautiful design, this pattern will inspire you to create with colors of your own choosing. Knitting and crocheting pair well with tea, so take them both outside and keep warm while enjoying the beautiful views around you in the winter.
krissysoverthemountaincrochet.com
Sonoma Sunburst Lacy Poncho: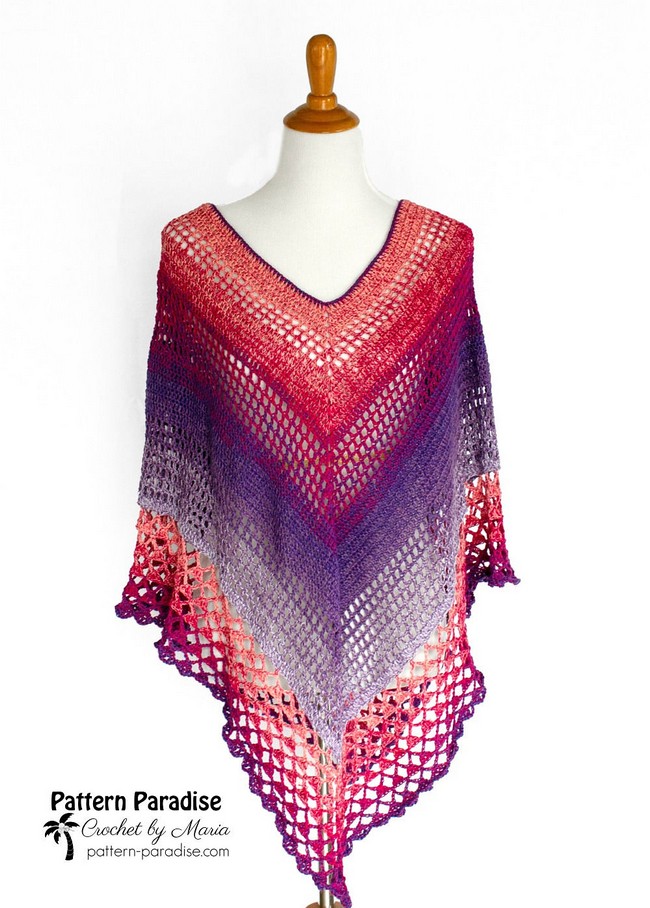 This free crochet poncho pattern is easy to crochet as it's made using simple stitches and doesn't take much time. It's full of summer colors, perfect for any vacation. You only need to know how to chain, double crochet, and crochet two together. Undoubtedly, it's been updated since then and has that playful, contemporary feel. This poncho is a little more fun from a strong yarn but interesting due to the fringe at the bottom. Because of its weight, this piece can be worn in any season. It is a very easy and beginner crochet pattern for most of us.
Timeless Boho Poncho Pattern: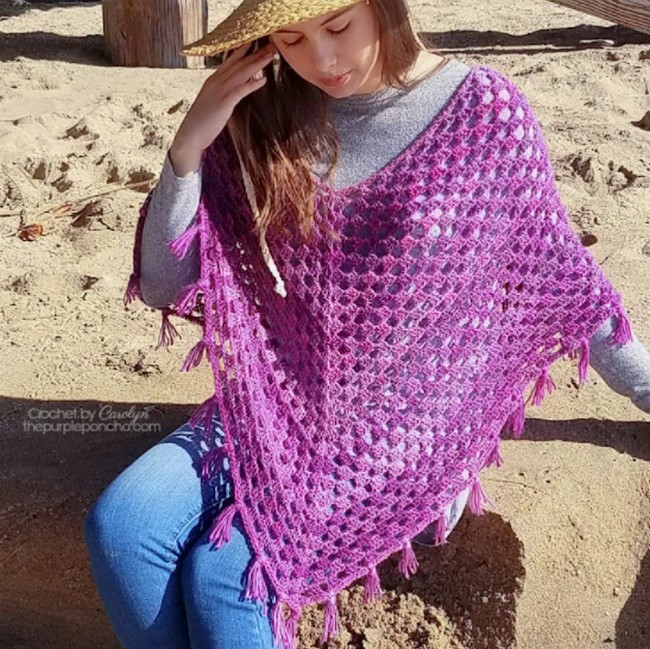 This timeless boho poncho-free crochet pattern is easy to crochet and uses a single crochet stitch to make a beautiful finished product. It is great for cooler days and summer nights. It is incredibly quick to crochet, almost the same as a scarf. You can crochet this poncho with any weight yarn in any color you like. It can be used in all seasons and keep you warm in winter. So get your hook and have fun making this poncho by using the single crochet method!
Crochet Lacy Day Poncho:
If you want to gift someone a poncho, this is the best project for you. The romantic lacy day poncho will add style to any outfit. It is airy and elegant with a bound-off edge. This pattern uses cotton and pink, but you can change the color. This easy crochet pattern makes a great gift for your friends. It will be very comfortable to wear and can be matched with every outfit. This is a lacy, airy, elegant poncho you can crochet for your friends.
Pineapple Poncho Pattern: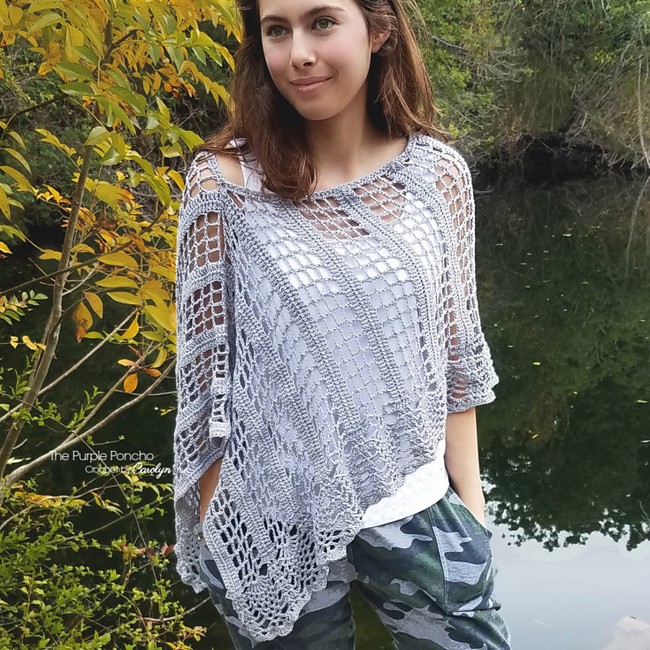 This pineapple poncho-free pattern is easy to make. This is lacy and lightweight. You wear it with every color of the T-shirt. You crochet this using cotton yarn, and the color choice depends on your choice. But the color used is grey, but you can use dark colors. You can use it as a gift for your friends.
"The light, lacy fabric of the Pineapple Poncho will keep you comfortably stylish no matter what the season holds. This free lace crochet pattern can easily be customized to fit different sizes by using any size hook and yarn weight. Simply use a hook that's appropriate for your chosen yarn, and make a chain with as many stitches as you need to get the desired width."
Crochet The Hot Cocoa Poncho: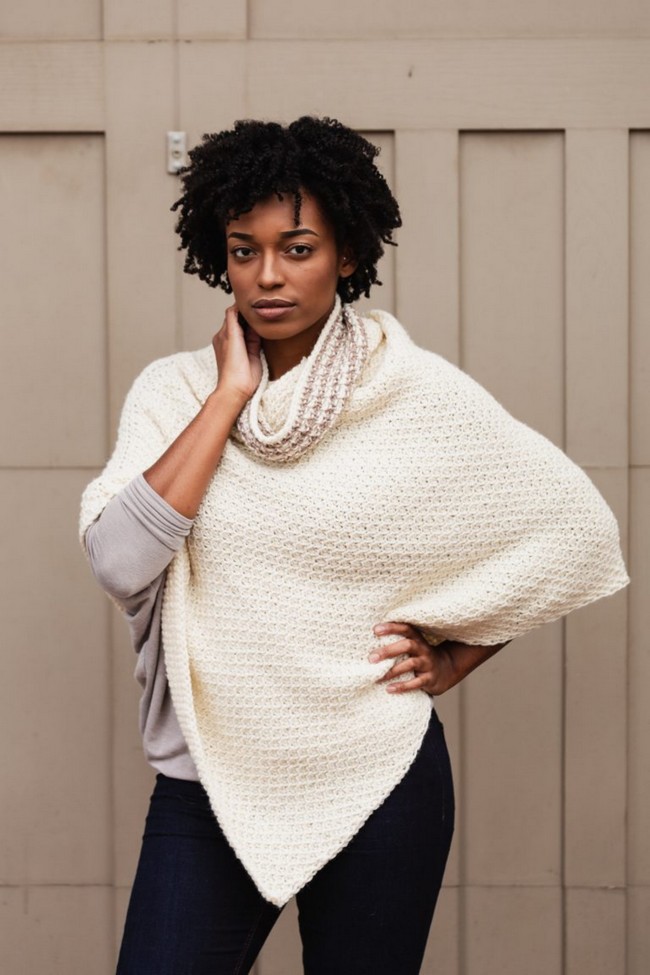 This poncho is a cute and easy way to add a little warmth to your cocoa-loving girl's wardrobe. This is a beautiful and elegant poncho and is so easy to make. After you make one, you're going to want to make more! This stunning poncho is easy to sew up, and it's perfect for layering on top of just about anything. It's sure to become your go-to accessory again and again! It's a fast project, use cotton yarn to crochet the hot cocoa poncho, and it can be used anywhere. You can use any color of your choice.
The Easiest Poncho: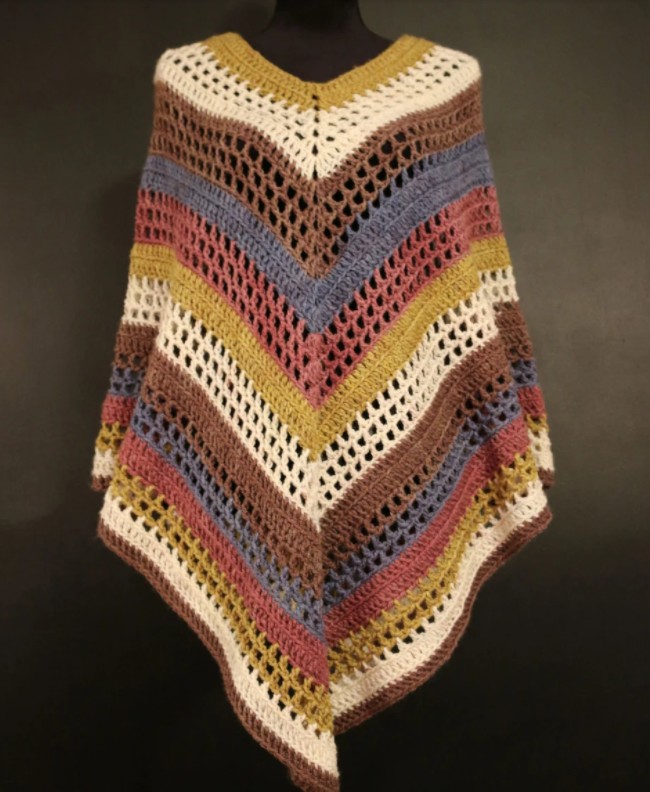 The Easiest Poncho is very easy and simple to crochet. You can start this from your neck, which is easily adjustable for all sizes. Everyone can crochet this! This pattern provides complete guidance to make a poncho for you and others. Crochet is so simple and easy; you can change the colors according to your choice. If you don't have time to continuously crochet and repeat rows, this one is for you. Great for beginners who want to practice crocheting or to warm up or for experienced crocheters who are in a hurry for the fast-finished project and give as gifts too.
Poncho Pattern In A Beautiful Lace Stitch: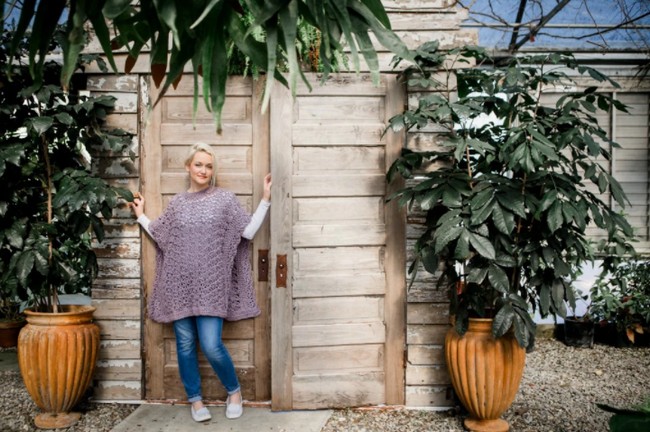 This crochet poncho pattern is one of my favorite items to make. It's so cute and comfy and a great way to keep yourself warm in the winter months. Start with your poncho show this winter by crocheting Poncho Pattern In A Beautiful Lace Stitch; both are beautiful and marvelous patterns that you have to knit. This Lace Stitch poncho is made using cotton yarn, and the crochet frill makes it more eye-catching, like a purple flower. If you are looking for a quick crochet project that you can wear all winter, then this lace stitch poncho could be perfect for you.
Crochet Poncho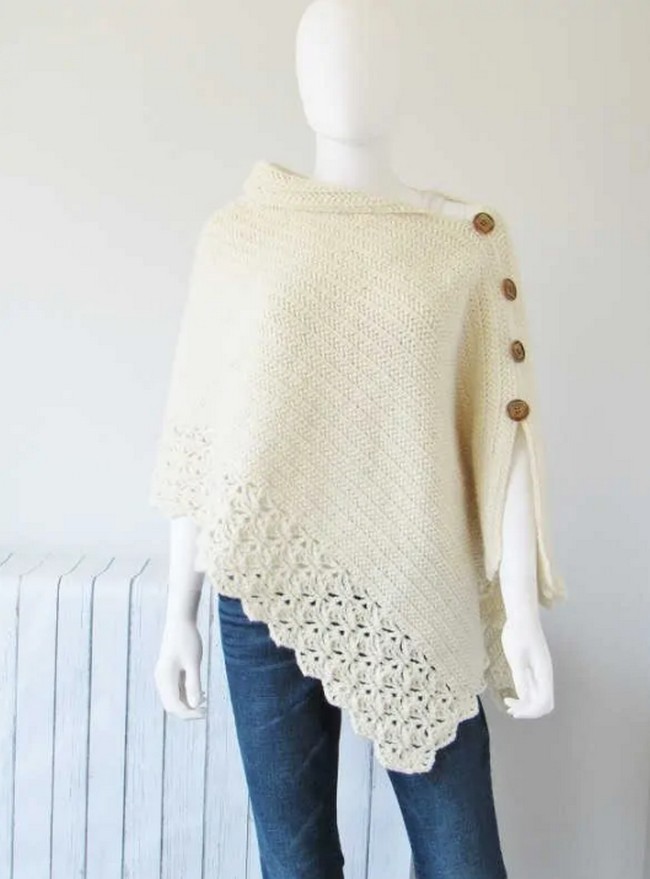 This beautiful poncho is the perfect accessory for any outfit. You'll be able to make it in hours and earn many compliments every time you wear it. It is perfect for a fall or winter day and can be worn with all kinds of things. It has a beautiful, losing shape that gives it a comfortable style. The poncho features a unique neckline and has the option of being buttoned like a flower cardigan. You can wear this over jeans and even a little dress to keep you warm and look great at the same time. It's super easy to make and will be one of your favorites.
Lilac Breeze Poncho
The Lilac Breeze Poncho is a beautiful crocheting project made with cotton yarn perfect for spring and summer. This pattern uses basic crochet stitches, which makes it ideal for beginners. The poncho is worked up as one flat piece on a rectangle, then folded in half to create the armholes and neckline. With thousands of free patterns available online, you can do amazing projects at no cost. Wear this poncho all spring through fall, and it's so easy to make!
Starburst Toddler Poncho Free Crochet Pattern: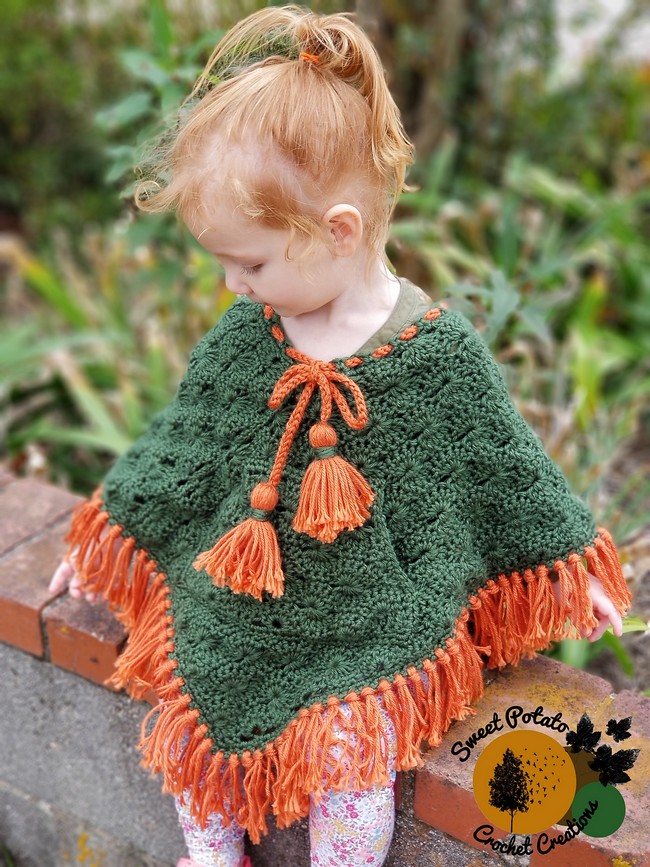 This is the perfect poncho for a little girl with a gorgeous starburst pattern. Easily adjustable so it can grow with her and is quick to make. This free crochet pattern for the Starburst Toddler Poncho is easy and fun to make. Great for all seasons, The light, lacy texture is perfect for Spring and Summer but also works well with Winter sweaters when temperatures start to drop. The fringed edges and star center make the poncho a unique and useful gift.
Rancher Poncho: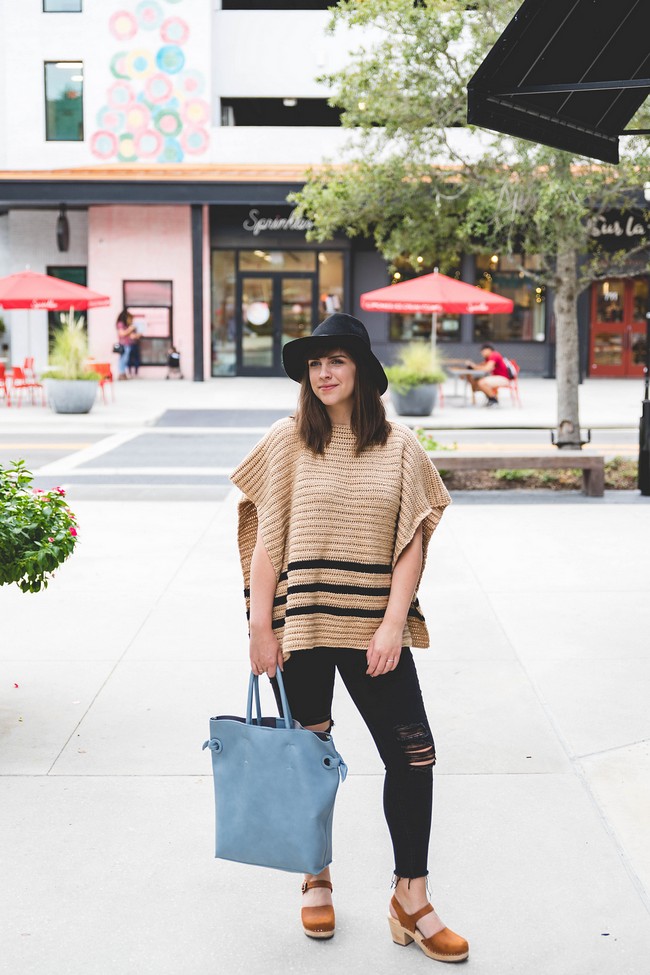 This adult-sized crochet poncho can be worked on a weekend and is very easy! It's the perfect size and weight – not too chunky but soft, breezy, and warm. Stash bust with whatever yarn you have on hand too! This adult-sized crochet poncho is a free pattern and so easy! It's practically a rectangle with some skipped stitches to shape the neckline and easy 2-row stripes. It is a great project for beginner-friendly for those still new to the craft. It's the perfect size and weight: not too chunky but soft, breezy, and nice and warm.
Fatima Poncho: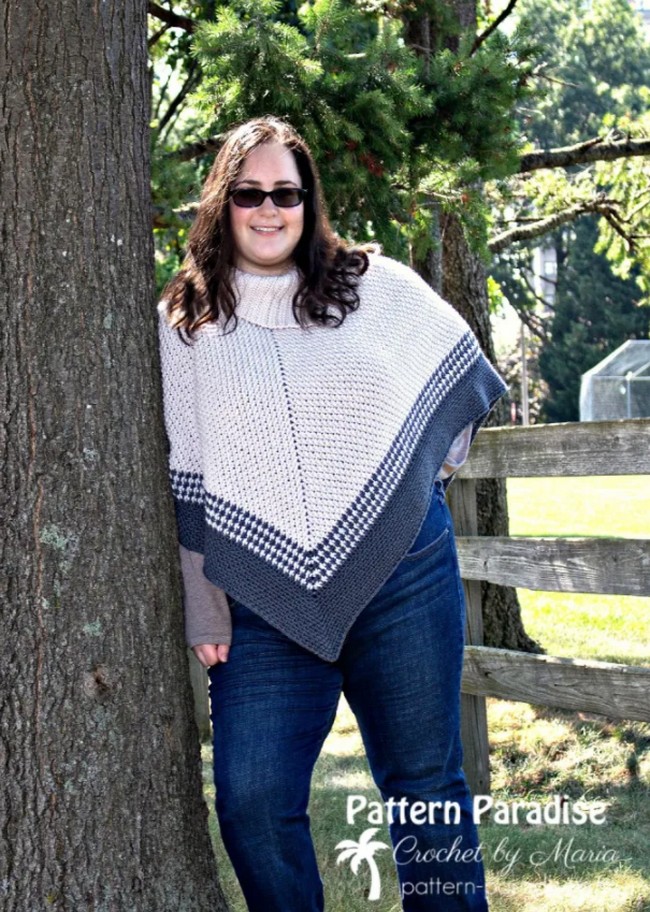 The Fatima Poncho is an easy fit and perfect for all body types. This poncho crochet pattern works up fast and has only a few seams. Fatima is the perfect fall fashion accessory! The Fatima Crochet Poncho is sure to be a favorite! It's perfect on its own with a pair of jeans and boots, or you can slips it on over a flowy dress for those brisk days at the beach. The best part? It's free! So, grab your crochet hook and start on the gorgeous Fatima Crochet Poncho!