Crocheted bikinis are perfect for the beach and pool, and they're versatile enough to wear under your everyday clothes as a stylish layer. With so many beautiful crochet bikini patterns, it can be a challenge to narrow down the best. They're also great on their own as they create an alluring look that's simple to put together. Add accessories like sunglasses and a hat; you're ready for anything. These crochet bikini patterns will help your favorite creative person make something she can get excited about wearing this summer! Check out these beautiful crochet bikini patterns that will prepare you for summer in no time!
Crochet Bikini Top Patterns

When it comes to crochet patterns, the sky's the limit! Here, we've collected some of our favorite free bikini patterns that can be crocheted from start to finish in a matter of hours. Whether you're gearing up for a trip to the beach or have a soft spot for crochet swimwear, these projects are all handy skills you'll love to have in your repertoire. So, If you are looking for a quick crochet project to make for the summer, these below patterns might be just what you're looking for. They will be helpful for swimsuit season, but some could also be worn as lingerie or pajamas. The choice is yours!
Benefits of Crochet Bikini Pattern Free
Crochet bikini patterns are a great way to create your unique swimwear. You can use them to make lingerie, bathing suits, and other types of clothing that you can wear while lounging on the beach or poolside.
The benefits of crochet bikini patterns include the following:
You can make your unique design. With crochet bikini patterns, you get to choose the colors and style of your bikini.
You can make any size or shape suit your body type by following the instructions in the pattern.
Crochet bikinis are easy to wash in the washing machine.
Classic Triangle Bikini Top: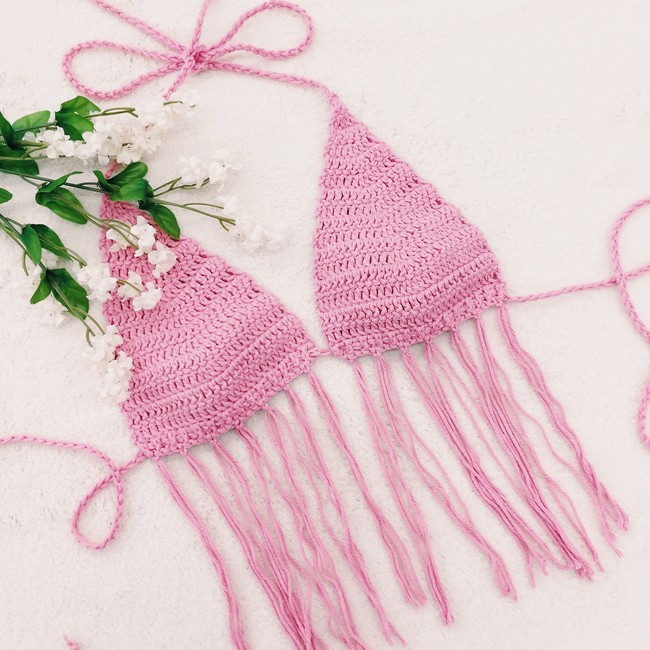 This is a very quick crochet pattern for a traditional triangle bikini top. This versatile, classic design can be customized for all shapes and sizes. Crochet this triangle with your favorite thread color to create a beautiful custom bikini! You can make this simple crochet bikini pattern in less than an hour. It is quick, easy, and looks great. The pattern for the top has been designed using small pieces of stripes instead of a solid color to create a unique look.
Materials
CROCHET HOOK: 4.5mm

YARN:

Worsted-weight cotton yarn
Recommended: Lily Sugar 'n Cream, 100% cotton, 120 yds/ 2.5 oz – 1 ball for all sizes.

OTHER: 

Yarn needle, scissors
Abbreviations
St/sts Stitch/stitches
Ch Chain
Dc Double croche
Two-Tone Bikini Set: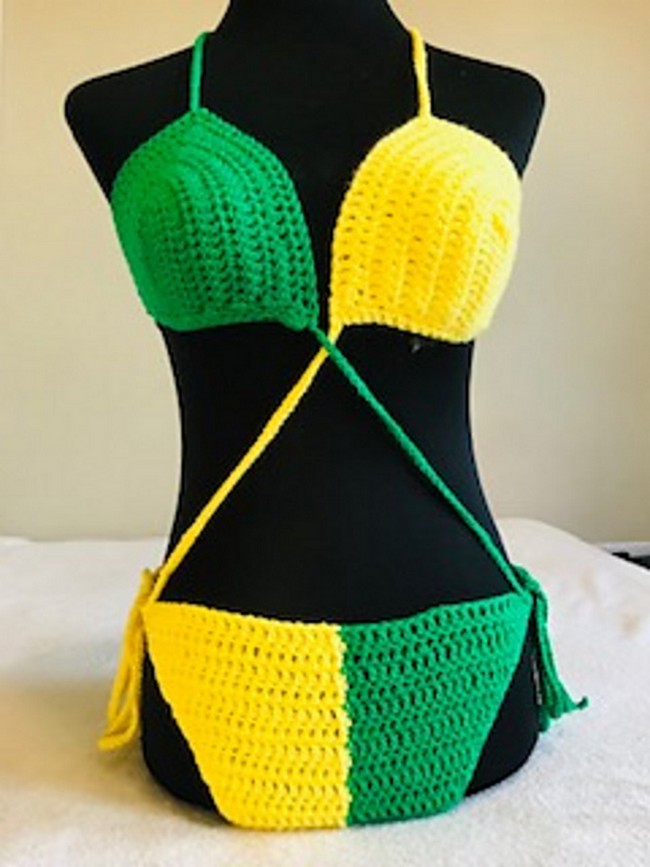 This Crochet Bikini Pattern is a great addition to your closet. This bikini set can be worn by women of all ages who love the sun and surf. The bikini top features an open back, two layers of fabric bands, and ties on either side that adjust to fit any body type. The bottoms have a ruched tie detail with quick closures. The bikini pattern is a perfect summer fashion that gives you a sexy look with comfort. This bikini set will become your favorite outfit this summer!
Materials
Stretch yarn; I used Elle Stretch Double Knit
o   Color 1: 155(193,232,271,310)m 170(212, 253,296,339) yards
o   Color 2: 155(193,232,271,310)m 170(212, 253,296,339) yards
3.5mm Hook
Darning Needle
Pair of Scissors
Abbreviations
dc –           double crochet
sl-st –         slip stitch
sk -            skip
ch-sp -       chain space
yu -            yarn under
yo -            yarn over
R –             Row
WS –          Wrong Side
RS -           Right side
Quickie Bikini top:
This bikini crochet pattern is easy to make and has minimal shaping. A perfect gift for your favourite girl, this top would be adorable in any colorway. So, Make this adorable crochet bikini top that is quick to make and looks great on everyone. You will be ready for a fun summer day at the beach in no time! This pattern is perfect for beginner crocheters ready to take their skills to the next level. Start crocheting with this easy step-by-step guide, and Make your bikini top and show off your work!
Materials
Yarns in my country are not standardized. Please use the yarn of your choice and a matching crochet hook. Make a gauge to guide you.
The yarn suggested for this pattern is acrylic since it does not absorb water much as cotton. Moreover, it dries faster and does not sag when wet.
Suggested materials - Indophil yarn
Crochet hook - 3.00 mm hook
Abbreviations
st stitch
ch chain
sl st slip stitch
sc single crochet
dc double crochet
sk skip
3dctog (y o, sk 1 st, insert hook in next st, draw through 2 loops on hook) 3x, y o, draw through all loops on hook
2dctog y o, sk 1 st, insert hook in next st, draw through 2 loops on hook, y o, sk 3 st, insert hook in next st, draw through 2 loops on hook, y o, draw through all loops on hook
Gracious Bikini Top: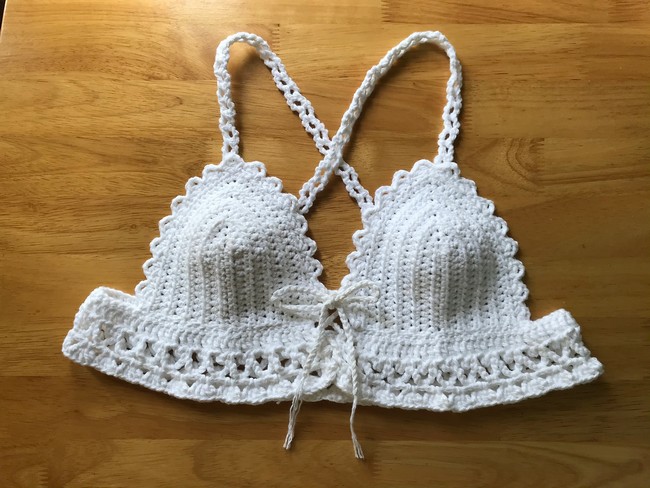 This Gracious Bikini Top is ideally suited for those who love a more vintage style. This pattern is suitable for all levels of crocheters (beginner to advanced). The design incorporates crochet in the front, back, and triangle shapes with full coverage between each section. It can be worn as a wardrobe staple during the summer months and paired with high-waisted crochet shorts or denim cut-offs during the warmer months. This bikini top can be customized to fit your size and shape.
Materials
Medium /Worsted (Size #4)Weight Yarn: I use Sugar's Cream 100% Cotton Yarn
Clover 3.75 mm Crochet Hook
Scissors
Darning Needle
Stitch Markers
Abbreviations
St(s)= Stitch(es)
Sk = Skip
Ch = Chain
Ch5-sp = Chain5 Space
Tch = Turning Chain
Tch-sp = Turning Chain Space
HDC = Half Double Crochet
DC = Double Crochet
Sl St = Slip Stitch
P = Picot (Ch3, Sl St into the 1st Ch)
Rep = Repeat
SM = Stitch Marker
Betty Bralette: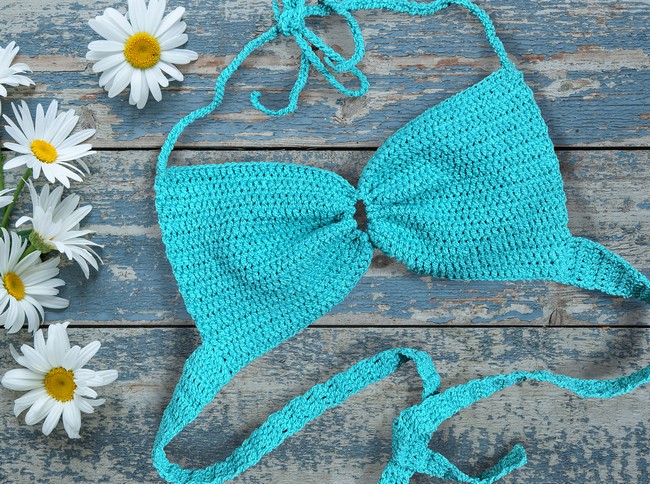 The Betty Bralette from the Power to Create Collection is perfect for summer! It's classic yet flirty and will make you feel confident and carefree. The top consists of two pieces that are worked separately in rows and joined together. After a simple seam, straps are added to the front and back before working through rounds to connect the shoulder straps and back piece with crochet. This is the perfect mix between fashionable and functional; this crochet bikini top pattern makes for a versatile addition to your wardrobe -- whether you want it for the beach or just for lounging at home.
Materials
Yarn weight: DK Category 3
Brand: Cascade Fixation Color: Teal
Hook: 2.25mm
Gauge: 22 Wide Hdc sts x 18 rows = 4"x 4"
No. yarns (balls): Cup size: A[B/C/D/E/F] = 1[1.5/2/2/2/2]
Tools: tapestry needle, measuring tape, scissors, stitch markers
Skill: Beginner
Crochet Front Closure Bikini Top/Bralette:
Are you ready to crochet your own bikini set? This pattern is a beautiful crochet bikini top with a unique front-closing design that allows you to adjust the top size and fit easily. A long, luxurious chiffon fabric ties up the back for an elegant look. This is a very useful bikini top pattern. It allows you to create a bikini top or cute and comfy bralette, easily adjusting the bust and bottom band accordingly. Perfect for summer!
Materials
– Sport/ Fine (Size #2) Weight Yarn: I recommend Ice Yarns CAMILLA COTTON.
– Tulip 2.00mm Crochet Hook and CLOVER 2.75mm Hook
– Scissors
– Darning Needle
– Stitch Markers
Abbreviations
St(s)= Stitch(es)
Sk = Skip
Ch = Chain
Ch-sp = Chain Space
Tch = Turning Chain
DC = Double Crochet
SC = Single Crochet
DC2Tog = Double Crochet 2 Stitches Together
2DC Cl = Two Double Crochet Cluster
Sh = 5 DC Shell
P = Picot
Rep = Repeat
SM = Stitch Marker
Ariel Bikini Top:
The Ariel Bikini top is a fun and fashionable crochet bikini pattern worn as a swimsuit or bikini top. The design is a halter style with a high-low hemline. This pattern includes written instructions and easy-to-follow photos to help create this bikini look for yourself or someone special. This top can be paired with other swimsuits or worn as an everyday top!
Materials
The bikini top fits sizes S & M.
The triangles measure:  17.5cm (6.9") center down and 17 cm (6.7") at the widest point across.
Yarn: 30 grams of sport yarn
Hook: 1.9mm
Muy Caliente Bikini Top:
The Muy Caliente Bikini is perfect for the beach, pool, or just relaxing in your backyard. Crochet is quick and easy; you can quickly whip up a new summer wardrobe! Pattern includes detailed instructions on how to sew elastic into the top of your bikini. This can be made in any yarn and any size! After you have completed your project, you can use it as a bikini top or frolic in the pool with friends. It's so comfortable that you might want to wear it everywhere.
Materials
#1 Fingering weight yarn (I used Cotton 8 by Scheepjes). You will not use more than 1 skein for the size I'm making.
Size C (3.0 mm) crochet hook
Scissors & yarn needle
Abbreviations
ch = chain, dc = double crochet, st (s) = stitch (es), ch sp = chain space, hdc = half double crochet, sc = single crochet
Basic Crochet Bralette Bikini Top: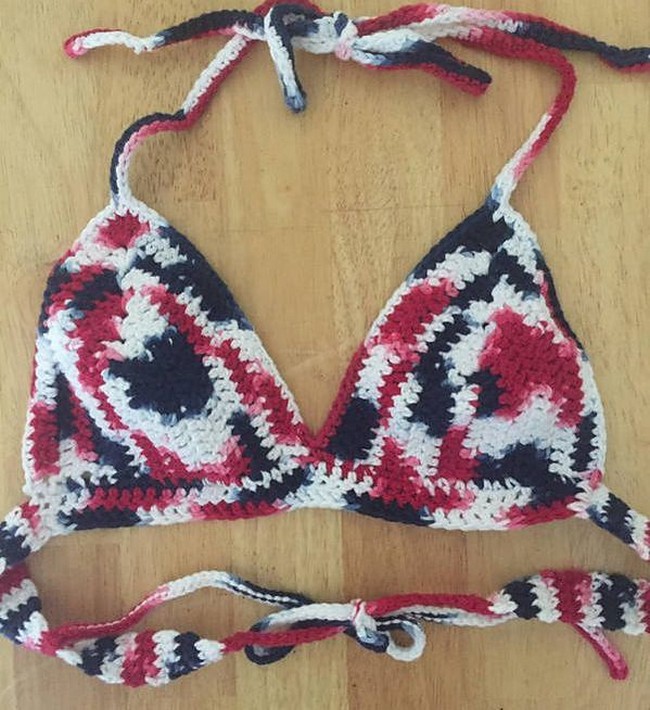 This crochet bikini pattern is a fun project to make this summer. It is simple and easy to follow, with lots of illustrations. You can personalize it with your favourite colours. Make it your own! This basic crochet bralette bikini top is extremely easy to understand and follow. There are also step-by-step instructions with pictures to help you if needed! This bikini top pattern is easy and perfect for beginners. Even if you've never crocheted a bikini, this pattern is quick to follow and will be your new favorite!
Materials
G Hook
Lily's Sugar N'Cream Yarn (2 balls)
Scissors
Tapestry Needle
Abbreviations
Ch= Chain
DC= Double Crochet
SC= Single Crochet
St= Stitch
Beg= Beginning
SC Dec= Single Crochet Decrease
Sl St= Slip Stitch
Sp= Space
American Striped Bikini: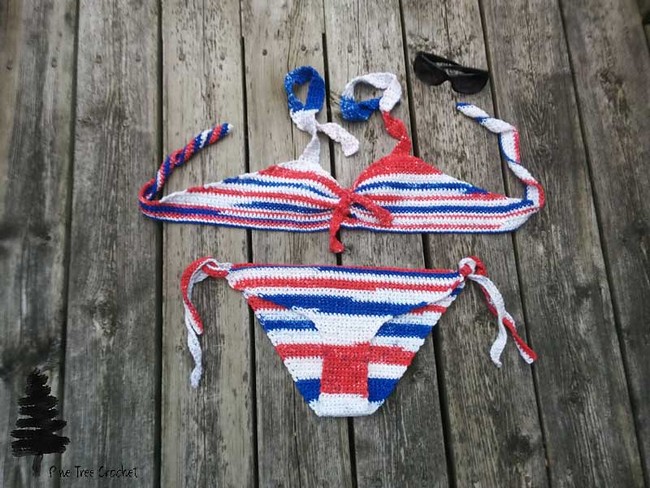 This American Striped Bikini crochet pattern is a summer dream. With a delicate crochet bikini top and bottom, it's sure to turn heads wherever you go. This bikini is perfect for going to the beach or pool or on your trip to the wild side! This bikini is very comfortable and will flatter your figure. You can use any worsted-weight yarn that you like; make sure to purchase more than one skein of it.
Materials
4 skeins of Lily Sugar 'N Cream – American Stripes
H/5mm crochet hook
darning needle
tape measure
stitch markers
scissors
Abbreviations
ch – chain
st – stitch
ss – slip stitch
sc – single crochet
sc2tog – single crochet 2 stitches together (decrease)
Beaded Bikini Top: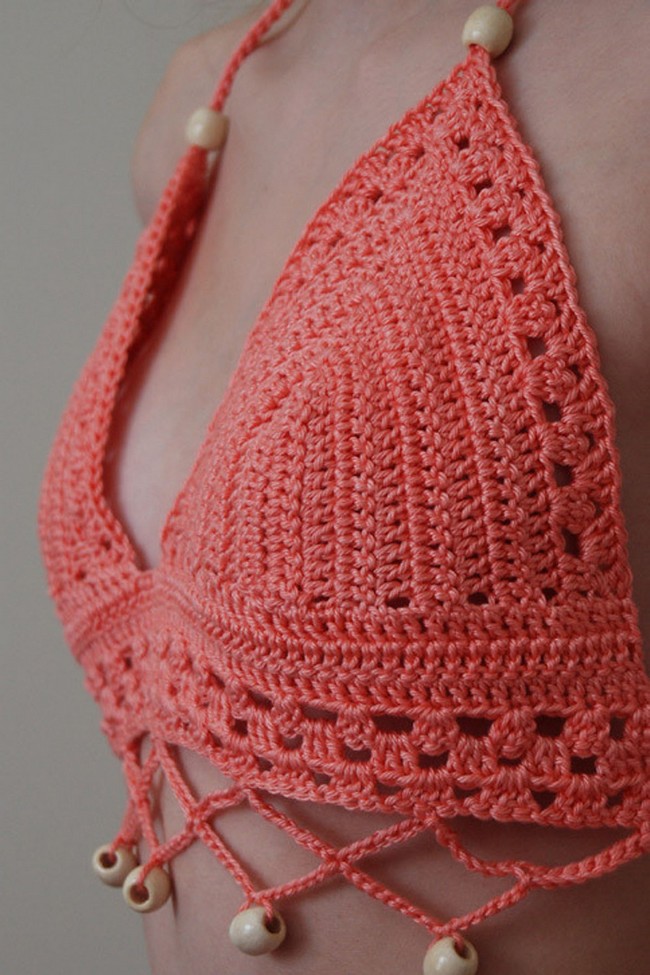 This crochet bikini pattern is a basic bra top with a triangle cut-out front. The pattern provides step-by-step instructions to help you achieve the desired result: a beautifully beaded bikini top that will stand out in any crowd! You can use any thread or yarn that you want, long enough to stretch around your body. The material is soft and comfortable and lets your skin breathe all day long - no matter how hot or humid the weather gets! This bikini top is perfect for the beach or poolside! It has a sexy, draping silhouette and cute fringe detailing.
Materials
Tahki Cotton Classic yarn or any lightweight cotton, Approximately 2 oz. or 175 yds.
Size D crochet hook
Beads of your choice
12 beads for peach style A or B cup, 13 beads for C cup
13 beads for brown style A or B cup, 14 beads for C cup
Yarn needle
Abbreviations
Sc: single crochet
Dc: double crochet
Sl St: slip stitch
Ch: chain
Sierra Crop Top: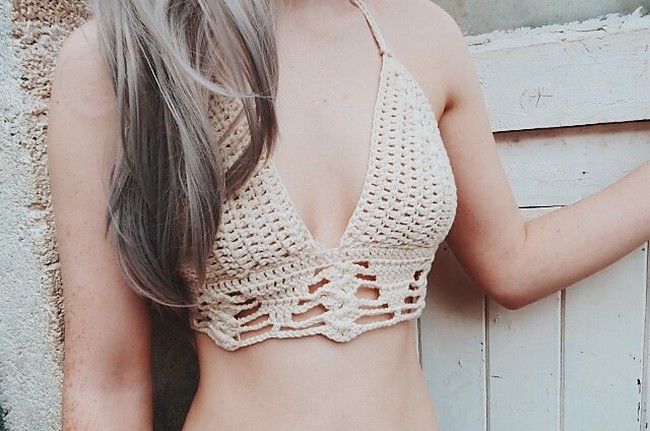 This crochet bikini is perfect for lounging on the beach or poolside! Worked in a single layer from top to bottom, the Sierra crop top features a deep v-neckline that's perfect for layering with a tank or bandeau for coverage. This crochet bikini will be your go-to this summer with a versatile design that separates itself from the crowd with its boxy shape and high-waisted waistline. This crochet bikini pattern is fast, easy, and fun to make. Make it a holiday gift that is sure to be appreciated.
Materials
Weight 4 cotton yarn
4mm crochet hook
Yarn needle
Abby's American Dream Bikini: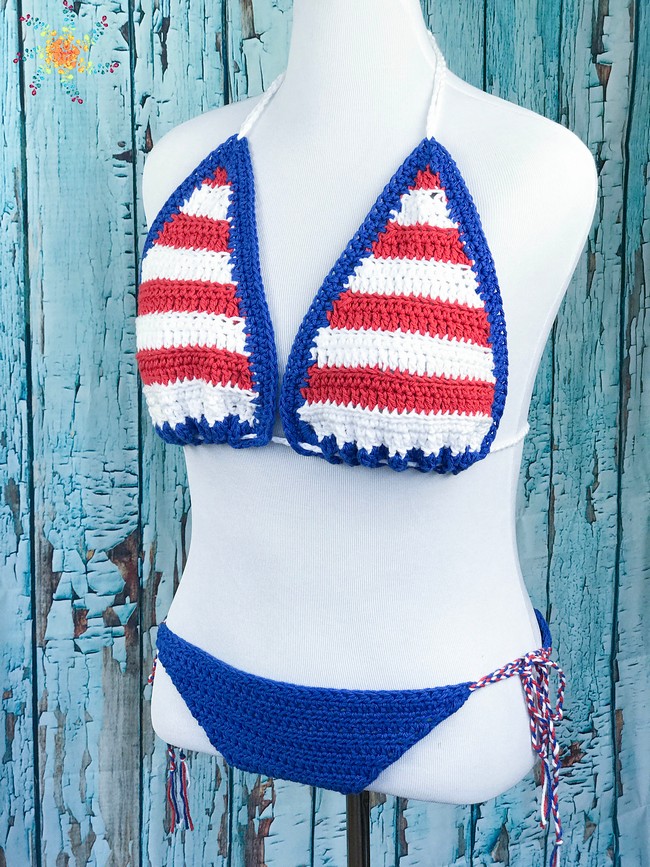 Abby's American Dream Bikini Crochet Pattern is a unique look that is one size fits most, super stretchy, and perfect for the beach. This bikini pattern has a crochet trim detail at the top and bottom of the strings, as well as an adjustable tie to help keep everything in place. This crochet bikini can be worn under any top or dress for any occasion! This pattern includes detailed step-by-step instructions and diagrams to help you achieve flawless results.
Materials
Care: Wash cold to maintain color.
Yardage Needed: 1 skein of Red & White 2 skeins of Blue. 200-300 yards total.
Hook Size: 5 mm (H)
Scissors
Darning Needle
Abbreviations
beg – beginning / fdc – foundation double crochet / hdc – foundation half double crochet hdc – half double crochet / st(s) – stitches(s) / ch(s) – chain / inc – increase / dec – decrease yo – yarn over / lp(s) – loop / R(s) – row(s) / sk st – skip stitch / sl st – slip stitch / *…*      *repeat* instructions between *…*
Weekend Getaway Bikini Top: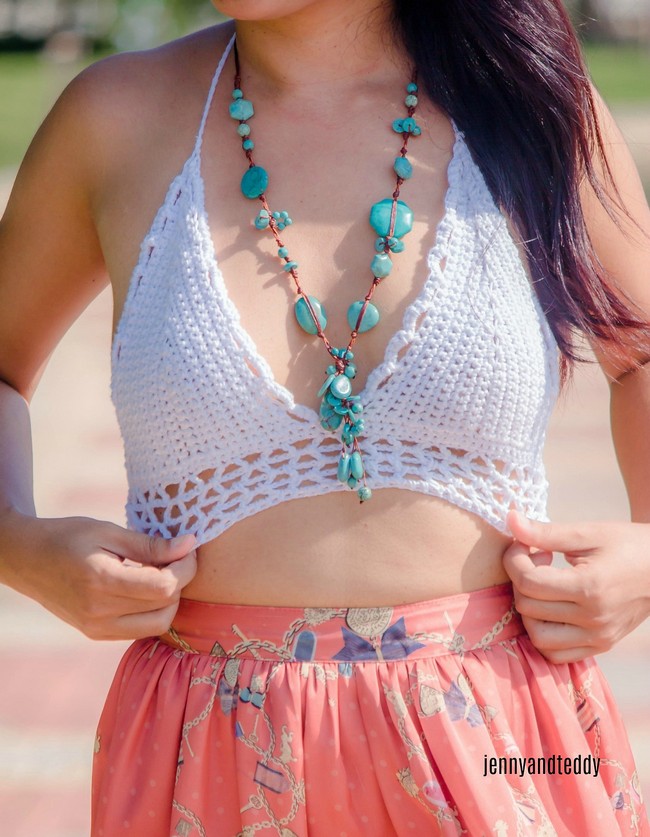 This crochet bikini pattern provides step-by-step instructions for creating the perfect bikini top just in time for your next beach or poolside getaway. The top is crocheted from the bottom and is made using lightweight yarn. This bikini top gives you a fun and feminine look while providing the comfort and support you need at the pool or beach. This Pattern includes pictures so you can easily follow along and make the most adorable crochet bikini top.
Materials
– I used cotton DK weight yarn or  Lion brand coboo cotton blend
– 3.50mm crochet hook
– Sewing yarn needle
Abbreviations
-Sl st (slip stitch)
-dc, which means double crochet
-sc which means single crochet
-ch Chain
-slip knot
Summer Vibes Bikini Top:
The crochet bikini pattern is a unique design, one of a kind. It is made of cotton yarn, has the perfect summer vibes, and will have you looking fabulous this summer! It can be worn as a bikini or under your favorite dress to make it look more casual. You'll love to wear it on top of any blouse or t-shirt. The cotton gives it extra comfort, and the crochet pattern ensures it stays put no matter what you're doing. This free pattern is perfect for a summer lunch on the beach. Beginners and experts alike will enjoy working on this easy project that looks great on everyone!
Materials
– I used Lion brand 24/7 cotton
– 3.50mm crochet hook
– Sewing yarn needle
Abbreviations
-Sl st (slip stitch)
-hdc, which means half double crochet
-dc, which means double crochet
-sc which means single crochet
-ch Chain
-slip knot