We have plenty of cute crochet flower cardigan patterns, whether you're adding a pop of color to an all-black outfit or just making her look adorable for the school picture. These cardigan patterns are very versatile, comfortable, and easy to wear by little girls. They feature various designs, including lace, ruffles, prints, frills, and more that will keep you looking stylish and trendy. Whether you're a crochet enthusiast or not, this collection of free and easy-to-make crochet flower cardigan patterns will always be a great blessing for you.
These crochet flower cardigan patterns are an amazing way for you to create a warm, beautiful and stylish vest that can be worn with just about any outfit. Whether you want to make a casual hippie look or an elegant one, these patterns will surely meet your needs. We've got some of the most amazing top patterns and sweater vests to make your wardrobe full of joy and fun.
Crochet Flower Cardigan Patterns

Are you fed up with wearing the same old clothes and searching for unique crochet flower cardigan patterns to make something new? If yes, then you have landed in the right place. Nowadays, women want to look chic, stylish, and bold by keeping themselves updated with trendy attires. The crochet cardigan patterns are perfect for any season and make a statement. Several gorgeous designs featured in this collection will turn heads everywhere you go. You can also use these patterns to create simple yet cozy accessories for your winter and fall wardrobe.
Daisy Chain Cardigan
The crochet daisy chain cardigan is a stylish and casual piece to add to your wardrobe. It is simple to make but looks complicated by the long daisy chain. You could wear it over jeans or as an extra layer on cooler summer days. The button placket gives it a feminine touch while still keeping it classic-looking. The pattern is easy to follow but does require basic knowledge of crochet. This sleeveless cardigan can be worn over long-sleeve shirts and dresses or just as an additional layer over your favorite tank top or t-shirt. It will keep you warm during the chilly evenings in spring and fall.
Bobble Flower Granny Square Cardigan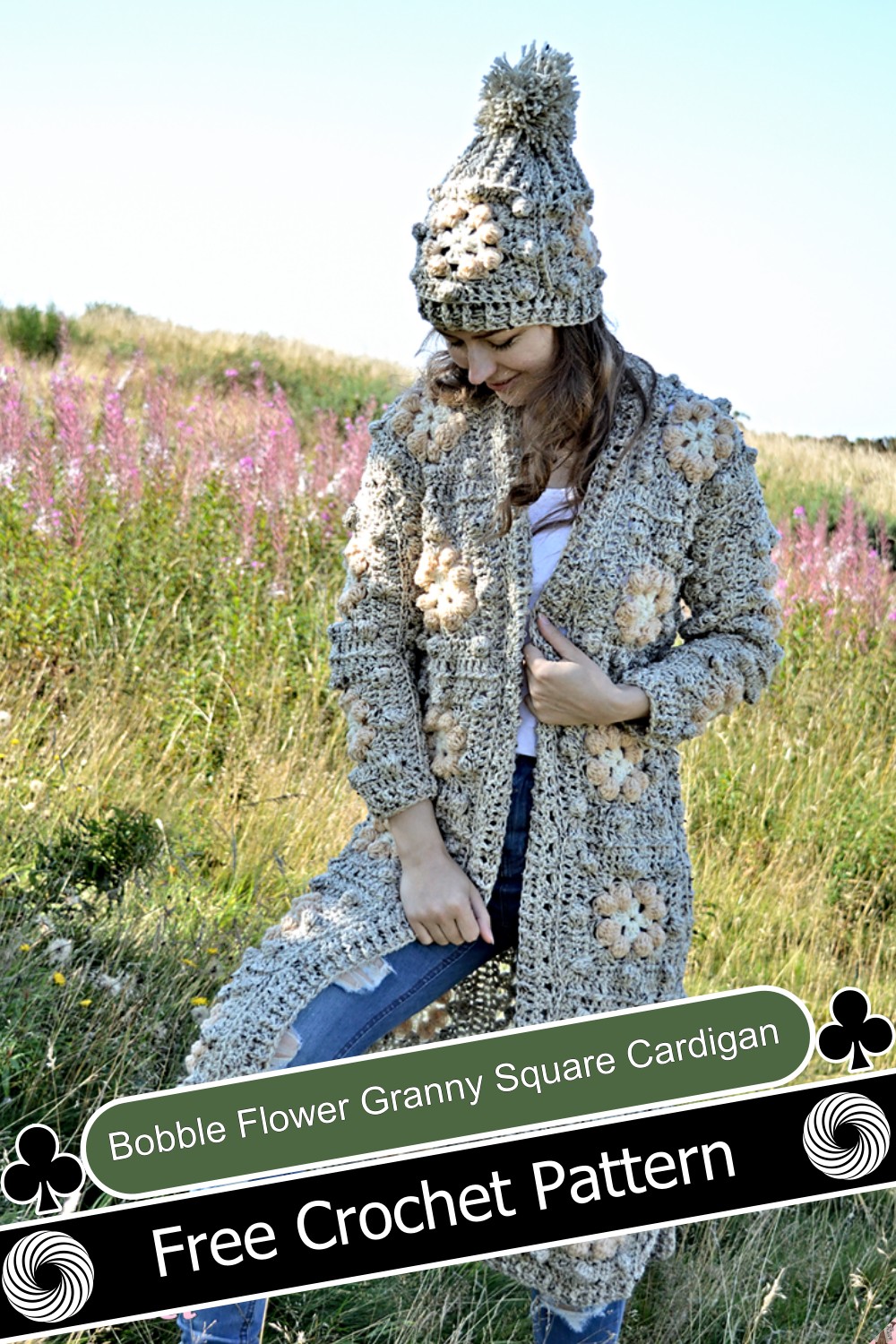 This jacket is made to wear whenever you need a hug. The bobbles cover your arms and back, while the crochet flowers bring you the cuteness of springtime in the middle of winter. It is made with easy crochet stitches that are fun to learn and easy to master. This granny cardigan is long and cozy, providing an extra layer of warmth. The bobbles create a super squishy fabric that you want to wear. The Bobble Flower granny square cardigan makes a great winter coat or can be worn on its own as a cozy sweater when the weather isn't too extreme.
Flower Friendly Sweater & Headband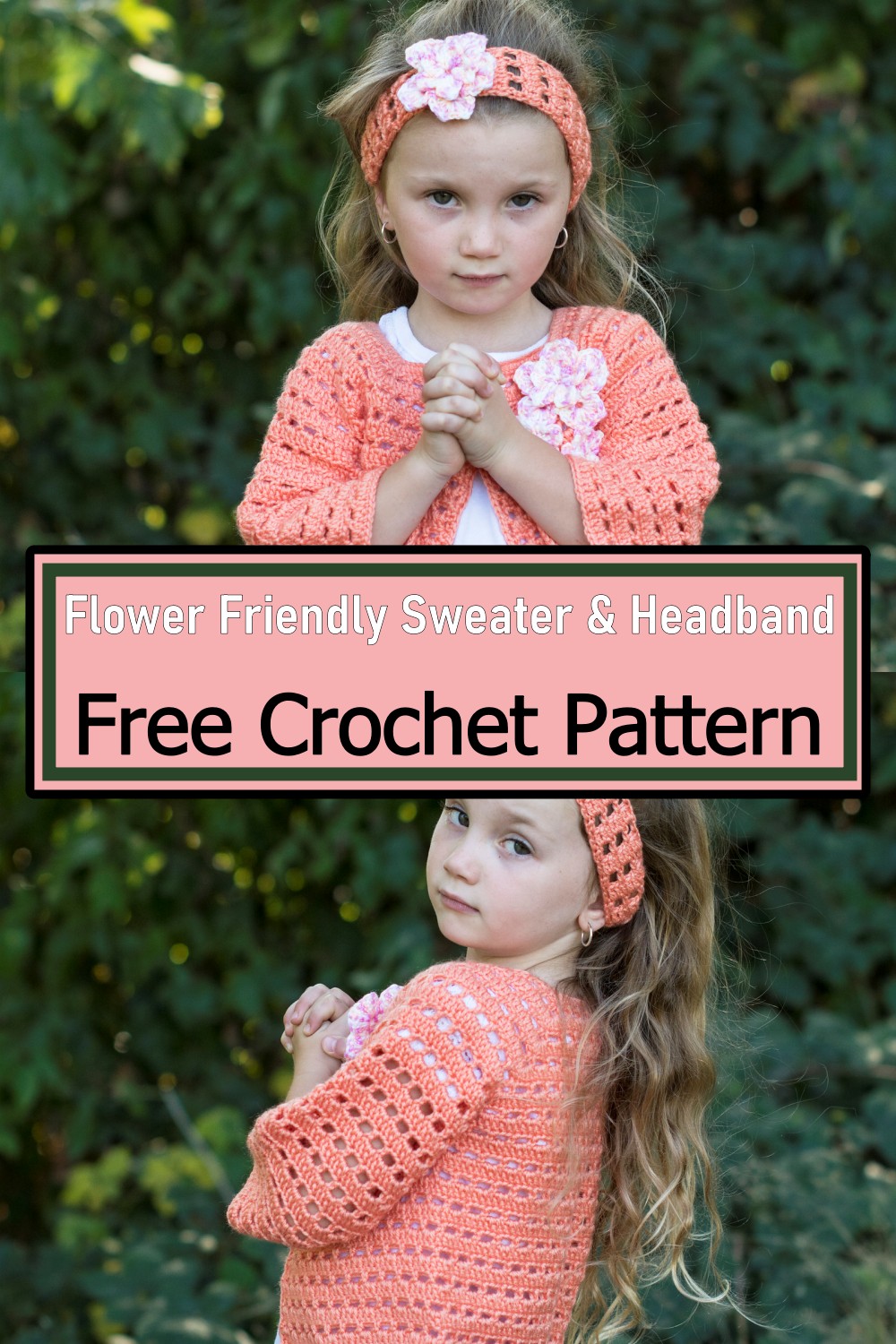 It is a great crochet flower sweater and headband pattern. The sweater can be worn by men, women, and children of all ages. You can wear this flower sweater with jeans or bottoms of your choice. It is an ideal gift for your family members, friends, neighbors, and colleagues at amigurumi crochet fun! If you can crochet one of these, you can make a lot of different sweaters for yourself or others. What's more, there are so many color choices that you can choose from! Make it with cotton yarn for everyday use or wool for colder days.
The Hydrangea Cardigan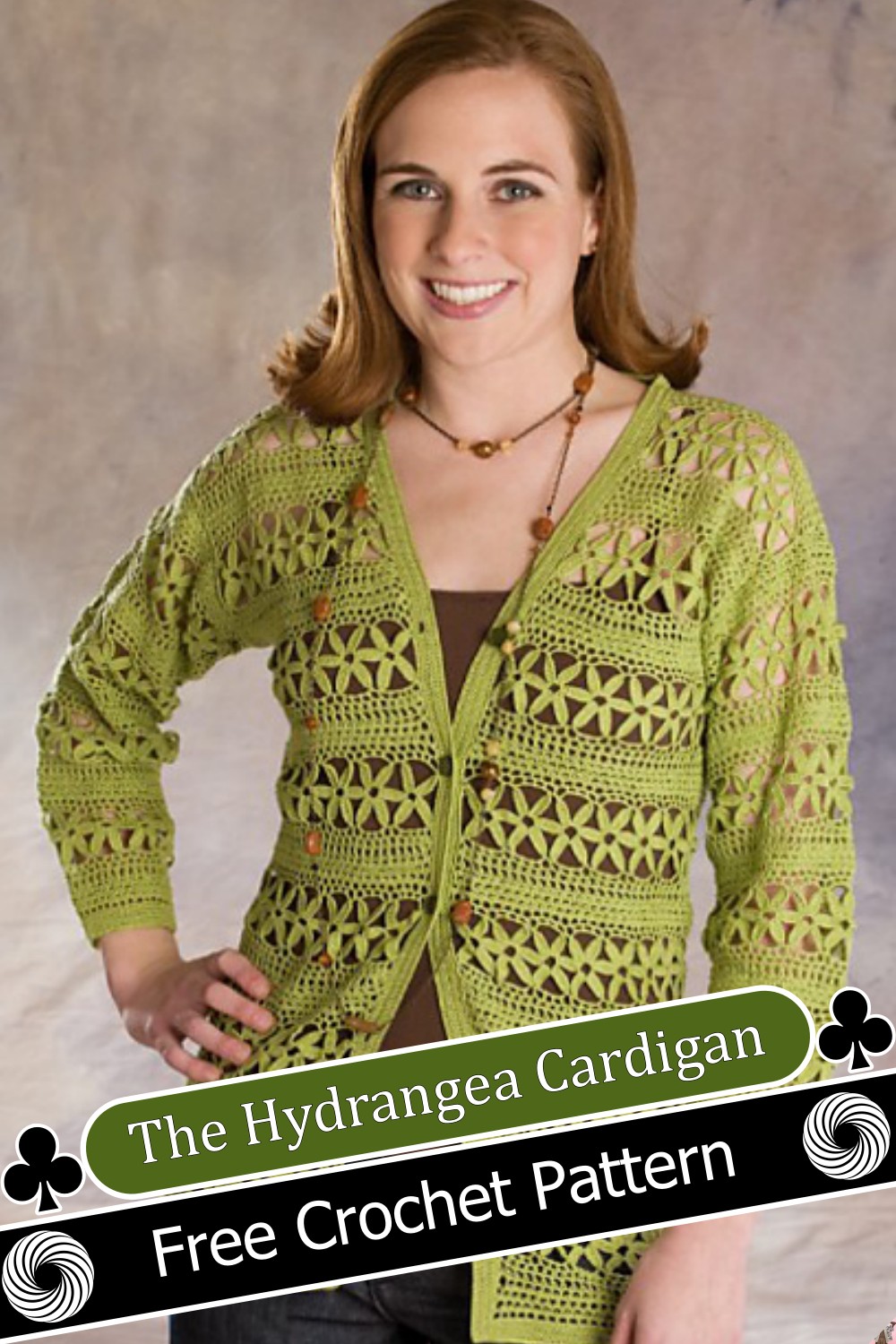 Crochet The Hydrangea Cardigan pattern is a free pattern with a beautiful design, a great fit for you to try this season. It is new and unique with so many different amazing details to create. These elegant crochet flowers are impressive and perfect for daytime or nighttime wear. This striking cardigan goes well with any outfit and can be worn all year round. This crochet The Hydrangea Cardigan pattern is designed so that you can easily make any size ranging from XS to 3XL based on your measurements.
Convertible Flower Lace Shrug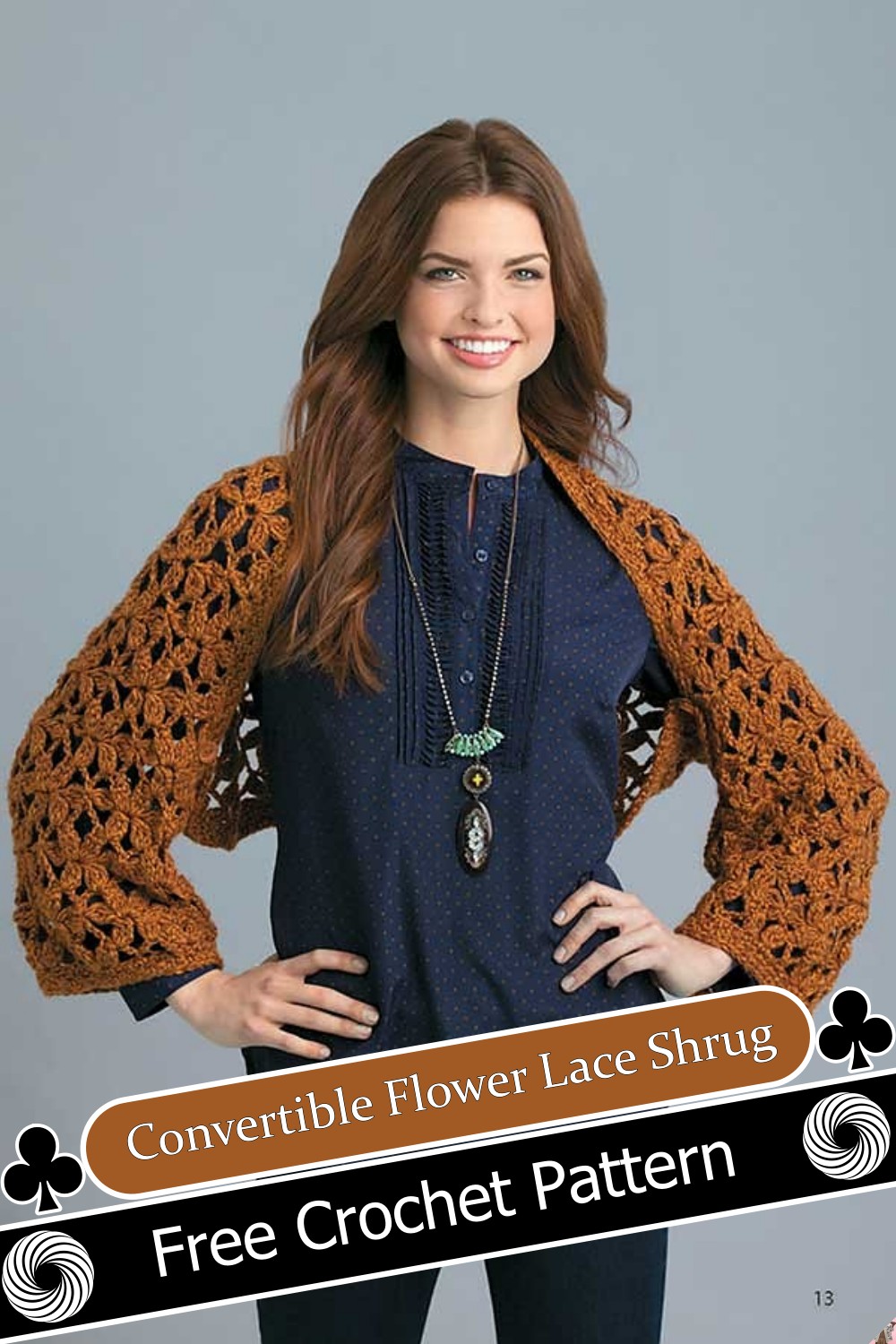 This convertible shrug is worked starting at the top in the Flower Lace pattern. The simple, geometric lace pattern looks pretty in any color but can be changed up to match whatever you are wearing. Once the border has been worked around the entire outer edge of the rectangle, a button loop is added as an option. It can be worn as a sleeved shrug, vest, or cowl or left unbuttoned as a shawl. The versatility of this piece allows it to change with the temperature and your wardrobe! The rectangular shape can be worn open and loose as a shawl over your favorite tank top or evening dress or buttoned close and worn as a shrug or vest.
Asymmetrical Cardigan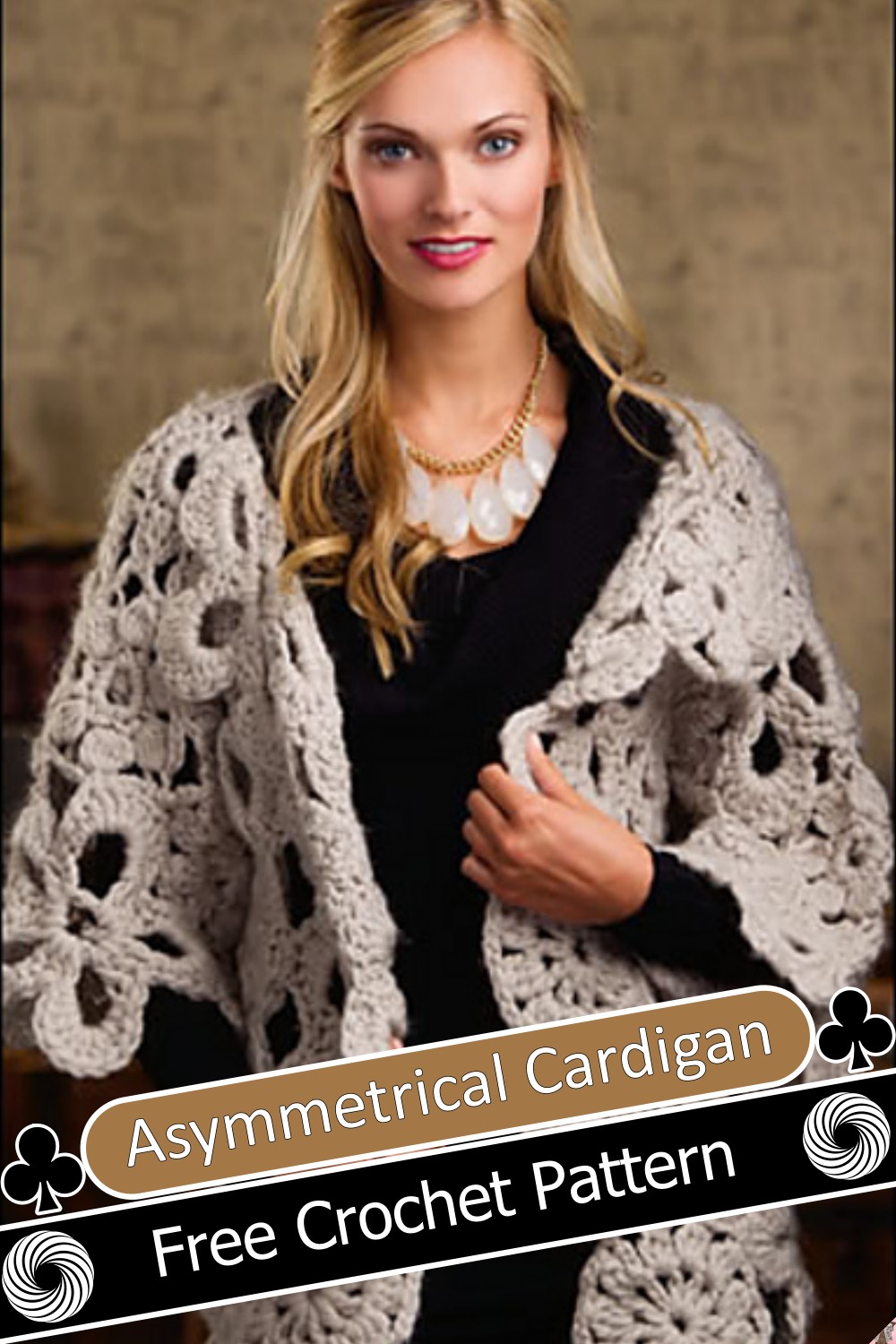 This unique crochet cardigan pattern was designed to be a wardrobe staple for cold weather and is sure to keep you warm. This is an elegant, feminine, and fun asymmetrical crochet cardigan with lovely detail. The sleeves are made of an openwork lace pattern to add texture and movement to the look while keeping it comfortable and light. This asymmetrical crochet cardigan is a great piece to keep you warm and add a new style to your closet. It's light and easy to wear, but you'll be sure to get compliments every time you wear it out!