Crocheting a scarf is easy to provide warmth and comfort to someone special in your life. And it's straightforward when you have an excellent crochet pattern to follow! In this article, we're going to share 15 of the best crochet lacy scarf patterns for beginners that we could find. These patterns are great for crocheting scarves for friends, family members, or even yourself! If you're new to crocheting but want to try making scarves, these patterns will be perfect for you. And if you've been crocheting for a while but aren't sure how to make a scarf without having to work in rounds and rounds of single crochet stitches, these patterns will show you how.
Easy Crochet Scarf Patterns

Crocheting a lacy scarf can be a great way to practice the technique while making something beneficial and pretty. Crocheting a lacy scarf is a great way to take advantage of the warmer months and make something cute for fall or winter. One of the easiest ways to add texture and detail to your projects is with lacy patterns. The following crochet scarves are all made with lacy designs, making them fun and excellent additions to your outfit. They're also made in many colors and materials, so you can show off your style while staying warm. They are adorable, and some are even suitable for beginners who want to learn how to crochet lace.
Benefits Of Crochet Lacy Scarf Patterns
Easy To Make - Crocheting lace scarves are very simple and can be done by anyone who knows how to crochet. The pattern will tell you precisely what stitches to use, how many rows you need to make, and how long each row should be. You follow the instructions step-by-step until your project is finished!
They're pretty! The lacy pattern can add beauty, style, and dimension to any garment or accessory you make. They look great on scarves, hats and vests — anything that needs a bit of flair.
Fun To Wear - Lacey scarves can be worn as an accessory or outfit; they provide warmth without being too bulky or heavy, as some winter coats may be!
They're versatile! You can use this pattern with any yarn and hook size combination to create different results and effects in your project. You might want a loose and airy scarf or something more structured like a shawl or vest.
They're easy! This pattern uses basic stitches like chain stitch and double crochet, so even beginners will have an easy time learning how
Crochet Lacy Shell Stitch Scarf: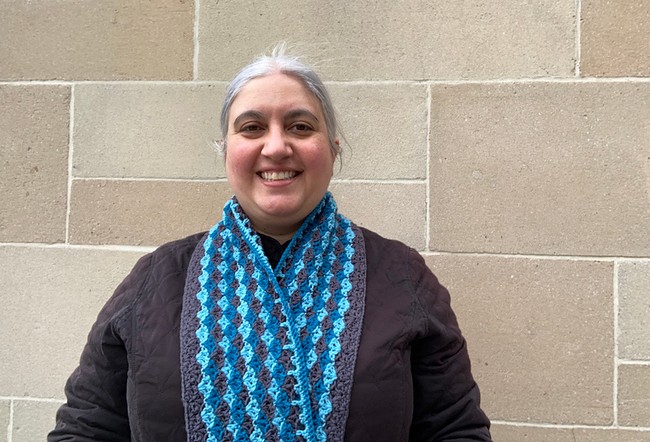 Beautiful crochet scarf made of four different yarns. Each shell stitch is slightly different and delicate in appearance, which makes this an actual work of art. This crochet lacy shell stitch scarf has a light airiness and drape. The shell stitch is easy to learn yet creates an elegant fabric when worked in rows. This stunning scarf is the perfect addition to any outfit. The Lacy Shell Crochet Scarf is made with a beautiful shell stitch and uses the contrast color in the middle to make it pop. This lightweight scarf works great for everyday wear and can be dressed up or down depending on where you're headed.
Materials
King Cole Luxury Merino DK yarn (100% superwash Merino wool, 1.75 oz/50 g, 153 yd/140 m) – 2 skeins in 3391 Charcoal (CA) and 1 skein each in 3390 Turquoise (CB) and 3389 Aqua (CC), or approximately 166 yd (152 m) in CA, 136 yd (124.5 m) in CB, and 115 yd (105 m) in light weight yarn.

King Cole Luxury Merino DK is available at your local yarn shop or online at LoveCrafts or Wool Warehouse UK.

US Size H-8/5 mm crochet hook, or size needed to obtain gauge.
Clover Quick Locking Stitch Marker Set.
Clover bent-tip yarn needle.
Abbreviations
CA – Color A
CB – Color B
CC – Color C
ch – chain
dc – double crochet
sc – single crochet
sp – space
st(s) – stitch(es)
yo – yarn over
* Repeat instructions after asterisk as indicated.
() Repeat instructions between parentheses into same stitch or space.
[] Repeat instructions between brackets as indicated.
Merletto Scarf Pattern:
The Crochet Merletto Scarf is a chic and elegant accessory for women! It can be worn as a scarf or as a hood. It is made of merino wool and bamboo, which makes it comfortable and durable for everyday use. This crochet scarf features a beautiful design, and it has fringe ends. Add a touch of elegance to your look with the Knit Merletto Scarf. This piece is hand-crafted from fine merino wool, making it lightweight and soft for year-round wear. Whether running errands or attending a cocktail party, this Merletto scarf is bound to make a statement. This lightweight scarf features an irresistible, fringed hem that adds sparkle to any outfit, whether paired with a flouncy skirt or your favorite jeans.
Materials
Comfy Worsted Yarn* a #4 medium weight yarn (75% Pima Cotton, 25% Acrylic, 1.76 oz/50g, 109 yd/100m) color: zinnia; 2 balls.
5mm US size H-8 hook,* or hook needed to meet gauge.
yarn needle
scissors
measuring tape
Abbreviations
ch(s)-chain(s)
dc-double crochet
rep-repeat
sk-skip the indicated stitch
st(s)-stitch(es)
Lacy Zigzag Scarf:
This lacy crochet scarf is the perfect addition to your favorite outfit. The simple zigzag stitch creates a delicate crocheted scarf that is soft and comfortable to wear. Add an air of sophistication to your look with this tranquil crochet lacy scarf! The pattern follows a zigzag design, so it's never dull. This scarf is the ideal addition to any outfit and a perfect gift for anyone who loves the finer things in life. This scarf is an excellent addition to your fall or winter wardrobe. It has these beautiful crocheted zigzag patterns that look amazing when wrapped around your neck.
Materials
Red Heart, Super Saver Jumbo: 14 oz/ 396 g, 744 yds/ 681 m approx., 100% acrylic, color: burgundy: 1 skein.

Size US 10/ 6 mm crochet hook.

Tapestry needle.
Abbreviations
ch: chain.
sc: single crochet.
tr: treble crochet.
fptr: front post tr.
bptr: back post tr.
Golden Glamorous Lacy Scarf: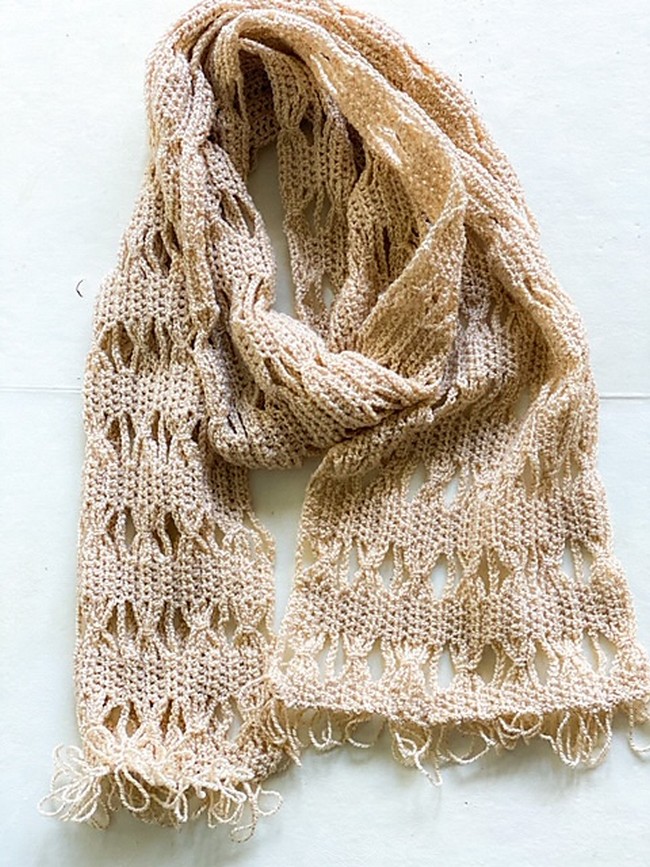 An elegant and fun Scarf that is perfect for every day. It is made of acrylic yarn, which makes it warm and comfortable to wear. Crocheted in a beautiful Golden lace pattern, this scarf can be worn with practically any outfit for an instant glamorous look. This charmingly elegant crochet scarf is made from chunky yarn and features a delicate lace pattern for a stylish look. You could use any chunky weight yarn you like; make sure to use the correct hook size for the adventure you choose.
Materials
Yarn: Lion Brand Vanna's Glamour in Topaz 96 % Acrylic, 4% Metallic Polyester  1.5g /50 g, 202 yds/185 m
Used 477 yds/436 m
Weight # 2
Hook- G (4mm)
Abbreviations
sc- single crochet
hdc-half double crochet
sk- skip
ch-7 loop-chain 7 loop
rep- repeat
Rosaline Scarf: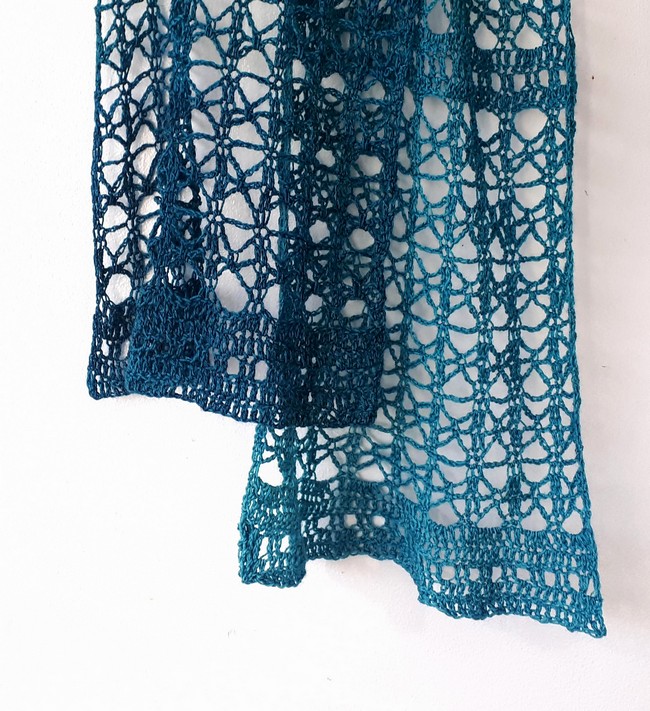 Great scarf for spring and fall weather. It's lightweight, making it perfect for warmer temps when any extra layer tends to get too warm. Make your mark in the world with this beautiful Rosaline scarf. It features a classic design and is made from high-quality cotton, making it super soft on your skin. Designed by a woman, this scarf makes the perfect gift for any woman on your list. It is lightweight but highly durable, carefully crafted with a mix of cotton and polyester fibers. It is ideal for everyday use or special occasions.
Materials
Bilum Hand dyed Yarns – Pukpuk Lace Weight /765yds [700m]: 80% Merino Wool, 20% Silk/100gr)
3.5mm [E/4} crochet hook
You can use 500 – 600m of any lace weight yarn or yarn of your choice and matching hook.
Abbreviations
| | |
| --- | --- |
| Beg    beginning      chain | Beg  beginning chain |
| St       stitches      single crochet | St stitched double crochet |
| Dc      double crochet      space | Tr treble crochet space |
White Lace Spring Scarf: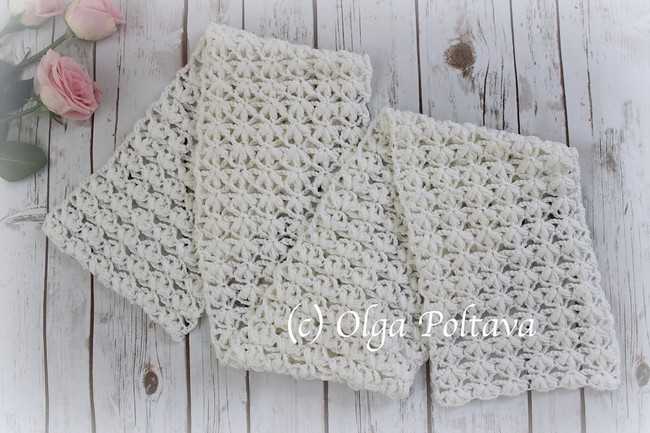 Spring is in the air, and this beautiful scarf will keep you warm and looking fabulous! Crochet your way to chic sophistication with this artistic scarf. Whether you're going to work or on a dinner date, it's sure to add a touch of elegance and spruce up any look. The spring sunshine is just around the corner; these perfect delicate crochet lace scarves will help you lighten up your outfit. They add a little bit of romance yet elegance to your entire business. Simply beautiful everyday staple piece that can be worn out for brunch or with that summer dress for a night out on the town.
Materials
Snuggly Wiggly by Loops & Threads, one skein, 446 yards
Crochet hook size G/6 (4.25 mm)
Abbreviations
puff stitch: (yarn over, insert hook, draw up a loop) 3 times in the same stitch, yarn over, draw through 7 loops
Lacy Infinity Scarf:
Get your hands on a classic crochet scarf and make any outfit look stylish. This infinity knot pattern is just the thing to brighten up your day! The simple, classic design makes this scarf an easy project to work on in nearly any yarn and gauge. This soft and cozy scarf will keep you warm all winter long with the infinity design that seems to go on forever! This scarf is so soft and comfortable you'll never want to take it off. The infinity design makes it perfect for keeping a blanket in your car and wrapping yourself up when the weather turns chilly.
Materials
YARN: Red Heart Super Saver, Pink Camo
In the video: Lion Brand's Jeans Colors, in Burmuda Shorts
HOOK: Knitter's Pride Symfonie Rose, US I/5.5mm
Tape Measure
Scissors
Tapestry Needle
Abbreviations
ch - Chain

st(s) - Stitch(es)

sl st(s) - Slip Stitch(es)

sk - Skip

rep - Repeat

sp - Space

sc - Single Crochet

tr - Treble Crochet
Indigo One Skein Scarf: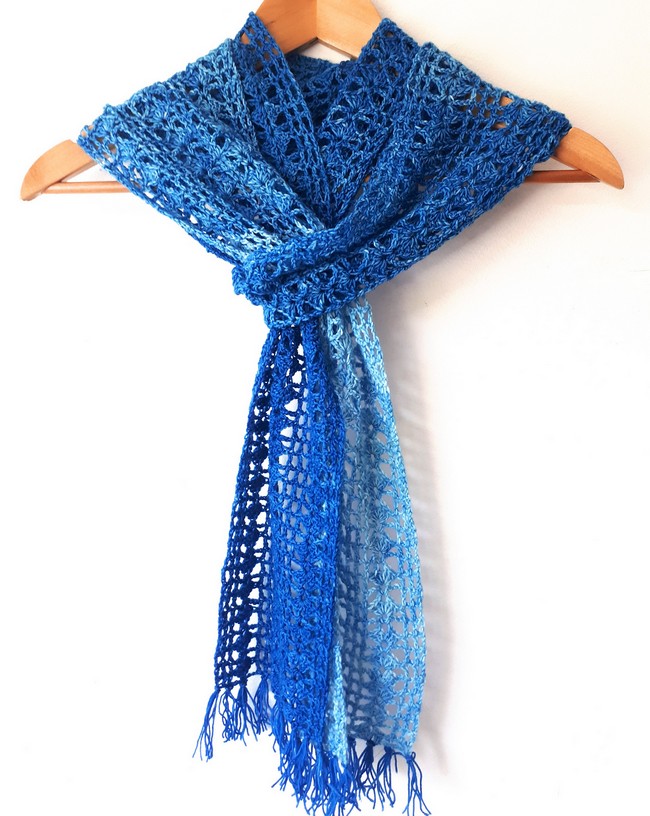 This Indigo One Skein Scarf is a free crochet scarf knitting pattern that works quickly and easily, proving that you don't have to spend much time or money to make something beautiful. This one-skein scarf is perfect for a last-minute gift or to make something for yourself when you're in a pinch. This scarf is ideal for beginners learning to crochet since it only uses one skein of yarn. It looks good as a throw-on over your shoulders scarf or wrapped multiple times around your neck.
Materials
1 skein or ball of Fingering weight yarn approx 100g/400m
Crochet Hook US size E/4 (3.5mm)
Abbreviations
Chain – ch
Stitch – st
Single crochet – sc
Double crochet – dc
Space – sp
Repeat – rep
Cottage By The Sea Lacy Edging:
Crochet Cottage By The Sea Lacy Edging is a beautiful addition to any project. The motifs are designed to fit together in a pattern that looks like waves lapping on the edge of your cowl, shawl, or afghan. This simple lace stitch would work nicely for beginners or advanced crocheters who want easy but elegant edging. It is a vintage-style lace edge that you can easily create using crochet. Use this lacy edging for doll clothing, cute crochet lacy cardigans, jackets, and more. This beautiful ruffled edging is also a great addition to round afghans, tablecloths, and placemats.
Materials
5mm (H) hook for add-on
6mm (J) hook for scarf body
4 balls Yarn Bee Soft & Sleek in "Teal Stripe" if you plan to follow the yarn hacking tutorial
*If you do NOT plan to hack your yarn, 25-30 extra yards of the main body color should be plenty.
25-30 yards #5 Artiste Crochet Thread in "Chamois"
125-150 yards I Love This Yarn in "Linen."
Teal-colored strung glass beads <–These are the ones I used. If you use a different style of bead, ensure that they will easily string onto the #5 crochet thread.
Yarn needle
Beading needle
Scissors
Super glue
Abbreviations
sl st = slip stitch
ch = chain
sc = single crochet
dc = double crochet
tr = treble crochet (for the body of the scarf)
Chevron Waves Lacy Wrap: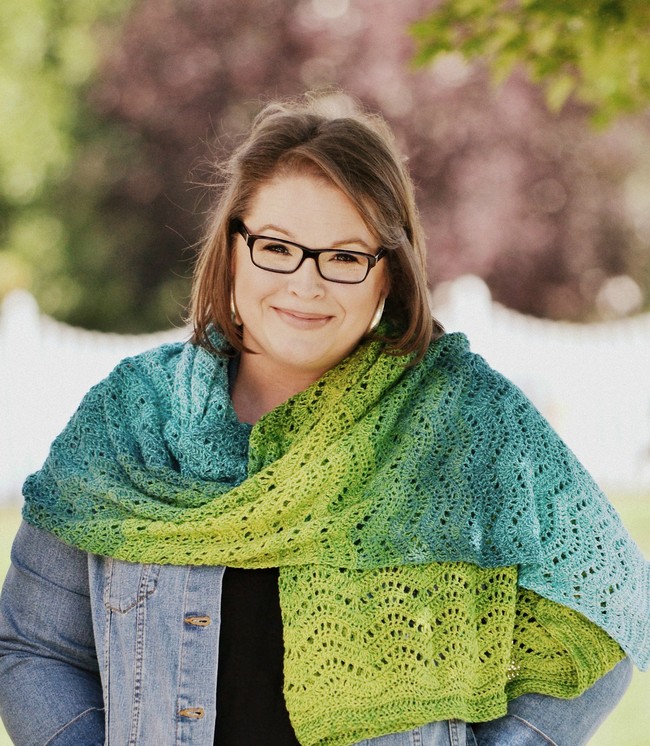 The Crochet Chevron Waves Lacy Wrap is the perfect addition to your wardrobe. It is lightweight, keeping you cool and comfortable even on the hottest days. This wrap can be worn in many ways, from traditional to trendy. This lacy, lightweight wrap is perfect for an evening out on the town or a weekend at home. Crochet waves are framed in a classic chevron pattern and finished with a scalloped edge. The varying levels of openwork create a fun yet flirty look ideal for a summer stroll on the beach or showing off your favorite summer dresses.
Materials
Yarn Red Heart It's a Wrap Rainbow™ (45% cotton, 55% acrylic, 5.29 oz / 100g, 623 yds / 570 m); color #E862_9368 Seaglass 3 balls
Hook E/3.5mm or size to obtain gauge
Abbreviations
ch= chain;
dc= double crochet
ea= each
linked hdc= linked half double crochet [see special stitches]
sc= single crochet;
sk= skip
sp= space
st(s)=stitch(es);* to * = work directions from * to * the number of times specified or to a specific stitch.
Lacy Scarf:
This luxurious scarf is lightweight and airy, making it perfect for spring or summer. The fabric has a beautiful lacy texture and is crocheted with an elegant, subtle wave stitch. This piece is designed to rest comfortably around your neck, with a swing at the bottom, making it look great worn with casual and formal outfits. Add a little class to your look with this vintage-inspired crochet lacy scarf. Perfect for a night out on the town or as a stylish accessory to your favorite coat, this handmade scarf keeps you warm and stylish all season long.
Materials
US-Size E, 3.5 mm crochet hook
Amazon carries this hook size in this amazing brand of hooks.
Check out the Clover Amour crochet hook review to see why you need these hooks!
1 skein of Fingering weight yarn, 3.5 oz, 430 yds
Three Irish Girls, Adorn Luxe in Yarn Harbor (85% merino, 15% nylon) (since this is hand-dyed yarn the availability of colorways will vary.)
Large Eye Tapestry Needle
Abbreviations
ch(s): chain(s)
sc(s): single crochet(s)
dc(s): double crochet(s)
sk: skip
ch sp: chain space
sp: space
tc: turning chain
Lacy Shamrock Scarf:
Crochet Lacy Shamrock Scarf is a quick and easy crochet pattern that can be made in any color. The scarf has a lovely lacy look but is surprisingly soft. It makes an excellent gift for anyone who likes to wear gorgeous scarves. It is the perfect accessory for a sunny summer day. It's made with lightweight, breathable cotton that doesn't wrinkle or stick to your skin. It's great for wearing on its own or just packing in your bag for a quick throw when you need something warm.
Materials
Skill Level: Intermediate
Finished Size: 5 inches wide, 76.5 inches long.
Gauge: 13 Sc x 14 rows = 4 inches
Yarn: Caron Simply Soft™ (%100 acrylics; 315 yds/6 oz/288 m/170 g); Worsted weight: Kelly Green (Color A), off-white (Color B), black (Color C), 1 skein each.
Hook: US H/8 (5 mm). Adjust hook size if necessary to obtain the correct gauge.
Notions: Yarn Needle.
Abbreviations
Beg dc cl – Beginning double crochet cluster (Chain 3, yarn over, insert hook in the same stitch and draw up a loop, yarn over and draw through two loops. Yarn over, insert hook in the same stitch, and draw up a loop; yarn over and draw through two loops. Yarn over and draw through all remaining loops on the hook. Beg Dc cl made.)
Ch – chain
Dc – Double crochet
Rpt – repeat
Sc – Single Crochet
Sl st – slip stitch
Sp – space
Lacy Scarf: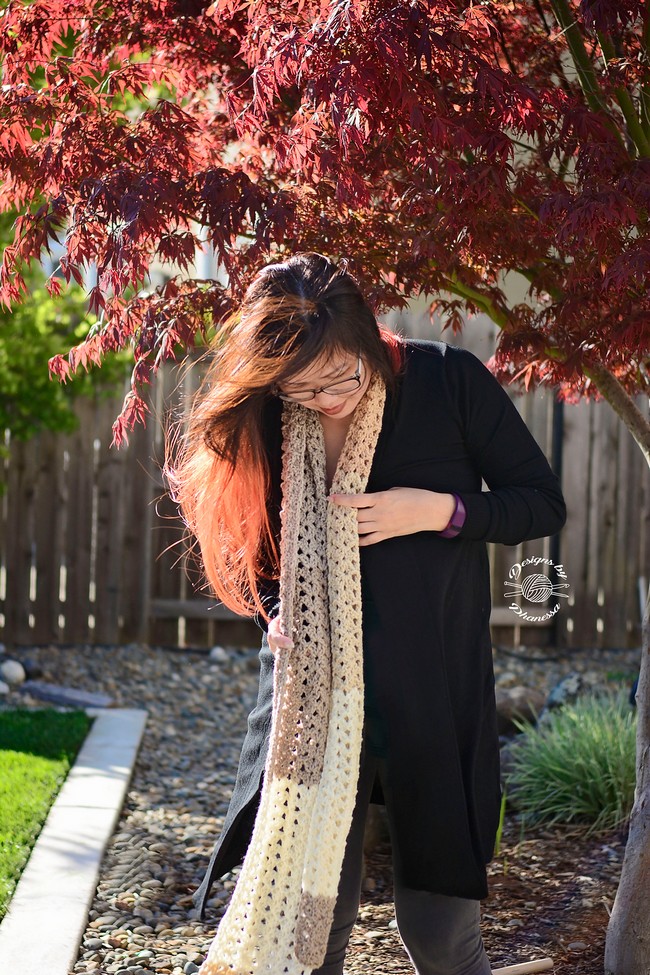 Create this beautiful blanket scarf and show off your crochet skills in style. A thick and textured yarn is used for a lacy fabric to keep you warm. This light and airy scarf can be worn in several ways. It can be tied around your neck, dangled from your wrist, or wrapped around an arm to add warmth. This lacy scarf is the perfect accessory to keep you warm this winter season. The dainty crochet stitch creates a beautiful, delicate pattern that works up quickly with the bulky weight yarn.
Materials
Worsted Weight Yarn | Caron Cake in Buttercream (as pictured)
6.5mm Crochet hook
Tapestry Needle
Scissors
Abbreviations
ch - chain
st(s) - stitch(es)
sl st - slip stitch
dc - double crochet
Lacy Spring Scarf: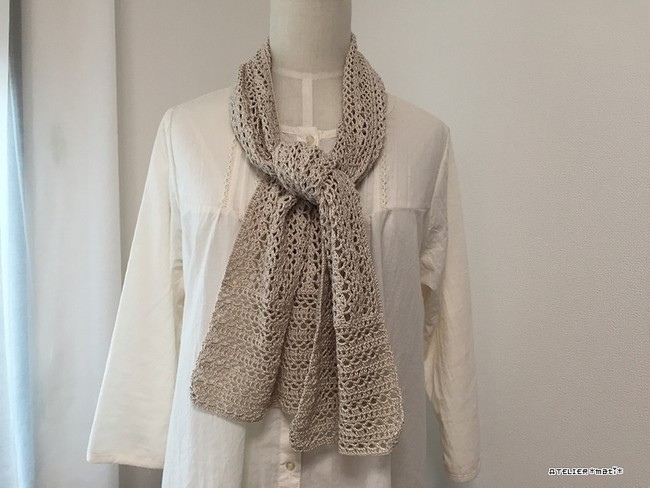 Spring, one of the most beautiful times of the year, brings sunshine, flowers, and new life. Let this crochet lace scarf be a reminder that spring is just around the corner! Made from fine yarn, this lovely cozy accessory will keep you warm and stylish no matter what season it is. Add a touch of spring to your outfit with this eye-catching scarf. The colorful crochet design is sure to add a pop of color to any business, and the lightweight fabric makes it perfect for layering.
Materials
240g(620m) of 'Wister Sofcool' or other fingering yarn
2.20mm crochet hook
Yarn needle
Abbreviations
sc = single crochet
dc = double crochet
sl st = slip stitch
Strawberry Patch Convertible Scarf: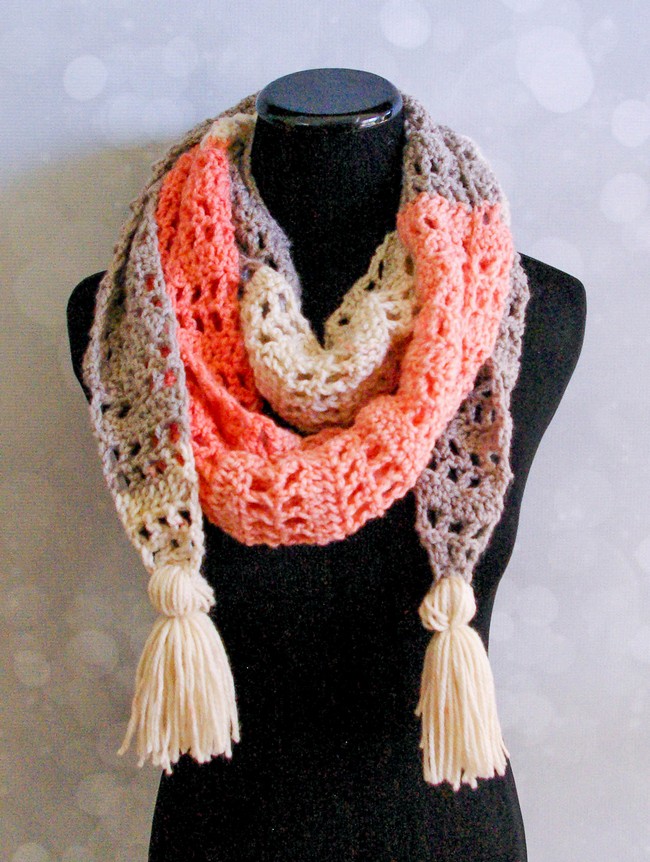 This cozy crochet scarf is the perfect fall piece you've been searching for. Printed in a strawberry patch print, this soft scarf can be worn as a shawl, cowl, or triangle wrap. This crochet strawberry patch convertible scarf is an excellent addition to your warm and cozy winter wardrobe. The strawberry patch adds the perfect pop of color to complete this adorable accessory. It is the ideal accessory for your cooler-weather outfits. Pair with a white top, brown jeans, and boots to complete the look.
Materials
One skein of Caron Cakes yarn or comparable worsted weight yarn (I used 'Strawberry Trifle')
I/5.5mm crochet hook (I use Clover Amour)
Yarn needle
Scissors (I always keep these travel scissors in my hook case)
Tassel Maker (optional)
Abbreviations
ch: chain
sl st: slip stitch
DC: double crochet
DC2Tog: Double crochet two together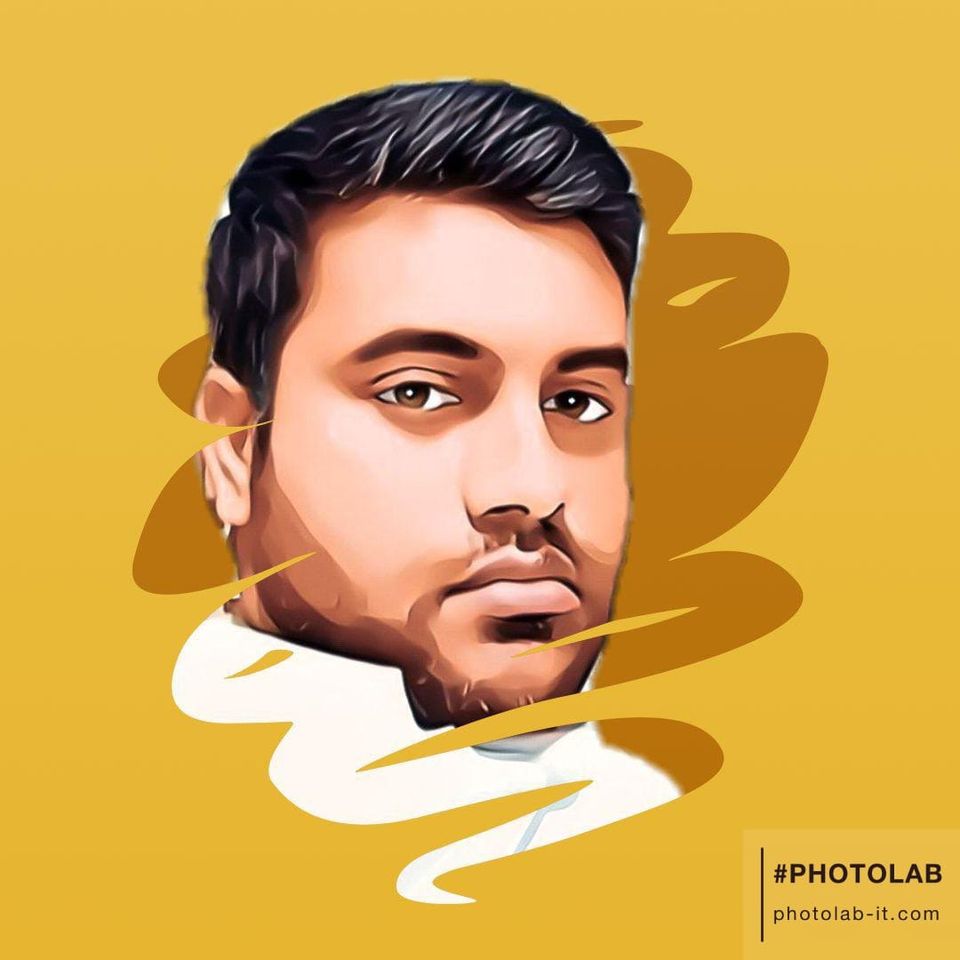 I am Raza, a crafts expert with 6 years of experience. I run this site for DIY lovers to provide the most exciting projects and ideas for your home, office, and everyday life. See More