If you want to make a vest this winter but don't know where to begin, look no further than this list of some unique Crochet Vest Patterns. These patterns will keep your arms covered and give you a great start in crocheting. You'll find everything from modern styles to traditional designs, so you're sure to find something that suits your taste. Whether you're just starting or an experienced crocheter looking for new ideas, these crochet vest patterns are something for everyone.
Crochet Vest Patterns Free

Crocheters are making cozy crochet vests this season, and we're here to help you find the perfect pattern. Crochet vests are an easy way to add warmth and stylish flair to any outfit. They're a great way to stay cozy while still looking put together, but they can also be fun to experiment with a new technique. We've found some crochet vest patterns that will help you do that! You'll never have to worry about being cold again when you've got a vest like one in your closet!
Crochet Vest Womens Patterns
Crochet vest patterns are a great way to expand your crochet wardrobe. A crochet vest can be worn with almost anything and is the perfect piece to add to your fall and winter wardrobe.
Here are some benefits of crochet vest patterns:
They can be made in any size. Crochet vests are one of the few items you can make in any size, from toddler to adult large, so if you're looking for something that will fit everyone, this is it!
They're easy to customize. Once you've chosen a stitch pattern, it's easy to customize your Vest by changing colors or adding embellishments like buttons or pockets.
Vests are great for layering because they are lightweight and flexible enough to fit under other layers when needed but also warm enough on their own when there's no need for additional warmth underneath.
Rugged Landscapes Gilet: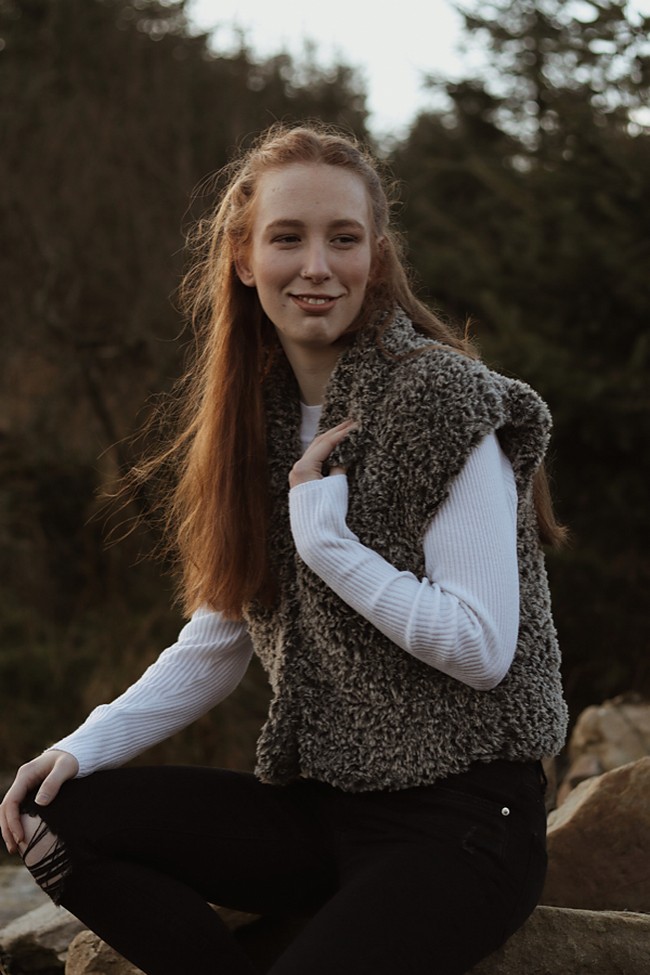 This crochet vest is the perfect balance between style and comfort. It is great for any casual occasion and keeps you warm in the coldest temperatures! The rugged landscapes gilet features a unique crochet stitch that gives a textured look to this piece. With its simple eyelet pattern, it works quickly and easily. The slip stitch section creates a beautiful texture in your fabric and catches everyone's attention.
Materials
Super Bulky, weight 6, Sirdar Alpine Faux Fur (100% polyester), 36 yds (33 m) per 50 g skein.
Yardage/Meterage
324(342, 360, 378, 396, 414)yds / or 297(314, 330, 347, 363, 380)m
Shown in: Brindle colorway.
A good substitute for Sirdar Alpine is Knit Picks Fable Fur. If you are looking for a gilet without the fur look, any super bulky or weight six yarn will work as long as it matches the gauge.
Hook
Size U.S. M/13 (9 mm) or size needed to obtain gauge.
Tapestry needle, several locking stitch markers to help with seaming.
Abbreviations
ch: chain
hdc: half double crochet
rep: repeat
sl st: slip stitch
st(s): stitch(es)
You can also see: Creative Crochet Rug Patterns 
Lynn Fringe Vest: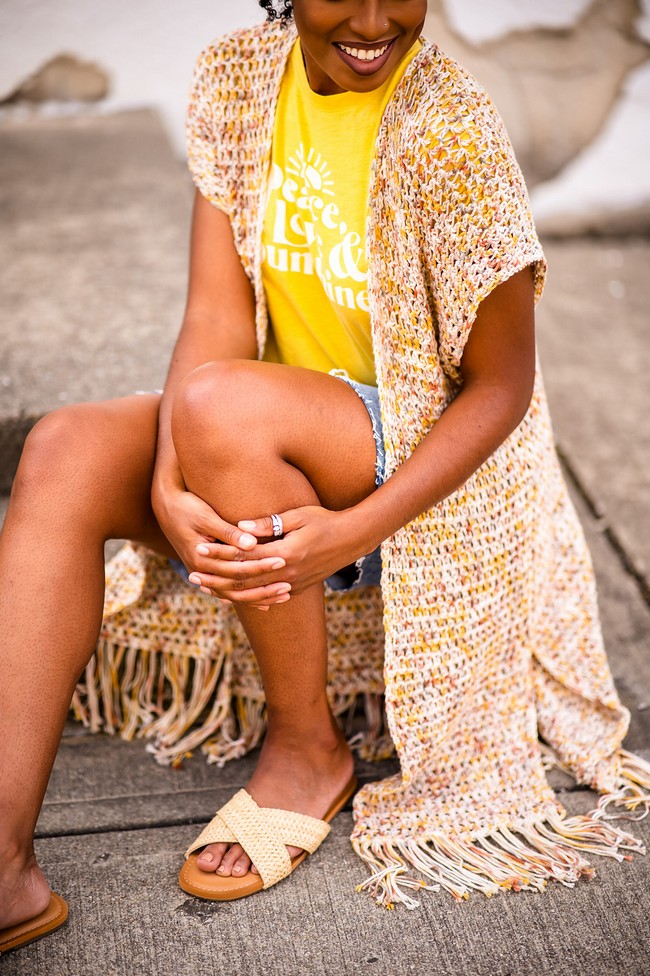 Whether you're throwing on a cardigan or adding a touch of glamour to your wardrobe, the Lynn Fringe Vest is sure to make an impact. Children, teens, and adults can also wear this crochet vest pattern. It is perfect for both everyday wear and dressier occasions. The design features a lacy border along the bottom edge of the vest and tie closure. This crochet vest pattern is worked from the top down, so you can easily adjust it to fit your needs.
Materials
Lion Brand Pima Cotton (category 4) worsted weight yarn. S/M – 7 skeins, L/XL – 8 skeins, XL/2XL – 8 skeins, 3XL/4XL – 9 skeins
6mm crochet hook (like this one!)
Scissors
Tapestry needle
Locking stitch markers
Tape measure
Small, sturdy book (or another device for making fringe)
Steam blocking supplies (what are those?!)
Abbreviations
Ch
chain
Sl St
slip stitch
Esc
extended single crochet (see Special Stitch)
Sp
space
Rep
repeat
St(s)
stitch(es)
RS
right side
Tch
turning chain
Sc
single crochet
WS
wrong side
Sk
skip
Granny Stripe Vest:
This crochet vest pattern is durable and can be worn during all seasons, Fall and Winter. It has the perfect striped pattern to add that pop of color to your wardrobe. This crochet vest is easy to make with a limited amount of yarn. This pattern is great for beginner crocheters looking for unique ideas for a granny vest. This Vest is easy to crochet but does have some advanced stitches.
Materials
2 (2, 2, 3, 3, 4, 4, 4, 5) skeins Lion Brand 24/7 Cotton in Ecru, 1 (1, 1, 2, 2, 2, 3, 3, 3) skeins of Lion Brand 24/7 Cotton in Succulent, Camel & Cafe au Lait. OR 5 (5, 6, 7, 8, 9, 10, 11, 12) skeins for a solid color vest OR approx. 800 ( 900, 1,000, 1,200, 1,400, 1,600, 1,800, 2,000, 2,200) yards of similar worsted weight yarn.
Size H / 5.00mm Crochet Hook
Scissors
Yarn Needle
Tape Measure
Abbreviations
sc = single crochet
dc = double crochet
ch = chain
t = turn
sk = skip
sp = space
sl st = slip stitch
st = stitch (es)
You can also see: Crochet Duster Patterns 
Crochet Valentine Granny Square Vest: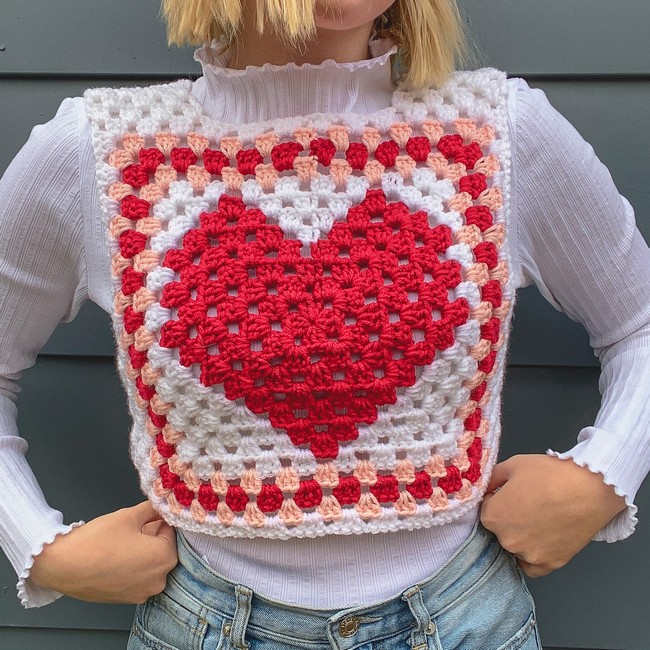 This Crochet vest pattern features a beautiful crochet granny square design that looks like a pair of eyes on a face, with a white scrunchie holding it in place. It can be worn as an undergarment or as outerwear with other items, such as jeans, leggings, and skirts. You will learn to crochet both the square pattern and how to make it into a vest for yourself or someone special in your life!
Materials
Medium Weight (4) Yarn – ANY brand will do! I used the yarn linked in colors Soft Pink, Red and White
5.00mm Crochet Hook – my FAVE hooks!
Scissors
Darning Needles
Stitch Markers – (I personally don't use a stitch marker for this pattern, but if you lose track of where you started easily or you're a beginner, stitch markers are very helpful.)
Abbreviations
Ch = Chain
St(s) = Stitch(es)
Dc = Double Crochet
Dc cluster = Double Crochet Cluster
Sl st = Slip Stitch
Crochet Checkerboard Sweater Vest: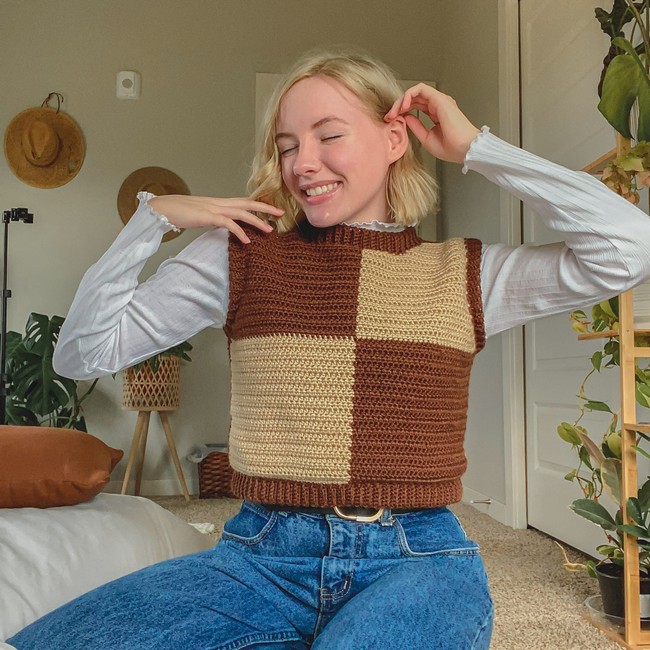 The Crochet Checkerboard Sweater Vest will make you stand out on the next special occasion. You can wear this crochet vest to work, at home, or just by itself on a nice day. This Vest is versatile and comfortable to wear, so you'll want to make more than one! This crochet vest would be great for men or women of all ages. Turn your favorite sweater into a casual vest with this crochet vest pattern.
Materials
4.5mm Crochet Hook (my FAVORITE crochet hooks)
Darning Needle
Scissors
Stitch Markers (I personally don't use a stitch marker for this pattern, but if you easily lose track of where you started or are a beginner, stitch markers are very helpful.)
Abbreviations
Ch = Chain
St(s) = Stitch(es)
Sc = Single Crochet
Hdc = Half Double Crochet
Hdc2tog = Half Double Crochet Two Together
Sc blo = Single crochet in the BACK LOOP ONLY
Everyday Crochet Strawberry Sweater Vest Top: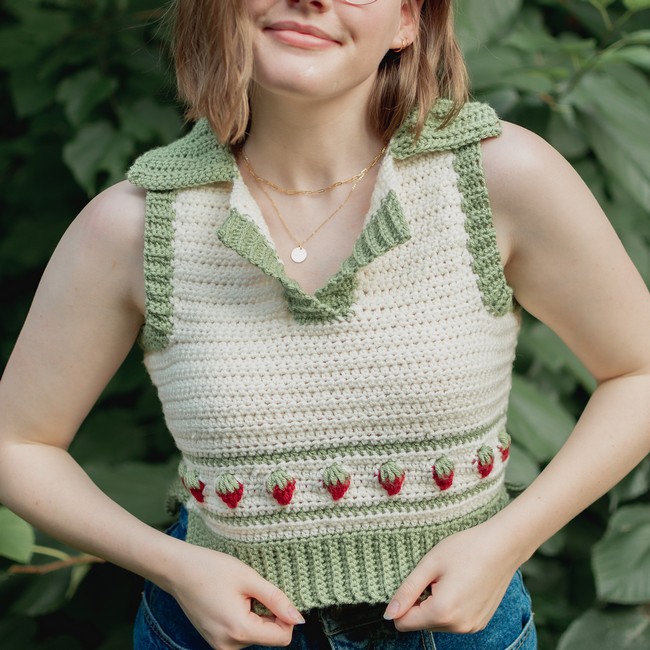 This detailed crochet vest pattern is for a strawberry vest top made from soft Worsted yarn. It's both feminine and practical, with an easy-access front closure that gives you versatility as you wear it with other clothes. The longer length of this piece makes it an excellent casual cover-up that can be worn over any t-shirt or tank top you'd like. Create this timeless beauty with a beautiful crochet stitch detail, and it's an easy throw-on for a lunch date, coffee with friends, or even a casual comfy look.
Materials
Worsted/Medium (4)
4.5mm Crochet Hook (my FAVORITE crochet hook!)
Scissors
Darning Needle
Stitch Markers (I don't use a stitch marker for this pattern, but if you easily lose track of where you started or are a beginner, stitch markers are very helpful.)
Abbreviations
Ch = Chain
St(s) = Stitch(es)
Sc = Single Crochet
Hdc = Half Double Crochet
Dc = Double Crochet
Sc blo = Single crochet in the BACK LOOP ONLY
Hdc blo = Half double crochet in BACK LOOP ONLY
Rep = Repeat
Strawberry Stitch = See video for stitch located under rows 5-6
Hetty Wrap Over Vest:
This crochet vest pattern is a great way to add interest to your outfit while staying warm and stylish at the same time. The Hetty Wrap Over Vest features a flattering wrap-around neckline, short sleeves, and an open back. Perfect for wearing over jeans or leggings and perfect for boho-style outfits. This vest pattern is simple, easy, and fast to make! Easily change the look of this pattern by changing colors, sizes, yarn weights, etc.
Materials
Hobbii Acacia (DK weight; 51% acrylic, 49% cotton; 250 m per 100g) x 1 ball in Ecru (02)
4 mm crochet hook
Yarn needle
Scissors
Abbreviations
ch- chain stitch
sc- single crochet
sc in blo- single crochet in back loop only
sl st- slip stitch
hdc – half double crochet
The Wendy Cardigan:
The Wendy is a crochet vest that easily combines texture and pattern, making it an easy addition to your wardrobe. It can be worn at the office or dressed up with a blouse or flowing top while keeping you warm and cozy on cool days and nights. It has an easy crochet stitch pattern so that you can make this sweater in no time! Dress it up or down and wear it with jeans or leggings. Make it your own with color changes, buttons, and details!
Materials
Fine (2) Weight Yarn, Lion Brand Oh Baby Organic Cotton in Ecru, 7(7, 7, 8, 8, 9, 9, 9, 10) Skeins or 1090(1160, 1230, 1310, 1390, 1450, 1540, 1600, 1650) Yards
3.5mm Crochet Hook
Yarn Needle
Scissors
Measuring Tape
Stitch Markers (2)
Abbreviations
Ch- Chain
St(s)- Stitch(es)
Sk- Skip
Dc- Double Crochet
Sc- Single Crochet
Sl St- Slip Stitch
RS- Right Side
SM- Stitch Marker
Sp- Space
Chaleco Romantic: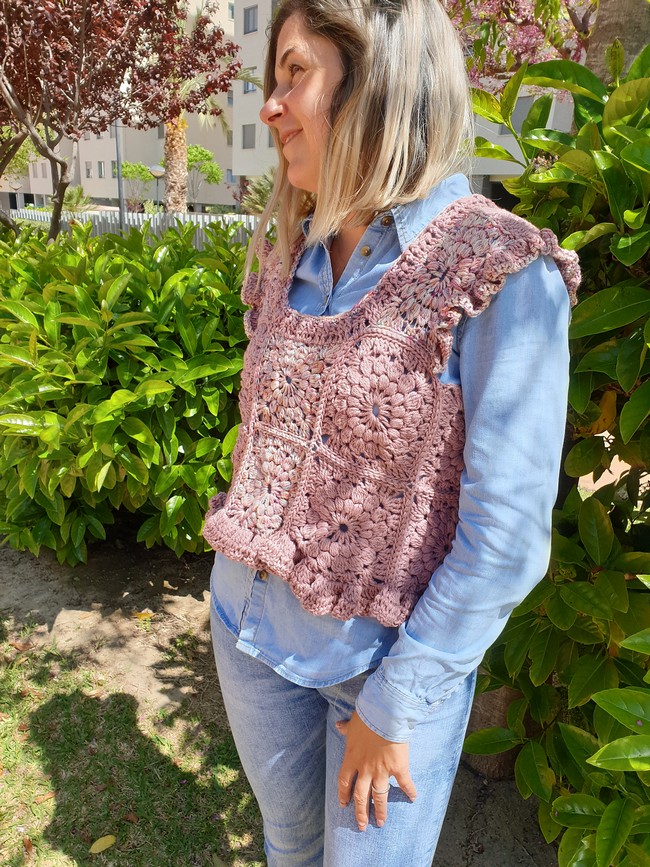 A vest can be worn any season, a comfortable and stylish outfit ideal for the autumn and winter. This crochet vest pattern is perfect for anyone who wants to make the perfect Vest for themselves or as a gift. This comfortable Vest will be your go-to for a casual, trendy look. This project is perfect for beginners and experienced crocheters alike. It's also great for using your stash of single skeins in whatever colors you've been saving!
Materials
Less than 500 gr of DK thickness yarn. I have used 100 gr of a mixture of wool and silk from Tintes Villanova and a little less than 400 gr of superwash merino wool and cotton from  Lanas Alpaca called "loop." Here are the links if you want to take a look at them.
Needle number 5.
Wool needle to finish the thread.
Scissors.
Markers
Abbreviations
Chain: ch
Slip stitch: pr
Low point: pb
Medium high point: hdc
High point: pa
double treble crochet: dtr
Pineapple or bunch stitch: ppiña
Puff or chickpea stitch: ppuf
High embossed front point: brown
Back relief high point: part
Round: round
Previous lap: GO
Ladies Cardigan Jacket Sweater:
Make your crochet vest pattern for an everyday garment or for layering with other clothing. This modern cardigan sweater vest is a simple design that you can make to fit any size, plus it's easy enough to do on the weekend! Depending on your preference, you can make this Vest from different yarns. It is ideal for those who want to make an elegant but stylish look without spending much money.
Materials
DK medium-weight Acrylic yarn  (16-20 stitches = 4 inches)
Crochet hook size: 3.5 mm (E)
Size:  add the pattern any of crochet work
Ladies/girls medium chest size= 38-40
Gauge:  5 dc x 2.5 row = 1 inch
Abbreviations
crochet
chain
sc        single crochet
hdc      half double crochet
double crochet
sts.      stitches
stitch
slst.     slip stitch
Karma Vest:
This crochet vest pattern is perfect for wearing your favorite crochet stitch. Featuring the Karma Stitch, which is a combination of double crochets and half double crochets, this Vest will keep you warm and cozy anywhere you wear it. This is your go-to crochet vest pattern. Use any worsted weight or Lang Karma yarn; it will be perfect! Use this pattern to make your Vest that fits perfectly!
Materials
Yarn:  Lang Karma, DK (#3) 311 yards per ball, 2 (3) balls
Shown in color 0003
Hook: I9/5.5mm
Sizes: Womens S/M (L/XL)
Across the back, from armhole to armhole, measures 20" (24.25) at rest

Gauge: 5 V-st x 7 rows = 4″, blocked
Abbreviations
Stitches:  Ch, sc, dc, sdc (standing double crochet)
The Peplos Vest: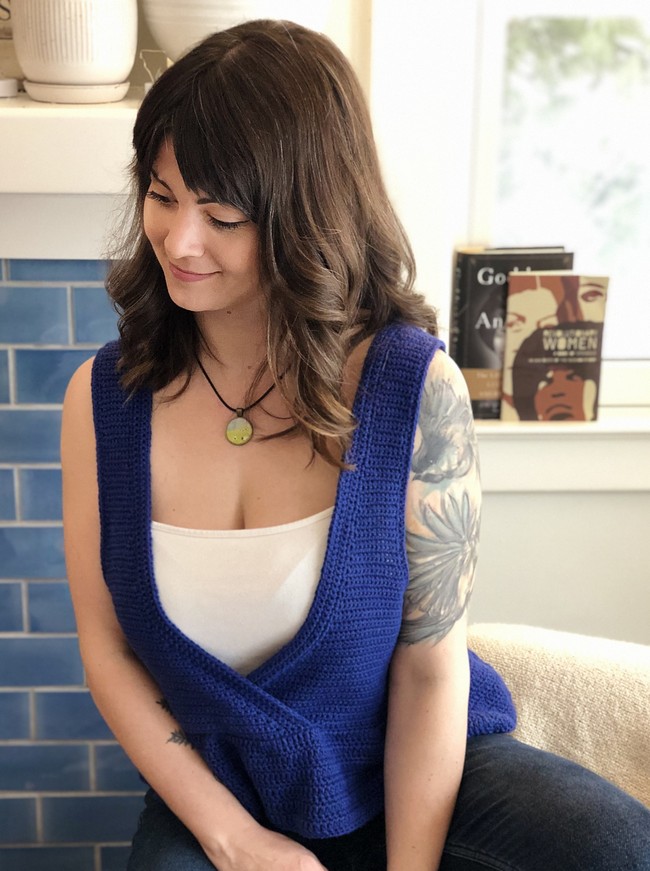 The Peplos Vest Crochet Pattern is perfect for your next project. It's one of the most popular crochet patterns, as it's trendy and versatile. The Peplos Vest features a scoop neckline and twisted front ribbing with a design that mimics the look of traditional Greek peplos vests. Your friends will be asking where you got this fashion-forward piece. This peplos vest is the perfect project for you! With only two stitches, this Vest is quick and easy to crochet; it's sure to become a fast favorite in your wardrobe.
Materials
Yarn              We Crochet CotLin, 123 yards/50 grams per skein, DK
70% Tanguis Cotton, 30% Linen, shown in Nightfall
Hook              Size E, 3.5mm
Darning Needle
Abbreviations
sc                         single crochet
dc                        double crochet
sc3tog                decrease across the next three stitches
st(s)                     stitch(es)
ch(s)                    chain(s)
Yavanna Vest:
This fully customizable crochet vest pattern is not only a cinch to make, but it also looks amazing! Whether you're looking for winter cozy or an outfit sure to turn heads, this Vest is perfect. It is great for a casual day out on the town or to use as an extra layer during the colder days of winter. The crochet vest pattern is suitable for all sizes and fits every body shape.
Materials
130(145,165,185,210) 245(257,280,295,307)g of City Tweed DK 55/25/20 Merino/ Superfine Alpaca/Donegal Tweed / 123yds in 50g
3(3,4,4,5) 5(6,6,6,7) balls of City Tweed DK / 50g balls
Hook Size: 3.75mm or the size needed for gauge. I used a Furls Odyssey.
Measuring tape, stitch markers, scissors, yarn needle.
Abbreviations
Fdc: Foundation double crochet
sc: single crochet
sl st: Slip stitch
Ldc: Linked double crochet – Insert hook from top to bottom into the horizontal bar of the previous stitch, yo, draw up a loop, insert your hook into the next stitch and work your dc as normal.
RSC: reverse single crochet, also known as crab stitch.
dec – decrease (invisible decrease used)/ dec(dc) refers to double crochet decrease. dec(Ldc) refers to linked double crochet decrease.
Sk: skip
Rnd: round
beg: beginning
Alfonso Vest:
Make yourself the perfect Spring and Summer vest! This crochet vest pattern is easy to follow and fun to crochet. With a clean design, this vest pattern sets you up for warm-weather adventures. This is a great quick crochet pattern for that festive season. It will keep you warm and look great! This crochet vest pattern is great for beginners; it's easy to follow with step-by-step instructions and will not take long to make.
Materials
5.5mm US Size I-9 crochet hook*, yarn needle, measuring tape, scissors, stitch markers.
#4 medium worsted weight yarn; Wool of the Andes* (100% superwash wool, 1.75 oz/50 g, 110 yds/101m); color: noble heather.
Abbreviations
ch(s) – chain(s)
dc – double crochet
FPdc – front post double crochet
esc – extended single crochet
cute sweater vest with collar: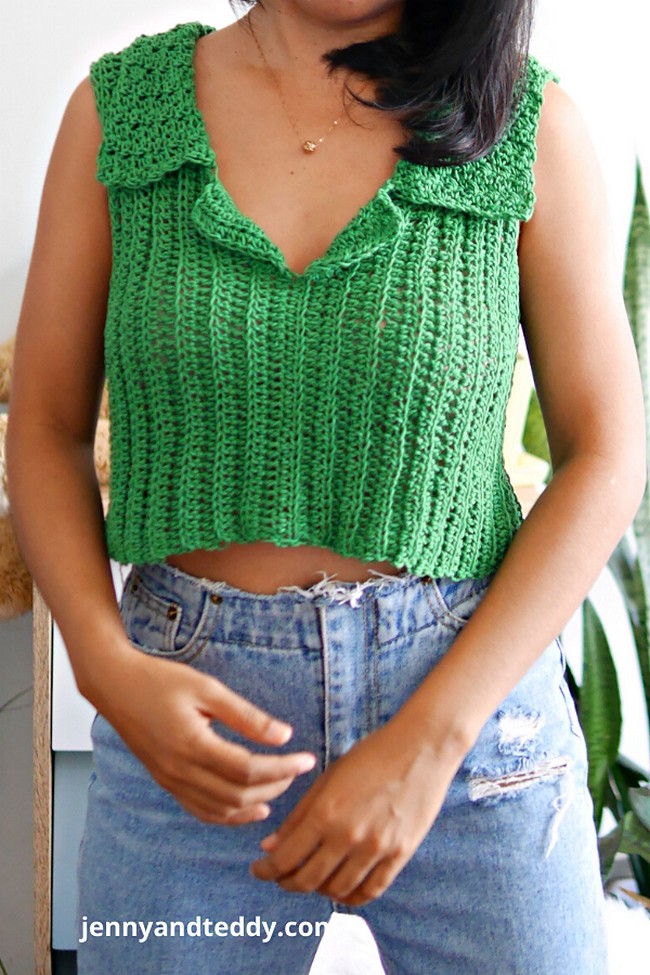 A cute crochet vest pattern to keep you warm in this chilly weather. This is a perfect sweater vest with a collar pattern for any woman or girl who loves to look fashionable in spring, fall, or winter. This cute Vest is a fast crochet project you can make in just a few hours! Make this Crochet Vest Pattern and get compliments from everyone on how cute your Vest looks. It works quickly, an intermediate pattern, but anyone can make it!
Materials
– I used DK weight yarn of around 800 yards for sizes small to medium from bust size 30-36 inches.
– 4.0 mm crochet hook
– Sewing yarn needle
Gauge: 4 hdc = 1 inch
Abbreviations
-sc which mean single crochet
-dc which mean double crochet
-hdc which mean half double crochet
-blo which mean crochet in back loop only
-1dec which mean crochet decrease = crochet 2 stitch together to become 1 stitch
-ch Chain
-slip knot
-SK  mean skip stitch