If you're a crocheter, you know that summer can be a tough time for the hobby. But if you're looking for something to do with your hands, never fear—plenty of beautiful crochet patterns out there to keep you busy during your free time. Not only that, but all of them are free. If you're on a tight budget but want to make something for yourself or someone else, here are some free crochet summer cardigan patterns that keep you cool and stylish all summer. So, If you're looking to add some new summer cardigans to your collection and want some easy patterns to get started with, look no further than these 15 free crochet summer cardigan patterns for women. You'll find styles ranging from flirty frill-trimmed options to chunky crochet vests! With so many great designs, it won't be hard to find one that suits your tastes perfectly!
Crochet Summer Cardigan Patterns Free

Summer cardigans are a wardrobe lifesaver, especially if you're looking for a quick way to update an outfit or want to stay cool and comfortable as the weather gets warmer. Crochet is a good medium for summer cardigans because it's light and airy and uses cotton yarns that breathe well. Check out these free crochet summer cardigan patterns, all of which can be made from inexpensive yarn. You might need more time to make one of these in time for the hot summer days, but they're great for starting now so that you'll be ready when the temperature rises again. So, let's get started!
Tips For Crochet Summer Cardigan Patterns
Summer is just around the corner. Have you started planning your summer wardrobe? If not, you should start now because summer is the best time to wear light clothes. It is also a great time to crochet beautiful summer cardigans.
Here are some tips for making crochet summer cardigans:
Choose a pattern that suits your taste and style.
Choose the right yarn for your summer crochet cardigan.
Choose the right hook size according to the gauge of your chosen pattern.
Pixie Summer Cardigan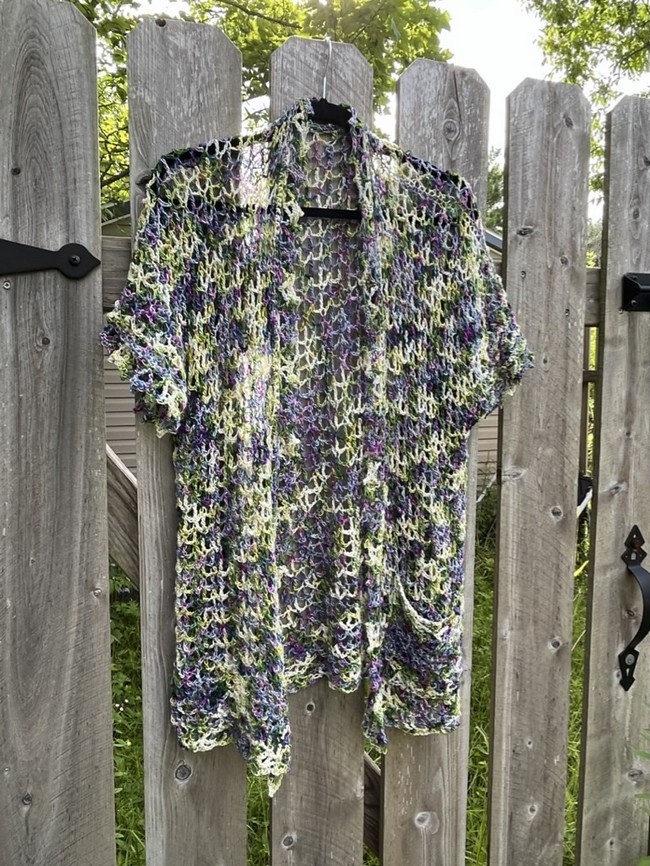 Are you looking for a light, easy-care cardigan that adds a feminine style to your wardrobe? This Pixie Summer Cardigan has all the elements of a classic sweater but with the flair of crochet and ruffles! This pattern would be perfect for wearing on hot summer nights and days by the pool! Whether you're looking for a project to work on in the spring or something you can work on now so you can have it finished by spring - this Pixie Summer Cardigan pattern is perfect! Attached to the back and in front, this cardigan is a flattering update on the traditional look.
Materials
Abbreviations
ch - chain
sk st - skip stitch
sc - single crochet
dc - double crochet
v-stitch - dc, ch 3, dc
picot - ch 3, sc into the same stitch
Summer Breeze Cardigan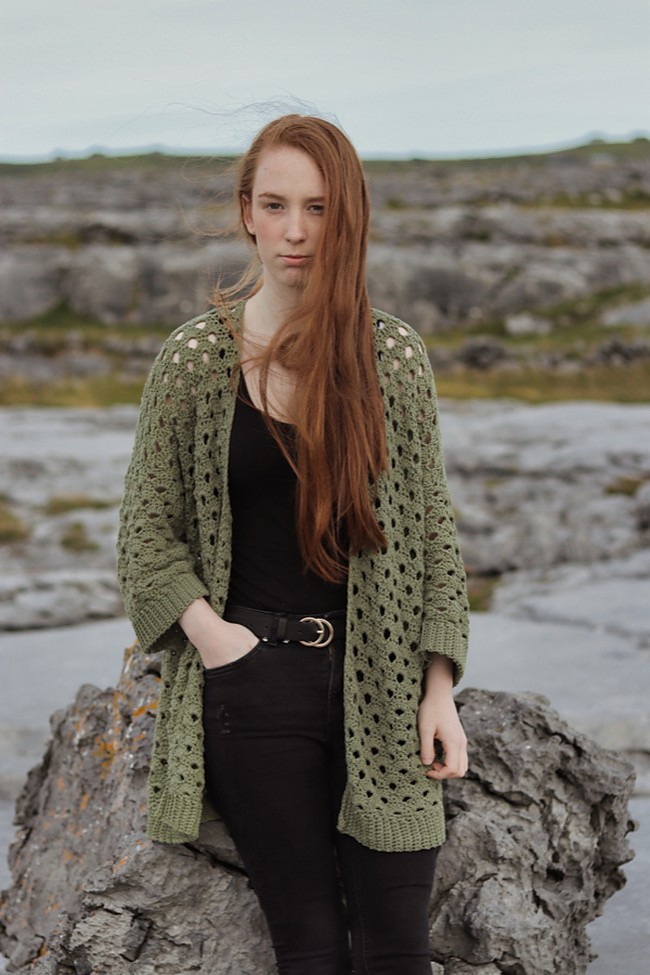 This summer breeze cardigan is the perfect garment to make you feel comfortable and stylish this summer. It is lightweight and easy to make in one evening or weekend. The pattern includes detailed instructions and lots of photos. This easy-to-wear, breezy cardigan is perfect for warm summer days. It can be worn over a tank top, tee, shorts, or jeans, so it is a great piece to have in your wardrobe. The construction is seamless, and the design includes shaping the sleeves and waist.
Materials
Yarn – Drops Cotton Light in colorway Khaki (shade 12) – light/dk/8 ply (50% cotton, 50% polyester)
105 m (115 yds) per 50g ball.
Yardage – 12(13, 13) skeins or 1300(1380, 1400) yds
Hook – Size U.S. H/8 (5 mm) or size needed to obtain gauge.
Notions – Tapestry needle, several locking stitch markers
Abbreviations
ch = chain
sc = single crochet
dc = double crochet
scBLO = single crochet back loop only
st(s) = stitch(es)
rep = repeat
ch-1 sp = chain 1 space
ch-3 sp = chain 3 space
tch = turning chain
The Summer Path Cardigan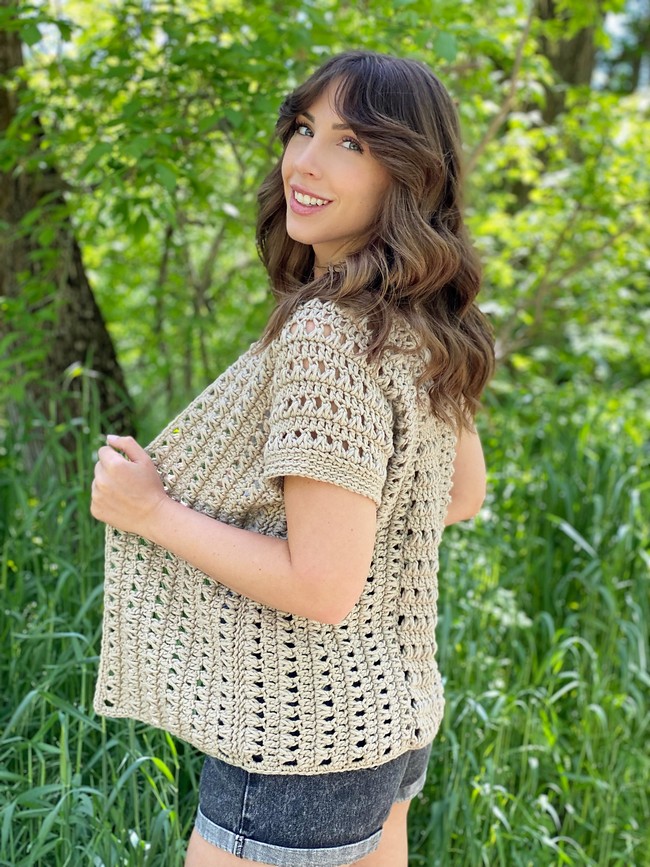 The Summer Path Cardigan is a lightweight, comfy cardigan with adorable lace detail at the back. It is super easy to wear and makes you feel feminine and beautiful! This is a great take on the classic cardigan style to wear as you stroll along the beach, listen to music, or read a book on your porch. The Summer Path Cardigan is a wonderful piece that can fit into any wardrobe, and it is crocheted in one piece with no seaming or finishing required!
Materials
Worsted Weight (4) Yarn, Lion Brand Mako Cotton in Khaki 6(6, 7, 7, 8, 8, 9, 9, 10) skeins or 625(670, 750, 840, 890, 950, 1010, 1100, 1150) Yards
5.5mm Crochet Hook
Yarn Needle
Stitch Markers (2)
Measuring Tape
Scissors
Abbreviations
Fsc- Foundation Single Crochet
Ch- Chain
Dc- Double Crochet
St(s)- Stitch(es)
Sp- Space
BLO- Back Loop Only
RS- Right Side
Sc- Single Crochet
Sl St- Slip Stitch
SM- Stitch Marker
YO- Yarn Over
Triad St- [YO, insert hook into next St, YO and pull up a loop] 3 times (7 loops on hook), YO and pull through 6 loops on hook, YO and pull through final 2 loops on hook
Ariel Summer Cardigan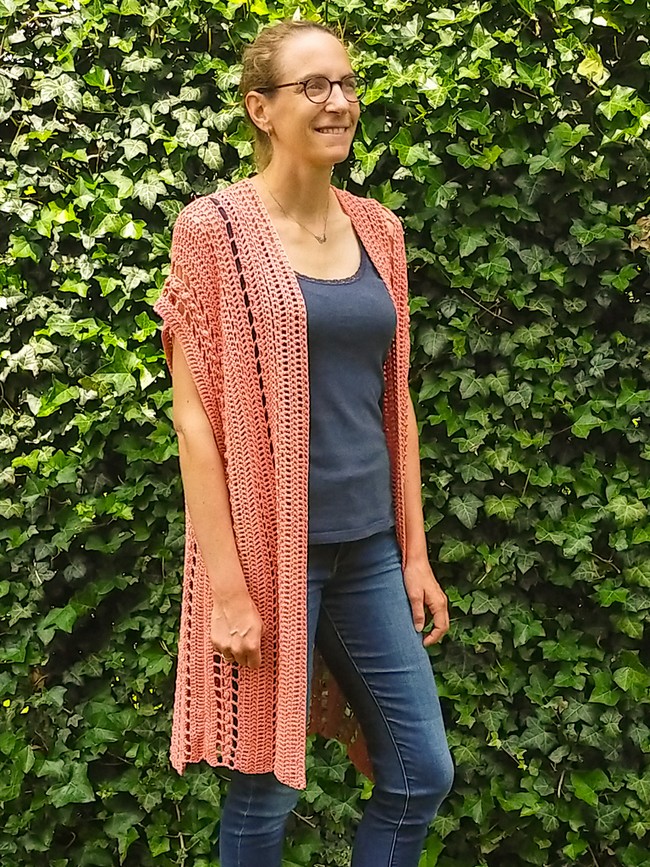 The Ariel Summer Cardigan is a beautifully designed and relaxed cardigan that anyone can wear. It is made from a cotton blend yarn, so it is soft to the touch and easy to wear. With its short sleeves and simple stitch pattern, you'll be on your way to summer fashion in no time! This crochet tunic dress is a beautiful addition to your summer wardrobe accessory. A modern look and fit combined with an easy-to-wear design make this an instant favorite.
Materials
5 mm / US H – 8 hooks.
Katia Summer Comfort (50 g / 1.75 oz, 78% Viscose, 22% Polyamide, 105m / 115 yd) in Koraal. You will need 10 (12, 15, 17, 19) skeins.
Tapestry needle to weave in the ends. I love this set as it has different eye sizes for different yarn thicknesses, and it comes in a small tube which is very convenient so I don't lose them.
Abbreviations
st = stitch
ch = chain
sc = single crochet
dc = double crochet
tr = treble crochet
Cherry Blossom Cardigan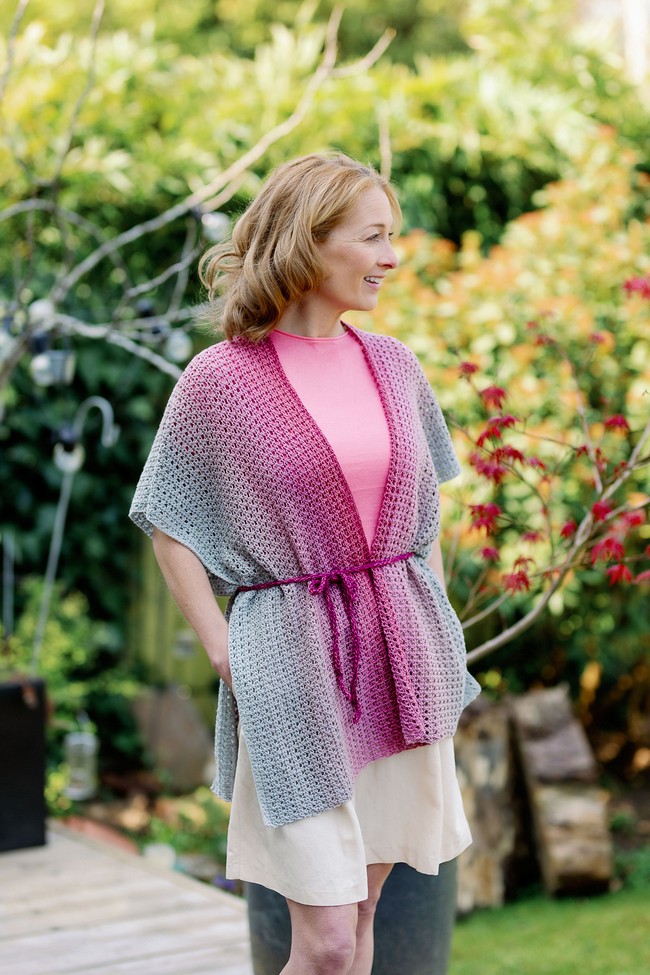 Spring and Summer are the perfect times to crochet a stylish garment. Whether you live somewhere sunny or have just completed a cold spring, this cardigan pattern is just what you need! The Cherry Blossom Cardigan's feminine look will help you transition from winter to spring. The Cherry Blossom Cardigan is perfect for elevating any outfit. This crochet cherry blossom cardigan will be a treasured piece in your wardrobe. The unique design will wow, and the beautiful colors complement any outfit! Pair it with your favorite summer dress or jeans and a tee; the possibilities are endless!
Materials
4mm(US G) crochet hook- my favorites are Furls Streamline Swirl crochet hooks or Clover Amour crochet hooks.
Scissors
Tapestry Needle
Abbreviations
ch(s) – chain(s)
ss – slip stitch
RS – right side
WS – wrong side
SK – skip
The Windfall Cardigan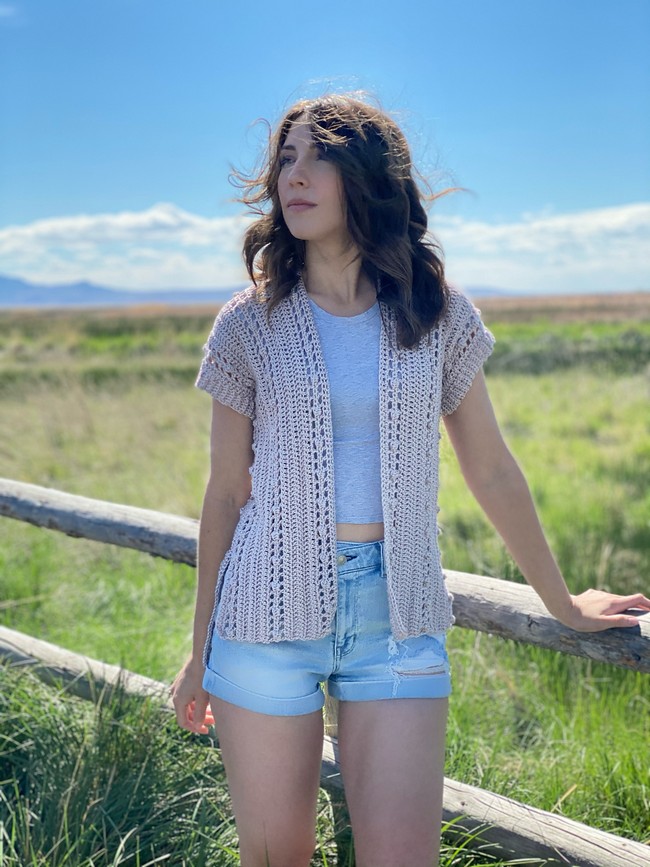 The Windfall Cardigan is a stylish, versatile, simple sweater that can work in any season. It has all the right details: sleek lines, smooth blouson sleeves and an easy fit-and-flare silhouette. The body is worked from the top down, with raglan shaping at the shoulders and waistlines. The pattern features a simple eyelet border, buttonless. The open front is easy to throw on over tanks or tees. Its simple crochet construction is ideal for beginners, while the stylish sleeves and sheer lace panel add a touch of feminine elegance everyone will love.
Materials
Worsted Weight (4) Yarn, Lion Brand Nuboo in "Buff",

  

5(5, 6, 6, 7, 7, 8, 8, 8 Skeins), 710(750,

  

810,

  

880, 930, 1000, 1075, 1150, 1220)
H/5mm Crochet Hook
Yarn Needle
Stitch Markers (2)
Scissors
Abbreviations
Fdc- Foundation Double Crochet
Ch- Chain
Dc- Double Crochet
Sk- Skip
Sc- Single Crochet
Puff- *YO, insert hook into St, YO and pull up a loop, YO and pull through 2 loops on hook*, repeat from * to * two more times, you should have 4 loops on your hook, YO and pull through all 4. Note- work the puff into the actual Ch St of the Ch Sp.
Sp- Space
St(s)- Stitch(es)
RS- Right Side
Sl St- Slip Stitch
YO- Yarn Over
BLO- Back Loop Only
SM- Stitch Marker
The Lyndie Summer Cardi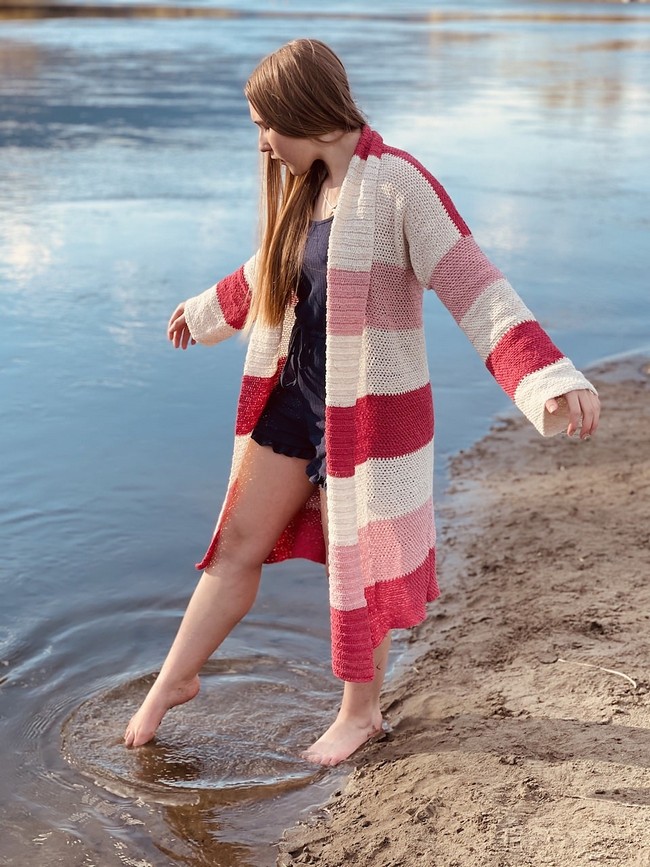 A delicate and feminine crochet cardigan has never been more beautiful! This easy-to-make summer cardi is a must-have for the season. With its loose fit, tie waist, and crochet motifs along the sleeves, you can wear this cute cardi over any top on those hot summer days. The Lyndie Summer Cardi pattern is beginner friendly, with clear instructions so that you can make it in no time! Just add your favorite color and get started! It crochets up quickly and will be done in no time. This cardigan can be worn all year round, so you get extra wear out of it.
Materials
Crochet hook size:  E/4 3.50mm or whatever hook is necessary to obtain a gauge.
KnitPicks Lindy Chain, Fingering weight, 70% Linen/30% Pima Cotton, 180 yds/50 grams per ball.
Color A = Rouge
Color B = Blush
Color C = Swan
Scissors
Measuring tape
Stitch Markers
Tapestry needle
Abbreviations
Stitch/es (st/sts)
Chain stitch (ch/chs)
Turning chain (tc)
Slip stitch (slp-st)
Single crochet (sc)
Double crochet (dc)
Back loop only (blo)
Chain #-space (ch#-sp)
Easy Summer Cardigan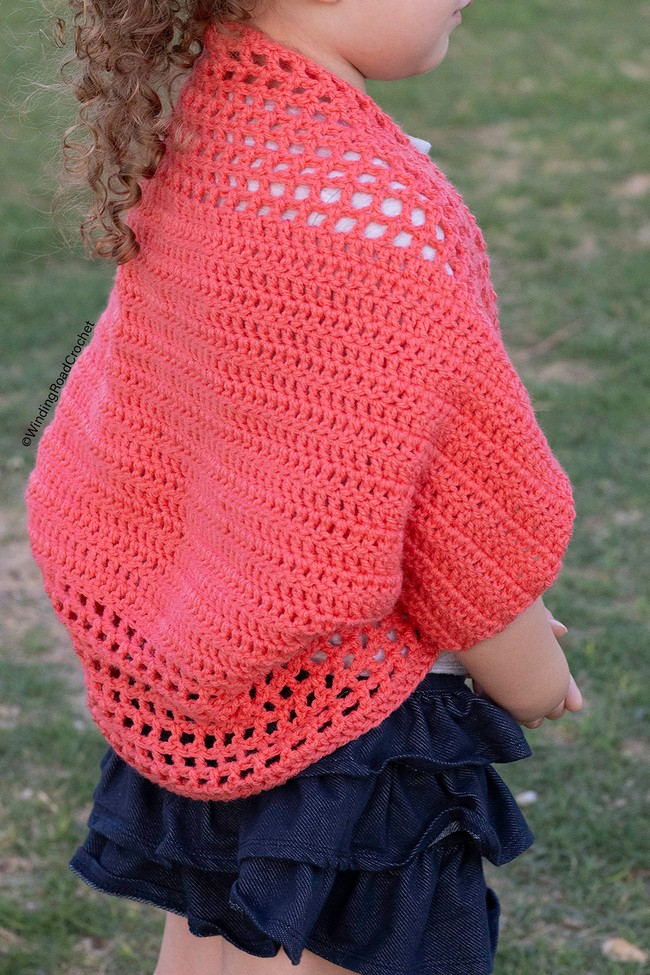 This super-simple Easy Summer Cardigan is the perfect summer sweater. It's lightweight and soft, with a beautiful drape that sits perfectly over jeans or a skirt. Wear it to work or dress it up for a night out; either way, you won't take it off all season long. This is a very easy beginner pattern, perfect for someone just starting with crochet. It also works up quickly! This sweater is made from 100% cotton yarn, making it breathable and perfect for warmer weather.
Materials
Bernat Baby Big Ball Sport Yarn (Size 3 Yarn) Colors: Taupe and Coral
Yarn requirement for each size is in the chart below.
Size H 5mm Crochet Hook
Yarn Needle
Scissors
Abbreviations
CH – Chain
DC – Double Crochet
ST(s) – Stitch(es)
Elba Cardigan
A lovely cardigan to crochet in summer, Elba Cardigan is just what you need for less. With crocheted lace patterns, flowing airy sleeves, and a fit that accents your waist, this easy-to-crochet cardigan is sure to be a favorite! This crochet cardigan is made in a beautiful, delicate lace stitch pattern. The Elba Cardigan is easy to crochet in any weight of yarn. You will love crocheting this garment, from the result to the finishing touches, with simple seams and a pretty button closure. Make this crochet summer cardigan pattern in different colors to express yourself.
Materials
4 mm / US size G-6 hook or hook needed to meet gauge. I love this Clover Set.*
Tapestry needle
Measuring tape
Scissors
#4 medium worsted weight yarn, pictured in Comfy Worsted Yarn* (75% Pima Cotton, 25% Acrylic, 1.76 oz/50g, 109 yd/100m) color: zinnia; (S) 7, (M) 8, (L) 9, (XL) 10, (2X) 11, (3X) 12, (4X) 13, (5X) 14 balls.
Hoku Summer Cardigan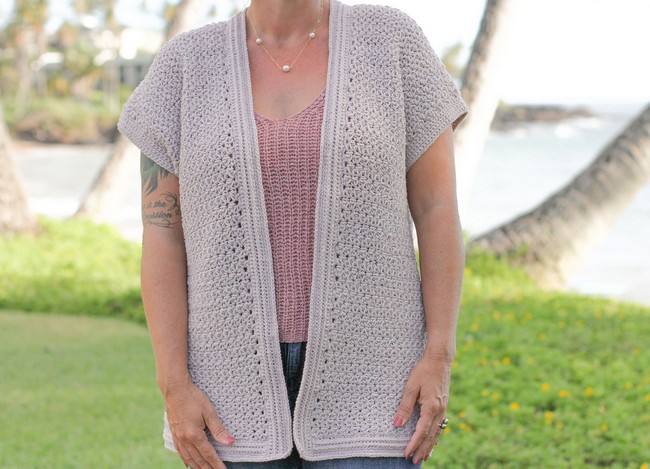 The Hoku Summer Cardigan is the perfect summer cover-up! You will love this easy and comfortable-to-wear crochet cardigan pattern, with or without sleeves. The super simple crochet stitch adds a fun texture to your outfit. It can be made in an hour or less! This easy crochet cardigan pattern is perfect for any crochet expert who wants to make something beautiful and unique for summer. The Hoku Summer Cardigan features an open lace stitch throughout the entire design, making it lightweight and breathable. It is a very easy project, and there is plenty of room for variation, whereby you can choose any cotton yarn color or thicker (or thinner) stitch patterns.
Materials
K/6.5.0 mm Hook & H/5.0 mm Hook, I love my Furls Odyssey

Worsted Weight, #4 yarn. I used 8 skeins of Lion Brand Low Tide Yarn, 81% acrylic/19% polyester, 3.5 oz/100 g

Slip Markers

Scissors, I love my Clover Patchwork 

Tapestry Needle, I love my Clover set

Tape Measure
Abbreviations
ch = chain 

FPsc = front post single crochet 

JSS = half double crochet 3 together 

hdc = half double crochet 

RS – right side

sl st = slip stitch   

sc = single crochet

sk = skip 

sm = slip marker

st(s) = stich(es)  

yo = yarn over
Quarry Duster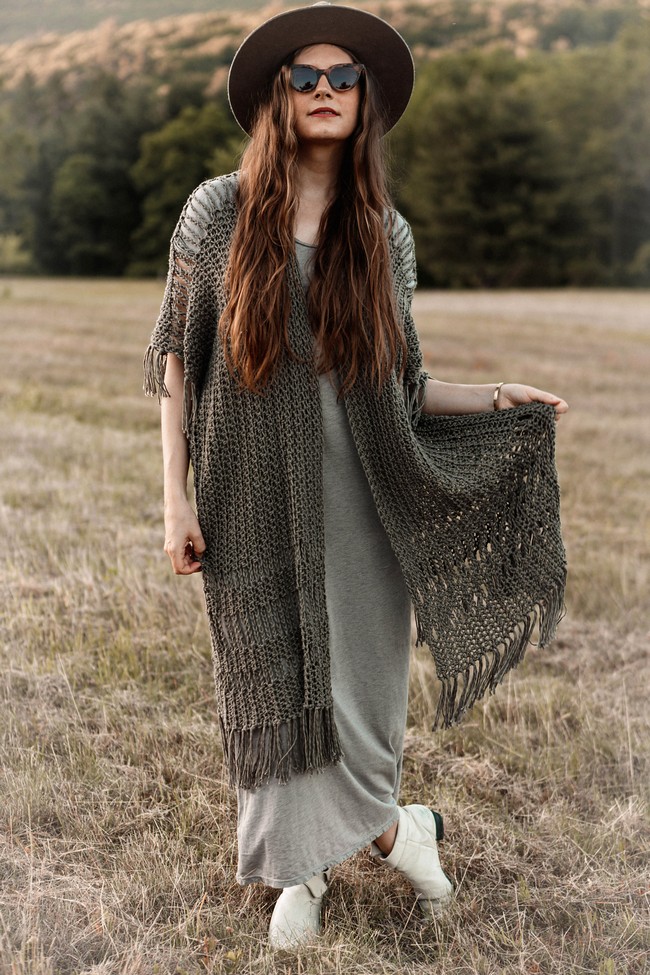 This classic crocheted cardigan will be your go-to for cool summer nights. Constructed from only 1 yarn, this Quarry Duster is the perfect project for getting acquainted with the basics of crocheting in the round and double-crocheting into chain spaces. A drapey cardigan that will be your go-to for any occasion. Perfect for layering over anything, it adds warmth and style to your wardrobe. Wear the Duster casually over jeans, or dress them up for the office!
Materials
3 (4, 4, 4) skeins Lion Brand Yarn Comfy Cotton Blend in Mochaccino or approx. 1176yds/1074m (1568yds/1432m, 1568yds/1432m, 1568yds/1432m) of another light worsted, category 3
yarn
Size US L/11 (8mm) crochet hook
Tapestry needle
Abbreviations
Ch – chain
Hdc – half double crochet
Rep – repeat
Sk – skip
St(s) – stitch(es)
Magnolia Summer Cardigan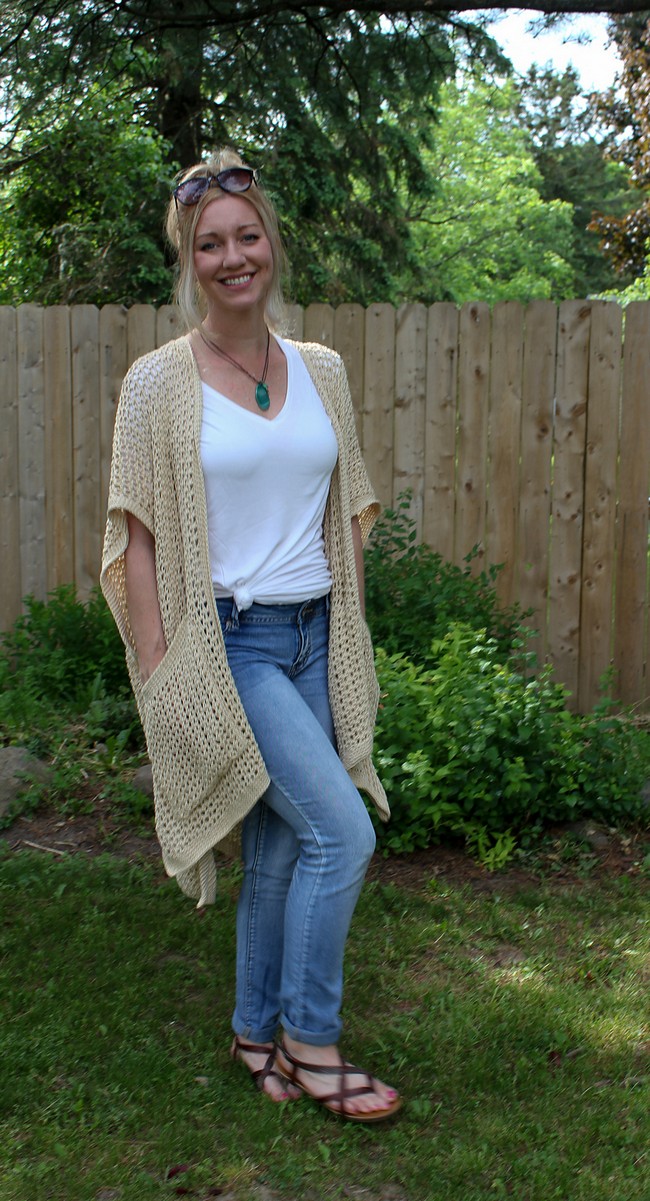 If you love crochet and want to try your hand at a fabulous summer cardigan, then this is the pattern for you. The floral design means it's a great layering piece all year round but especially ideal for any summer outing with the family. The cardigan has perfectly placed pockets to conceal the cell phone or set of keys. The shell stitch creates a soft, airy fabric that flows with your body. This Magnolia Summer Cardigan pattern is worked seamlessly from the bottom up, with minimal side seams on the front and back.
Materials
Approximately 1500 yards DK weight yarn. I used Lion Brand's LB Collection Cotton Bamboo (6 skeins) in the colorway "Magnolia".
Size K (6.5 mm) hook (I love these hooks!)
Scissors, yarn needle
Abbreviations
ch = chain
hdc = half double crochet
sc = single crochet
sk = skip
sl st = slip stitch
st = stitch
Perfect Summer Poncho
Are you looking for a cute summer cardigan? This crochet Perfect Summer Poncho is ideal for wearing over your favorite tank tops or under your jackets. It's a fun project that works up quickly with super bulky yarn! This is a great project for a beginner to intermediate crocheters. It's also a fun summertime poncho that girls or women can wear! The crocheted cardigan has an open front, slight drop shoulders and a modern high-low hemline. A delicate lace trim adds an elegant touch and makes these summer clothes distinctively yours.
Materials
US G+/7 4.5mm Crochet Hook (these are my fav!)
CotLin, by Knit Picks/WeCrochet, DK 3 weight, (70% tanguis cotton, 30% linen, 142 yds/130 m, 1.8oz/50g)
Skeins per size:
XS/S: 12 skeins
M/L: 14 skeins
XL/2XL: 16 skeins
3XL/4XL: 18 skeins
Scissors
Tapestry Needle
Stitch Marker
Abbreviations
Ch – Chain
Dc – Double crochet
Fsc – Foundation single crochet
RS – Right side
Sk – Skip
Sp – Space
St(s) – Stitch(es)
You can also see: Easy Long Cardigan Patterns
Floral Summer Cardi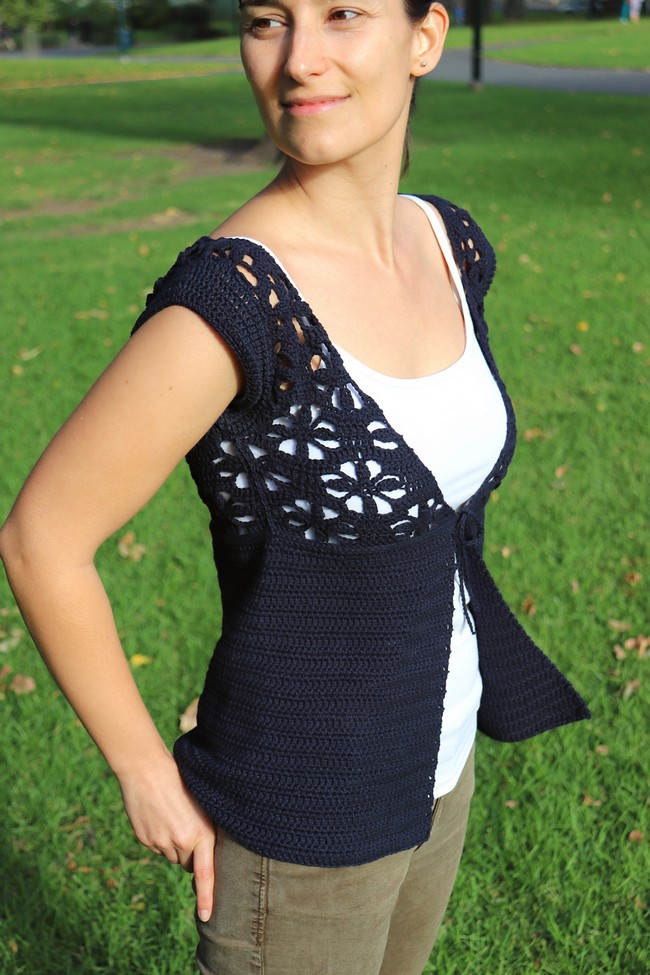 Crochet this Floral Summer Cardi, perfect for days when it's not too hot or cold. The Floral Summer Cardi will keep you cosy and stylish this summer! Light enough to wear in the evenings and warm enough for chilly mornings on your way to work or running errands. This crochet summer cardigan is a versatile piece that you can wear anywhere. It looks great over a sundress or with jeans and a t-shirt when it's warm. The simple stitch makes it easy to whip up in one day, while the lace detailing adds an elegant finish that will impress anyone who sees you wearing it.
Materials
6 (6, 7, 8, 9, 9) skeins of Mondial Basic Cotton (120 yds/110 m) in 0126

or approx. 620 yds/ 565 m (685 yds/635 m, 810 yds/740 m, 880 yds/805 m, 1010 yds, 925 m) of another fingering weight, cat. 1 cotton yarn

US Size E-4 (3.50 mm) crochet hook
Stitch markers, scissors
Abbreviations
ch: chain
ch-# space: chain # space
dc: double crochet
dc2tog: double crochet 2 together
hdc: half-double crochet
rep: repeat
sc:  single crochet
sc2tog: single crochet 2 together
sk: skip
sl st: slip stitch
st(s): stitch(es)
tch: turning chain
tr: treble crochet
tr2tog: treble crochet 2 together
tr3tog: treble crochet 3 together
Summer Isle Cardigan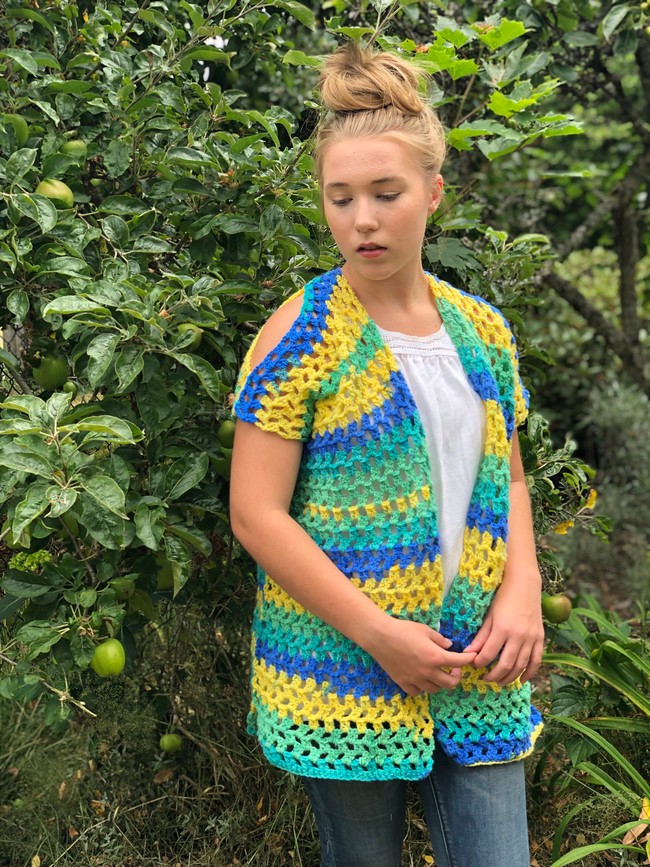 Relax - it's a simple pullover! This cute Summer Isle Cardigan is sweet and simple. The easy crochet stitch pattern is a breeze to work up quickly, making it perfect for gift-giving or personal use. This crochet sweater is a great way to use up some of that extra yarn you have lying around or use your favorite color to make this cardigan your style. This pattern uses half-double crochet stitches, is worked top down, and features several rows of eyelets with a nice openwork pattern.
Materials
Medium worsted #4 weight 100% acrylic yarn
I used Red Heart Bunches of Hugs in this pattern in the colorway Dragon.
Total yardage: 1,000 yd (914.5 m) – 1,500 yd (1,371.5 m)
Crochet Hook size G-4.25mm or whatever hook is needed to obtain gauge
Scissors
Tapestry needle
Abbreviations
Chain stitch (ch/chs)
Double crochet (dc)
Single crochet (sc)
Slip-stitch (slp-st)
Stitch/es (st/sts)