15 Crochet Pullover Patterns For Ladies Wardrobe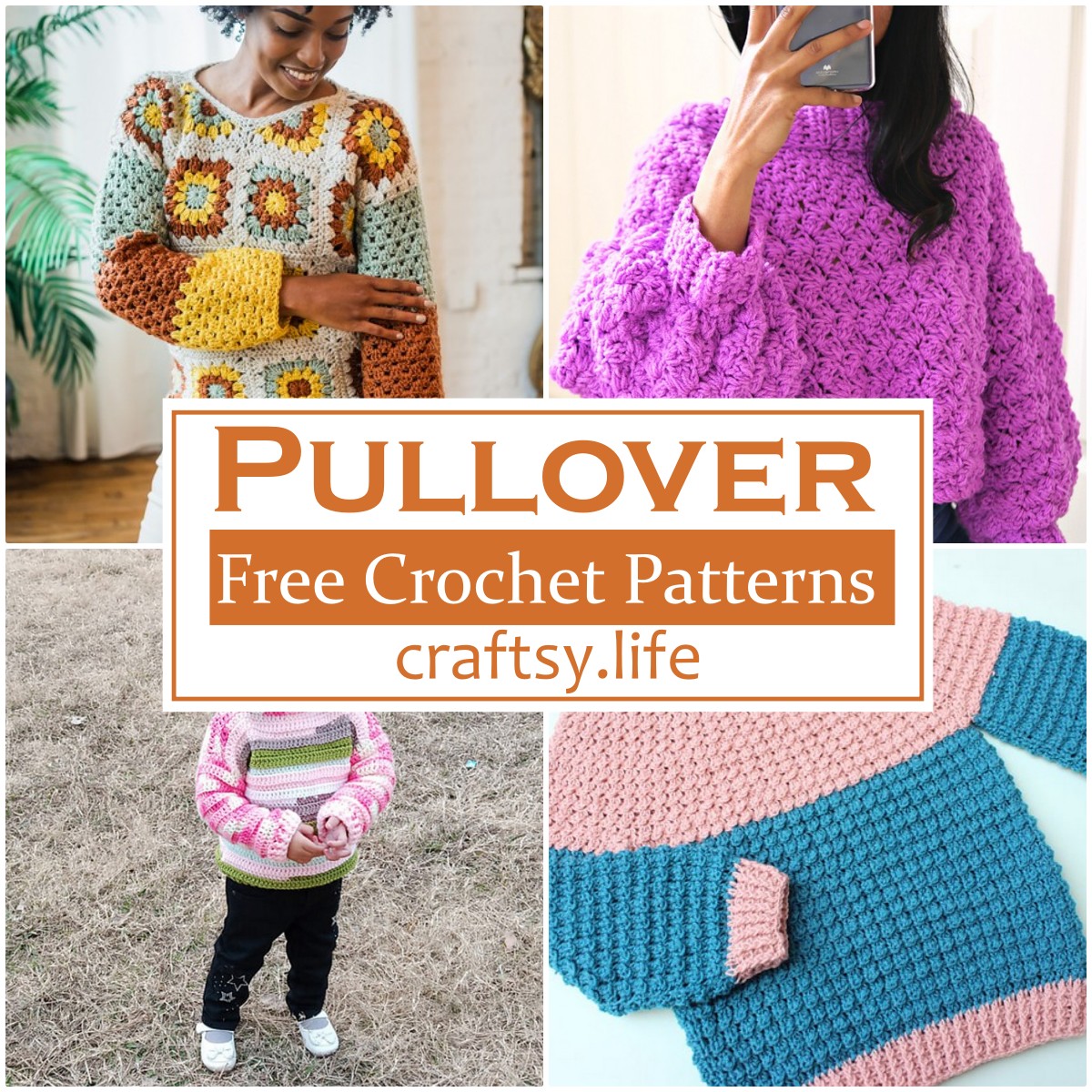 The cool weather is a great time to pull out the crochet hooks and start working on a sweater for you or someone you love. Crochet pullovers are the perfect way to keep warm, look stylish, and feel comfortable. The lightweight nature of crochet gives the freedom to work up a garment that is as light or heavy as you want. Whether you're into vintage-inspired sweaters or modern cowls, there's something for everyone. We've put together this list of free crochet pullover patterns so you can get started on your next design project!
Easy Crochet Pullover Patterns

Crocheted pullovers are a staple of the winter wardrobe. They're warm, fashionable, and easy to find in stores or online. But if you've had enough of repeatedly pulling over the same old sweater, you can make your crochet pullover with one of these patterns below. They come in a variety of styles and levels of difficulty, from the child's cardigan to the long-sleeved tunic. And all are customizable—you can choose your favorite colors or opt for stripes or embellishments (like buttons). You can also make any of these garments from different kinds of yarns for different textures and weights. You'll have to be comfortable with a hook, but once you start making your crochet pullovers, you may never need to go back to buying them ready-made again!
Crochet Pullover Sweater Patterns
Crochet Pullover Patterns are some of the most popular patterns offered in the crochet community. Crocheting a pullover is easy and fun, as you can use any yarn to create your unique look. This article will give you a list of supplies needed for Crochet Pullover Patterns, so you can start crocheting immediately!
The following items are needed for Crochet Pullover Patterns:
Yarn:

 If you want to make a sweater out of cotton, be sure to use 100% cotton yarn. The yarn should be soft enough not to irritate your skin when worn next to it. Wool or acrylic yarns are recommended for winter sweaters because they retain shape better than cotton in cold temperatures.

Crochet Hook:

 You'll need a size H (5mm) crochet hook for this project.

Scissors:

 These are used to cut your yarn when necessary and help sew pieces together before finishing your garment. A pair is all that's needed!
Button Band Sweater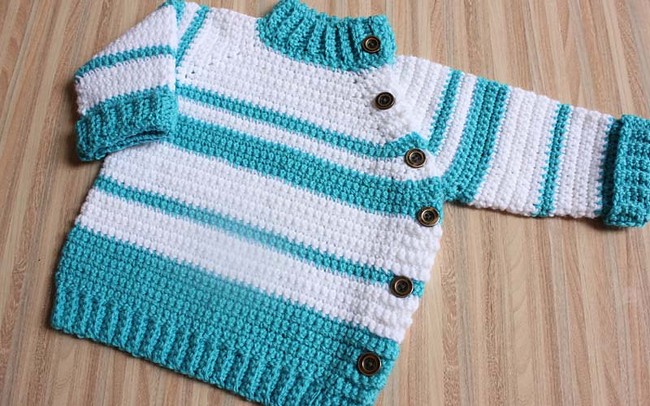 This crochet pullover pattern is a stylish, elegant sweater design that can be made for kids and boys. It features an open neckline, a button band with buttons in the front for closure, and waist shaping, which creates a nice fit body. The sleeves are done in an easy but very trendy raglan style. This sweater can be worn with jeans or pants – versatile enough to accommodate style preferences! This crochet pullover pattern is the perfect beginner sweater project. It's quick to work up and so adorable once you're done!
Materials
wool: 240 Grams DK Weight Acrylic 4 ply yarn (16-20 = 4 inches)
Crochet hook size:  5mm(H)
Buttons
Size:      9-18 months Infant Baby
Gauge:  4 stitches x 4 rows = 1 inch
Pattern for gauge: 
Length from shoulder to bottom Band: 14 inches/36 cm
chest measurement for sweater: 23 inches
Abbreviations
Ch   chains
st     stitch
Sc    single crochet
Hdc  half double crochet
Dc    double crochet
trb    treble crochet
Sts    Stitches
Sl st   slip stitch
Bl      Back loop
FP      Front Post
BP      Back Post
Girls Pullover Sweater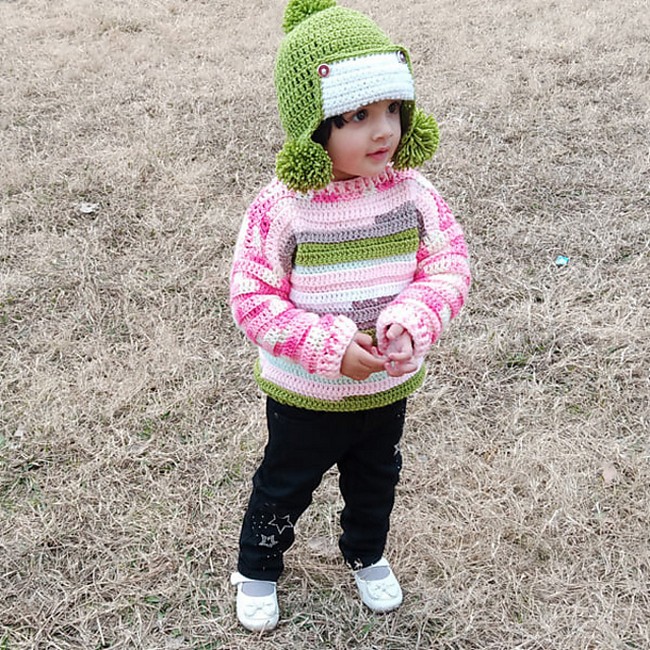 A crochet pullover for girls, so soft, so sweet! This pattern is to be made with D.K weight yarn and a G-size hook. In the pattern, plenty of photos, illustrations, and detailed instructions help you along the way. When finishing off the edges, you could add some ribbing if you like those things neat, or just leave it as it is. The best thing about this jersey yarn is that it'll make the sizing flexible, so there's no need to worry about making it fit right! This crochet pattern is a great way to make something that you can wear at any time of year. The color-changing effect will keep your little one looking cool and comfy!
Materials
different colors  (DK yarn 4ply 16-20 stitches = 4 inches)
Hook size. 4mm  G/6
Special stitch:   Double crochet
Size: Baby Toddler size 12-24 moths
Gauge : 4 dc stitches x 2 Rows= 1 inch
Length from shoulder- 14 inches
Chest size- 24 inches
sleeves size- 9-10 inches
Abbreviations
crochet
Chain
sc         single crochet
hdc      half double crochet
double crochet
sts.       Stitches
stitch
sl st.      Slip stitch
Turtleneck Sweater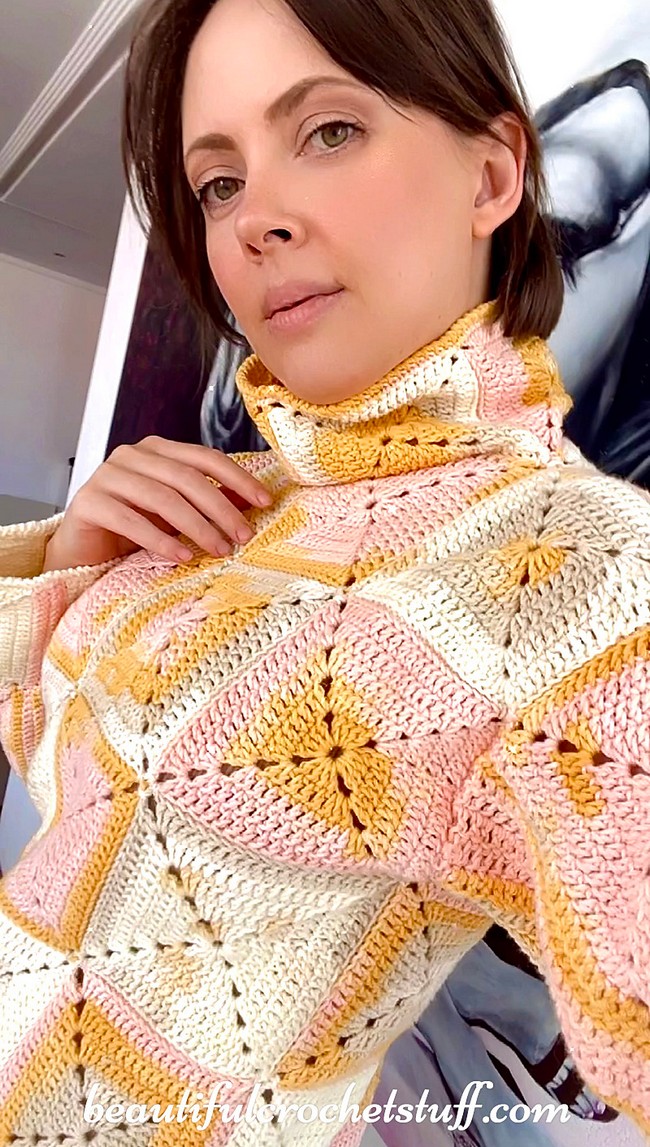 Lovers of texture, this crochet sweater pattern is perfect! You can choose your yarns to create a unique garment. This is a great pattern for beginners and intermediate crocheters. It is easy and quick to make but a fun project. With the help of the additional step-by-step pictures in the pattern, it will show you to start from scratch, how to crochet this pullover sweater with a tight turtleneck, or how to wear it open with a turtleneck. The length of the sleeves depends on your preferred fit. It's crocheted using the granny square technique, so they are easy to follow, and the graphic look of the squares makes it an original style.
Materials
Yarn: Algodon Premium Stampa, 100% Cotton, 100 gr/220 m – 700 grams (7 skeins); you can use any yarn you have
Crochet Hook: 3,5 mm
Size: S-M size, length – 58 cm / 22 3/4 in, width – 48 cm / 19 in, sleeves – 48 cm / 19 in, square – 12×12 cm / 4 3/4x 4 3/4 in; you can easily adjust the pattern to any size; please read more about below.
Abbreviations
Stitches Used: ch – chain, sl st – slip stitch, sc – single crochet, hdc – half double crochet, dc – double crochet, crab stitch.
Pullover Round Neck Sweater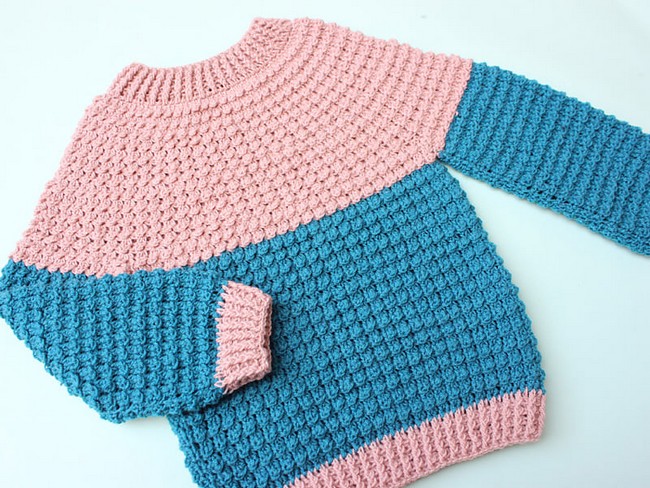 Instructional crochet pattern for a child's pullover round neck sweater. Easy-to-follow pattern, written in U.S. crochet terms with illustrations and step-by-step instructions. The pattern also includes an optional photo tutorial for using the post-stitch texturing technique to add texture to the front of the pullover and make a larger three-dimensional flower applique pattern for the yoke. It's a special gift for cute and lovely kids to wear for all kinds of dresses to match this sweater. Make in different colors or use one color for the light DK weight yarn project.
Materials
wool: Full set 250 Grams 2 colors same DK Weight Acrylic 3 ply yarn
( 5dcx 2.5 Rows = 1 inch
color A: peach
color B: Teal
Crochet hook size 3.5mm (E)
Abbreviations
Ch   chains
st     stitch
Sc    single crochet
Hdc  half double crochet
Dc    double crochet
trb    treble crochet
Sts    Stitches
Sl st   slip stitch
Chunky Crochet Sweater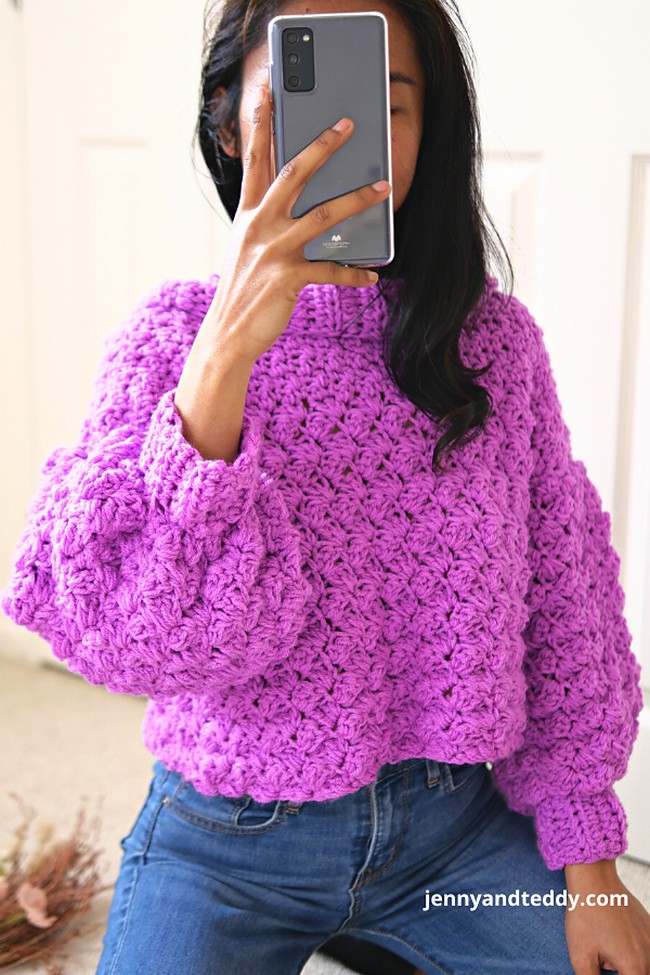 Don't get cold this winter! Make your girl stay warm with this super soft, chunky crochet sweater. It's beginner friendly and worked in the round to keep it simple. And she'll love the texture and look of knit stitches made up from single and double crochet or bobble stitch. This a great pattern for beginners who want to learn new stitches or a quick project for those who've been crocheting for years! Once you learn the basic stitches, this pullover will work up quickly. Best of all, no leftover yarn bits are floating around your house!
Materials
I used DK weight yarn around 1800 yard for size example small to medium from bust size 30-36.
In example I use Scheepjes Colour crafter DK weight.
1 skein is 100gram and 300 meter 100% acrylic: color Hengelo
6.0 mm crochet hook
Sewing yarn needle
stitch marker
Abbreviations
sc which mean single crochet
dc which mean double crochet
hdc which mean half double crochet
1dec which mean crochet decrease = crochet 2 stitch together to become 1 stitch
ch Chain
slip knot
sk  mean skip stitch
Joan Granny Sweater
Are you looking for a cozy crochet sweater? This Joan Granny Sweater is perfect for all your autumnal activities and quick to make too! With an easy rectangle construction and a few rows of simple crochet granny stitch, you can have a stylish winter wardrobe piece in no time. Try it out with accent colors, or do your favorite neutral colors for this cozy-knit design. This is a beautiful top that almost knits itself. It's the perfect piece for summer nights and days, so get started today!
Materials
4.5mm crochet hook.
5.5mm crochet hook.
Scissors
Tapestry needle
Locking stitch markers
Tape measure
Steam blocking supplies
Abbreviations
| | | | |
| --- | --- | --- | --- |
| BLO | back loop only | RS | right side |
| Ch | chain | Sk | skip |
| Clu | cluster (see Special Stitches) | Sl St | slip stitch |
| Clu-Join | cluster-join (see Special Stitches) | Sp | space |
| Dc | double crochet | St | stitch |
| MR | magic ring | WS | wrong side |
| Rep | repeat | Yo | yarn over |
Lacy Tunic
Crochet Shell Stitch is a technique you have to try. It's so much fun and looks like an advanced stitch for beginners! This crochet lace pullover is a gorgeous garment that can easily be made in any size by going up and down a size or two. Change the gauge of your stitches and make more rows to increase the size, or take away rows to decrease the size. The choice is yours when you use this simple crochet pullover pattern as a base to build your tunic.
Materials
Size 3.50 mm crochet hook
Scissors
#3 DK Wt. Yarn
Sample made using Circulo Duna
#6001 (Color A) & #7650 (Color B)
Color A – 650 (698, 744, 852, 898, 1006, 1054, 1162, 1208) Yards
Color B – 340 (98, 454, 560, 620, 682, 806, 872, 940) Yards
Solid Color – total yard needed is 990 (1096, 1198, 1412, 1518, 1688, 1860, 2034, 2148).
Abbreviations
Chain Stitch – ch
Slip Stitch – sl st
Stitch(es) – st(s)
Skip – sk
Stitch Marker – SM
Single Crochet – sc
Double Crochet – dc
Softest Lounge Around Pullover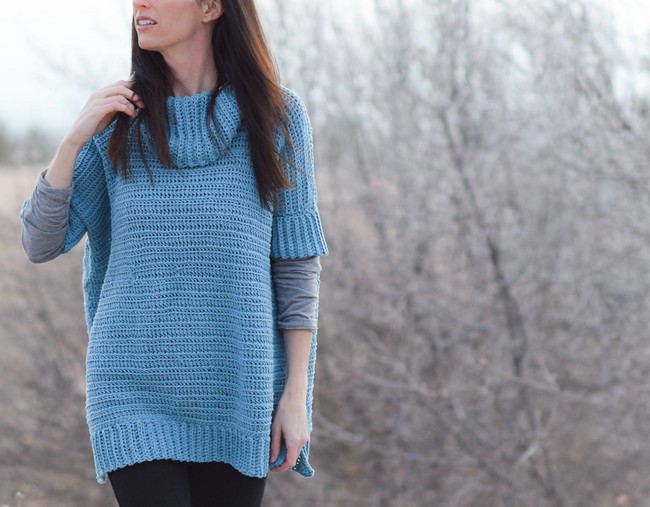 This is a super comfortable and cozy pullover.  The yarn is made from super soft acrylic, making this piece ideal for lounging around the house or working at home on your laptop. It is also a great transition piece to wear with leggings, running shoes, or high-top sneakers. The open sides and cowl neck create a feminine silhouette when worn with cropped pants. It also makes for a great cowl top if you adjust the pattern to fit your taste!
Materials
US Size H 5.0 mm Crochet Hook
US Size J 6.0 mm Crochet Hook
(6,7,8,9,9) Lion Brand Yarn Feels Like Butta Yarn in Dusty Blue 100g/skein (Pattern uses approximately 583g, 652g, 753g, 801g, 850g)
Scissors
Tapestry Needle to weave in ends
Gauge: Approximately 15 stitches & 9 rows in 4"
Pima Pullover Sweater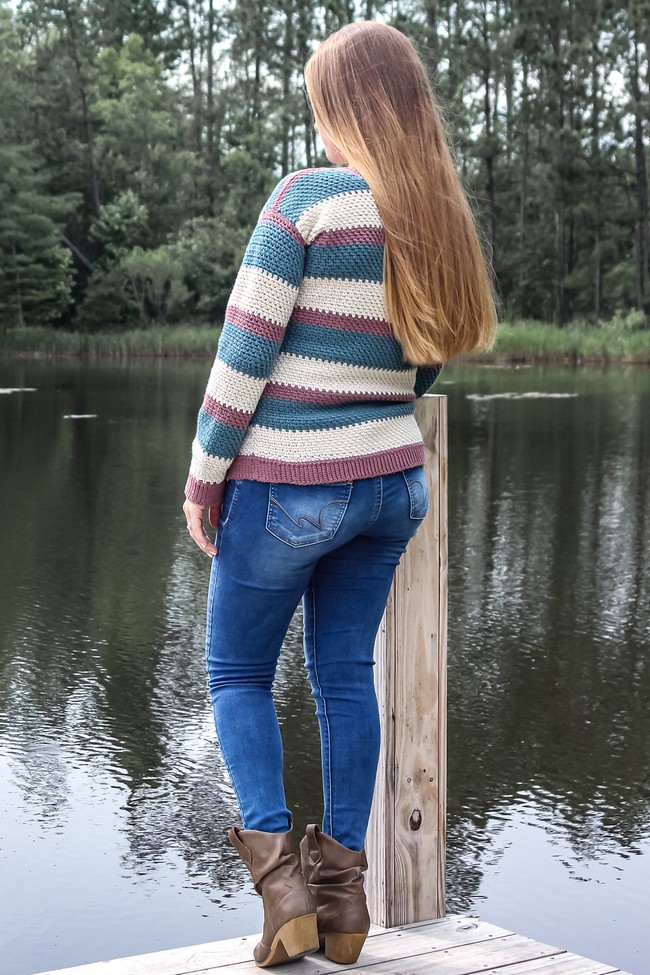 This Pima Pullover Sweater is a great crochet pattern for the beginner crocheter looking to learn drop stitches, bobble stitches, and double crochet. There's no shaping in the body or sleeves of this rustic sweater, but the neckline has a couple of shaping rounds to make a perfect crewneck fit. This free crochet sweater pattern uses medium-weight yarn in three colors – there's enough time to make a second one using another colorway! This crochet sweater pattern makes a beautiful cozy pullover for any season! The Crochet Pullover Pattern will take you from start to finish!
Materials
5.00 mm Crochet Hook
3 (3, 3, 4, 4, 6, 6, 6, 6) LB Pima Cotton
Rose Taupe – #762-140R – Color A
3 (3, 3, 4, 4, 6, 6, 6, 6) Skeins of LB Pima Cotton
Vintage -#762-099R – Color B
3 (3, 3, 4, 4, 6, 6, 6, 6) Skeins of LB Pima Cotton
Dragonfly – #762-178Y – Color C
#4 Worsted Weight Yarn in Yards PER COLOR
485 (496, 558, 682, 715, 1012, 1045, 1075, 1105) X3
Abbreviations
Chain Stitch – ch
Slip Stitch – sl st
Single Crochet –sc
Back Loop Only – BLO
sc2tog – Work two sc stitches together into one stitch for a decrease.
sk – skip
SM – stitch marker
Easy Crochet Scrap Pullover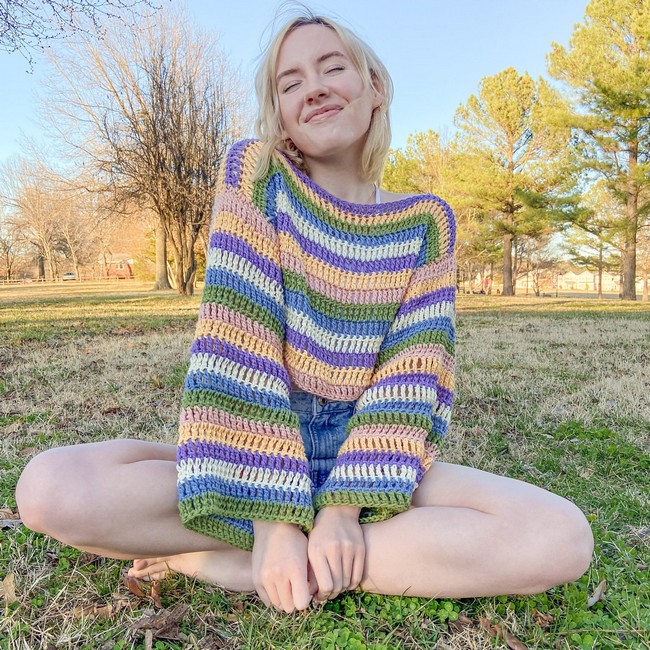 This is a fun, easy, crocheted pullover top. It is great for beginners and advanced crocheters, and the fact that you can make it in any weight of yarn means you can use any scraps you might have on hand! If you are feeling ambitious, make several of these tops in different colors using different weights of yarn. This Easy Crochet Scrap Pullover pattern is also perfect for those who want to try out their first sweater project. The finished garment can be worn as a top or a cardigan, depending on your mood and the wearability of your neckline.
Materials
Scrap yarn – How much yarn needed all depends on what type of yarn/weight you choose for your pullover. One of the versions I made is made up of various 100% Acrylic Medium Weight/Worsted (4) Yarns and the other is made of up left over 100% Cotton Medium Weight/Worsted (4) Yarn. Don't be afraid to mix brands~!
I used 400grams for the Acrylic version and 365grams of yarn for the Cotton version.
6.00mm Crochet Hook – You can size up or down in your hook depending on how "mesh-like" you want your sweater.
Scissors
Abbreviations
Ch = Chain
St(s) = Stitch(es)
TC = Triple/Treble Crochet
Tc2tog = Triple Crochet Two Together
Easy Pullover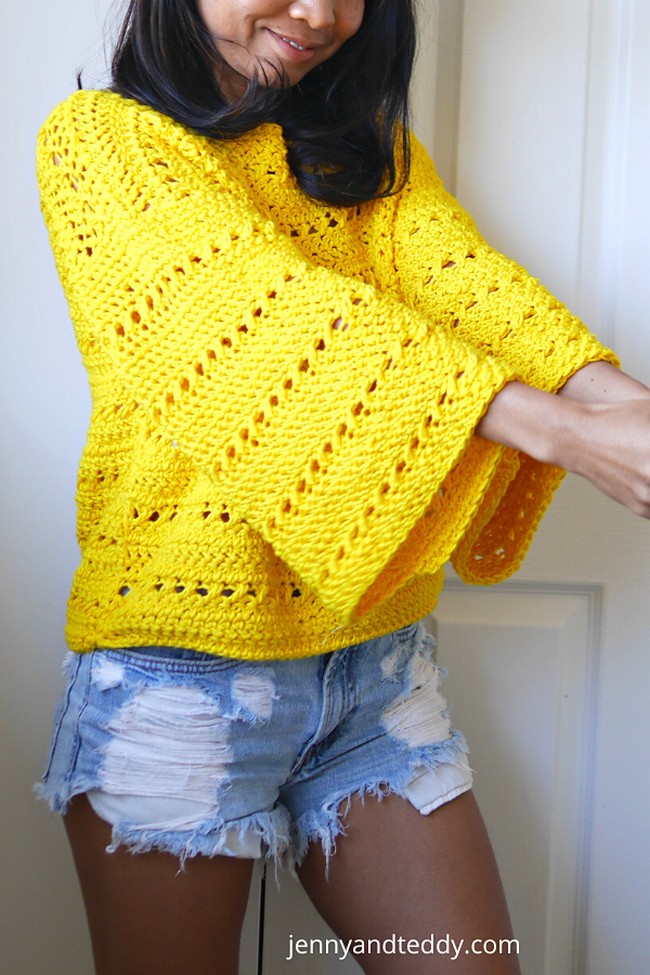 This easy pullover is a fast and easy sweater to make. The instructions are clear and include a step-by-step tutorial with pictures. They can be made in a long-sleeved sweater or sleeveless; both are equally easy to make. Make this pullover sweater for yourself or a loved one. Crochet this easy pullover pattern with two rectangles, and you are done! They are made in super bulky yarn, so they work up fast and keep you warm all season long. It is the perfect project for a warm, cozy sweater you'll want to wear all year.
Materials
– I used 4 medium weight yarn around 930 yards for sizes example, small to medium from bust size 30-38 inches.
The yarn I use in this example is shiny happy cotton from woodland. The gang just 6 skeins for size s-m.
– 5.0 mm crochet hook
– Sewing yarn needle
Abbreviations
-sc which mean single crochet
-hdc which mean half double crochet
-dc which mean double crochet
-ch Chain
-slip knot
-sk  mean skip stitch
Tunisian Crochet Sweater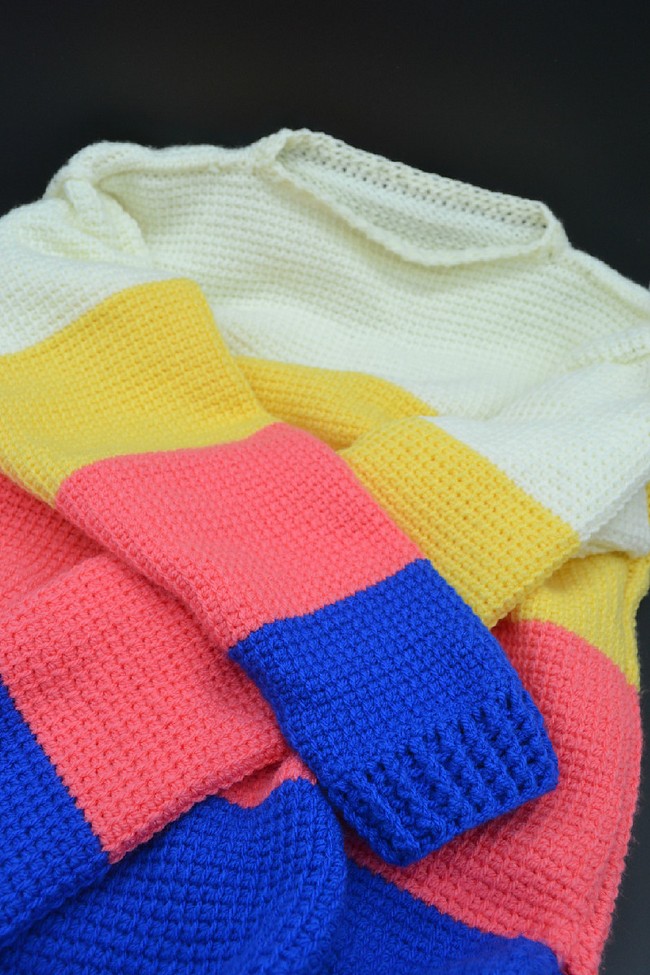 Have you ever heard of the Tunisian knitting stitch? If not, you will find it amazing, as it creates a square fabric. That stitch inspires this pullover sweater pattern. The instructions will guide you through all the necessary steps for creating this pullover piece: from making squares that are joined together through simple seams over adding an i-cord bind-off to finishing touches like fringe on the edges. It only uses the simple stitch (TSS), like the garter stitch in knitting. It keeps your shoulders warm without being bulky, and there is no seaming, so it's quicker than you would think to finish.
Materials
Yarn: Acrylic DK / Light Worsted, 4 colours: white, yellow, coral and blue. (or any other colours you like)
Tunisian Crochet Hook : 5mm (metric)
Crochet Hook: 4 mm (metric) / size G (US) / size 8 (UK / Canada)
Yarn needle to weave in ends
Abbreviations
ch – chain
sl st – slip stitch
sc – single crochet
dc – double crochet
fpdc- front post double crochet
bpdc- back post double crochet
fbsc- front post single crochet
bpdc – back post single crochet
tss – tunisian simple stitch
dc2 – decrease 2 stitches, one at the beginning and one at the end of the row
New York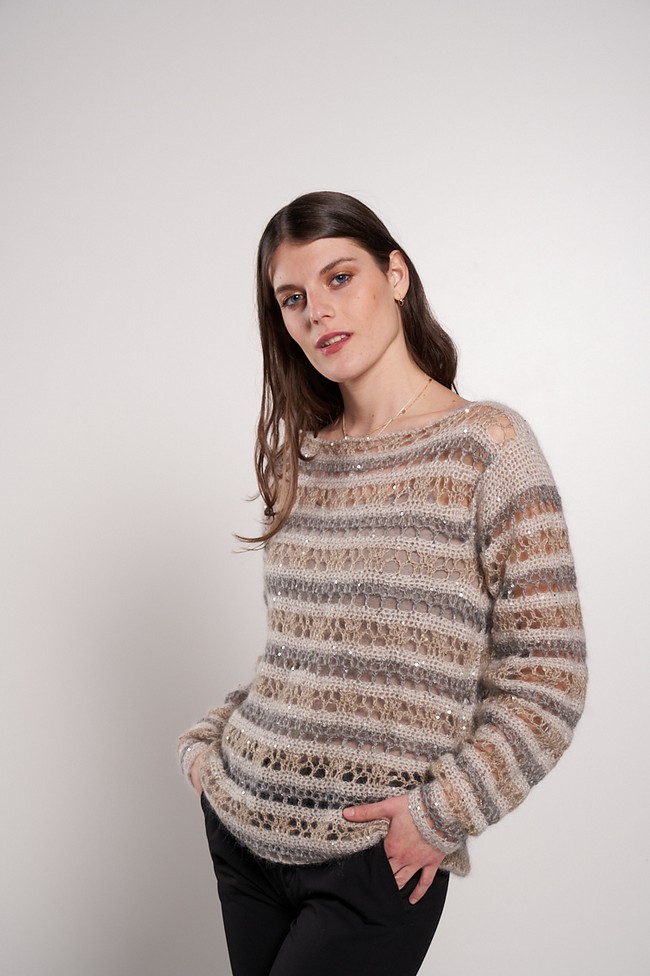 This comfortable crochet sweater is made with soft and light yarn in a cool and casual style. The collar and cuffs are embellished with sequins, giving it a fancy look that makes it stand out in any setting. The iridescent sequins in this crochet sweater bring a little bit of light and magic to your day. The New York pattern sweater is as comfortable as fun and works in three different colors. Pair it with skinny jeans, or wear it to work over a collared shirt.
Materials
Yarn: BLUEBELL col. 1355 pearl, col 349 beige, col. 8463 grey.
Crochet Hook: n. 3,5
Weight: 150 g/ 5,29 oz. (2 balls per color).
Abbreviations
Stitches Used: Chain, Double crochet, Half Treble, Treble.
Kate Sweater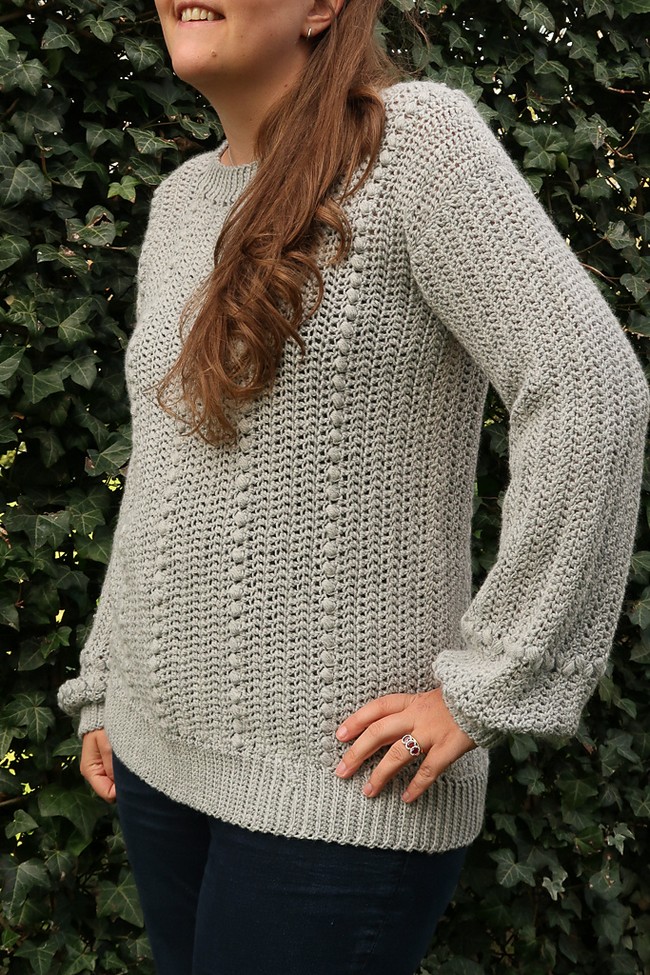 The Kate Sweater is a quick, flattering knit featuring four panels sewn together at the end. This sweater is worked in a soothing and simple stockinette stitch and is great for any season, as it looks good over anything! The Kate Sweater is the perfect layering piece for the fall and winter. You will love the beautiful cables and textured details adorning this garment, while construction works quickly in worsted-weight yarn. The Kate can be worn casually or dressed in nice jeans, leggings, and boots.
Materials
5 mm / US H – 8 hooks.
4 mm / US G – 6 hooks.
Katia Lopapeysa Basic  (lightweight (3), 70% wool, 30% acrylic, 120m/131yd, 50g/1.75oz) in color 2: 9 (10, 11, 12, 14, 15, 16, 18, 19) skeins
Tapestry needle to weave in the ends.
Abbreviations
st = stitch
ch = chain
sc = single crochet
dc = double crochet
Daisy Tee
This Daisy Tee crochet pattern pullover is made in a floral-lace stitch that is both easy to learn and fun to crochet. It's worked from the top down, has no shaping, and will work for everybody regardless of size or shape! This daisy tee is a must-have for your wardrobe.  Made from incredibly soft cotton, this crochet pullover pattern is breathable and comfortable for spring and summer.  The lace crochet stitch pattern is feminine yet subtly sexy. The sleeves are elbow length, so it keeps you covered while still looking stylish when you pair it with a lightweight cardigan or open-front jacket over the top.
Materials
US Size F / 3.75 mm Crochet Hook
Scissors
Measuring Tape
Yarn Needle or Blunt Tapestry Needle
(You may also want to have some stitch markers to keep track of the end of each stitch pattern repeat, just to make it easy to count the repeats quickly, but this is optional.)
Abbreviations
st(s): stitch(es)
sk: skip
nxt: next
ea: each
sp: space
beg: beginning
ch: chain
sc: single crochet
dc: double crochet
*Fdc: foundation double crochet
*CSSC: chainless starting single crochet
*CSDC: chainless starting double crochet