Creating DIY storage cabinet plans is a great way to store items in your home. Storage cabinets not only provide many benefits but also help in adding beauty to any part of your home. You can use them in your laundry room, garage, kitchen, or bathroom. They can help you keep things organized, so you need to consider some factors before buying one, like size, design, color, and so on. They can be customized to fit your needs and also helps you save money on materials. Our given series contains step-by-step instructions on how to build a storage cabinet that can make the most of the space in your house and also guide you in installing the premade versions along with restoring the old recycled cabinets efficiently to turn into a useful masterpiece for any area.
DIY Storage Cabinet Plans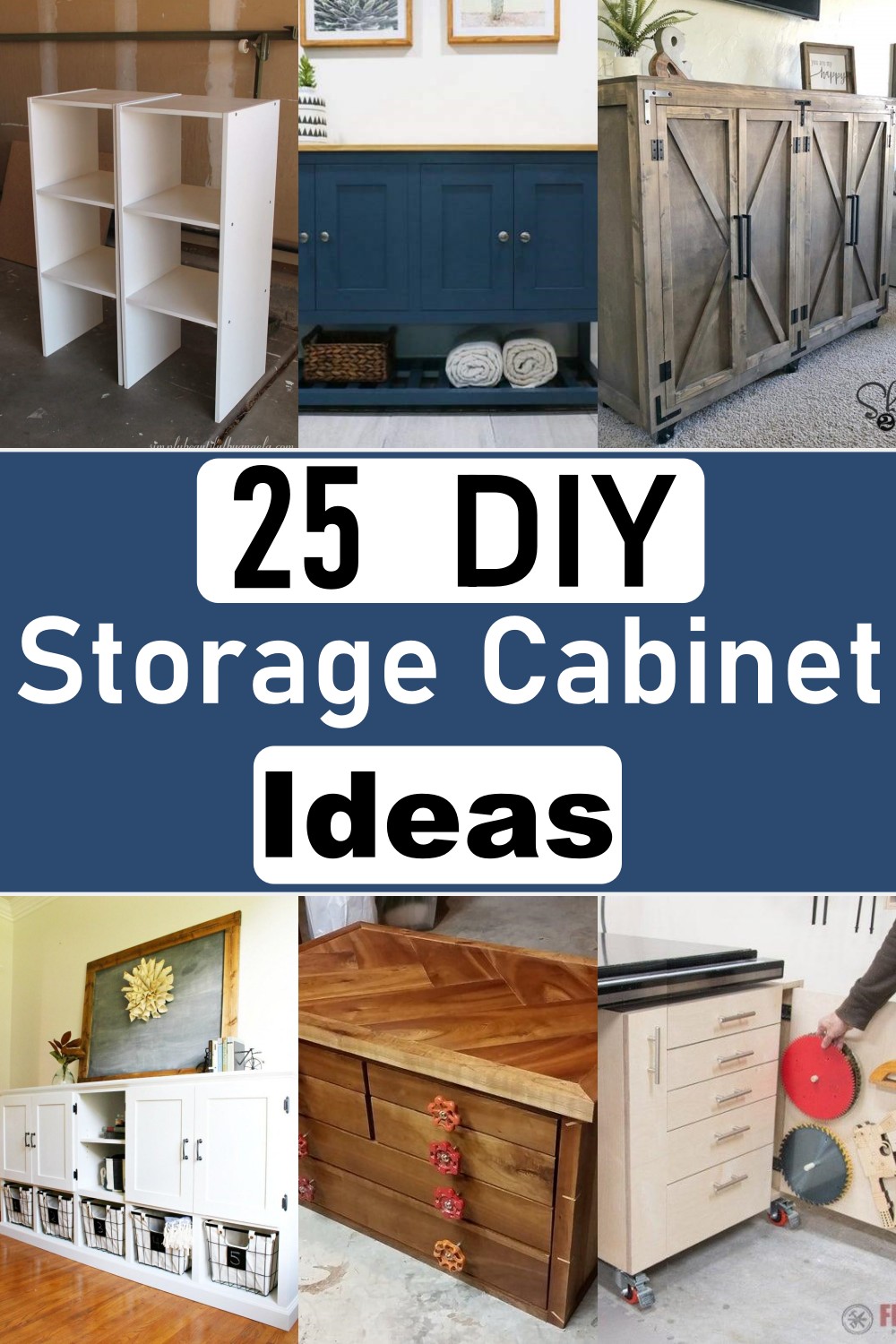 There are many benefits to building your storage cabinet. They are usually much cheaper than pre-made cabinets and can be customized to fit the needs of your space. They also take up less room in the garage than a freestanding model that may require clearance around all sides. Here is a list containing 25 DIY storage cabinet projects you can make from home. You will need a couple of power tools and materials. The making process might take some time to complete, but you would enjoy your storage cabinet after building it.
How To Build A Tall Storage Cabinet
You can make a tall storage cabinet by building a base and attaching it to the back of your existing bookshelf. The secret to making this project look like a built-in cabinet is to use the same wood flooring as in your home, like oak, cherry or maple. Get started with this easy article that includes all the steps necessary to build this project.
How To Make A Wardrobe Storage Cabinet
A wardrobe storage cabinet is a great way to organize your closet, both in terms of space and visually. It will help your clothes stay clean and untangled, making dressing easier each morning. The above video guide have instructions for building a simple wardrobe storage cabinet at a very low price. It can also serve as added décor in a room.
Mobile Storage Cabinet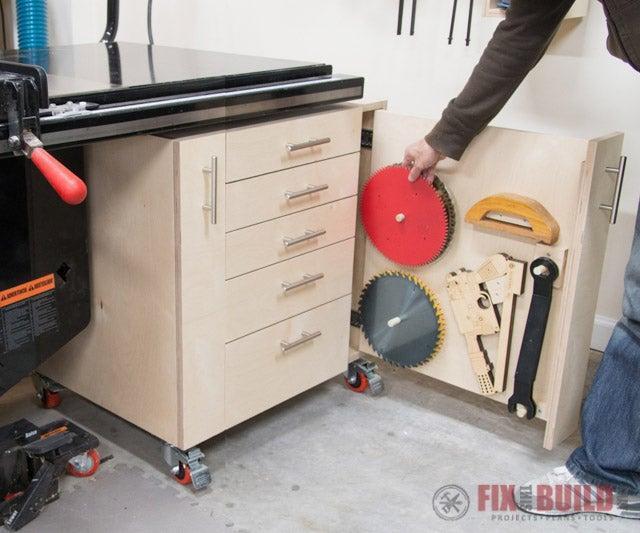 DIY Mobile Storage Cabinet is a perfect fit for either space-starved apartments or busy homes with limited storage space. The cabinet is easily assembled and can be moved from room to room as needed. This piece has four wheels for mobility, is made from sturdy wood materials, and is coated in an easy-to-clean finish. Its surface is large enough to hold books and binders, while its two drawers make it easy to find everything you need at a moment's notice.
DIY Wood Storage Cabinet
A DIY wood storage cabinet can be a great way to create extra storage in your home. This project is ideal for a novice woodworker because it's simple, affordable, and uncomplicated by intricate details. Store and organize your tools, gardening supplies and other items in this DIY wood storage cabinet. This simple design features a pegboard front and sides for easy storage of small items. The back panel is removable for easy access to the shelves kept inside the cabinet.
Tools: wood glue, screws, pocket hole jig, table saw, and tape measure.
How To Build A Storage Cabinet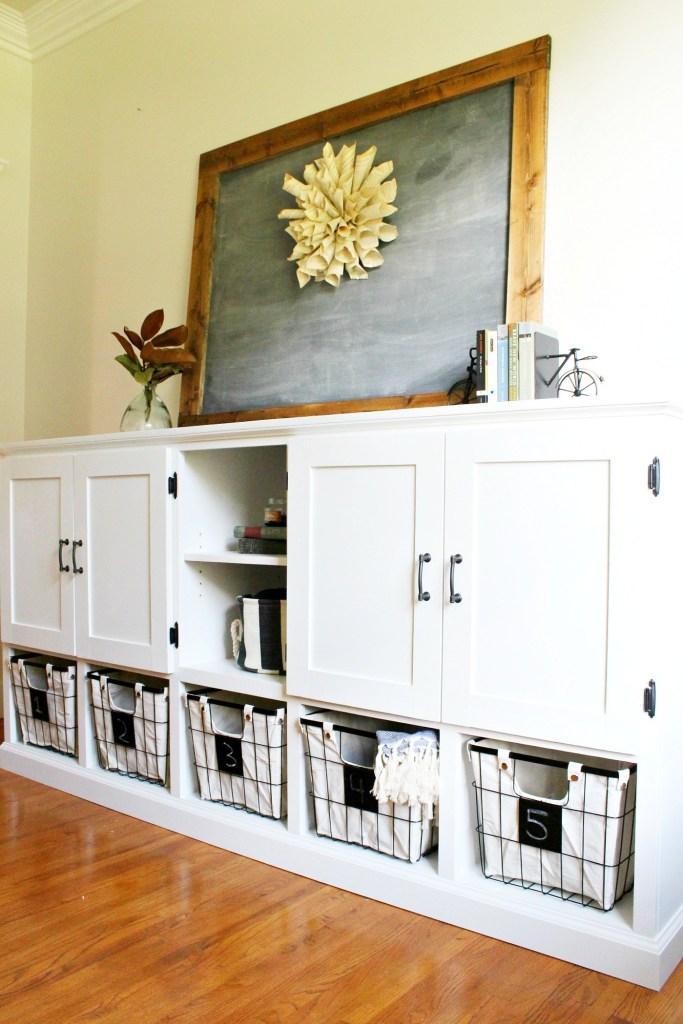 This Storage Cabinet Building a storage cabinet is a great way to save money on cabinets and give your home a custom look. The most important part of building your cabinets is ensuring that you have the proper tools and materials. You'll also need to build them based on the proper material. It will help you stay on track and complete your project on time.
Tools;  plywood, baseboard trim, cove moulding, shelf pins, glue, and screws
Easy Storage Cabinet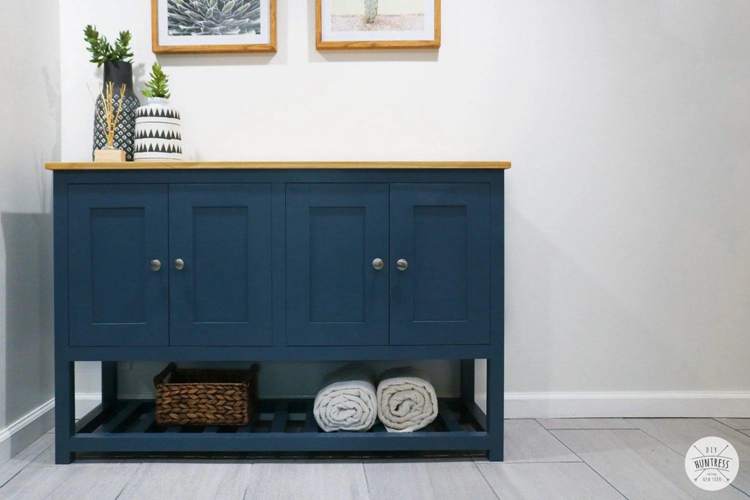 This DIY storage cabinet is simple and affordable. You can build it yourself in just a few hours, without any specialized tools or previous carpentry experience. If you're looking for a piece of furniture that maximizes the floor space in your kitchen while making it feel more organized and spacious, this is it. The durable construction and versatile design make this the perfect piece for your organization's needs.
Simple Storage Cabinet Tutorial
Our DIY Simple Storage Cabinet is an easy-to-build storage cabinet that doesn't require additional tools. The simple design is just what you need in small and large spaces! Perfect for any room of your home, this cabinet is sure to add organization to any room. The lid flips up to expose the storage space below and then slides back down to keep your things safe.
Tools;  wood, glue, stain, paint, mitre saw, table saw, Kreg jig, and screws.
X Storage Cabinet Rustic Style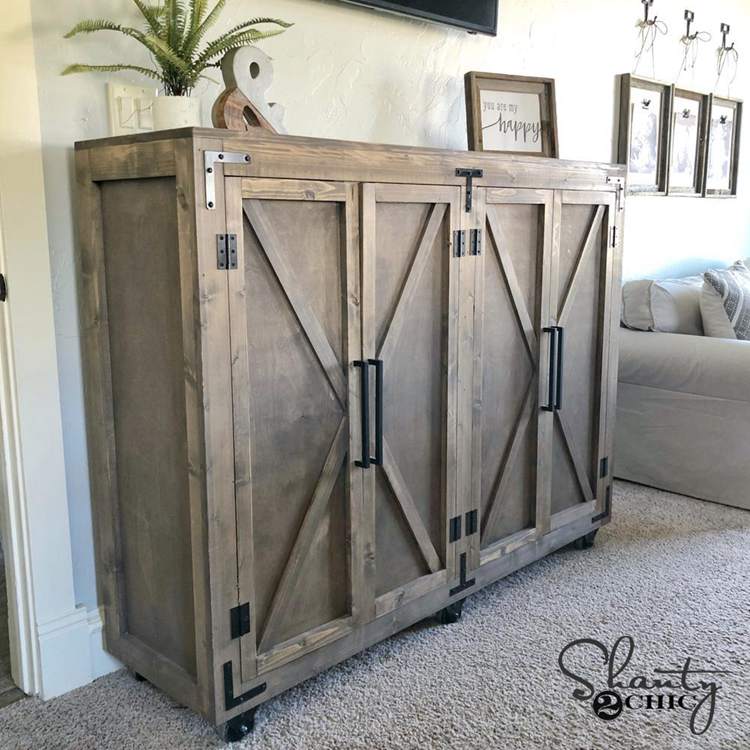 The perfect farmhouse storage cabinet that you always wanted! This DIY Farmhouse X Storage Cabinet is a great addition to any home bar, kitchen or bedroom. Easy-to-follow instructions show you how to create this beautiful piece from scratch. Ideal for apartments and houses of all sizes. This is an easy-to-build piece with an ornamental base and clean lines. There is no design like this...even though it's simple, it's a very stylish piece you will love having in your home!
Garage Cabinet
A Garage Cabinet will keep your tools and supplies organized and out of harm's way. This comprehensive range of Garage Cabinets is designed to fit almost any garage, regardless of size. Choose from a wide range of colours, styles, wood types, capacities and other features, so you'll find exactly what you need for your garage. Using this plan, you can build your garage storage cabinet for a fraction of the cost of buying one.
Tools;  plywood, wood glue, pocket hole screws, table saw, wood glue, pocket hole screws, drill, and tape measure
Rolling Storage Cabinet Plan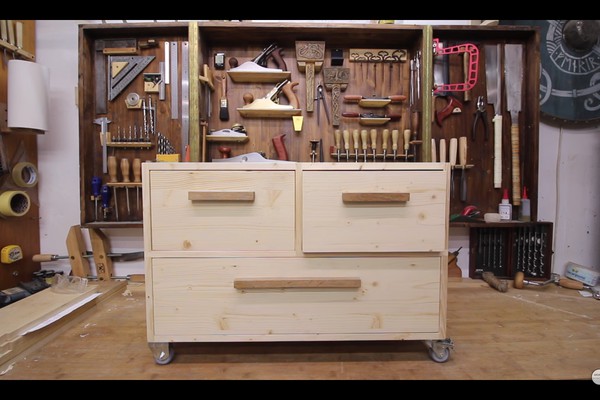 The Rolling Storage Cabinet has lots of storage space, so you can store everything you need for your next painting session. The rolling wheels make it easy to move the cabinet from room to room when needed. Made from hygienic and durable wood, it features 2 large drawers with soft-close features to prevent contents from being slammed, while the 1 adjustable shelf provides plenty of space for organizing and storing your essentials. The sleek black colour makes this item a stylish addition to any room in the house.
Pine Cabinet For Storage
This DIY pine cabinet for storage looks fantastic, and it can be made as big or as small as you need! Add to your living room, bedroom, entryway or hall closet. This piece is eye-candy and perfect for creating more interior storage space. It's perfect for stashing away your odds and ends, and the unfinished wood is just the thing to add a touch of rustic charm to your home.
Easy To Make Tool Storage Cabinet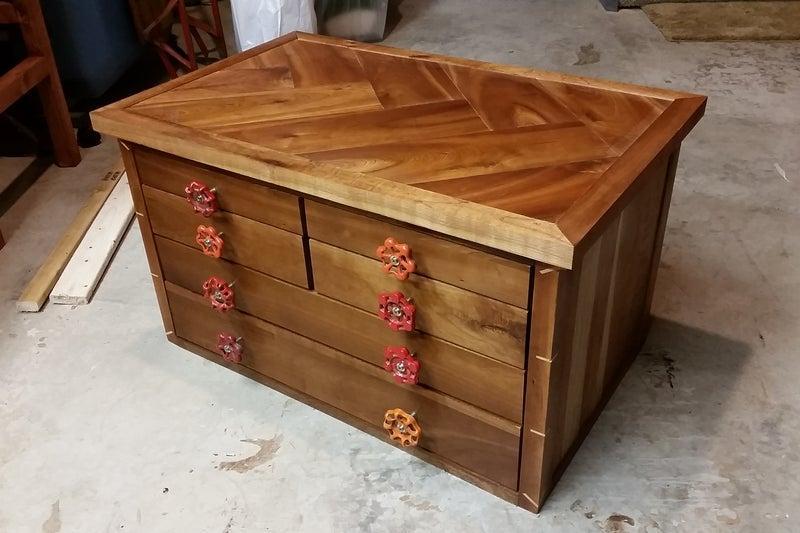 Set up your workspace in style with our tool storage cabinet. Each drawer is made from solid wood and lined with durable, protective material to keep your tools safe and ready for use. The cabinet features four drawers, two spacious side cabinets, and a large top compartment for extra storage space.
Tools; a table saw, planer, circular saw, drill, drawer slides, sandpaper, plywood, clamps, drill bits, and pocket hole jig
Kids Storage Cabinet Project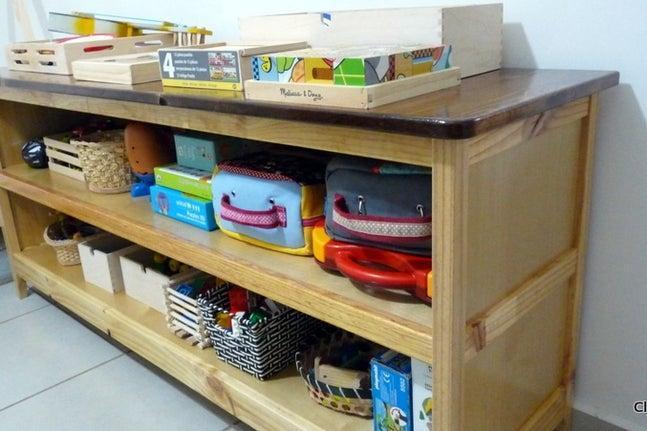 Kids love to play, and your home decor can't keep up with the mess. The DIY Kids Storage Cabinet lets you create a clean and organized space for toys, clothes, and books. Here are easy-to-follow instructions mean no carpentry experience is required. It provides ample storage space, but the most apparent feature is how much it can be customized to fit any child's needs and personality.
How To Make A Cabinet Box
When building a cabinet box, you can use plywood, solid wood boards, or even simple masonite. The key to making this cabinet box is to ensure it is square and flat. Using either a framing square or a marking gauge, measure the distance between opposite corners on the piece of wood. Place pressure at each end of the framing square and tap lightly with a hammer to mark the lines lightly. Now use a carpenter's pencil to draw the lines across the board. Cut along these lines with a jig saw so that your piece of wood matches its mate exactly.
Under Stairs Storage Cabinet
This DIY Under Stairs Storage Cabinet project is easy to build and, best of all, inexpensive. Spend more time on what you love and worry less about finding a place for that extra stuff that sits on your floor. This DIY understairs storage cabinet is ideal for a small space. It can be used to store your records or other things. In addition, the doors are removable, so you can take out the drawers and use them as an open cabinet or even hide away cleaning supplies or clutter in the corner of your home.
 Shoe Storage Bench Project
No more shoe clutter! Say goodbye to unattractive, messy rooms with this shoe storage bench. It has four spacious drawers and is the perfect place to collect and store your shoes. You'll be able to easily find the pair you want without needing to dig through piles of shoes on the floor. Plus, its simple design means there's no need for a custom installer: take it out of the box and add the self-levelling casters for easy mobility around the house.
Easy To Make Storage Cabinet
Make room for everything in your home with this DIY storage cabinet. This modern piece is perfect for storing small appliances and bookshelves or adding extra storage to the bedroom or kitchen. The minimalist design will coordinate well with any decor style. Its large size gives you ample storage, while its simple design will fit almost anywhere. Quickly and easily assemble your storage cabinet from IKEA with these easy-to-follow building instructions.
Basket Storage Cabinet Plan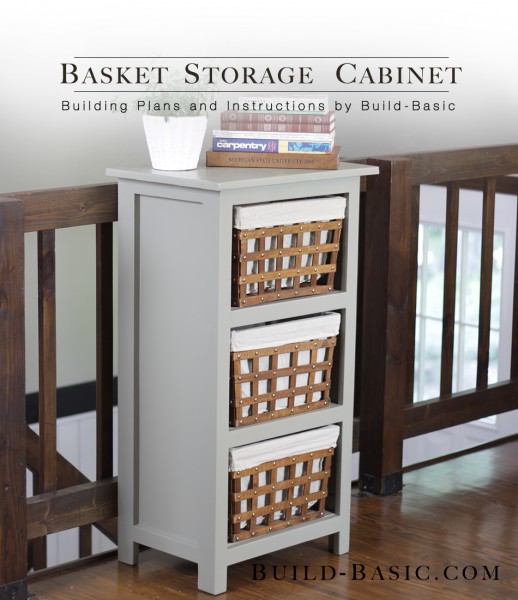 Your laundry room is suitable for storage, but it's also an area of the house that can get cluttered quickly with all of your cleaning supplies, linens and accessories. Solve this problem by building this cabinet — that fits right into the doorway between your garage and garage — to keep everything organized.
How To Make Storage Cabinet For Clothes
This DIY Storage Cabinet For Clothes is a project that you can make yourself. It's easy to build, and the materials are inexpensive. Mount this organizer on the wall, and you'll have plenty of space to hang all your favorite outfits while keeping them within reach. The given DIY Storage Cabinet for Clothes is ideal for any home and can be used to store clothes, books, dishes, and more.
Rolling Storage Cabinet Creation
The Rolling Storage Cabinet is a versatile storage solution for small spaces. Designed to fit behind your bed or in the corner of a room, its two front wheels allow it to roll easily from place to place. The top shelf can also be removed to allow extra storage space by leaving off the cabinets' depth, making it even more versatile. Ideal for storing anything from clothes and linens to toys and books, this piece makes for an excellent addition to any bedroom, playroom, or closet.
Tool Storage Cabinets For Garage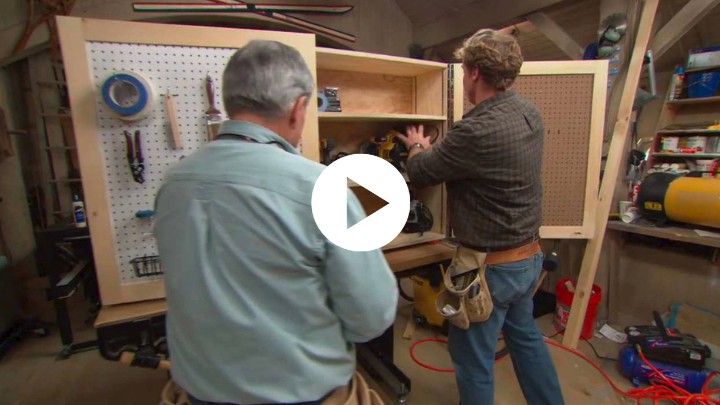 These DIY Tool Storage Cabinets are made to neatly organize and store your tools, parts and supplies. The cabinet is designed with a large work surface, drawers, pull-out tool tray and bottom shelf, all organized within an easy-to-move cart. It is not just useful in the garage, on a job site, or workshop; this mobile tool storage unit will come in handy anywhere you need to keep your supplies organized.
Tools; a table saw, circular saw, plywood, pocket hole jig, pocket hole screws, tape measure, and wood stain. Cut all the materials needed for the cabinet and assemble them with screws, and glue
Wine Storage Cabinet Plan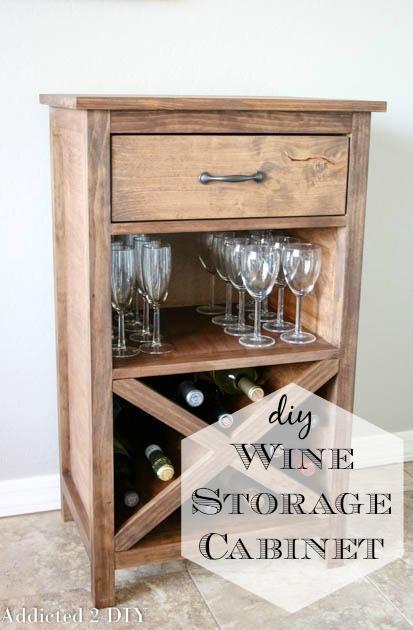 Your best wine deserves its own home, so why not give it one? This DIY wine storage cabinet is easy to make and easy on the eyes. It even has recessed lights that provide added glow, making any bottle of vino look like a million bucks. It is easy to assemble and will be a beautiful addition to your kitchen or bar.; veneer plywood, pine board, Kreg jig, Kreg Rip-cut, wood stain, polyurethane, circular saw, miter saw, brand nailer, drill, and impact driver.
Chevron Storage Cabinet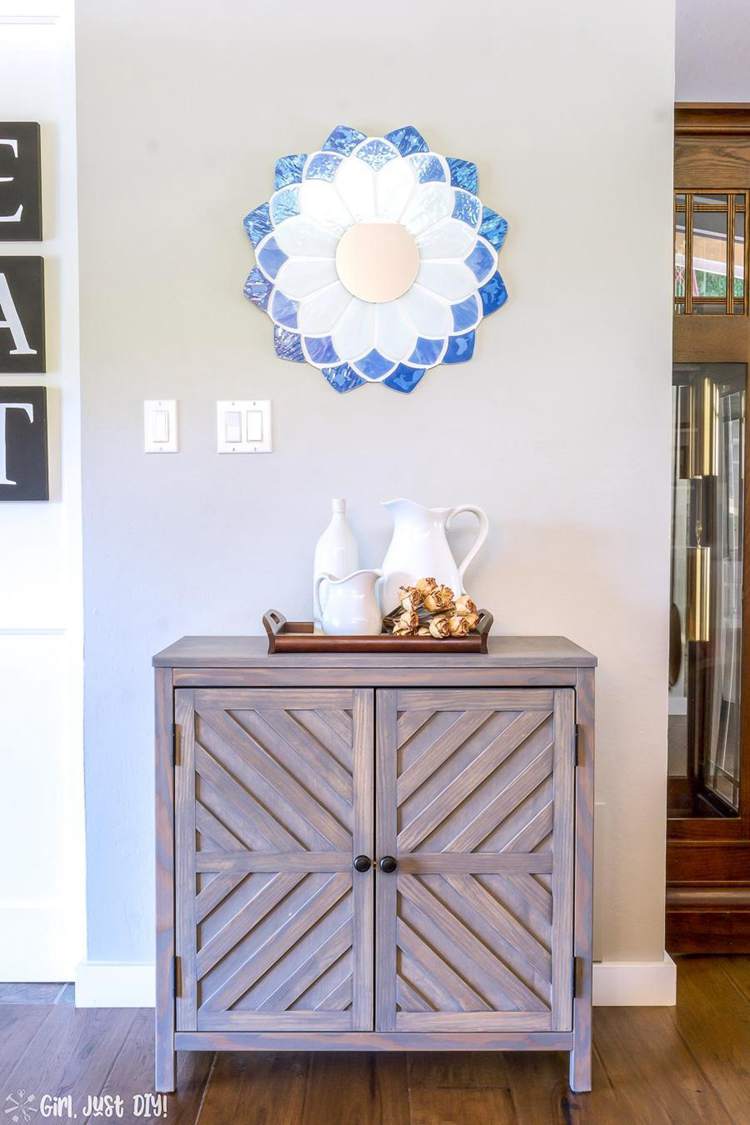 Transform your space with a unique DIY project! This easy-to-follow DIY Chevron Storage Cabinet can be made using standard power tools in one day and is the perfect solution for storing toys, craft supplies, or anything else that needs a home in your child's room. Start by building the cabinet's frame out of simple 2x4s, then work around finishing the details like doors and drawers...
Tools   cabinet include wood, mitre saw, table saw, wood glue, pocket hole jig, pocket hole screws, wood stain, hinges, and drill
Wall Mounted Storage Cabinet
You've seen the one-stop and high-profile hanging storage solutions, but have you ever encountered one that does both? With this Wall Mounted Storage Cabinet, you can store all your tools and supplies in one place. This was built for efficiency—it offers a wide top shelf and multiple bin shelves to keep items neatly organized. Securely hold your stuff on the wall while keeping it off the ground, where it belongs. Sturdy wood construction makes it a long-lasting piece, while the sleek white finish and glass doors give it a modern look. Open shelving on the bottom for cosmetics, linens, or other items you want to display.
Tools;  plywood, puffy knife, nails, deck screws, wood screws, nailer, stud finders, speed square, and miter saw.
Storage Cabinet Using Cheap Cubes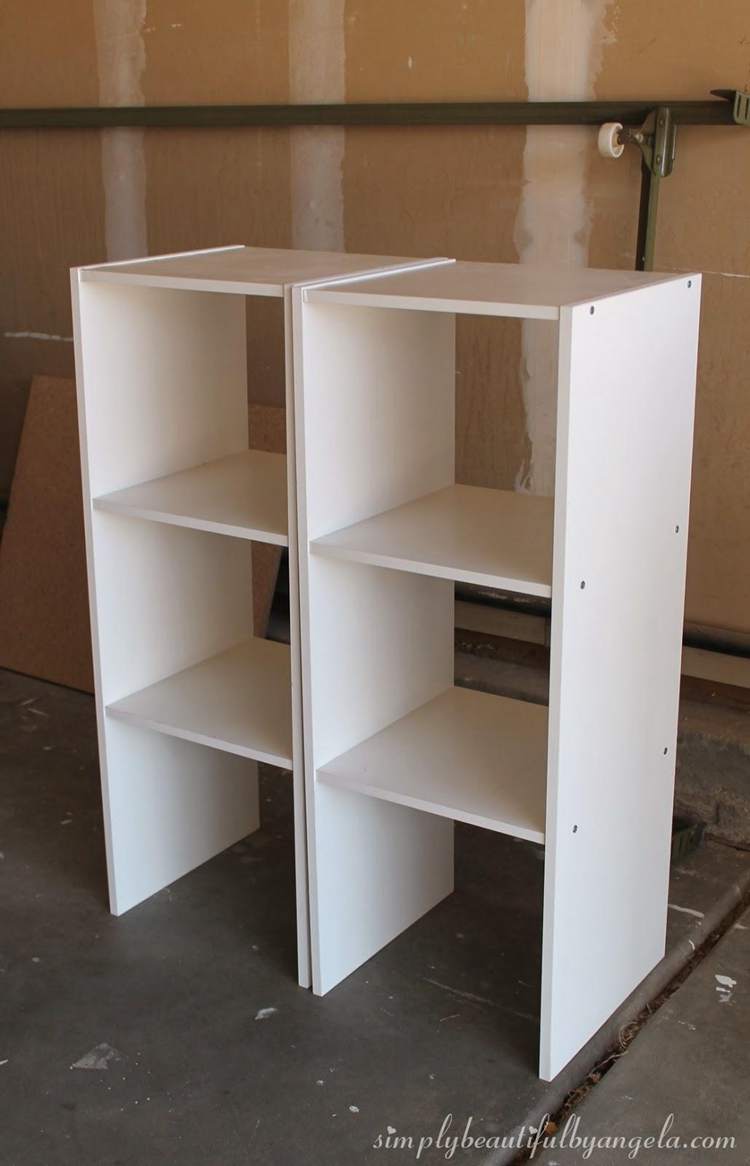 This is a simple and inexpensive storage solution for your home or apartment. The DIY storage cabinet was made from metal cubes, which could be easily found in any hardware store. It's easy to assemble and disassemble, which allows you to move it around easily without breaking anything. These cubes are easy to build, move around, and fit into all kinds of spaces.
Conclusion
Storage cabinets are a great way to make less-used items easily accessible at home. Not only do they provide extra storage space, but they also organize your space, keeping everything in its proper place. It can be especially useful if you store bulky or awkward items like cookware, blankets or sports equipment. If you're looking for an easy way to add more storage space in your bedroom, basement or garage, a DIY cabinet project could be just what you need.