Love DIY ideas? We've found the best bathroom organization and storage solutions that you can make yourself. A few small DIY projects can transform your bathroom into a place you want to be instead of a place you dread going. Bathroom organization is necessary to keep your space functional and well-kept. A sink full of clutter can make it difficult to prep for the day ahead, so take a look at these 17 easy DIY bathroom storage ideas to help you get the most out of your bathroom space. These DIY storage solutions will help you get your bathroom in tip-top shape.
DIY Bathroom Organization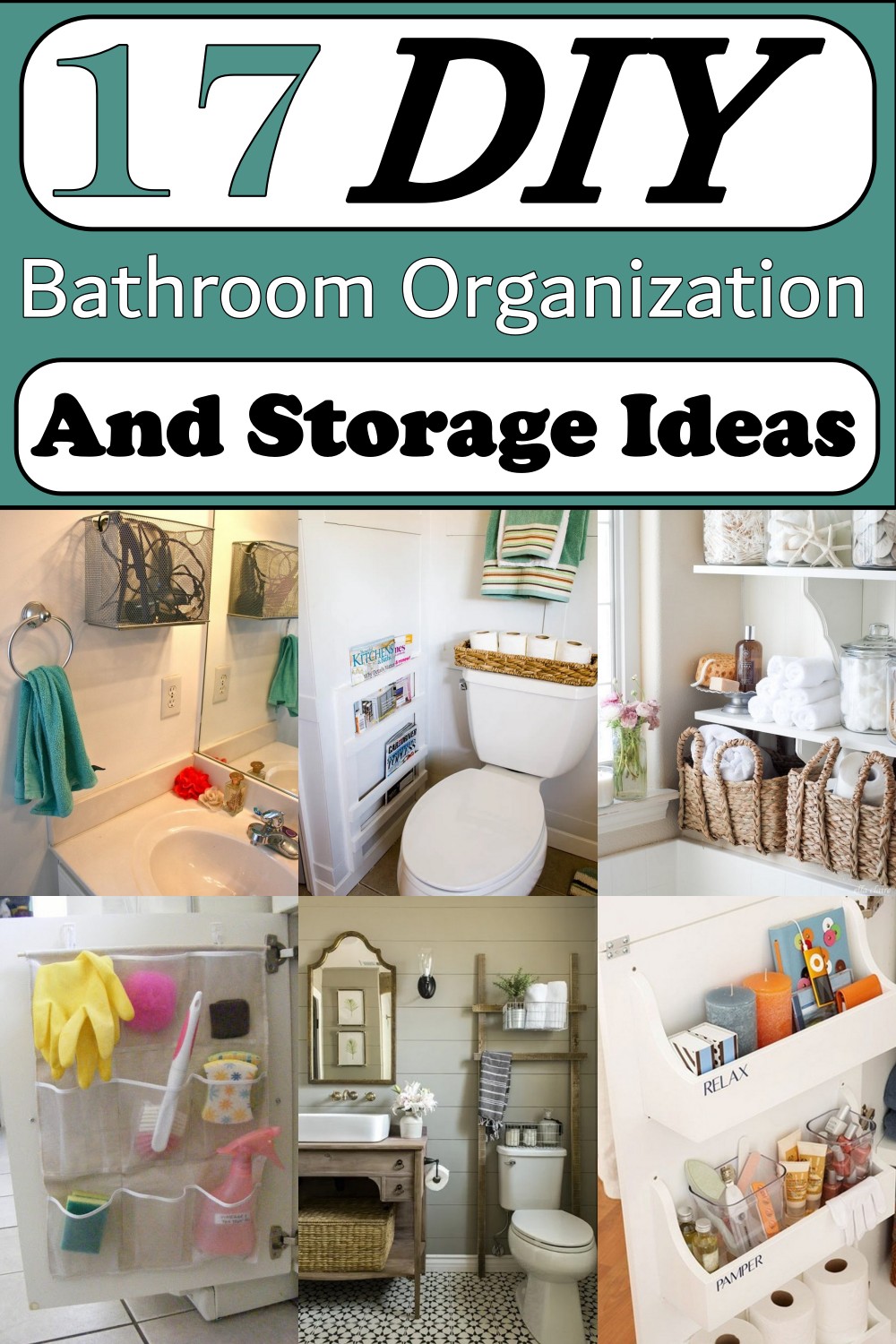 Now is the time to get your bathroom organized. These DIY bathroom organization and storage ideas will make your life a lot easier and bring some color into the room. Make your bathroom look cool and stylish with these easy hacks! When it comes to your bathroom, the more organized you are, the less overwhelming it will feel. With simple tips and tricks, you can create a soothing retreat space where you can perform your daily grooming tasks and make them easy!
Tips And Ideas To Make Your Bathroom Pure Perfection:
Bathrooms are a place where you can relax and enjoy the time. However, it's also important to keep it neat. This becomes even more important if you have a small bathroom because the space is limited.
Here are some bathroom storage tips and ideas that will help you make your pure bathroom perfection:
Use glass jars for storing cotton swabs, makeup brushes, etc. It looks classy and gives an organized feel.
Hang towels in a corner instead of placing them on the floor or racks that take up space in the room. This way, you can save some space and keep your towels clean and dry by keeping them away from moisture or dampness, which may cause mildewing of towels over time.
Use decorative boxes for storing old magazines or other items you don't need much in your daily life but still want to keep around for their nostalgic value (like old photo albums).
Use baskets or bins instead of drawers to store clothes neatly inside them - they look pretty and help quickly create an organized space!
Hair Tool DIY Bathroom Organization Cabinet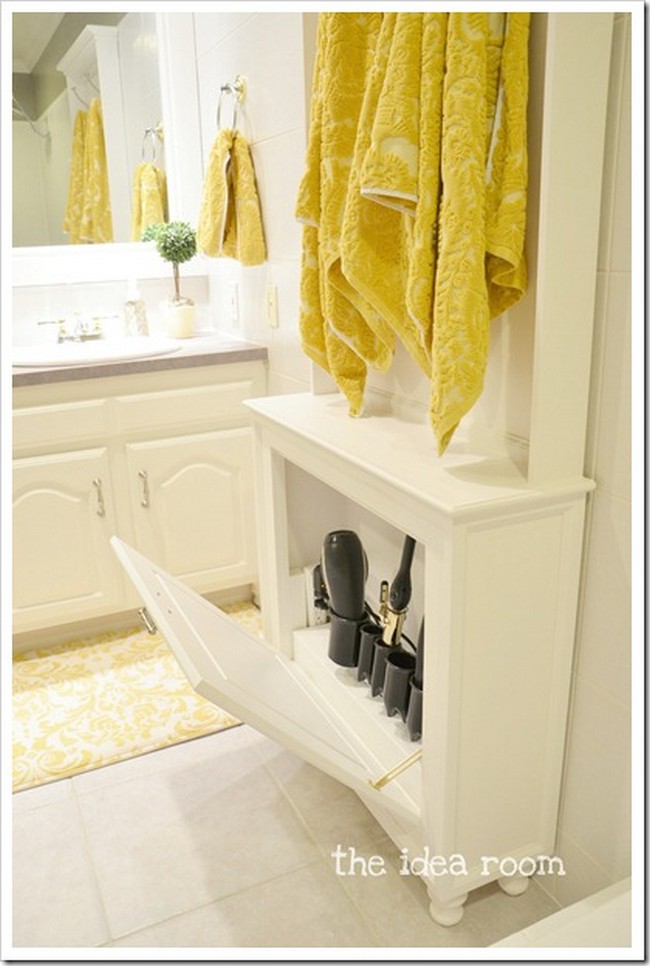 Give yourself space in the bathroom with our Hair Tool Storage Cabinet. This cabinet is perfect for storing and protecting your hair brushes and curling wands in an organized fashion. This piece will keep you looking great all day long with enough space for all of your accessories. The sturdy wood construction provides durable style for years to come. Featuring a sleek, modern design and a neutral finish, it's sure to fit into any space.
Bathroom DIY Magazine Rack Idea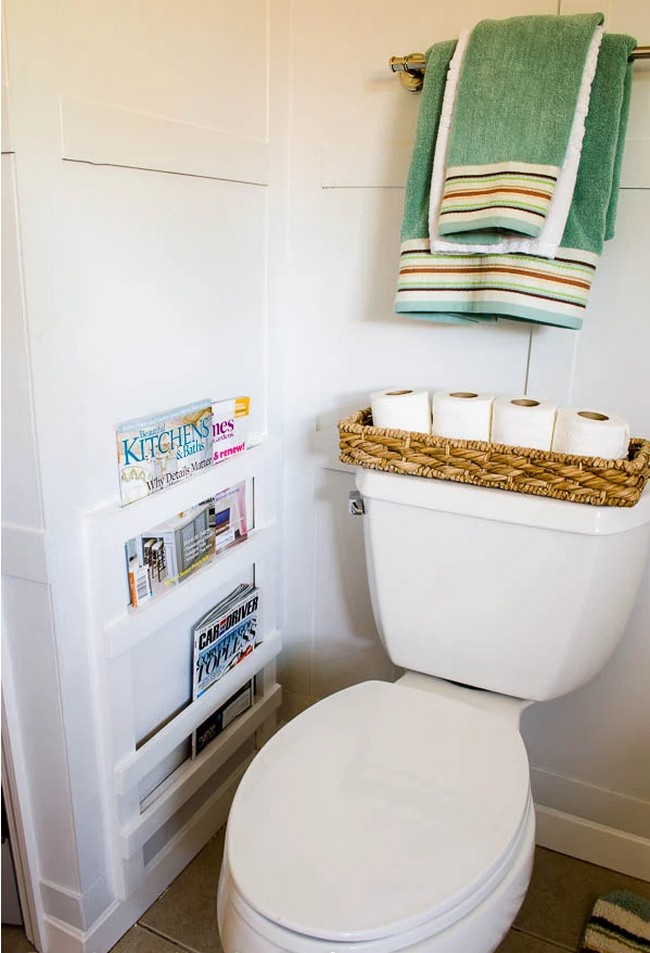 Are you looking for the perfect bathroom magazine rack to add storage and style to your bathroom? You're lucky: we've created this DIY Bathroom Magazine Rack just for you! This easy, step-by-step project can be completed with simple tools and materials. A perfectly organized bathroom will make all your essentials available when you need them. So, Organize your bathroom with this DIY magazine rack. It features space to hold toothpaste, a place to hang towels and magazines, and room to store extra toiletries on top.
Rustic Wooden Shelving Project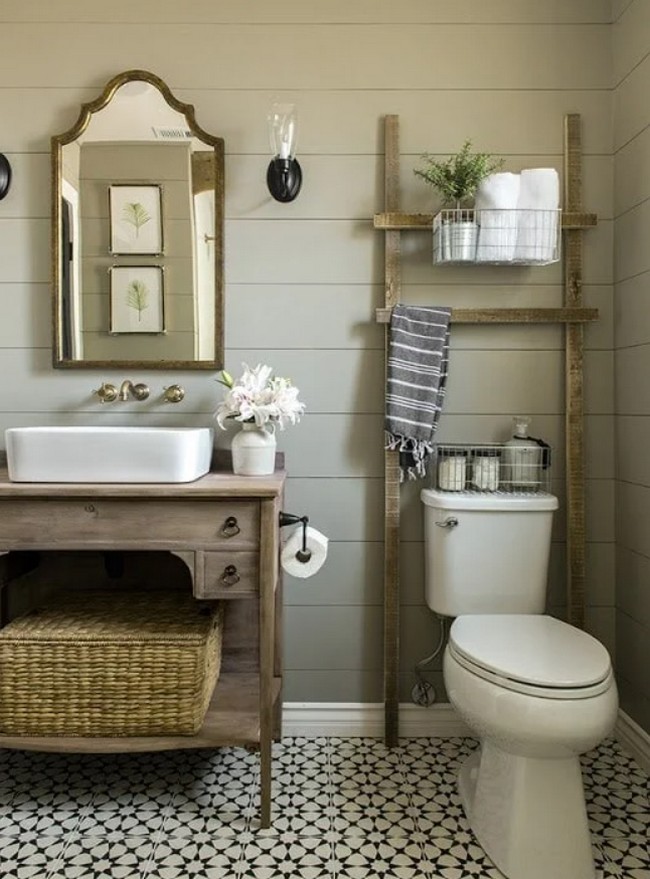 This rustic wood bathroom appliance storage shelf is perfect for your bathroom or kitchen. You can use it to store anything from your favorite perfumes, beauty products, and towels to electric toothbrushes or even conditioners or sprays for styling your hair! You can build your rustic wood bathroom storage project with this easy to follow step by step instructions. Kids, adults, and seniors will all enjoy the efficiency of this handy and durable rustic wood dresser.
DIY Linen Wooden Shelve Idea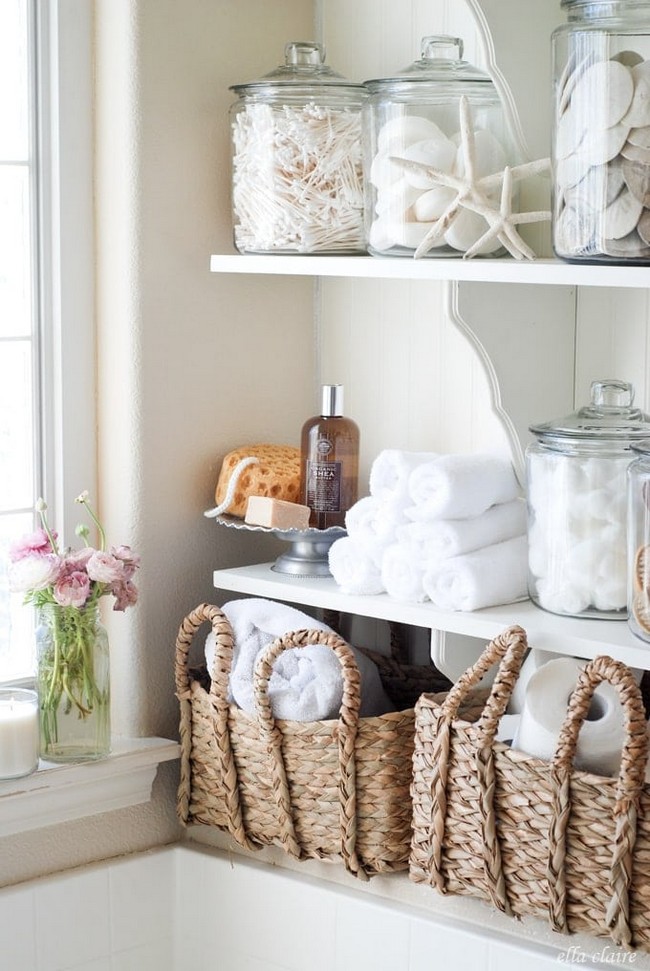 If you want to save space in your bathroom, you can make some DIY linen shelves. This way, you can get all your towels, toiletries, and other bathroom equipment off the floor and onto shelves is a great way to keep your space tidy, but it's also one of those things that seems like a lot more work than it is. Put up a set of custom linen shelves in minutes with these directions.
DIY Bathroom Appliance Storage Idea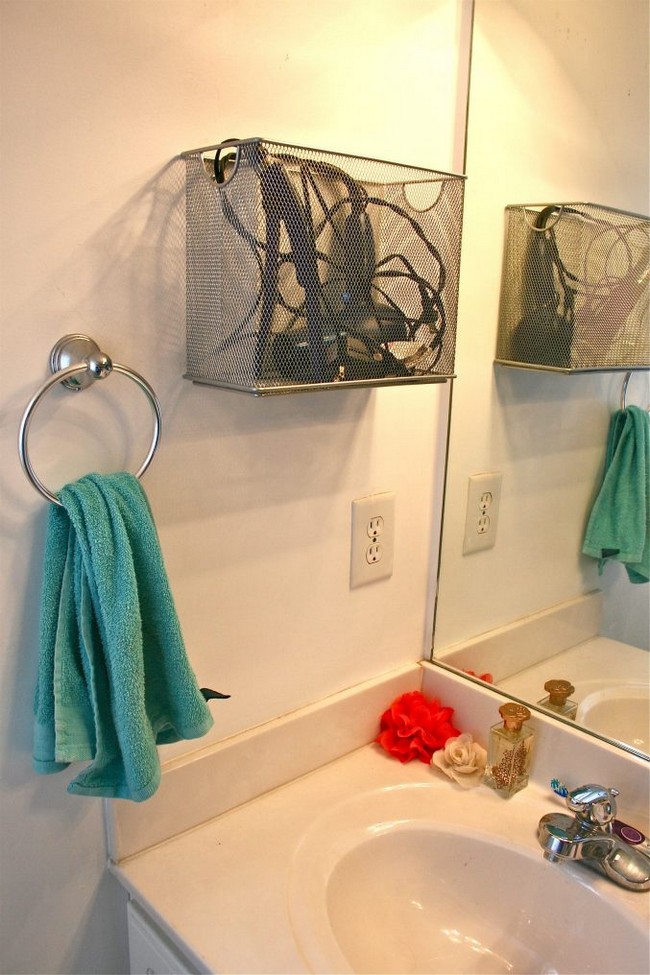 Get your bathroom appliances off the counter and out of sight with this stylish over-the-door mount, which has room for hairdryers, curling irons, and more. Your bathroom can get messy quickly, but not with this wall mount. It keeps your bathroom neat while keeping your closet-cluttering hair tools off the counter. This cost-effective wall mount for bathroom appliances helps you organize your bathroom. Its boxy shape keeps items securely in place, even when fully loaded.
DIY Pocket Organizer Hacks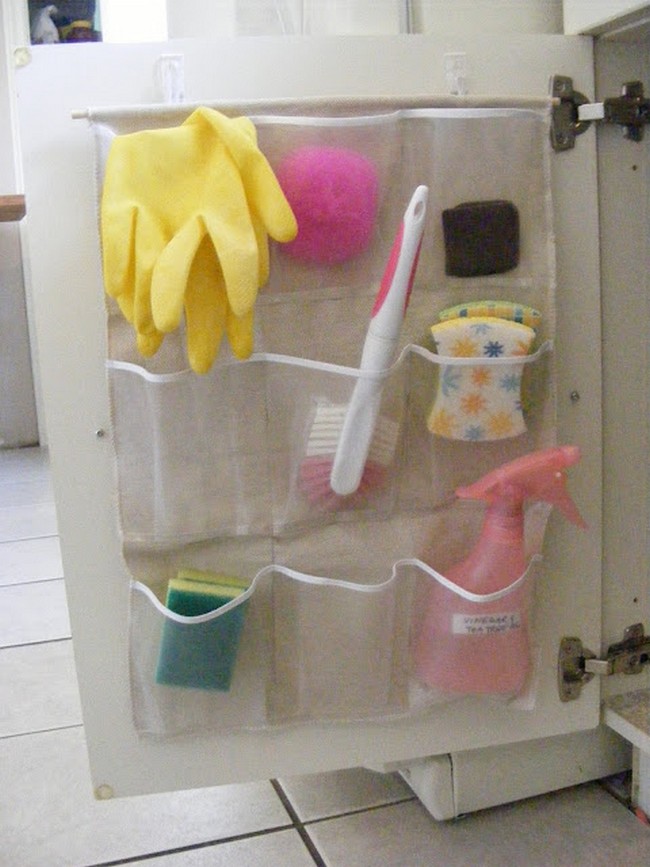 Add a little color and life to your bathroom with this nifty DIY pocket shelf organizer that keeps everything within reach while keeping clutter to a minimum. This DIY bath organizer can store all your bathroom appliances in one place. This project will come in handy if you're looking for a way to keep things organized and neat in your bathroom. The pocket organizer is perfect for keeping your toothbrush, razor, and other small items hidden away until you need them.
How To Update A Bathroom Decor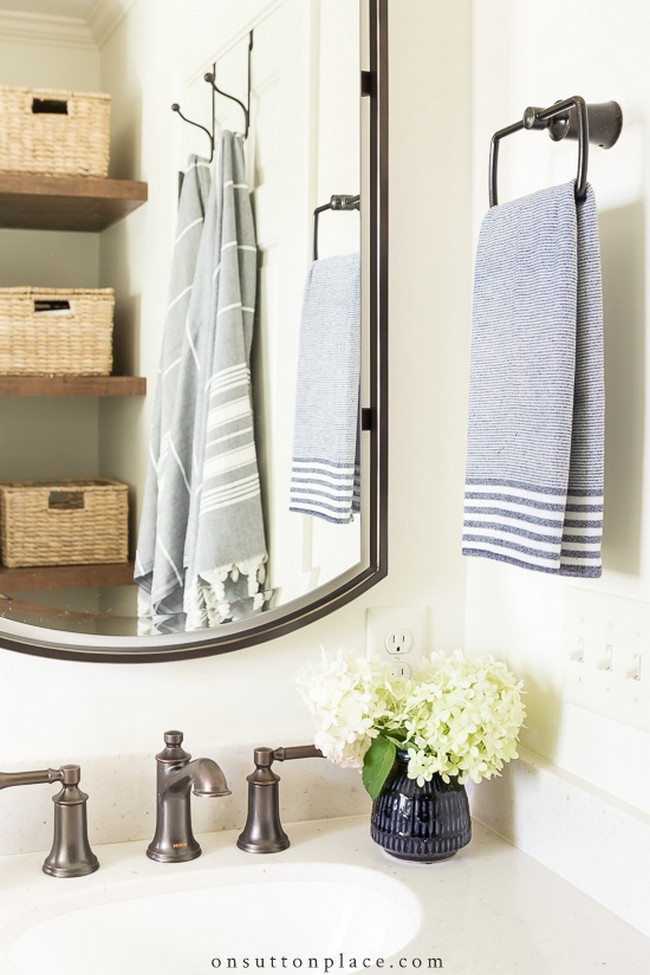 Whether or not you are in the process of renovating your bathroom, you can update with these simple DIY tips that will cost you very little money. They include using space wisely and creatively to achieve efficient storage solutions for all your bathroom appliances. If you want to update your bathroom and give it a modern touch, then it is highly recommended that you consider adding some new accessories. These things will help you take your old bathroom and give it a contemporary feel.
Cabinet Door Storage Bin Plan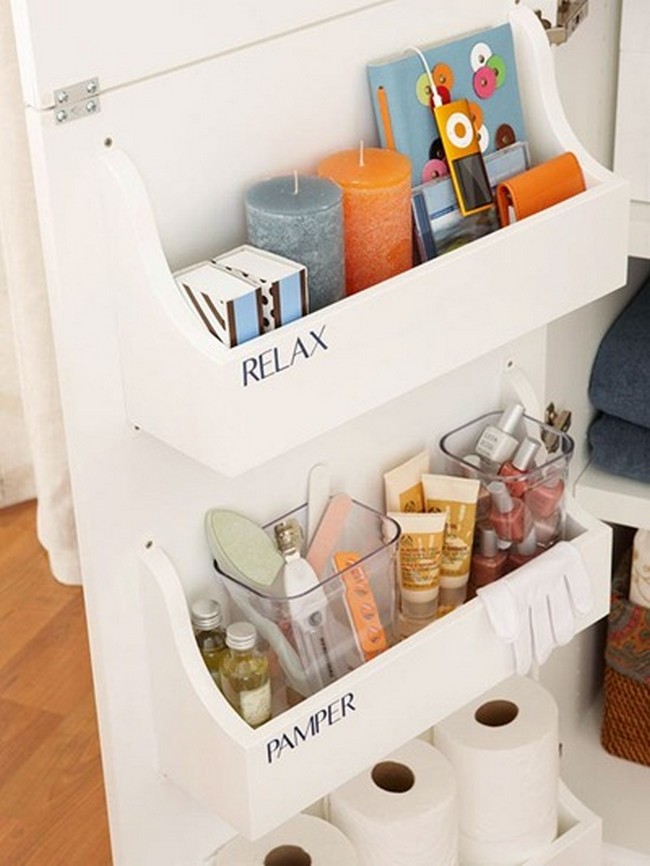 This is the project for you if you want a great way to add storage space to your bathroom without taking up any floor space. These cabinet storage bin plans will help you find a place for all your bathroom products. They keep your bathroom tidy and organized. Follow the instructions below to make this cabinet door organizer that works well for many small items in your bathroom. This project is quick and easy to make, and it can be built with any wood you have on hand.
Bathroom Ladder Storage Idea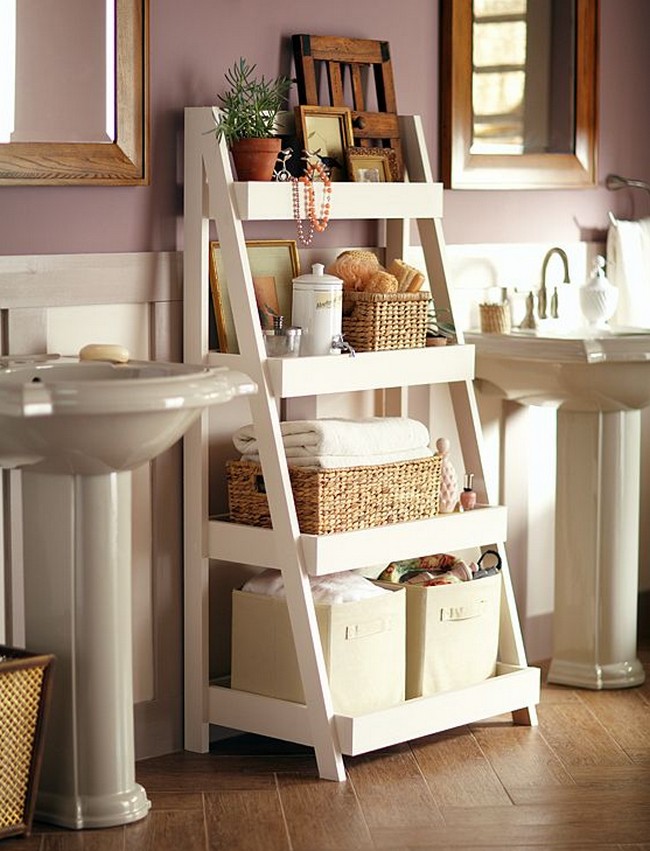 This Bathroom Ladder Storage is a charming addition to any home. It's also perfect for creating more space in your bathroom and helps you organize our bathroom accessories, cosmetics, and toiletries. The ladder-style design keeps everything within easy reach, making it even more convenient. Bathroom Ladder Storage is ideal for all of your bathroom items. Shelves, cabinets, and drawers ensure you have the room you need to store your hair dryer, curling iron, and more.
DIY Bathroom Organization Containers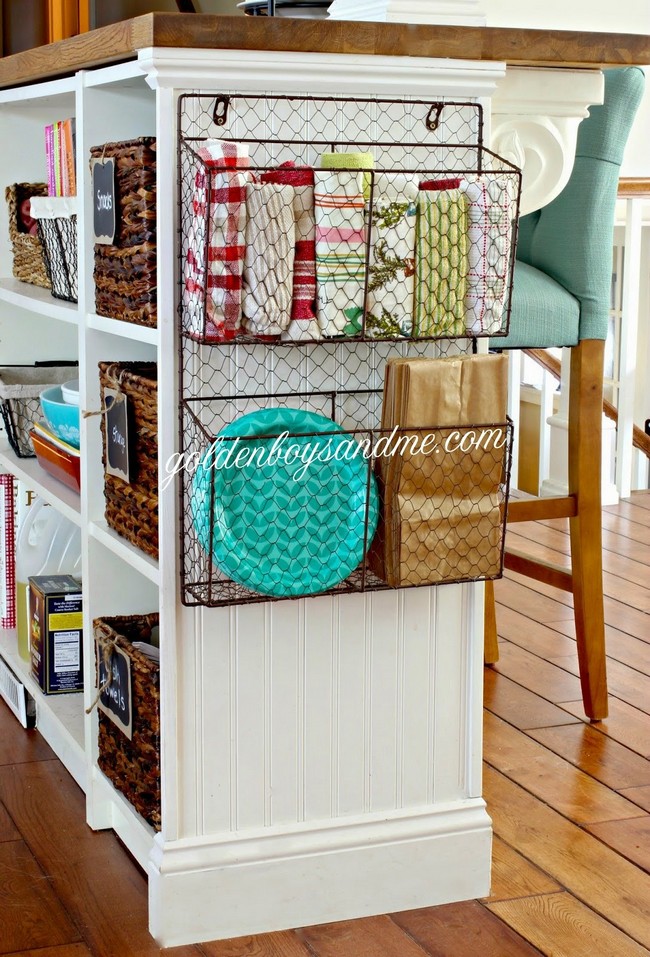 If you're looking for space-saving storage in your bathroom, these Wire Baskets are great for storing towels and toiletries. The neutral color will fit any décor, and these wire baskets look great hanging or standing up on a shelf. These Wire Baskets are a great way to keep your bathroom organized and clutter-free. These baskets offer an easy and clever solution to storing your toothbrushes, combs, and other bathroom supplies.
Simple DIY Bathroom Organization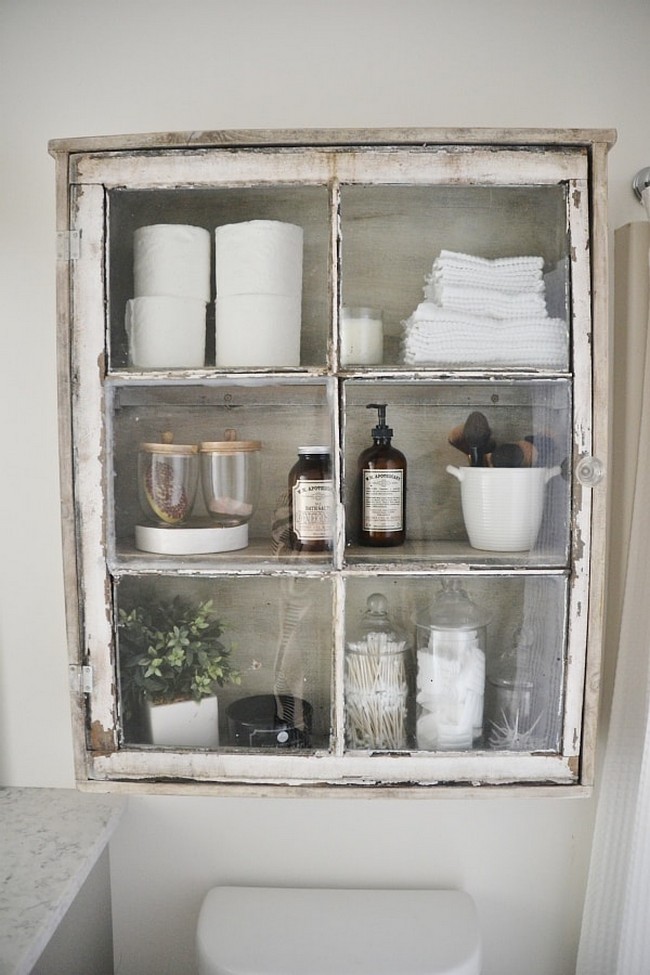 Do it yourself; a bathroom cabinet is a great way to store care items. This cabinet is a great space saver and can be hung on the wall in your bathroom or dressing room. Create a cozy and useful space in one of the most important rooms in your home. This DIY cabinet project will help you organize your space, add style and create a sanctuary that reflects your style and core values.
Modern Simple DIY Bathroom Organization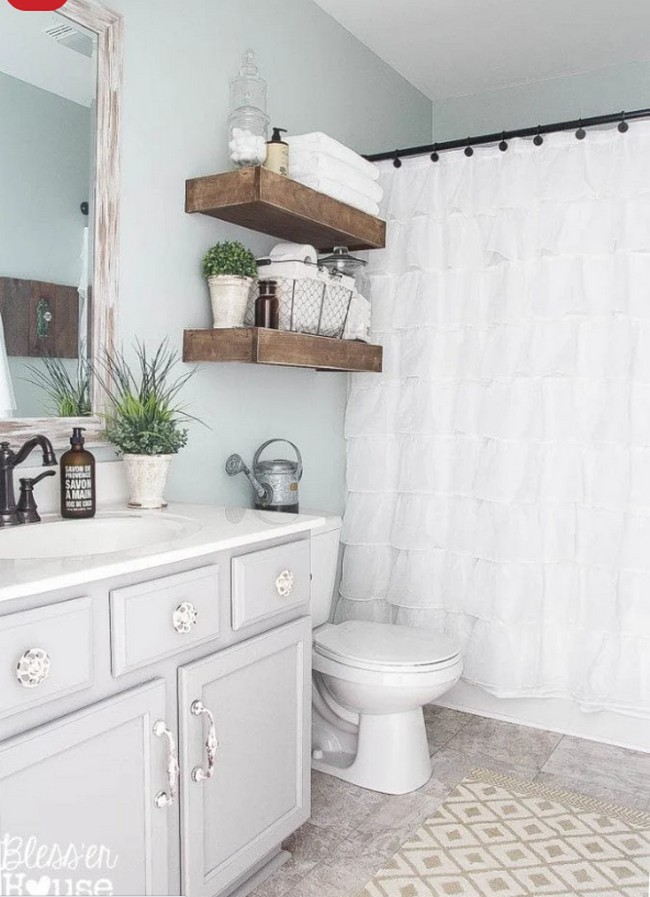 This Bathroom Appliance Storage features a modern farmhouse piece that would be sure to add a rustic and cozy feel to your bathroom. Made from solid wood, this Bathroom Appliance Storage provides ample space for all your toiletries and other bathroom necessities. So, this beautiful and functional modern farmhouse bathroom shelf can add a farmhouse touch to your bathroom. These wall-mounted cabinets provide plenty of storage but allow an open, airy feel.
See Mor: 26 Unique DIY Wall Shelf Ideas
Canvas Organizers And Felt Labels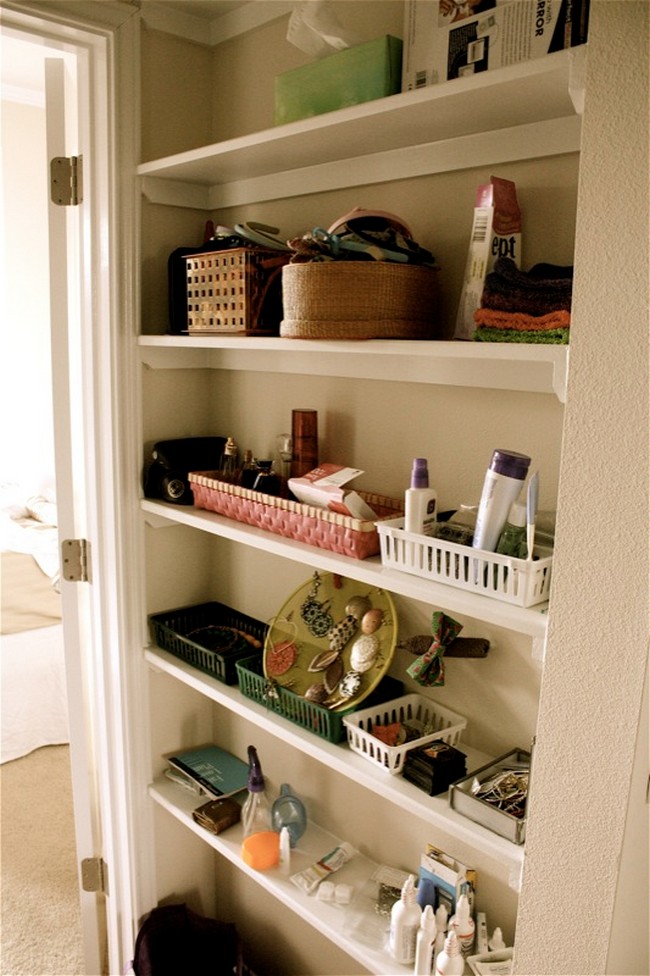 Bathroom Appliance Storage: Canvas Organizers and Felt Labels are extra large, quick, easy, and convenient ways to store bathroom appliances. These canvas organizers feature large pockets that fit most bathroom appliances, including a hair dryer, straightener, curling iron, flat iron, and makeup bag. The felt labels are easy to write on and remove. Go through the guide below and Keep all of your bath accessories organized with a canvas storage organizer. 
Medicine Cabinet Hanging Organizer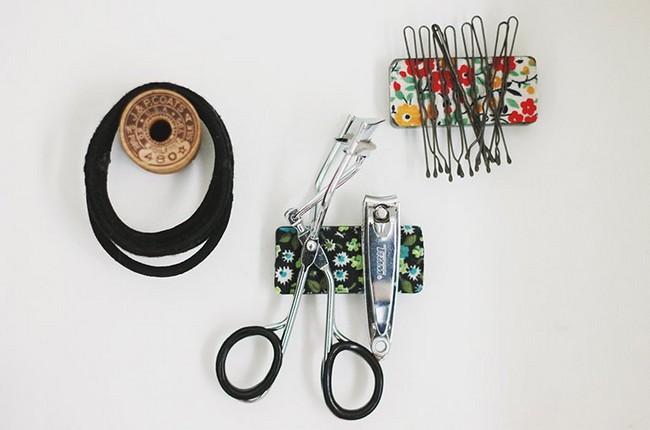 Worried about how you will organize all the stuff in your medicine cabinet? We have the answer! This easy-to-install storage organizer will have you organized and clutter-free in no time. You'll be amazed by how much space you create with this new organizer. These cabinets can hold many items, including vanity or bath supplies, bathroom cleaning tools, and cosmetics. Just hang your medicine cabinet at eye level on the wall, and you will have easy access to all your essentials.
Hanging Basket Bathroom Storage Idea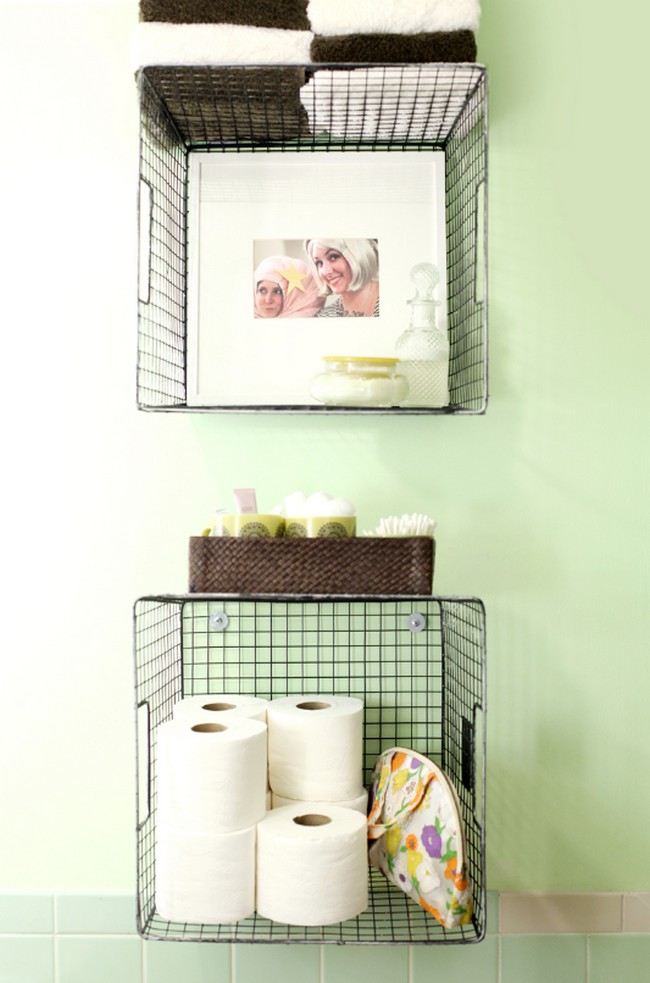 This bathroom appliance storage uses a hanging basket to hold small bathroom appliances, like shampoo bottles and toothbrushes. The basket is suspended from the wall with a few simple screws, allowing you to use it as a decorative piece while keeping small items hidden away. These hanging baskets are not only super cheap and easy to make but also look great! They can also be used to store so many things, like your towels, razors, makeup brushes, hairbrushes, and much more.
DIY Bathroom Organization Containers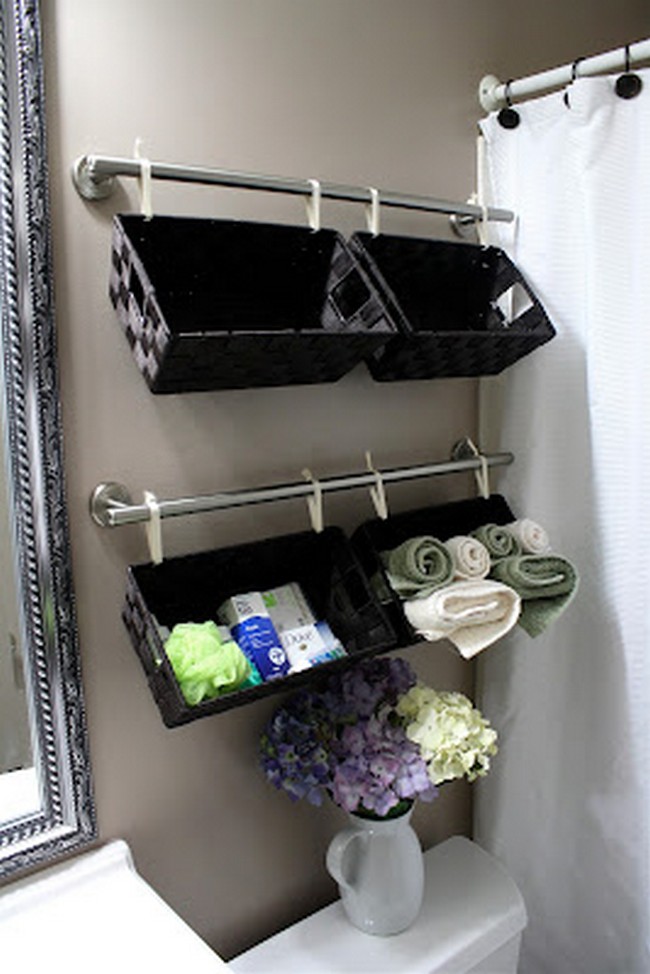 A collection of baskets on a shelf will give you the storage you need in a bathroom. This bathroom accessory organizer is a fantastic way to neatly store items such as makeup, hair dryer, toothpaste, and other bathroom necessities. The wall-mounted shelves easily mount directly onto the wall with the included mounting hardware. Made of durable plastic, these baskets are strong and will provide reliable service for years.
Easy Floating Shelves Idea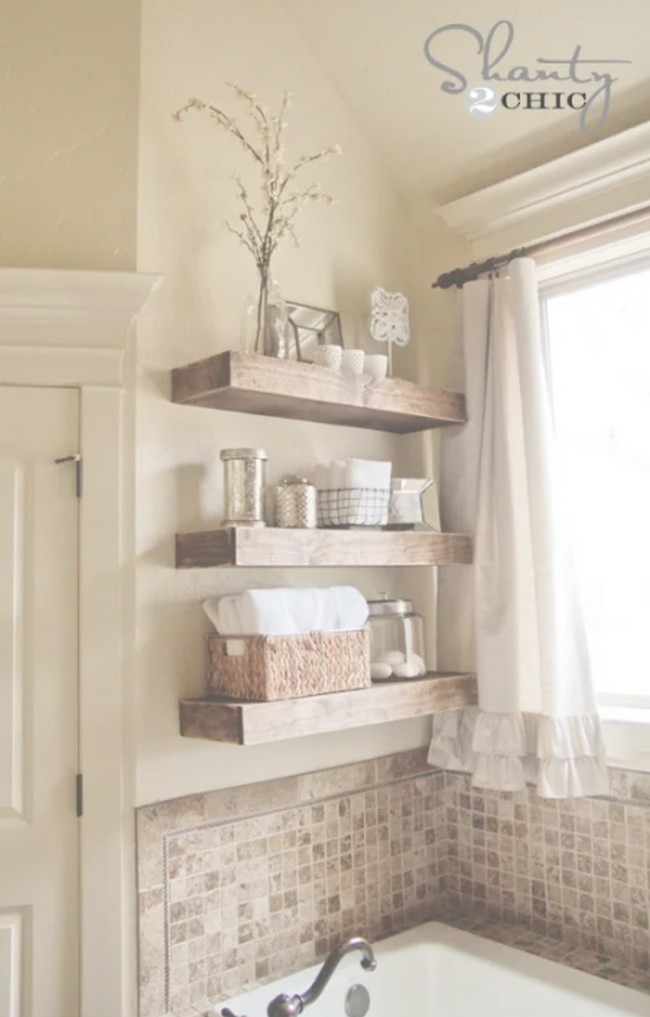 How great would it be if you could have your bathroom sink, toilet, and bathtub all close together so that you don't have to keep going back and forth? Floating shelves are the answer. They look pretty, add storage space, and save space by using vertical space not available for drawers or cabinets. This floating shelf project is so simple and easy to do. All you need is some pegboard and a few basic tools. You can find the materials in any hardware store; the how-to is below.