Those people who are boring with their bottle openers should try a DIY bottle opener to serve their own purpose mainly. It has also great importance in their professional life if they are carrying a bottle opener in the meeting of clients. Well! There are many ideas that can help to give a professional look to your bottle opener. Bottle openers are essential household items that are used regularly. You can purchase them at the store, or you can create your own unique opener. Not only are they practical and easy to make, but they're also fantastic gifts to give a friend or family member. No need to worry about carrying around another item in your pocket. You can always place these DIY bottle openers around your home. So your guests can help themselves when they want an ice-cold beer!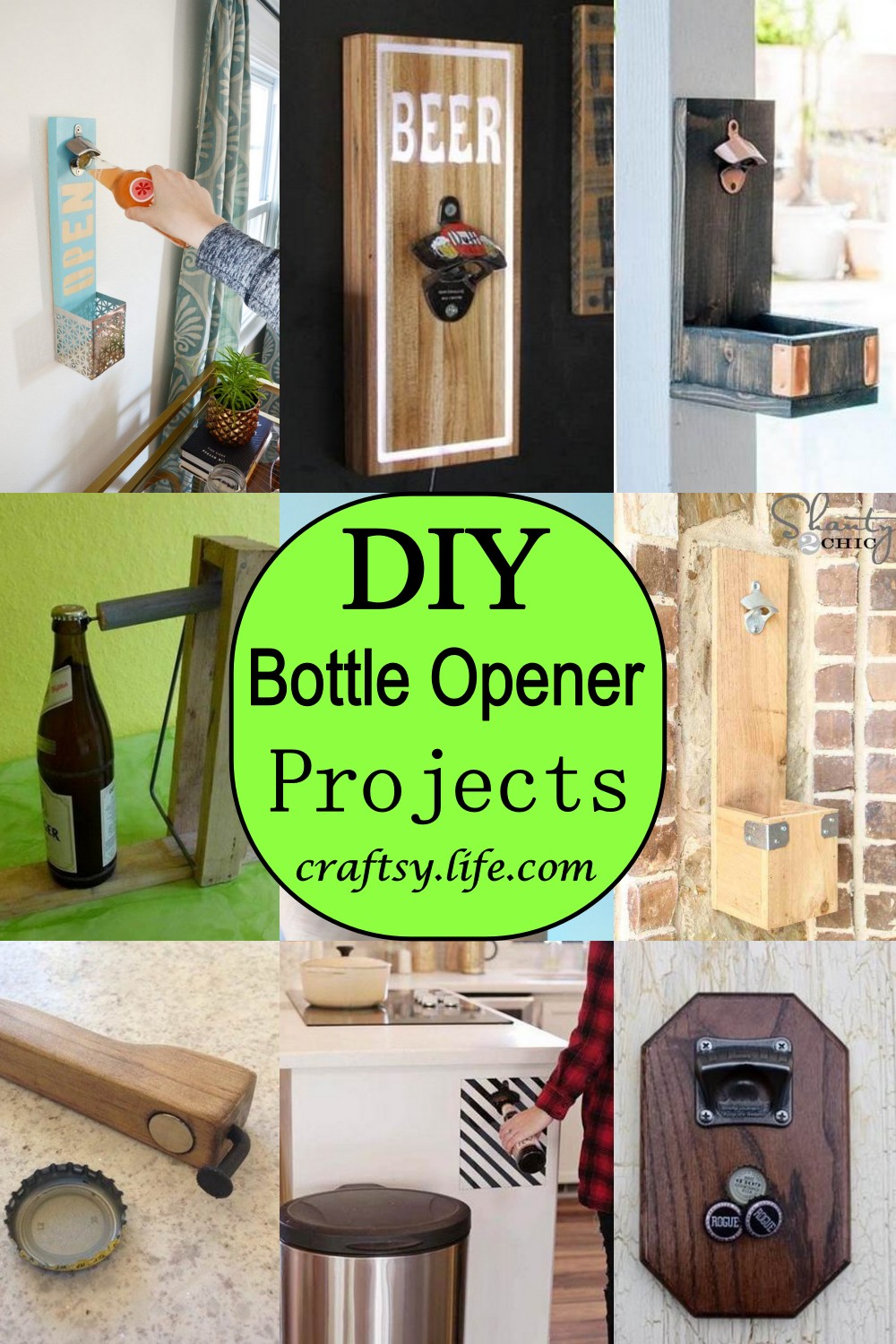 You can add a wine and beer bar to your home or office. This will allow you to have your favorite drinks at home or in the office. You can simply serve yourself and not have to pay for expensive drinks when you go out. Carrying around a bottle opener sometimes does not look professional. You can just allow your guests to serve themselves completely. There are different amazing 22 DIY bottle opener projects that you can create for this purpose. You can even create them as gifts for friends and relatives who love beer or other beverages that require a bottle opener. They will surely appreciate it.
Open a bottle of your favorite cold drink at your next home barbeque with these 22 cool and creative DIY bottle opener projects.
You Can See: 25 Free Crochet Wall Hanging Patterns
Tips for DIY Bottle Opener Projects
DIY bottle openers are great projects because they're simple to make, don't require special materials, and are incredibly useful.
So if you need a way to open those beer bottles you've been saving for the weekend, check out our top tips:
1. Find a small but sturdy piece of wood. Depending on how many bottle openers you want to make, you can use a block that's anywhere from 1 inch to 6 inches long.
2. Trace your bottle opener onto the wood, then cut along the line with a jigsaw or handsaw.
3. Apply your finish or paint to the wood. If you're just using one color, this is easy—just use a sponge brush to apply it evenly. If you're going for multiple colors, make sure to paint the first color completely dry before starting on another one.
4. Choose your hardware: either screw in an eye hook or hammer in a nail with its point sticking up like a hook, then take some wire and wrap it around the hook several times. Finish by threading it through an old keyring and twisting it so no more slack is visible (you might need pliers for this). Or you could insert a screw into wood and do the same.
Uses of DIY Bottle Opener Projects
-DIY Bottle Opener Projects are very functional
-Use them to open your drinks and add style to your outfit
-DIY Bottle Opener Projects are the greatest! Simple, easy to make and cheap!
-DIY bottle opener projects are a fun way to catch people's interest
-This is a creative way to get people's attention, have fun and engage potential customers
-Save money on custom bottle opener projects by building one yourself
-You can turn your used co2 cartridges into a keychain opener
-This is fun and you'll have something unique to show off to your friends
-You can gift DIY bottle openers to anyone
-DIY bottle openers make great gifts
-Transform your old bottle openers into something new and inspiring
-Add creative use cases for everyday things
-Hang them on your wall or give them as a gift to a friend
How To Make A Bottle Opener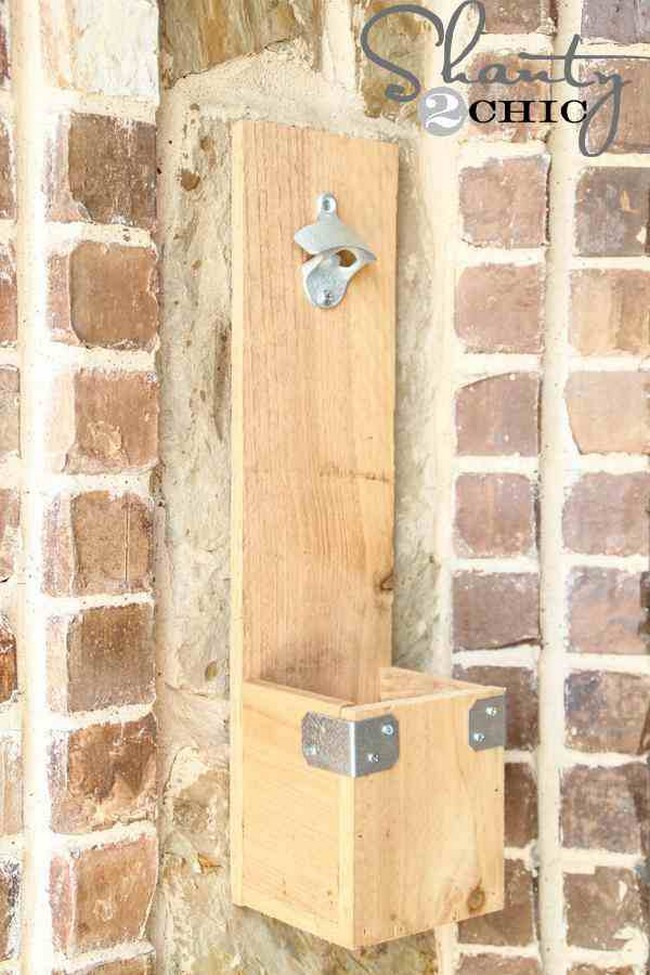 Bottles. Beer. Wine. Open them all with this easy and reusable bottle opener. Perfect for entertaining groups of friends or simply opening a beer quickly, you'll never be caught unprepared again with this little opener on your wall. This super easy DIY wall mount bottle opener is perfect for any home bar or kitchen. Easy to care for and that rare bottle-opening wooden bar accessory that actually looks good in your home. You can say goodbye to lost bottle tops and bad scuffs on the floor since this handsome guy is attached firmly to your wall holding all those pesky bottle caps with ease. Made from cedar fence planks and easy to mount, it will keep its spot for years.
DIY Magnetic Bottle Opener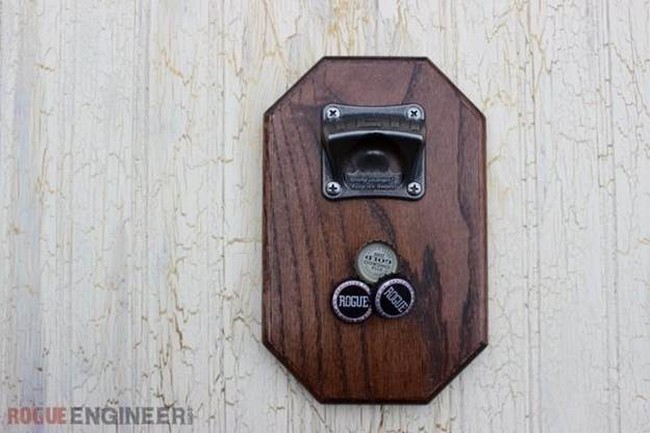 A DIY bottle opener is simple to do yourself and fun to share with friends or enjoy at home. Beer drinkers, rejoice! Here's a simple bottle opener you can build yourself. This wooden bottle opener is attached to the wall and features a magnet that captures caps. When life's a party, let this DIY Magnetic Bottle Opener help put the finishing touches on your bar. This wall-mounted bottle opener is made with oak and features several magnets for holding your bottle caps and an all-stainless steel bottle opener. This is an easy project you can do right on your own.
DIY Bottle Opener Wall Mount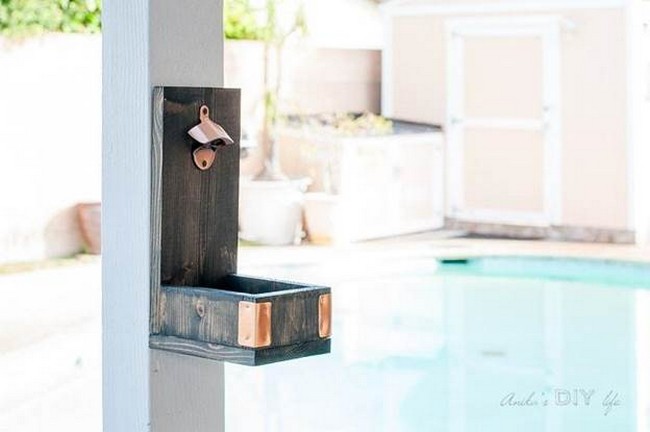 This wall mount bottle opener is not only functional but also adds a personal, handmade touch to your home bar. This wall mount bottle opener is a helpful bartender tool and can also be used at home. It is unique and stylish in its design. You will need to provide the wood materials and take the time to create this on your own, but it'll last longer than a store-bought version! You will need to work with woodworking tools and materials to build it. Measure and cut out the wooden pieces, then attach the back piece and bottom using nails or screws. Fit in the hardware bottle opener, and you're ready for the next round!
DIY Bottle Opener From Scrap Wood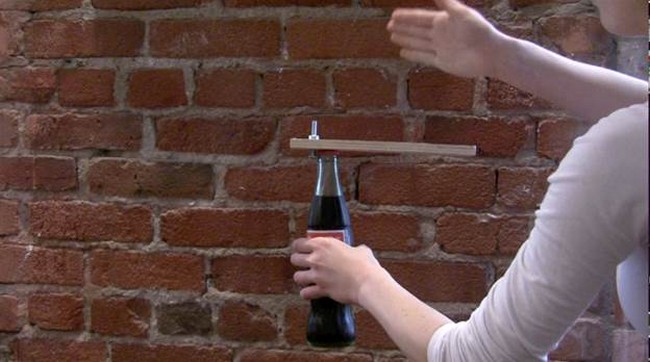 If you have scrap wood at home, why waste it on things that would not be useful to you? You can do a lot of DIY projects with your Scrap wood. The bottle opener is one of them. It is an easy and fun project that anyone can do. Try this easy DIY bottle opener with a piece of scrap wood; just drill holes and insert nuts and bolts. This will not take so much time or money but other than that it is stylish and fun to create!
DIY Beer Bottle Opener
What other tool could you need to open your beverage? This DIY beer bottle opener is easy to make and makes for a great conversation starter. If you are a fan of the old fashion, this will be a fascinating project! You can make it yourself from some old home tools and add a touch of your personality to it. You can use innovative ways to turn old spare parts into vintage-inspired bottle openers. Some of the best DIY beer bottle opener ideas include using a saw, nail, and other usual things you can easily find around your house.
DIY Wall Mounted Bottle Opener
This DIY Wall Mounted Bottle Opener is a must-have in your home. Keep your beer-opening tools where you can easily reach them and make them look stylish while doing it. Wouldn't it be nice if you had your own wall-mounted bottle opener? Never worry about having to look for a bottle opener again. Creating your own is super easy and saves you time. Handmade with locally sourced hardwood, this DIY Wall Mounted Bottle Opener makes for a great gift to any craft beer lover. Enjoy your beers with friends year-round with this helpful bottle opener on the wall.
DIY Bottle Opener
If you love hosting friends and family around your backyard bar, the DIY Bottle Opener is just what you need. This powerful bottle opener is made of steel, will keep a firm grip on the bottle while opening, and has a hole on end to hang it up. It has a large opening in the top for smaller bottles, and you can use it on larger bottles too. The opener even has a hole in the end for those that like to hang it on a wall. It makes a great gift idea, or just put them in your bar area. This tool will greatly add to your bar or kitchen."
Bottle Opener From Scrap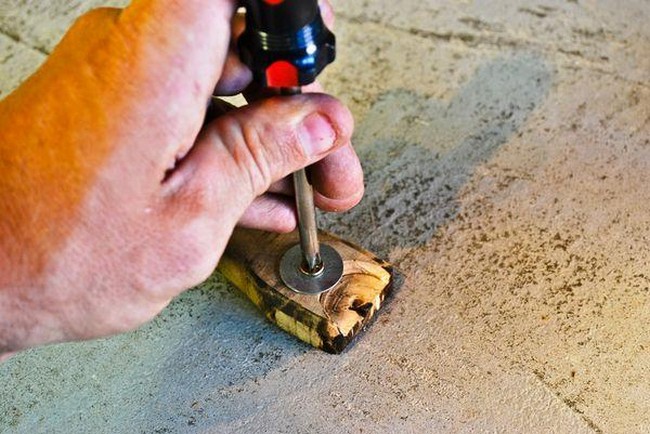 Making a bottle opener from scrap can be very beneficial, as you won't have to search for one later. To start, choose wood pieces with the right dimensions, sand, and drill holes for the washers. Then add paint or varnish to finish. Making this bottle opener will be better for the environment and will save you money in the long run compared to buying one at the store.
Turn scrap wood into something new. In this workshop, learn how to take a bunch of different pieces and sizes of scrap wood and transform them into a useful bottle opener you can use for years to come.
DIY Bottle Opener
You will find this bottle opener easy to use and convenient, especially when you need a quick drink from your favorite bottle drink. Made of wood, magnets, and resin, the DIY Bottle Opener is strong but straightforward to fix by yourself. It fits effortlessly into any decor theme, making it a great gift! Its magnetic properties also make it an absolute breeze to use. Save time hunting for other bottle openers, and get yourself a DIY Bottle Opener today! This tool can be fixed to the wall, giving it a really nice glow. It is a must-have for all homes and will save you the time of having to look out for what you can use to open your bottles.
DIY Nail Bottle Opener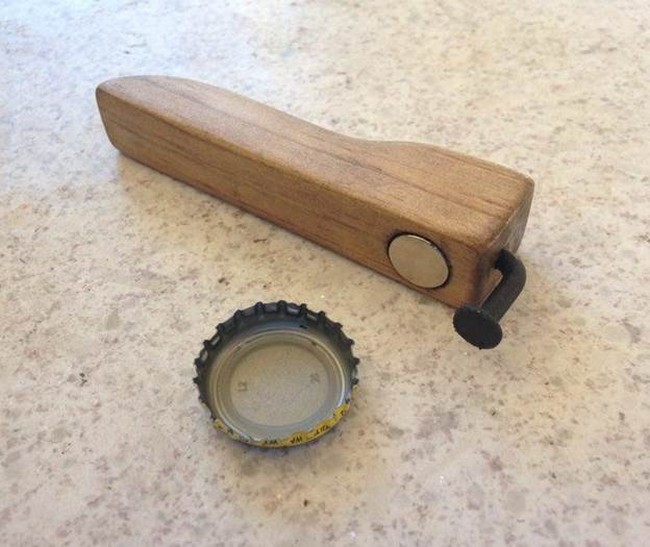 Don't be the guy that ruins a perfectly good bottle of beer. Instead, you can be the guy with a cool bottle opener and get a party started in seconds. Make your own colorful one-of-a-kind DIY Nail Bottle Opener that works just as well as the store-bought one, but adds a touch of your personality to your home bar. You can make your own DIY wooden bottle opener with a few basic tools, materials, and a little elbow grease. It's easier to make than it looks, and the results are pretty great.
DIY Catapult Bottle Opener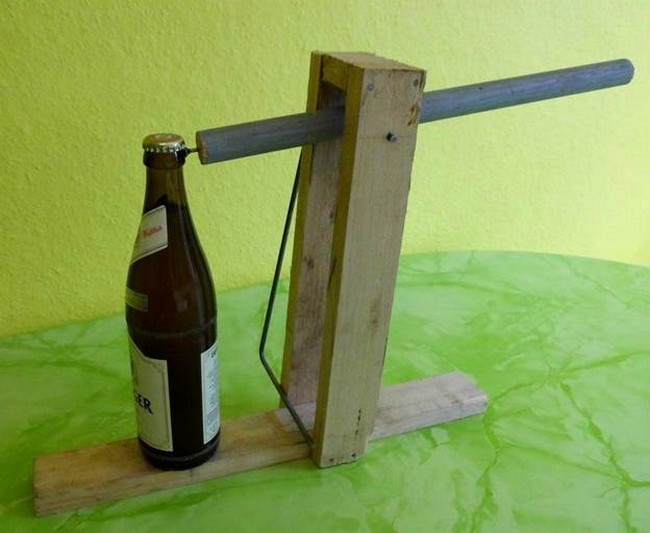 This DIY bottle opener is a catapult for opening bottles. Get ready for a bottle of DIY fun! With a few simple tools and materials, you can make this fun catapult bottle opener that will launch bottle caps across the room. Simply assemble your wooden pieces using nails, connect the metal bars, and attach the specially-shaped screw that acts as your trigger. Then grab a cool craft brew, open it up and watch the cap fly! If a cap and some beer are within reach, this wooden design will make you and your friends raise their glasses.
DIY Wall Bottle Opener
Looking for a perfect gift for friends and family? Try this DIY project out at home and make personalized bottle openers to hand out as gifts. This craft is easy to complete with simple supplies and will set you apart from store-bought options. Making a wall-mounted bottle opener is easy, affordable, and fun. Your family and friends will be in awe of your handy work. It is a fun project you and your family can enjoy. Be the envy of all by having a built-in bottle opener for those gatherings, parties, or just for convenience. You'll be the king or queen of your beverage.
Wall Mounted Bottle Opener
You are gonna love this kit. Taking down your bottle openers is an easy way to add a personal touch to any space, and this high-quality mountable opener can fit right in. Made of die-cast steel, this durable door opener is an attractive solution for home and commercial use. It is perfect for home, it comes with a wooden board and mounting screws. You can place it anyplace in the house. It comes with an opener as well as a bottle cap collector underneath. Put one of these in your bar, kitchen, by the grill, or by your mancave garage fridge.
How To Make A Bottle Opener
You will be the life of the party as you pop bottles with this handmade bottle opener. This wood bottle opener is an easy and fun project to make using the bandsaw. Cut your wood, sand down the edge, and screw in an opener. The bottle opener body consists of three distinct stripes - made from contrasting wood or acrylic colors - and can be customized in any way you like. It is easy to make but takes some time to cut and glue all the pieces together. This project is full of color and fun and will be a conversation starter at every party!
DIY Modern Bottle Opener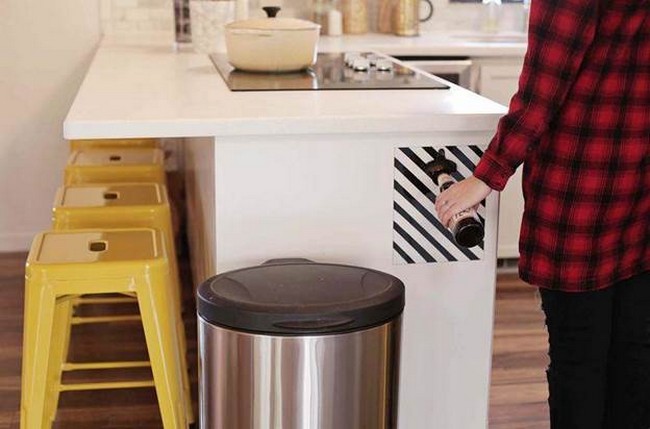 This modern DIY bottle opener project is a wonderful conversation starter that blends with various decors. Making your own bottle opener is easy, and this contemporary design looks great in any kitchen setup. Glue a bottle opener to a slab of stained glass, then use a glass grinder to cut away the excess material. This gift is a must-have for anyone who has friends or family around the kitchen countertop. This DIY modern bottle opener is so attractive and functional that you'll want to make one for your kitchen island, bar, or wherever you entertain. Made of these favorite supplies, it has a functional style that complements any decor.
DIY Bottle Opener Key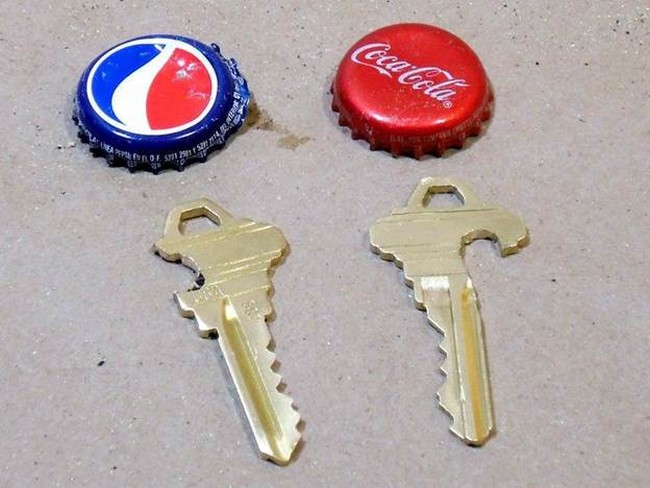 Tired of throwing out keys after the locks they go to have been damaged? Then, read up on how to turn an old key into a DIY bottle opener. It's as simple as tracing the shape of a regular bottle opener onto metal, cutting and grinding it, and you're ready to use your new DIY opener! For when you don't feel like walking to the kitchen, just reach into your pocket and use your key to pop open a bottle. It's simple, fun, and can save you both time and hassle in a pinch. No need to throw away perfectly good keys if they break in a lock - just turn them into a handy DIY bottle opener.
DIY Bullet Bottle Opener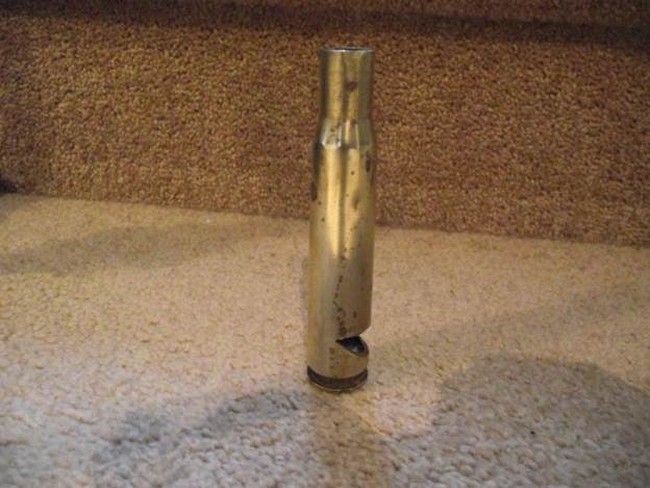 This DIY bullet bottle opener can be used in the bar, kitchen, or while you're on the go. It features a keychain to keep it handy wherever you need it. With this DIY bottle opener, you will never be left hanging - and certainly never thirsty. You can easily repurpose a bullet and cut a notch in the casing in just a few minutes. Then next time you're cracking open a cool one, Just keep this bad boy handy. The keychain ring, Sandblasted, and Cerakote coating are included, making this a classy gift for the hunter or shooter in your life.
DIY Spanner Bottle Opener
This unique bottle opener is also a fun DIY project. It is super easy to make, and it will add some kitsch to your bar or kitchen. If you love to open your own bottles, you should get yourself a DIY spanner bottle opener. You can use it while you're at home or take it with you outdoors if you like. It's made of stainless steel so it won't get rusty while it is being used over time. It also has rubber handles on both sides so it won't slip out of your hands during use.
Modern Bottle Opener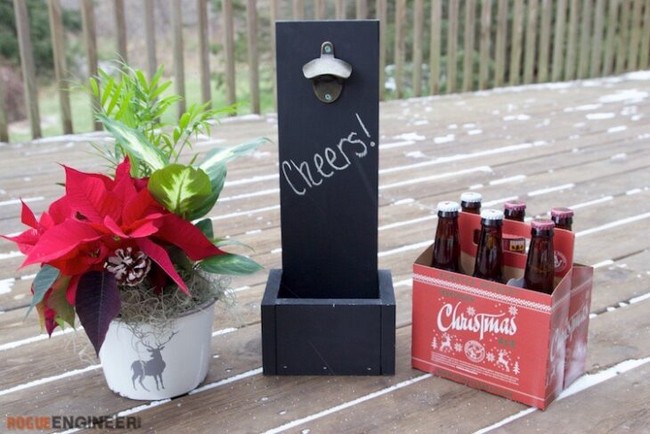 Looking for a great gift for your favorite wannabe handyman or woman? Not sure what project to tackle next? This modern bottle opener is easy for a beginning woodworker and stylish enough to fit in a high-end kitchen.  It is a great project to tackle at home or with a group of friends. You can use it as a party activity and even gift the finished product through the holiday season. It is the perfect home bar accessory for the DIY-minded person. This bottle opener will be a hit at any party, constructed of solid wood and finished in the sleekest black shade.
Chic Painted Bottle Opener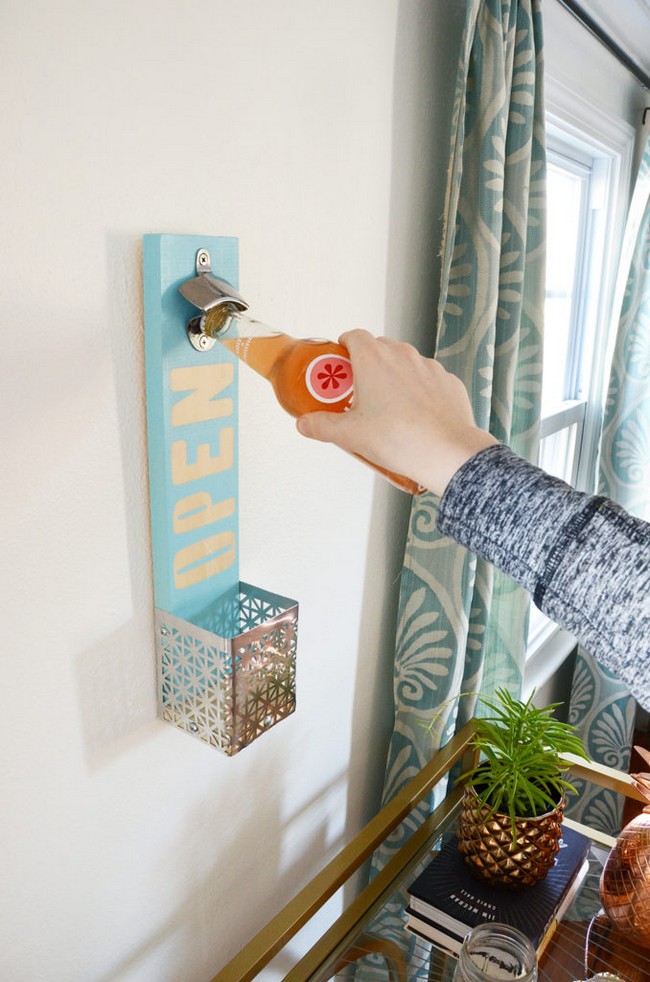 These painted bottle openers are the perfect touch for your next party or get-together with friends. This DIY-painted bottle opener is a unique way to serve drinks with your bare essentials. With this chic, rustic addition to your entertaining arsenal, all you will need is a screwdriver and wall mounting screws to mount on the wall guests will love having their own decorative bottle opener to use again and again (or keep for themselves!). These make for a great gift, as well — stuff along with an extra six-pack to share with friends.
Wall Mounted Bottle Opener With Cap Catcher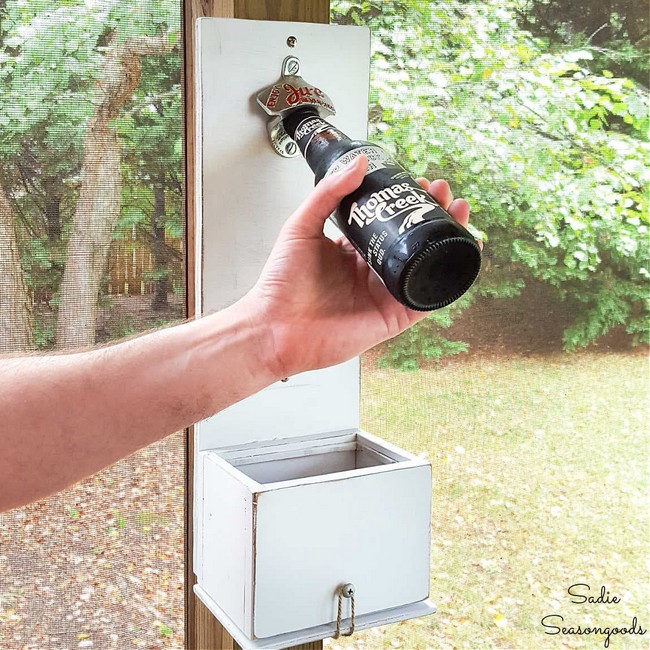 Simplicity and function come together in this handsome DIY Wall Mounted Bottle Opener with Cap Catcher. This addition to any home bar is a great gift idea for your favorite beer connoisseur, or add it as a simple touch to your own bar area. You can't go wrong with a wall-mounted bottle opener and cap catcher when you're looking to add that special something to your kitchen. It's a fun and functional design element that makes it easy to open beers on demand.
Metalshop Bottle Opener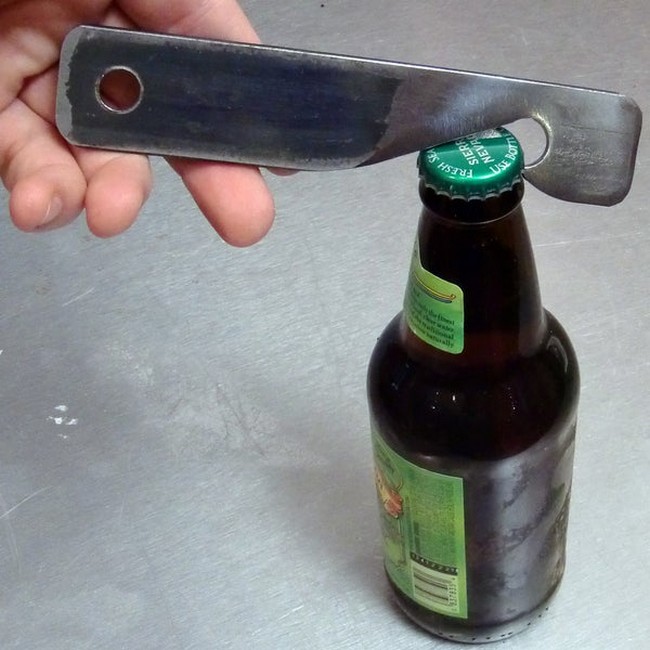 The stainless steel bottle opener features a laser-etched design for personalization. This special gift is ideal for any occasion and can be customized with a name or initials of your choice. The DIY Metalshop Bottle Opener makes crafting the perfect present for friends and family members fun.
Make the next bottle-opening experience special with a custom design on your DIY Metalshop Bottle Opener. Featuring a sleek, minimal design, this bottle opener is in stainless steel. This makes it the perfect option for a housewarming present or birthday present.