Knives are a must-have in every kitchen. They make cutting, chopping, and slicing food more accessible and faster. But keeping your knives sharp is not enough to keep them safe from accidents. You need to store them in a safe place where they won't get damaged or cause injury if they fall on the floor. There are many different ways you can store your knives, but we're going to focus on one of the most popular solutions: a knife block. You can find some great knife blocks at your local store, but why pay more for something you can make yourself? Here are some DIY knife block ideas to help you organize your knives and keep them safe from accidents.
DIY Knife Block Ideas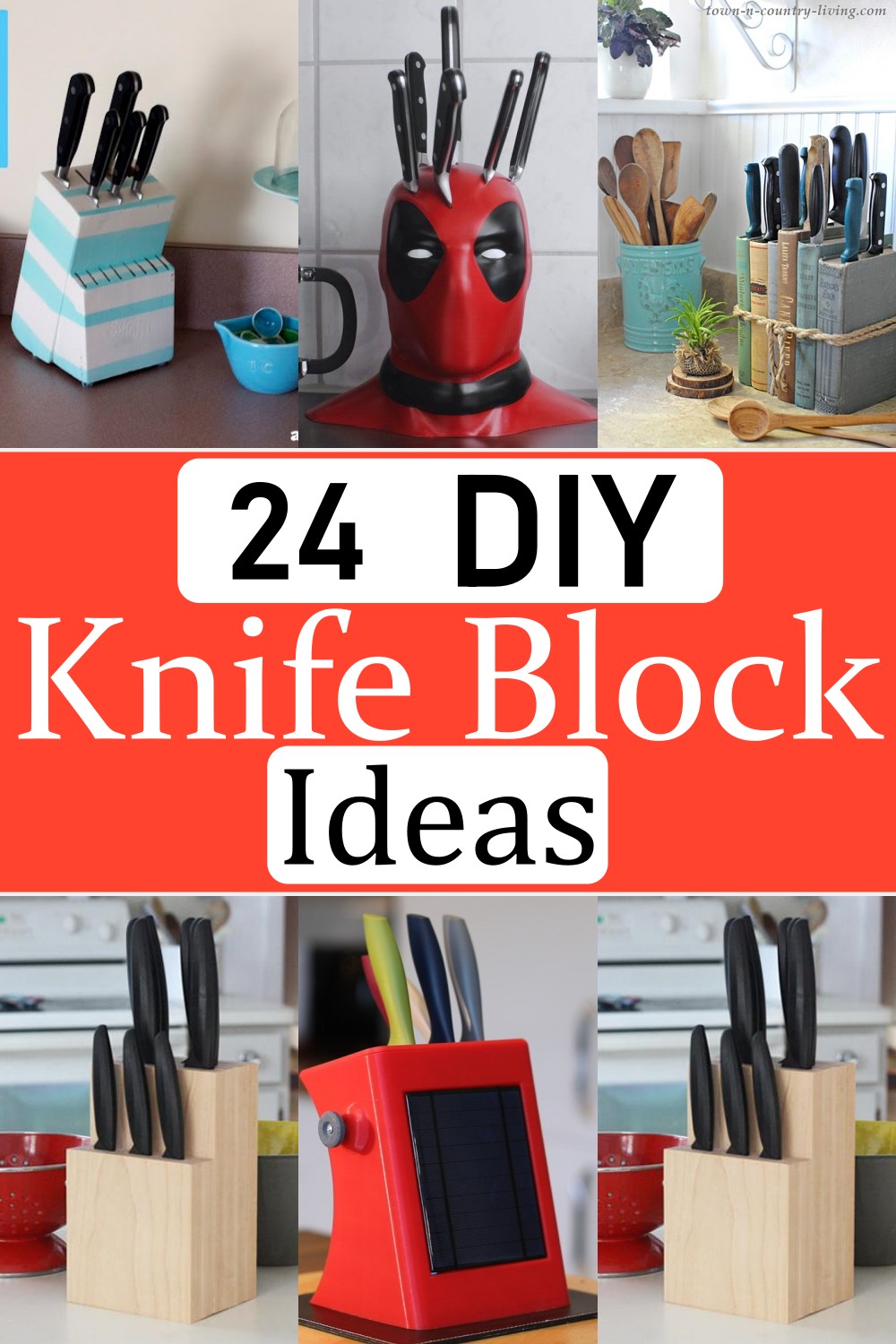 Knife blocks are a great way to store your knives safely and conveniently. They keep your blades sharp and away from children, pets, and other hazards. But knife blocks are often expensive and limited in storage space. Follow these easy DIY knife block ideas to create a safe way to store your knives. A knife block will keep your kitchen knives organized and safely stored away from children. These knife blocks are easy to make and can be customized to fit your needs. 
Knife blocks protect your knives from damage and possible injury. They are also a great way to show off your collection! But what if you want something just as functional and beautiful? DIY has the answers for that, too. With just a few simple steps, you can turn an old wine bottle or antique silverware into your unique and beautiful knife block.
Advantages Of Knife Blocks
When it comes to storing your knives, you have a lot of options. But we've found that a DIY knife block is one of the best ways to keep your knives safe. Here are some of the advantages:
1. It's cheap and easy! You can make a DIY knife block for under $10 if you have some spare wood lying around. If not, you can pick up some inexpensive wood at any hardware store.
2. You get to customize it however you want! Whether it's an elegant design or something more rustic, there's no limit to what you can do with a DIY knife block. Just be sure to sand down any rough edges before using it as a serving tray or putting food on it in case someone gets cut!
3. It's good for the environment! Most commercial knife blocks are made of particleboard that contains formaldehyde and other chemicals that can leach into your food when heated up (we're looking at you, bamboo!). By making your own, you'll know exactly what materials were used in its creation—and if they're safe for cooking with!
Knife Block Tablet Stand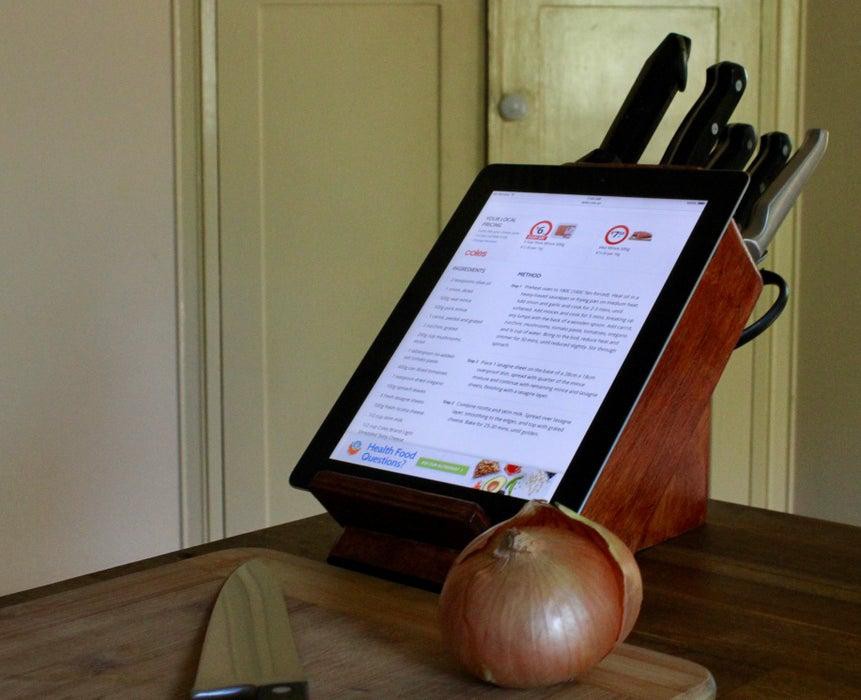 Whether you're looking for the perfect gift for a recent home buyer or want to upgrade your kitchen decor, this reclaimed knife block stand can be a decorative piece and a tablet holder. Add functionality and style to your countertops with this rejuvenated knife block stand. Use this stand for your iPad or tablet in the kitchen as a recipe stand or simply as a space saver for all of your knives. The stand is easy to move around and takes up less space than traditional knife blocks. Made from wood, this stand is easy to move around, so it takes up less space. This rejuvenated knife block is easy to make and takes up less room on your countertops.
Simple Chef Knife Block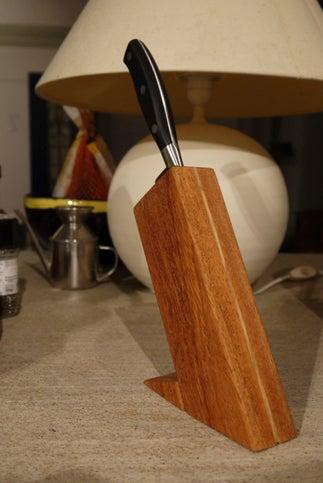 If you are looking for a simple and compact chef knife block, this DIY is just the right one. This DIY Simple Chef Knife Block is easy to make, and you can use it in various ways. The cool thing about this project is that you can customize it to fit the size of your favorite knife. You can place it on your countertop or a sideboard, wherever you want. It is straightforward to make, and you only need a few simple tools and materials. You can use this kitchen accessory as a tool holder to store your cookware or as a spice rack in the pantry. A great way to save money and serve as an excellent home improvement project!
Magnetic Knife Block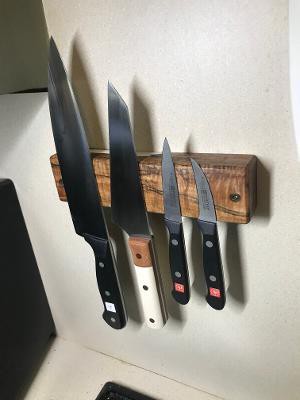 This magnetic knife block is a great way to organize your knives and make them look good. The process is simple, and the finished product looks beautiful! It is an easy-to-make wall decor project that will hold all your knives. This block does not include sharpening equipment or other tools for the care and maintenance of your knives. It is an excellent alternative to the normal wooden one. It is way more stylish to have it on your wall than in a drawer! I think this fancy knife block would make a great wall decor for your home. It's simple, easy to make, and holds just four knives, but you could easily extend it to hold more.
Easy Magnetic Knife Block
This magnetic knife block is an excellent way to store your knives. It's designed for knives of all sizes, with two full-length slots and several half-length slots to fit any size blade. This magnetic block can hold knives of all shapes and sizes, so it's great for chefs who prefer a variety of knives in their kitchen. Use this magnetic knife block to hang up your knives and keep them within easy reach. The wood block is simple to make and will stand out beautifully on your kitchen wall.
Easy Rotating Knife Block
We've all seen the rotating knife blocks in cooking shows, but how much do they cost? There is a way you can make one on your own so that you can still save some money. Let your cooking tools shine with the Rotating Knife. You will love this easy DIY rotating knife block tutorial. Anyone could do this simple woodwork project. You only need a few usual tools and raw materials to build this fantastic piece of furniture. A rotary knife is more comfortable, as it offers stability when cutting meat or vegetables. It would look great on wooden and also marble countertops.
Fancy Knife Block For Kitchen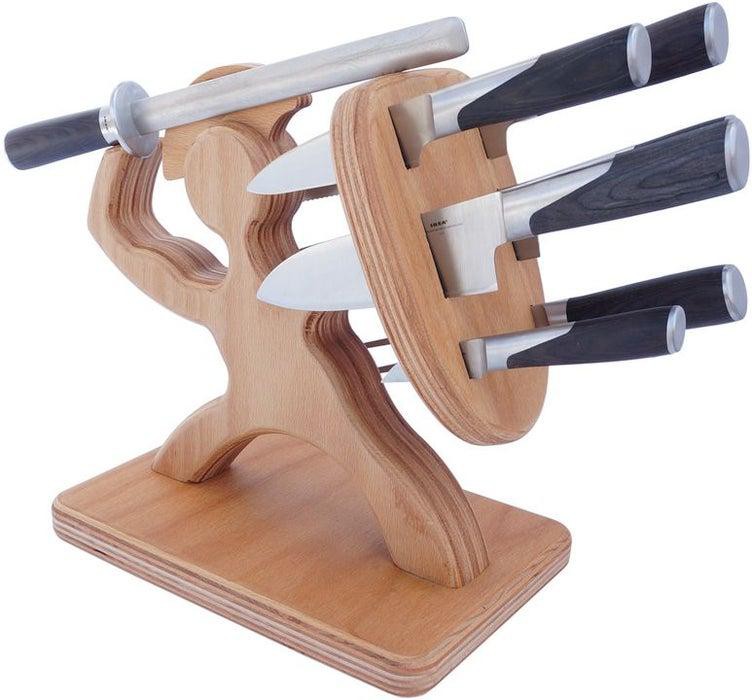 Do you think your guests would appreciate a little more class in your kitchen, or perhaps you have a friend's birthday coming up and want to find something unique and practical as a gift? This DIY knife block idea is fantastic. Not only will it make us more functional, but it also looks terrific in any kitchen. It is an excellent addition to any kitchen. It holds your knives upright and allows easy access when you need to grab the next spot. It's an easy DIY project and a fantastic gift idea!
Deadpool Knife Block Idea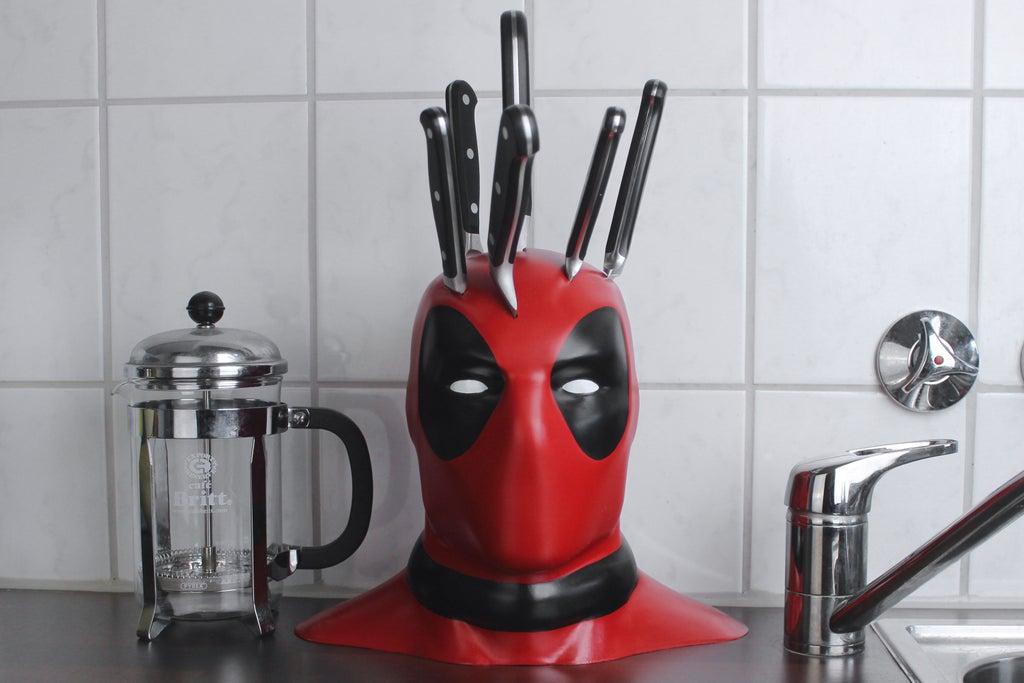 If you consider yourself a Deadpool fan, this is undoubtedly one of your favorite knife blocks. This Deadpool knife block idea is for all of you Deadpool fans. It will look great on your kitchen countertop and store up to six knives. It's a perfect DIY project for any Deadpool movie lover! The process is quite time-consuming, but it has to be done if you want to create a block that will look great in your kitchen with six knives stored in it. It's perfect for kitchen counters and can store knives of various sizes. This holder has covered everything from steak knives to your favorite peeler.
Universal Knife Block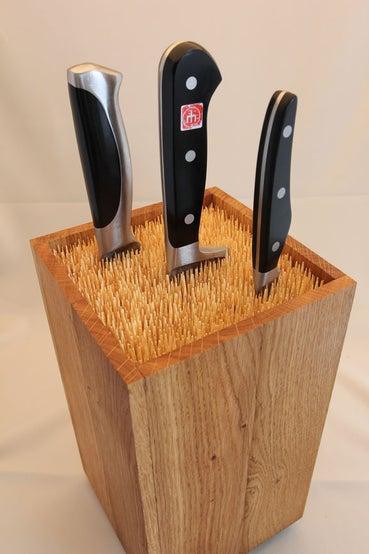 A universal knife block is a great way to save space on your countertop and makes your knives so much easier to access. Use your imagination to create a safe and functional home for your knives. If you want to keep the knives that you have always used in drawers, but you want them to be more accessible on the countertop, then this simple DIY solution is perfect. It only takes a few steps to transform any drawer into an attractive and valuable knife block holder! This universal knife block uses wood and skewers. You can make a bigger version of this DIY idea with many knives.
Magnetic Knife Block With Glass DIY
This magnetic knife block is stunningly gorgeous in modern, sleek kitchens. Sleek, glass-fronted, and filled with up to five knives, it takes pride of place on any worktop – but don't kid yourself - it's not for show only - this essential piece of kit does cut out dangerous accidents and just looked so good you'll be tempted to dig out the matching glassware! This magnetic knife block is one that you can use for modern kitchens. It looks great with the glass and will surely make your kitchen look much better.
Ultimate DIY Knife Block

Imagine never having to sharpen your knives again! This knife holder is the perfect tool for any chef who has a lot of knives and wants to keep them organized, sharp, and ready to use. It also doubles as a sharpener. This knife block is fantastic! It features a solar panel on the front and a sharpener at the side. You can use the sharpener to sharpen your knives, then use the solar panel to keep them shining like new. It's an all-in-one solution for your favorite cutting tools. This incredible knife block is designed to allow you to sharpen your knives while they are stored. It looks like any other sleek-looking knife block, but wait until you see what's hiding inside.
Rustic-Style Knife Block
This rustic-style knife block will brighten up your kitchen counter. This project would be a great way to re-purpose some old wooden crates, which can be found for super cheap at thrift shops and yard sales. It is both practical and beautiful, with plenty of storage for your knives and kitchen gadgets. The process takes a little time, but it's a fun weekend project that will have your family gathering around the kitchen table — and your friends will be shouting "Wow!" over the finished product.
Knife Block Copper Frame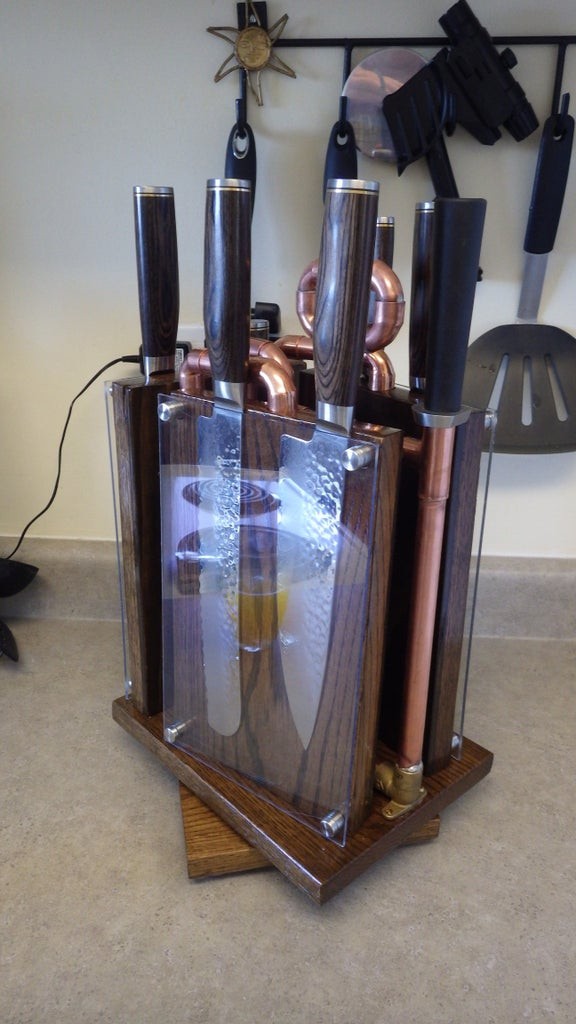 You do not need to be an expert to make this knife block! You can also find knife blocks like this one and make them for your home or even as a gift idea. The copper frame on this block makes it look fantastic in any kitchen. Create your own beautiful and functional kitchen knife block for your home. This is an easy woodworking project that can be completed with little time and patience. The glass on the knife block makes it look a whole lot better. This knife block would be a fantastic decor item on your kitchen countertop!
Simple Knife Block Idea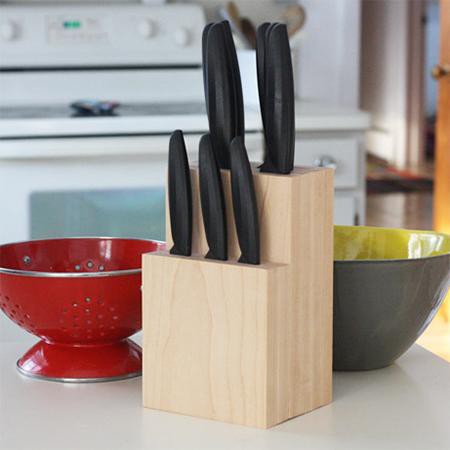 To keep your knives organized and safe, a knife block is a great idea. This knife block has two tiers for knife storage. The bottom tier can be used for bigger knives and the top tier for smaller ones. It will look amazing on kitchen counters, and you can easily store up to seven knives. This is one of my favorite DIY Knife block ideas ever. It is the simplest and yet the most striking of all. It can be used to store up to seven knives, and it has a sleek design that makes it look like a piece of art. The best part is that you can make this at home yourself.
DIY Color Knife Block
Are you a creative person? Do you want to try something different and fun in the kitchen? Well, make this super cool color knife block. This DIY project will show how easy it is to add color to your wooden knife block. Think color belongs only in your decorative accessories? Think again. Color can be used to make your kitchen more functional! If you are tired of seeing the same wooden block with a different color over and over again, consider this DIY project. This colorful knife block idea looks good and keeps your knives organized.
Low-Budget Knife Holder
If you are looking to save some money and want a knife block that is easy to make, then this is the project for you. This DIY project will show you how to make a knife block for less than $2. With this DIY project, you will learn how to make a knife block from some scrap wood and old knives. This is an extremely cheap way of making a functional and attractive knife block that can keep your knives safe and adds value to your kitchen. It is not just a functional piece of furniture but also enhances the look of your kitchen.
Walnut Knife Block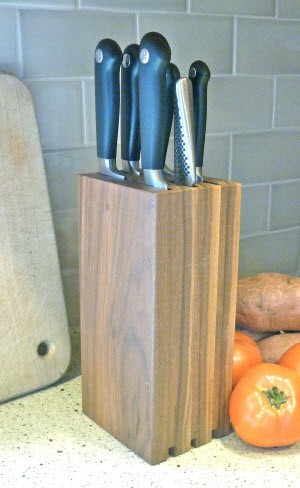 Knives are essential in every kitchen, but how do you store them? This knife block is a fun and easy project that will help reduce the risk of hazards in your kitchen. This DIY walnut knife block is one of the safest knife blocks you can use in your kitchen. It's one of those projects that also shows how much you care about safety and creativity. Make this unique piece from start to finish using a hole saw kit and handmade walnut pieces, or use the ideas provided to create your own design. It adds up as a plus point when it comes to the overall look of your kitchen.
Force Awakens Knife Block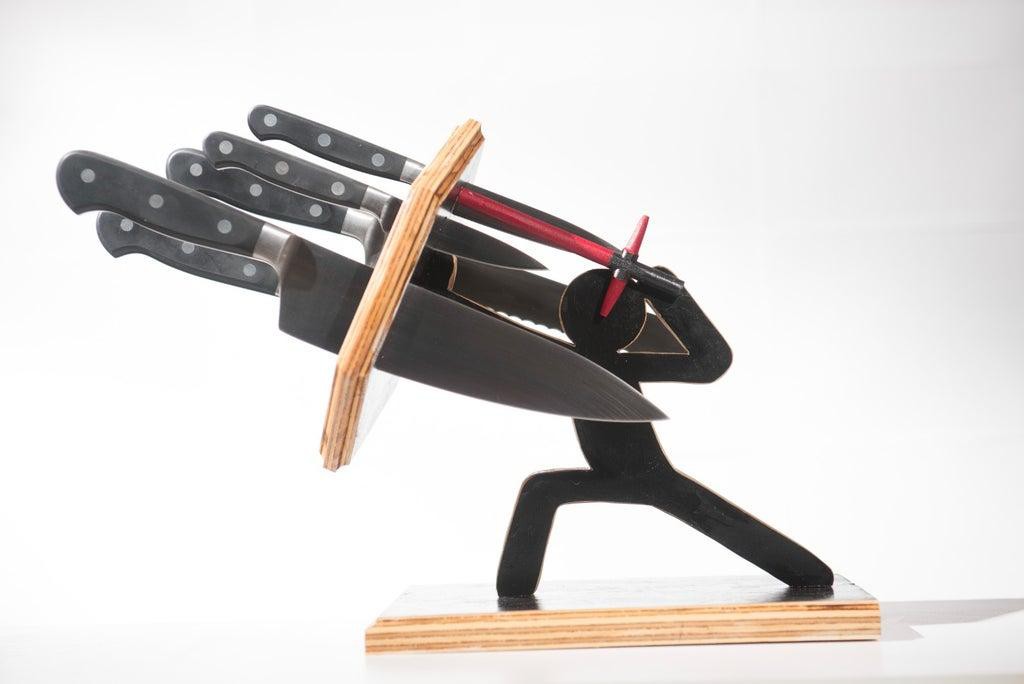 If you're a Star Wars fan, you'll be happy to see that the latest film has inspired an excellent DIY project! Now that The Force Awakens has hit theaters, everyone is looking forward to the next installments in the series. And while there's no telling how many of them will be made, wouldn't it be great to have your own? In honor of the newest Star Wars movie, we've come up with our own version of Rey's scavenger-style staff from The Force Awakens. It's easy to make, beautiful to look at, and very affordable. Best of all? It can make any kitchen feel like part of a galaxy far away.
Easy knife Holder With Books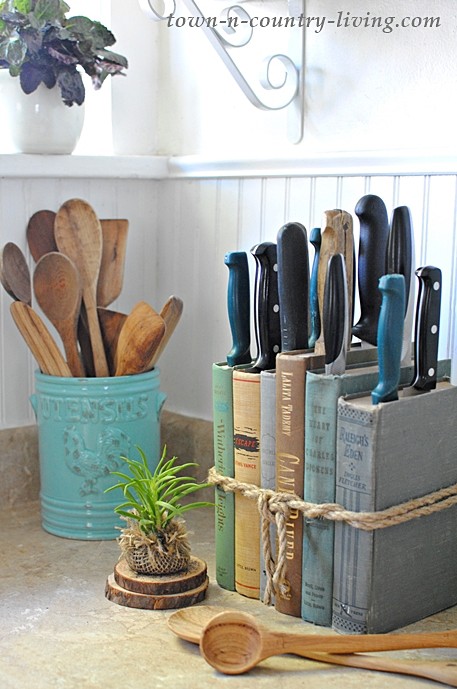 Decorate your kitchen with this adorable DIY idea and make yourself look like a professional decorator. This knife holder will look amazing in your kitchen, holding the knives safely and keeping them out of reach from little fingers. Do this project now and use it as a Christmas gift for your family or friends. Using this same technique, you can make cute-shaped books like hearts or stars. You can use any size or amount of books; the more books you have, the bigger your knife block will be.
Low-budget Knife Block Idea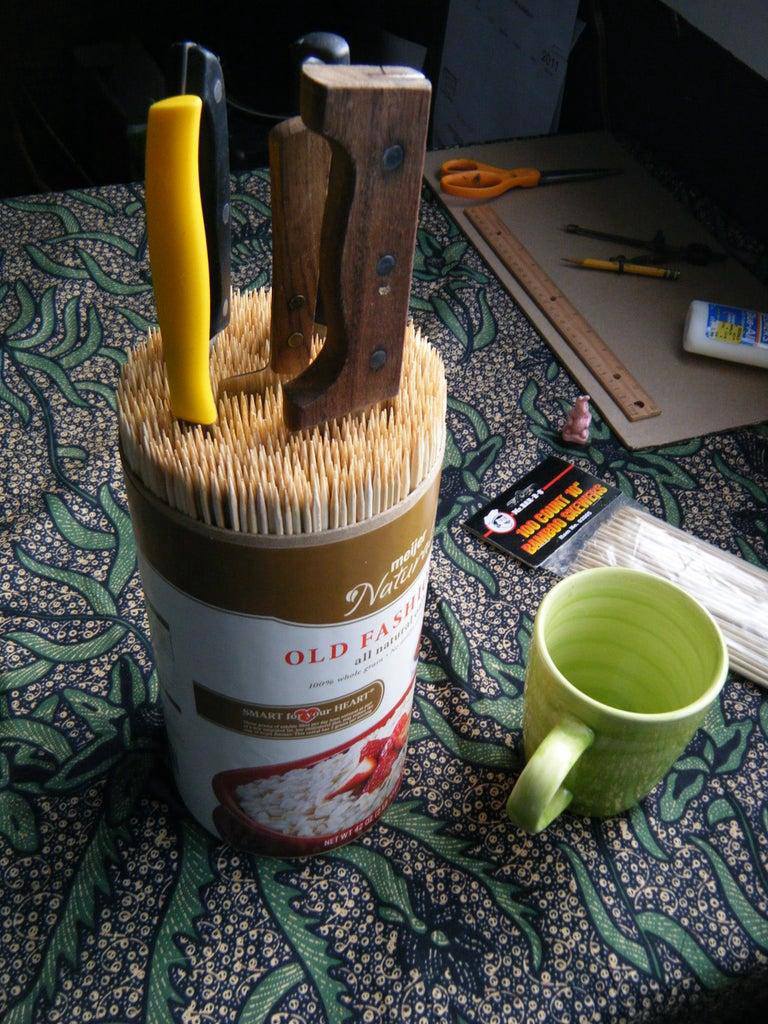 If you want to create a knife block using a milk tin, get a lot of skewers and place them together. You can use any skewers that you have at home or even purchase them if the ones you have are not enough. This is a great craft project for children because they will get the chance to learn about knives and their proper use, as well as practice their art skills. Whether you want to protect your knives or repurpose old items around your home, this DIY knife block idea is a great way to go. You can use things you already have on hand and create a beautiful knife holder that your guests will surely love.
DIY Knife Block

The kitchen is the heart of your home, where you spend a lot of time cooking and chopping. However, sharp knives can be dangerous if they are not stored properly. With this DIY Knife Block Idea, you can bring beauty to your kitchen while ensuring safety for everyone using it. It's easy to make and requires minimum time. So why wait?! This knife block is an attractive addition to your kitchen wall. The blades are not hidden inside but can still be easily retrieved when needed.
Repurposed Book Knife Block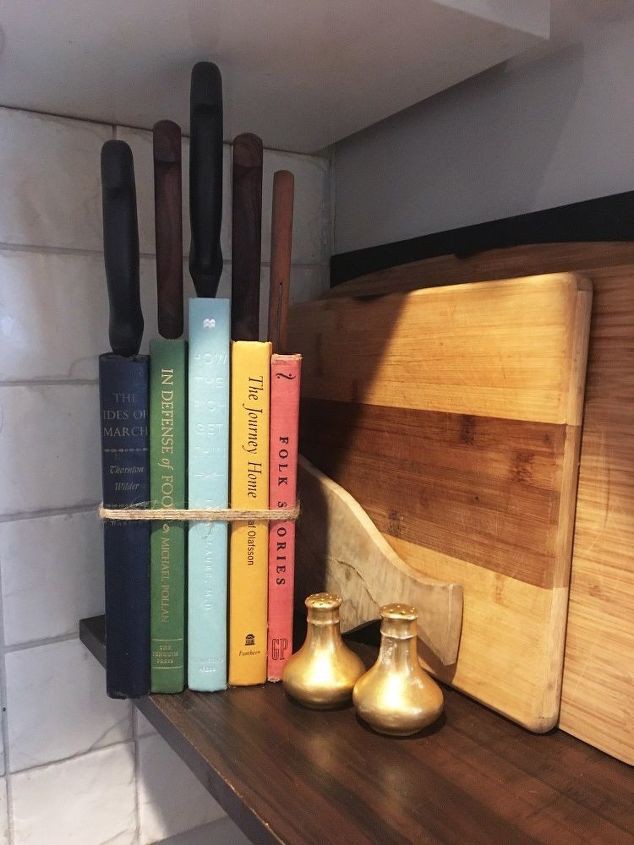 Here's a fun and easy DIY to make your own book knife block. It is one of the cheapest and quickest DIYs you can make and yields powerful results in the end. This is a clever way to reuse old books that are ready to be thrown away. Don't spend any money on a knife block. Instead, use the books you no longer need and give them a stylish new look by making them into one. Depending on your preference, you can also choose from some simple designs or crafty shapes.
In-Drawer Knife Block
Knives are dangerous, especially when you carelessly store them in your kitchen drawers. This is why we highly recommend you get an in-drawer knife block for storing your kitchen knives. It will keep them safe and locked away from prying little hands. This is an excellent option for those with limited countertop space or who prefer a drawer organizer to a standing one. Whether you're looking for an organization solution for your knives, utensils, or kitchen gadgets, this how-to guide will help you find the best design and materials to suit your needs.
Knife Block And Cookbook Holder
This is a great kitchen project for those just getting into woodworking. This diy knife block and cookbook holder is durable and functional, while the design offers you a place to store your recipes while keeping your kitchen knives organized. This highly functional and practical knife block is perfect for any kitchen. Not only can it be used to store your knives and have them right at your fingertips, but it also has a compartment where you can keep your favorite cookbook or recipe close by. You'll love this holder the moment you see it!