Dressing up shoes has become a trend nowadays, but designing your own shoe rack is stylish and serves as a home decor element. Shoe racks are a great way to keep your shoes organized and off the floor. They're also cost-efficient, taking up minimal space while providing maximum storage. The best part of making a DIY shoe rack is that you can customize it with colors and pieces that fit your style. We've got some unique DIY shoe rack ideas to organize every room in your home. Read on for ideas on what materials to use and how to incorporate fun colors into your own DIY project.
DIY Shoe Rack Ideas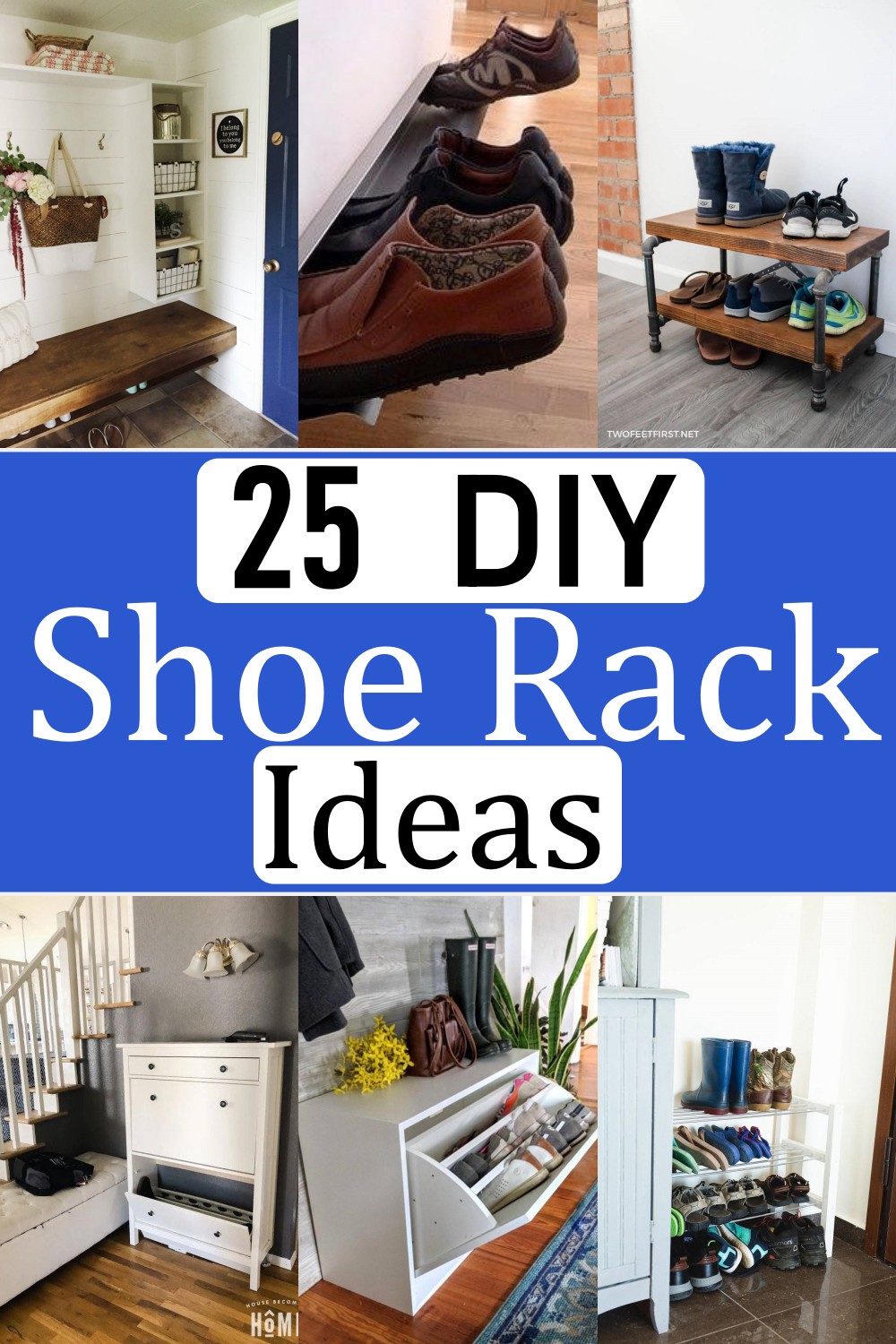 You don't have to spend much money to organize your shoes. These 25 DIY shoe rack ideas are so easy to do, and you'll be surprised at how they can transform your entryway or closet! These DIY ideas can help you create your own customized storage space. Find helpful ways to organize shoes, clothes, accessories, and more in small and large rooms, from vertical shoe organizers to wall-mounted shoe racks. So, let's get started!
You Can See Also:
Scrap Wood Shoe Cabinet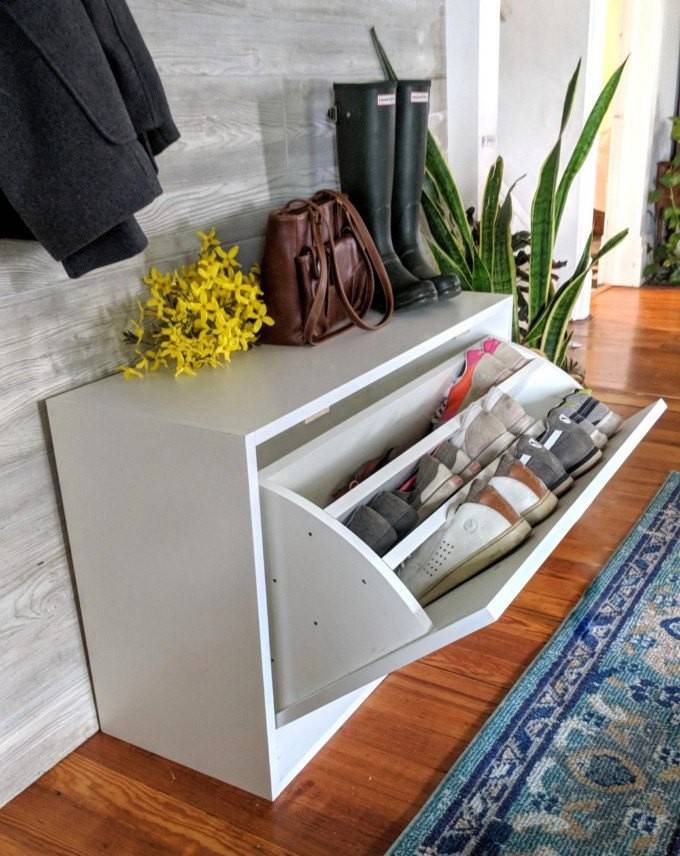 Don't you wish to organize your shoes neatly in a cabinet? We all do! This guide will show you how to make your shoe cabinet for your home. It can be done with scrap wood and nails. There are different kinds of drawers that you can make: single, double, triple, and even four-leaf. With this shoe cabinet, you can eliminate the clutter and keep your shoes organized without seeing them. You won't need fancy tools or take a whole day to make it.
Shoe Rack Using Cardboard
This shoe rack is perfect for those who live in a small apartment. This is it if you're looking for a DIY idea that can double as crafty decor. All you need is some thick cardboard to make your shoe rack. Also, you'll need a utility knife, glue, and screws if using metal pipes. As it's made out of a sturdy cardboard box, so it can hold up to 20 pairs of shoes without breaking. This project takes some time, but it's worth it!
DIY Shoe Rack Idea
This tutorial will teach you how to build a simple, easy, and practical shoe rack. This design is easy to assemble, and you only need a few materials, such as screws and wooden sticks. It will also show you how to install the rack for stability, then apply a final finishing to make it look presentable. Follow the steps below to build a shoe rack out of wood. This Shoe Rack is perfect for all your pair of sneakers!
How To Make A Shoe Cabinet For $5
Want to build a shoe cabinet? Here is one that you can make at home with just $5! It is fantastic, and you can make it within two hours. All you need is a drill, plywood, some screws, and metal brackets. You can attach it to the wall if you want so it won't move around. This shoe cabinet will last for years because you have made it from durable wood. This will be perfect for your entryway or mudroom. It's incredibly inexpensive and durable, so it's definitely worth making. Make sure to check out the video!
Simple Shoe Rack Plan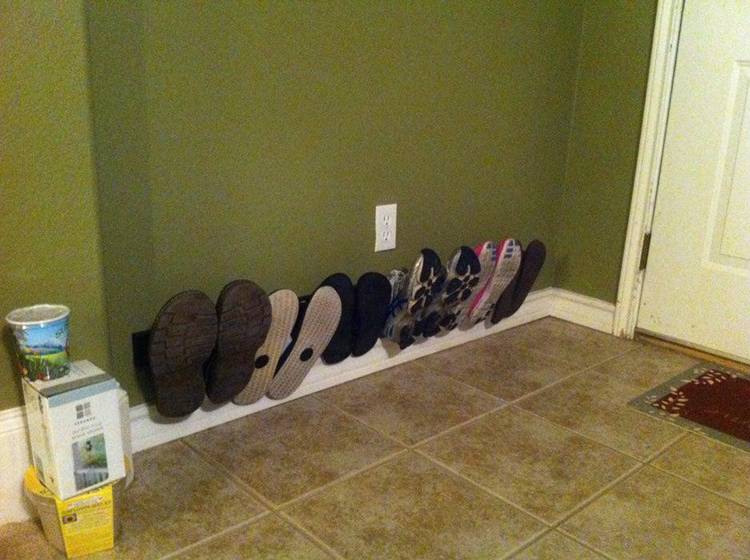 The perfect shoe rack for your home! Get rid of that pile of shoes in your closet and put them up in this simple DIY project. With a super unique design, you'll surely be the envy of your friends when they see how nice it looks! You will need a pine board, round dowel, wood glue, and a wood stain. You can find all these materials at your local home improvement store or craft store. All you have to do is follow the step-by-step instructions, and before you know it, you will have a beautiful shoe rack for all your needs!
How To DIY A Shoe Rack At Home
A shoe rack is a perfect storage solution for your footwear items at home. A DIY shoe rack can solve the problem perfectly if you want to organize just a few or many pairs of shoes in your closet or room. Using a few simple materials, you can create a functional shoe rack that looks cool. Look how you can do it yourself with the easy step-by-step video tutorial! This guide will show you how to create a shoe rack out of cardboard boxes, making it easy on your budget!
DIY Shoe Organizer Idea
Don't have a rack for your shoes? Here is a handy idea that you can do to make one. It's easy, cheap, and can be made in any size you like as long as you have enough space. This easy-to-make DIY Shoe Organizer keeps your shoe closet organized and free of clutter. In addition to making sure that your fashion choices aren't out of control, it's also a great way to add a bit of style to any space.
Pallet Shoe Rack Idea
A shoe rack is a must-have in any home. It keeps your floors clean and provides easy access to your shoes, making it considerably easier to dress up. If you want to build one yourself, this guide will help you. These racks from pallets are perfect for you as they save money and provide an eco-friendly alternative. Most of the supplies that are needed can be found at home. It takes a little time, but it's worth the effort.
Mudroom Bench With Shoe Storage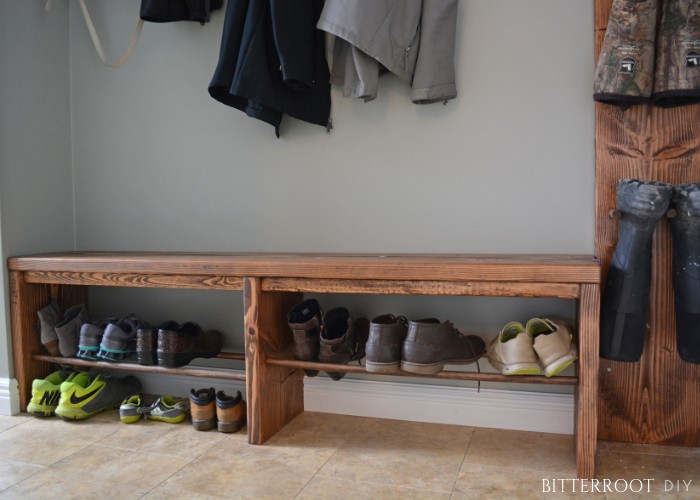 This DIY Mudroom Bench With Shoe Storage is a great way to organize and declutter your front door. It's also perfect for smaller spaces, making it ideal for the mudroom, coat closet, or entryway. Make sure you select the correct type of wood. Here's a DIY shoe rack that is inexpensive and easy to make. This large shoe storage bench can also be used as an entryway where you can sit down and take off your shoes after entering the house.
Industrial Shoe Rack Idea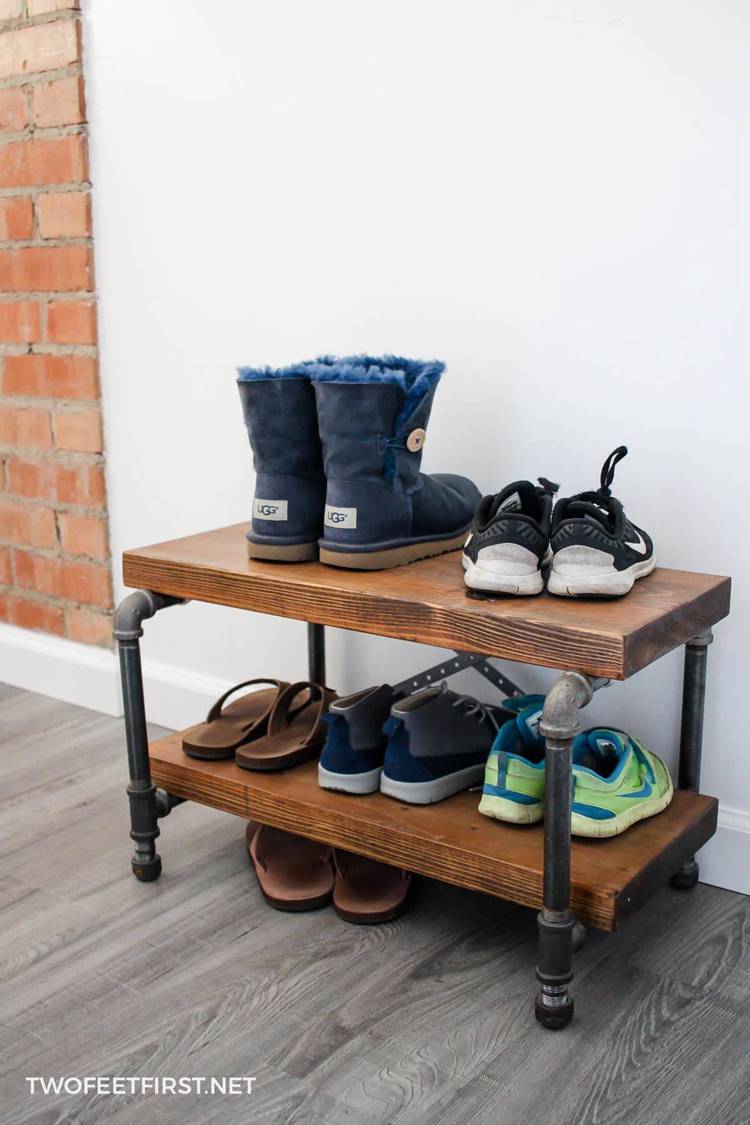 Your closet looks like a mess, but you don't have the space or funds to purchase a new shoe rack? Don't worry: This DIY Industrial Shoe Rack can be made with stuff you already have around the house, and it has a clean-lined industrial look that will complement any decor style. This Shoe Rack makes your shoes organized and easy to access. The wood planks help hold the shoes securely, while the pipe fittings give it an industrial look that works great for various decor styles, including rustic and farmhouse.
Floating Bench With Shoe Shelf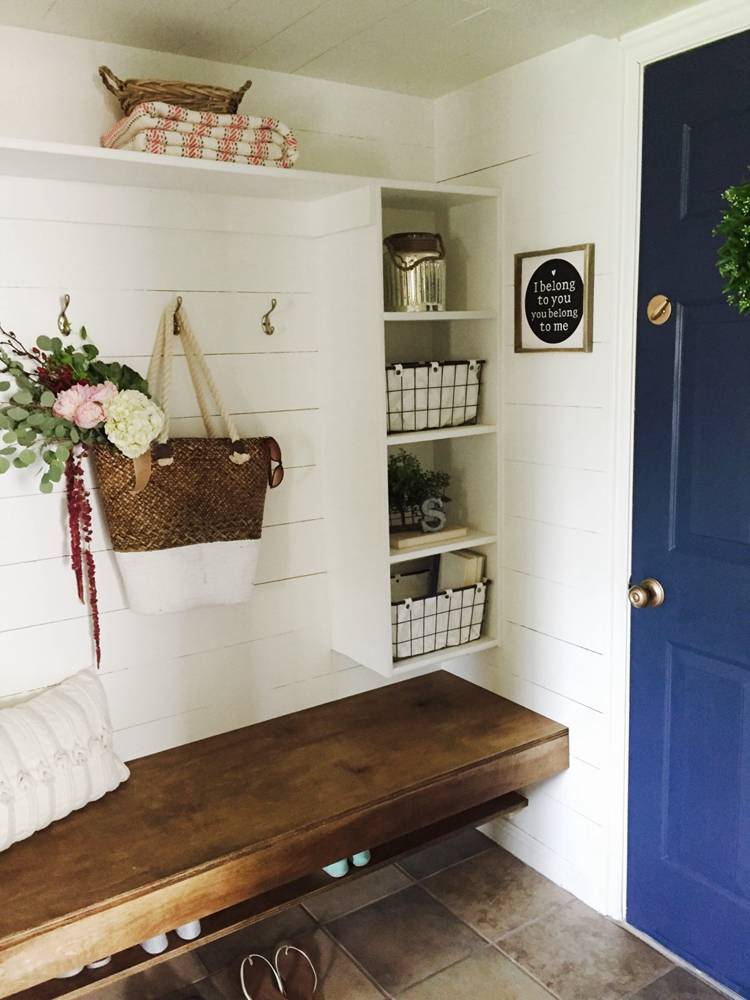 The Floating Bench With Shoe Shelf is a very unique and easy-to-build bench. It is a great place to put your shoes on when you come inside from the garage or outback. This shoe storage bench will free up the floor space so that you can walk freely and easily in your house without any obstacles or congestion. The capacity of this shoe storage bench will be sufficient for a 4-5 member family. This DIY shoe rack is a great way to ensure your shoes are put away and tidy in no time. It's easy to build, looks amazing, and is perfect for any shoe lover.
Shoe Rack Plan
This DIY shoe rack is a great way to store your shoes and display them simultaneously. With this easy-to-follow guide, you can build your unique styled shoe rack for all your favorite shoes that will easily fit anywhere in your home. The design for this set of shoe racks is simple, but it has a rustic feel that you will like to use in my home. They work well for people with smaller houses or apartments. It's also a great way to keep your shoes organized and off the floor or table while they wait to be worn again.
DIY Shoe Rack Idea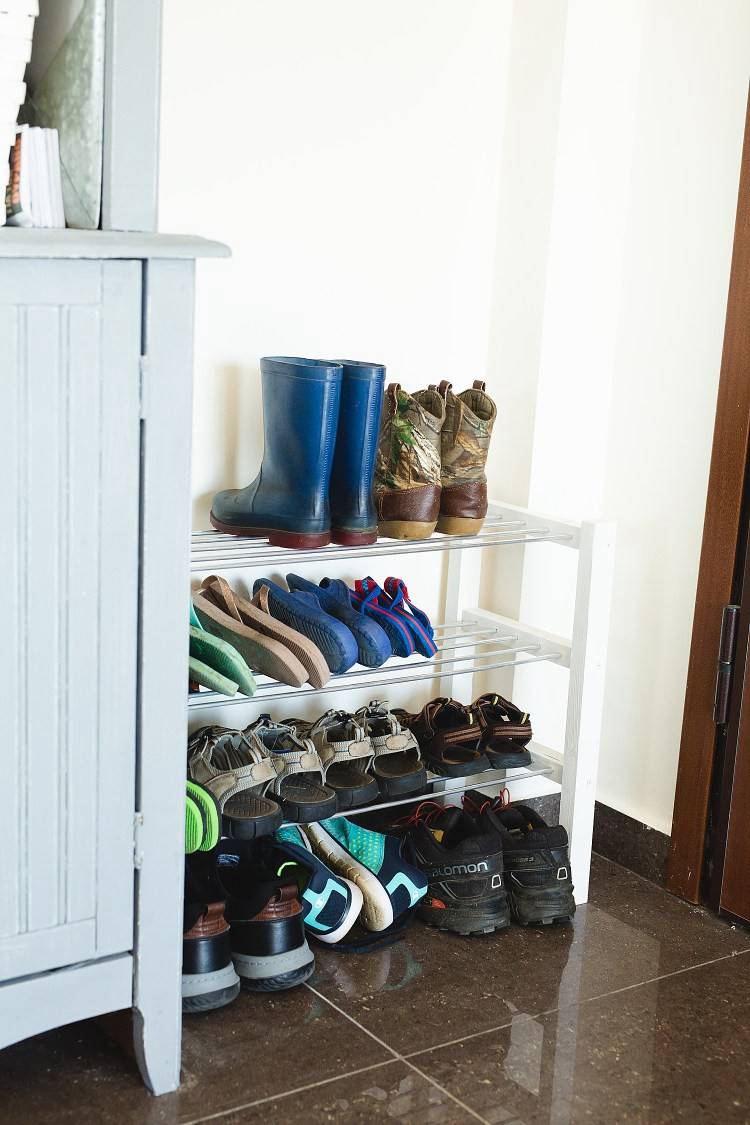 Not only do shoe racks make storage much easier, but many types and styles can compliment your home. While some designs are more traditional and old school, others are highly contemporary and innovative. It's also not just great for keeping shoes out of the way, but it can add a unique touch of character to your space. This DIY shoe rack is an excellent addition to any small closet or room. And best of all, it's easy to build! You only need a few tools and about two hours. This rack is perfect for organizing your shoes or boots, keeping them off the floor in a convenient way.
PVC Shoe Rack Plan
This PVC Shoe Rack is simple and affordable but also durable and sturdy. This DIY shoe rack holds up to 10 pairs of shoes on two levels, made with standard PVC pipe, threaded connectors, and tee shapes. The bottom shelf can store other items, while the top can hold more shoe pairs. This storage solution is great for anyone who has a lot of shoes! It fits right on the floor and creates more space in your closet.
DIY Shoe Rack Idea
If you're tired of having your shoes scattered all over, try making this DIY Shoe Rack. It's super easy to make, inexpensive, and quite decorative! Make a tailored shoe rack out of some old pallet board and some paint. In this tutorial, you will learn how to make your DIY Shoe Rack using only eight pieces of wood planks, nails, and essential tools. It's surprisingly simple—it's one of those projects that even a beginner can handle without difficulty.
Shoe Rack With PVC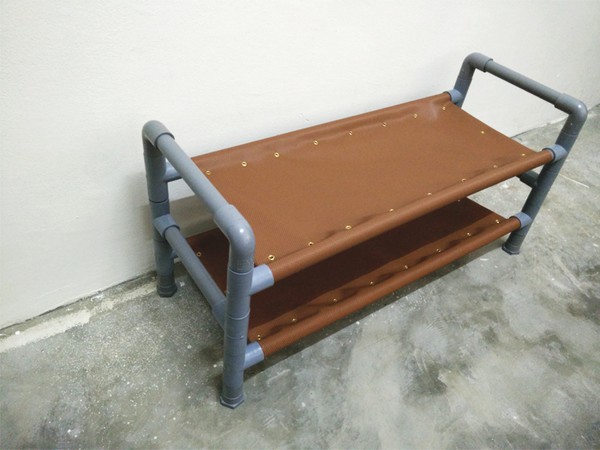 This DIY project is for those who love shoe racks but find the conventional ones boring in design and shape. With this shoe rack, you can showcase your footwear collection with style and elegance. This is an excellent DIY shoe storage idea to keep your shoes organized. The PVC pipe and fittings are highly affordable and easy to assemble. Use faux leather to wrap everything, then add the clothes pegs or hooks that you prefer and start adding shoes! Here's how to build your very own DIY PVC pipe shoe rack:
Adjustable Shoe Rack
This shoe rack is the perfect way to organize and store your shoes. It's easy to make, so it will not take up much time in your busy schedule. But, it will be worth every second as you see how much space you can save using this DIY adjustable shoe rack! This DIY shoe rack is great for holding up to 15 pairs of shoes, and you can adjust it to fit however many shoes you need. It's also portable so you can take it anywhere for easy setup.
Vertical Shoe Rack Idea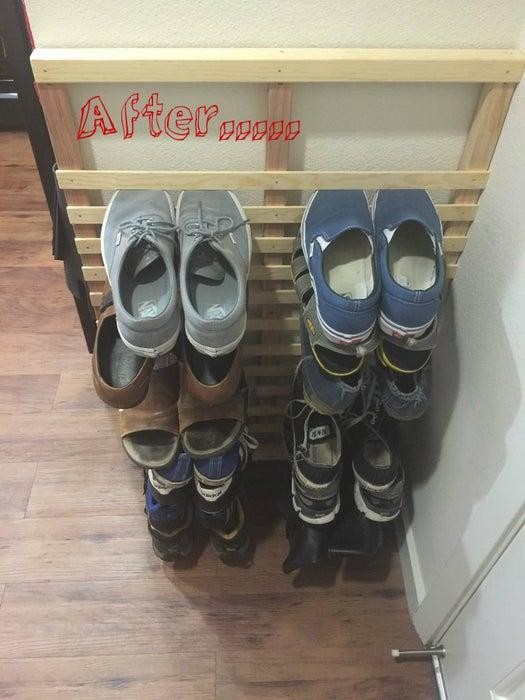 DIY Vertical Shoe Rack is a creative idea for those who want to save space. It'll help you save vertical space and free up some horizontal space. This project will be easy for everyone- whether experienced or not, it's a great project to start with! This DIY shoe rack is a great way to organize your shoes and boots. It's also great to add a bit of personality to a room! The hanging shoe rack is easy to build and makes excellent use of vertical space.
How To Make A Shoe Rack Shelf
This DIY shoe rack shelf is easy to build and inexpensive. It's a space-saving shoe storage solution that allows you to store many shoes in your room, even if space is limited. You can add this rack to any corner of your room or in front of a closet door that opens into a small or narrow entryway. The rolling shelving makes it easy to grab the pair of shoes you need without having to stop by your dresser each time. Let us introduce a DIY shoe rack shelf! It will help you store all those shoes very easily in your home.
How To Make A Shoe Cabinet
Take the shoe clutter out of your closet and into this classic, country-style cabinet for a sleek look. Made from solid pine wood and featuring two easy sliding doors, the cabinet is low enough to sit on the floor but tall enough to hold quite a few pairs of shoes. So, if you want to keep your shoes tidy and organized, building a shoe cabinet is one of the easiest ways to achieve this. This project can be completed in a few hours and costs just a few dollars. The idea is simple: build your wooden cabinet that fits the space available in your home or apartment.
See also: 15 DIY Under Bed Storage Ideas
Shoe Rack From Cardboard
Here are some excellent shoe rack-building ideas that you can build in your home. These DIY shelves are so easy to develop and customize to fit any space you want to put them in. If you need more room for your shoes, save some money by making this DIY cardboard shoe rack! This video will teach you how to create your shoe rack using cardboard. It will show you how to create an elaborate and stylish shoe rack that adds functionality to any room. This will also teach you how to recycle old boxes into a closet organizer.
Make A Floating Shoe Rack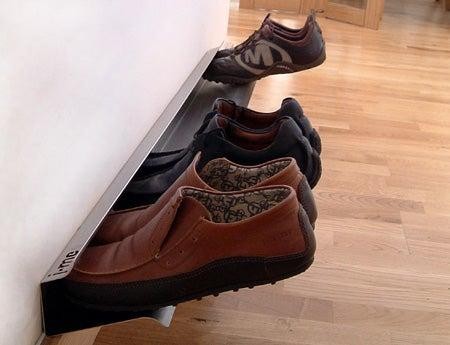 If you're tired of shoe clutter, this DIY floating shoe rack could be just what you need. It's a great way to store your shoes without taking up floor space. There is no need to drill into the wall or lay the racks on the floor. The materials are inexpensive, and it's super easy to build! Fortunately, this DIY project is free and easy to make! Learn how to make a floating shoe rack out of wood.
DIY Cardboard Shoe Rack
Something as simple as a shoe rack can offer a great solution to your shoe storage problems. This project will take less than an hour to complete and can be recycled or reused in case you need more space later. This shoe rack is effortless to make. It's made with cardboard, duct tape, and clothespins that you can find at the dollar store. All you need to do is follow the picture tutorial and step-by-step instructions guide to learn how to make this cheap, easy, unique, and valuable DIY shoe rack.
Children's Shoe Rack Idea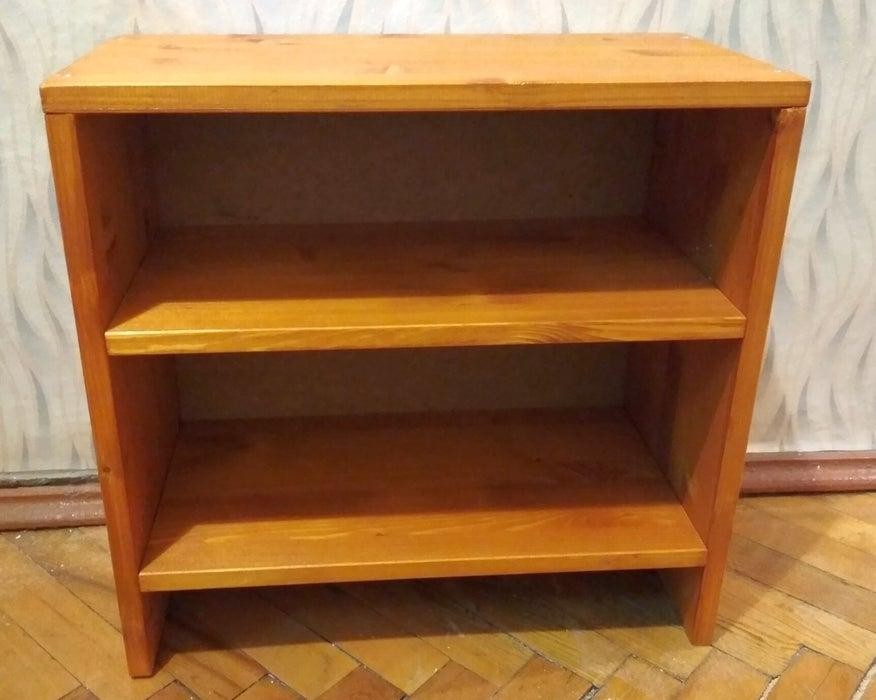 Need a place to store all those kids' shoes? You can build your toy shoe rack cheaply, with just a few simple tools and materials. It's easy to make out of wood, and the best part is you can build it to fit any space, use your favorite colors, and add any design details you want. This DIY children's shoe rack is an easy project with just a few materials; the perfect way to keep your kids' shoes organized and clutter-free! Here's how!
How To Make DIY Shoe Rack
Shoes are expensive and clutter up your closet space. It's time to do something about it - make this simple DIY shoe rack! This step-by-step video tutorial will guide you in building your shoe rack. It is simple, easy and not expensive! You will only need a few materials. They used regular pine boards, a few screws, and glue in this case. This DIY shoe rack is an easy project, and as you can see in the video, it's a great way to get organized with your shoes!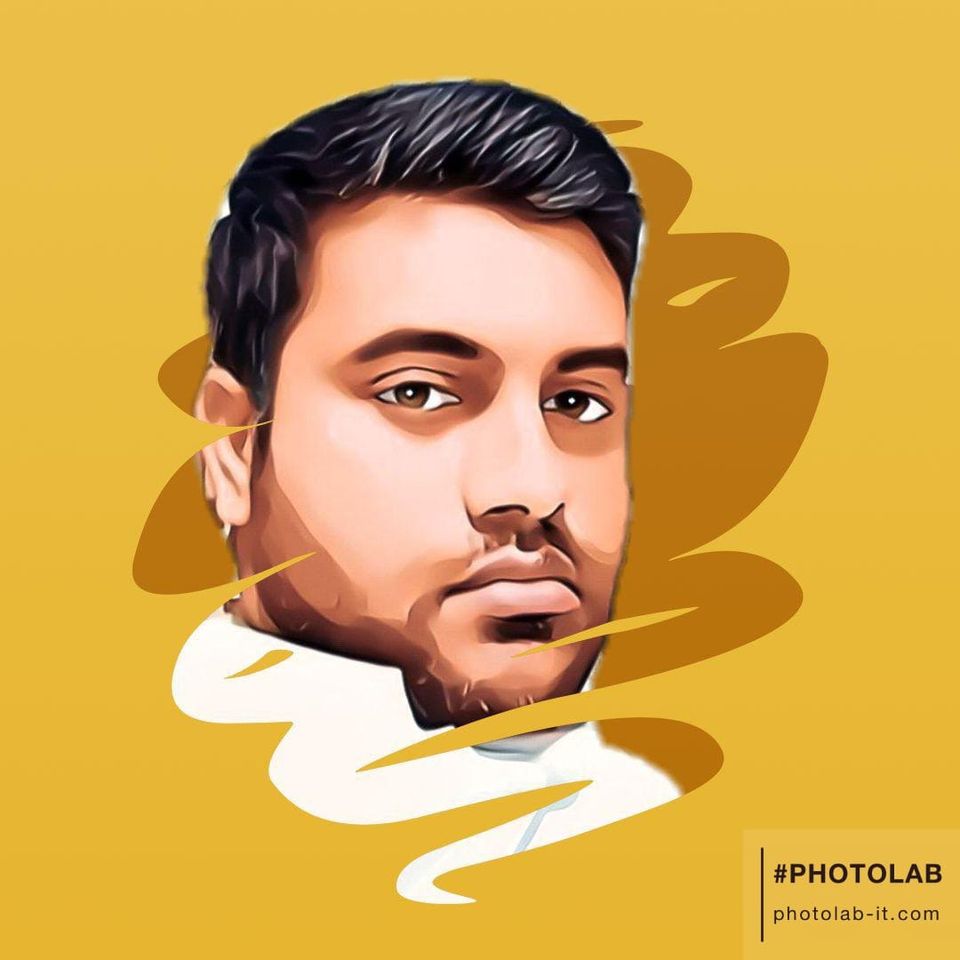 I am Raza, a crafts expert with 6 years of experience. I run this site for DIY lovers to provide the most exciting projects and ideas for your home, office, and everyday life. See More