A mudroom is perfect for storing coats and backpacks as you walk into your house. To add storage to your entryway, build a mudroom cabinet with removable or sliding drawers. It can easily be customized to fit any space and assembled right before your eyes. Creating an organized mudroom from scratch can be easy and fun. Keep clutter at bay by storing shoes in a rack and the rest of the items in baskets, shelves, and small drawers. Depending on your storage needs and design preferences, you can add one or many of these functional components to your interior. Here are some unique DIY Mudroom Storage Ideas you can try at home.
DIY Mudroom Storage Ideas
A mudroom can be a great way to create a secure, accessible area where kids can drop items they're shedding and where adults can put on their outerwear before they head outside. You can turn your storage space into something functional and appealing with just a few tips and tricks. So, Spruce up your entryway with a mudroom that showcases your personality with these 24 DIY Mudroom Storage Ideas. From built-ins and storage baskets to benches and cabinets, these mudroom storage ideas will draw inspiration for your own space.
Mudroom Storage Using Hooks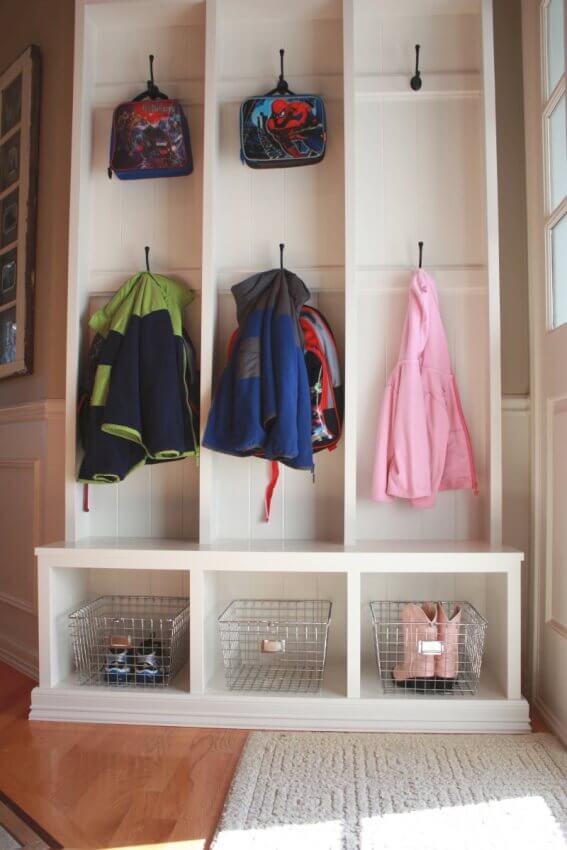 Are you looking for a solution to hold your keys and even a few other things, such as bags? This DIY hook-based solution can be a great alternative if you don't have a lot of space. This is also a perfect idea for those people without much space because it doesn't take up as much extra space as shelves or cabinets. Add some hooks and save a ton of space by not taking up so much room with bags, leashes, books, and more.
Family Command Center Mudroom
A mudroom doesn't need to be a place to store shoes, coats, and umbrellas. Why not utilize this location for a greater purpose - even in its current state of disrepair? This hack shows how you can use your clogged foyer as a command center to help get the entire family organized. From hooks for bags to pin boards for schedules, there's no reason why you can't utilize this space and transform your entryway into a hub of activity.
A Built-in Mudroom DIY
Are you thinking of making some structural changes to your home? If so, adding a mudroom is one of the most popular DIY solutions homeowners consider. This ensures your beauty essentials and cleaning supplies are out of the way. The best part is that you use unattractive space and add to the house's value by improving its appearance. With just a few simple stepsin this video tutorial, you'll get all the space and organization you crave in an eye-catching entranceway that complements your décor.
Mudroom PVC Pipe Solution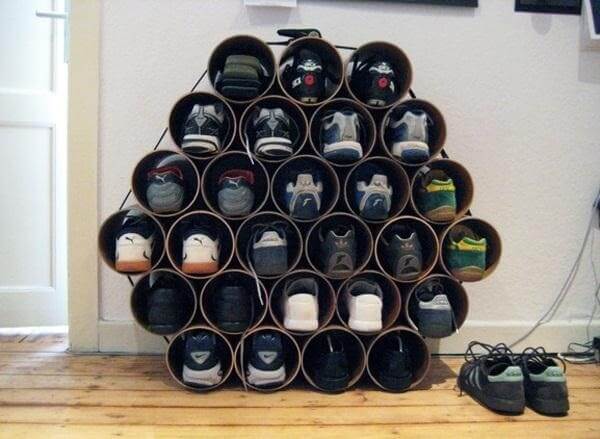 It's challenging to keep your house tidy if you have many residents. Here is an example of using simple pipes to solve the problem of having too many shoes in one place. This PVC pipe shoe rack adds more style and function to your mudroom. It's sturdy but compact so that it won't take up a lot of space in your entryway—and easy to assemble, too! The great thing about a PVC pipe solution is that it is both stylish and affordable. It can give your mudroom a final touch by painting them to match the house's décor.
Reversible Mudroom Idea
Turn space into a mudroom with this easy DIY project. With modular pieces you can make yourself, the design possibilities are endless! Turn it into a cubby storage system, wipe-off board, or divider—it's customizable. This is one small step for renters. This tutorial shows you how to make your own with pre-stain wood boards and hinges. It will help to keep the floors nice and clean while also fitting your home design needs!
Corner Mudroom Solution
The corner solution for the mudroom will help you convert the unused space in your home into a place where your family can sit together to get ready for their day. Alternatively, it can also be a place to store items that are not needed daily. This corner is a sturdy multi-functional solution that provides extra storage. It is ideal for any home, and it will help you to get the family organized.
Mudroom Bench Solution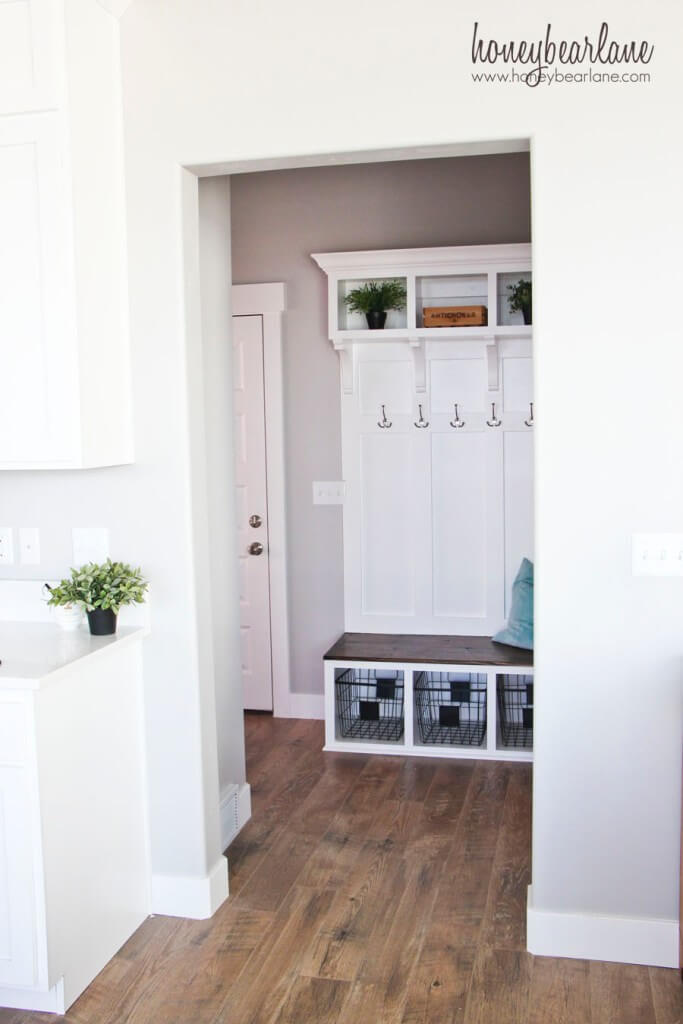 A mudroom is a great way to add some storage and give your entryway some personality. This DIY mudroom bench solution is perfect for you! Give your entrance a style and organize your coats, hats, and bags with a DIY mudroom bench. This easy-to-build project can be customized to fit any space and will add both storage and seating to your entryway. This fun and easy project can be made with just a few power tools, and it's budget-friendly too.
Mudroom Old Dresser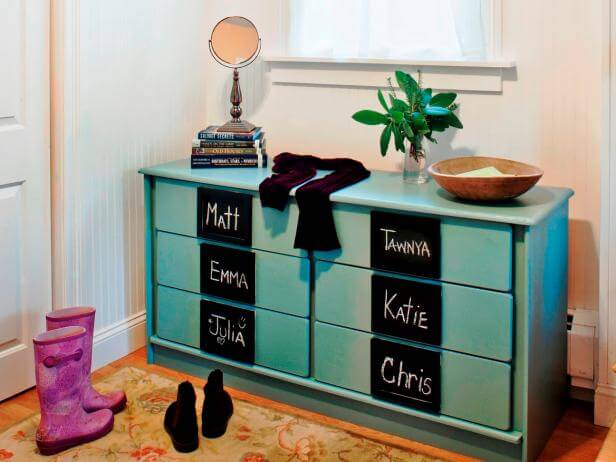 Do you want to create an extra storage space? Do you want to add an aesthetic touch to your mudroom? Are you have an old wooden dresser in your house that's been lying around for a long time and is no longer functional? Well, instead of disposing of it and buying a new one, why don't you save some money by repurposing it into a great piece of furniture? Transform an old dresser into a mudroom using paint and a few pieces of hardware. This DIY project is easy to assemble and will add a great style to your home.
Mudrooms For Small Spaces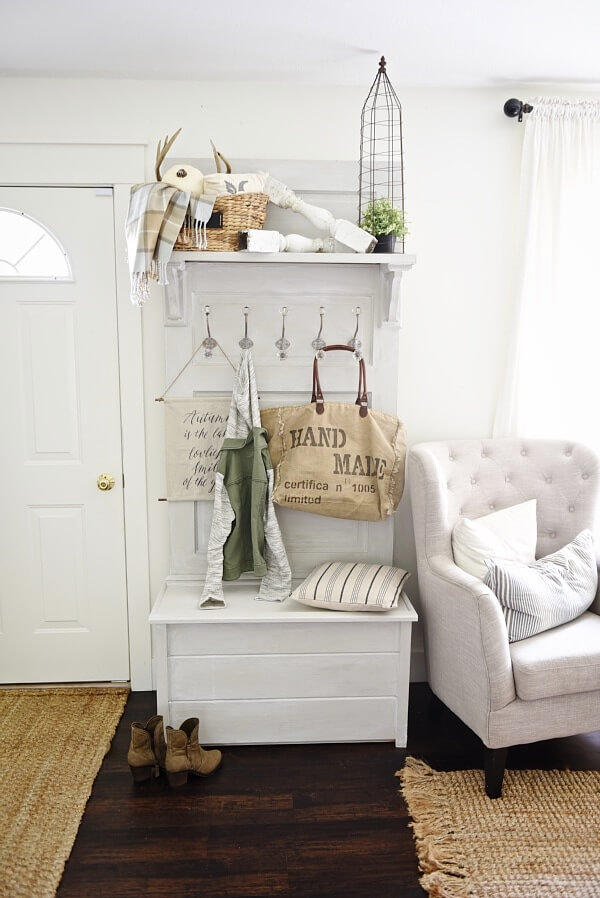 If you live in a small space and enjoy the idea of having extras like books, games, and other craft items, the Door Tree tutorial is perfect for you. It's straightforward to do yourself and looks brilliant. You can even add extra storage above for even more room for items! Adding a door tree and crates can add extra space to your small mudroom and still be organized! Follow this tutorial on making your mudroom for small spaces using reclaimed wood, wood stain, and pocket holes!
Pallet Mudroom Solution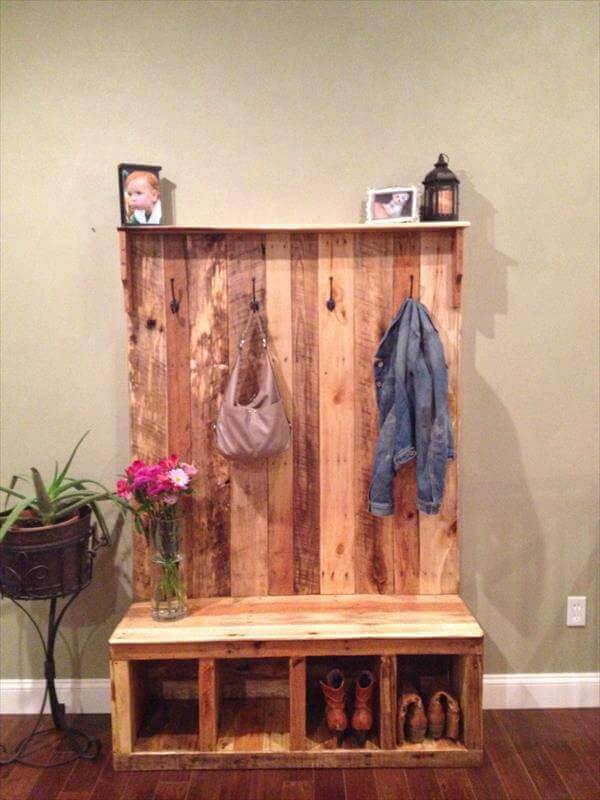 Everyone loves pallets, but sometimes they can add weight to your project. Why not make a mudroom bench using pallets? Not only is it cheap and easy, but also very sturdy, giving you many years of use. And with hooks; you get extra space for storage. Follow this tutorial to see how you can make your DIY mudroom bench.  If you want to build your bar, this is a straightforward project. The pallet solution is designed to be simple and sturdy, making it the perfect piece to add to your mudroom.
DIY A Cozy Mudroom
The first step to decorating your mudroom is to think about what you need. The most important thing to keep in mind is functionality and keeping your space efficient. This can be accomplished by using all of your room's walls to their best advantage and making sure you have ample storage solutions. The first wall in the entryway can be used as a landing spot for coats, bags, keys, and shoes, while the opposite wall could be used as cubbies. Nothing is more welcoming than a nice little area to sit, warm up, and organize your things. This cozy mudroom will keep things tidy and functional while adding charm to the entryway.
Small Mudroom Solution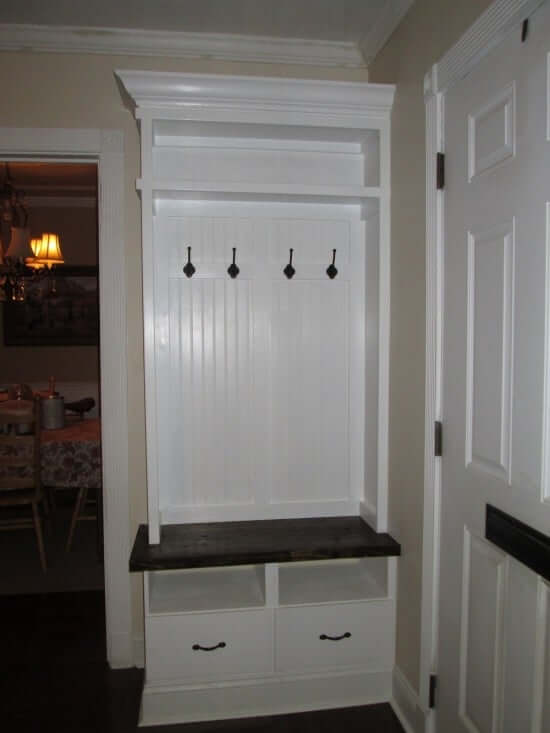 Extra storage space always benefits any home, especially in small rooms. Many of those rooms include a mudroom or entryway, which can use for all kinds of things. From hanging coats and bags to storing toys and sports equipment, even keeping rain boots under the table is perfect for kids! A small mudroom solution might not be accessible in a small space. But there are ways to do it! Painting this nightstand and adding hooks for coats is a simple project that can do in no time.
Mudroom Solution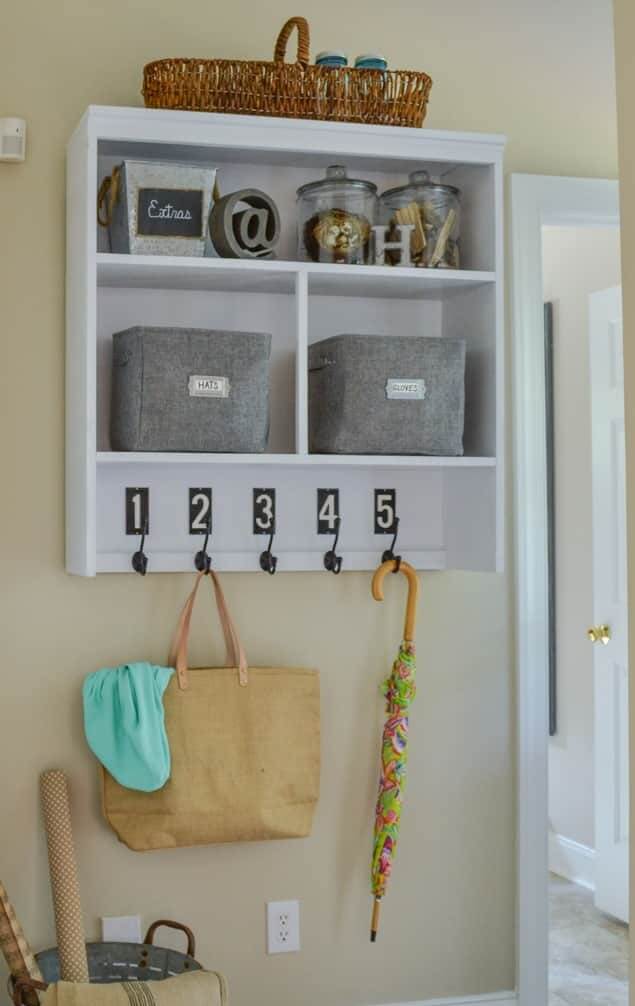 Get more out of your mudroom with this easy DIY solution. This is perfect for small spaces where you need to maximize wall space without letting all your stuff take up a lot of room. This way, you won't need to purchase a large cabinet; instead, get the most out of your mudroom by installing hooks beneath a hanging cabinet. You can also utilize wall storage for clothes and accessories so that nothing needs to be piled on the floor or stored away in a closet.
Rustic Mudroom Idea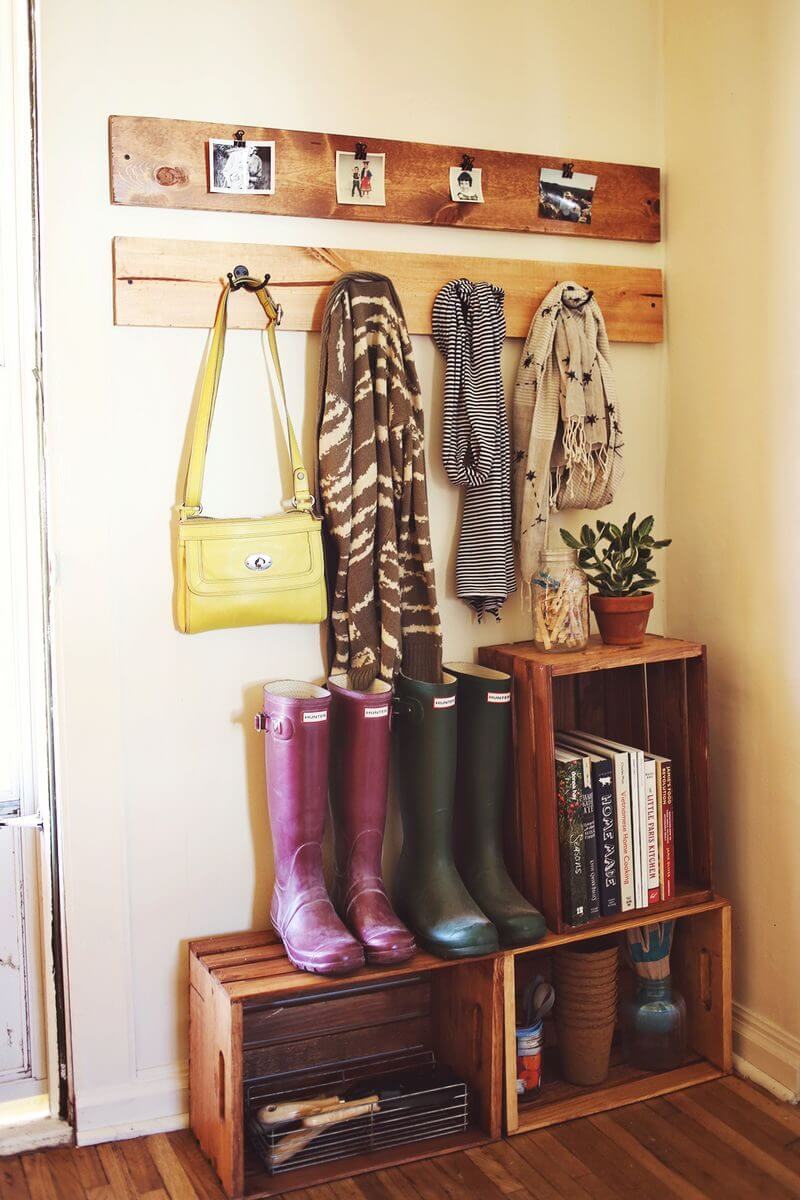 Every house needs a mudroom, but you don't need all the expensive items to make it happen. This rustic mudroom fits any budget and is practical for storing shoes and coats; plus, it creates a cozy area for those who love old-world charm. A mudroom is a space where you can put your boots and coats. It should be a place that is suitable to get rid of all the things you carry into the house in the cold weather, like umbrellas, jackets, and so on. You can easily create this space with crate boxes, hooks, and paint.
Indoor Porch Mudroom
Outdoor spaces can be even more enjoyable with a few simple tweaks. Whether creating a place to relax or welcoming guests, these ideas will help you add comfort and style to the outside of your home. If you're tired of moving shoes and boots around whenever you enter your home, here's an easy way to solve that problem. You'll need a bench, a doorframe, a piece of wood that matches the walls of your entryway, a saw, nails, and an electric drill. Follow this tutorial to enclose your entire entrance, transforming it into a more stylish and functional space.
Mudroom Underneath Staircase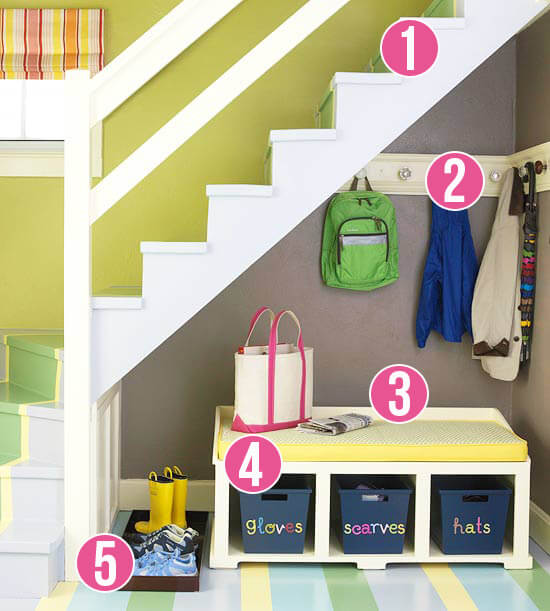 Home organization is not just a hobby, and it's a lifestyle. You can make the most of any space inside your home by mixing and matching various types of storage options for different items. Using it wisely, you can easily have good storage under the stairs. This is an easy, inexpensive, and creative solution to organizing the area under your stairs. Ensure your mudroom under the stairs is well-light and clean to keep it organized.
Make Mudroom Using IKEA
Lastly, it would be best if you considered some of the IKEA mudroom solutions. If you do your homework, it is possible to get a very stylish solution for a very reasonable price. These pieces will be effortless to clean and repair as it is just as easy to get replacement parts. Ikea mudroom solution is perfect for adding a stylish touch to your home. It's also very affordable, despite being mass-produced. Get an IKEA catalog and look for the ideal piece to fit your space.
Mudroom At The Bottom Of Stairs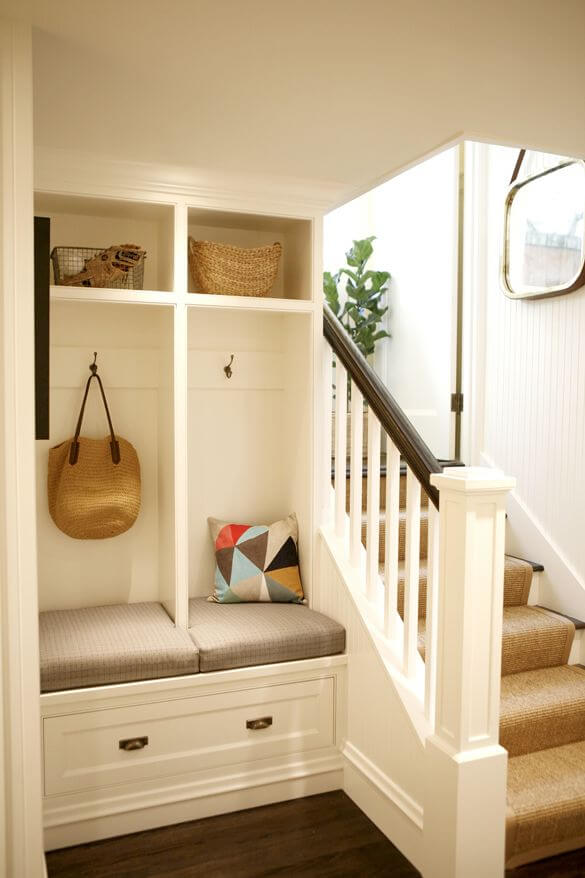 Too often, there's no area designated to store family members' work clothes in the house. Instead, they either leave their attire on the floor or pack it away neatly in a closet, confident that any houseguest that ventures into their bedroom will immediately notice an organized closet space that reveals everything about them. However, if you have a mudroom at the bottom of the stairs, you can avoid this potentially uncomfortable situation and keep your home tidy! This allows you to shed off your work clothes before proceeding to the inner atrium of your house.
Mudroom Alongside Stairs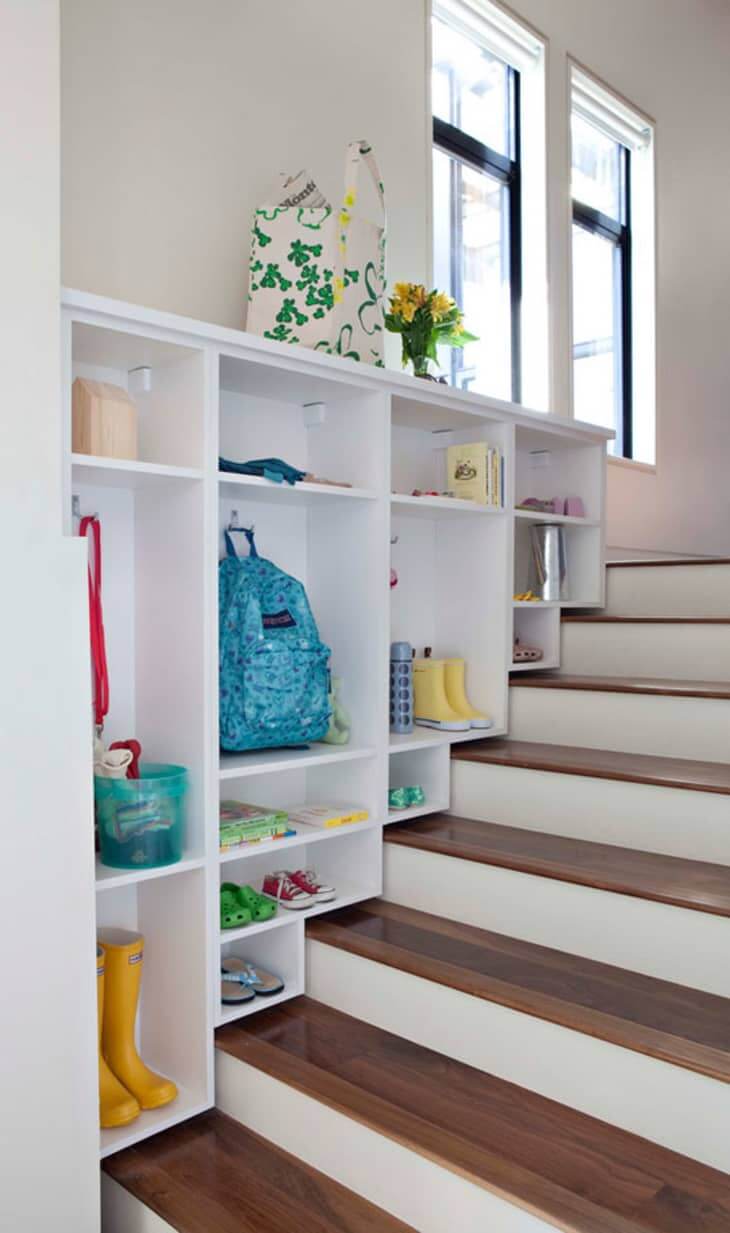 If you have enough space by your stairs, you are lucky. Turn your entryway into a mudroom. With this DIY project, you'll find everything you need to transform your space and maximize the area. This project will be so easy, and it will look pretty! In less than three hours, you can create your own functional and stylish mudroom alongside the stairs that are large enough to hold coats, shoes, mail, and more. You can design and build your mudroom alongside the stairs in your home. This layout works well for families with small children who often run in and out of this area.
Mudroom In Garage
If you're looking to create a mudroom in the garage, it's not as complicated as you might think. The first thing you need is a solid plan, so get out your measuring tape and pencil and start thinking through what you want out of your mudroom. Some simple design considerations will go a long way in making this room work well for your family. It is not just about creating a place for the family to be comfortable when they get home; it is about creating a convenient space to drop off their belongings and take off the mud after their morning workouts.
Mudroom Before The Kitchen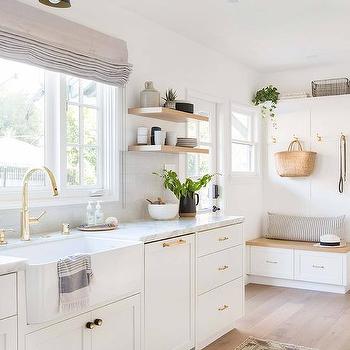 It's easy to feel at home in your mudroom with little DIY. A great choice is a dedicated space adjacent to the kitchen and near the house's entrance. Consider installing hooks or cabinets to store everything that comes in through the door, like bags, coats, and keys. And a bench adds extra seating and functionality and helps keep shoes on their feet and off the ground. With these tips and tricks, you can get your mudroom organized quickly.
Mudroom Basement Idea
Basements are great for kids, but what about your items? Here is a simple solution to free some space in your home. You can access the basement once you have an entrance to it. With this DIY mudroom idea, you can create a secure entry that lets you keep things private. Your basement mudroom is the central hub of your home. A place to hang up coats and store shoes, it is your private oasis right underneath your main living space.
Mudroom Laundry Room
When you consider a laundry room, you might think of it as where dirty clothes come in from the outside, and clean clothes go out to be worn. But that's not the whole picture - especially if your laundry room is multi-purpose. You can create a mudroom to serve as a place where your family can gather to unload coats, bags, and gear after commutes, playing out of town sports, or traveling.
Traditional Mudroom Idea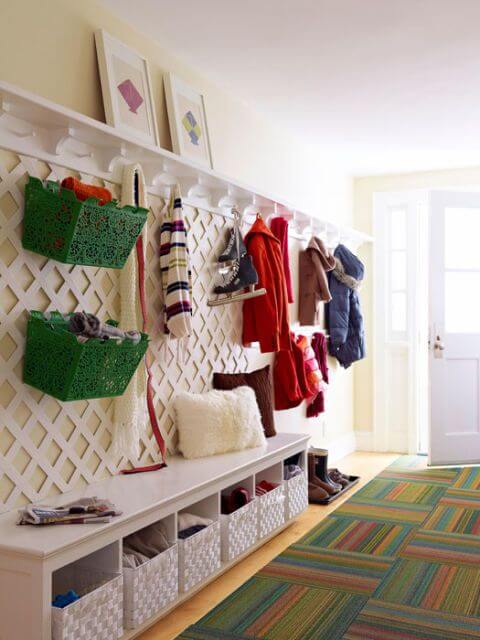 The traditional design is timeless. While modern style is fun and exciting, there's still nothing like a classic approach. This project has all the elements you love, with a few modern touches to give it a more contemporary feel. Follow this tutorial and learn how to create a wooden lattice board for hanging your things in style. The tutorial shows you to build a traditional style coat rack using inexpensive and easy-to-find materials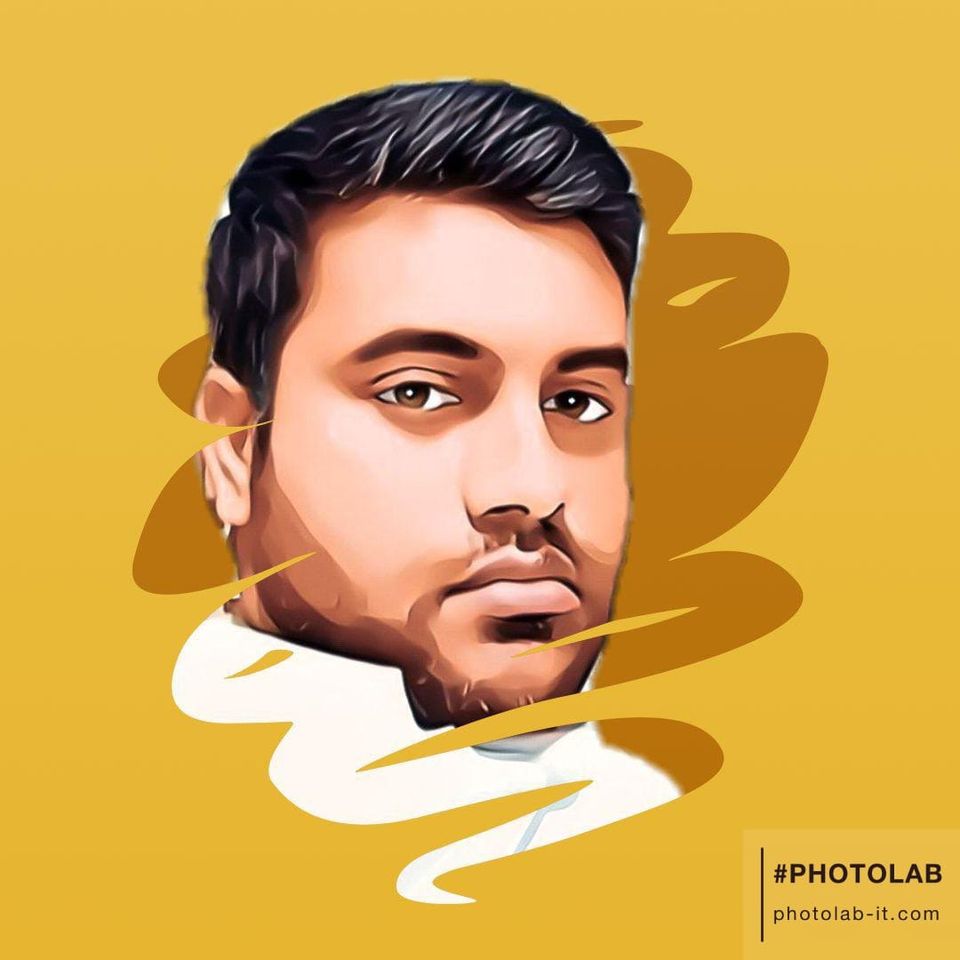 I am Raza, a crafts expert with 6 years of experience. I run this site for DIY lovers to provide the most exciting projects and ideas for your home, office, and everyday life. See More