21 DIY Laundry Hamper Ideas You Can Make Easily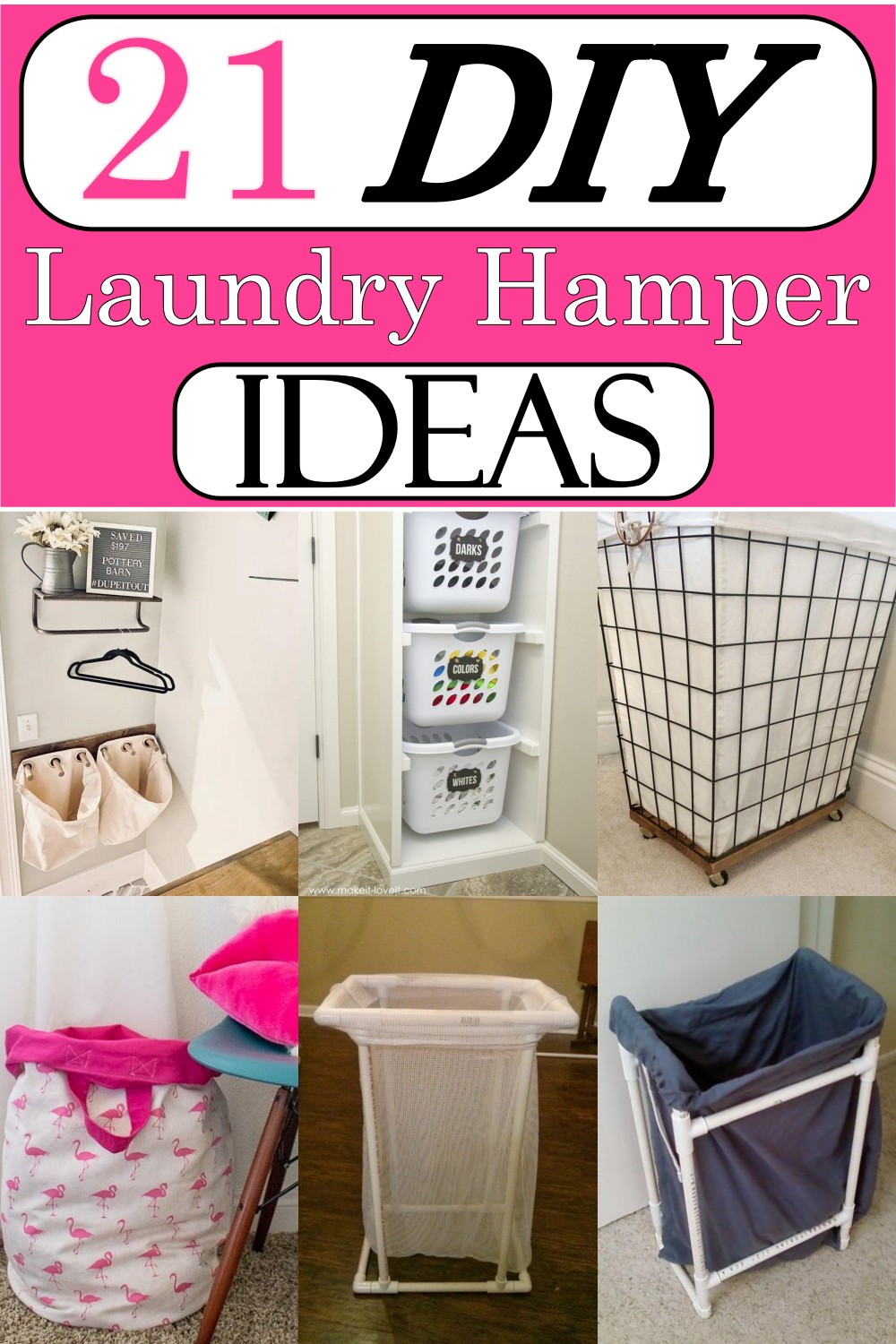 Who doesn't love a clean and functional laundry hamper? When you've got dirty clothes, it's hard to think of anything else. A hamper that works well can keep your laundry organized and smelling fresh. Laundry hampers come in all shapes, sizes, and materials—you can even make your own! If you're sick of boring laundry baskets, take a look at some of these creative DIY solutions for organizing your dirty clothes. You'll have a ball coming up with ideas for your own basket masterpiece! Here are some DIY laundry hamper ideas that are sure to inspire you!
Creative DIY Laundry Hamper Ideas
If you're looking for a way to add a little extra style to your laundry room, or if you want to jazz up the old plastic hamper you've used since college, why not consider making your own hamper? You can also order this at the store, but it costs a lot. If you like saving money and creating things yourself, this is a great project for you. Here are some projects that you might like and try. They will also be helpful if you want to avoid having a dirty hamper in your bedroom or laundry room at all times.
Are you looking for a rapid and cheap idea for laundry? Check out these amazing 21 DIY laundry hamper ideas and make your laundry time simpler.
You Can See: 24 DIY Clothing Rack Projects To Organize And Hang Your Wear
DIY Copper Pipe Laundry Hamper
If you're looking for an attractive, easy-to-set-up item that will last a long time and provide a lot of utility, you'll love this DIY copper pipe laundry hamper. This laundry is made from sturdy copper pipes and fittings; it holds lots of laundries and is easy to move around the house—and it's decorative enough to fit into any decorating style. With a little imagination, you can find the perfect place for your finished product in your bathroom or bedroom. It will complement the style of your house and give an upscale look.
DIY Custom Laundry Hamper
With its simple yet elegant design, this DIY Custom Laundry Hamper makes an attractive addition to any bedroom. It is made from pine boards, making it easy to assemble and affordable. This DIY hamper is a perfect addition to your home. It has been designed with style and ease of use in mind. You can customize the dimensions and design of this product to fit your specific needs. This hamper can also be utilized for storage and organization throughout the home.
PVC Pipe Frame Laundry Hamper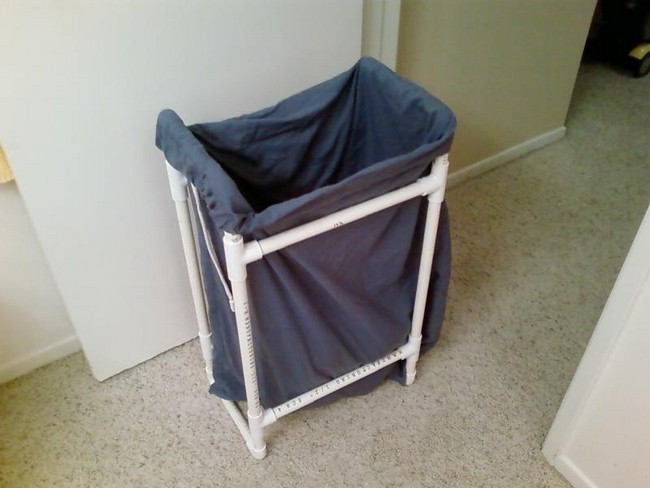 PVC Pipe Frame Laundry Hamper is a versatile tool that can be used for many different things. Once your clothes are clean and sorted, easily take them from room to room with the sturdy handles attached on each side of the frame. You can also use it as a home for all the clothes baskets throughout your home, so you never have to go searching for one! If it gets dirty or needs cleaning, hose it outside or wipe it down with a damp cloth. When you're done using it, pop it out and store it away until next time!
How To Build A Wood Hamper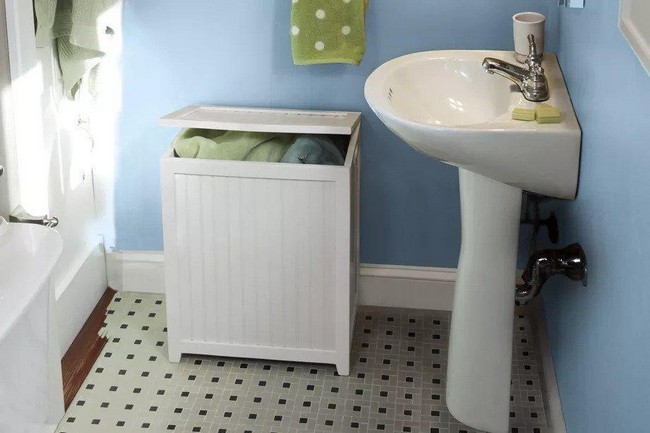 A Wood Hamper is the perfect laundry storage solution for the home. It provides you with an easy way of organizing all those extra pieces of clothes lying around in various parts of your house. Building a hamper takes a bit of time, but it is well worth the effort. The construction method used in this project requires only basic tools most people have available to them, if they have tools at all. Once you've built your first one, you'll be itching to make more because of the satisfaction of creating something useful for yourself.
DIY Laundry Basket From Old Cloth
This DIY Laundry Basket is a simple sewing project that you can easily do at home. It's so easy to build, and it doesn't require any special skills. All you need is an old piece of cloth, some foam and a few minutes of your time! Making your own laundry basket out of foam, fabric, and twine is not only cheap but also makes for a cute addition to your laundry room. It's easy to do, too; just follow the video above!
How To Make A Laundry Basket From Cardboard
This laundry basket is the easiest, quickest and cutest DIY project you'll ever make! It is perfect for those who have little storage space at home. You can make this simple woolen rope basket on your own at home. This is a creative basket made from cardboard and woolen rope. It looks lovely and serves the purpose well. You can store your clothes in it, or use it to keep other things. It will surely catch many eyes, so be ready to make some more once people come asking for one!
DIY Tilt-Out Laundry Hamper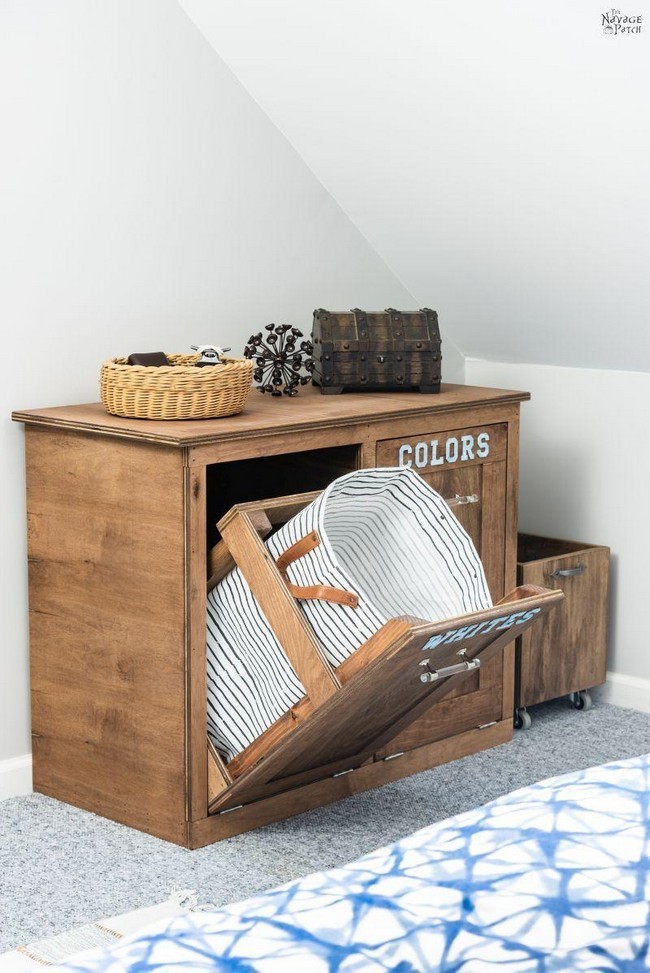 If you love woodwork, crafting, and creating things by yourself, then this homemade DIY tilt-out laundry hamper will be a fun project for you. Although it is simple to make, it still has a professional look and can easily be customized. This project will only take two to three hours, so when the weekend rolls around, you'll have a clean house with a new way to hide the dirty clothes! Build a tilt-out laundry hamper with this simple woodworking project. This easy-to-build laundry cart is sturdy and practical, so your filthy garments can stay hidden until you need them.
DIY Laundry Hamper
Your laundry hamper should be spacious and durable, able to take both a load of clothes and rough treatment. The Hamper is great for college dorms or even for apartment living. It's large enough to hold lots of dirty clothes but compact enough not to take up much space. You can move it from room to room when you need it. And it's very soft and comfortable to touch in touch. To make this Hamper, you don't need any sewing skills; they're easy-to-follow instructions that everyone can follow easily.
PVC Pipe Laundry Hamper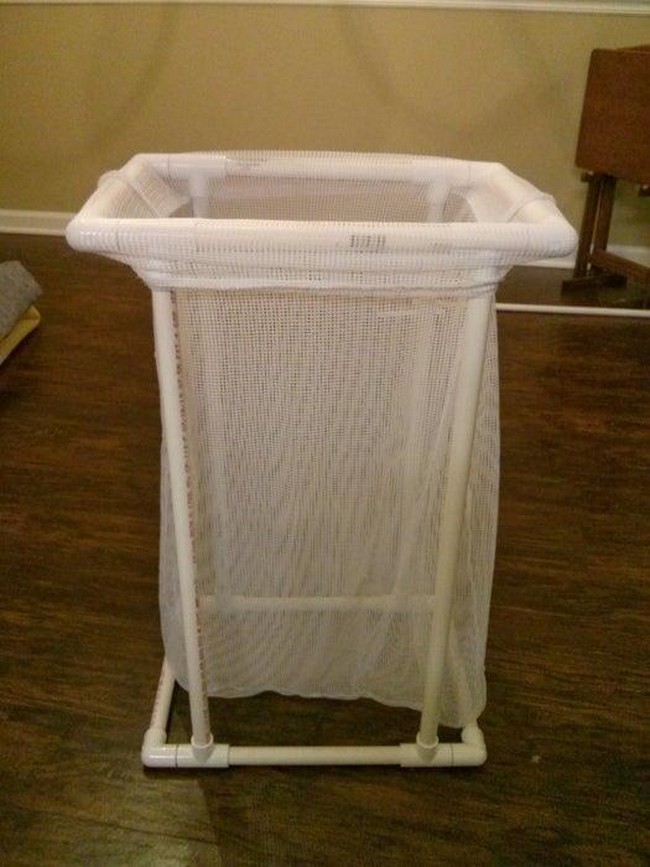 This project is so easy and fast to make that you'll be amazed at how much space it can save in a bedroom or closet. You won't believe how well this project will keep your laundry clean and organized! You only need a few tools, some simple supplies, and a little time. This laundry hamper is great for smaller spaces and people looking for a simple and space-efficient way to organize their laundry. It is easy to make with basic tools and can be taken down as needed.
DIY Laundry Hamper
Enjoy placing this laundry hamper in your bedroom or closet. This storage center is beautiful and will hold and carry your dirty laundry for you! It works great for those who live in apartments and condos. This DIY laundry hamper is a simple solution to keep your dirty laundry in place and organized. Super easy to make and follow, this project will help you keep your dirty clothes out of sight, clean your space, and get rid of clutter.
DIY Laundry Basket With Wheels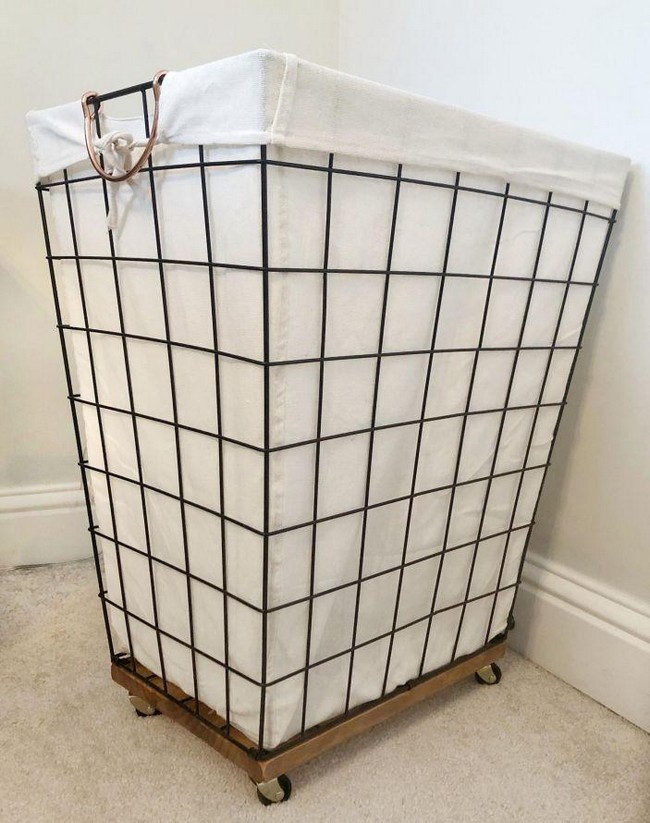 If you're looking for a way to take the hassle out of laundry day, you'll love this DIY Laundry Basket with Wheels. It makes light work of your laundry and is a great option if you want something that can fit in with your decor and other items you might already own. This awesome DIY project is easy to put together, and all you need is a wire basket, laundry bag, and four caster wheels to get started. You'll never struggle with shoving your dirty clothes into the basket again; this will save you money, too – by using caster wheels, you reduce the need for physical effort in moving large loads.
DIY Newspaper Laundry Basket
Want to clean up your laundry area but don't have the time or material for a big renovation project? This papercraft is an ideal do-it-yourself project to get you organized. With recycled materials—newsprint and magazine pages—and only some glue and tape, you'll have enough baskets for everyone in the family. They can be reused until they fall apart or even painted to match your decor! Watch this video above, and You can make these baskets quickly and easily.
DIY Vintage-Style Laundry Hamper
DIY projects are always fun, and if you love vintage styles, this laundry hamper is ideal for your home. It can be handy in the main bedroom or styled on its own in any kids' room for extra storage space. This vintage-style laundry basket is by far the best way to keep your dirty clothes under control. With lots of room and a decorative design, this hamper makes taking care of laundry way more enjoyable. Become the envy of all your friends with a great new addition to your home!
Laundry Basket DIY
Don't have time to do laundry but have a mountain of dirty clothes? Throw this easy DIY laundry basket on the floor and start sorting. This project is eco-friendly and made from navy striped linen with a waterproof bottom. Plus, because this basket fits in with any style, it can be used by anyone! In this project, you'll learn how to make a simple yet useful linen laundry basket by sewing its different components together. Depending on your need, the basket can be hung up or placed on the floor. It is decorated with navy stripe linen and is eco-friendly, using linen for sewing.
DIY Industrial-Style Laundry Hamper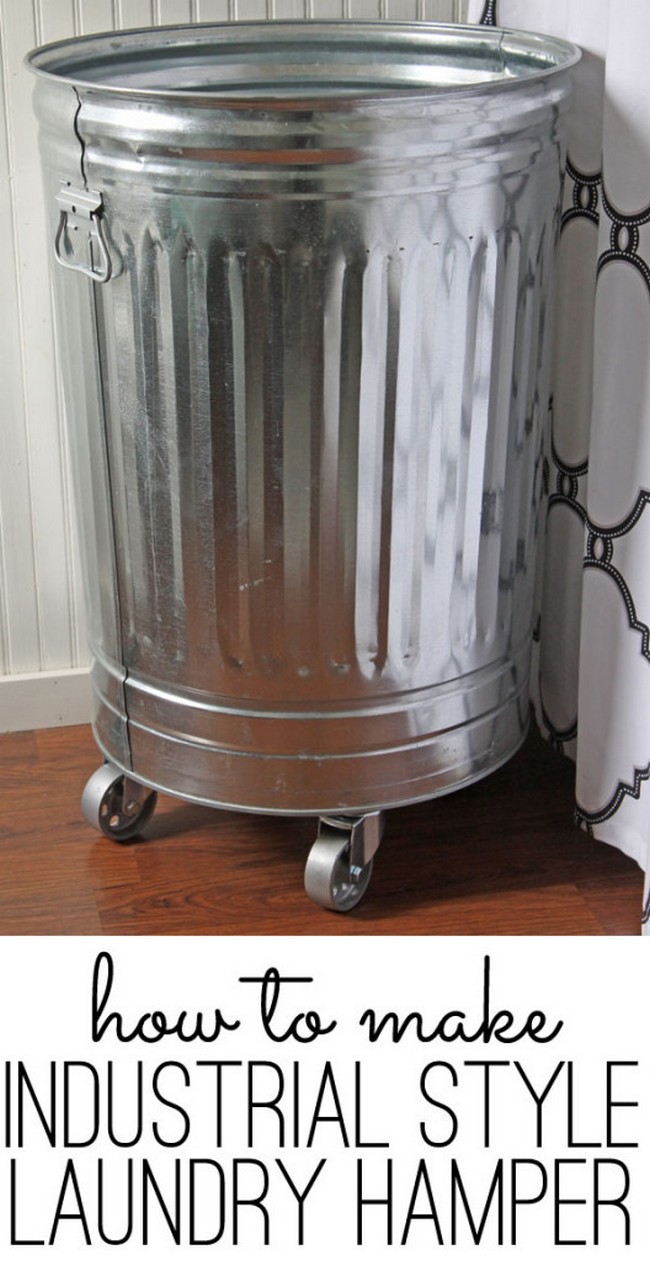 If you're looking for a stylish and modern laundry hamper that's incredibly durable yet affordable, this tutorial is for you. It's the perfect addition to a laundry room or any commercial space where clothing is used regularly. This DIY project only requires a few dollars worth of material and some tape measure skills so that anyone can complete it. The poles used in furniture allow your hamper to be super stylish and elegant but also functional!
DIY Vintage Style Laundry Hamper
Are you looking for your laundry hamper? The DIY Vintage Style Laundry Hamper will bring a smile to your face. This project is easy to assemble, and all materials are readily available in your local hardware store. It is outfitted with caster wheels, making it easy to access the items inside. Its round shape makes it easy to move. Once you have assembled your laundry hamper, throw in dirty laundry and keep it fresh for your next laundry day.
DIY Hanging Laundry Hamper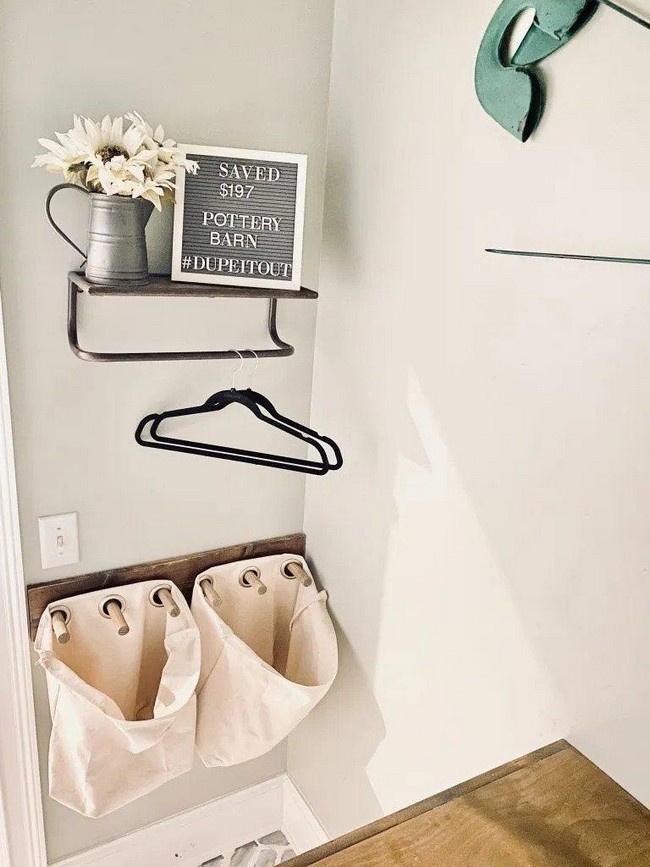 This wall-mounted laundry hamper is a must-have for any small apartments, college dorm rooms, or any other place you need extra storage. The laundry bag can be tucked on the dowel inside and removed to use as a regular laundry bag when it's full. With this wall-mounted hamper, you can use the area above your washing machine and create room in the closet. With clever grommets, this DIY wall-mounted laundry hamper is a cost-effective solution to keep your laundry neat.
DIY Washable Laundry Hamper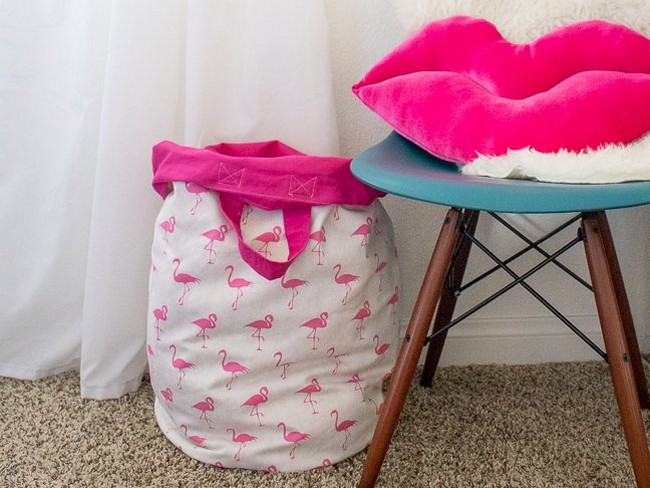 This Washable Laundry Hamper is a great way to keep your laundry area neat and organized. The hamper can be made in any size or color, depending on your needs and style. It also has an optional shoulder strap if you prefer to hang it from the door of your laundry room or closet. You can also use this washable clothes hamper to store toys in the kids' bedrooms. This feature creates an opportunity for self-expression because all you need to do is choose your favorite fabrics for a striking contrast to bring the best out of this project.
Laundry Dresser Folding Area And Hanging Shelf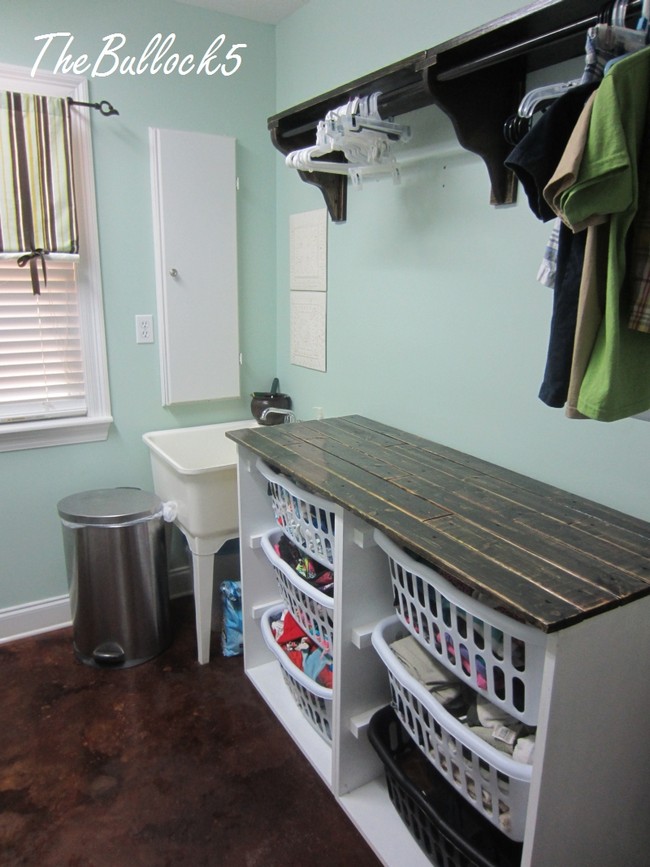 Keep your laundry essentials at hand reach with this compact, functional dresser. The drop-down shelf is ideal for storing folded clothes; the built-in hanger has room for cleaning supplies and laundry bags. Handy shelves keep sweaters socks, and more organized. A utility drawer is perfect for stowing vacuum cleaners, sewing supplies, and other items that need their own space. This dresser is designed to make your laundry room function better. Use this guide to make your own!
DIY Laundry Basket Organizer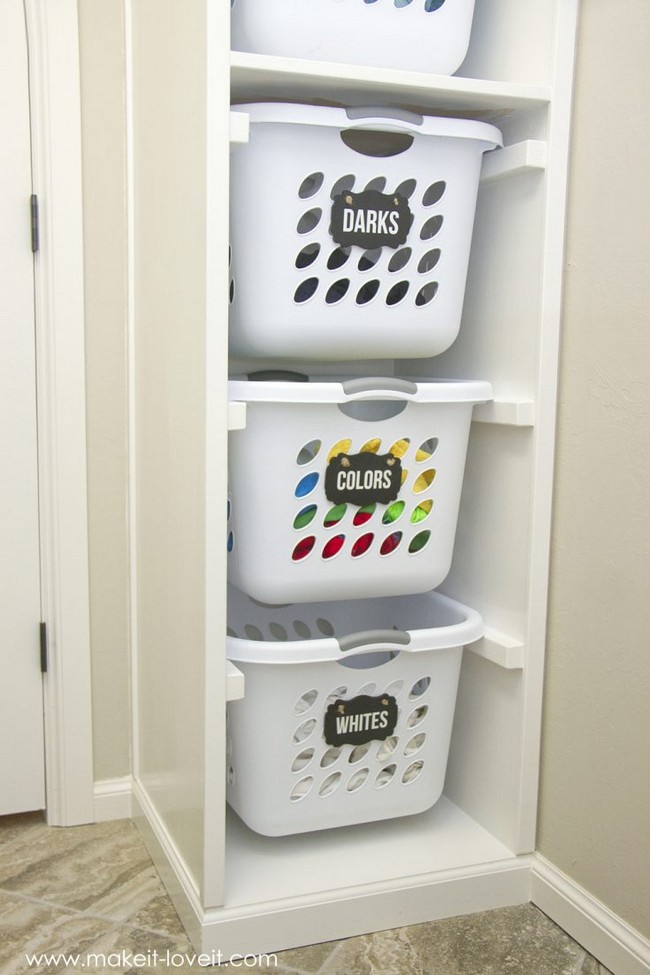 Are you tired of having baskets sitting on the floor in your laundry room? Thankfully, with this DIY Laundry Basket Organizer, you can get your baskets up off the floor and out of the way while still having easy access to everything inside. It's easy to customize this project to fit your needs and make it pretty, too! Get started on building your own Laundry Basket Organizer today! Use this guide to learn more!
DIY Laundry Basket
This DIY Laundry Basket is fun to show off your crafting skills. It's also inexpensive to an expensive laundry hamper – great for kids and adults alike! Just grab wire hangers, shirt sleeves, and buckets to create this simple project. This easy craft can be made in less than an hour, so you won't have to wait long before it's ready to use in your home! This laundry basket works great as a small space saver and keeps your laundry room organized. It uses only a few materials, such as a bucket, wire hanger, and shirt sleeves. This laundry basket is easy enough to make with your kids.