25 DIY Hat Rack Projects To Organize And Store Hats
Hats have been worn as an accessory for many generations now. They have a distinctive design and are used for special occasions such as weddings, parties, and other events. It is always best to store your hat properly so it does not lose its quality over time. You can check out these 25 DIY hat rack projects to see if one would suit your current needs. You can build your custom-made hat rack from scratch with the best tools and materials available, and our given step-by-step instructions will guide you throughout, so even a beginner can make a hat rack easily.
DIY Hat Rack Projects

Hat racks are important items to have in your home. They help you store and organize your hats and caps without worrying about them getting damaged or lost. This is even more important if you have many hats and caps. A hat rack can also be a decorative piece in your house. DIY hat racks come in many different forms, shapes, and sizes. You can get creative with them by using different materials and designs. Some of them require the use of woodworking tools while others don't. You'll find the perfect DIY hat rack for your home. Here are some of the best DIY hat rack projects that fulfill your requirements:
Affordable DIY Hat Rack Creation
Looking for a quick and easy DIY solution to your hat storage problem? Well, these racks will be a perfect solution and exactly what you need. It is also budget-friendly and can be made by anyone. It is so easy to make that even a newbie would have no problems. The video tutorial is detailed and will help you better understand the project. Once you have this rack, you can show off your collection!
How To Build A Hat Rack
A hat rack is a wonderful tool for families. It not only helps you organize your hats and caps, but it also adds character to your home decor. The best part about this hat rack is that it's so easy to make! This video guide will teach you how to make one without having any previous experience, so you'll be able to make this project even if you're new to Do-It-Yourself and woodworking! This guide will take you through the whole process from start to finish.
Wall-Mounted Hat Rack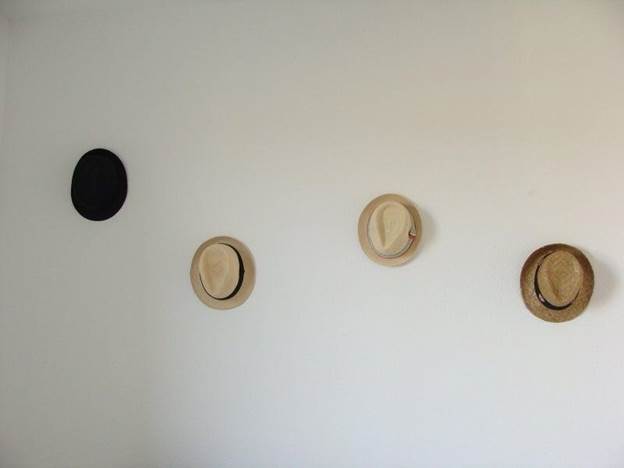 If you are looking for a simple, crafty, inexpensive way to organize your hats, this wall-mounted hat rack is an easy project. All you need is some wood strips, hooks, and screws to turn an unused piece of wall into a stylish storage area. This is a great way to store and display your hats! This DIY hat rack requires just a bit of hammering, but after that, it remains nice and provides you with a great place to hang all your favorite hats.
DIY Hat Rack Plan
Add your rustic style to your home with this DIY towel rack. Make it with scrap wood, which is easy enough for anyone. This easy-to-make hat rack can be used in any house, but most people place it in the bathroom, entryway, or living room. You need a few basic supplies and a little time, and you'll be well on your way to having the most fashionable hat rack around. It's as simple to make as cutting your wood, drilling holes, and adding support strips.
Coat And Hat Rack Idea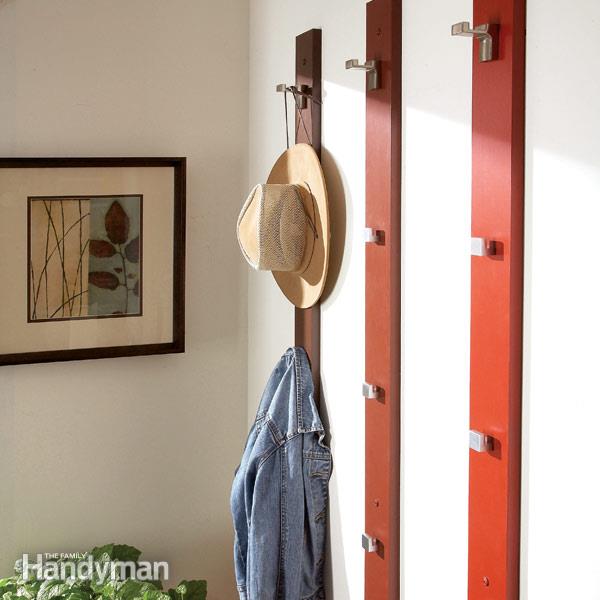 It is a fact that there are not a lot of items that serve two purposes. But this coat and hat rack does so elegantly. It is amazing how the designer used two simple structures to make one piece of furniture with multiple functions. You will be surprised at how easy it is to do this DIY project. This colorful coat and hat rack will add personality to your home. The DIY tutorial makes it quick and easy to build, plus it can be customized to any color scheme you have in mind.
Stand Up Hat Rack Easy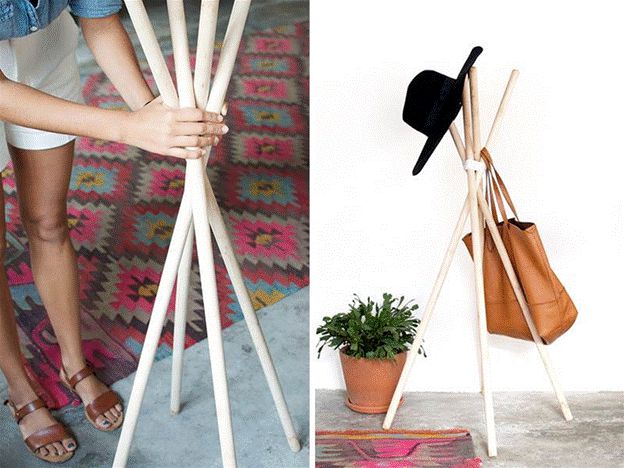 If you are looking for a DIY hat rack, you don't need to look any further. This stand-up DIY Hat Rack is the best solution to hang your hats. The material used to make this hat rack is very simple; the rack and hooks can be found in any hardware store. Moreover, you will also need tiny screws and strong glue while making it. Some simple tools are required for making this DIY coat rack; it's a great weekend project for anyone who loves to work with their hands.
Hat Rack With Antlers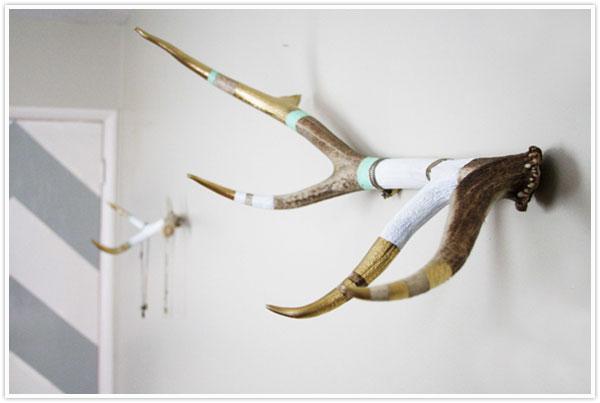 If you love hats and like to show off your passion for clothing, this DIY hat rack is the perfect simple project for you. The hat rack features antlers, so it's not a very common material for crafting projects. This hat rack and antler display is the perfect way to organize your hats and keep them looking great while not on your head. Hat Rack is made from reclaimed and upcycled materials; the tutorial offers step-by-step instructions for constructing this one-of-a-kind piece of home decor.
Zig-Zag Wall-Mounted Hat Rack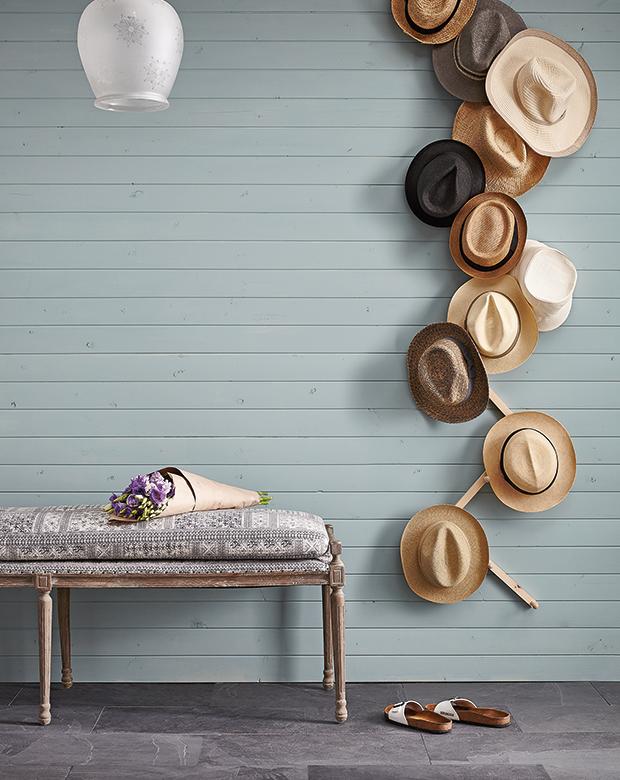 If you have a lot of hats and don't want them cluttering up your shelves, this is the hat rack for you! This pattern will impress anyone who has the opportunity to see it. Try your hand at doing this project today. This project can be customized in various color options, and you can even put your personal touch on it. The tutorial is easy to follow, so even the most inexperienced crafter can learn how to make a beautiful hat rack!
Neon Nursery Wall Hooks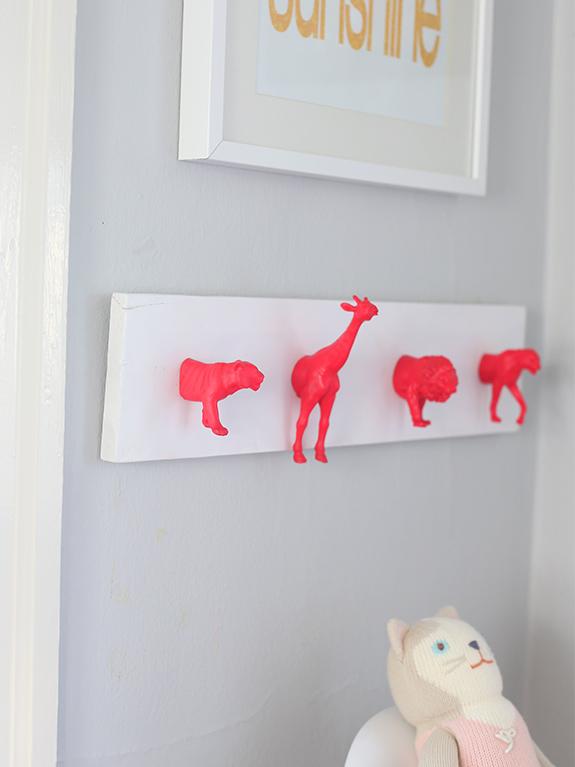 Why let an empty wall go to waste? This beautiful DIY Neon Nursery Wall hook looks amazing, and it's so easy to make. All you need is a few items, and you have your neon nursery wall hooks. In this project, you will learn how to make these neon nursery wall hooks perfect for hats. You can get creative by painting them in your favourite colors or even leaving them unpainted, so they look like neon lights. These would be great to have in your baby's room or any room in your house.
Pegboard Wall Organizer Plan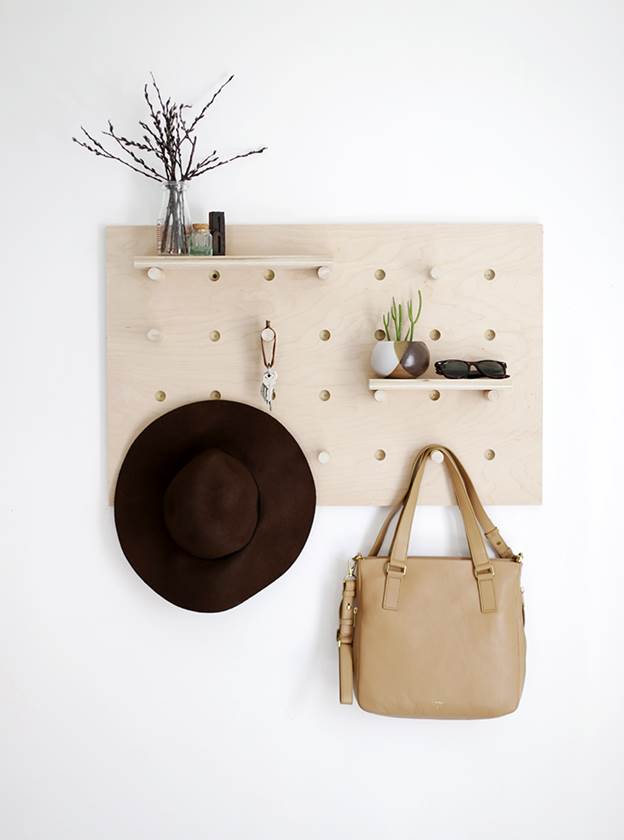 If you have plenty of hats but don't have enough space to hang them, this pegboard wall organizer is just the thing for you. It is easy to make and uses all materials readily available at home, including wood and paint. You won't have to pay a lot of money making it either. All that is needed here is basic woodworking experience and a few basic tools like a belt sander and circular saw.
Mismatched Hooks Rack
This DIY hat rack is perfect for those with small space who want to save space by using the walls. All you need is the right hooks, glue, and materials to follow this guide to see your room grow taller in just a few minutes. The materials are easy to find and come in various shapes and sizes. The most outstanding feature of this DIY is that it will help save space in your room or closet.
Wood Pallet Baseball Hat Rack Plan
This pallet baseball hat rack is great for displaying your favorite hats while adding a touch of style to your room. If you're looking for an easy way to create a custom hat rack, this DIY project may be just what you need. Made from plain jane wooden pallets and some old baseballs, it's perfect for storing your favorite baseball caps. The baseballs can hold hats, glasses, towels, or anything else you want to display on it.
tility.
Crowded Hat Wall Idea
A hat wall is a great way to add style to your home or office. This project is a step-by-step process for creating a wall of hats. It's fun and easy, and you can use different styles of hats to create a unique design. You can place a few hats, prayer flags, flowers, ornaments, and other decorative items on your hat wall. Add your personal touch by hanging pictures or other items on the wall.
Industrial Hat Rack Plan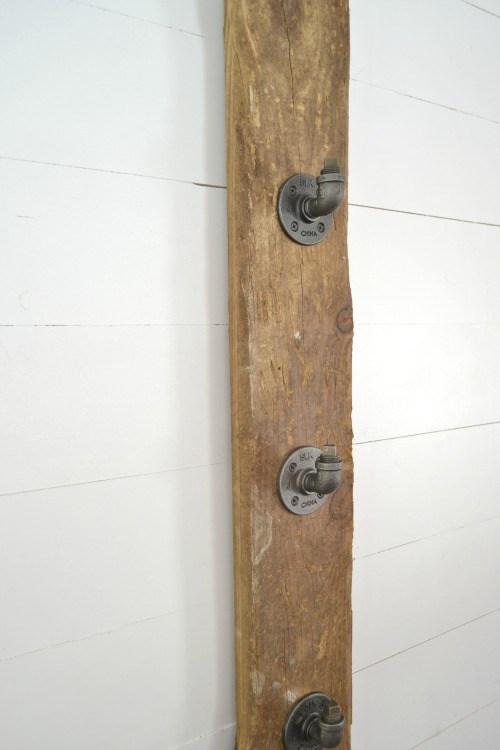 This industrial-style hat rack is a great way to store any number of hats, from ball caps to fedoras. The wood planks add warmth and style, and the hooks are designed for easy accessibility for both storage and display. You can make it look rustic, modern, or traditional. Either way, you will be very satisfied with the result of this project. This DIY project is also affordable, thanks to the inexpensive materials used in making it.
Fancy Family Hat Rack Creation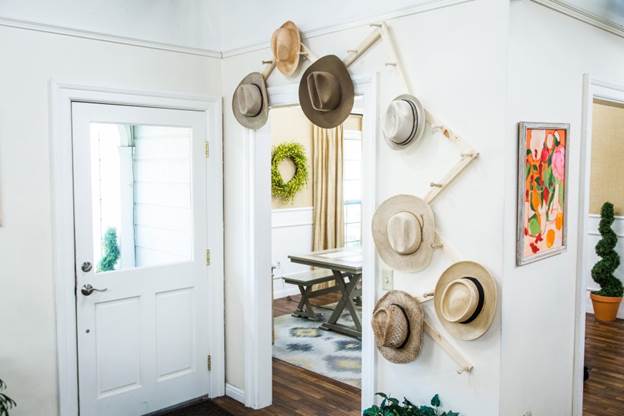 Why crowd all your hats in one place when you can spread them out? This amazing hat rack will make your hats stand out. In this tutorial, you'll learn how to make this decorative hat rack that can hold many different hats. You can make this cool and practical organizer a hat rack. Its amazing pattern will be an eye-catching addition to your home. It's great for hanging up all your favorite hats, so they'll be easy to find when you need them.
Muskie Hat Rack Plan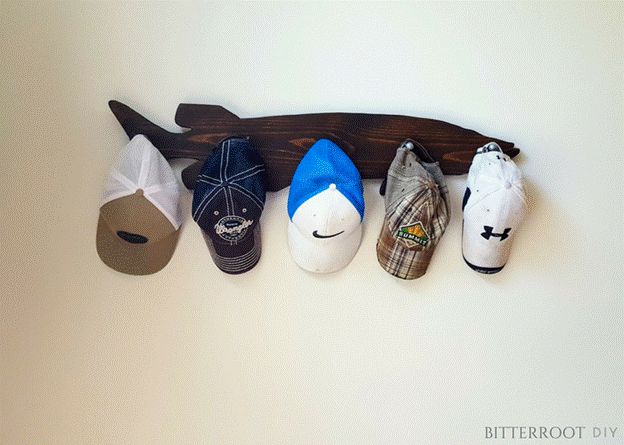 If you have ever owned a muskie hat, you know how many different ones you can collect. This DIY Muskie Hat Rack will not only hold your collection of muskie hats, but it will add beauty to your home. Making this muskie hat rack is easy to follow, and it looks stunning once complete and will look great in any home or office. The tools needed to make this hat rack are common household tools.
How To Build A Hat Wall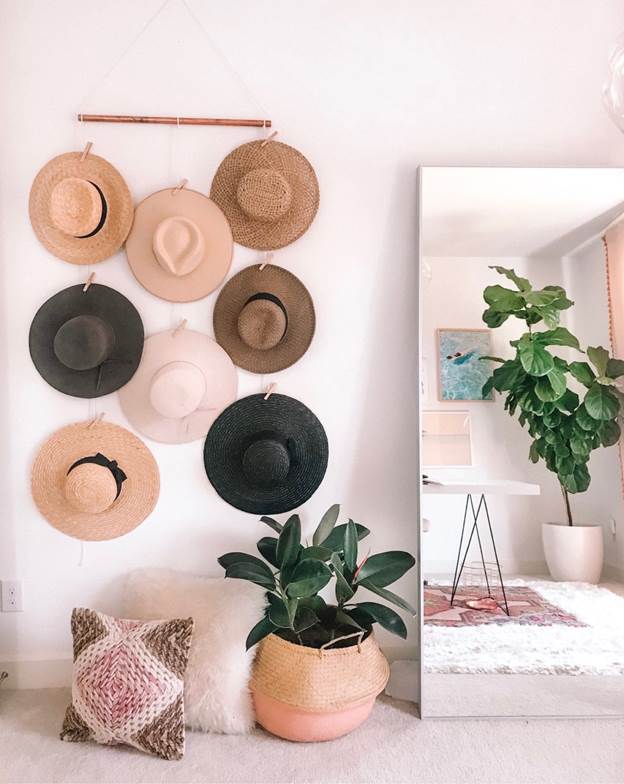 Are you looking to display your favorite hats differently?? This is the perfect project for you. This tutorial will teach you about creating a unique and fashionable hat wall one afternoon. You can make it in any color or theme, and it can be hung up in any room that needs extra décor. Try out this easy project and wow your friends. This DIY project is easy, inexpensive, and provides a ton of versa
Old Shutter Hat Rack Creation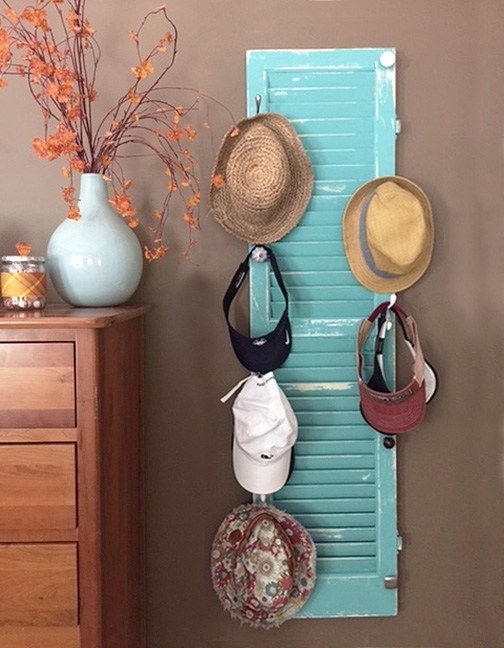 The old shutter can be utilized to make a hat rack. If you have one lying around, this is the perfect DIY idea for it. You do not need special skills or equipment to create a DIY project like this. The instructions are simple; you can build this hat rack in less than an hour. All you need is an old shutter and a drill. You will be amazed at how easy it is to make a hat rack using old shutters.
How To Manage Hats Using Clip Hanger
A hat can quickly become a tangled mess if you don't take the time to care for them. Use this easy DIY video tutorial to learn how to organize your hats using clip hangers. Watch the video and equip yourself with the knowledge you need to store hats in a way that is convenient and looks great! The clip hangers will use as an idea for organizing hats. The process is possible by using several clips, which will further arrange according to their size.
Colorful Hand Stand Idea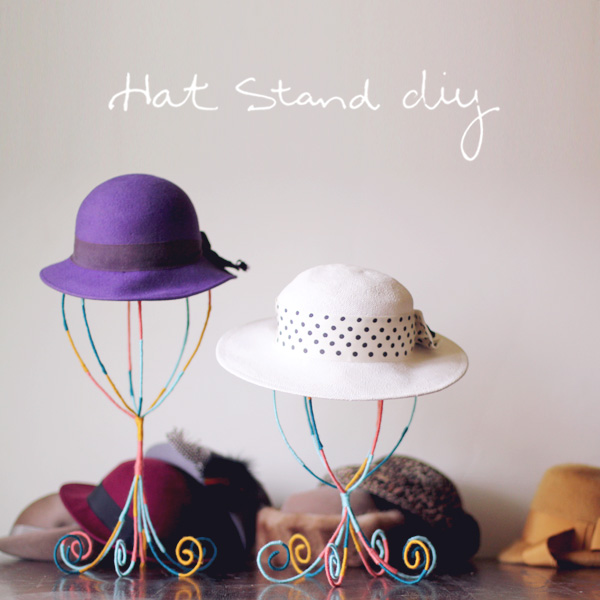 The Hand Stand DIY project is a great way to put your creativity to the test. There are many ways to decorate it; you can always come up with new ideas for displaying your hats. All in all, this is a very fantastic way of displaying and storing your favorite accessories. This is a great project for kids and those who enjoy crafting. You'll need a few materials to do this project. See how easy it is?
Hat Rack Under $10
DIY Hat Rack Under $10 A hat rack is a great way to organize your hats and keep them off the tables. Making a hat rack is also a fun project involving nail hammering, which can be fun for children and adults. You don't always need to make something perfect or expensive – sometimes the best things are just those that cost very little. Your DIY hat rack only needs some pieces of wood and a few nails, yet it will function quite well.
Tree Branch Hat Rack Plan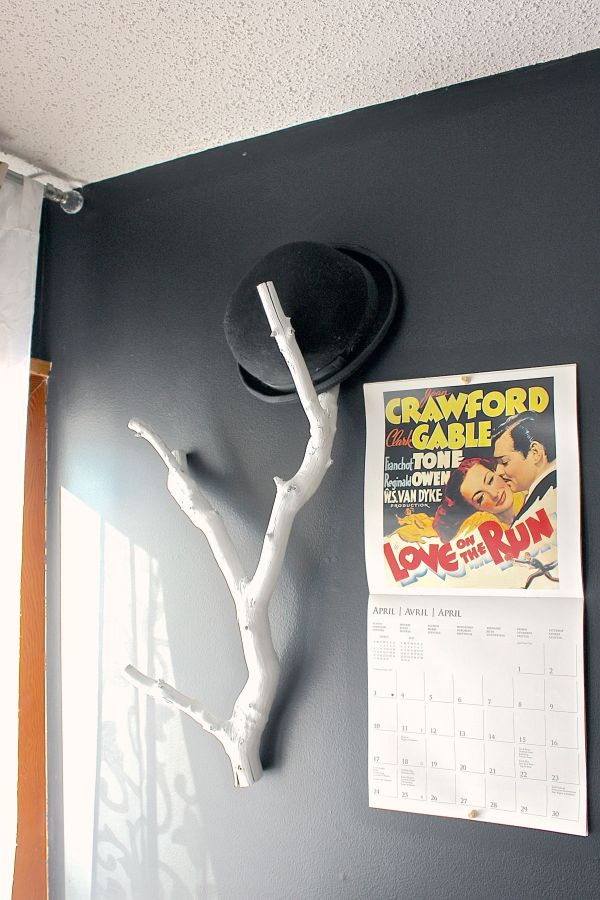 If you are fed up with hats and other accessories on your floor or hanging from the ceiling, try making this great hat rack from a tree branch. All you need to do is sand, paint, and hang it on the wall. You can make many different styles of these for yourself. This tree branch hat rack looks great and makes placing hats on it easy. It is an easy DIY project that will add rustic character to any room in the house!
How To Build A Simple Hat Rack
Do you have a large collection of hats and caps? Do you like to have your favorite hats handy? This How To Make A Simple Hat Rack will help you do both. Not only does it hold your favorite hats, but it also creates extra storage space in your closet. This simple hat rack is perfect for those of you who are looking for a DIY project. It can work using different kinds of wood and even different styles.
Peg Coat And Hat Rack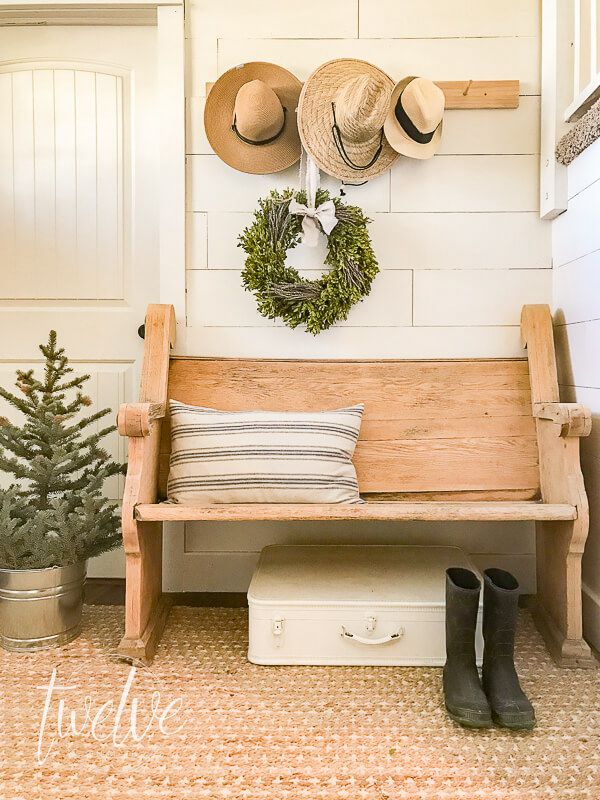 Don't worry about your hats and coats going missing in the closet. Make this hat rack for your entryway, sitting room, or even outdoors on a sunny summer day. It has a country feel, yet it could also work in an urban setting. Despite its rustic style, it is constructed with basic woodworking tools and methods that even beginner woodworkers can tackle. Since it is made from solid wood, this woodworking project is easy to make and sturdy.