Corner or L-shaped desks can be an excellent solution for offices, bedrooms, and more. They are better suited for smaller spaces than larger desks and allow for more privacy. With all of the available DIY projects, you may find it hard to decide which one to do. The following ideas will help you make up your mind. You can build a stylish and functional corner desk at home or in your office! These DIY corner desk ideas allow for plenty of workspaces, adding style and functionality to any space. From simple techniques to more elaborate ideas, these desks will give you the room you need for your work or education. With these easy-to-assemble designs, anyone can have a comfortable workspace.
DIY Corner Desk Ideas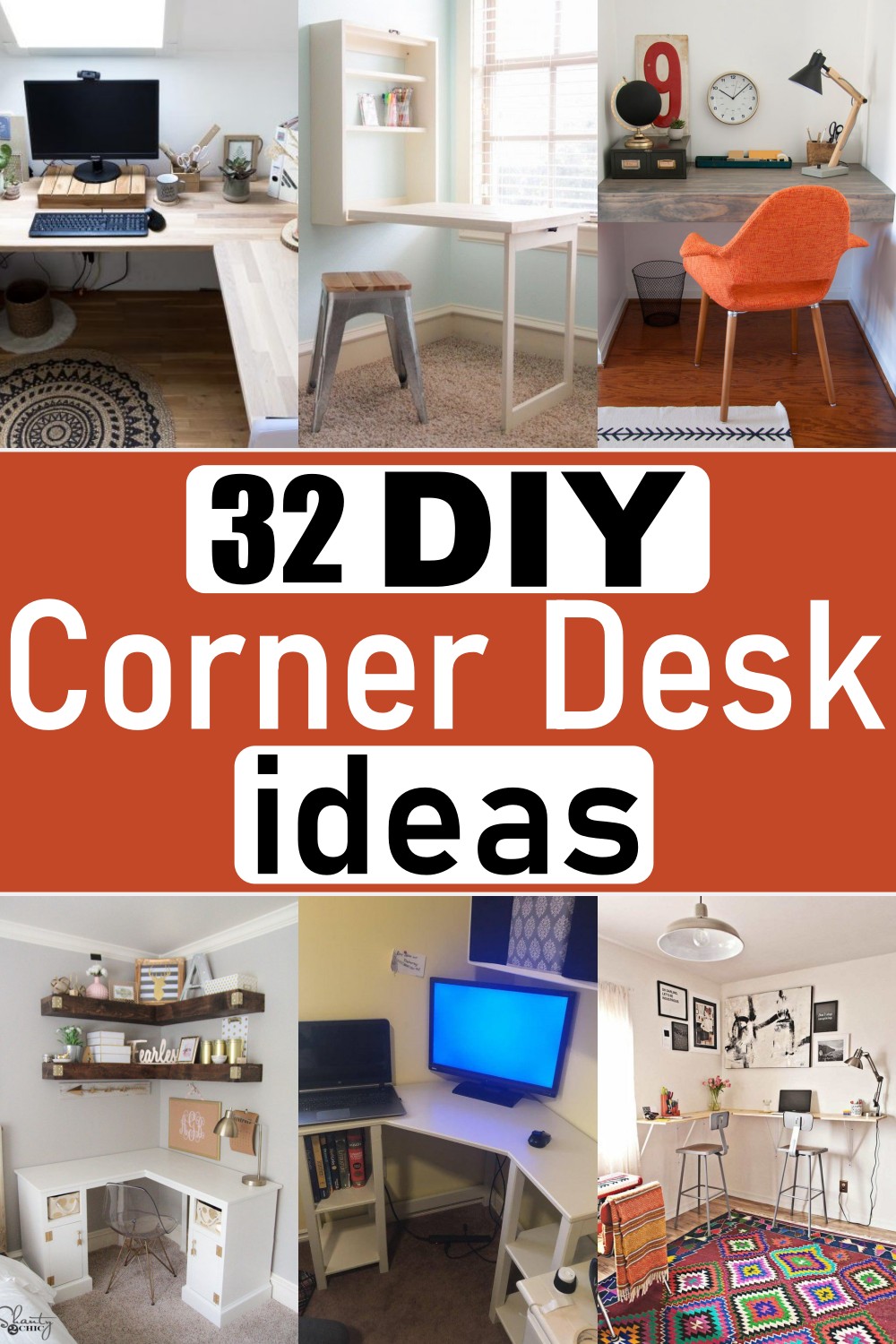 Keep your workspace orderly and organized with one of these DIY corner desk ideas. This post includes everything from low-cost and simple designs to elaborate, multi-tasking pieces that will help you stay productive and create a beautiful space. If you have little room for a computer desk, look no further! You can create your own corner desk in just minutes. Check out these 32 DIY corner desk ideas to get inspired on how to use what you have to create the perfect workstation for your home or office!
You Can See Also:
Simple Corner Desk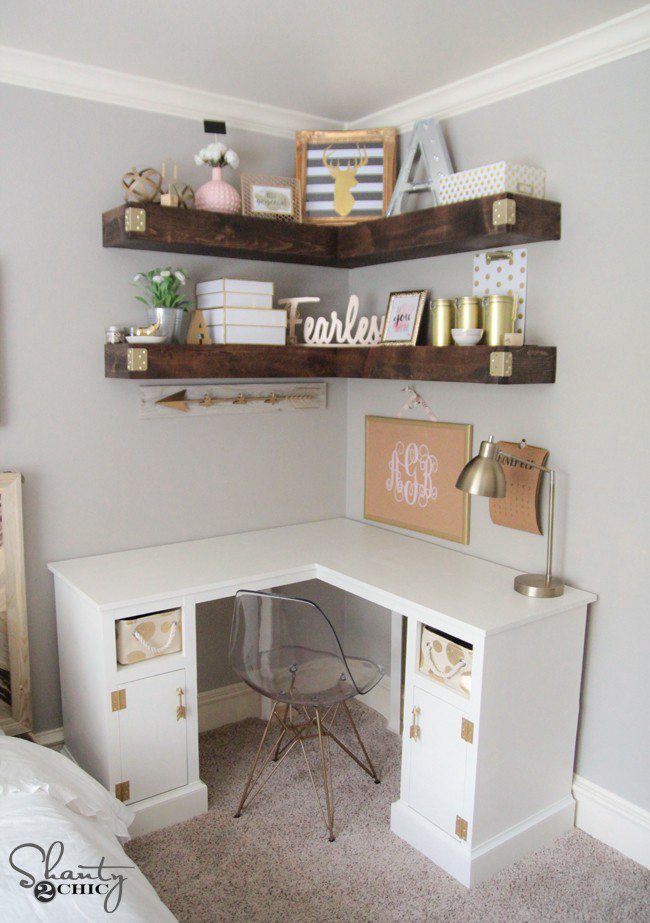 If you love working at home, you'll love this corner desk. With its discreet design and ample space, this simple desk will help you get more done at any time of day. The small size and slim profile take up less space in your home. This DIY corner desk works in any office, home, or dorm room and can be customized to fit your needs. The pullout shelf and the large cabinet gives you plenty of space to store your essential items like books and pencils. You can also customize this desk to match your style.
L-Shaped Corner Desk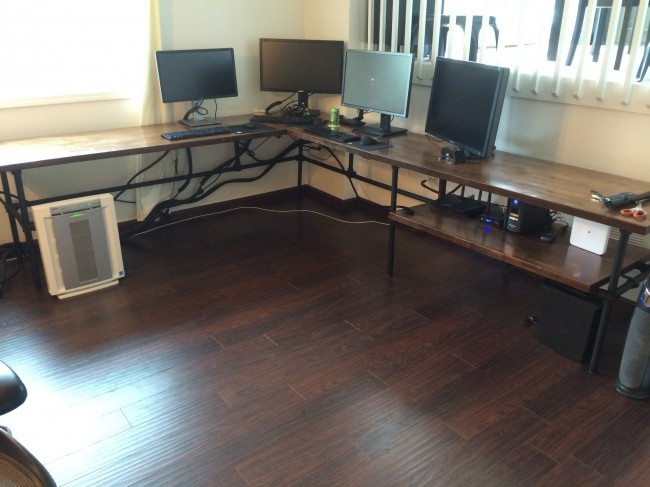 Make your customized corner desk with this DIY project. You get a lot of desktop space and can still have room to collaborate and learn with friends. The L-shaped desk has a lower shelf to store stuff, like books and other items. With this L-shaped corner desk, you can work or study in style. The desk has enough desktop space to accommodate your laptop and writing materials while leaving room for a printer, monitors and other office supplies.
DIY Corner Desk Plans
This is the table if you need a table to do a million things and don't want to spend much money on it. Whether you use it as your office desk, dining table, or book-reading station, it will look great no matter where you take it. Or leave it in one place, as this DIY corner desk fits nicely into almost any room and can be paired with chairs or shelves for a truly integrated look. The design is modern and unique, making it a great addition to any room.
Butcher Block Corner Desk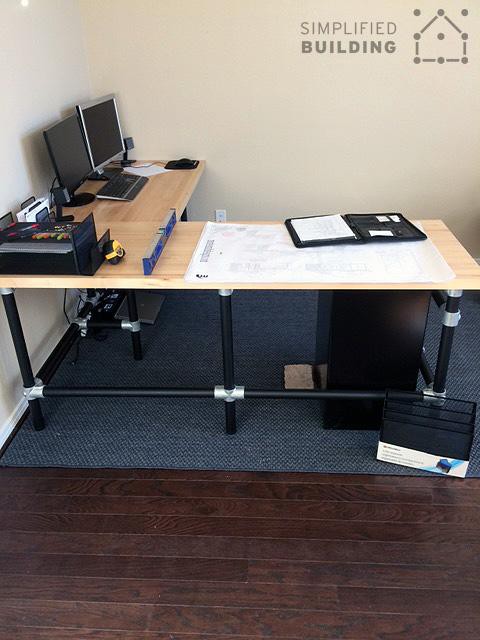 This DIY corner desk is a great addition to your home office. The butcher block countertop gives it an inviting look that works well with any decor, while the sturdy construction ensures a lifetime of use. And since it's easy to clean, you can enjoy this beautiful table for years. Its simple design won't take up too much space but will still provide plenty of room for all your necessities. Standing at just under six feet, it's ideal for crafting, cooking or working at your computer.
Fancy Corner Desk Idea
Update your space with this beautiful corner desk. You can use this desk for all your needs, whether you're studying, working on a project or need a place to set your laptop. With just a few simple steps, you can turn an unused corner of your home into a smart workspace that's just what you need. This desk features a granite finish to make it look sophisticated and elegant, and the L shape design gives it a sleek look that's sure to wow your guests.
Live Edge Desktop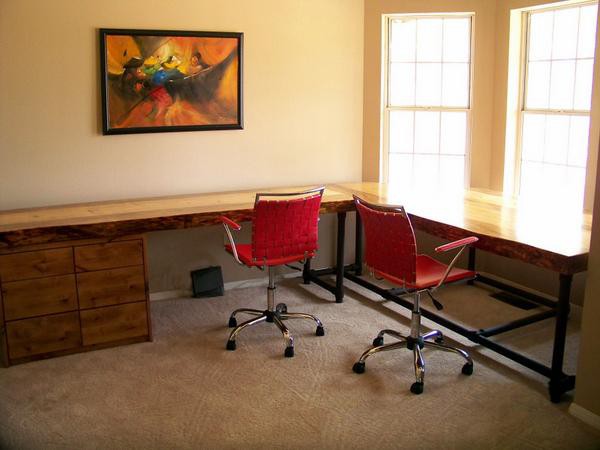 The inspiration behind this DIY live edge desk is to create a space to work on your computer in style and comfort. This set is designed to give you additional storage space without adding too much bulkiness to your room. It has a shelf that can easily fit your needs with plenty of room for other items. Don't forget that it only takes a few hours to build! This project is easy enough for beginners but much cheaper than buying a finished one.
Easy Corner Desk For Gaming
The DIY corner desk for gaming is a great option for gamers who like to have something special in their designs. You can make this corner desk yourself or hire it to be built and customized according to your needs. Besides allowing you more space, this corner computer desk also saves space by being installed in the corners of your room. This corner desk is an excellent addition to your room, which allows you to work on the computer or gaming console. This feature can also add a modern look to your home decor.
Minimalistic Corner Desk Plan
Are you looking for an inexpensive corner desk that you can build? This DIY Corner Desk Plan is perfect if you want to get organized and save valuable space in your home. If you live in a small space, this desk will help maximize your space by fitting nicely into a corner area. The whole thing looks chic and modern, so it will look good even if you don't want to use it as an actual workstation. You can place it in a seemingly unused area in your home and enjoy its beautiful simplicity. There are full instructions on how to accomplish this project, which has minimal materials and is easy to follow.
Low Budget Corner Desk
Corner desks are an excellent way to save space in your home. With this DIY low-budget corner desk, you can make the perfect option for your home office or guest room. It is a very affordable project and can be used as a standing desk. You don't have to spend thousands of dollars on a new desk or get rid of the one you already have and buy a new one. With creativity and basic supplies, you can create your Desk with these easy diy plans!
L-Shaped Corner Desk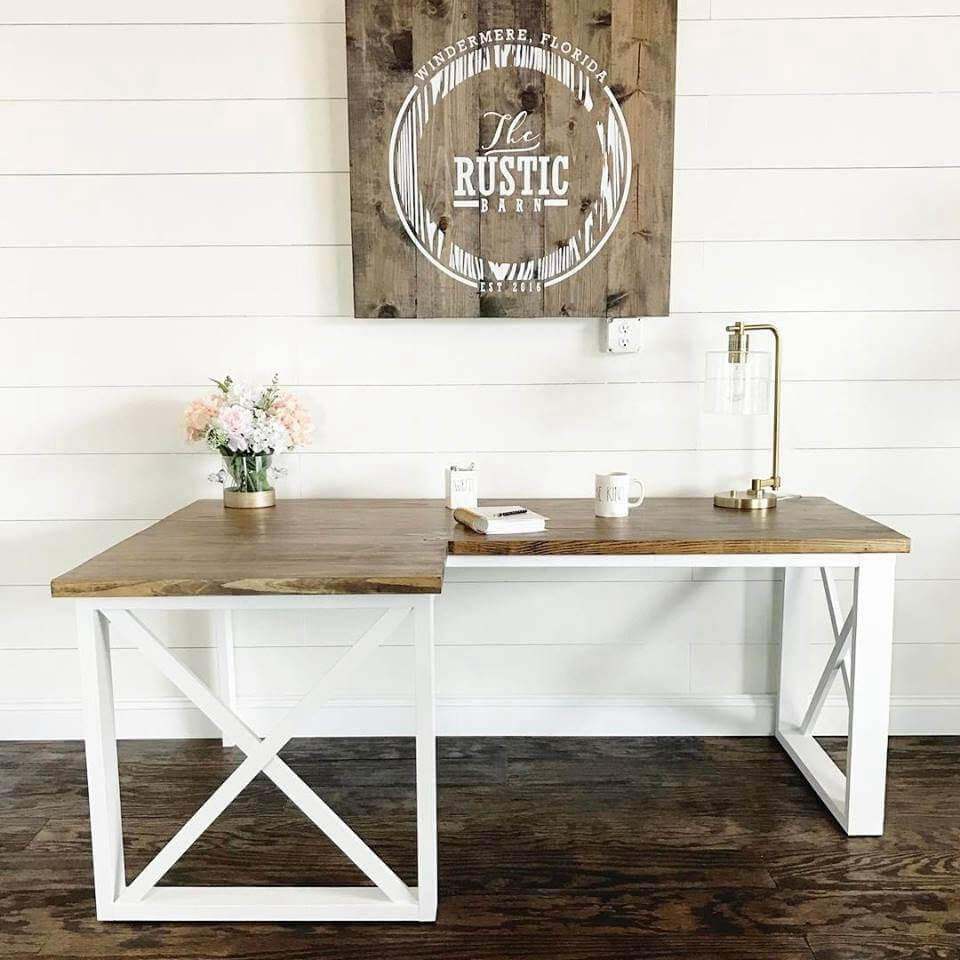 If you want a new L-shaped desk but don't want to spend big bucks on one, this project is the ideal option. Made for those with little time and patience, this build will look great in any office space and will last a long time. Building a desk for your home office is a great way to save some money and be productive at the same time. This L-shaped corner desk can be easily built in less than a day with limited expenses and is great for homes on a budget.
How To Make Murphy Desk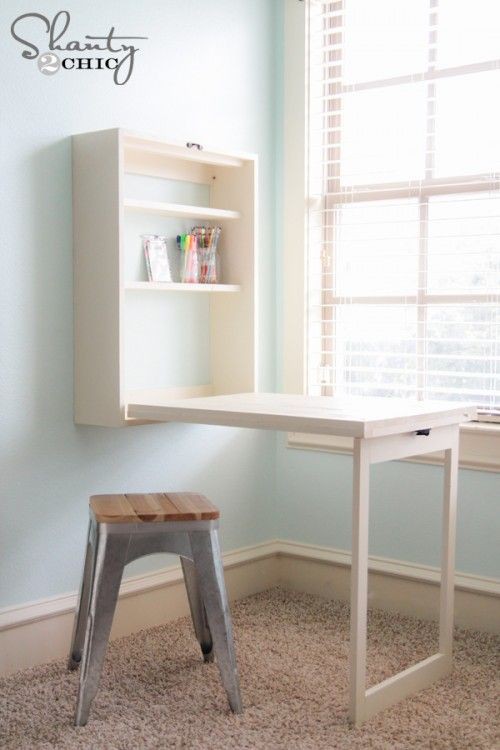 A Murphy Desk is a multi-purpose piece of furniture that you can use to create extra space when needed. This table can be used as a desk or as an additional surface in an office or home. It's also great for storing items in an out-of-the-way location. With this DIY project, you'll create your own Murphy desk and save money. The sleek design complements any decor, and a space-saving design means it will fit well in any room.
Simple Corner Desk Idea
A corner desk is a smart way to make the most of limited space. It will give you an extra workstation and leave plenty of room in that small bedroom or office. It also offers attractive storage options when you're not using it as a desk. Its modular design allows you to reconfigure it to fit your needs as they change over time. A corner desk like this one can be assembled in an afternoon and is reasonably priced, so it's perfect for a graduate who just got their first apartment or a new grad who doesn't mind DIY projects!
Easy Office Corner Desk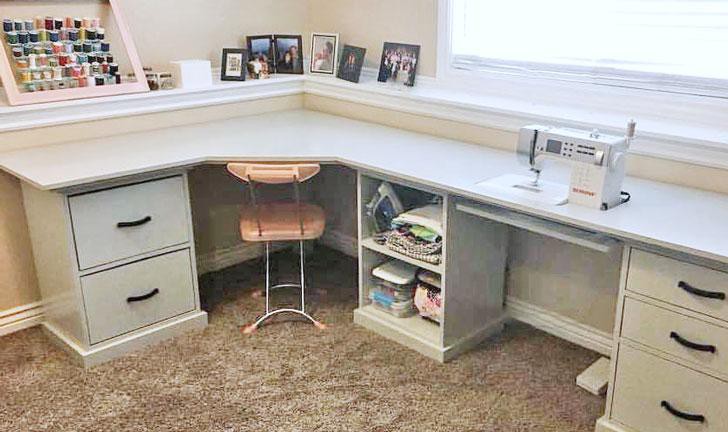 If you're looking for a relatively DIY, easy-to-build corner desk solution that will suit your needs and save you space, this is the project for you. This project is a perfect space saver with ample storage and a great workspace for two people. The desk features ample compartment space for resources, writing, or computer use. This is a perfect little corner to work from and get you through your workday. This project is an excellent space saver, especially in small offices and apartments.
DIY Corner Desk From Reclaimed Items
This DIY corner desk from reclaimed products is a fun, easy weekend project. It requires minimal power tools and salvaged materials, making it an affordable way to infuse your home with character. Turn a pile of reclaimed lumber and metal into a charming corner desk. The host shows you how to build your own corner desk made of recycled materials in this video. This concept takes advantage of a small space by putting the desk in its corner, giving more room to work.
Single-Person Corner Desk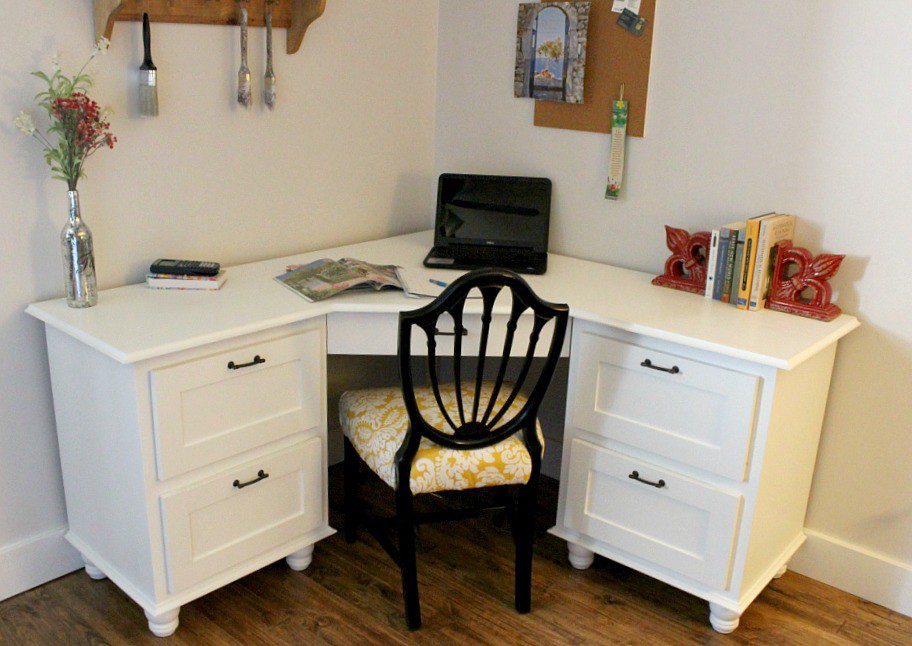 Get organized in a flash with this DIY Corner Desk. It's easy and affordable to make and the perfect solution for small spaces. This desk can be tucked away when not in use or left free-standing as an accent piece. This project is made from quality pine and consists of a tabletop and shelves. The shelves are just one board that serves as a shelf and the leg. It will fit in the corner of your room or office, making the most of the space.
Wall Mounted Floating Desk
Having a busy lifestyle, you need more efficient ways to make your most important things happen. A wall-mounted corner floating desk is a perfect solution for space constraints and works best when you have an empty corner in your house. This wall-mount desk will allow you to work away from the computer and keep everything close by. This project doesn't take up much time, and you can customize it using all sorts of material
Corner Desk Office Plan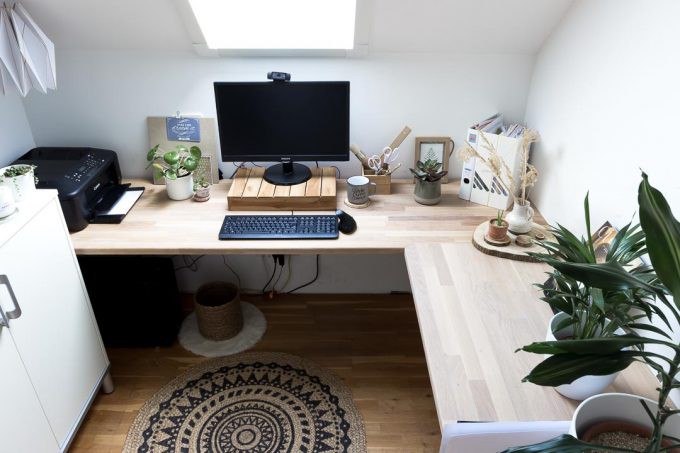 If you're looking to save space and be more productive, this Corner Desk Office DIY is a perfect choice. With plenty of storage, overhead lights and outlets, the workstation will keep you on track all day long. Make the most of your space with a custom desk that fits YOUR needs and designs. Complete with all the do-it-yourself instructions and complete tools required to assemble this desk, you'll be back to work in no time.
Metal & Wood Corner Desk
Organizing your workstation doesn't have to be a hassle. This Corner Desk is the perfect solution for any room in the house with its sleek, modern design and high functionality. Moreover, this desk can also be customized to suit your space; choose from various colors and finishes. This corner desk is the perfect addition to any home office. The design saves space and offers a work surface that is larger than it appears. This project includes the steps required to build the desk so that you can make one yourself.
Rustic Style Corner Desk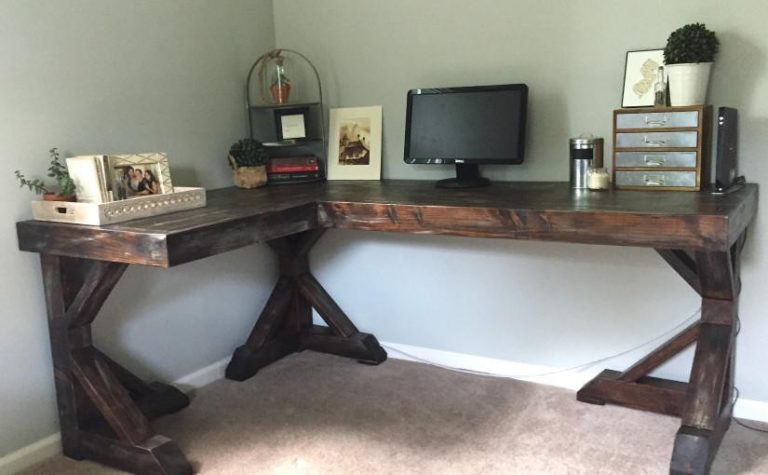 DIY Rustic Style Corner Desk is a great addition to any office or home. It's a unique, fun and functional piece of furniture that can fit anywhere. If you want to spend less on your home decor, then creating a rustic-style corner desk for yourself is an ideal way. This desk will look beautiful in your living room and make people admire it whenever they come to your house. Make your rustic style desk by following these steps. It doesn't take much as it is inexpensive and very easy to do.
Floating Desk Wall Mounted
Have you always wanted to make some home improvements without spending much? This floating wall-mounted corner desk is the perfect project for you. With this detailed video guide, you will have no problems making it happen in time! This wall-mounted desk doubles as a decorative piece, which is great if you want to create a study space without cluttering up your room. The floating design is also perfect for small spaces. Just think, one day soon, you'll have your own little home office!
Floating Desk Work DIY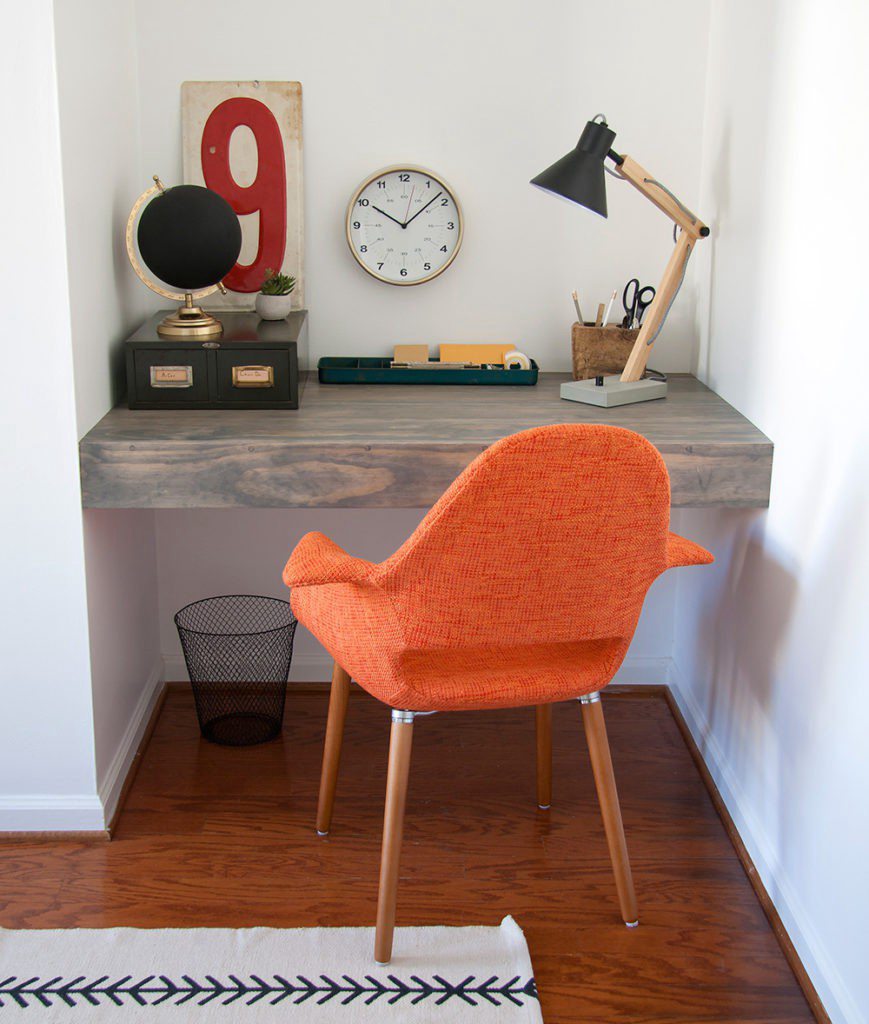 A floating desk is a cool concept that has been around for a while but seems more popular these days with the advent of technology such as computers and tablets. A floating desk expands your workspace, making it easier to multitask and giving you more room to spread your work. If you need to get more work done in less time, a floating desk can help. A floating desk for work style is stylish and modern, and it is perfect for any modern office space; and also can be used in the home.
Easy Wooden Corner Desk
A DIY Wood Corner Desk is the perfect project if you want to save money or want the satisfaction of building your furniture. You can build one right in your garage with just a few tools and materials! The wood corner desk has plenty of room for all your computer needs while bringing an element of warmth to your home office space. This DIY corner desk is the perfect project for anyone who loves to build their furniture. It's made from wood, so you can make it any size you like and paint it any color you please!
Floating Wall Mounted Corner Desk
Looking for a space-saving desk solution? Want to bring a little bit of style into your home office? If so, you'll want to check out this DIY Floating Wall Mounted Corner Desk. This project is easy to build and will add a fun pop of color and character to any room. You can design and build the desk without spending too much money. You can also use several materials, such as plywood or oak wood, to make the desk in your comfort.
Framing Wood Corner Desk
Are you tired of your traditional home office? Or are you looking for a desk that will fit perfectly in a small space? This DIY Framing Wood Corner Desk is perfect for those who want to create their unique home workspace. A perfect place to work, this DIY corner desk is simple to build yet sturdy and strong. With a multipurpose storage solution, you'll have space for papers, office supplies and more. And a great place for your child to get their homework done or for you to relax with a book or a cup of coffee.
Corner Desk For Work
Take the clutter off your desk and make a more organized home office with this simple DIY corner desk. Whether you have limited space or are looking for an eco-friendly alternative to expensive furniture, this do-it-yourself project will help simplify your workspace and make working easier. You can customize it any way you like - choose the perfect color and material for your workspace. It features a modern design and lends itself well to diverse decor styles.
Fun Corner Desk Plan
This DIY Corner Desk might be the perfect project if you're looking for something different. It features a clean and modern design that's ideal for small spaces. It's easy to assemble, too, so you can start your new desk in no time! This easy-to-assemble desk is an ideal workspace solution, thanks to its compact design and multiple storage options. The unit can be configured in a corner or on a wall. You can make an elegant-looking desk in a few simple steps if you follow the directions.
How To Make A Legless Corner Desk
A legless corner desk is a great solution for small offices, home offices, and dorm rooms. They are easy to set up and work well in busy commercial and residential environments. A legless corner desk allows flexibility when moving around your office or home without worrying about any damage to the flooring because of the lack of legs. This basic legless corner desk can be built at home on your own time with the right tools and materials.
How To DIY A Corner Desk
A corner desk is one of the easiest and most affordable ways to gain more space in your office. And they're a great option even if you only need a desk to go with a chair or two. Corner desks create an open layout, which means they allow you to define the space while at the same time giving visitors a place to sit. That makes them great for both home offices and large offices. The dimensions are easily customizable depending on what size you want. You can build a corner desk and save money or buy one already made. Here's all the information you need to make the right choice.
Compact Desk Corner Plan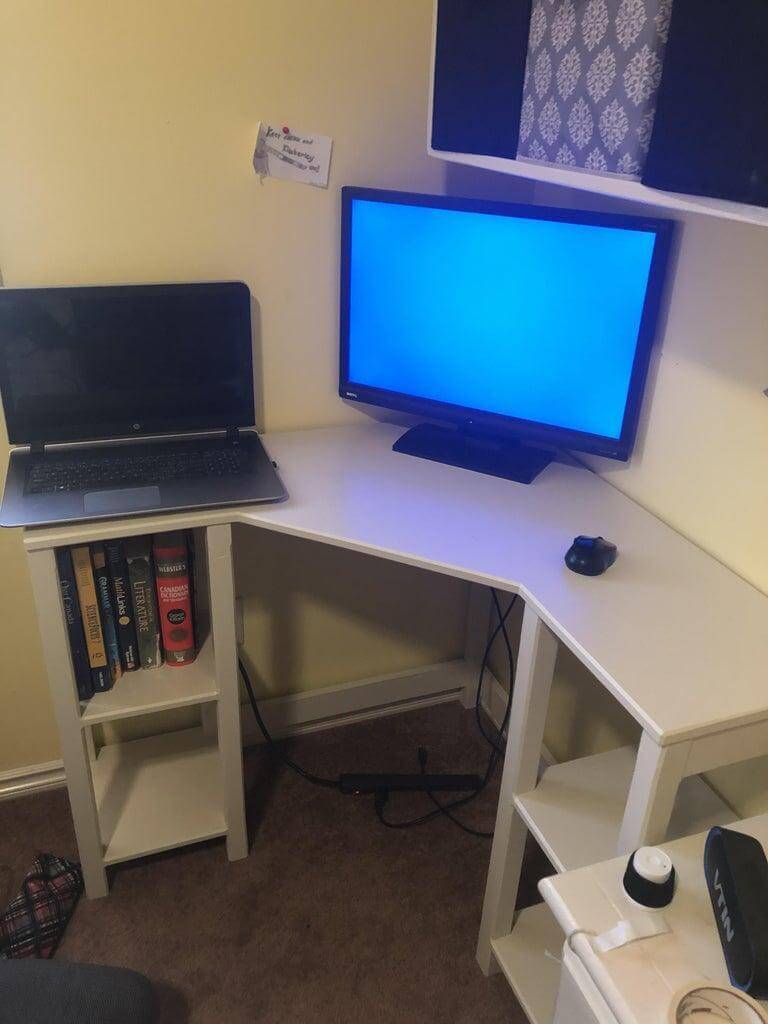 A DIY desk with a corner is a great project for anyone who wants to create their workspace. This does not require a lot of woodworking skills. It is very easy to assemble, and it will take you less than a day to build it yourself. It is an incredibly useful piece of furniture that takes up minimal space. You can take it with you anywhere, such as a dorm or a small apartment, and use it as a desk or shelf unit. It can even fold down to take up very little space in the corner of any room.
How To Make An L-Shaped Desk
An L-shaped desk is ideal for nearly any office or home workspace. The layout easily accommodates monitors and other computer peripherals, along with plenty of workspace for writing or working on projects. If you have the space to spare, an L-shaped desk can be even more functional by adding a matching cabinet or bookcase. An L-shaped desk is a perfect solution for small spaces that need a lot of room to work. You can position the top of the table at whatever height is most comfortable, and you'll still easily reach your computer and other items on the shelves in front of you.
How To DIY A Bespoke Corner Desk
Whether you're looking to make a perfect working space out of an unused corner, or you have a spare room that needs furnishing and don't want to spend money on a ready-made desk, building your own is an affordable alternative. There are endless options to choose from, many shapes and sizes. Build a bespoke corner desk by creating a surface space with your choice of legs, shelving, and drawers. Its structure makes it possible to make your bespoke corner desk from solid oak, maple or walnut wood, with a choice of finishes.