25 DIY Sawhorse Plans You Can Build This Weekend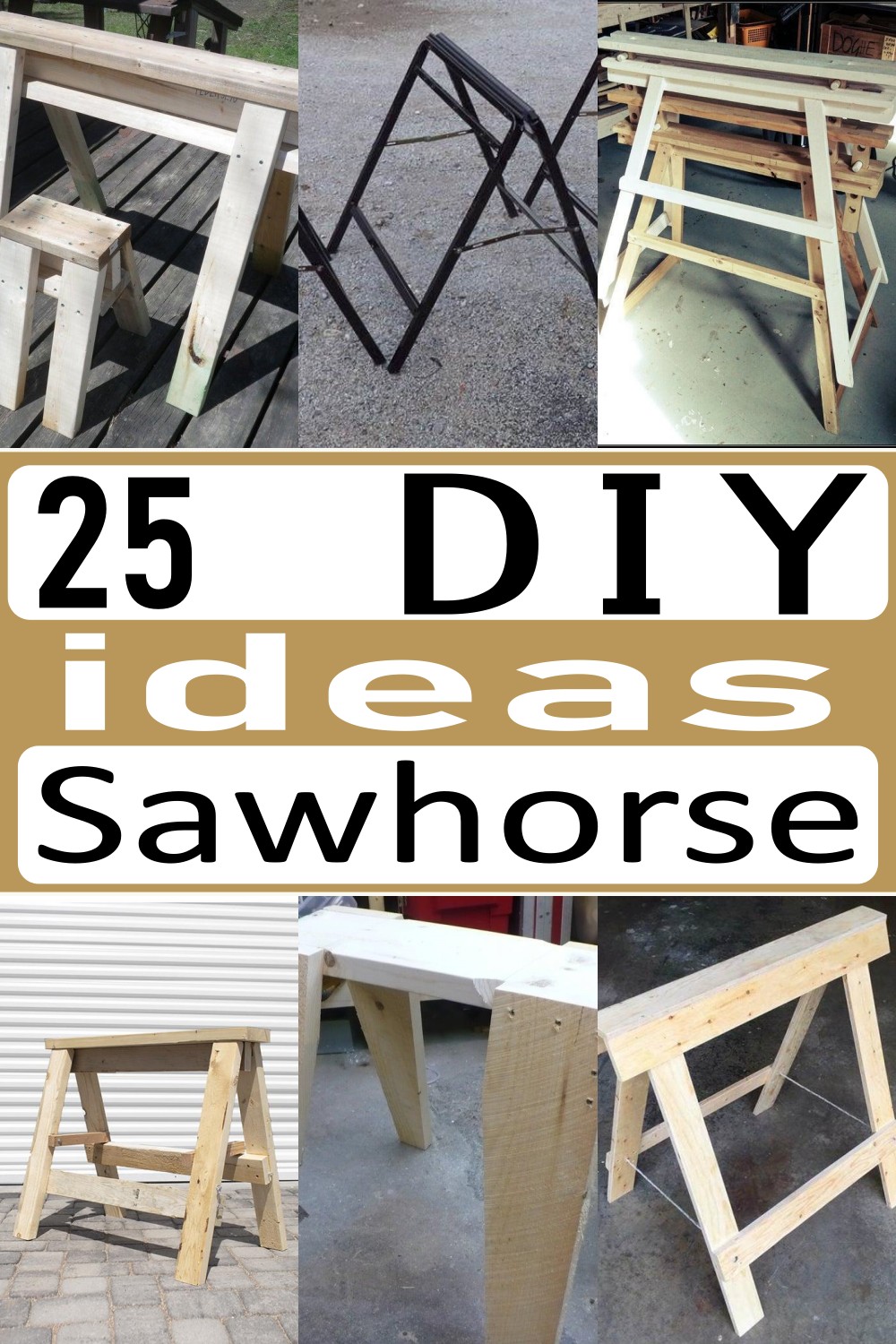 Sawhorses are great for clamping and holding wood for planing, cutting, ripping, etc. Working with wood can be dangerous without the proper gear like sawhorses. With a few basic tools and cheap materials, you'll be able to build your sturdy sawhorse in one afternoon. Choosing a design that works for your needs should be the first concern when picking which sawhorse design you will use for your home workshop or lumber yard. Once you have a design selected, it is time to get busy and start building. The given step-by-step instructions and some video tutorials will guide you throughout the process of making these DIY Sawhorse Plans.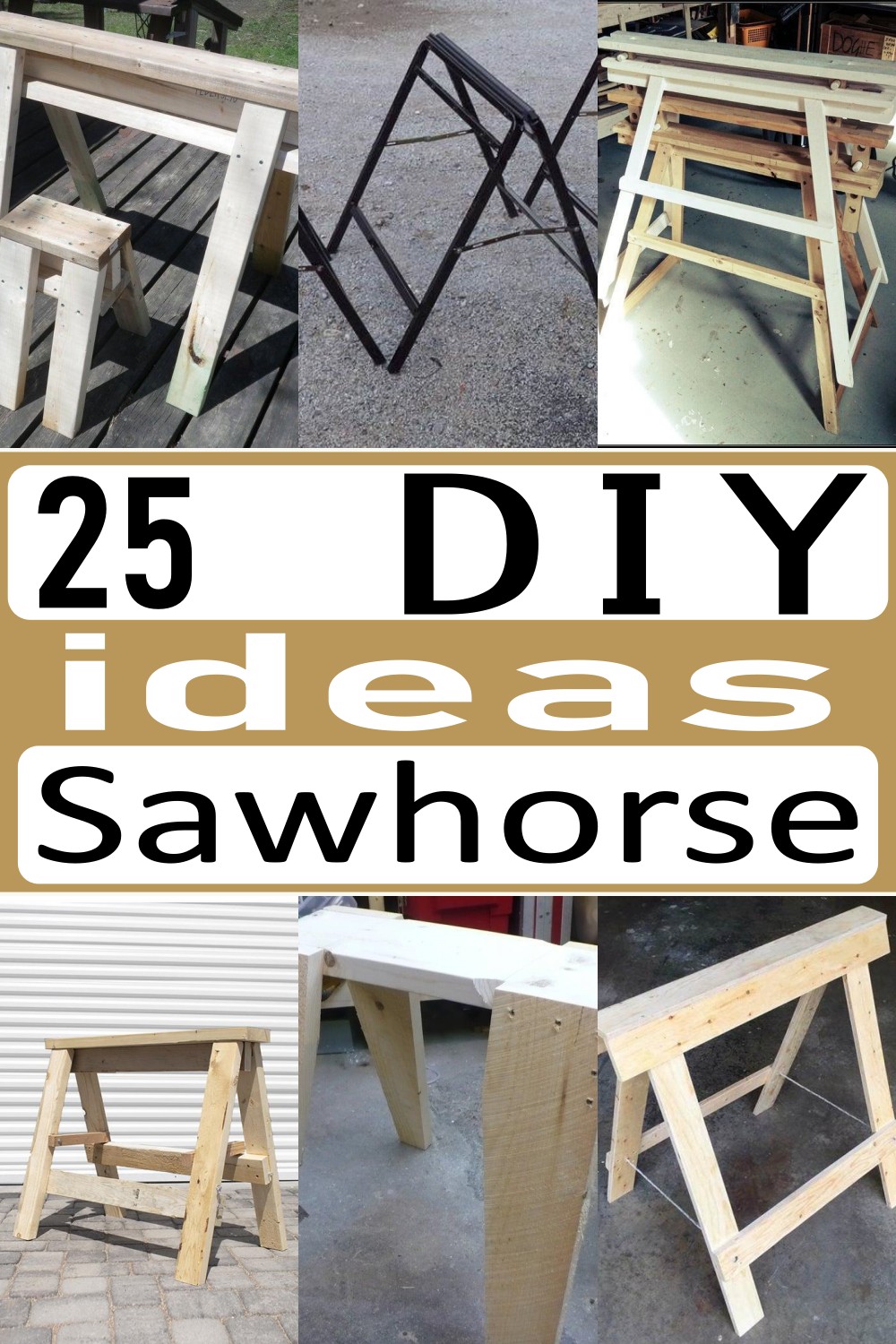 Sawhorses are one of the most valuable woodworking equipment you can own. They make it easy to cut large boards down to size, but they also provide a place to work on projects that don't require any power tools. These are also great for small-scale carpentry projects like building a garden shed or installing a fence. This page includes a variety of DIY sawhorse projects that hit just about every need you might have. You can simple wood frames that you can put together in a couple of minutes or foldable sawhorses that are great for storage needs. We even have more complex projects just in case you have specific requirements that need to be met.
You Can See More:
DIY Sawhorse Stool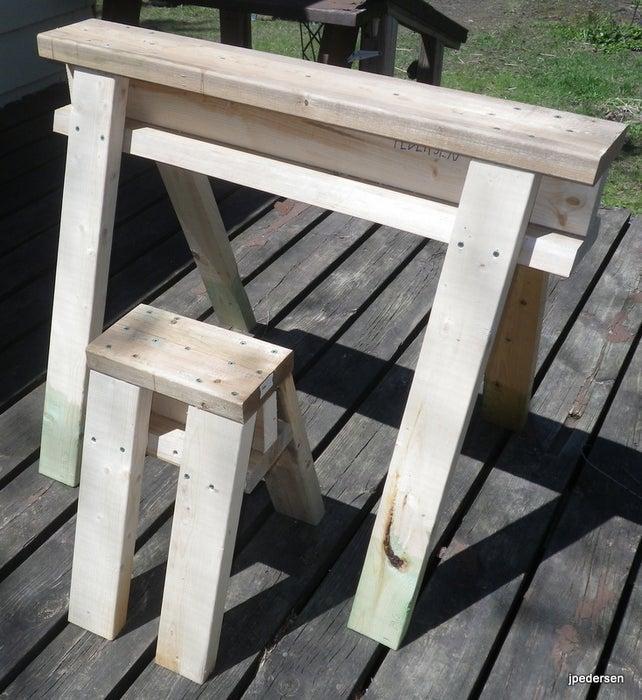 This DIY sawhorse stool is a fun and easy project for any woodworker. The stool can be used as a sawhorse or used as a stool when needed. The shape of the horse makes it easy to see where the legs meet to ensure that they are the same length. This is an excellent project for anyone that needs to take care of small projects around their home. Moving the sawhorse quickly is a bonus when space is limited in your garage. This homemade sawhorse is easy to make and inexpensive too. Making this sawhorse with a small seat makes it easy for someone to cut wood boards with ease.
DIY Micro Sawhorse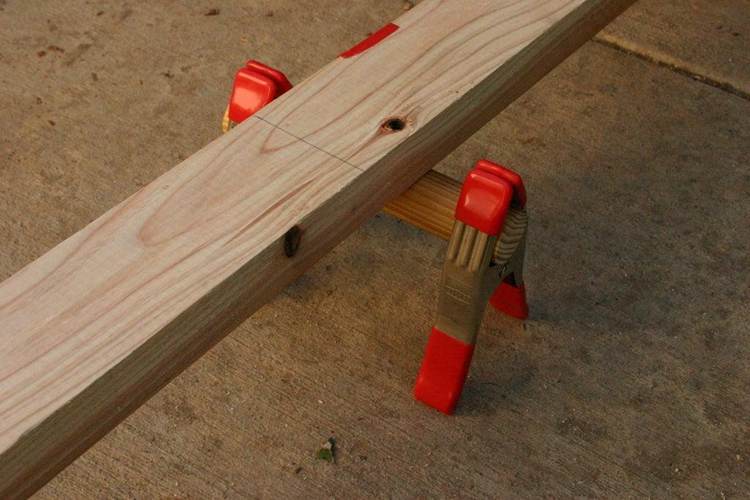 This basic DIY Micro sawhorse was designed to be lightweight and easily transportable, and economically priced so that anyone can build their own. One of these is all you need to hold your raw materials in place while you cut, giving you a great way to save time and money. This DIY  is super portable, easy to make, and cheap. You need two string clamps and a solid stick to hold the wood plank or cuttable wood piece. The string clamps will hold the ends of the stick, acting as the legs to keep the balance. It's a simple, easy, and cheap process.
DIY Foldable Sawhorse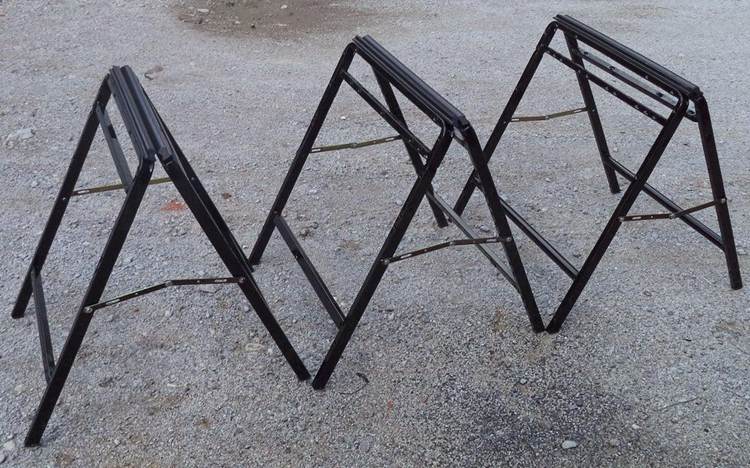 This DIY sawhorse is made from superior quality metal, making it durable and sturdy. You can use this sawhorse for various purposes and in many ways. This is a must-have for any carpenter or DIY enthusiast. Its small size makes it easy to store when not in use and unfold when you're ready to use it; it's strong enough to hold a load of wood while still being foldable. This Foldable Sawhorse is the perfect choice for anyone looking to save space and money. It also has a foldable design, which makes it easy to store. Getting rid of your old sawhorses seems like a good idea. So go ahead, and buy this DIY Foldable Sawhorse today!
Adjustable Wood Sawhorse DIY
This Adjustable Wood Sawhorse DIY is a new and improved type of sawhorse. It is super easy to adjust the height, lock it, and you're ready to start your first sewing project! It has a cart under which you can store your planks for easy transportation. You can stack two together when not in use for storage purposes or transport them by stacking them on top of each other. Built with sturdy construction and a small cart under the saw horse, it makes transporting your planks easy. The sawhorse can be adjusted to multiple heights so that you can work on projects at a comfortable level.
How To Make A Folding Sawhorse
This sawhorse is foldable, which means you can use it anywhere, and it's easy to move too. It also serves as an extra workbench for your woodworking projects. It's a great idea to have a folding saw horse handy in your workshop when you need one. This project is easy, and if you have access to the materials, you should be able to put it together in one afternoon, maybe two. It's not very complicated, but it can hold a lot of weight, and it can be used in many projects that need additional support. There are many ideas for making a folding saw horse, but the one that is easy and convenient is how you can do it in your home.
How To Build A Sawhorse
This sawhorse is quick to build, doesn't cost too much, and is sturdy. This tutorial shows you how to create the basic structure of a sawhorse, which you can then customize for your own needs. This sawhorse is going to be the foundation for all your projects. It's strong and sturdy yet lightweight enough to easily transport from one place to another without hassle. They're also made very differently in different parts of the world. This tutorial will show you how to build your sawhorse with a healthy balance on the ground, and it's a bit higher in height, making it easy to work with.
DIY Folding Plywood Sawhorse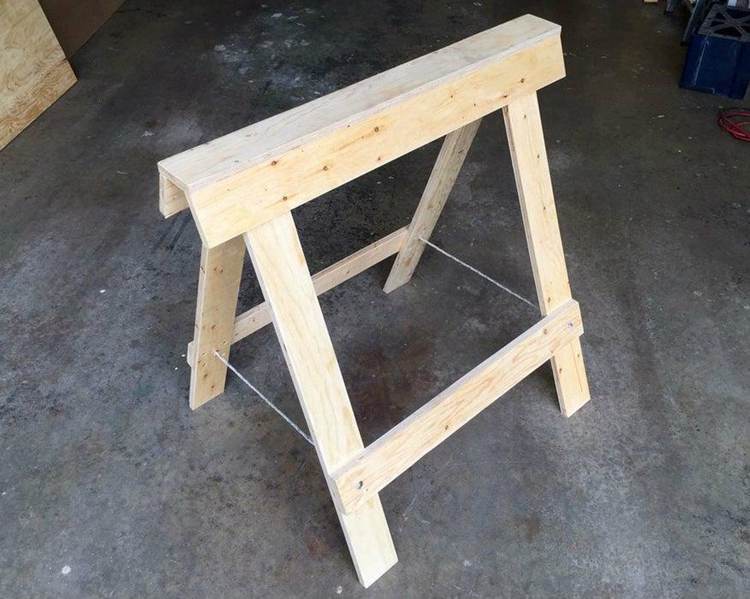 This foldable sawhorse will come in handy for those looking for a quick and easy way to support their work on the go. This is an excellent tutorial whether you're doing hobbies at home or working on building structures daily. And with its compact design, it's sure to fit anywhere! Folding sawhorses provide a temporary workstation, but they're often too bulky to store easily. Every DIYer will love this portable DIY folding sawhorse that uses plywood, hinges, and polypropylene rope. It also comes with a free set of plans that can download right here: This folding sawhorse is easy to build and can be built with essential household.
DIY Folding Sawhorse Desk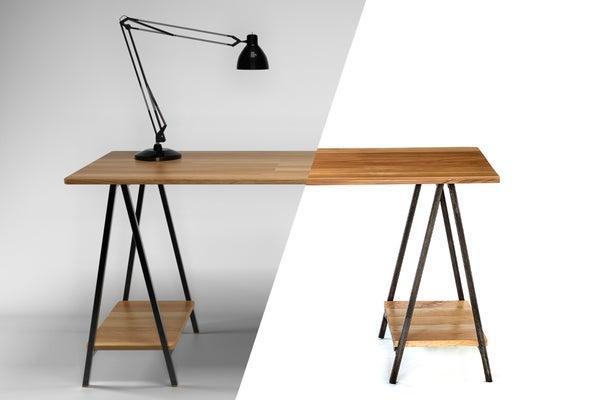 The DIY Folding Sawhorse Desk is a simple, inexpensive way to create extra work or storage space. Use this folding sawhorse desk as a desk, or keep it at home as a table. It can be folded and unfolded easily, allowing you to store this compact desk anywhere you'll need extra space. This highly functional folding sawhorse desk is also a great option if tight on space. This folding sawhorse desk is a great way to get out of the house and set up a desk in your backyard. It's also an easy option if you want an inexpensive, portable writing table that works as effectively as a full desk.
DIY Three-Legged Foldable Sawhorse
This DIY Three-Legged Foldable Sawhorse is simple, inexpensive, and super strong. It also folds up compactly to take it with you when transporting it. The DIY sawhorse is not what you're used to seeing when it comes to this type of furniture, but it works perfectly. It folds down in a few seconds, making transport easy. It is an excellent help for any woodworker. It's easy to build, and it's incredibly sturdy. You can use this saw horse in many ways, from holding up pieces that you're putting on your scroll or band saws to holding up the back end of a table saw when ripping long boards.
DIY Sawhorse Plans
This sawhorse is one of the most common carpentry tools out there today. They are straightforward to make and can be customized in many ways. The DIY Sawhorse Plans are the perfect project to do your woodworking projects. They're quick to build, but it can be challenging to figure out where to start. It's a good idea to have them match or complement your existing furniture, but overall the look is up to you. It's easy to transport since you can use it as a sawhorse. This project is perfect for anyone and will help you how to work with wood in a fun way.
Folding Sawhorse Plans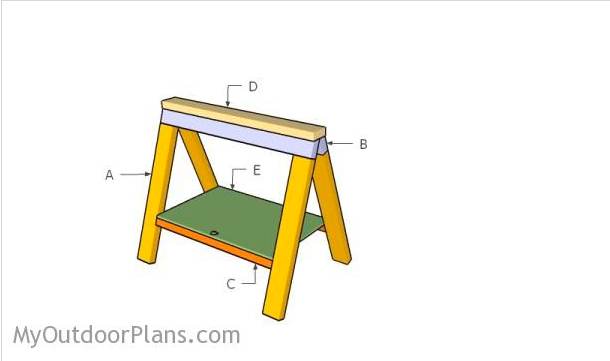 This is a simple folding sawhorse that you can make yourself with minimal supplies. It's perfect for anyone who wants to have a sawhorse that they can carry around or store easily. This project is a great place to start for beginner builders and features detailed instructions with pictures to guide your way through the entire process. This folding sawhorse is an excellent project for those who want to make some sturdier saw horses than the ones usually found at home improvement stores. It is a foldable sawhorse, so it's easy to carry around and store or even take with you when you go camping. This sawhorse will make a great addition to your shed, garage, or workspace.
I Beam Sawhorse Plans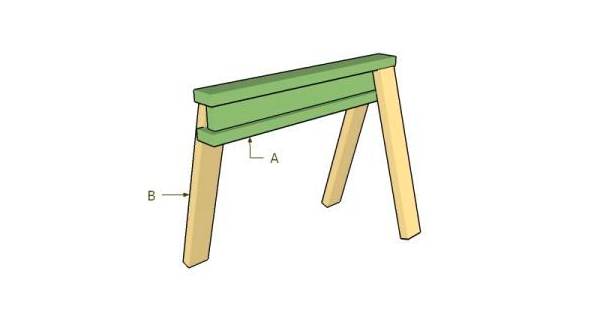 I Beam Sawhorse Plan is a design that you can use to build a set of a sawhorse. It's very different from the simple sawhorse designs you see out there, and this one can be built using quite a bit of lumber for the I-beam and legs, wood putty, wood stain, and screws and also added more information about how this design works without cutting up any wood. This Sawhorse plans breakdown is perfect for any do-it-yourselfer who wants to build their own in a weekend or two.
How To Build Stackable Sawhorses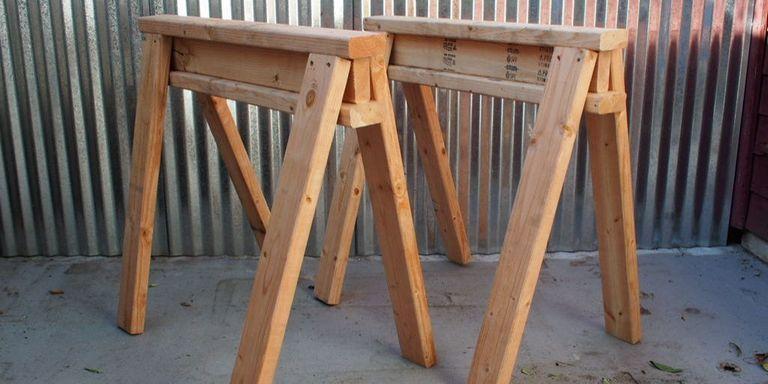 This stackable sawhorse is made of steel and is built to be sturdy and durable. Here's how to build this sawhorse so that you can create your very own cheap sawhorse. Build this stackable sawhorse to save money, and have a sturdy, durable saw horse in just a couple of hours. It's perfect for sawing boards at the job site or in your garage shop! This is a cheap, easy, and quick project. Made with readily available materials, can finish it in about an hour. These are great sawhorses for supporting a workbench. These saw horses are wide and sturdy, perfect for supporting long boards when you need both hands to saw.
DIY Folding Sawhorses
DIY Folding Sawhorses are an indispensable tool for any home workshop. The first DIY project on this list is a pair of folding sawhorses that will allow you to work on your woodworking projects in the most convenient way possible. These sawhorses are solid and sturdy, providing you with a place to work and hold your woodwork projects. They're also foldable, so you can easily store them away when you're done with your project. This tutorial will show how to make the sawhorses easily and give you some tips on using the best when working in your home or garage.
How To Build A Pair Of Sawhorses
Saws and sawhorses are an essential part of any DIYer's toolkit, so knowing how to build a pair is essential. These are a great tool to have in your shop, and if you're looking for a super-cheap, easy, and efficient project, then this saw horse bench is the right one! Building a pair of sawhorses is a good beginner's woodworking project. This design is excellent for beginners because it requires no complicated mortise and tenon joints. If you're looking for an affordable and easy way to DIY a pair of sawhorses, the tutorial will show you how. The simple and cheap tools required allow you to construct these projects in just a few hours easily.
DIY Cheap Sawhorses
These cheap sawhorses are the easiest, fastest, and most effective sawhorse design. This DIY project is a great way to use your woodworking skills. The result is a saw horse that is really cheap and very sturdy; you can use it for sawing wood or anything else. If you are looking to build a sawhorse and want it quickly, this is the most straightforward process. No angle cuts are needed; just start attaching them to form the saw horse shape. Also, there is no screwing or drilling involved in this process. This is one of the most straightforward DIY projects that you can do in your shed or garage.
DIY $5 Sawhorse
The sawhorse is a type of furniture used temporarily to support the vertical members of construction materials during building. This design has been widely adopted in woodworking and other similar industries for hundreds of years because it is flexible enough to withstand heavy weight but still foldable for easy storage or transportation. You've come to the suitable emplacement if you are glancing for an easy and cheap sawhorse. This $5 DIY sawhorse is strong enough to support a decent amount of weight, and You don't usually find a complex carpenter's sawhorse or table saw that's also cheap.
Heavy Duty Folding Sawhorse DIY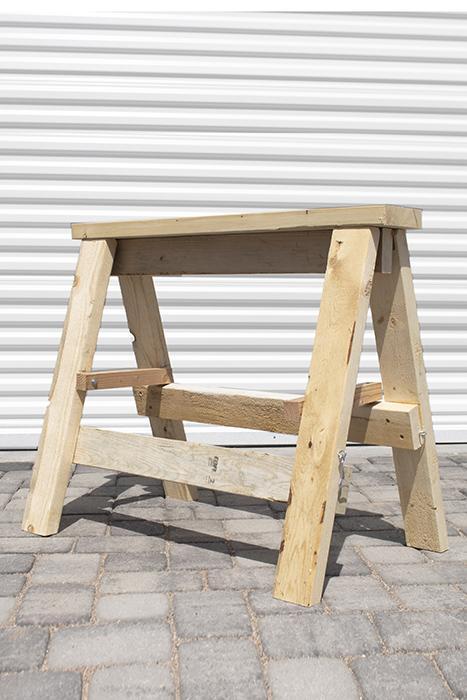 This DIY folding sawhorse is a must-have for any household with tools. The design is suitable for light and heavy-duty uses, perfect for painting projects, carpentry work, and other household repair tasks. The base is made from salvaged lumber from our neighbor's damaged fence – thus recycling! This sawhorse can be folded together, making it easy to move around. Use it in the garage, yard, or workshop. With this heavy-duty folding sawhorse, you can make any DIY project more accessible and convenient. It's easy to make a foldable sawhorse with suitable materials, but you'll want to adjust the dimensions based on your needs.
How To Make A Folding Steel Sawhorse
This is a DIY folding sawhorse that you can easily make at home for a fraction of the cost of buying one. These are great for woodworking projects and temporary storage. They fold down flat, so they take up very little space; these sawhorses are made of steel pipes and will be very sturdy. It can also fold and be transportable, and the folding steel sawhorse is an excellent addition to your garage. It is durable and strong but can also be folded up for easy storage when not in use. This is also very easy to build as long as you have access to a welder.
DIY Sawhorses
The DIY Sawhorses will always be there for you when it is time to move heavy objects or need a sturdier table in your garage. The plans are not pricey, and the video tutorial is so easy to follow that even a child could do it. These sawhorses have been used many times before due to their easy and quick assembly. These are very quick and easy to build and can be upgraded. Now you can be the one who gets the job done, and it doesn't wait any longer! With a short of time and effort, you can have yourself see horses for most any project around the house.
 Heavy Duty 2×4 Sawhorse
This heavy-duty sawhorse is easy to make and requires only a few tools. These sawhorses are fabricated from 2×4 stock, so they can be used to support a wide variety of materials. Use these sawhorses in your shop, garage, or shop class to build a work table, hang pictures or signs, raise tents at camping sites, etc." This sawhorse is ideal for various tasks, including carpentry and other crafts. Made from rough cut lumber assembled with nails, this durable sawhorse will support large volumes of weight. The leveling feet ensure that the ties are attached evenly.
DIY Simple Sawhorse Plans
This DIY Simple Sawhorse Plans will show you how to build a sturdy sawhorse that converts into your work table, perfect for any DIY project. These sawhorse plans are beneficial if you want to create a table from scratch but don't have the money to buy one. You can easily make your DIY sawhorse, and it will be as strong as any other wooden table. This is an excellent option if you're looking to work on your house and need a sturdy sawhorse. It includes detailed plans to help you create one in no time. These simple plans will show you how to build your sawhorse work table.
Simple Sawhorse DIY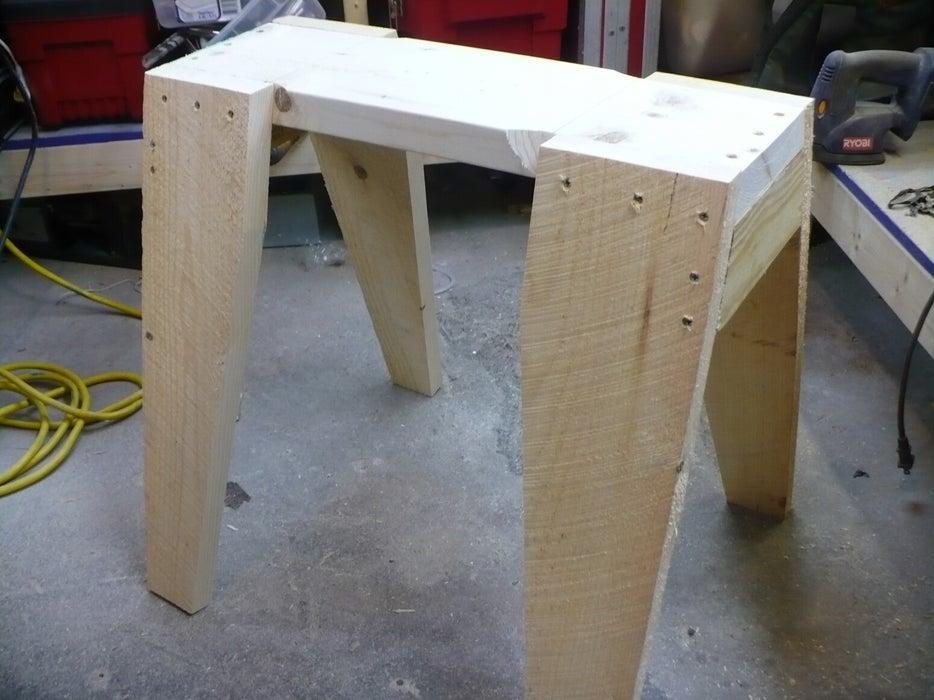 This DIY sawhorse is another high-quality and durable build. The design is straightforward, but you might find it a little time-consuming, for it involves some carpentry skills that might be hard to master for an inexperienced DIYer. Still, if you have enough patience and free time, this project will not disappoint you. Sawhorses are one of the most helpful carpentry tools around. A simple and sturdy sawhorse can hold anything that needs to be sawed and is capable of supporting lots of weight with no problem. This tutorial walks you through every step of building a pair of saw horses that won't fold up or break.
How To Build A Sawhorse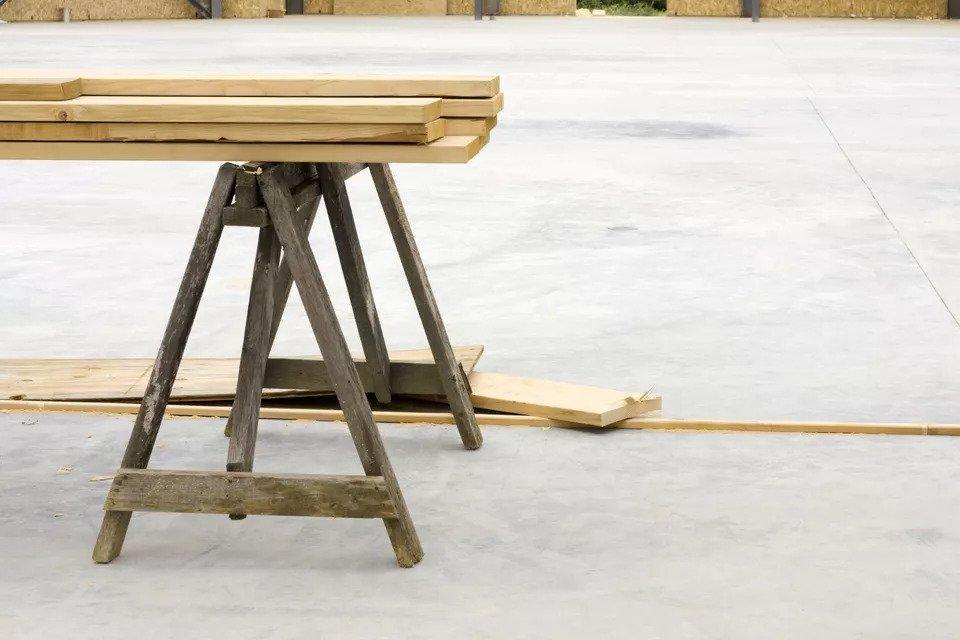 This sawhorse is a simple and inexpensive project, and it requires no welding and only some essential tools and a little bit of wood from your scrap pile. The use of old lumber adds charm to this simple yet sturdy creation, so don't be afraid to add that extra character and make it your own! You'll find that this is the best way to build sawhorses. The creator built this one using old wood lying around at home. It was strong enough to carry the weight of the load he placed on it, so ensure that your old wood can do the same.
Steel Sawhorses DIY
The design of this DIY sawhorse is perfect for everyday use, especially when moving furniture or gardening. This sawhorse is a durable and stable one that you can quickly build in a short amount of time. The making process will involve welding, and it's a simple process if you have a welder kit or intend. These sawhorses are made entirely of steel, and they're super strong. It is a great way to store things or use them in your workshop as a workhorse. Designed specifically to be easy to build and very durable so they'll last you a long time.
Conclusion
These sawhorse plans are a great addition to any workshop, garage, or home. They are straightforward to read and understand, and they will bring you to step by steps on how they made their sawhorses. There is no need for you to be a master woodworker to build one of these; anyone can do this with a little bit of dedication and following these simple instructions. In conclusion, sawhorses are still the best way to go when building and maintaining workbenches and workstations.