With these DIY balance beam projects, you can create beams for fun activities. Make an interactive balance beam perfect for a toddler's sandbox, or give your kids something to climb while playing at the park. Depending on the materials you use and the size of your design, these wooden planks can make great jungle gyms in a playroom or multipurpose spaces. Use balance beams to make a fun DIY activity station and work on gross motor skills and balance. Add fun to your backyard or patio with a balance beam project! Use lumber and simple tools to build a DIY balance beam that's great for creating an obstacle course.
Homemade DIY Balance Beam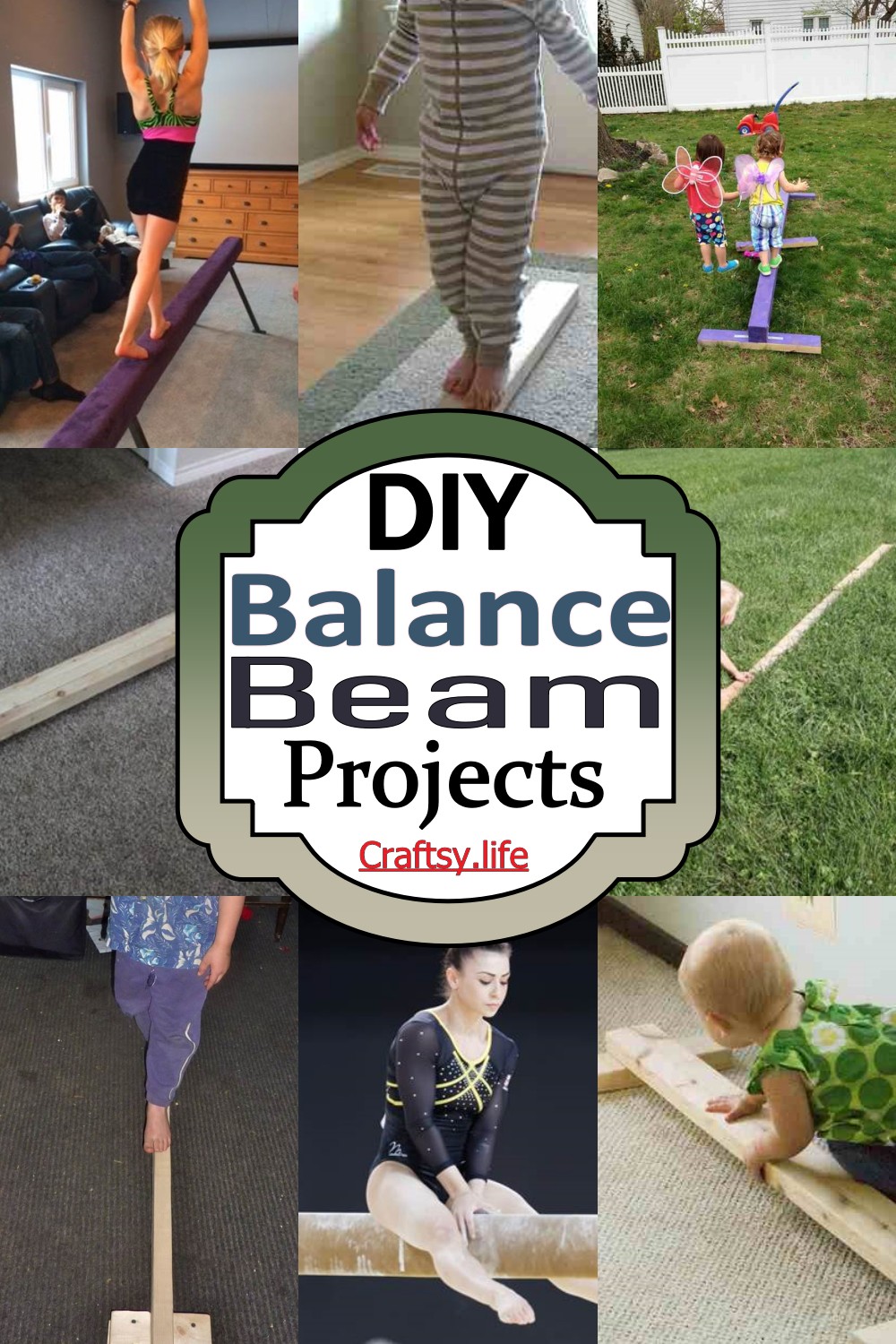 Balance beams are the perfect addition to any kid's play set, adding an element of challenge and fun to the playground. Whether you're looking to build your own balance beam or want some inspiration to spruce up the one you already have, this list has plenty of ideas. Balance beams are versatile equipment used in various activities, from gymnastics to martial arts to yoga. They can also function as a playground structure all on their own, without any need for additional climbing equipment—you could even add a slide or monkey bars if you're feeling ambitious. Check out these 20 projects using a balance beam for ideas for your home!
Balance Beam For Toddlers Benefits
Balance beams can be a great addition to your home gym. They help improve balance and coordination, which is important for athletes of all ages. Balance beams are also a fun way to mix up your workouts and provide an element of surprise during your workouts. Here are some benefits of DIY balance beam projects:
Balance beams can be built in any size or shape you want! You can build a long balance beam that mimics the length of an Olympic-sized swimming pool or a shorter one that mimics the length of your living room.
Balance beams are adjustable! If you want to challenge yourself with a longer beam, increase the height of the supports on each beam until you feel comfortable doing multiple hops from one end to another without stopping in between hops. Don't worry about buying expensive equipment like weight plates, dumbbells, or kettlebells when all you need is wood and nails!
Balance beams are versatile! Use them as an exercise tool or an obstacle course for kids by placing obstacles like boxes under one side and having them hop across while balancing as they go! The possibilities are endless!
How To Make A Balance Beam
A balance beam is a gymnastic apparatus used for over one hundred years. It can be used by athletes of all ages and has been proven to help improve their skills when used appropriately. In this guide, you will learn how to build a balance beam in your home or yard with materials you probably already have. Balance beams for gymnastics can be a great tool for training and practicing balance and agility. Learn how to build a balance beam that will last, no matter the weather conditions or the level of your gymnast.
How To Build A Raised Balance Beam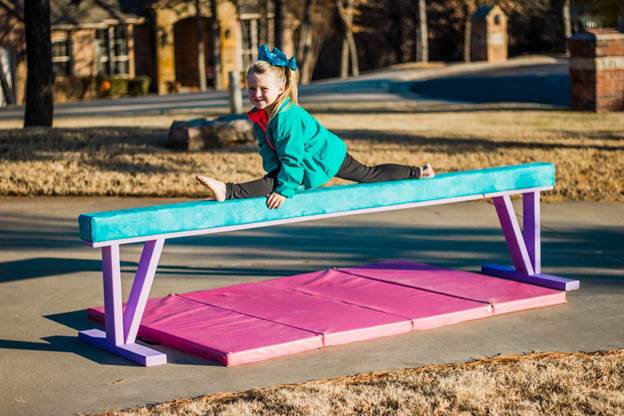 Here's an amazing and easy way to build a raised balance beam for your kids. You can build this raised balance beam for about $60 in materials and tools in about four hours. This tutorial will show you how to pad the beam. It is a fun project that the whole family can enjoy making together. The best thing about this raised balance beam is that it is easy to build and pad. It will take 4 hours to complete with just $60 on materials. Check out the tutorial below if you want to see how it was made and how to pad it.
DIY Wooden Balance Beam For Toddlers
A wooden balance beam, suitable for kids aged 2-5 years, is an excellent toy that helps to develop balance, coordination, and proprioception in young learners. Your toddler might be too young to start doing some physical activities, but teaching them how to walk is one of the most important and basic things that need to be taught. Balance beams are becoming a common practice in gymnastics, and they help kids learn how to balance themselves by using their own weight against gravity. It's so fun getting them out of bed and seeing their smile after they twirl themselves on the balance beam!
How To Build A Padded Balance Beam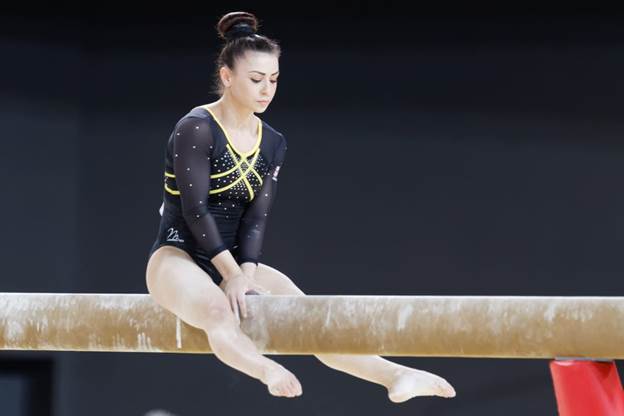 Building a balance beam can be a fun way to exercise at home. This guide will teach you how to build a padded stone balance beam and add fun colors! Your next step is to cut the 2×4's to size; use a table saw for this. If you can't access one, measure, mark, and cut with a circular saw. After that, you can attach these lengths of wood to the floor and base pieces, as displayed in the tutorial photo above. Use 90-degree brackets or L brackets to secure them into place and make sure they are level while doing so. Once glued into place, your DIY balance beam will be all set up!
DIY Balance Beam For $30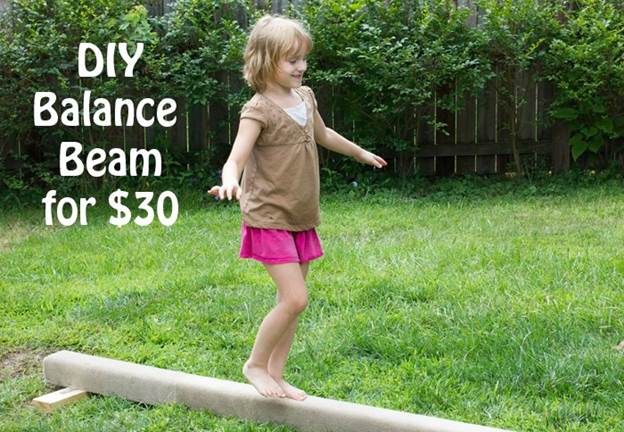 Give your kids their very own outdoor balance beam for just $30. This DIY project is guaranteed to keep your kids entertained for hours, made from simple materials such as plywood, nylon rope, gorilla glue, screws, and nuts. The best part is it will also give you peace of mind knowing that they can learn to do balance beam exercises while having fun. It's a great project, and the best part is that you can make it yourself. It has a padded foam base and carpet over the top to give your kids 100% comfort so they can have hours of fun jumping around on the beam.
DIY Balance Beam For Kids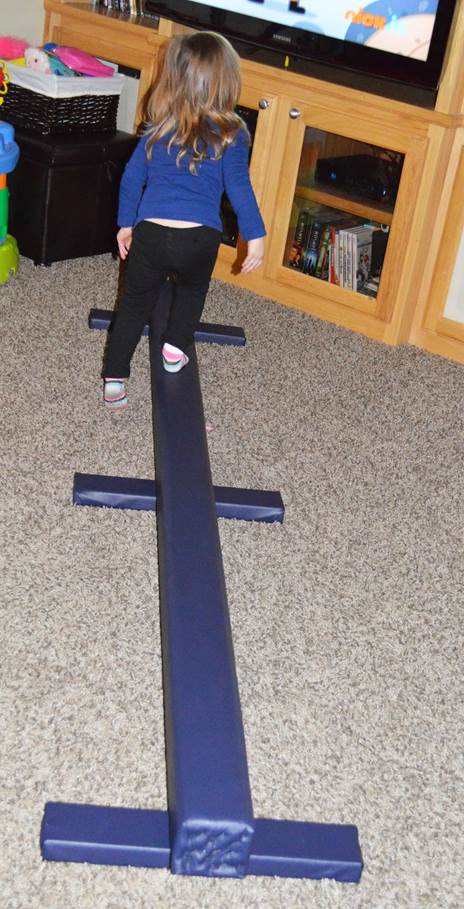 If you have kids, you probably know that they love playing with balance beams. And most likely, several of those balance beams were extremely expensive and not so sturdy, especially if they were indoor ones. So why not build your DIY balance beam? It might cost only $32 to make this one. A great toy to keep your kids busy inside or outside. This DIY balance beam will be a great addition to your kid's outdoor play space. It can be built comfortably indoors and sturdy enough to use outdoors. A balance beam of this size can be used by multiple children while remaining stable.
Padder Leather Balance Beam For Kids
Have a little dancer on your hands? The Padder Leather Balance Beam is perfect for your little ones. Whether tumbling, balancing, or just playing around the house, this beam will provide hours of fun. Use our instructions and ideas to ensure you get the most out of your new balance beam. This simple tutorial shows you how to build a wood balance beam for kids. The beam is made from wood and leather, looks great, and is sturdy and safe enough for children to play on. You can easily remove the beam from the base if you need more space or want to put it away.
DIY Balance Beam
This DIY balance beam project will help you build equipment that your kids can use for physical fitness and fun. This DIY Balance Beam is the perfect addition to your backyard. It does not require any tools and can be made with just two materials: a couple of large recycling boxes and a wooden board. This balance beam will improve your agility, coordination, balance, and strength and provide hours of recreational fun for children and adults alike. The best part about this project is that you will not need any tools or equipment, and it is made from simple materials that you can get from your local council yard.
DIY Balance Beam For Kids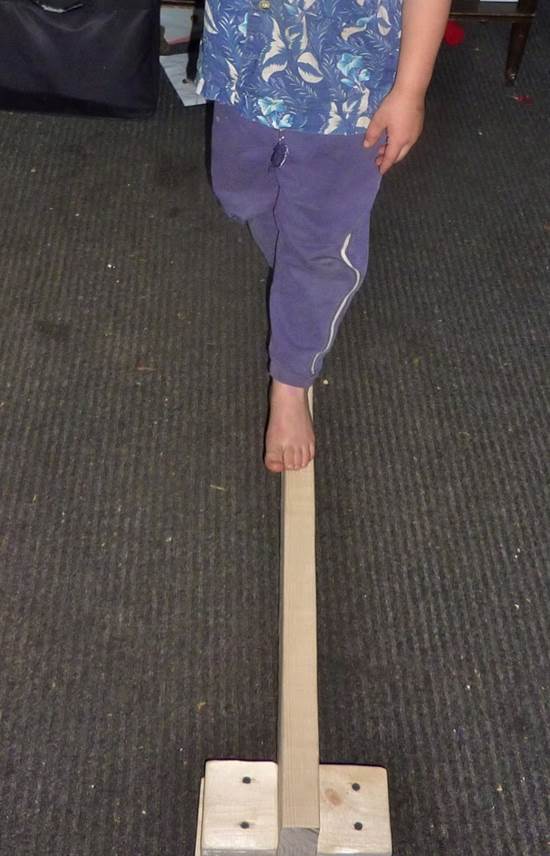 Balance Beams are some of the most fun you can have as a youngster, but at the same time, they are also ideal for helping kids develop their balance and improve coordination. The thing about wooden balance beams is that they tend to cost quite a bit, making it hard for parents to get their hands on them. It can also be dangerous for children if the beam is too thin, but here is a great solution that allows you to build your own DIY Balance Beam at home, and it's simple to do!
DIY Balance Beam Plans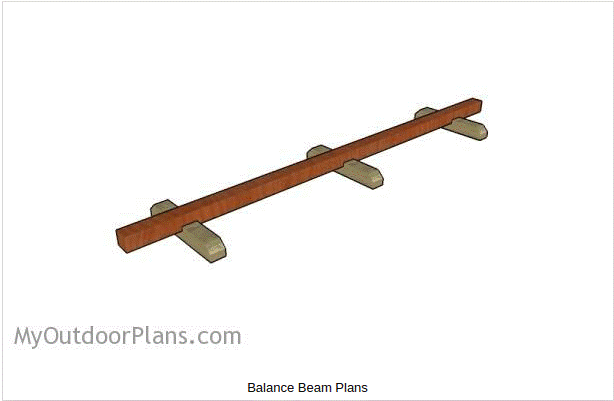 Getting a balance beam is not an easy feat. Luckily, I have these plans for you so you can make your balance beam. You don't need to be a woodworking expert; this project is pretty straightforward, and you will see that it's not hard! All you're doing is following the instructions in the plans, so get ready to build your own DIY balance beam right now! This DIY balance beam is a fun and safe way to entertain your kids. It also helps them with hand-eye coordination, agility, and balance and builds self-confidence. They will love making it themselves, so you can make it for your kids without spending too much.
How To Build A Balance Beam
A balance beam is a piece of equipment you might not have thought about in your workout routine. Adding one to your routine can improve your balance and stability while increasing strength and endurance. A good balance beam will be sturdy and stable, and it should allow you to practice doing rollovers or executing other moves that are so important for staying balanced when performing sports or even walking on stairs. This tutorial is pretty fun to watch. The project is great for kids and is a great way to exercise.
Balance Beam For Kids DIY
Want to build a balance beam? We've got you covered. This DIY project is easy and inexpensive, and it can be done with just some wood, nails, and paint. You may need to buy half-inch plywood depending on the size that you want your beam to be. It's perfect for kids and adults alike and can be built by anyone with a few tools. And as with all things DIY, the pieces are interchangeable — you can customize them to suit your space or use more advanced construction materials like hardwood flooring.
How To Make A Gymnastics Beam
Are you a parent who has teenage kids looking for a gymnastics beam? Or maybe you have toddlers who want a solid wood beam to play on? Whatever the case is, you can use this tutorial to make your own design. This is great for exercise, training, and playing games. Make your own gymnastics beam using this simple tutorial. If you want to ensure it's perfectly safe, follow the steps and avoid the wrong measurements. This project is for your kids. It's great for them to stay fit and improve their coordination, agility, and strength. You can help them with this project if you are a woodworking expert. Otherwise, refer to the video above.
DIY Toddler Balance Beam
Do you have a toddler that loves to run off and play? This DIY Toddler Balance Beam will be a great addition to your backyard if this is the case. This instructable will teach you how to make the balance beam out of 4x4s, which takes around 5 hours to complete. This project is not easy, but once it's done, you and your family will have a fun new activity for their backyard." Toddlers have a lot of energy and need activities to help them focus their energy positively. This project is easy enough to make even with limited DIY experience and only takes a few weekends to complete.
You can also see: DIY Balance Board Ideas 
DIY Balance Beam For Toddlers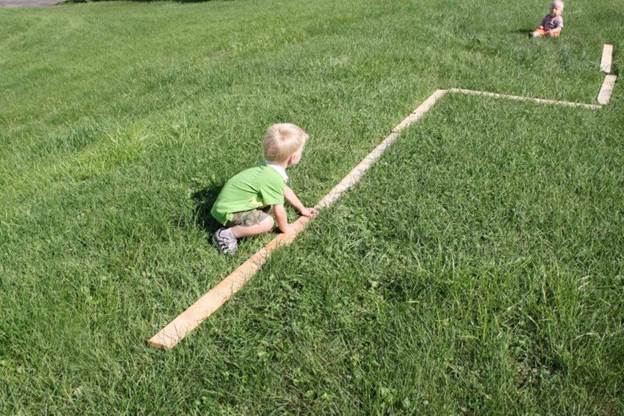 One thing that you will love about this project is that it is super simple and easy to do. You only need some scrap wood planks and other supplies to complete it. This project is perfect for keeping your kids occupied as they have fun doing this balance beam. This DIY Balance Beam for Toddlers would be a perfect addition to any backyard, and I'm sure your kids will love it. This balance beam is super easy to make and doesn't require many tools. It would be a very good DIY project that you can share with your kids. Your kids will never get tired of playing on this balance beam because it offers many ways to play around!
Toddlers Balance Beam Under $10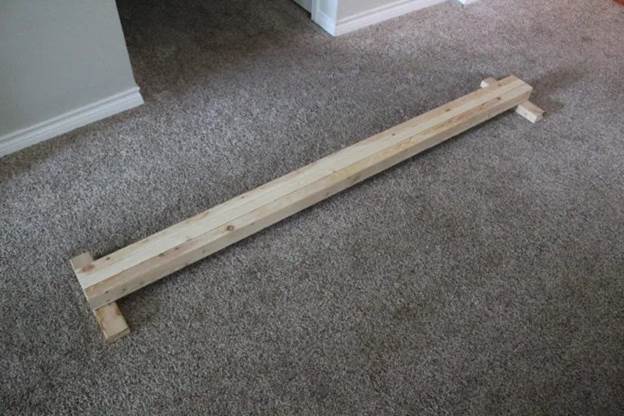 Looking for a new toy for your kid? This balance beam is perfect for toddlers who are learning how to walk. The plank is easy to assemble and can be used indoors or outdoors. It's important to show the child how to walk on it before letting them go solo. With constant practice and training, you'll soon see how well your child can keep their balance! This cute balance beam your kids can play on outside or at home. This can be used as practice for them to master walking on a narrow plank. If they make a mistake, there's nothing much to worry about since the height is quite okay for toddlers.
DIY Balance Beam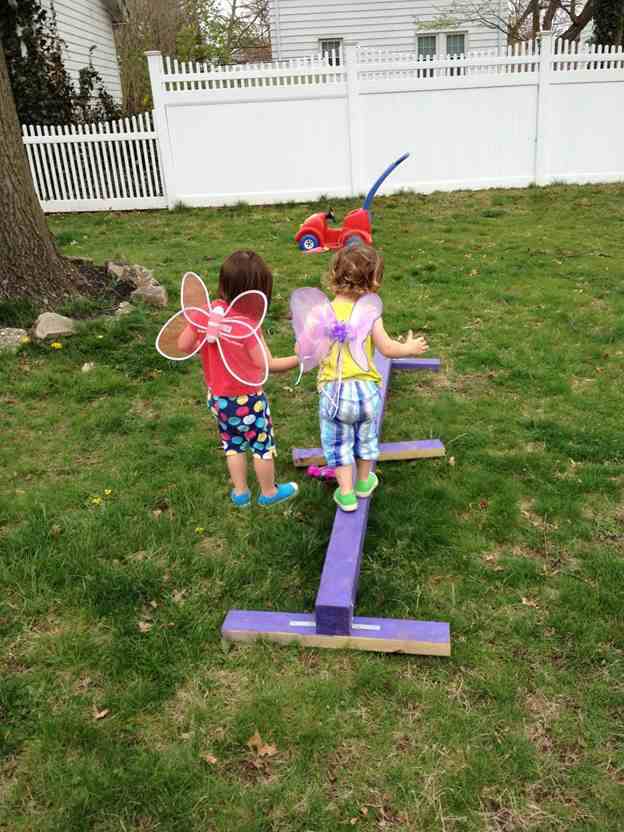 This DIY balance beam is the perfect outdoor activity for kids. The materials are simple to find and inexpensive, but they add up to a sturdy play structure! This balance beam is as functional as it is fun. It's a great backyard project that looks great and can be completed over a weekend. Use the stain of your choice to make this project yours! This DIY balance beam is a great addition to any playground. The materials are relatively inexpensive, and the project doesn't require many tools or skills, making it ideal for even those new to DIY projects. The finished product looks professional, giving your child a nice place to play outside without spending a fortune.
Easy Homemade Balance Beam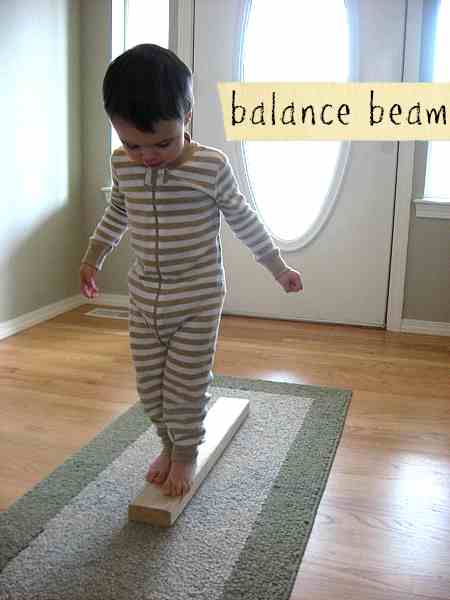 This is the perfect balance beam for little ones and beginners. This Homemade Balance Beam is like the one at the local gym. The only difference is that it makes it with scrap wood and cardboard. It is ideal for toddlers who are learning to walk and need to learn balance. This homemade balance beam is a great introduction to balancing! It works from scrap wood and can easily construct by anyone with basic tools. There is no need to spend a fortune on wooden beams, as these can be made in your local lumber store so you can save money on shipping.
DIY Balance Beam
This DIY balance beam is a great way to help kids learn to balance while strengthening their core and building muscle memory. This DIY balance beam is a great addition to your child's playroom or backyard. Kids will love practicing their balancing skills on this sturdy wooden beam; it'll fit just about anywhere! Easy to build and requiring little tools, this DIY Balance Beam is a cost-effective way to help your child's development. The instructions and building tips will help you add their personal touch to their new play space are theirs alone.
How To Make An Extended Balance Beam
Extended-balance beams are a great addition to any playground. They challenge children to use proper form and practice balance at a new level. See the tutorial below to build one yourself! When you make your own balance beam for children, you can create one longer than a traditional one. This will allow them to practice using their whole bodies when they step on it. This DIY project is quick and easy and provides children with hours of entertainment.