The table saw is one of the most versatile tools in a woodworker's arsenal, but it can be a little dangerous if you don't guard against its tendency to throw things at you. This is where a table saw fence comes in; it prevents your wood from flying back at you and protects your fingers when they inevitably stray too close to the blade. So to prevent any massacre from happening here, we come with a superb series of DIY Table saw fence plans because, as the popular saying is, "Prevention Is Better Than Cure". You have to go with some wooden planks and a little creativity, and you'll finish with something very useful.
These table fences are created efficiently by keeping a woodworker's needs in mind, and I hope you will admire making them. Not all fences are created equal, though—some are flimsy or hard to adjust or have an annoying tendency to collect dust and shavings—but these DIY table saw fences below would keep your wood safely contained and give you some protection from the dangerous blade.
DIY Table Saw Fence Plans Free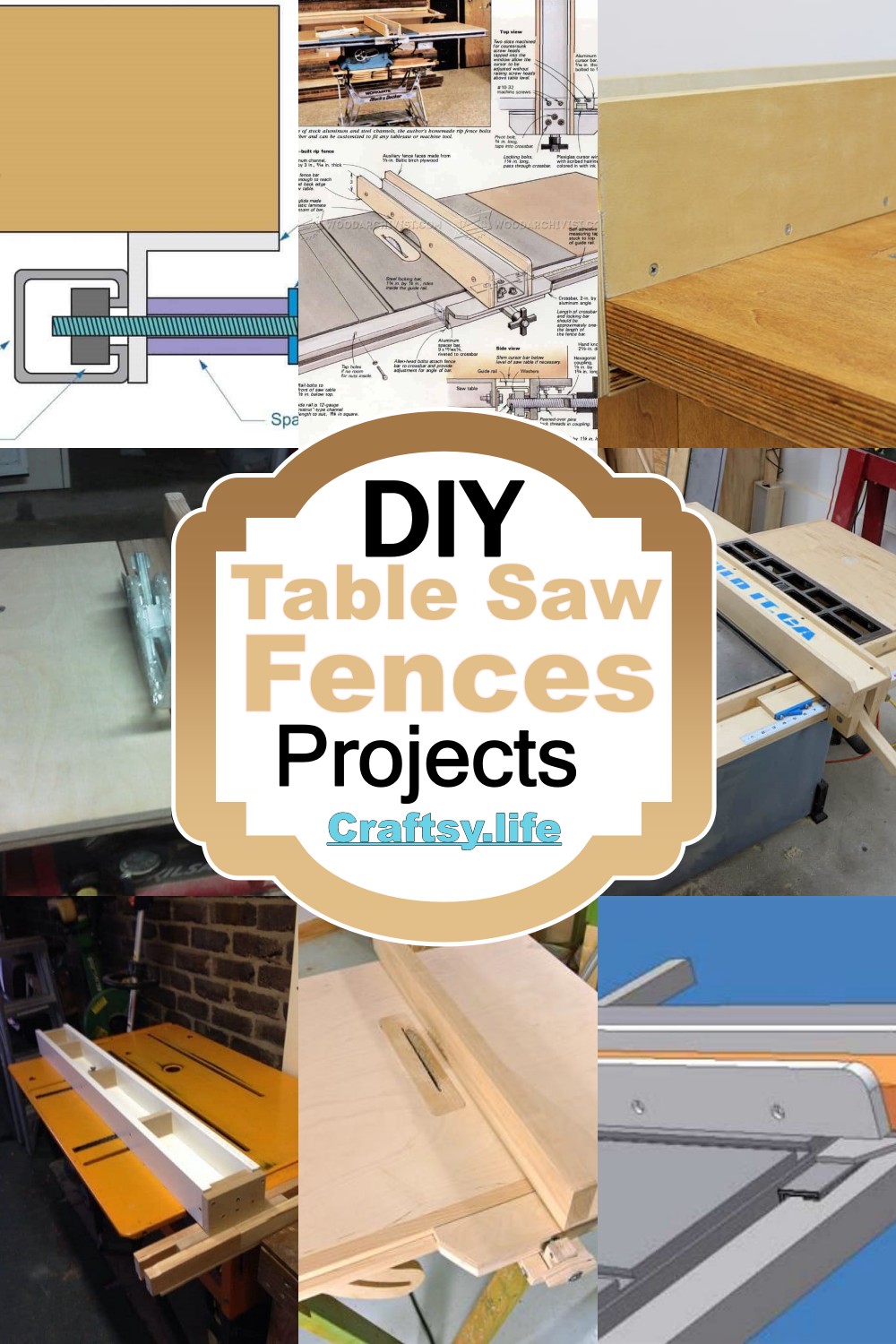 Everybody loves a DIY project, and improving your table saw is no exception. A fence isn't just a safety precaution—it also dramatically improves the accuracy of your cuts. So why not build one yourself? There are plenty of options, ranging from pricey to cheap and simple to complex, but we've found all the best ones for you. One of them is bound to be exactly what you're looking for! You'll find everything from a basic T-square style to models with laser cutouts to tapered fences that help you get perfectly straight cuts every time.
Benefits Of DIY Table Saw Fence System
DIY table saw fence plans are easy to make and can be a great addition to your workshop. They are also very affordable, especially considering the cost of buying a new saw or upgrading to a better fence.
Here are some of the benefits of DIY table saw fences:
They are easy to make with basic tools like a drill, jigsaw, and router. If you have woodworking experience, you can make one from scratch using only a plane and chisel.

Building one won't take much time or effort because there aren't many parts involved, and they don't need much maintenance over time.

They are easy on your budget since they don't cost much compared to buying a new tool or upgrading your existing one. You might already have everything needed for building one at home already!
The Wooden Table Saw Fence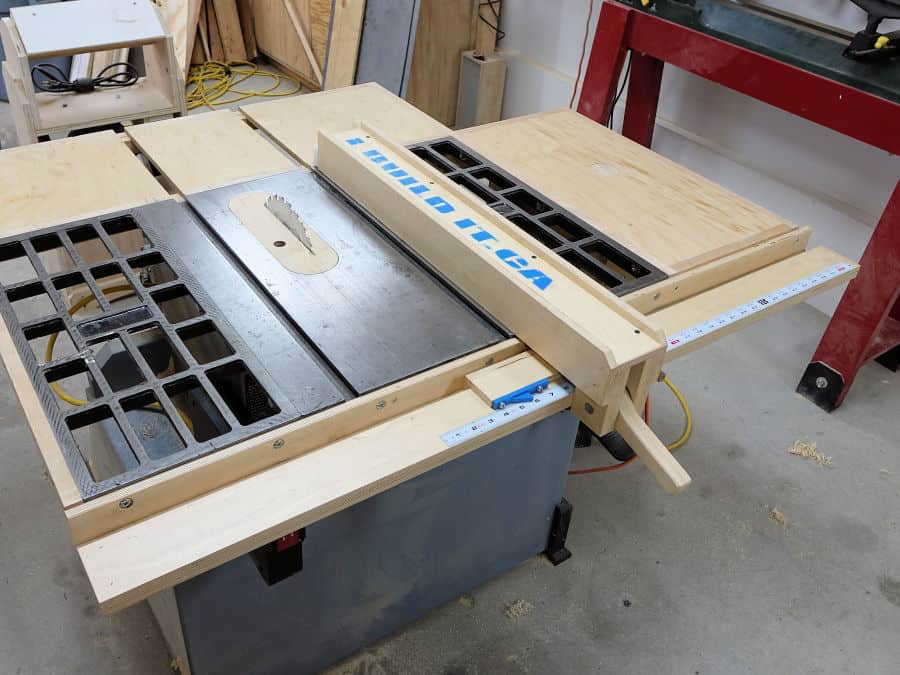 The table saw fence is a very important tool for every woodworker. It allows you to make accurate cuts, which is the key to building good furniture. It comes in different styles and makes it easy to use with modern tablesaws. If you are looking for a good quality table saw fence that will last many years, this is the right one for you! This Wooden table saw fence is easy to install and helps you get precise cuts, making it a perfect addition to your workshop. It makes your work easier and more precise with its wide footplate that provides stability when cutting large pieces of wood.
You can also see: DIY table saw bench plans 
Joe's T-Square DIY Metal Table Saw Fence
You can buy a new table saw and fence, but it's not exactly cheap. So why not try this cost-effective metal table saw fence? It is easy to build and very durable. You can use this table saw to do your projects and enjoy the satisfaction of making something beautiful for yourself or your family. This DIY project offers tips, advice, and step-by-step instructions for building a much-needed metal table saw fence. It's economical, so that you can make it with recycled materials.
Aluminium Table Saw Fence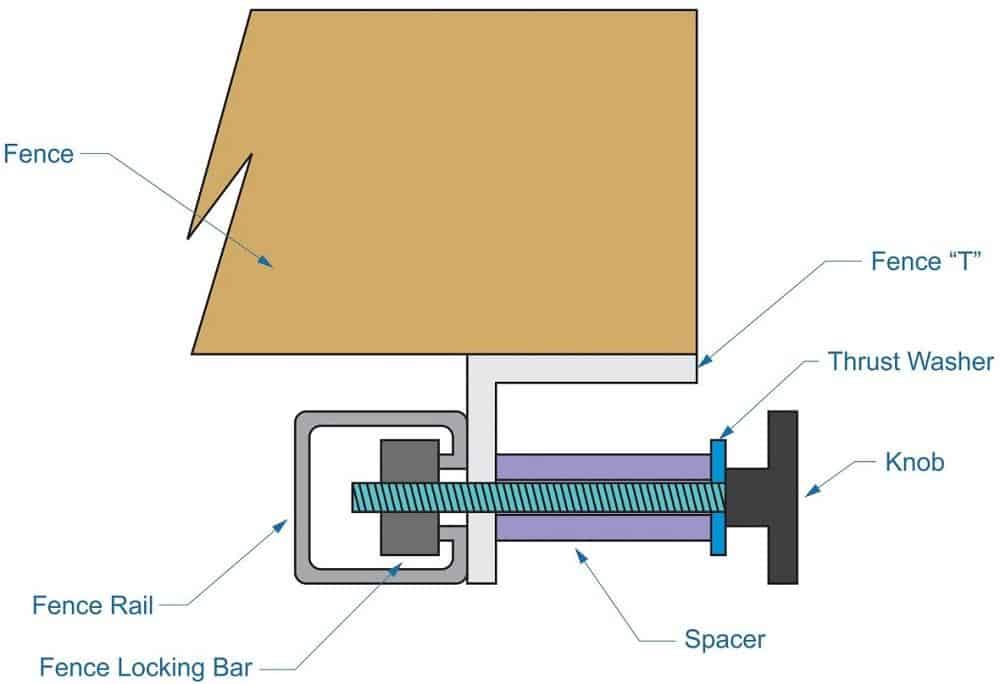 This Table Saw Fence is designed for smooth cutting and accurate measurement. It helps to increase the life of your saw, so you can work on it for years to come. This is the piece of equipment that keeps your workpiece secured. It has a wide range of sizes and versions, so it's time to start choosing the right one for your machine. For instance, cut down on installation time with this easy guide to choosing an aluminum table saw fence.
Quick Homemade Table Saw Fence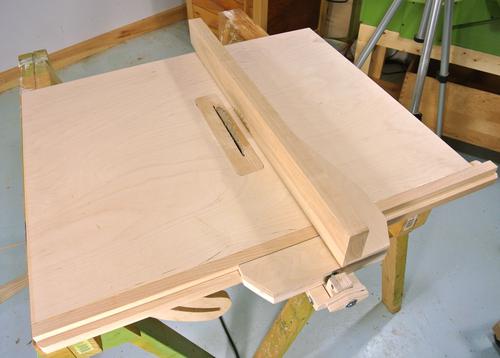 If you're serious about woodworking and have a table saw, you should consider adding a good fence to give you better control of boards or sheet goods. This simple, fast, and low-budget guide will show you how to build the perfect fence for your table saw. It is not only quick and easy but also cheap too! This tutorial is a great way to improve your table saw setup and increase productivity. The process takes a few hours and can be completed with simple tools like plywood, screws, glue, and paint. So, go through this guide and start making.
The Money Saver Table Saw Fence
You can save hundreds of dollars by building your table saw fence. It is one of the best ways to save yourself from spending higher than you need on a perfect fence for your table saw. It also allows you to try your hand at woodworking and gain invaluable skills for life. With this particular design, you can have either a cabinet or miter saw table with an adjustable fence. So, If you are building a table saw for yourself or your business, this high-quality fence will save you a lot of money. It is easy to assemble with detailed instructions and reduces clean-up time after use.
Easy-To-Make DIY Table Saw Fence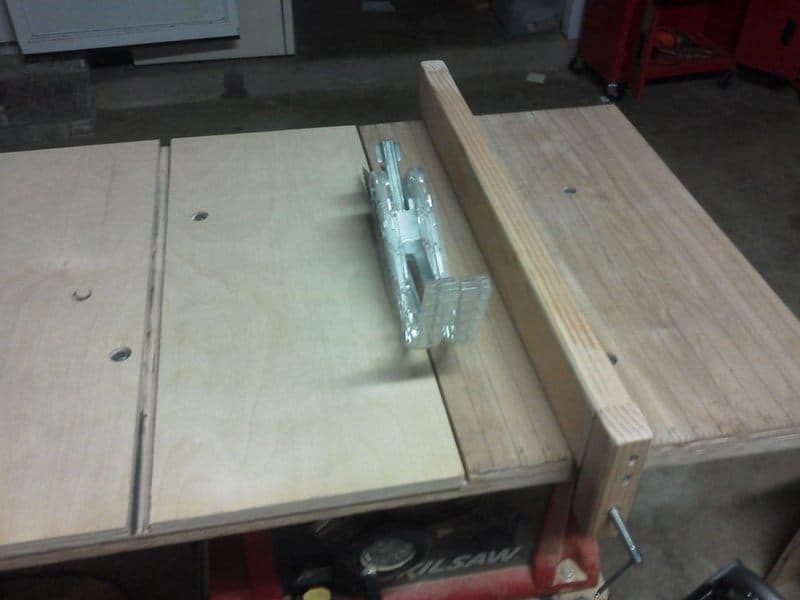 This easy-to-make DIY table saw fence is an inexpensive project that brings your table saw back to life. When making this fence, your cuts are precise and have a smooth finish. All you need is a few basic tools and about an hour, and you can be on your way to making this short fence. It's so easy that even beginning woodworkers will succeed with this one. In this plan, you'll learn how to build a reliable, accurate cutting guide that will work whenever large crosscutting pieces of wood.
Biesemeyer T-Square Inspired DIY Table Saw Fence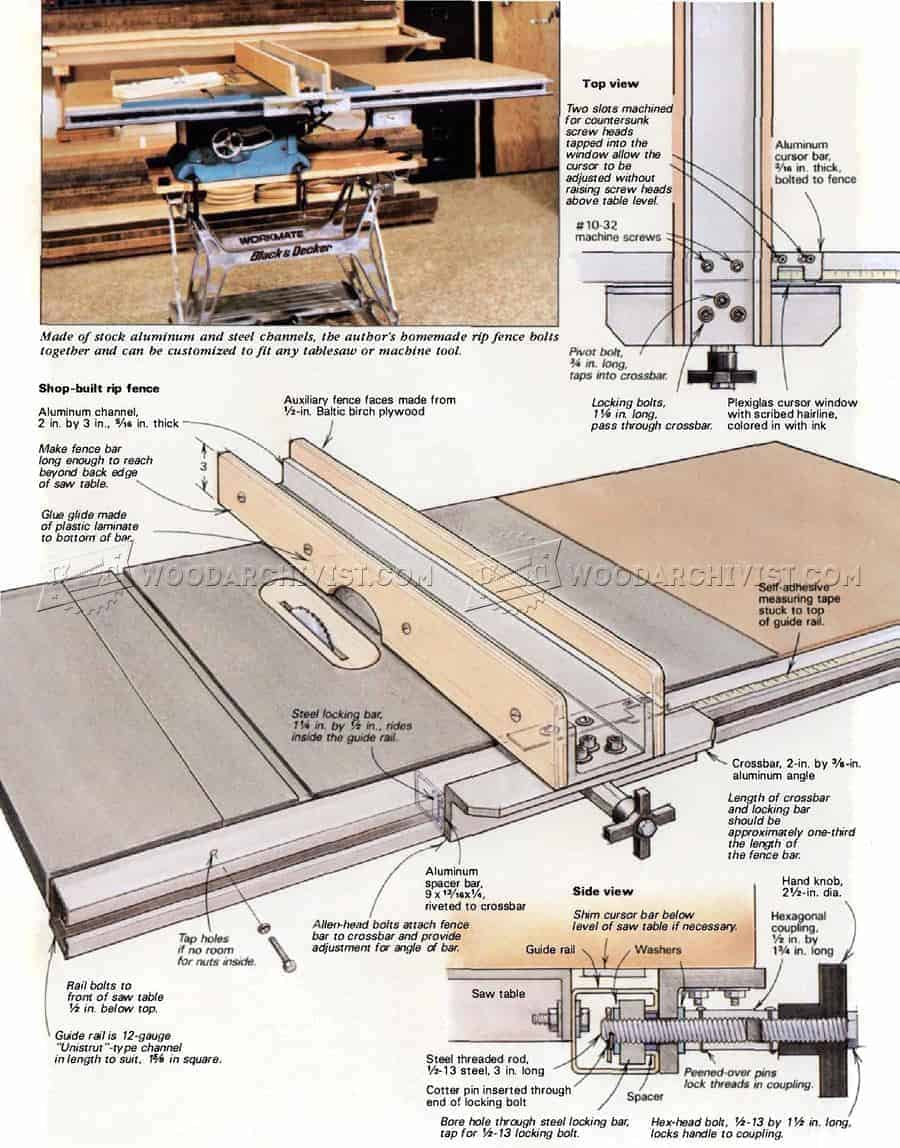 The fence is made up of aluminum, wood, and metal. The best part of this table saw fence design is that it can be made in just a few hours by following the detailed step-by-step instructions. It is easy to build and will cost less than buying one from the market. The materials are easy to find and can be obtained at your local hardware store.
The Homemade Table Saw Fence
For those who need to make clean cuts and accurate crosscuts, this Homemade Table Saw Fence is perfect. Using wood and nails, you can easily make this DIY fence that works just as well as a store-bought one. You can make your table saw even more useful with this DIY project. This homemade table saw fence would help you make accurate, straight cuts and avoid damaging your workpiece. Best of all, it's cheap to make and easy to install!
The Double-Sided Rip Fence
This fence might be a great pick if you enjoy using your table saw differently. This fence is designed to be positioned on either side of your table saw, offering incredible flexibility. This Double-Sided Rip Fence makes it easy to customize your table saw fence to your specific needs. This fence has magnets to help hold it down, specially designed for circular saws and other power tools. Plus, it comes with a tape measure that allows you to take measurements on its surface.
DIY Table Saw Fence
Table saws are great tools. However, it can be quite difficult to cut straight down the middle. The good news is that you can make your table saw fence much easier. A table saw fence is one of your most important accessories. It makes everything about cutting much easier and quicker. In this tutorial, you will learn exactly how to do that with simple step-by-step instructions, complete with pictures to help guide you along the way.
Sliding T-Square Table Saw Fence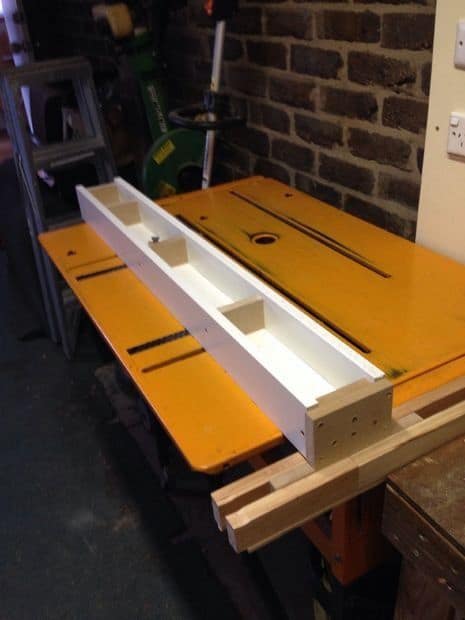 If you're tired of aligning your rip fence with the blade every time you crosscut or cut an angle, this table saw T-square fence is for you. It allows the woodworker to use her existing miter gauge and rip the fence to move the entire fence parallel to the blade. No more tedious alignment problems! This table saw fence is designed to make your woodworking life easier. It enables you to extend your control in ripping your work material while holding the rip fence firmly and safely aligned to the blade.
Stratako's Table Saw Fence
The Stratako Table Saw Fence has become the standard for homemade table saw fences. It is the most popular design on Instructables and has inspired countless DIYers to build their table saw fences. This table saw fence is the most popular among DIYers and professional woodworkers. It provides a solid base for repetitive cuts, with a high-quality measuring tape to get the job done. The video will show you the complete procedure!
Table Saw Fence for a Homemade Table Saw
Any serious DIYer can make this table saw fence on the weekend. The aluminum extrusion is available at most hardware stores and can be cut with hacksaws, saber saws, or power tools. You can also purchase pre-cut extrusion lengths instead of cutting to length yourself. Once cut and drilled, the pieces are screwed together using screws that fit through T nuts into the back of the extrusion. This guide will help you build a woodworking table saw fence perfect for your homemade table saw. This DIY table saw fence would help you create accurate, precise cuts every time without any major effort.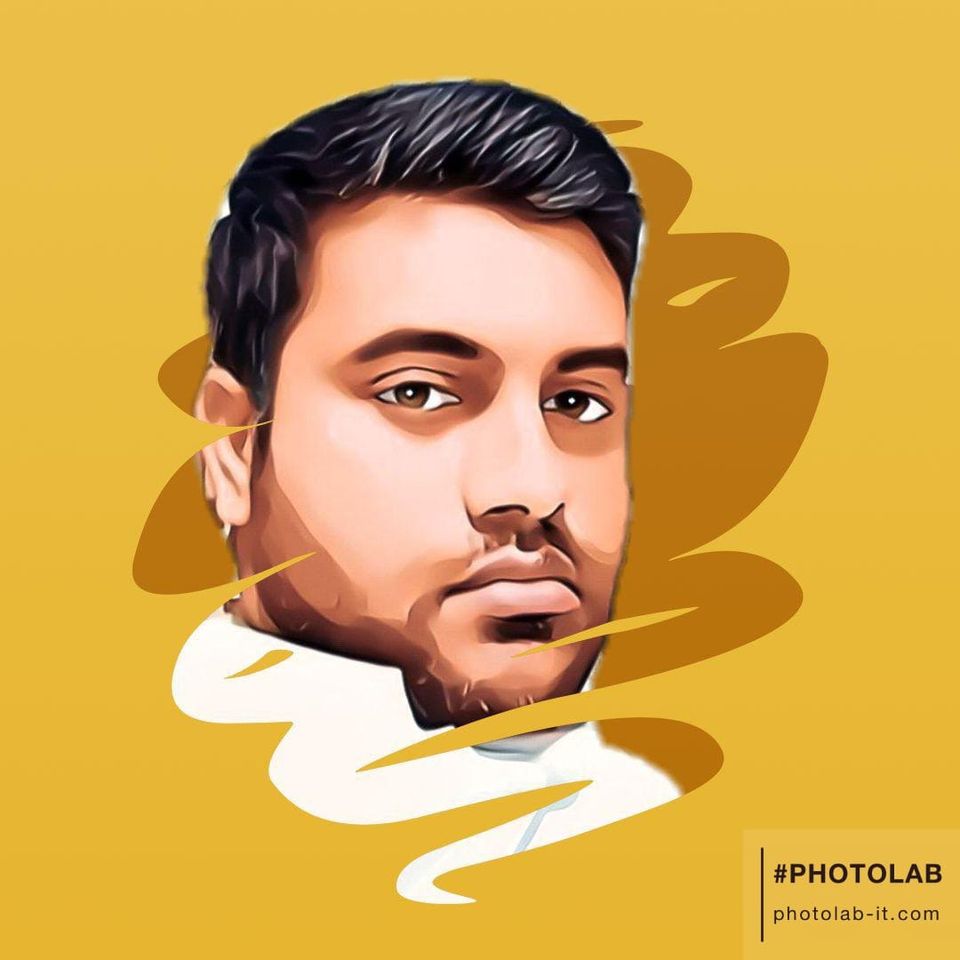 I am Raza, a crafts expert with 6 years of experience. I run this site for DIY lovers to provide the most exciting projects and ideas for your home, office, and everyday life. See More